In recent years, the automation of outreach actions has become a popular trend in outbound sales. It promises increased efficiency, higher volumes, and easier workflows. However, the over-reliance on automation has inadvertently led to intensified competition and a decline in conversion rates, ultimately wasting valuable time for sales teams.
In this session with Lorenzo Tiberi, CEO and co-founder at Crono, you will learn:
Sales automation pros and cons
How to fight the decline in conversion rates
What personalization at scale really means
[Transcript] Sales Automations Are Making You Lose Time
Although transcriptions are generally very accurate, just a friendly reminder that they could sometimes be incomplete or contain errors due to unclear audio or transcription inaccuracies.
Gary Amaral
"Learn about sales Automation and how it's actually costing you time." We're joined by Lorenzo Tiberi, CEO of Crono, who's going to be walking us through this topic. Lorenzo, welcome, and thank you for joining us.
Lorenzo Tiberi
Thank you, Gary. Thank you very much for the invitation, it's amazing to be on stage there after seeing that last year, so thank you very much for the invitation.
Gary Amaral
It's our pleasure to have you. Listen, Lorenzo, I want to give you maximum time, so I'm going to throw up your presentation. Feel free to jump in, I'll be back towards the end with a couple of questions; you'll be on the hot seat then.
Lorenzo
Okay, thank you very much.
So, just two brief words about me: I'm Lorenzo, and I'm the CEO of Crono. I will explain a bit about what Crono does, but I just don't want to bother you, and as you can understand from my accent, I'm Italian.
I lived many years abroad around Europe, and now I'm in Spain, but the only two things that I conserved about being Italian are my accent, and I have to eat a pizza at least once a week. Otherwise, I get crazy. I could survive without pasta, but without pizza, it is impossible, so I maintain my roots,
Let's go to the business, to Crono. What we do at Crono, very briefly, is we want to make B2B sales team outbound easy, and how do we do that?
We are combining two ideas, so we use data and artificial intelligence to suggest to the sales team what is the best strategy and the best actions to create pipeline and generate more revenue, and sales can find more prospects and do the right actions that we suggest in our platform.
It's really easy to use, and it's connected with CRM, with the phone, with LinkedIn, and you can go very fast, have higher productivity, and do smarter actions, so that's Chrono for those who don't know.
Now I'm here to speak about sales automation, which is now very used and is very trendy in the market. After a while, we realized, both in our experience, because me and our co-founder, we worked many years in fast-growing startups, but also in big companies like Salesforce, Viva, and Microsoft, and we realized, over time, that automation at the beginning is good.
Even for our customers, we work mainly with fast-growing startups between Seed and Series B, so at the beginning, automation seems a miracle because in just one week, maybe you can set up everything, run the campaign, and do a lot of actions.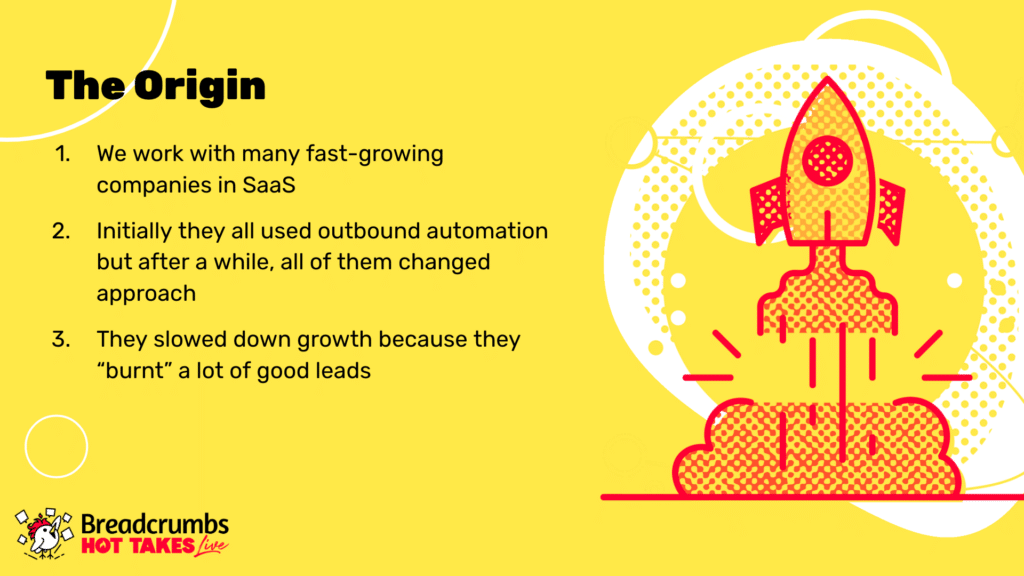 Even if it is an action with a lower conversion rate compared to before, the fact that you do a huge amount of actions gives results, and so you believe that you find the right strategy.
That's happened basically to all the companies that I saw. In the beginning, they really thought automation was the Graal, so we found it; we found it, and we'll close a lot of customers.
But after some time, what happened? With the decrease in the conversion rate, it also became–week after week–more difficult to find new leads to put in automation because, with automation, we send messages with a lot of people, but you need every week or every two weeks, depends on what you said, you need new leads, you need new prospects.
And since you already used a lot of leads the week before and the week before the week before, it's becoming very difficult to find new leads, and your sales team basically will convert into a research team that only searches for leads to put in the automation.
In the meantime, doing fewer actions and with lower quality prospects, the conversion rate goes lower, and what you see is that, basically, your performance goes down. So the automation decreases the performance over time, and at one point, you find yourself in a very bad situation, and that's happened to our customers that they need to have a more personalized and relevant approach.
One company in particular, after their Series A, came to us and said, "We realized that if we burnt all the market because we had this amount of Enterprise potential customers, we already contacted everyone through automation, now we don't know who to contact, and we really spammed them with automation before, so it's difficult now to create a relationship."
So, what we learned is that with automation, you get results in the short term, very short term. After there's a decrease, and also you don't build the relationship because it's really difficult to build a relationship.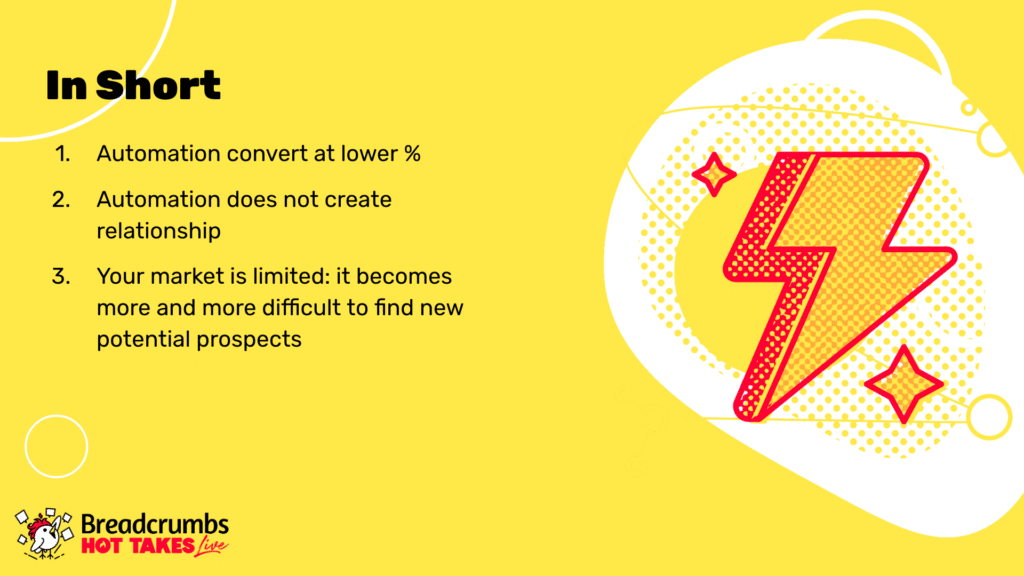 Maybe someone will answer you, but what happens is that many people are pissed by your approach because they can recognize that automation. We receive a lot of automation every day, I think the inbox of everyone now is exploding.
So you don't create a relationship. You have this decrease in performance over time. At one point, you need to change this approach because it's not working anymore, but at that point, maybe you realize, "I burnt all my market or all the best of my market, and I have to wait to contact more until some time in the future because I contacted everyone through automation."
That's happened to a lot of companies that say, 'Okay, I should have used another approach for the beginning,' so the hot take here is that automation can be good at the beginning and can be used for a specific campaign. I'm not totally against it, but what happens?
You really see this pattern in all these companies, and I think if you are a startup, you see yourself there: you start with a lower conversion rate at the beginning compared to the personalized actions, but it goes over and over, and you find at one point that you don't know what to do it you have to be back to the personal approach.
So, what are we in favor of, also considering that we're in this time when there is more automation and artificial intelligence? We think that it's better to start with a personalized approach. It's better to study the market well, the ICP, and be relevant.
For us, being relevant is one of the keys to success because if you're relevant, even if maybe the email is not well crafted, but you are relevant with the right persona, and with the right pain points, in the end, you will succeed.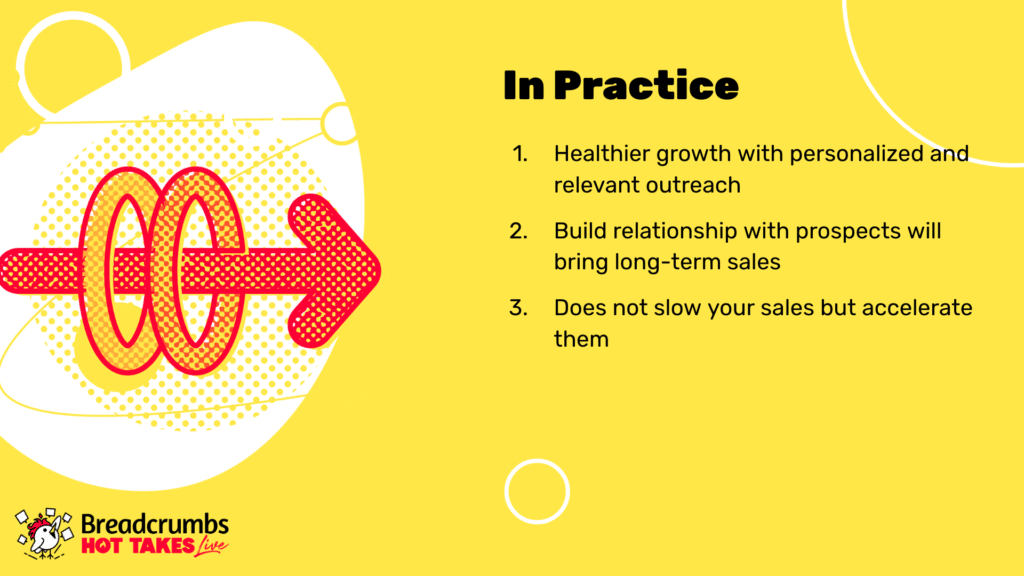 It's a little bit the same with personalization; if you personalize your email well, you can get read because now I think I have 100 messages between emails and LinkedIn a day. I don't read the majority of those because I see that it's an automation; I read only the personalized ones, the ones that I see that are relevant to me at the moment.
So I think that the two keys, now, to create a really real relationship–because, in the end, sales is and will always be a relationship between people–it's really important to not go all in to automation.
We can automate tasks, and we can automate the duty job, but I don't think we should automate the relationship, so it's very important to have a personalized approach with your customer.
Be relevant: so, know their pain points very well and help them to solve them so, maybe in the short term, you will have fewer results, but for sure, that's a strategy that will allow you to grow in a constant way and exploit your market at the best and serve as many customers as you can.
Because, in the end, sales is not "I want to sell something" but to sell and to be a good salesperson, I think you have to help your customer to solve a challenge, or solve a pain, or reach a goal.
And I think if you don't build the relationship and understand what's this challenge, what's this goal, you cannot sell, and you cannot grow your business.
So, it's very important to have a human approach, the right approach, and an approach that can grow your company in the long term.
And for everyone that is interested, I spoke briefly about Crono before. We offer everyone on this webinar, we offer 25% off. So, if you want a demo or just speak, or are you interested in what Crono does, Tory will put my Calendly link, or you can reach out on LinkedIn, and I will be very happy to speak.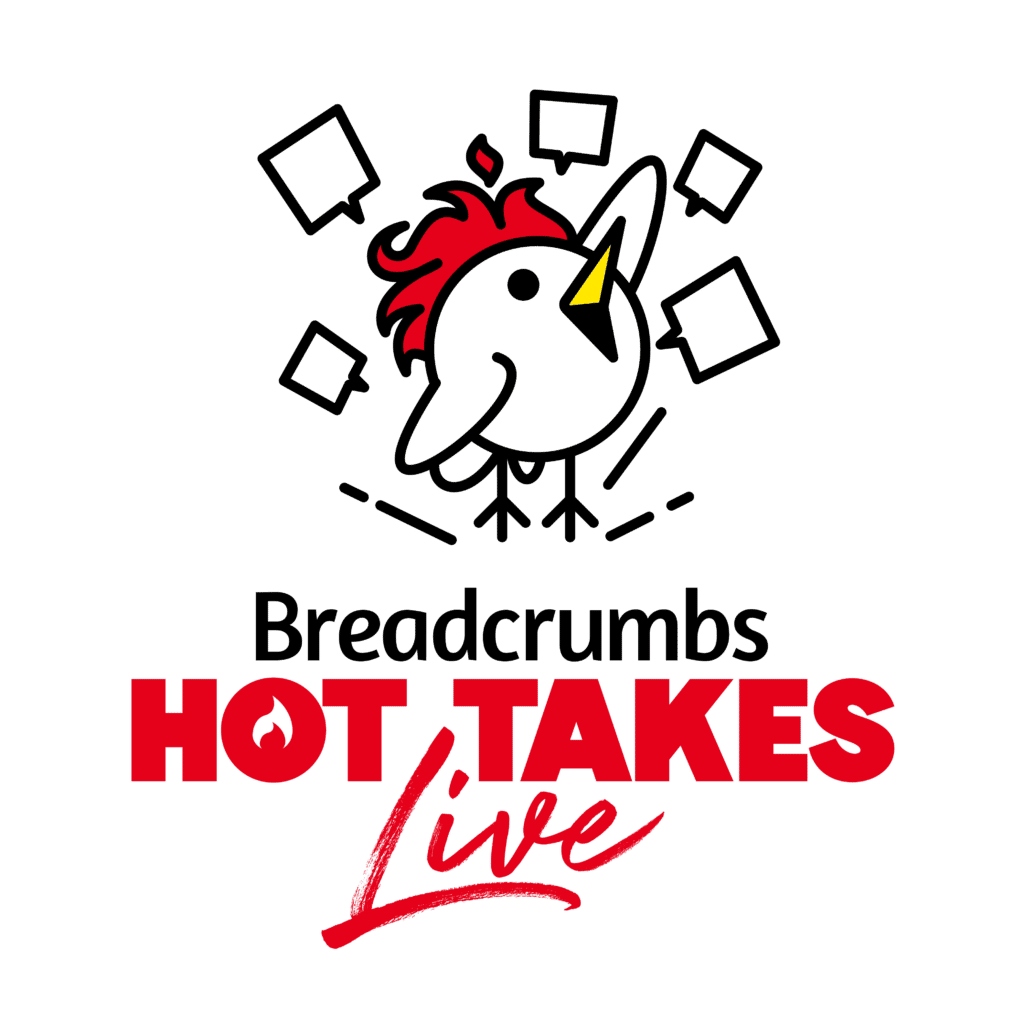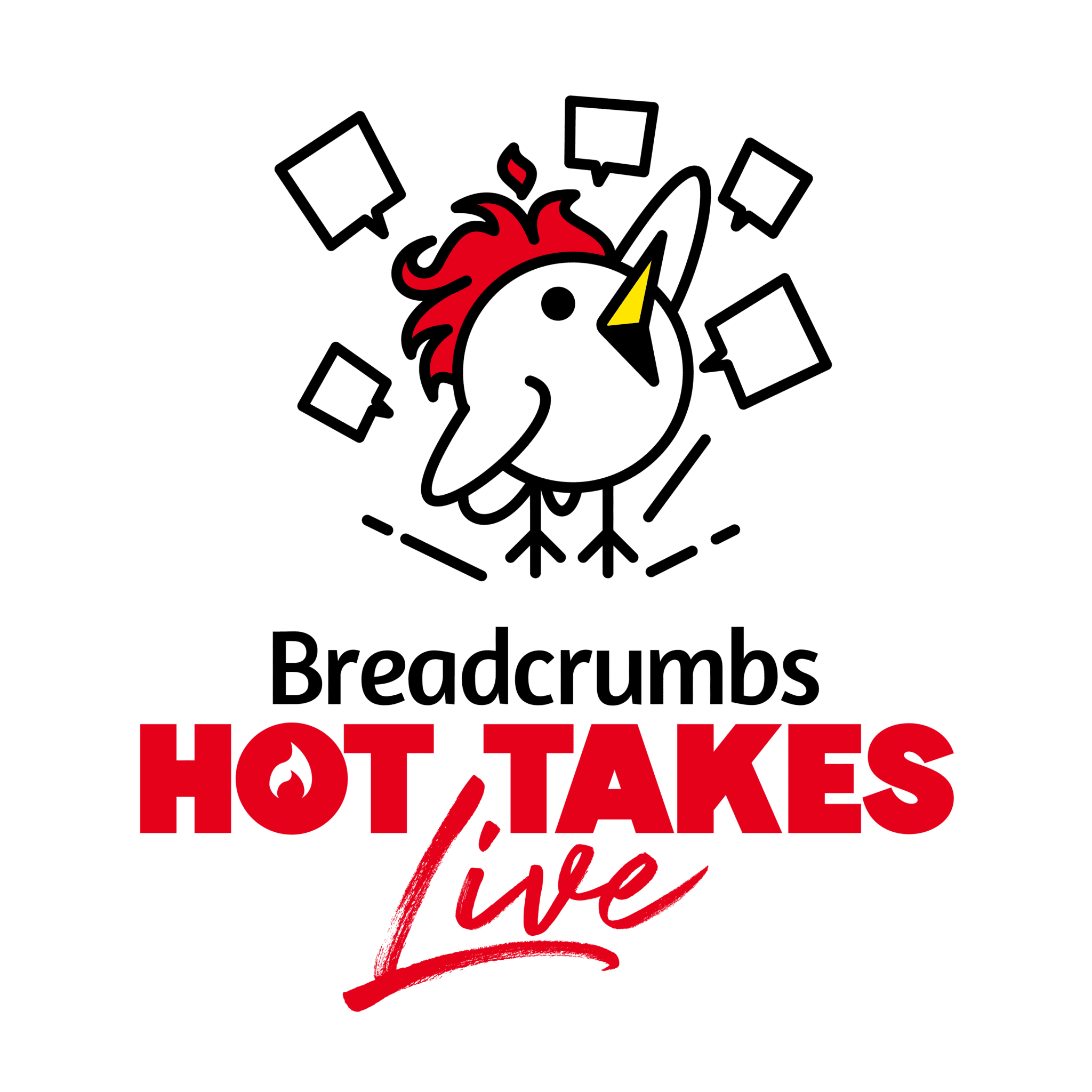 Hot Takes Live
Replays
Catch the replay of Hot Takes Live, where 30 of the top SaaS leaders across Marketing, Sales, and RevOps revealed some of their most unpopular opinions about their niche.
These leaders shared what lessons they learned and how they disrupted their industry by going against the grain (and achieved better results in the process).
Gary Amaral
Thank you, Lorenzo. Thank you so, so much. Thank you for the presentation, and thank you for the very generous offer for attendees of Hot Takes Live. A couple of questions, if you don't mind.
So, people are addicted to automation, I think. We see it not only on the sales side but we see it on the marketing side and we see it on the CS side. So, you know, your thesis is quite spicy, which I like, and it's interesting at this time when all anybody can talk about is generative AI, right? So now it's like generative AI plus automation; put those things together, and you can run your business on autopilot. Is that true?
Lorenzo Tiberi
You can do something better, but I think generative AI should help you to do the boring things like, okay, the data entry of the CRM, I think it should be automated, that's something that should be automated, or the research of a prospect, or other stuff.
But I think at the end, and that's because we speak a lot–maybe now or less because there is generative AI–but before, we were speaking about a lot of customer experience and sales experience, and I think that's the key because, at the end, you buy from a person most of the time.
If that's a small tool, no, but you want to buy from a person. In the end, you trust a person more than an automation and everything. So, I think generative AI can give the superpower to good sales to sell better and sell more.
But still, I think the approach will be super important. And also you can recognize, I think if you open your mail, you have how many messages, which, which do you read, which you don't.
Gary Amaral
Most people, most people that know me, know that I, I don't, right? It's like thousands of messages in my inbox.
But, I guess the next question is related to like, I agree with the premise, right? It's tied to what Amin was saying in terms of doing the research, personalizing the message, having the outreach, and talking to the specific personal pain points of the prospect.
But even if you, even if you do that in a somewhat automated way, right? You have like segments, and, and it's, uh, you know, you're still talking out, you're blasting 50 or 100 people at a time. I find that, ultimately, most people are just waiting for a reply, right?
They're waiting for a reply to that outbound email, sequence, and cadence. Maybe it's multi-channel, maybe they have some link in there, maybe, maybe not, but they're still missing the boat, right?
Because those people are engaging with the business in other ways. They may be visiting the website, they may be opening that email two, three, or four times, and unless they get a reply, nobody's taking action.
Do you see that, and what do you think the way to overcome that challenge is?
Lorenzo Tiberi
Uh, it's true, and it's, it's very important to track everything and their behavior. That's something that technology can help a lot because you can understand. But if you see that the email is read and they spent some minutes maybe visiting the website, I think you have reached your goal because you are in the mind of the customer at that point.
And so maybe because it also happened with me, I have some email that I have open that was relevant and personalized enough, and so I read, and actually they are relevant for something that will happen with my company; we are also growing very fast, so we are doing a round and it will happen in a few months,
And so I will reply in maybe two to three months to that email. But I saw the services, I have that in mind. But because it was really relevant, being precise about me, my company, what was my pain, and what will be my pain in a few months, that's something that now I remember, and I will contact them.
Gary Amaral
Awesome, Lorenzo. I'm putting up the calendar link again for anybody who's watching. Folks, if you want to learn more about Crono, if you want to take advantage of this generous offer, definitely visit there.
Otherwise, they can just google Crono, visit the website, and check it out that way.
And then Lorenzo, if people want to get in touch with you, what's the best option other than the Calendly link?
Lorenzo Tiberi
LinkedIn or Calendly is perfect.
Awesome. Thanks again to everyone listening. Thanks for joining.