Harnessing the power of data is no longer just a luxury—it's a necessity. A robust, data-driven sales strategy stands as the backbone of many successful enterprises, driving them towards greater heights and ensuring they remain agile in the face of ever-evolving market challenges.
As companies increasingly recognize the invaluable insights that data offers, they are searching for the best tools to translate this vast reservoir of information into actionable strategies.
Enter AI sales analytics software: a cutting-edge solution that has rapidly risen in popularity.
Designed to crystallize complex data into clear, tangible insights, this software is revolutionizing the way businesses approach sales, making data-driven decision-making more accessible and impactful than ever before.
Join us as we delve into the world of sales analytics software, exploring its myriad benefits and its indispensable role in modern business.
What is Sales Analytics Software?
Sales analytics software is a digital solution designed to gather, analyze, and visualize sales data to provide insights, optimize strategies, and drive sales performance. This technology aids organizations in understanding sales trends, forecasting outcomes, and making data-driven decisions to enhance their sales operations.
A true sales analytics software will usually include the following features:
Dashboard and Visualization: Provides a central interface displaying key sales metrics and trends in easy-to-understand graphics and charts.
Predictive Analytics: Utilizes historical data to forecast future sales trends, potential challenges, or opportunities.
Integration Capabilities: Can seamlessly connect with other business tools like CRM, ERP, and marketing platforms to centralize data.
Data Filtering and Segmentation: Allows users to break down data by various parameters such as sales rep, region, product, or time frame.
Real-time Data Analysis: Offers up-to-the-minute insights, enabling quick decision-making.
Custom Reports: Enables the creation of tailored reports to suit specific needs or to delve into particular aspects of the sales process.
Sales Analytics Software vs Traditional Tracking Tools
Traditional sales tracking tools, such as manual spreadsheets or basic CRM systems, were primarily designed to record and manage sales data rather than analyze it. Here's how sales analytics software differs:
Depth of Analysis: While traditional tools record sales transactions, analytics software delves deeper, analyzing patterns, predicting future trends, and offering actionable insights.
Automation: Sales analytics software often automates data gathering and analysis, reducing the risk of human error and saving considerable time. In contrast, traditional tools often require manual data entry.
Real-time Insights: Traditional tools might give a snapshot of sales at a particular moment, but they often lag in providing current data. Sales analytics software, on the other hand, usually offers real-time data.
Integration: Sales analytics platforms are typically built to integrate with other business tools, ensuring a smooth data flow across platforms. Traditional tools often operate in silos.
User Interface: Modern sales analytics software usually offers a more user-friendly, intuitive, and visually appealing interface compared to the often clunky interfaces of older, traditional tools.
Scalability: Sales analytics solutions are designed to scale with a business's growth, handling larger datasets and more complex analyses. Traditional tools might require manual adjustments or migrations when dealing with growth.
While traditional sales tracking tools played an essential role in the past, modern sales analytics software provides a more comprehensive, automated, and integrated approach to understanding and boosting sales performance.
The Importance of Sales Analytics in the Modern Business Environment
Sales analytics has emerged as a pivotal component in steering companies towards success in the modern business world.
One of the driving forces behind this emphasis on sales analytics is the undeniable shift towards data-driven decision-making. Gone are the days when businesses relied solely on intuition or rudimentary tools to gauge their sales performance.
Today, with the vast amount of data available, companies recognize that informed decisions based on empirical evidence yield better results. This shift is not just a trend but a fundamental change in business operations, emphasizing the marriage of technology and strategy.
The benefits of real-time data analysis in sales are manifold.
First, it gives businesses instant insights into their sales performance, enabling them to address issues or capitalize on opportunities promptly. In a fast-paced market, responding to real-time changes can be the difference between capturing a sale or losing a potential customer. Second, real-time data analysis helps in accurate forecasting.
With up-to-the-minute data at their fingertips, businesses can make predictions about future sales trends, allowing them to prepare, allocate resources, or adjust strategies adequately.
Real-time analytics also facilitates improved communication and collaboration among sales teams. With everyone accessing the same current data, teams can align their strategies, share insights, and work towards collective goals more efficiently.
In essence, sales analytics, especially with its emphasis on real-time sales data analysis, equips businesses with the tools they need to navigate the complexities of today's markets and fosters agility, precision, and a proactive approach, all of which are crucial for businesses aiming to stay ahead of the competition and meet their growth objectives.
Key Features to Look for in Sales Analytics Software
Dashboard and Visualization: One of the foremost features to look for is an intuitive dashboard accompanied by clear visualizations. This ensures that users can easily interpret the data without getting bogged down by its complexity.

Intuitive graphics transform raw data into understandable charts, graphs, and visuals that can quickly convey information about sales performance. Furthermore, real-time sales KPIs (Key Performance Indicators) on the dashboard allow teams to monitor the most critical metrics at a glance, ensuring they are always aware of their current performance status and areas needing attention.

Predictive Analytics: Foreseeing future sales trends is invaluable for any business. Predictive analytics uses historical data to forecast upcoming sales trends and potential challenges.

This feature enables businesses to be proactive, preparing them for future demands or allowing them to address potential issues before they become significant problems. By having insights into what lies ahead, companies can strategize effectively, ensuring they are always a step ahead of the competition.

Integration Capabilities: No software functions in isolation in today's interconnected business environment. Thus, the ability of sales analytics software to integrate seamlessly with other critical business tools, such as CRM (Customer Relationship Management) systems, ERP (Enterprise Resource Planning) platforms, and various marketing tools, is essential.

This integration ensures that data flows smoothly across platforms, eliminating the need for manual transfers, reducing errors, and ensuring every tool has access to the most current data.

Collaboration Tools: Sales is often a collaborative effort, with teams working together to achieve common goals. Collaboration tools within sales analytics software facilitate this joint effort by providing features allowing data sharing, co-working on reports, and communicating insights. These tools ensure that all team members, regardless of location or function, are aligned, informed, and working harmoniously toward sales objectives.

Customization: Every industry and business has its unique characteristics and processes. A one-size-fits-all approach rarely works in sales analytics. Thus, customization features are vital. These allow businesses to tailor the software to their specific needs–custom reports, unique KPIs, or specific data filtering options.

By adapting the software to align with individual industry needs and sales processes, businesses can ensure that they're getting insights that are truly relevant and actionable for their context.
The Top 5 AI-Backed Sales Analytics Software of 2023
Sales analytics software is vast, with many options catering to different needs and business sizes. Here are five top sales analytics software programs for your business.
Cadence by Breadcrumbs
We might be biased, but Cadence by Breadcrumbs stands out as an AI-powered sales outreach tool, revolutionizing how businesses connect with potential leads. At its core, Cadence prioritizes personalization. Rather than deploying one-size-fits-all messages, it harnesses AI to craft touchpoints tailored to each recipient, enhancing the chances of meaningful engagement.
Moreover, its automated sequences are designed with precision. If an initial outreach doesn't garner a response, Cadence ensures timely follow-ups, making certain that no potential client gets overlooked.
One of the platform's standout features is its adeptness at pinpointing optimal outreach timings. By analyzing a plethora of data, Cadence determines when a prospect is most receptive, amplifying the probability of engagement. Beyond this, its robust performance analytics offer users a transparent view of their campaigns. Such insights empower businesses to discern the efficacy of their approaches and make informed adjustments where necessary.
Integration capabilities further elevate Cadence's appeal. Its seamless synchronicity with various CRM systems ensures sales data remains consolidated, simplifying lead management. Additionally, the tool's A/B testing feature can't be understated. It grants users the ability to test varied outreach strategies, subsequently refining their approaches based on tangible data.
Cadence by Breadcrumbs is not just another tool in the sales arsenal; it's a game-changer. The cherry on top? You can try all the features listed today (and more) for $0.
Drift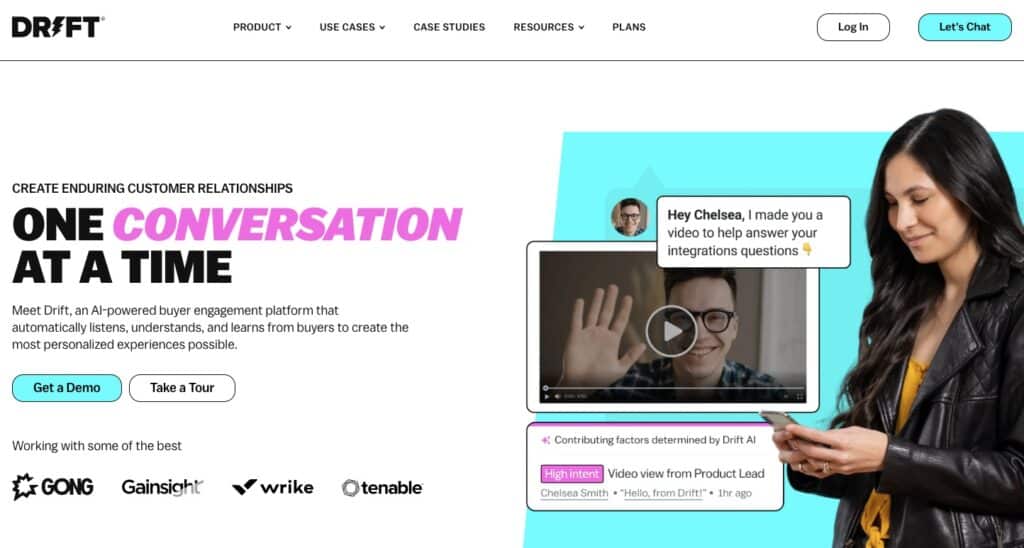 Drift is a leading software company renowned for its conversational marketing and sales platform. Their primary offering focuses on enabling real-time conversations between businesses and website visitors. By doing so, Drift enhances engagement, expedites lead qualification, and streamlines sales processes.
A key feature of Drift's platform is its AI-driven chatbot, which can be seamlessly integrated onto websites to engage users around the clock. This chatbot is adept at answering inquiries, qualifying leads based on set criteria, and scheduling relevant meetings.
Furthermore, Drift's AI capabilities extend to lead routing. By setting specific criteria, businesses can ensure that their sales representatives only interact with leads that match their desired profile or exhibit high interest thanks to AI. This automation saves time and provides significant insights into potential customer behaviors and preferences.
From an analytics standpoint, Drift offers comprehensive insights into the nature of online conversations. Businesses can glean information about high-engagement website pages, the rate of conversations leading to meetings, and recurrent questions from visitors.
This data is invaluable for sales strategy optimization. Additionally, Drift's platform can be integrated with other CRM and marketing tools, making data export for deeper analysis straightforward. A noteworthy aspect of Drift's AI functionality is its ability to offer personalized interactions.
Depending on the visitor's past behaviors and interactions, Drift can tailor conversations, making them more relevant and engaging.
Drift automates customer interactions and leverages AI to extract strategic insights, making it an indispensable tool in modern sales and marketing arsenals.
Gong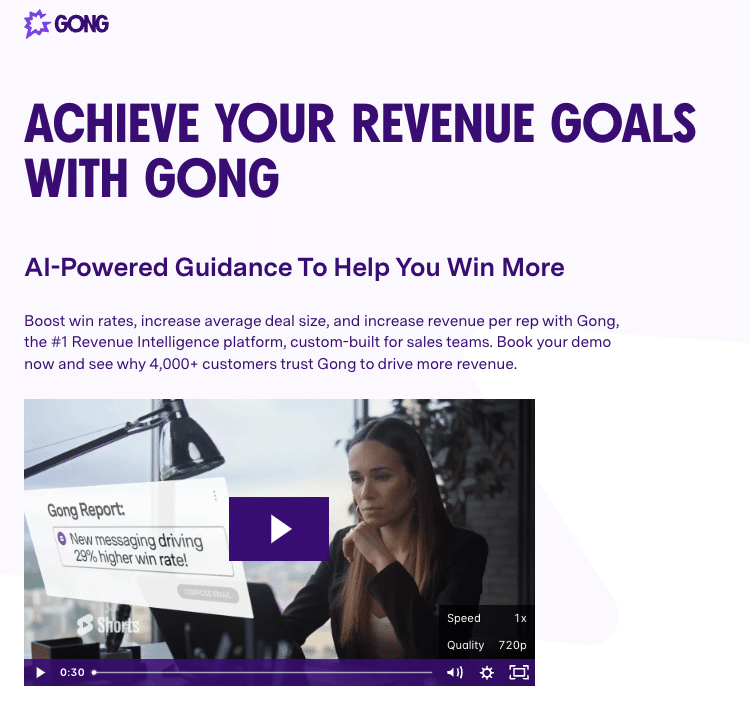 Gong stands out as a key player in "revenue intelligence." The company's platform captures and analyzes customer interactions, spanning emails, calls, and meetings.
Gong delves deep into these interactions through advanced AI, offering a wealth of insights to enhance sales results. One of the primary functionalities of Gong is its conversation analysis. By listening to and evaluating sales communications, the platform discerns successful sales patterns, pinpoints objections, and extracts other pivotal conversation indicators.
Gong's AI sales tool offers dynamic insights into ongoing deals. It predicts the likelihood of deal closures by juxtaposing historical data with the essence of current conversations, and it can even identify potential risks in real time by assessing the tone and content of discussions.
But Gong isn't just about understanding deals; it's about refining sales techniques too. By sifting through a plethora of sales data, the AI provides recommendations on best practices and uncovers coaching opportunities.
If a sales representative consistently encounters specific objections, Gong highlights this trend, pointing toward relevant training or resources. Furthermore, the software's ability to perform sentiment analysis offers a nuanced understanding of customer feelings during interactions, enabling sales teams to respond empathetically.
Gong's trend analysis capabilities ensure businesses remain attuned to market shifts, whether that's an emergent competitor or a frequently requested feature. In a nutshell, Gong transforms the vast landscape of sales interactions into actionable, AI-driven insights, serving as a compass for refining strategies and bolstering sales success.
People.ai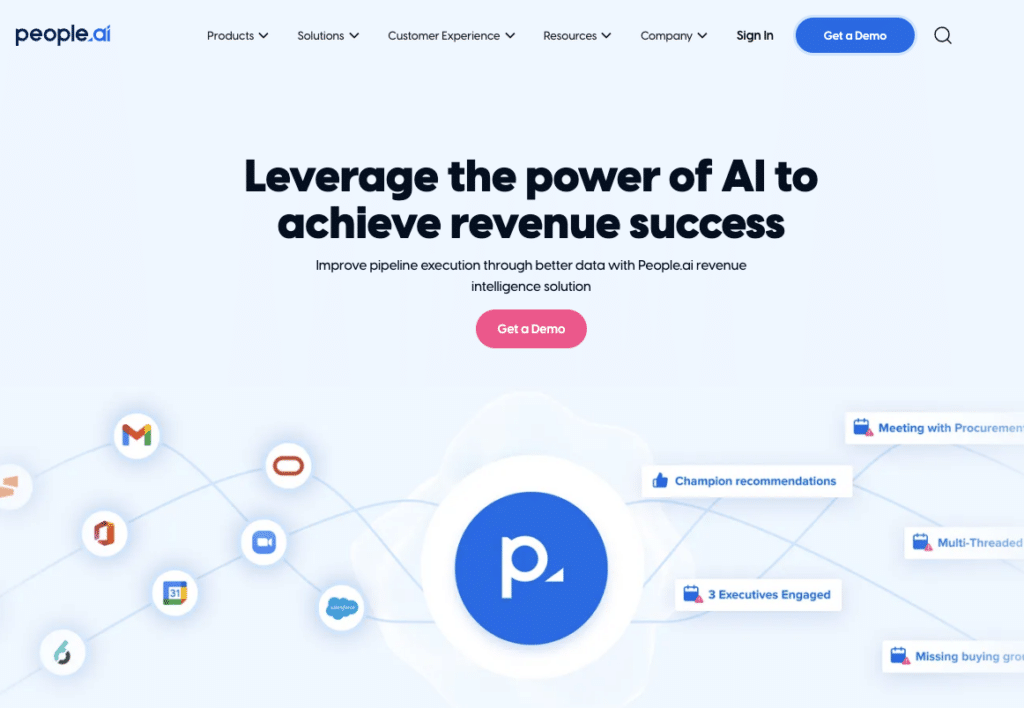 People.ai stands at the forefront of revenue growth and operations as this AI sales tool analyzes business activity data and translates it into actionable insights. The platform excels at automatically capturing data from myriad channels like emails, calls, calendar events, and CRM activities, ensuring that businesses base their strategies on comprehensive and accurate information.
By diving deep into this data, People.ai identifies patterns and trends, spotlighting which sales activities consistently yield the best outcomes. This enables sales teams to refine their approach, focusing on what drives results.
The software's predictive capabilities also play a pivotal role in deal assessments. Drawing from historical data and current sales engagements, People.ai offers prognostications about the likelihood of deals coming to fruition, aiding sales representatives in strategically prioritizing their endeavors.
On the managerial front, the platform is invaluable for coaching and performance assessments. It surfaces key metrics highlighting standout performers, areas needing improvement, and the best practices underpinning success.
But People.ai's ambit isn't confined to just sales. It ambitiously seeks to optimize the entire revenue journey. The platform crafts a holistic picture by scrutinizing data across sales, marketing, and customer success domains, suggesting alignments and improvements that can elevate the entire revenue operation.
Additionally, its seamless integration capabilities with prevalent CRM systems and other business utilities ensure its insights can be effortlessly woven into existing workflows.
HubSpot Sales Hub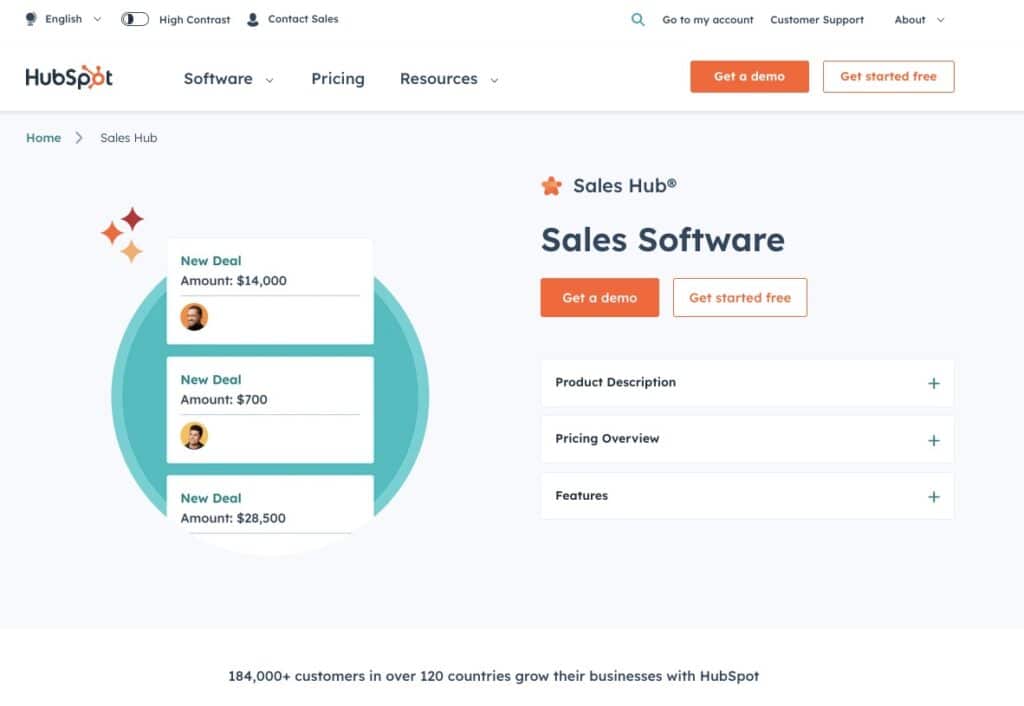 The HubSpot Sales Hub is a cornerstone of HubSpot's comprehensive suite, designed to bolster sales processes and enhance deal closures. It combines CRM functionalities, sales engagement utilities, and potent analytics in one unified platform.
The platform excels in email tracking and automation. Sales representatives receive real-time alerts when their emails are accessed or links are clicked, offering timely engagement opportunities. The AI component takes it a notch higher, recommending optimal times to dispatch emails to boost engagement.
The deal forecasting feature, underpinned by predictive analytics, grants businesses a clear perspective on prospective deal closures, facilitating more precise revenue predictions.
HubSpot's integration of conversational AI is another feather in its cap. Through its chatbot builder, businesses can devise AI-guided chatbots capable of fielding inquiries, scheduling meetings, and even qualifying leads, ensuring round-the-clock customer service and engagement. Another AI boon is data enrichment. The system autonomously supplements contact records with relevant data mined from the web, presenting sales teams with a richer, updated lead profile.
The platform's analytic prowess offers a magnified view of individual and collective performance metrics, shining a light on triumphs and areas ripe for refinement.
Use Sales Analytics Software for Your Email Outreach
The rise of AI sales analytics software has undoubtedly reshaped the sales landscape. As we've journeyed through this article, we've seen sales analytics software as a tool that employs artificial intelligence to decode complex sales data, offering actionable insights that drive informed decisions.
The utility of such platforms is undeniable: they streamline operations, refine strategies, predict outcomes, and ultimately lead to enhanced revenue generation.
Among the myriad of tools available, five have emerged as indispensable for modern businesses. These tools simplify the sales process and ensure that every decision is backed by data and predictive analytics, maximizing the probability of success.
Yet, for those looking to immediately elevate their cold email outreach without a dent in their budget, there's no better starting point than Cadence by Breadcrumbs.
Experience the transformative power of AI in sales analytics today, and try Cadence by Breadcrumbs for $0.
Don't let the future of sales pass you by; embrace AI-driven insights and watch your outreach soar!