Revenue Operations (RevOps) aligns sales, marketing, and customer success to drive revenue growth. It's an incredible strategy that involves getting these vital company departments on the same page to transform operational efficiency into profits.
However, putting B2B revenue operations into practice involves much more than commitment. You'll need to lean on using big data to form your decisions in RevOps—especially with lead scoring.
This article will explore the importance of data-driven strategies in optimizing B2B revenue operations. More importantly, we'll hone in on its vital role in lead scoring.
By the end of this comprehensive guide, you'll walk away knowing how your business can leverage data analytics to identify and prioritize high-quality leads to drive revenue growth.
Introduction to B2B Revenue Operations
B2B revenue operations is a business strategy aimed at making your company more efficient and, in return, increasing revenue.
How? By removing the silos between sales, marketing, and customer success teams. Organizations can better attract, convert, and retain customers without physical or departmental barriers.
The outcome ultimately translates to greater profits and customer satisfaction. But why do B2B revenue operations only concern these core departments for RevOps teams?
Here's the answer:
Marketing teams: Your marketing team is responsible for bringing qualified leads into your sales pipeline.
Sales teams: The sales team is then tasked with converting these qualified leads.
Customer success teams: Your customer success team's job is to keep your customers engaged and happy throughout the customer's lifetime.
In other words, these three teams are directly responsible for revenue generation (the key to any successful business).
The first step to revenue generation? Getting leads to enter your sales pipeline. From there, you need to get prospects to travel down the sales funnel so you can convert as many qualified leads as possible.
However, achieving this feat isn't that simple. A common problem for many businesses is that their marketing, sales, and customer success teams are closed off from one another.
They don't know what leads are the most important or where they stand in the customer lifecycle. (Hint: Breadcrumbs can help solve this very issue with a one-stop-shop view of all your contacts across data sources. More on that in a bit).
Sadly, it's more common than not that businesses may have disjointed sales and customer success teams. In other words, once a prospect is converted, it can take a few days for a welcome email to arrive in their inbox to start onboarding.
The longer onboarding takes, the more customers are unsatisfied. And that can contribute to customer churn. Thankfully, B2B revenue operations are the answer to this problem. Aligning these revenue teams to run like a well-oiled machine is the key to maximum business growth.
The Power of Data-Driven Strategies
Data holds the truth about every aspect of your business. But when you rely on intuition or outdated methods for decision-making, you suddenly sit on the fast track to obsolescence or poor decision-making.
Why? It all comes down to the common saying, "Garbage in, garbage out." So, it's time to embrace real-time, data-driven strategies across three arenas.
Informed decision-making
At its core, a data-driven approach revolves around harnessing raw data and transforming it into actionable insights. These insights provide a factual foundation, replacing guesswork or assumptions.
Whether it's assessing the effectiveness of a marketing campaign or understanding your sales team's performance, you unlock a clear and accurate picture of your business. That way, you can tweak strategies, allocate resources more effectively, and pivot when necessary.
The result? Decisions grounded‌ in accurate data are far more likely to yield the desired outcomes.
For example, conversion rate optimization plays a fundamental role in leveraging data-driven strategies for B2B revenue operations by using data insights to refine and enhance the conversion process.
It's only through continuous analysis of user behavior and preferences that you can identify bottlenecks, optimize lead nurturing, and tailor content to better align with customer needs.
This data-driven approach enables organizations to make informed decisions, resulting in improved conversion rates, increased revenue, and more efficient B2B sales operations.
Enhanced targeting
Gone are the days of throwing money at a marketing campaign and hoping it brings in hundreds or thousands of qualified leads. Today, you can tap into data analytics to segment your audience in greater detail than ever before.
This precision gives you the new opportunity to craft hyper-personalized messages that resonate deeply with potential clients.
Understanding client behaviors, preferences, and pain points allows you to design solutions and pitch them in perfectly unique ways that drive results.
One unique way could be using a QR Code generator to generate QR codes that can direct users to personalized content based on their preferences or location, increasing the relevance of your messaging.
Let's face it. Customers crave personalization. So, a data-driven approach guarantees you're speaking directly to the needs of your prospects.
Streamlined sales processes
The B2B sales cycle in the B2B can be intricate and prolonged. However, with the right data at your fingertips, you can speed up the process tenfold.
How? With data analytics, it can help you identify the good and the bad about your current sales cycle. For example:
Which touchpoints in the sales funnel are most effective
Where prospects tend to drop off
What tactics close deals faster
Using this detailed information, you can help your sales teams ‌fine-tune their approaches, focus on high-conversion activities, and discard redundant steps. The result is a smoother, faster, and more efficient sales process that benefits both the seller and the buyer.
Let's use an example here to better illustrate this point.
You're noticing a disconnect between the number of leads entering the sales pipeline versus the number that converts.
From the outside looking in, you might assume:
However, upon viewing the data in your marketing suite, you determine that most of the prospects sent to your sales team are unqualified.
Now, it makes more sense as to why the conversion rate is so low. Your sales team can't convert people who aren't interested in or qualified enough to be customers for your brand.
By making this data-backed distinction, you can strengthen the teamwork between your marketing and sales teams, boost operations, and increase revenue.
That's the power of data-driven strategies in a nutshell. Ultimately, data is the proof that should drive every business decision.
Understanding Lead Scoring
One of the ways to improve the connection between marketing, sales, and customer success teams is to implement a lead scoring model.
Lead scoring is the act of grading a prospect according to a predefined rubric about the likeliness that the lead will convert. For example, if someone books a sales demo, that lead has more potential than someone who unsubscribes from your newsletter.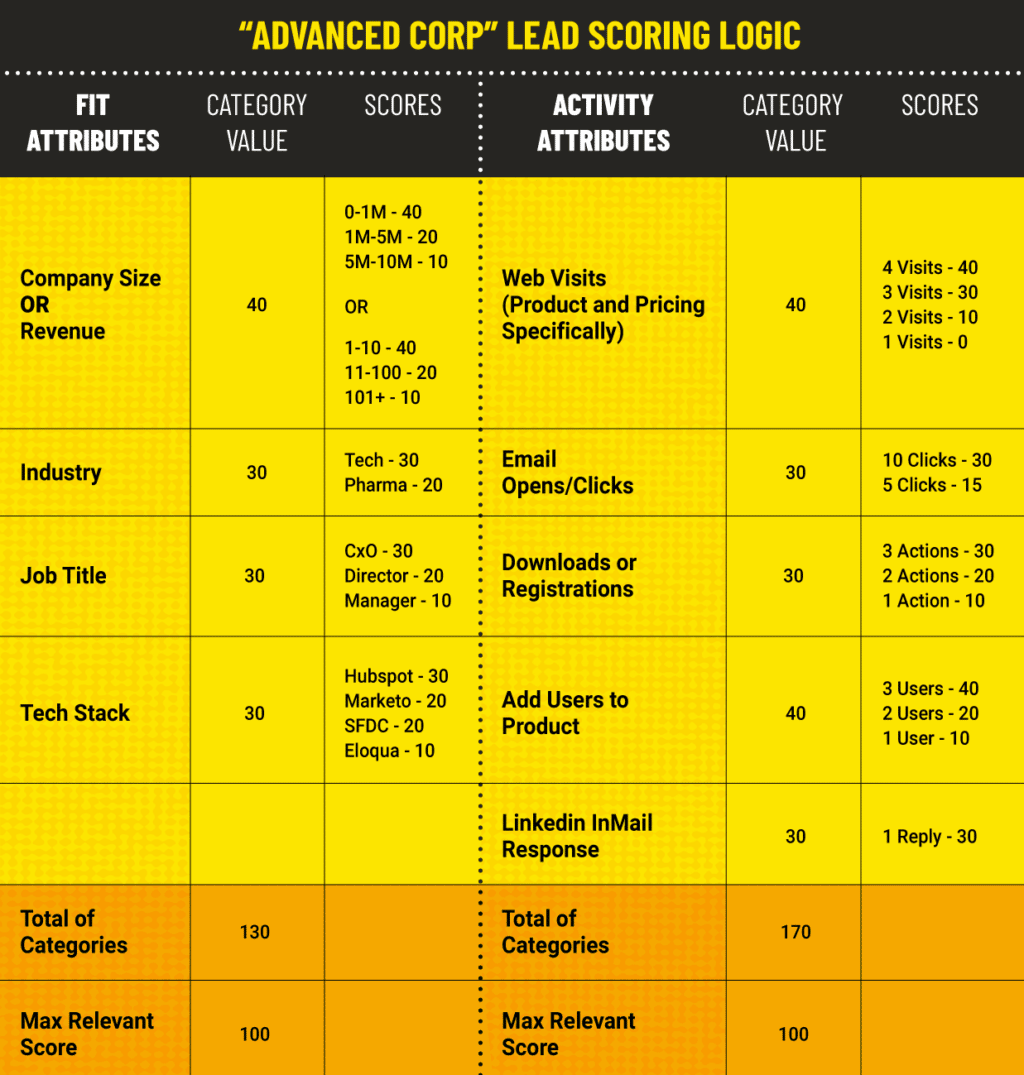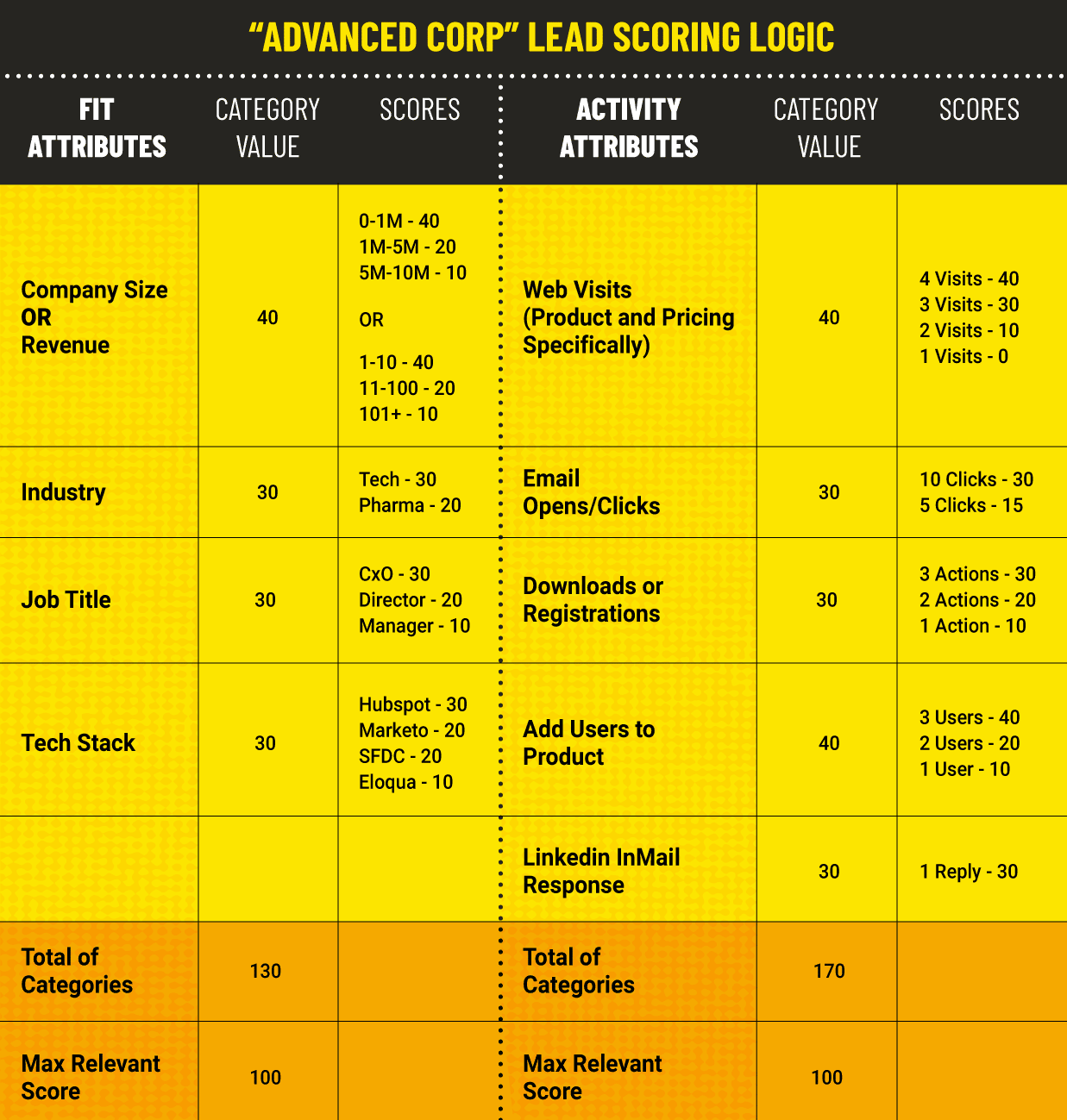 You can create these models manually (in a spreadsheet). Or you can let Breadcrumbs do the heavy lifting.
Turn your data into revenue with Copilot by Breadcrumbs. Unlock access to an unprecedentedly straightforward method for crafting lead-scoring models. In just a handful of clicks, you can auto-generate a customized model, all while maintaining complete control over the procedure.
Then, you can fine-tune as you see fit and always keep the latest data right at your disposal.
For example, maybe someone visited your pricing page but didn't book a sales call. These leads are likely more budget-conscious. So, it might not make sense for your sales team to pursue these leads that don't have the necessary spending power.
In our earlier example, we shared that there was a problem with the sales team underperforming due to unqualified leads being sent down the sales pipeline.
This problem can easily be solved by implementing a lead-scoring model. Based on your ideal customer profile (ICP), you can score individual leads at the very first touchpoint with your marketing team.
Whether looking for big spenders or specific professionals, you can qualify or disqualify them almost immediately with the help of Breadcrumbs. The most qualified leads are fed directly to your sales team. Leads that show promise can stay in your pipeline and mature more.
Unqualified and mismatched prospects in your ICP can fall out of the pipeline entirely. Scoring your prospects is a great way of relying on data to optimize your B2B revenue operations.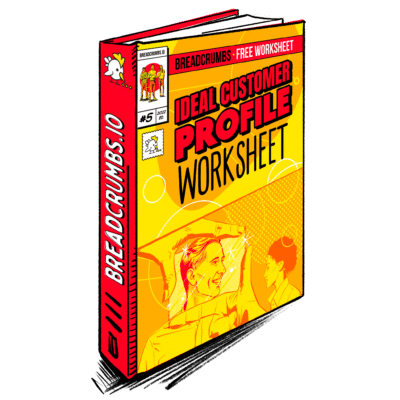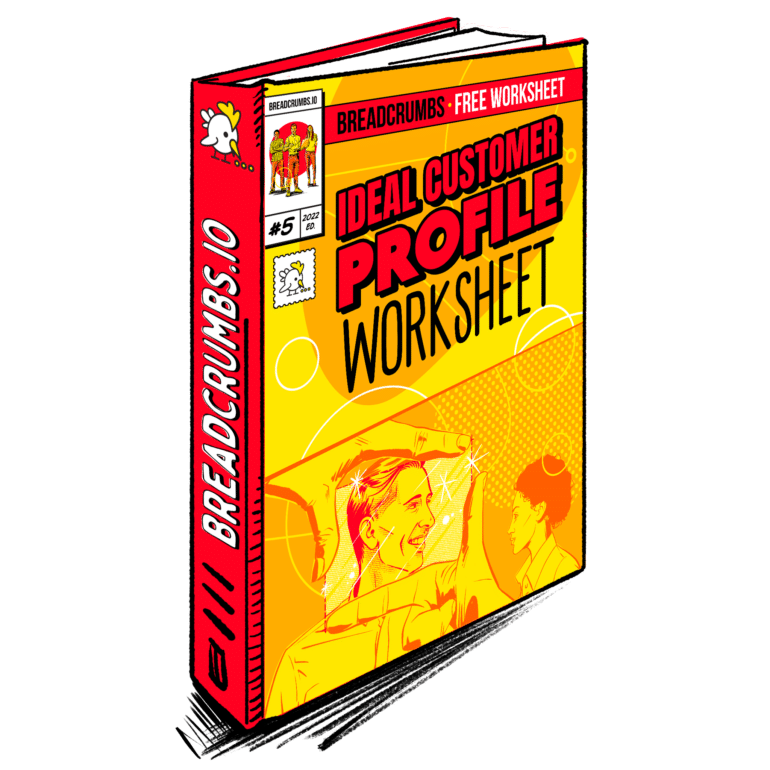 Ebook
Ideal Customer Profile (ICP) Worksheet
Learn how to create an Ideal Customer Profile and build a successful sales strategy with this Ideal Customer Profile (ICP) Worksheet.
Utilizing Data Analytics for Lead Scoring
We've skimmed over the rudiments of lead scoring, but the nuts and bolts lie in the data points used as inputs. Remember, the essence of lead scoring is deeply rooted in the quality of the data analytics you use.
Here are some key areas in which you can use data analytics to enhance your lead-scoring model:
Demographics: This information defines a person, such as income level, marital status, race, age, and gender.
Engagement: This type of data explains the level of interaction a person makes with your company. Impressions and clicks are key engagement metrics.
Past interactions: These instances indicate how much a person has interacted with your company in the past. You can generally use third-party cookies to track past interactions.
Firmographics: Firmographics is basically like demographics, but for organizations. Key metrics include the type of organization and number of clients.
The real game-changer, however, is how you manage and make sense of this massive influx of data. That's where modern analytics tools, particularly Breadcrumbs, come to the forefront.
How? The ICP is the bedrock of any lead scoring model. Without a clear understanding of your ICP, your lead scoring might veer off course.
Breadcrumbs Reveal is purpose-built for ICP analysis to keep the foundation of your model robust and accurate. By correctly identifying and targeting your ICP, you can direct resources where they'll have the greatest impact.
Let's face it. Traditional lead scoring can be a tedious and sometimes subjective process. Not anymore, thanks to Copilot. 
With Copilot, you can harness the power of machine learning to scrutinize lead criteria, emphasizing those with the highest potential impact. With machine learning, you're guaranteed a model that continuously learns and adapts, always staying relevant and optimized.
Implementation Best Practices for Leveraging Data-Driven Strategies
Now that you know how lead scoring can help you refine your B2B revenue operations, it's time to put your knowledge into practice.
Here are some best practices to keep in mind when implementing your lead scoring model:
Align Your Marketing and Sales Teams
Sales and marketing alignment is the crux of successful B2B operations.
When these teams move in harmony, they create a cohesive customer journey. The goal? Marketing efforts attract and nurture leads and dovetail perfectly with sales strategies to convert and maintain them.
So, how do you do it? Here are a few simple tips:
Establish mutual KPIs and continuously review them for relevance.
Schedule consistent joint meetings and use collaborative tools.
Work together to clearly define and regularly refine what makes up a qualified lead.
Invest in shared CRM and marketing tools to ensure transparent data access.
Create a structured mechanism for both teams to exchange insights and adjust strategies.
For example, your marketing team can collaborate with your sales team to create helpful content that illustrates the pain points of your target audience. That way, your content can relate better to your audience and grease the wheels of your sales funnel.
Use Tools to Automate the Process
Automation is the key to efficiency. Manual lead scoring can be time-consuming, prone to errors, and often fails to capture nuanced data patterns.
That's where tools like Breadcrumbs become invaluable for automating significant parts of the lead-scoring process. Plus, it's the easiest way to guarantee accuracy, consistency, and scalability.
With features that harness machine learning, such as Copilot, Breadcrumbs goes beyond mere automation, offering insights that the human eye might miss. Plus, you can test it out for free.
The result? A streamlined, efficient, and highly effective lead-scoring system.
Always Refine Your Scoring Criteria
Scoring leads isn't a one-dimensional task. Ideally, you may have different lead scoring criteria for different campaigns you're running.
By all means, if you notice that your scoring criteria are off. You should refine it continuously to get the results you're looking for. Plus, static lead scoring models quickly become obsolete in the ever-changing B2B market.
Pro tip: Don't underestimate the power of networking to better understand your target audience or position within the market when refining your scoring criteria. Mastering networking tips for small businesses helps you ‌acquire qualitative insights from interactions, enabling you to understand partner preferences, market dynamics, and emerging trends.
These insights form a complementary narrative with data-driven strategies, where quantitative data is harnessed to refine revenue operations.
This fusion empowers you to tailor B2B strategies with a deeper understanding of your network, enhancing targeting accuracy and maximizing revenue optimization.
Case Studies
Don't take our word for it—lead scoring has helped countless businesses generate higher revenue from qualified leads. For example:
These case studies prove the efficacy of lead scoring in optimizing B2B revenue operations.
Future Trends and Considerations
B2B RevOps is picking up steam as new technologies, such as artificial intelligence and machine learning, continue to advance. These innovations ‌make it easier for RevOps teams to implement this process at scale.
Also, predictive analysis empowers marketing and sales teams to gain critical insights into campaigns before they go into effect. For example, predictive analysis can help you determine the effectiveness of your lead-scoring model before it goes into effect.
The future of data-driven strategies is bright. It's time to hop on the bandwagon or risk falling behind in the B2B market.
Final Words
Using data-driven strategies such as lead scoring is the key to optimizing B2B revenue operations in your organization. Focusing on data to lead your decisions is the best way to positively impact your company.
The good news is that following these valuable insights will help put you on the best path to applying this principle to achieve your revenue goals.
So, are you ready to break down silos and boost revenue tenfold?