Lead scoring has been around for decades, and in that time, it's mostly been unchanged. As a result, it's been given a little bit of a bad rap. It's thought to be maybe helpful, but nothing to hang your hat up for.
That's not necessarily the case anymore. While some lead scoring tools are treated like an afterthought, with basic functionality or limited analytics, there are new tools on the market that change the game.
We've done that here at Breadcrumbs, having reimaged conventional lead scoring and bringing it into the latest high-tech digital age. We've accounted for a wider and more complex understanding of diverse customer journeys while factoring in crucial factors like recency and frequency.
And perhaps most significantly, lead scoring today goes beyond just acquisition. Lead scoring tools can also become contact scoring tools, allowing for advanced scoring models that make it possible (and profitable!) to identify new sources of revenue even after you've acquired the customer.
So while, yes, lead scoring is ideally suited to sniffing out high-intent leads and getting those into the hands of salespeople while they are smoking hot, that's not all there is to it.
This article will discuss three more revenue-focused approaches to create advanced scoring models aiming at different customer life cycle stages.
How Breadcrumbs Works
Breadcrumbs is a lead scoring and contact scoring tool that goes beyond what you've likely ever seen before.

We utilize a co-dynamic approach to lead scoring, accounting for both fit and behavior so that your sales team is able to really understand who aligns with your ideal customer profile and who is ready to purchase now.

We also account for essential factors of recency and frequency so that someone who just signed up for a trial this week is given more attention than someone who subscribed to a sales demo three years ago.

You can see more about how it works here.
Revenue-Focused Approaches To Contact Scoring
You're likely already familiar with using lead scoring to acquire more and higher value customers. If not, you can check out our lead scoring guide for more info.
This article talks about what happens after that: Using contact scoring software to accelerate revenue after you've acquired those customers.
There are three specific types of scoring models that we're going to look at, with a few examples of each–expansion scoring models, retention scoring models, and adoption scoring models.
1. Expansion Scoring Models
If you work within the eCommerce or sales sphere, the terms upsell and cross-sell might be very familiar to you. In case they're not:
Upselling is the practice of selling customers on a higher-value product or service or increasing their average order value (like pitching them a higher-priced plan of your SaaS software)
Cross-selling is the practice of selling new and potentially complementary products to existing customers (like selling them on a custom consulting service in addition to your SaaS software)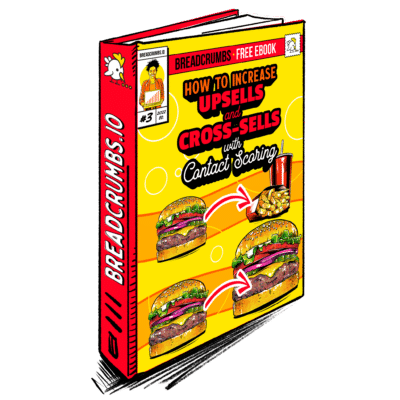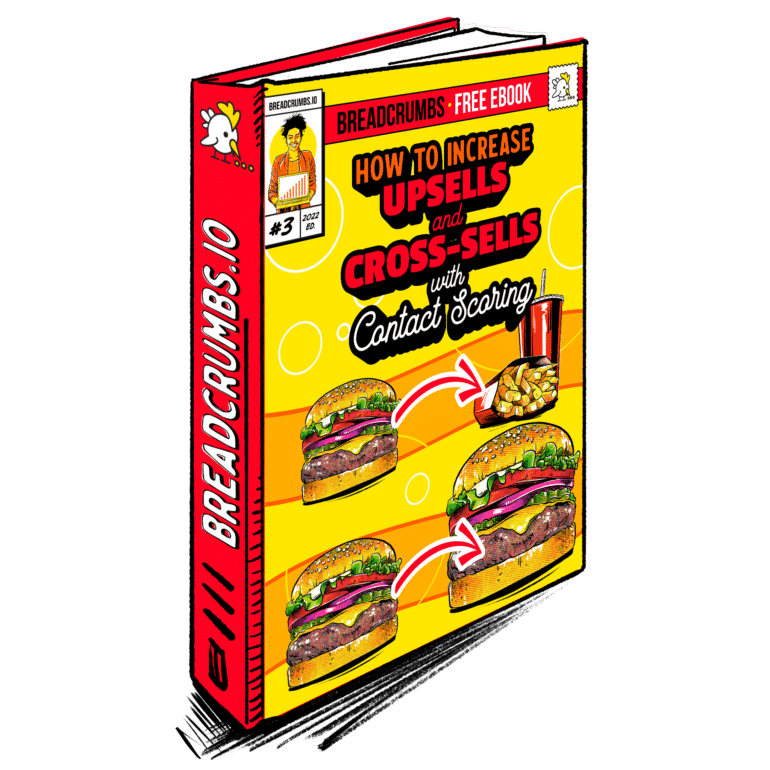 Ebook
How to Increase Upsells and Cross-Sells with Lead Scoring
Learn how to increase your average order value, improve customer retention, and bolster your customer lifetime value with lead scoring.
As consumers, we see examples of this in our everyday lives without even realizing it. You go to a car dealership, and they automatically try to upsell you to a more expensive and higher-end trim of the car you said you wanted. And they may try to cross-sell items like window shields, car cleaning kits, or "waterproof" floor mats.
And when you open up a credit card with Discover or Chase, you're practically guaranteed to get a bunch of offers from the same company asking if you'd like to open up a bank account with them, too.
Now, if we relate this to the topic at hand (lead scoring), we can use factors like upsell or cross-sell opportunities to create an enhanced lead score.
Just as high-value and high-intent leads will have certain cues that can make them detectable with lead-scoring software, so can customers who can be upsold or cross-sold.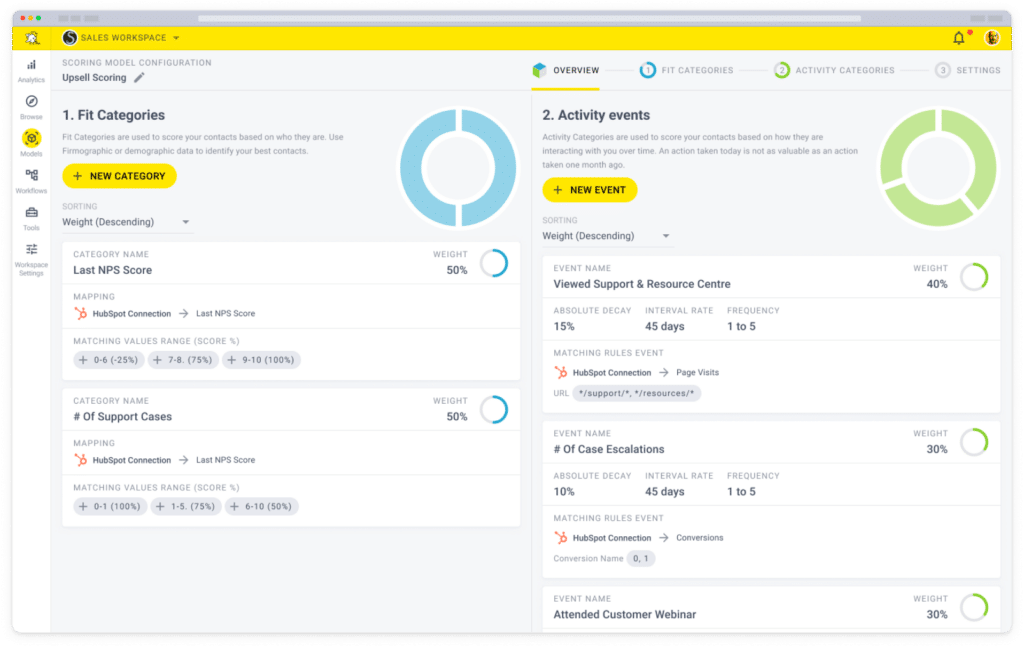 Someone who is consistently hitting the absolute upper limit of their SaaS plan, for example, should be sent a message from sales letting them know about the benefits of going to the next level up.
Your current customers have likely provided you with rich data from a demographic/firmographic perspective. You can map this against customers who are already using the product mix or tier you are trying to sell.
If it's a new offering, you will use the Ideal Customer Profile (ICP) that informed your new offering.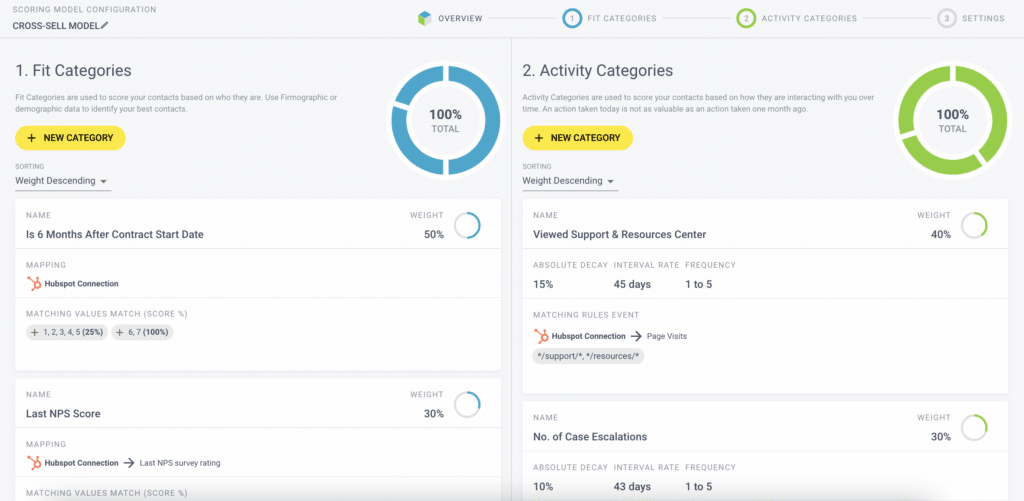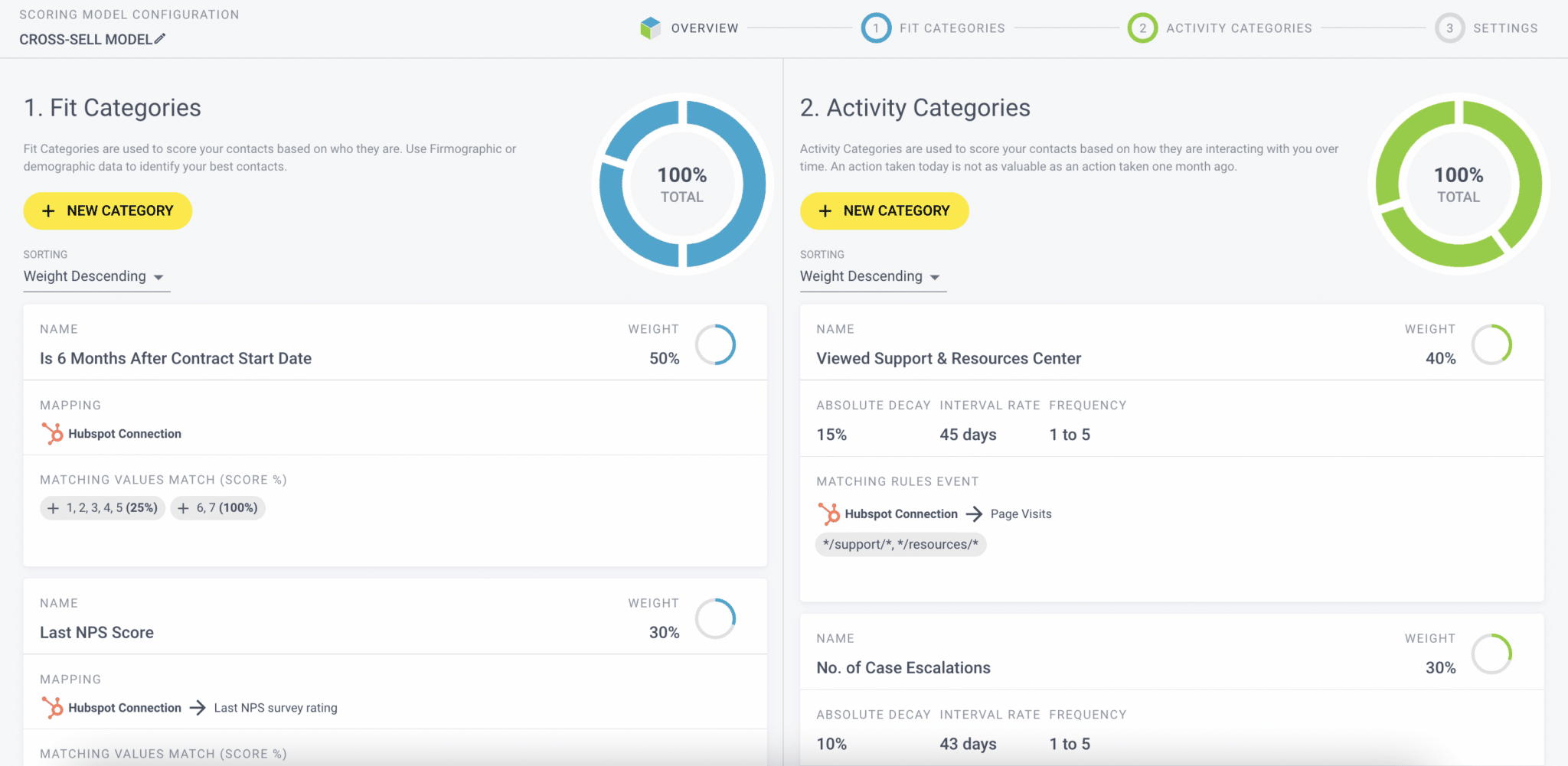 The way we will include activity in our model is different from how we usually think about activity when building acquisition models.
Although engagement with marketing may still play a part, think of a web visit to the product page for the thing you are trying to sell. A larger part can and likely should be a combination of product usage and third-party intent data.
As an example, let's say you are a SaaS billing platform that offers Tax Compliance features at your highest plan tier.
Let's say you have a user that has recently visited a blog post titled "Is SaaS taxable in California", their install base is growing across many tax jurisdictions, as demonstrated by your product data, and they have been on G2 crowd-researching Avalara (an automated tax compliance software).
These activities indicate a likelihood of buying a Tax Compliance offering and should be a part of your expansion model.
2. Retention Scoring Models
There's an old advertising saying that should be top of mind for every company–"It's easier to keep a customer than gain a new one."
It's also significantly cheaper to keep a new customer than acquire a new one.
This has never been more true than now.
In fact, over $62 billion is lost annually due to poor customer service. Retention can also impact the upselling and cross-selling abilities of your organization, as you only have around a 5-20% chance of closing a deal. And even once you've got the customer, that doesn't mean that you'll keep them.
When it comes to retention in lead scoring models, it's almost a reverse approach to building an acquisition model. Your analysis baseline in terms of fit and activity criteria is all of your previously churned customers.
You need to understand who your churned customers were—and what actions preceded that churn—so you can look for indications that they're about to jump ship and stop it before it happens. That's where churn models can help; they'll signal to your sales or customer support teams that certain customers are about to fly the nest, so you can reel them back in for they do.
Fit will likely play a role here and is probably a function of customers who have a lower fit grade in your acquisition model. That being said, activity will most certainly be a more significant part of the equation.
Again, engagement with your brand more broadly may still contribute to your score; a visit to your FAQ on how to cancel an account, for example.
Users who fail to engage during free trials have a much higher likelihood to churn. For most businesses, the actual offering's usage or engagement will often be a more robust indicator of the likelihood to churn. It could be the frequency of skipped deliveries at a subscription box business or at a typical SaaS business; it might be decreased logins.
You may also notice that users who submit a certain number of help desk tickets or fill out a help desk survey with low satisfaction are particularly likely to churn.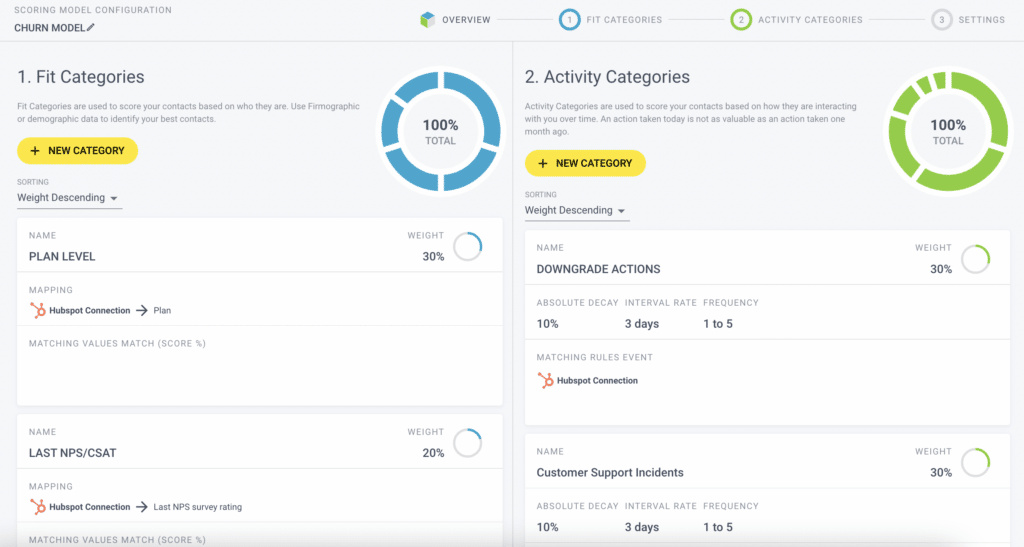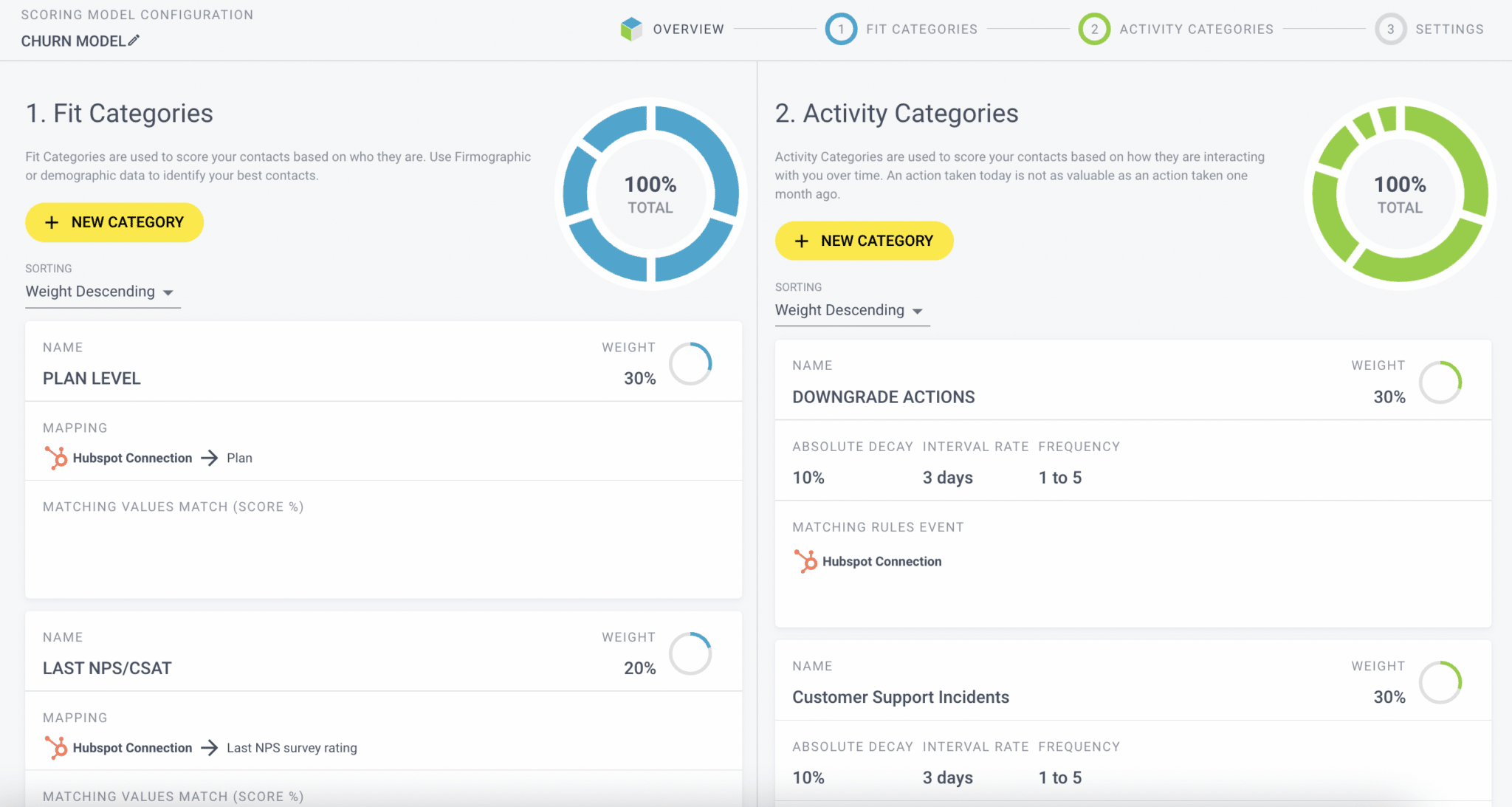 The critical consideration here is that unlike in acquisition models where we are looking for more recent and frequent activity, in most cases, it's a decrease in recency and frequency that will provide the churn signal.
There may be specific activities that also indicate a higher likelihood for churn, so knowing what your customer journey looks like will be crucial to developing an accurate model in this case.
3. Adoption Scoring Models
Product and service adoption is a downright massive KPI that your team should be tracking. Overall, adoption metrics will show you how much of your product is being used (or underused), as well as help you identify the key actions that define success for your customers.
As MixPanel states, any business that benefits from repeat customers are a company that benefits from higher user adoption. For example, high adoption makes:
SaaS decision-makers more likely to renew or expand their usage
Financial services users more likely to stick with an app
Consumer tech users more likely to form habits around an app
Media and entertainment readers more likely to visit the site repeatedly and often
Retail and e-commerce shoppers more likely to place repeat purchases
Telecommunications consumers less likely to churn
While the adoption scoring model is a bit more difficult to conceptualize and create, it's also a fun use case for contact scoring models. It's essentially a hybrid of an acquisition and expansion model. (And, as lead scoring nerds over here, we're huge fans.)
The big difference with adoption models is that they are typically not focused on a monetary transaction. This doesn't mean that the model is useless–far from it. However, it does mean that the previous two models could be easier to prove the effectiveness of modeling in general to your team before diving in further.
In other words, instead of creating a scoring model based on things like purchase intent, we score our customer personas almost exclusively by their product or service usage.
Typically to use this sort of model, the product team needs to have gone through the product development process and identified personas, pain points, and use cases. They need to find and validate them with customer interviews and other research; it's not enough to go on hunches or guesses.
For activity criteria, we would focus on a combination of broader digital engagement and product usage to predict the likelihood of a prospect/customer using a particular feature.


Although there is still an exchange of value, as there should always be, it's more about delivering on the promise that earned you the business in the first place. Ideally, the outcome of this scoring model is an increase in Life Time Value (LTV).
With this model in place, your sales team can assess which clients are on the verge of adoption. A strong offer, pushes from sales to learn more about your tool or try new features, or even the offer to expand at a discount can make a huge impact. The right offer at the right time can make a huge impact, whatever that looks like for your business.
Final Thoughts: Acquisition Is Just One Objective
Acquisition models are really the bread and butter of lead scoring. There's no getting around it, and we're massive fans of using scoring models for this purpose. (We've even got split testing features so you can test different models and see which works best!).
That being said, lead scoring, at its core, is really about identifying potential clients that are most likely to take specific actions. That can be converting for the first time, converting at a higher value, retaining to the point of adoption, or even becoming a risk for churn.
The ability to send targeted, relevant messages at the exact right time is crucial. You can salvage almost-lost sales, boost your revenue and the value customers gain from your business, and have a much better understanding of who your customers are with the right scoring models.
Of course, it's up to us to be able to correctly define the actions that lead to revenue acceleration and customer happiness.
That means as long as you can clearly articulate your objective, the thing you want to happen (or not in the case of churn), and have the data points to inform the scoring models, the possibilities are endless.
So are you ready to get started with lead scoring models? Book your demo with Breadcrumbs or create a FREE account now.