You've done the hard work of attracting new customers to the business.
However, net growth has been lackluster.
One plausible reason? You're not making the most of your existing customer base.
Upselling plays a significant role in expansion recurring revenue. In one of the real-world examples below, one startup implemented it and raised its monthly revenue by 37%.
To ensure you're not leaving money on the table, you need to engage in an upsell conversation with your ideal customers.
Let's explore how you can achieve this with the following upsell techniques.
What is Upselling?
Upselling is a sales technique that encourages customers to purchase a premium version of the original product.
For example, a lead scoring software company like Breadcrumbs might upsell customers a premium subscription if they exceed the scored contacts limit in their existing plan.
Implementing upselling techniques offers many benefits, such as:
Increasing customer lifetime value (CLTV or LTV): Customers directly impact revenue. The more they spend, the more sales you generate. It's simple math. Start segmenting customers based on their purchase history. Upsell them relevant products across multiple channels (e.g., personalized upsell pop-ups, email marketing) to keep them engaged with your brand.
Decreasing churn and boosting retention: Customers stick around when there's value in your product. The customer success team should build relationships with customers and help them achieve their goals. The more essential you are to their business operations, the less likely they'll churn.
Promoting alignment and cohesion in revenue-generating teams: The sales team's value multiplies when the CS team successfully upsells customers. Align upselling opportunities at each stage of the customer's journey and position how your product helps customers grow.
Upselling ensures you're not leaving money on the table. It's the key to unlocking revenue acceleration.
What is the Difference between Upselling and Cross-Selling?
There's overlap between upselling and cross-selling.
Upselling gets customers to purchase the more expensive version of a product. On the other hand, cross-selling persuades customers to buy additional products relevant to their original purchase.
Here's a table that summarizes the fundamental differences:
| | | |
| --- | --- | --- |
| | Upselling | Cross-selling |
| What it is | Get customers to buy the more expensive product of the initial sale | Get customers to buy products relevant to their purchase (i.e., add-on products) |
| Example | Sales rep persuading a customer to upgrade from their current plan to a premium one | Sales rep promoting relevant add-ons (e.g., content brief plugin) to a product they already bought (e.g., SEO platform) |
Now that we got the basics out of the way, let's unpack some of the most popular sales techniques to get you that bigger sale.
Upsell Techniques Before Making the Sale
Just like sharpening an ax before chopping a tree, you need to lay the groundwork before upselling a customer.
Here are the three things you need to do to get started off on the right foot.
Upsell techniques #1. Sell the lowest-priced plans first
There's a reason brands pitch the free trial or freemium plan in the initial sale.
These no-strings-attached plans are the fastest way to show customers ROI with the least amount of effort involved.
Take QuickMail, for instance.
The software company pitches the cheapest plan ($49/month) to customers during demos.
We know what you're thinking.
This approach sounds counterintuitive, and yet? It works, so much so that the average monthly revenue per subscription increased by 27%.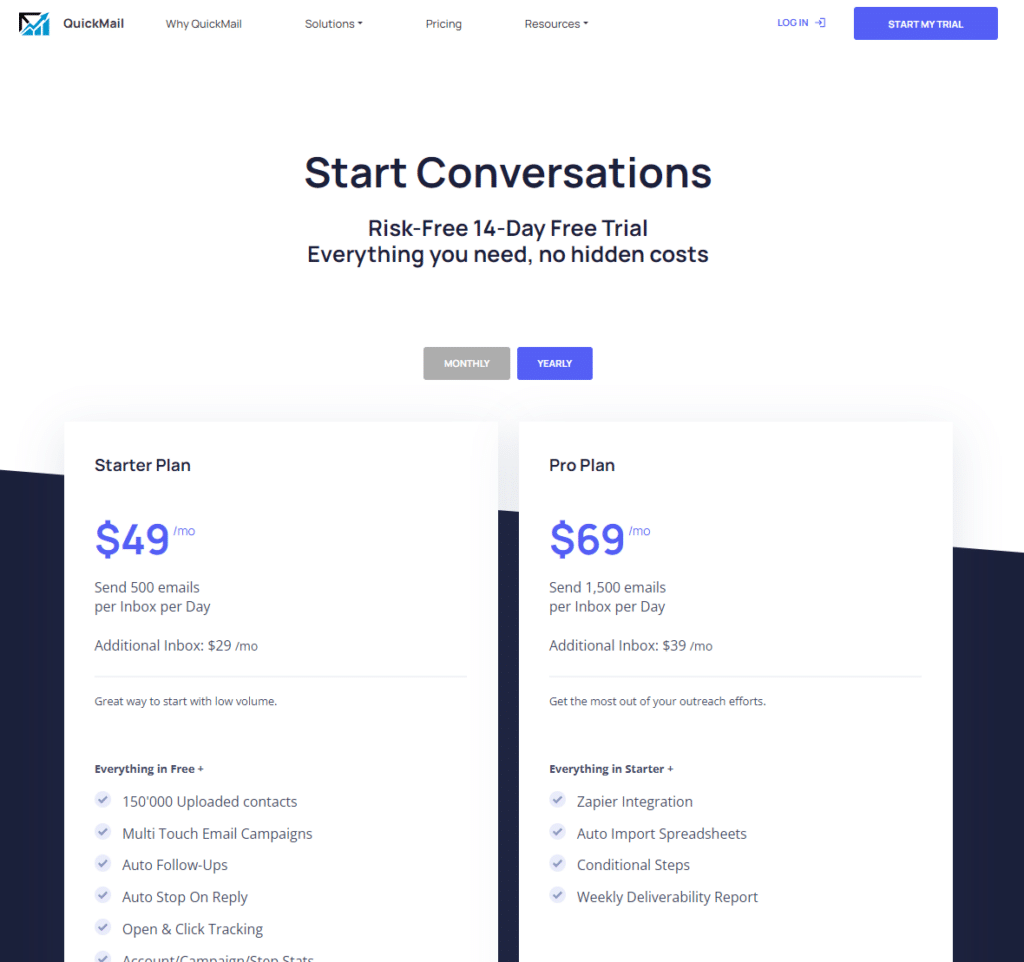 Why did it work so well?
Because it builds trust.
QuickMail recommends the most affordable package, telling customers it's not here for financial gain. Rather, it signals to them that the team is invested in their goals. Trust and loyalty are fostered, eventually deepening relationships and increasing success rate in the upsell pitch.
Likewise, BriefBid implements this upsell technique.
"We sell ease," explains Adam Casole-Buchanan in an interview with Breadcrumbs. "Then we sell access."
The former director of partnerships at the media planning marketplace positioned the platform as a fuss-free way to generate new leads in the advertising inventory. Once media vendors experience the product's value, he upsells them a higher-tier plan.
Upsell techniques #2. Improve the onboarding experience
Over 55% of customers have returned a product because they didn't understand how to use it.
Onboarding plays a vital role in proficiency, activation, and adoption. If a product boasts a steep learning curve and its self-service onboarding fails to address it, users will leave and turn to competing solutions.
Clearly, there's a correlation between onboarding and upselling.
Customers who actively use your software have experienced the value, and are more likely to respond positively to your upsell pitch.
Optimize product onboarding with digital adoption platforms like Pendo.
You can build in-app workflows, interactive guides, alerts to announce upcoming tools or improvements, and knowledge bases to provide self-help support.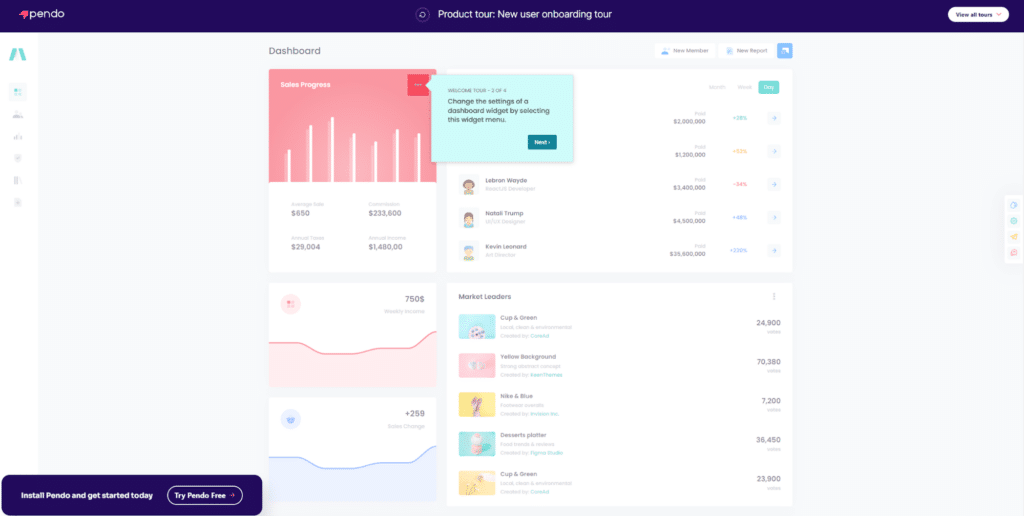 "Onboarding helps customers see maximum ROI in your product," explains Levi Olmstead, associate director of content marketing at Whatfix. "This eventually leads to great upsell opportunities with power users."
Power users eventually hit friction points and require more of your product.
To address this segment of customers, instruct the CS team to inform the product developers about potential friction points. Include a pop-up or guided path for customers to self-upgrade.
More importantly, keep a close eye on product analytics and web activity.
Customers ready for an upgrade usually exhibit these two major signs:
[App analytics] Resource limits (e.g., reaching or exceeding storage space, no. of contacts, etc.)
[Web activity] Visits to knowledge center or product pages of gated features in their current plan
The best way to identify these customers is to use a tool like Breadcrumbs.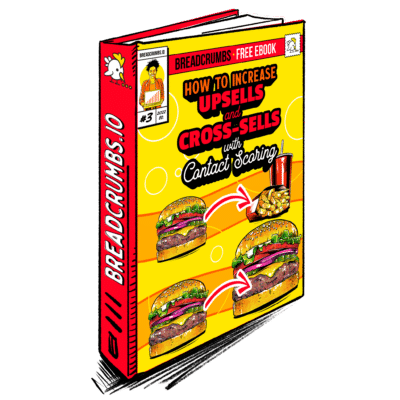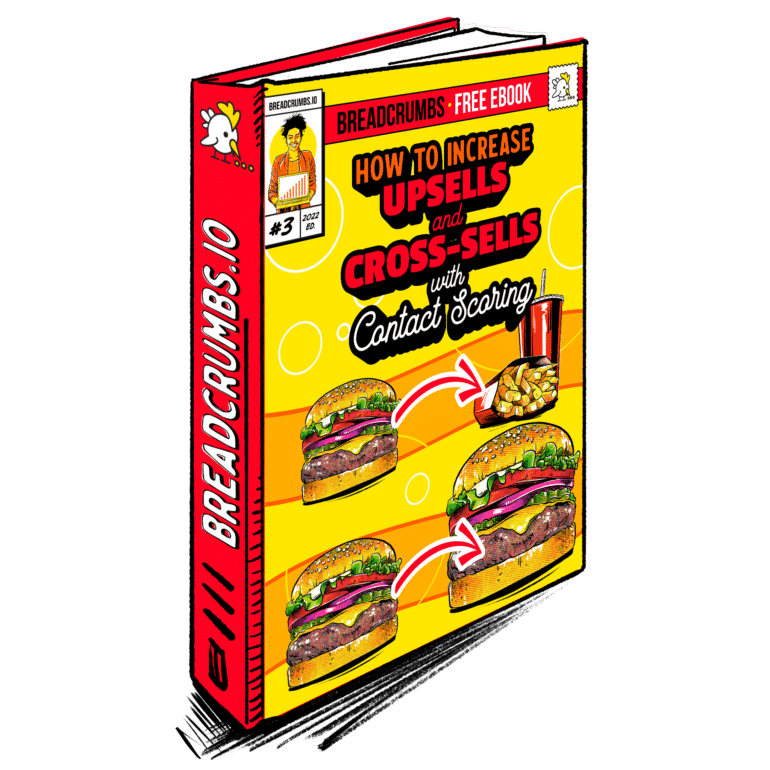 Ebook
How to Increase Upsells and Cross-Sells with Lead Scoring
Learn how to increase your average order value, improve customer retention, and bolster your customer lifetime value with lead scoring.
Our fully featured contact scoring platform gathers your entire marketing, sales, and product data into one place, so you can identify any user with zero guesswork.
Here's how it works:
1. Connect your in-app tool + CRM with Breadcrumbs
2. Determine what makes a power user in the Activity model (e.g., creates X documents in a month for an e-signature tool)
3. Set the expansion scoring model live
Breadcrumbs will pull all data automatically into your CRM, notifying you whenever a power user is ready for an upgrade.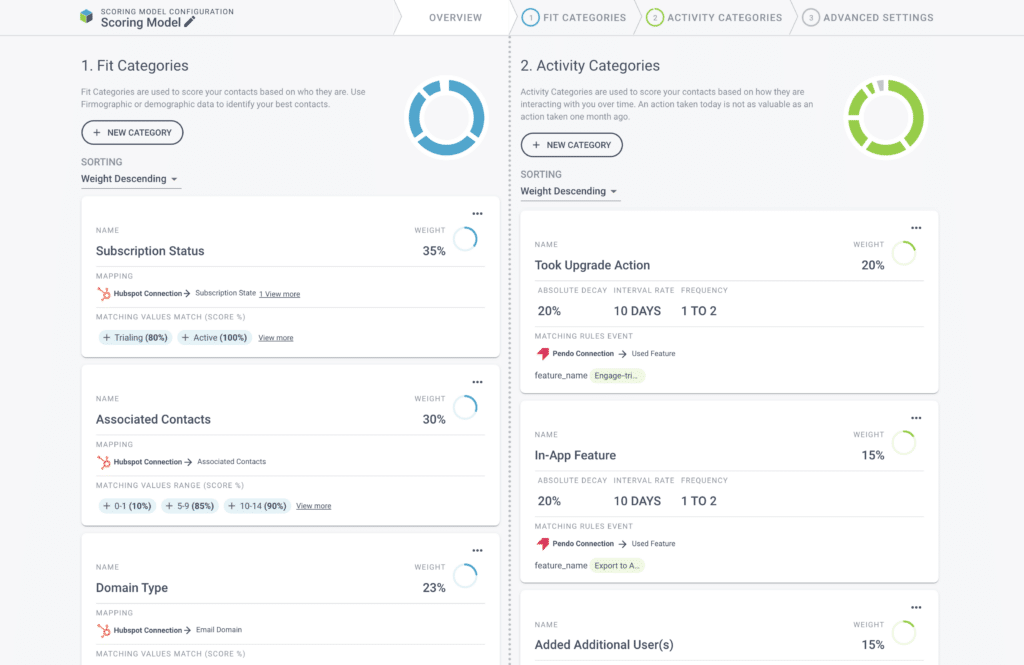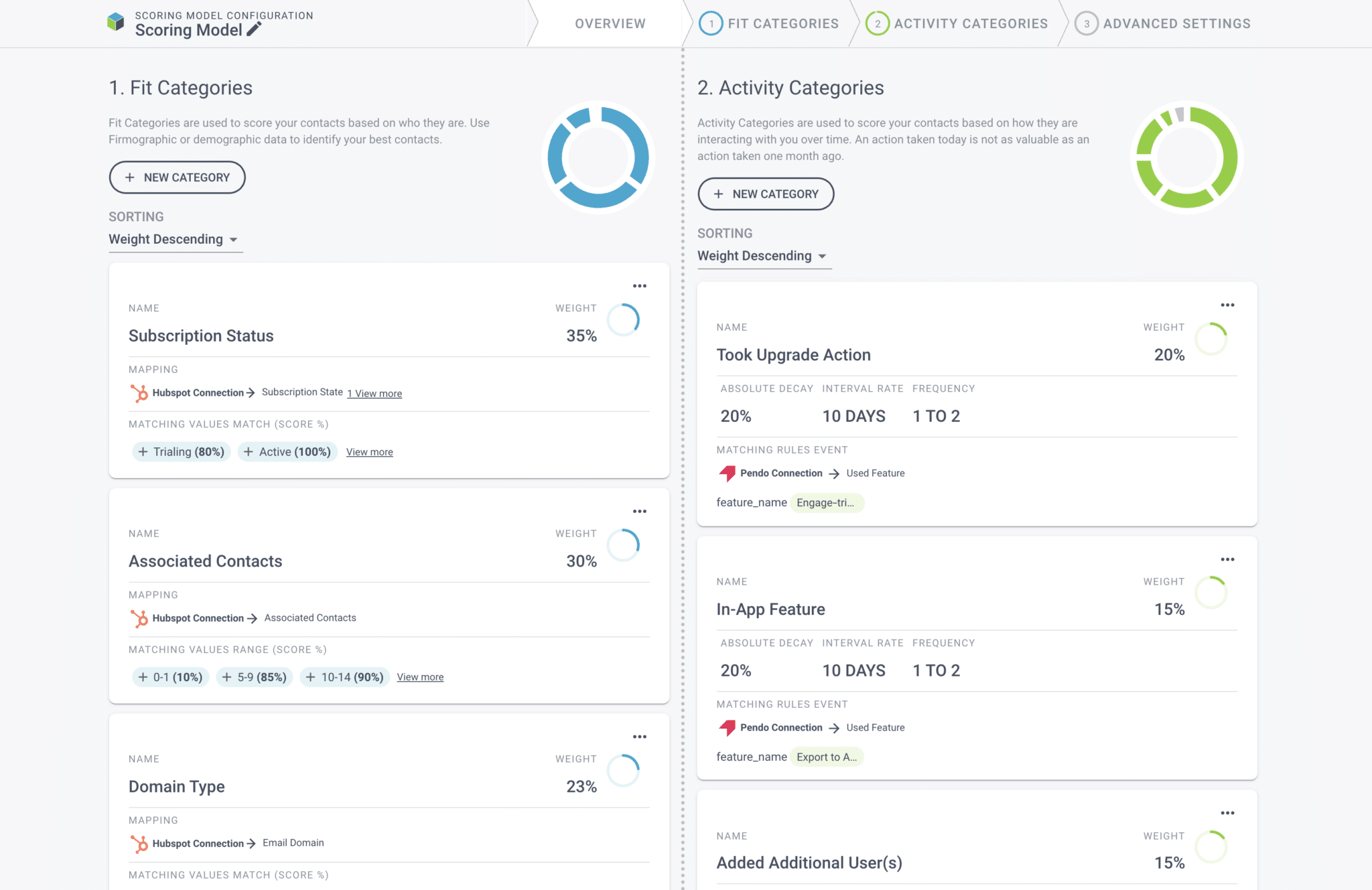 That way, you can pinpoint your power users accurately and pitch with a relevant product at the perfect time.
Grab your free Breadcrumbs plan to identify customers with upsell potential today.
Upsell Techniques During the Sale
Your messaging in the upsell pitch holds the same weight as the post-purchase experience. Now that you've completed the groundwork, try these upsell techniques to close the sale.
Upsell techniques #3. Continue to give value
Companies that continuously add value to the customer experience see higher upsell conversions.
For one startup, it grew monthly revenue from its current customers base by 37%.
Plerdy is a B2B SaaS startup that sells conversion rate optimization tools like event tracking, heat maps, and session replays.
When users approach the limit in their existing plan (1000 video recordings), Plerdy doesn't "lock" their plan like most companies do. Instead, it continues to record and analyze the video's user engagement using AI.
The inbound marketing specialist will then analyze the data and send customers a custom upsell email offering suggestions.
It's a refreshing take, because we tend to see aggressive upselling in this market (caused by high customer acquisition costs and user retention rate).
Plerdy runs against the grain. It continues to offer insights about the user's website and not a bunch of copy-paste generic promises.
Upsell techniques #4. Leverage the herd mentality
The herd mentality describes how customers are influenced by the majority.
Whether it's analyzing user reviews from peers or perusing case studies for new software, we are hard-wired to look to the crowd before making important decisions.
RoverPass leverages this psychological phenomenon in its upsell pitch.
The B2B SaaS startup, which develops campground reservation software for RV campgrounds and parks, compares the subscription plan a client is considering to a more comprehensive plan another similar client is using.
"We'd then follow up with a value-driven outcome," adds CEO Ravi Parikh.
Here's how its upsell pitch looks in action:
A basic campground reservation software package will definitely meet your day-to-day booking needs.

I do want to let you know that [1] many other campgrounds of your size also use our rentals and tickets software and the online general store software. 

These services allow them to [2] process all their reservations and financial transactions in one place. When you have as many customers to manage as you do, it's a [3] big time-saver.
Let's unpack why this upsell technique works.
[1]: Social proof influences customers on the fence. If the customer is skeptical about the price difference, send them relevant customer reviews and/or case studies to overcome the objection.
[2] & [3]: No business owner wants to overspend on bookkeeping and administrative work. The ability to process all transactions on one platform is incredibly attractive. RoverPass's value-driven outcome strikes a chord, as it speaks to the customer's biggest desire: saving time.
Along with using social proof to drive customers to conform, RoverPass also emphasizes its value proposition.
Overall, this is a fantastic upsell pitch.
Upsell Techniques After the Sale
Get a step ahead of customers to create a smooth experience. In this last section, learn how to anticipate customer needs and upsell them just when they need it.
Upsell techniques #5. Offer extended support service
High-value customers look for convenience, speed, and white-glove service tailored to their growing needs.
Companies that provide such hyper-personalized assistance stand a higher chance of upselling successfully.
This can look like assigning a dedicated account manager, offering customizing training sessions, or…
…in Sendlane's case, providing a personal Slack channel, quarterly business review calls, and a direct line to in-house deliverability resources, among other exclusive perks.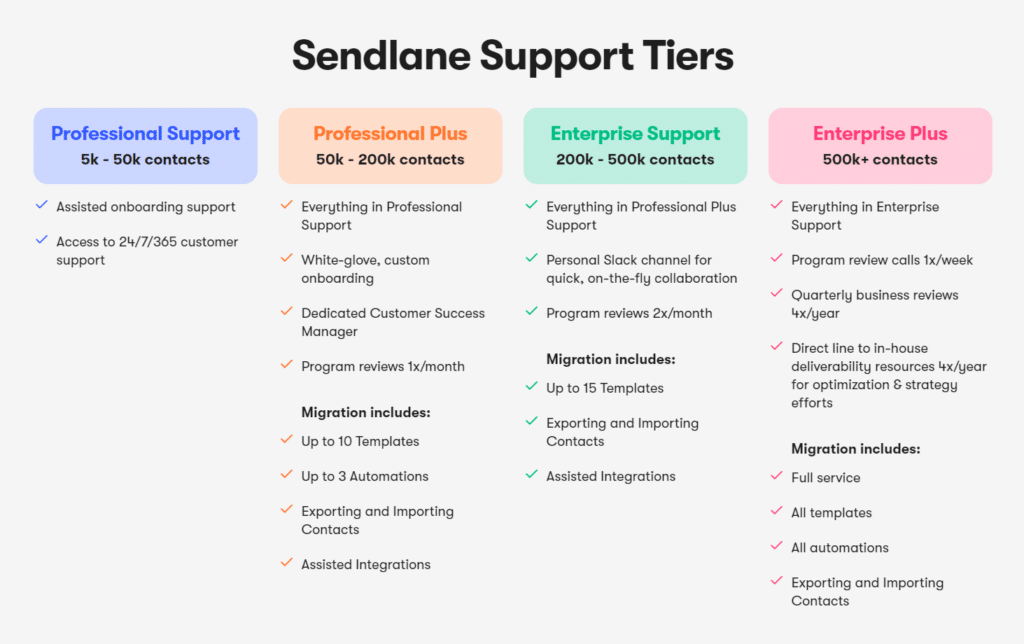 Sendlane's concierge-level perks are attractive to enterprise clients with a large volume of contacts but don't have the in-house expertise to manage them.
With such comprehensive support, it's a no-brainer for these upmarket clients to purchase the premium tier.
If you want to implement this approach, start by observing users' behavior in your product analytics platform.
How much data are they importing and exporting? How often do they contact the support team? What kind of requests are they making?
Often, clients with complex problems dependent on multiple resources or clients with a one-person specialist (e.g., enterprise with only one person to execute SEO) need extended support.
Use a contact scoring tool like Breadcrumbs to catch these users.
For example, you might add the following criteria in the Activity model:
Emails: Contacts support at least 3 times a week
Page visits: Visits Enterprise Plus plan
Twitter Click: Clicks through a gated product page
Set the expansion scoring model live.

Customers who meet your criteria get assigned a score or rating.
Once they hit your predetermined threshold, Breadcrumbs will send all scoring information back to your CRM, notifying you of the upsell opportunity.
Which Upsell Techniques Will You Try Today?
The success of your pitches depends on two things: the post-purchase experience and how you position your upsell offers.
The best thing you can do today is to use a contact scoring tool like Breadcrumbs to identify customers with upsell potential.
Start gathering your entire marketing, sales, and product data into one place and get immediately notified whenever a power user is ready for an upgrade.
Grab your free plan on Breadcrumbs today.
FAQs
What is upsell sales process?
The upsell sales process is a sales technique that encourages customers to purchase a premium version of the original product.
What are the 3 benefits of upselling?
Upselling increases customer lifetime value, boosts retention, and improves alignment among revenue-generating teams.
What can you say to upsell the customer?
There's no one-size-fits-all answer here.
A good rule of thumb is to identify customer needs and pitch relevant offers accordingly.
In one of the upselling examples above, a startup compares the product with a more expensive version, leverages social proof to instill confidence, and closes it with a value-driven outcome that resonates with the target audience.
What is an example for upselling?
An e-signature software company might upsell customers on a personal plan (5 signature requests a month) with a premium plan offering unlimited signature requests, custom business branding, and lifetime product updates.