B2B companies must prioritize existing customers with acquisition increasing up to 75% in recent years.
B2B customer retention builds long-term relationships with your current buyers in hopes that they'll stick with your company. And relationships aren't the only thing you get from customer retention—there's increased brand loyalty and lifetime value, too.
In this guide, we recommend five ways to get started and explore where your current B2B customer retention strategy stands.
5 Ways to Improve B2B Customer Retention
Customers stick around for value. These five tactics spanned all aspects of customer experience, from upselling to starting a community. Mix them up in your strategy to retain your customers and accelerate revenue indefinitely.
1. Upsell current customers at the right time
Current buyers already know your product is valuable.
They need little convincing to upgrade their plan.
In fact, the probability of upselling a customer is 60-70%. This percentage drops to 5-20% for new customers.
Evernote upsells its premium subscription in the New Year. To sweeten the pot, it offers users an additional six months if they subscribe to the yearly plan.
This is one of the many upselling techniques that increase customer lifetime value.
Current customers are already aware of your value, so it's a no-brainer when they see irresistible opportunities like the one above.
How to get started:
The trick lies in upselling customers at the right time.
Like when they exceed their current plan limit.
You can do this by analyzing product usage and behavior activity with a contact scoring tool like Breadcrumbs.
Here's how it works:
Connect your product analytics platform and CRM with Breadcrumbs
Determine what makes a customer with upsell potential (e.g., adds 5 members, exceeds 1GB storage space, visits product pages of gated features)
Set the expansion model live
Customers who meet your criteria get assigned a score or rating.
Once they hit your pre-defined criteria, Breadcrumbs will send all scoring information back to your CRM, notifying you of the upsell opportunity.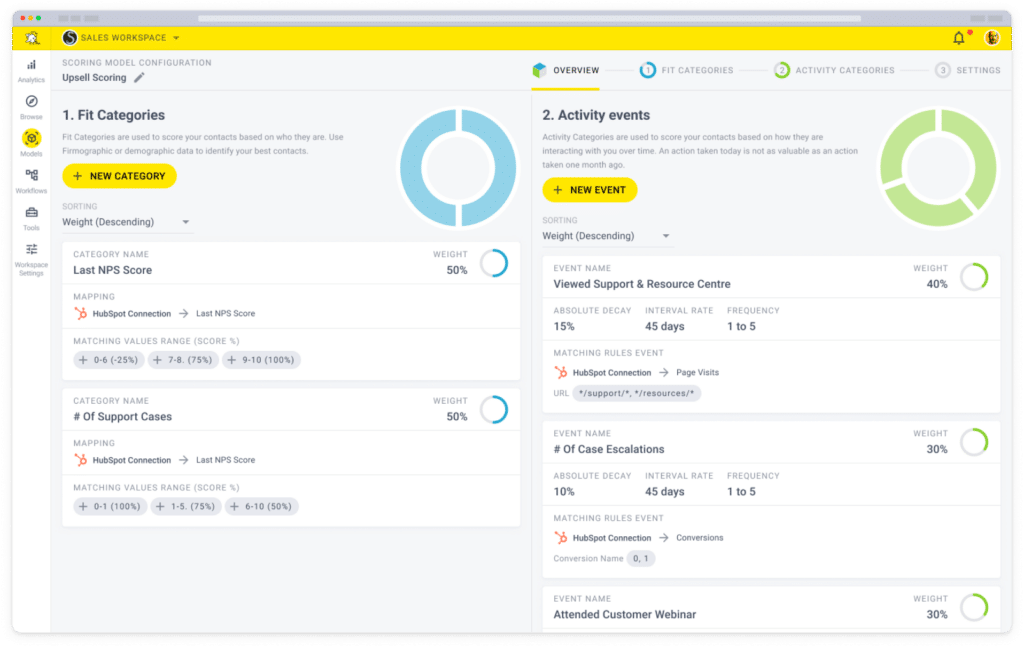 Grab your free plan on Breadcrumbs to upsell customers at the right time today.
2. Personalize onboarding beyond emailing "Hi [First Name]!"
One-to-one connections become increasingly valuable as we build an automated digital world.
ConvertKit adds a human touch in its onboarding by welcoming individual customer with a personalized video.
The videos were a hit.
"People's responses were amazing," writes Matt Ragland, the former product analyst at the creator marketing platform company.
"They were so thankful to have something just for them. In the video, I simply say hi, say his or her name, welcome them to ConvertKit, and give them a quick tip based on their site, platform, or ESP."
How to get started:
Segment your email subscribers by behavior or purchase.
Next, personalize your onboarding email with something subscribers will love (e.g., interactive quiz, discounts). In ConvertKit's case, it's a 30-second personalized video with specific product tips relevant to the customer.
3. Offer invaluable customer support
Live chat, email support, help desk software, and tutorials are the bare minimum for customer support. 
But what if you take it a step further?
After 30 days of becoming a customer, Hypercontext's CEO, Brennan McEachran, provides a space for customers to get 1:1 support.
McEachran shares with Breadcrumbs: "These calls are spent asking customers how we can improve the product, listening to challenges they're currently facing, and, when applicable, sharing how they can achieve that with our product."
On top of providing support and hearing feedback, the CEO adds, "by the next time we speak with the customer again, we've typically knocked off one or two of their suggestions or frustrations with the product."
Solving the customer's problems is HUGE for business.
Plus, these 1:1 calls go beyond retention. "They help with expansion revenue, referrals, and brand loyalty, too."
How to get started:
Encourage customers to share questions and feedback over a call. Use it to fulfill your customer's requests. Once they're fixed, inform them directly.
4. Educate new customers to instill confidence
Investing in a new product can be quite the learning curve.
Imagine how overwhelming it must be for new customers to learn every product feature.
A quick fix to "product overwhelm" is sending educational content to new subscribers—like the way Ahrefs does here.
Providing support from the get-go makes new customers feel more confident in their purchase. Plus, you show you're here to support them in every step of the way.
The best part about this B2B customer retention strategy? It takes little time to execute. All you have to do is repurpose past tutorials and blog posts into digestible guides!
How to get started:
Research customers to identify their biggest struggles and goals. Then, create or repurpose content around those concerns and include them in your onboarding email.
5. Start a community based on reciprocity
A brand community is a group of loyal customers chatting about your company. On the flip side, you're serving community members with support, free content, and an insider's look at your products.
Communities are on the rise because they work—55% of businesses agree that building a community has increased sales.
Brand communities are also a way to:
Gather in-depth product feedback
Connect customers with like-minded people
Interact with customers on a 1:1 basis
Create relevant content based on crowdsourced insights
Update customers with the latest company news
Imperva provides customer support and encourages feedback in its forum. Note how an employee quickly answered a customer's query about its product functionality.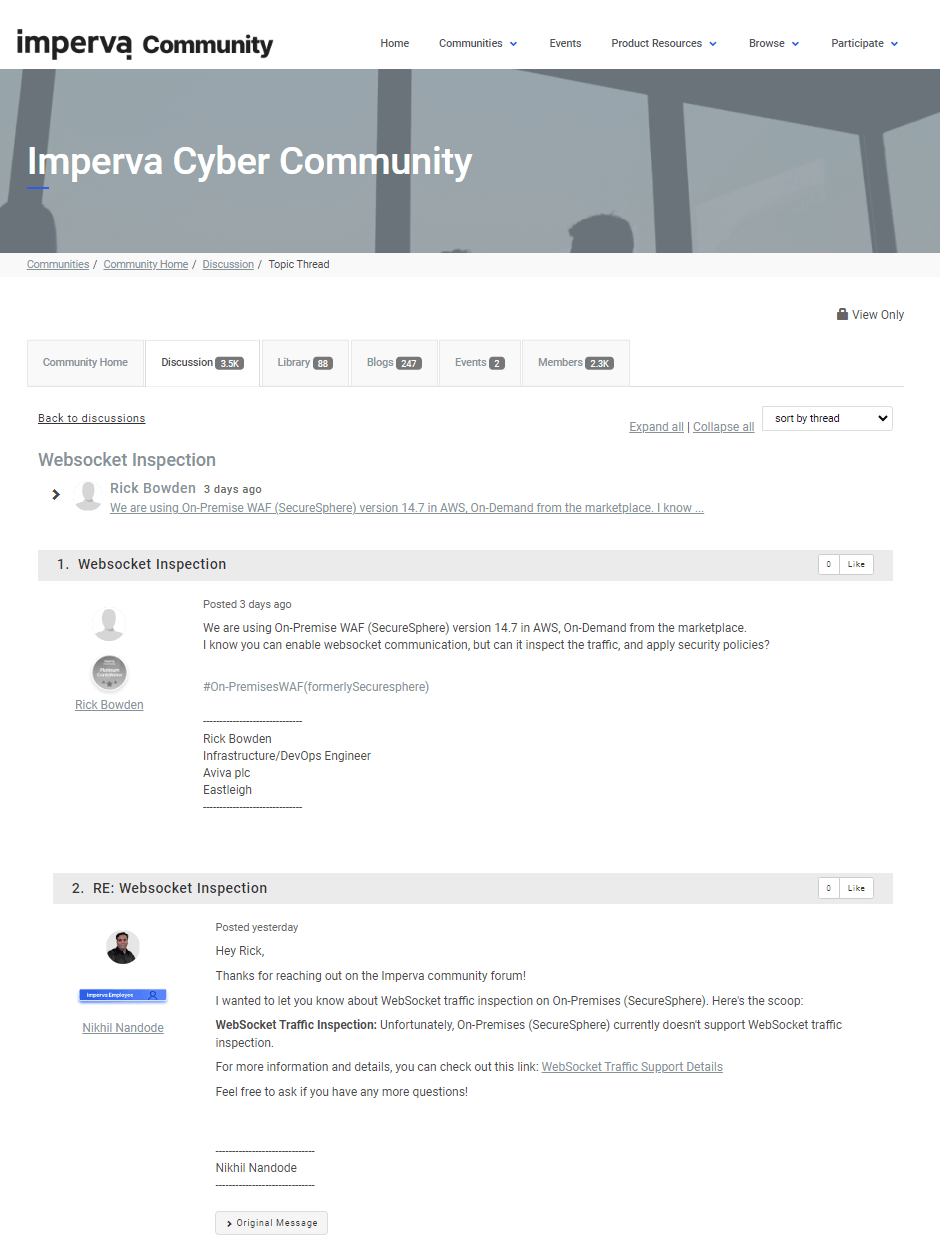 The cybersecurity SaaS showers customers with resources, live support, and new connections, all for free. Poke around the discussion boards, and you'll see many members helping each other in mutual support.
Best part?
The company can read through the forum and easily collect user insights for future product development.
How to get started:
Run your community with a paid solution like Zendesk.
Or use a free platform like Slack or Facebook Groups.
Once you've built a community, give your customers a heads up and promote your community over email and social media.
Assign moderators and organize your community around topics to create a better experience.
Wrapping Up
There are many ways to go about B2B customer retention. But the golden rule is executing a customer-oriented strategy.
What do your existing buyers want to hear? And how can you support them in the post-purchase journey?
Once you clearly understand your buyer's needs, turn those ideas into action with the examples we covered today.
Breadcrumbs is a fully featured contact scoring platform that optimizes your entire funnel. Quickly identify upsell opportunities and catch at-risk customers before they leave. Start your free plan today.
FAQs
What's so great about customer retention?
There are two parts to building a solid customer base: customer acquisition and B2B customer retention.
As a growing company, you're likely to focus on customer acquisition. And it makes sense! New buyers support your ever-changing pricing strategy and product. The more customers you acquire, the more you'll grow.
But here's the thing.
Customer acquisition isn't sustainable over long periods.
Since 2019, mature B2B companies have seen their customer acquisition cost skyrocketing up 70 to 75%. Whereas newer B2Bs are seeing increases closer to 50%.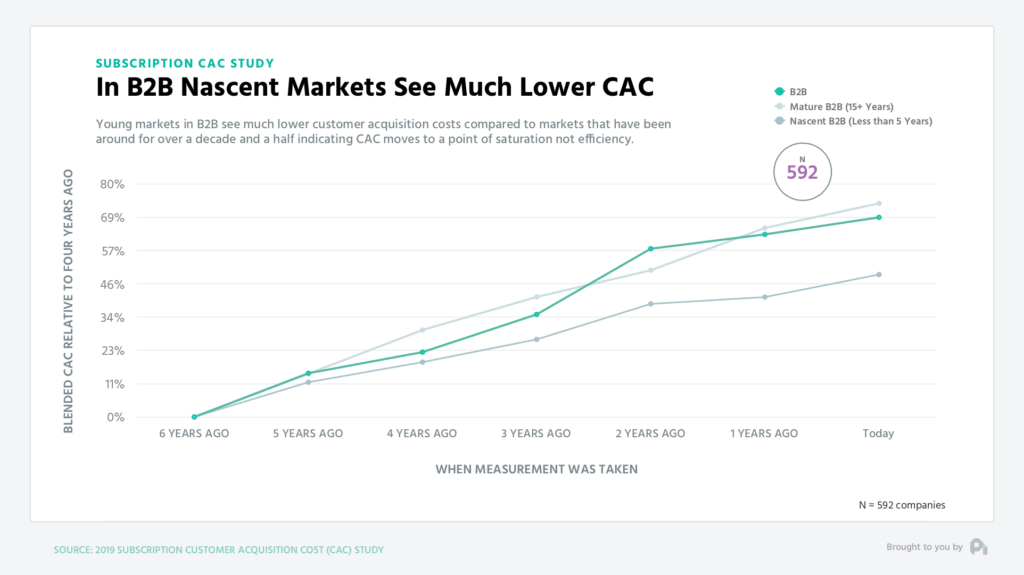 Other than burning a hole in your wallet, a heavy acquisition model leaves out your current buyers.
This is where B2B customer retention kicks in.
Retention prolongs customer engagement and increases your overall lifetime value.
Consider the following scenario:
Brandon is a photographer who needs reliable accounting software. After doing some research, he found FotoAccounting, an accounting software made for photographers.
"This looks perfect for me!" Brandon exclaims. "I'll sign up for a one-year subscription and see how it goes."
As the year goes by, FotoAccounting supports Brandon with live support, educational resources, and quick email responses.
When the year ends, Brandon thinks back to all the times FotoAccounting helped him out. He doesn't hesitate to renew his subscription and even recommends it to fellow photographers.
Do you see what happened here? FotoAccounting increased their lifetime value AND brand loyalty (Brandon's friends). It's a win-win!
Where does my B2B customer retention strategy stand?
Before executing a retention strategy, you need to know where you currently stand. Implement one of the three client retention strategies below to identify how well you're retaining buyers.
1. Score your revenue opportunity
Besides identifying upsell opportunities, revenue scoring also pinpoints at-risk customers with contact scoring and product analytics.
Use a tool like Breadcrumbs to win back your at-risk customers:
Connect your data sources with Breadcrumbs
Determine what makes an at-risk customer (e.g., inactive for 14 days, unopened emails)
Set your churning model live
Once these users hit your pre-defined criteria, Breadcrumbs will route all scoring information back to your primary source, alerting you of the churning activity.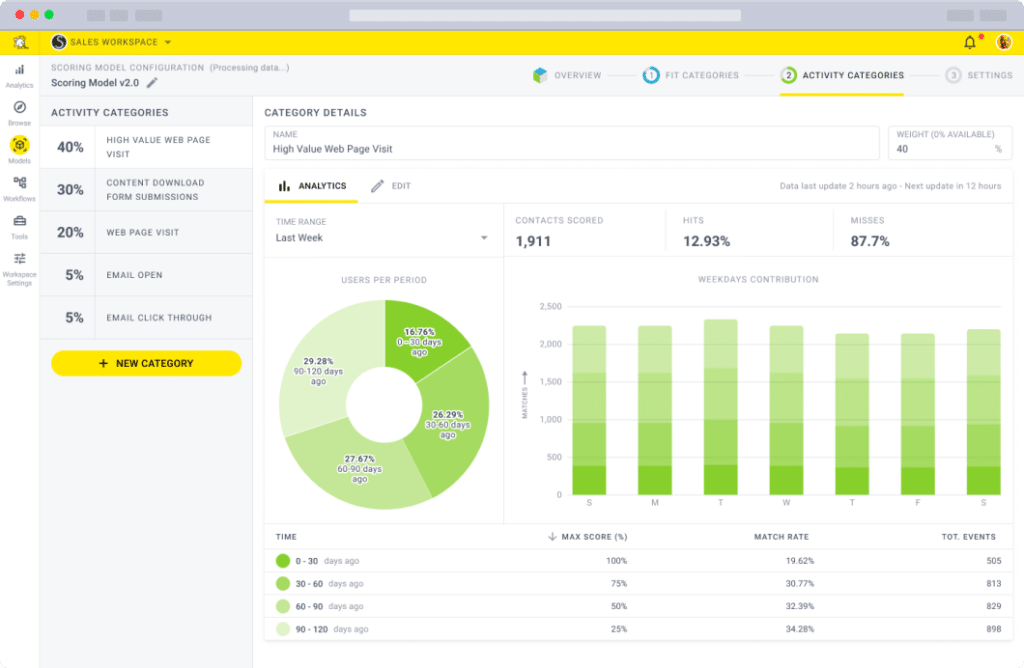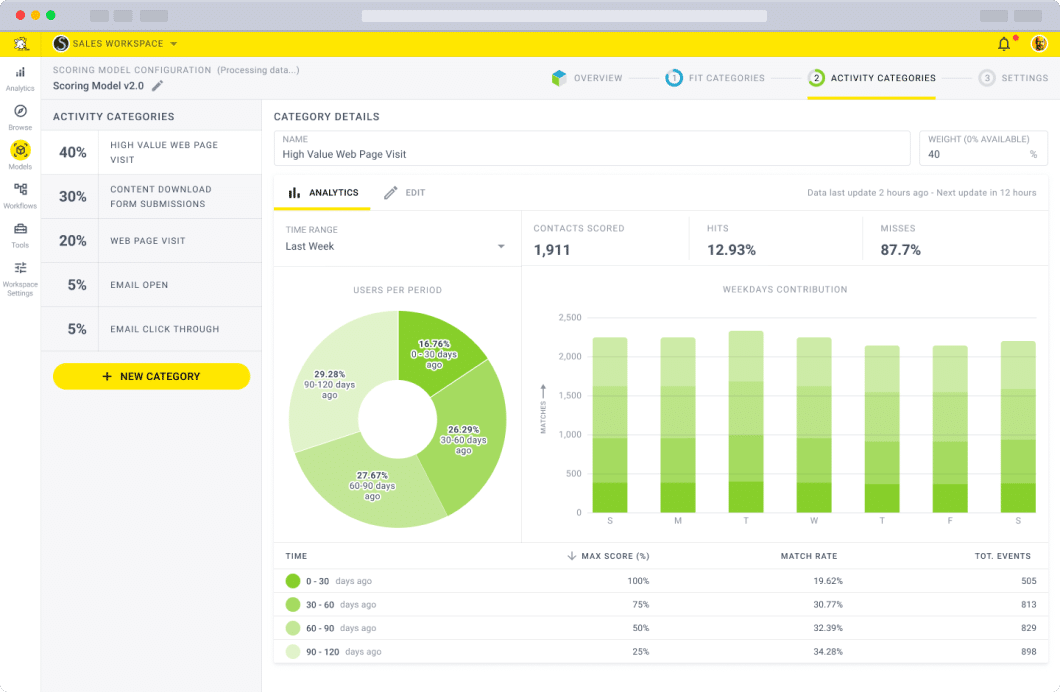 25 out of 26 customers leave a business without sharing their negative experience.
A tool like Breadcrumbs helps you address their concerns quickly and catch them before they leave—perfect time to convince them to give your product another try.
2. Calculate your customer retention rate
Customer retention rate measures the total percentage of repeating customers.
It evaluates how well you're retaining customers and whether you should stick to or rev up your current strategy.
To get started, you'll need to choose a time period.
Let's keep it simple and choose 2023.
Now answer the following questions:
How many customers did you have at the start of 2023?
How many total customers did you have at the end of 2023?
How many new customers did you retain throughout 2023?
Next, subtract the number of new customers remaining at the end of 2023 by the number of new customers added throughout 2023.
Divide the result by the number of customers at the start of 2023. Last, you'll multiply this answer by 100.

Once you have this percentage, compare it with the average retention rate in your industry. If you're falling behind, it's time to re-evaluate your efforts.
3. Calculate your customer churn rate
Another way to evaluate your B2B customer retention strategy is to calculate churn rate.
Your churn rate includes the percentage of customers who leave your company.
A 5% churn rate is average among SaaS companies, and a good churn rate is 3% and below (important note: this rate ultimately depends on the business and industry, so take it with a grain of salt).
Let's see where you measure up.
If you calculated your customer retention percentage, flip it to find the churn rate. For example, a 92% customer retention rate means you have an 8% churn rate.
You can also find your churn rate by dividing the number of churned customers at the end of your time period by the total number of customers at the beginning of your time period. Then, you'd multiply your answer by 100.


Churn rate isn't a one-size-fits-all definition.
For some companies, the churn rate is the number of customers who cancel a membership. For others, it's the number of buyers who downgrade their plan.
Clearly define what churn rate means to you before calculating it.
And input these "triggers" in your model.
For example, if it's page visits to cancel account support docs, go to the source of data > Matching Events and click Page Visits.

Enter the support doc URL and click Save Category.
Users who perform this action will automatically get assigned a score or rating.