Upselling is everywhere. It's the process of presenting customers with higher-priced items than what they're currently considering with the goal of increasing your average purchase value.
When I worked in a jewelry store, this meant showing customers higher-priced certified diamonds that cost $5,000 instead of the $2,000 stones they were already looking at.
For a B2B brand, this might mean selling customers on higher-priced monthly subscription prices that offer more features.
No matter what type of business you run, knowing how to upsell will go a long way to help you maximize your revenue and increase profitability.
To help you get started, let's take a look at eight of the best upsell examples and strategies that you can draw inspiration from and look at how you can find targets to upsell to.
What is Upselling & Why Does It Matter?
Upselling is the process of trying to sell users items that are at a higher price point than what they've either already purchased or what they're considering purchasing.
This can take a number of different forms, including the following:
Showing users higher-priced items (whether through automated plugins or in sales messages) that cost more than what they're currently considering or typically purchasing
Encouraging users to upgrade their membership to the next pricing level
Starting with a "freemium" app model, where users can get base features for free but then can access more features if they choose to pay
Upselling can allow you to increase your average order value significantly by capturing the interest of warm leads or existing contacts and showing them higher-priced items. This can increase your revenue without the need to attract new customers.
8 Upselling Examples Brands Can Learn From
Want to get a better idea of how to implement upselling strategies for your business? Let's take a look at eight examples to draw inspiration from.
1. Salesforce's "Most Popular" Plan
Salesforce's pricing page takes advantage of one of my favorite upselling strategies for SaaS software right now: They actually tell you which plan they think you should get.
They know that the average customer is likely to come to their pricing page and want to look for the cheapest price that fits their needs possible. By labeling their Enterprise plan with a distinct "MOST POPULAR" tag, though, plenty of site visitors will take a look to see why it's so popular and if they should choose it, too.
Immediately underneath the pricing is a breakdown of what the different plans include, and it's clear early on that the Enterprise plan and the more expensive Unlimited plan have some distinct benefits. And since Salesforce said that their most popular plan wasn't the highest-cost plan, it feels less biased and obviously-salesy.
Plenty of SaaS businesses are using similar designs on their pricing page, and it's an easy way to nudge customers with upselling without being too aggressive about it.
Choosing a high mid-level plan is always the way to go, and make sure you add a "MOST POPULAR" or "BEST VALUE" tag in contrasting colors at the top of the pricing box.
2. Dahlia's Flower Truck & Starting With the Upsell Option
There's an adorable cut flower business near me that sells hand-wrapped bouquets you can pick up from different locations around town, and they have a brilliant upselling strategy that I haven't seen many other brands use.
They actually start with the upsell option on their product pages. You can see here that their "Pops of Color" bouquet costs $40, with the "Glass Vase" option chosen. This was the default.
Customers have to change that drop-down menu to "No Vase" to see that this option can cost them $35.
This is only a $5 difference, and there is an extra part of the product involved, but this is an easy way to upsell customers: By getting them on board with the higher price right from the beginning.
When "vase" is the default option, they might feel like they're getting less than what they could by selecting "no vase," which can quickly secure the higher-order value.
As far as the best upsell examples go for physical products, this one is unique but so easy to adapt.
3. Slack's In-Tool Upgrade Prompts
You can upsell customers at any time.
Slack is a perfect example of a brand that understands that you can upsell customers later on even if they're only choosing your low-cost or free plan at first.
One of the most valuable assets of a paid Slack subscription, in my opinion, is the ability to store all of your message history instead of just the 10,000 most recent messages in the workspace.
While 10,000 seems like a lot, I work on some teams where that means I'm only accessing messaging from the previous two or three weeks. All the communication we had is otherwise lost to me, including potential project instructions or answers to questions I might have wanted to reference back.
And what Slack does so well is they wait until I try to scroll up to see those old messages, and they remind me that the only way to see them is to upgrade. They've got a nice bright green "See Upgrade Options" that takes you right to the pricing page.
It's a little like a hostage negotiation. And it's darn effective. If I could upgrade without costing my clients money, I actually would have converted on this about ten times over.
Your pricing page is not the only place to make an upsell if you're a SaaS subscription- or membership-based business. Make sure you have those prompts in-app to encourage upgrading those plans at any point.
In order to target the right customers with your upsell pitch and serve them with the proper offer when they most need it, you can leverage a Contact scoring tool like Breadcrumbs that allows you to look at specific data points for existing contacts, including both leads and customers, and assign scores based on each.
With this actionable and invaluable data, you can immediately reach out to the customers that are ready to upsell or set up automation to nurture the ones that still need a gentle nudge to move to the next step of the customer journey.
Book a demo with Breadcrumbs today and see how Contact scoring can make your marketing and sales teams work much more effectively across the board so you'll never leave money on the table again.
4. LeadsBridge's Custom Solutions for Enterprise
LeadsBridge is an automation tool that allows you to set up a chain of events. If someone converts on your lead ad, for example, you can set up an integration so it is automatically synced to your CRM and added to a custom audience all at once.
They have an enormous library of integrations… but for their Custom plan, they'll actually create a custom solution just for your business.
This is an appealing offer, especially for businesses with already-established tools and workflows, so featuring it prominently on their pricing plan is an outstanding upsell strategy.
And for pricing that jumps from $31, $55, and $119 all the way to $999, the pricing page needs to be effective. It is.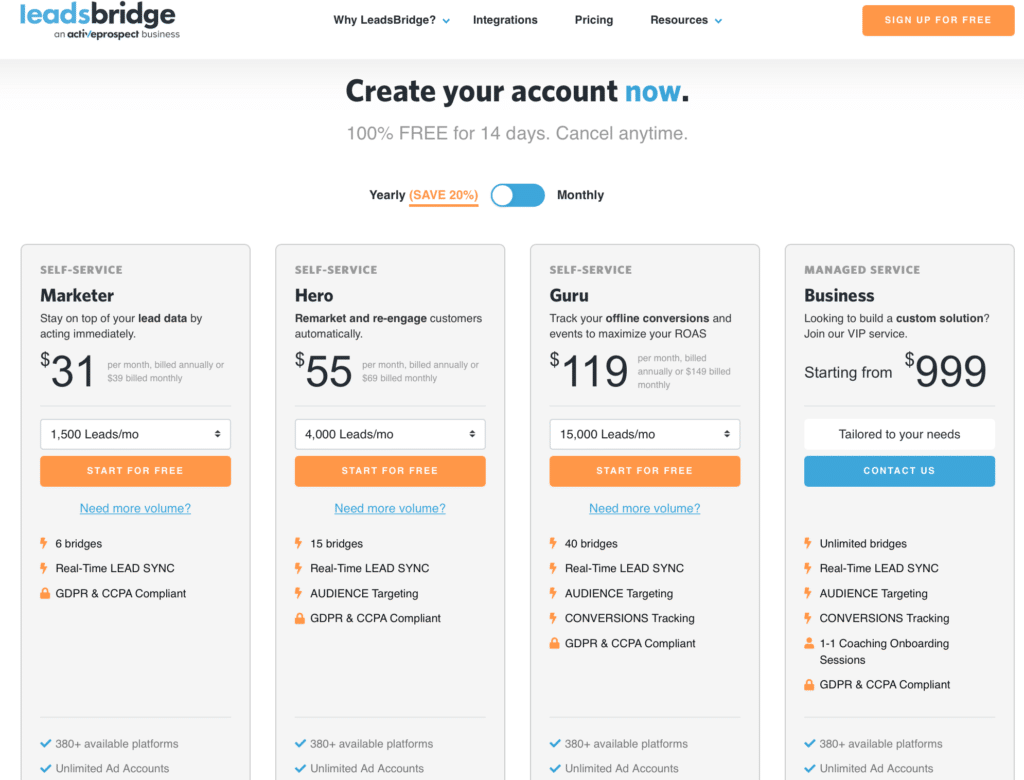 They stress the custom solution and that its plan is delivered to your needs. They also have a blue "Contact Us" that stands out from the other orange CTAs, and make sure to mention that you get unlimited "bridges" and 1-1 onboarding sessions.
They really stress why this service is worth the extra cost and do a great job upselling to potential customers.
5. Camtasia's New Features Upsell Ad
Camtasia is a video editing tool that's sold as a one-time purchase (read: Not a SaaS month-to-month subscription). I've used Camtasia since around 2014, and a few years ago, I got this ad popping up on my Facebook feed: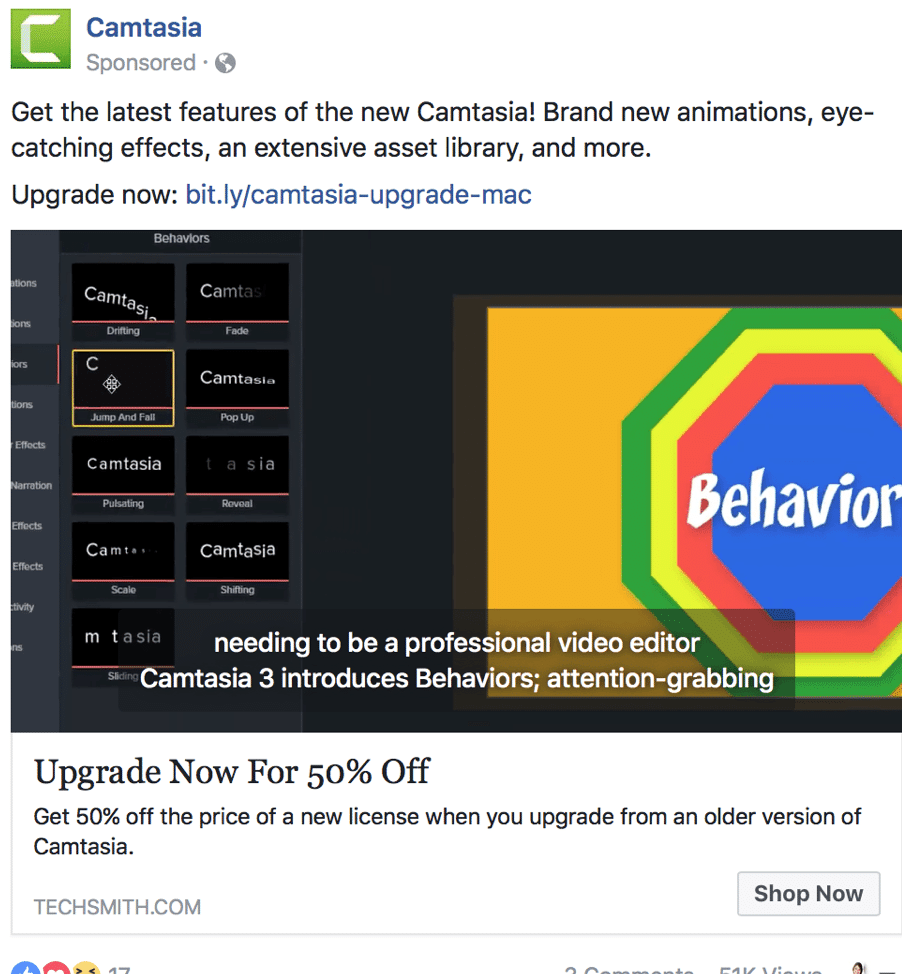 This was an upsell.
I already had a working license for Camtasia's video editing tool, but they were reaching out to existing customers who had already purchased to upsell them the new license that would come with more features.
This was an outstanding move, especially since they offered 50% off. They offer a discount to users who would love new features, but who maybe would feel ripped off being asked to pay full price for them. It's a win-win situation that leverages a little bit of urgency with some great FOMO, and it was surely an effective campaign for them.
Remember that you can use so many different outbound marketing methods to upsell to existing contacts; you don't need to rely on static, on-site upselling options and hope that customers see it. A combination of both is the best way to go.
6. Williams Sonoma's Product Recommendation Feed
If you're selling any kind of physical products or are running an eCommerce site for B2B or B2C customers, you'll want to have product recommendation feeds when customers are viewing different items.
You can customize your product feeds to show cross-selling or upselling items, and they've been shown to increase both.
Here's one of the best upsell examples of this strategy from Williams Sonoma. When you're viewing a single Calphalon nonstick pan, you'll see a product feed underneath it.
This feed shows other high-priced items, in addition to the complete set of pans in the product line. That's definitely an upsell.
You can also show different brands that cost more or higher-quality items.
The key here is to keep it relevant to what the user is looking at and within a relatively appropriate price range.
I was working below the poverty line when I bought my first car. I told them not to try to upsell me, I wanted the most basic version of the Civic and I couldn't afford anything else. The salesperson kept trying to put me in the Executive model, so I left.
Don't do that to your customers; choose to upsell items that are still in line with what they're looking for. When in doubt, give them options.
7. Delta's Bonus Miles Upgrade
Delta Airlines is partnered up with American Express, and there are different levels of American Express cards that offer unique benefits.
I've got the lowest level card, but received this email encouraging me to upgrade to the Platinum American Express card in order to get 50,000 bonus miles, a $200 statement credit after a spend threshold, and a free companion ticket: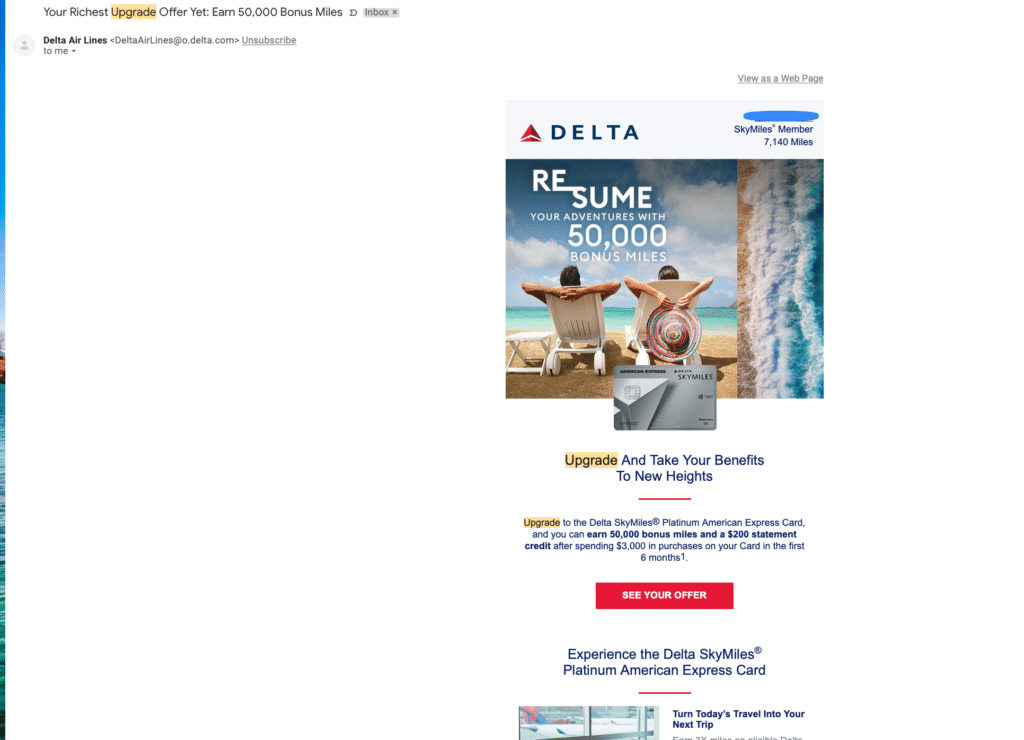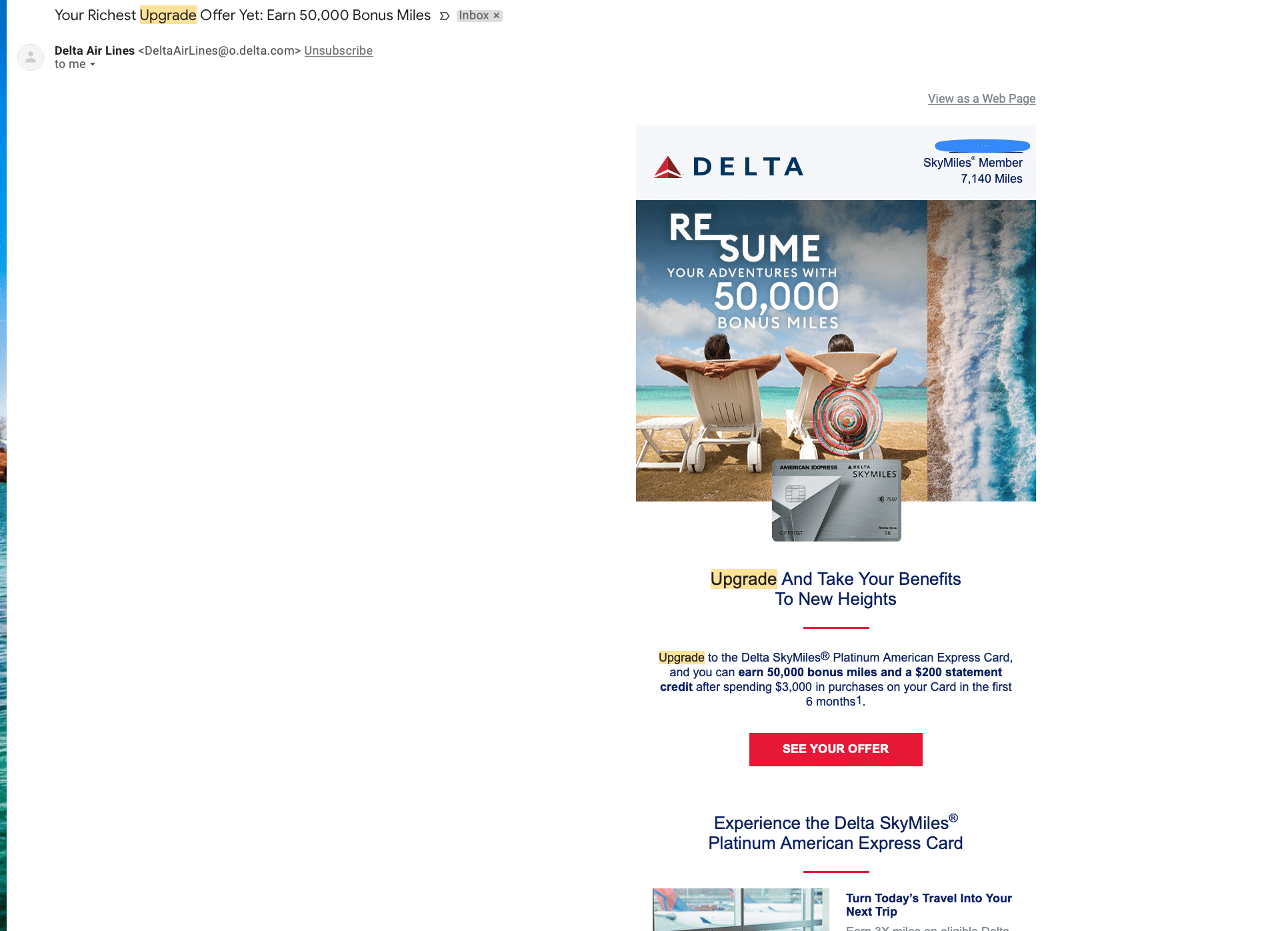 This email is focused entirely on upselling to existing customers, driving them to jump to the next level of the credit card plan. This single jump means -several hundred dollars a year- in annual fees for the company, so incentivizing users to transition with temporary extra bonuses is a good move.
I get emails from Delta on American Express's behalf a few times a year, and I almost always get one after I travel. This is smart; when I'm back from vacation and ready to go on another, the thought of traveling with incentives (like cheaper flights or a companion ticket) becomes almost irresistible.
Timing matters here, but the right incentives can go a long way, too.
8. Grove's VIP Subscription
Some businesses have their standard offerings and then a special VIP membership that customers can join. This might offer access to a Facebook group, enhanced customer service, or other perks.
Grove regularly upsells their VIP subscription to new customers, giving them a free trial before asking them to choose whether they want to opt-in. It's $19.99 and you get free shipping, gifts, access to new products, and sales.
They position the upsell in a way that it seems like customers are saving money when they choose to purchase. (And if you order enough, you do with the free shipping, but still). It's effective to upsell for perks that other brands may not charge for or that customers may not need but find appealing grouped together like this.
How to Leverage Contact Scoring to Increase Upselling
Upselling can be exceptionally effective… but in order to be successful, it's crucial to know which leads and customers you should be upselling to.
If you push too hard to sell someone the highest-cost plan too early, they may think your brand isn't a fit for them, and you could risk losing them altogether.
Similarly, it's essential to have the ability to identify opportunities for upselling so you're not leaving any potential revenue on the table. A decent segment of your existing audience might be primed and ready to upsell… they just need the right offer or marketing message.
That's where contact scoring comes into play. Contact scoring will rank contacts (both leads and existing customers included) to help you identify selling opportunities. Here at Breadcrumbs, we use a co-dynamic approach to contact scoring that accounts for the client's demographic profile, their use of the tool, and their overall engagement with the brand. Frequency and recency are both factored into the equation, too, so your team is acting on relevant information at all points in time.
You can see an example of our upselling model template (which is fully customizable) here: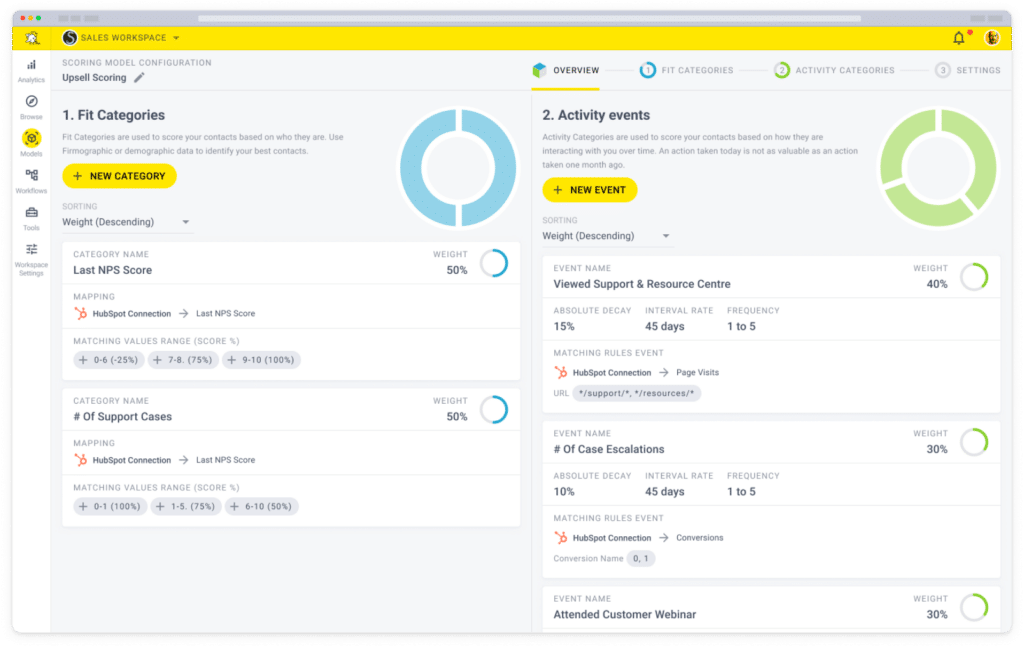 You can see, for example, that a client is a large-sized agency that keeps hitting the upper limits of their plan every month. That's a good upselling opportunity. You'll be given a single score to identify these leads quickly so your team can act fast.
There are so many different factors that can help you identify potential upselling opportunities, and our models can give you an accurate understanding of what those opportunities are. When you click on the individual contact, you can then see the breakdown of why they got that score, giving you a better understanding of how to approach them. The marketing message for someone who just engages a lot will be different than it will be for someone who keeps hitting the cap of their plan.
And keep in mind that sometimes upselling won't be the right move for certain clients, but that cross-selling will. You can learn more about both (and see our models for each in more detail) in our ebook HERE.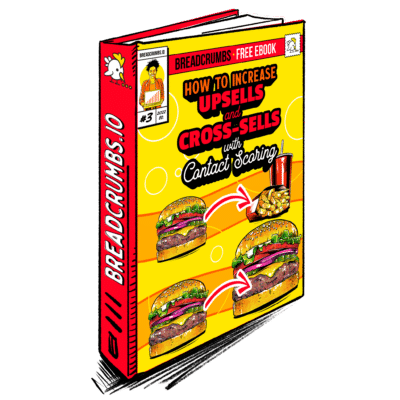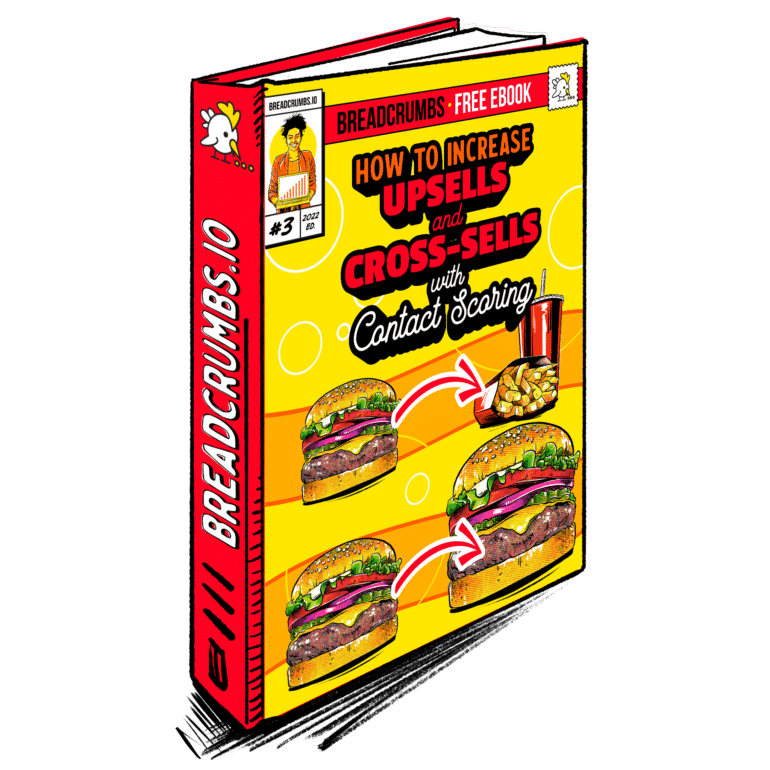 Ebook
How to Increase Upsells and Cross-Sells with Lead Scoring
Learn how to increase your average order value, improve customer retention, and bolster your customer lifetime value with lead scoring.
Final Thoughts
Upselling is a strategy that you need to know if you want to sell more to your existing customers and get as much value from each client as possible.
If you need some ideas for where to get started when you want to increase your average order value, these are 8 of the best upsell examples and strategies.
The vast majority of businesses have different products or services that come at a variety of price points, and some are inherently more valuable than others. Knowing how to upsell those profit-boosting line items is a great way to maximize your revenue quickly.
This is where Contact Scoring comes into play.
Contact scoring can give you plenty of actionable and invaluable data that allows you to reach out to existing customers at the exact right time for an upsell. You can download our ebook HERE to learn more about how you can use Breadcrumbs for both cross-selling and upselling.
Looking for more ways to connect with your target audience, identify high-value customers, and sell more? Learn more about how Breadcrumbs can help you accelerate your revenue with contact scoring. Book your free demo here.