Salesforce is one of the most high-powered sales and CRM-focused SaaS tools on the market today. It has exceptional tools designed to help your team sell more and improve the customer experience, including customized opportunities, sales forecasting, and pipeline tracking.
One of those many features is lead scoring.
Salesforce has a solid lead scoring tool that helps brands identify potentially high-value clients or those more likely to convert so the team can strike quickly.
In this post, we're going to take a look at the four Salesforce lead scoring tips to help you get the most out of the tool, and we'll take a look at why you should consider using Breadcrumbs instead.
How Does Salesforce's Lead Scoring Tool Work?
Salesforce is a CRM and sales, service, and operations SaaS tool. Their CRM and sales features are all intertwined, and their contact scoring tool is included in that.
Salesforce's lead scoring tool works like many others, taking the information they have about a specific client and ranking them to assess fit as a potential customer for your business. They give you an "Einstein Score" on a scale from 1-100 to give you a clear score of how valuable this opportunity could be.
They'll flag the top predictive factors for each client that contributes to their score, which could include having company information, relevant job titles, valid phone numbers, lead sources, and more.
It's a pretty straightforward tool, making it appealing for businesses that are already using Salesforce.
4 Tips to Get the Most Out of Salesforce's Lead Scoring Tool
If you're using Salesforce's lead scoring tool (or if you're planning on it), it's essential to know how to use it strategically so that you're getting the most accurate contact score possible, giving your team more accurate and reliable information.
As experts in lead scoring, these are the four essential Salesforce lead scoring tips we've got in our arsenal.
1. Prioritize The Right Lead Attributes
The lead attributes that are important for an AI copywriting tool likely won't be the same as the attributes that matter most for an appointment-booking tool designed for small businesses. There's no one size fits all, so it's essential to keep that in mind.
Salesforce isn't automatically going to know which lead qualities are most indicative of a high-value client or a client that's most likely to convert; you'll need to tell them.
Take the time to look through your customer profiles and data. Which attributes are the most important indicators for your brand?
Once you identify the core attributes that should be weighted more heavily, you can set up formula fields in SFDC where your lead information is stored. This can help give more weight to (and identify) specific values and output an accurate numeric score.
2. Use Data Stored On Related Objects
You can store data on different objects in Salesforce.
One of our best Salesforce lead scoring tips is to use data stored on related objects when scoring another relevant object, as this allows you to increase the number of data points that you can score overall.
The more data points, the better, as it gives you a more holistic look at a client (and thus a more accurate score).
3. Set Up Field History Tracking
Current lead data is great, but the ability to track lead scores over time can be enormously valuable, too. It can help you track changes over time, and may even be able to help you look back and troubleshoot why you might be having certain types of leads drop off instead of converting.
In Salesforce, set up Field History Tracking on your score field. This will give you some basic history reporting regarding your contacts, allowing you to see simple historical trends of scores. While it doesn't dive incredibly deep, having the basic information is a good place to start.
4. Set Up Automated Actions
Automation can be a game-changer for busy sales teams who are trying to manage a solid list of leads all at once. It can ensure that nothing is missed, and Salesforce has exceptional automation features that you can take advantage of.
Look at contact scoring automation. Within Salesforce, you can set triggered actions to occur when certain scoring thresholds are met for individual leads, including the following:
Re-assign leads to different departments or sales team members
Send notifications to alert your team of the change
Automatically create an opportunity (or deal) to help convert the customer
You'll want to consider which actions are most beneficial at different thresholds. It may be beneficial, for example, to send a notification to alert your team when a lead score drops, and to automatically create an opportunity for specific leads once they reach a threshold of 80 or more (or whatever that number would be for you).
4 Reasons Why You Should Consider Using Breadcrumbs for Lead Scoring Instead
We're huge fans of salesforce as a CRM and sales tool. And while their lead scoring feature is undeniably useful for what it offers, we know that our lead scoring tool here at Breadcrumbs is more advanced and capable of analyzing contact data to give you much more relevant scores for both leads and existing clients.
Worth pointing out: Even if you're already using Salesforce for other features, we integrate with Salesforce. This means we can pull all of that valuable data, integrate it with other sources, and utilize all the information to give you accurate lead scores.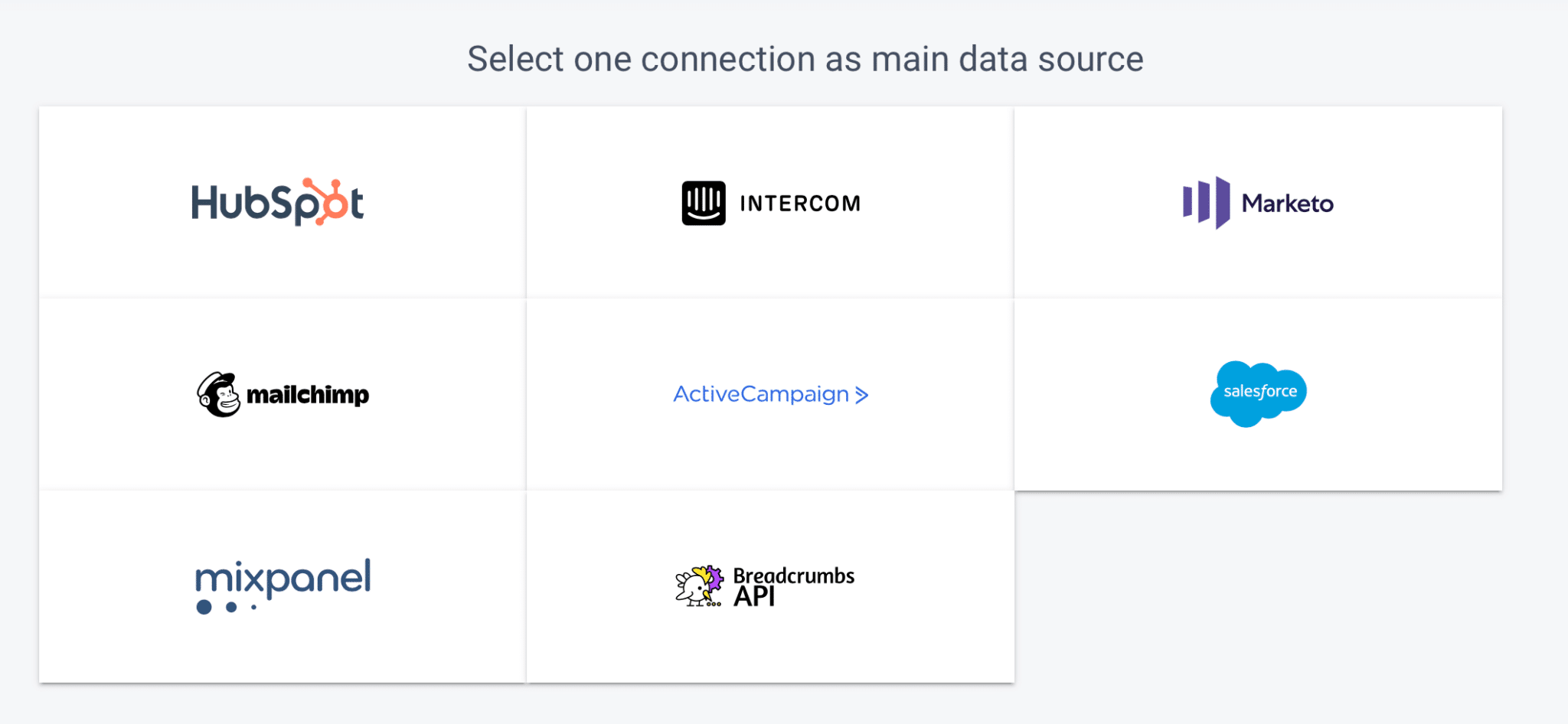 Whether you want to convert new leads or cross-sell or upsell to current customers, let's take a look at 4 reasons why you should consider using Breadcrumbs for lead scoring instead of Salesforce.
1. Salesforce Doesn't Have Native Lead Scoring
Salesforce's lead scoring tool doesn't actually come from Salesforce directly, meaning that their tool isn't truly native. Instead, it relies on data that's being stored on a contact's field and is calculated through a basic formula.
They're not receiving client data and analyzing it; they're relying on you entering the client's data manually, and they're using integration with Trailhead for the tool itself.
Breadcrumbs doesn't work this way. We automatically import customer data from multiple third-party platforms that you sync with your account, offering truly native lead scoring based on first-party-but-verified data that you know you can trust.
2. We Have Our Own Dedicated Dashboarding & Analytics Exclusively for Lead Scoring
Salesforce's tool allows you to prioritize lead attributes and view a score–that's pretty much it.
Lead scoring is our everything. We have a dedicated dashboard just for lead scoring, allowing you to dive deep into customization so you can truly understand all the ins and outs of every client that you've got.
You can see which leads are most likely to become customers or to become high-value customers. You can also use our cross-selling and upselling templates to assess which existing customers are good candidates for your sales team to reach out to for additional opportunities.
And our lead scoring analytics are as detailed as it gets. You can see each contact's fit and activity information, which are combined to give you an extremely relevant score based both on who the lead is (job title, company, industry) and their recent activity with you (emails opened, pages visited, replies sent).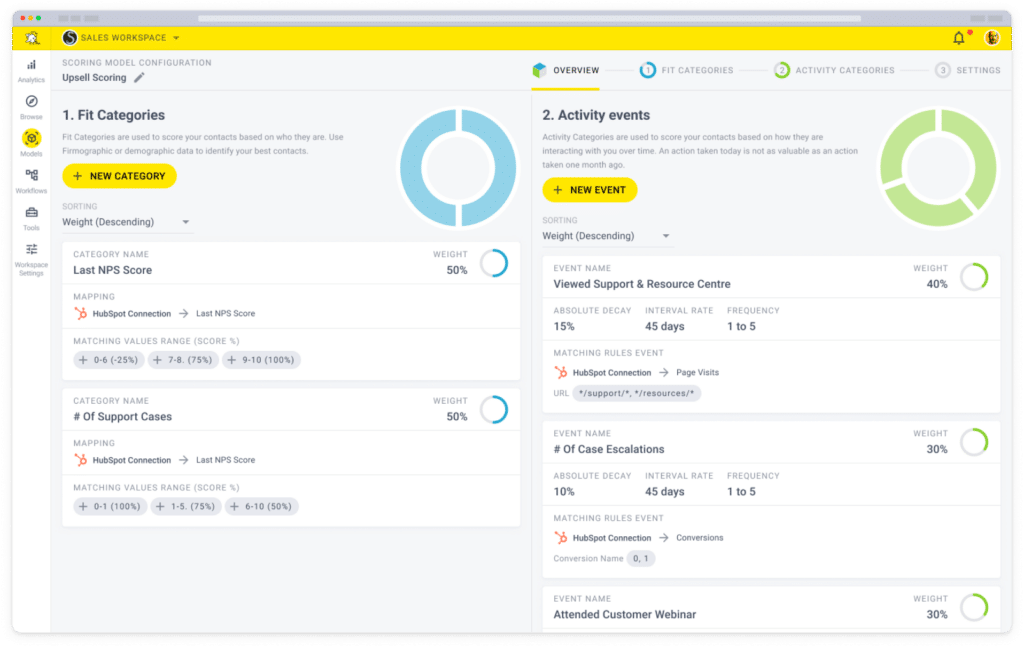 All of this means more relevant, accurate, and actionable data that's all readily visible for your team— no guessing games required.
3. Get A Historical View of Lead Trends Immediately
Salesforce requires you to set up Field Tracking in order to get basic information regarding historical trends.
When you're using Breadcrumbs, you're going to get detailed historical data right out of the box. You don't need to worry about trying to download information to access it later, you'll be able to look back in-depth at historical trends so you can get a better understanding of what's changing for your business and why.
4. Customization is Simple, Immediate, & Don't Require a Middle Man
Breadcrumbs knows that each business is going to be different.
While we do provide different contact scoring templates to get you started based on the initial business data that you provide, we also know that there's no true one-size-fits-all when it comes to lead scoring.
Customization, therefore, is simple and immediate. You can make changes to the scoring model with just a few clicks to increase the quality of the scores that you're getting. And there's a good chance this will be needed at some point, whether it's because you've identified new attributes, are branching into a new audience, or are adjusting to a market shift.
That's not the case with Salesforce, where changes to the scoring model are more complex since formulas are involved. Flows or workflows need to be modified by an administrator, which can take time and slow everything down.
Final Thoughts
Salesforce is an outstanding lead scoring tool, and its best use is to help you assess leads to identify those most likely to become clients.
Breadcrumbs goes beyond that. We can help with customer acquisition, conversion, retention, and expansion. We don't want to just help you land new customers, we want to help you build stronger relationships and sell more to them for longer. That's the secret to true revenue acceleration.
Our models that take fit and activity into account (along with frequency and time-decay factored into the equation) can give you an up-to-date look at any of your contacts at any point in time, making it easier for your sales and customer success teams to do their job well.
Want to get started with Breadcrumbs? Book a demo to learn more today.