It's common for B2C brands to be able to hone in on demographic data when they're looking at qualifying and converting potential leads. They look at a user's age, gender, location, education, relationship status, and household income. Firmographic data is essentially the B2B equivalent.
B2B brands, after all, are focused on companies and other businesses as clients, not individual people making purchasing decisions for their own usage. The age of the people they're dealing with is almost irrelevant, while factors like the size, revenue, or industry of the company matter greatly.
This is why firmographic data is so crucial to businesses. In this post, we're going to discuss everything you need to know about how to use firmographic data to identify and target different high-value market segments.
What is Firmographic Data?
Firmographic data is different sets of characteristics of firms (aka businesses, organizations, or companies) that can be used to create different market segments and identify high-value clients.
Firmographic data is almost like the B2B version of demographic data, and it's vital when you want to speed up the lead nurturing process.
The characteristics that you commonly see included in firmographic data may include the following, depending on what your business focuses on:
Company size
Industry
Number of employees
Annual revenue
Annual ad spend
Location
Type of business (B2B or B2C, product-based or service-based, SaaS)
This data can be invaluable in the lead scoring and ranking process, which can help your sales team determine which leads they should pursue most aggressively.
How to Collect Firmographic Data
In order to leverage firmographic data for your business, you first need to collect it!
Fortunately, there are plenty of different ways to collect this information on potential leads without having to wait to ask for it on a demo or sales call. This is great, since saying "how much is your company's annual revenue" on a phone call just sometimes feels a little awkward.
Let's take a look at three simple ways to collect core B2B data that can help you qualify leads.
Ask on Lead Forms & Landing Pages
The fastest, easiest, and most direct way to get accurate firmographic data for your sales team is to collect the information upfront on lead sign-up forms and landing pages.
If people are converting on high-intent pages like requests for a demo or a free trial, they're likely to complete this information. High-value offers, free consults, or lead magnets like webinars are also typically incentives enough to get users to complete these forms.
While lead forms typically convert most users when they're relatively short, you can run tests to see how to collect the qualifying information you need without seeing that conversion rate drop significantly.
You can see a great example here from Hootsuite, which asks for information like industry, annual revenue, location, and the number of users who are working with the company's social media account.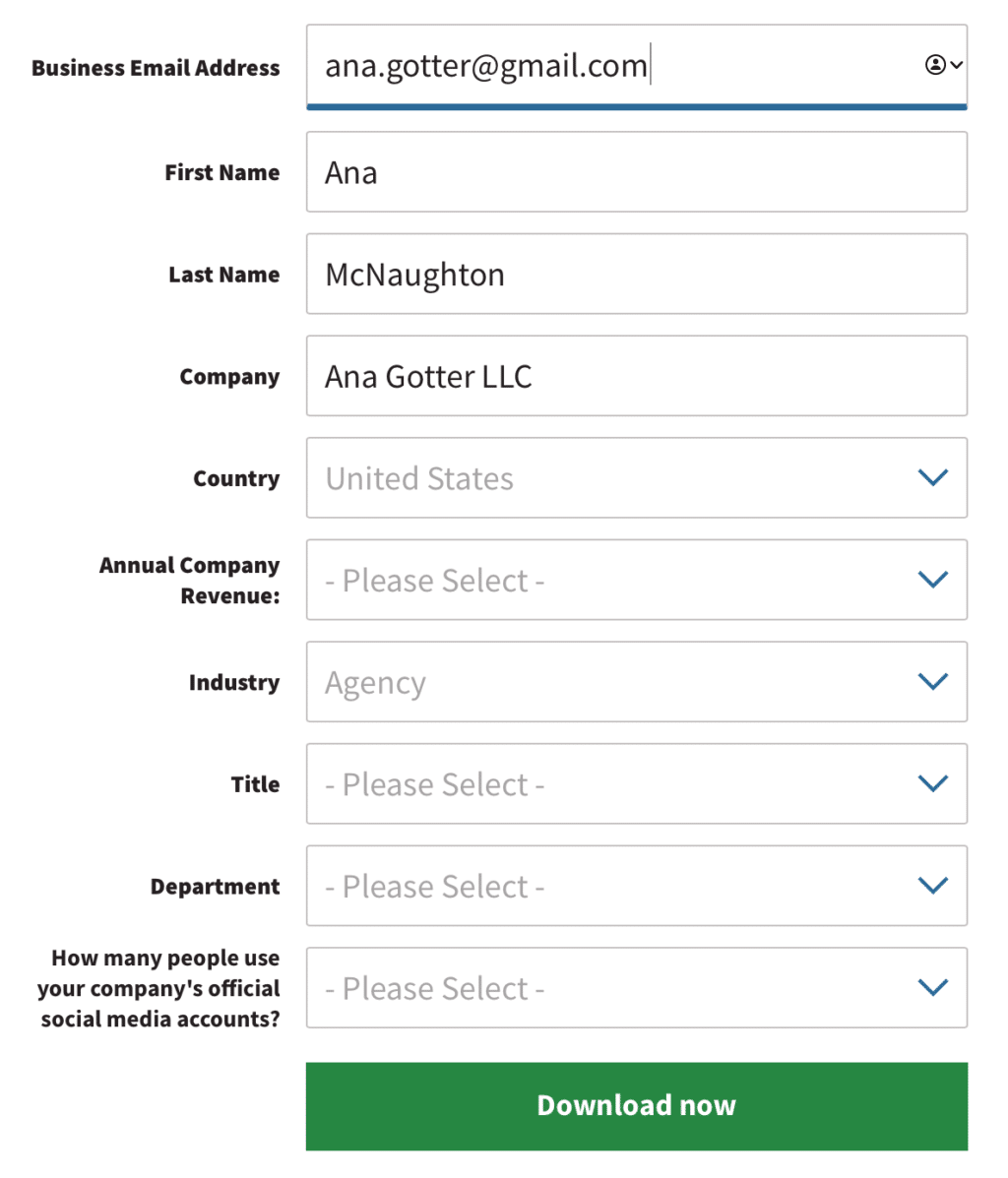 Scout Out Data on LinkedIn
LinkedIn is a great resource for B2B marketing, but it's also an exceptional mine of data in many cases. While not all brands will be on the platform, there are plenty that are, and there's so much you can learn here.
Let's look at an example. Hoppier is a small company that helps businesses deliver physical experiences to virtual attendees and remote employees, and their LinkedIn Page contains a ton of valuable information.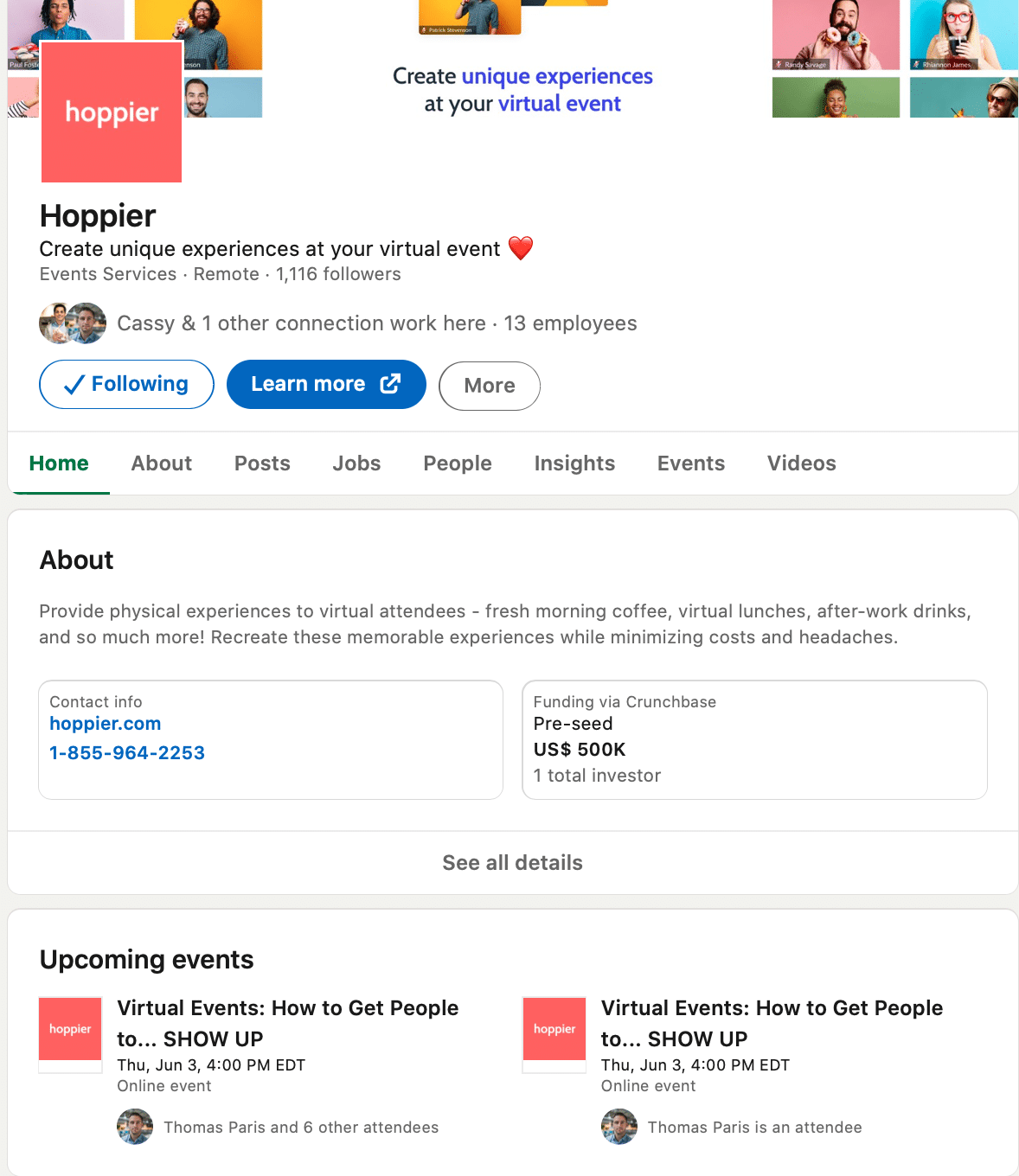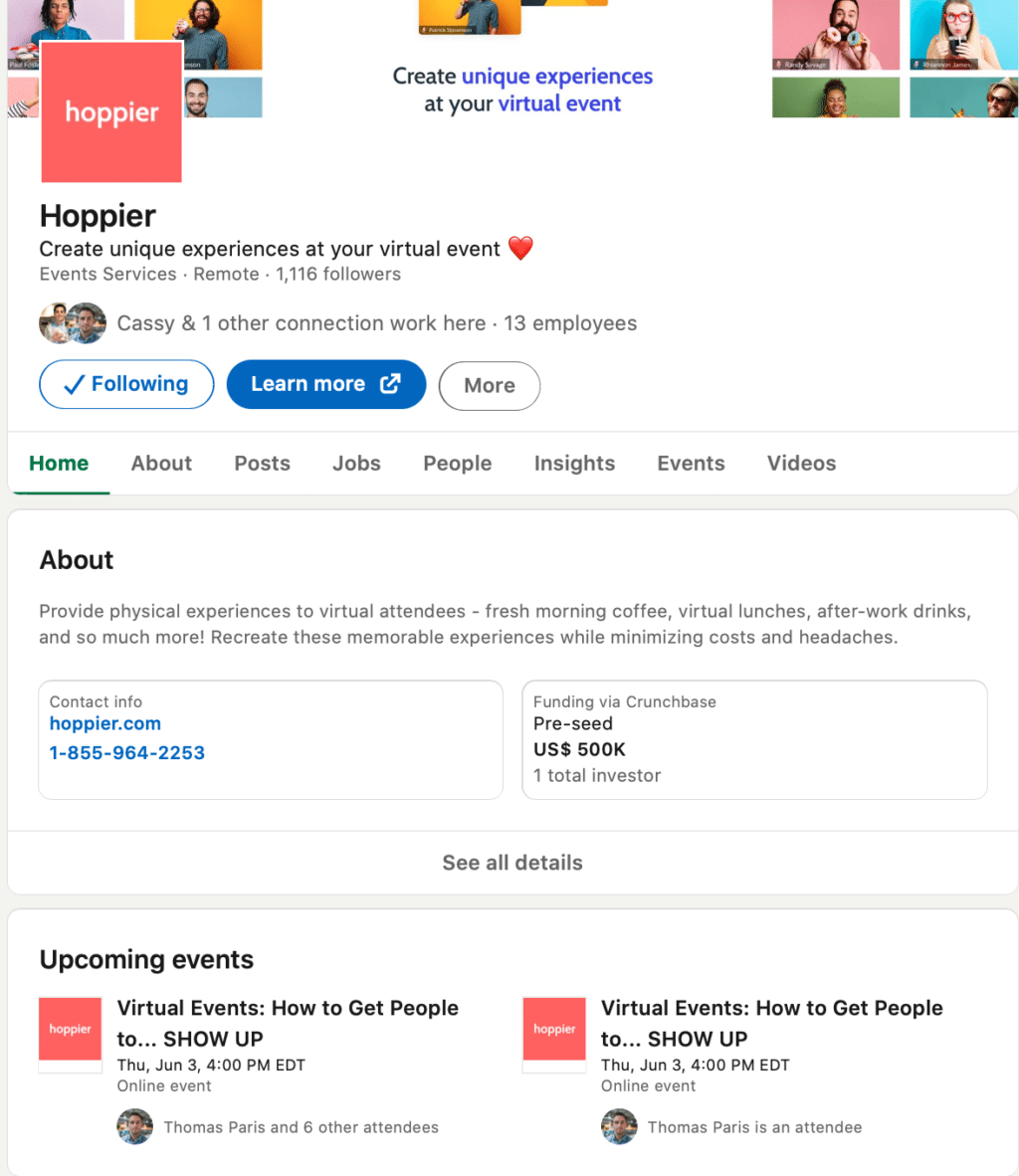 They have thirteen employees connected with their company Page. While they could have more, many individuals list their company on their private profiles, so this is a decent relative gauge of overall size.
You can also see that they work remotely, and they even have funding through Crunchbase listed (pre-seed for $500k USD). This is a ton of information to work with, and it's all right there, available after a quick search, and since it's all uploaded by the company itself, it means it's reliable.
Do Some Digging
Nothing wrong with a little Googling, right? If you need to dive deeper into a company (especially if you want to go to the level of research needed for account-based marketing), search for their company name through Google. You can find information about the brand on sites like Owler, which share projected revenue industry, and estimated company size.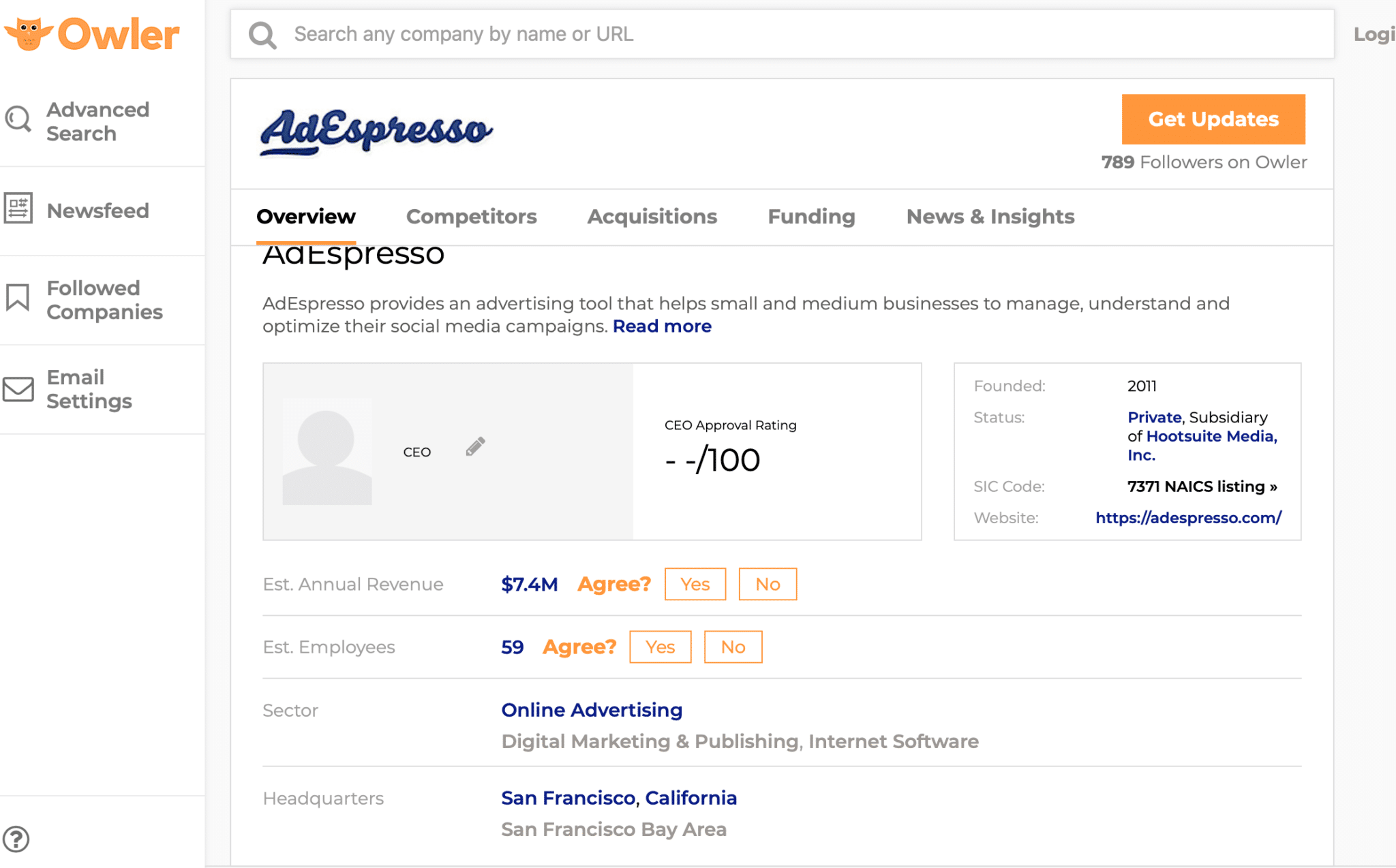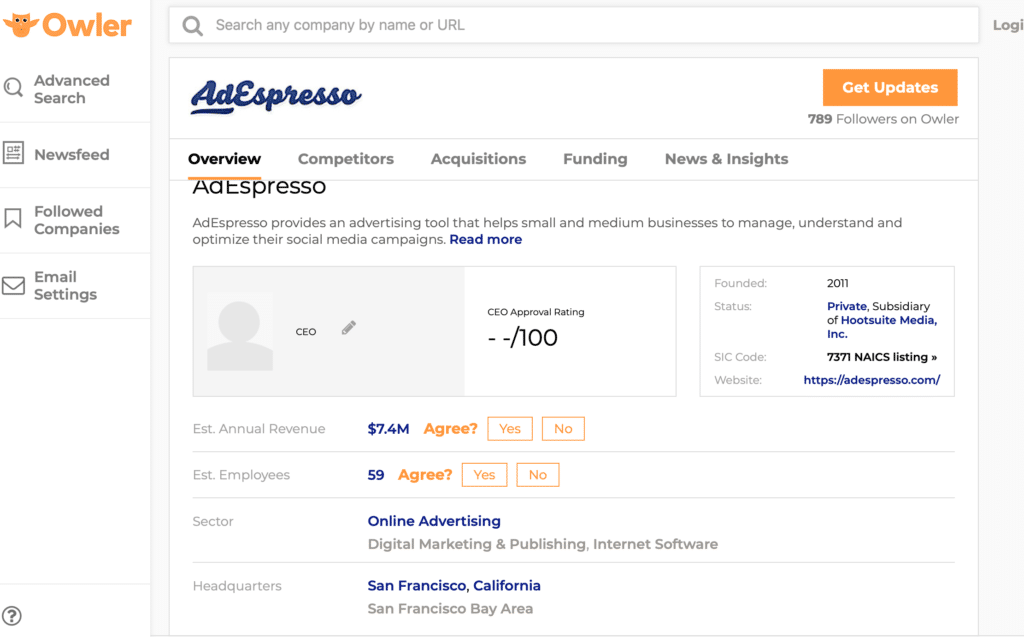 When you Google, you'll also find information that can result in firmographic data in sources like the following:
Podcasts with founders or high-level team members like marketing directors or financial directors as guests.
News reports about recent or rumored acquisitions.
Case studies about the business from third parties, which may include facts like annual ad spend, marketing strategies, and more.
How to Use Firmographic Data to Convert Leads Into Clients
Once you have solid firmographic data, you can use it to strengthen your entire sales and lead generation funnel.
Let's walk step by step through the process of how to leverage this data once you've got it.
Identify Different Segments You're Attracting
As you start to collect more data about your leads and clients, you'll notice that different trends start to emerge. These will help you identify and better define separate audience segments that you're successfully attracting.
If I have a keyword research SaaS tool, for example, I might realize that I've got the following segments after collecting firmographic data:
Freelance content marketers, site designers, and copywriters who subscribe to my mid-level plan and retain for an average of 10 or more years if they make it through the free trial; 80% make it through the free trial.
Small businesses trying to do their own research; they convert on a free trial and maybe use the basic plan for a month or two before canceling permanently.
Agencies with 10+ employees who subscribe to my enterprise-grade plan that allows for multiple user accounts for several years on average.
These are three different audiences, each offering different value to my business.
I could realize quickly that the freelancers and agencies are the two high-value groups to target since small businesses only opt for lower-cost plans for only a month or two at most. It makes more sense to prioritize the higher-value audiences that retain long-term.
Create More Relevant Messaging & Offers
After you understand who your target audience is, it becomes easier to create more relevant messaging and offers on your site.
Let's go back to our hypothetical keyword research SaaS tool example.
To appeal to my two target audience segments, I might:
Try to get placements in freelance-focused publications like the Copywriters Club blog.
Target content marketers, copywriters, and marketing agency owners with ad platforms like Google Ads and LinkedIn Ads.
Create two different pages on my website (or two landing pages), one dedicated to freelancers and one dedicated to agencies, with each page detailing how my service can help each.
Push referral marketing incentives for freelancers who are likely to have expansive networks with peers for discounts and enterprise-grade price bundling for agencies who typically need to prioritize scalability.
Create separate offers and messaging for ad and marketing campaigns to appeal to the pain points of each separate segment.
Improve Marketing Campaigns & Targeting
Understanding how to reach high-value marketing segments with outbound and inbound marketing strategies is essential, and firmographic data can make an enormous impact here.
For example, on platforms like LinkedIn Ads, you can get unbelievably specific with firmographic data attributes like company size, industry, and user job titles. If you want to reach the CFO at SaaS tools with 200-500 employees, you can do that with these platforms.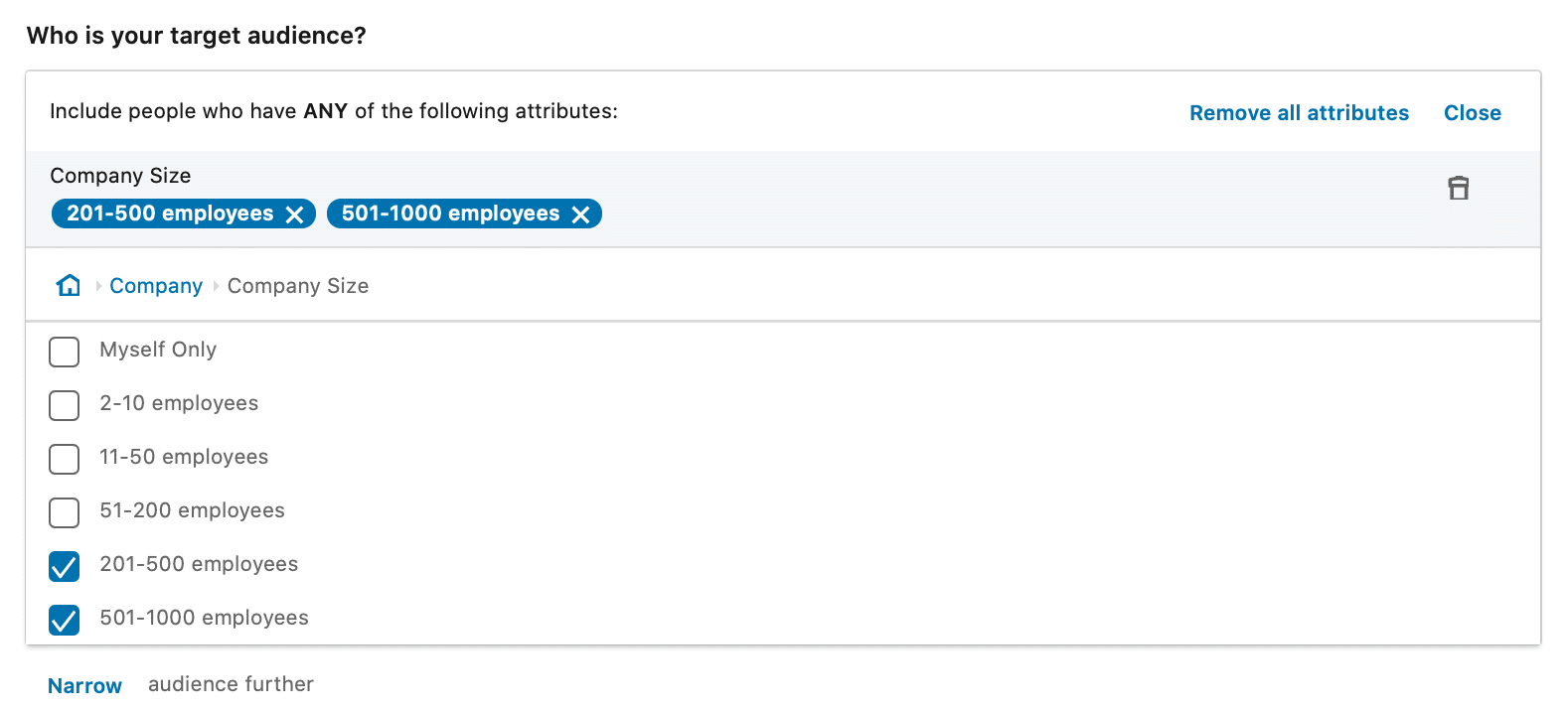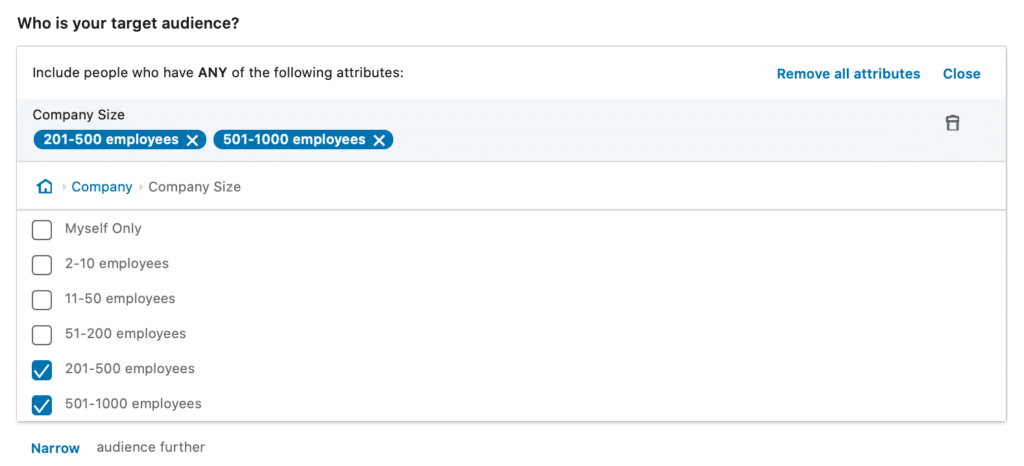 You can also get new ideas for keywords that your target audience might be searching for to use in both organic search campaigns and Google search PPC campaigns.
I might realize, for example, that my audience is looking for "Keyword research tools for agencies" or "best content marketing keyword research tools." I could use these as single-keyword ad groups in Google Ads. I can also create blog posts or landing pages optimized for each keyword and their appropriate market segment.
Qualify, Identify & Convert Leads Through Lead Scoring
Once you've got new leads coming in from your even-more-successful-than-ever-before marketing campaigns, the firmographic data you used to strengthen the lead generation funnel can now help you convert those leads into customers.
You can use firmographic data to create a lead ranking system that will help your sales team assess the potential value and readiness of every incoming lead that comes to your brand. You can even plug the data into a lead scoring tool like Breadcrumbs, which will help you put together and implement a comprehensive lead ranking system so that your sales team can automate the lead scoring process.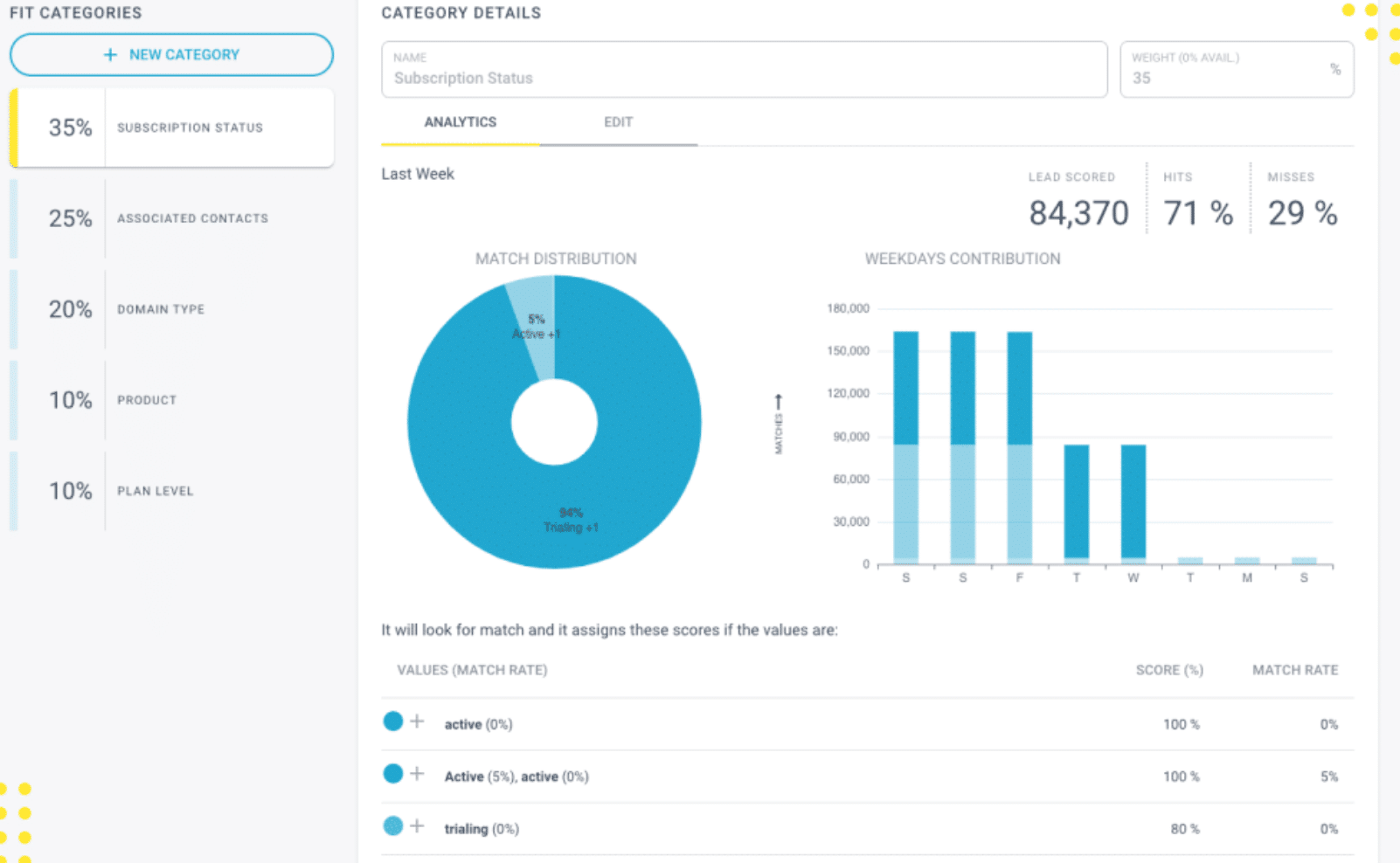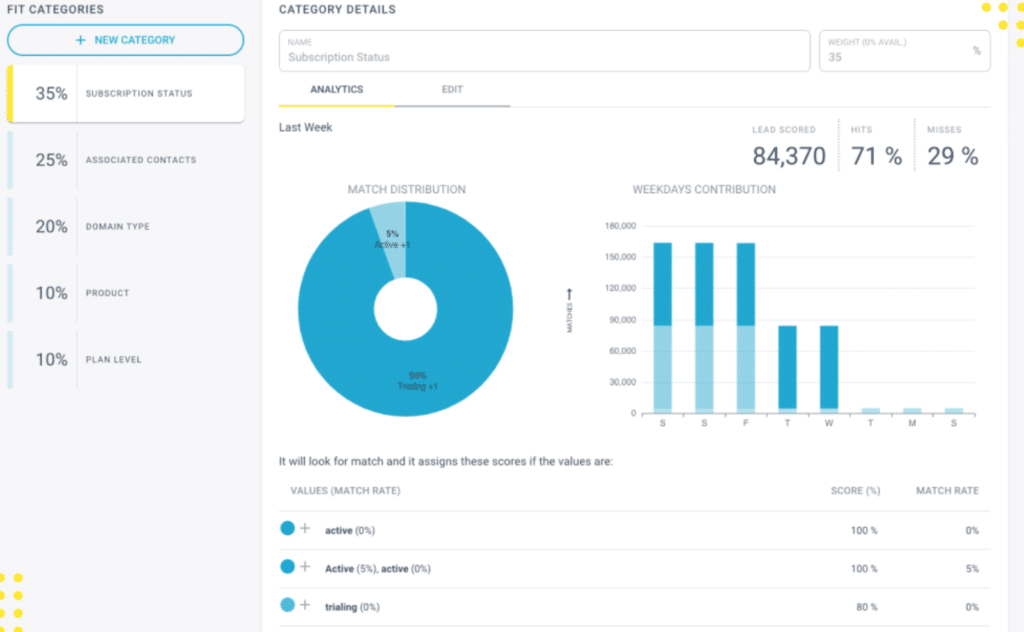 Final Thoughts
Firmographic data is practically a must-have data source for B2B brands who want to improve their customer journey and lead generation funnels. It's essential to help you understand who your audience is, how to connect with them, how to reach them, and how to convert them once they've discovered your brand.
Remember that knowing how to take action once they come to you may be the most important part of the process, because lead generation efforts amount to nothing if you're unable to convert those incoming leads. This is why lead scoring is so incredibly valuable, allowing your sales team to act quickly and accurately to help your target customers the second they come to you with relevant offers and quality customer service.
Ready to leverage firmographic data for your business and see what's possible? Sign up with Breadcrumbs for free here.