The SaaS market is booming right now. Developers all over the world see how software like Slack or Monday.com have exploded, and they want their piece of the profit pie.
A hot market is great for innovation and for giving customers an abundance of new options to choose from, but it can be difficult to thrive in. This is why you need a strong SaaS marketing strategy that will successfully connect you to your audience, convey your value, and set your brand apart.
Easier said than done, we know. As a SaaS brand ourselves, we understand the stakes involved but the payoff that comes when you find the winning marketing combination.
In this post, we're going to go over how to create a high-performing and reliable SaaS strategy that can propel your business to new heights and hear some insight from other SaaS brands who have found success with theirs.
What's Different About SaaS Marketing Strategies?
If you read a blog post that's detailing "marketing strategies," they're almost always geared towards B2C brands. There are quick tips for how to sell items ranging from glass water bottles to home security systems to individual consumers, where reaching the key decision-maker with emotional pain points is often relatively easy.
SaaS marketing still revolves around reaching key decision-makers, but the B2B buying process typically involves more research and more consideration. You also need to get to specific individuals with an organization, who may have different pain points than the people actually using your product.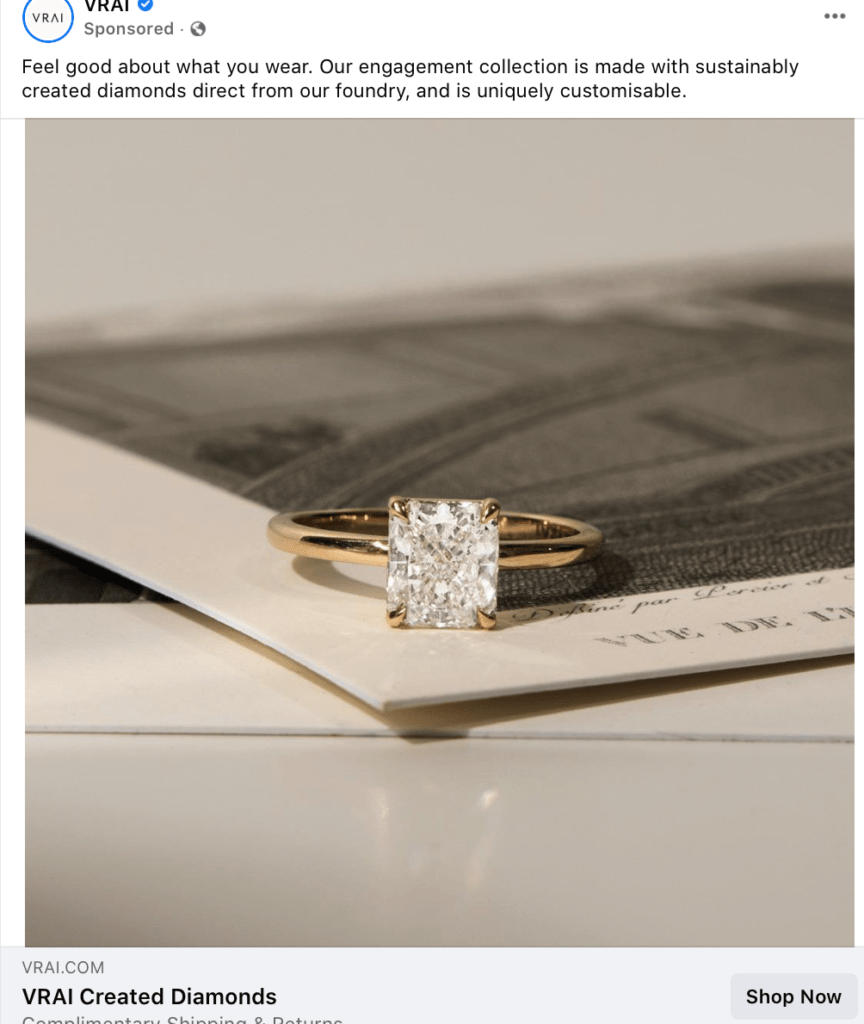 If I'm selling accounting software, for example, it would be easy to convince the accountants themselves to try my easy-to-use and automated software when they're unhappy with an existing tool, but the pain point that the upper-level executive (who makes the decision) cares about is whether it will prevent errors and save money.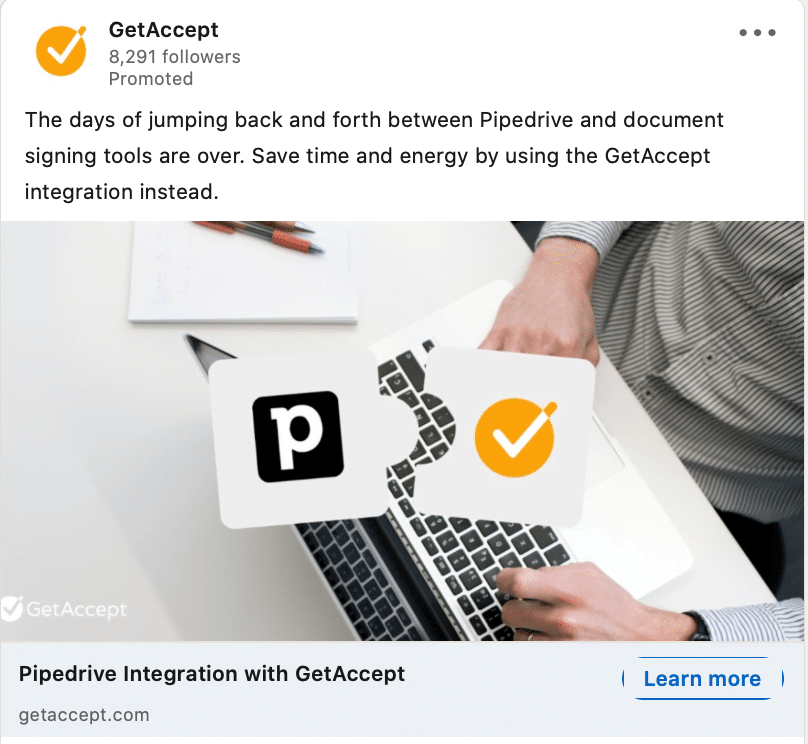 SaaS tools typically offer advanced, useful solutions for things that people are already doing manually. We need to convince profit-driven businesses that our software is worth it, that it will save them time and somehow help them make more money. And we need to do all of this in a hyper-competitive market.
7 Common SaaS Marketing Strategies
While there are plenty of different platforms and options to consider, there are seven common types of marketing that are frequently used in SaaS strategies. Let's look at each quickly.
1. Content Marketing
Content marketing is all about expanding your reach by offering value. Blog posts, ebooks, webinars, free templates, video resources, guides, checklists, you name it: If it's free and it offers value with no strings attached, you're utilizing content marketing.
Content marketing is one of the most popular SaaS marketing strategies out there, and it's become almost a necessity in the industry.
2. Social Media Marketing
Social media marketing involves creating strong profiles and engaging users on platforms like Facebook, Instagram, LinkedIn, and Twitter. (Those are the big names for B2B and SaaS brands).
3. Referral Marketing
Referral marketing is one of the most effective and lucrative ways to attract clients, so make sure you have a referral program set up. It can attract some of your most high-value and longest-retaining clients. Let customers know that when they refer someone to you, that person gets a free or discounted first month, and they (the referrer) also get a discounted or free month.
4. Affiliate Marketing
Affiliate marketing involves reaching out to influencers and asking them to promote your product, even if it's just to place an affiliate link in a blog post they're writing for a high authority site. (And for anyone reading this: No, I don't do this, please don't email me.)
When a sale comes through from the affiliate link or is made using an affiliate code (which often grants the new customer a discount), the affiliate receives a payout.
5. Account-Based Marketing
Account-based marketing can use different strategies discussed here, but it's about proactively reaching out to and nurturing relationships with decision-makers at specific companies. You can create tailored pitches or even product packages for these users, making it a good option for high-value prospects.
6. PPC Marketing
You can use pay-per-click marketing to capture demand or create it. When people search for "project management software" on Google, you want your tool to pop up first, and Google Ads can help. Meanwhile, using LinkedIn Ads to introduce your product to people who don't know it exists is a great option.
7. Email Marketing
Use email marketing to follow up with potential leads and work on converting them into paid subscribers. If you get a user's email address, you can also reach out with cold calling emails, though other methods are typically more effective.
How to Develop a Strong SaaS Marketing Strategy
A strong SaaS marketing strategy relies on more than just choosing a few platforms and getting started; it's important to take a look at what you want to accomplish and what's the most effective way to achieve your goals.
1. Conduct Market Research
The first thing you need to do before making any decisions about your SaaS marketing strategy is to conduct thorough market research.
The market will determine everything from what platforms you use to the pricing models that you choose for your software. You need to look at both what your audience wants and what your competition is doing.
Look at your top competitors and see what marketing strategies they're using and how they seem to be working for them. You can do the following:
Use a tool like SpyFu to see what keywords your competition is targeting and how they're ranking for them
Take advantage of SEMrush's Social Media Tracker to compare organic performance across your competitors' public social media profiles
Use a tool like BuzzSumo to identify brands' top performing content in terms of social shares, which can give you insight into what their audience wants to see
In addition to using tools designed to help with market research, it's also good to take some time to do some digging manually, too.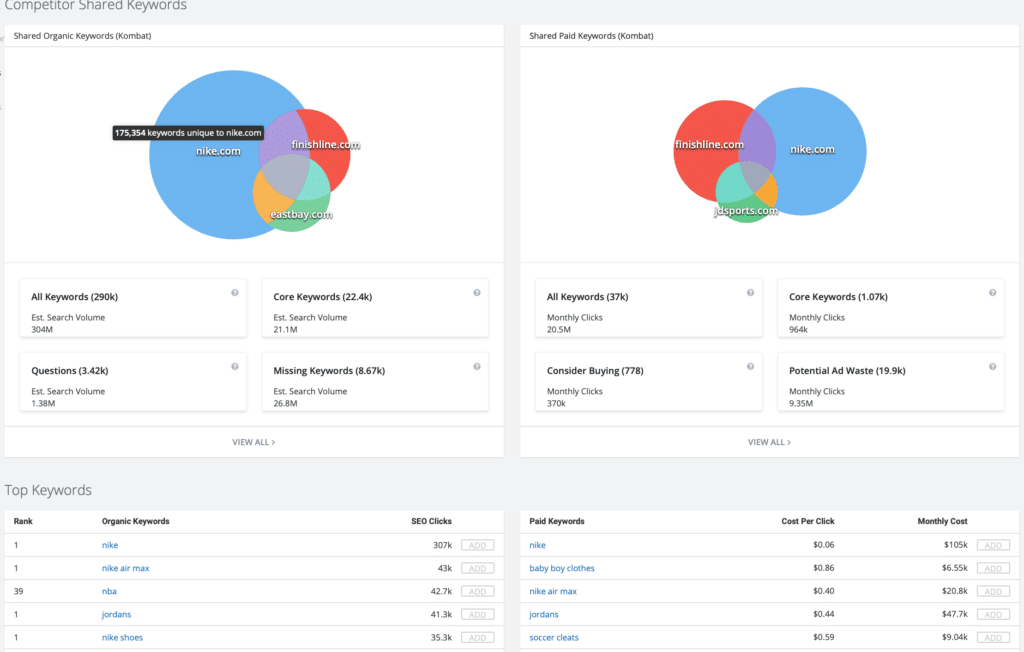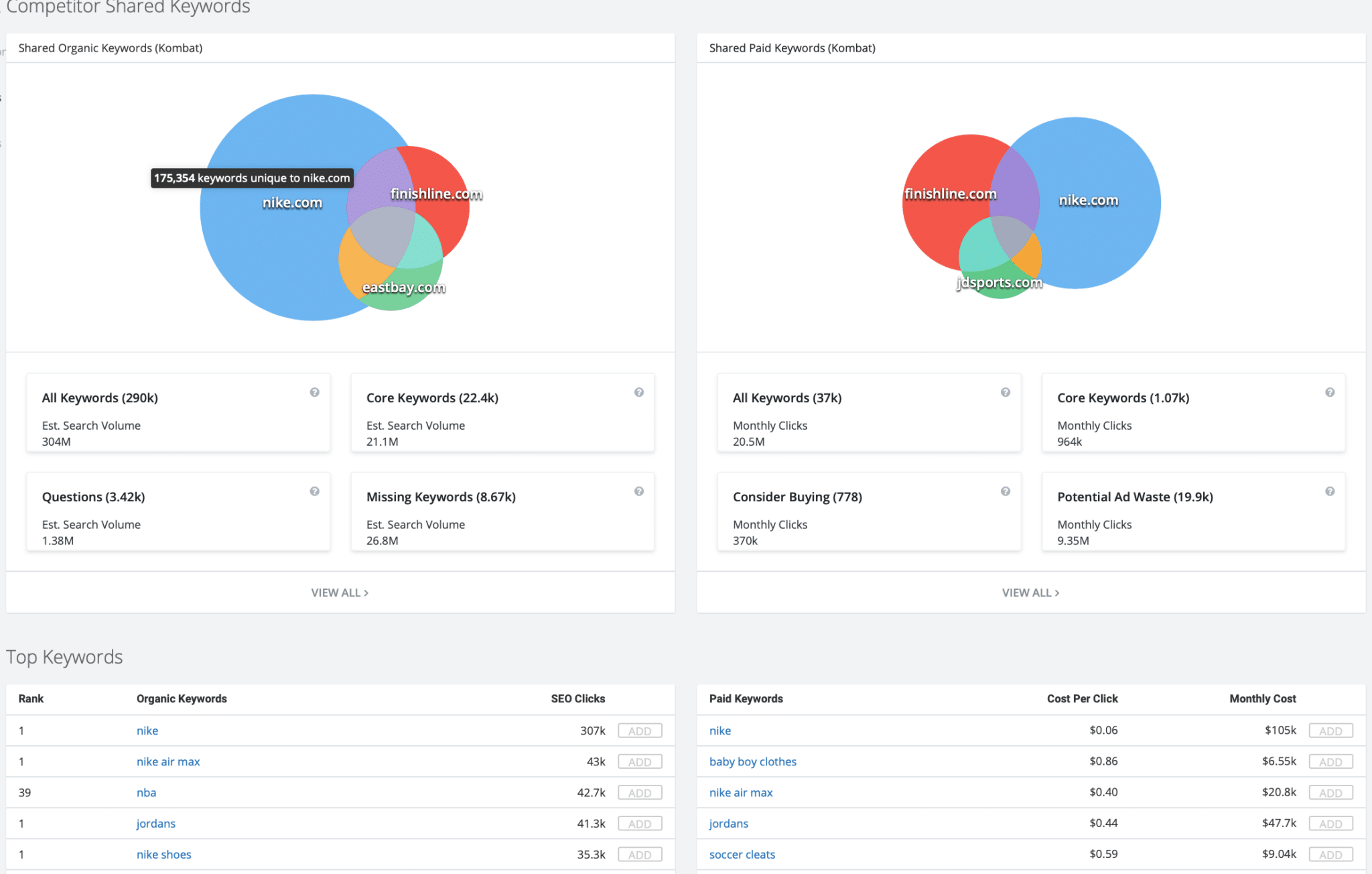 Look at your competitors' top blog posts to see what's shared and what they're writing about. See which posts are getting the most engagement on social media. Subscribe to their email lists so you can see what offers they're sending, and use Facebook's Ad Library to see the ads currently being run on the platform.
2. Consider Your Target Audience
Your target audience will absolutely influence what marketing strategies you use.
If you're using a lead scoring system, it should be easy to identify which audience segments are your most high-value niches, and what shared criteria they have. You can use this information to better understand your target audience and market more effectively to them.
Let's say, for example, you sell a subscription to a video-sharing platform. You realize that an enormous number of your clients are not B2C brands who are trying to share videos internally, like you previously thought, but B2B brands like accounts, content marketers, and graphic designers who are trying to offer video explanations to their clients.
Knowing this, you now know that you can target more service-based brands with ad targeting. You might also want to post in forums and sites for graphic designers or content marketers, including in Facebook Groups or relevant subreddits. Setting up an affiliate deal with prominent members in those communities can be a game-changing move to connect with more high-value leads.
3. Assess Your Current Performance
If you've already made efforts to market your brand before and you aren't starting completely from scratch with a totally new digital presence, it's important to take a look at your current data.
We all have our unique strengths and weaknesses. It's entirely possible that you've started to build a loyal following on Instagram, or that you're well connected to a few core influencers who would be open to being affiliates if a paycheck was involved.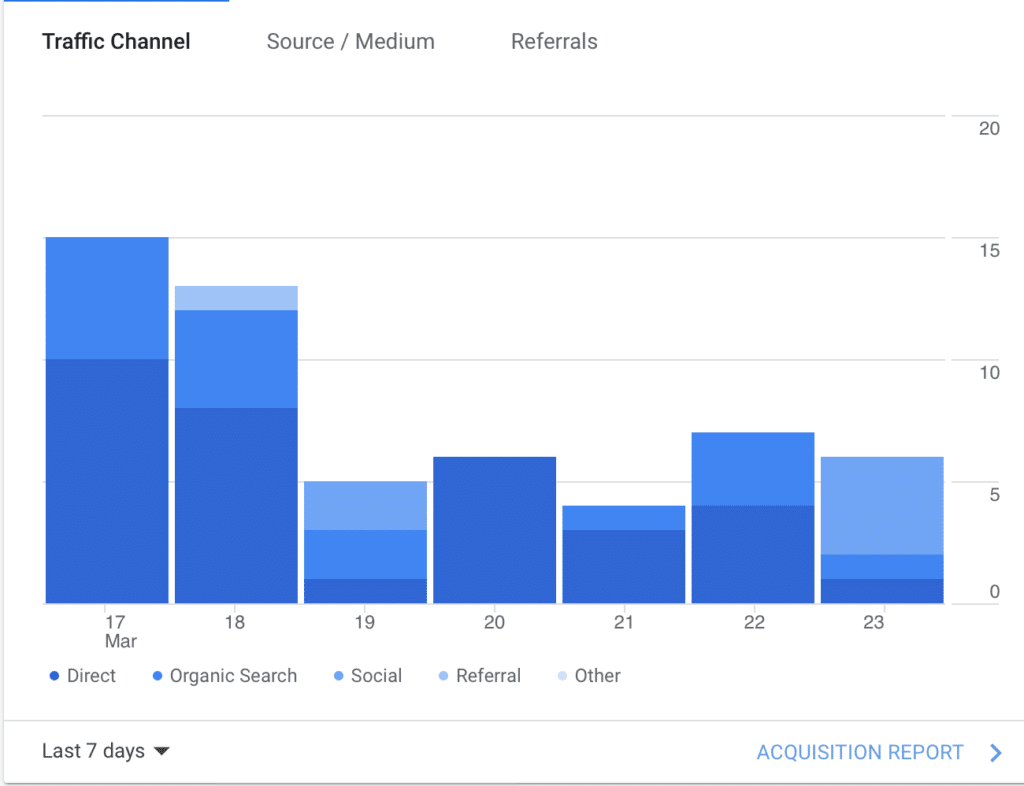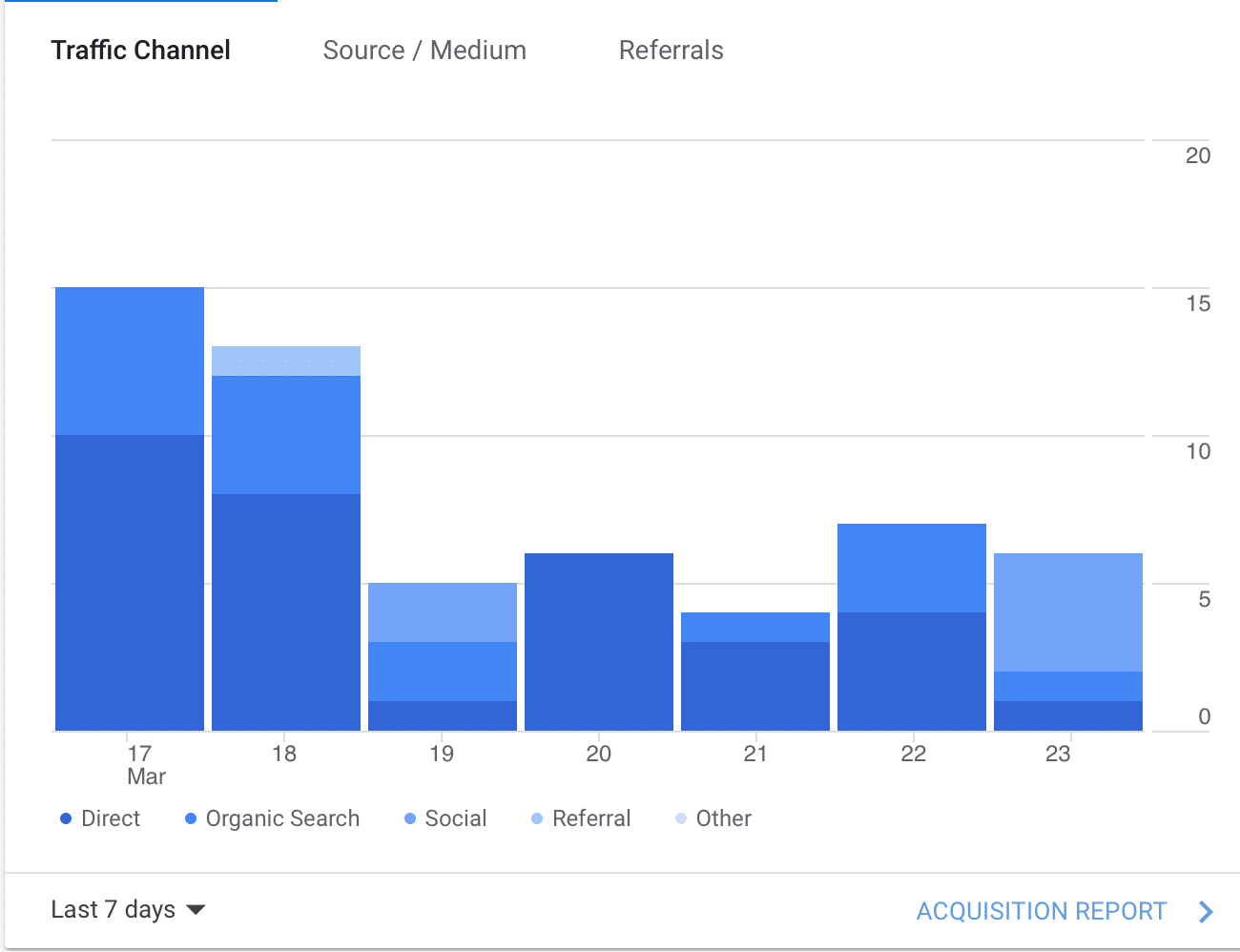 Look at the analytics for each marketing platform you're using to assess potential. If you haven't made a dedicated effort for a specific platform, don't count it out yet.
Content writing, for example, isn't likely to yield strong results if you're just writing about topics that you think would be interesting every few weeks; you need to have a strategy in place for how to drive action from users at all stages of the digital sales funnel while factoring in search intent and your specific goals.
4. Look for Platforms with High ROI and High Reach Potential
The most effective platforms are going to be those that can help you extend your reach to the most members of your target audience at an effective cost.
This is why content marketing, social media marketing, referral marketing, and affiliate marketing are so popular. They're relatively low cost, and if anything, you're really paying for direct results unless you outsource content creation.
Remember, however, that free options aren't the only ones to consider. Free organic traffic may be evergreen and cost-effective, but it also takes time and momentum. Using paid ad platforms and sponsored posts costs does have a higher cost (and the campaigns may only run while you're paying) but they can offer significant reach explosively fast, as you get to proactive reach out to new users.
We always recommend using a combination of different platforms in a single marketing strategy, with the goal that they'll be interwoven to create a stronger digital funnel with more touchpoints.
You might use a growing audience on social media marketing to send interested users to a blog post and then to a lead magnet, where you can capture their email addresses. You then use retargeting campaigns and email campaigns to stay relevant. After they purchase, you encourage them to refer others to you, too.
5. Test, Test, Test
No SaaS marketing strategy is ever truly complete; ongoing testing is required to make sure that the strategy is effective not only now, but moving forward as algorithms, user behavior, and the market itself shifts.
Run split tests on your PPC campaigns. Test out new social media platforms as they arise (TikTok paid off for a lot of early business adopters), and try out different types of content on your social media, email marketing, and blog. Ensure you use social media analytics tools to track the performance of your content and refine your social media strategy.
Make sure that your strategies are given enough time to be properly evaluated; for PPC campaigns, that may be two to three weeks, while content marketing may take several months to see the full results.
Whatever is working, keep it going and optimize it further. Alter what isn't.
What 5 Brands Shared About Their SaaS Marketing Strategies
Want real-life examples of how SaaS brands create strong, effective marketing strategies? Let's take a look at what some of their owners and marketing managers had to say!
1. Snappa
Snappa is a dead useful graphic design tool that uses drag-and-drop technology and plenty of customizable templates.
Marketing manager Nick Le stressed that content was an efficient way to attract customers and was central to their SaaS marketing strategy:
"The SaaS strategy we use here at Snappa involves purely an organic approach by using SEO and content marketing to attract new users. We believe that if we can provide value via our blog posts and videos, we're able to bring in sign-ups, which typically end up leading to paid subscriptions for the brand. In addition to this strategy, we create affiliate partnerships with relevant influencers in the space to create more interest around our SaaS business and to showcase our product in front of new eyes."
2. myTracker
myTracker is a universal data attribution and analytics platform that's been focused on expanding its reach globally.
Andrey Moseykin, the marketing and sales manager, had valuable insight about incorporating market research into their strategy:
"To decide on the best marketing strategy for our product, we look at a number of things. First, we keep a close eye on our competitors and analyze markets locally as well as globally to get a bigger picture of where we stand.
There are some product-related factors that should not be overlooked, too. For example, our product is a complex one and has an unusually long sales cycle, so we pay a great deal of attention to our user onboarding process and educational content.
Considering all the above, we choose to focus on valuable content and user education, online events, and webinars."
3. Formjelly
Formjelly is a SaaS company offering a high-quality, intuitive online form builder that prioritizes customer privacy and security.
Here's what their CEO, Alex Lang, shared about their marketing strategy, which extends across several content-focused platforms:
"We chose a content-driven marketing strategy because it allows us to tell stories using Formjelly. These stories educate people on how Formjelly works, turning them into customers. While we focus our content around social media and our blog, YouTube has been a great tool to market and educate our product. After all it is the second largest search engine."
4. LeadsBridge
LeadsBridge is a B2B SaaS tool that helps brands find and nurture high-quality leads.
Here's what their marketing expert, Luca Ramassa, had to share:
"Our marketing strategy at LeadsBridge takes two factors into consideration: product development and market needs. From a content perspective, we conduct extensive research on each trending keyword that we believe would be a good fit for our audience. We then divide the content production and publishing into a monthly schedule, always trying to stay at least a few weeks ahead of the publishing deadline. Additionally, we conduct monthly webinars based on popular subjects, again making sure that the content we're covering is valuable for our audience through extensive data analysis and research.

5. Disruptive Digital
Disruptive Digital is not a SaaS brand, but they're a high-performing PPC agency that uses a holistic marketing approach to help its clients, which have included SaaS companies.
Here's what Co-Founder Maurice Rahmey had to say:
"If you are going to use a high volume acquisition channel like Facebook to generate leads, make sure you have automated systems in place to qualify and score your prospects as they come in. Because channels such as Facebook drive higher volume, they also drive a lot more unqualified leads. Setting up systems to score these users properly will allow you to drive better efficiency in the short and long term."
SaaS Marketing Strategy: Final Thoughts
Developing a SaaS marketing strategy is no easy task, and it's something that will need continual monitoring and adjustment over time. As we discussed above (and as our experts pointed out), it's important to conduct thorough market research, understand your audience, and use high-quality content to attract and engage leads.
And, as the experts at Disruptive Digital stressed, it's important to evaluate the quality of the leads coming to you from your marketing campaigns. Lead scoring can not only help your sales team identify hot, high-value prospects, but it can also ensure that your campaigns are drawing in the right people. This is crucial to ensuring that your marketing campaigns stay centered, focused, and effective long-term.
Ready to assess the quality of the prospects coming in from your SaaS marketing strategy and campaigns? Get started with Breadcrumbs for free!