It goes without saying that engaged customers spend more and tend to stick around longer.
But, many businesses make the mistake of pouring all their marketing budget into acquiring new customers as opposed to spending it on existing ones.
As we know, customer retention is the bread and butter of all businesses. So why not focus your marketing efforts on your current customer base?
Customer marketing is about putting the customer at the center of your marketing communications. When businesses do this, they tend to retain more customers and ultimately win more new ones too.
Today we'll dive into why customer marketing is important and how you can implement several strategies to drive growth.
What Is Customer Marketing?
Customer marketing is a kind of marketing that is ultra-focused on your current customer base instead of potential customers who don't know your business yet.
At its core, customer marketing incorporates any kind of marketing activity that is created with your existing customers in mind.
Customer marketing campaigns usually prioritize building high-quality customer relationships through retention, expansion, and promotion.
Different from other acquisition-focused marketing strategies, customer marketing isn't a short-term isolated marketing activity either. It includes the whole post-purchase part of the customer journey.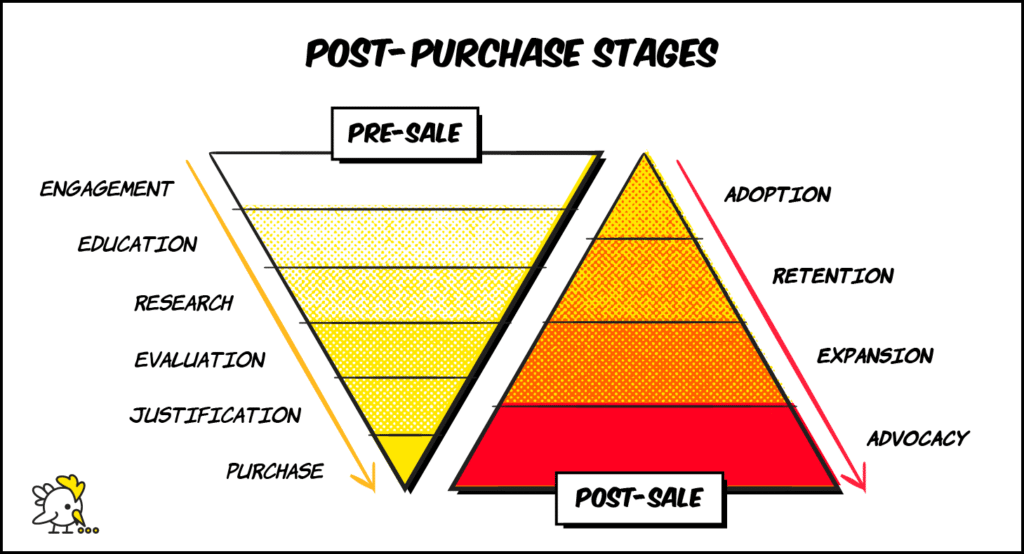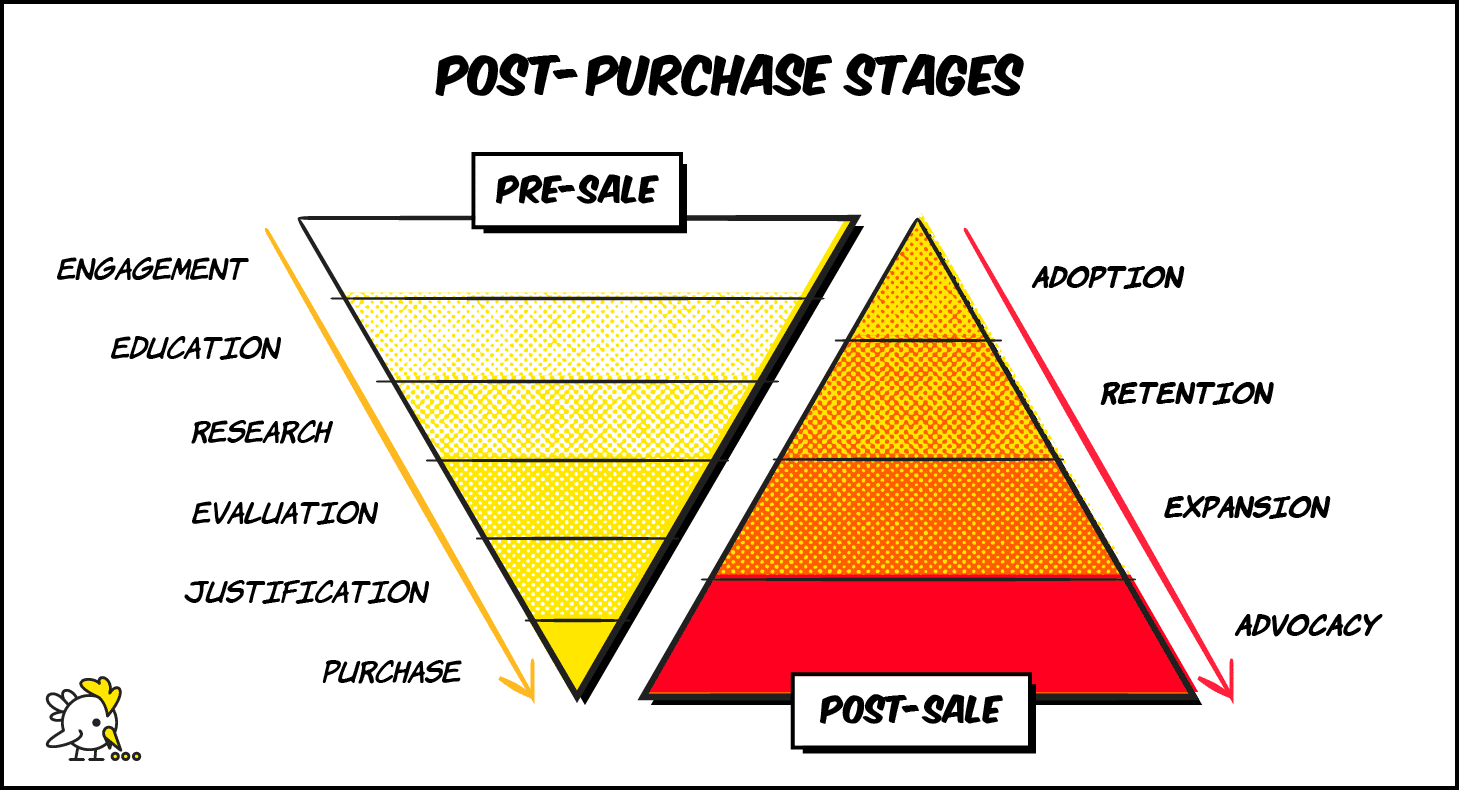 Why Is Customer Marketing Essential for Your Business?
Prioritizing customer marketing is essential in an increasingly competitive business landscape.
If executed properly, it will help you better engage and communicate with your target customer base.
When your customers understand your business's value they'll get more out of your products and will be more likely to stay loyal to your business for the long term.
Keeping hold of your customers will ensure continuing sales and revenue. You'll also build loyalty and trust –– both of which are vital for attracting new customers further down the road.
Customer Marketing Helps You Prevent Churn
We've all heard the stats about how it's cheaper to retain a customer rather than acquire a new one. Studies suggest it costs five times as much to acquire a new customer than it does to retain an old one.
Ensuring your customer base is satisfied and engaged with your business offering means more revenue in the long term. In fact, a 5% increase in customer retention correlates with at least a 25% increase in profit.
It can be easy to get caught up in the cycle of always attracting more customers, but holding on to the ones you already have is essential for business growth.
Customers Become Advocates of Your Brand
A strong base of happy customers often leads to positive reviews and word-of-mouth recommendations. These powerful referrals can help you grow your business exponentially.
In fact, customers tell an average of nine people about a positive experience with a brand. Think of all those potential customers that could find your business as a result of a few well-timed word-of-mouth recommendations.
How do you achieve a satisfied customer base in the first place? Put your customers' needs first. A customer-centric brand starts with a marketing strategy that speaks their language and answers to their needs.
Top 6 Customer Marketing Strategies (and Examples)
1. Personally Interact With Your Customers
80% of customers say they are more likely to do business with a company if it offers personalized experiences.
Regular in-person communication fuels authentic relationships and helps your customers feel valued.
You might be wondering how you can do this effectively if you have hundreds or thousands of customers, but a few simple changes in your communication can make it more personal.
Personalized interactions from day one will help you set the foundation for a long-term customer-business relationship. For instance, providing individual onboarding sessions for new customers is a great way of ensuring they're positioned to make the most of your product's features from the get-go.
B2B video hosting platform Wistia has created a personalized onboarding sequence for each of their new clients. They start by asking users to set their primary goal and share their level of expertise.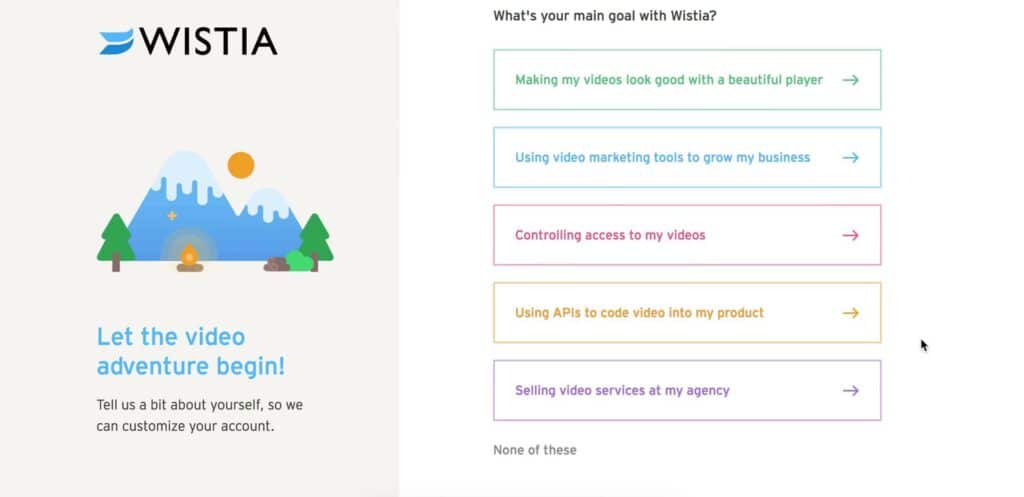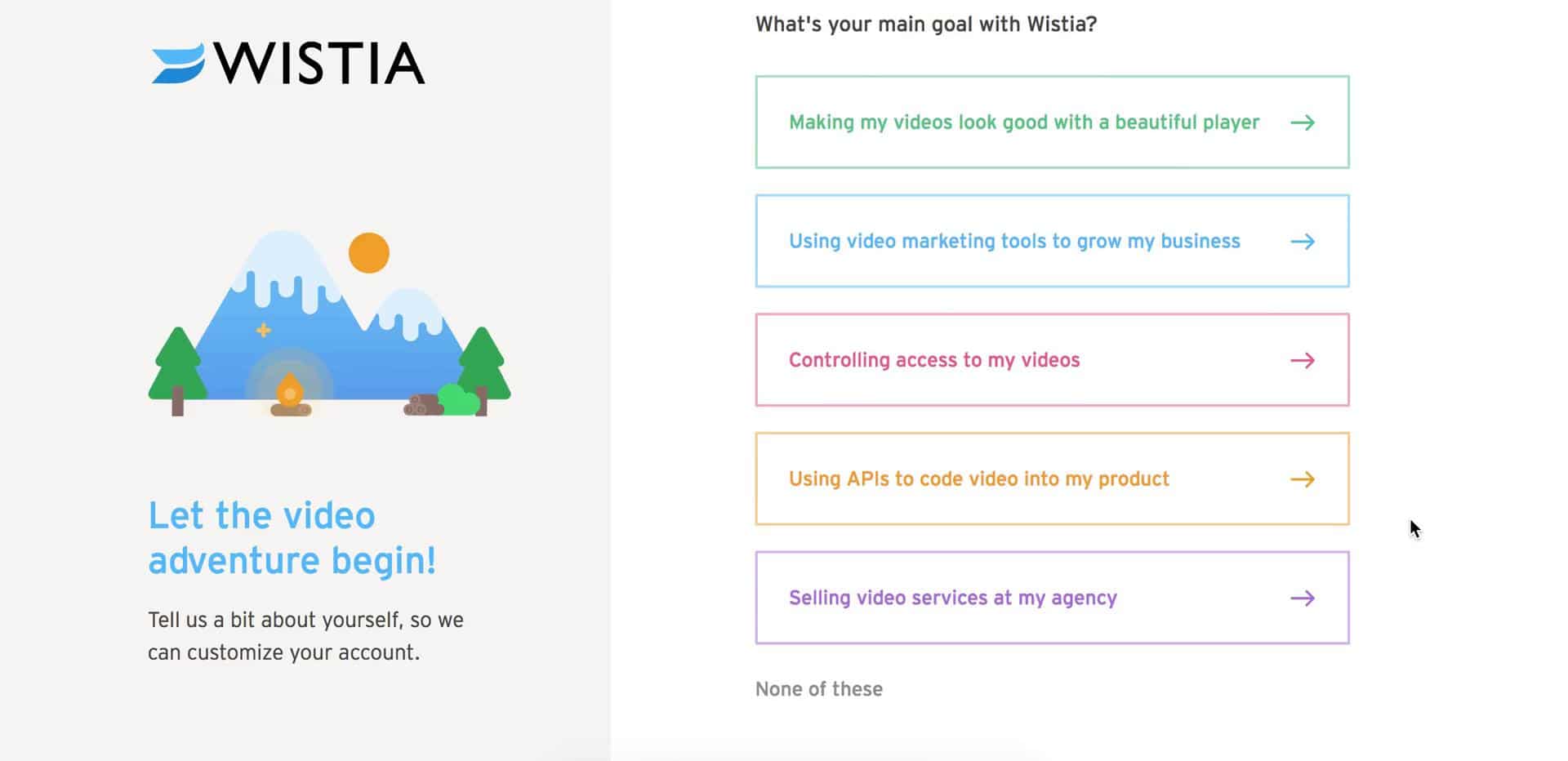 Once users have entered these details, Wistia then encourages them to get started either by uploading their own video or borrowing one of theirs.
This helps users of both advanced and beginner levels get started. They also provide plenty of resources in the Learning Center to guide users through the process.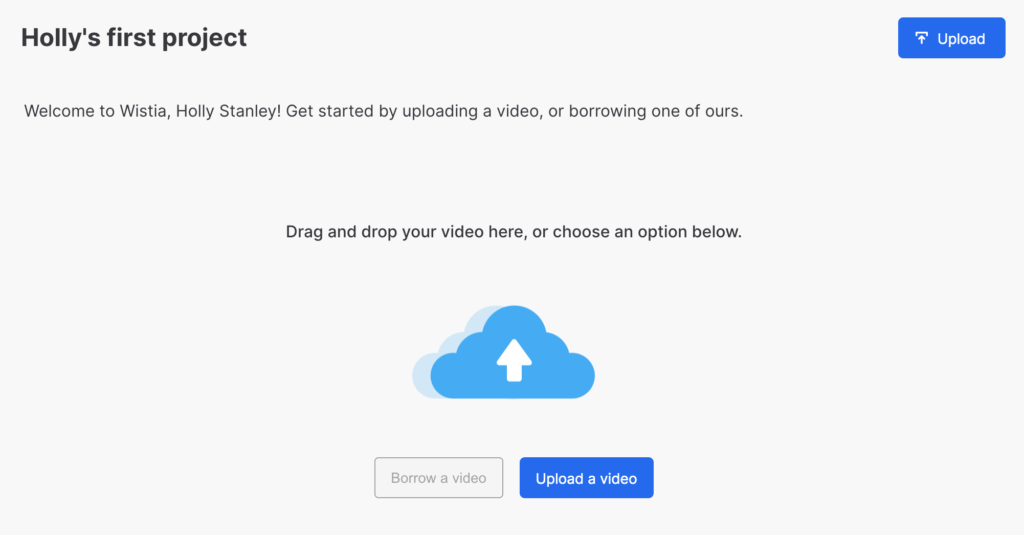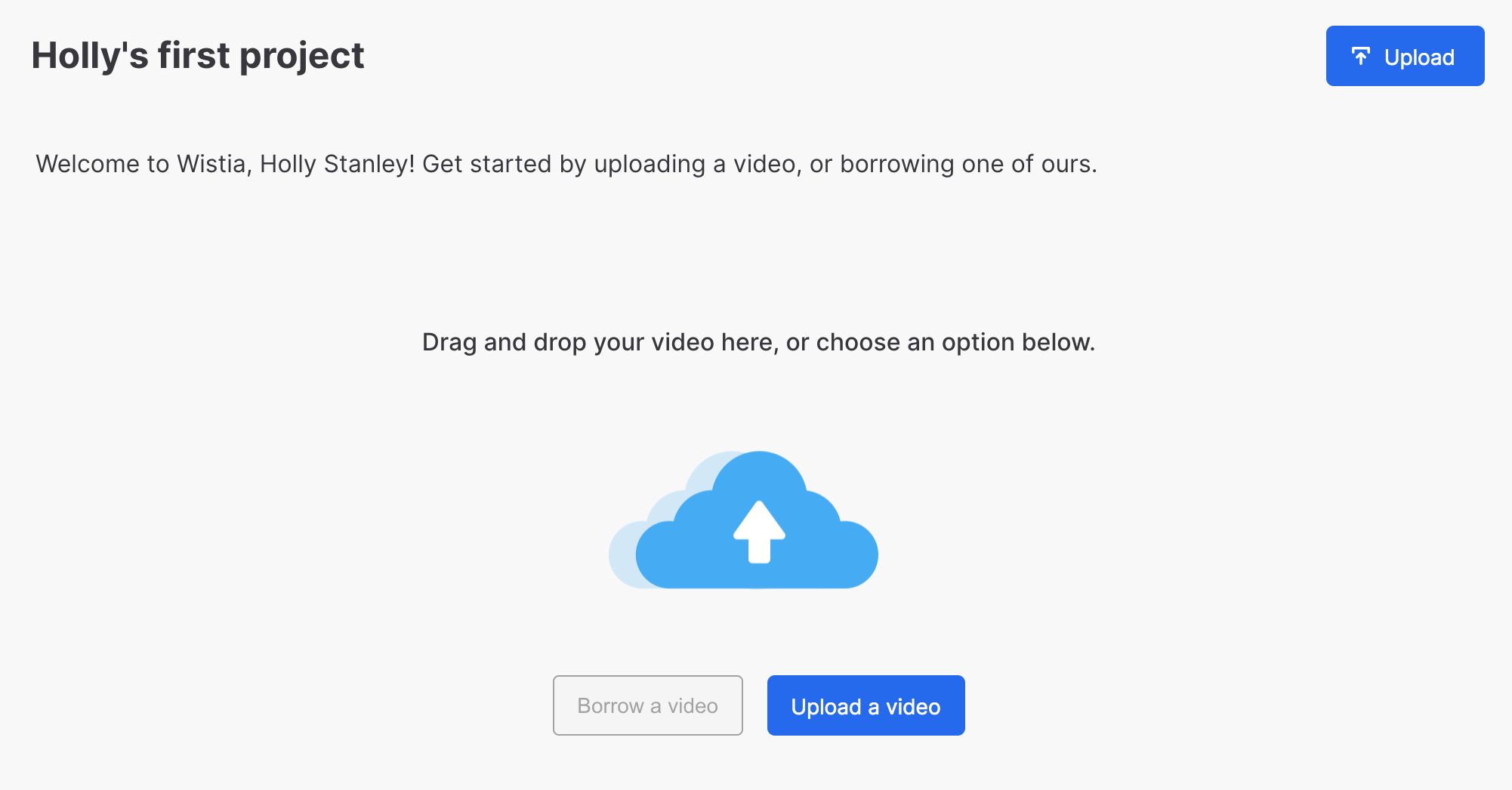 Later on in the customer journey, personally follow up and see how customers are finding your product, they may need extra guidance or have feedback to offer.
It's also worth keeping in mind that 93% of customers are likely to make repeat purchases with companies that offer excellent customer service.
Make effective customer support a number one priority so that if customers run into issues they're given effective solutions promptly.
2. Create Value-Driven Content
Many businesses' content strategies revolve around helping new prospects see the value of their product. But it's just as important to create value-driven content with your current customer base in mind.
Keeping your customer base engaged in your product will encourage them to continue their subscription, buy more products from your business, or simply find better ways to use your product.
Here are a few ideas for building value-driven customer-centric content:
How-to guides. Create detailed downloadable guides for using your product so that users can read them while they're on the go.
Webinars. Hold live sessions to answer frequently asked customer questions or do live product demos.
Training courses. Interactive courses are a great way of helping customers get the most out of your product.
Targeted emails. Segment your customers and send them personalized emails about their product usage, product updates, or reactivation campaigns if your metrics tell you they're dropping off.
Zapier, a SaaS tool that enables users to integrate the web applications they use, helps users get the most out of the product by providing plenty of resources in their Learning Center.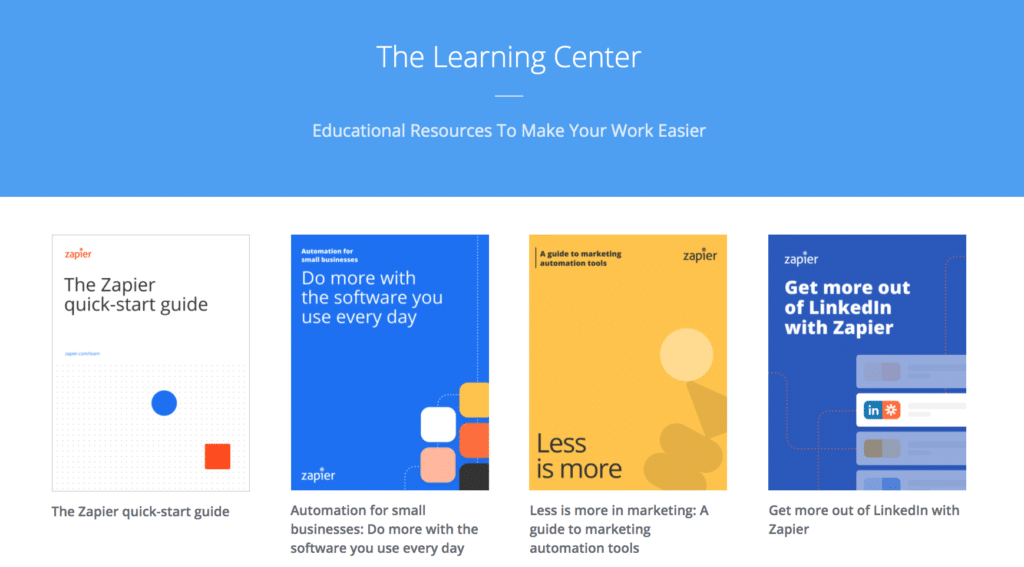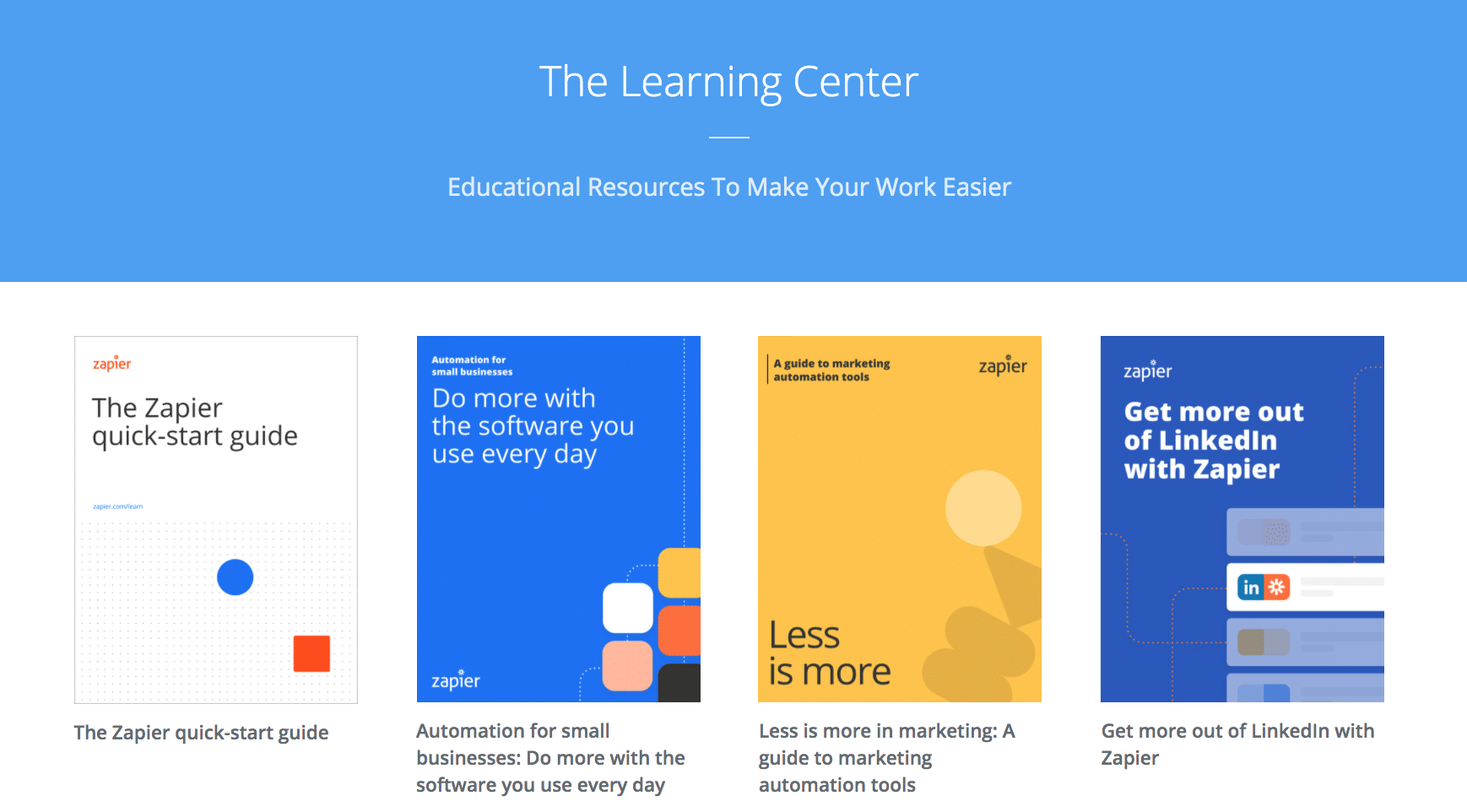 The Zapier blog also features multiple Zapier tutorials and inspiration for how to use different automations.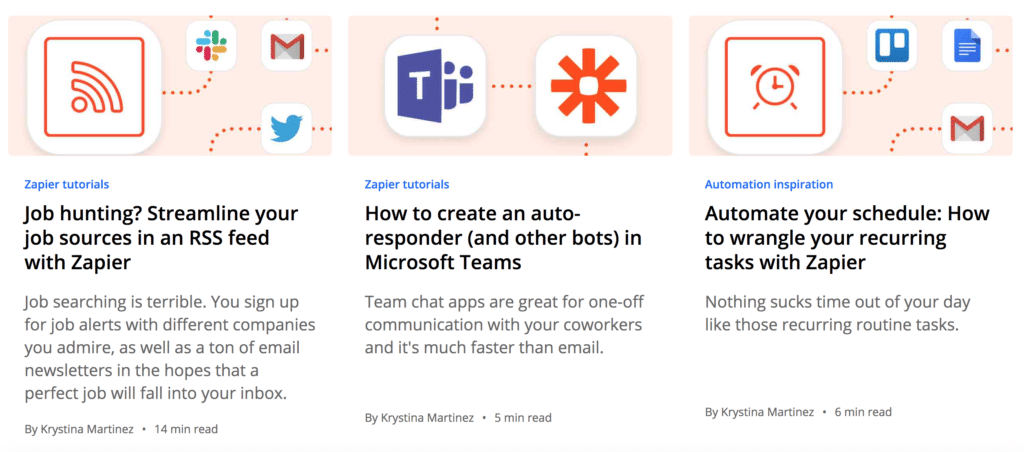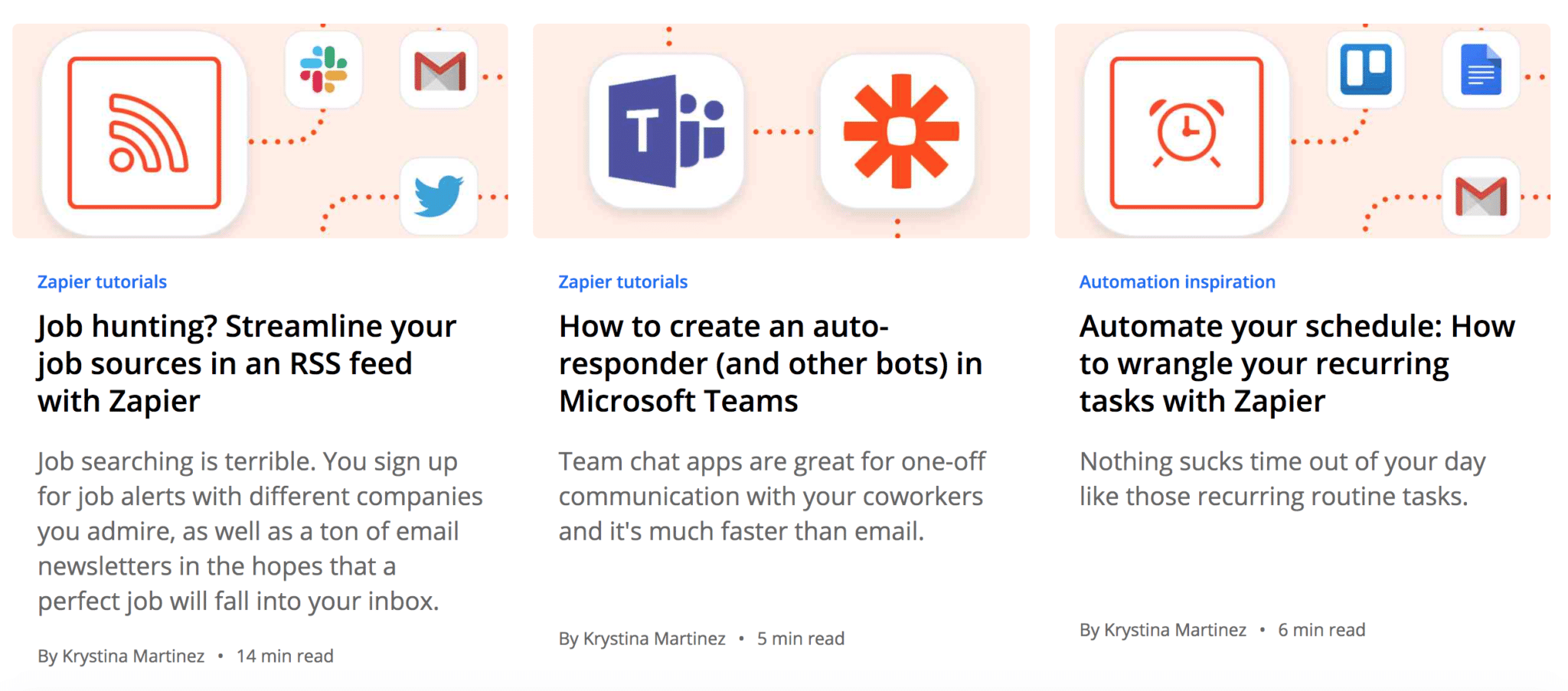 Sharing content that's designed to help your existing customer base will help them make the most out of your product. You'll also inspire prospects about the potential uses your product has.
Tired of slow revenue growth? We're kickstarting a movement for businesses that want revenue acceleration. Check out our revenue acceleration manifesto.
3. Build a Customer Community
Customers who feel part of your brand are more likely to be engaged and keep doing business with you. You could create a sense of community among your customers by sharing success stories, customer milestones, and user-generated content customers have shared about their product usage.
Anytime you have a customer who has surpassed their initial goals from using your product, make sure other customers know about it. Sharing diverse customer success stories can be engaging and thought-provoking for your current customer base. They may draw up fresh ideas of how they could better use your product.
You could do this by reading through past reviews and testimonials. Here you'll find examples of how your product has solved certain problems and if they have a favorite feature.
Once you have the customer's permission, use the review as part of your customer marketing strategy. Sharing customer reviews and stories are a great way of building valuable social proof and credibility.

Email newsletter software MailChimp shares inspiring customer success stories that inspire existing users and potential customers about how they could use the platform.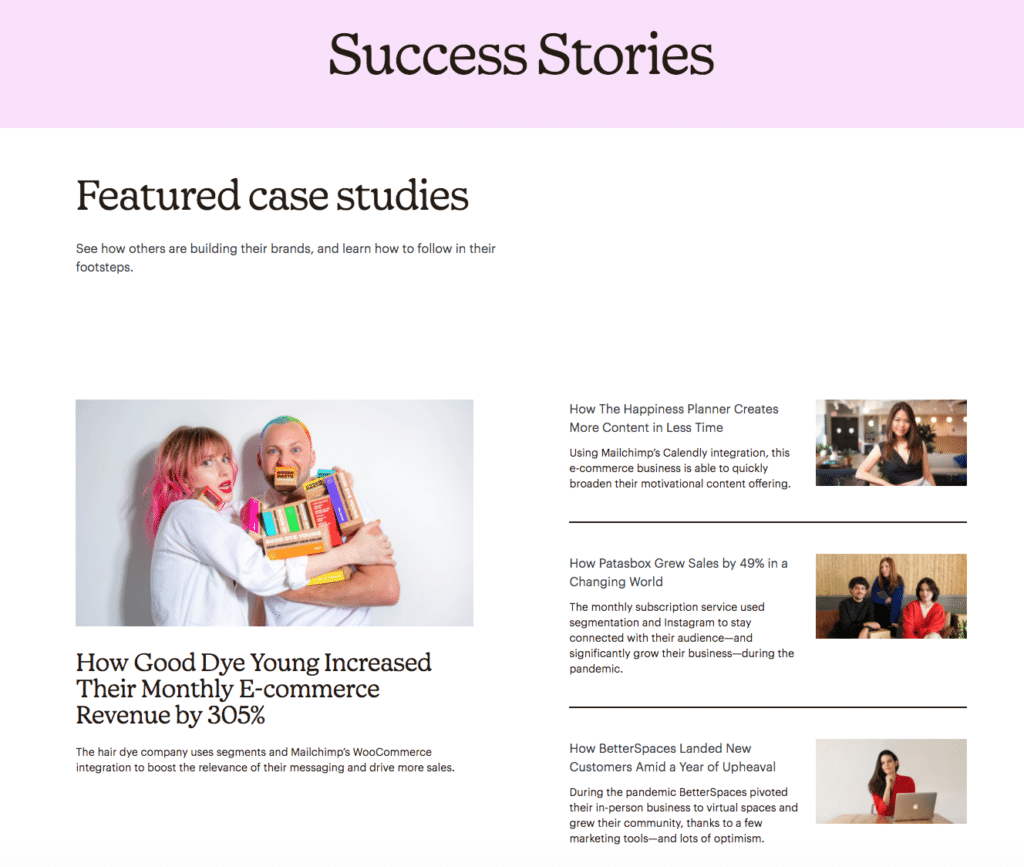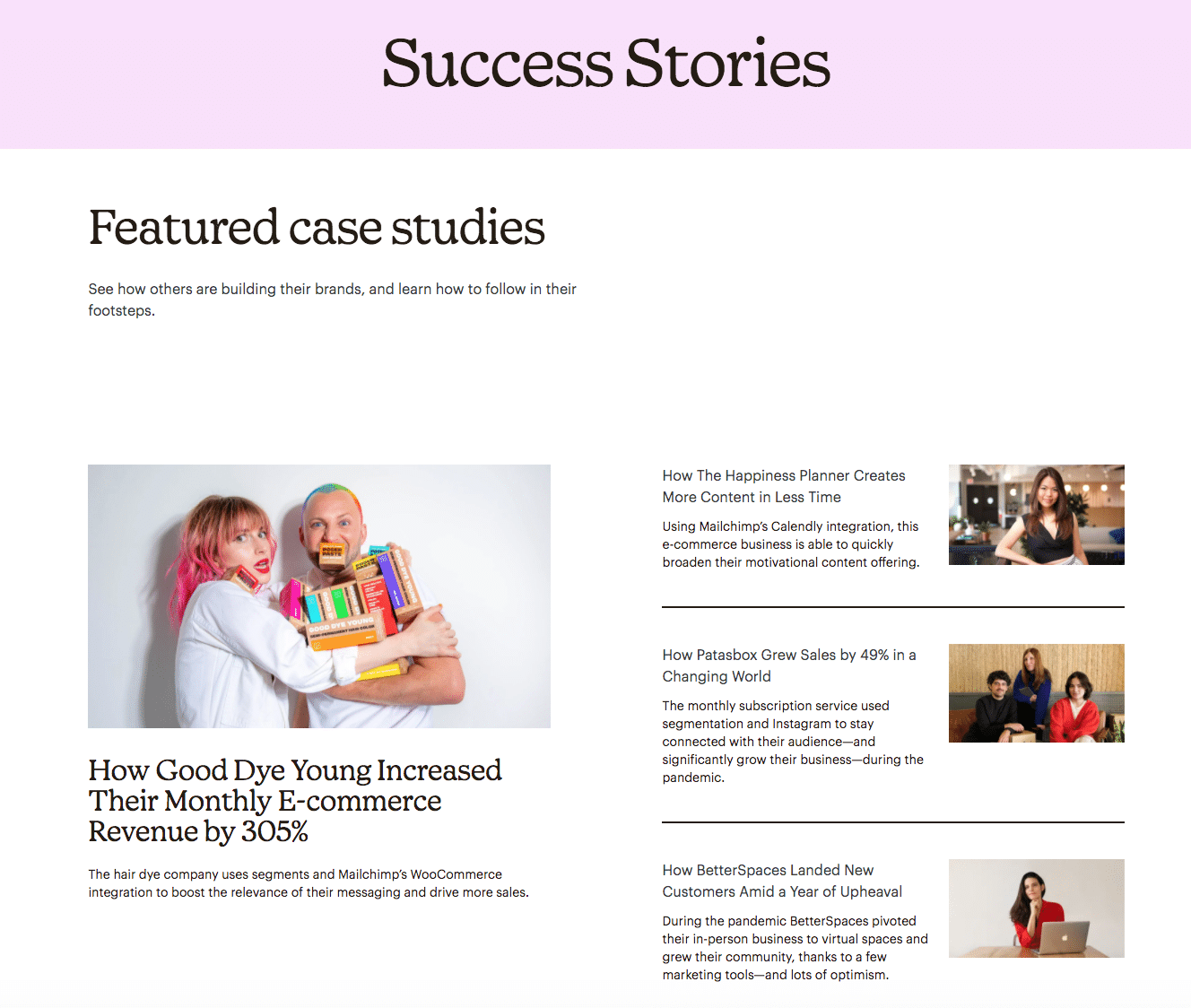 Creating a sense of community among your customers while celebrating their successes will help them feel connected to your brand.
4. Reward Your Customers
Did you know that the average customer spends 67% more in their third year than their first year with a business? Given that customers increase in value the longer they do business with you, it's well worth rewarding them along the journey.
71% of consumers say loyalty programs are a meaningful part of their brand relationships. In the digital world, loyalty programs could mean offering customers credit, discount codes, complimentary product upgrades, or a free month to show your appreciation.
Consider going the extra mile and adding some thoughtful personalization to your rewards. You could send out a gift or discount code on a company anniversary, customer birthday, or the anniversary of their sign-up.
Referral programs and discount codes are another thoughtful way of thanking your customers while also motivating others to join.
Identity platform CLEAR offers loyal customers a free referral pass for their friends and family.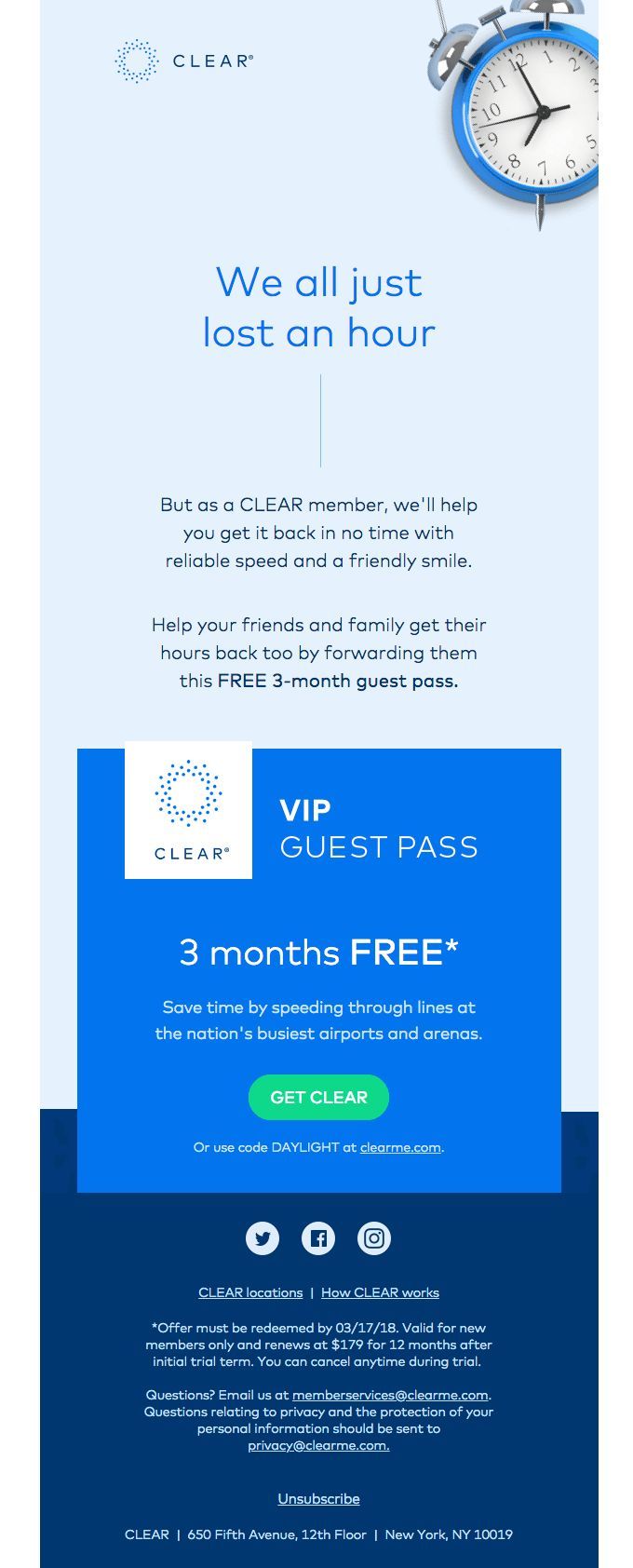 Rewarding your customers will make them feel appreciated and encourage them to keep doing business with you. As a by-product, you may also motivate some new customers to join you too.
5. Request Feedback and Reviews
Remember the last time you ordered takeout before reading a review? Have you ever booked a hotel room without checking TripAdvisor?
If the answer is no, it just goes to show how influential reviews are. In fact, 89% of consumers globally read reviews prior to making a purchase.
But reviews are not just helpful for acquiring new customers. Detailed and honest reviews can show you where your business is performing well and which areas could do with some improvement.
Proactively asking for feedback is a great way of showing customers you're invested in their opinion. For instance, you could publicly ask for feedback on your social media channels by asking for customers' thoughts on new features, requesting survey responses, or by holding polls.
When customers see that you're improving features and tools as a result of their feedback, they'll be more likely to continue engaging with your business.
Make it easy for customers to leave feedback by including forms on beta pages or features, or by sending out targeted feedback forms and surveys following usage or after sign-up.
Productivity app ClickUp makes it easy for users to request new features or report bugs within the dashboard.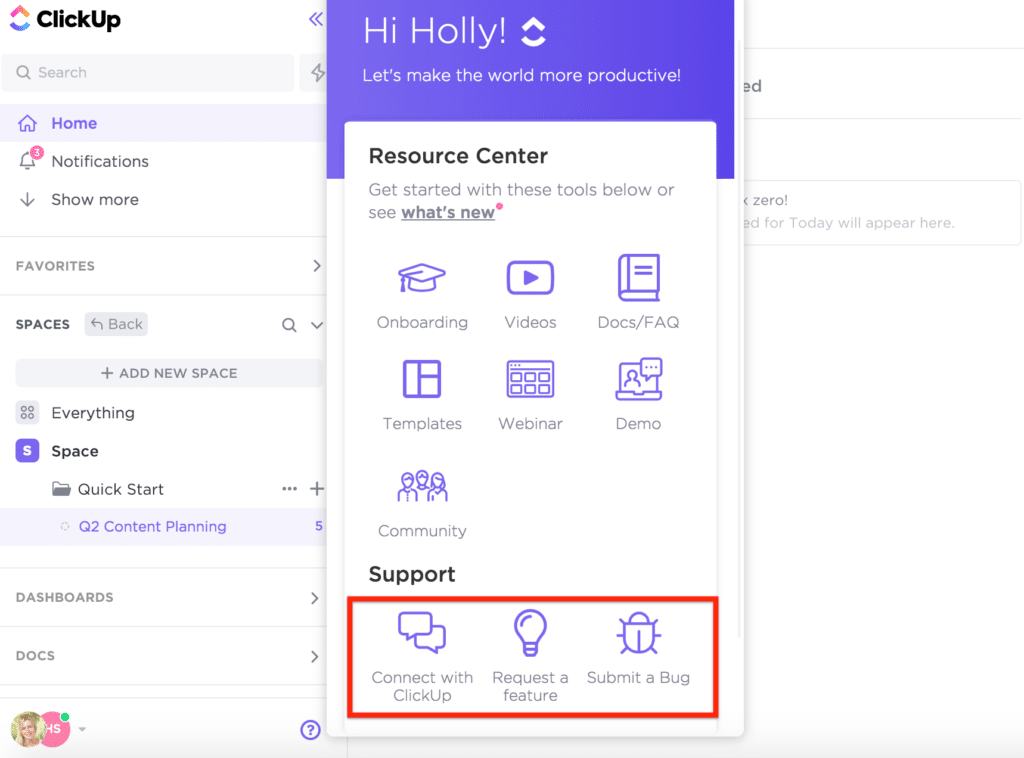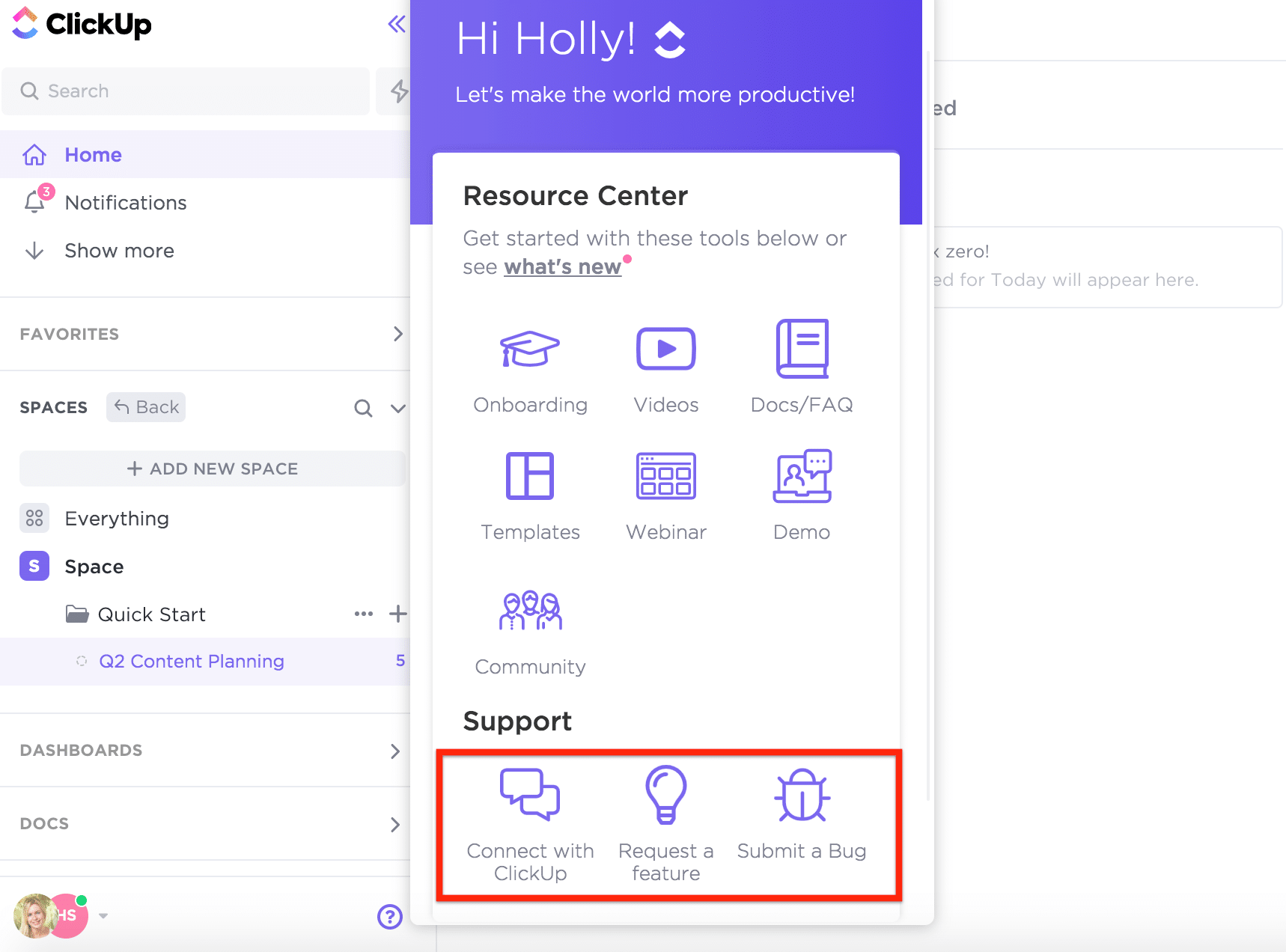 Users can track what's under review, planned feature requests, and anything that's in progress. This is a great way of showing customers that their feedback and input matter to the brand by taking action.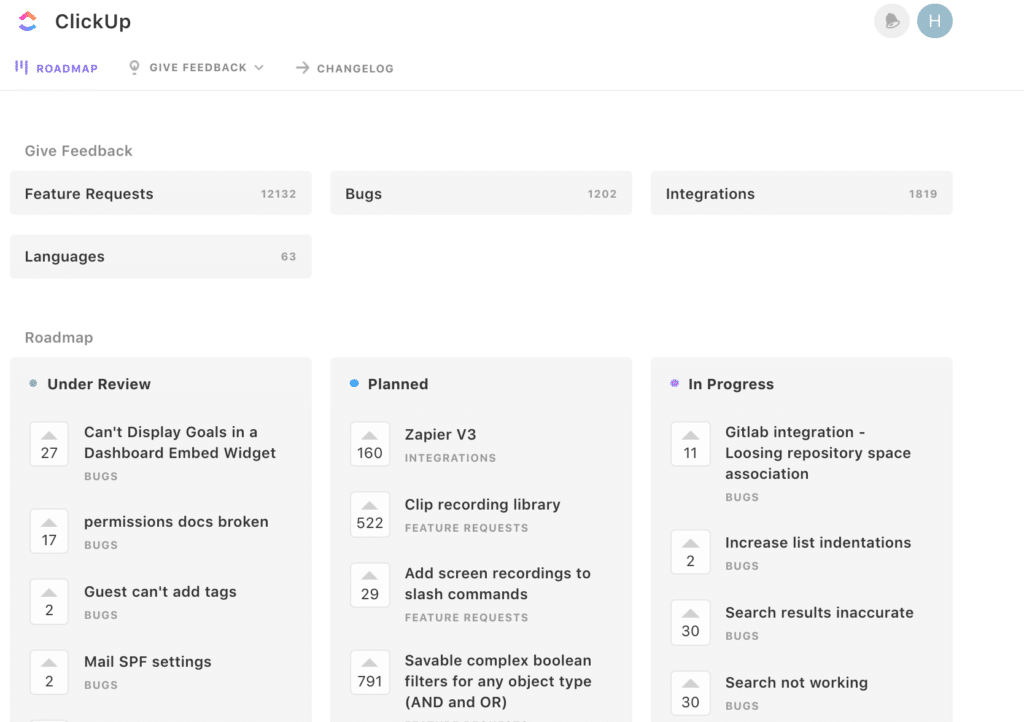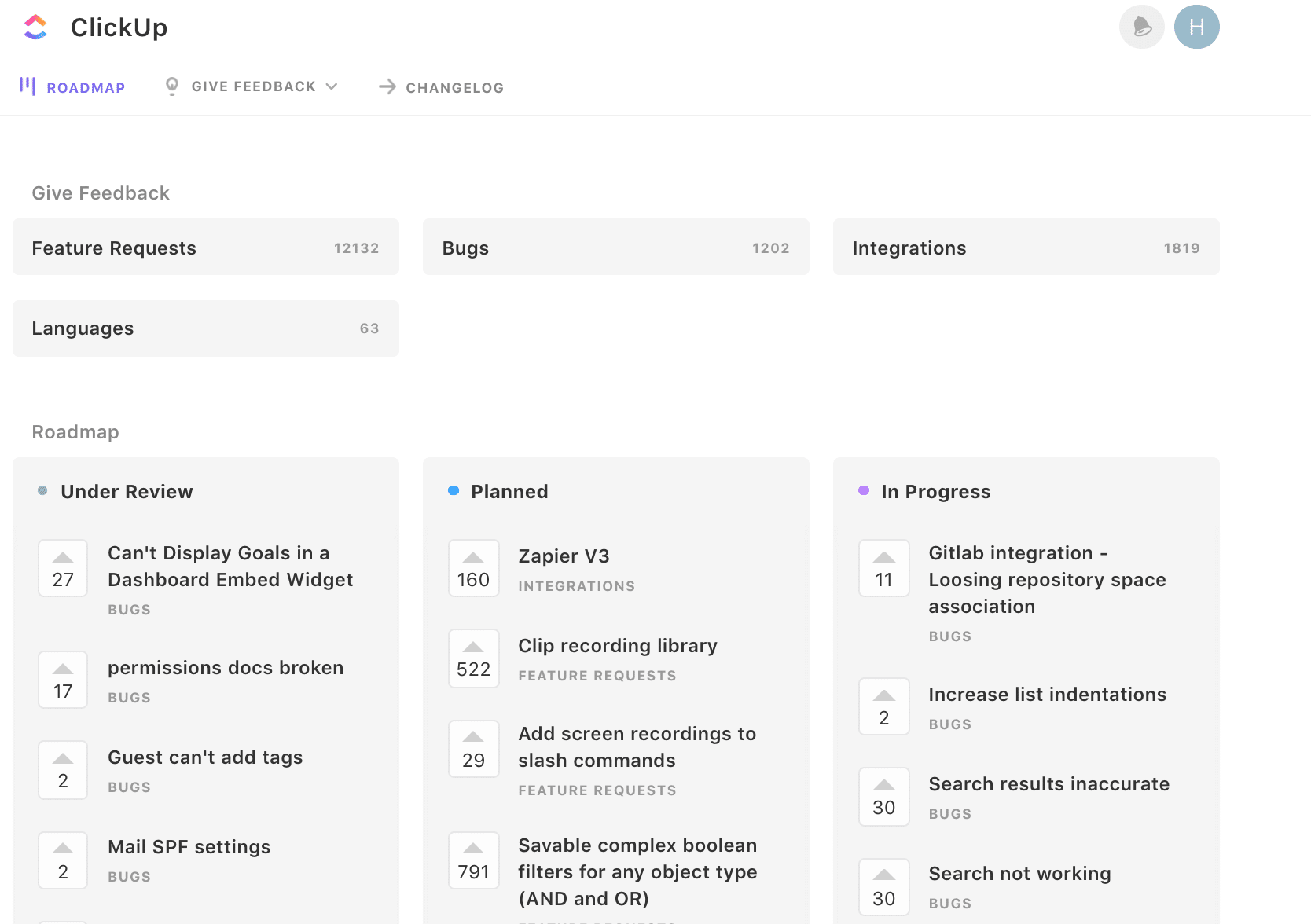 6. Segment Your Customer Data for Relevant Communication
A staggering 81% of customers want more personalization from businesses. Effective personalization essentially boils down to businesses understanding more about them.
To appeal to your customers' individual needs and preferences, you're going to need to dig deeper into your data. Think about all the different types of available customer data and then segment it in your CRM.
Here are a few different avenues from where you can collect relevant customer data:
Sales analytics
Email subscribers
Lead forms
Social media interactions
Website engagement analytics
Product usage metrics
For instance, if you regularly review monthly engagement and usage metrics, you'll be able to identify when customers are most likely to cancel subscriptions or when they're least engaged with your product.
Once you know about these issues you can adjust your marketing communications to help address them. For example, you could send out targeted emails to those users whose engagement metrics are lower than others.
Leveraging this customer data, you could also use revenue scoring models to better target your existing customer base with more relevant product offers and marketing materials.
For instance, if you run an ecommerce business, this could mean identifying customers more likely to make repeat purchases and sending them a targeted email campaign featuring your top products.
Ecommerce giant Amazon does an excellent job of cross-selling and upselling to their buyers by always displaying what's frequently bought together, related brands, and more items to explore.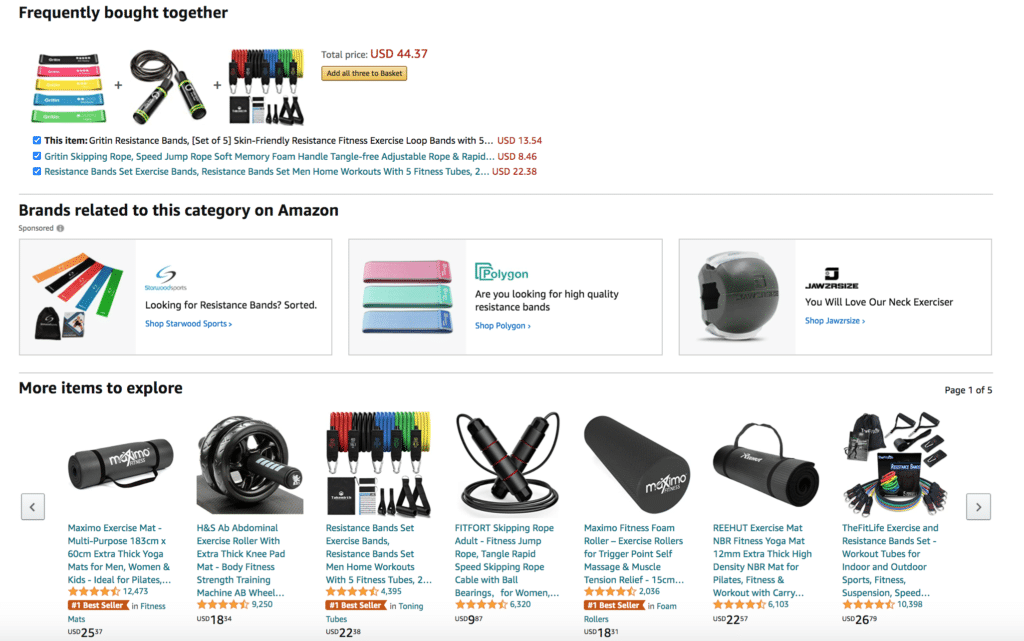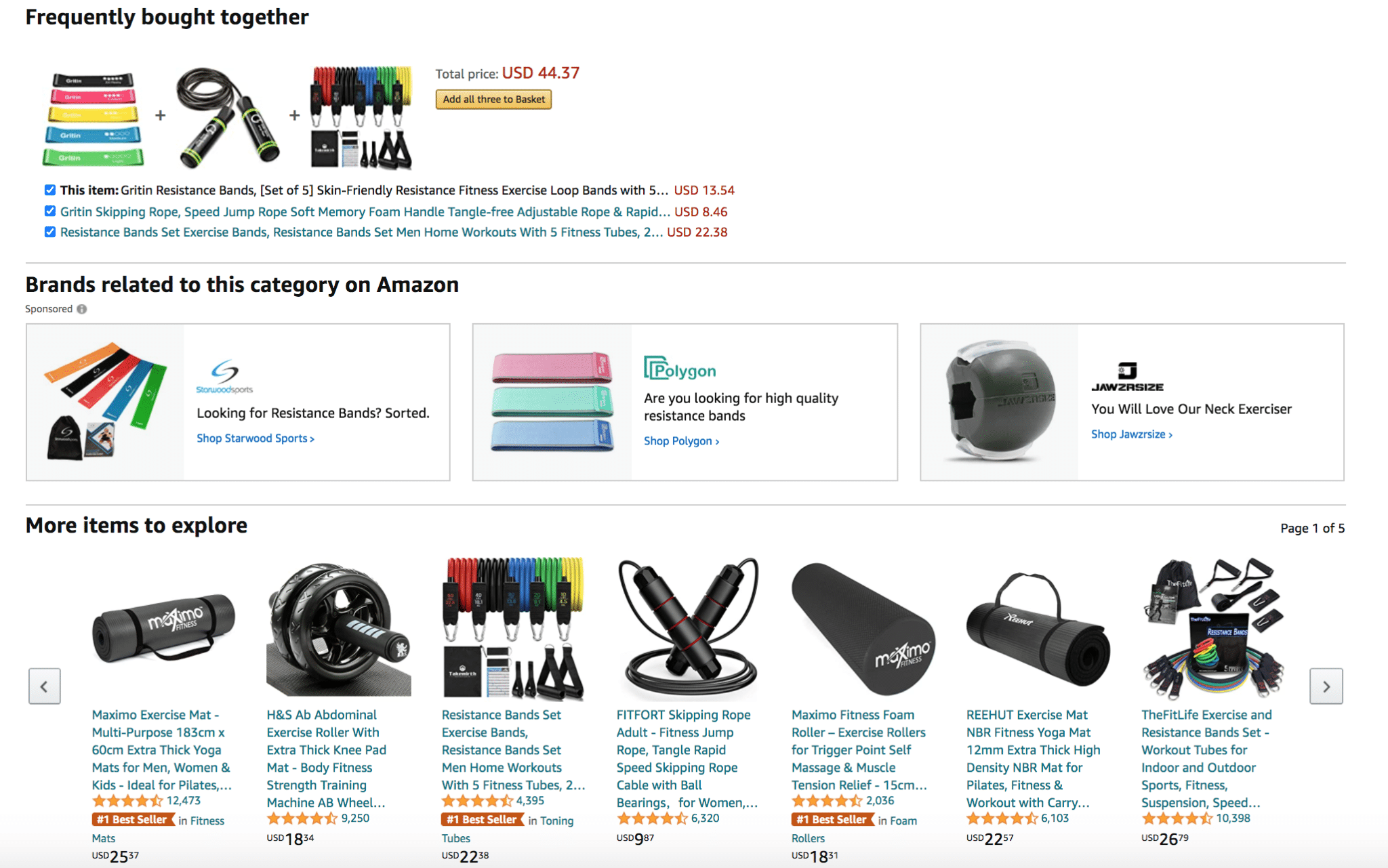 Using customer data will help your better target leads and show your customers more relevant product information. Data can help you adjust and optimize your marketing material to help you refine how you communicate with your existing customer base.
Use Customer Marketing to Better Engage Existing Customers
Retaining your existing customer base is crucial for long-term sustainable business growth. Customer marketing can help you better communicate and engage with your customers ultimately boosting their satisfaction with your business.
Some of these customer marketing strategies will help you acquire new customers too – a win-win situation for everyone. Which customer marketing strategies have you tried already? Let us know in the comments below.
Struggling to identify your top leads? Sign up to our freemium plan and start accurately scoring those leads today!