In product-led growth, product usage data is the first thing to look at before making any important decisions.
In this guide, let's review the basics before moving on to the good stuff—like how three startups made full use of their product usage data to grow their revenue and how you can too.
What is Product Usage Data?
Product usage data tracks how users interact with your product so that you can improve their experience, boost adoption, and accelerate revenue in the long run.
How Do You Analyze Product Usage?
Product usage data is a goldmine of user behavior.
These in-app analytics tell you how users interact with your product, including the features they use and ignore, the points they drop off, and eventually, how far along they are in adopting your product.
You can analyze your product usage data in a few quick clicks. To begin, connect your CRM with Breadcrumbs. Next:
Connect your favorite product analytics platform
Determine what makes a product-qualified lead (PQL)
Set your PQL scoring model live
Breadcrumbs will proceed to send all scoring information back to your CRM, notifying you which user has converted to a PQL.
This integration lets you quickly analyze every lead's web, email, and product usage data in one place—saving you the hassle of clicking through multiple tabs to make sense of your data.
Book a 30-minute demo with Breadcrumbs to gather your product usage data and web and email activity in one place today.
How 3 Startups Made Full Use of Product Usage Data to Boost Revenue (And How You Can Too)
1. Identify customers for cross-selling
Cross-selling increases sales by 20%.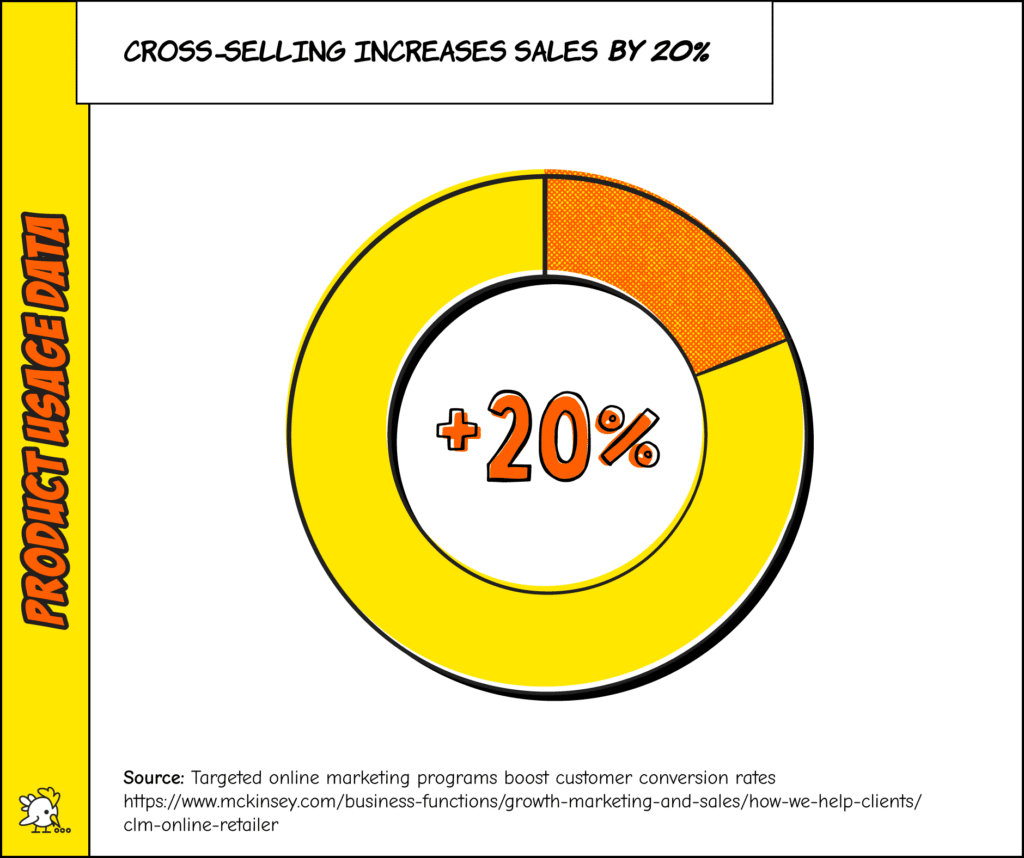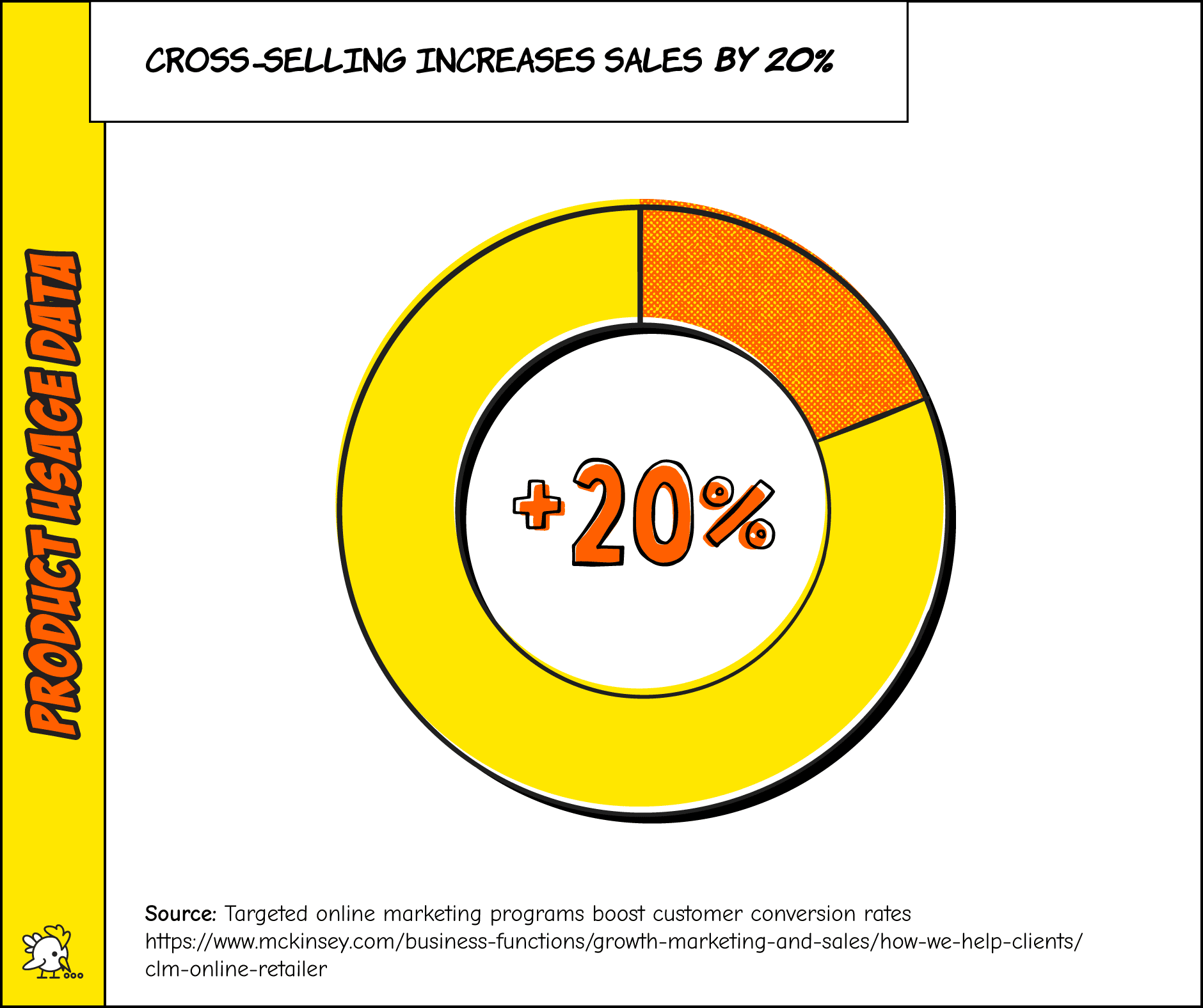 That's wild…
… and not at all surprising.
After all, you're more likely to make a sale if your customers know, use, and trust your brand than a new customer who hasn't heard of it.
Instrumentl, an institutional fundraising platform, realized that there was a lot of untapped cross- and upselling potential from its high product engagement.
Gauri Manglik, CEO and co-founder, shares with Breadcrumbs:
"These customers saved more than a certain number of grants, often logged in every month, etc. We also saw customers who used not only our grant discovery function, but also our tracker component. These are great candidates for upselling."
The startup then tweaked its marketing strategy, focusing on landing page segmentation. Gauri and her team intentionally highlighted relevant benefits for their core audiences.
For example, the landing page for consultants focuses on customized reports and grant opportunities, while the page for nonprofits gear towards collaboration.
Furthermore, the startup ran an impact study to drive home the value of using its grant-writing and fundraising platform.
"We increased grant application output 78% within a year, saving folks an average of 3 hours a week."
Eventually, Instrumentl increased sales by 20%.
Product usage data isn't the only analytics that determines whether a customer is ready to be cross- or upsold. You'll also want to look at their web activity, and contact scoring tools like Breadcrumbs is immensely helpful in this area.
Here's how you can get started:
Connect your CRM with Breadcrumbs
Determine what makes a customer with cross- or upsell potential (e.g., reads support doc on premium features, opens email about add-on features)
Set your scoring model live
Once again, Breadcrumbs will send all scoring information back to your CRM, notifying you each time a customer becomes a cross- or upsell potential.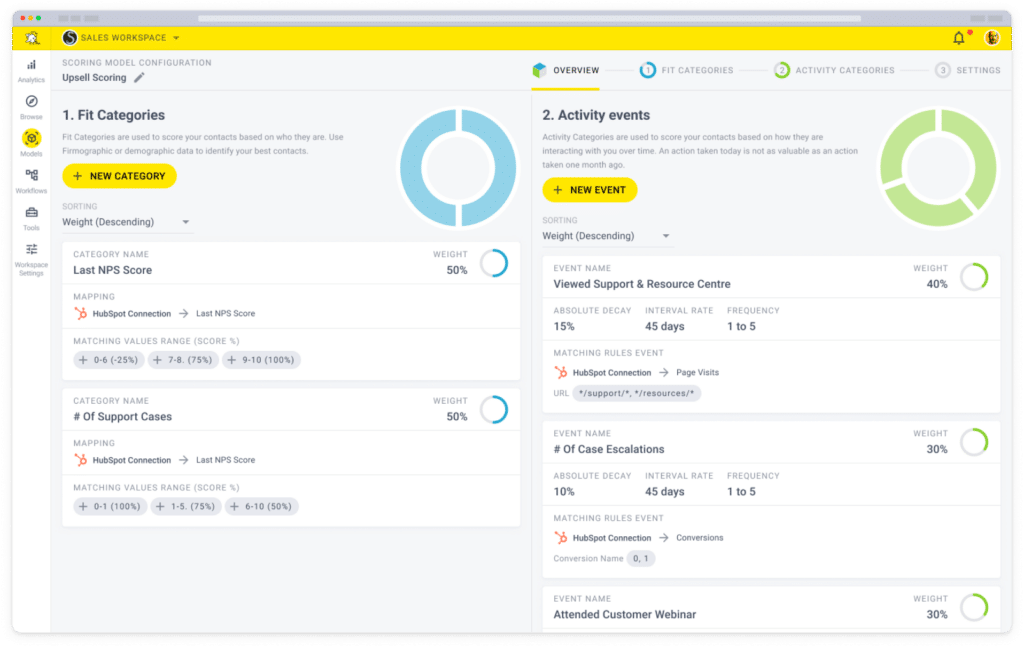 Whether you trigger an automated email sequence or have an account executive pitch the customer personally, this approach will help you save a huge chunk of your time.
Book a demo with Breadcrumbs to identify cross- and upsell opportunities with zero guesswork today.
2. Introduce a new product
On top of providing insights into user behavior, product usage data also inspires new tools that solve problems you'd never thought users had.
That's precisely what happened at Breadcrumbs.
Reveal was a relatively unknown feature in our contact scoring tool (fun fact: we developed it during our first hackathon and originally named it Healthcheck).
When our product usage data showed customers were using it heavily, we decided to increase its visibility and offer a free standalone version.
We knew we were on the right track when it ranked as the second product of the day on ProductHunt.
Writecream, an AI software company that writes personalized outreach messages based on LinkedIn profiles, went through a similar situation.
Krittin Kalra, the founder, shares with Breadcrumbs:
"In cold outreach, sales folks send messages in large volumes, usually hundreds and sometimes thousands. Initially, the personalization tool on Writecream lets users generate a personalized compliment for only one prospect at a time. This proved to be cumbersome. If you were to send a cold outreach campaign to 100 prospects, you'd have to use the tool 100 times. Clearly, this wasn't the user experience we wanted."
It was after analyzing the product usage data and speaking with customers that confirmed the founder's suspicion.
"We added bulk personalization support to overcome this problem," reveals Krittin.
"Now, users can simply upload a spreadsheet with links to LinkedIn profiles and our personalization tool will proceed to generate unique compliments. This saved users many clicks and improved the user experience drastically."
Likewise, product usage data showed a huge spike after the team introduced the new product.
The in-app analytics also helped the startup update its pricing.
Krittin continues, "Many users were opening the pricing page but not going to checkout. We have a free plan that lets users try our product before purchasing it. These users were using the free plan completely but not making the purchase. This led us to the conclusion that we need to update our paid plans."
Writecream has since rolled out a cheaper package, which became the startup's most popular plan.
3. Double down on educating users
The closer we get to our writing, the trickier it is to identify typos, extra spaces, and embarrassing punctuation errors.
Developing a product works similarly. What's obvious to you may not be obvious to your customers.
When the team at Instrumentl realized users were unaware of its tracker tool, it caught them by surprise.
"We started as just a grant prospecting tool. For the first few years of our existence, Tracker was very barebones and didn't have the functionality it has today in terms of being able to assign different owners, create robust tasks, and make multi-year grant tracking easy."

Gauri Manglik, CEO and co-founder of Instrumentl
And so, the work began.
Gauri and her team positioned how their customers could benefit from bringing all their grant work onto the platform.
Besides adding new features (e.g., track across fiscal years in a multi-year tracking tool), the startup also put together a series of quick tutorial videos on YouTube.
Since then, the startup improved engagement across the board.
Review your product usage data and gather feedback from users. If activity is low for a feature and user responses confirm that they did not know it existed, consider highlighting it in onboarding and marketing to increase visibility.
Frase, an AI SEO software company, went through a similar experience. Here's what the team did to educate users in our community-led growth guide.
Make sense of your product usage data on Breadcrumbs
Your product usage data is the first thing you should look at when improving your product.
It's a massive goldmine of user behavior and product development.
Connect your in-app analytics tool and CRM with Breadcrumbs to quickly analyze every lead's web, email, and product usage data in one place. Book a 30-minute demo with Breadcrumbs today.