More data is always better, right?
Well… maybe not. It's complicated.
In theory, yes, more data is always better, but only when the data is actually good. It needs to be accurate, up-to-date, and reliable.
Unfortunately, most brands—including high-tech brands investing in cutting-edge technology—struggle with data quality in their CRM. This makes their data less actionable and less effective, which can lead to lost sales, disengaged customers, and lost revenue.
So the question then becomes how to improve your CRM data quality. In this post, we will look at exactly how you can boost the quality of your CRM data and why it's so crucial to get started today.
Why You Definitely Need to Prioritize CRM Data Quality
You get a new lead. You have the lead's first name, last name, phone number, position, and company name and size.
Excellent. They become a customer.
But then six months go by, and you want to reach out to renew a contract, upsell them on a new plan, or cross-sell a new product.
Radio silence.
It's possible that this particular person has switched positions or that they left the company. It's also possible that the company completely shifted in size; they previously had a tight budget and only 20 employees but have grown to have over 100 employees thanks to investments in rapid growth and needed something different.
If you don't have the right data, you can't stay in touch and ensure that you're delivering exactly what they need— including by making offers and suggestions that you believe are a good fit for them.
And if you're lacking data, that can be just as damaging. How are you supposed to define audience segments or create relevant offers to customers if you don't know anything about them?
The reality is that without up-to-date and accurate CRM data, your results get skewed, and your sales can be directly impacted.
The Biggest Obstacles to Good CRM Data Quality
There are a few significant obstacles that can result in poor data quality:
You've got outdated info that hasn't been updated recently. This includes the examples we've mentioned before, where businesses change and employees leave for different positions or companies altogether.
You've pulled data from outdated or unreliable sources. Third-party customer data platforms can help you gain information about leads you already have, like the company's size or how long it's been in business. Sometimes, though, the CDPs get it wrong, whether the data is just plain wrong or outdated.
Your tech stack is stored in different places and formats. As your organization grows, keeping track of everything becomes harder and harder if you don't have a system that integrates CRM data quality procedures.
Leads may not always want to share full, transparent information. Some leads are squirrely. They don't want to tell you the annual revenue of their company. It's entirely possible that they don't even know, so they decline to answer or guess wrong. This can result in inaccurate or missing data.
You're overwhelmed by manual tasks. Manual CRM data cleanup may frustrate your sales, marketing, and customer service teams. It can be a tedious process that takes up precious time and resources that could be better spent on high-value activities.
6 Steps to Improve Your CRM Data Quality
Every business should take proactive steps to ensure their data quality is as high as possible. This means undergoing some data hygiene procedures regularly but also doing one big audit-style checkup all at once to make sure that your CRM data is in order.
Let's take a look at the six steps you should follow right now when determining how to improve your CRM data quality.
1. Eliminate Duplicate Contacts
It's shockingly easy to end up with multiple "contacts" for a single lead.
This may happen because you have multiple individuals from a single company (and for a single buying decision) filling out lead forms.
It can also happen when you get a new contact for a client or when data syncing from multiple third-party tools just dump data into your CRM, and existing data isn't automatically cross-checked.
Go through your CRM data, and make sure that there aren't any duplicate contacts.
Moving forward, many integration software options allow you to filter out duplicate contacts from being added again. This is a good first step for ongoing data hygiene.
2. Verify Contacts & Email Addresses
If you've just recently obtained a large number of emails from any sources—lead forms, conferences, lead generation platforms, you name it—it's always a good idea to verify those email addresses.
Again—sometimes people give you a fake or low-quality email either because they feel bad saying no or because they want something (like a free webinar or ebook) without being hounded.
You definitely don't want to be wasting your time on these "leads." And just as importantly, you don't want them taking up space in your CRM platforms, or any other integrated software like your email tools, as many have contact limits. It can literally be costing you money every month to have barely-real email addresses in your CRM data.
To verify contacts and email addresses, use an email verifier tool. We have a completely free email verification tool here, which will show you a quality score for each email and contributing factors like domain age, whether or not it's a role-based email, and if it's a free email.
You can either verify a single email or upload an entire list from HubSpot.
3. Utilize Customer Data Platforms
While nothing beats zero-party data (which is the data obtained directly from leads themselves), customer data platforms can help fill in any gaps of information that you're missing.
You can also use CDPs to verify the data that you already have or to do a quick checkup every so often. Very few businesses, after all, stay static; they often grow, expand, and increase their revenue. Sometimes, of course, the opposite happens; either way, it's important to know.
There are plenty of customer data platforms out there, but checking out review sites like this can help you get started.
It's important to keep a close eye on the data you're getting from CDPs. This is part of the reason why we created Reveal, which seeks to improve both data collection and analysis to help you better discover what your ideal customer profile (ICP) is.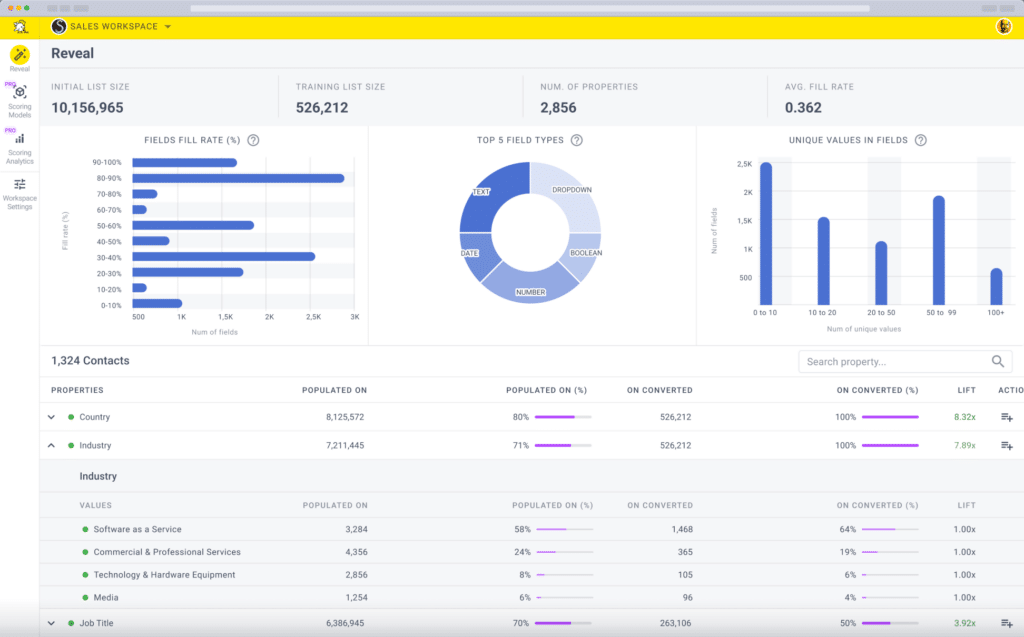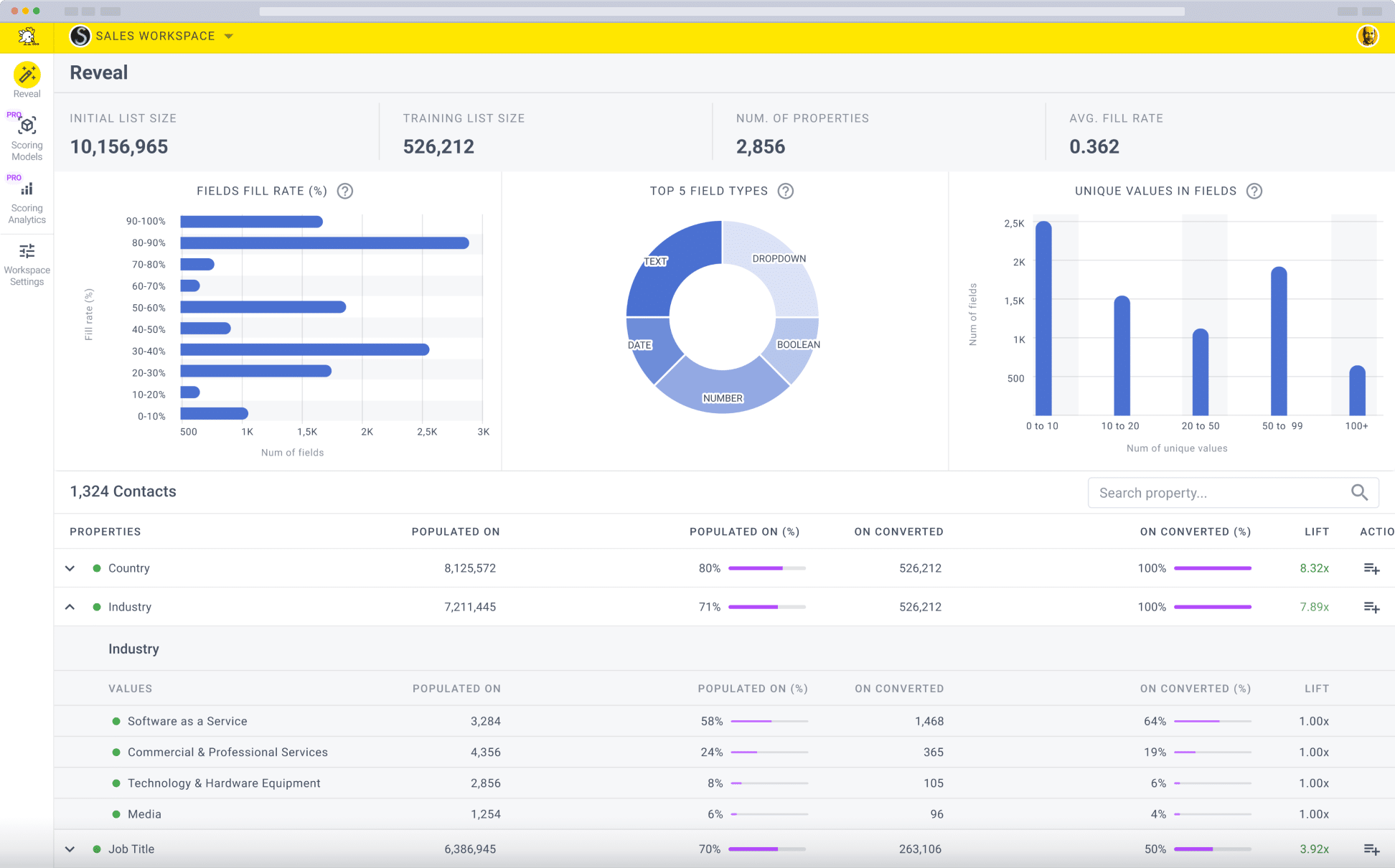 Our tool will help you get a detailed view of what your data actually looks like and how actionable it is. In the process, we'll also show you where collection and enrichment gaps exist and where you may need CDPs in order to fill in the blanks.
Grab your free Breadcrumbs plan to unlock Reveal today.
4. Make Your CRM Your Core Contact Dashboard
Over the years, we've seen that having multiple individual marketing and customer management tools that operate independently of each other is a system that's doomed to fail… or at least struggle.
If you've got certain data stored in individual tools exclusively, you will end up with major data silos.
Your email marketing software knows that certain users have opened a specific campaign and clicked a link. Your live chat software knows about a customer support ticket that was filed. But if neither is integrated with your CRM, your CRM data quality isn't good. And if none of this is coming in through your lead scoring tool, then we're not able to give you the same kind of actionable and up-to-date insights we could otherwise.
You might see a conversation history, but that's it, and it's only giving you one tiny fraction of the picture.
Make sure that you have integrations in place to connect your CRM with your core marketing tools. This will make it easier for your entire team to get a full picture of each individual customer and the customer journey overall. Without that, you'll struggle to deliver the best customer experience possible, including both customer support and sales suggestions.
5. Go Beyond Conversation Tracking
This ties in with the point above, but the last thing you want to do is to base your entire understanding of a customer off of a few and forth messages.
You need additional data.
Third-party tools share information like the following, which can all be connected to your CRM:
Site activity tracking
In-app SaaS activity tracking
Customer behavior patterns common through your pipeline
Which users are opening what emails, and how often
Which landing pages users converted on, and what resources they've accessed
This is the kind of CRM data you need in order to excel as a B2B or SaaS seller. It's invaluable information, and it becomes actionable.
We use hyper-relevant cues like pages visited, in-app activity, and support tickets filed throughout different lead scoring models to help teams see potential sales and engagement opportunities.
Without this kind of data, you rely heavily on fit alone to assess lead quality, like a company's size or industry. And while that's a good start, you need activity to get a good gauge of potential.
6. Document a Process for Your Team
This is important, even if it seems like an afterthought: Have a clear process in place for maintaining good CRM data quality moving forward, and document the living daylights out of it.
Your entire team needs to know what your data hygiene processes are and how to keep up with them.
This includes:
Knowing how to document lead interactions
Deal tracking processes so that the entire team is up to date
How to use the CRM software correctly and with integrations
CRM Data Quality: Final Thoughts
We all want great data quality, but in order to maintain great CRM data quality, we all need to take steps to make sure that we're maintaining that. Nothing is ever stagnant in business, after all, and that includes the data in your CRM.
Ensure you're using the right tools to assess and maintain your CRM data quality, including those that indicate when you need to improve it. Reveal was designed to help with this purpose, showing you the quality of the data you have and flagging where more information is needed.
This can help you stay on top of your data so that your sales and customer support teams can do what they do best, too.
Want to get new insights into your ICP and improve your data collection process? Grab your free Breadcrumbs plan to unlock Reveal today.