Sometimes it feels like there are a million and one marketing platforms to keep up with.
Email. Social media. PPC campaigns. Content marketing. SEO. SMS marketing.
There's a lot to consider, and there are so many tasks that marketers need to keep track of. It can be exhausting, stressful, and time-consuming, and as you're working with a team, it's easy for things to fall between the cracks.
Assembling a strong marketing tech stack, therefore, is crucial, especially as you scale over time. And in this post, we're going to go over how to assemble a killer marketing tech stack that will carry you forward in 2023, including sharing recommendations for marketing tools you need.
8 Types of Tools You Need for Your Marketing Tech Stack
Every business's marketing tech stack will be unique because its needs are sure to be unique.
That being said, there are eight types of tools that most businesses (especially SaaS and B2B businesses!) need for their marketing tech stack. Let's take a look at the marketing tool categories you need and our top recommendation for each.
1. Product & site analytics marketing tech stack
Product analytics are essential for SaaS brands, as they show you how users are utilizing your tool.
Which features are they using? How often are they logging in and engaging? Are they hitting the upper limits of their plan, or are they failing to use it for all it's worth?
Site analytics tools are also essential. These analytics tools will show you what's happening on your website—including how users progress through the site, how quickly they leave it, and where they're coming from. Also, website uptime, ping check, and active or proactive monitoring.
Both are essential for SaaS brands because they can help the marketing team understand your users and what features they value most. The actionable data can also help you create marketing campaigns designed to keep users engaged or to push them through the lead nurturing process.
Our Recommendation: Google Analytics for Site Analytics and User Pilot for Product Analytics
Google Analytics is free, and it's a must-have for every business online. It will help provide information on who your audience is, where they're coming from, how they're interacting with your site, and how much revenue is being generated.


We have compiled a list of product analytics tools we swear by and Userpilot is another great product analytics tool that can help you map the user journey through your SaaS tool. It also has outstanding features like personalized user onboarding, in-app marketing capabilities, and product adoption assistance, making it a great choice.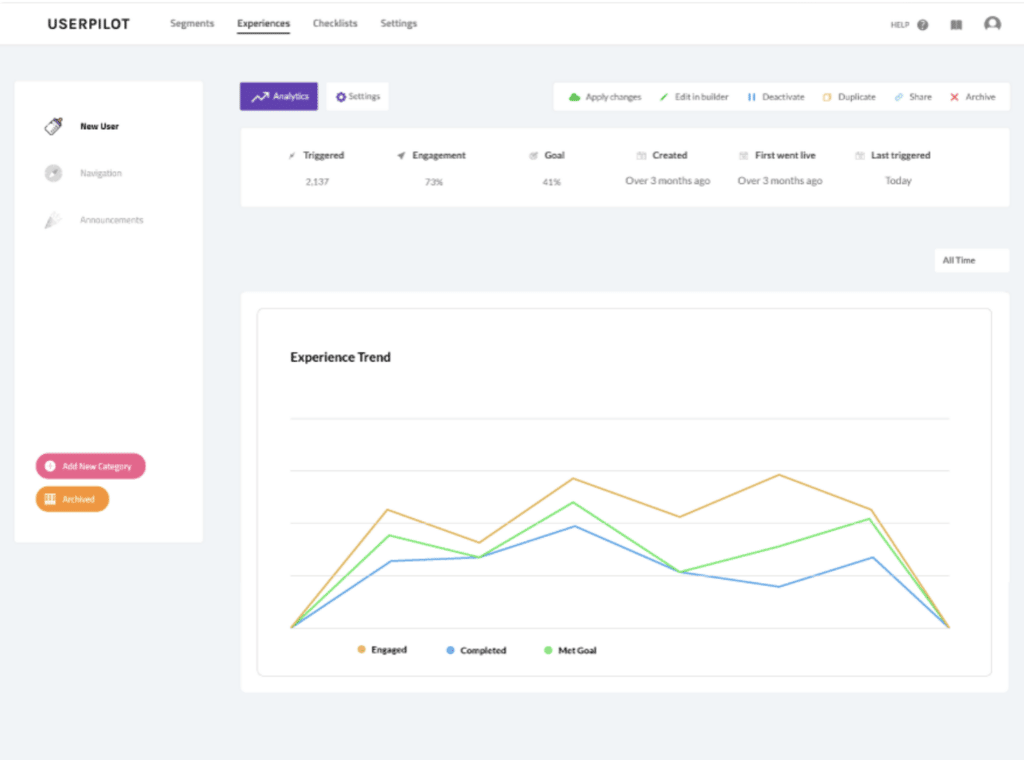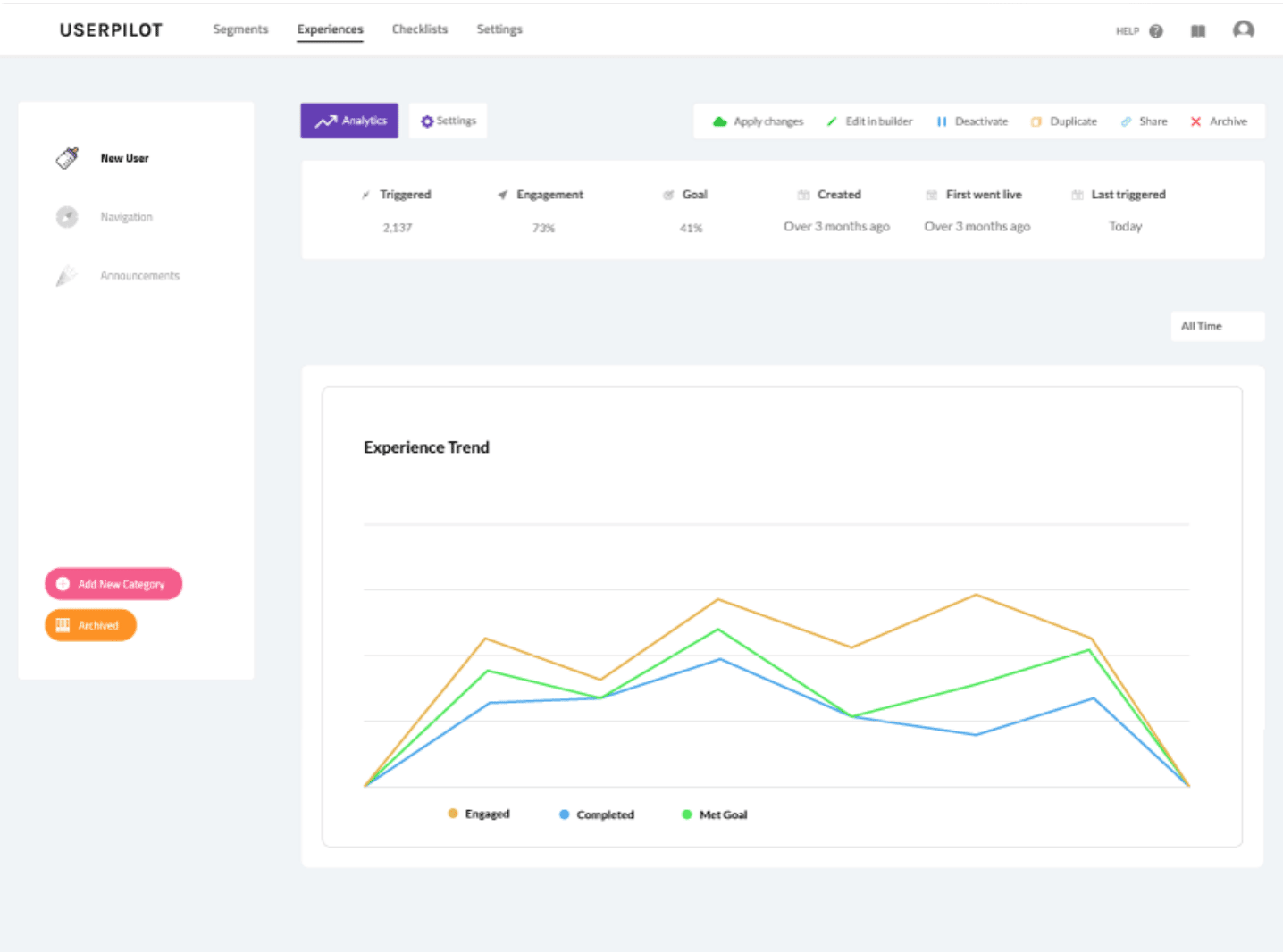 2. Email software marketing tech stack
You need email marketing software. I don't care what type of business you run: This should be a priority when choosing your marketing tech stack.
Email marketing software makes it easier for you to build, segment, and reach out to lists of audiences throughout every stage of the sales funnel. Most come with outstanding features that make it easy to create dynamic emails, strong segmented, automated campaigns, and tests.
Our Recommendation: HubSpot and Mailchimp
HubSpot is certainly a leader in the market and a complete marketing automation software ranging from email marketing to sales pipeline to lead scoring. The tool provides an all-in-one solution for businesses of all sizes, from start-ups to enterprise organizations. It integrates with over 300 third-party apps and makes it easy to manage contacts and track progress even on the go.
Mailchimp is a personal favorite, and it's what I recommend for most of my clients' marketing tech stacks. It's easy to use, which is not true for all email marketing software on the market, and it has all the features you could possibly need. The segmentation features are particularly simple to set up, and it has outstanding integrations for most major platforms.
3. Audience insights & analytics marketing tech stack
You need to understand who your audience is and what your ideal customer profile (ICP) looks like. Without this, you could be going off of a general idea, but that's enough to cause you to flounder.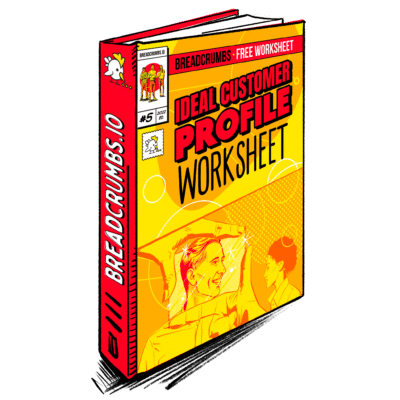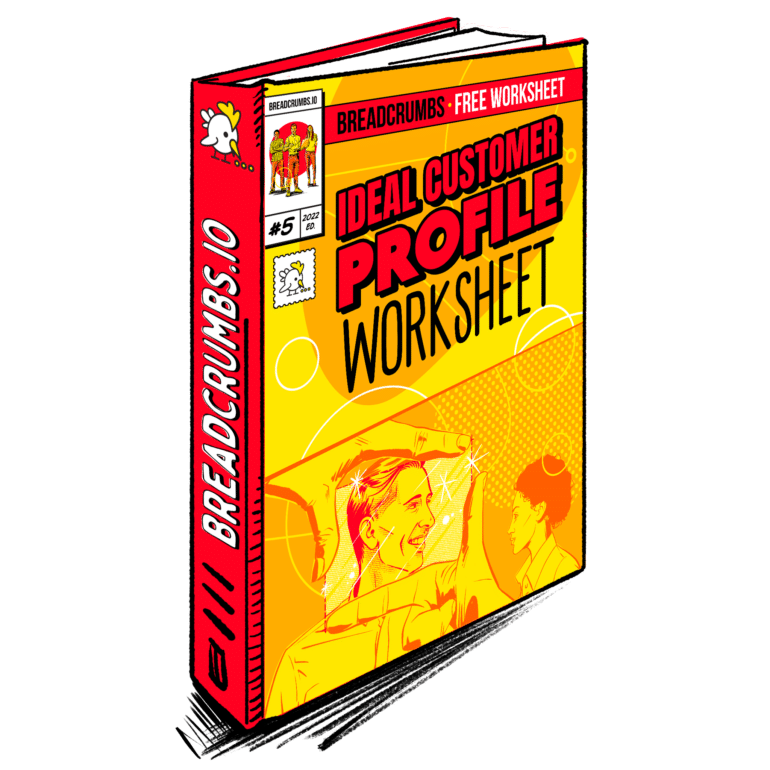 Ebook
Ideal Customer Profile (ICP) Worksheet
Learn how to create an Ideal Customer Profile and build a successful sales strategy with this Ideal Customer Profile (ICP) Worksheet.
Audience analytics tools must be detailed and be able to provide strong insights with pattern detection, helping you to really understand who your highest-value audiences are and potentially how to reach them.
Our Recommendation: Breadcrumbs & Reveal
Breadcrumbs is a co-dynamic lead scoring tool, and our sister product Reveal (which is available on all free Breadcrumbs accounts), can take the data we're using to score leads to help you better understand your ICP. We'll compare your highest-value audience members to your general clients and contacts to determine what they have in common, giving you clear and actionable insights.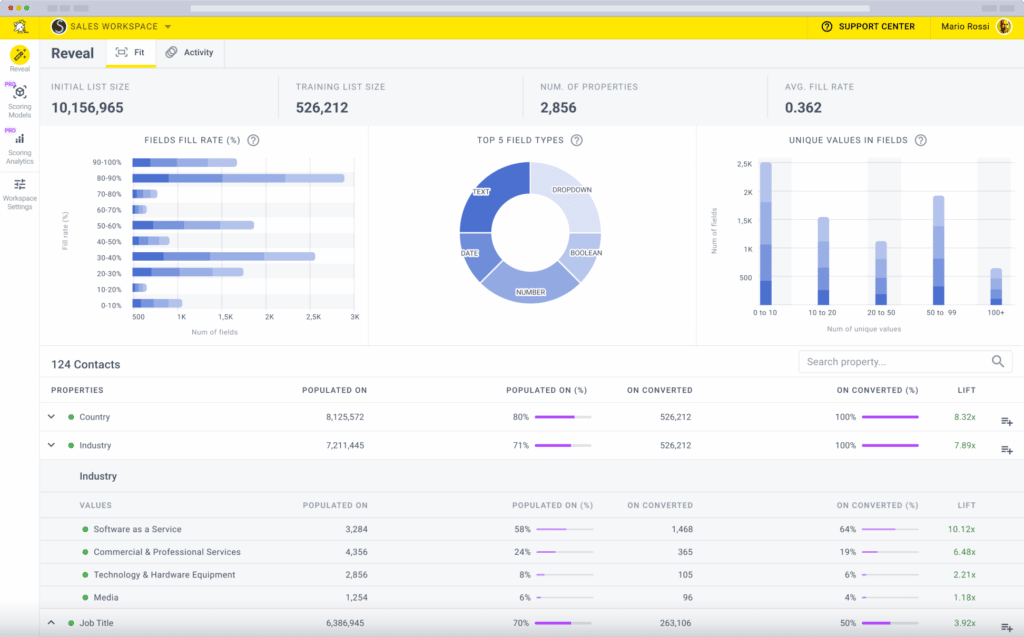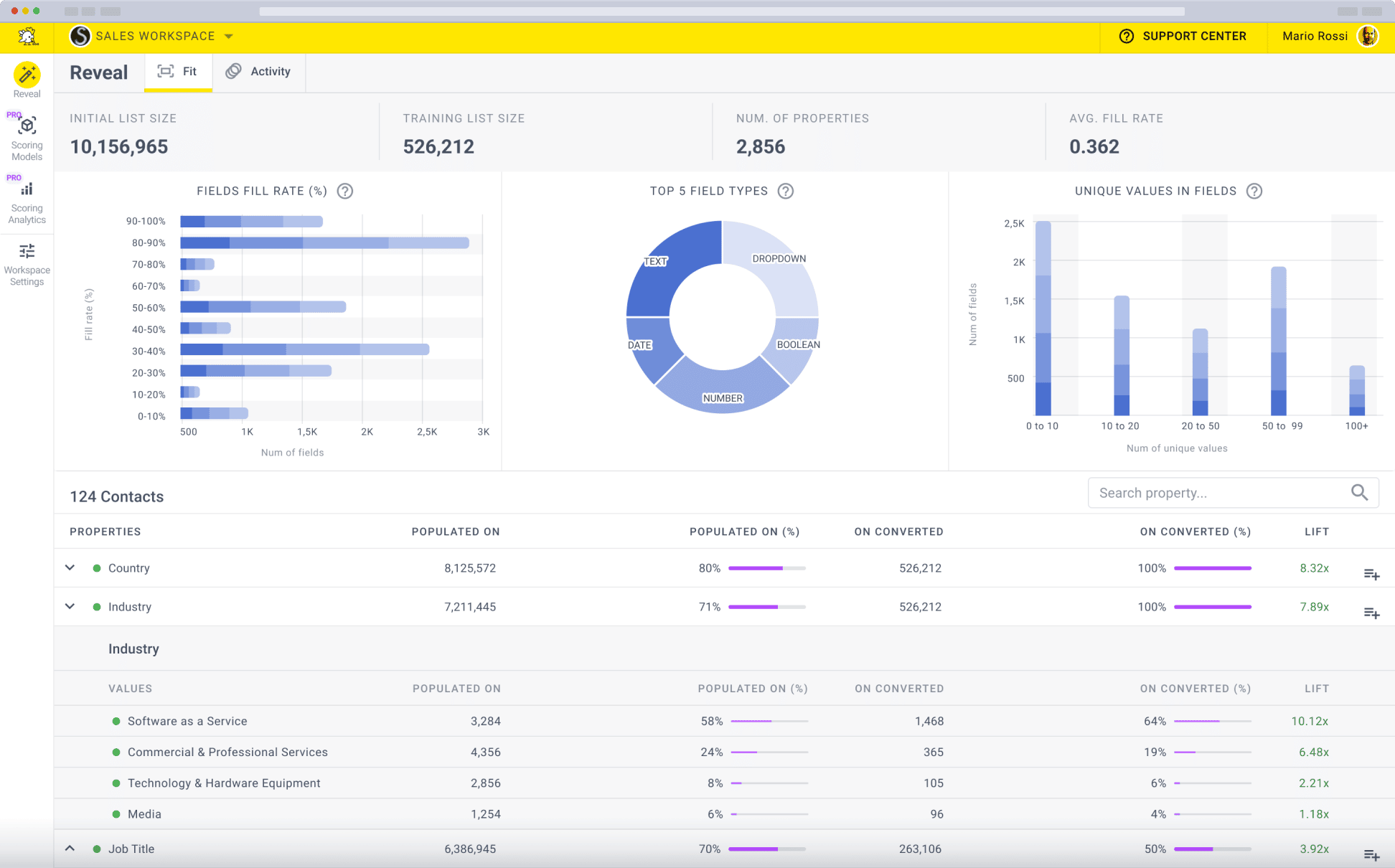 You can sign up for Breadcrumbs and Reveal for free here.
4. Social media management software marketing tech stack
Social media management software can be a lifesaver, no matter how large or small your business is, especially since there are so many social media platforms to keep up with.
Most social media management tools will have features like the following:
Creating, scheduling, and publishing social media content
Managing comments and private messages from a central dashboard
Analytics for content across all your social platforms
Our Recommendation: Sprout Social
Sprout Social is one of the strongest social media management tools available in 2023. It has an incredibly intuitive interface, which many of its competitors (in my opinion) do not. It makes scheduling simple, especially since it also has extraordinarily detailed analytics to help you track performance. It also has great features for customer support, data intelligence, and social commerce.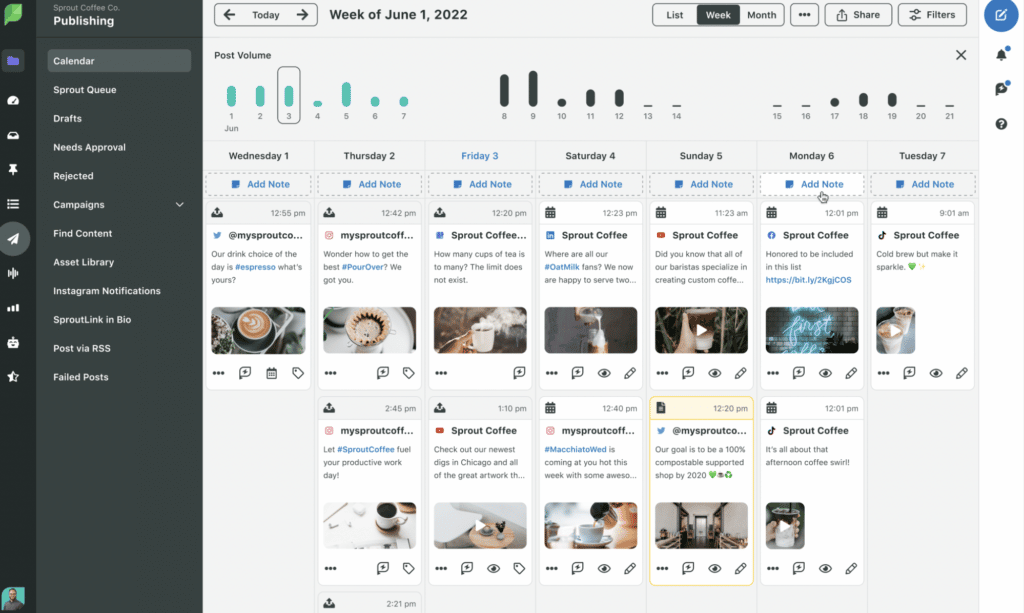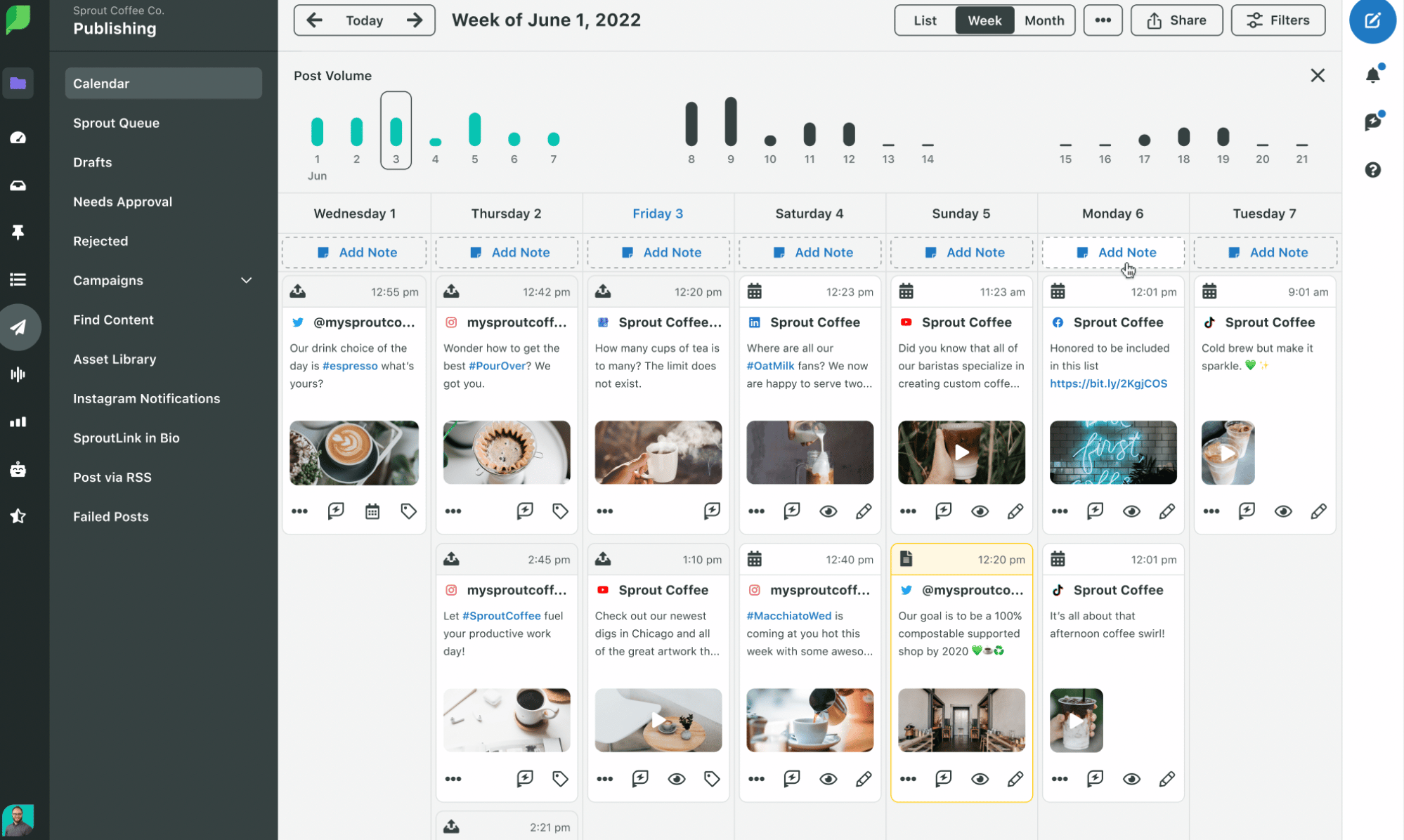 5. SEO-focused tools marketing tech stack
You need SEO tools to optimize your website, optimize your content, and understand how you're ranking (and how to improve it). In many cases, SEO-focused tools come with advanced keyword research features that can also be used for Google Ads keyword research if you choose.
SEO-focused tools should, at minimum, have the following:
Have keyword research features
Have analytics regarding your own SEO performance, including things like backlink tracking or page position tracking
Have suggestions for improving your site or content
Our Recommendation: Semrush
There are a lot of really amazing keyword research tools out there, including SurferSEO, Moz, and Ahrefs, but my go-to will always be Semrush.
Semrush has everything I need as a content marketer, helping my clients develop content strategies, put together plans, and optimize content while tracking its performance after the fact. They also have an SEO writing assistant that can help you optimize your content as you're writing.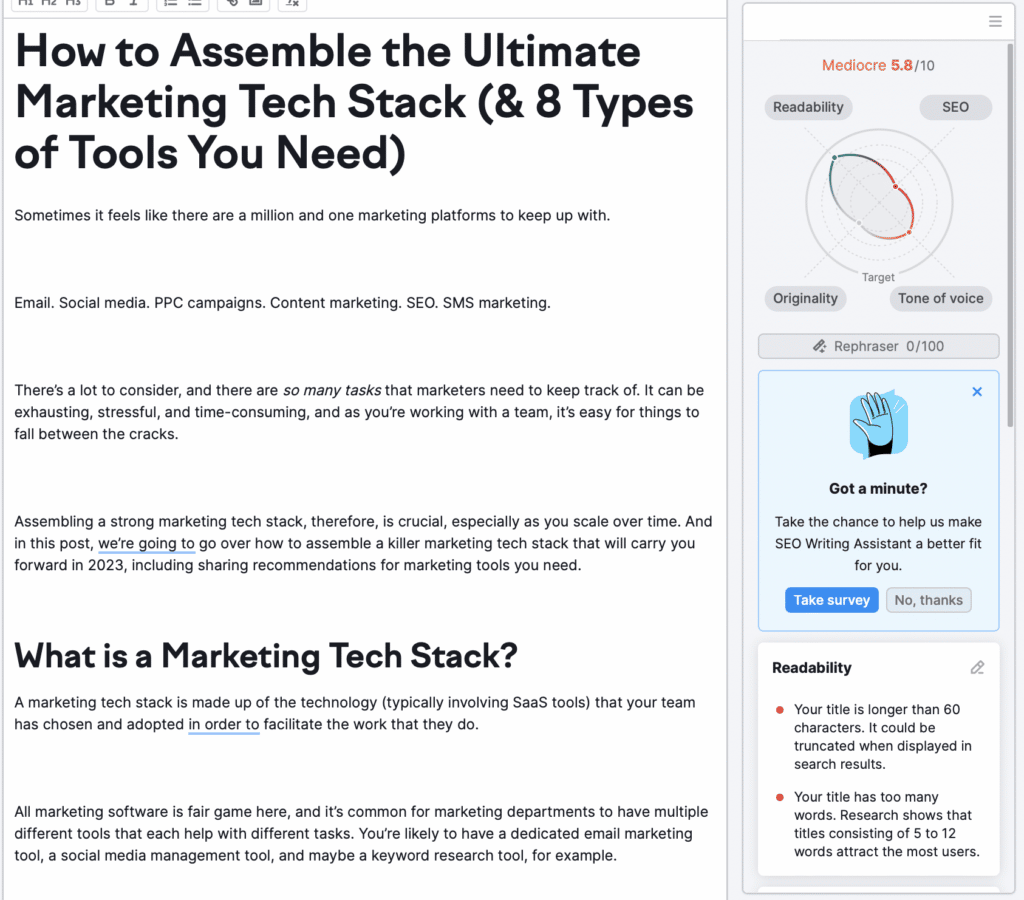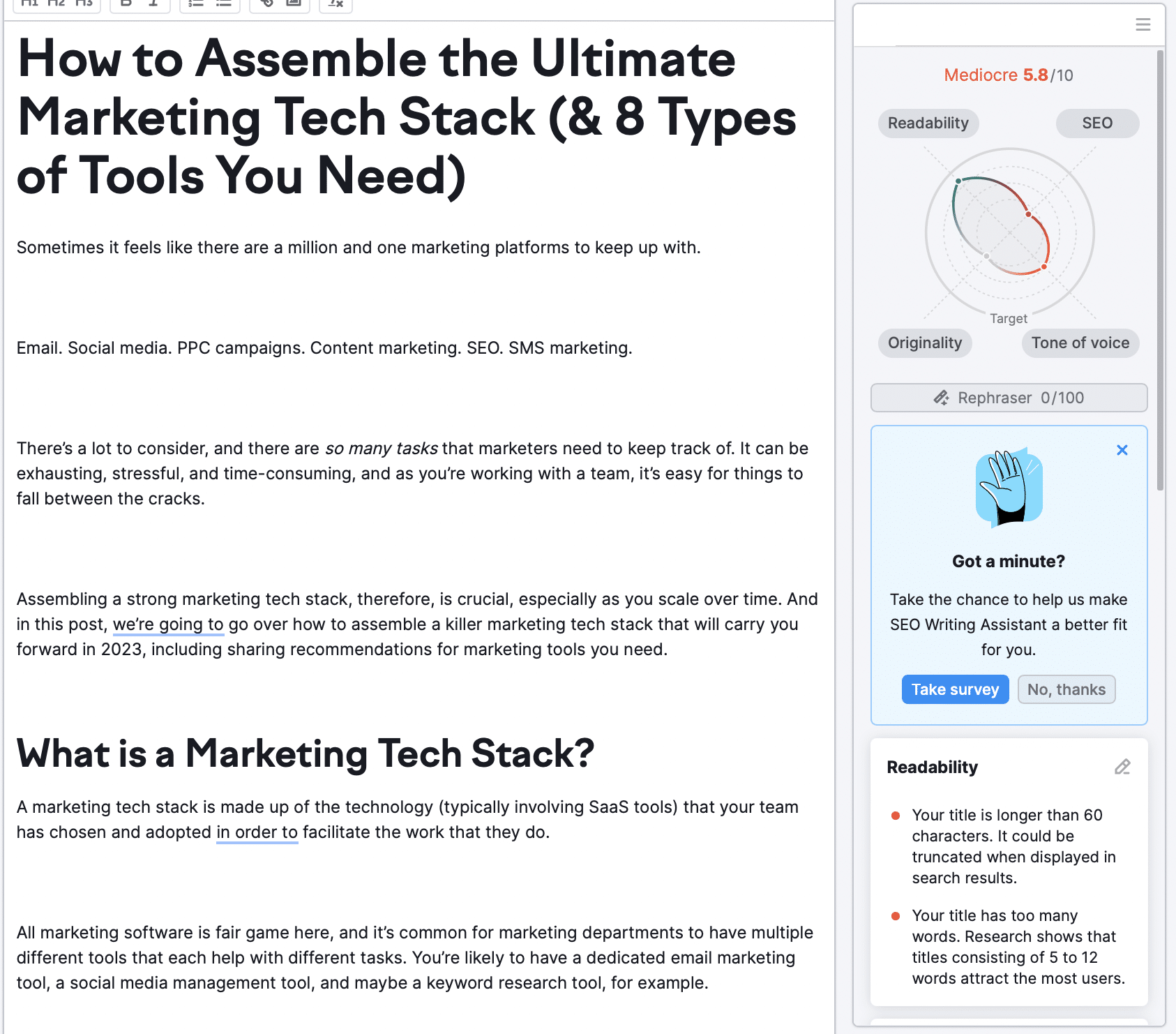 And in addition to running analytics on your own site, you can also use it to keep an eye on what your competition is doing, too.
6. Graphic design software marketing tech stack
Graphic design software can be a game changer for marketers, especially since many marketing teams don't have the budget to hire an expert graphic designer for every single social media post or featured blog image that they need to create.
There are plenty of options on the market, but for many brands, finding a drag-and-drop tool with plenty of templates or an intuitive one-click approach to design, like Colorcinch, is a great choice. Just make sure you choose a plan without branded watermarks on it.
Our Recommendation: Snappa
Snappa is my favorite graphic design tool as a non-graphic designer. It's got the drag-and-drop technology mentioned above and over a hundred different templates for everything ranging from Facebook Ads to ebook covers. It's easy to use and comes with all the features you need if you aren't working with a professional designer.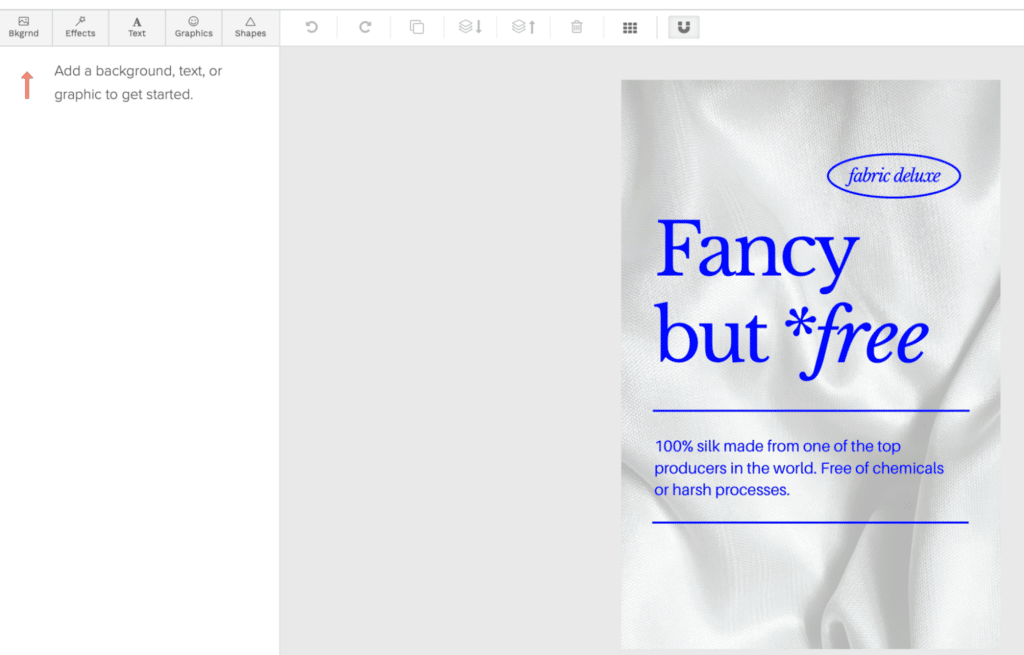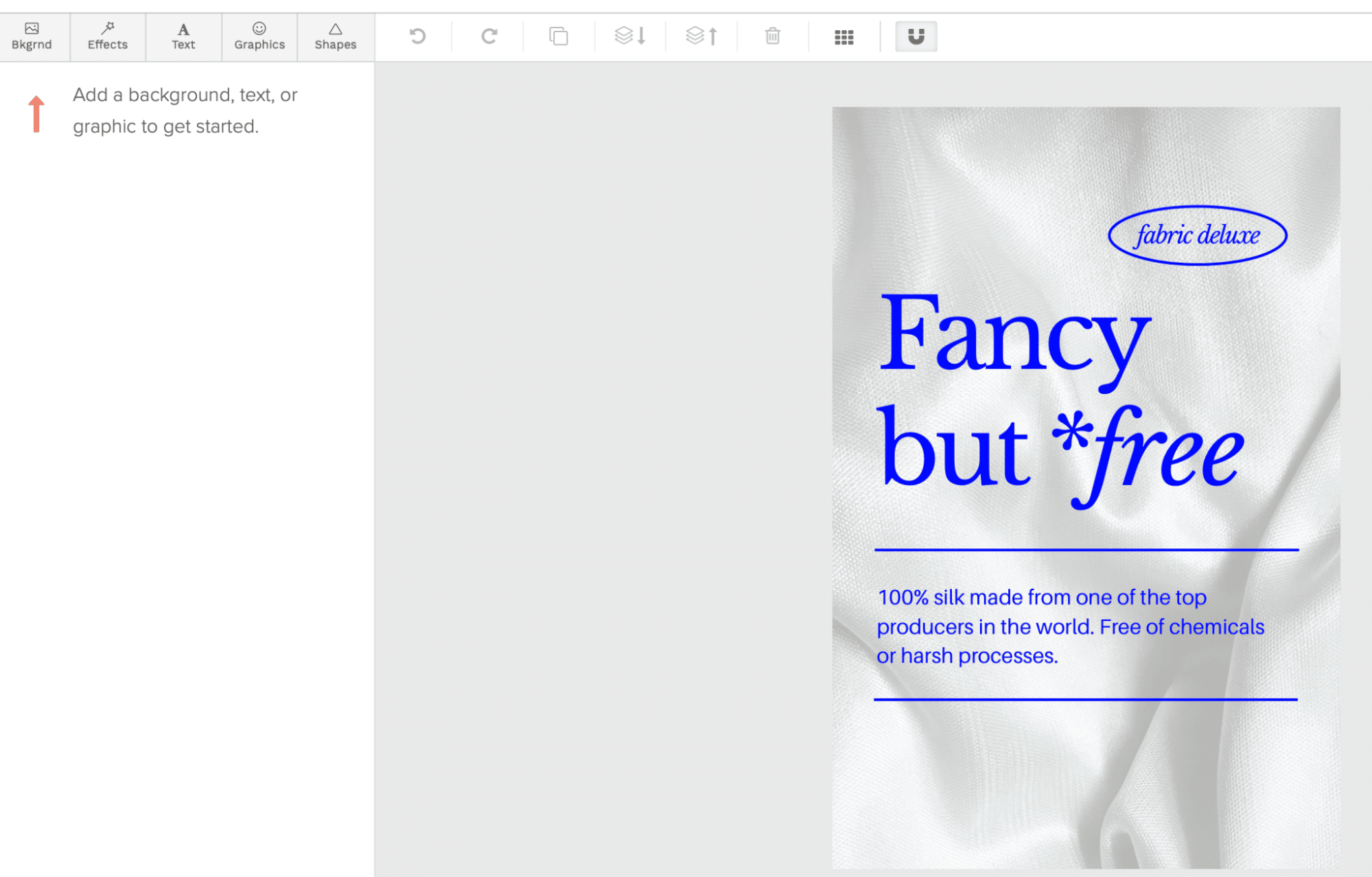 7. Landing page tools marketing tech stack
Landing page tools can help you build, test, and optimize landing pages at scale. The "testing" part of landing page creation is a particularly big bonus, which is harder to do if you're creating pages on your site without a landing page builder.
Many strong landing page builders today also come with a large number of templates you can choose from based on the type of landing page you're creating or even the stage of the sales funnel the user will be at when seeing it.
Our Recommendation: Unbounce
Unbounce is my go-to for landing page testing, optimization, and creation. They have an enormous amount of templates, or you can start from scratch, and you can easily create different variations of the same page for advanced testing.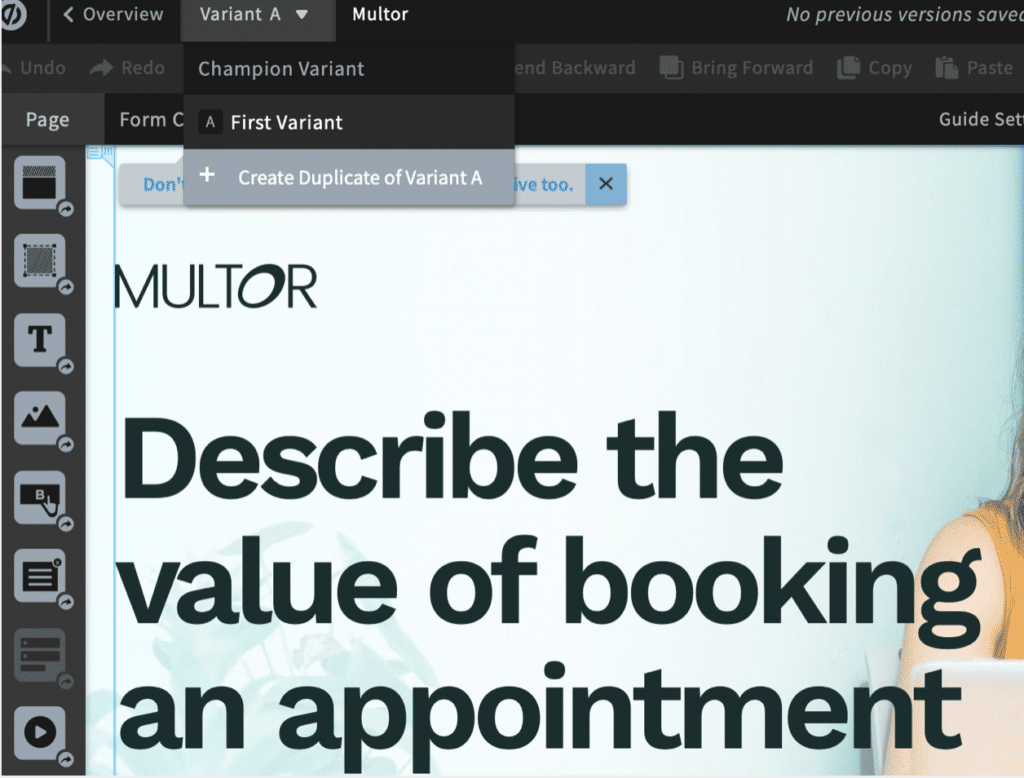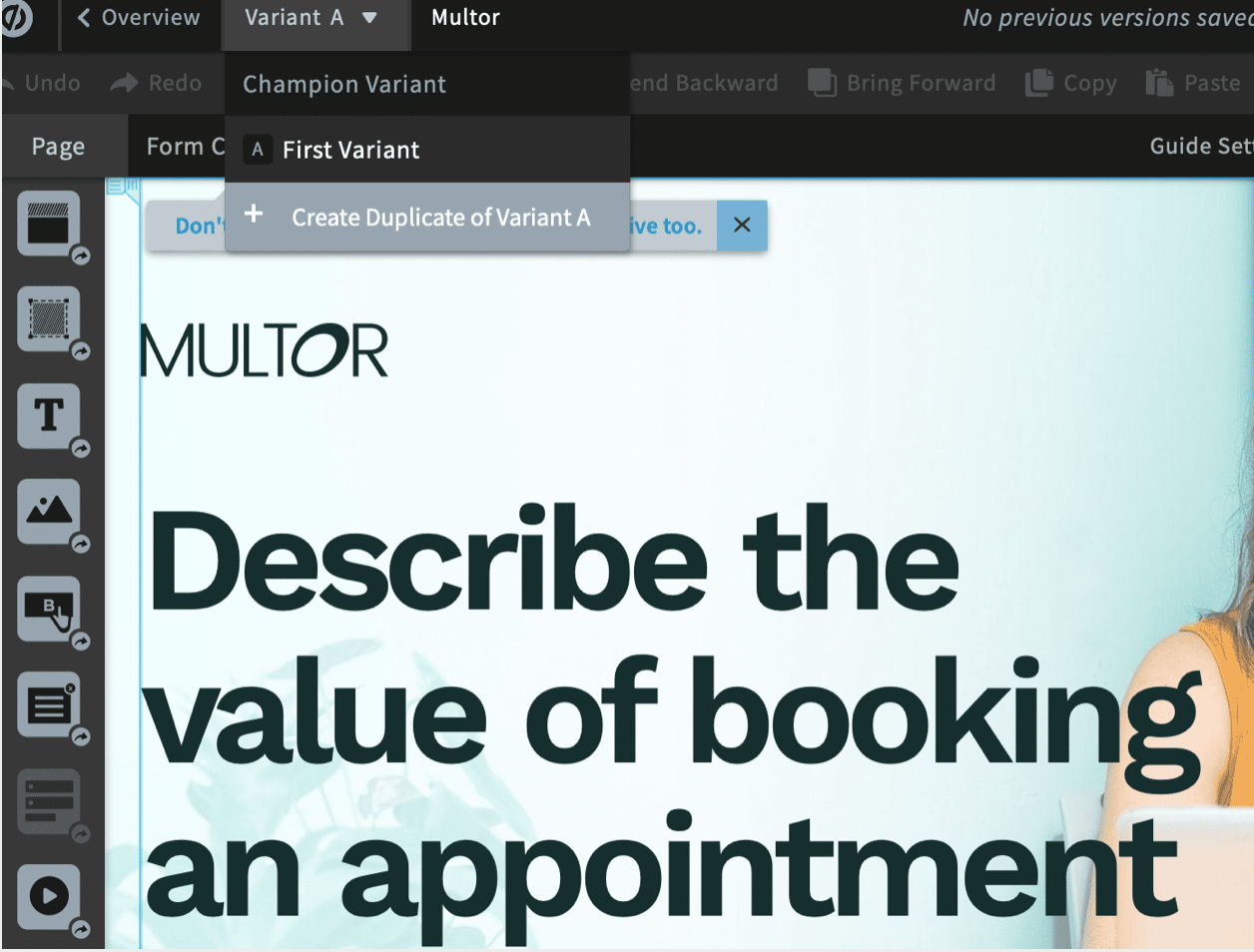 Unbounce also has amazing features that can help automate your landing page to truly optimize performance thanks to artificial intelligence (AI). It will detect which version of your landing page will perform best for each individual user.
8. ABM Platform marketing tech stack
Account-based marketing platforms come in a large number of shapes and sizes, but this category includes any tool that's designed to help you excel with account-based marketing (or marketing to individual, high-value potential clients).
Our Recommendation: Terminus
We actually have a solid list of account-based marketing tools that we love, but you can't go wrong with Terminus.
Terminus was designed to be an account-based marketing tool, and it's a great choice. They have a ton of data to help you determine which companies are researching products like yours to indicate high-intent opportunities. It also offers engagement-focused features to keep these users engaged through all the big platforms, including your site, live chat, email, and ads.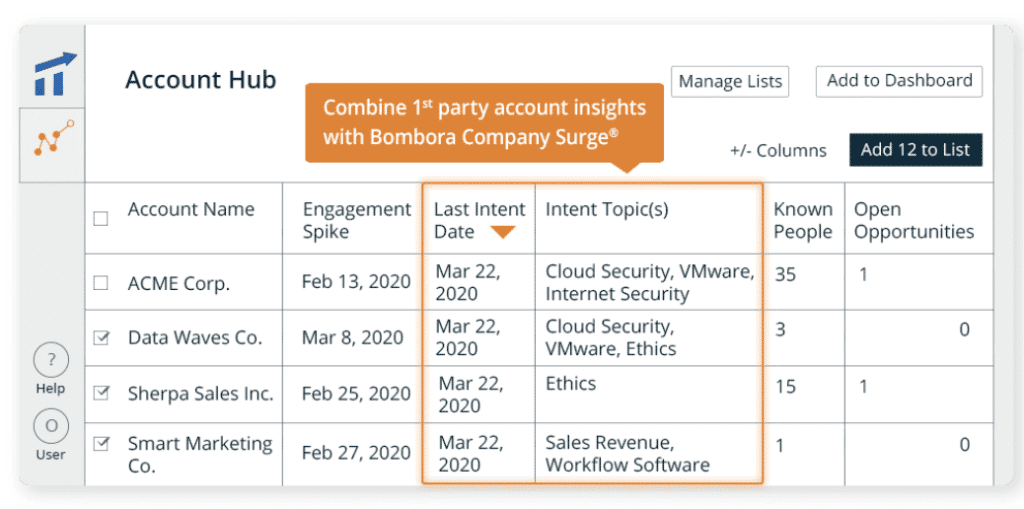 What to Consider When Choosing the Tools for Your Marketing Tech Stack
As you're choosing different tools for your marketing tech stack, remember to keep the following criteria in mind:
What kind of support do they offer? Are they available for round-the-clock support if something goes wrong, and if not, how long will it take to get help?
What other tools does the specific tool under consideration integrate with? Integrations can make your life so much easier, reducing manual labor and increasing your productivity. Checking about integration potential is a great call.
Does it fit your budget? Can you get the features you need at the plan you can afford? And what about when you need to scale? Don't forget to check for fine print and contracts.
Does it have all the features that you need? You don't want to get your entire team onboard with one tool only to realize there's another tool that actually meets the features you need.
How to Assemble your Marketing Tech Stack: Final Thoughts
Your marketing tech stack can absolutely impact your overall marketing success. Access to automation, detailed analytics, and advanced features to help you reach your audience more effectively can make huge changes for your business. And with better and higher quantities and qualities of leads coming through the door; as a result, your sales team is sure to be happy, too.
Ready to get started with your marketing tech stack? Start with Reveal! Sign up for your free account with Breadcrumbs today.