If you're part of a business, chances are you've heard of HubSpot. After all, it holds the top spot with more than 29% of the market share in the marketing automation platform space. This is more than that of the next three solutions combined.
HubSpot brings all the software tools a business needs to scale into one place—marketing, sales, operations, customer service, and more.
Success in today's complex and hyper-competitive business environment can only come from having total access and control over your data, and HubSpot enables you to do just that.
Let's break down what you can achieve by integrating HubSpot into your business and the things that it is great at. We'll also discuss how you can enhance those features by integrating with Breadcrumbs and accelerate your revenue today.
What is HubSpot?
HubSpot started in 2005 as a CRM platform targeted toward marketers. Over time, the company evolved its offerings to support the entire breadth of business functions–marketing, sales, operations, service, and CMS (content management system).
Today, HubSpot is the go-to all-in-one platform for anyone hoping to succeed in the SaaS industry. HubSpot has five main suites of solutions to help companies excel at each of the five major business functions we discussed.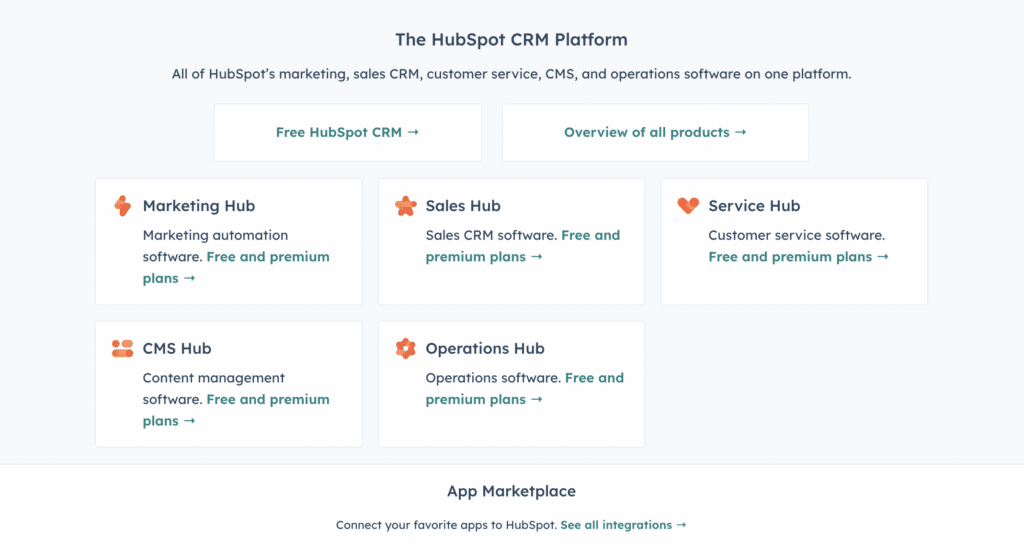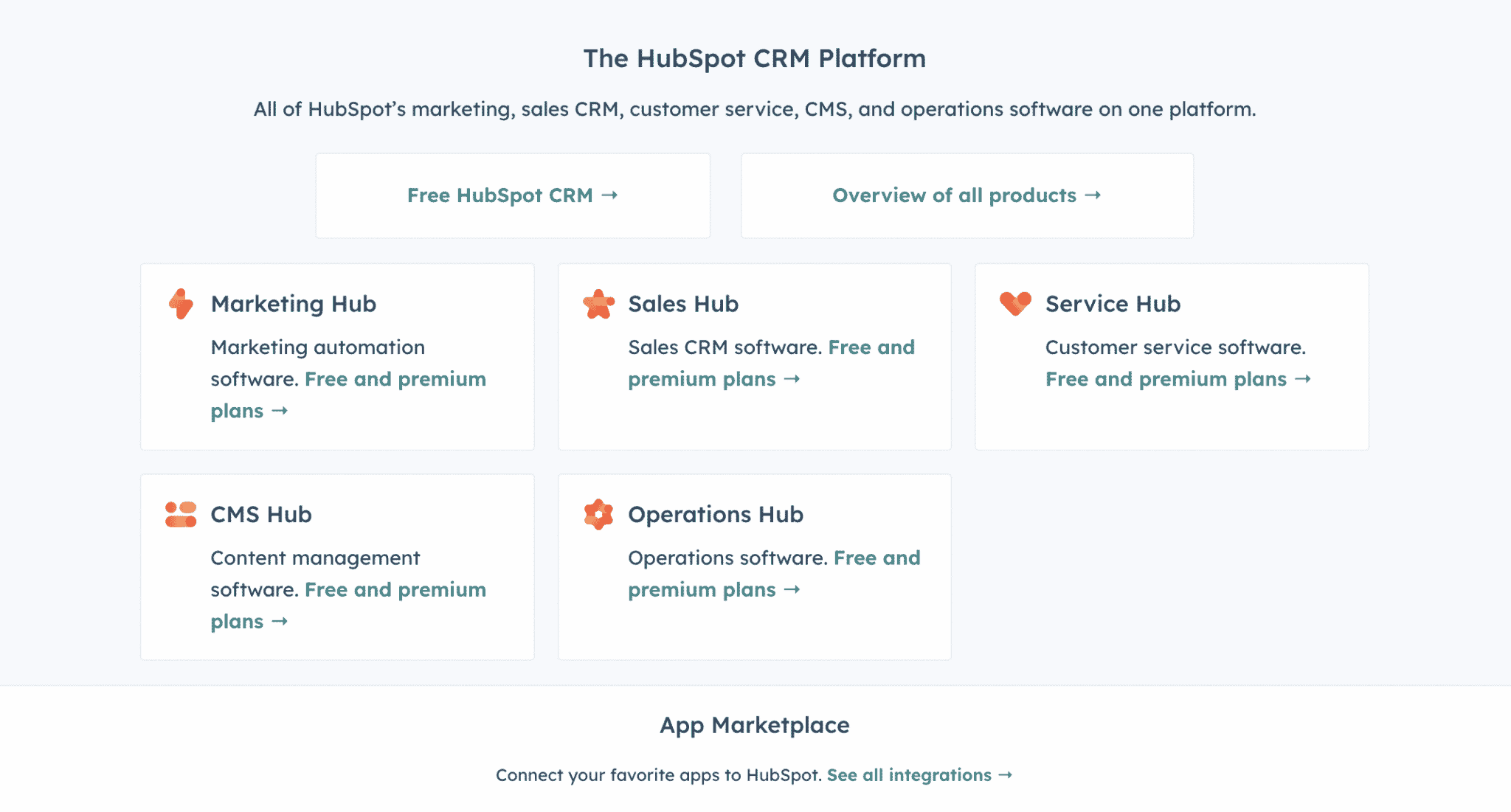 What is HubSpot Marketing Hub? The Marketing Hub offers comprehensive content creation, tracking, and reporting solutions. Whether you want to create powerful content for your website, blog, and social media accounts or create marketing campaigns aligned to specific buyer personas, the Marketing Hub has covered you.

You can even use its nifty SEO tools to optimize not just your content but your site architecture and more.
What is HubSpot Sales Hub? The Sales Hub provides excellent sales optimization tools and integrates seamlessly with the HubSpot CRM.

With the ability to track when leads open emails, submit forms or take any other action on your website, you always have instant access to the most important sales information to take the right decision at the right time.

You also have solid lead-nurturing features like automated email workflows to follow up automatically with the most promising leads.
What is HubSpot Service Hub? Whether you want live chat or conversational bots for your customers or even self-serve portals, you'll find the Service Hub more than sufficient for your needs.

Apart from having an extensive knowledge base providing a complete view of each customer's journey, it also enables automated replies and several email templates for use by your service team.
What is HubSpot CMS Hub? The CMS Hub is a complete website hosting platform–think WordPress, Wix, and Squarespace.

A fast, light, and simple-to-use suite, it helps you design your website with drag-and-drop editing. And it's more secure than open-source platforms like WordPress.
What is HubSpot Operations Hub? The Operations Hub is HubSpot's newest suite, used to integrate all kinds of data from all your different platforms with HubSpot.

The highlight of the Operations Hub is its ability to process unstandardized data easily from various sources. It can also improve your internal processes using automation and help you glean deep insights from your data.
How Can HubSpot Help You Grow?
You get to enjoy a host of benefits when you integrate HubSpot with your business. When all your software tools are part of a single, integrated platform, you have your pulse on your data and where your business is going.
Track every conversation with every lead. Every interaction your team–sales, marketing, or service–has with a lead is tracked. There's no leakage in the lead pipeline.
Make data available to everyone. No matter the hierarchy, everyone in your team can see how you're getting leads and how you're converting them.
Enable sales with simplified deal pipelines. Automate lead nurturing at every stage of the deal pipeline with visual, easy-to-track dashboards.
Provide superior service to customers. With live chat and AI bots, gain insight into what customers want and use the data to refine customer service.
Create excellent digital experiences with an unparalleled CMS. Use a full-stack, fast, and secure CMS to create top-tier websites and social media content.
How To Get Started With HubSpot
Though HubSpot offers premium plans based on your organization's scale and needs, you can also start using HubSpot for free.
Once you've created a HubSpot account, you can start integrating your email, contacts, and website with HubSpot and using it to generate leads. HubSpot has made available a great guide to help you through this process. Let's look at a brief overview of that process here:
Step 1: Email integration. With all your email clients integrated with HubSpot CRM, you can manage your entire email activity inside HubSpot CRM itself. A single automated source of email data is a crucial first step to extracting value from your CRM.
Step 2: Create filters. With the help of filters, you can identify groups of people who've performed a similar action. e.g., opened a recent email or replied to an email.
Step 3: Import contacts. By importing all your contact data from your old system to HubSpot, you'll enrich the platform with more and better information.
Step 4: Define deal stages. Deal stages in HubSpot CRM are a way to keep track of multiple deals simultaneously. You can drag and drop deals into customized deal stages to track where each deal is in the overall pipeline.
Step 5: Create lead ads. With lead ads, you can start generating new leads by creating ads inside HubSpot and delivering them to your target audience. All of your newly-generated leads will auto-populate inside your CRM.
Step 6: Website integration. You can integrate a JavaScript tracking code on your website to collect useful information from your website visitors to enhance your contact data inside your CRM.
Step 7: Invite Your Team. You can invite your team members from across all departments to ensure all of them have access to a wealth of information in a single, integrated CRM.
How To Ace Lead Scoring Using HubSpot
Lead scoring forms the core of using your customer data for your benefit. It helps you qualify which are your most important leads that need to be focused on by your sales and marketing teams.
It can be daunting at first to fully appreciate HubSpot's lead scoring abilities, so here are four tips you can use to ensure you're getting the most out of the platform:
Leverage all your data
Make sure to use the lead scoring tool in HubSpot to add all relevant attributes and actions when trying to qualify leads.
Use all the data available in HubSpot CRM and all third-party integrations
Use both fit and engagement for scoring fields
Score differences in activity accordingly
Your HubSpot scoring model doesn't automatically score different actions differently. e.g., leads who opened 1-2 emails should be scored less than those who opened 5.
You need to ensure HubSpot is doing such differentiated scoring based on your customized metrics.
Score certain actions negatively
Some activities call for negative scoring, so you know which leads aren't as engaged with your content as others.
HubSpot allows you to use negative attributes as well. e.g., sign-ups for cheapest free trials, not opening emails, etc.
Can You Take HubSpot Lead Scoring To The Next Level?
As powerful as HubSpot lead scoring is, it doesn't do it all. Lead scoring is an important element of the overall HubSpot suite of tools, but it's not the focus.
You can unlock more potent lead scoring by integrating your HubSpot CRM with the Breadcrumbs platform. Here's how:
1. Score both frequency and recency
HubSpot doesn't allow you to perform activity scoring with both frequency and recency; you can only choose one.
Recency relates to how recently an action has been taken. For example, leads who have visited your pricing page within the past hour are more relevant to your sales team than those who visited one month ago.
Breadcrumbs' scoring models factor recency into the equation by increasing scores for recent actions and decreasing scores for those who have gone radio silent.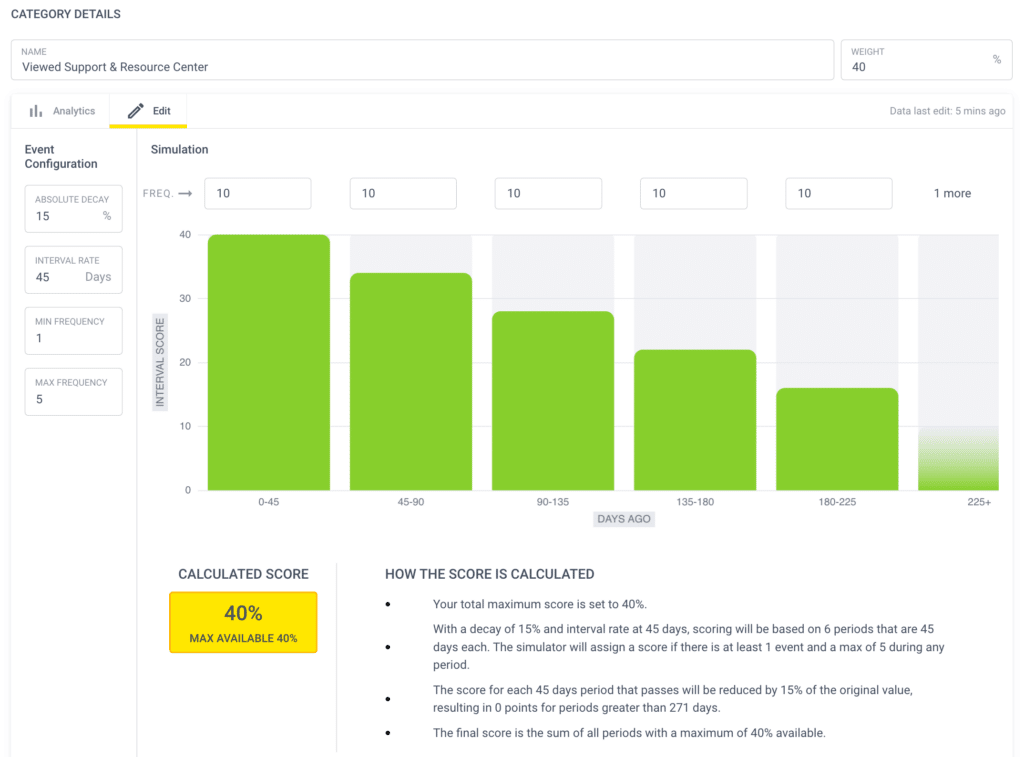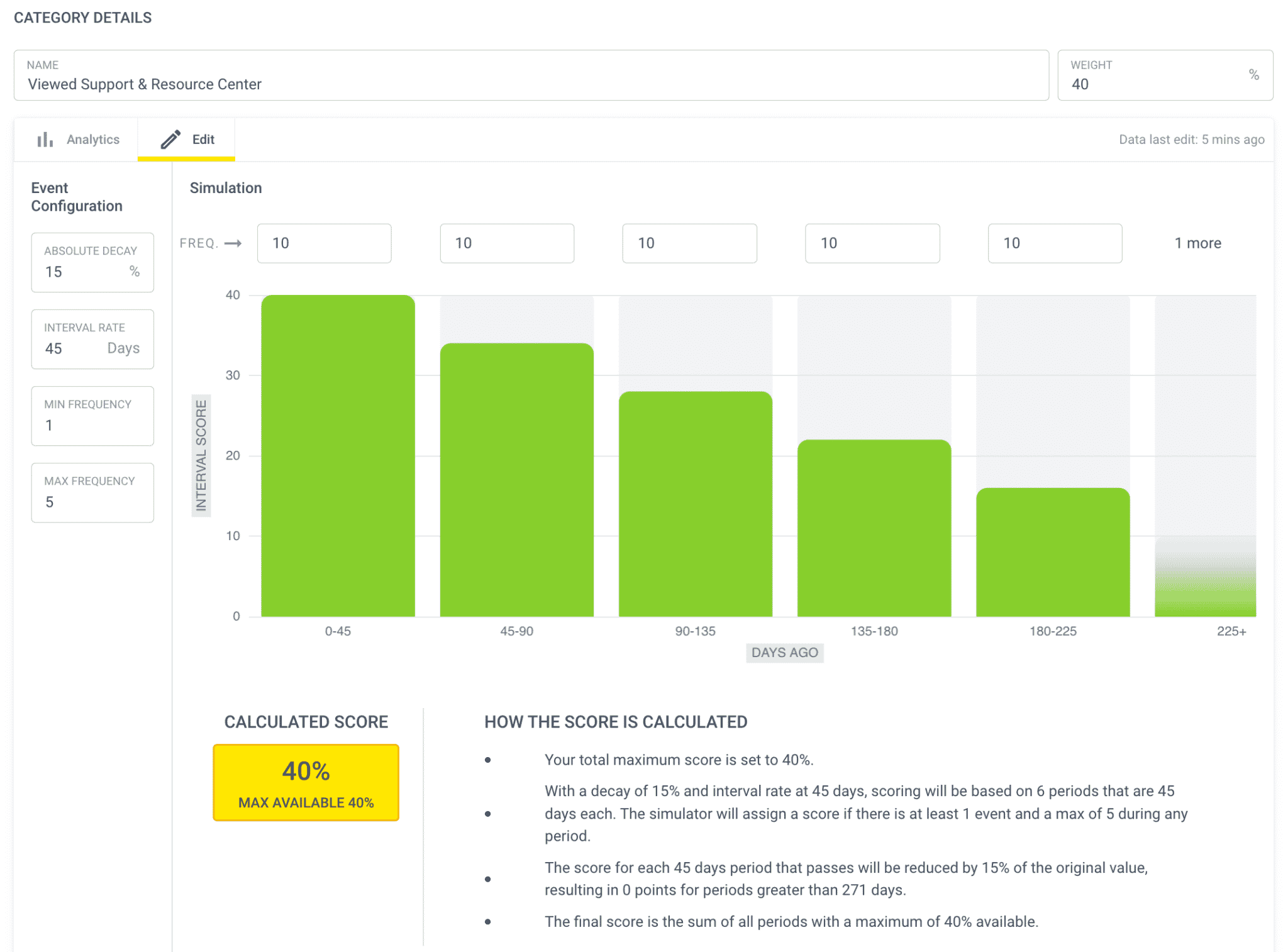 Likewise, Frequency relates to the number of actions that have been taken. Those who repeatedly opened emails and interacted with your brand scored higher than those who did not.
Breadcrumbs allows you to score leads based on both frequency and recency together, so your team gets more accurate and refined results.
2. Track fit and activity scores separately
Using HubSpot, you can track both fit and activity scores but only on their enterprise plan, and even then, the two different lead scoring fields do not accurately merge with each other.
Breadcrumbs, however, allows you to track fit and activity scores separately and combine them for more sophisticated and accurate results.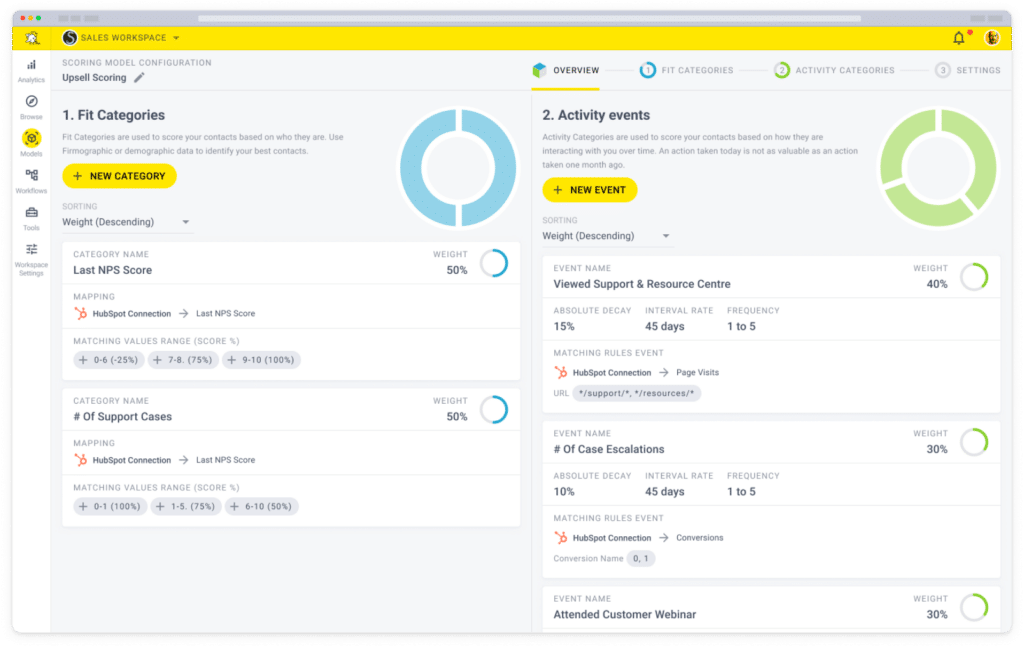 3. Deeper differentiation between leads
HubSpot provides a single composite score to your leads, making it difficult to differentiate between leads on a deeper level.
Breadcrumbs allows you to view all leads across 16 scoring buckets, giving you much greater insight into your best leads.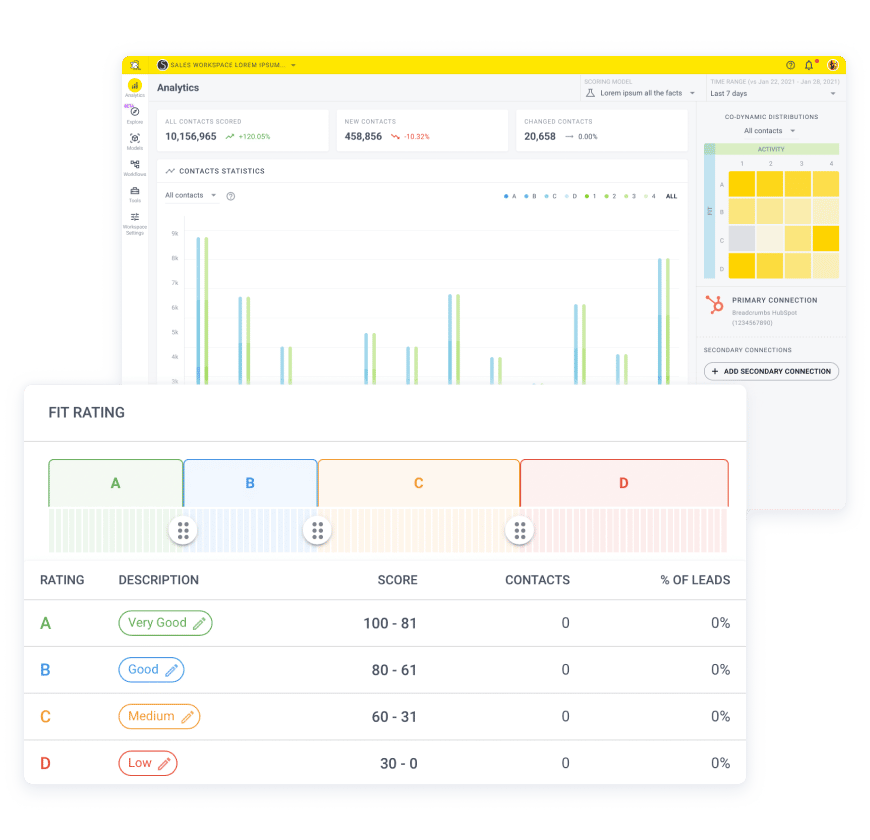 4. Analyze all your lead scoring data
HubSpot lead scoring only processes the data you have on HubSpot. Not all data sources can be integrated with HubSpot.
Breadcrumbs, on the other hand, allows you to integrate all your data sources to further enrich your scoring model.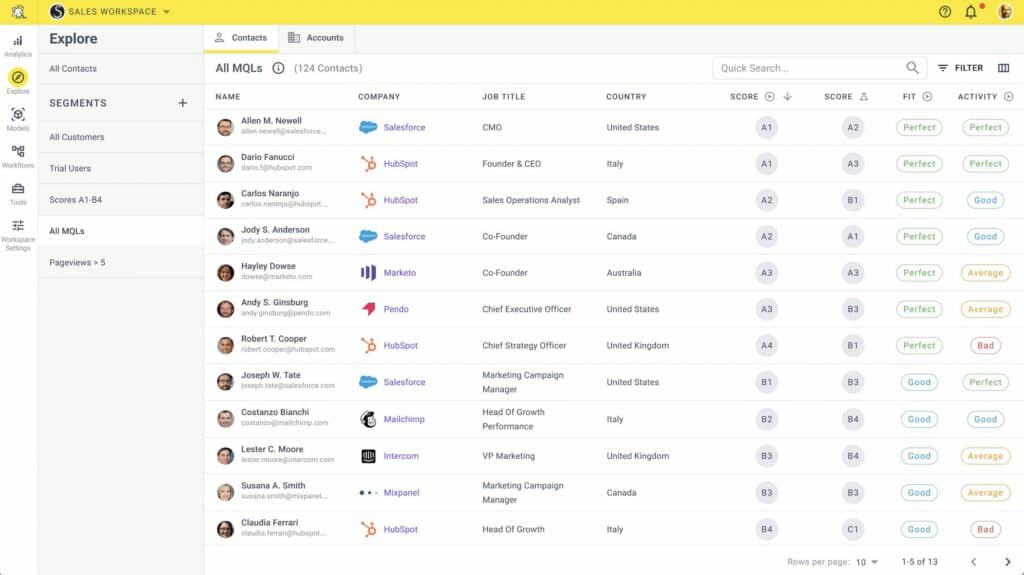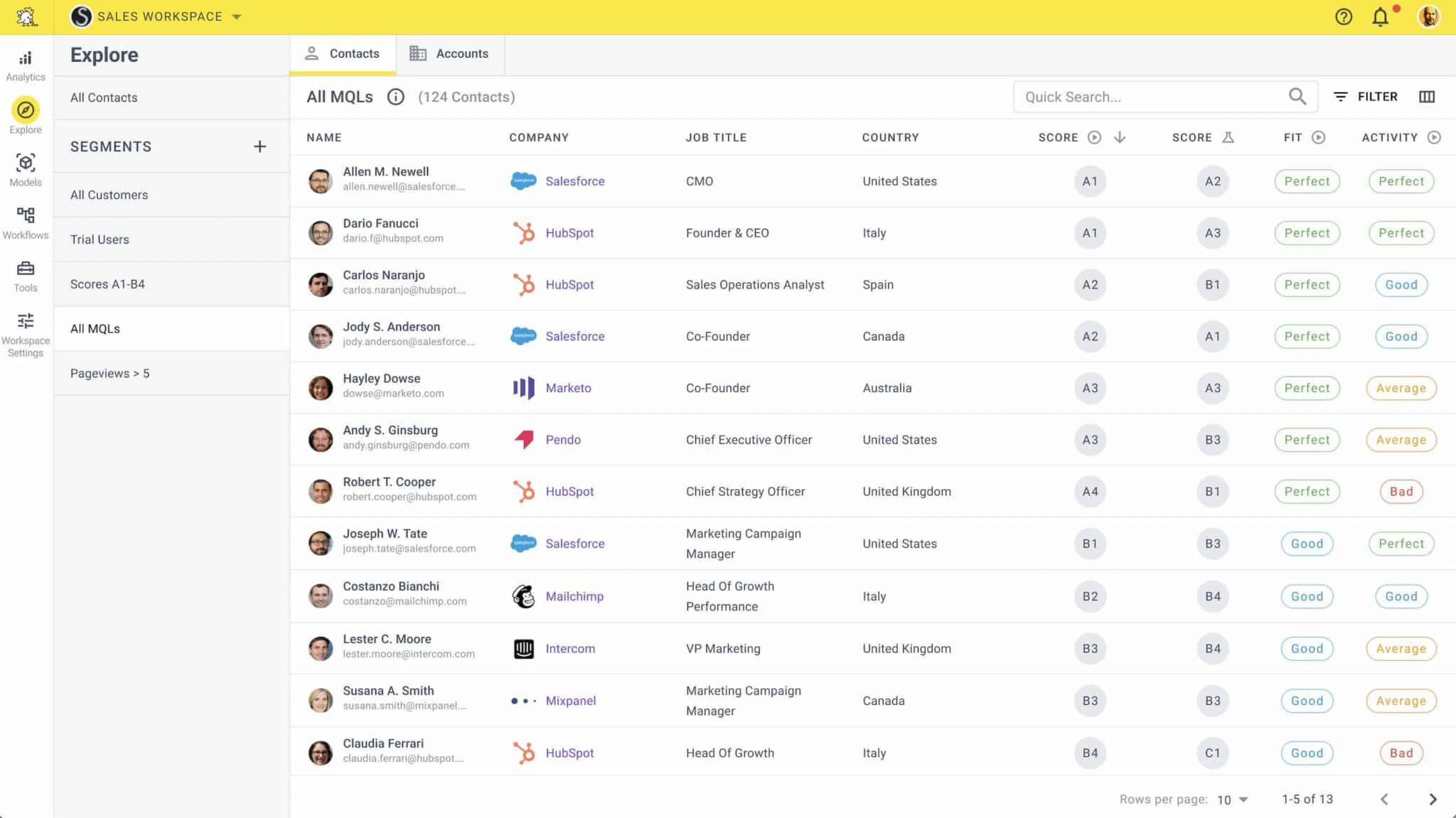 5. Unlock the potential of scoring for up-sell, cross-sell, retention, and product adoption
Breadcrumbs allows you to discover upsell and cross-sell opportunities by identifying leads who are ready to buy, those primed for upselling, and those likely to churn, all at the right time for you to take timely action.
Scale Better And Faster With HubSpot + Breadcrumbs
Breadcrumbs' HubSpot integration brings sophisticated and easy-to-use capabilities to your HubSpot CRM that can help you scale your business faster.
Our revenue acceleration platform is laser-focused on lead scoring and is powered by machine learning to unlock hidden opportunities that are often missed by other platforms.
Book your free demo of Breadcrumbs today to unlock the full potential of your HubSpot CRM.