Cross-selling is critical for B2B brands. It helps you squeeze more value out of customers while providing a better experience.
Think about it: customers who sign up for your basic plan or who purchase your lowest-tiered product are probably doing so to test it out. But, chances are, they need more. If you're not offering them the chance to add-on to their purchase with relevant products or services or upgrade to a more superior plan, their experience is going to plateau.
According to research by Genesys, the three top factors for optimizing customer experience include:
Improving customer retention rates (42%)
Improving customer satisfaction (33%)
Increasing cross-selling and upselling opportunities (32%)
So, if you want to handle aggressive growth and create an irresistible customer experience, it's time to get your cross-selling strategy polished and in place.
Here's how to combine powerful customer research and lead scoring to create a cross-selling strategy that turns one-time buyers into lifelong fans.
First Things First: What is Cross-Selling?
Cross-selling is the act of offering a related product or service to a customer who has made a purchase. Unlike upselling, which involves encouraging customers to upgrade their subscription or choose a premium product option over a basic one, cross-selling might mean offering additional training or pitching another complimentary service.
The most successful cross-selling strategies promote products that are highly relevant to the initial purchase and that are personalized to each customer's unique needs. For example, a two-person marketing agency might not need an in-house training session, but they could probably use one-on-one support and regular consultancy.
Cross-selling can work across individual customers as well as companies. For example, you might have sold a big-ticket item (like Azure for the Microsoft 365 Office suite) to a company through their CTO. After nurturing that relationship, you can use that point of entry to expand within the organization and meet, say, the CRO or the VP of sales. You can then start a conversation about Microsoft Dynamics or a CRM alternative with these new points of contact who have a different set of needs than the original CTO.
Leverage a scoring tool like Breadcrumbs to conduct contact scoring for each customer, which will help determine what kind of cross-sell might be the best fit.
Cross-selling is a must for multi-product brands, whereas upselling is a better fit for businesses selling just one product.
Why Should You Implement a Cross-Selling Strategy?
It might seem pushy to showcase other products when a customer first buys from you, but consider it from their perspective. By giving them a preview of other services that might benefit them, you're offering an extra slice of value–who doesn't want that?
1. It's Easier to Sell to An Existing Customer
Here's some food for thought: the probability of selling to an existing customer is 60-70%, while the probability of selling to a new customer is just 5-20%. Once a customer has invested in your product or service and experienced the value it offers first-hand, it's much easier to pitch them on other products you offer.
On top of this, you already know a bit about the customer. You know how they use your product, you know what they like and dislike, and you have a better understanding of their needs. This means you can pitch cross-sells that are highly relevant to their goals.
The cross-sell you offer should relate to where each specific lead or customer is in their lifetime with you. While it's easier to sell to an existing customer than a new one, it's also much easier to sell a relevant cross-sell than a generic one.
This is where lead scoring comes in handy. You can assign each customer a score based on the actions they've taken with your brand and how engaged they are, which will determine what kind of cross-sell offer they receive.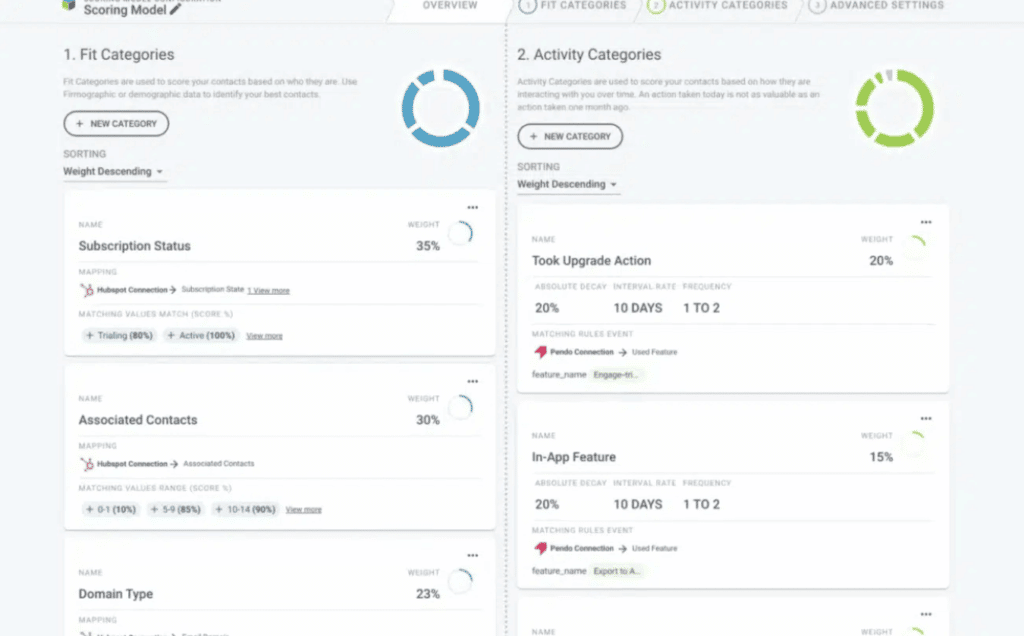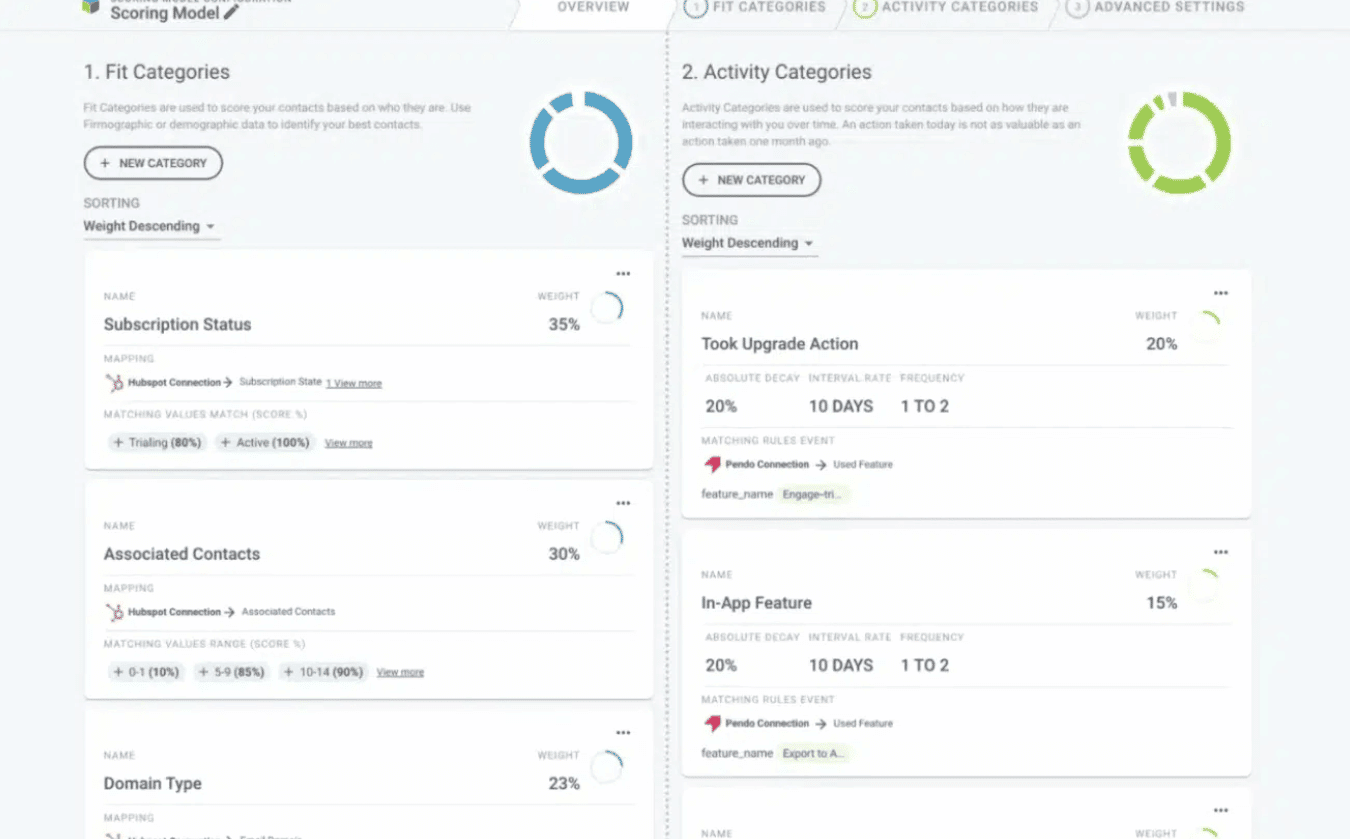 2. It Secures Customer Loyalty and Improves Retention Rates
Customer loyalty is key for improving LTV and cementing your brand as an industry expert. Having a cross-selling strategy shows you understand your customers' wants and needs and are able to provide them with excess value.
When you're able to do this, they don't feel the need to shop around and go elsewhere, so they're far more likely to stick around for the long haul.
3. It Boosts CAC and LTV
Customer acquisition cost is a crucial metric for B2B brands. If the cost of getting a new customer outweighs how much they give in return, you're quickly going to find yourself in the red.
However, cross-selling relevant products and services slowly increases the lifetime value of a customer, making their acquisition costs far more justifiable.
4. It Personalizes the Customer Experience
Customer experience is one of the most important parts of business today, and personalization plays a huge role in it.
Not all customers are the same, and each will have a unique set of challenges and pain points they're up against. Cross-selling relevant products and services creates a bespoke experience that ties into their individual needs, creating a personalized and enjoyable customer experience.
5. It Gives You Access to More Customer Data
The more products customers buy, the more data you have—simple. When a customer buys one product, you only have data on that purchase. However, if they go on to purchase a cross-sell, you have extra information about the products they're interested in, how much they're willing to spend, and other important information you can use to target future customers.
Reveal is a powerful tool that collates data from various platforms to create a comprehensive, 360-degree view of your customers. Having this extra data will help the tool's machine learning capabilities deliver more accurate results on who your best leads are. It can then analyze the attributes of these leads to determine what they all have in common.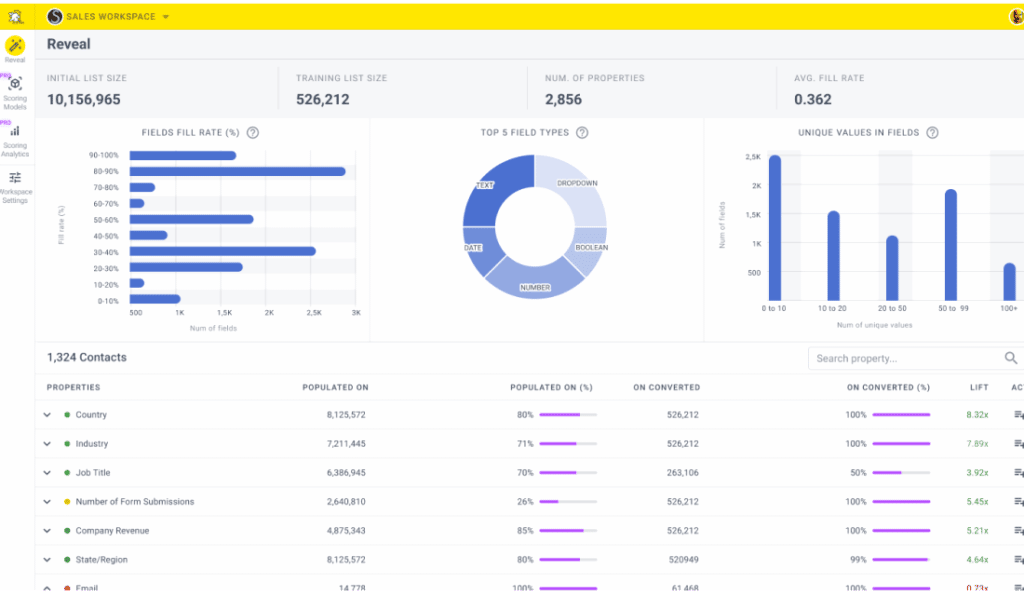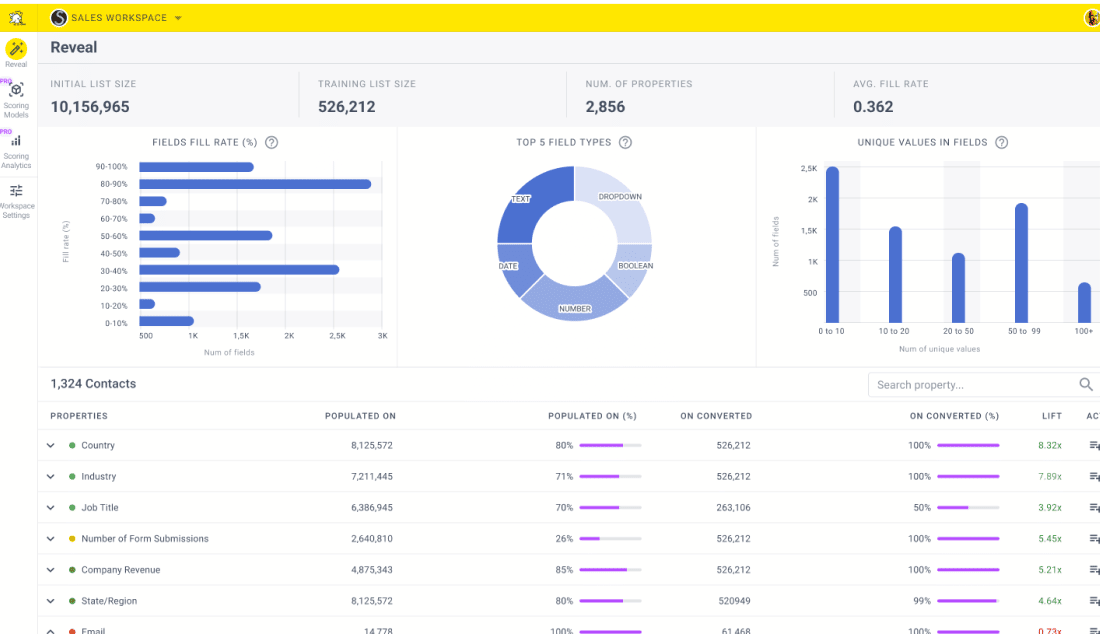 How to Create a Successful Cross-Selling Strategy
Creating a successful cross-selling strategy that reaps all the benefits mentioned above, you need to have a good understanding of your customers and how your products fit into their journey. A successful cross-selling strategy hinges on the products you cross-sell and whether they're a good fit for your leads.
1. Build Out Buyer Segments and Personas
Having a full understanding of your different audience segments means you can promote cross-sells that align with each segment's needs. Dig into the data you have available, interview your best customers, and track user journeys to look out for:
Preferred products and services
How different segments use your products
The top challenges each segment faces
What extra value each segment might need
Do this for each persona or buyer segment and map your products and services to each of them. This will enable you to personalize interactions with existing customers as they have come to expect from you.
Top tip: tie your cross-selling strategy to signals. As you continue to market products and put things out into the world, you'll start to pick up on the signals from each segment. 
Here, time is of the essence. A scoring tool like Breadcrumbs, that incorporates time (aka not only who but also when) can help you cut through the noise and allow you to reach out to the right person at the right time.
For example, a relevant buyer might be engaging with you about a specific product, and you might assign them a certain revenue score based on their interactions. Once you introduce the time variable, you'll be able to see when they are engaging with you, and you can time your ask with that person or another lead in the same enterprise company and provide a holistic experience to the entire account.
2. Explore Your Options
Cross-selling requires a deep understanding of each account and what else is out there in the market. The key lies in determining how your customers perceive your solutions, what competitors are also selling to similar accounts, and what brands are disrupting the market.
Brands that have success with cross-selling get the timing right and are aware of the bigger picture–that is, they understand the other products their customers are using in tandem and are aware of what's trending at any given time.
You can do this by:
Tracking customer feedback and identifying any points of improvement
Exploring channel partners' vendor preferences
Watching what competitors are doing and tracking their movements
Keeping an eye on emerging disruptors and their offerings
Identifying other products your customers are likely to use and understanding how they fit together with your product or service
If you can monitor these things, you can make quick changes to your messaging and execute time-sensitive sales outreach. You can also feed this information back to other departments, including marketing teams and sales personnel.
Reveal does a great job of bringing together key data points from all your lead-gen sources. Once you know what cross-sells work for one market segment, you can be confident that those types of cross-sells will work for leads that share the same attributes.
3. Create and Promote Well-Aligned Content
Chances are your customers found your business via different channels. One account may have run a Google search and come across your brand, while another might have been the result of a recommendation.
It can be tricky to keep track of all these channels and provide a consistent experience on all of them, but it's critical if you want to succeed at cross-selling. Customers today have it easy: they can research competitors in a couple of clicks, get side-by-side comparisons from industry experts, and leverage instant chat to tackle any objections.
Creating content for each potential customer touchpoint that's relevant to the wants and needs of segments that are likely to be using those channels makes it far easier to promote additional products.
Getting the messaging right at each stage of the journey and on each channel can help create a friction-free cross-selling process.
So what does this look like in action? It might include:
Sharing blog posts on various segment pain points
Providing a demo of a cross-sell product to existing customers
Supplying your sales team with ebooks and videos that show how your products work for different challenges
Creating case studies that highlight different segment needs
Breadcrumbs Reveal analyzes your existing marketing, sales, and product data to determine what actions customers have taken that had led to revenue. You'll soon find out if a chatbot led to a high number of cross-selling sales or if it was a resource in your knowledge base. This will help fuel your cross-sell content strategy moving forward. Grab your free account today!
4. Keep It Consistent
The last thing you want is to confuse your customers with too many cross-sell options.
If the experience across different channels isn't integrated in any way, customers will receive different messaging and responses across their journey. This might mean they get different cross-sell offers that aren't aligned with their unique needs, which dramatically decreases the chance of them investing.
Avoid this by setting up a framework that outlines and maps the required content customer segments might need at different points in their journey.
For example, a two-person marketing company probably doesn't want a demo for enterprise companies, but they might want to read a couple of case studies about small businesses that have succeeded.
5. Use Lead Scoring to Promote the Right Cross-Sells
Knowing what cross-sells to deliver to which customers is one of the biggest sticking points of a cross-selling strategy. Get it wrong, and you can quickly turn potential customers off. Get it right, and you can turn one-time buyers into lifelong fans.
Use Breadcrumbs to score leads on a variety of attributes and actions and use this to determine which offers to share. For example, a customer who has upgraded multiple times with you and has a high lead score is more likely to invest in a cross-sell that requires a bigger investment. On the flip side, a lead who has signed up to your most basic tier or has a relatively low lead score probably won't be interested in a costly cross-sell that they aren't ready for.
The information gathered through Breadcrumbs will help highlight the different types of leads and allow you to determine what level of cross-sell is most appropriate for each of them.
6. Track, Measure, and Test
Like any strategy, your cross-selling strategy can change over time. It's important that you track its results to see what's working and what's not and tweak it accordingly.
Start by establishing your goals with your cross-selling strategy: what do you want to achieve? What would success look like for you? Is your goal to add value to the customer experience, improve LTV, or simply increase product awareness?
Once you have a goal in mind, map out the messaging and content you'll use to promote your cross-sell options. Consider the content examples shared above, but really try to determine how they fit the needs of your customers. What works for one business, might not work for another and vice versa, so it's important that you track your results.
Examples of B2B Cross-Selling and Upselling in Action
1. Invision
InVision cross-sells its Freehand tool for businesses interested in remote collaboration. They understand how their customers use the tool and have approached existing users with another feature that might be a good fit for their needs.
2. CoSchedule
CoSchedule's HeadlineStudio product promotes a limited-time upsell offer that existing users might find useful. The ability to upgrade to Pro provides customers with extra features that might be beneficial to their unique needs.
3. Evernote
Evernote promotes its Premium and Plus subscription levels to customers that have been using the tool for a while. It pitches the additional features that may be handy to existing customers and also offer a discount if they snap up the deal quickly.
4. Moo
Moo promotes its rounded-corner product to existing customers who might not have considered it an option. Existing buyers may well have invested in a number of Moo's other products, but the brand promotes this option as a fit for customers with a specific pain point.
5. Made By Source
Made By Source cross-sells its latest product to existing customers. Not only does it tie into a specific customer segment's wants and needs, but it also provides a discount if users invest in the deal right away.
6. Skillshare
Skillshare cross-sells different courses based on an existing customer's previous buying behavior and their interests. It uses their unique wants and needs to promote courses that are specific to them.
Ready to Start Cross-Selling?
A cross-selling strategy can be very powerful that can add tons of revenue to your brand and increase customer loyalty at the same time – there aren't many tactics that can do both of those things at once.
The key is understanding who you're selling to and creating bespoke cross-selling opportunities to pitch to each audience segment. Doing so will nurture relationships with customers on each account and create an enjoyable customer experience for all buyers.
Get insights into your existing customers and start revenue-scoring your interactions with Breadcrumbs. Book your free demo today.