Words are powerful.
The right ones grab customers' attention, stroke their curiosity, and start a sales conversation.
Whereas the wrong ones rub them up the wrong way and… well, turn them away.
If you've always struggled to find the right words to hook prospective clients, you're in the right place.
This guide looks at six successful sales pitch examples featuring startups across industries. From cold emailing a prospect to following up with a radio silent lead, you'll find everything you need to fill your sales pipeline to the brim.
What is a Sales Pitch?
A sales pitch is a written or verbal attempt to convince customers to buy your product or service.
Quick reminder:
Ensure that you're pitching to your best customers today with a tool like Breadcrumbs Reveal.
Here's how it works:
Connect all your data sources with Reveal
Choose the customer segment that defines success (e.g., paid customers on the Pro plan)
Set it live
Breadcrumbs Reveal will analyze your existing customer data to highlight the specific attributes and actions that bring you revenue.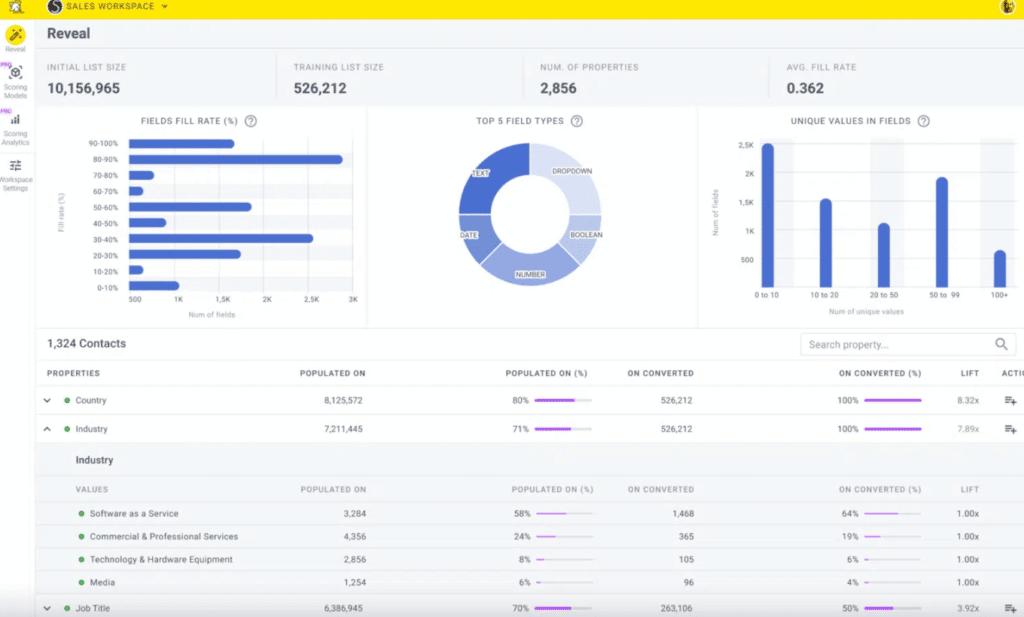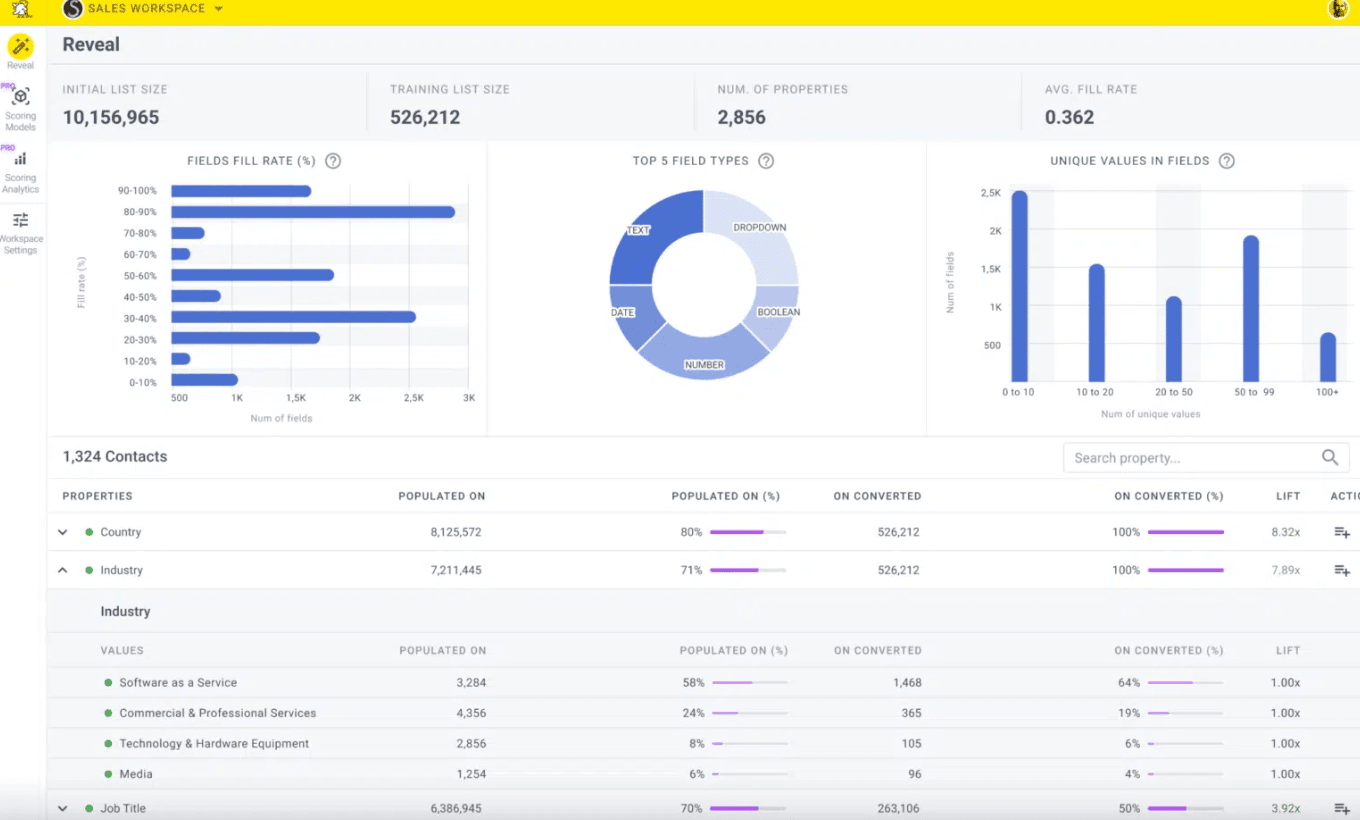 Review this data to identify your best prospective buyers today. Create your free Reveal account here.
6 Sales Pitch Examples to Steal Today
Persuasive pitches captivate, start conversations, and win profitable deals. These six sales pitch examples and tips show you how to get them right:
1. Highlight your wins
Customers work with brands at the top of their game, so use this opportunity to display the results you've delivered.
HelpCrunch is an all-in-one customer communication tool. It does an excellent job of highlighting its revenue growth from sales demos when pitching to prospective buyers.
Note how its sales development representative (SDR) draws attention with their achievements (e.g., doubled number of demos within three months) in this cold email.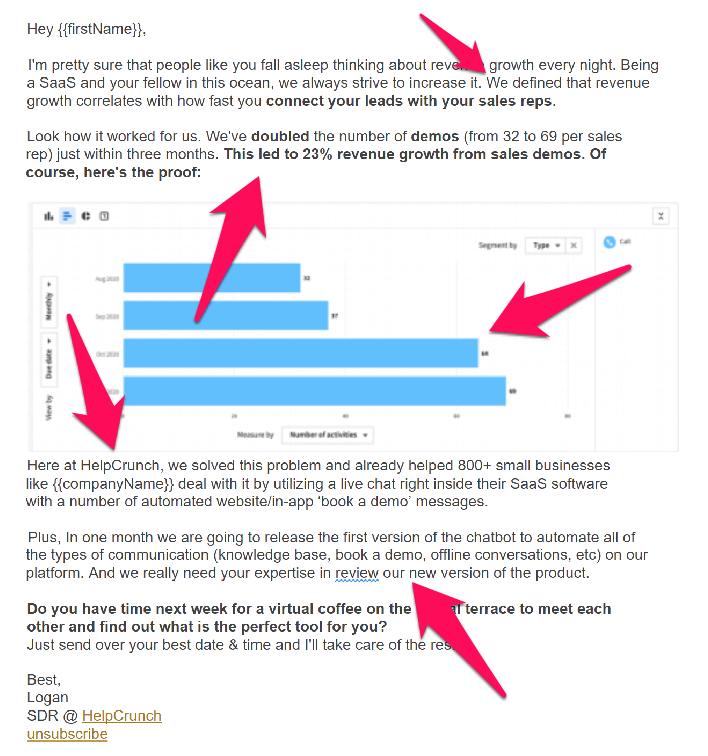 There are several reasons why HelpCrunch's cold sales pitch stands out in an inbox crowded with generic email pitches.
Here are five reasons:
(i) It positions itself as an expert. HelpCrunch's bold statement on how revenue growth correlates with the speed of connecting leads with sales reps shows its expertise on the subject.
(ii) It displays the stunning results it achieved with a screenshot as visual proof.
(iii) It emphasizes the key points by bolding them. The easier it is to skim through, the more likely the prospective buyer will engage and respond to the pitch.
(iv) It namedrops the companies it's worked with as additional social proof.
(v) It makes prospects feel valued. The sentence "… we really need your expertise to review our product" recognizes the prospect's authority and makes them feel like a trusted expert.
Key takeaway for this sales pitch examples #1: It's all about striking a balance. Make your prospects feel valued, while positioning your product as an irreplaceable solution.
2. Offer an irresistible trial
Free trials allow prospective customers to try a product with little to zero investment upfront. Unlike demos, prospects don't need to go through multiple hoops to experience the product first-hand.
Out of the six sales pitch examples in this list, Force by Mojio's by far the most compelling.
Not only does it offer a 30-day free trial, it also provides hardware tools at zero cost. Even if the product ends up being unsuitable, prospects can return them without paying a single cent.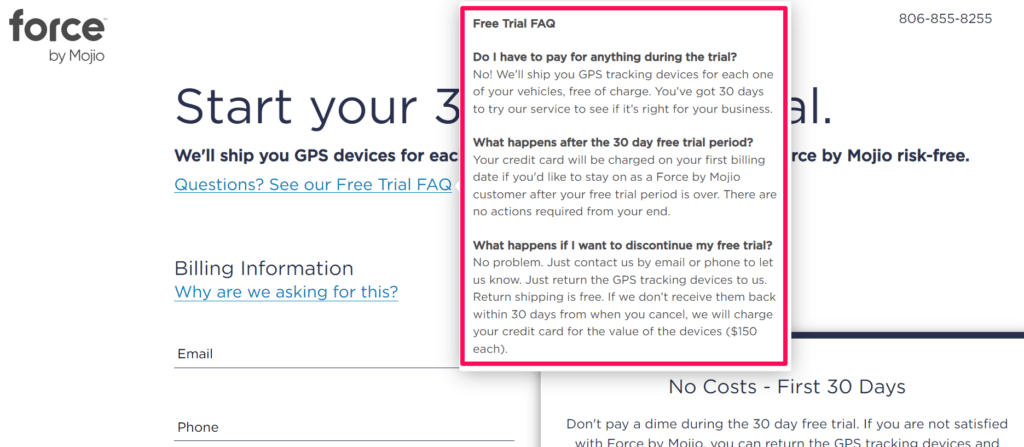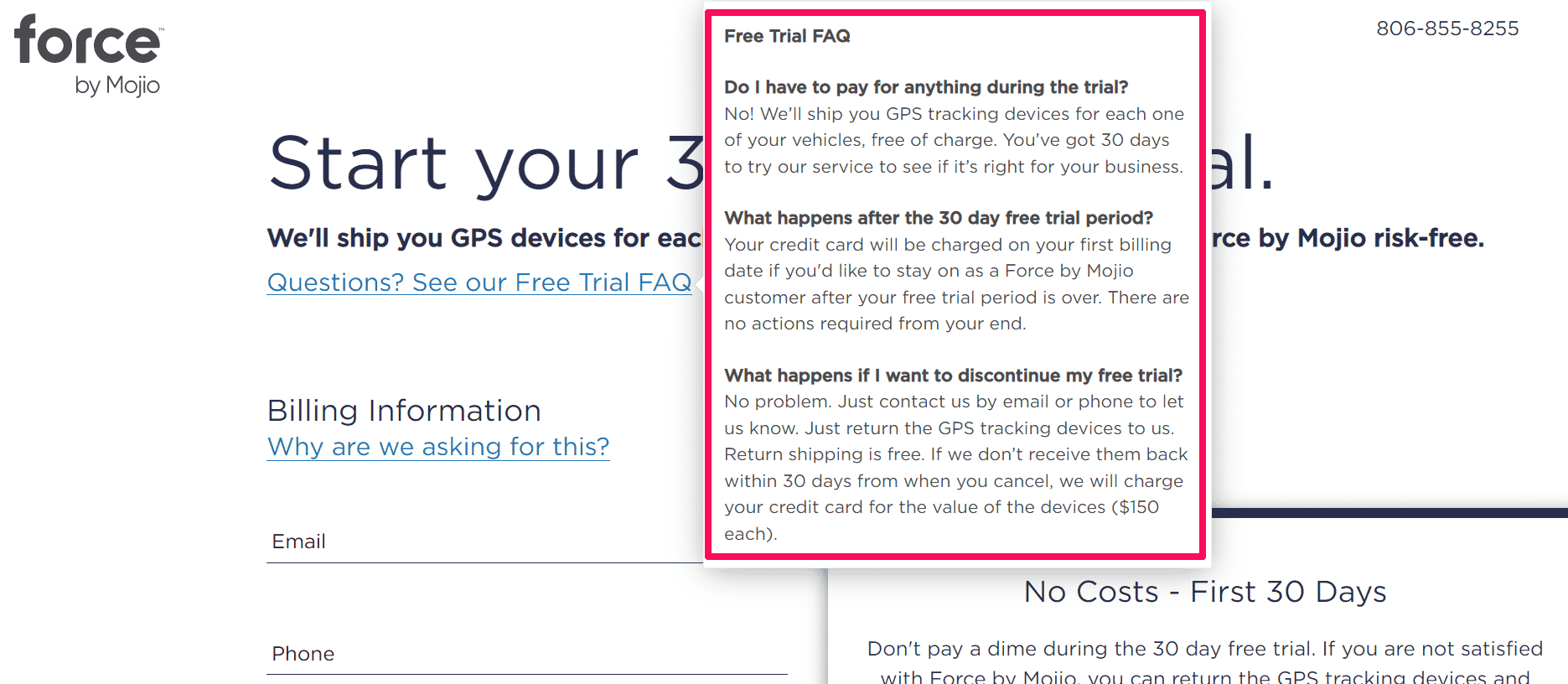 The startup squashes potential customer objections with its FAQs. Notice how it assures prospects on the fence that they have nothing to lose (see above).
How to improve it: Note that the FAQs only pop up when you hover the anchor text. If you want to replicate Force by Mojio's strategy, consider shifting the FAQs to a more obvious position and conduct an A/B test to see which works best. 
Not having to pay for the hardware tools, shipping, and return shipping builds brand trust and persuades prospective buyers to try the GPS fleet tracking app.
Force by Mojio's powerful unique selling proposition (USP) stands out by a thousand miles.
Key takeaway for this sales pitch examples #2: Lead with your USP in the initial sales pitch to set your product apart from competitors in your space.
3. Agitate the pain
The PAS formula is one of the most effective copywriting techniques.
PAS, which stands for Problem > Agitate > Solve, opens with a pain point, pokes at it till it hits an emotional chord, and presents a solution to the agitated problem.
Jestor uses the PAS copywriting formula in its email sales pitches (note: it's not in order, but in this case, it works just the same).
After customizing the first paragraph for each prospect, it segues to a problem faced by the industry ("manage everything by spreadsheet") and agitates it ("ends up delaying the sales cycle and distribution"):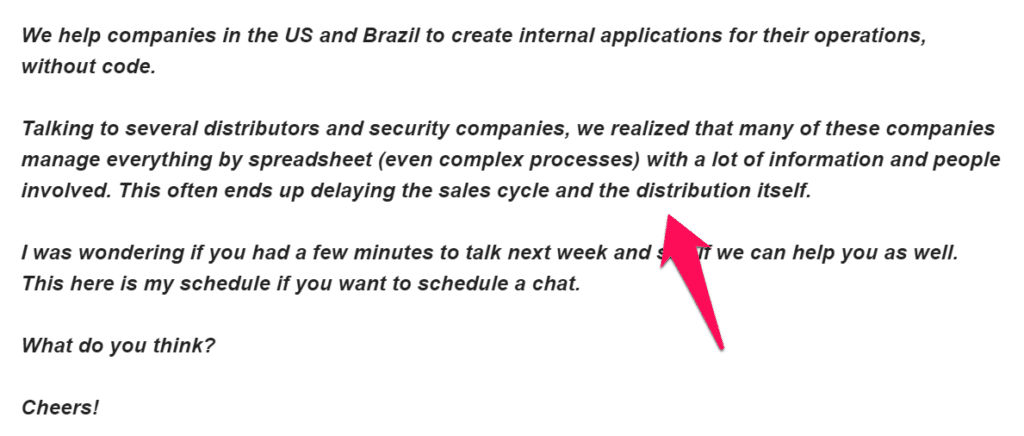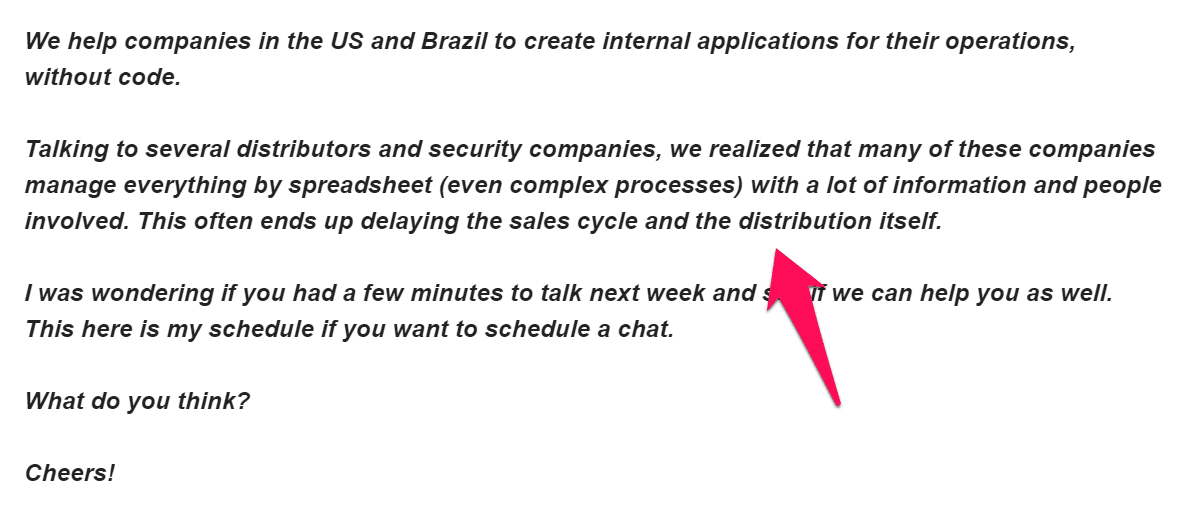 Jestor brings its prospects' pain points and deepest desires front and center, proving that it understands what they're going through.
Key takeaway for this sales pitch examples #3: It's not enough to identify your prospects' challenges in your sales pitch. Agitate these pain points to drive home the message before positioning your product as the solution.
4. Trigger urgency
For one entrepreneur, creating a sense of urgency raised his conversation rate from 3.5% to 10%.
That's not too shabby for a seemingly minor change.
SP Home Run Inc., an agency for SaaS companies, uses a similar strategy in its sales pitch:
"This [Date], we're finalizing our [Month]'s [Training, workshop, or consulting] onboarding schedule. Let me know before the weekend if you want to be on it."
Joshua Feinberg, the CEO, reveals to Breadcrumbs that he uses the pitch only for engaged prospects:
"The sales rep has uncovered a strong need in the exploratory process and recommended a certain course of action. However, for a multitude of reasons, the momentum of the deal becoming closed-won stalls there—until this follow-up email."

Joshua Feinberg, CEO of SP Home Run Inc. on when he uses the sales pitch
SP Home Run Inc.'s follow-up strategy pushes right-fit clients over the finish line without discounting.
A gentle note of caution: This follow-up pitch probably won't work with prospects who didn't read your first sales email. Experiment it with prospects who showed engagement early in the buying decision process but have gone MIA. It might just persuade them to respond.
Key takeaway for this sales pitch examples #4: Urgency shoves prospects to act. Leverage the fear of missing out (FOMO) in your sales pitches. It's a powerful way to persuade them to respond stat.
5. Make your case with a case study
Trust recommendations, whether it's a video case study or written testimonial, beat other marketing channels—so much so that 47% of SaaS companies shared that it increased sales the most.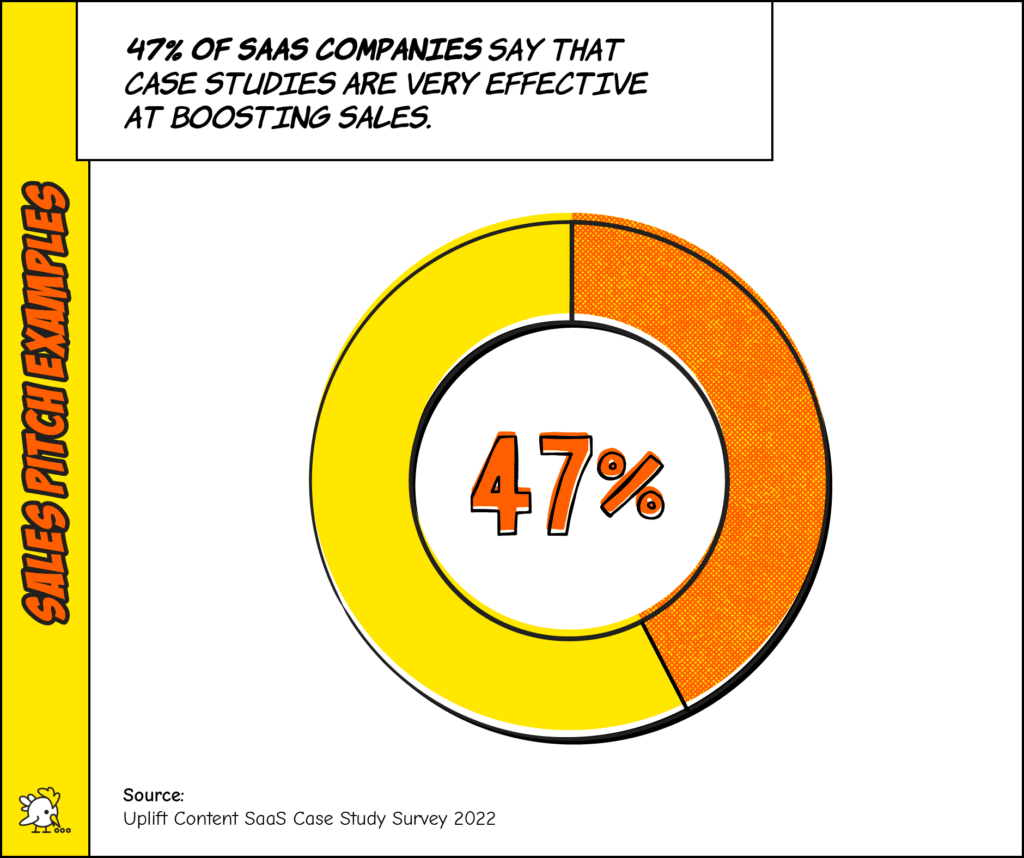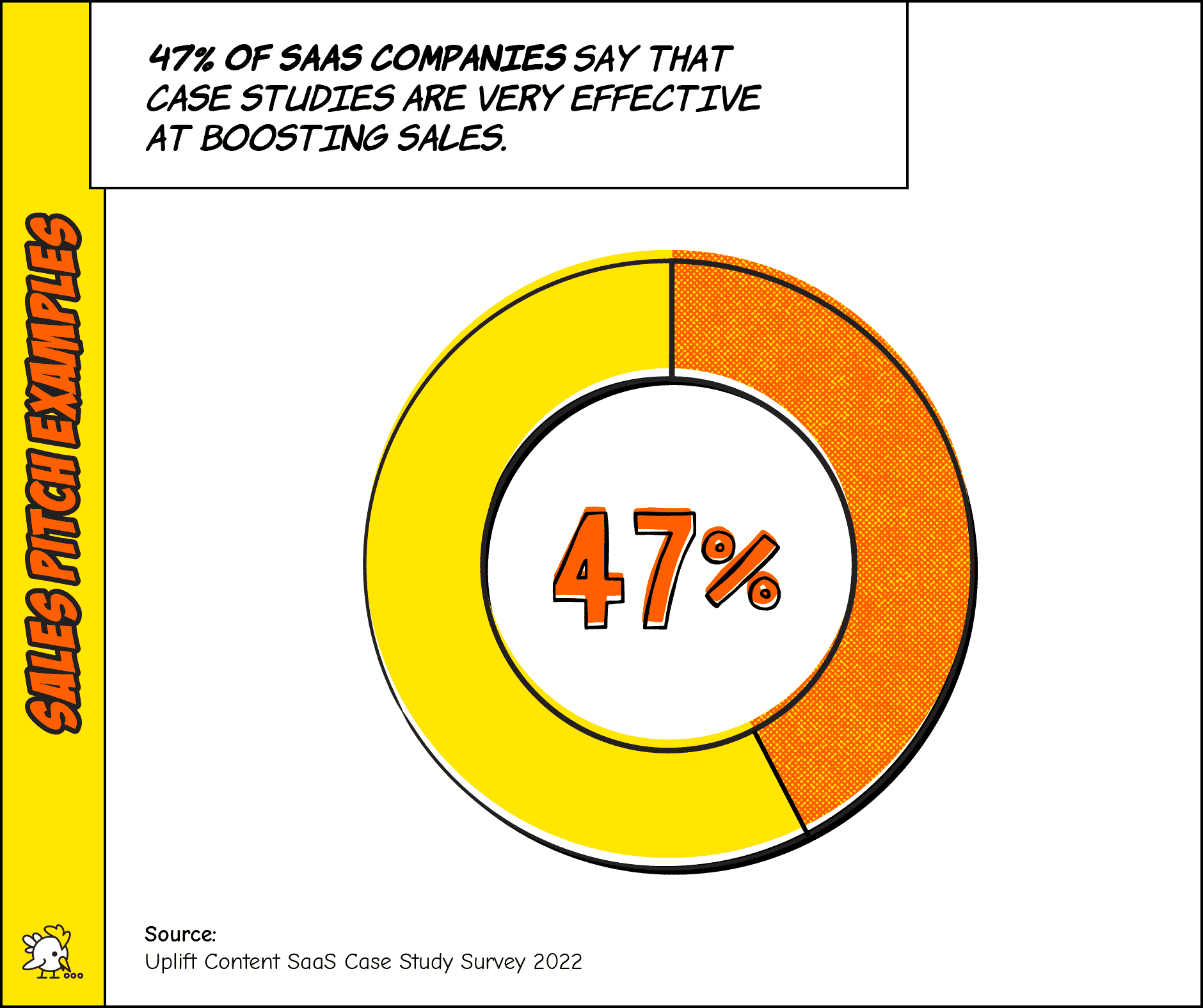 Earlier on, we saw how HelpCrunch instantly grabbed attention with its track record in a cold email pitch. You're probably wondering, what if prospects don't respond?
Here's how the startup tackles it: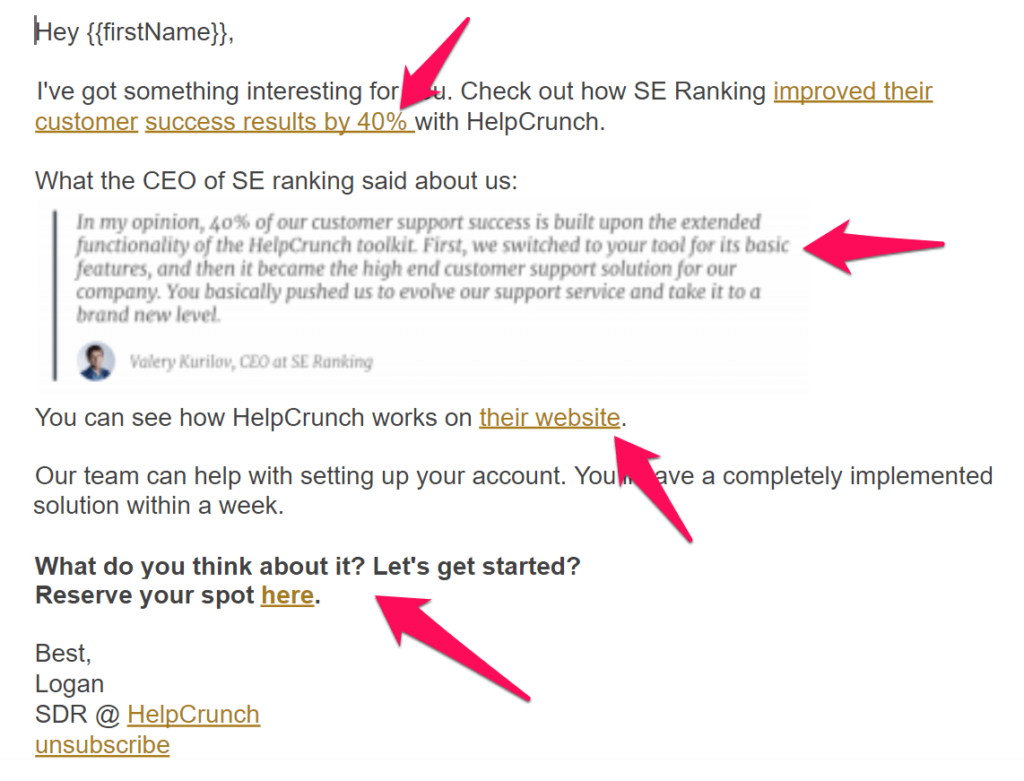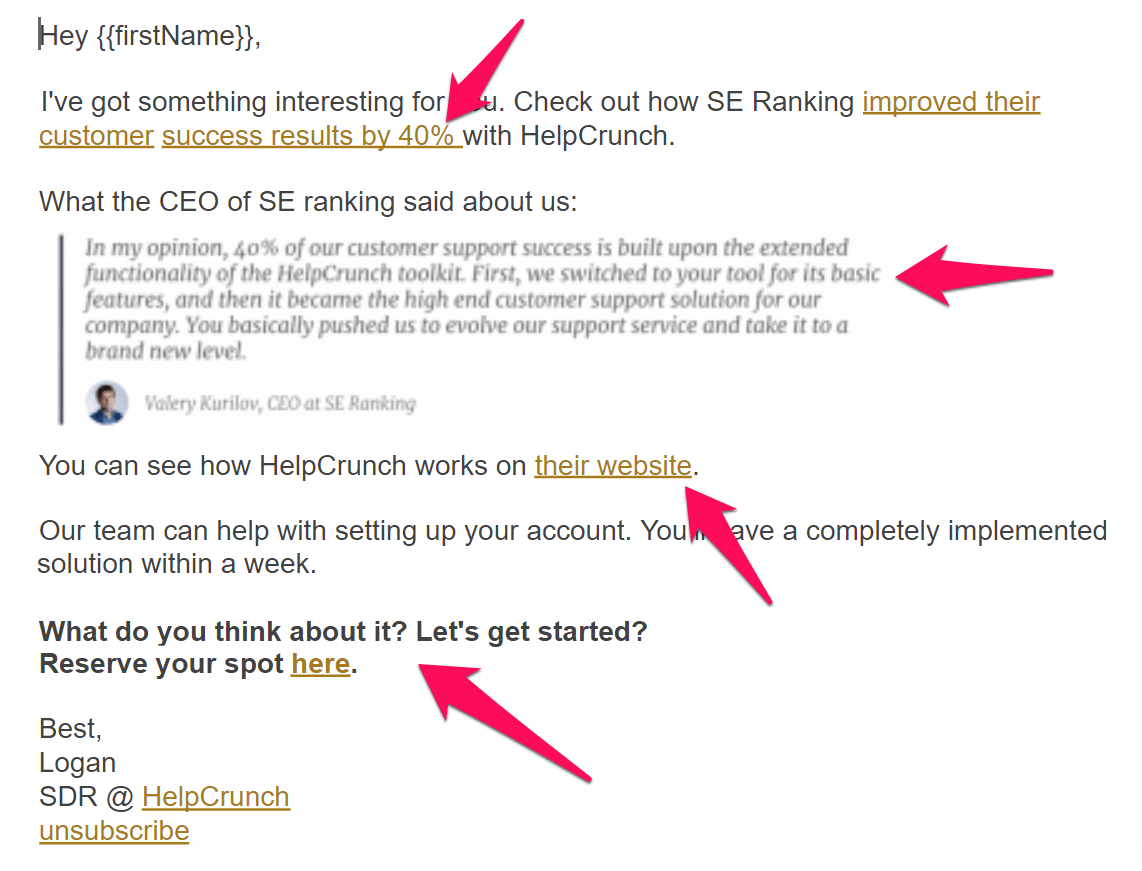 Here's why it makes an effective sales pitch:
It opens with an impressive outcome ("… improved their customer success results by 40%), instead of burying it in the email
It convinces skeptical prospects with a testimonial featuring the CEO of an established company AND how they use the solution on their website
It ends with a hard-to-miss call to action
Key takeaway for this sales pitch examples #5: Case studies act as a powerful sales engine. Rather than blatantly talking about the benefits of your product, let your customer stories do the talking.
6. Embrace soft sells
Unlike hard sells, soft sells take on a subtle and relationship-focused approach to selling. Consider the pitch below:
"We're seeing great results with [Product used by a non-competing client in a similar industry]. Are you interested to know more about it?"
Customers are more receptive to casual, soft-sell pitches.
This lets you pitch in a non-pushy way and intrigues them with new information—and even possibly reignites those once stale sales conversations.
Key takeaway for this sales pitch examples #6: Soft-sell pitches work great on customers, even though they can delay the sales cycle. For best results, use these pitches on engaged customers. 
You can use a contact scoring tool like Breadcrumbs to identify these engaged users.
Breadcrumbs is a co-dynamic revenue acceleration platform that gathers your product usage data and website activity in one place. It helps revenue teams understand the customer journey and unearth hidden revenue opportunities.
To identify your top users, follow these steps:
Connect your CRM and in-app platform with Breadcrumbs
Determine what makes a sales-qualified lead (e.g., uses product every day + visits pricing page on website within 3 times a week)
Set the scoring model live
Breadcrumbs will send all scoring information to your CRM. Whenever a lead hits or crosses the sales-qualified lead threshold, Breadcrumbs will notify you of the sales opportunity.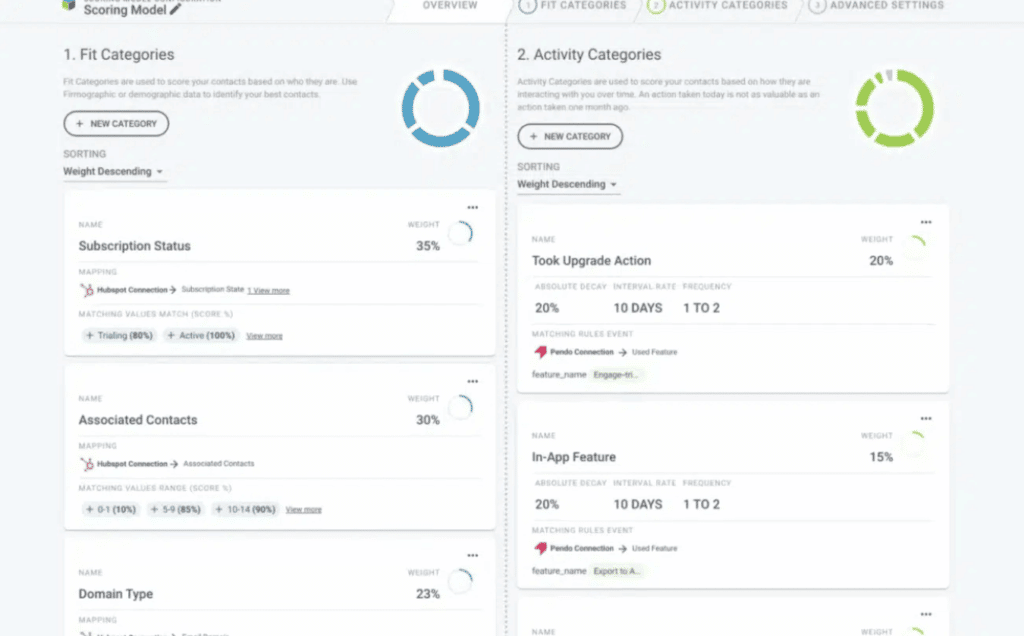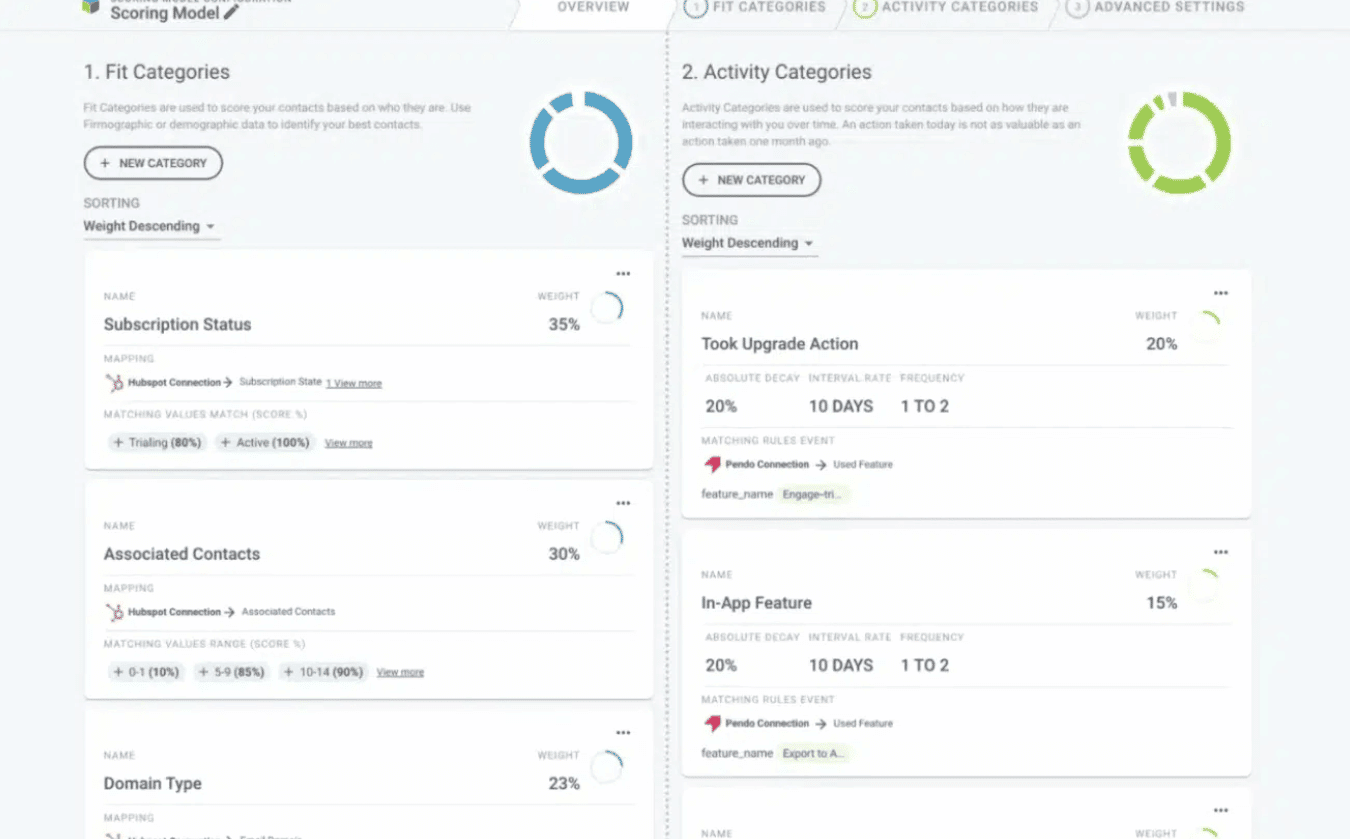 Since you can quickly identify sales-ready leads, this eliminates guesswork for you and the sales teams.
Use our contact scoring tool to locate prospects down in the funnel and send them a soft-sell pitch.
Breadcrumbs also works for cross- and upselling customers and at-risk users. Book a 30-minute demo with us to close more sales deals today.
How Do You Write a Sales Pitch?
Using the tips explored in this guide, we might turn a fluff sales pitch from:
"Our SEO platform helps you get found online."
… to:
"Based on our research, we learned that businesses like yours are concerned about competitors overtaking their top spot on the SERPs. That's understandable, as top-ranking posts attract most of the clicks [Agitate pain].

This is where our SEO platform may help.

Our backlinks feature identifies the websites that link to your competitors and helps you replicate their success. Our client has been using it for a few weeks and has increased its number of backlinks by 76.9% [Highlight wins and case study]. 

We're currently offering a 60-day free trial [Irresistible trial] for the first 100 customers [Urgency]. Are you interested in signing up? [Soft sell].

Note how personalized it is and note again how it speaks to the prospect's specific pain points. This sales pitch example may be longer than you're used to—and it works.
After sending your perfect sales pitch, it's time for a fun read: 5 Moods After a Sales Pitch.
Write the Perfect Sales Pitch Today
Now that you've learned these six sales pitch ideas, it's time to put them to practice.
For best results, use a tool like Reveal. Our tool analyzes the specific actions and attributes that bring you revenue, identifying your best customers today and unlocking revenue acceleration.
Breadcrumbs gathers your product analytics and email and website activity in one place. Book a 30-minute demo with us to close more deals today.