Data is everything to businesses in 2022. We thrive on it. We love it. We created a lead scoring tool entirely to help businesses interpret contact data to better convert customers, so you know we're all about it.
In order to help our customers identify high-value and high-potential leads alongside upselling and cross-selling opportunities, re-engagement opportunities, and even brand advocate opportunities, however, we need accurate and reliable product data.
There are plenty of great product analytics tools to choose from (and we actually integrate or will integrate with several!). So in this post, let's take a look at six of the best product analytics tools you can choose from in 2022.
What Are Product Analytics Tools & Why You Need Them
Product analytics tools help you to understand how users are utilizing your digital products.
Which features are they using, and how often? Are the free trials or different key milestones being completed? How are different users utilizing the platform?
Knowing that your SaaS tool's customer keeps hitting the top restraints of their plan, for example, is a great time to reach out to offer them a discount on a plan upgrade. And seeing where customers are dropping off in a free trial can help you right the ship before it runs ashore.
This is why it's imperative for SaaS brands to be utilizing product analytics tools. These tools can help you better understand how your users are interacting with your products and how you can improve their experience. They should absolutely be a priority on your overall tech stack.
So without further ado… let's take a look at our most recommended product analytics tools in 2022 and why we love them.
1. Pendo
Pendo is (as their site says) "software that makes your software better."
It's one of our go-to product analytics tools, largely because it's so effective at helping you get to the bottom of what's happening at every stage of your customers' journeys. This includes onboarding, engagement, and in-app support.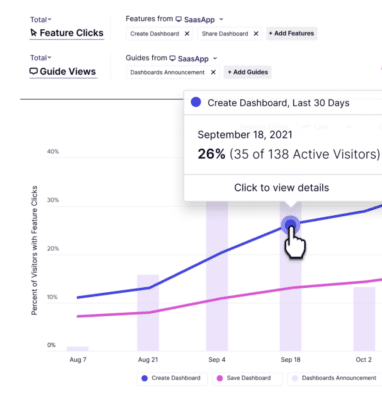 Pendo tracks user engagement and actions across desktop and mobile apps, giving you an expansive range of knowledge no matter how your customers choose to use your software.
Is it taking six clicks for users to find a high-value feature (and many users stop looking after four)? This is the tool that can help you discover that, and assess how to reduce the total number of clicks for those core features to improve usability.
Seeing how to guide customers to better value more efficiently is a huge focus of this tool, and it's an excellent one when you want to improve the customer journey and troubleshoot it at the same time.
2. Mixpanel
Mixpanel, like Pendo, is another top product analytics tool. It has outstanding user segmentation features so you can better understand different types of customer journeys.
In the example below on their website, they showcase what these reports would look like for a tool that had one side of the app meant for rideshare drivers, and one for passengers.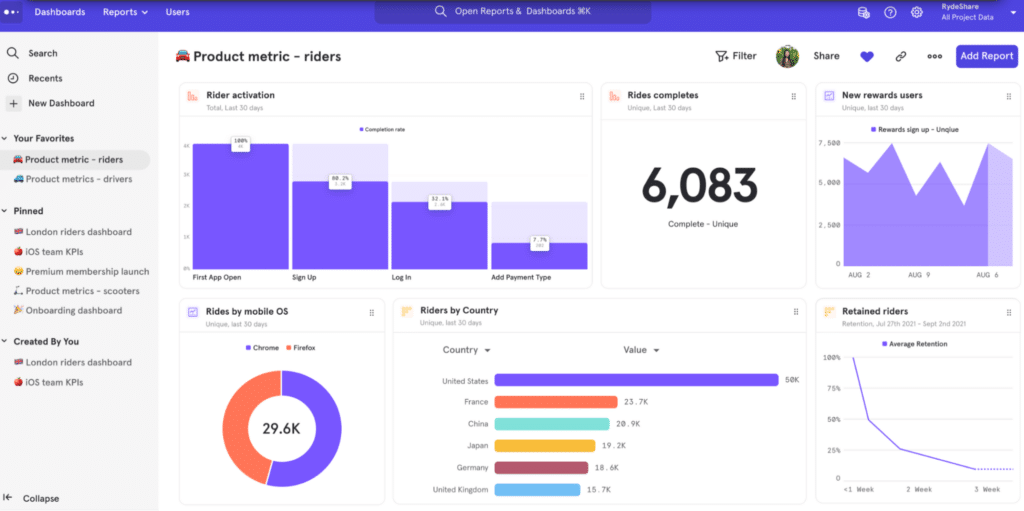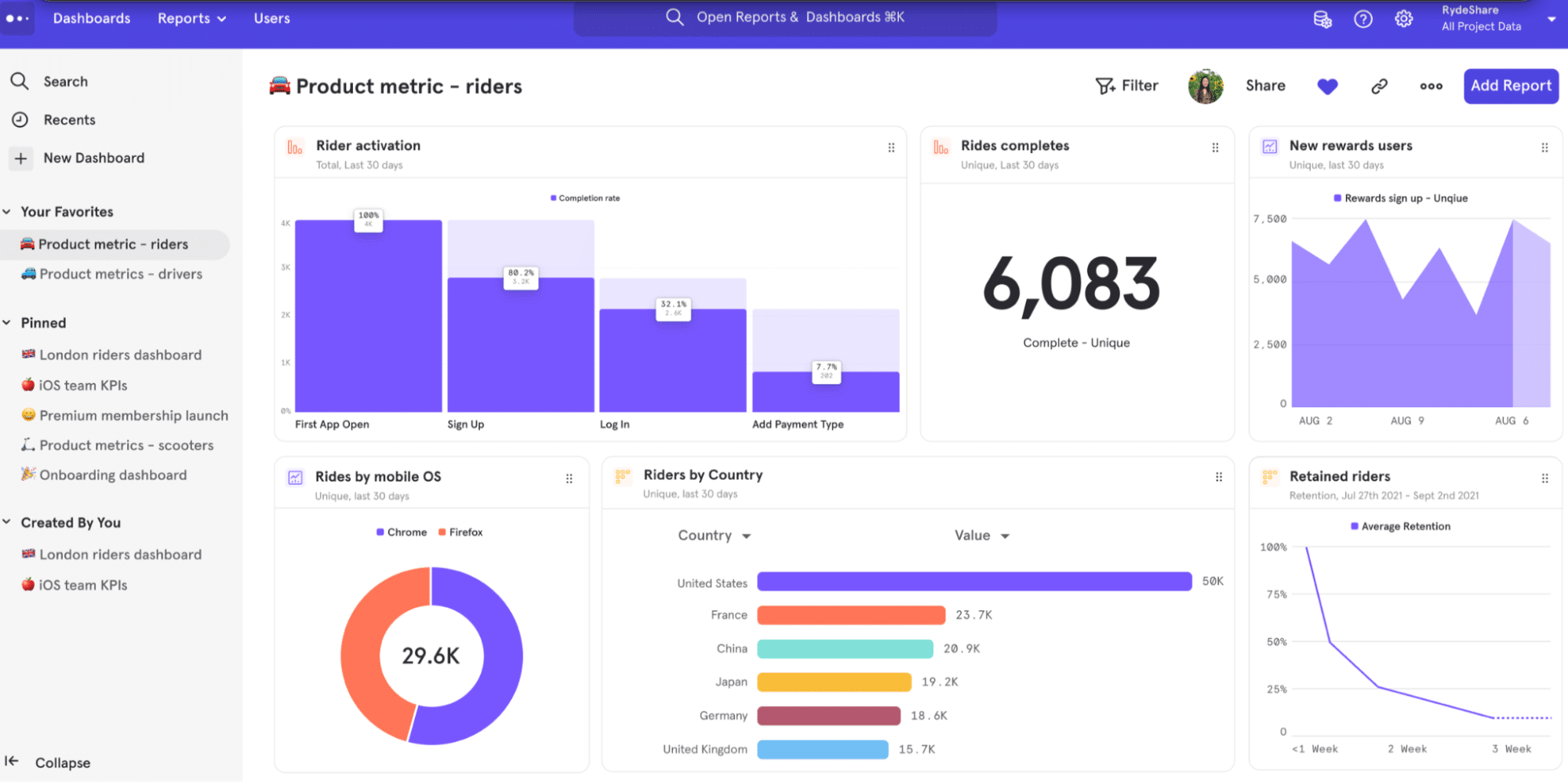 You can track different core metrics effectively here (you might be tracking "add bank information" to pay drivers, for example, and "scheduled first ride" for riders), getting a better understanding of unique customer journeys.
Mixpanel tells you a great deal about your audience and their behaviors. See where they're from, how long they're retaining, and the devices they're using. They can help you determine which features are being used, and at what point of the customer journey. This information is invaluable.
And when it comes to the dashboards and interfaces themselves, Mixpanel is one of my personal favorites. The dashboard is extremely intuitive and easy to navigate, making it easier for you to get the data that you need fast.
3. Segment
Segment is a little different from other product analytics tools on the list. It focuses on capturing information about individual user behavior and pushing it to multiple integrated platforms automatically.
If someone signs up for a trial, your analytics software, sales software, email software, warehouse software, advertising software, and databases will all get up-to-date information immediately.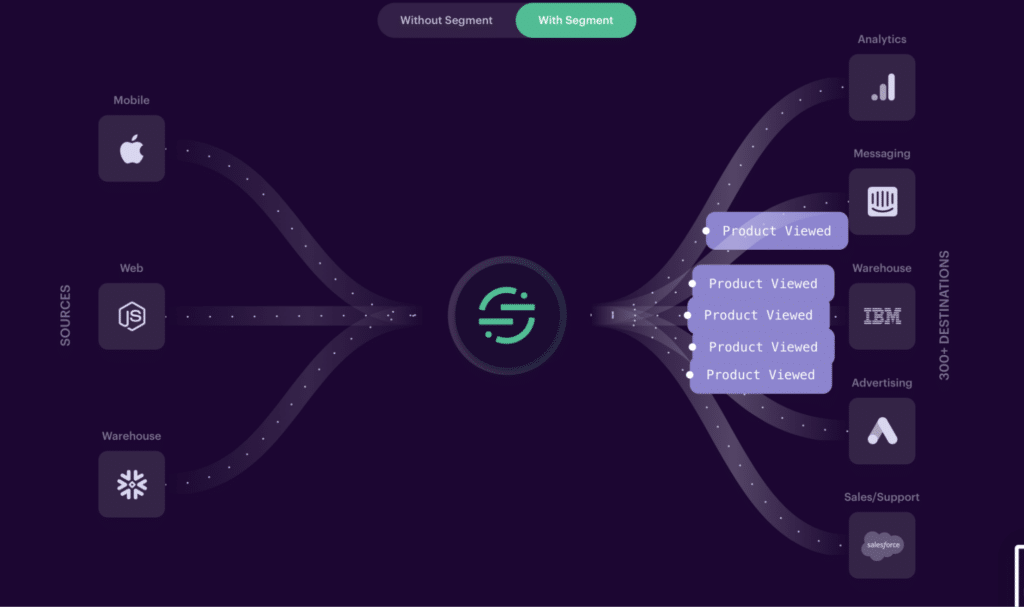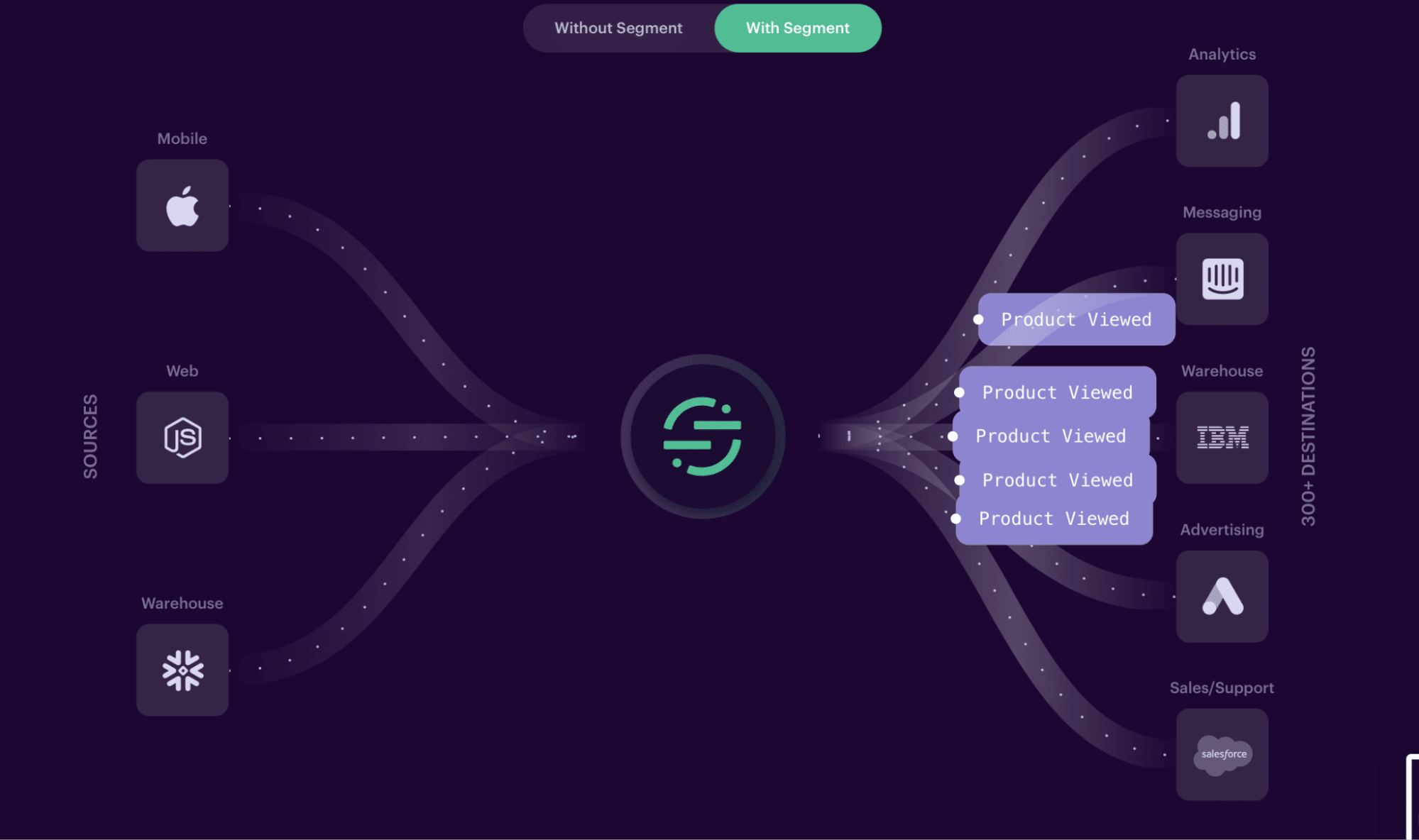 Segment integrates with over 300 different other tools, giving you exceptional flexibility.
This is also a tool that focuses heavily on data hygiene across multiple platforms, which is something unique here. They don't want to just have up-to-date data; they want you to have that data on every other platform, too.
Nothing is ever out of date, whether you're trying to run automated email campaigns to engage cross-sell opportunities or your sales staff is looking to re-engage users before the end of their trial with discounts.
4. Amplitude
Amplitude—which coincidentally integrates with Segment—is all about using product data to amplify growth. (Revenue acceleration anyone?)
They have an exceptional customer journey tracking interface that makes it unbelievably easy to see different paths customers take to conversion; not just how many users are taking each individual action.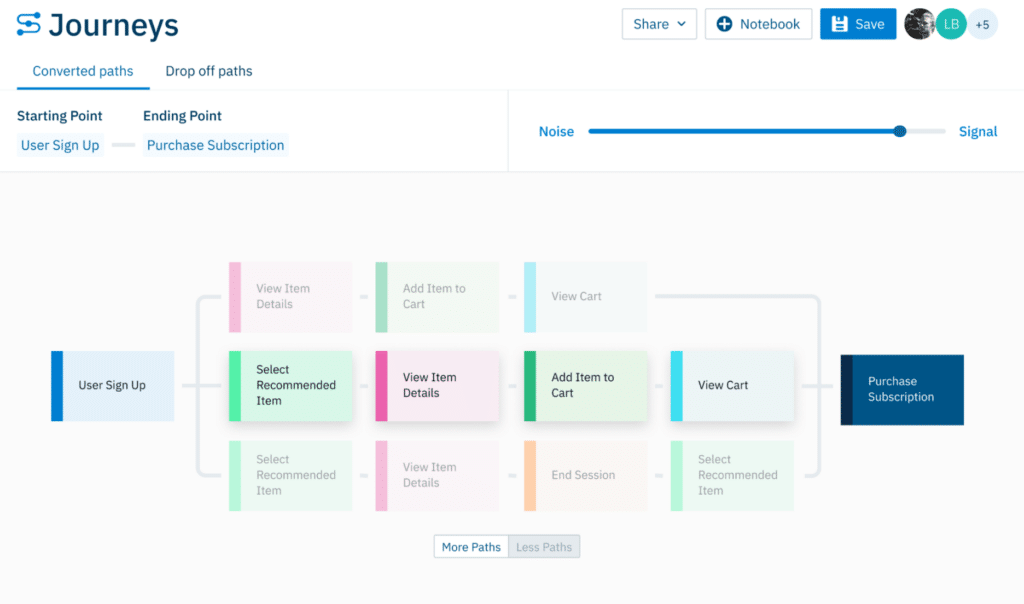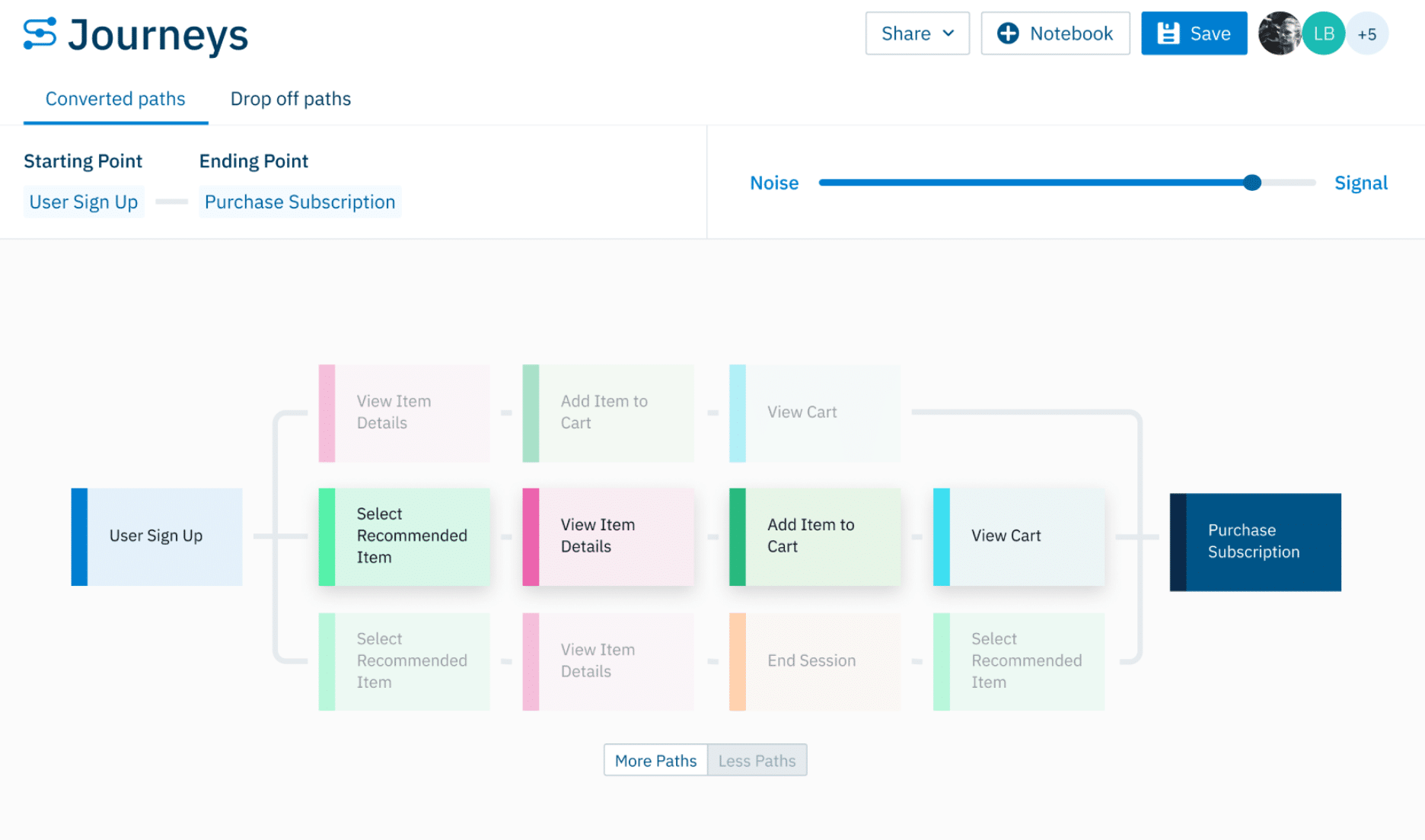 You can see this above, where users start at "sign up" and ideally end at "purchase subscription." There are multiple different paths they can take, and each one is important to recognize and identify.
And they don't just show you converted paths; they have maps that show drop-off paths, making it easy to understand where you're losing users during a free trial and potentially what's preventing them from making it to the point of purchase.
The goal is to focus on which behaviors lead to profitable outcomes from your brand, and then look for ways to optimize the customer journey to increase those behaviors accordingly. This is a great product analytics tool to help with exactly that.
5. LogRocket
If you want an all-in-one tool to understand exactly why your SaaS tool is performing the way that it is, LogRocket is a good one to consider.
They don't just offer product analytic data. They also factor in frontend performance monitoring, which helps you track data like load times and CPU usage.
Then, (my personal favorite), they offer pixel-for-pixel session replays (which give you an entirely accurate reenactment of every user's DOM to identify potential issues while masking their sensitive data).
This data is unbelievably useful when you're trying to determine why some users are having poor in-product experiences and what you can do to resolve it.
And of course, the customer journey tracking software is great, helping you to determine which click events and URL paths are driving conversions.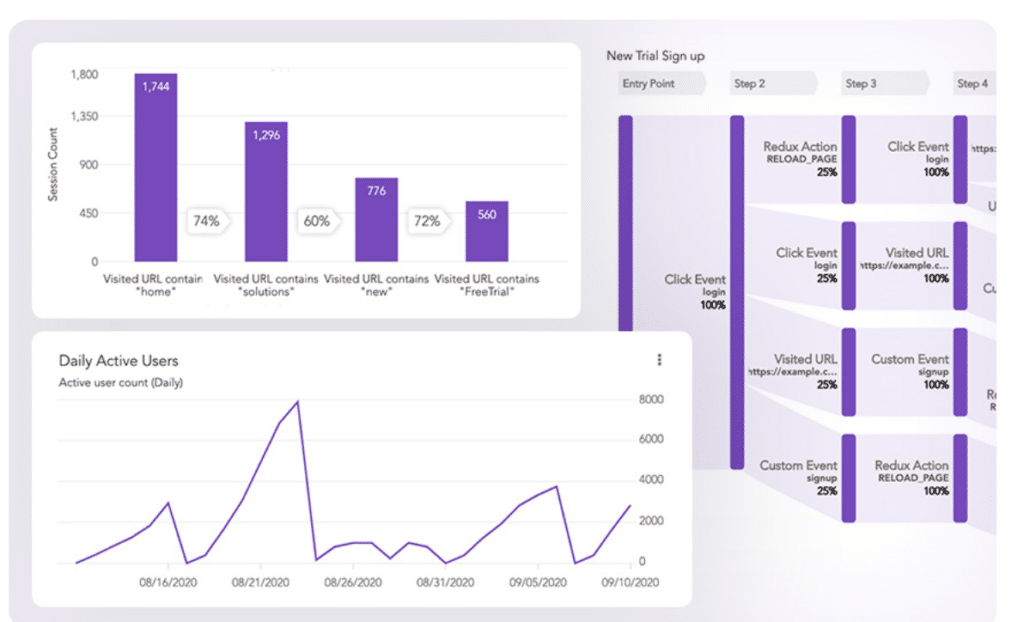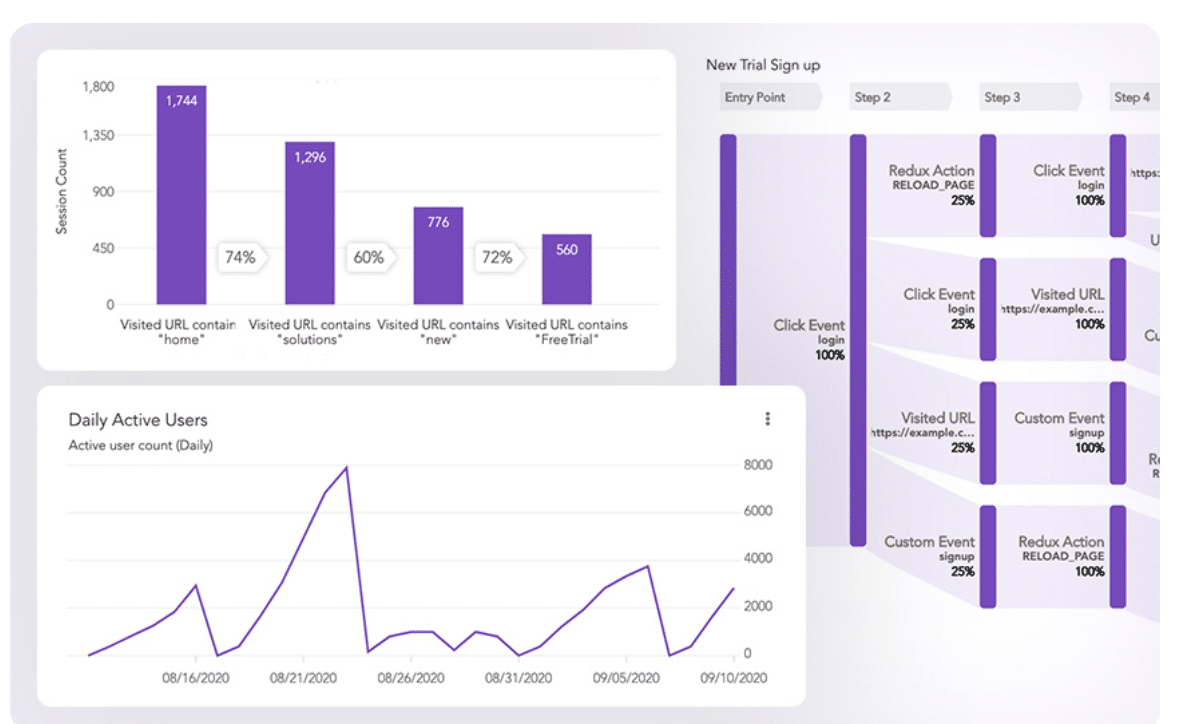 6. InnerTrends
InnerTrends, in my opinion, doesn't have quite as powerful product analytics as some of the other tools that we've looked at so far, but they have two features that are dead useful and worth highlighting: They have an easy guided set-up and prebuilt reports.
You can look through different "questions" to find reports specifically designed to answer them. It's a question-answer-based approach, making it easier for you to quickly interpret the data that you're seeing.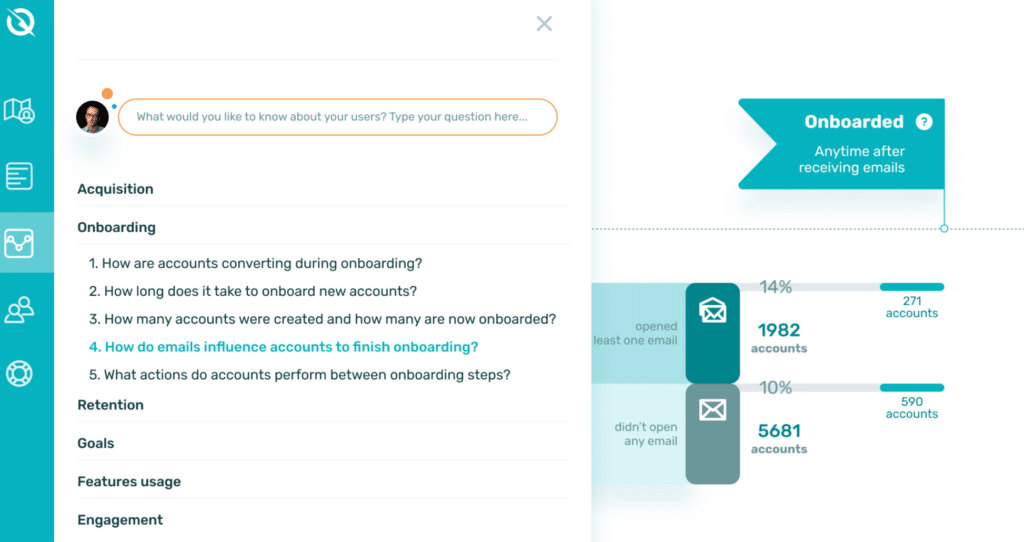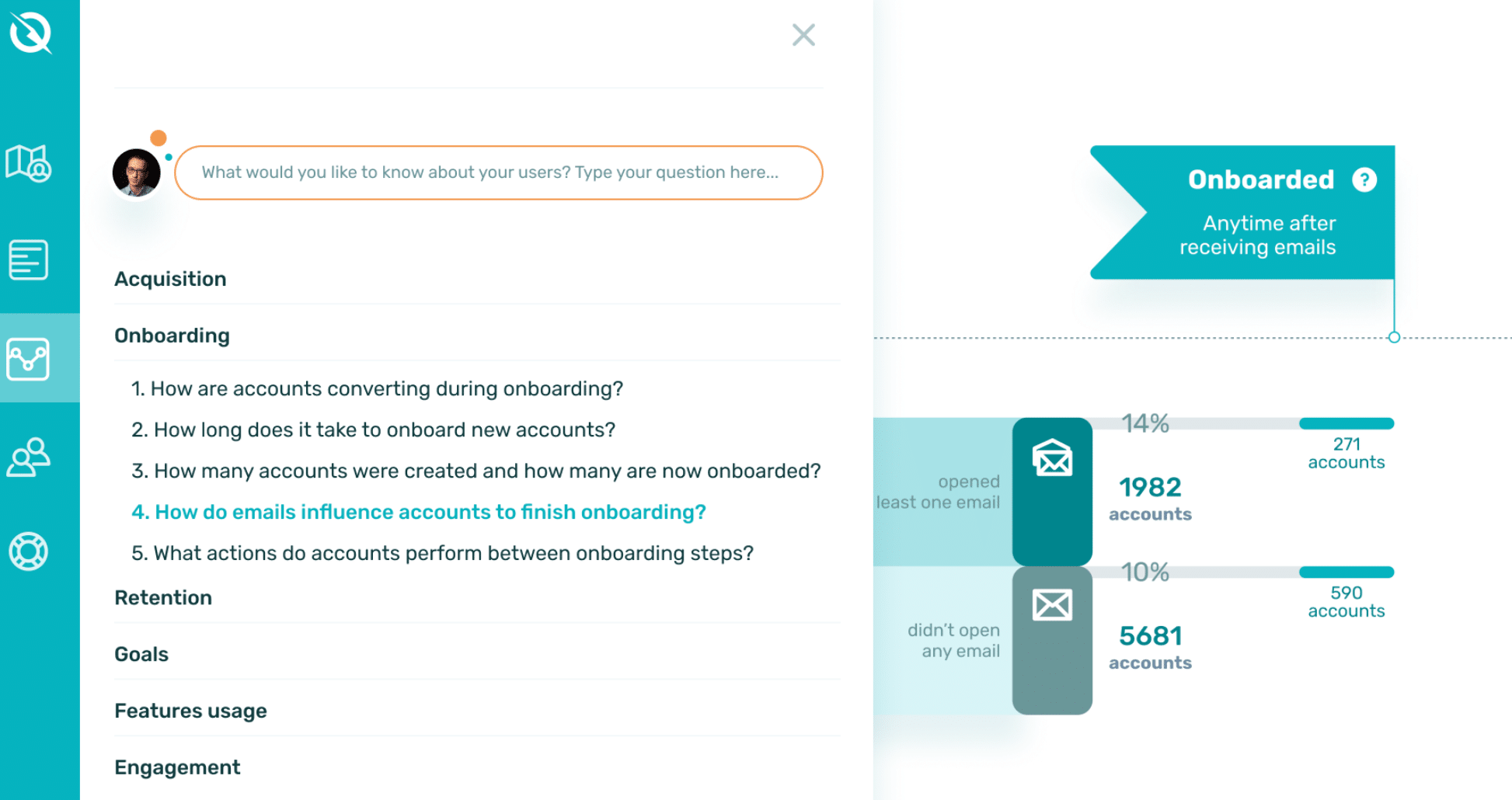 See the above. You can look at the question "How do emails influence accounts to finish onboarding" and receive immediate data that helps address the question. How many users opened at least one email and who created an account, compared to users who never opened any emails and who created one.
Most tools won't have data laid out like this, meaning that you need to go digging to find patterns and correlations. This is undeniably a huge convenience.
What to Look for in a Product Analytics Tool
Product analytics tools are essential for a solid GTM motion (whether it's PLG or sales-assisted motion). They should be a core part of your tech stack; that much is clear.
But what exactly should you be keeping in mind when choosing a product analytics tool that's right for you?
We recommend thinking about the following:
Which tools, if any, integrate with tools that you're already using? Breadcrumbs, for example, either currently offers or will offer integrations with multiple tools like Pendo and Mixpanel.
Some integrate with your CRM or sales-focused software.
The ability to more easily sync and share data from one tool to the next automatically is essential, so look for the path of least resistance here unless you're willing to overhaul your tech stack completely.
Which have the features I need at a price I can afford? Some tools cost more than others; that's just life. Knowing which features you absolutely need and at what price point, however, can go a long way to narrowing down which tool is right for you.
Sometimes tool A will have the core features you need for a lower cost than tool B, which has more features overall but plenty you don't need. Remember to account for multiple team members if needed; some tools charge more as users increase.
What is my focus and what data do I need? Some product analytics tools are going to focus more effectively on user data and behavior based on different segments. Others are going to be hyper-focused on nit picking every action and click-to-completion journeys. Many have some combination of both, but it's essential to understand what data you really need and which tools can offer it.
Don't forget that as you're making your choices that many tools either offer free demos, product tours, or trials. This gives you a chance to really get inside the tool, understand how it works, and make sure that it will work for you.
Final Thoughts
There are plenty of great product analytics tools on the market today, but as connoisseurs of high-quality customer journey data here at Breadcrumbs, we're excited to have shared our top 6 go-to options.
And remember that data is only as valuable as how you use it. Knowing how to use customer journey and user behavior data to actually improve that journey and increase conversions at every stage is imperative. That's where we can help by making it easier to identify sales-ready opportunities.
Want to learn more about how to identify PQLs, SQLs, and sales-ready opportunities at every stage of the funnel? Learn more about Breadcrumbs' revolutionary lead scoring tool by booking your free demo today.