It's not uncommon for marketers to approach lead generation as a single hurdle they need to overcome. They set up a landing page on their site designed to collect lead information, and use a few campaigns designed to send traffic that way. And then they wait.
In reality, lead generation can be a much more complex process. You're likely to have different audience niches, for example, who will respond to different offers. You'll also likely need multiple campaigns to drive traffic to the lead generation page, and need to split-test your overall funnel to increase the number of high-value leads that eventually become customers.
You don't just want to get a few names and empty emails that will never amount to buying customers simply because they want your lead magnet, after all; you want to attract high-value leads that are likely to convert.
In this post, we're going to take a close look at how you can set up a lead generation funnel that actually converts (and how lead scoring can help!).
What Is a Lead Generation Funnel?
Leads don't just magically pop up out of nowhere; just like actual purchases, leads typically need to be nurtured before they're ready to get in touch with you. This means that you need to set up an intentional funnel to raise awareness for your brand, get people interested in what you have to offer, and establish at least a little trust before people will even be willing to get in touch or respond to lead generation efforts.
If you're hosting a free webinar that's designed to generate lead information, for example, you need to make sure that people 1) find out about the webinar and 2) are enticed enough by what it offers so that they'll actually sign up.
You may need to use a combination of ads targeting cold and lookalike audiences, SEO, and social sharing in order to drive enough awareness that new potential leads even see the webinar to begin with. This pushes users into the funnel, where they can assess your landing page and site to determine if they want to sign up.
You're going to need multiple touchpoints in order to generate enough traffic and interest to get results, so it's important to set up an intentional, dedicated funnel; a single lead magnet on a single landing page is not going to cut it.
Keep in mind that your lead generation funnel will ideally lead users to go beyond simply becoming leads, and they'll continue through a more traditional funnel to become customers and (eventually) brand advocates or repeat clients.
Different Stages of a Lead Generation Funnel
Depending on who you ask, you'll see several different variations online of a digital sales funnel.
When you're focusing specifically on attracting and retaining high-value leads that will benefit your business long-term, these are the stages that we focus on:
Creating awareness. The first step is always discovery. You need people to learn about your brand, or they'll never even get a chance to interact with it. Awareness is all about proactively finding new ways to get your brand, products, or services in front of your target audience so you can introduce them to what you have to offer.
Capturing interest and building trust. Before people are willing to just hand over their email addresses or phone numbers, they want to trust a brand. Keep in mind that around 54% of users are willing to share their emails with brands, but before they do, many want to feel a rapport with your business.
Capturing lead information. After users are familiar with your business, they may be more comfortable to share lead information. This can happen through a contact form, an email subscription, or a form they fill out in order to receive a lead magnet. You get their email or phone number, which you can enter into your database.
Identifying prospects. Not all leads will convert, and not all leads are created equal. Plenty of people would love to test drive a Porsche, for example, but couldn't actually afford to purchase one. In many cases, you'll likely attract a solid chunk of leads that just aren't the right fit to become customers. Identifying potential high-value prospects is an important part of the lead generation funnel, and using qualifying information to do this is helpful.
Engaging high-value prospects. Once you've identified high-value prospects, you'll want to reach out and engage them further, building a relationship and pushing them closer towards conversion. This may take a varying length of time depending on your product, the price point, and your audience.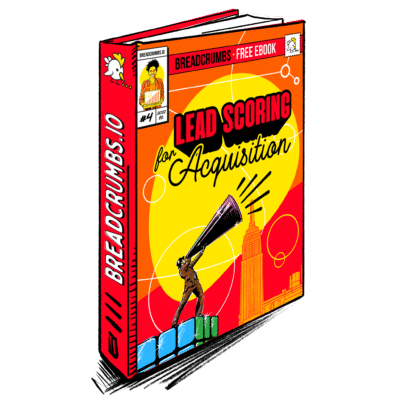 Ebook
Lead Scoring for Acquisition
Learn how to use lead scoring to find more demos, product signups, and sales opportunities.
How to Set Up a Successful Lead Generation Funnel That Converts
We know now that there are multiple steps involved in setting up an effective lead generation funnel. Let's take a close look at how exactly you can set up multiple touchpoints at each stage of the funnel and how you can optimize them for success along the way.
Creating Awareness
Creating awareness requires you to reach out to cold audiences who aren't yet familiar with your brand. This allows you to draw a large number of users into your funnel.
Exposure is the name of the game here, and reaching relevant audience niches with the right messaging in the right places will be key.
Using the following channels to create awareness can work well:
Set up landing pages for any lead magnets or offers (like demos or consultations) that you are currently running. Optimize them carefully for SEO, thinking about what your audience would likely be searching for.
Use PPC campaigns. Use Facebook Ads to generate interest, and use search engine ads like Google and Bing to introduce your brand to users who are actively searching for a similar solution to what you have to offer.
Post regularly on social media, and have a strong social presence. You want to have a reputable, credible Page that people will happily link to, and that reflects that you are, in fact, currently in business. Make sure you're optimizing your posts for search, including adding in relevant hashtags on Twitter and Instagram.
Reach out to industry peers and influencers. Ask for social shares, set up an affiliate network, or even pay for promoted campaigns from influencers that are prominent in your industry. Getting traction and social proof from others (whether they're customers, peers, or influencers of any kind) can help you increase your exposure and reach fast.
This can work in any industry, including both B2B and B2C industries. Most people associate a complex lead generation process with B2B, but let's take a look at a great example I found for B2C service industries that can be adapted for any brand.
At the discovery/awareness stage, I searched for "dog trainer." The second ad catches your eye; they offer any age, breed, issue, or goal, with free support for life and guaranteed results.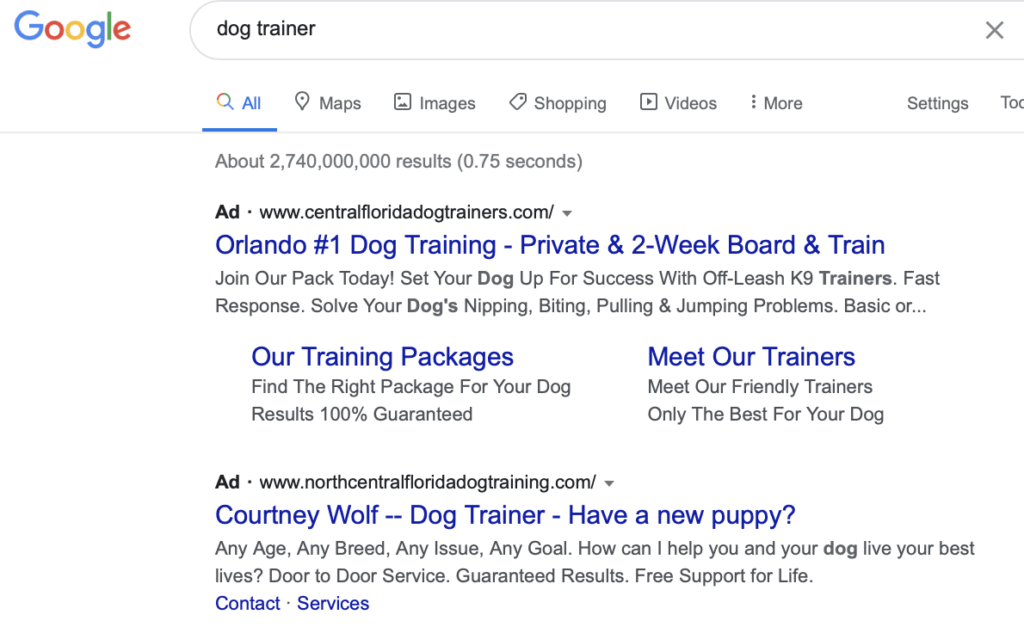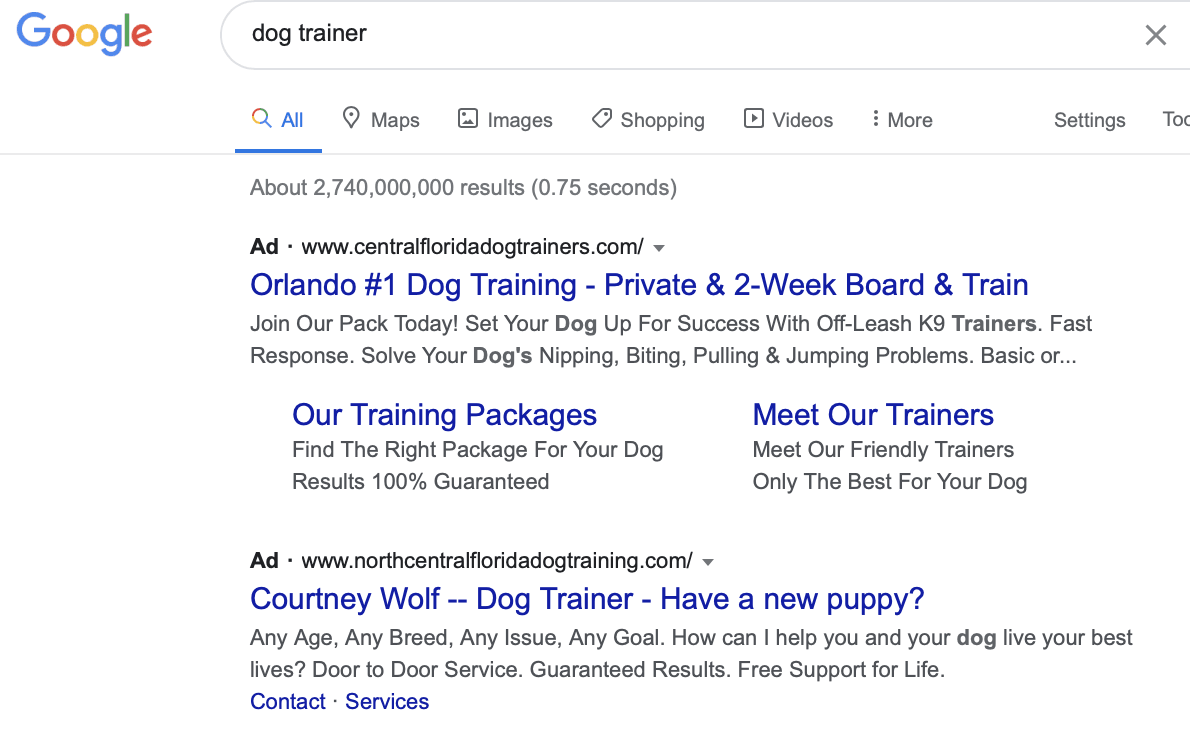 I clicked and saw this ad, which explained more about what this particular trainer offers. I'm not ready to convert right now, though, so I go and check out their Facebook Page that's linked there.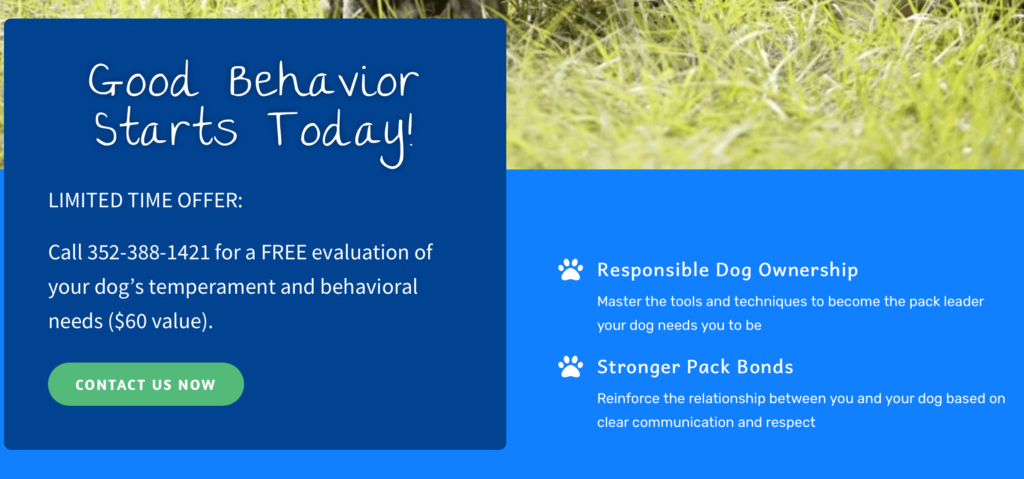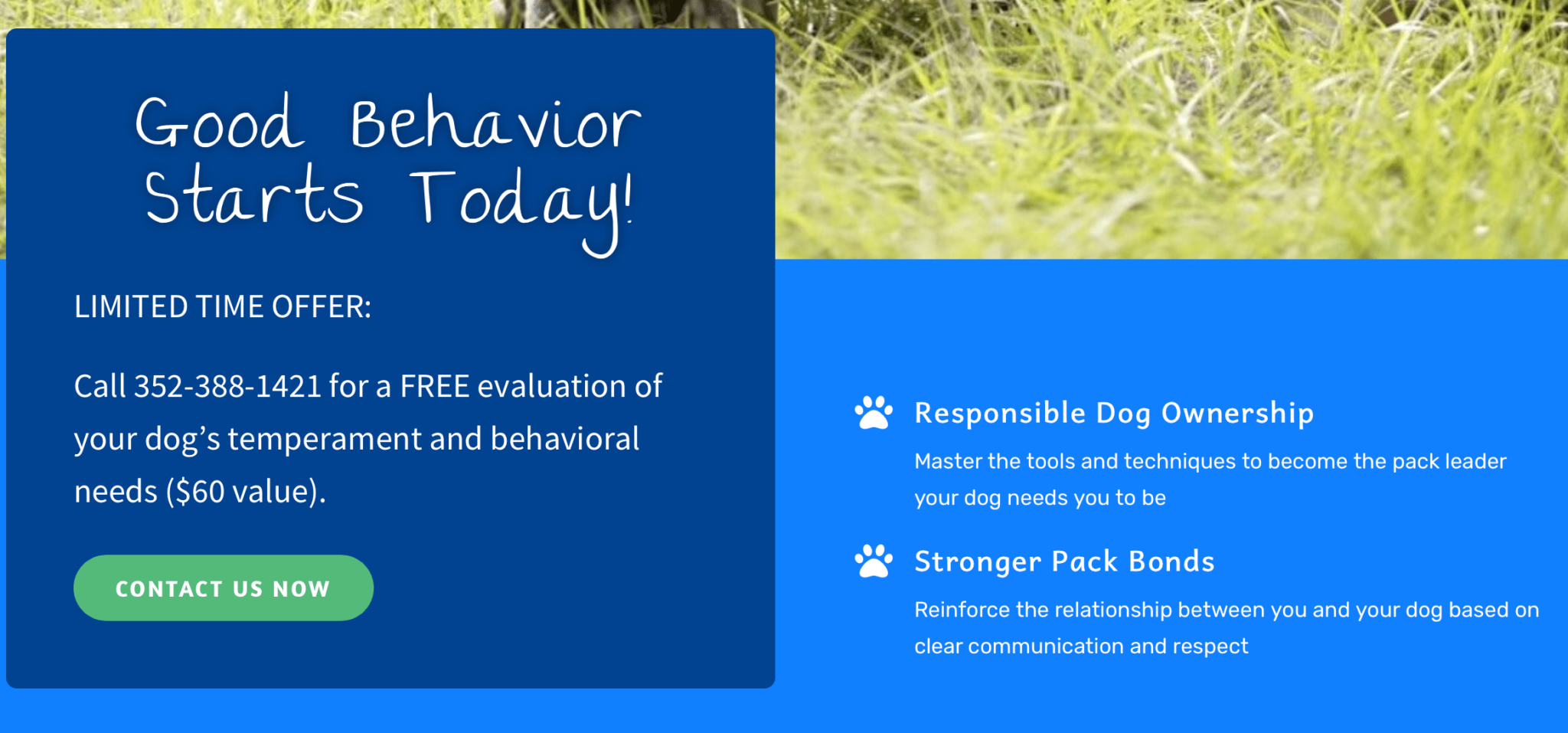 For people like me, their pets are their everything, so many will carefully research a dog trainer before hiring them. Social media is a great place to scope out reviews, see more about the people and business you'd be working with, and get a feel for their expertise. I follow them on social media.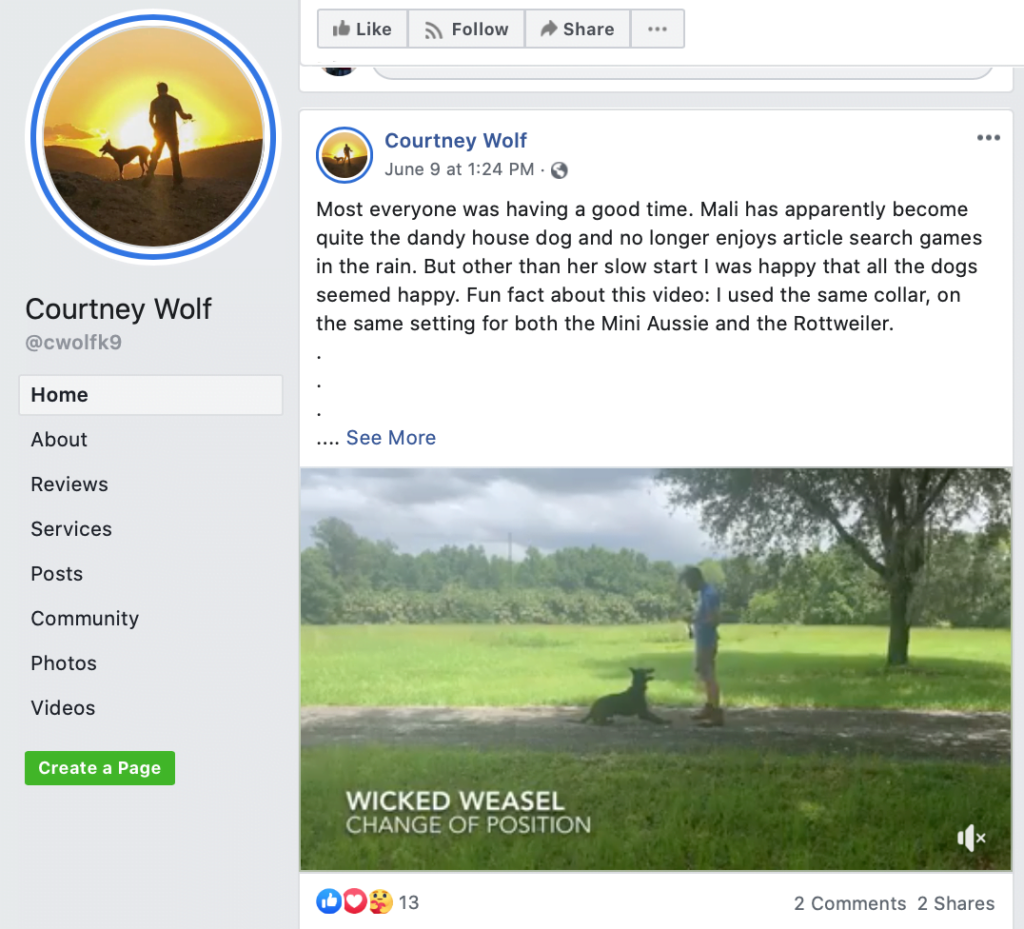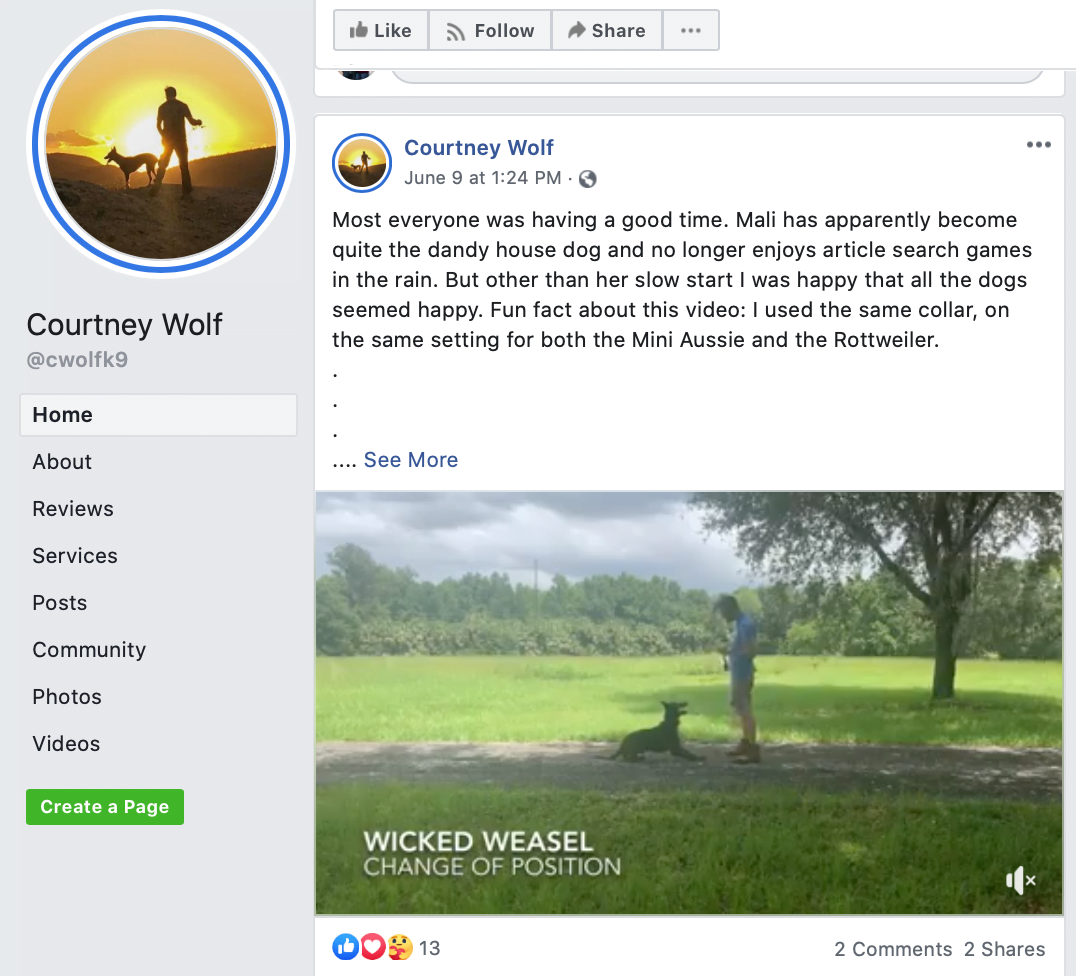 Capturing Intent & Building Trust
Some brands forget that this step exists. They run a PPC campaign, and suddenly have people messaging them.
Sometimes this happens (I once had a burst pipe and called the first plumber that showed up on my list without any research), but in most cases, users are going to look for more information and research your brand before they'll offer up their information… even if you never see it.
A few weeks ago, for example, I saw a webinar about how to "covid-proof" your business. That sounds interesting, so I clicked to the landing page, which only promised: "a webinar to teach how to keep your business strong even throughout the COVID 19 crisis."
I clicked around on the site first, because there are plenty of "gurus" or even spam sites that try to act like they know a lot more than they do (just think about how many low-quality marketing firms, "life coaches," and even "health experts" there are out there). After clicking around, I decided that these people did not have a plethora of business experience or crisis experience, so I decided not to convert.
Building trust and intent often happens more quietly, because the lead hasn't reached out directly. You kind of need to sit back and wait, all things considered.
Here's what you can do to build trust, increase interest, and nurture intent:
Offer valuable, trustworthy content online. Share tips that your customers would value on your social media and on your blog. Make sure that your content feels transparent and authentic, and that viewers can get a good idea of who you are.
Have a strong, unique "About Us" page. You want to share your brand's experience (even if it's a simple "15+ years of combined experience") and talk about what makes you different from your competition.
Feature reviews on your site. Reviews and testimonials are a great way to build trust, leveraging social proof and showing that you can deliver what you say you can. Have these featured prominently to build trust.
Consider creating a "FAQ" section. If users have any big questions about your brand, this is a good place to address them, giving them the information they need upfront. This prevents them from dismissing you automatically. If you're trying to sell hair products to professional stylists, they may have questions about animal testing, parabens or sulfates, or longevity. An FAQ is a great place to address this.
Going back to the same dog trainer above, he's got multiple reviews and "success stories" visible on or linked from his landing page.

He also has a strong "About Me" section that explains why people can trust him based on his experience.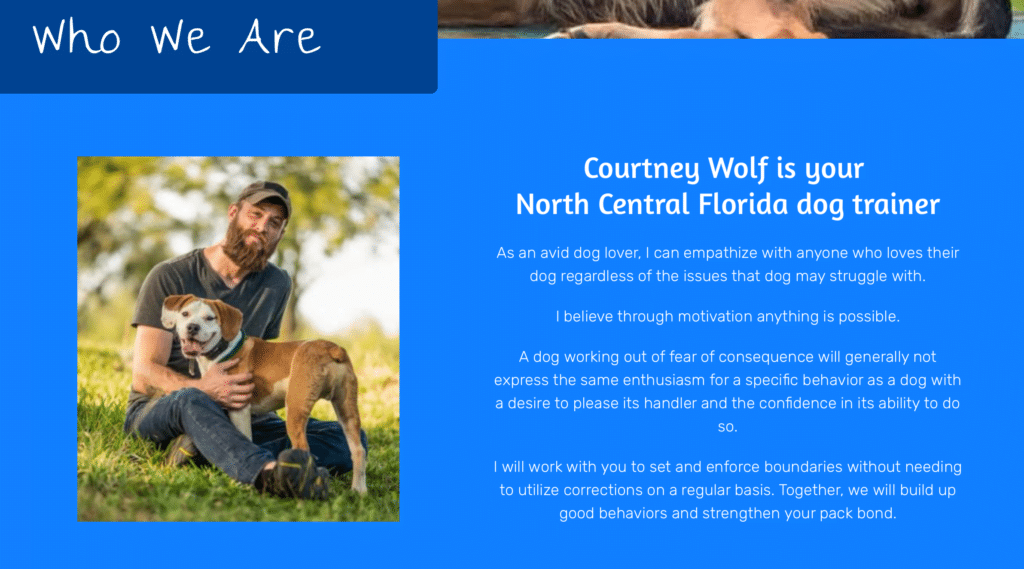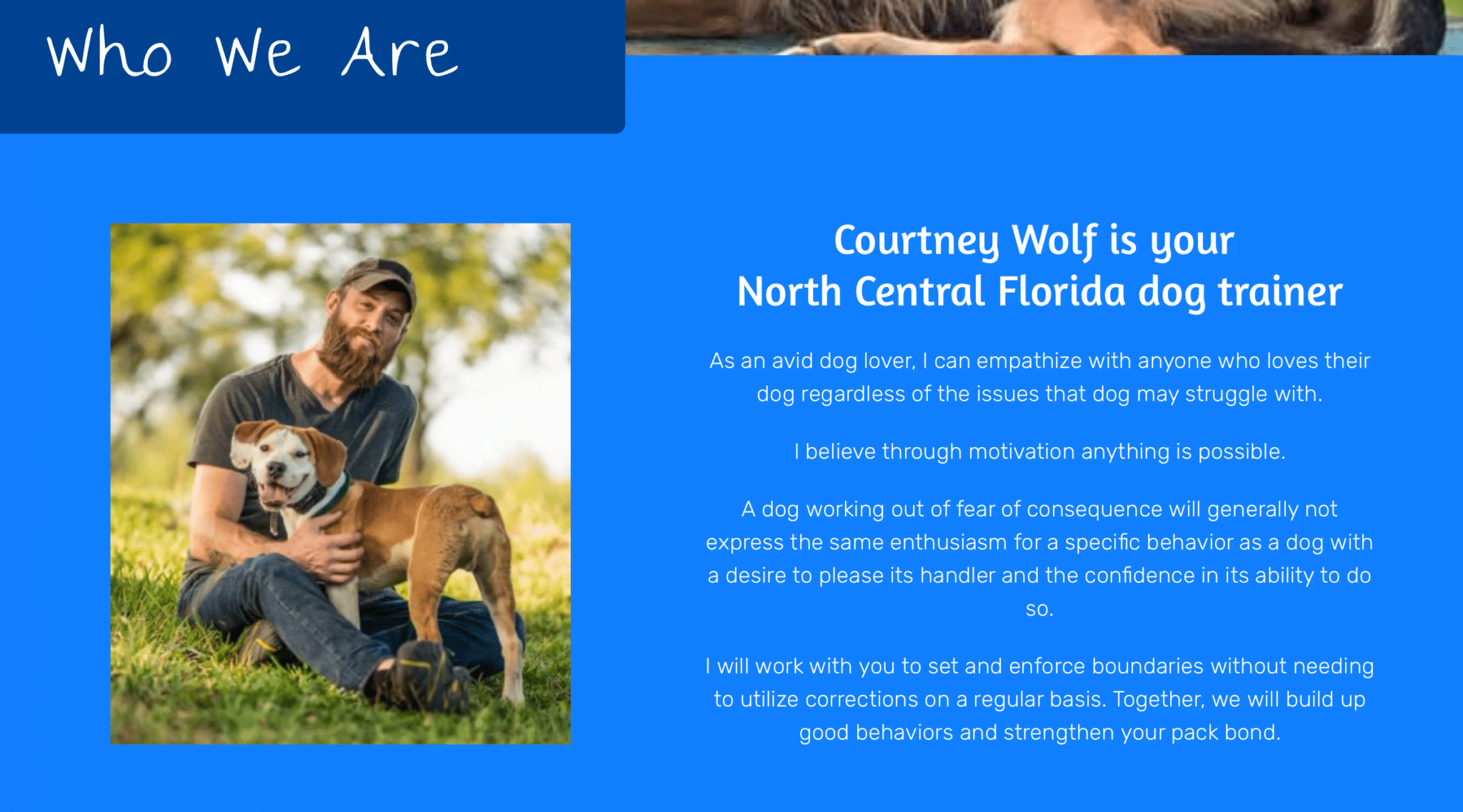 Capturing Lead Information
Capturing lead information is all about incentivizing users to actually get in touch with you.
There are several options you have, and it's typically best to have multiple up and running at any given point in time. These are some of the best options we recommend:
Using lead generation ads on Facebook. Lead generation ads on Facebook are exceptional. When users click, they see a lead form that auto-fills as much information as possible (including name and email address). Brands can add fields for qualifying information, and this can be partnered up with an offer for a free class, consultation call, lead magnet, or discount.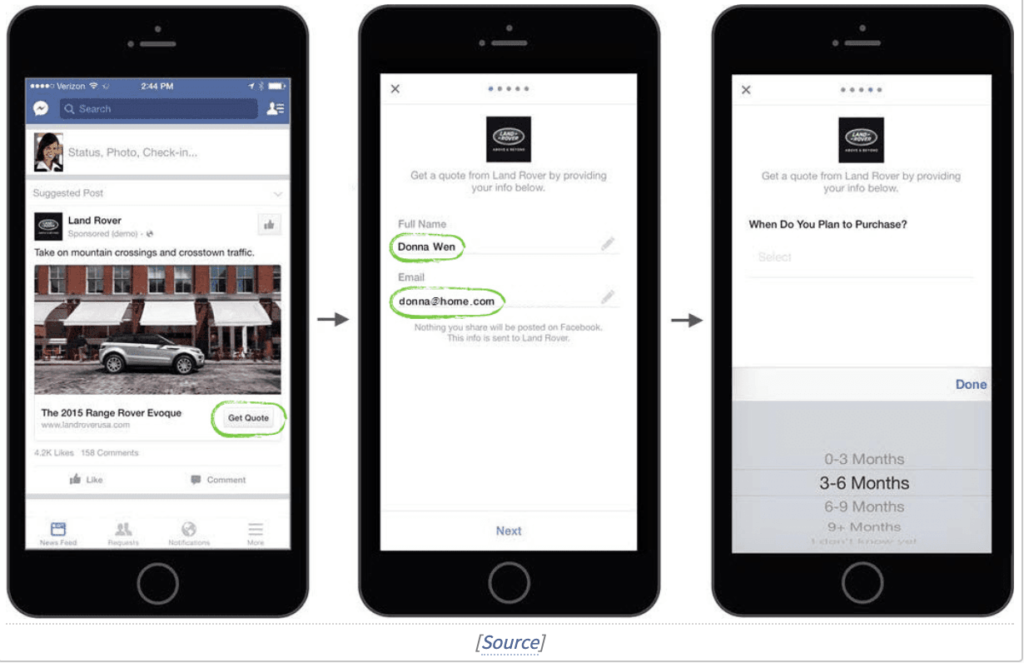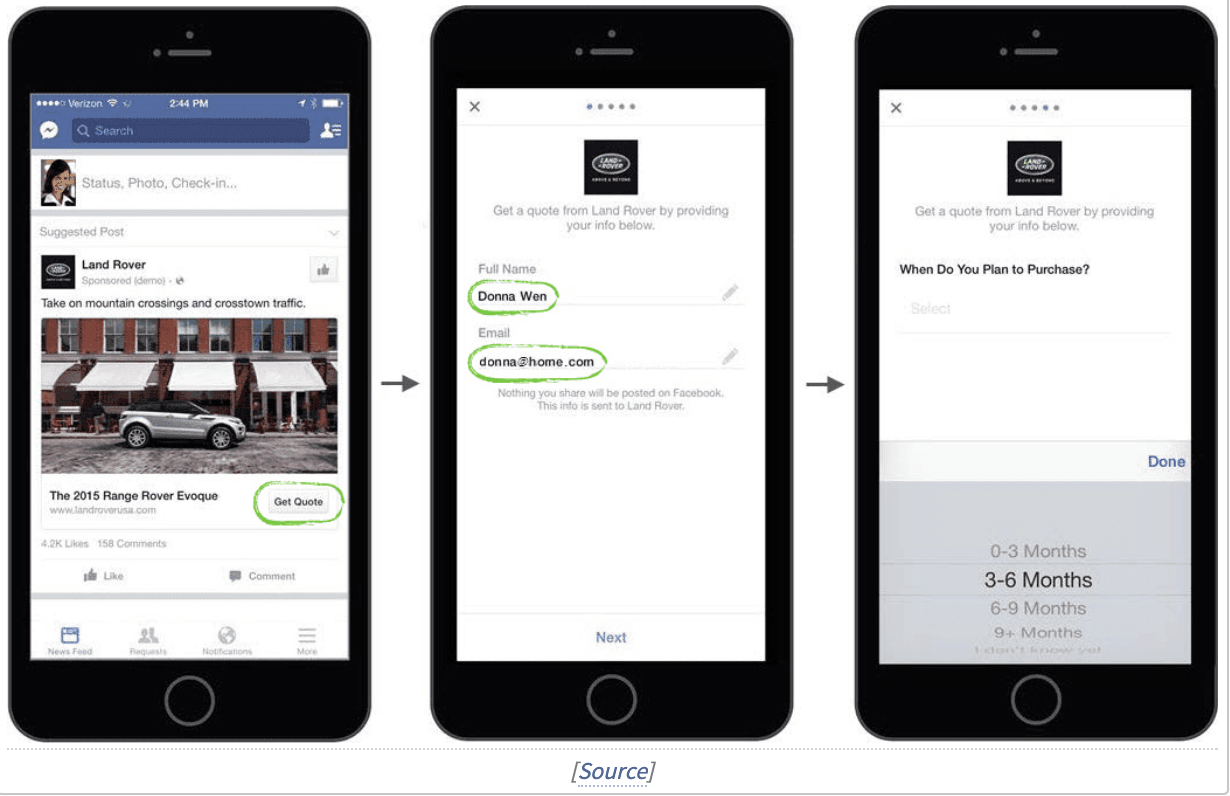 Set up landing pages with short, easy-to-complete contact forms. You should have a landing page for each offer and audience niche that you're connecting to.
Think of the dog trainer for example; someone looking for puppy classes might see a landing page talking about managing aggressive behavior in dogs and assume that this trainer doesn't offer what they need. Because of this, it's important to create landing pages that are relevant to each audience niche.
You'll also want to keep your contact forms as short as possible. Ask for their name, their email, and no more than a few qualifying questions that can help you determine if they're likely a fit with your company. ("What services are you most interested in?" or "What size company do you work for" for B2B industries.). If the form is too long, you'll see a significant drop-off in leads.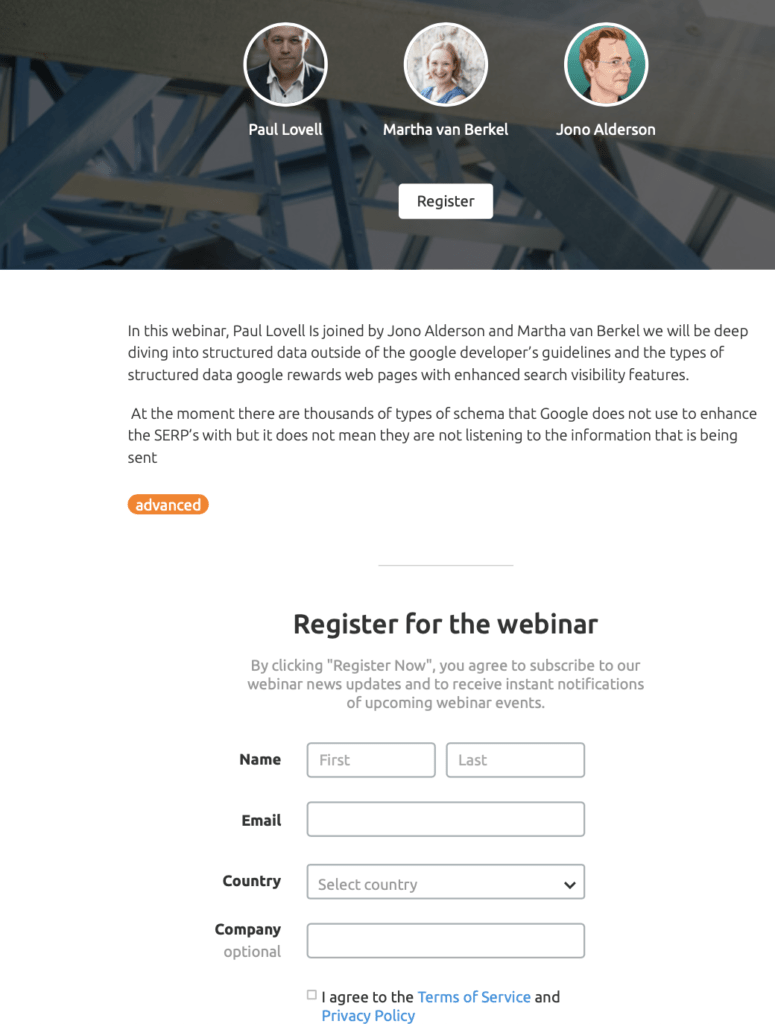 Encouraging users to subscribe to your blog or newsletter. Simple opt-in forms can work wonders. Let users know they can subscribe to your blog or newsletter for information, or even just to your email list for a coupon code. These should always be present somewhere on your site, like in the sidebar, but having pop-ups can work, too.
Creating & promoting lead magnets. Lead magnets are an outstanding way to get people to pull the trigger and get in touch with you. This often happens through a contact form, which users are happy to fill out in exchange for a free ebook, webinar, consultation call, infographic, or whitepaper. Make sure that you're promoting your lead magnets heavily to increase their lead generation potential.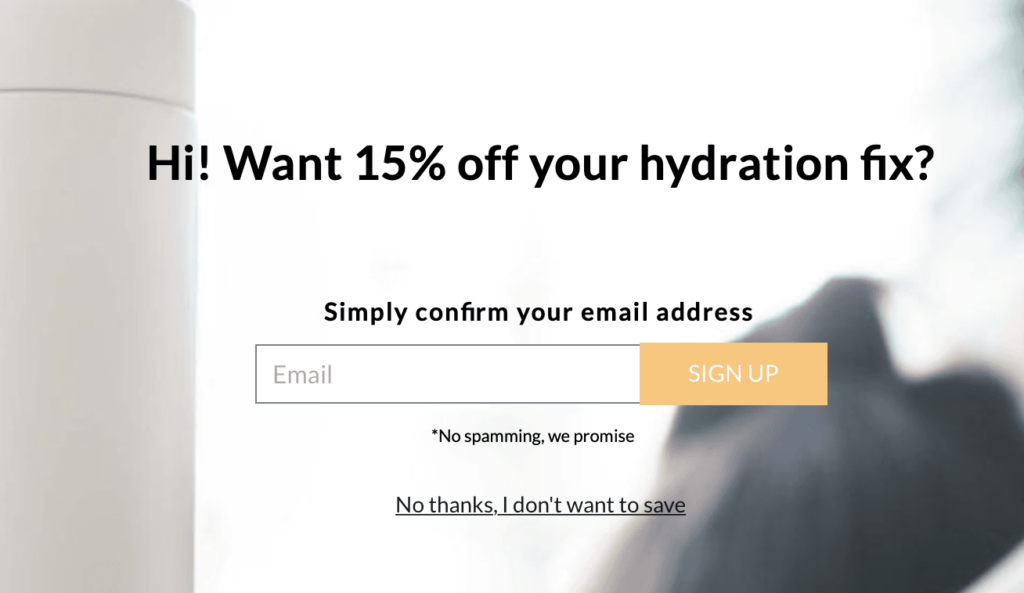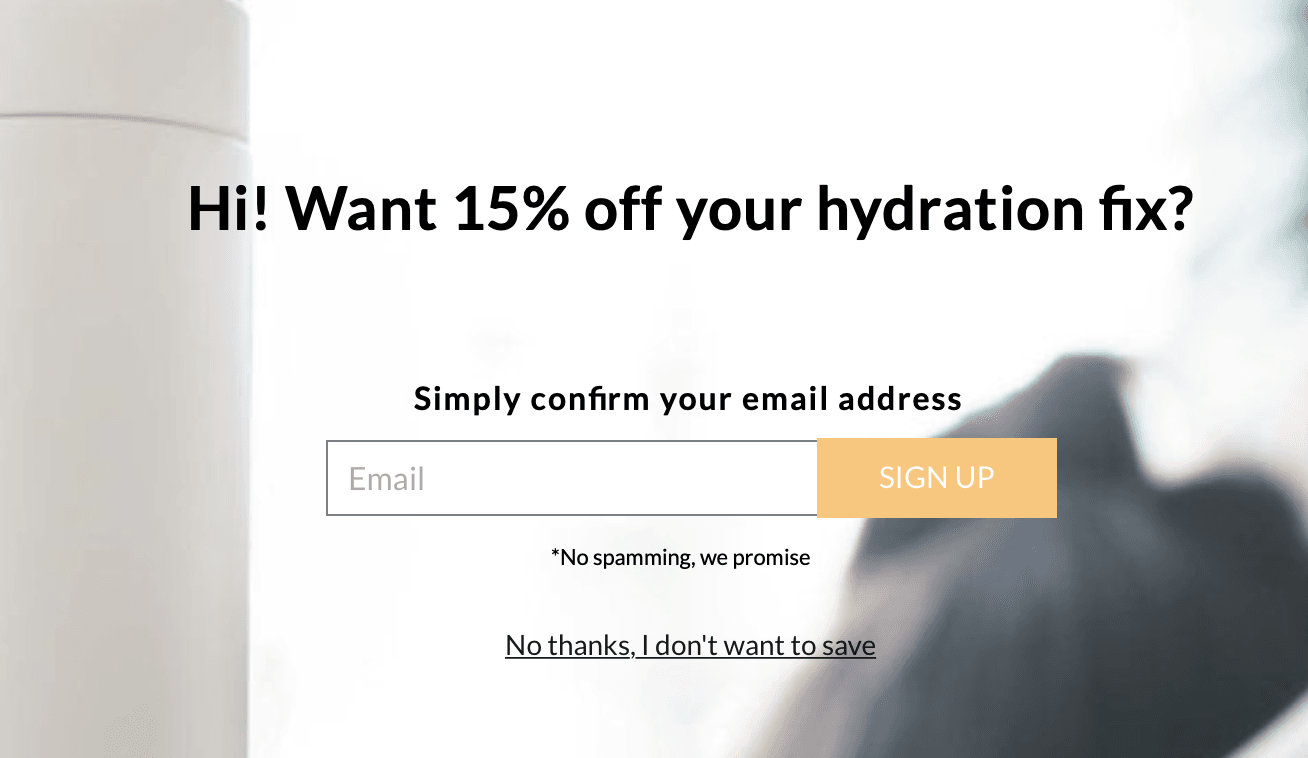 Identifying Prospects
We'd love it if every single lead that you got eventually converted and became a client, but unfortunately it doesn't work quite like that.
In my own business, I get plenty of leads who get in touch. Before jumping on a call with everyone who gets in touch with me, though, I have learned to qualify leads. I make sure that I have the bandwidth and skills that they need and that their budget aligns with my services. Otherwise, I could easily spend hours on calls that would waste my time and the lead's time if we weren't compatible.
Identifying prospects as those most likely to become customers is an important part of the lead generation process. It allows you to prioritize which leads you want to invest more time in.
Here are a few ways you can do this:
Track your email campaigns. You're always going to want to have autoresponder campaigns ready to go so that as soon as a lead shares their email you can get in touch. Watch who is opening your emails, who is clicking, and who is reaching out for more information. You can follow up with these individuals personally.
Add qualifying sections to your lead forms. You'll notice that plenty of lead forms ask questions specific to their business. You might see questions like "What size company do you work for?" or "when are you looking to purchase" on lead forms. These are designed to help a business assess whether the lead is a good fit for their business, and potentially to assign them to the right departments or recommend the right products.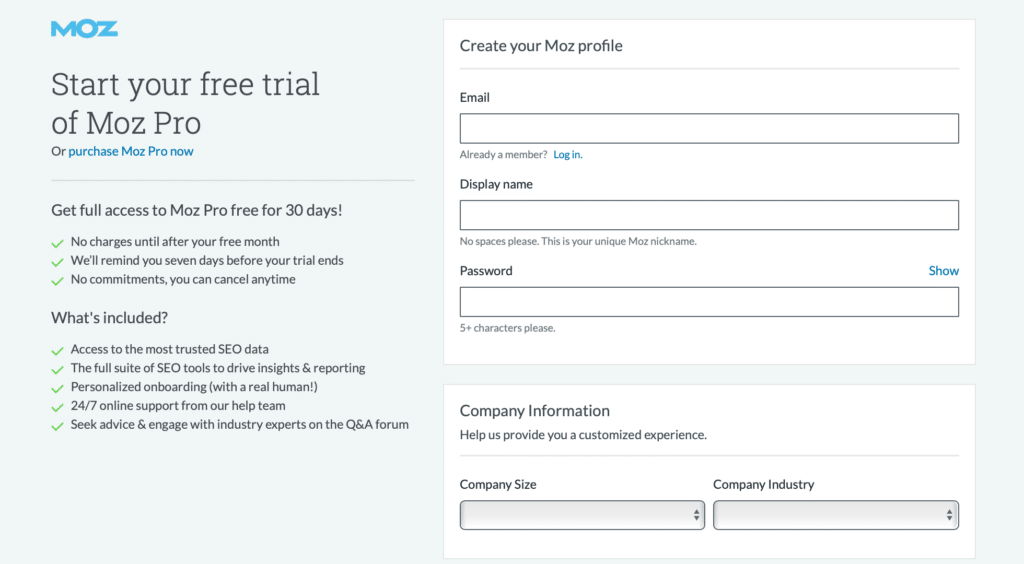 Get in touch with leads personally. Have a salesperson or an account manager reach out to leads, asking if they have any questions or even offering discounts.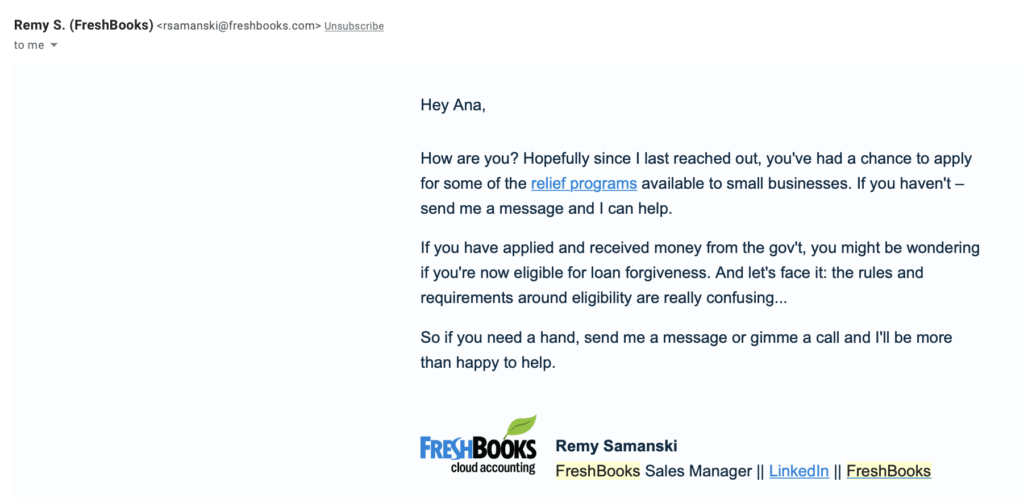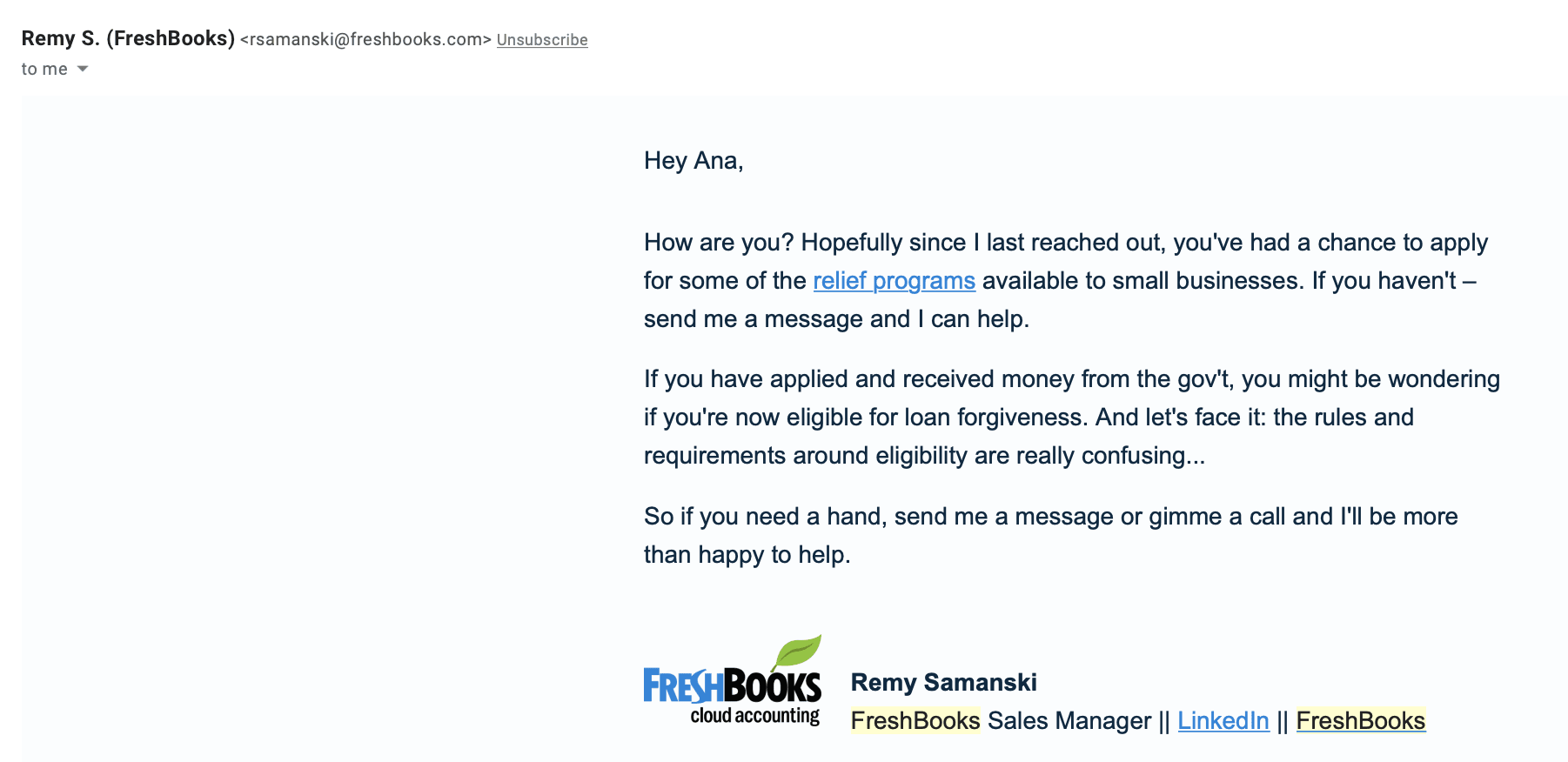 Engaging High-Value Prospects
Once you've identified high-value leads, you'll want to re-engage them regularly until they convert. (And then, don't forget, you'll want to keep engaging them so they continually purchase!).
Engaging your prospects can take a number of different forms, but these options all work well:
Using frequent, relevant email campaigns. Drip email campaigns are an outstanding choice to keep your high-value leads engaged. Keep your email leads engaged by sending them relevant information to their inbox (an accountant wouldn't want to send enterprise-level tips about refunds for businesses with millions of dollars of revenue to a small business who just needs help with their quarterly taxes).
Setting up retargeting PPC campaigns. Retargeting PPC campaigns–including those on Facebook, LinkedIn, and Google–allow you to reach out to users once you have their email addresses. Don't be afraid to show them discounts or remind them about free trials to get them to convert.
Updating customers about relevant offers. Get in touch with potential customers through email, social media, and even LinkedIn to let them know about exclusive sales.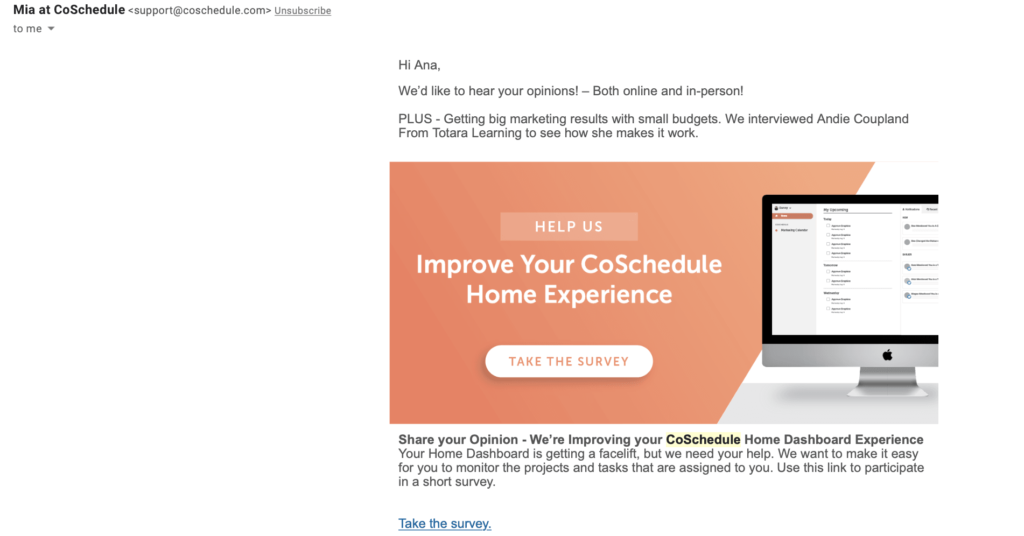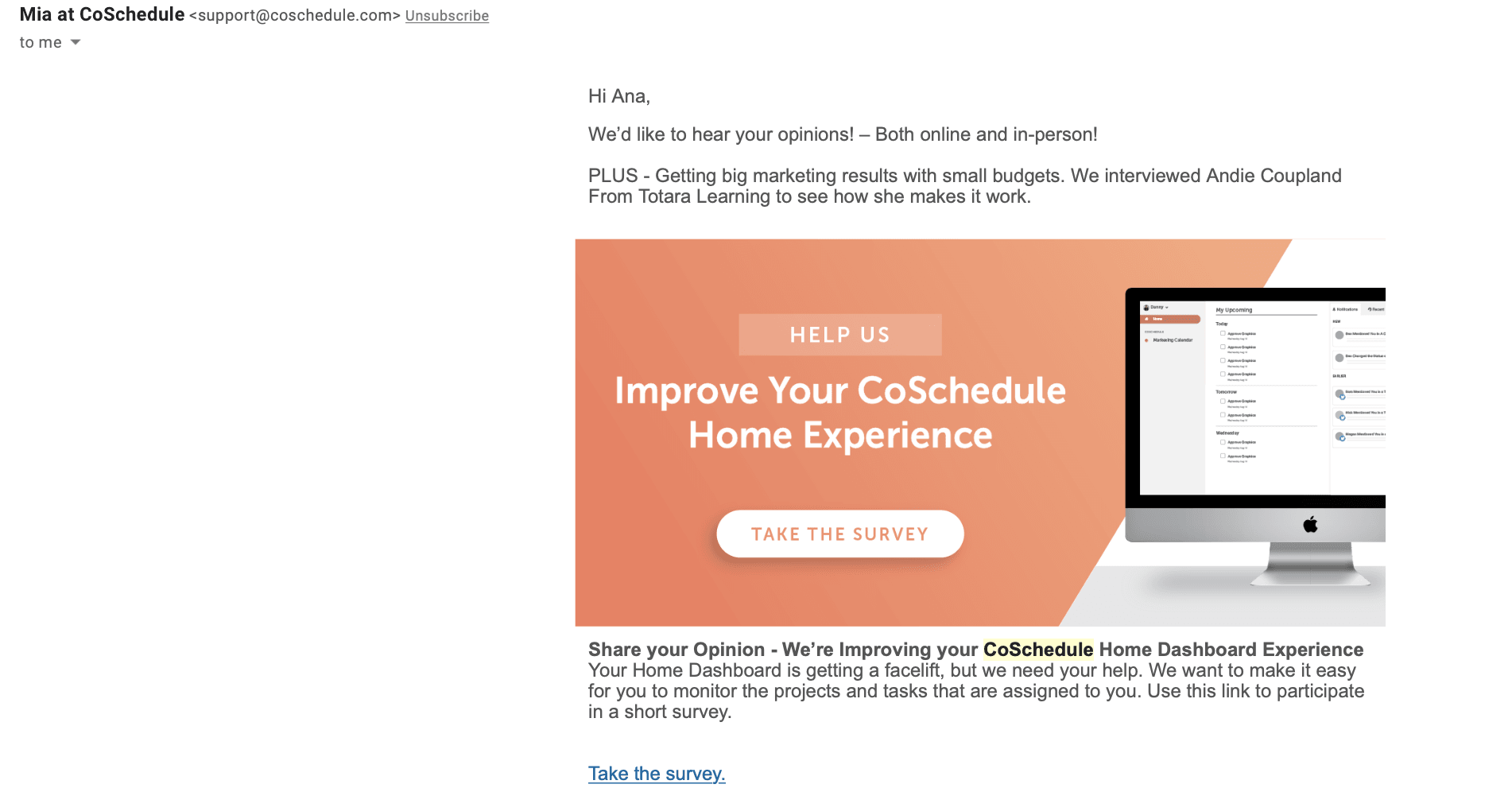 How Lead Scoring Helps With Effective Lead Generation Funnels
Throughout this post, we've looked at different ways that you can create stronger, more effective lead funnels.
In order for most B2B and SaaS brands to really increase their sales volume, however, you're going to want to turn to lead scoring in addition to the tactics we've discussed so far.
Lead scoring is the process of using a set of criteria and evaluating different contacts' characteristics to assign them a specific score. Positive attributes (whether that's a certain trait like belonging to a specific industry or an activity like completing a lead form) gain points; negative attributes can dock points. You'll end up with a concrete score that can help your team identify high-value leads.
How Breadcrumbs Can Help
Breadcrumbs is a lead scoring tool that makes this easy. We offer suggestions for lead scoring models based on a few quick questions we ask when you sign-up, but you can customize these models entirely based on your business's needs (and as your audience and business both evolve!).
We'll give you an alphanumeric score that helps your team evaluate exactly how valuable a lead may potentially be based on both their activity and their fit profile, with both recency and frequency of actions taken into account. This means the data is always up to date, so it's always actionable.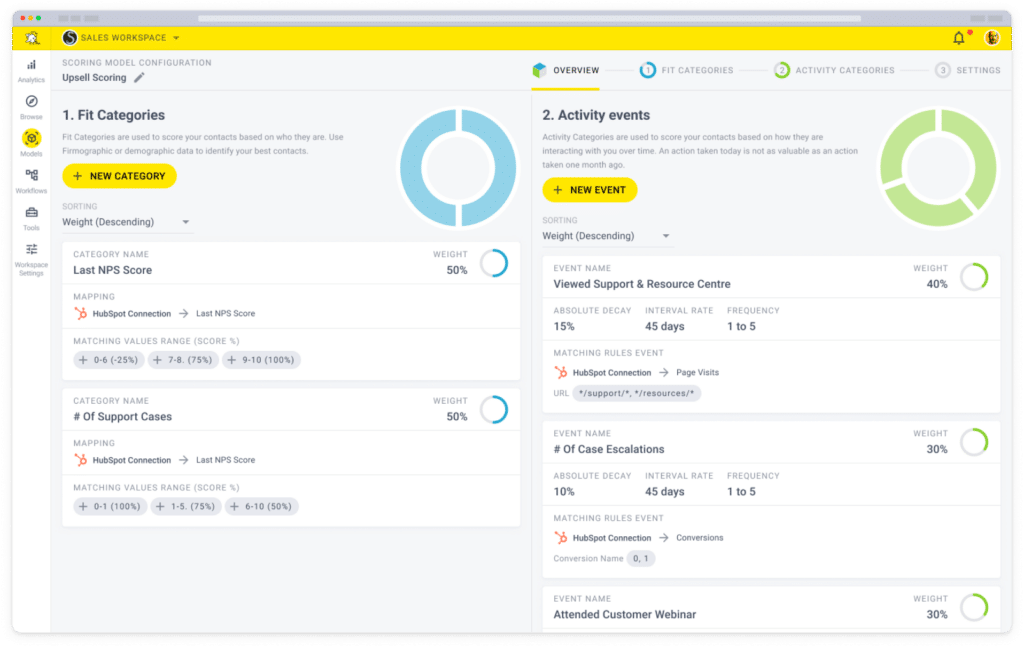 And with relevant information at every point, your sales team can determine who they should be nurturing most aggressively. Which deals would appeal to which users? And should they be following up via email or call? Which plans and products should they be pushing, and why?
Our tool also allows you to test different scoring models to determine which fit and activity predictors are most impactful at helping you identify different potential audience members. This is invaluable both when you first sign up and as your business evolves.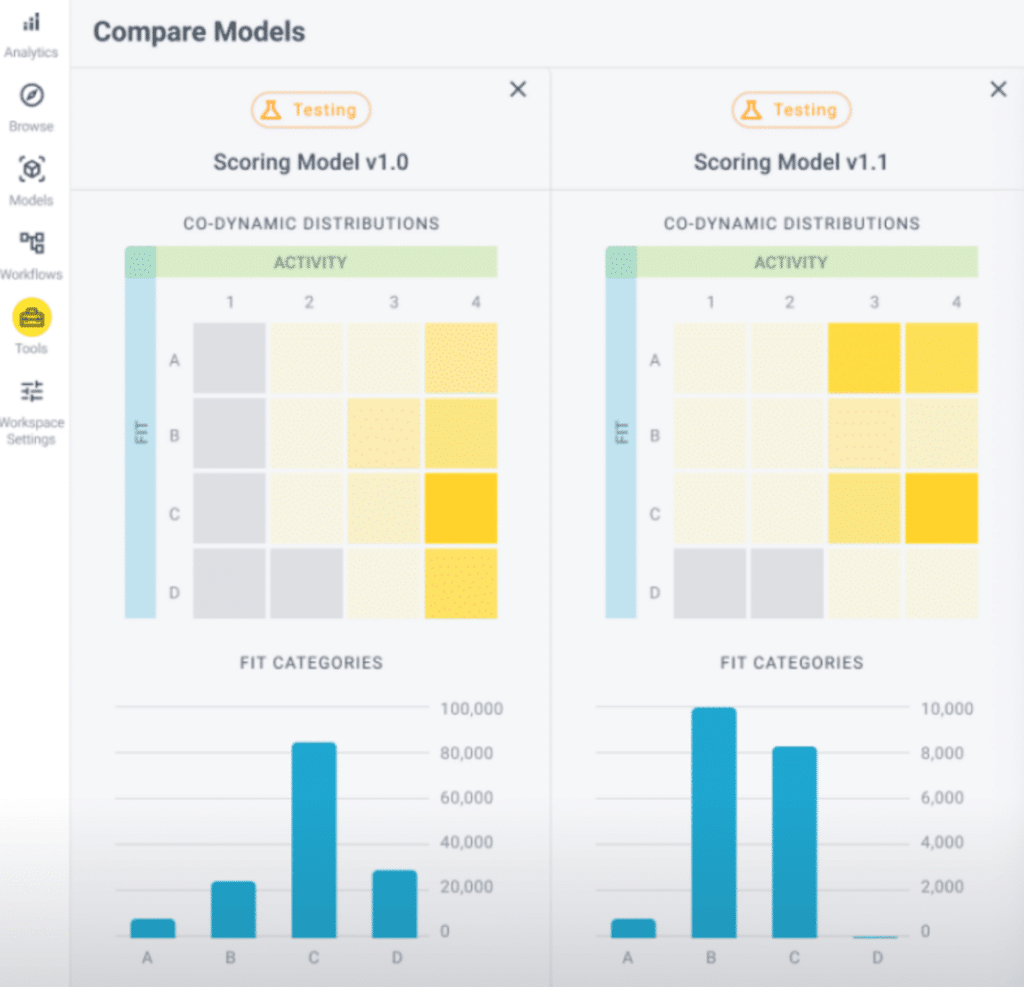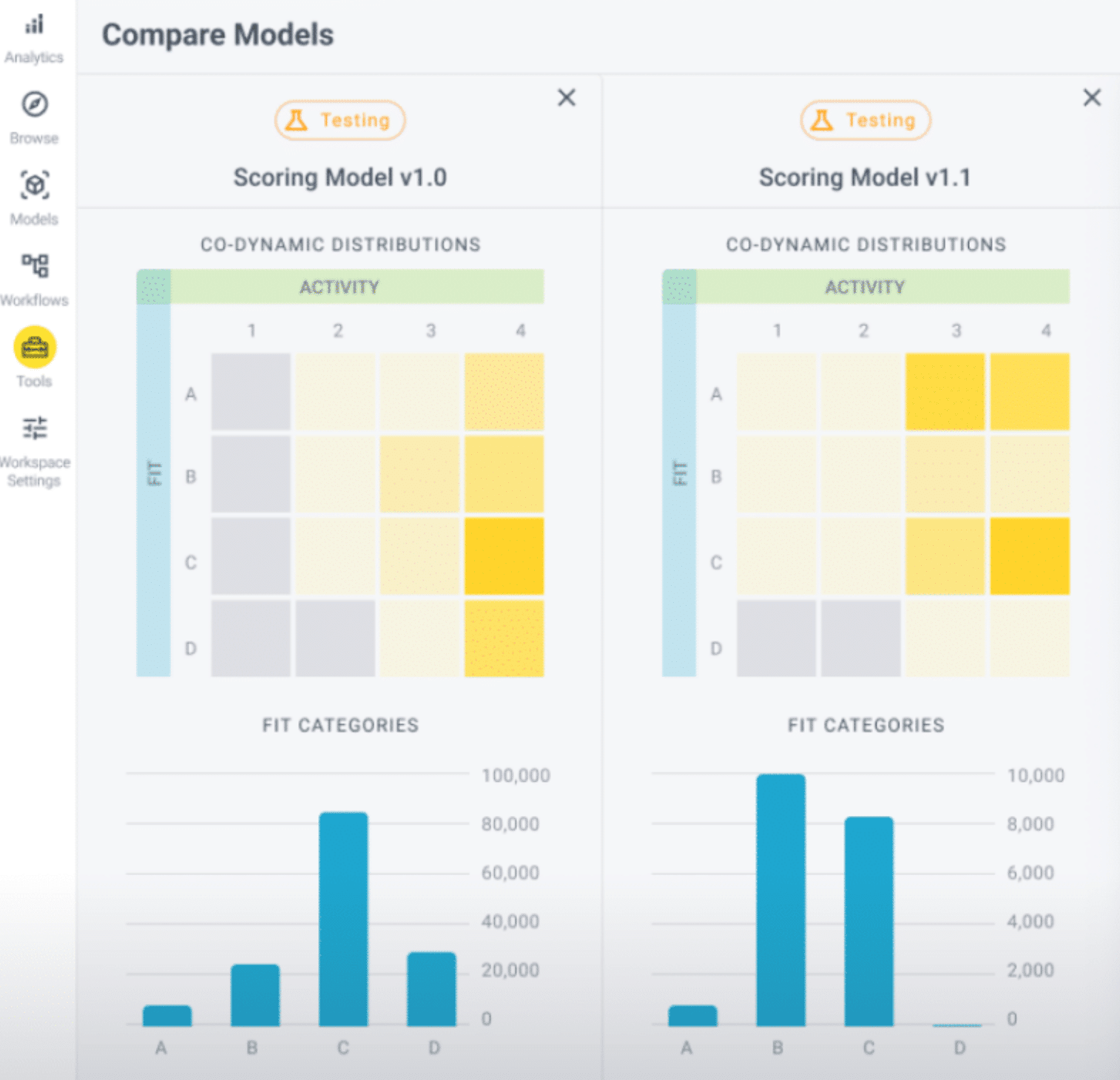 They'll be able to make smarter, well-informed decisions faster, with less guesswork and more results. It's a win-win for everyone involved.
Final Thoughts
Lead generation can be a long and strenuous process, even if it feels like all you need to do is slap together a great landing page and wait for the potential customers to come rolling in. Being intentional and strategic about how you're getting leads into your funnel and how you're nurturing through it (via multiple touchpoints, of course!) is essential to the growth of your business.
Interested in learning more about how lead scoring can help strengthen your lead generation funnel and make it more effective? Sign up for a free demo here to see how Breadcrumbs can help you!