You might have heard of lead scoring before. If you're in RevOps, sales, marketing, and even customer service, there's a good chance that you've possibly even encountered tools with basic lead scoring functionality.
Lead scoring has been growing in popularity and plenty of sales, marketing, and even email software are offering basic contact scoring features to stay competitive.
Many of these tools, however, don't have the right combination of complexity and customization in order to give an accurate contact score. Fortunately, there's at least one out there that does. (Spoiler alert: It's us.)
In this lead scoring guide, we're going to go over everything you need to know about lead scoring for B2B marketers, including what it is, why it's so important, why you shouldn't wait to implement it, and how Breadcrumbs can help.
What is Lead Scoring?
Lead scoring is the practice of giving leads concrete scores based on an individual contact's specific traits or actions.
Proper lead scoring takes both demographic traits (like the client's business's industry, size, or revenue, or the client's job title) and behavior (support tickets filed, websites visited) into consideration. These two factors together create one unique score.
For example, a client may gain 5 points for coming to you through a referral link, which indicates high value and high intent based on your past audience. They may lose 5 points, however, if you find out that they're a mid-sized business and your tool predominantly attracts enterprise-grade clients.
Why Lead Scoring is So Valuable for Businesses
Interestingly, recent studies show that somewhere around 66% to 81% of businesses still do not utilize lead scoring. And, when it comes to B2Bs specifically, only about 21% use some type of lead scoring.
Chances are, if you start using lead scoring for your business, you'll get a head start against your competition.
But why would you?
Lead scoring can be invaluable, especially as your business starts gaining traction and flurries of new leads come pouring in.
Your sales department has limited time and resources. Having firm, concrete, and customizable lead scores can help them hone in on leads who should get immediate and high levels of attention and those who can be put by the wayside.
Lead scoring can do more than just help you identify leads most likely to become customers, however. You can set up scoring models so that you can help your teams predict:
Contacts are most likely to become high-value, high-spending customers
Leads that are likely to retain the longest 
Individuals who may have strong referral networks who could become invaluable to have as customers
Which leads would be most likely to act on certain types of deals
With this information, you can acquire more customers more effectively than ever before.
And we want to note: Sometimes lead scoring is called "contact scoring," which can be a better term when you're using high-quality tools.
Contact scoring goes beyond initial lead nurturing and helps you identify potential upsell and cross-sell opportunities, affiliate opportunities, and disengagement before it loses you a client.
Proper lead and contact scoring, therefore, gives you multiple opportunities to generate more profit more effectively at every point of the digital sales funnel.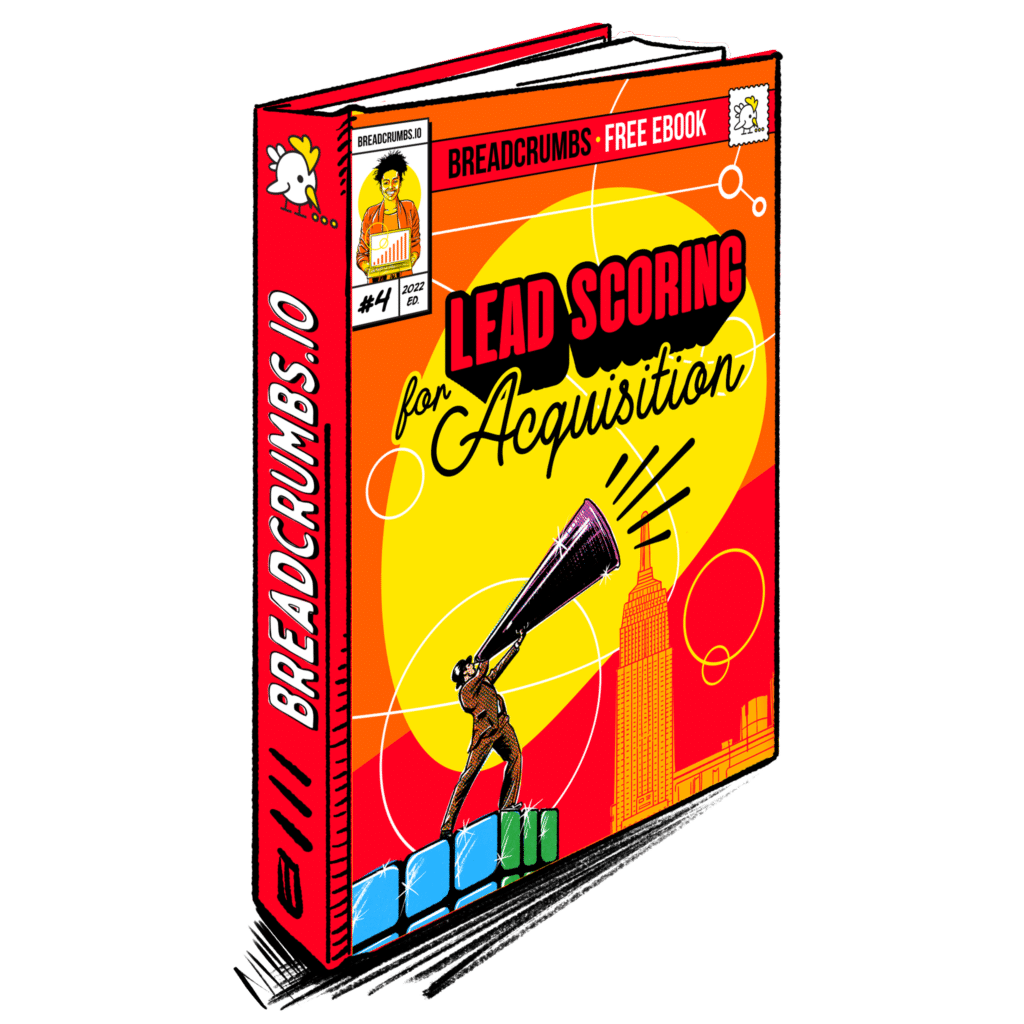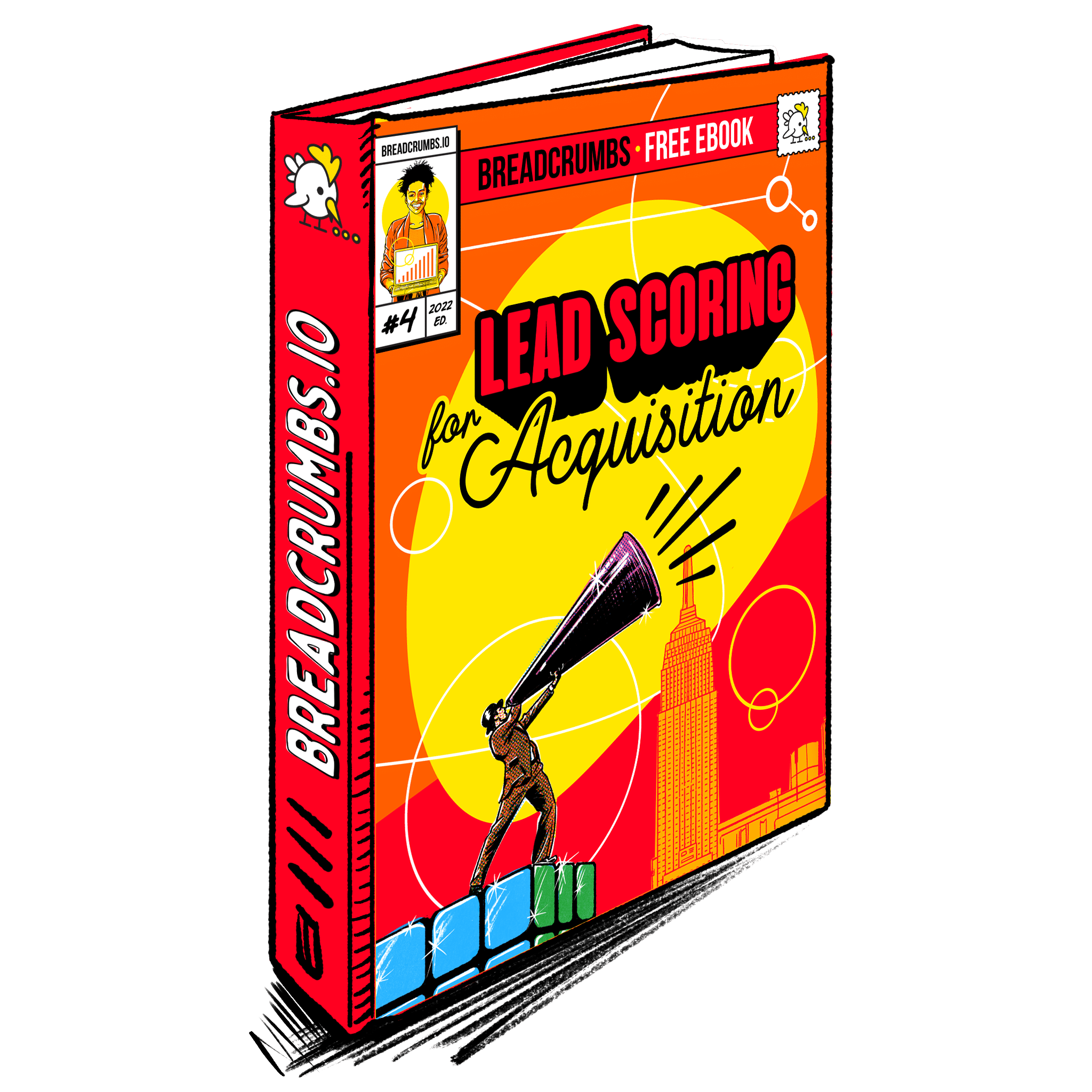 Ebook
Lead Scoring for Acquisition
Learn how to make the most out of the leads you already have with a well-oiled lead scoring machine.
Why You Need Lead Scoring ASAP
If you're still unsure whether you should implement lead scoring or when you should, scan the section above one more time.
Do you really want to wait for those kinds of revenue-accelerating benefits?
The answer is no. You'll want to implement lead scoring immediately.
The reality is that the longer you wait, the longer you have talented team members who spend time unknowingly putting effort into pursuing leads that are extremely unlikely to convert while you've got a golden ticket that may go unnoticed. This is a client-losing, time-wasting, and profit-draining mistake.
And if you're worried about waiting for "perfect data" — there's no point. There really is no such thing as perfect data (just data hygiene that leads to high-quality data). Waiting for perfection only hurts your team.
As long as you're using real-time data from your platforms and a strong lead scoring tool that takes complex factors into account, you'll be better off with lead scoring than without it.
The sooner the better. We firmly believe that. The longer the wait, the more missed opportunities you can have, and it's just costing you potential clients and money while your sales team grows more frustrated.
How Breadcrumbs Takes Lead Scoring to the Next Level
Breadcrumbs is an advanced lead scoring and contact scoring tool that we've designed to take this particular tech to the next level.
Most tools on the market, for example, have severe limitations. These may include:
Only accounting for fit or activity and not both, meaning that you're given an extremely limited understanding in who is actually a fit for what products or services
Not factoring in both recency or frequency (or either for that matter), meaning that someone who visited a landing page once a year ago is given the same score as someone who visited twice yesterday
Exclusively using metrics they've gained from their own tool and not factoring in third-party data through integrations, resulting in limited data that isn't helpful
You can see a few comparisons for Salesforce, Mailchimp, HubSpot, and ActiveCampaign to get a better idea.
Breadcrumbs goes beyond this.
For starters, we use a co-dynamic approach that takes fit and activity into account, along with recency and frequency.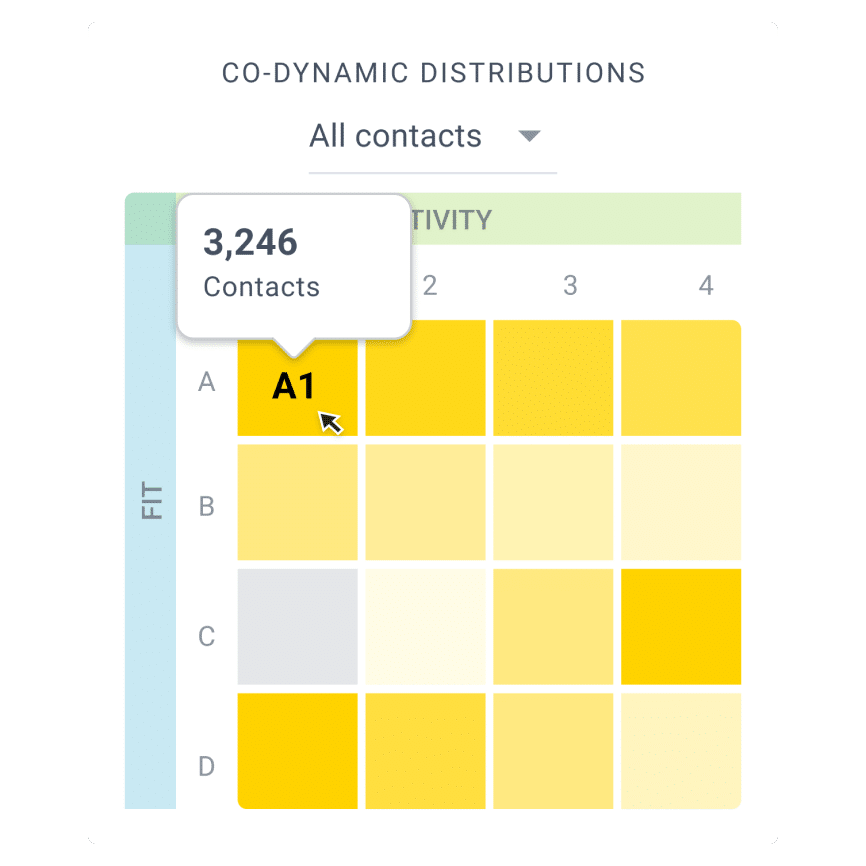 Contacts who take certain actions more often will get a boost in their score, and as time passes, that score will slowly decrease.
Someone who engages with your product the first few days of their trial but stops after day 4 will have a lower score than someone who has been using it to completion.
We also use machine learning for each individual client account. This means we make recommendations based on how your audience is responding and help you to identify which traits or behaviors could indicate that a contact is ready to buy or churn.
And as your audience evolves, we'll be able to help you track that.
Finally, we're using a holistic, product-led growth strategy. We're what we like to call "motion-agnostic," meaning we're able to help you support sales motions by helping you to identify your SQLs (sales qualified leads) and PQLs (product qualified leads).
Our machine learning identifies which trigger events are most impactful to gaining customers, and determines which marketing qualified leads and sales qualified leads are most likely to become product qualified leads. You can better learn which MQLs are likely to become PQLs and identify SQLs that are ready to convert so you can strike while the iron is hot.
What Makes Breadcrumbs' Customer Acquisition Templates Unique
Lead scoring isn't just about finding potential customers in a vague, general sense; Breadcrumbs leverages detailed templates to help you flag warm and hot leads for hyper-specific actions.
Some of our contact scoring templates are designed exclusively for customer acquisition, for example. We have models specific to helping your sales team flag clients to nurture to book a demo, to sign up for a trial, or to make a purchase.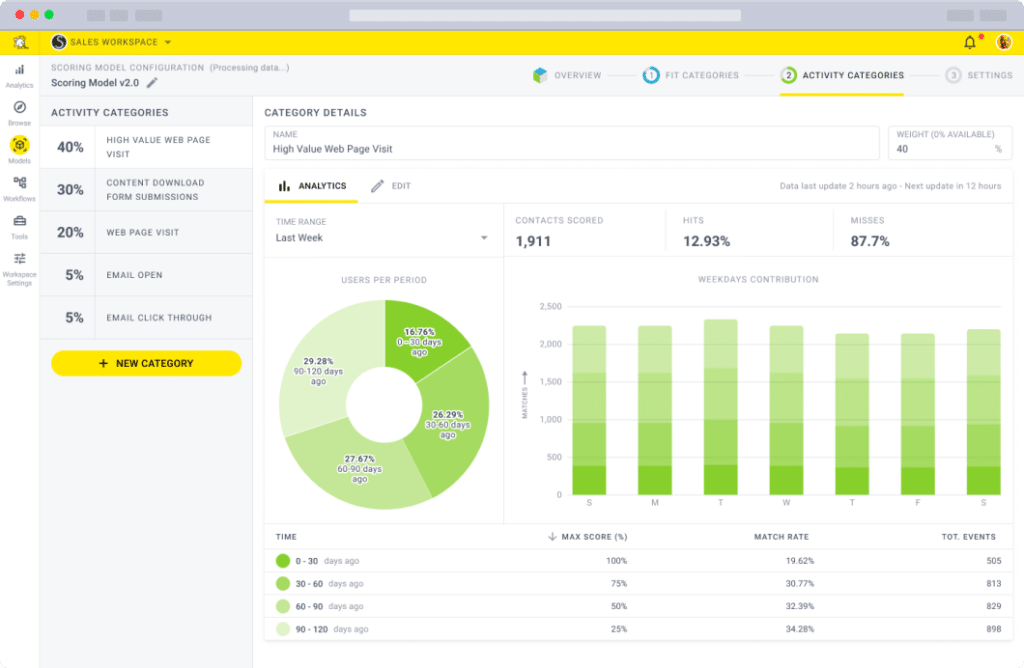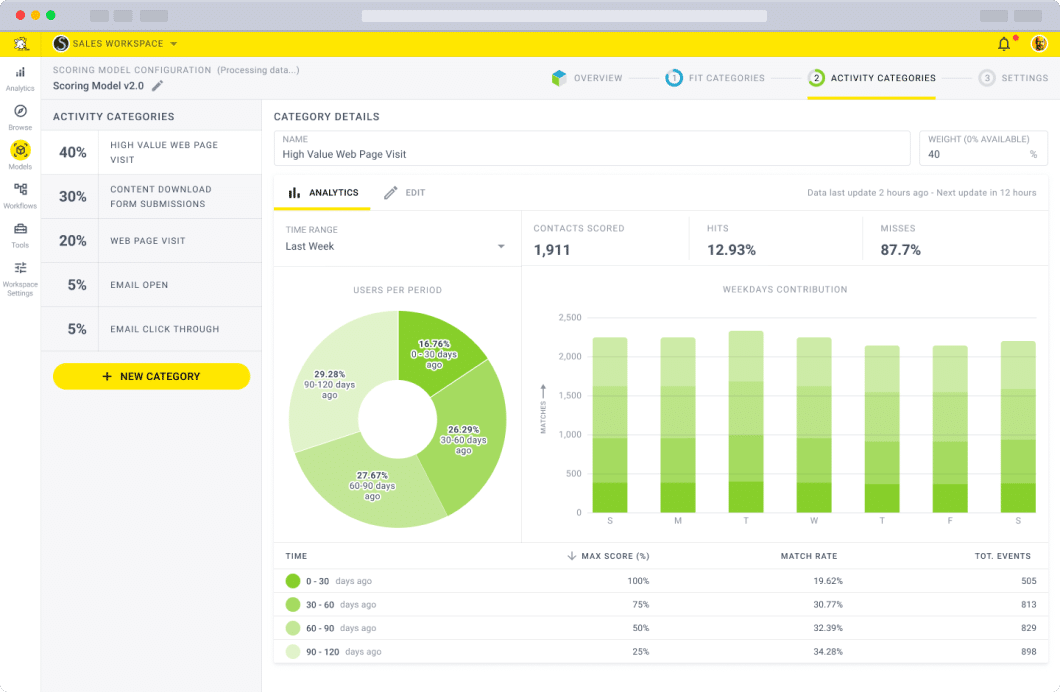 Each template takes unique factors into consideration.
If you want clients to book a demo, for example, you'll want to see traits like content downloads and high-value page visits above a certain threshold.
If you want to look for churn probably, product usage dates and knowledge base article views on cancellation can be important trigger events.
These models are complex and detailed— just like your business and just like your audience. You can learn more about our customer acquisition templates in our latest ebook here.
How to Get Started Using Breadcrumbs
Want to get started with Breadcrumbs?
The setup process is easy. When you first create your free account, you'll be asked to connect to an existing source of data.
Once you do this, you'll answer a few questions about your customers and your business. We'll offer customized suggestions for different contact scoring templates to get you started. You can then customize them at any point in time if your goals change.
If you're really ready to get started with Breadcrumbs, though, the first step is easy: book your free demo here.
Final Thoughts
If you want to acquire more high-value customers, sell more to those customers, and retain them longer, lead scoring and contact scoring should be a priority for your brand right now.
Breadcrumbs utilizes cutting-edge machine learning technology that accounts for complexities in client behavior, demographics, and business strategies to give your sales team the most accurate and up-to-date scores that you could possibly receive. This makes them more actionable and more profitable. It doesn't get better than that.
Interested in learning more about lead scoring and revenue acceleration? Book your free demo today.