In an ideal world, we see our leads as follow:
Signs up for a free trial or freemium
Experiences aha! moment within minutes of playing around the product
Upgrades to paid user without any interaction with the sales team
Sounds perfect, right?
That's the concept behind product-led growth, a go-to-market strategy that turns your product into a large sales force.
In this guide, let's look at how product-led growth helps you build a robust system that unearths your best leads on autopilot.
What is product-led growth?
Product-led growth (PLG) is a go-to-market strategy that uses your product as the primary channel of customer acquisition, conversion, retention, and expansion.
It's common to see startups implementing product-led growth with other go-to-market strategies.
Asana, a popular project management tool, uses a product-led growth approach for SMBs and sales assist for its mid-market clients.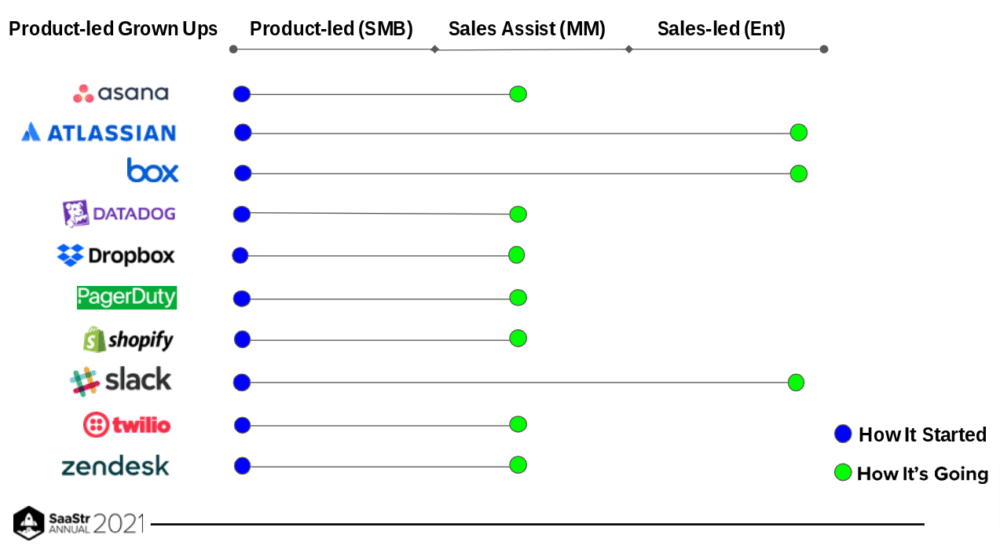 Here at Breadcrumbs, we recently went from a freemium to a sales-assisted demo-driven strategy.
Initially, we had offerings for:
SMB – Free and lower-tier plans
Mid-market – $800/month
Enterprise – Customized quote
So why did we change our broad strategy?
That's because we discovered our product wasn't mature enough to support all use cases.
Gary Amaral, CMO of Breadcrumbs, recounts the experience:
"Surprisingly, SMBs were the most challenging for us to support. We needed a robust onboarding experience and in-app support to drive free adoption and product usage required in a product-led growth strategy."
In the end, we narrowed our focus on mid-market clients, as they were mature enough to use our product.
Plus, our product was mature enough to support their use cases.
These companies were also accustomed to human-driven guided onboarding, which decreased the need for robust in-product onboarding and support from Day 1.
"Narrowing down to mid-market is also a reflection of where we are as a company today," reflects Gary.
"The insights from this first go-to-market strategy iteration will inform our next product-led growth strategy. We may not support SMBs yet, but we are moving in this direction as the product matures."
TL;DR: Your product maturity informs your go-to-market strategy, which changes over time.
How do you create a product-led growth strategy?
1. Onboard users based on functional role & help them succeed
A product's onboarding sets the tone for the entire customer relationship.
Knock it out of the park, and you create a fantastic first impression and improve the adoption rate.
All the more reason to invest in building flawless onboarding, right?
And yet, user onboarding leaves a lot to be desired.
Over 90% of customers feel that companies "could do better" when onboarding new users. Ouch.
We left out a crucial point in the statement above, and it's this: Users will leave no matter how well built a product is… if onboarding fails to guide them to experience value upfront.
This brings us to the next question: How do we onboard new users successfully?
According to Camille Ricketts, the head of marketing at Notion, we should leverage onboarding to acquire important information about the user and use it to customize their first experience.
This solves two problems in one go.
One, you segment these users into buckets right away, which leads to personalized marketing and at least a 5% lift in revenue (hello, revenue acceleration).
And two, you tailor their experience according to not only the size of their company but also their functional role.
Case in point: When you select 5-20 employees and the marketing team, Notion will show templates relevant to your role.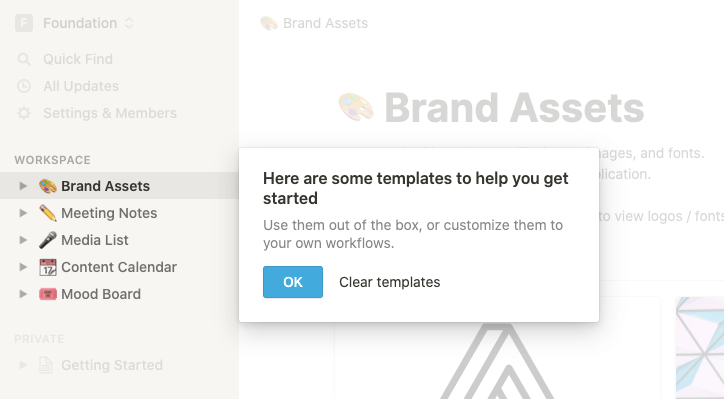 Essentially, what you want to do here is to figure out the user's persona and potential pain points in the first few seconds of onboarding (tip: you can replicate Notion's onboarding quiz-style in a product adoption platform like Pendo).
Then show them the most relevant tools, templates, or other resources to help them succeed and increase activation.
2. Discover what makes a PQL
Not all leads are equal.
If you want to spend your time on potential customers most likely to close, segment them into product-qualified leads (PQLs) and sales-qualified leads (SQLs).
A PQL is a lead who has experienced the value of a product through a freemium or free trial. In contrast, an SQL is a lead lower in the funnel and ready for a sales pitch.
How do you identify a PQL?
Connect your product analytics tool (e.g., Pendo, Segment) with Breadcrumbs and look for patterns that make customers upgrade to a paid plan.
Breadcrumbs is a revenue acceleration platform based on a co-dynamic lead scoring system. Book a demo with Breadcrumbs today to analyze how leads are using your product and identify what's holding them back from converting to customers.
You'll notice that these converted users completed many similar predefined tasks (tip: if you're using Pendo, you can find these tasks in the account retention usage widget).
Here are three examples of predefined tasks based on a product's category:
Business communication suite: 50 messages sent
eSignature tool: Three documents uploaded, sent, and signed / month
Product growth platform: Live code snippet installed and regularly chatting with web visitors
Include these newly found tasks in the PQL criteria. Here's how it might look if you're using Pendo.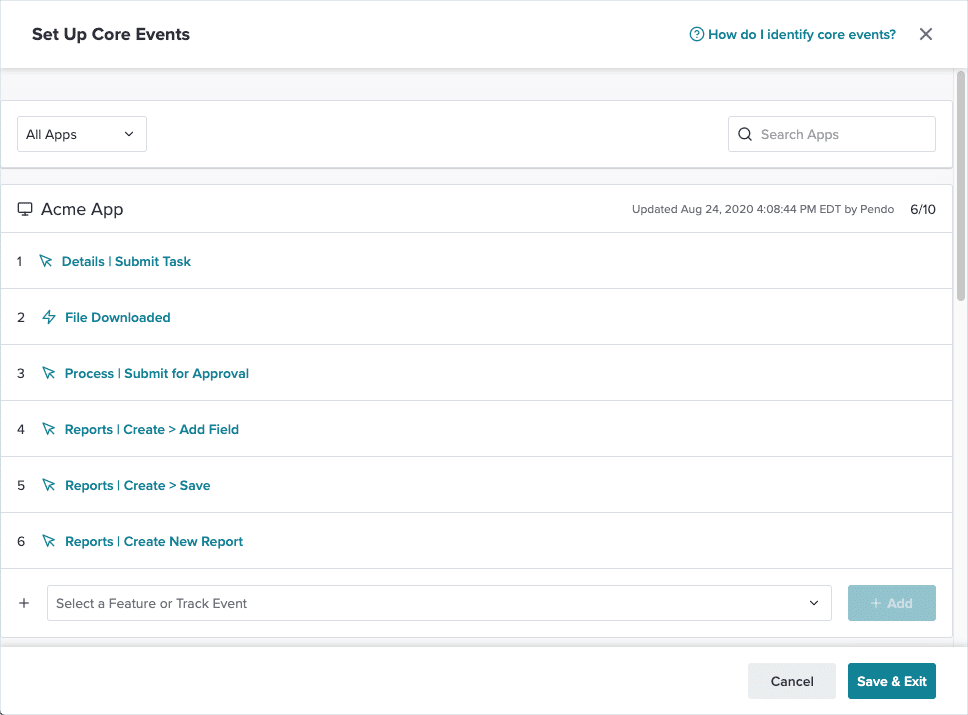 Remember, these predefined tasks should lead users to the 'aha!' moment.
3. Uncover what makes an SQL
While PQLs are indeed effective at gathering insights on product usage, they are still a siloed subset of data.
To turn your product into a large sales force in a product-led growth strategy, connect all customer data across different touchpoints (we're talking about their activity from marketing automation, CRM, live chat bots, and in-app).
You'll have a more holistic view of your lead activity and craft better messages to convert them to customers.
First, connect your CRM with Breadcrumbs to determine your SQLs.
Select the signals that show a clear buying intent (e.g., multiple visits to the pricing page, high click rates in emails).
Again, look for patterns in your converted users to pinpoint these attributes (hint: cross-reference it with your buyer persona).
Next, input these conditions in the Fit model.
For example, if you're targeting C-suite executives, enter CEOs, VPs, Directors and the like in the following field.


Then select the web page(s) that trigger an action in the Activity model.
Maybe you discovered that your enterprise customers tend to visit the pricing and contact page. In that case, you'll want to pick the And operator and include the URLs for both pages in the Event field.


Whenever a lead fits these criteria, Breadcrumbs will send all scoring information to your CRM (e.g., HubSpot) and notify you of the sales opportunity.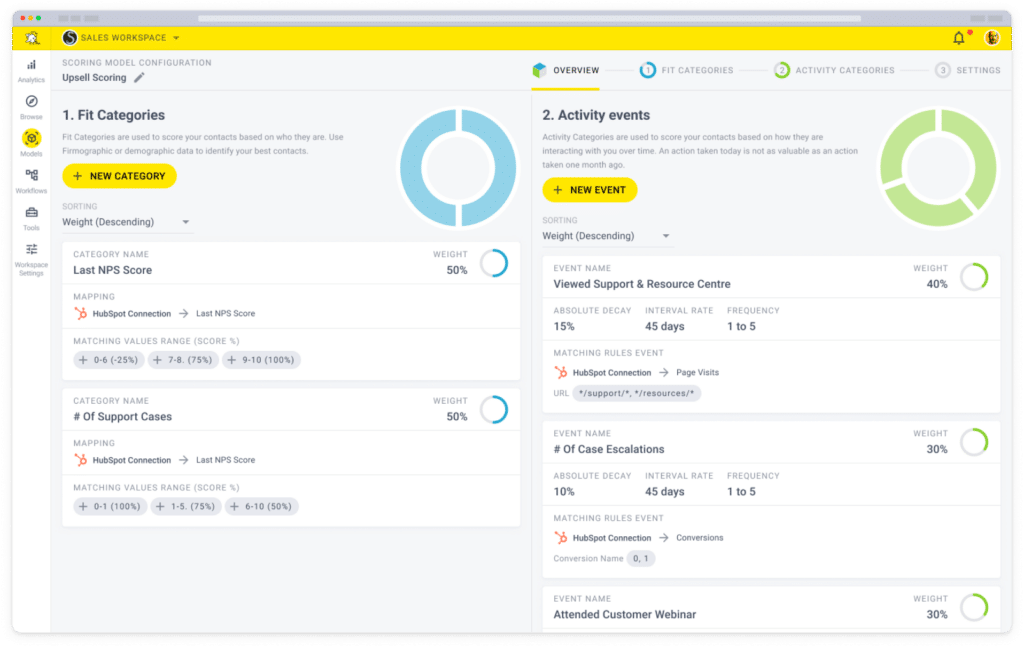 With your CRM and in-app tool integrated with Breadcrumbs, you'll get a bird's eye view of your leads' product usage and engagement in one place.
Thanks to the essential data housed under one platform, you can finally use these valuable insights to build a hyper-targeted marketing campaign (e.g., email drip sequence, sales pitch if you're a sales-assisted or sales-led company) so specific to the buyer's journey that they'll wonder if you're reading their mind.
Let's explore how this might look like in a fictional example.
Imagine you're selling a video hosting platform.  

After selling to hundreds of marketing managers from B2B startups, you discovered that they upgraded because they wanted to include their company's name on the video banner. 

Often, these customers would visit the pricing page and support center before upgrading as they wanted to learn more about this premium feature.

You also discovered that they usually completed the following three tasks before clicking the upgrade button: 

- Customizing their video
- Integrating it with a third-party tool
- Adding users to their account

What do you do next? 

Well, you could highlight this popular banner customization feature in your conversion email sequence and send it to leads who:

- Completed the three predefined tasks listed above 
- Work as marketing managers in B2B startups, and 
- Visited the pricing page and support center

See how insanely targeted this email sequence is?  
It came at the perfect time, just when the lead experienced the "aha!" moment of your product and is ready to commit.
Book a demo with Breadcrumbs to connect the dots with your leads' behavior today.
Scale product-led growth with Breadcrumbs today
Product-led growth is a "freemium or free trial done right" strategy that turns your product into a large sales force.
In order for it to scale, you need a robust system to uncover your best leads on autopilot—one surefire way is setting your PQLs and SQLs on Breadcrumbs.
That way, you'll get a complete view of your leads' product usage and engagement in one place, craft targeted messages, and convert them to customers over and over again.
Book a demo with Breadcrumbs today.