As if setting a price point for your first SaaS product isn't stressful enough, you still need to optimize it further down the road ahead.
No startup founder wants to leave money on the table. And luckily, that's what you'll learn in our SaaS Pricing guide today.
Recap: What is SaaS Pricing?
SaaS pricing refers to the pricing model of your SaaS product. Here are the most popular B2B pricing models in the software world:
Flat rate: A single price of a single product for a set of features (e.g., Superhuman, Basecamp).
Usage-based: Price based on how much a customer uses a product (e.g., Zapier, Mux, Twilio).
Pay-per-user: Price based on the number of members using the product (e.g., Canva, Notion, Airtable). Also known as per-seat pricing.
Tiered pricing: Price based on tiers of service (e.g., HubSpot, SparkToro).
Pay-per-feature: Price based on features and functionality (e.g., Leadpages, Xero, WordPress).
We'll explore how each pricing model (including freemium) works in a minute. For now, let's briefly talk about the steps involved in a pricing strategy.
How Do You Price B2B SaaS Products?
Keep Your Competitors Close and Your Customers Closer
Kicking off the SaaS pricing strategy is market research. In other words, you need to first spy on your competitors.
How much are they charging right now? More importantly, how do you stack up against them?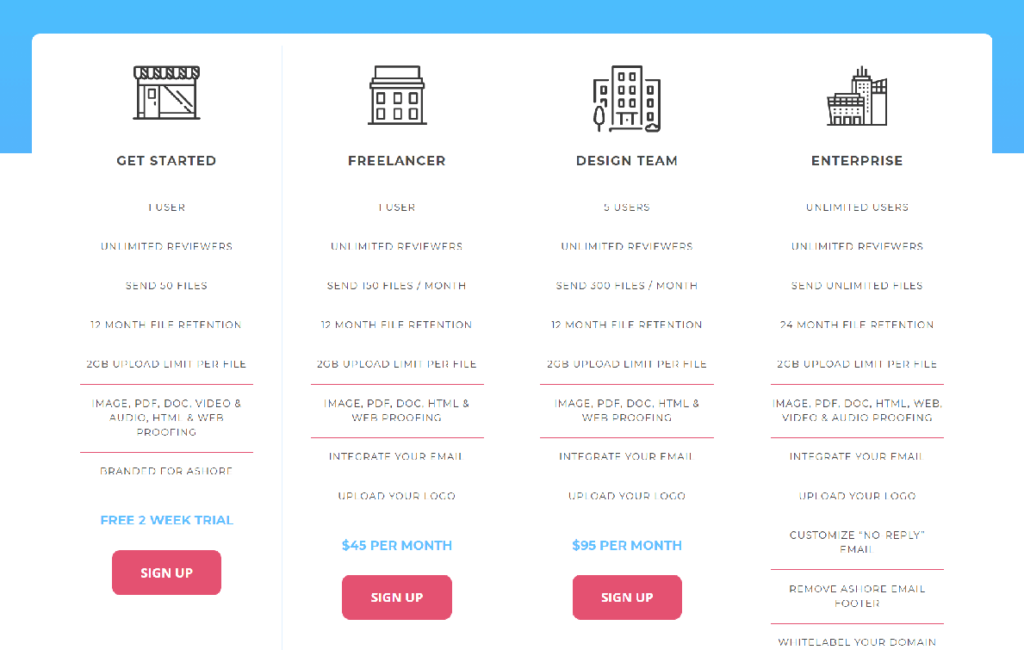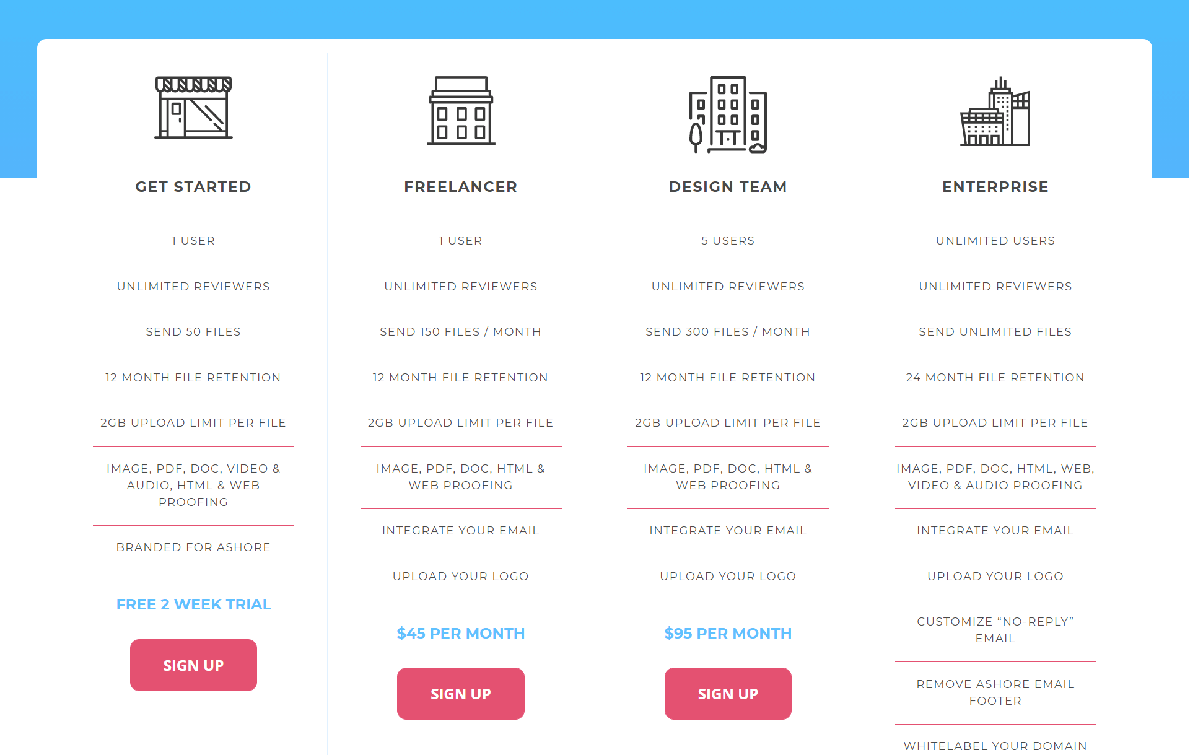 Say you just created an online proposal software.
Competitor A is offering $25 per month for its entry-level plan. Competitor B sells for only $5 per month. 

Competitor A is an industry leader and a venture-backed company. It boasts many features on top of its online proposal tool, such as a built-in client portal, time tracker, and invoice maker. 

On the other hand, competitor B is a bootstrapped startup and relatively new in the market. It offers only an online proposal editor.

That explains the considerable price difference.

Think about the features you're offering. You should be able to come up with a ballpark figure after assessing the competition. 
Pro Tip in SaaS Pricing: Conduct customer research to get a better idea of your pricing flexibility. Market research is only one part of the puzzle! Run both in parallel.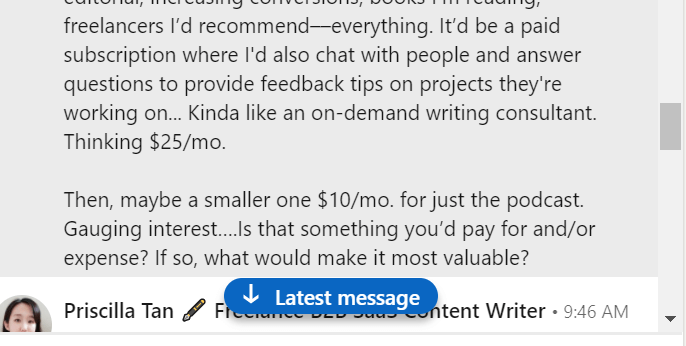 Use surveys like SurveyMonkey or Google Forms to gauge your users' pricing preference. Alternatively, leverage your network. Reach out to the primary decision-makers in your target companies to identify a reasonable price point.
And While You're At It, Factor in Your Business Costs
Next, take into account your business expenses. Here are several examples to show you what we mean:
Server cost: Web hosting can be expensive. How much are you spending a month to run your SaaS tool? Factor that in!
Employee costs: Are you handling support on your own or do you have a team of agents available 24/7?
Tech stack: This can be business software from invoicing and bookkeeping to marketing automation and lead scoring. Take your monthly subscriptions into account.
Marketing: How much will you spend on marketing to acquire customers? Include the amount you plan to invest in ads, affiliates, and referrals.
There's a lot more to setting the right price for your SaaS product. Check out Pricing Analysis: The Process Of 7 Successful SaaS Startups to find your ideal SaaS pricing.
What are the Different SaaS Pricing Models?
As you learn more about these different SaaS pricing models, bear in mind that there might be some overlaps. For instance, Basecamp, a project management platform, may be known for its flat-rate pricing, but it also offers a freemium plan.
Alright, let's dive in.
Flat Rate
What it is: Single price of a single product for a set of features (e.g., Superhuman, Basecamp).
Flat rates are tricky.
On the one hand, there's transparency which is always a plus in customers' books. Users know what they have to pay upfront, and there are no hidden fees. It's an excellent way to instill trust right off the bat.


Here's a Capiche user explaining why he's a fan of Basecamp's "unusual and incredible" flat-rate pricing.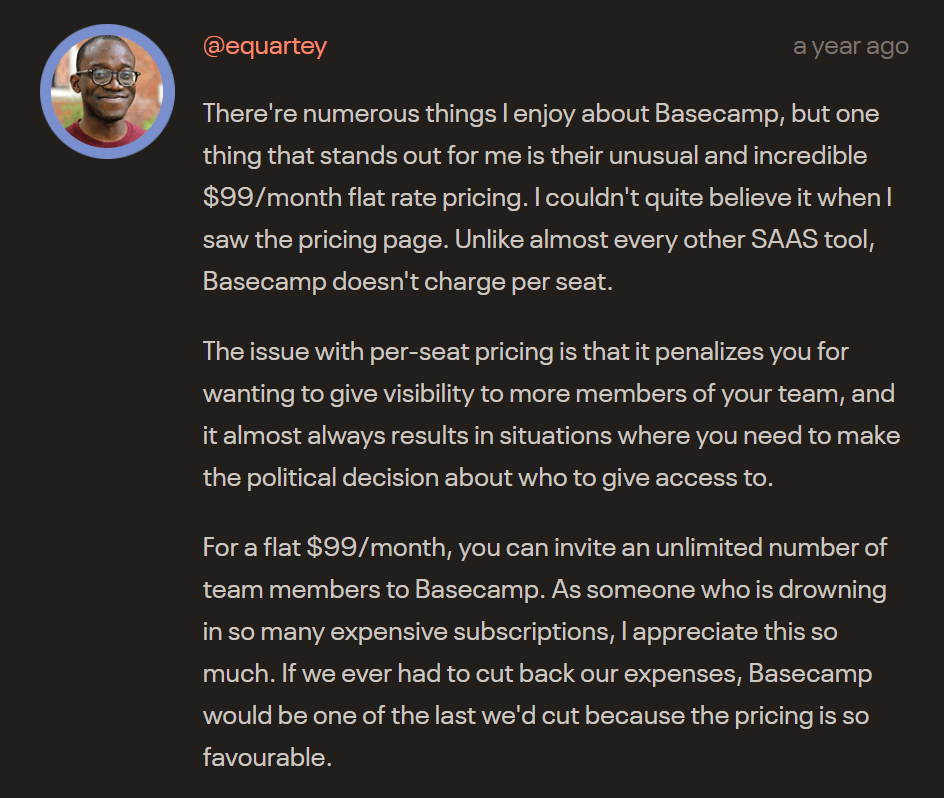 Flat rate pricing is attractive to customers requiring unlimited capabilities.
Of course, that doesn't mean Basecamp's pricing is perfect for all. For the solo freelancer who works with few clients and only requires basic features, it'd be silly to pay $99 every month.
They're better off using a cheaper tool!
The flat-rate approach also removes all opportunities to upsell customers. Since customers pay the same amount for ten or 100 users, there's no way to increase revenue through, say, per-seat pricing.
In short, it's not common to see flat-rate SaaS pricing. In fact, the other startup that I could think of that uses the model is Superhuman.
Usage-Based
What it is: Price based on how much customers use the product (e.g., Zapier, Mux).
The usage-based model enables you to grow with your users. It's common to see new-ish startups opting for this route as they grow bigger and more sophisticated.
The pay-per-use approach lowers the barrier for signing up, as customers only pay for what they use. Their costs scale alongside usage.
Many pay-as-you-go startups offer "free credits" to get users on board.
For example, Zapier provides five zaps and 100 tasks every month. Mux, a video API-first platform, offers $20 worth of free credits.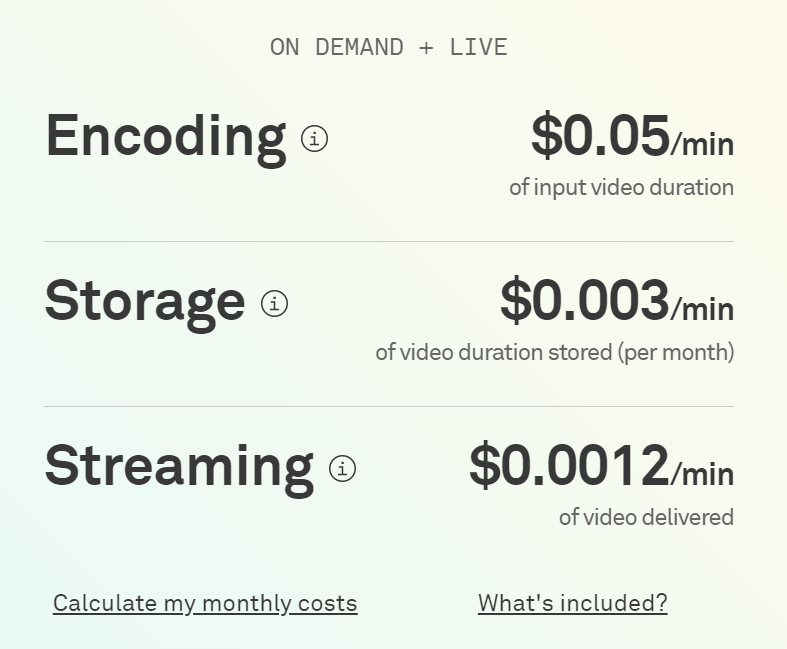 It's common to see a calculator on usage-based pricing pages. There's a sliding scale in Mux's case that shows what the cost is at the customer's current usage. Users can play around with it and see how the cost changes accordingly.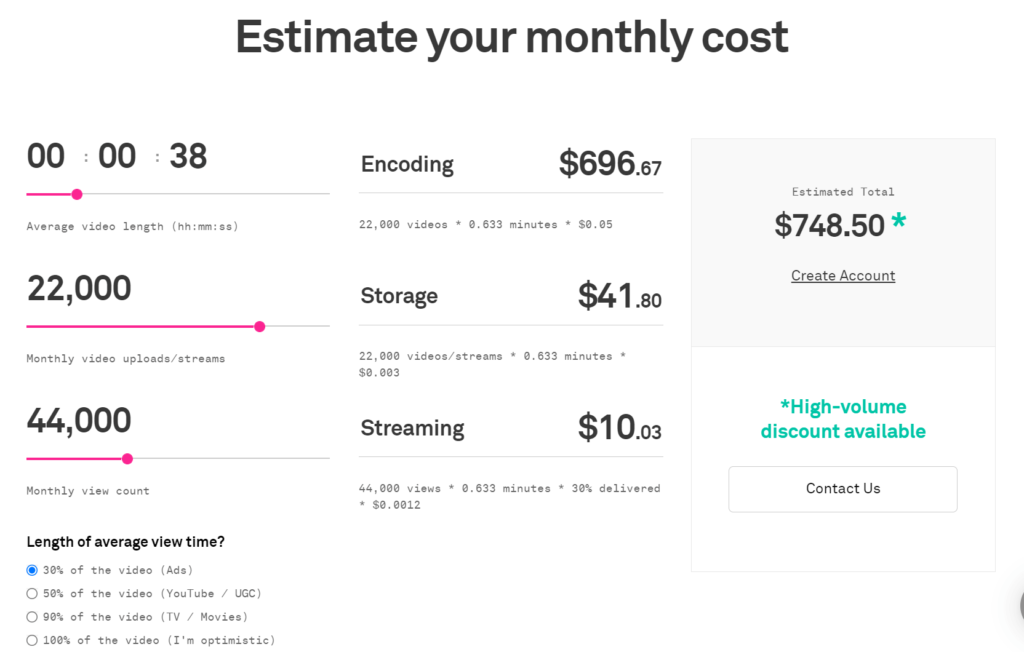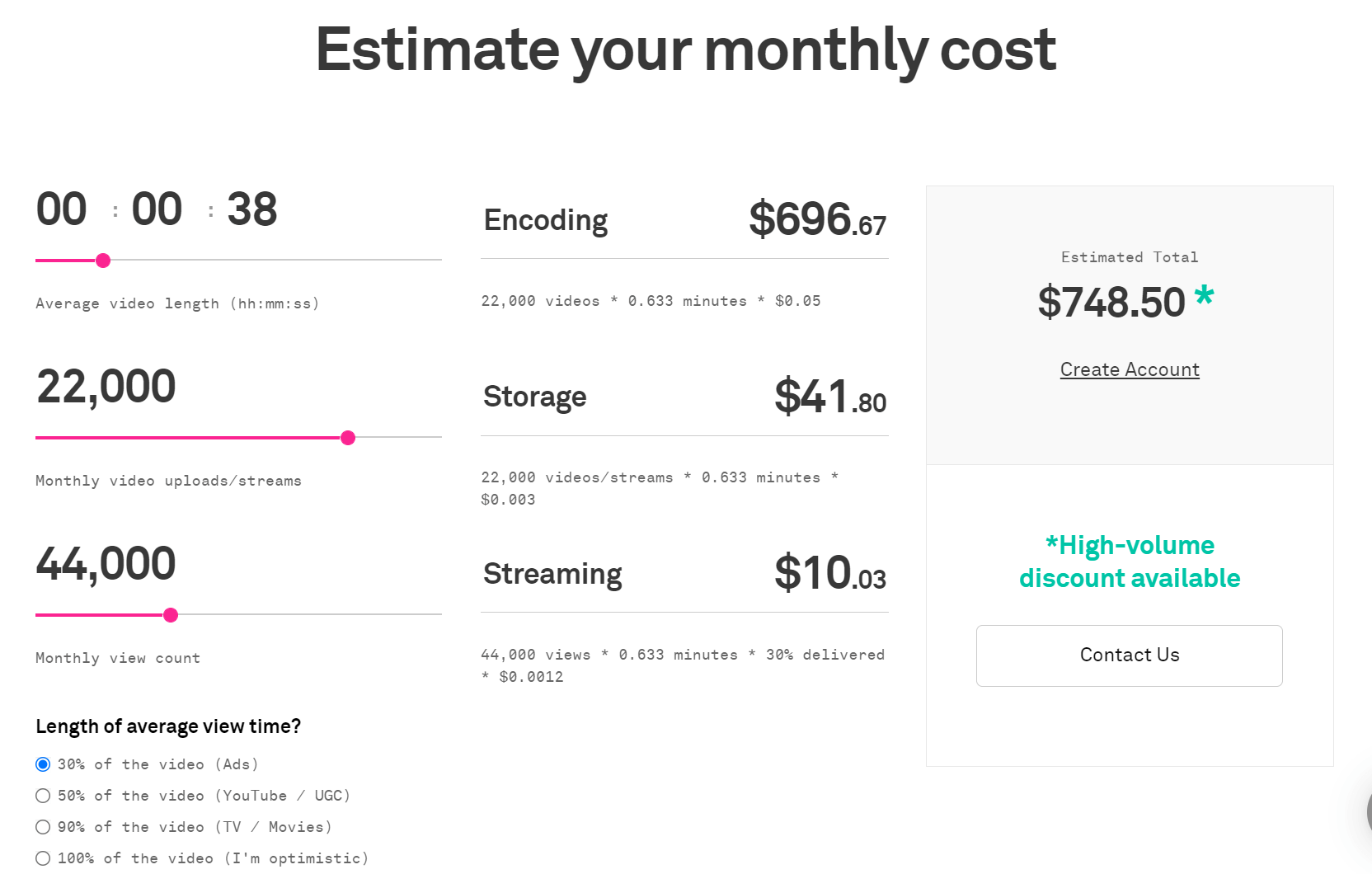 TL;DR: Mux's pricing page is excellent.
Pay-Per-User
What it is: Price based on the number of members using the product (e.g., Canva, Notion, Airtable).
The pay-per-user model creates a predictable revenue stream.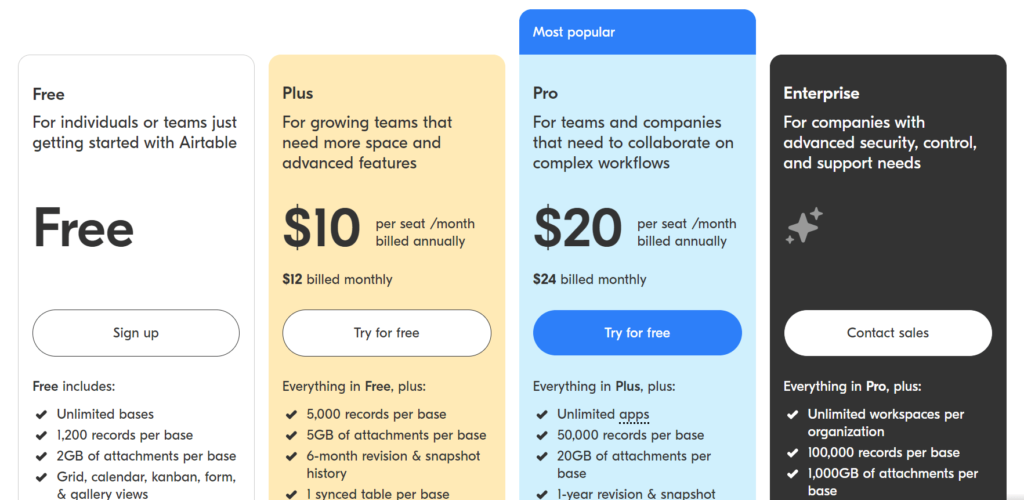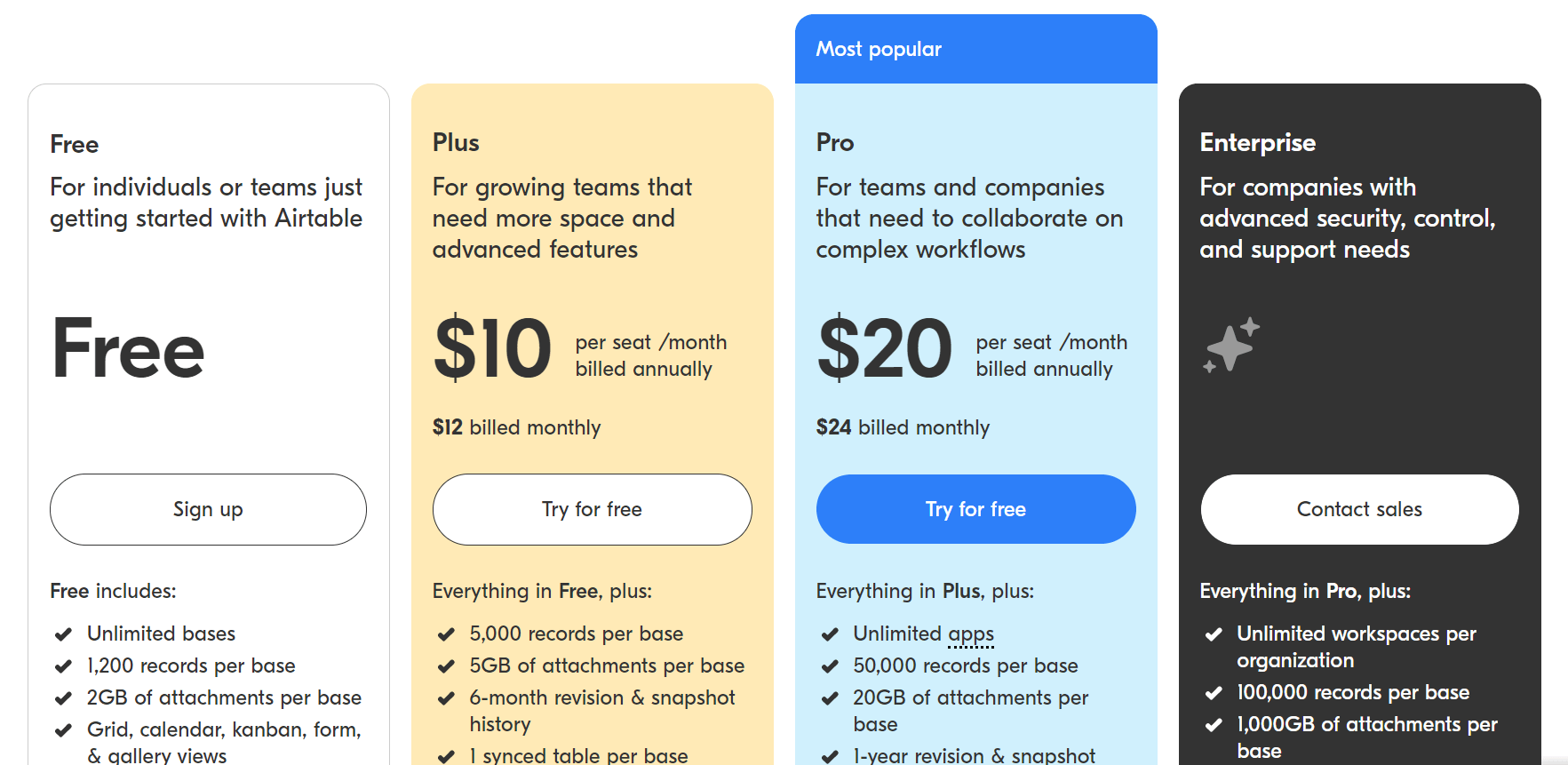 This model is unlike usage-based pricing, which makes it hard to estimate your revenue every month. With the per-seat pricing, you basically renew each user every month with minimal effort.
However, there's one major downside. As previously mentioned above, the per-seat pricing model might cause customers to question the value of your product and justify the cost to the company.

The per-seat pricing model may also result in multiple users using a single login.
Tiered Pricing
What it is: Price based on tiers of service (e.g., HubSpot, SparkToro).
It's all about flexibility.
With this model, you're giving prospective customers to choose between your different pricing tiers based on their needs. Usually, it's four plans max.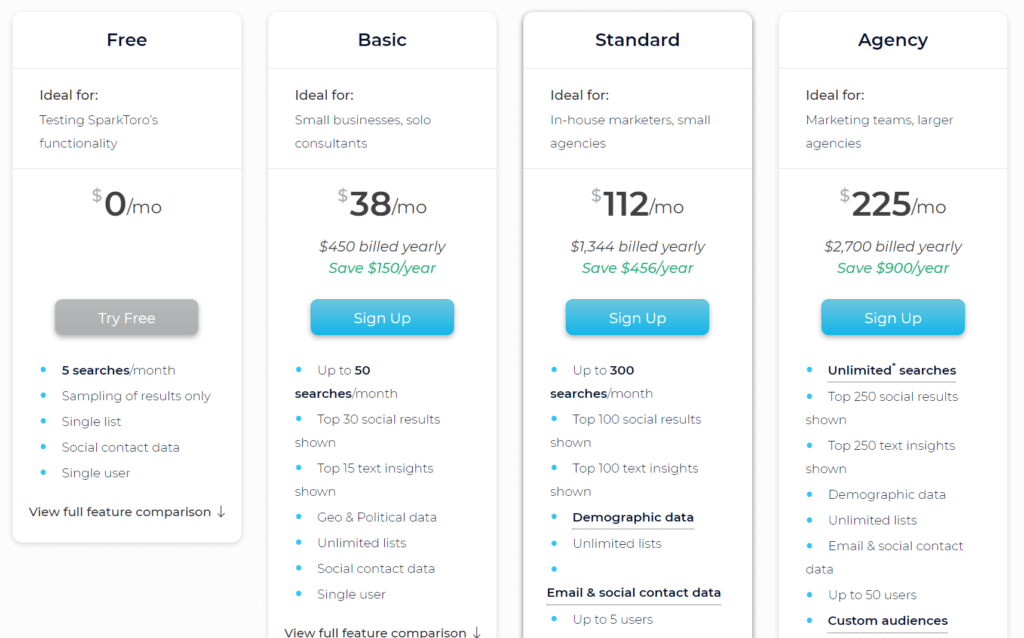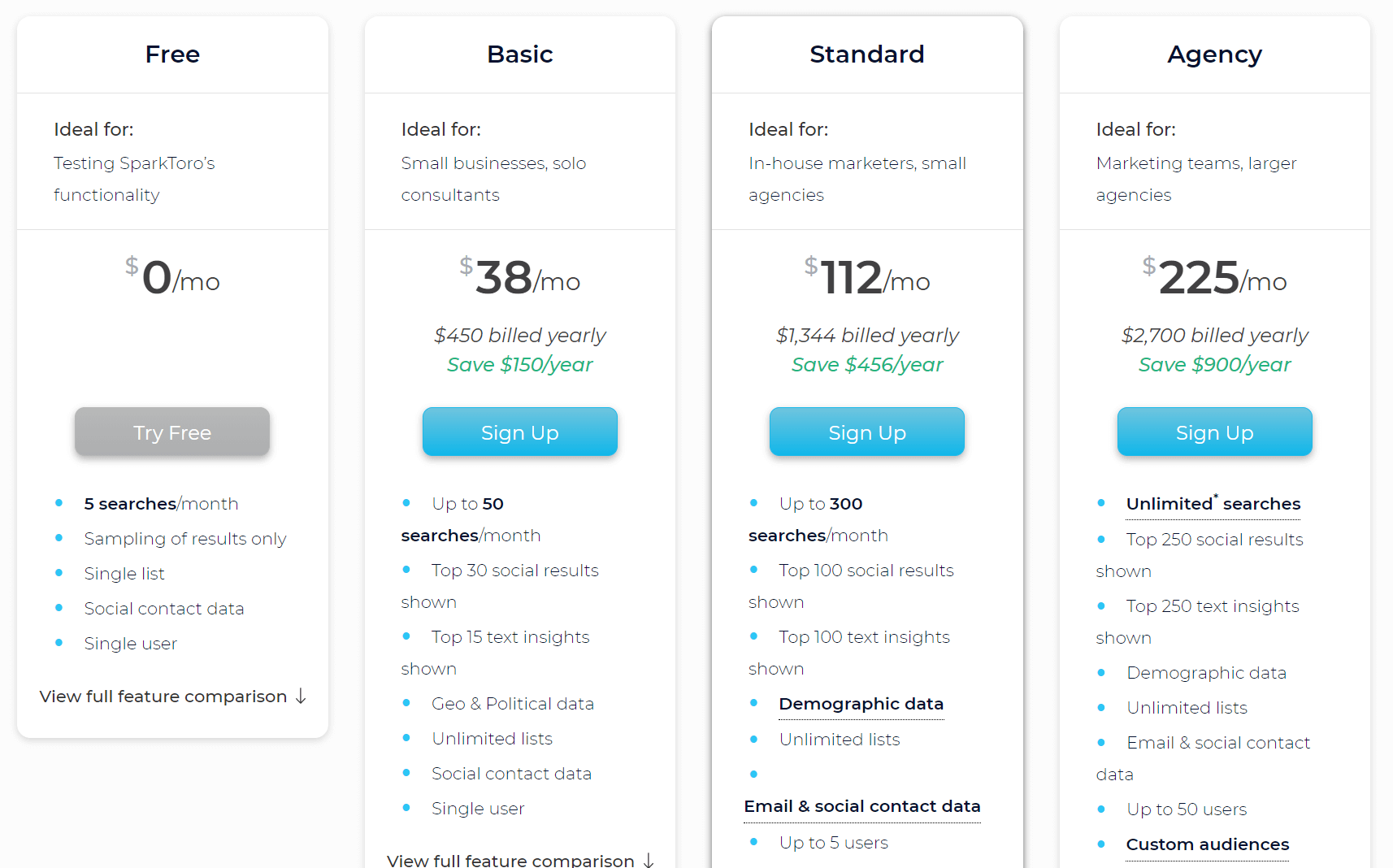 The tiered pricing model creates many upsell opportunities, as customers outgrowing their current plan will likely upgrade to a bigger and premium one.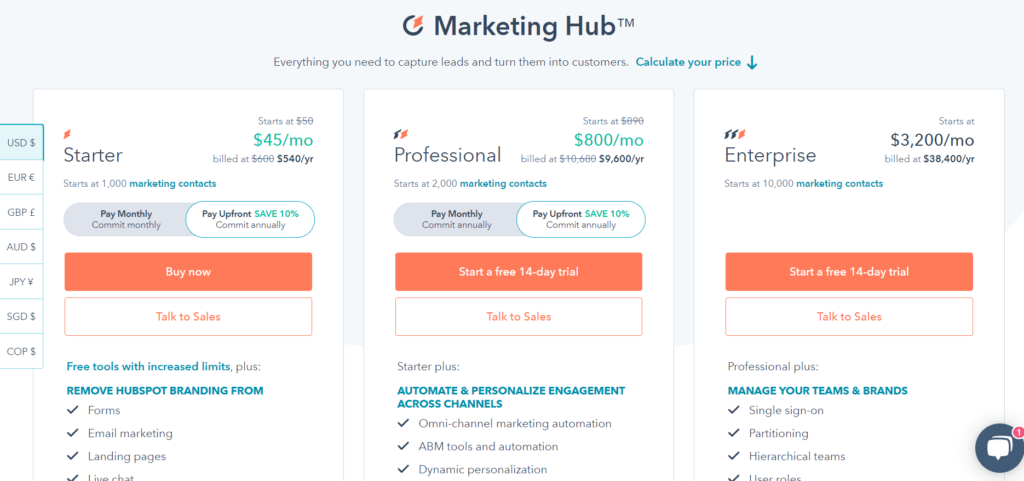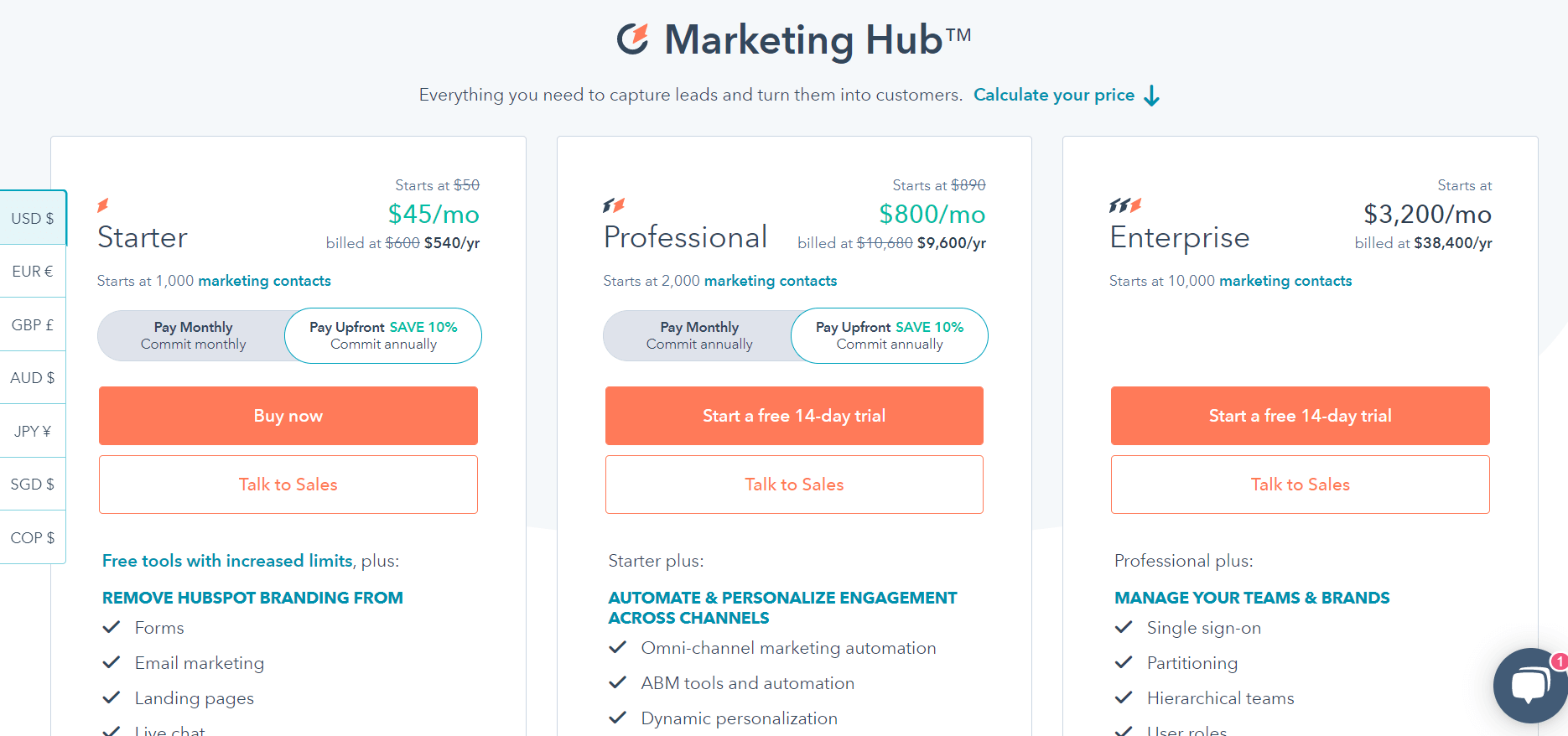 HubSpot deserves an extra brownie point for its transparency. Note how it includes the starting price for its enterprise plans.
This is rare, as many SaaS startups require prospective customers to contact them for a quote. "Sit through a 30-minute demo just for a quote? Yeah, I'll pass."
Build your pricing plans according to your different buyer personas—assuming you have multiple target audiences. There shouldn't be a one-size-fits-all solution. A small startup will require different features than an enterprise with a thousand employees.
Pay-Per-Feature
What it is: Price based on features and functionality of the product (e.g., Leadpages, Xero, WordPress).
Pay more and unlock more features—that's the premise of the per-feature pricing model.
From the customer's perspective, the feature-based pricing helps them save money long-term as they only pay for what they need. But on the other hand, it's hard for software vendors to nail it because it's challenging to know which customers will require certain features.
This goes back to your customer research.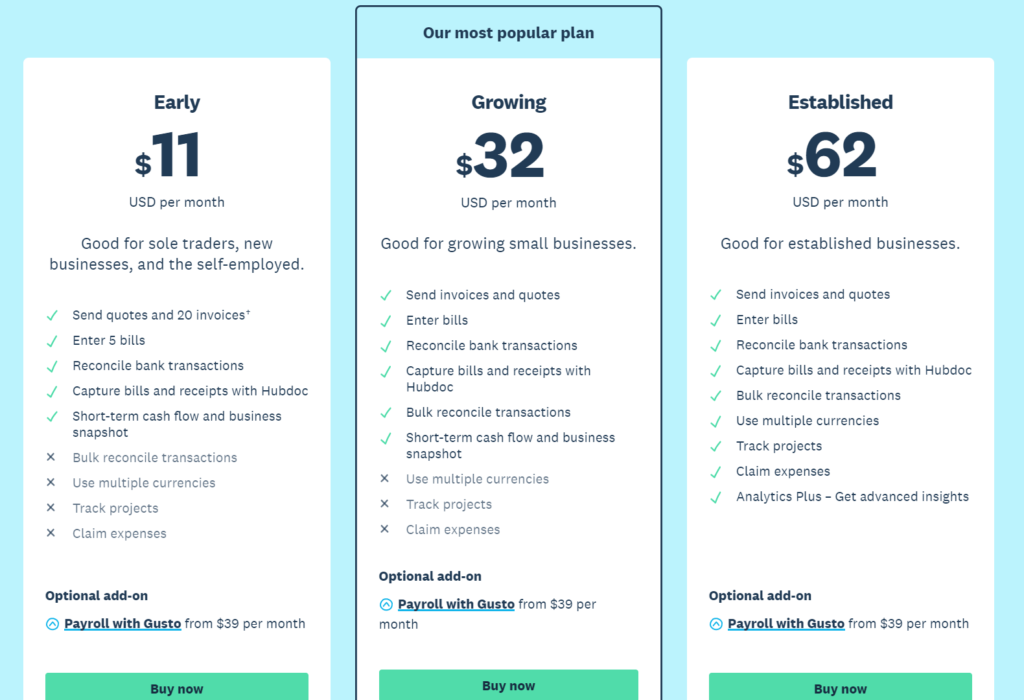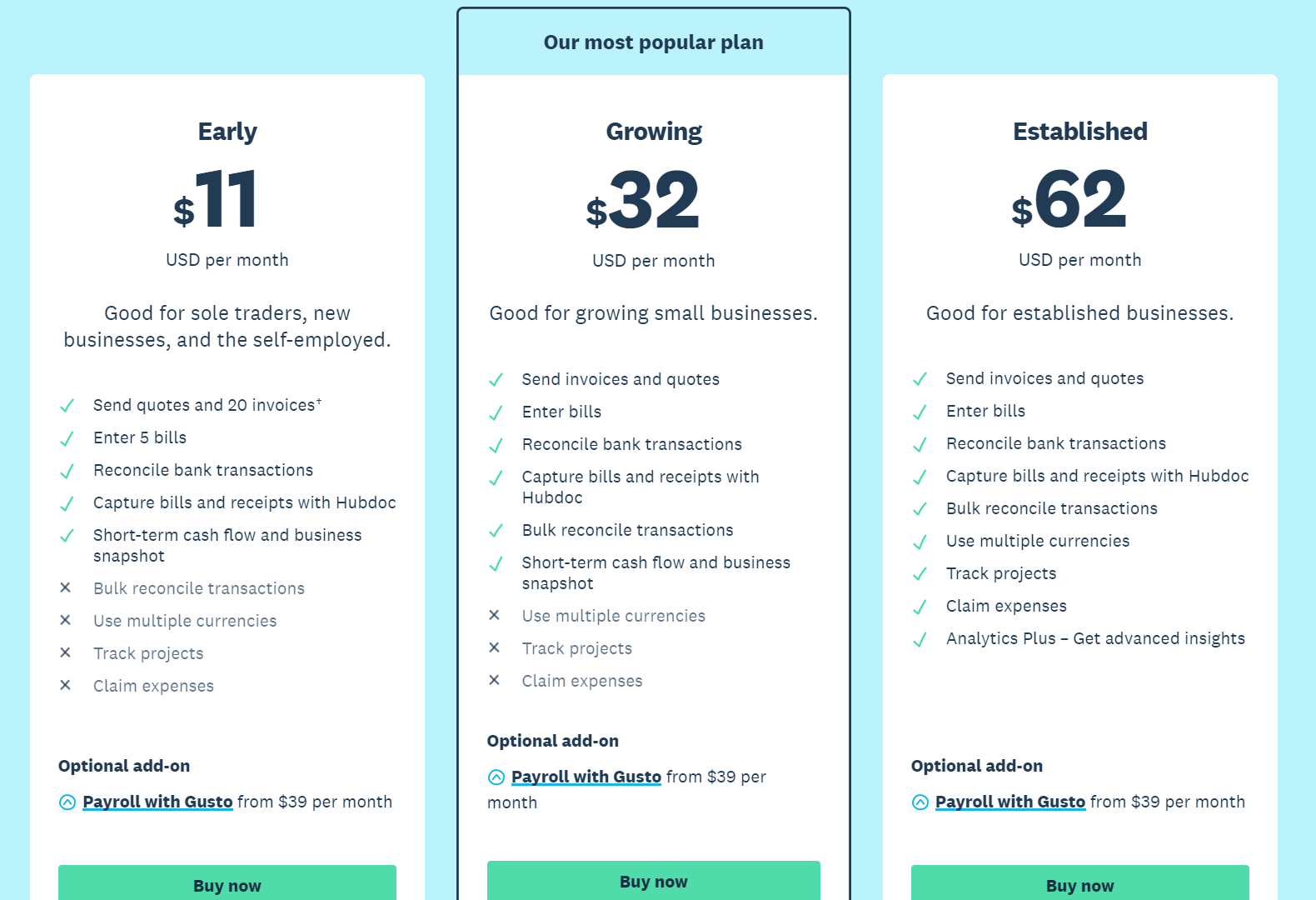 Another popular company that uses the per-feature model is Leadpages. Friendly reminder: Add a slider to show how much prospective customers can save when they sign up annually to boost conversions and cash flow.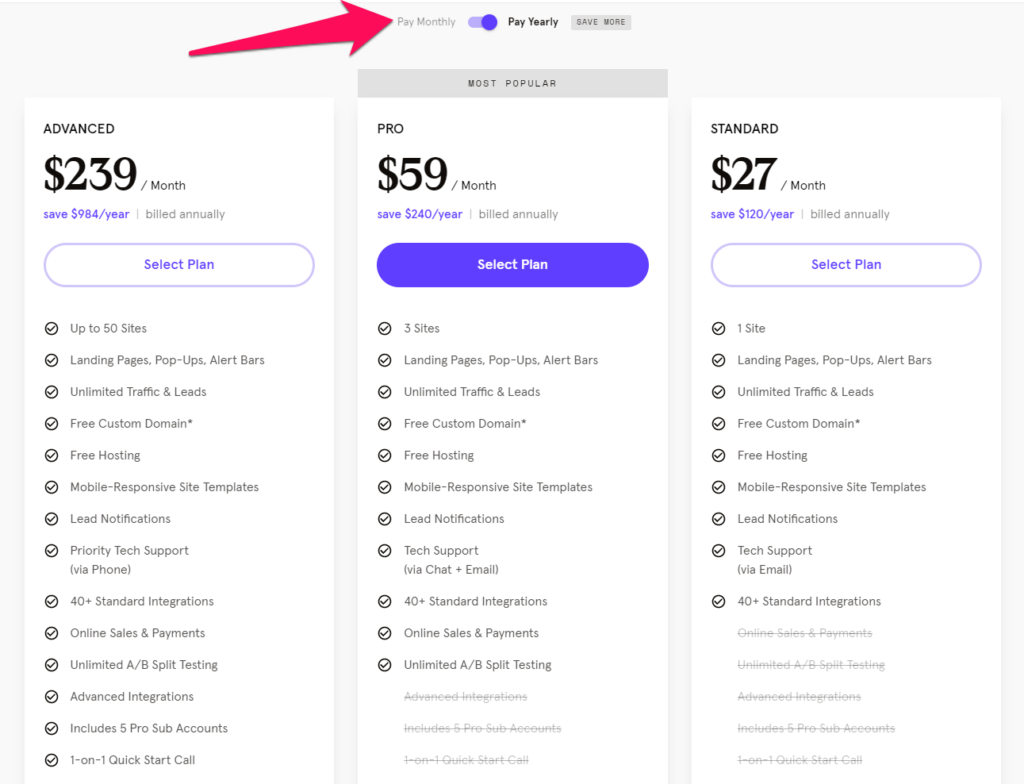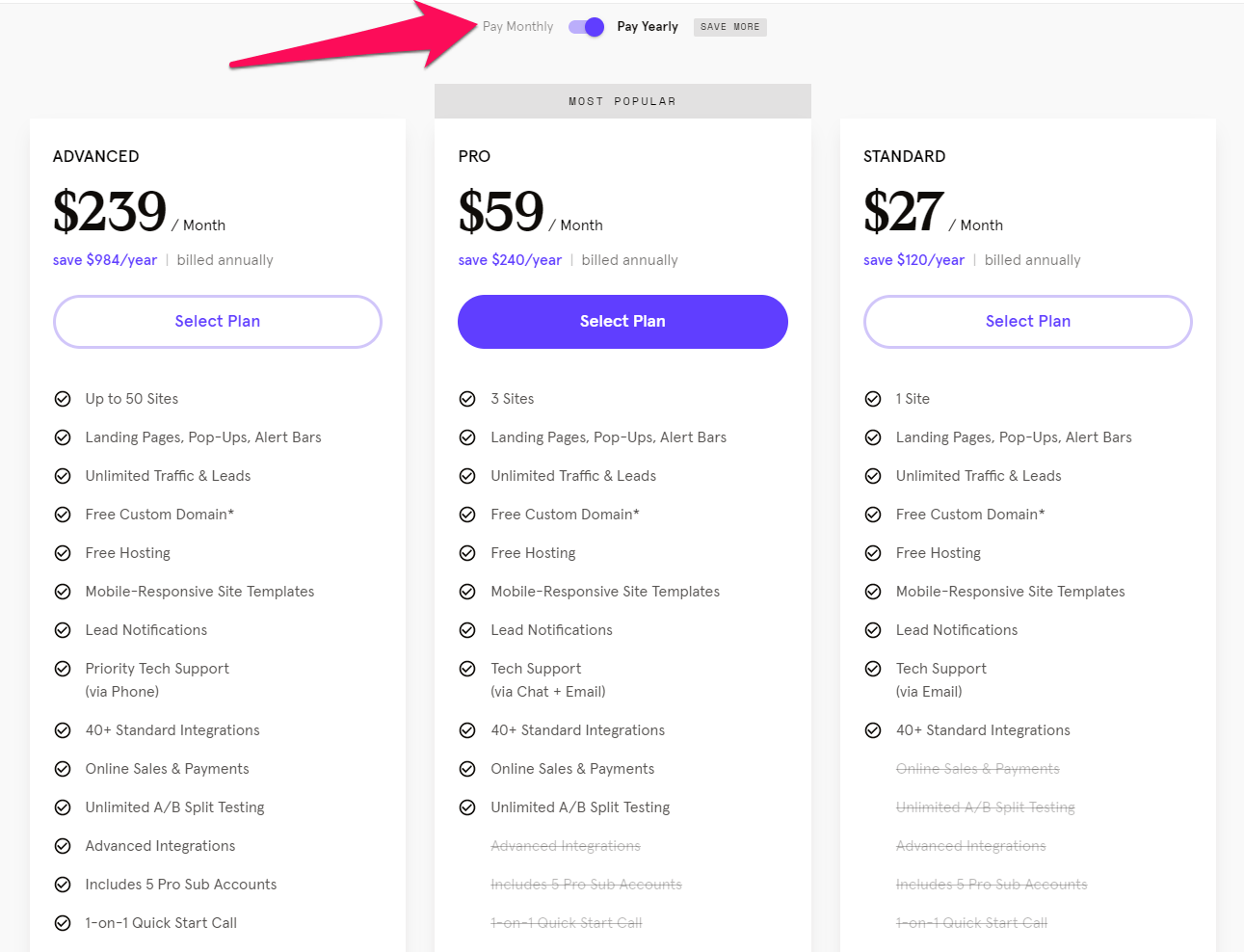 Want to learn more about the specific pros and cons of these pricing models? Click to read our Top 6 SaaS Pricing Models Unraveled: What's The Best For You? post.
Now, Let's Talk About Freemium
If you were to ask a group of startup founders to choose between freemium and free trials, which would they pick?
Odds are, the majority will pick the latter in a heartbeat.
And it makes sense.
After all, the freemium model requires you to shoulder the weight of supporting free customers infinitely. It's an unsustainable B2B pricing model in the long run, especially if you run a smaller startup with a modest budget and insufficient support.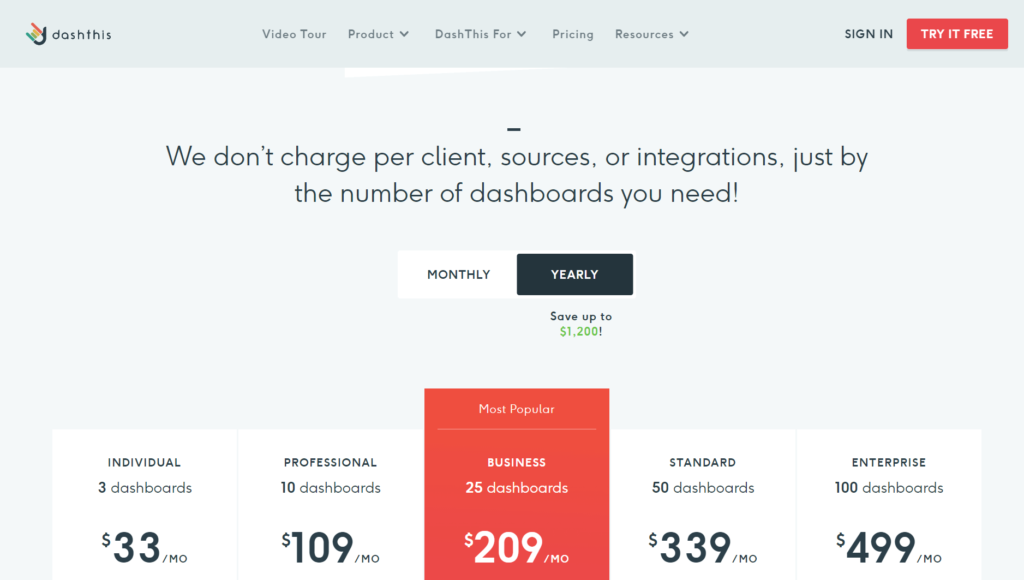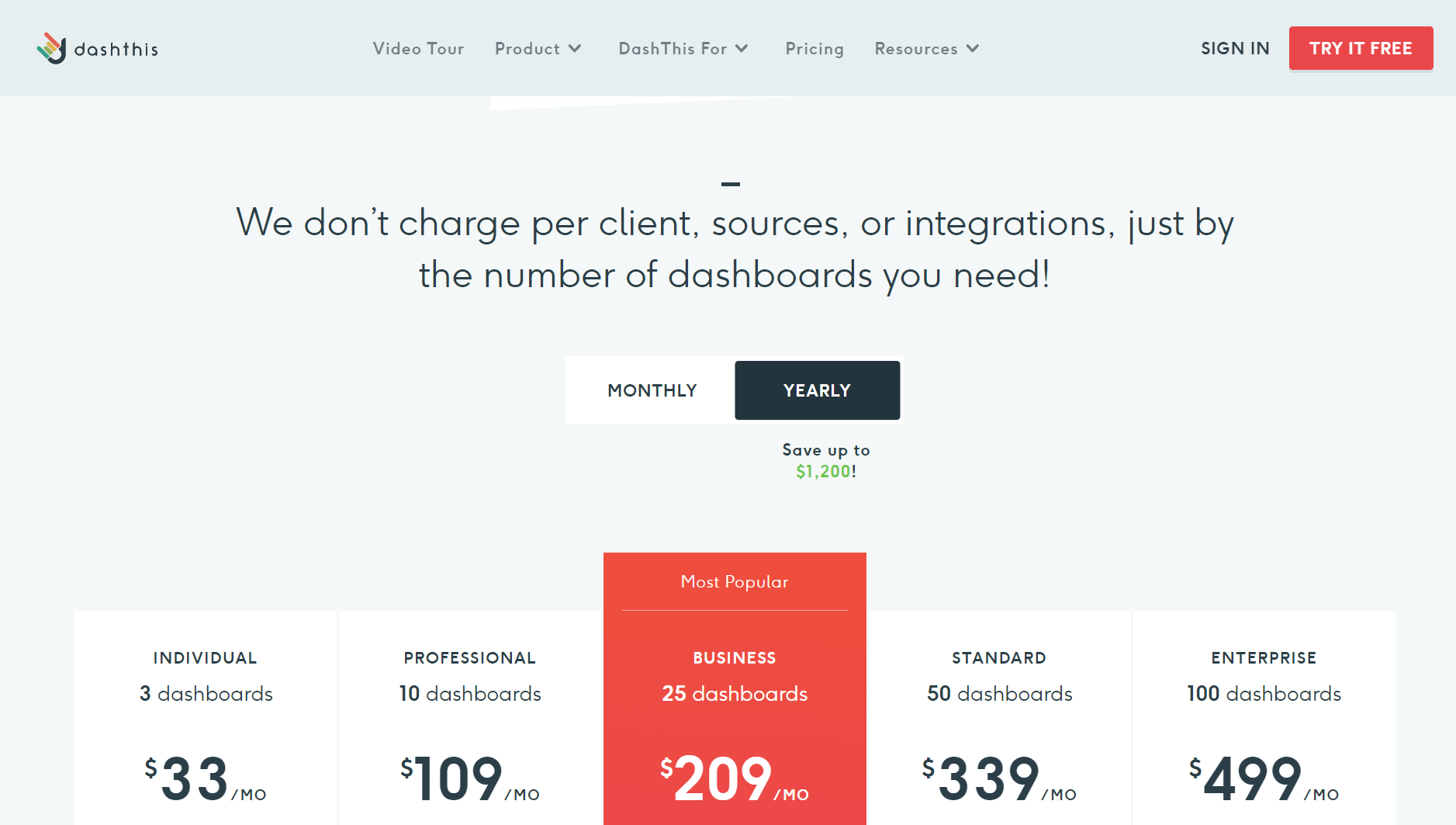 However, freemium does have its place.
For starters, it has the potential to become a robust customer acquisition channel. Your free users might end up referring more users to your product, converting a good chunk of them to paying customers.
Secondly, this SaaS pricing model helps early-stage startups gather user feedback for a new product.
Moreover, freemium might also help with scaling. In our Freemium vs. Free Trial post, DashThis founder, Stéphane Guérin, shared that it's worth considering going freemium if you have the right financials.
Ultimately, you want to look at your product, market, and target customers. Consider these three questions:
How long will it take users to see the total value (a.k.a, the "aha!" moment) of your product? If it takes more than the typical seven to 15-day free trial, freemium might be a better option here.
Are your competitors offering a freemium or free trial model? Two things happen when you offer a wildly different SaaS pricing model. One, it could stump customers and prevent them from signing up. Or two, it could differentiate you from the pack and win you your competitors' customers. Test to see which works for you.
Do you target enterprise customers? If that's the case, the freemium model makes little sense. Large corporations generally have bigger budgets; they can shell out money for your product!
Now, what about free trials?
These time-based free products are popular in the SaaS world as they promote urgency.
Note that some free trials have no time limits. Take Screenflow, for instance. The screen recording software includes a watermark in your exported videos. To remove the watermark, you need to upgrade from the free trial to a paid plan.
Interestingly, some startups go against the grain with their pricing.
Ahrefs requires users to pay $7 for its seven-day free trial.
Likewise, its competitor, Surfer, doesn't offer any free access. Instead, it offers a seven-day money guarantee.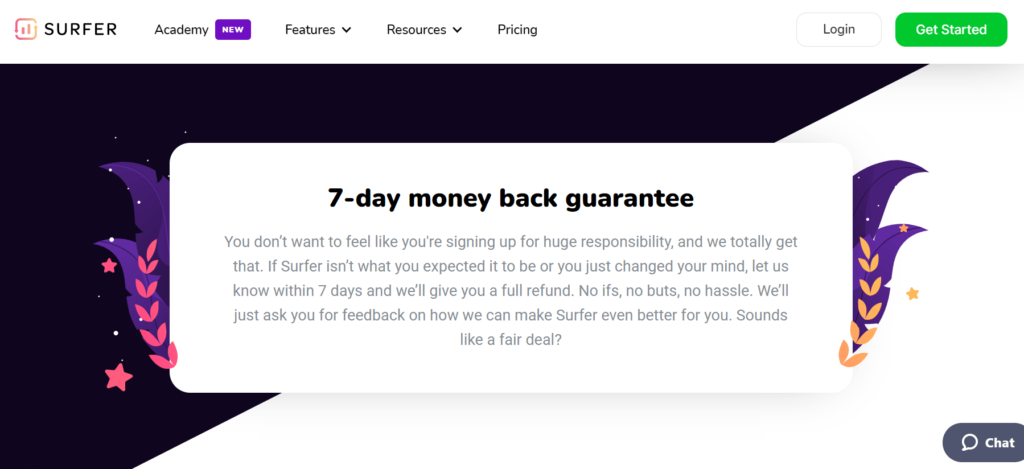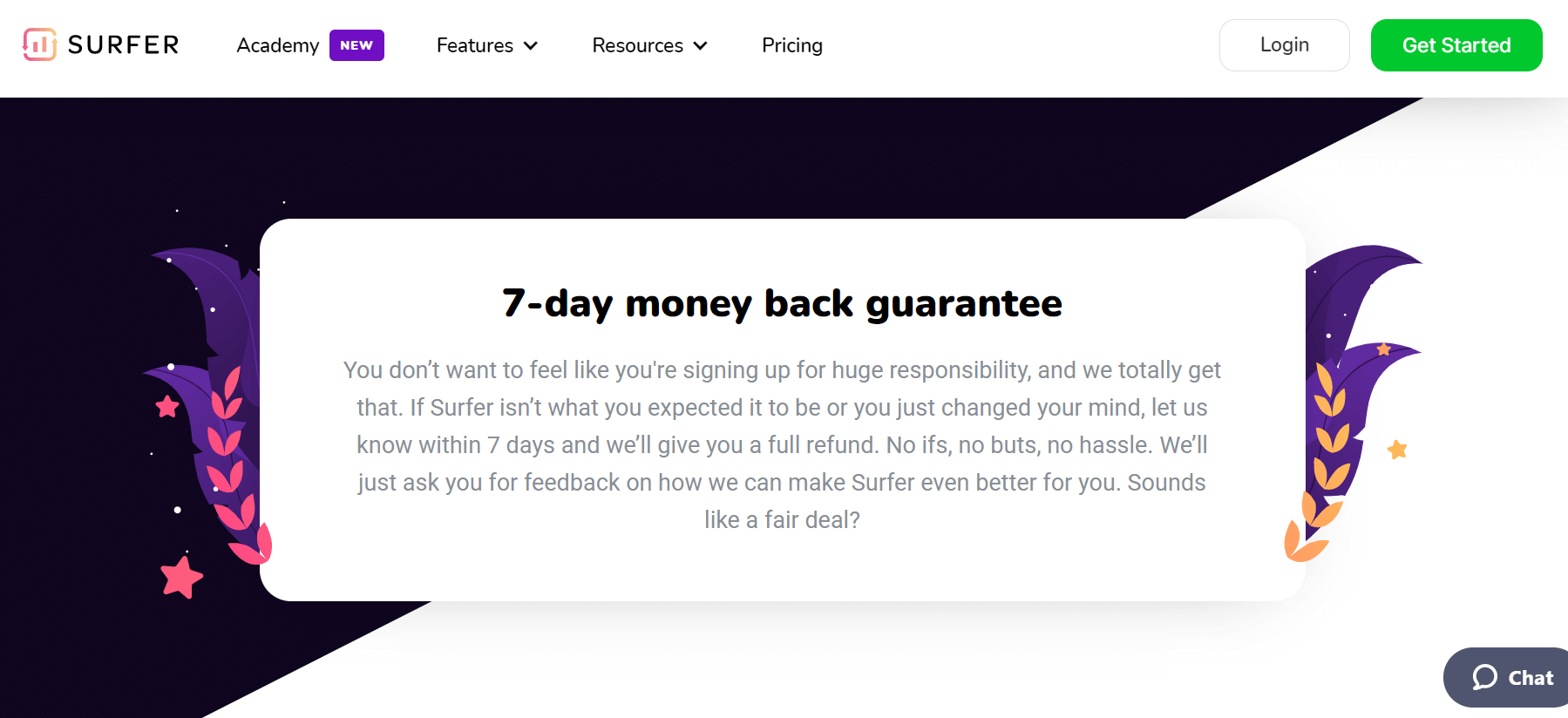 This goes back to what we mentioned earlier. Experiment with your pricing to see which your target customers prefer.
To learn more about the debate between freemium and free trials, check out our post, Freemium vs. Free Trial: How 5 Startups Found Their Best Model.
What Makes a Pricing Page Convert?
Now that you've nailed your pricing model, it's time to communicate it to customers. How do you present your copy and design? This section will share four SaaS pricing page examples and break down why each element works.
1. Basecamp: How a Project Management Platform Convinces With Its SaaS Pricing and Stays on Brand
The Basecamp team are master copywriters.
It builds trust by listing the number of teams who joined last week and offering a generous free trial with no credit card required.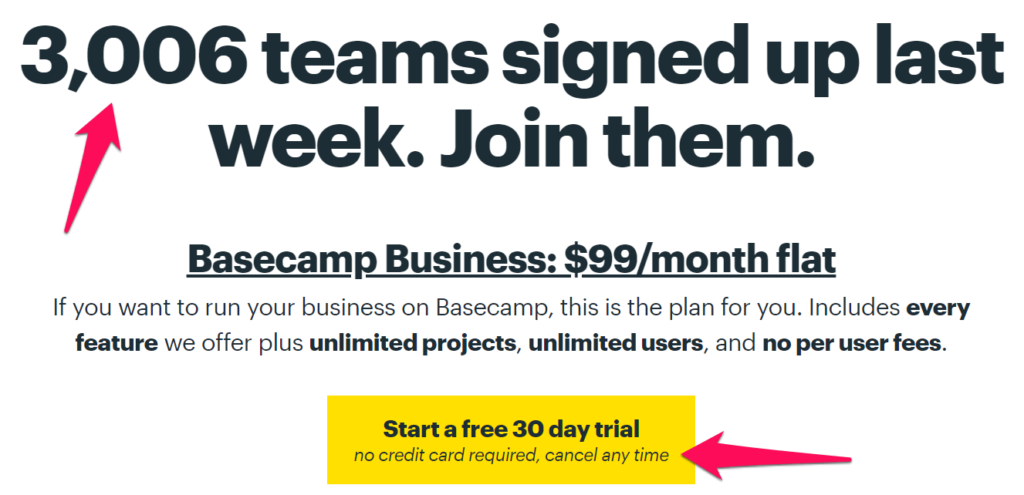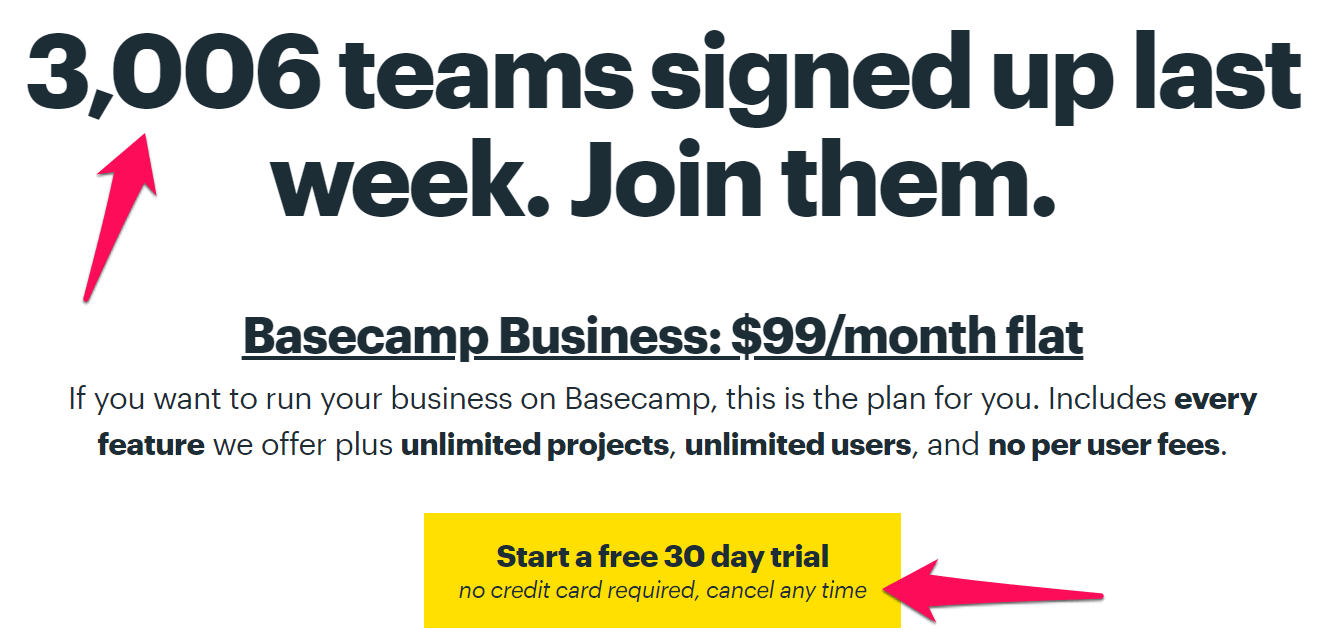 Following that, Basecamp lays out the features in the business plan. It then shifts the attention to the personal plan.
The design's incredibly clever.
The giant yellow cross within the premium features signals to the user what they stand to lose if they stick to the free plan.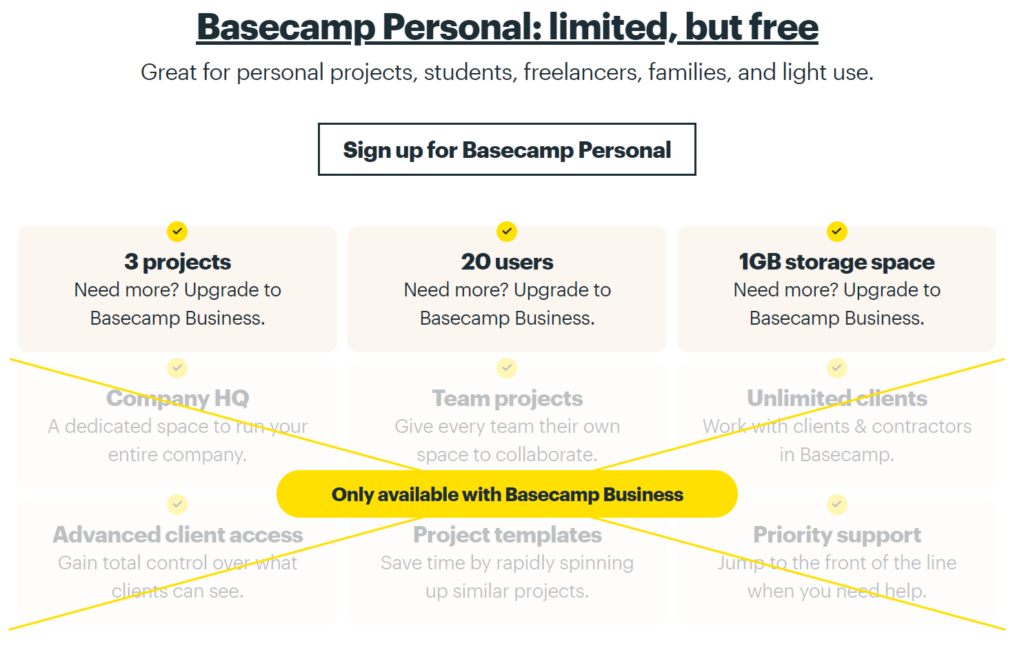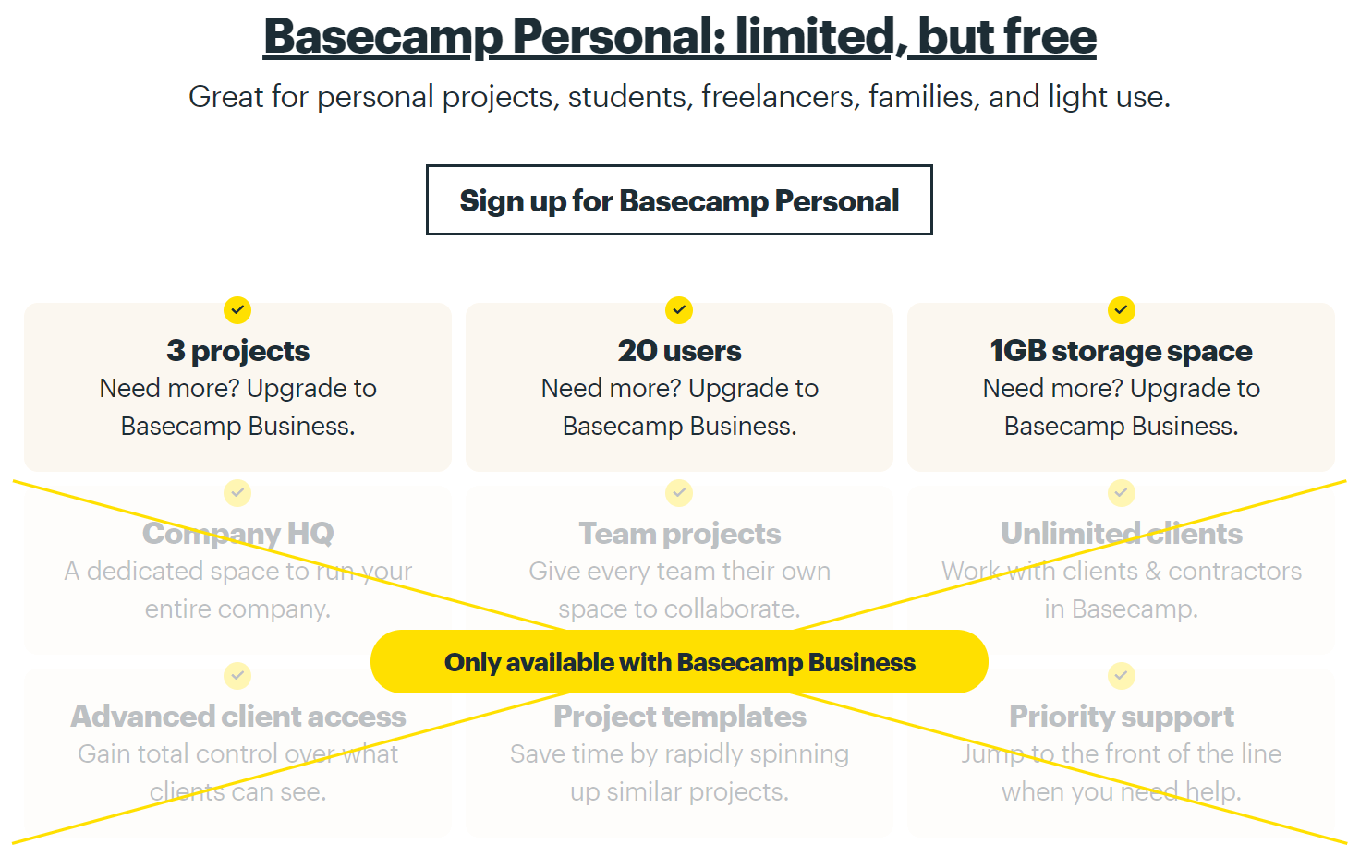 And now, the clincher.
Basecamp addresses its huge saving costs and positions itself as the ultimate tool. Check out how it brilliantly stacks up its tool against competitors in this sleek and straightforward comparison chart.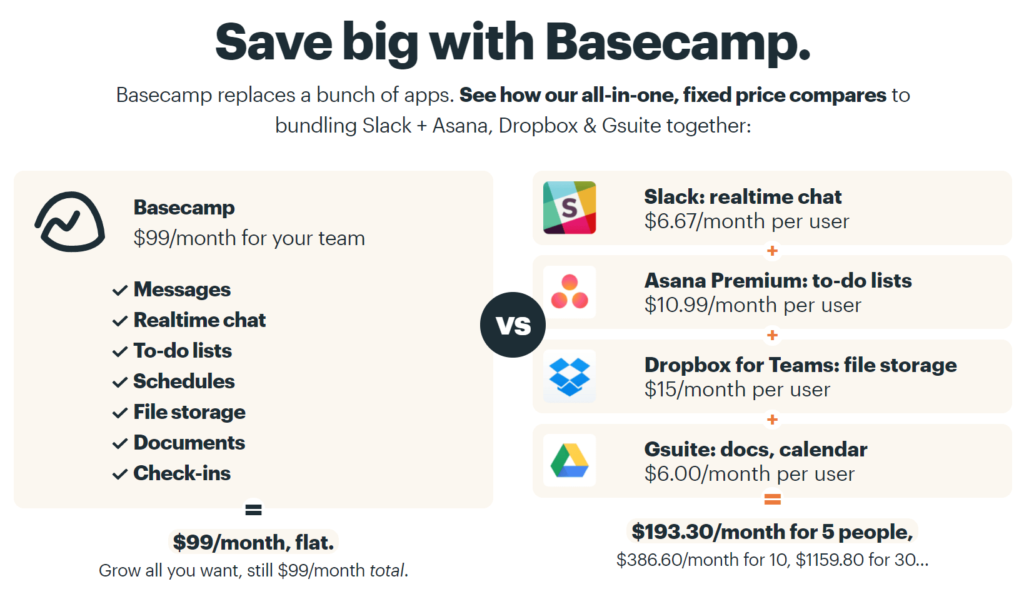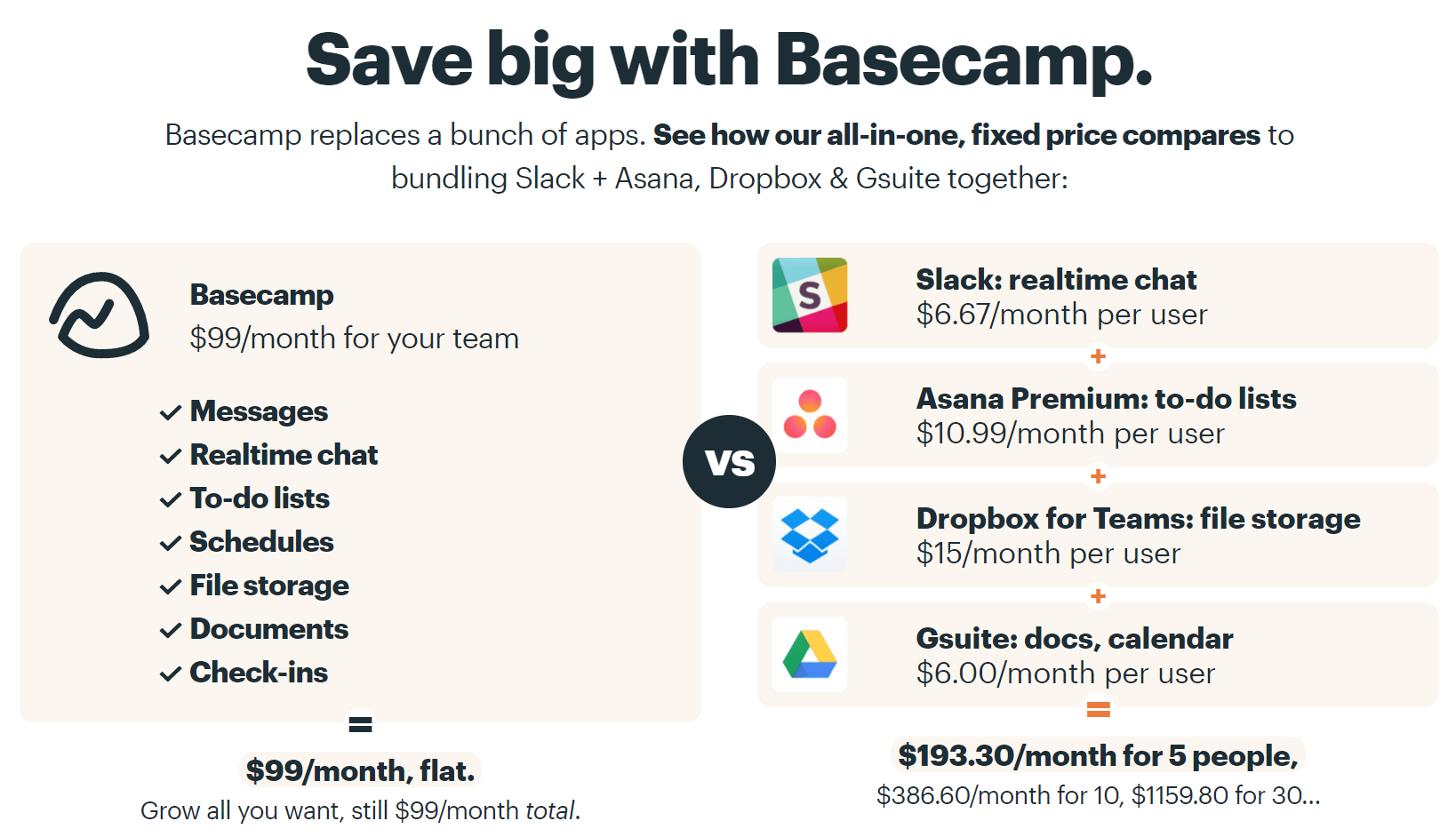 Basecamp then eliminates customer objections with its FAQ section and ends off on a lighthearted note.
Note the microcopy, "Enjoy the rest of your Monday!" at the end. It's subtle, friendly, unconventional—and it speaks to Basecamp's brand.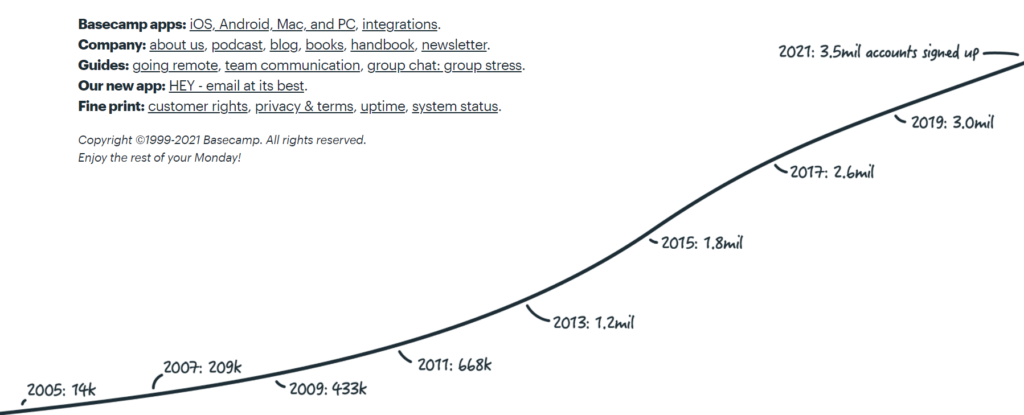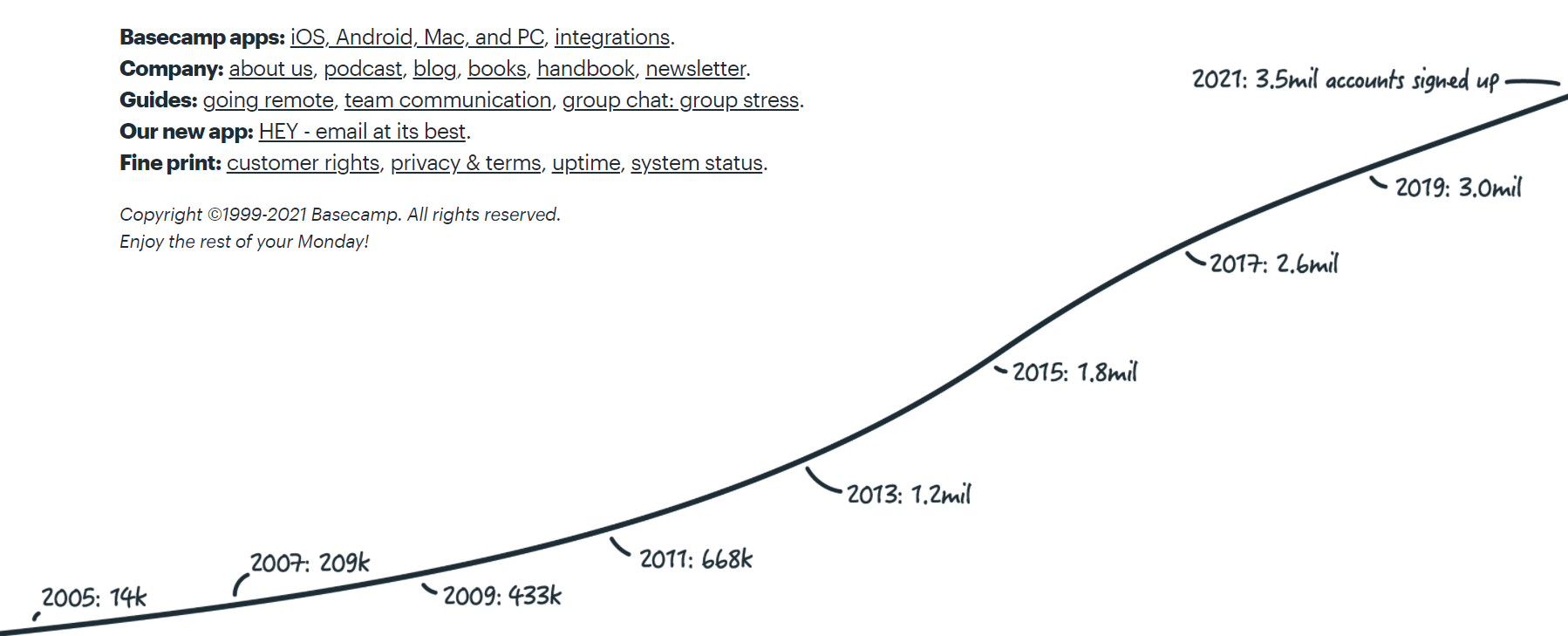 Basecamp shows us how far it's come (14K to 3.5 million users!) in this line graph, which effortlessly reinforces its credibility.
2. Sendlane: How an Email Marketing Startup Lets Its Customers Do The Selling
Sendlane values transparency, and it shows.
Once you're on the pricing page, the SMS and email marketing platform greets you with a compelling headline.


What's really cool is that when your input exceeds Sendlane's plan, it will show it as unavailable immediately.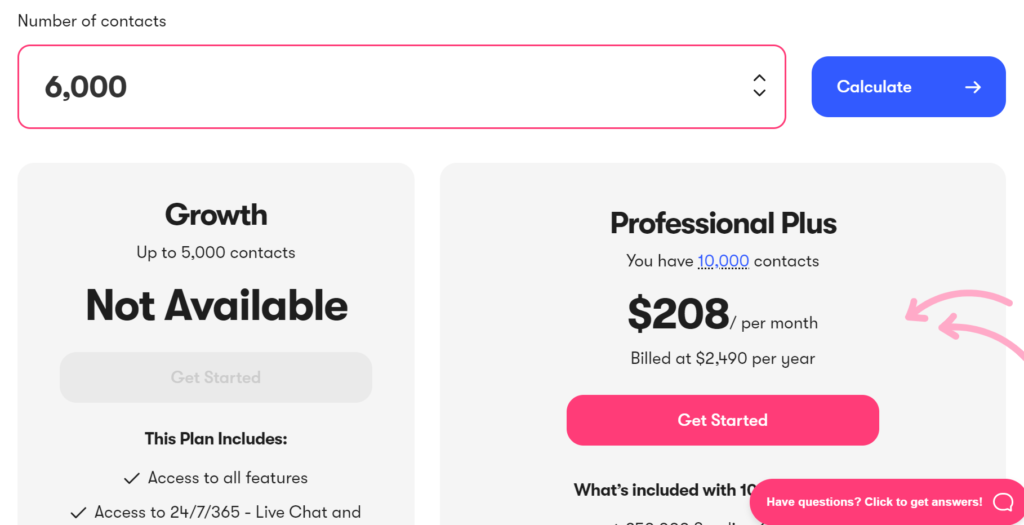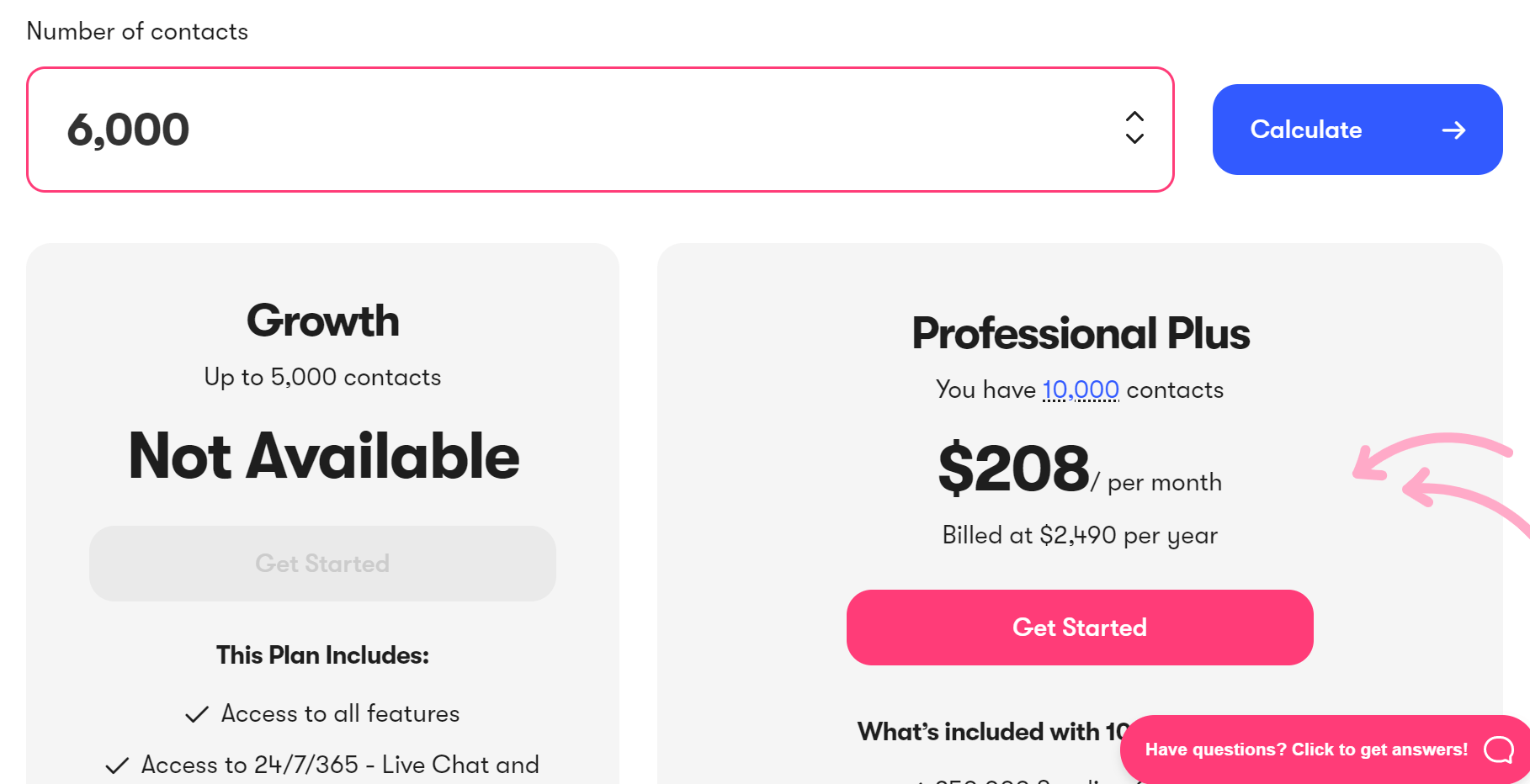 Sendlane stands out with its starter pack. Pay $497, and you can access its email and SMS marketing service for six months. Note how it draws your eyes with a purple stamp on the top right corner.
Pro Tip: Add extra elements to bring attention to your best-selling or latest plan. Use ribbons, eye-catching colors, or thicker borders.
Kudos to the team for mentioning its renewal price right from the get-go. Sure enough, Sendlane's pricing is transparent!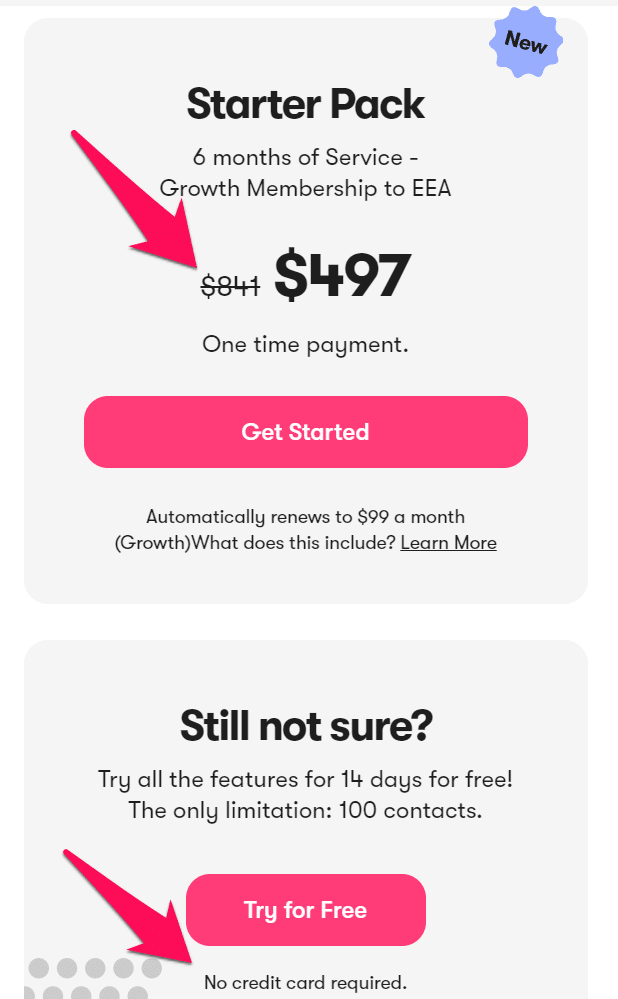 There's a lot going on in the next section, and Sendlane organizes it in columns with checkmark emojis.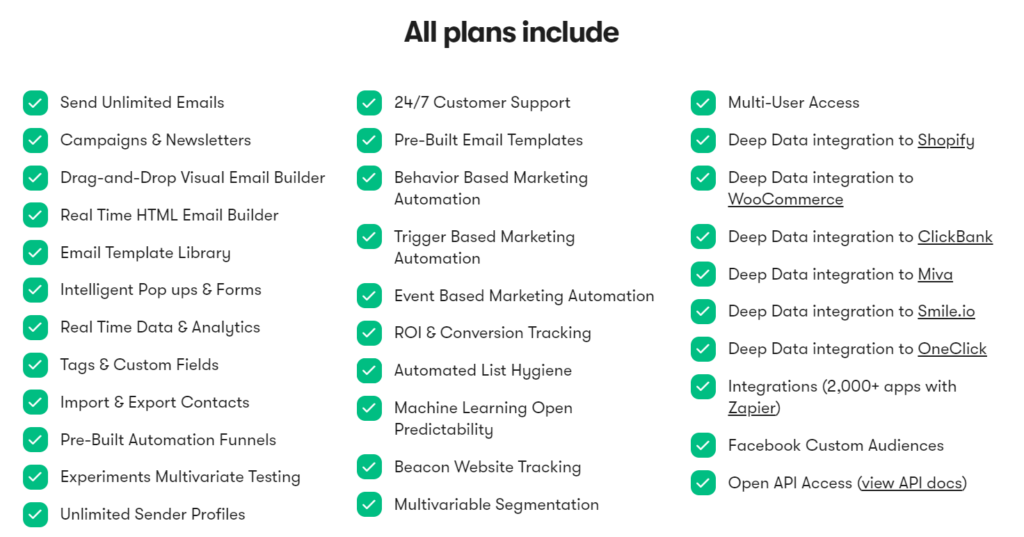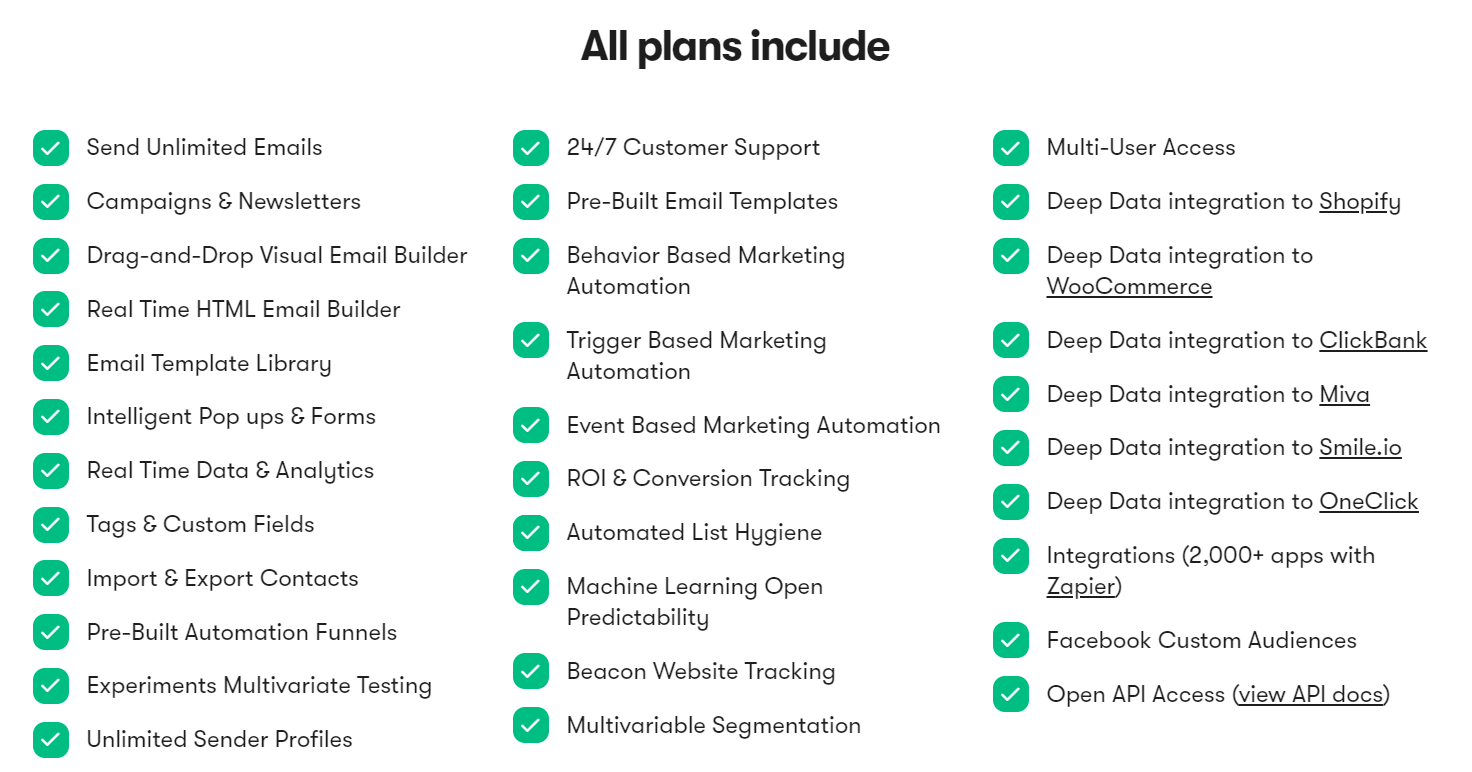 Once you scroll down, you'll see the bonuses of working with Sendlane's dedicated support team. For instance, you get to enjoy white-glove account management and seamless migration service.
According to TrustRadius' latest report, 45% of buyers use reviews during the buying process.
It's great that the Sendlane team isn't afraid to show off the customer love they receive. Check out how the email marketing startup features a customer success story and its rating scores on Capterra and G2.
Note the beautiful visual on the left with a "50% ROI" button. This builds confidence in prospective customers.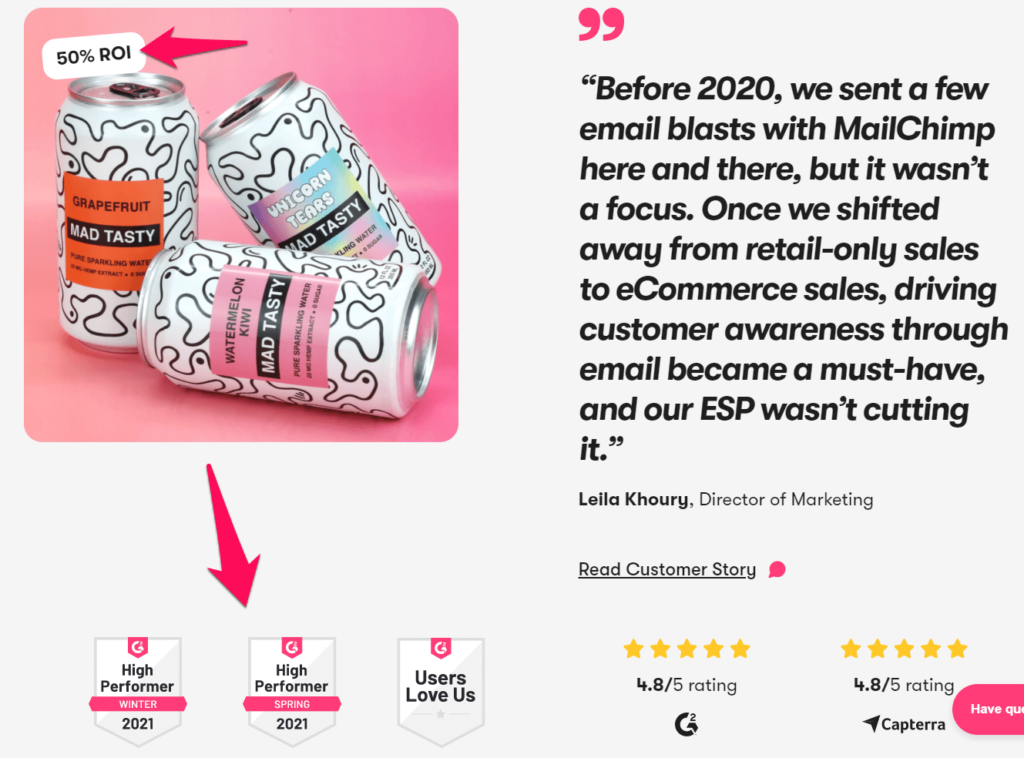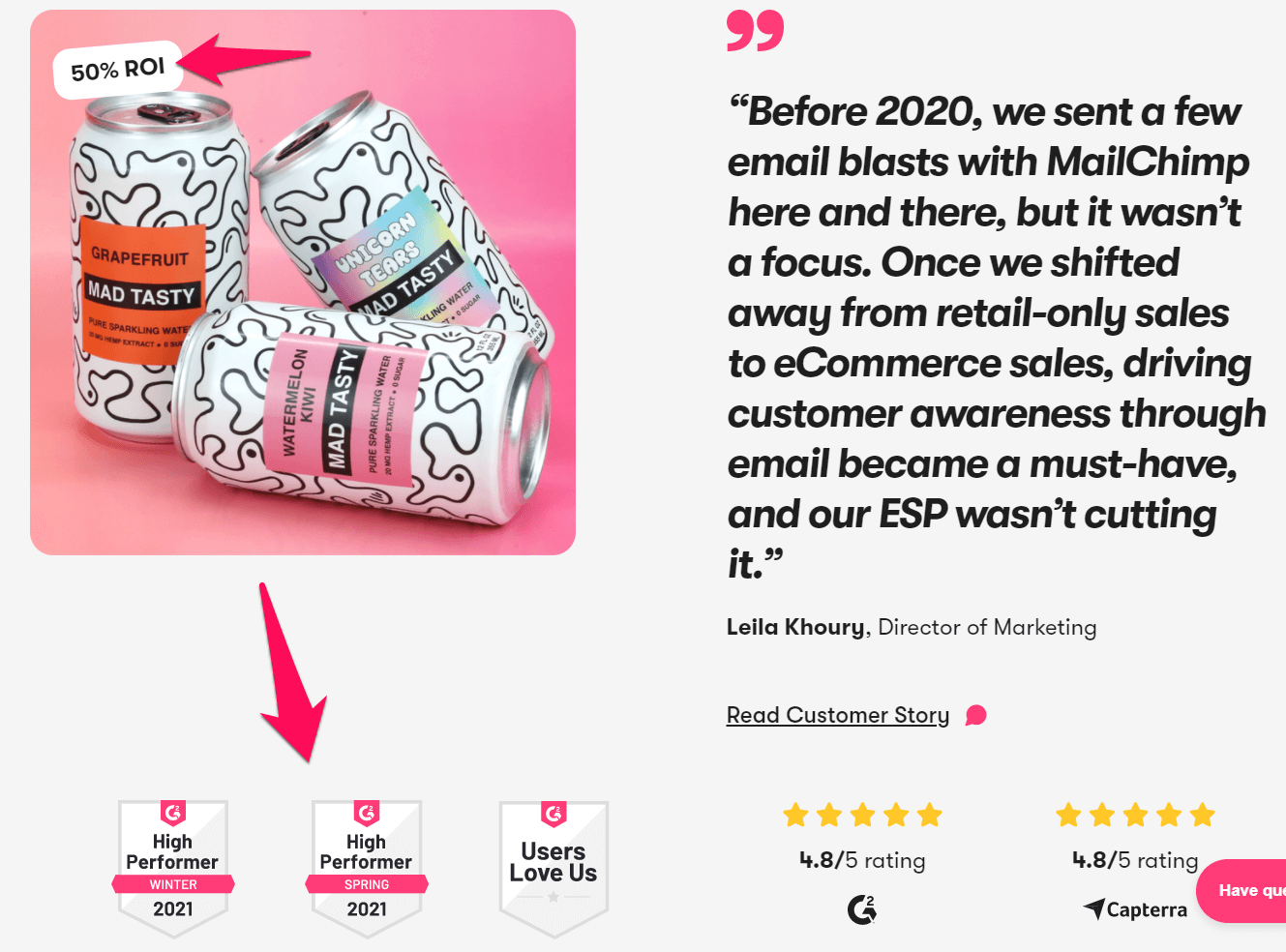 Sendlane then continues the momentum with its conversion-driven FAQs. Finally, it concludes with a bang. It includes several client logos before drawing attention to the book a demo CTA button.


Pro Tip: Target industries that you wish to attract more of. For example, if your best customers are from the manufacturing sector, add them in!
3. SuperOffice: How a CRM Startup Accelerate Customers' Decision With Its SaaS Pricing
SuperOffice stands out with its copy above the fold. Note how it recommends customers start with a specific plan (i.e., at least ten user licenses).
This makes the buying process easier and more self-serve. According to TrustRadius, 57% of buyers make purchase decisions without ever speaking to a sales representative. With this recommendation, prospective customers know which plan is a better fit for them.


Here's where it gets more interesting.
Unlike the columns we're used to seeing on pricing pages, SuperOffice lays out its pricing plans in rows. It works well in SuperOffice's case, as the plans are categorized according to their buyer personas.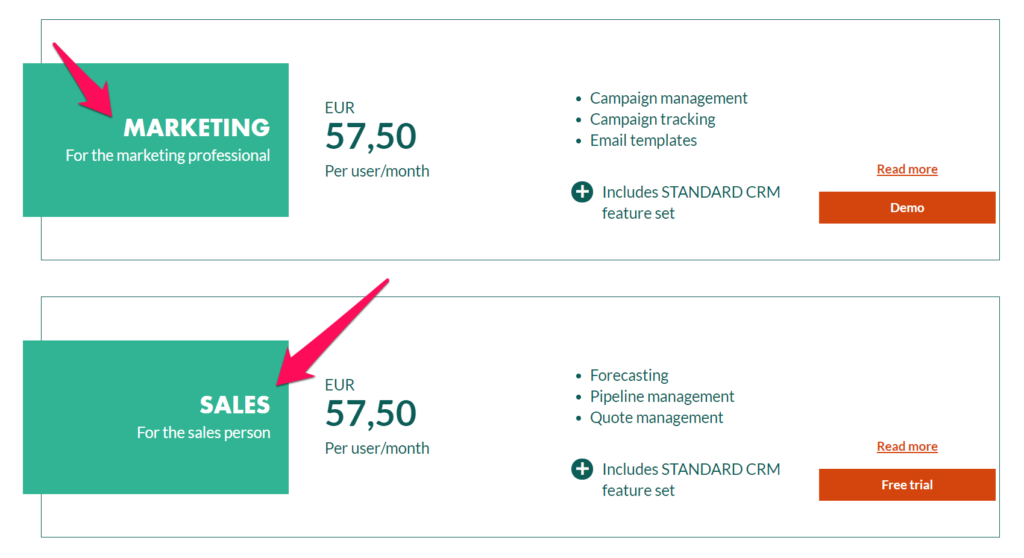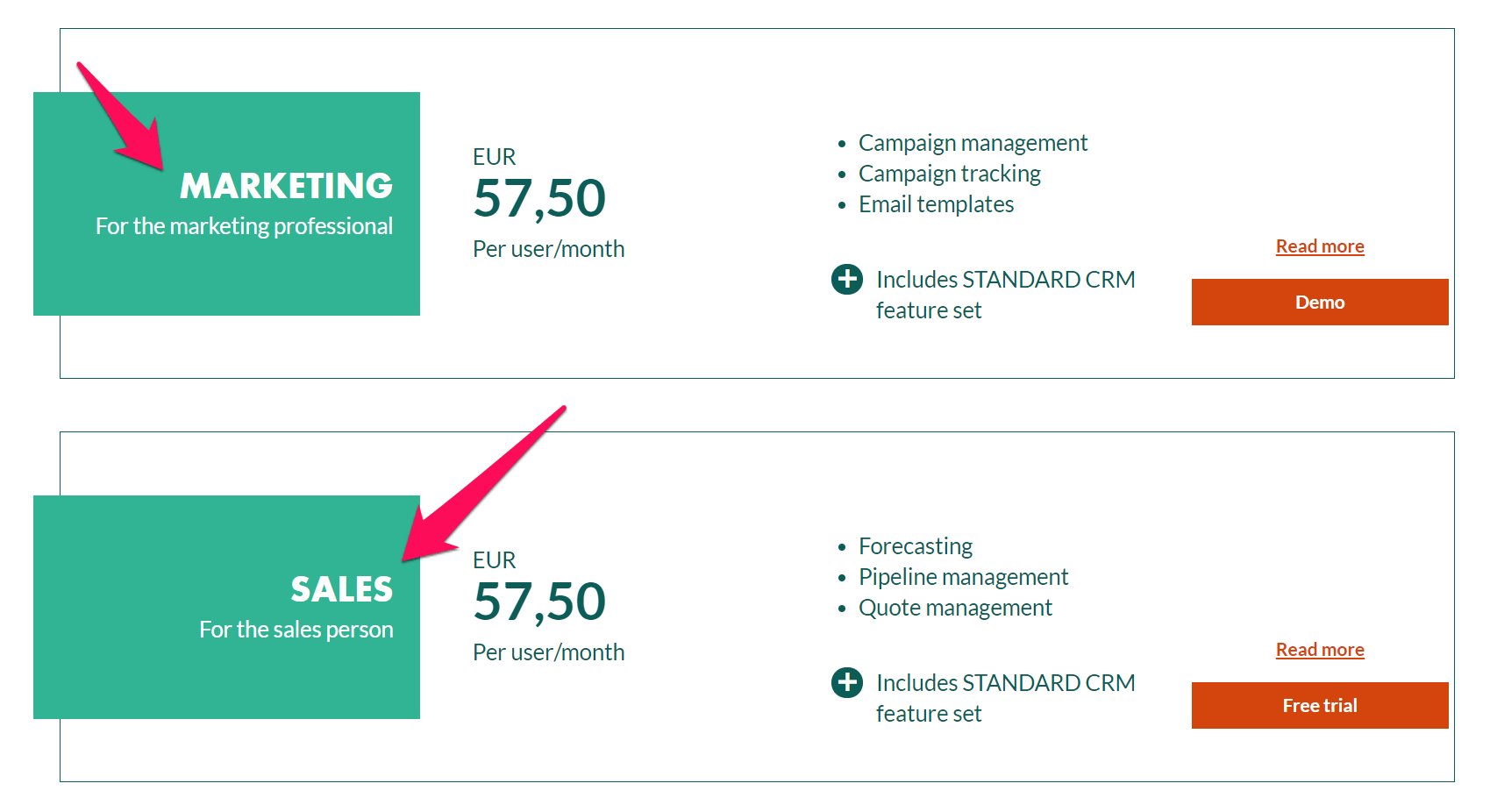 In total, SuperOffice offers four main pricing plans: Marketing, Sales, Service, and Complete. In case of doubt, users can click the "Compare our price plans" button to see how each plan differs from the other.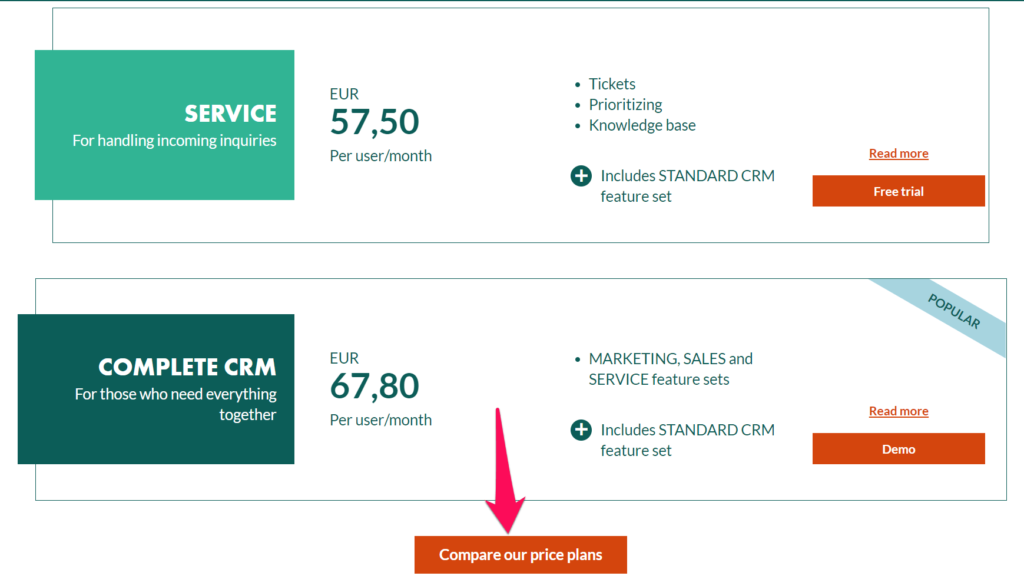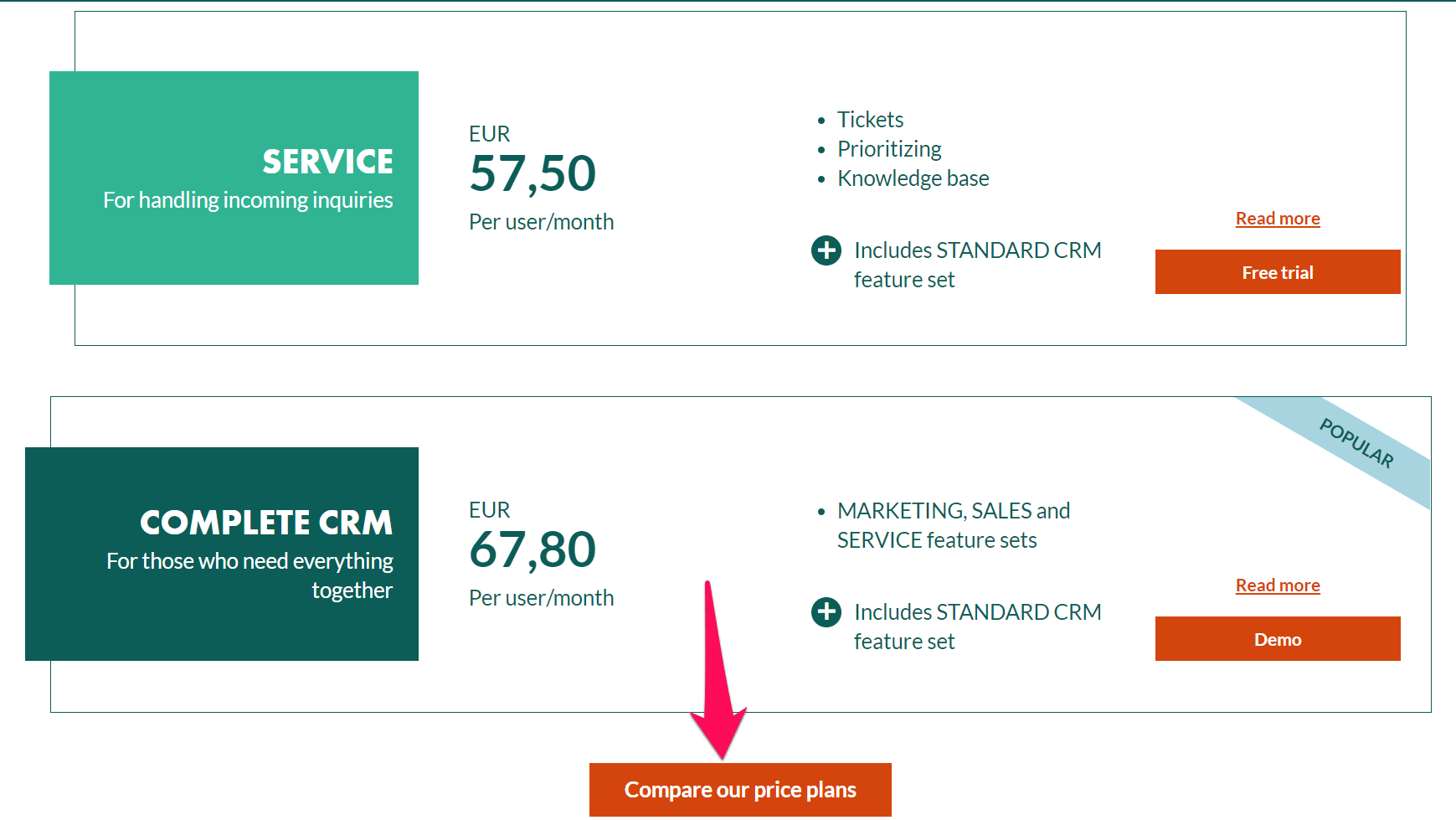 Then, we see a call-out for bigger companies. If customers need more than 25 users, they can contact the SuperOffice sales team.
Towards the end, there's an FAQ section that squashes potential customer objections. SuperOffice ends with a sign-up form for its email newsletter.
See how the CRM startup draws attention to the benefits subscribers get (e.g., battle-tested strategies, 30+ years, members-only, fast track, unique research, 1000s of companies).


This is a smart move since there are bound to be users who are not ready for SuperOffice's CRM products. By inviting them to sign up for the email newsletter, SuperOffice can stay on top of prospects' minds and nurture them to paying customers.
4. Client Portal: How a WordPress Plugin Makes Its SaaS Pricing Irresistible
Super simple pricing indeed. Ending our pricing page examples is a WordPress plugin called Client Portal.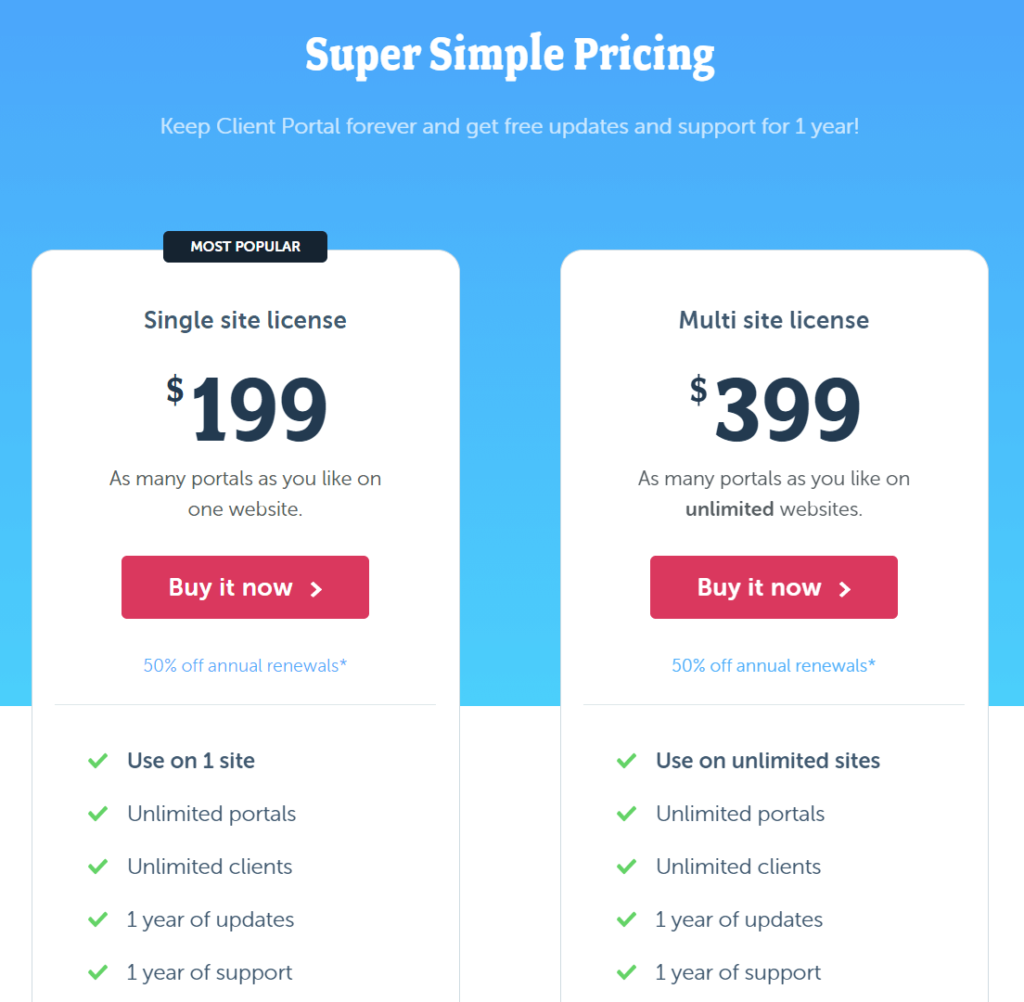 Aaaaaaaaaaand, what's that?! Client Portal offers an irresistible pricing plan—a lifetime offer!
I wouldn't be surprised if the lifetime offer stops users from scrolling. This is one pricing plan that you don't want to say no to.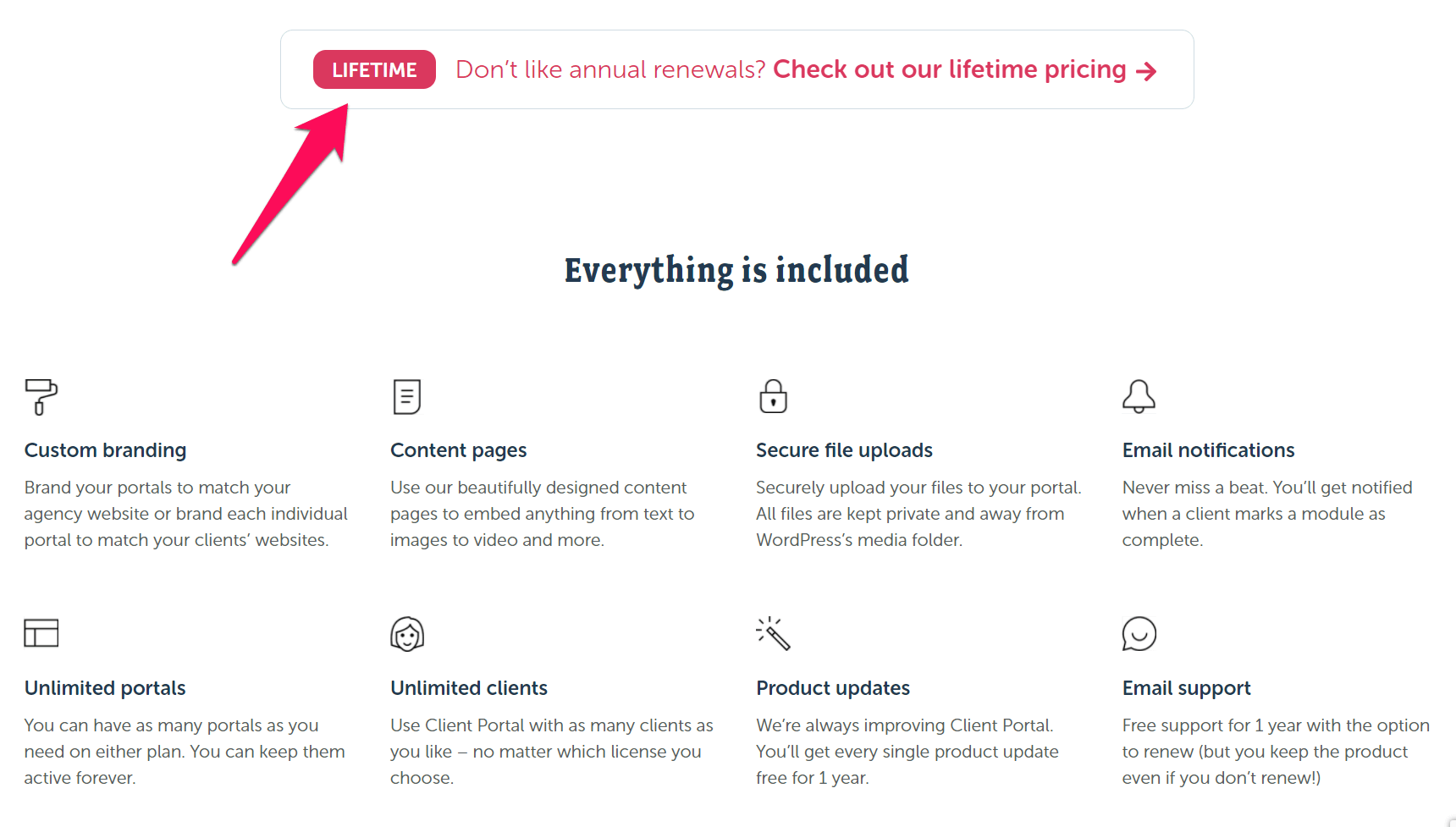 Here's something we haven't seen in other SaaS pricing pages: Client Portal offers a money-back guarantee, which instills confidence in prospective customers.
This works in Client Portal's favor as it doesn't offer a free plan. A money-back guarantee removes friction from signing up.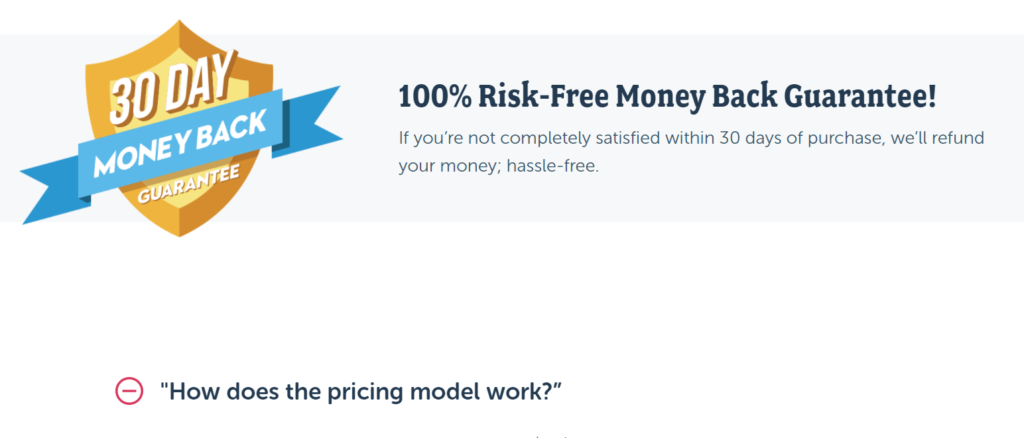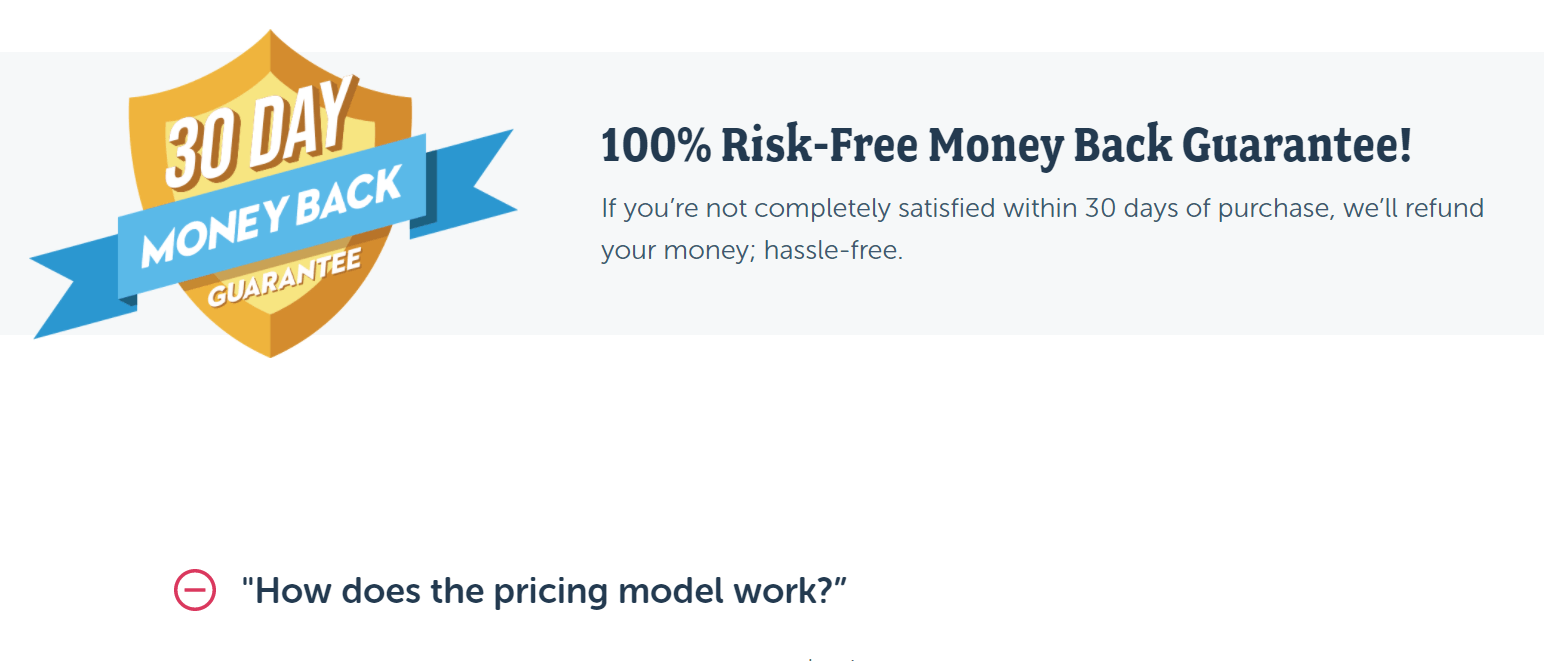 Another highlight of Client Portal's pricing page is its user reviews section. See how it bolds and highlights the key points. It instantly boosts readability in long copies.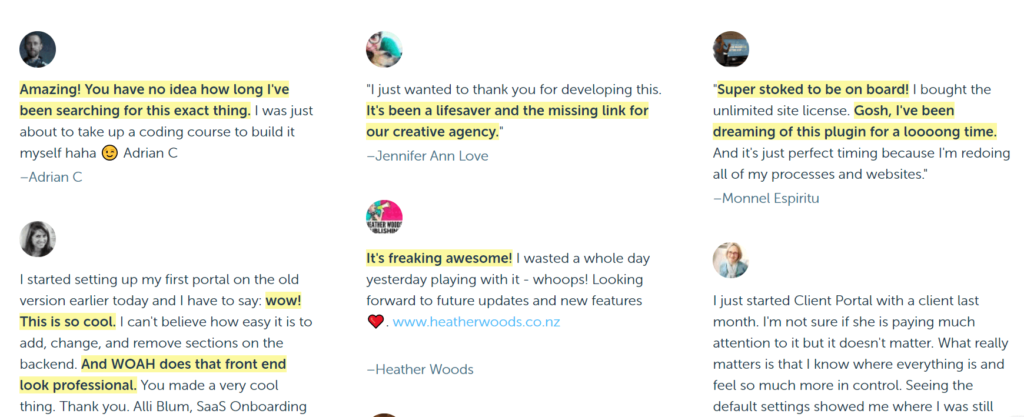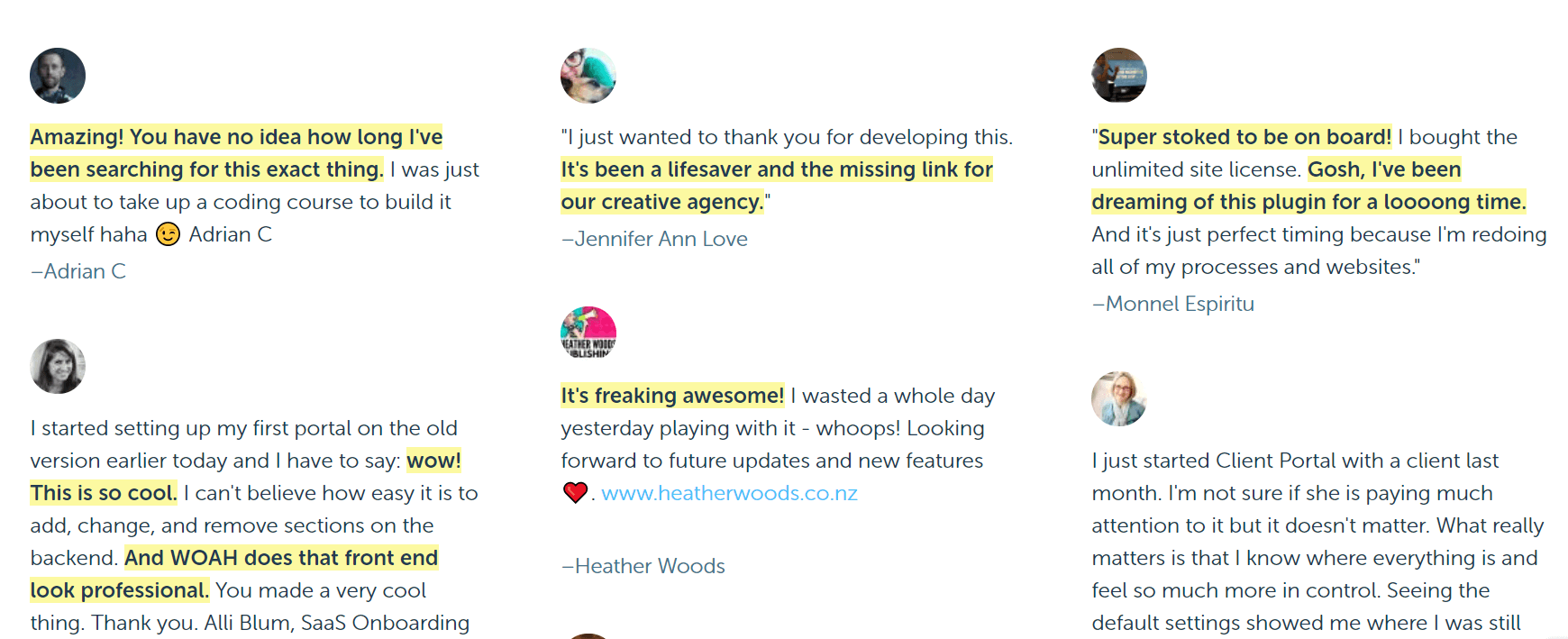 And finally, Client Portal invites users to buy its plugin with a captivating copy. It's impossible to miss the CTA button. The testimonial at the bottom adds a final convincing touch.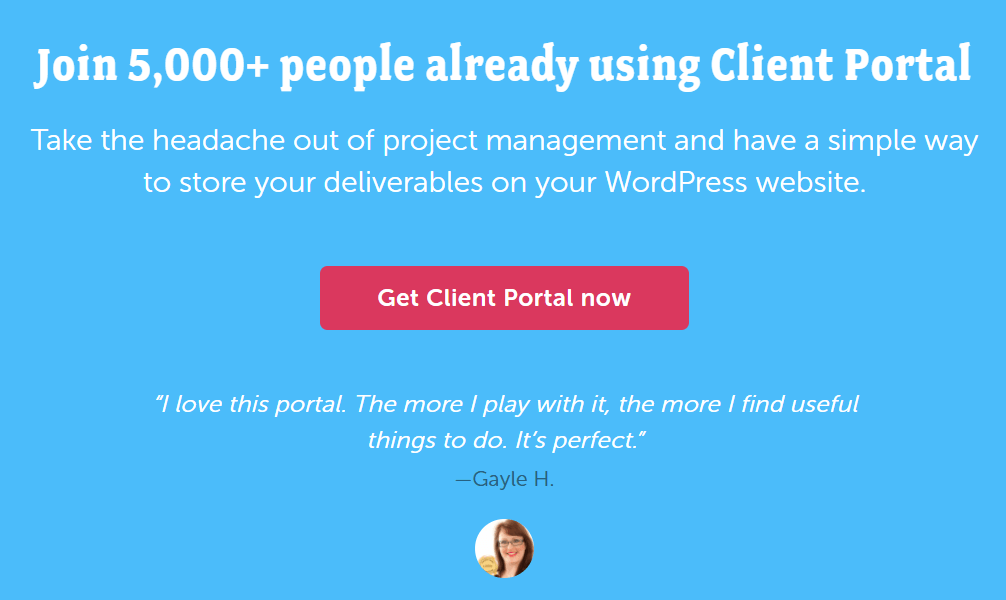 Your pricing page will take a lot of iterations.
If you're looking for more ways to increase conversions, check out 18 Stunning Pricing Page Examples To Boost Your Revenue. You'll definitely walk away with new ideas.
SaaS Pricing Isn't One and Done
SaaS pricing requires multiple rounds of optimization. Don't leave money on the table!
For instance, Notion initially required personal users to pay $5 every month. Now, individuals can use it for free and enjoy zero block limits. LucidChart, a flowchart and diagram tool, increased its pricing in 2019 and reduced it in 2020. Then there's SurveyMonkey, which almost tripled its monthly base plan.
B2B SaaS pricing is an ongoing process. And hopefully, this guide has helped answer your questions and get you on board to maximize your sales and profitability.
Here's to accelerating your revenue, on repeat.