We analyzed nearly 1,000 pricing pages from June to July 2021 and have uncovered twelve surprising (and unsurprising) trends. Let's dive in.
Pricing Page Analysis: 12 Discoveries After Analyzing 998 Pricing Pages
1. Out of the 61.1% of startups that offer an enterprise plan, only 12.3% show pricing right off the bat
Does transparency sell?
Maybe it's not as much as we thought, because only 12.3% of startups reveal the starting price for their enterprise plans.
We gather there are multiple reasons behind this secretive move.
Perhaps leads are of higher quality when the buyer journey requires multiple steps. Or maybe, these startups want to prevent their competitors from finding out their pricing.
The bottom line?
Yes, transparency sells, but it should not be at the cost of your hard-earned pricing strategy secrets.
2. Freemium, begone? 78.3% of startups opt for free trials
This confirms our suspicion and perhaps yours, too.
If you recall our article on freemium vs. free trial, the latter achieved a resounding yes as most of these startups needed to earn revenue fast. Had the founders gone with the freemium route, they would have been swamped by development and support costs.
Out of the 78.3% of startups that offer a free trial, the majority (32.1%) choose the 14-day length. 18.7% generously offer it for 30 days, and 7% offer it unlimited duration.
The remaining startups operate on an unorthodox model.
For instance, OnSched, an API online booking platform, entirely skips the freemium and free trial model.


Instead, it invites prospective customers to either book a demo or a 15-minute introduction call.
3. Only 50.6% of startups offer live chat support despite speed being customers' biggest criteria
Nearly 60% voted long wait times as the most frustrating aspect of bad customer experience. And yet, only 50.6% of the startups we analyzed offer live chat support.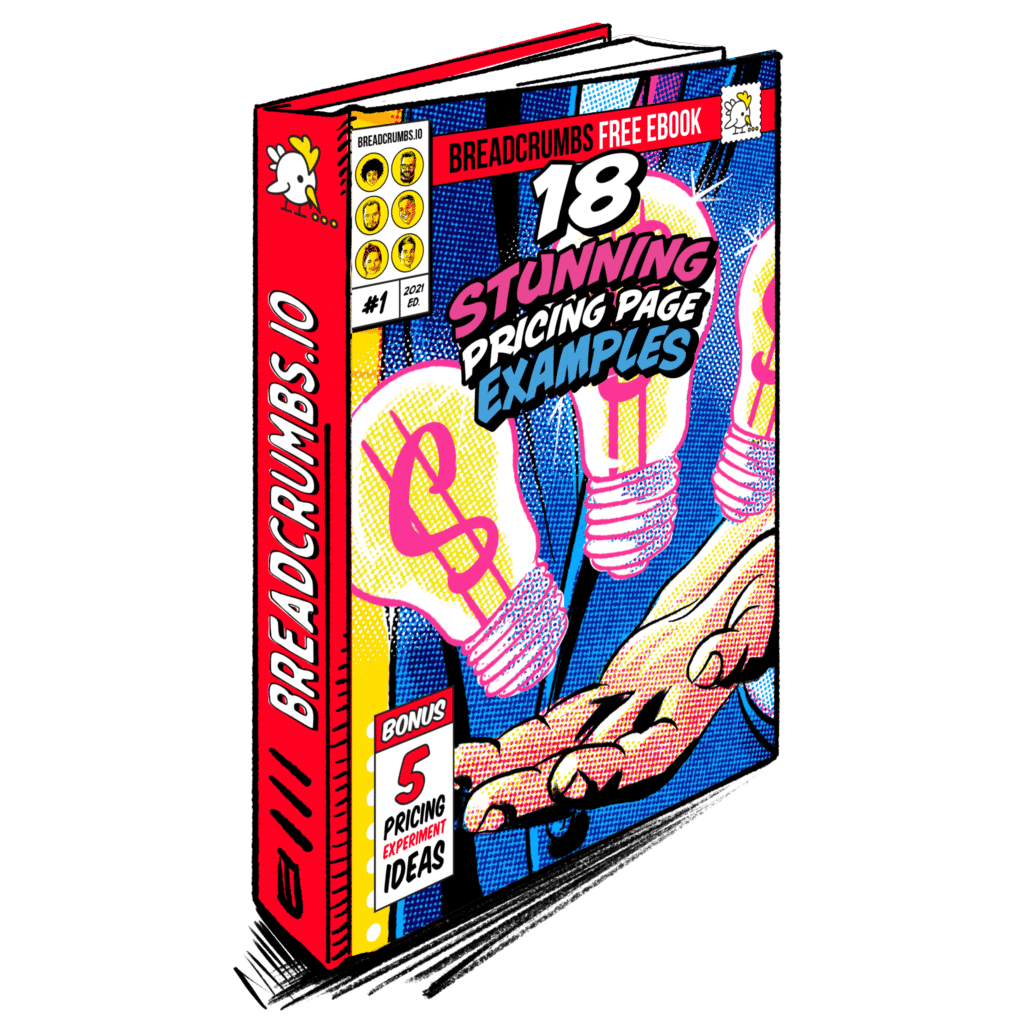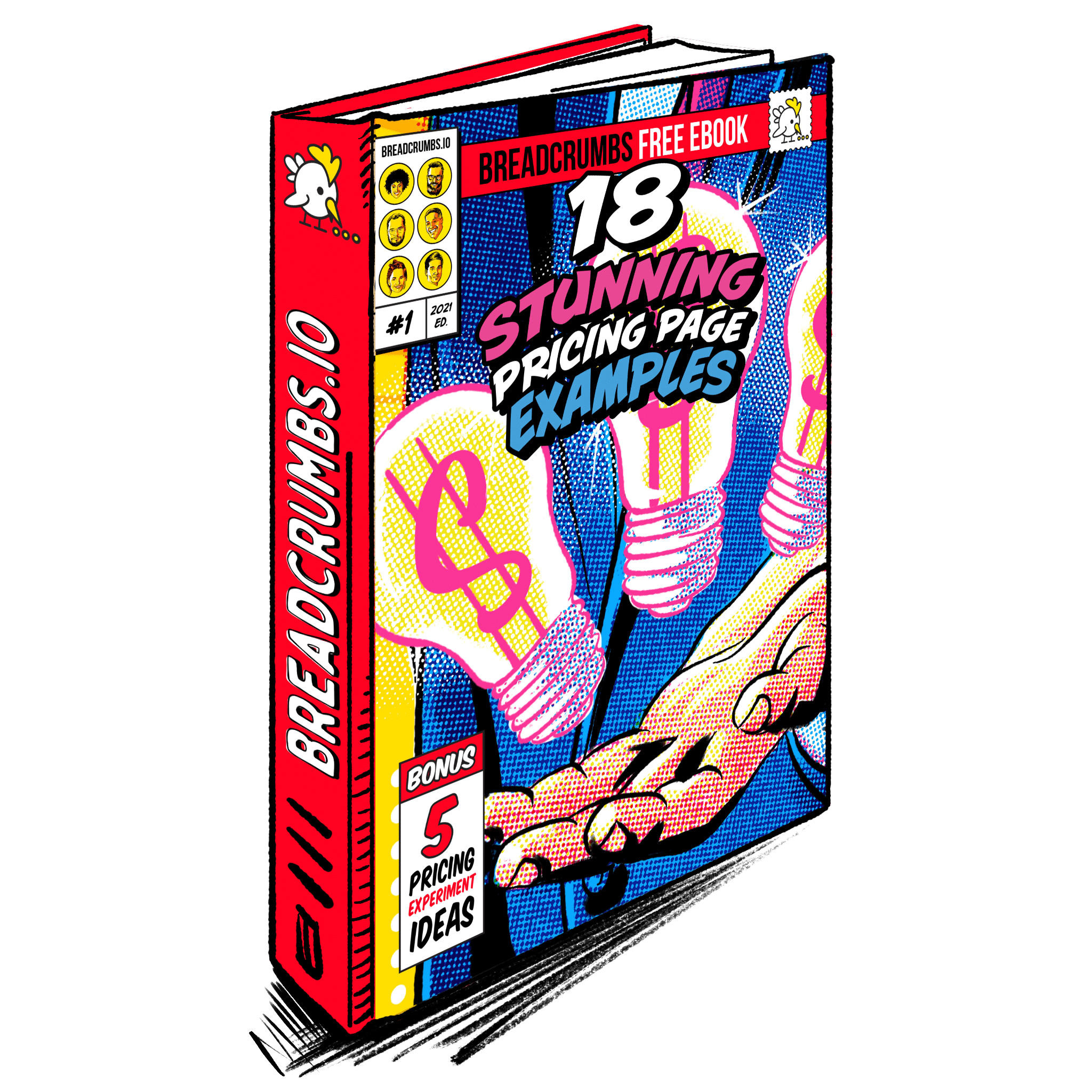 Ebook
18 Stunning Pricing Page Examples
Looking for a shareable version of this post? Download our free eBook that contains all of the examples you see here.
4. 62.5% of startups realize the value of having an FAQ section on their pricing page
Startups strapped for resources should leverage FAQs to support customers expecting speedy assistance. This self-serve content prevents prospects from dismissing your products, squashing the buying objections that they may have.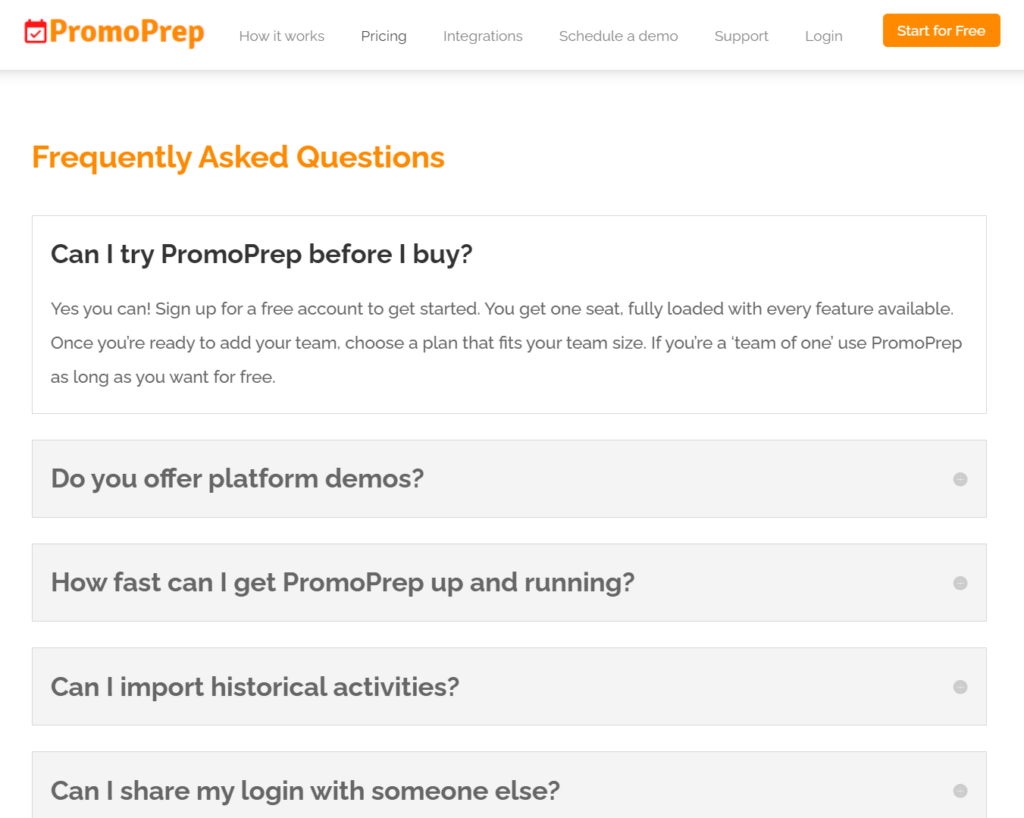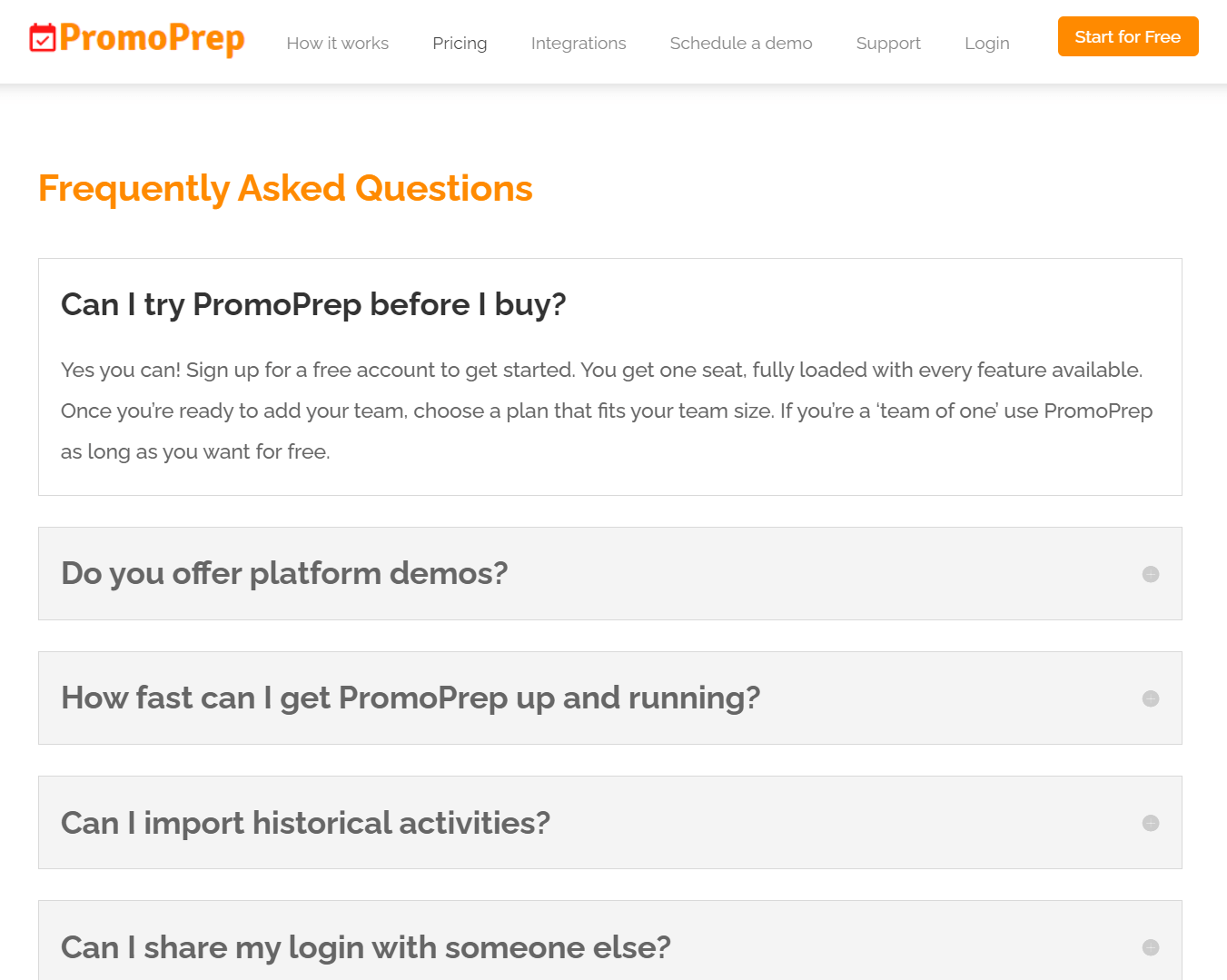 Based on our analysis, it looks like 62.5% of startups agree with our sentiment.
5. Most customers look at social proof before purchasing a product, and yet 49.1% of startups do not display customer reviews on their pricing page
Social proof such as testimonials and logos increase conversions. For one company, it raised purchases by 34%.
And yet, 49.1% of startups do not display their hard-won customer reviews on their pricing page.
Note: We should point out that some of these startups do showcase social proof, but on other parts of their website (e.g., home page). Why they choose not to list it next to their pricing plans, we don't know.
Perhaps A/B tests have shown them to be ineffective?
We can only wonder.
6. Sell the steak or sizzle? Only 38.7% of startups position how their product benefits customers
"Sell the sizzle, not the steak" refers to selling a product's outcome to customers.
For example, you're not just selling an all-in-one freelance suite. You're selling productivity so freelancers can focus on doing their best work… instead of dealing with endless paperwork.
Odds are, you've heard of this statement if you're a copywriter. It's one of the tricks of the trade!
So, does this mean you should sell the sizzle (benefits) and ignore the steak (features) then?
Not quite.
As Joanna Wiebe writes on Copyhackers:
"Sometimes, features matter—like when you're putting out a new version of a product. Other times, benefits matter—like when you're introducing a brand new product. The only rule is to write what your prospects need to hear, be it feature or benefit."
7. Product comparison is proven to generate conversions, but only 2.3% of startups stack up their tools against competitors
Product comparison makes powerful bottom-of-the-funnel (BoFu) content, as it targets customers toward the end of the buying journey—these customers often wonder how your product differs from the competition.
In other words, this is a valuable opportunity to prove to prospects why they should pick your product over others.
Interestingly, only 2.3% of startups show how they're different on their pricing page.
Some of the remaining 97.7% of startups do leverage product comparison content in one way or another. It's just that they show it on the other pages of their website.
For example, ConvertKit compares its tool with competitors in individually separate pages.


Prospects who wonder how ConvertKit compares to other similar tools would need to scroll all the way down to the footer to spot these comparison charts.
8. Expectantly, 93% of startups list their pricing plans from the cheapest to most expensive
This statistic confirms what we see in most startups: Pricing is listed from low to high.
Not all startups drew attention to their most expensive or popular plan. Here's MarketMuse with a straightforward pricing design.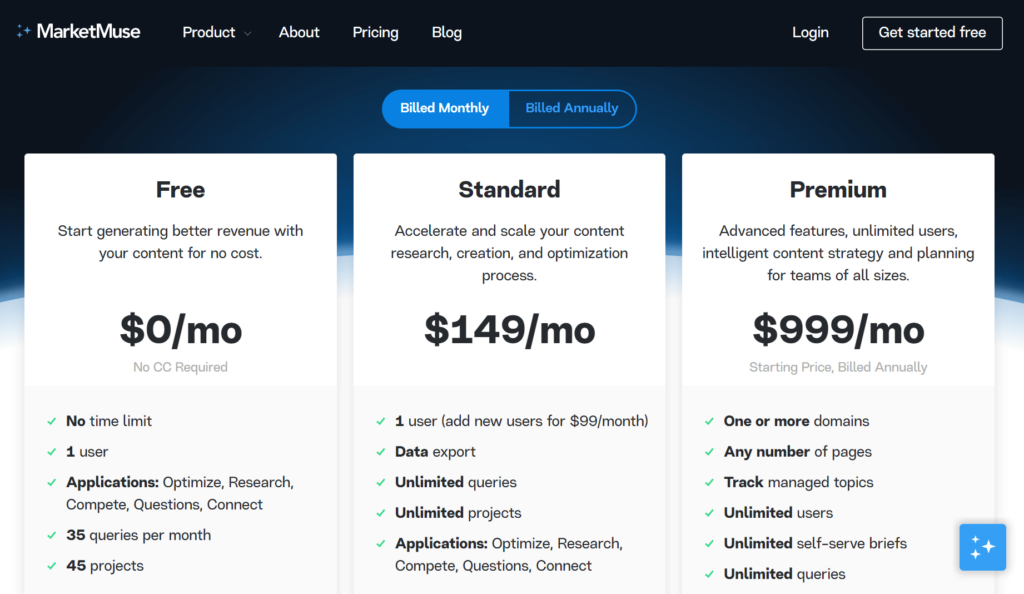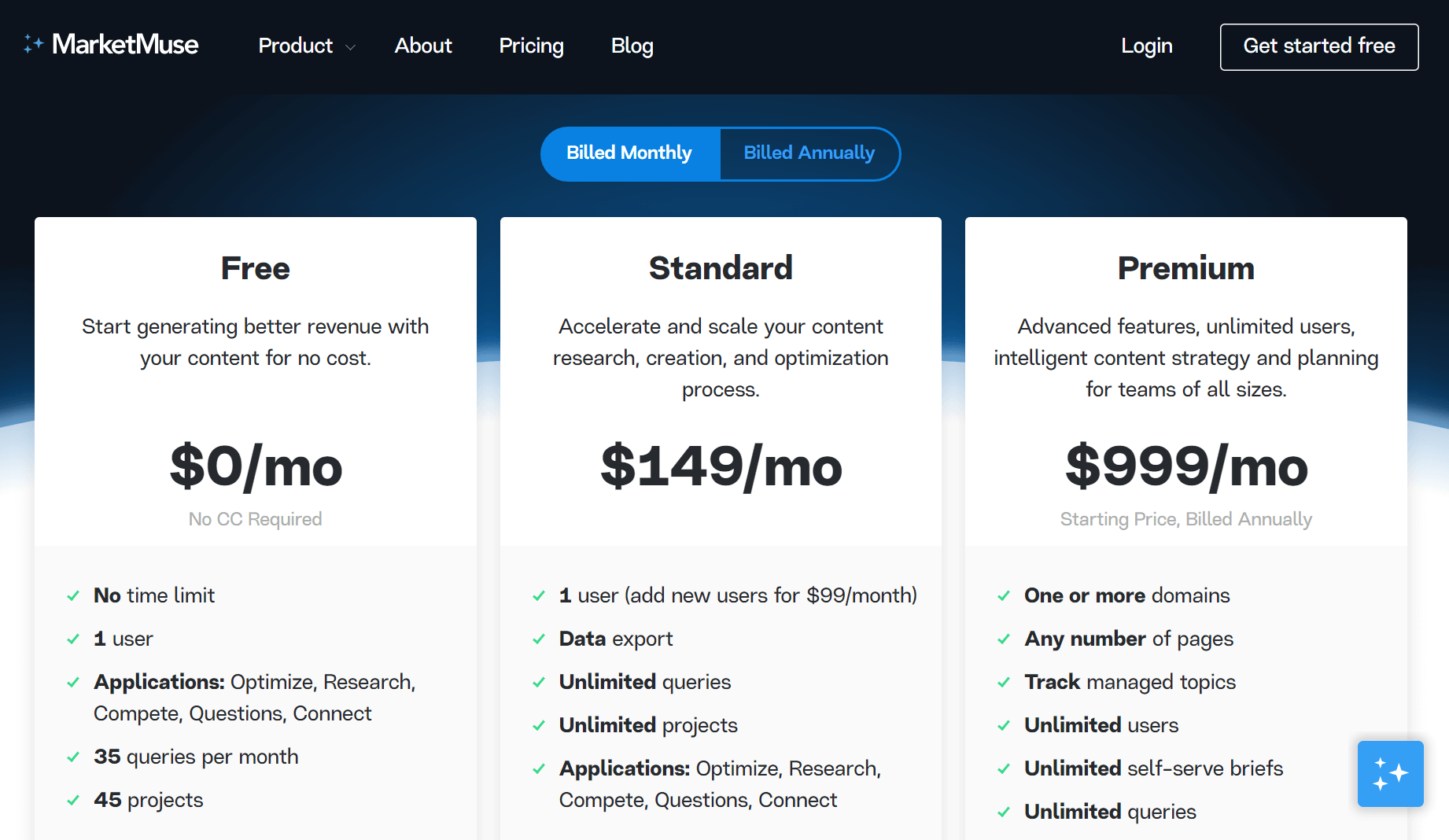 And here's Trello.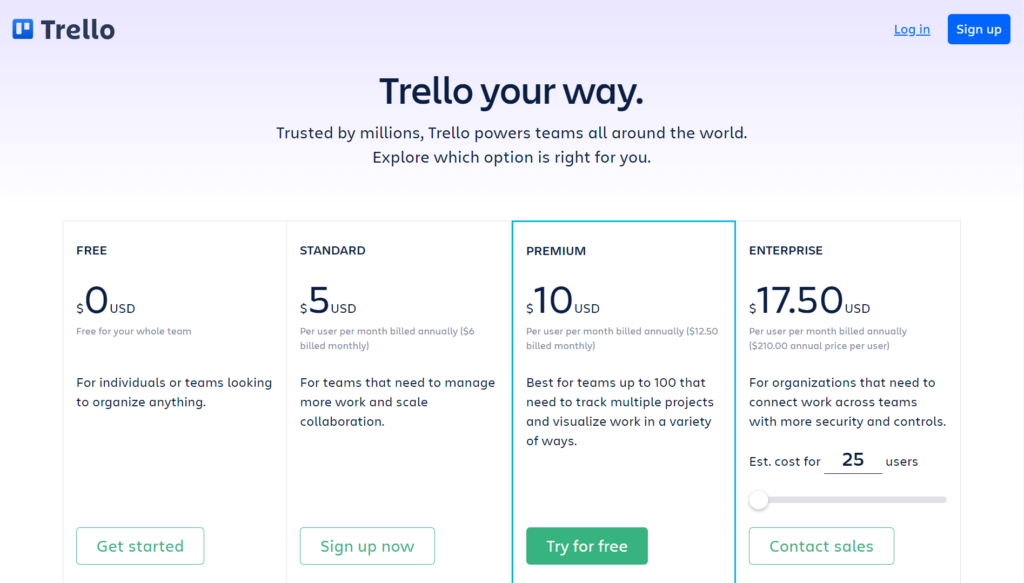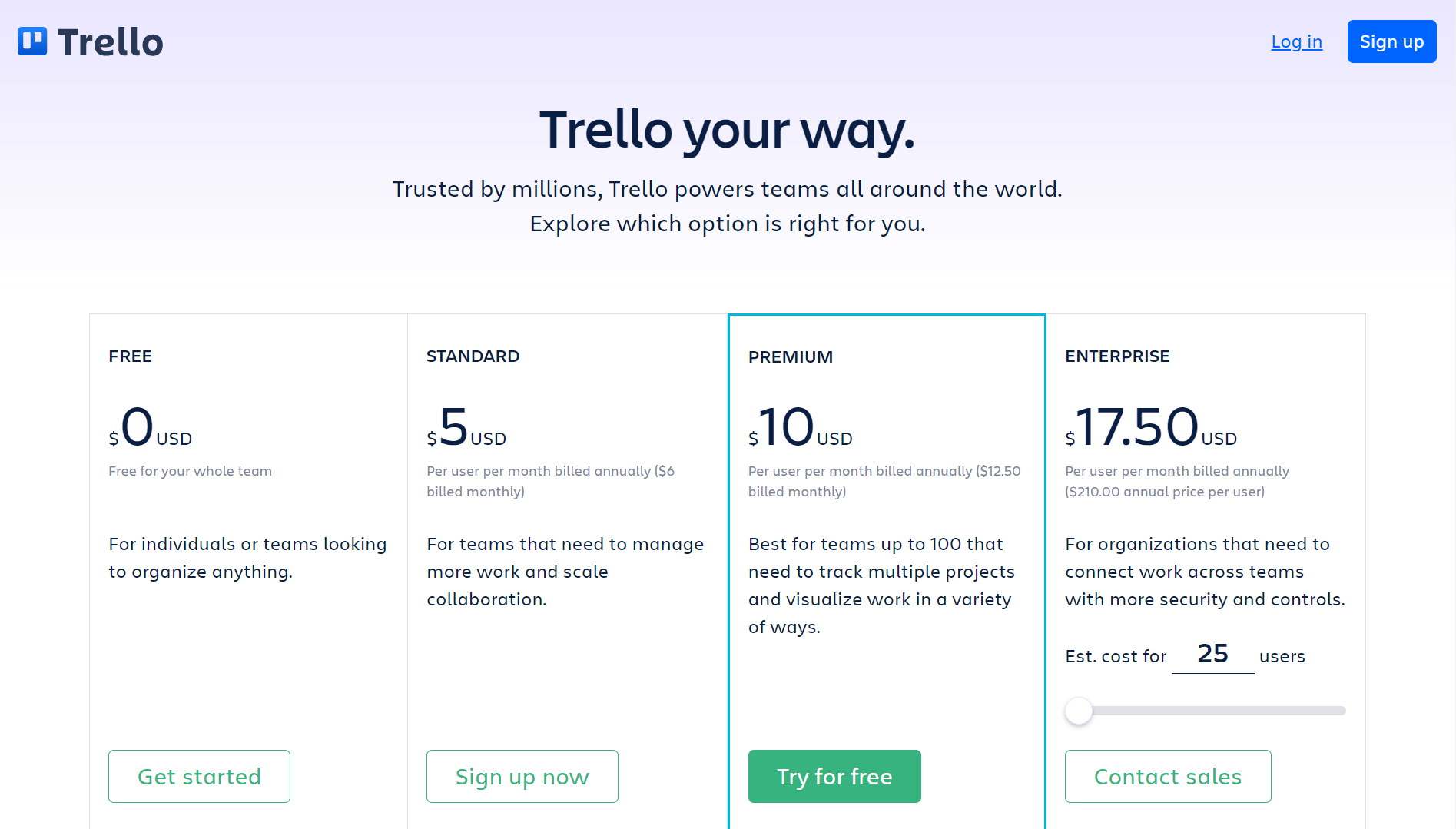 Notice how Trello draws your eyes to its premium plan and probes you to cross-reference it with the other plans?
9. The power of three applies even in pricing plans, with 41.4% of startups leading the pack
In the SaaS world, offering three pricing plans appears to be the sweet spot.
Coming in second place is two plans (23.4%), followed by four (21.1%), and one (6.4%).
Bizarrely, some startups offer up to seven (!) pricing plans. One example is MagicBell.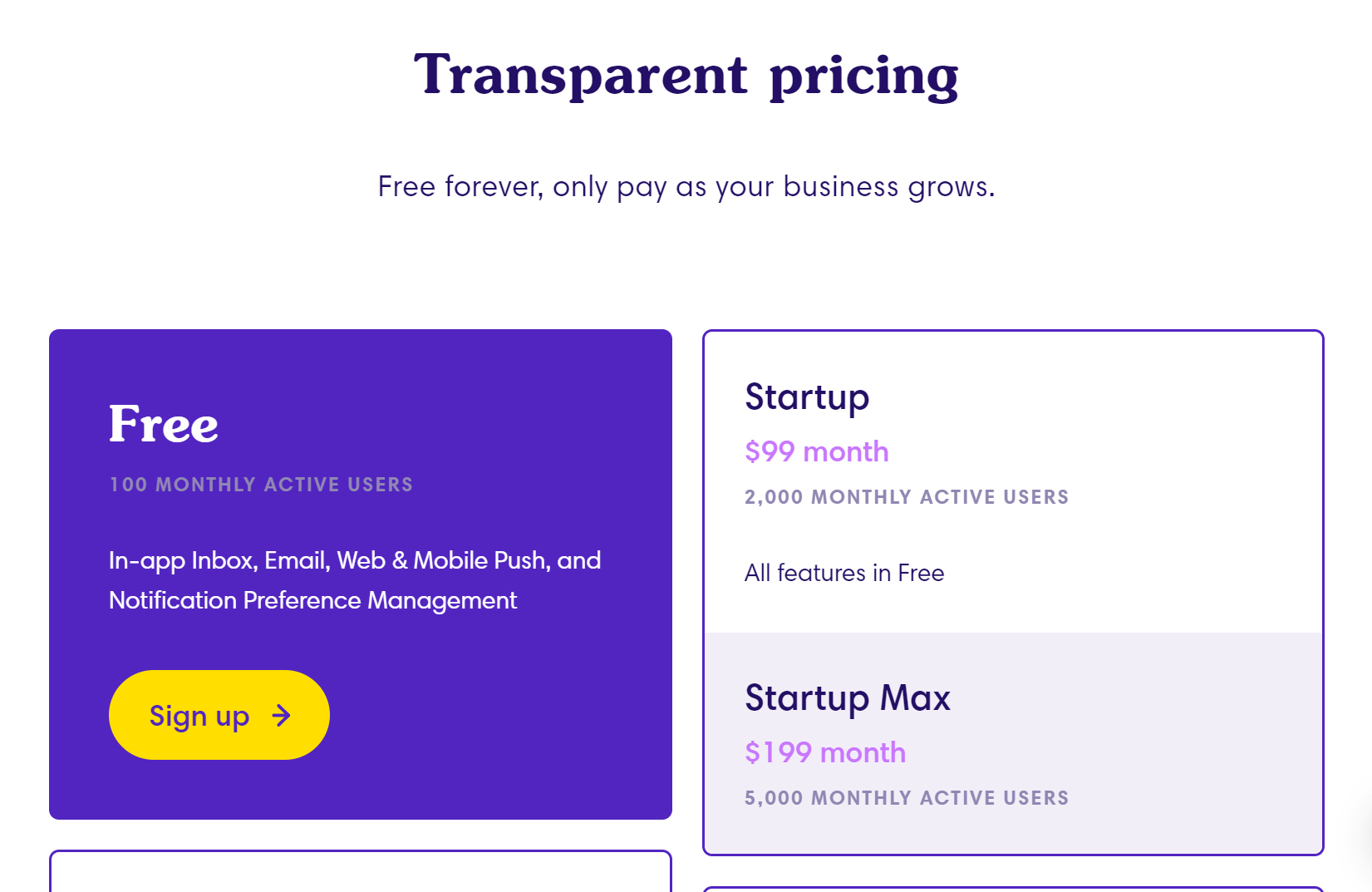 The notification tool, which operates on a plan-based and per-seat model, sets its pricing from free to an undisclosed amount for enterprise plans.
10. Per-seat-based is the most popular pricing plan
… but there's a lot more to this statement than it meets the eye.
Quick Summary of Pricing Models

- Plan-based: Pay according to a tiered plan of your choosing, based on personas.
- Per-seat-based: Pay for each user. The per-seat-based model supports predictable revenue generation.
- Usage-based: Pay as you go. The more you use, the more you pay.
When we dug deeper into the data, we found out that:
27.2% of startups work on a per-seat-based pricing model, with 18.7% and 23.7% usage-based and plan-based, respectively.
The remaining startups use a combination of pricing plans.
For example, 19.6% of startups operate on a plan- and usage-based, while 10.6% are plan- and per-seat-based.
11. Only 39.3% of startups default yearly for their payment plans
57.9% of startups prefer to show their monthly pricing upfront, whereas a smattering of startups show both monthly and yearly, semiannually, or lifetime.
This raises the question, do yearly discounts ever work?
12. 93.8% of startups don't require a credit card upfront during registration
Credit cards or no credit cards? Judging by our pricing pages analysis, it's the latter by a mile.
This proves one of the critical points Totango made in its conversion study back in 2012:
Free trials without credit cards boost conversions, so much so that it can bump up the average visit-to-lead conversion rate by 8%.
Should You Pick Freemium or Free Trial?
Don't scratch off the freemium model just because 78.3% of startups chose free trials!
The freemium plan does have its place, particularly for:
New startups that want to gather early feedback, and
Financially healthy startups that want to scale
Check out what other startup founders have to say about the freemium vs. free trial model.
Popular Pricing Type by Industry: Should You Use a Usage-, Plan-, or Per-Seat-Based Model?
There's no winner, as this depends a lot on your industry and business model.
For instance, it's almost impossible for a company to rely on a sole salesperson to earn revenue. Take a startup that wants to add $10 million in net new revenue next year. It'd need 30 sales professionals.
So it comes as no surprise then that most sales startups operate on a per-seat model.
This model works well in customer experience and project management, as well.
With scaling startups requiring an army of CS agents to deliver a great experience and projects involving multiple stakeholders across different departments, it makes sense that the most popular pricing model for both sectors is the per-seat-based plan.
Let's briefly compare how these different industries differ from each other (note: our pricing page analysis covered 49 industries. But just for this time, we'll focus only on six).
Marketing
Per-seat-based: 13.2%
Plan-based: 30.9% *most popular*
Usage-based: 14%
Plan-based + per-seat: 13.2%
Plan-based + usage: 28.7%
Sales
Per-seat-based: 43.8% *most popular*
Plan-based: 31.3%
Usage-based: 25%
Customer Experience
Per-seat-based: 50% *most popular*
Plan-based: 6.25%
Usage-based: 18.8%
Plan-based + usage: 25%
Ecommerce
Per-seat-based: 10%
Plan-based: 28.3%
Usage-based: 26.7%
Plan-based + per-seat: 5%
Plan-based + usage: 30% *most popular*
Finance
Per-seat-based: 20.9%
Plan-based: 34.9% *most popular*
Usage-based: 11.6%
Plan-based + per-seat: 11.6%
Plan-based + usage: 20.9%
Project Management
Per-seat-based: 45% *most popular*
Plan-based: 12.5%
Usage-based: 22.5%
Plan-based + per-seat: 12.5%
Plan-based + usage: 7.5%
Copywriting is a Powerful Sales Machine, BUT Not Many Startups Leverage it
Copywriting is so much more than typing words into a blank piece of document. It also involves other components that optimize conversions, such as pricing psychology, design, and social proof.
Let's briefly explore how the startups from our pricing page analysis fare in this area.
Overall, we think there's a lot of room for improvement.
Here's Buffer leveraging click triggers to encourage prospects to select its annual plan.
Click triggers are micro-copies with risk-reducing messages. In Buffer's case, it's the phrase "Get 2 months free" next to the monthly-annually tab.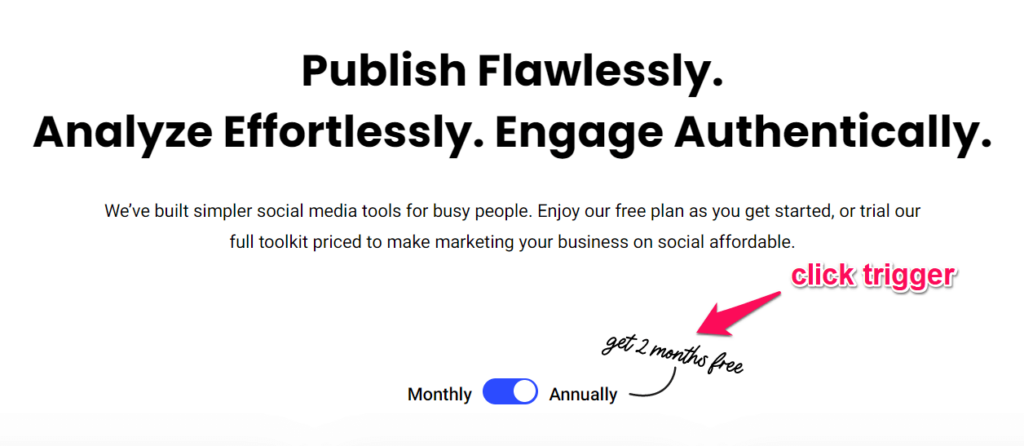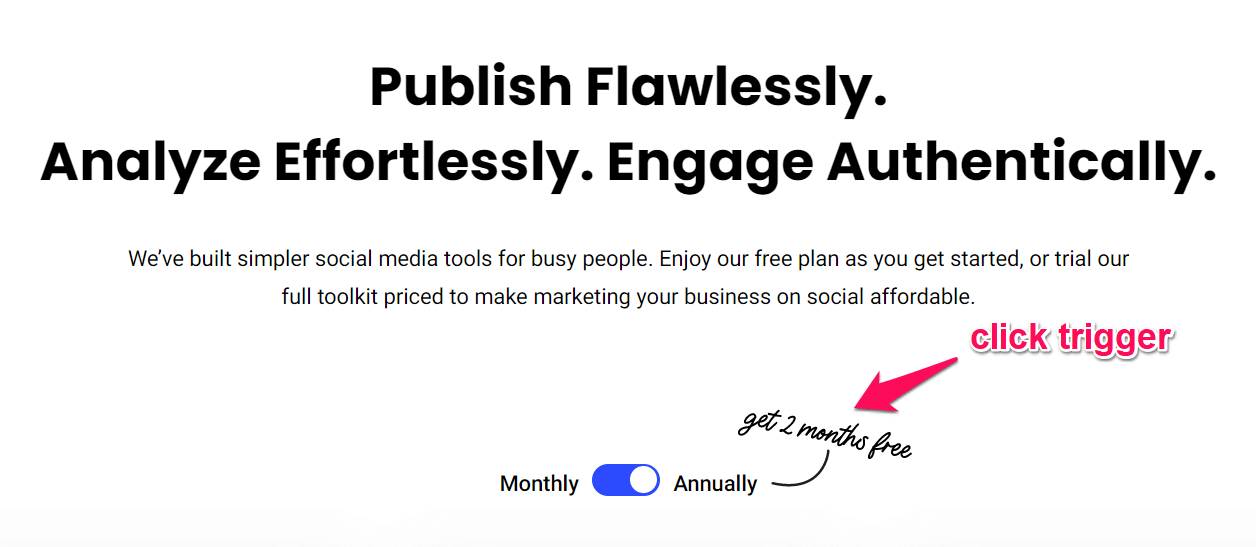 Now, what about social proof?
Earlier on, we talked about how testimonials and client logos can increase sales by 34%. Shockingly enough, 49.1% of startups do not display them on the pricing page.
Why is this happening?
Based on our assumptions, we reckon it's due to:
Continuous A/B testing: Maybe it just so happens that these startups are testing to see how their non-social proofed pages perform. When we revisited the startups during our final pricing page analysis, we realized that some pages removed their social proof!
Low quality social proof: New startups struggle to collect testimonials and customer reviews. It's understandable, as earning revenue fast takes precedence. It's also possible that some of these startups have amassed poorly-written social proof and rather not share them on the pricing page. After all, a generic review does more harm than good.
How do you get started with collecting social proof? Oli Gardner, co-founder of Unbounce, recommends these three approaches:
Give your product to influencers in your niche for free and request their feedback.
Invite bloggers or reporters to review your product.
Feature a quote from an influencer in your industry to back up the "bigger picture concept" (e.g., if you're selling an SEO tool, highlight a quote that talks about the power of SEO from well-known SEO folks like Brian Dean or Glen Allsopp).
Once you've worked your way up and secured big-name clients, display their logos.
Grammarly showcases its giant industry customers near the end of its pricing page. With companies like Cisco, Expedia, and Dell, it inspires confidence in prospective customers.


And here's another from HelpCrunch.
The customer communication platform features logos, ratings, and detailed reviews.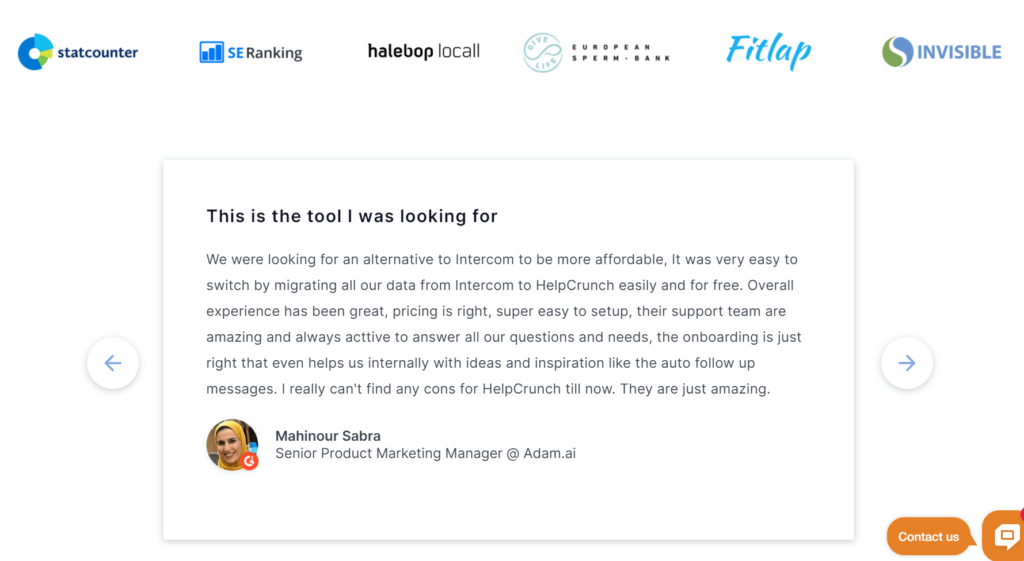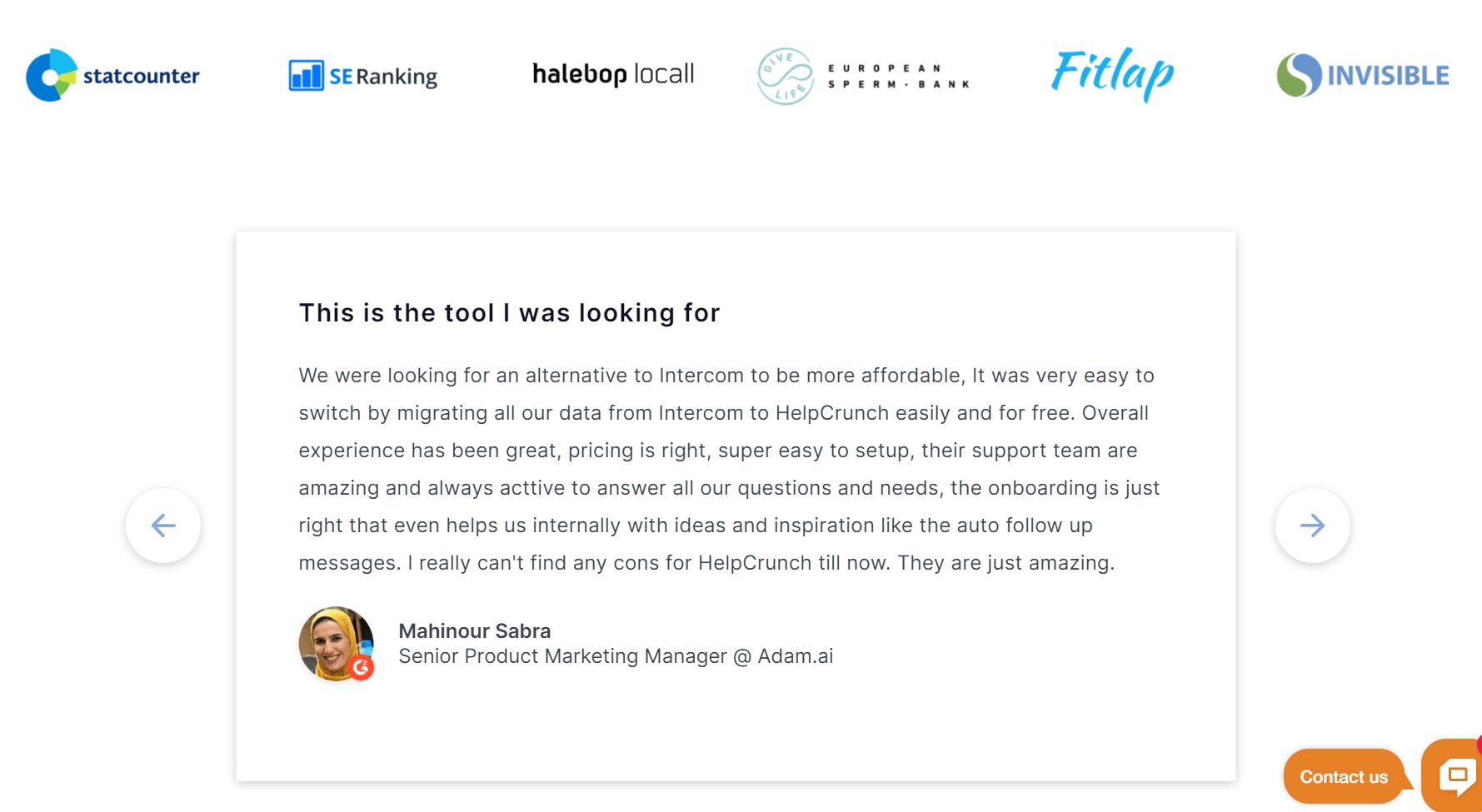 Note how these reviews address the problem (i.e., prior solution was too expensive) and process (i.e., ease of migrating from one platform to another).
Each review sparks an emotional trigger.
Now let's talk about features vs. benefits.
Previously, we shared a quote from Joanna Wiebe that instead of debating whether you should write features or benefits, you should write what your prospects need to hear to convert to customers.
This boils down to speaking to your customers. Let's illustrate what this means.
Imagine you're interviewing a group of customers on how they ended up choosing your SEO tool over competitors, and the majority said something across the lines of:
"... Your AI content brief generator edges out other SEO tools by a mile."

"... I like the AI content brief generator best. The SEO tools I've tried don't offer that."

"... My favorite feature is the AI content brief generator. It's the most accurate I've used so far."
Then you should put features front and center.
Now imagine if the customers said:
"... I love that I can create content briefs, optimize the drafts, and edit them without leaving the platform."

"My least favorite part of content is creating the briefs as SEO is never my strongest suit. But with your content brief generator, I know I'm focusing on the right keywords and angle. I can finally create briefs with confidence."

"I manage a team of 24 writers. The content brief generator helps me to create briefs in seconds instead of hours. It saves me a lot of time."
Then, you might want to talk more about your product's benefits.
Of course, this is an ultra-simplified example. In reality, distilling copy nuggets from customer interviews is a lot more challenging. But that's another guide for another day.
Nonetheless, we hope this helps you gauge whether you should sprinkle your copy with features, benefits, or both.
Spectacular Customer Experience Generates Money
If there's one thing marketing, sales, and support have in common, it's that they all play a crucial role in delivering a personalized customer experience.
Marketers create content that prospects actually want to read.
Sales send leads a personalized video with tips on making the most out of the free trials.
Support responds to questions and feedback from live chat and online reviews at the speed of light.
As you can see here, there are numerous components to excellent customer experience, and each accelerates revenue in its own way (e.g., our previous article introduced to you how one startup 3X its customer revenue after sending leads a customized video after they signed for a free trial).
Looking at our pricing page analysis, it's clear that most startups understand the impact of delivering an excellent experience for prospects and customers.
With 62.5% displaying its FAQs and 50.6% offering live chat, we hope it'll only get better from now on.
Final Thoughts on Pricing Page Analysis: Which Plan Should You Pick?
Selecting the right pricing plan is one of the many puzzles of unlocking revenue growth.
Besides finding the ideal pricing for your business, you must also optimize your sales performance.
One underrated tip is to avoid chasing after low-quality leads, so you can focus your energy on the ones that are most likely to close.
How do you do that?
It's pretty simple: Use lead scoring.
Assign a score for each lead based on their background and online activities (e.g., visit the pricing page three times over the weekend). Once they hit a threshold, you'll receive a notification of the sales opportunity.
Book a demo with Breadcrumbs to learn more about lead scoring and accelerate your revenue today.