You can't afford expensive mistakes.
In this guide, learn where five companies went wrong while working on their revenue goals, what they did to fix them, and how you can apply their tactics to your own.
1. Waste Time on Deals Doomed from the Start
The wrong way: Give all leads the same level of attention.
The right way to hit your revenue goals: Focus on sales-ready leads, identified through lead scoring.
At least 50% of your prospective customers will not be a good fit for your product, which makes it all the more vital for you to avoid wasting valuable resources on them.
Pearl Lemon Leads learned this lesson the hard way.
"We used to waste a lot of time on poor-quality prospects," admits Ion Farmakides, the head of sales at the agency.
How do you identify these high-quality leads in the first place?
In Pearl Lemon Leads' case, it requires prospects to choose their budget in the online appointment form.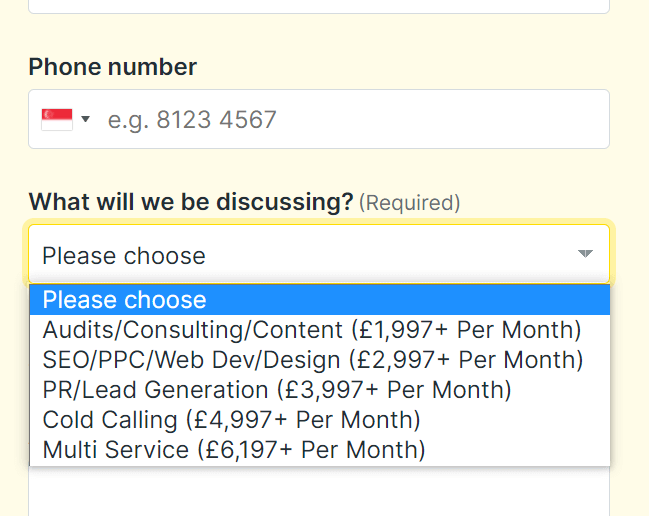 "This way, they don't waste our time. It's so helpful because we don't end up having hundreds of calls with people who are a bad fit."
Here's another way to identify your best-quality leads: Assign scores to your leads according to their job title and web activity using Breadcrumbs. The higher the score, the more likely you can convert them to a customer.
Let's imagine your buyer persona indicates that your best customers are C-suite executives from startups with a $10M ARR.
In the Fit model, set a percentage for their ARR and job title.
Here's how it might look for the latter.


When a prospect selects any of these C-suite roles in the opt-in or contact form (pictured above), they automatically score 100%. Prospects outside of these job titles will get a lower score.
Next, in the Activity model, select your web page(s) to trigger an action. Let's say you want these leads to score 70% if they visit both the pricing and contact page over a specific period of time (side note: this signals buying intent, which means that they're ready for the sale).
In that case, select the And operator and include the URLs to your pricing and contact pages in the Event field, and set a time decay to factor in time.


Activate your newly created scoring model!
Breadcrumbs will send all scoring information to your data source (e.g., HubSpot, Marketo, ActiveCampaign), allowing you to create the relevant workflows and notifying you of the sales opportunity.
Neat, huh?
By the way, you can also use Breadcrumbs for cross-sells, upsells, and churn.
Book a demo with Breadcrumbs to unlock revenue acceleration today.
2. Over-Rely on Sales Automation
The wrong way: Automate all sales activities.
The right way to hit your revenue goals: Automate low-effort sales tasks.
About a third of your sales tasks can be automated.
What kind of sales activities can you automate? We recommend low-effort and mind time-consuming tasks like list building, lead rotation, sales pipeline and contact management, and the occasional follow-up email.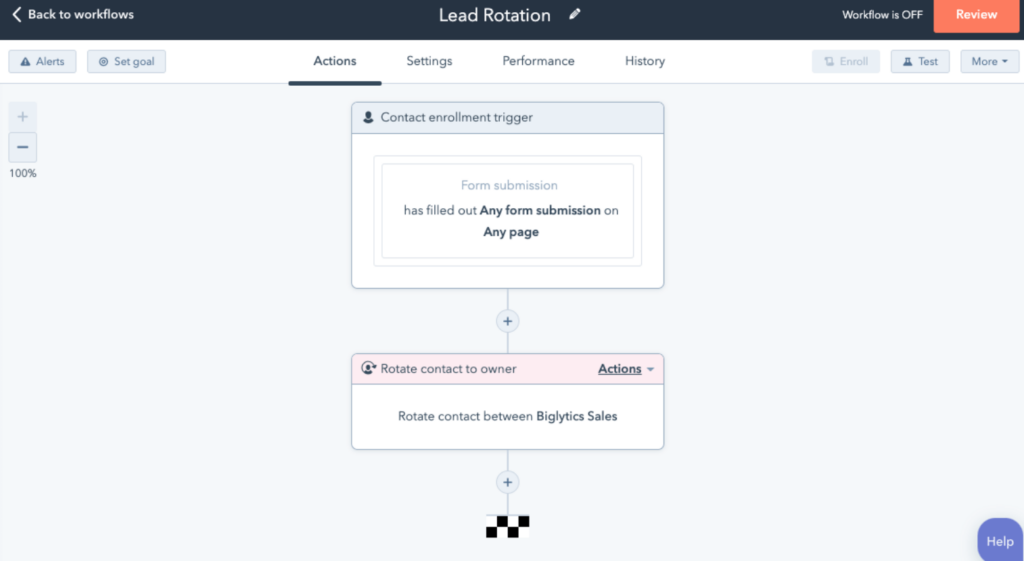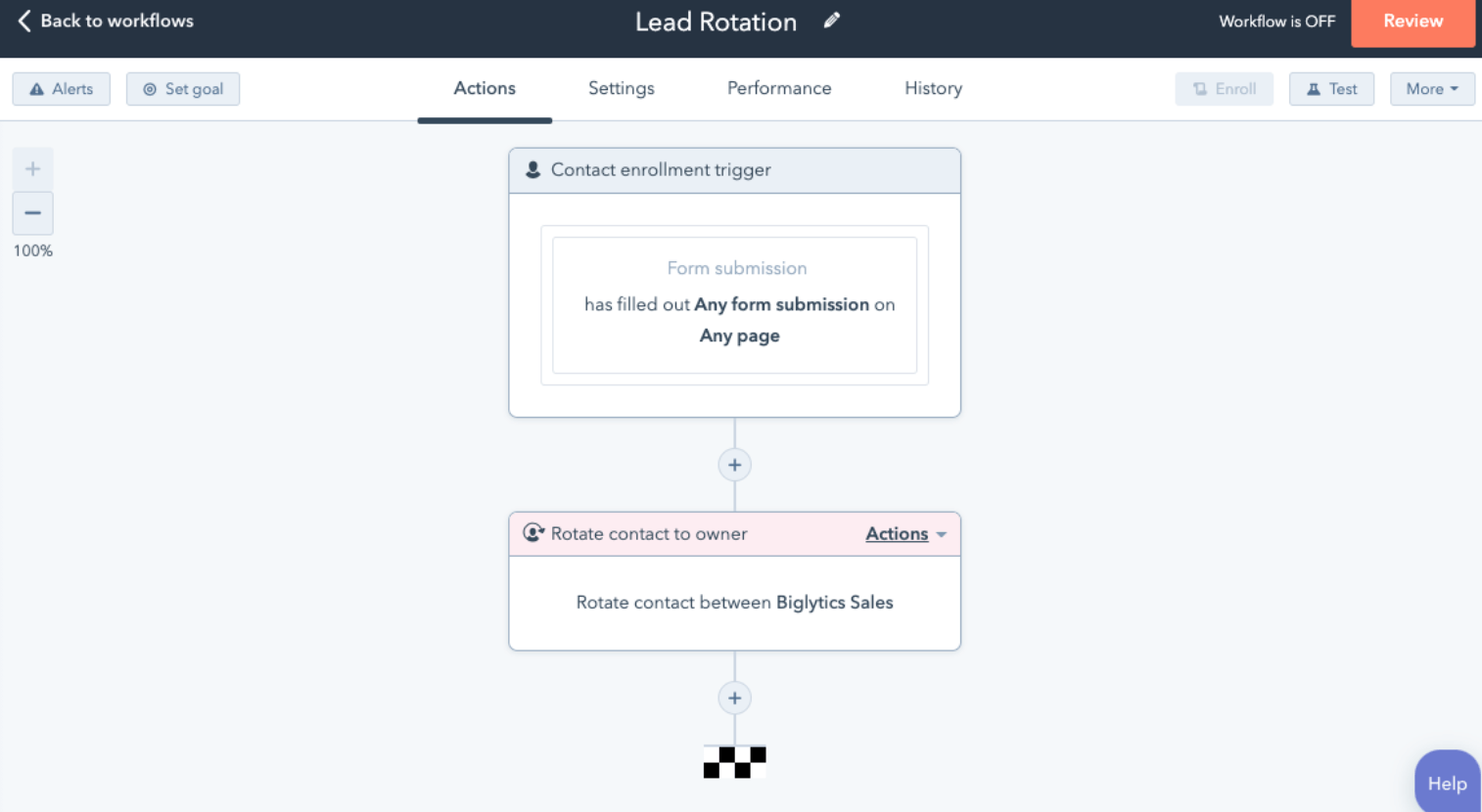 In other words, you should never automate conversations—especially when it involves selling high-ticket items.
You can't automate many advanced sales techniques, explains James Barry, the head of business development at Beacon. "An email as simple as asking for a referral needs to be personalized—which is something automation can't do."
In James' experience, excessive automation reduces the quality of clients. He adds, "The best clients are usually too busy to respond to automated emails."
"Automation doesn't work for us because we sell high-value services. If you sell a widget that costs $1 for the buyer, you can automate 100% of that sales cycle. But if you sell a consultative service that costs $1,000,000 for the buyer, automate 0% of that sales cycle."

James Barry, head of business development at Beacon
That's excellent advice.
Here's an example of a badly automated email to show you what he means.
"Hey [Name], 

I saw you raised $15m in a Series A. 
 
We help Series A companies hire. 

Want to chat?" 
Right?
It's clear that the sales rep is using a template. This pitch comes across as insincere and frankly, it's quite spammy.
Now compare it with this personalized pitch below. Note how specific and targeted it is, despite it being such a short message.
"Hey [Name], 

Love your LinkedIn post about providing feedback during the interview process. 

That's critical. Clearly, you've put a lot of thought into the actual process, but I saw you don't have any recruiters on staff. 

I suspect you're exploring third-party solutions at some point, and I'd love to throw my hat in the ring."   
You can't do this in an automation!
James explains, "The best salespeople reach out with an 'I saw Y happened to you, so how are you going to plan to deal with X?'"
By cutting down on automation and focusing more on actionable metrics (e.g., top-line revenue growth > number of meetings booked), the Beacon team successfully improved the quality of their client base.
Today, the startup is on track to hit $2 million in ARR.
3. Acquire New Customers Obsessively
The wrong way: Focus only on acquisition.
The right way to hit your revenue goals: Focus on both customer acquisition and retention.
It's easier to sell to existing customers than new ones, so much so that a 5% increase in customer retention can generate more than a 25% increase in profit. And that's just the financial industry alone!
Put simply, you'll want to retain clients as much as you onboard new ones. Failure to do so runs the risk of blowing up your revenue, according to an agency owner.
"We initially focused more on new client stats during our end-of-month results meetings," divulges Jonathan Zacharias, founder of GR0. "However, we learned that client acquisition is expensive, difficult, and time-consuming."
Today, the agency shifts its focus toward improving existing clients' experience using satisfaction surveys, regular check-ins, and dedicated account managers.
Here's how you can replicate GR0's strategy on your own:
Send monthly feedback surveys to customers and implement the necessary suggestions. You stay on top of every customer's concerns by providing proactive assistance before they balloon up into issues.
Assign a dedicated account manager to make clients feel they're of top priority. Having a key person they can go to creates an effortless and seamless customer experience.
Check in with inactive customers. A drop in product usage or delayed email response indicates an at-risk customer. GR0 regularly highlights clients' latest wins to reinforce its benefits and to stay in touch with them.
Pro tip: Use Breadcrumbs to improve your churn rate. Our co-dynamic algorithm notifies you of at-risk customers, so you can catch them before churn happens.
4. Create Too Much Content to Drive Awareness
The wrong way: Invest in top of the funnel (ToFu) strategies.
The right way to hit your revenue goals: Focus on bottom of the funnel (BoFu) to drive conversions first.
It's a reflex to create content at the top of the funnel (ToFu).
After all, that's the stage all prospects start at, right? Grab their attention with how-to guides, nurture them with case studies, and convert them into customers down the funnel.
Sounds about right?
Not quite.
Unless your product is an entirely new invention (hello, winged shoes), it's likely prospects already know about your product.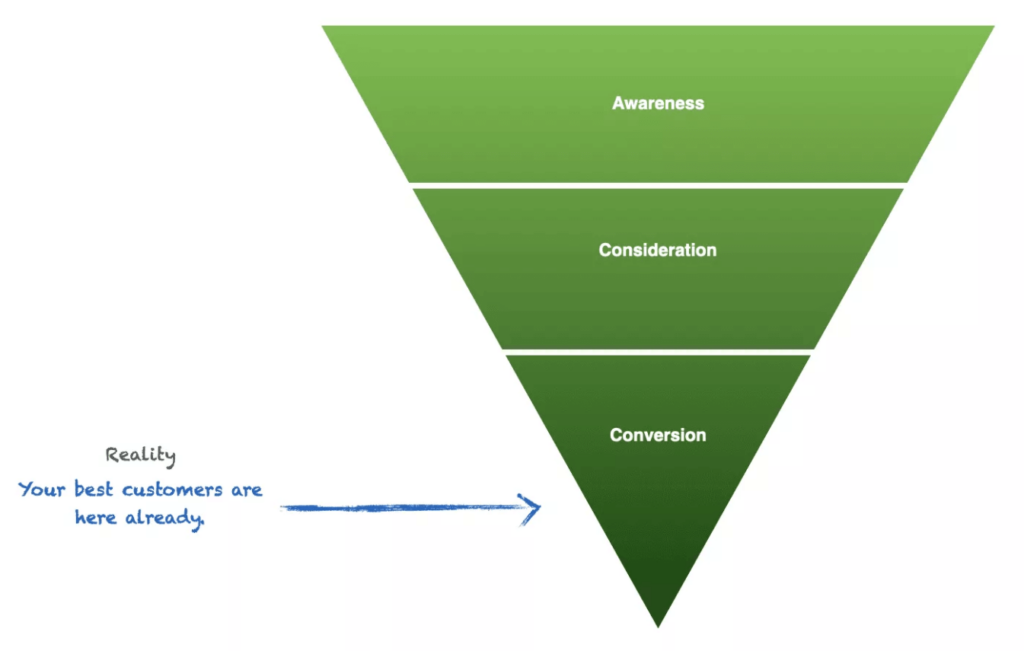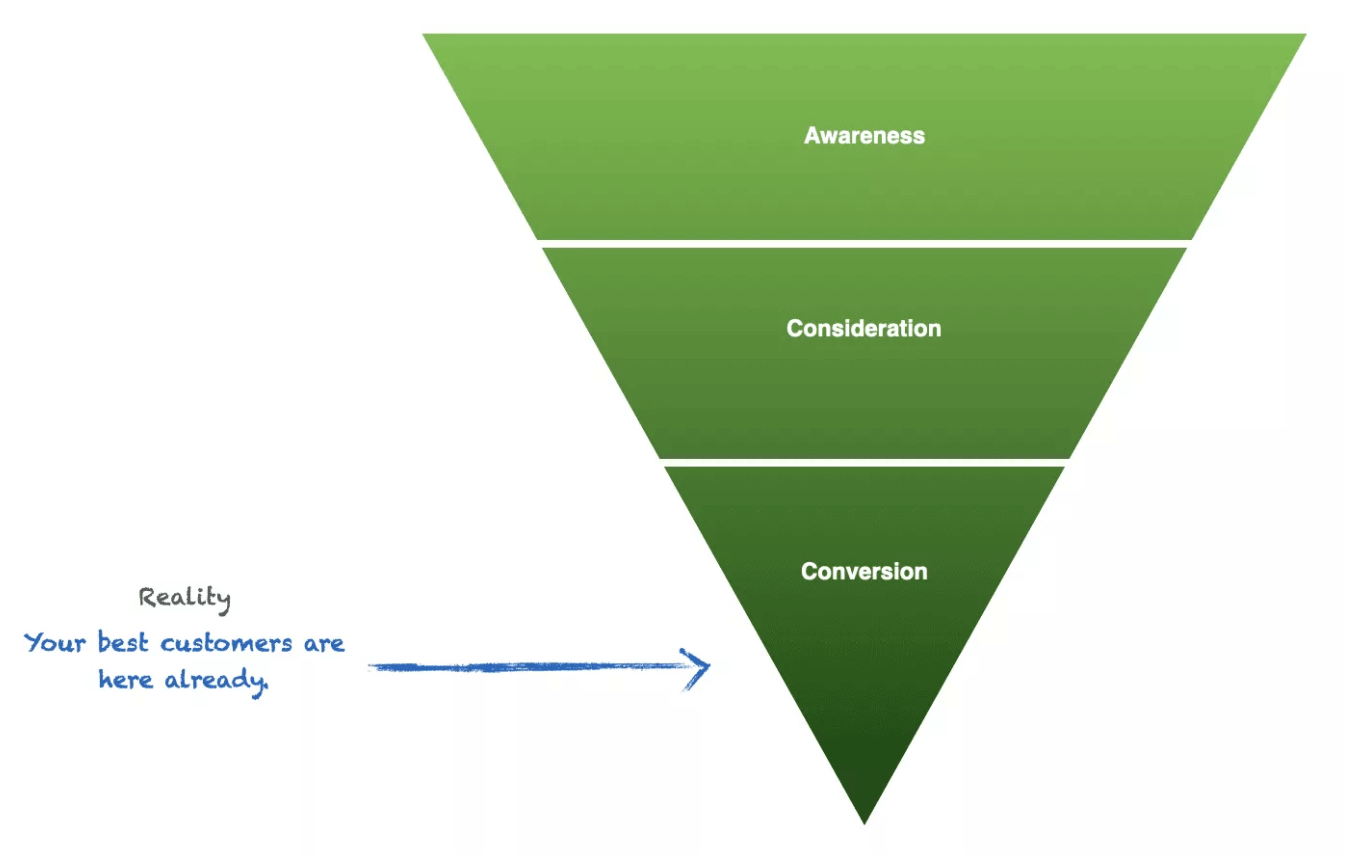 As Benji Hyam puts it, these prospects are not starting from the bottom.
"They're not starting from a knowledge level of zero. And therefore, most top of the funnel content (which usually covers introductory level "why this is important" or "ultimate guide to this niche" topics) is below their knowledge level—they already know all that stuff."

Benji Hyam, co-founder of Grow and Convert
In other words, your job isn't really to educate them on the basics.
Your job is to prove to them how your product works and why they should pick you over the competition.
When Nuno Gomes launched WithProcess, he focused heavily on the awareness stage. But when he diverted his resources toward the middle (MoFu) and bottom of the funnel (BoFu), revenue went up.
Here's a brief guide to driving conversions in your MoFu and BoFu content:
Interview your best customers. Customer data should shape your content, not those random bolts of inspiration. Interview questions like "What problems were you trying to solve when you came across our product?" and the like help you dig deep into content that sells.
Show your product in action. Take a beat from Ahrefs, the pioneer of product-led content marketing. Weave your product in the posts to show how it solves the reader's problems. That said, you want to focus on keywords and topics with business potential.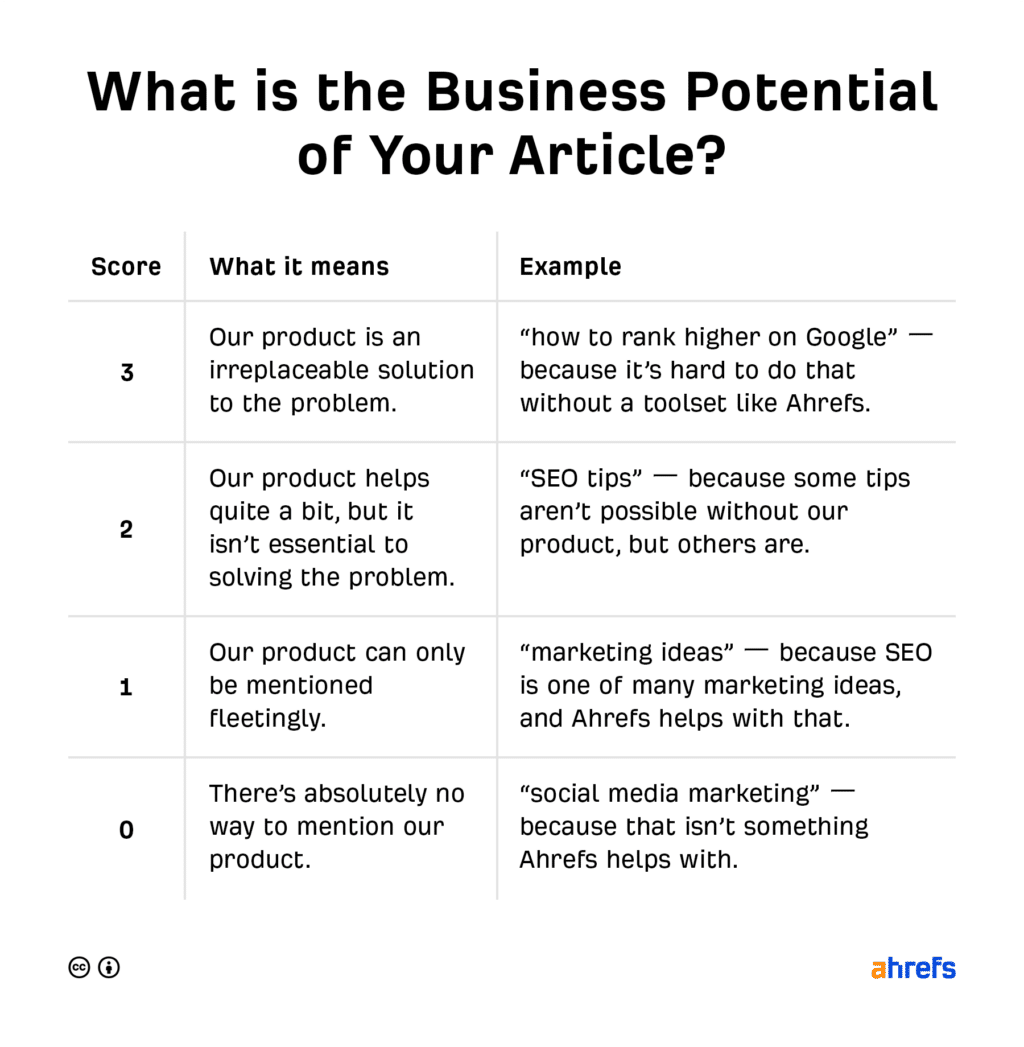 These posts should compel prospects to take action if done well.
At this stage, you might be wondering, should you run ads to promote your content?
That's what we'll discuss in the final tip.
5. Run Unprofitable Paid Ads
The wrong way: Rely on paid ads for monthly growth.
The right way to hit your revenue goals: Invest in content marketing for sustainable revenue growth.
Ask any startup founder about raising angel investment, and they'll tell you that it's common to have aggressive revenue goals during launch.
That's the case with Illuminate Labs.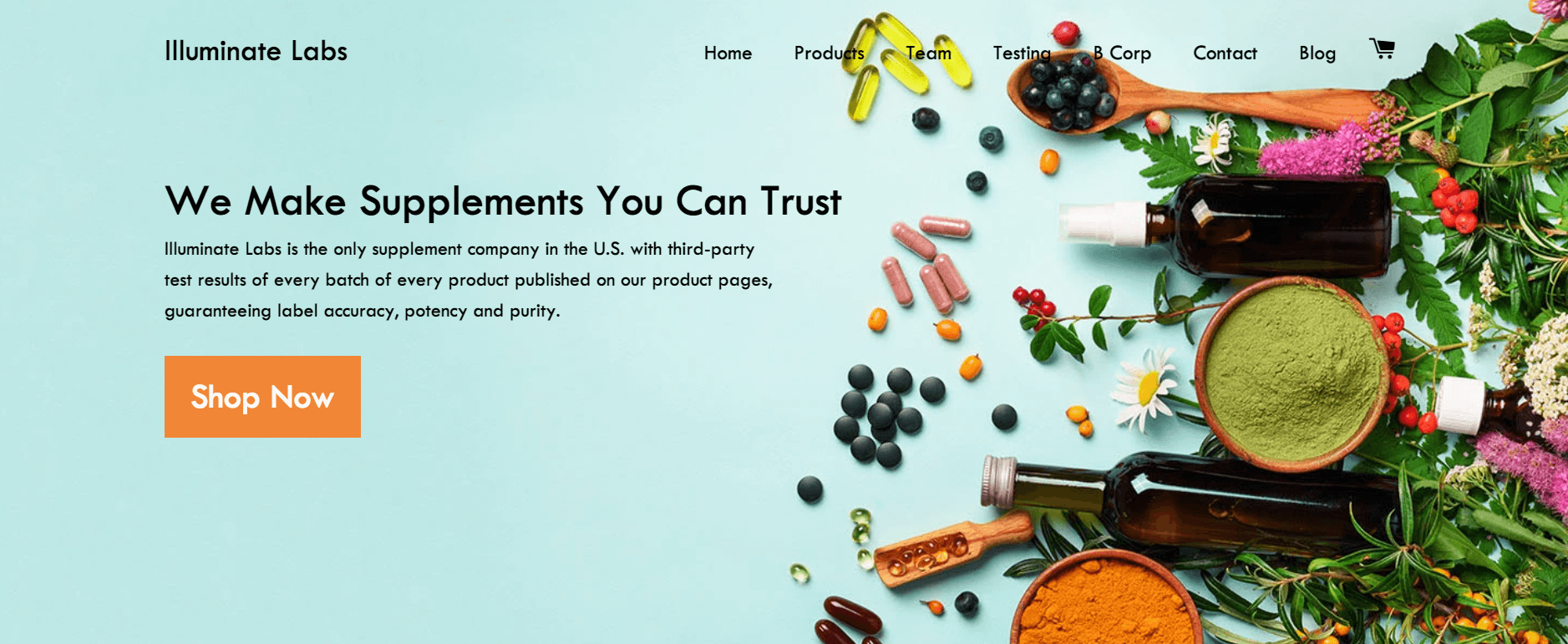 "We wanted to please our investors with monthly sales updates that showed hockey stick growth," admits Calloway Cook, the president of the dietary supplement ecommerce store. "The quickest way to increase revenue is to run paid ads."
Alas, none of the paid ads were profitable. Despite numerous attempts at optimizing them, Illuminate Labs was losing money.
Breadcrumbs Commentary: 

There are multiple culprits behind unprofitable paid ads. 

These three common causes come to mind: 

- Poor copy
- Disconnected experience between the ad and landing page
- Running ads to cold audiences

For another startup, Buddy, it was due to their customers' aversion to advertising. 

Alex Kus, the CMO of Buddy, shares with Breadcrumbs, "Developers are extremely sensitive to being marketed to. 
We were actually shooting ourselves in the foot the more ads we pushed out the door." 

In the end, the startup switched to direct communications via forums and existing relationships. The move proved to be effective, raising its revenue significantly. 
Eventually, Calloway and his team shifted to content marketing to grow their sales organically.
[Note: So, should you run ads to promote your content? That depends. The trick is to run these lead generation ads in front of a warm audience, not cold. However, since Illuminate Labs focused on content marketing for their revenue goals, we'll focus on just this one for now. If you want to learn how to run effective ads, check out this article on B2B lead generation.]

"Content marketing grew our web traffic by 20X in the past three months. It increased our revenue more sustainably, including getting our company to profitability."

Calloway Cook, President of Illuminate Labs
Here's how you can replicate the ecommerce store's strategy: Identify a buzz-worthy topic that competitors barely address in their content.
For Illuminate Labs, it was Balance of Nature, a dietary supplement that received a lot of flak from the FDA and consumers.
Illuminate Lab's post on Balance of Nature addressed a concern that's been bugging consumers' minds but for some reason isn't talked about often.
The post has since received 24,000 views in the past 30 days.
Despite Illuminate Labs not mentioning its own products in the post, it sees a steady stream of readers returning and buying from the site.
Final Thoughts on Hitting Your Revenue Goals
These five lessons should be required reading for all founders, marketers, and sales professionals. Hopefully, these cautionary tales gave more insight into planning and achieving your revenue goals.
Here's a quick recap:
Paid ads are only effective when targeted toward warm audiences. Even then, they can still be expensive and unsustainable in the long run. For long-term organic growth, focus on content marketing.
What kind of content should you create? Our vote goes to conversion-focused content at the middle and bottom of the funnel. Use customer insights to inform your topics and keywords. More importantly, ensure that you always feature your product in action.
It's easier to sell to existing customers instead of new ones. Focus on both customer acquisition and retention. Do everything you can to optimize your customers' experience! Use Breadcrumbs to catch at-risk customers before churn happens.
Only automate low-effort sales tasks. That means activities like list building, lead rotation, and contact management. Avoid automating conversations, especially if you sell high-ticket products or services.
Use a lead scoring model to identify sales-ready leads. The higher the score, the more likely they're ready for the sale. Book a demo with Breadcrumbs to hit your revenue goals today.
Tell us, which of these strategies will you try today?