Sales-marketing misalignment always causes silos in organizations.
While there is a consensus on strategic alignment, effective coordination in day-to-day tasks across departments remains lacking.
This guide explores some of our favorite revenue marketing strategies to improve tactical alignment.
What is Revenue Marketing?
Revenue marketing is a holistic approach where you align the sales and marketing team to break down silos and accelerate revenue through your channels in the entire customer lifecycle.
What are the Benefits of Revenue Marketing?
Companies with a robust revenue marketing model see a healthy sales pipeline, a more effective sales process, and higher marketing ROI.
It's not only marketing and sales. Fostering a collaborative culture benefits the organization far and wide.
According to LinkedIn, 87% of sales and marketing leaders believe that collaboration between these two departments enables critical business growth.
Here's how it looks on a micro-scale:
Marketing knows which campaigns, channels, content, and conversations attract quality leads and generate the highest return on investment.
Sales identifies sales-ready leads with ease. Quickly gather context from a detailed breakdown for all sales-qualified leads (e.g., if a lead has been downloading ebooks about a specific topic, the sales rep can mention it in the sales pitch email and illustrate how the product solves their problem).
Customer success finds customers with cross- and upsell potential and strategically recommends relevant add-ons and premium products, with zero guesswork.
Product builds and improves features that add value to their target customers.
Customers enjoy a better experience, which improves retention and brand loyalty in the long run.
Collaboration between marketing and sales creates a ripple effect. Revenue increases, teams are more efficient, and customers enjoy excellent experiences throughout the customer journey.
How to Get Started with Revenue Marketing
Alignment is more of a tactical problem than a strategic one. While there are nuances that differ in each company, these proven revenue marketing strategies help your revenue marketing efforts less of a challenge.
1. Set goals as a cross-functional team
Common goals keep everyone in sync.
Instead of measuring a bunch of different vanity metrics that push you in different directions, stakeholders should come together to define success using the same KPIs.
Here's a simple example to show you what we mean:
Goal: Retention

Teams involved:
- Marketing
- Product
- Customer success

Revenue marketing metrics: 
- Customer lifetime value (CLTV)
- Churn rate
- Net promoter score (NPS)
- Time to value moments
- Reactivation rate
Focus on two main revenue marketing metrics, according to David Toby, the director of Pathfinder Marketing:
Revenue metrics: "Big picture" strategic numbers to show the team's contribution to revenue and profit growth.
Program metrics: Tactical day-to-day numbers to provide an overview of the impact of marketing campaigns and sales-marketing alignment.
While you're at it, assign a leader to oversee the revenue marketing team.
Choosing this person depends on multiple factors, such as the maturity of the company and their expertise.
You might hire a chief revenue officer [CRO] or even the head of revenue operations to lead the revenue marketing plan. While titles vary, there is a common thread: this leader must possess at least a decade of experience in driving revenue growth across diverse roles.
All Front appoints its CEO to align different departments on shared goals. The department heads would gather in a room to get clear on everyone's responsibilities, reveals David Stellini, the co-founder and CTO at the custom software development company.
"Everyone gets involved. Research, deadlines, and plans, you name it."
2. Perform audience research
Marketers who perform audience research are 466% more successful than those who don't, proving once again that buyer-centric content leads to sales.
There are multiple ways to conduct customer research: inviting your best customers to one-on-one interviews, sending surveys with a bunch of open-ended questions, social listening using tools like SparkToro, and listening to sales calls to understand common customer objections.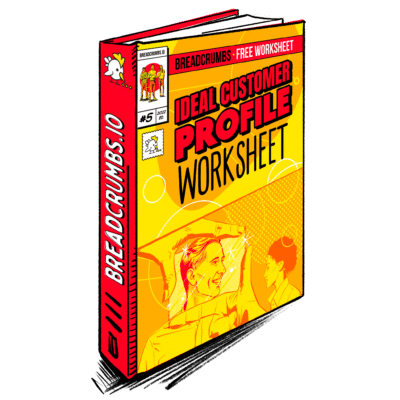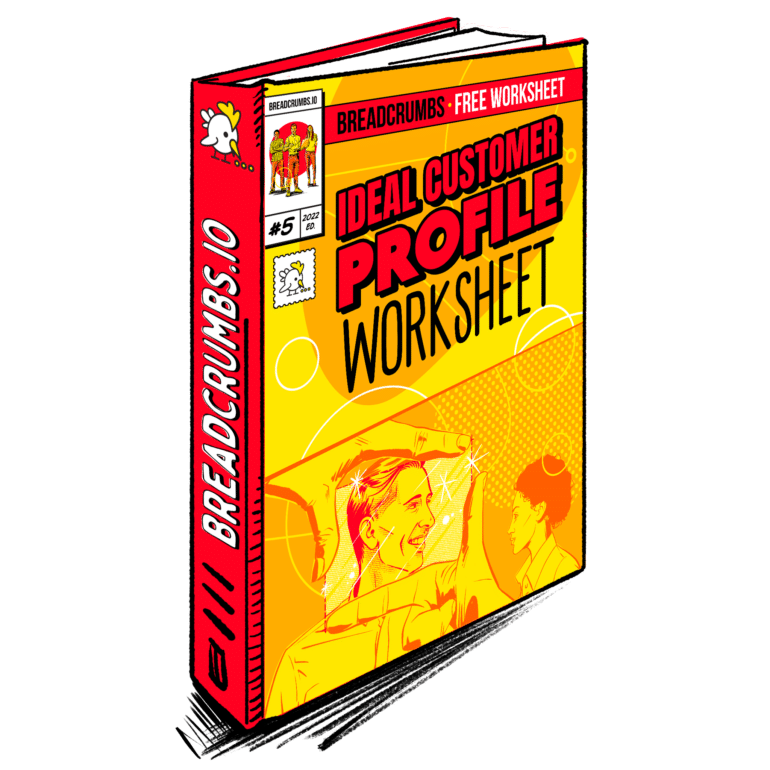 Ebook
Ideal Customer Profile (ICP) Worksheet
Learn how to create an Ideal Customer Profile and build a successful sales strategy with this Ideal Customer Profile (ICP) Worksheet.
Clarify on your target audience before conducting research.
Use a tool like Reveal if you're struggling to identify your most profitable customers. This tool analyzes your existing marketing, sales, and product data to highlight the specific attributes and actions that deliver revenue.
Here's how it works:
Connect all data with Reveal
Select the segment of contacts that define success (e.g., users of your most popular plan)
Reveal your results
You'll get an ultra-comprehensive view of what your customer data looks like, including the industries to focus on and the activities that have a direct impact on revenue.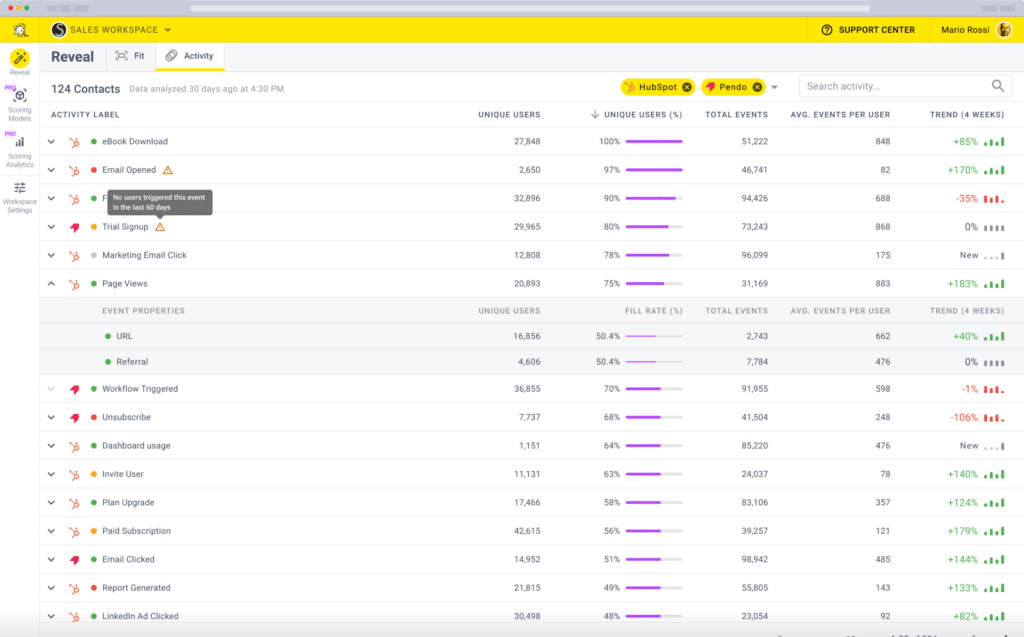 With a tool like Reveal, everyone in the revenue marketing team gets aligned on your best customers today. That way, everyone can focus on campaigns, channels, content, and conversations that are most likely to generate conversions.
Grab your free Breadcrumbs plan to unlock Reveal today.
Next, invite these customers to an interview.
Or send a survey or two.
Whichever medium you choose, distill everything you've learned in your ideal customer profile (ICP) and a jobs-to-be-done (JTBD) framework for good measure.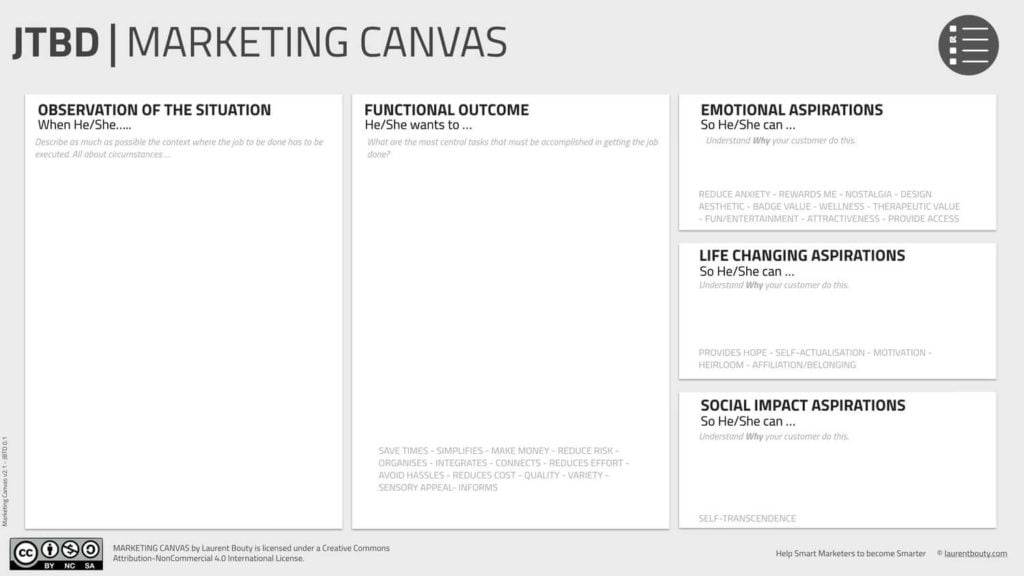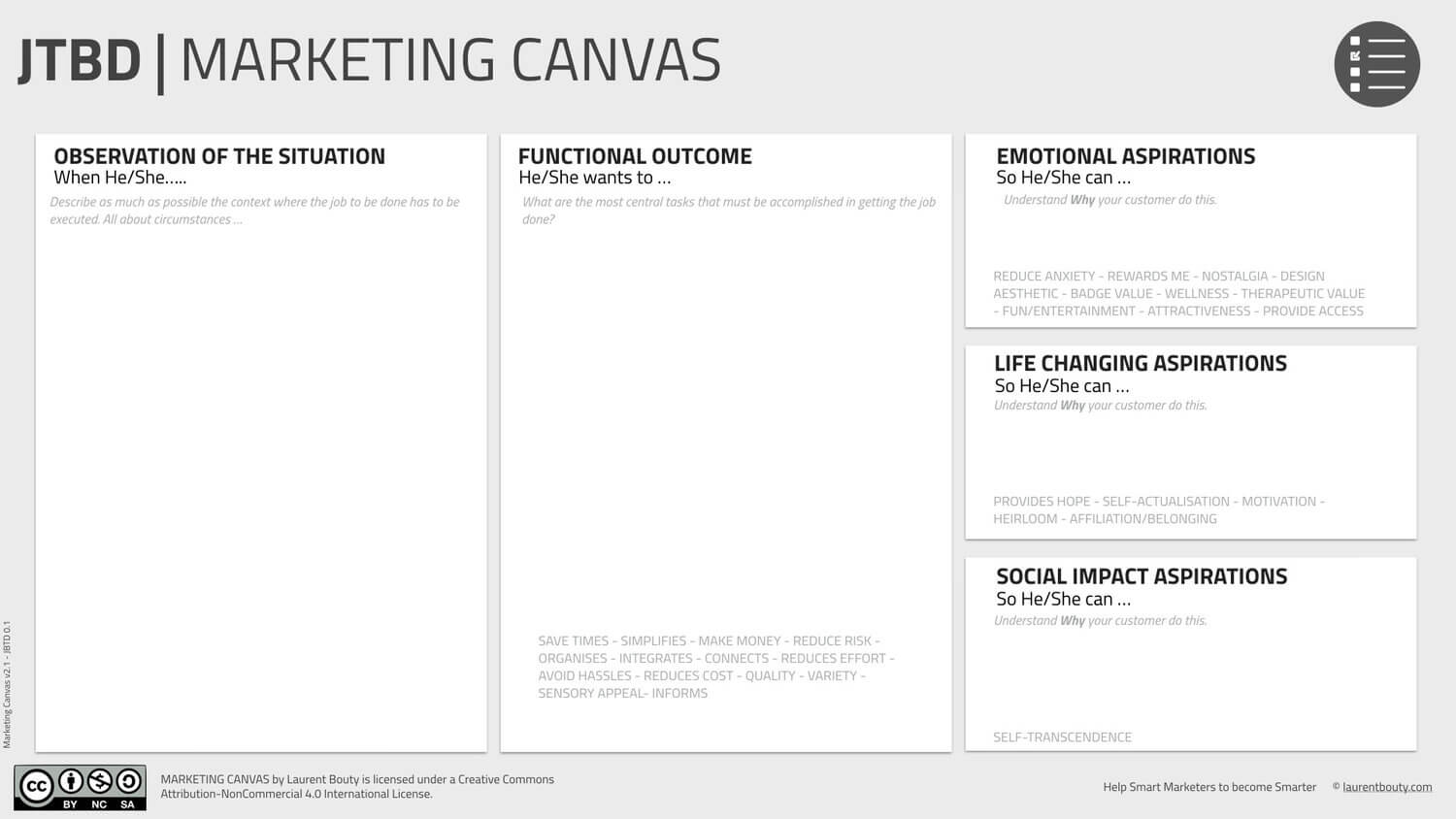 While the ICP identifies your best customers based on firmographic data, the JTBD framework, according to David Toby, managing director of Pathfinder Alliance, forces you to think about the single most crucial thing you need to know about the buyer:
What they want to accomplish
Use both content assets to gain clarity on the buying cycle. The insights you gather will shape not only your go-to-market (GTM) strategy, but also content and product development.
3. Create content together
Over the past years, marketers have been taught to create content according to their level of awareness.
Target prospects at the top of the funnel with ebooks and white papers, leads at the middle of the funnel with webinars, and sales-ready customers with case studies; you get the picture.
However, the trouble with this approach, according to Fio Dossetto in her newsletter Content Folks, is that customers don't always "act as linearly as we wish they did."
If you're seeing this behavior in your customers (chances are, you will) or seeing lukewarm results in your lead generation and sales pipeline (again, you will), consider creating content that directly addresses your buyers' jobs to be done.
Publish product-led content to walk users through how they can use your product to help them accomplish their daily tasks.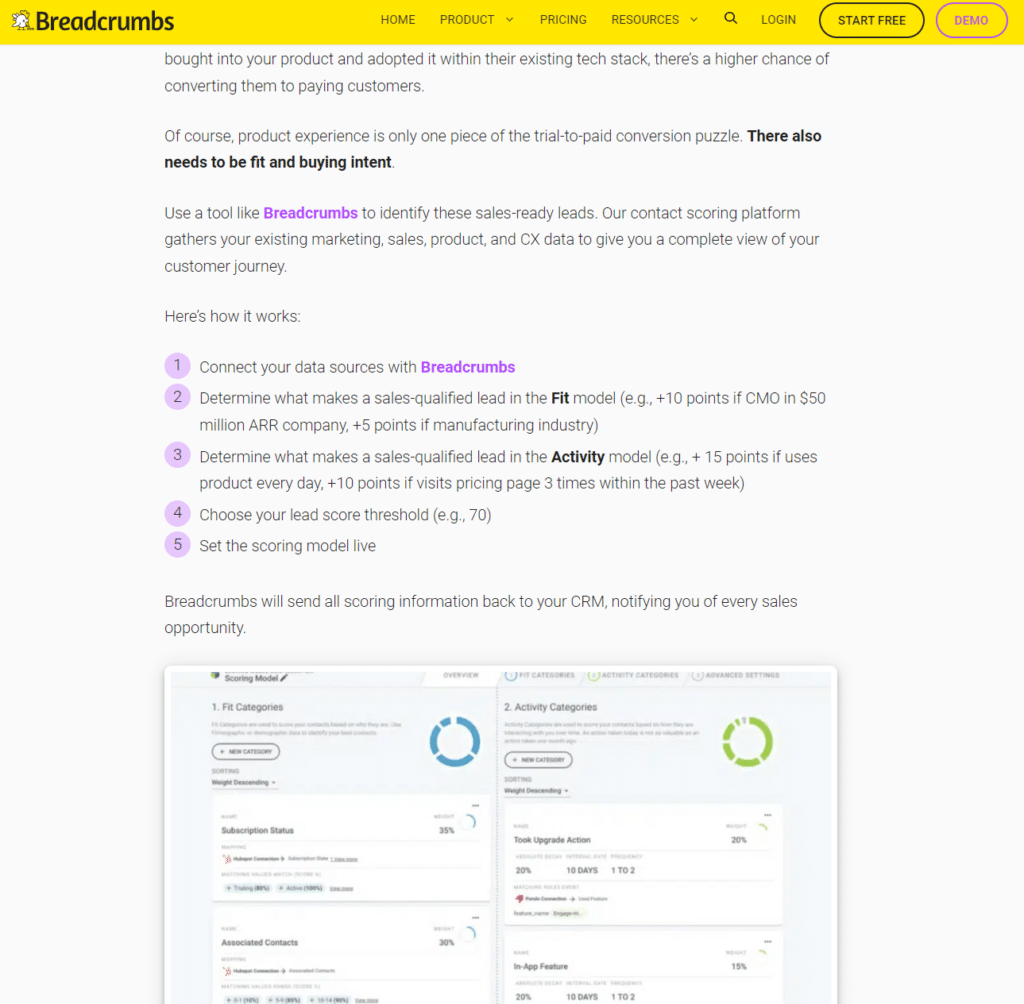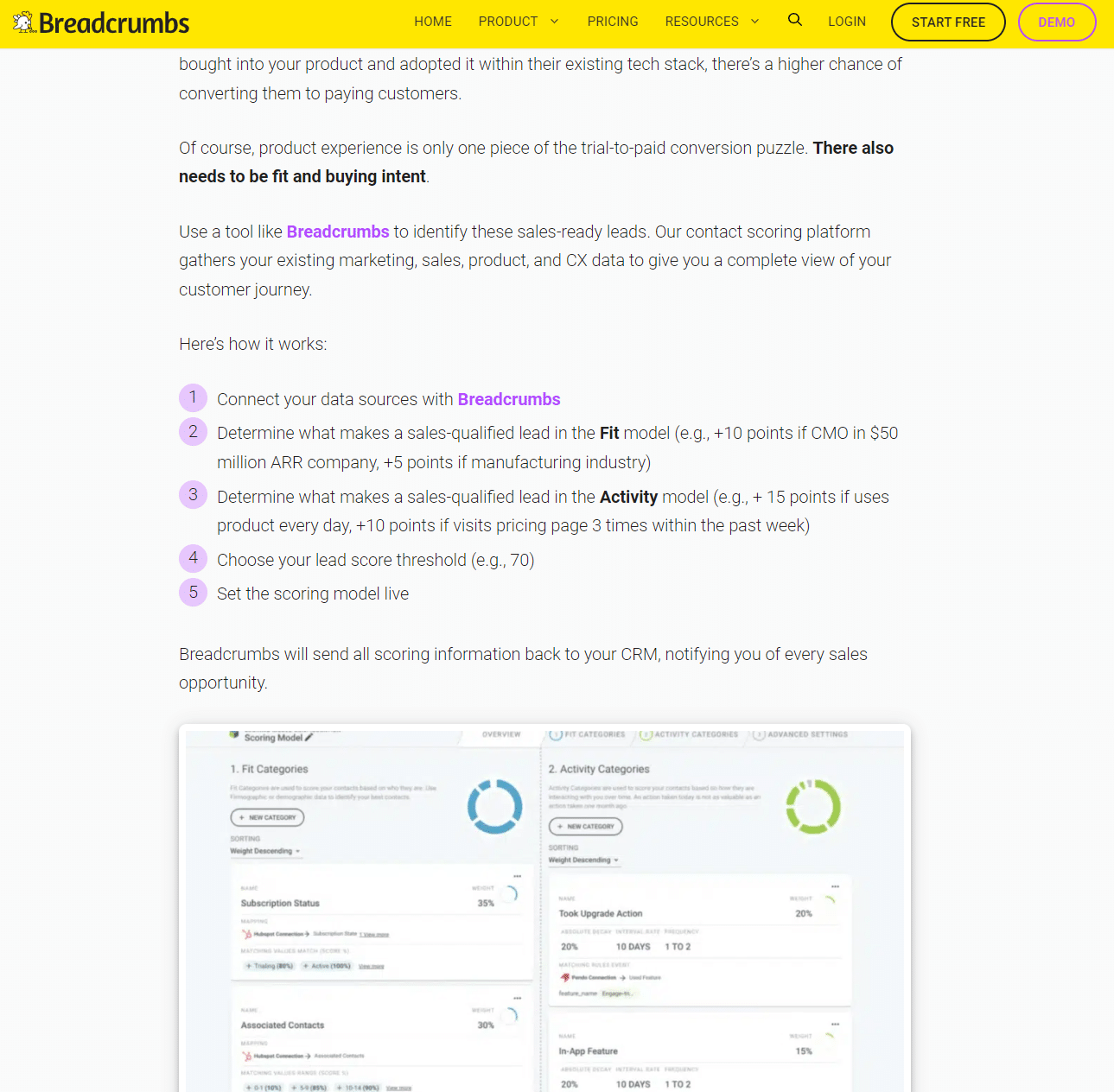 For example, a digital asset management software platform that sells to enterprises struggling with taxonomy (JTBD) might create the following topics:
How to use metadata to organize your assets
How to classify your digital assets
How to manage brand assets efficiently
… and weave in its search functionality and automated AI tagging tools to show the product in action.
That's exactly what Digizuite did in its content approach. In just a year, the company raised its YOY revenue by 25%.
4. Score your leads accurately
Lead scoring is a methodology where you assign your leads a score based on their attributes and actions. The higher the score, the greater the buyer's intent, and the more likely they'll become paying customers.
Sounds perfect, right?
Not exactly.
Here's why.
Lead scoring ignores buyers at risk of churning and customers with upsell potential. It's vital to identify these two customer segments because expansion revenue and logo churn play a significant role in your business.
Fortunately, that's where a fully featured contact scoring platform like Breadcrumbs comes in.
Breadcrumbs gather all your existing marketing, sales, and product data into one place to build a high-performing scoring model.
Here's how it works:
Connect your data sources with Breadcrumbs
Determine who makes a qualified lead/customer with cross- and upsell potential/at-risk customers in the Fit model
Determine what makes a qualified lead/customer with cross- and upsell potential/at-risk customer in the Activity model (e.g., an at-risk customer – reads a support doc about deactivating their account)
Input the scoring threshold to be considered A1 (e.g., 80)
Set your scoring models live
Breadcrumbs will send all scoring information back to your main data source, notifying you when a lead or customer hits your predefined scoring threshold.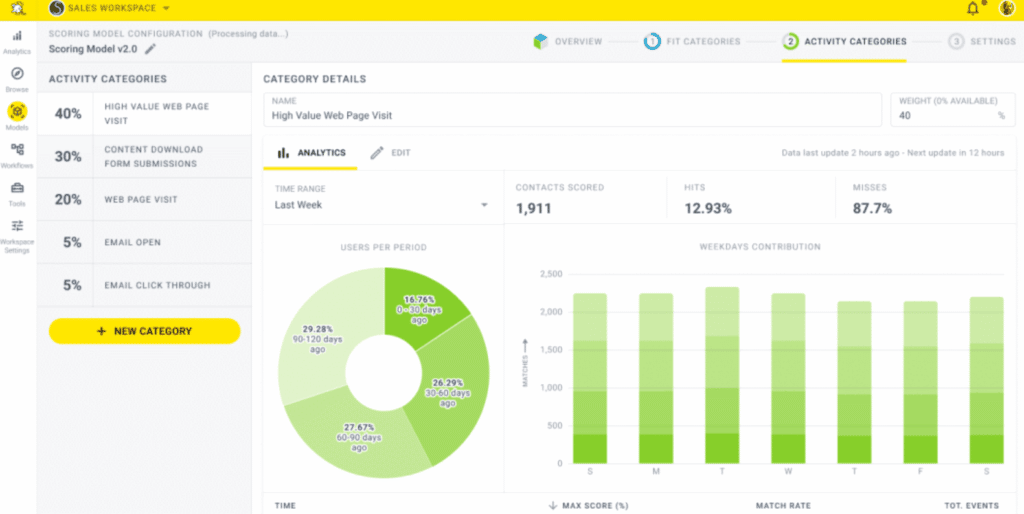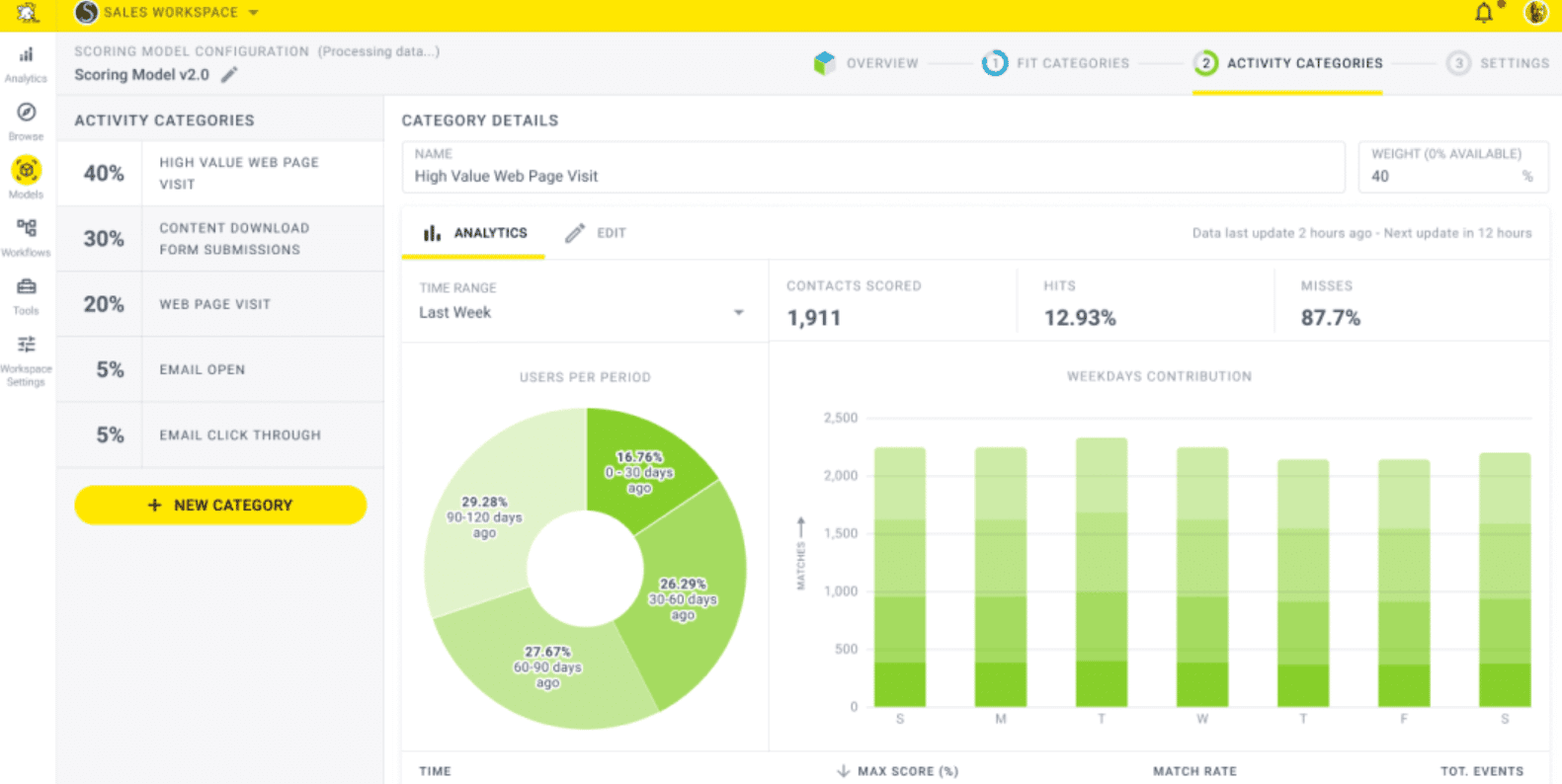 This helps you identify the right leads or customers at the right time (note: Breadcrumbs takes into account the recency and frequency of customer behavior, so you never have to worry about missing a revenue opportunity).
Grab your free plan on Breadcrumbs today.
5. Invest in a single source of truth
Brand trust needs to be earned before the point of purchase.
Companies that deliver an outstanding customer experience (CX) can reduce the cost of customer service up to 33% and increase customer loyalty and revenue by ten folds.
Suffice to say, personalized CX pays off big time.
Unfortunately, with 97% of marketing and sales leaders struggling to align their processes and systems, crafting a tailored and consistent experience across all touchpoints is an ongoing challenge.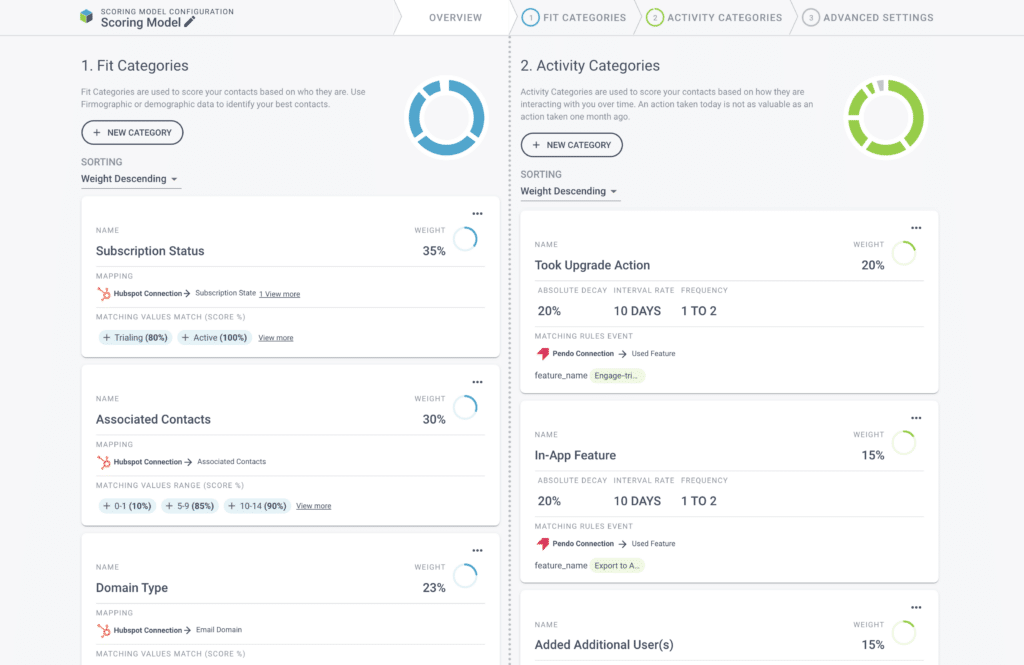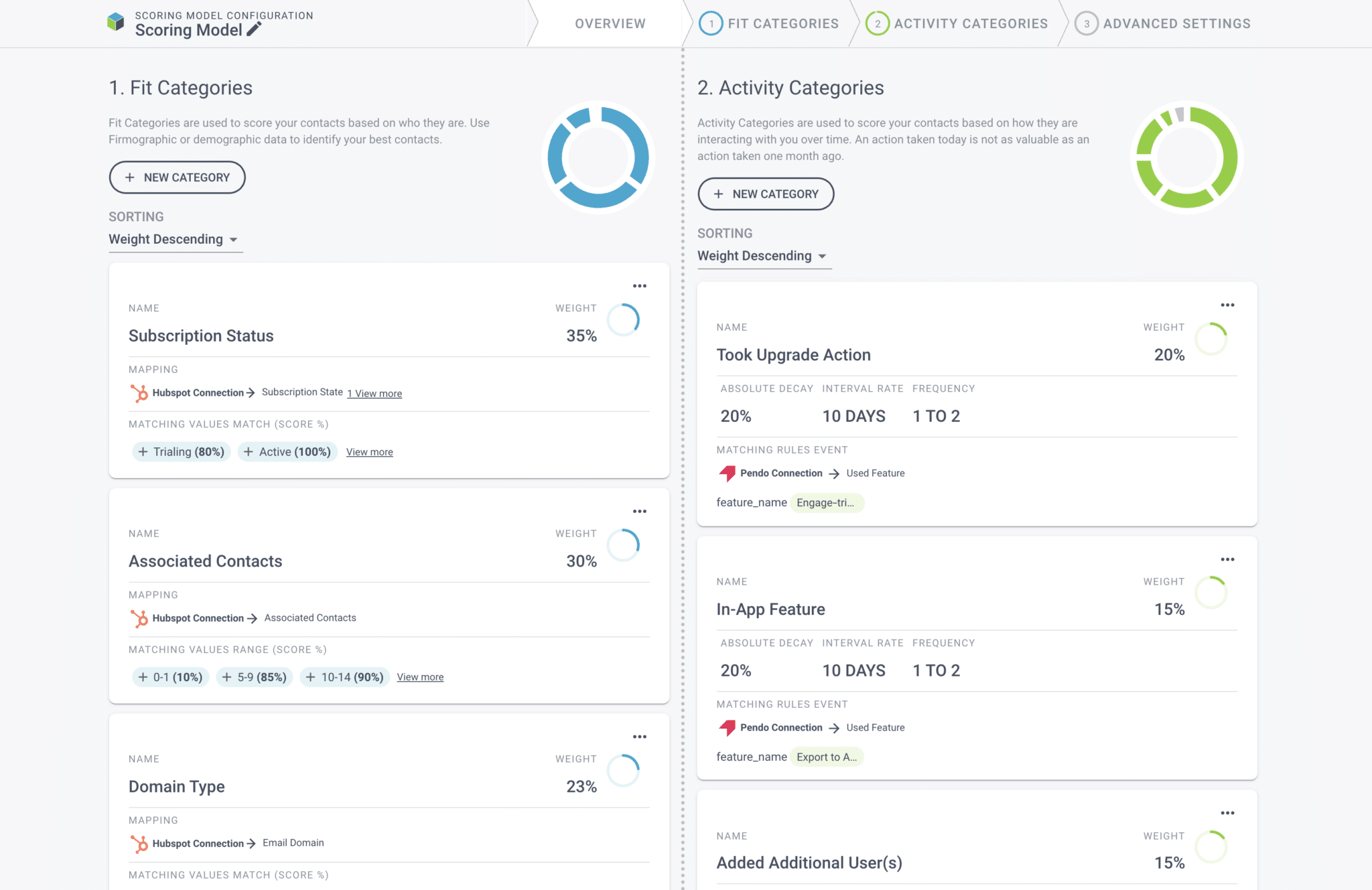 Without access to the same customer data and platform, marketing can't hand leads over to sales seamlessly. This results in the customers having to repeat themselves all over again whenever they switch channels and conversations with different members of the team.
Focus on smooth hand-offs to avoid such repetition. Here's what you can do according to Joshua Feinberg, CEO of SP Home Run Inc:
(i) Build a service level agreement (SLA) with a representative of each team: Define the team's responsibilities in a document and hold them accountable.
(ii) Encourage warm hand-offs: The account executive's work doesn't end after the sale. On the onboarding call, have them sit with the client. This creates a personal touch that clients will appreciate.
(iii) Organize all customer data in one place: Deeply integrated tools streamline team communication and operations. Ensure that everyone in the revenue marketing team has access to the same information in real time.
For example, you might connect your existing marketing, sales, and product data via Breadcrumbs.
With all customer data in one central place, everyone gets a bird's-eye view of the customer journey and a detailed breakdown of every customer's interactions with your company.
More context, greater personalization, more revenue.
6. Raise the bar for the post-purchase journey
Brand loyalty is determined by the post-purchase experience.
And yet, many B2B companies focus on customer acquisition and neglect customer retention. It's a shame as it takes only a 5% increase in retention to raise a company revenue by 25-95%.
"If you want to increase recurring revenue," advises Feinberg, "The real opportunity and challenge starts—not ends—when the deal gets marked closed-won."
"Clients judge on the value they experience in onboarding, marketing, customer support," adds Feinberg. "If you want to delight your customers and convert them to promoters, learn what they want and move mountains to give that to them."
This can look like:
Providing personalized and timely customer support
Starting an affiliate program to reward loyal customers
Offering exclusive add-ons to customers with upsell potential
Continue to measure your efforts and improve on what's working.
That will keep your revenue marketing flywheel spinning.
Start with your revenue marketing plan on Breadcrumbs today
Sales-marketing alignment is a tactical problem, not a strategic one.
These revenue marketing strategies dismantle the nuts and bolts of tactical alignment, which helps you improve mutual coordination within the marketing and sales teams.
Grab your free plan on Breadcrumbs to get a head-start in your revenue marketing plan today.
Our fully featured contact scoring platform gathers your existing customer data into one place, giving you a comprehensive view of the buying journey from start to finish.
Align marketing and sales, speed up the sales cycle, and optimize your sales efforts on Breadcrumbs today.
Revenue Marketing FAQs
What does a revenue marketing manager do?
A revenue marketing manager (also known as a CRO) is in charge of revenue acceleration across the entire customer lifecycle through marketing and sales channels.
CROs usually oversee cross-functional collaboration in the marketing and sales departments, though there have been cases where they work closely with customer success and product.
Why is revenue important in marketing?
Because revenue growth is a measurable and direct outcome of your marketing activities.
It tells you if your campaigns, channels, content, and conversations are working, so that you can strategically allocate your marketing budget in the future.
How do you measure revenue in marketing?
You can measure it using revenue attribution platforms.
These tools track the customer journey from start to finish and reveal the specific campaigns that generate revenue.
One such tool is Breadcrumbs, which gathers your marketing, sales, and product data in one place. Grab your free plan here to improve your entire funnel efficiency and better understand which attributes are the best predictors of revenue today.
What is a revenue strategy?
A revenue strategy is a plan that improves your company revenue by optimizing short-term and long-term sales initiatives (e.g., increasing the number of cold calls, aligning marketing and customer success departments).
Learn more about how to create a revenue strategy from scratch here.
Is revenue a marketing KPI?
Yes, revenue is one of the most common marketing KPIs.
Here are a few examples.
There's customer lifetime value (CLTV), which measures the estimated total revenue from a customer over the course of the buyer journey; customer churn, which tracks customers who didn't renew their plan in a period; and net new monthly recurring revenue (MRR), which monitors monthly revenue for new customers, expansion, contraction, and cancellations.