I'd be willing to bet that I've probably looked at more lead scoring models than anyone on the planet over the last few years. Together with the team here at Breadcrumbs, we've analyzed hundreds of different lead-scoring models, and we've learned a lot.
We've learned, for example, that no lead-scoring model is ever perfect (though following our 5 rules to build high-performing scoring models will certainly help). Scoring is a process, not a single one-off task, and the best operators constantly tweak and optimize their models. And as soon as they figure it out, there may be a change to their business or the market that necessitates more tweaks.
And second, we know that most lead-scoring efforts fail. After creating an initial model, the best operators know that the job isn't done yet; they need to implement and measure those models.
This post is going to focus on the implementation phase of adopting lead scoring models. In other words, we're going to go over how to turn your scoring model into the equivalent of a money-printing machine that your marketing, sales, and executive teams will love.
What Does Lead Scoring Implementation Entail?
Lead scoring model implementation involves taking the different scoring models you've tested and creating a process to utilize them successfully in your business.
This means you need to train your sales team how to use the lead scoring model so that they can successfully identify high-potential leads and contacts and prioritize them accordingly.
A big part of implementation comes down to understanding what the lead scoring models tell you and how your team should interpret them.
That's what we're going to look at today, plus how you can use Breadcrumbs features to really get the most out of your lead scoring models.
The Five Rules to Implementing Your Scoring Model
After analyzing literally hundreds of different lead scoring models and helping our clients put them into money-making, and revenue-building action, we determined that there are five golden rules you should follow for successful implementation.
1. Get the perfect contact distribution
Lead scoring models give you a score that's based on a combination of different criteria. To be able to differentiate what to do next, you need to have your contacts distributed in distinct scoring buckets.
The reason? Lead scoring is a prioritization engine, and it is powerful only if used keeping this in mind.
This is why our lead scoring models produce a quadrant showcasing different co-dynamic distributions and giving you an alpha-numeric score. It will help you see how many of your contacts fit in with a high fit (letter) and activity (number) score.
In our experience, a high-performing model will have anywhere from 5-15% of scored contacts appearing in the top-left quadrant of the distribution chart. These are users who will be high in fit and activity, which is a winning combination.
A high-performing model generally has 5-15% of scored contacts in the top-left quadrant. You can easily adjust weighting through the slider bars for grades.
In other words, you don't want your model to look like this: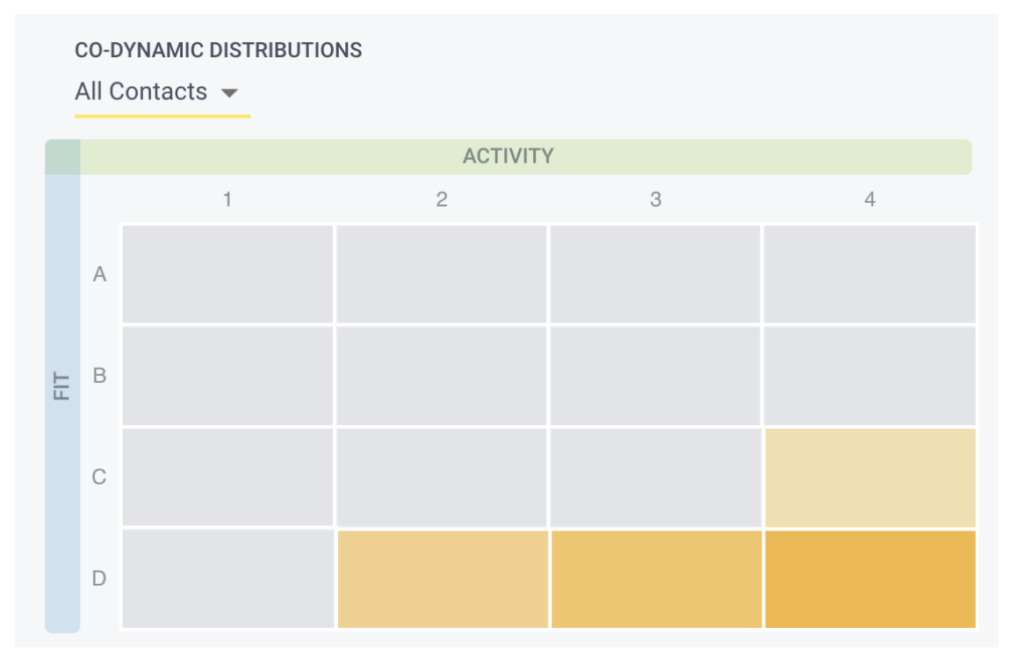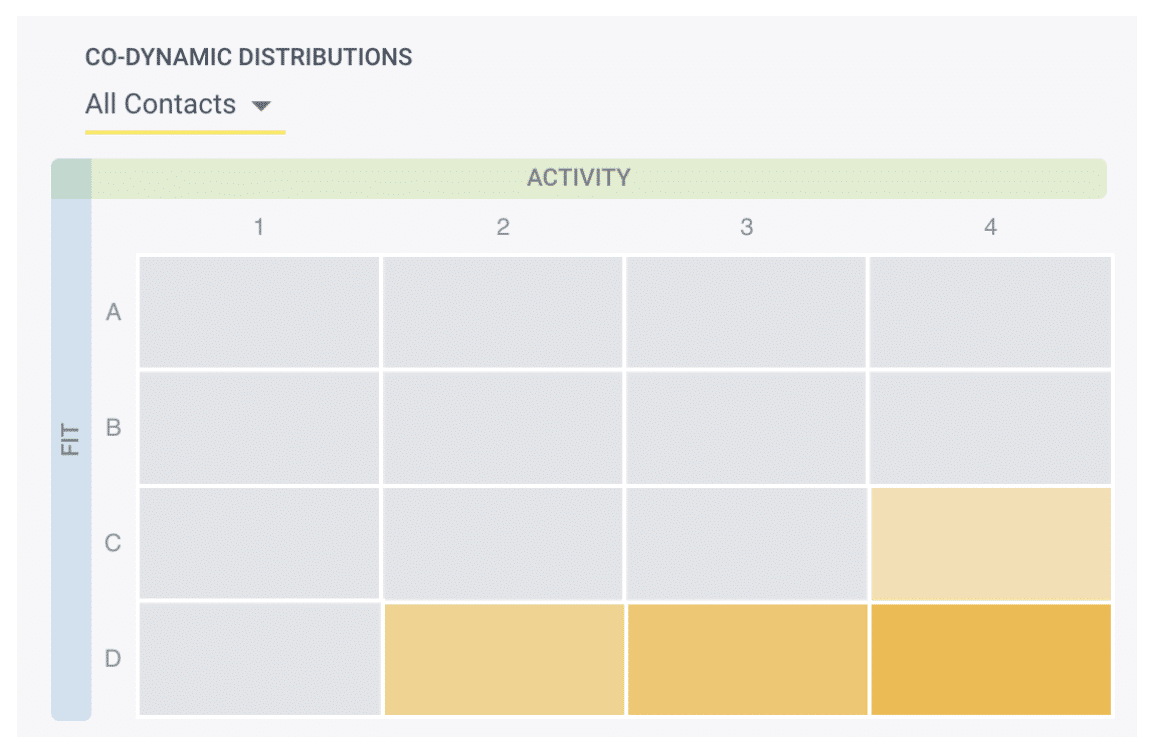 While it's totally fine to have the majority of your contacts in the bottom right part, you want every box to have some shade of orange, and you need at least a solid chunk of that audience gravitating toward the top left. It's not just about getting to 100 points, but instead assessing both fit and activity.
Suppose you end up with a distribution like the one above. In that case, you need to:
Review your scoring categories and double-check your criteria. You can do so using Reveal, our free ICP tool that will help you determine what your current ideal customer profile actually looks like.
Change the distribution threshold for each of your cohorts of contacts. You can always fine-tune each bucket composition in the settings of your scoring model in Breadcrumbs; it will show you the adjusted size of each cohort in real-time.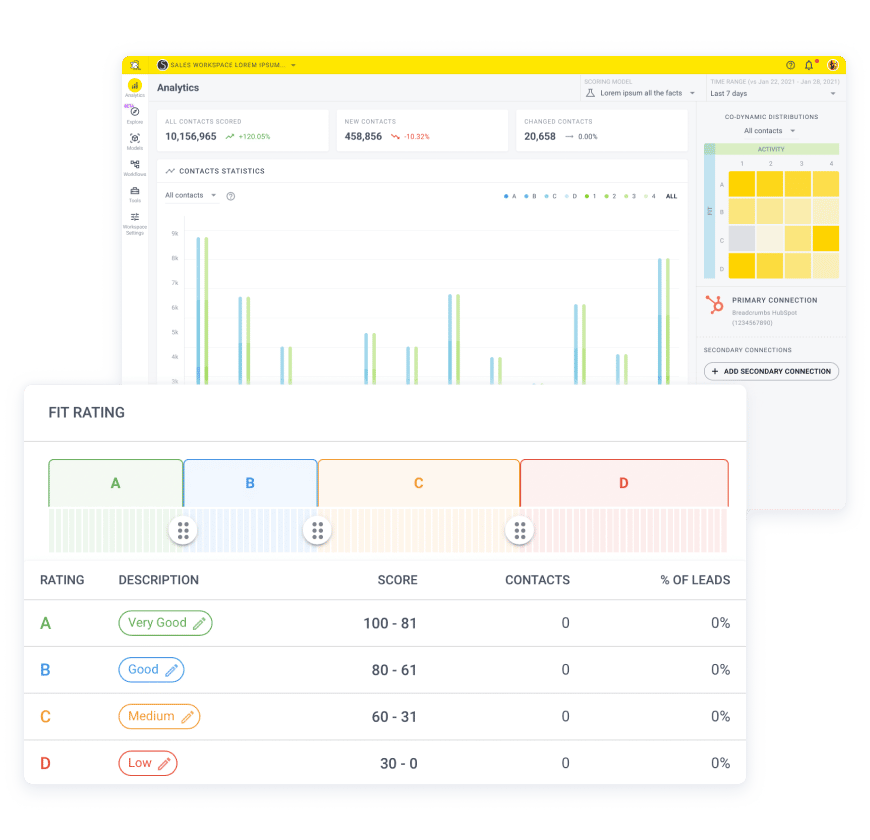 2. Validate the best contacts of your top-left quadrant
You now have a curated list of high-value contacts; the next step is to validate whether you're targeting the right ones.
When using a co-dynamic system to implement your lead scoring model, the top-left quadrant of your contact distributions holds a special place; it's going to be made up of some of the most high-value contacts in your pipeline… but only if you're accurately identifying the right audience.
Validate that the contacts in the top-left quadrant look like the ones you would like and expect to see in that group with Explore. If not, tweak the model accordingly.
It's essential to make sure that you're checking to see that the contacts in that all-valuable top-left quadrant look like the type of leads you want and expect to see in that group. Breadcrumbs' Explore feature can help you check to make sure that this is the case.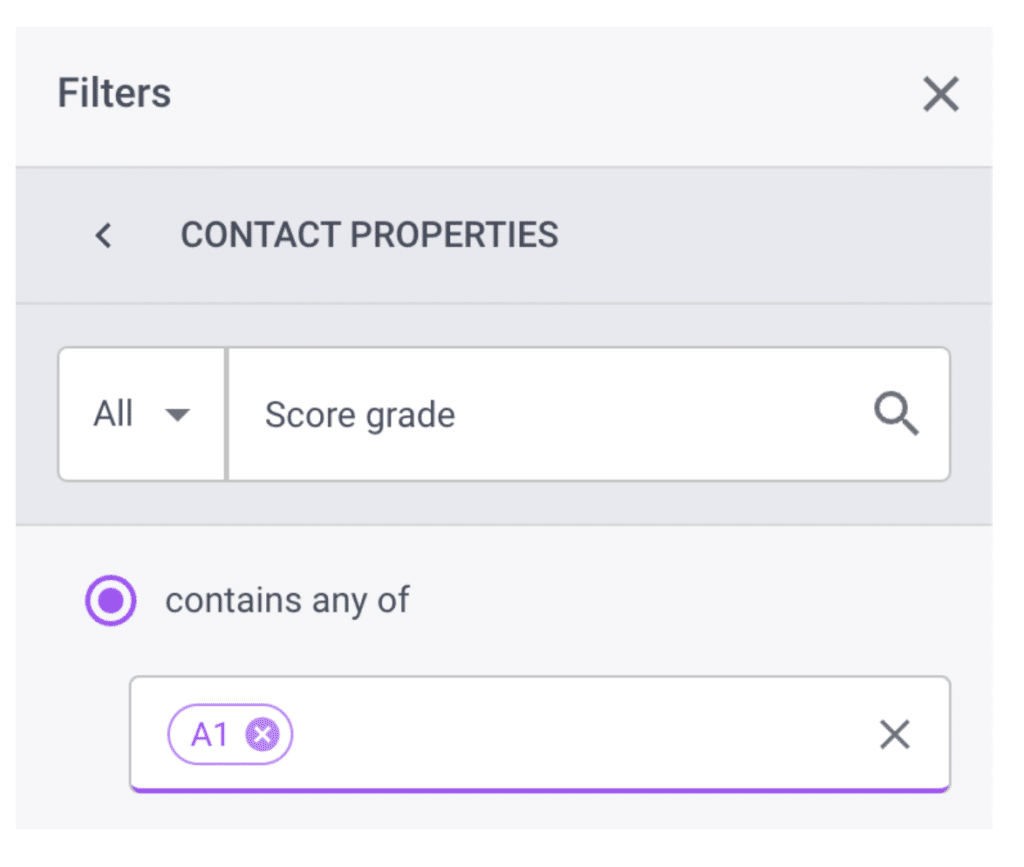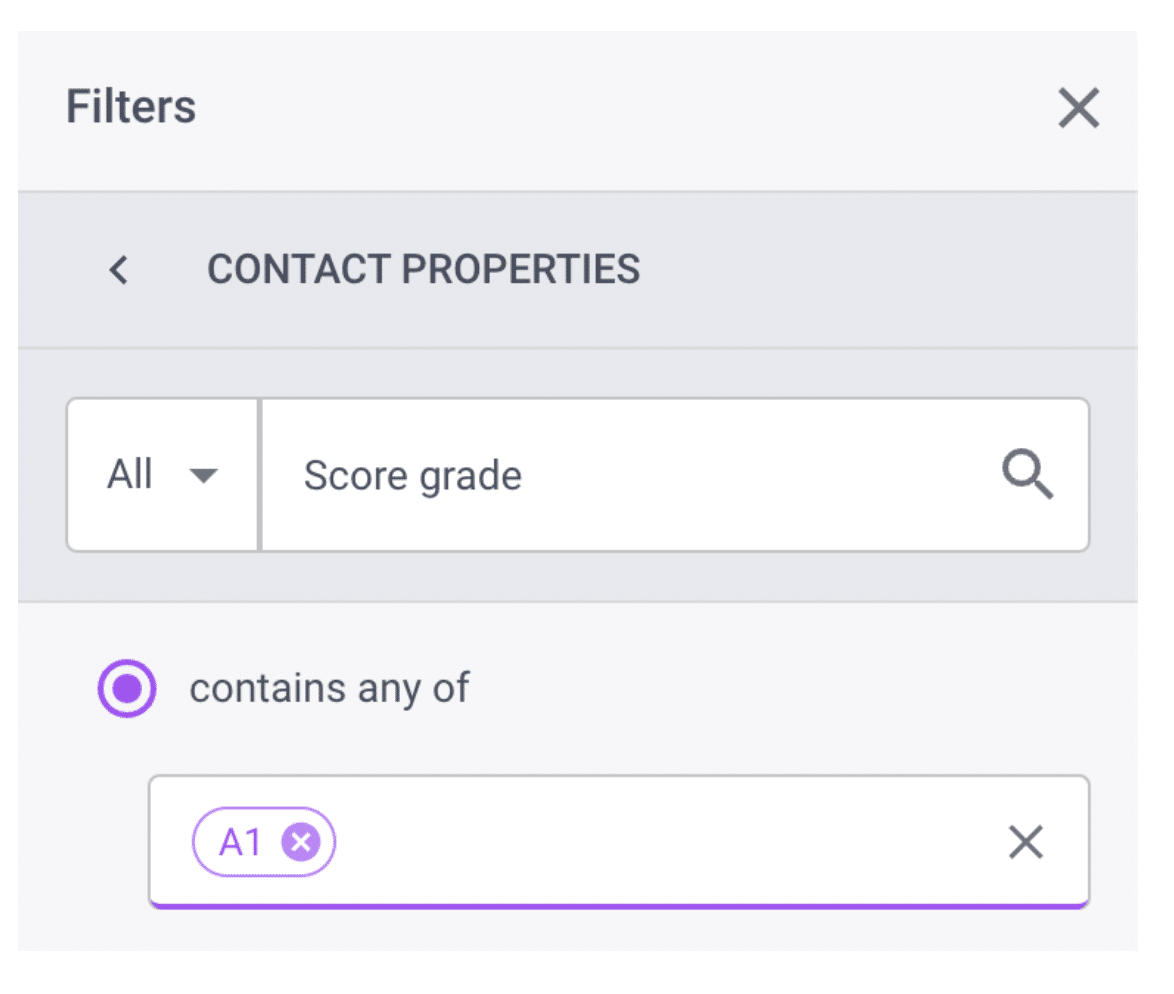 Open Explore and filter by the Score grade. Start with A1s.
All your A1 contacts will appear. Just click on each line, and the right bar will show you who they are, what actions they've taken recently, and why they were scored that way. If you notice any patterns that are contributing to your lead scoring model prioritizing the wrong types of leads, you can adjust your models immediately to adapt.
3. Involve all the stakeholders
Your sales team isn't the only one we'd consider to be a go-to-market (GTM) stakeholder. Marketing teams, executives, product teams, and even customer support teams may have feedback. Everyone needs to be aligned with the lead scoring model and agree that it's a beacon of truth that can be accurately used to take action with.
Share the model with your key GTM stakeholders. If they have different ideas they think should be tested, you can experiment in a few clicks and compare them against each other.
Ideally, you'll account for different ideas and points of view upfront before those actions start being taken. There's no point in working months toward building a super-detailed model if your sales team is not ready to use it for prioritization.
Different teams may have insight about which data points to use or how to prioritize them.
If someone has feedback or a different hypothesis, you can either update the existing model (if everyone agrees) or create a new one for testing. If the test doesn't work, no harm is done, but everyone feels heard and all ideas were tested thoroughly.
Breadcrumbs, fortunately, makes it simple to test different scoring models and to compare which one is more effective. There will be no doubt for your team (which means no power struggles).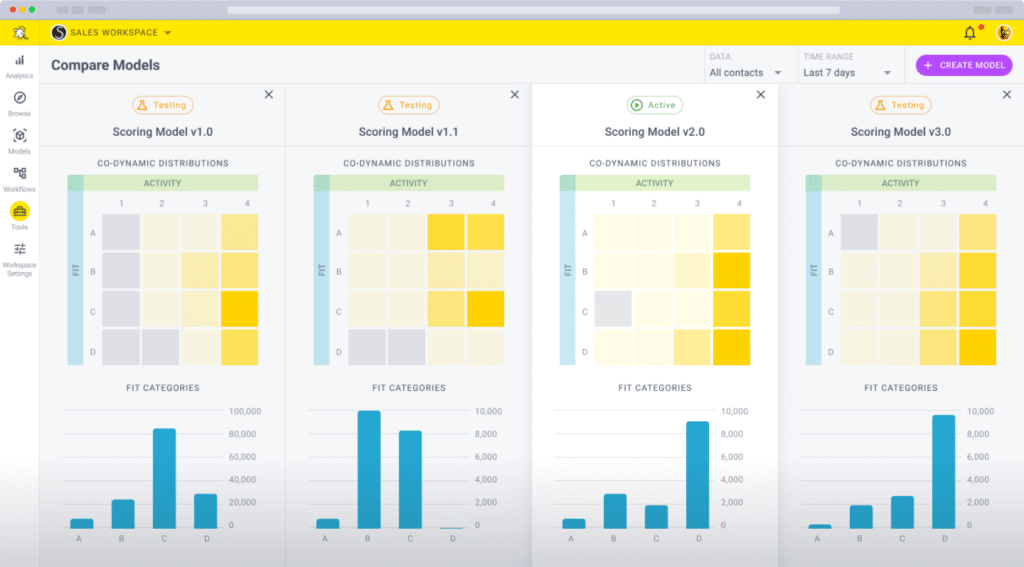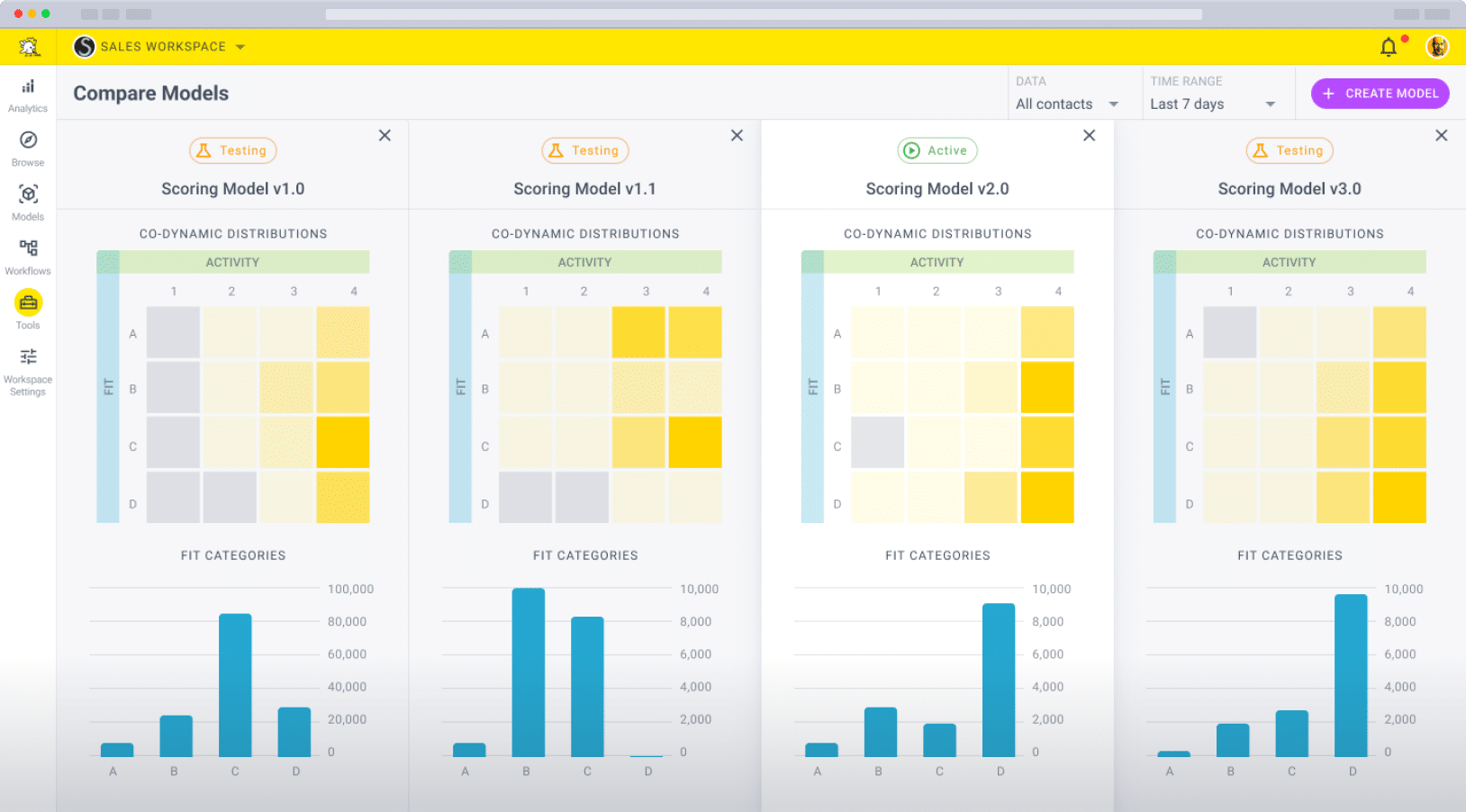 4. Measure >> Analyze >> Optimize
We've already mentioned that lead scoring isn't exactly static. Even a great scoring model may need to be adapted over time.
Because of this, we strongly recommend taking a Measure, Analyze, and Optimize approach. And we actually recommend doing this every week early on, and monthly once your lead scoring models are established and tested.
Monitor the model performance weekly to ensure that data flows properly, both for data ingestion and workflow triggers in your GTM stack.
You should also review the alignment of the model with the business objectives.
If your company is changing strategic direction (i.e., during a QBR) or the definition of the ICP, that should be reflected in the model immediately.
A high-performing scoring model comes from a great process, not from a one-time sprint. And the best part: Now you can do it in minutes rather than weeks and receive much more actionable information faster than ever when using Breadcrumbs.
And remember that it's normal for changes to be needed over time, even if your ICP isn't necessarily shifting (or, rather, that you haven't planned an ICP shift). A large number of changes related to and outside your business can impact the accuracy of your models, and tests can ensure that you're finding the clearest path to conversions.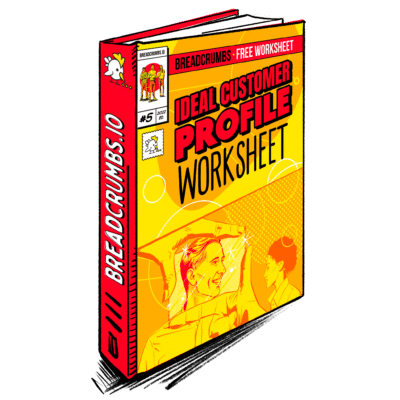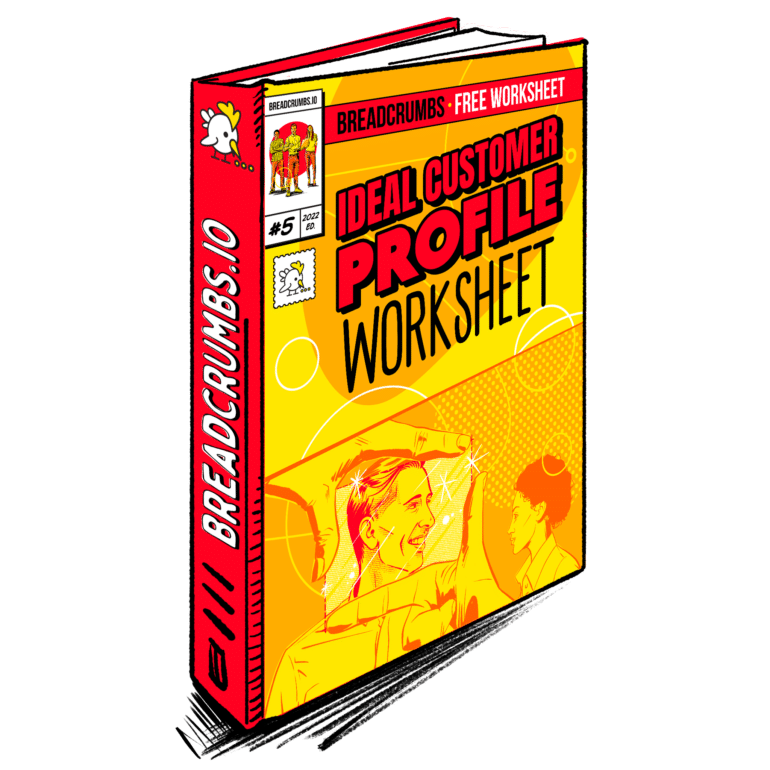 Ebook
Ideal Customer Profile (ICP) Worksheet
Learn how to create an Ideal Customer Profile and build a successful sales strategy with this Ideal Customer Profile (ICP) Worksheet.
5. Expand
Most businesses start with traditional lead scoring, which focuses almost exclusively on customer acquisition. Strong lead scoring tools, however, are perhaps more accurately called contact scoring, because they can tell you about users at all points of your sales pipeline.
You can create lead-scoring models for different objectives, products, motions, and even geographies. You can also create them for tasks other than customer acquisition; create upselling models, cross-selling models, and even retention-focused models.
Consider building different models for different objectives, products, motions, and/or geographies. The more specific you can be, the higher the performance you'll see.
Customer acquisition is a great use case and usually the low-hanging fruit for revenue acceleration. It's also just the beginning.
Once you have a high-performing scoring model in place, it's time to create completely different models for other purposes. Breadcrumbs enables multiple workspaces, so you'll have access to all the scoring models you need and the granular clarity on data and results.
Here are additional examples of how you can use contact scoring:
Find high-potential accounts that are not fully activated to help them with the onboarding
Look for a decrease in activity from your top customers and get them in touch with Customer Success before they churn
Create lead-scoring products for new products that you're developing (which can be used for both cross-selling and new customer acquisition)
Keep in mind: The more specific you can be, the higher the performance you'll see (think not only different objectives but also products, motions, and/or geographies).
Every company that implemented this framework saw a stunning improvement in their funnel efficiency.
Lead Scoring Implementation: Final Thoughts
Deciding to invest in lead scoring is an outstanding start when you're ready to grow your business and acquire new high-value customers at scale. Deciding that, however, is only the first part.
While Breadcrumbs will ask a few questions about your business and create customized testing templates for you to get started, no one knows your business (and your customers) better than your own team. Taking some time to test different models, collect feedback, assess performance, and optimize is essential—and these five steps can help you do that.
Ready to get started with lead scoring? Book your free demo with Breadcrumbs today.