Breadcrumbs was created with one goal in mind…to be the most agile lead scoring engine for data-driven, go-to-market teams that want need to identify, engage, convert, retain, and upsell their best contacts and accounts.
While our scoring engine is the secret sauce that powers our mission, it isn't possible without two key components:
Ingesting data inputs: Different teams use different tools to capture data which creates data silos and/or engineering bottlenecks when trying to unify the cross-departmental data dots. Our no-code connectors make it possible to ingest all of your existing marketing, sales, product, and CX data to generate a 360° view that serves as the foundation for scoring success.
Analyzing scoring outputs: Building, testing, validating, and improving scoring models for different objectives (i.e., increasing MQL > SQL conversion rates vs. PQL > Paid conversion rates) requires deep insights into how changes in models impact the scoring outputs that teams rely on to prioritize their outreach.
Today we are happy to announce Breadcrumbs Explore, a new tool where lead scoring optimization collides with powerful data warehousing and business intelligence capabilities to help go-to-market teams accelerate revenue growth.
A scorable—and now searchable—source of truth
Before Explore, our no-code connectors existed to ensure that all cross-departmental data was available to use in scoring models. Different teams with different objectives shouldn't be limited in what they want to include in lead scoring.
Explore now makes it possible to view, filter, segment, and sort contacts and accounts based on any attributes across any connected data source. For example, you may need to dive deep into product usage data from Segment combined with demographic/firmographic data from a CRM such as Hubspot or Salesforce.
Modern go-to-market teams require data warehouse-level insights without relying on engineering resources or having to learn MySQL—and Explore provides these teams with a unified, searchable source of truth to make data-driven decisions.
Optimize scoring models for outcomes
When it comes to optimizing scoring models, there are three common bottlenecks that businesses often encounter:
The tool they are using can't leverage data from other tools for scoring (we addressed this above).
Recency and frequency logic isn't easy to set up. After all, someone who viewed your pricing page a year ago probably doesn't have as much intent as someone who viewed it three times in the past week. This is a key component of our scoring engine and methodology.
Most businesses don't know how to fine-tune and optimize their models over time (we'll address this below).
The reason most businesses don't know how to run experiments is that their marketing automation platform or CRM doesn't provide out-of-the-box functionality for this. Breadcrumbs allows you to clone, modify, and test models in minutes, and we encourage every customer to experiment with multiple variations from the start.
Explore unlocks powerful insights to compare scoring outputs side-by-side for any model. This means you can effortlessly run multiple test models in tandem and use Explore to understand how each test impacts scoring for any contact or segment of contacts.
To get started, you simply customize Explore's table columns to display the scoring attributes for the models you want to analyze against each other.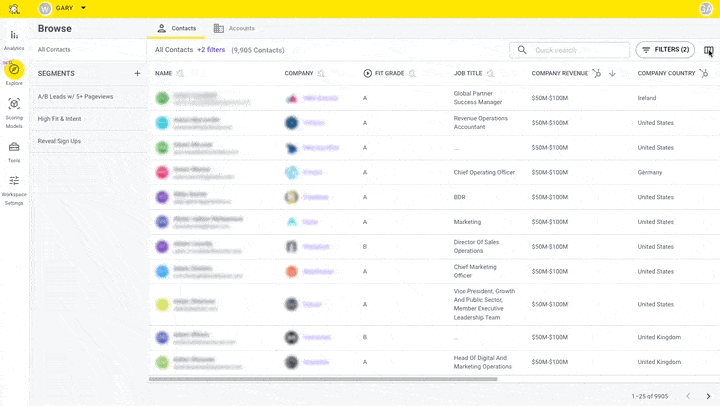 Create a custom view of contacts and accounts
Above, we touched on many different ways that the data tables can be filtered, segmented, and sorted, but it's also worth mentioning the detailed insights and customizable widgets that Explore provides at the contact and account level.
For any contact, you can access the Contact Overview page, which serves as a contact-level dashboard for important attributes, historical activity, and scoring insights.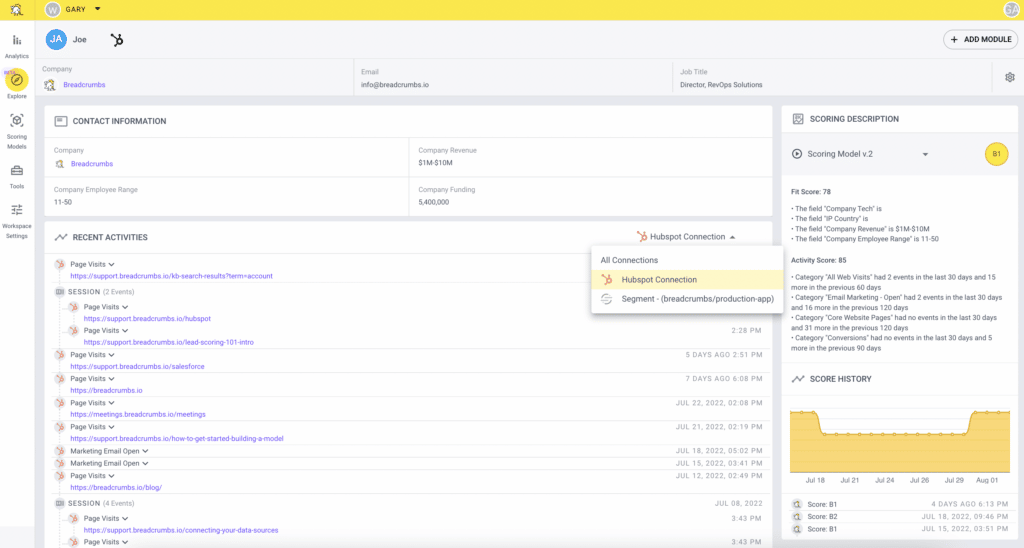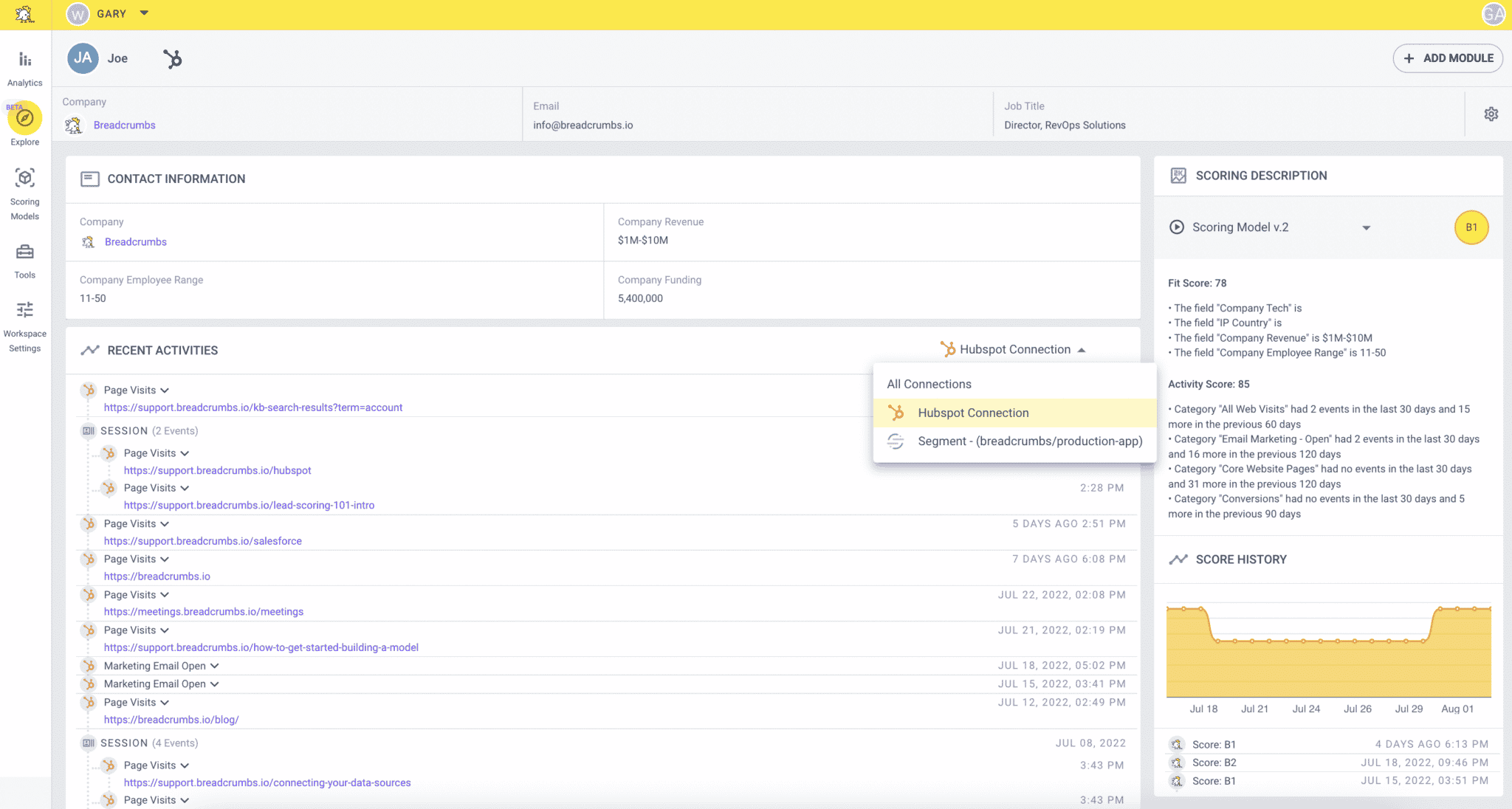 Customizable Widgets: Control what attributes are displayed by editing the top bar data columns, creating widgets for grouped datasets, and rearranging the widgets to create the perfect view for your team.
Recent Activities: Browse a timeline of all recent activities that are associated with the contact. Use the connection filter to drill down into activities from a specific data source.
Scoring Description: Quickly see a contact's fit and activity scores along with the scoring descriptions that provide contact on what scoring criteria were met to generate the score.

Use the model to analyze how different scoring models impact a contact's score
A Score History graph visually shows how a contact's score has changed over the past 30 days
Similarly, you can access an Account Overview that highlights the top contacts, account-level scoring insights, and the same customizable widgets to build a company-specific dashboard.
Getting started with Explore
If you're an existing customer, Explore is live in production and ready to use. If you have any questions, check out our documentation and/or reach out to support@breadcrumbs.io.
If you're exploring lead scoring solutions, schedule a demo with a Scoring Expert to learn more about Breadcrumbs and get your questions answered.