Companies that implement revenue operations (RevOps) are well ahead of the pack.
According to Forrester, revenue at these companies shot up nearly three times faster. For public companies, stock performance was 71% higher.
But you already know this — why else are you reading this post? 😊
In this beginner's guide, we'll first recap what revenue operations is, how it came about, and which C-level executive oversees it.
Next, we'll dig deeper into the common signs a startup needs to deploy RevOps (we'll even share a few real business scenarios as examples).
You'll also learn how RevOps differs from revenue marketing and sales operations. Spoiler: they should never replace each other.
Finally, we'll look at how you can activate revenue operations in your startup. This section covers practical tips based on real-world experiences from startup founders and consultants and explores the three crucial aspects of RevOps: People, process, and tech stack.
Buckle up your seatbelt, and let's get ready for a RevOps takeoff.
What Is Revenue Operations (RevOps)?
Revenue operations aligns marketing operations, sales operations, and customer success operations to drive revenue growth through an organization's operational efficiency.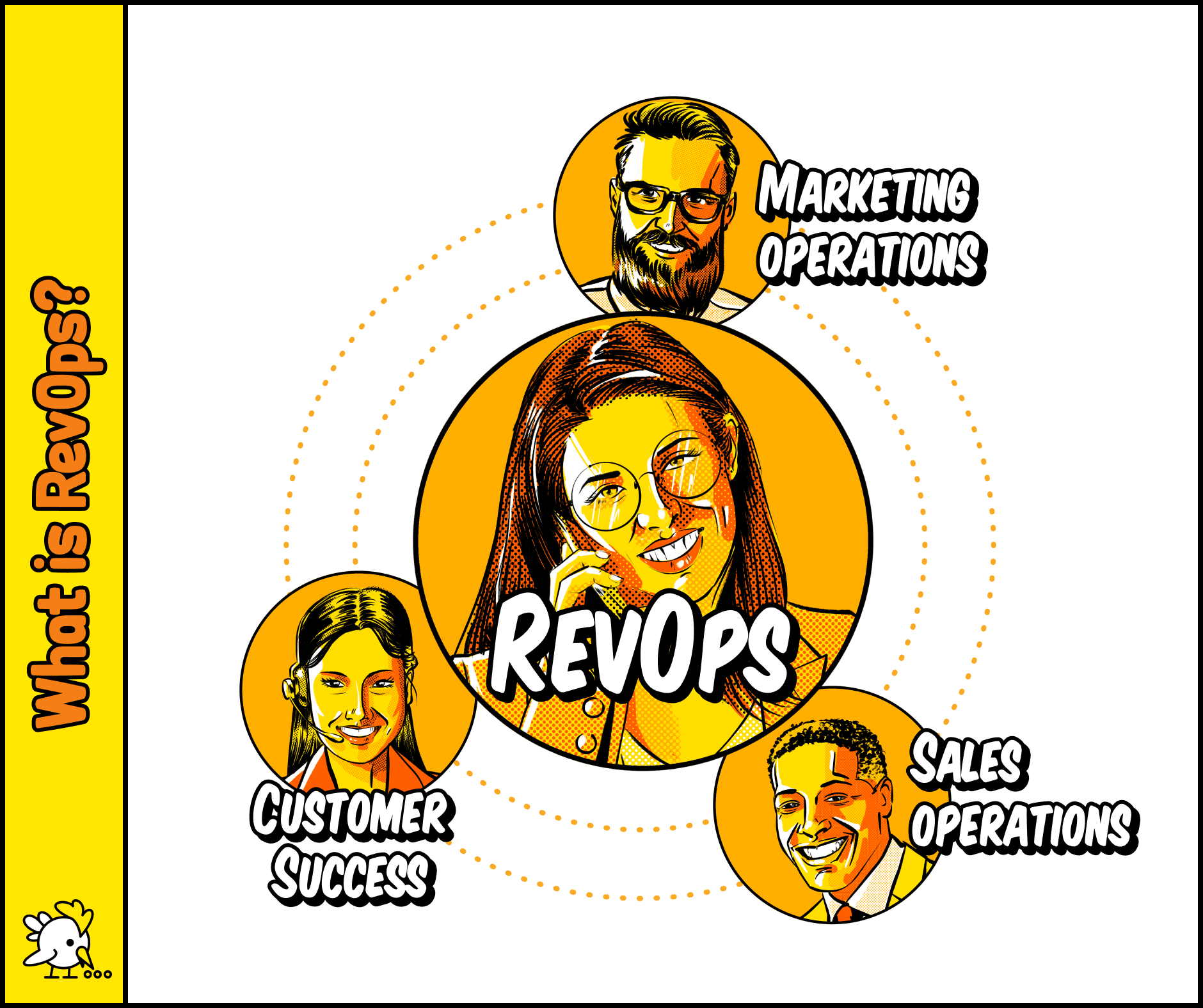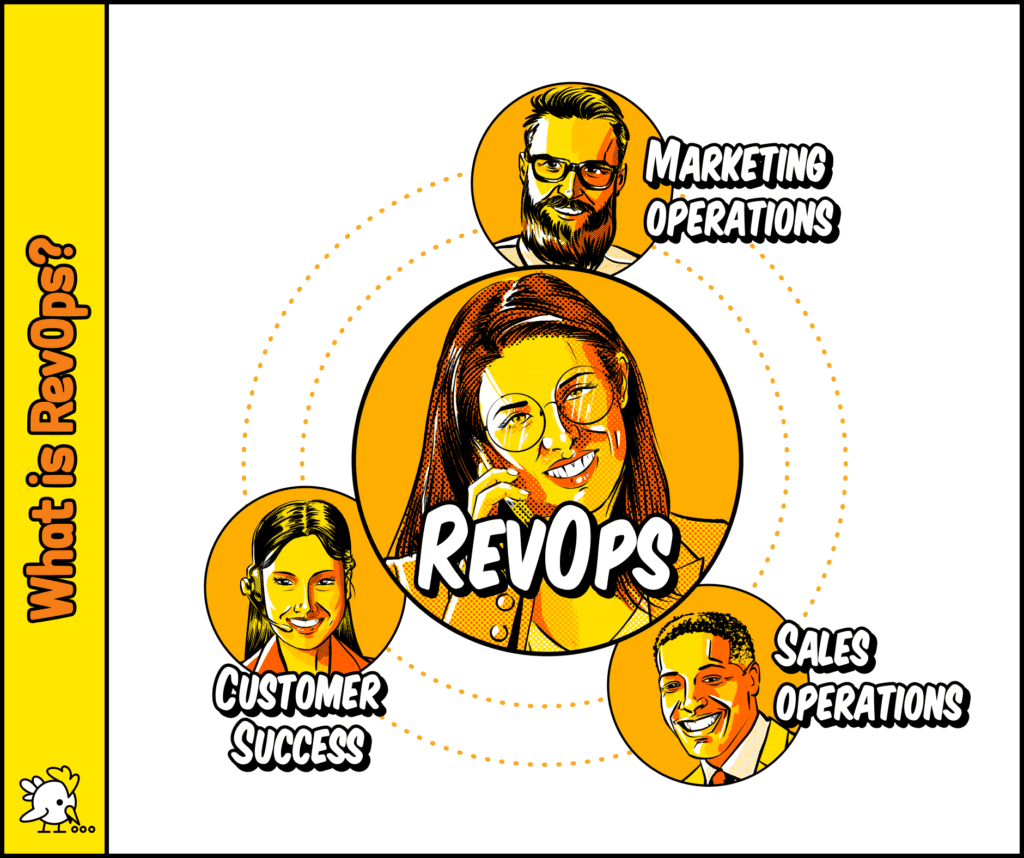 RevOps matters a great deal in a company's revenue growth.
On top of improving operational efficiency across the revenue chain, it's also responsible for driving revenue predictability and providing visibility across the entire revenue-focused teams.
Who's in charge of RevOps?
While titles vary (as shown in the examples below, it depends a lot on organizational maturity), one thing's for sure: RevOps is often led by a data-driven C-level executive with vast knowledge across different areas (e.g., customer acquisition, revenue forecasting, lead processing pipeline).
RevOps is a hybrid role!
When Breadcrumbs interviewed startup founders who've implemented revenue operations in their businesses, here are some of the titles that popped up during our conversations:
Head of RevOps
Director of Revenue Cycle
RevOps Manager
VP of Growth
Revenue marketing was born out of necessity.
Back then, marketers, sales teams, and customer success reps would operate independently with their individual technology stack. This often results in silos, miscommunication, and time loss, putting a real damper on the company's overall productivity.
Enter: Revenue marketing, a process where all revenue-driven departments are aligned once and for all. Instead of operating in isolation, different departments would come together, set common goals, and share resources starting from a single place: Operations.
Revenue operations supports revenue marketing. A better way of thinking it, RevOps is a natural evolution of revenue marketing.
Friendly reminder: we'll discuss the differences in detail between these two holistic approaches shortly, so don't worry if you're still confused!
When Do You Need RevOps?
Does a bootstrapped startup recently founded a week ago need RevOps? Maybe not. But a mature startup that's experiencing a revenue growth stall? Now that's a different story.
Here are five common signs you need to activate revenue operations in your startup, stat:
1. Your Departments Are Unaligned (And Clashing)
You know something's amiss when employees from different departments approach you for clarification… every week.
For Force by Mojio, it was a sales employee receiving conflicting messages from the head of marketing and head of sales.
Daivat Dholakia, the director of operations at the GPS vehicle tracking startup, reveals to Breadcrumbs:
"This sales employee came to me in confusion. Despite holding regular executive meetings to get everyone on the same page, there was a fundamental miscommunication on how we were advertising and selling our services."
"Shortly after, a friend told me about her RevOps team, and I decided we needed to give it a try."
2. You Want To Increase Marketing And Sales Efforts
In March 2020, LinkedIn and Forrester found out 87% of sales and marketing leaders say sales and marketing alignment encourages critical business growth.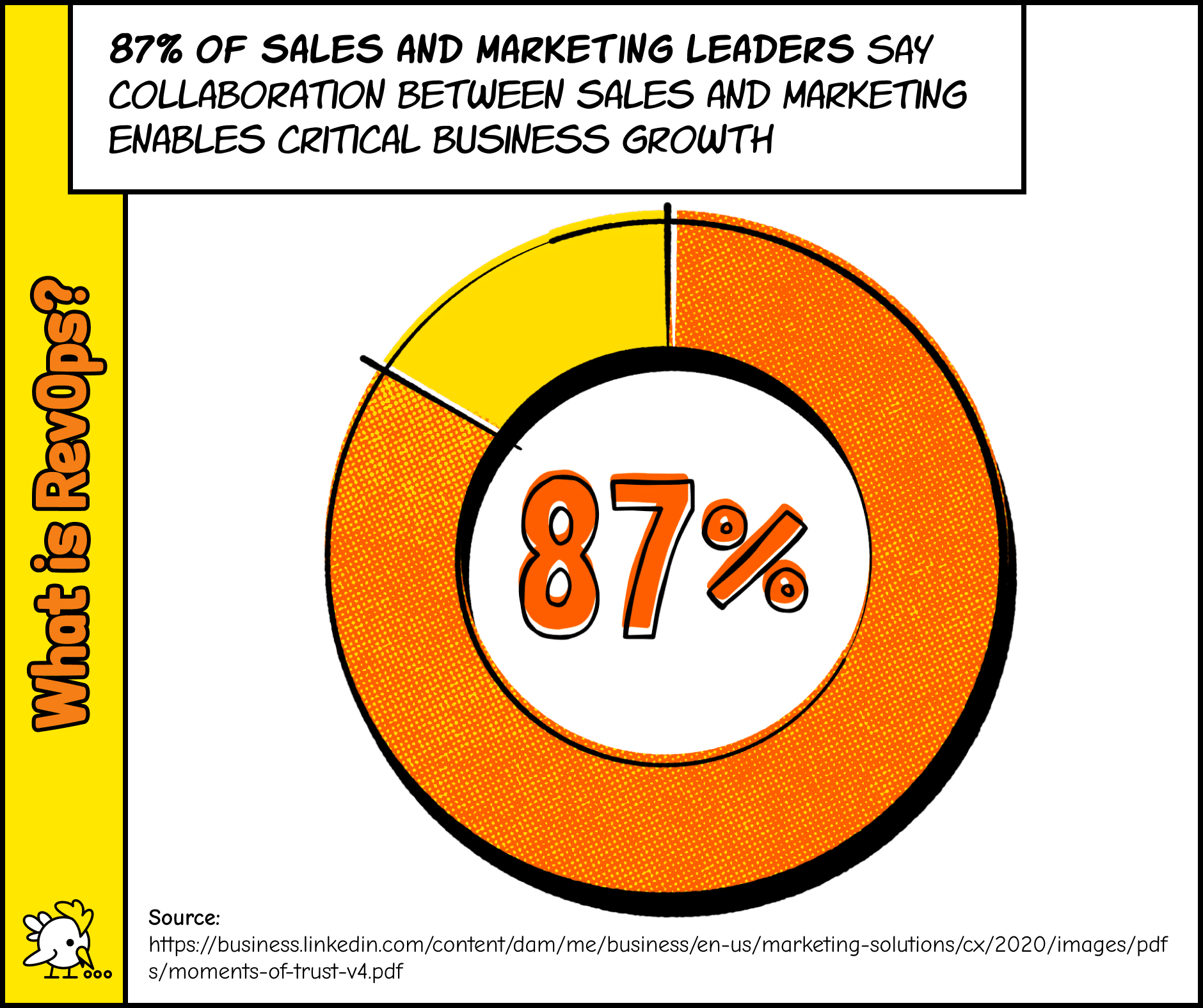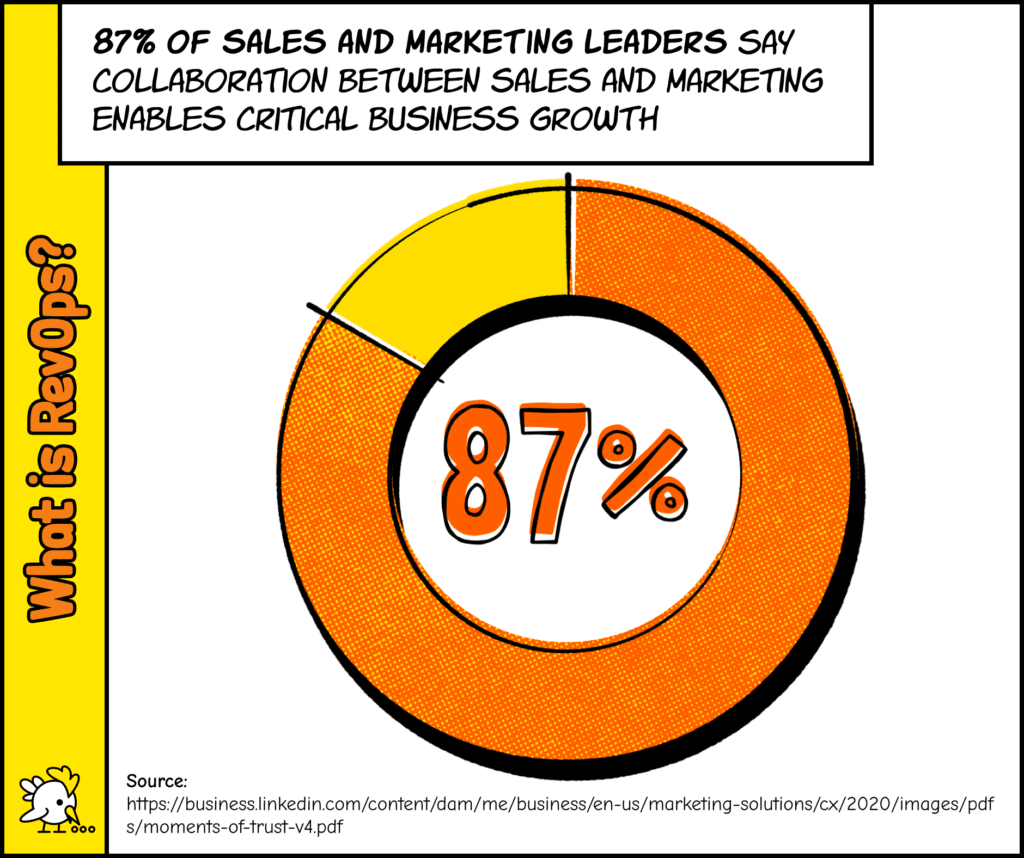 To uncover hidden growth opportunities, start reviewing your revenue-driven departments.
StorySlab is a field sales platform that took on a Series A funding during COVID-19 last year.
CEO Hans Fuller realized he and his team needed to optimize their time and resources strategically if they wanted to grow their footprint successfully, particularly in marketing and sales.
Hans explains, "If our SaaS platforms spoke to one another, it would give us a crystal clear picture of our sales process and where the growth opportunities were."
3. You're A Technical Founder Without An Established Sales Process
Jason Cutter, CEO and founder of Cutter Consulting Group, saw this a lot when he consulted with B2B startups that hired him to build, fix, and scale their revenue operations.
Jason shares, "This 'technical' founder has built a company and most likely has client revenue coming in, but they've been the main producer of sales that's usually based on their knowledge and passion, not a designed sales process."
Here's what typically happens: This sole founder will experience challenges at some point. They'll realize they need to start increasing revenue through a dedicated sales team and not a one-person show. But because the technical founder has no experience building revenue operations, they don't know where to begin.
If this is you, you know what I'm talking about. You've recruited, trained, and managed sales reps; written a bunch of sales scripts; and invested in sales enablement technology. Much to your dismay, these efforts aren't working out.
4. You Want To Scale, Period!
Our last sign is an expansion of our second sign. And that is:
Your current revenue operation is not optimized enough to scale.
According to Jason, the root cause behind the dearth of revenue growth varies.
"The startup could be lacking in leadership processes; true selling systems; solid sales scripts; recruiting, onboarding, and training sales reps, setting KPIs, or ways in tracking metrics," explains Jason.
"I've seen many organizations that have 50+ salespeople that do not have the basic RevOps systems in place. The CEO understands that if they try to grow, things could fall apart. What they're looking for, and know they should have in place, is a scalable, repeatable revenue ops machine — one that even if they add one, ten, or 50 sales professionals and $1-$100,000 marketing dollars, they can still get an expected output from the sales team."

Jason Cutter, CEO and founder of Cutter Consulting Group
5. You Want To Create A Superb Customer Experience
32% of customers will stop doing business with a brand they loved after just one bad experience. It's no understatement, then: Customer experience plays one of the biggest roles in revenue growth.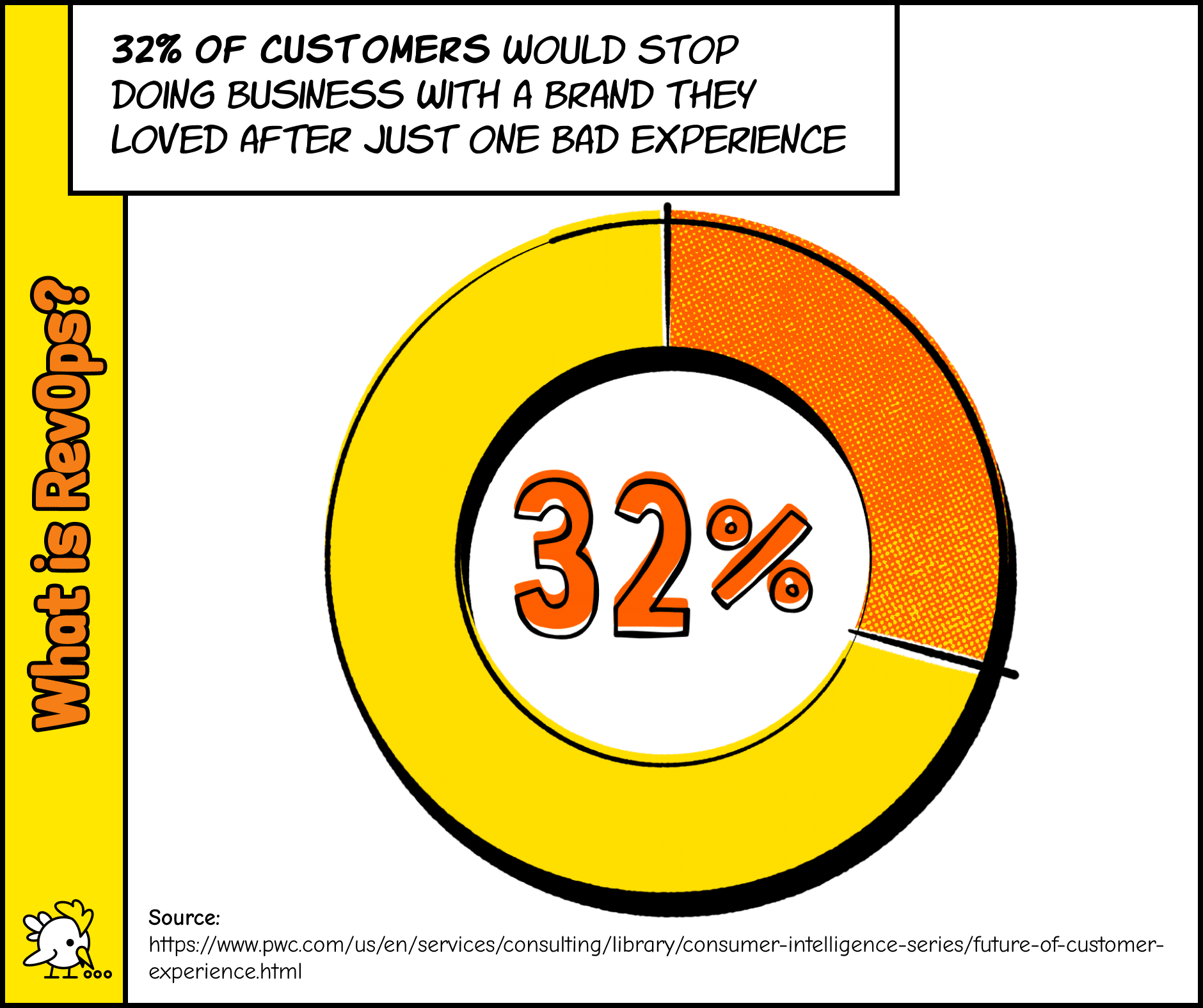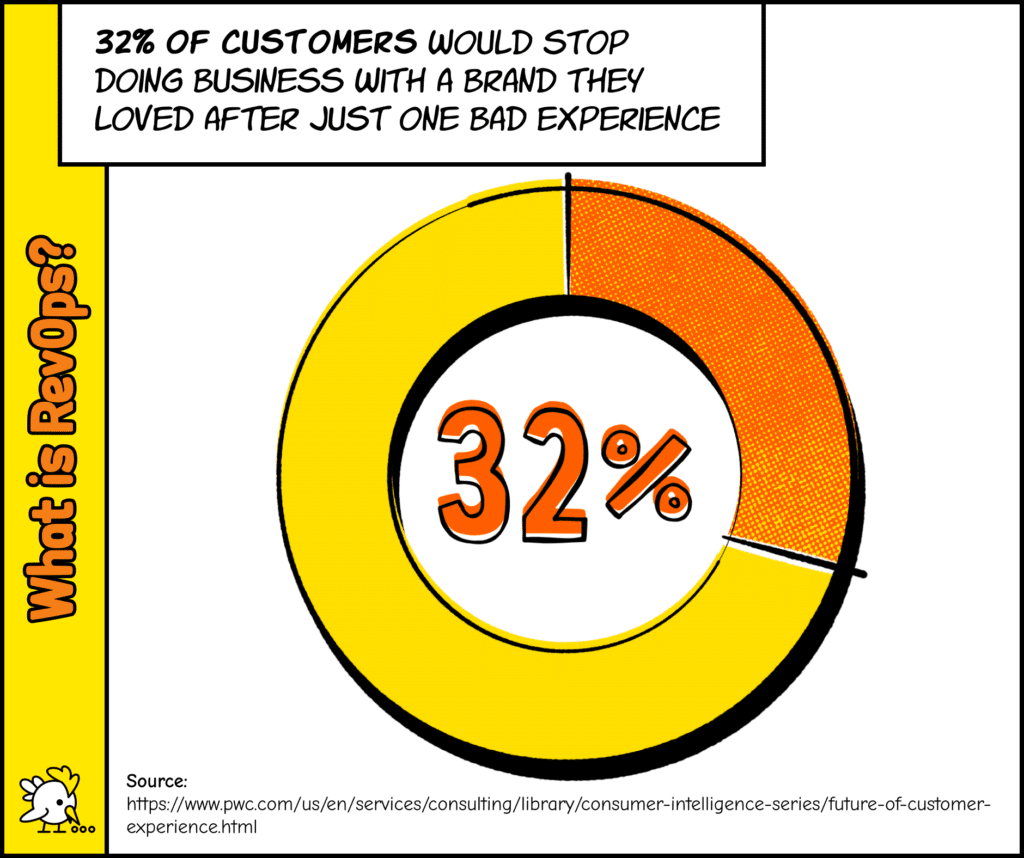 During the early days of business, RoverPass had only one employee handling marketing and customer support. CEO Ravi Parikh was concerned if he started branching out his startup, they would "lose the ability to align our interest in delivering the best possible experience to customers across all our teams."
So when he finally had the means to recruit more employees for a dedicated marketing team, he knew it was time to implement revenue operations.
How Is Revenue Operations Different From Sales Operations And Revenue Marketing?
The biggest similarity in revenue operations, sales operations, and revenue marketing lies in their primary goal: Increase revenue growth.
The differences center around its approaches.
Revenue marketing breaks down silos in sales and marketing, aligning both departments to accelerate revenue. Here are three examples that illustrate how marketers and sales reps might go about revenue marketing:
Marketers interview sales reps about customers' and shape future content based on insights gathered.
Sales reps share feedback to marketers and inform them which sales enablement content is working and which isn't.
Marketers provide leads' engagement data to the sales team, typically achieved by integrating marketing and sales tools.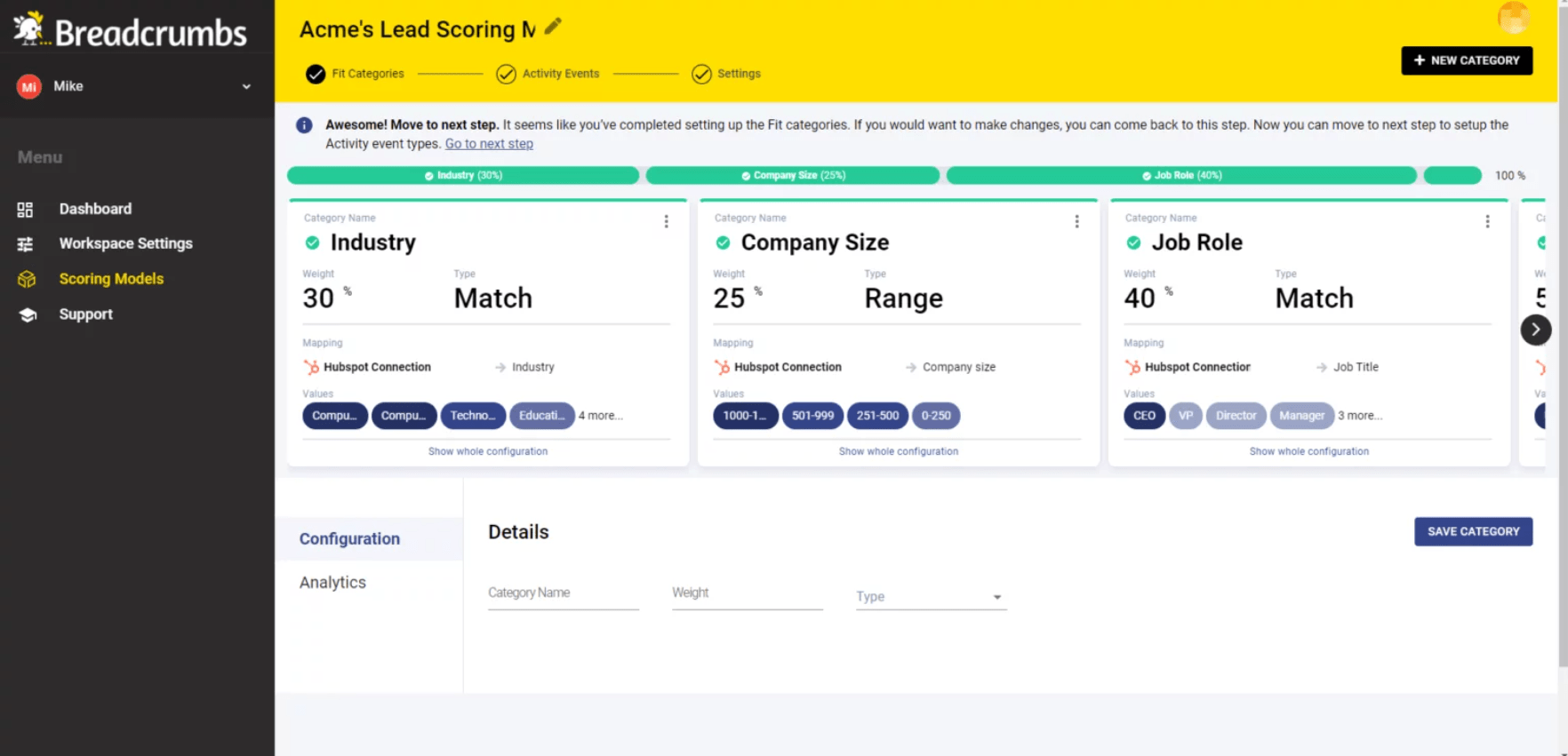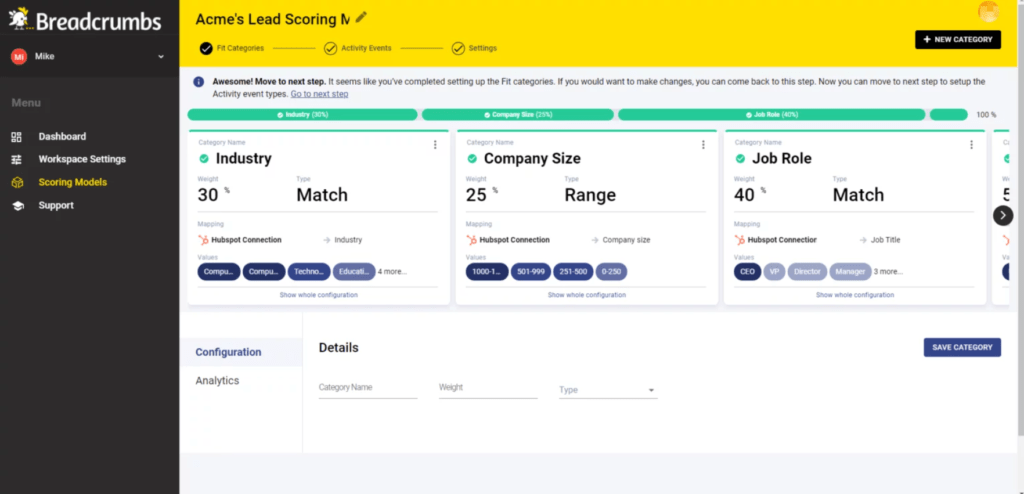 Sales operations supports and empowers sales teams to sell more efficiently. This goes beyond setting quotas and hitting targets. SalesOps could also involve implementing sales incentives programs, enforcing processes (e.g., workflows) and methodologies, and optimizing sales platforms like CRMs and contract management tools.
As mentioned earlier, revenue operations aligns marketing operations, sales operations, and customer success operations. Everything is at the "operational level" from demand management, renewal and upselling, to customer success. Think: Forecasting, benchmarking, and analyzing departments' performance.
Each of these fields plays a unique role in accelerating revenue growth. True, there are overlaps among these sectors (note: this is quite common in smaller startups, as again, it depends heavily on organizational maturity), but bear in mind they are not interchangeable and should never replace one another.
How To Start Revenue Operations: 4 Tips On Building An A-Star RevOps Team, Breaking Down Barriers, And 10X Cross-Functional Collaboration
1. Reverse Engineer What's Already Working
If you're a technical founder and the only salesperson in your startup, you might have realized up till now, you didn't need as many tools to close client deals. All this time, you've been selling purely based on passion and first-hand knowledge of the product you built. Sounds about right?
Since the sales team that you're recruiting won't have either, your mission for this first step is to, in Jason's words:
"Create a sales process that others can follow."
This stage involves creating:
Sales scripts
Objection handling guides
Email templates (e.g., request demo, follow up)
Marketing materials
Demo and sales deck presentations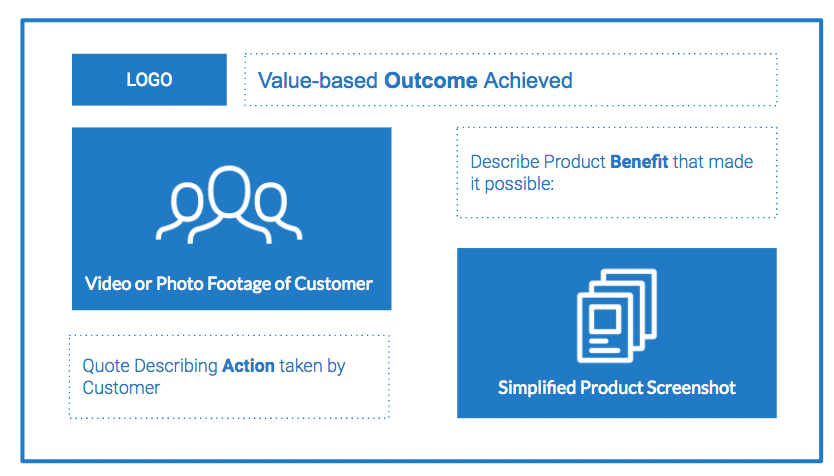 Enterprise companies lose over $2.3 million every year due to opportunity costs associated with underused or unused sales enablement content. Don't be one of them!
The great news is, you don't need to create these sales enablement content from scratch. You probably have snippets of these content assets lying around in your communication channels (e.g., emails, sales recordings on Zoom).
Here's what you need to do: Recap on your most successful sales deals, focusing on those where leads immediately said yes or were convinced by you in the end to buy your product despite having doubts.
Chances are, you'll spot several sales pitches you can reuse. Maybe it's a first meeting script that never fails to establish rapport with a prospect or a particular line in your email that overcomes a client's buying objections.
Document and reverse engineer everything you did and said to close these deals. Refine if necessary, and save it in a folder where your revenue operations team can access it easily.
2. Recruit Your A-Star RevOps Team
Based on Jason's experience, most of his clients hired people with sales experience so they could entrust the entire RevOps to them.
"Unfortunately, this doesn't work as planned for most companies," cautions the former RevOps consultant. "Sales experience can be helpful, but unless they have experience selling the exact product to the exact demographic, they will need training, scripts, and leadership guidance."
Here are the three main types of salespeople you might find yourself hiring:
Experienced or veteran sales professional
New/inexperienced salesperson
Entrepreneurial salesperson
"There are pros and cons for each type of salesperson, ways that each need to be managed and led, and different compensation requirements to consider," adds Jason.
Consider these three factors when deciding which salesperson to hire, especially if this is the first time you're building a new sales team:
(i) What's The Compensation Available?
A bootstrapped company won't have the same stamina as a well-funded startup. If you're unable to offer a high salary, you might want to give equity shares to attract top sales talent.
Here's an example of an on-targets earning plan for a typical SaaS business: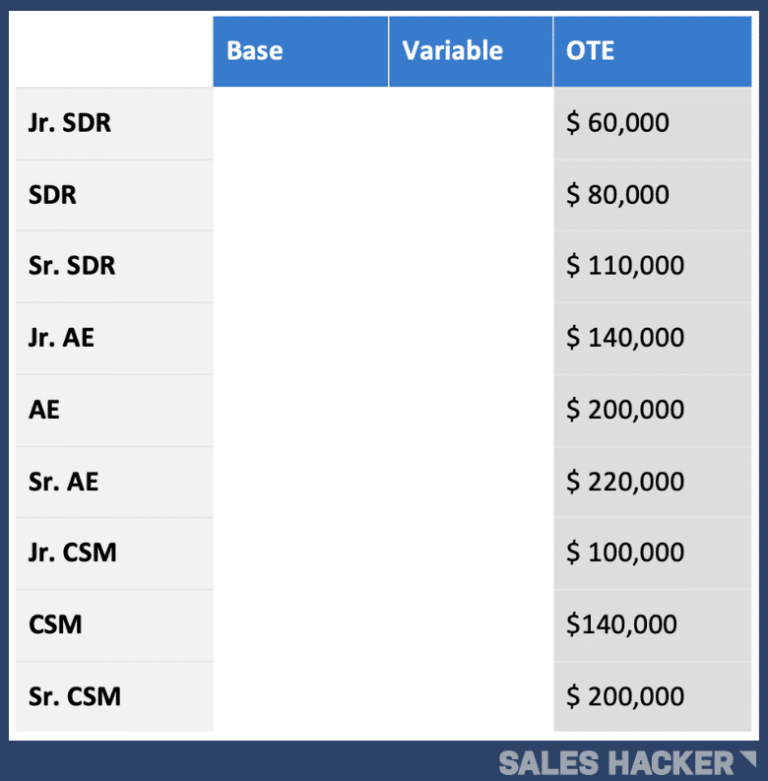 (ii) How Much Time And Energy Am I (Or The Leadership Team) Willing To Commit For Training And Mentoring?
CEOs swamped with other work priorities might want to hire a Head of RevOps if they rather not invest the time to get the RevOps team up to speed.
(iii) Do They Have Comparable Industry Sales Experiences?
"When starting your first RevOps team, avoid assuming that if you hire experienced salespeople, you won't have to deal with it or that you'll be able to figure it out on your own. You need to get actively involved in training, mentoring, managing, and leading for probably longer than you'd hoped."

Jason Cutter, CEO and founder of Cutter Consulting Group
This is the stage where you might want to hire a C-level revenue executive to run your revenue operations.
For StorySlab, it was hiring a VP of Growth. Hans shares, "Our VP of Growth helps connect the dots and turn the data we had been collecting into one clear view, which in turn informs and improves our sales effort."
Initially, the startup measured everything independently. By bringing in a VP of Growth, Hans and his team were able to cross-reference their data thanks to integrations between their marketing and sales tools. From then on, the insights started informing their decisions rapidly.
3. Optimize Cross-Functional Collaboration
Cross-functional collaboration, where people from different departments join forces to solve a common goal, plays a significant role in revenue operations.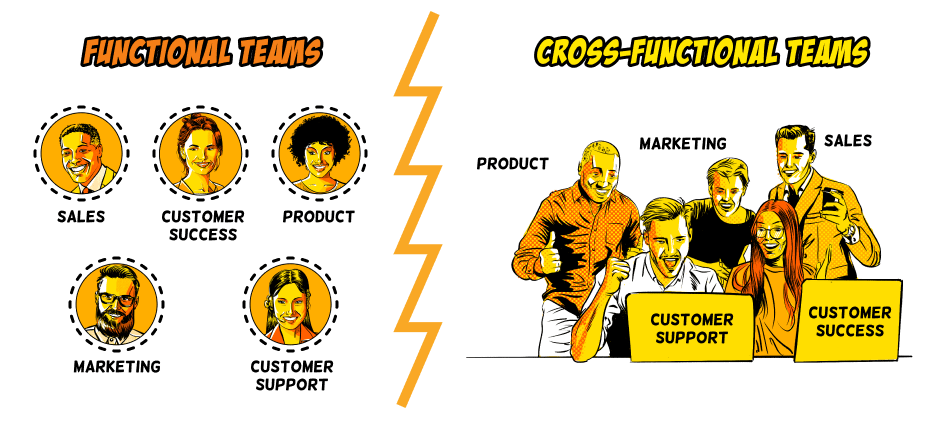 Unfortunately, as you start collaborating with different departments, you'll go through challenges such as blurred lines of responsibilities, fear of conflict, competing priorities, trust issues, and missing context.
Here are five common examples of cross-functional collaboration challenges and how to overcome them with advice from startup founders.
Challenge #1: Misaligned Goals And Priorities Across Departments
Based on 410 companies across eight industries, highly aligned companies outperformed their misaligned counterparts. In fact, they grew revenue 58% faster and are 72% more profitable!
Are your employees setting personal goals to meet the targets unique to their roles?
If that's the case, watch out.
Thilo Huellmann, CTO of Levity, warns: "When the focus shifts to prioritizing activities that help people achieve their personal goals, you might lose sight of the bigger picture."
To combat this problem, Thilo offers this tip:
"Set a specific time to collaborate with other teams and appropriately reward cross-functional project achievements. Make it clear that pursuing cross-functional objectives does not distract from personal growth, but rather strengthens it."
"Discuss the project's objectives and vision. If two teams are working together on a project, for example, all team leaders should meet separately to discuss their vision and plan for achieving the cross-functional team's objectives."
Challenge #2: Unclear Command Structure
Remember in the earlier section where we shared a confused sales employee receiving conflicting messages from two department heads?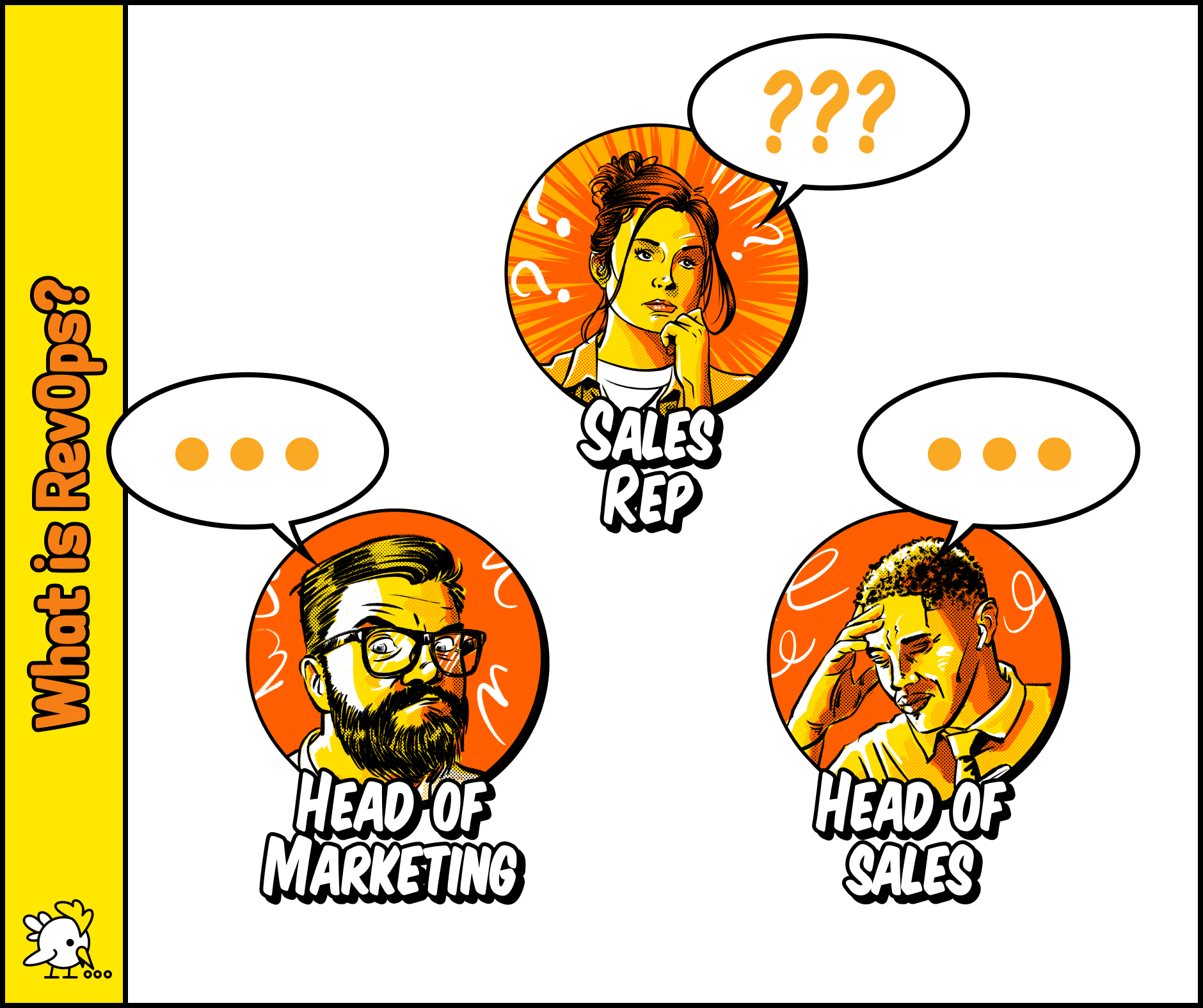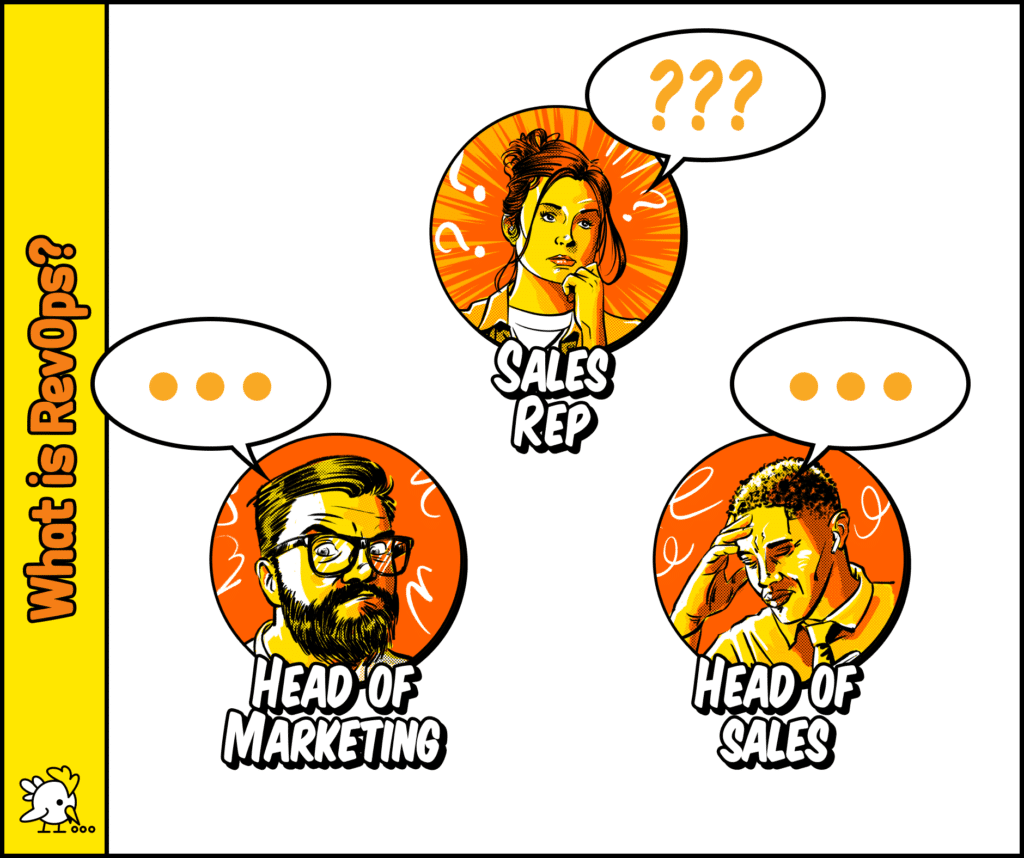 That's a classic example of an uncertain command structure at an organization.
Adam Garcia, founder of The Stock Dork, recommends a straightforward solution: Define the lead roles as early as possible.
"You must create a clear hierarchy even before the teams are introduced to each other. Nothing can undermine a project or team more efficiently than a faulty chain of command statement. Make a decision and put it in writing. It's worth noting that this is often when egos come into action. If this hasn't been fully discussed yet, it should be done as soon as possible."

Adam Garcia, founder of The Stock Dork
Challenge #3: Missing Context
SERPWizz founder, Deepak Shukla, reckons verbal explanations are the root causes behind miscommunication and mistrust.
"Teams should stop explaining problems and processes to each other and start showing them to each other instead."

Deepak Shukla, founder of SERPWizz
He clarifies, "Every team member should bring their laptops to every meeting and show their colleagues how they operate. Explaining practical processes verbally can lead to misunderstanding and mistrust because it leaves too much room for interpretation."
Deepak shares an interesting perspective and brings to mind an article by Grow And Convert. In this piece, co-founder Benji Hyam writes, " Explaining what marketers do on a daily basis, to sales, helps bridge the gap between sales and marketing."
(Author's note: This works the same way, vice-versa!)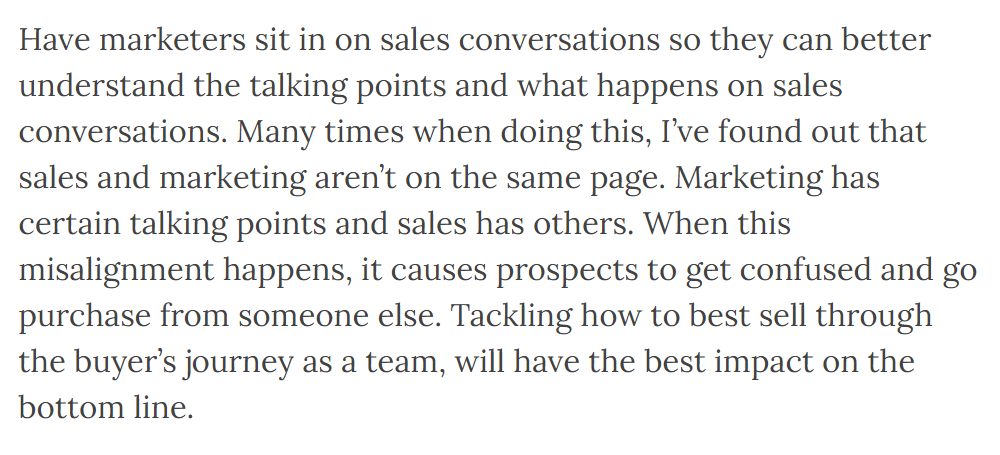 "When different teams can understand how each other works in practice, through the power of showing, learning is much more impactful, misunderstanding is reduced, and teams become accountable to one another. This builds trust between teams because each team can envision what the other is doing when they reference a task."

Deepak Shukla, founder of SERPWizz
Challenge #4: Lack Of Knowledge Sharing
As you build your revenue operations team from the ground up, you'll discover the importance of knowledge sharing (e.g., sales reps having access to leads' web engagement data, so they know who's ready for sales).
Mike Dragan, COO of Streams.Live, warns about the dangers of deprioritizing — or worse, ignoring — knowledge sharing within the organization:
"The cost of unwillingness to share knowledge is huge, and it can be a waste of your company's valuable resources. You must ensure your cross-functional RevOps team can easily pool their diverse perspectives to address pressing issues."
Mike's right. According to International Data Corp, poor knowledge-sharing practices cost Fortune 500 companies $31.5 billion annually.
"Encourage your team to take the lead and contact experts who are willing to share their expertise. However, make sure that everyone in the community contributes their knowledge to the problem. After all, putting together a diverse group of people is the whole idea."

Mike Dragan, COO of Streams.Live
Another way to transfer knowledge across your startup? Invest in software tools to empower knowledge sharing… which brings us to the next challenge.
Challenge #5: Ineffective Communication Tools
Employee productivity increases by 20-25% when employees (like professionals and managers) are connected. Without the proper tools, there's no way you can run your revenue operations. Plus, let's face it: Spreadsheets can only do so much.
At UVARO, CEO and founder Joseph Fung pays special attention to his internal communication tools.
Here are his must-have tools and their use cases:
(i) Instant messaging for quick-fire communication
Joseph recommends these tools for "quick, in-the-moment conversations that would normally take place in-person under normal circumstances."
(ii) Video for cross-functional projects and meetings
Videos help you convey not only what you're saying but also your tone and body language. "These ensure you've gained the confidence and trust of your colleagues," explains Joseph.
(iii) Knowledge capture and sharing tools for complex cross-functional projects
UVARO relies heavily on knowledge-sharing tools for its revenue operations activities and employee onboarding process.
Joseph shares, "Having a central hub where one can do both 'at a glance' information skimming, and deep dives into specific tasks and information is key to success."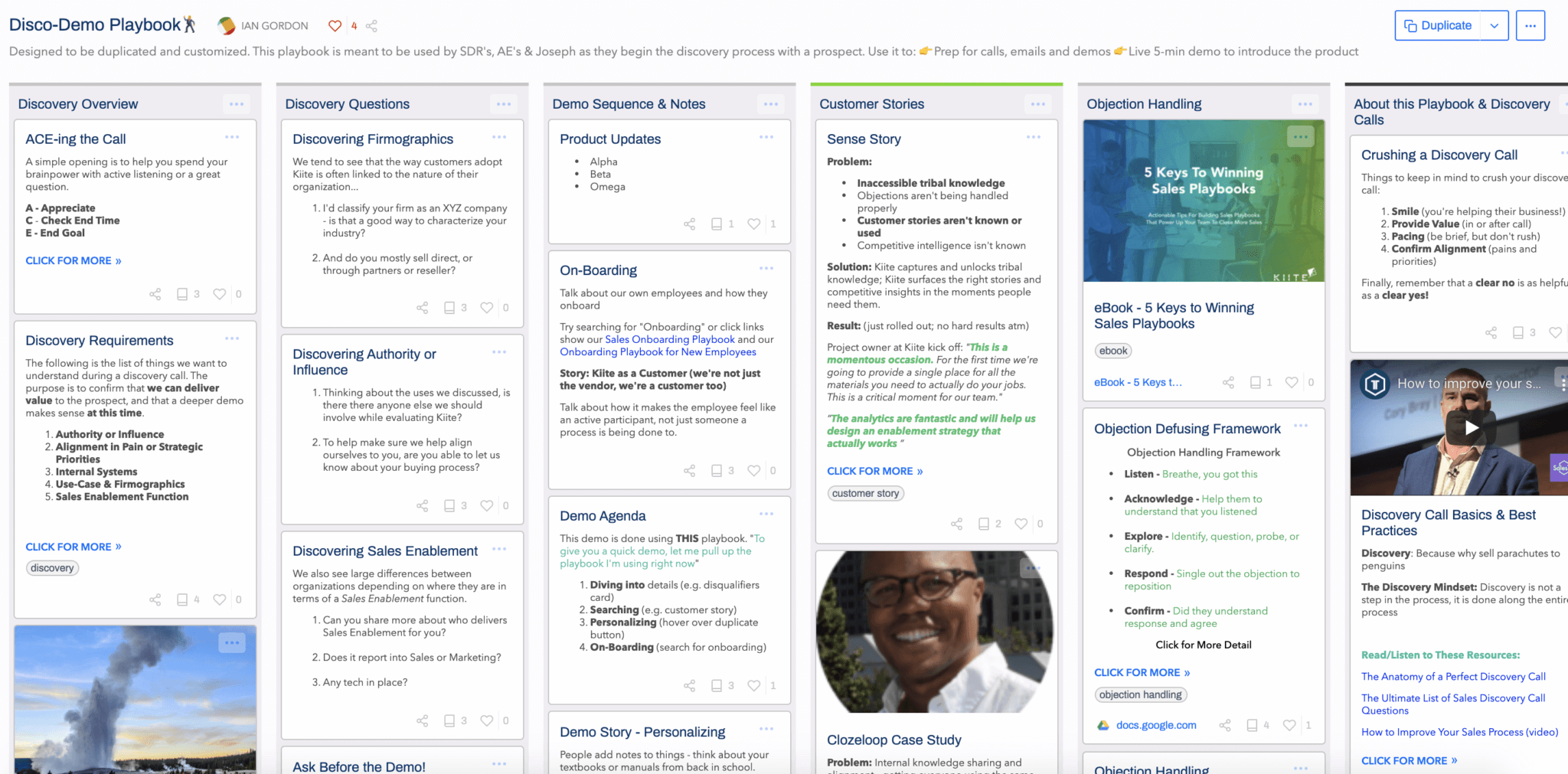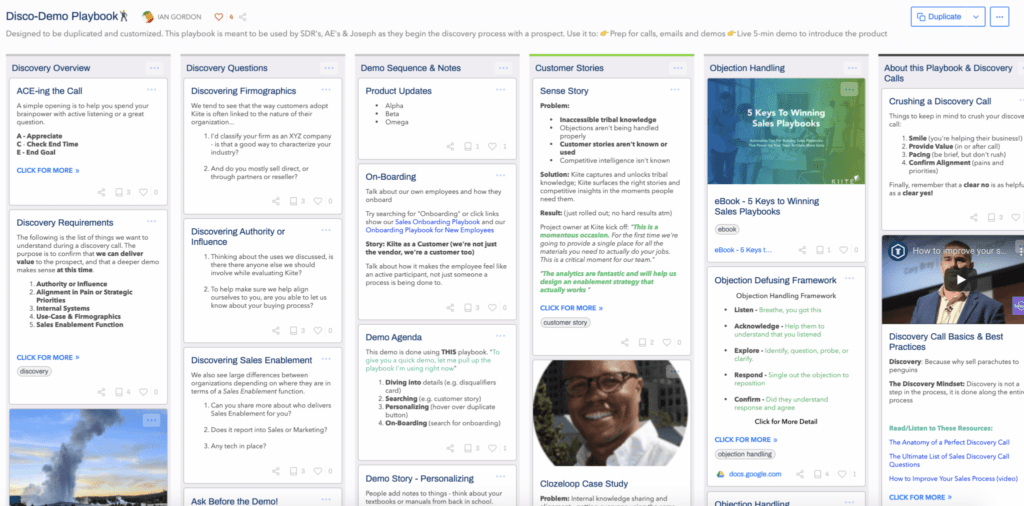 When evaluating knowledge-sharing platforms, on top of the essentials (e.g., databases, wikis), Joseph advises, look for these additional features:
(a) Debriefs and report
"These features are often overlooked, especially by startups because they're running so fast towards their goals," Joseph divulges.
"At this stage, there's a lot of experimentation, especially in revenue operations. Making debriefs and reporting a part of your business culture right from the beginning will pay off in the long run because it will give you increased visibility into similar future projects that are critical to your business."

Joseph Fung, CEO and founder of UVARO
In other words, a debriefing and reporting feature will ensure your revenue operations teams have important information at their fingertips so they can review the entire project at the same time.
"This speeds up the planning and direction processes for related projects that come up in the future."
(b) Broadcast activities
Knowledge-sharing tools keep every stakeholder in the loop.
Joseph adds a crucial reminder: "Whether it's moving a card from in-progress to done or tagging your colleagues, broadcasting your activities that may have an impact on their work is essential for fostering trust and accountability."
(c) Prep and follow up
Revenue operations involves various complex activities that require efficient follow-ups. Ideally, your knowledge sharing platform should make your communication productive and seamless.
"Any pre-read documentation should be concise and easily digestible. Any follow-up actions should be assigned either as a last part of the cross-functional meeting or directly afterward while things are fresh for all teams. Following this work cadence in a centralized tool goes a long way."
Above all else, be intentional about your startup culture. Joseph adds a final note:
"Often with the pressure of quarterly revenue targets, culture takes a back seat and is regarded as one of those 'nice to haves' when starting a business. At UVARO, we believe the relationship between KPIs and corporate culture is integrally related. That's why we're intentional about our policies and processes reflecting our values."
"If you have that tactical alignment at a functional level, you end up living your company's values every day."
4. Upgrade Your Marketing And Sales Stack
In the section above, we explored internal communication tools, zooming in on knowledge management. In this last point, we'll dig deeper into your marketing and sales stacks.
With the sheer number of tools out there, it can be overwhelming to find the right ones to optimize your revenue operations.
At Force by Mojio, Daivat reveals that being a small company, they thrive on integrated tech between departments. Hence, building their connected RevOps tech stack mostly involved improving their current systems.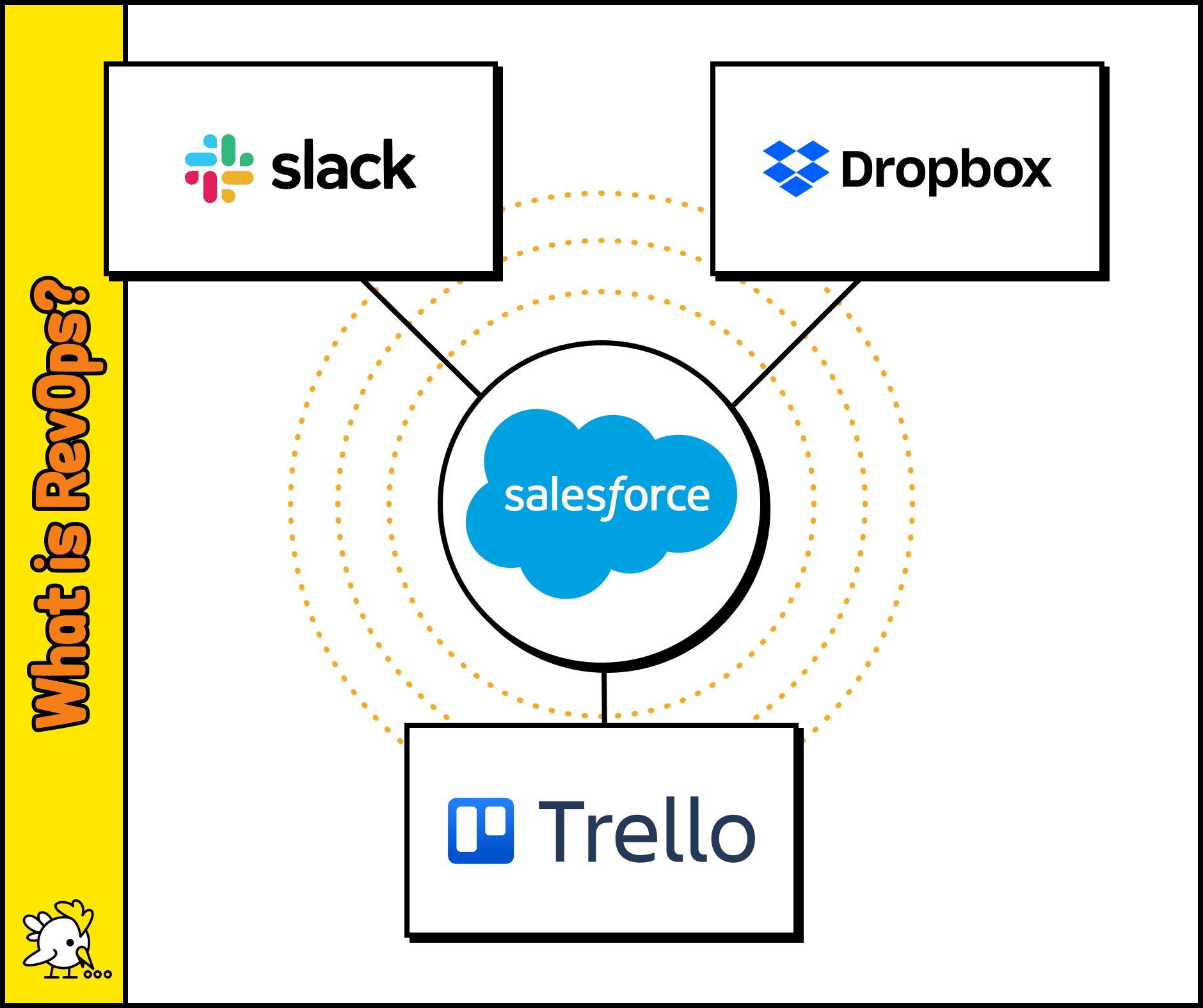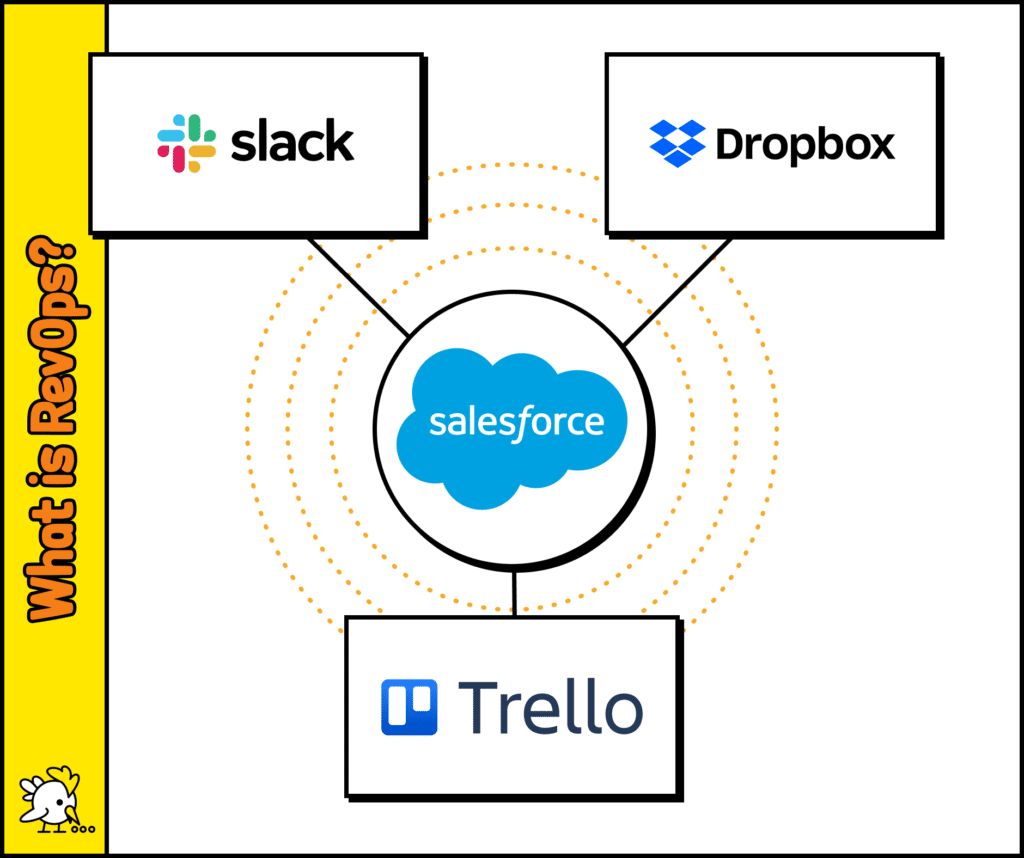 The director of operations shares an example, "We're already using Salesforce as a CRM. We integrated it with Slack and Dropbox around the time we established RevOps and built the stack around it. Most of the changes to our tech stack were much smaller-scale, like getting everyone on the same Trello boards."
For StorySlab, its technology stack is based on two goals:
Optimizing sales reps to make them more effective
Improving marketing to know what's working and do more of it
On the sales front, StorySlab uses Salesforce for CRM, SalesLoft for sales engagement, and its own tool for conversations and insights.
Joseph W. Mecca, the senior director of marketing and sales enablement at StorySlab, adds, "We then bubble that all up to reporting within the pipeline."
The startup uses social tools, ad managers, Pardot (for marketing automation), and Salesforce when it comes to marketing.
Joseph shares, "With these tools, we centralize the activities that prospects are interacting with. We then look at those campaigns and touchpoints and how they positively influence the sales process within the sales stack."
What's Next In Your RevOps Journey? Reverse Engineer What's Working
Review your past successful deals, and document everything you did and said that led to a yes.
Next, recruit your revenue operations team. If you're swamped with other work priorities, hire a Head of RevOps to spearhead the movement. This C-level executive will be in charge of optimizing collaboration between all revenue-driven departments.
And while you're at it, upgrade your marketing and sales stacks!
Better yet, if you're using Hubspot, sign up for your FREE Breadcrumbs account today.
Breadcrumbs is on a mission to help startups accelerate their revenue. Long gone are the days where you spend your days chasing after low-quality leads. With Breadcrumbs, you get to decide where your best leads go and close more deals. Sign up at Breadcrumbs for FREE today!