There's more to a Chief Revenue Officer (CRO) than meets the eye.
From 2015 to 2018, LinkedIn saw a 73% increase in CRO titles, indicating a surging demand for revenue acceleration in today's complex business environment.
The CRO is an unique executive role. It's at the intersection of different fields that capitalizes on revenue opportunities, such as business operations and customer success.
That said, it would be disastrous to assign the job responsibilities of a CRO to a Chief Financial Officer (CFO) or Vice President (VP) of Sales, as these job duties fall outside the scope of what they do best.
So this brings us to an important question: Should you hire a CRO?
Before we attempt to answer this question, we need to first look at the dynamics of this varied role. In this guide, I'll share with you what a CRO does, how it's different from other C-suite positions, and the three big reasons you should hire one.
Let's get right down to it.
Chief Revenue Officer: 5 Frequently Asked Questions
In this section, I'll answer some of the most common questions you have about CROs. By the time you read it, you'll learn a CRO's primary responsibilities and how they're different from other similar roles.
What Is A Chief Revenue Officer?
The Chief Revenue Officer is a C-level executive who grows revenue.
They align and lead all revenue-generating departments such as marketing, sales, business operations, account management, and customer success.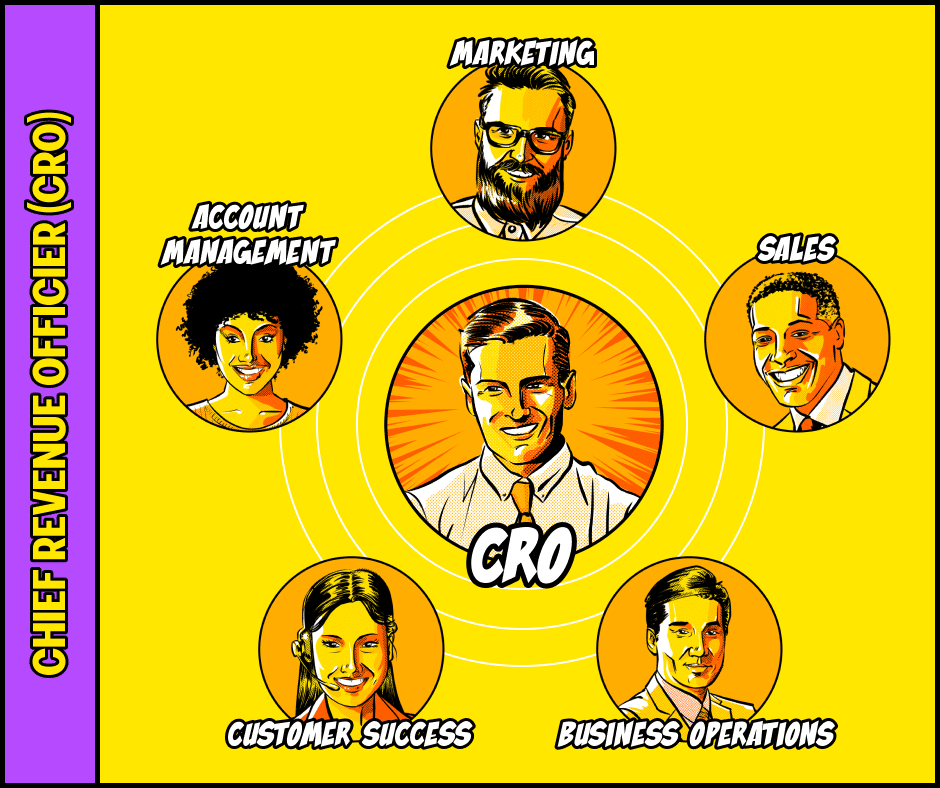 CROs hold years of experience. They've held leadership roles in sales, marketing, and business development.
They're also data powerhouses — ask any competent CRO, and they'll tell you they always take a data-driven approach when scaling revenue opportunities.
Typically, companies that want to align and speed up growth in all revenue-related departments hire CROs.
To put it simply, hiring a CRO is like putting your revenue acceleration on steroids!
Chief Revenue Officer Salary: How Much Do They Earn?
Based on 78 salaries submitted anonymously to Glassdoor, the average salary of a Chief Revenue Officer based in the United States is $238,972/year.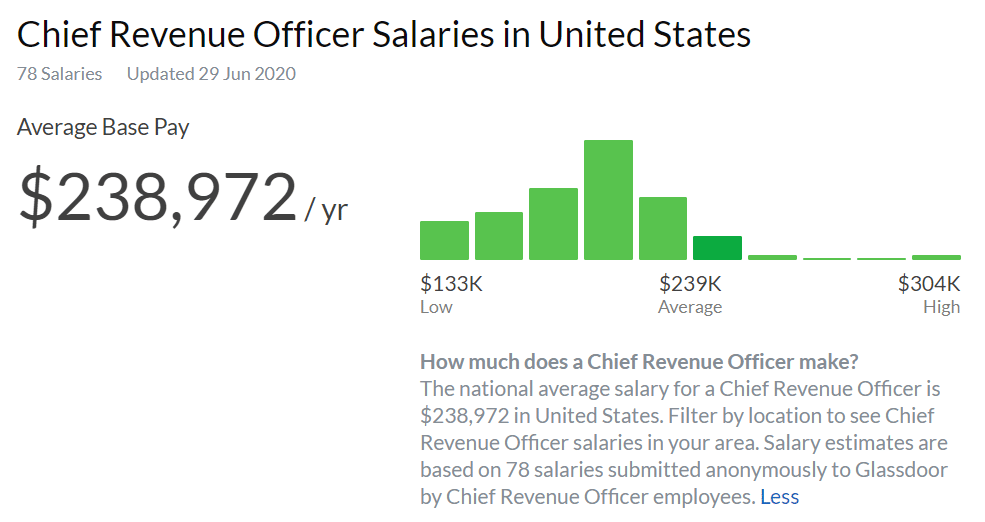 What Does A Chief Revenue Officer Do?
Earlier in this guide, I shared that CROs are in charge of growing revenue from all areas.
You might be wondering: How does this look like in practice?
I spoke to Nate Nead, CEO of SEO.co. He shares:
"Our CRO's main function is to manage the sales team by providing them with the tools for success. This includes, but is not limited to sales materials, regular training, lead flow management, and customer relationship management (CRM)."
I also spoke to Scott Benedetti from The Pedowitz Group, where he outlines some of his responsibilities as a CRO:
Collaborate with consulting teams and account managers on customer satisfaction, and discuss the probability for renewal and potential for expansion.
Optimize the marketing team's efforts in discovering net new leads.
Track the progression of net new leads through opportunity creation, closed-won, and new customers.
CROs focus on many Key Performance Indicators (KPIs). They include:
Closed-won bookings (net new, follow-on)
Number of Marketing Qualified Leads (MQLs)
Number of Sales Qualified Leads (SQLs)
Conversion statistics
Sales activity
On top of integrating and aligning all revenue-related functions, the CRO requires a vast experience on data analytics, particularly in customers and prospects' interactions.
In a nutshell? The best CROs boast a track record of delivering profitable sales growth in a hyper-growth environment.
Who Does The Chief Revenue Officer Reports To?
In most cases, the CRO reports to the CFO and/or CEO on the higher-level goals covering the revenue of the company.
The VP of Sales, who's usually in charge of managing the sales team's operations, reports to the CRO.
Note that this depends on the size of the company. (For example, at SEO.co, there's no VP of Sales. The agency's CRO manages the training and operations of the sales team.)
Here's a diagram that shows the reporting structure of a Chief Revenue Officer: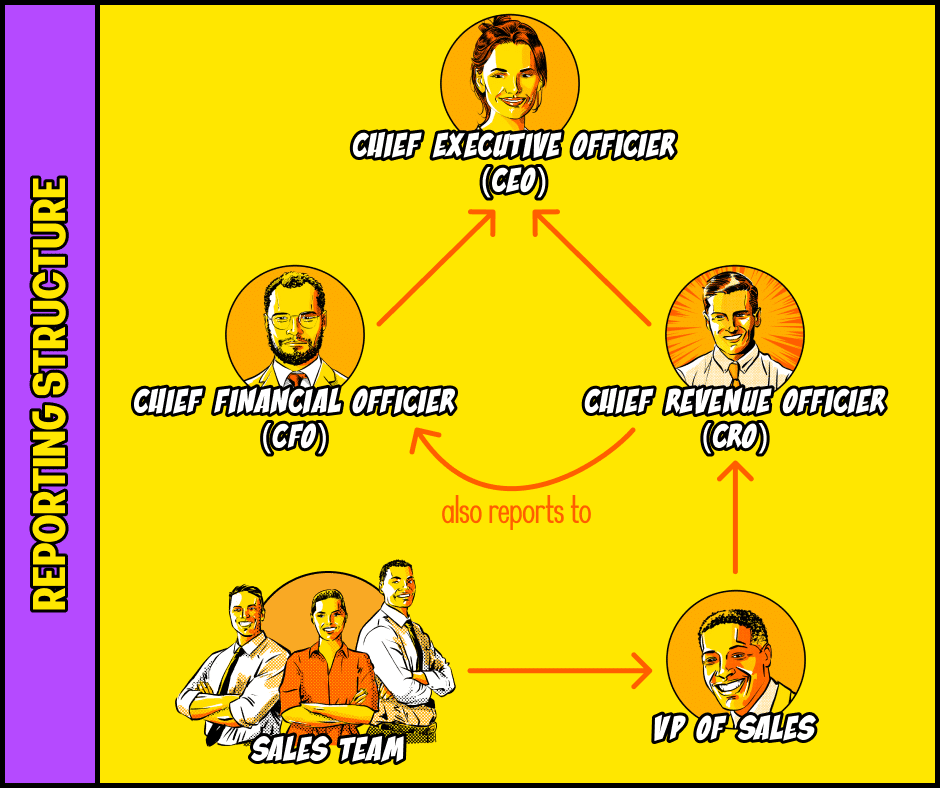 What's The Difference Between A Chief Revenue Officer And Chief Financial Officer?
People often confuse CROs with CFOs. An easy way to tell both C-suite executives apart lies in their central roles.
A CRO is in charge of driving revenue, whereas a CFO handles a business' financials (e.g., dealing with creditors and raising capital).
Here's a comparison table that shows the major differences among CROs, CFOs, Chief Marketing Officers (CMOs), and VPs of Sales.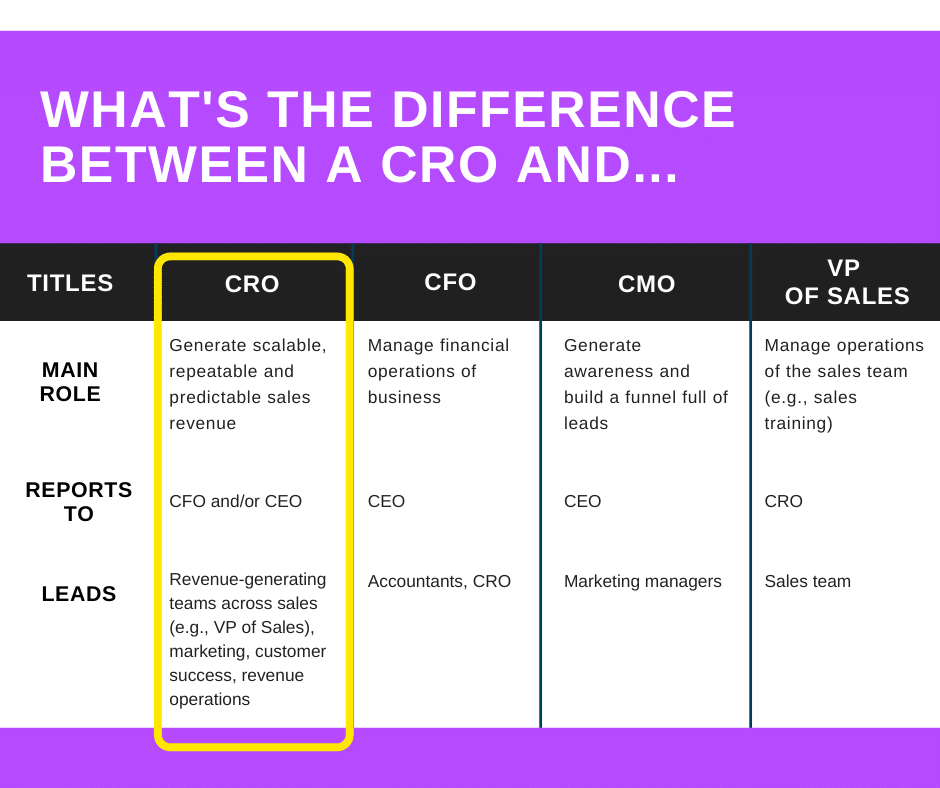 3 Big Reasons Why You Need To Hire A CRO (According to CEOs)
Now that we've answered the common questions, let's take an in-depth look at the companies that have hired CROs, why they brought them in the company, and the results they've achieved.
By the time you complete this section, you'll know when's the best time to hire a CRO for your business.
1. Align Marketing And Sales Departments
Your business is missing out a lot if your marketing and sales teams are operating in silos.
According to Forrester Research, companies that align these two teams achieved an average of 32% of annual revenue growth.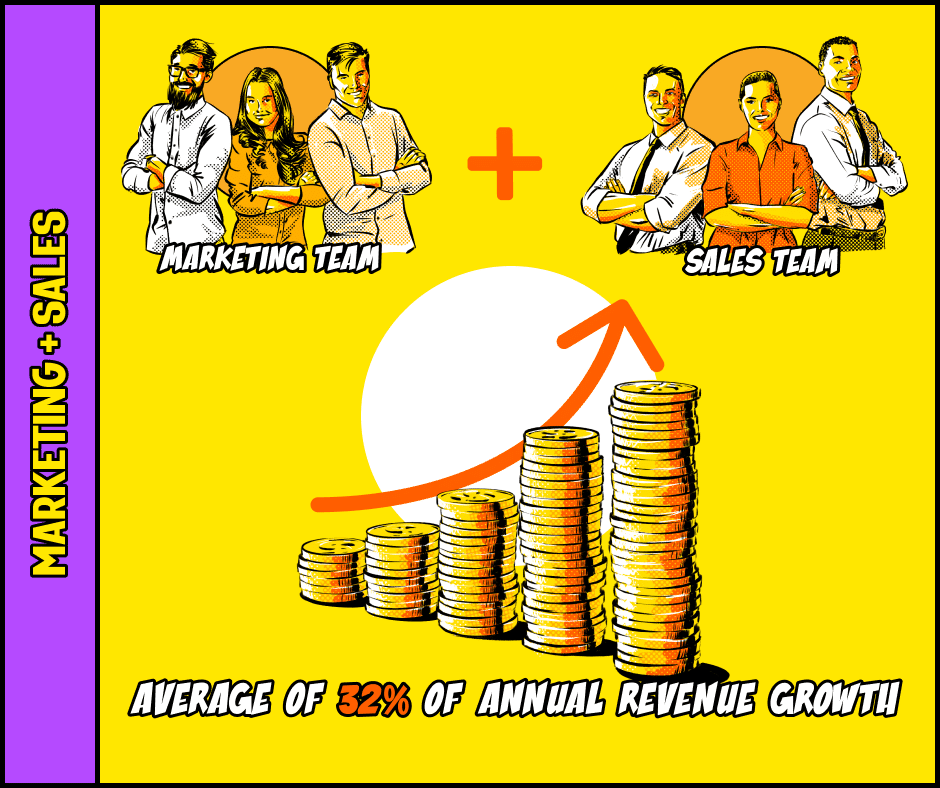 That's amazing!
And yet, marketing and sales are often at odds with each other.
You've got the marketers who blame the sales teams for not closing. Then, there's the sales lead who shifts the blame to the marketing team for providing poor leads in the first place.
It's no wonder the never-ending battle of playing the blame game has resulted in both teams failing to report to the CRO.
Jeff Pedowitz felt that his marketing and sales teams needed to be more aligned than ever before to succeed in today's business climate.
The President and CEO of The Pedowitz Group, decided to hire Scott, his CRO, and even credits him as the key person behind the successful alignment between the sales and marketing teams.
He shares:
"Less than nine months into the move, bookings and pipeline are at an all-time high."
Pro Tip: Look for a Chief Revenue Officer with significant experience in hiring, building, and leading cross-functional teams. This CRO must be able to convey to the entire organization that sales and marketing should work in tandem with equal importance.
2. Simplify Sales Operations (And Optimize It)
For a growing business, going from a sales manager and a team to evolving a professional subculture within the sales organization is no easy feat.
Only a qualified CRO can help facilitate this complex process.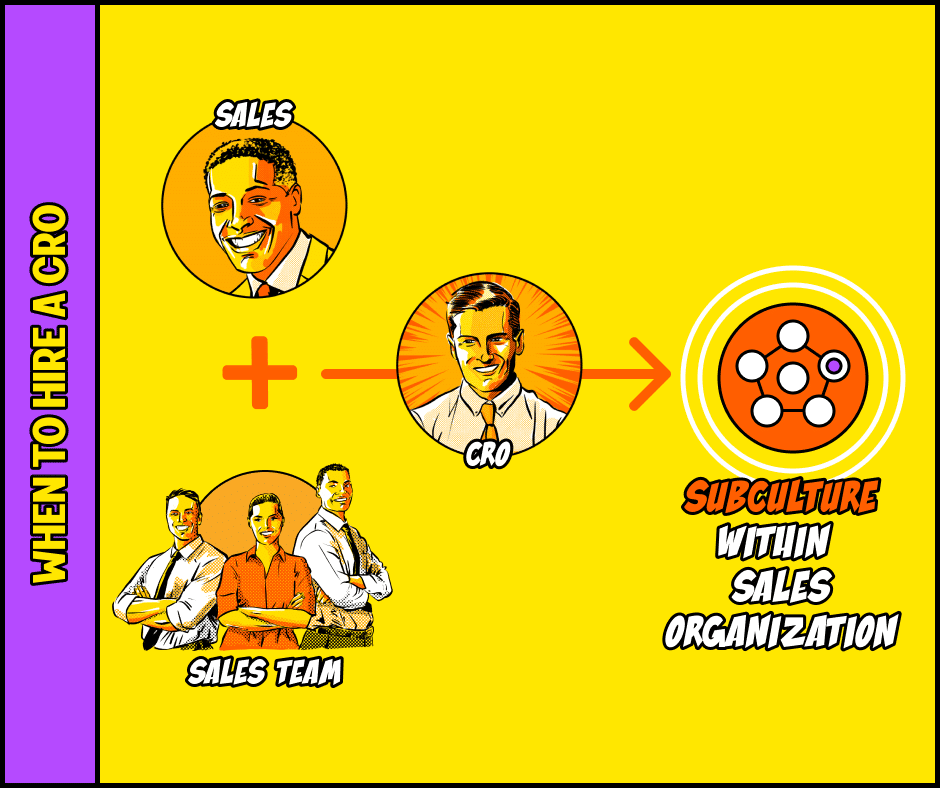 It certainly rings true for Nate at SEO.co.
He shares with Breadcrumbs:
"Our decision to hire a CRO came when we realized there needs to be a method to the madness and a top-down approach to training new sales recruits, processing new orders, and growing the sales team."
Before hiring their CRO, Nate and his team weren't using their CRM tool to its fullest potential.
There were no standard operating procedures (SOPs) or regularly scheduled sales training in place. The agency's approach to their sales process and how they deliver the highest value for customers were also missing.
If you've ever experienced the scenario above, you'd know it's time to bring in a Chief Revenue Officer.
A CRO will know how to navigate this tangled web of a process and provide the necessary structure for sales training and establishing the SOPs within your business.
After hiring their CRO, Nate and his team developed a system within their CRM process to help the scale-up of their leads with a larger sales team.
To sum up, if you're looking to — in Nate's words, "cross the chasm at a critical crossroads of your business" — it's time to hire a CRO.
3. Get ALL Cross-Functional Departments On The Same Page
As a CEO, it's hard working with different departments. It's a constant struggle of wrestling with different and competing agendas.
At first glance, it seems like the worst case scenario would only involve the CEO working overtime with the leadership team to resolve the disputes.
But the problems go far deeper.
These competing agendas cause ineffective collaboration and employee disengagement which reportedly set businesses back at $11,000 per employee every year and an estimated $450 billion to $550 billion annually respectively.
That's a lot of money for a seemingly harmless problem! In short, these issues are negatively impacting revenue.
This is where a Chief Revenue Officer comes in.
Your CRO is a skilled executive of different hats. They can get these cross-functional departments on the same page and work towards a common goal — much like the marketing and sales alignment we explored in the earlier point.
A competent CRO will be able to address conflicting agendas and eliminate unnecessary functions. Under the CRO's direction, these departments will learn how to collaborate with different teams and hit the appropriate metrics successfully.
By hiring a CRO, you're driving all departments to hit their growth targets with a focus on revenue.
Chief Revenue Officer: The MVP Of Revenue Acceleration?
It's true…
Hiring a Chief Revenue Officer would require a big investment.
But here's the thing: When you bring in a CRO, you're committing to investing in your company sales AND growth.
Given the exorbitant salary, it probably wouldn't make sense to hire a CRO when you just started a business. But when you're looking to align and expand all revenue-generating departments in today's rapidly changing business environment, it's time to hire one.
Is the Chief Revenue Officer the MVP of a company's revenue acceleration?
We think it is.
Over to you: What do you want to get out of hiring a Chief Revenue Officer in your company?