Even though chief revenue officer (CRO) roles have increased by 73% in the last few years, they are still very foreign.
Note this question posted from a candidate interviewing for a mid-market account executive role at a SaaS startup.


Should you hire a CRO?
Before we attempt to answer this question, we need to first look at the dynamics of this pivotal role.
What is a Chief Revenue Officer?
The chief revenue officer is a unique C-level executive who grows revenue. CROs align and lead all revenue-generating departments, including marketing, sales, business operations, account management, and customer success.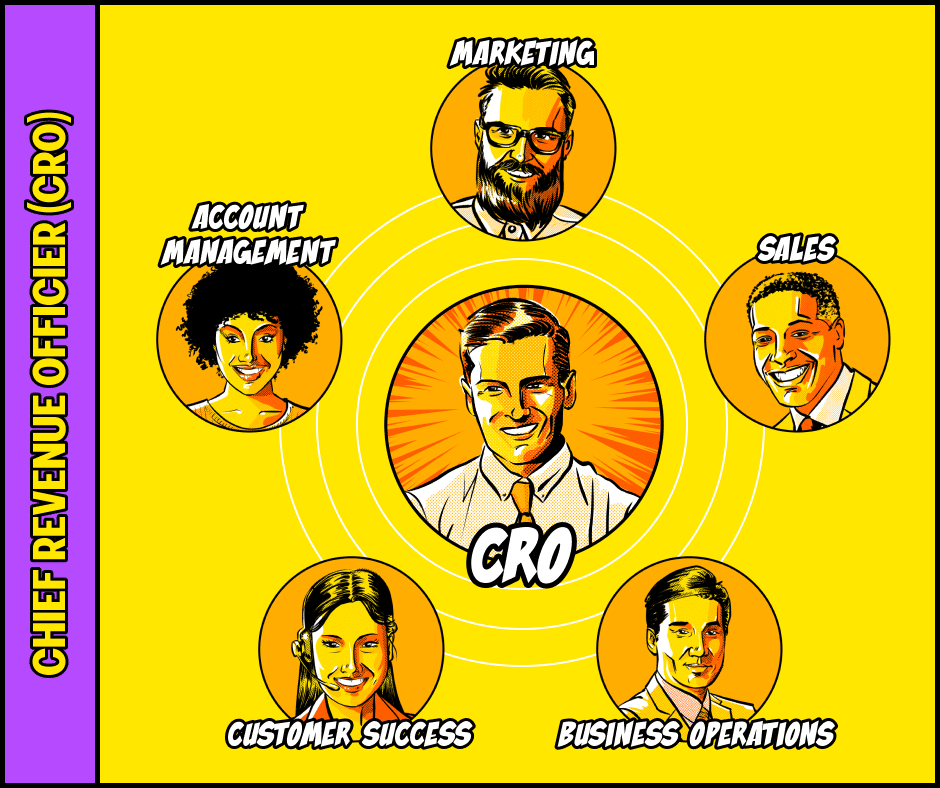 These hybrid sales leaders hold years of experience.
They've held leadership roles in sales, marketing, and business development. Ask any competent CRO, and they'll tell you they always take a data-driven approach when scaling revenue opportunities.
Typically, companies looking to accelerate revenue in all customer-facing departments hire CROs.
Chief Revenue Officer vs VP of Sales
Unlike VPs of sales who only focus on sales activities, CROs oversee all revenue-generating activities (e.g., sales, marketing, product). They're data powerhouses.
What's The Difference Between a Chief Revenue Officer and Chief Financial Officer (CFOs)?
There's quite an overlap between CROs and CFOs. An easy way to tell both C-suite executives apart lies in their central roles.
CROs drive revenue, whereas CFOs handle business finances like dealing with creditors and raising capital.
Here's a handy comparison table that shows the major differences between CROs, CFOs, chief marketing officers (CMOs), and VPs of sales.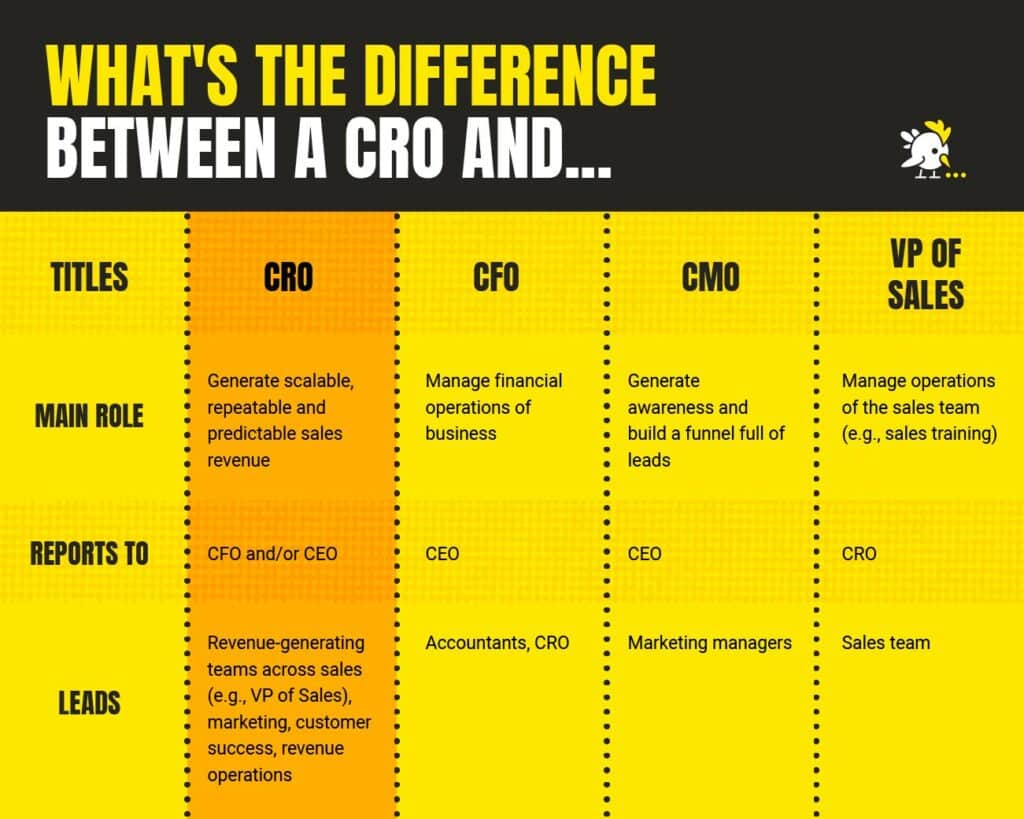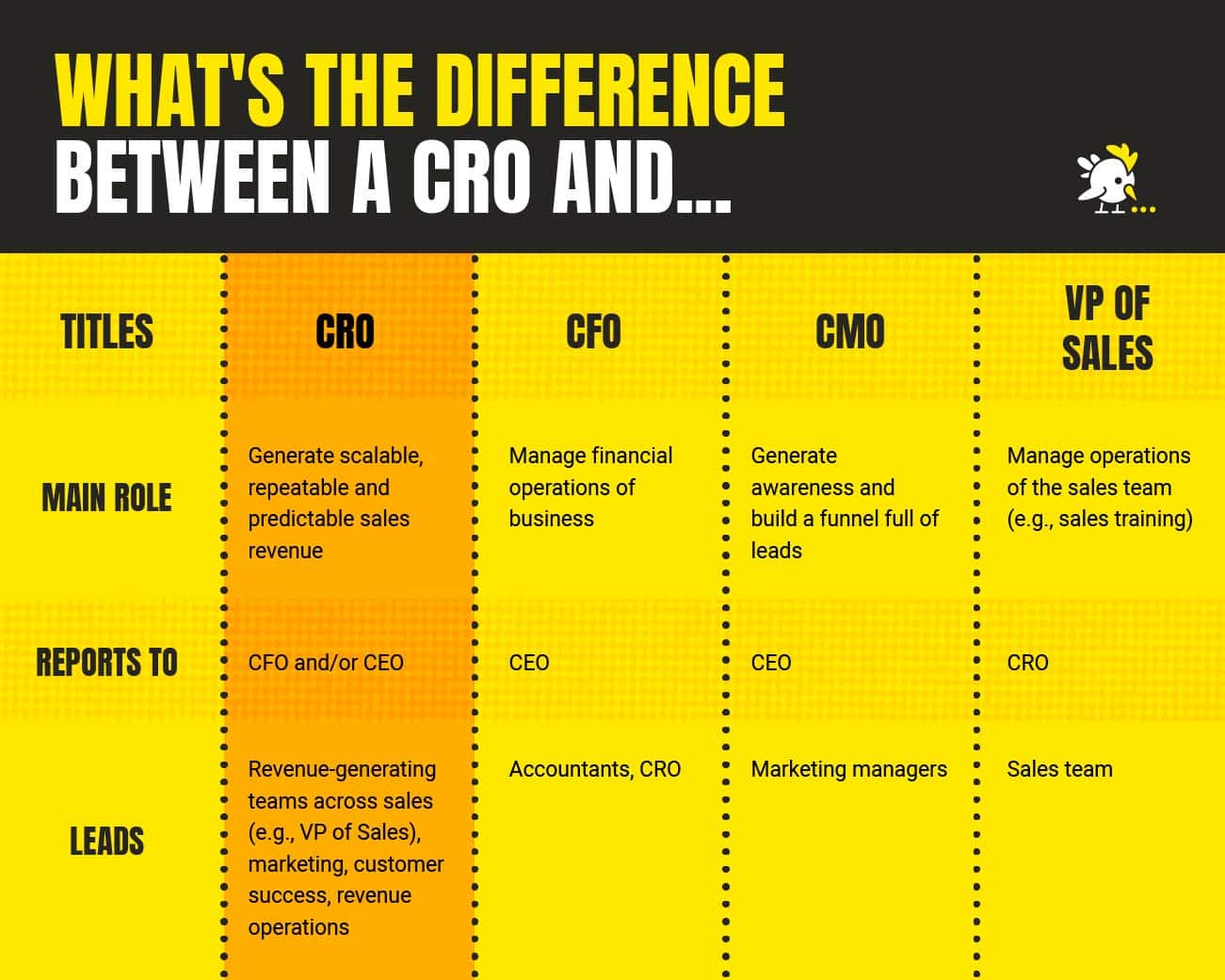 Chief Revenue Officer Job Description: What Does a CRO Do?
The CRO is a unique executive role.
The role lies at the intersection of different fields that capitalize on revenue opportunities (e.g., sales operations).
Nate Nead, owner of SEO.co, shares with Breadcrumbs:
Our CRO's primary function is to manage the sales team by providing them with the tools for success. This includes, but is not limited to sales materials, regular training, lead flow management, and customer relationship management (CRM).
Scott Benedetti, who previously worked as a CRO and is now the executive vice president at The Pedowitz Group, gives us a peek at his past responsibilities:
Collaborate with consulting teams and account managers on customer satisfaction
Discuss the probability of renewal and potential for expansion with leadership team
Optimize marketing team's efforts in discovering net new leads
Track progression of net new leads through opportunity creation, closed-won, and new customers
CROs focus on a myriad of key performance indicators (KPIs) across departments, namely:
Closed-won bookings (net new, follow-on)
Number of marketing-qualified leads (MQLs)
Number of product-qualified leads (PQLs)
Number of sales-qualified leads (SQLs)
Conversion metrics (e.g., conversion rate)
Sales activity
CROs also possess vast experience in data analytics, particularly in customers' and prospects' interactions, so that they can deliver profitable sales growth in a hyper-growth environment.
Which is why when companies bring them on board, they typically spend the first few weeks (or months) reviewing the current initiatives to optimize the customer experience.
These audits involve analyzing which customer attributes or actions lead to the biggest revenue. To get started, grab your free Reveal account and:
Connect your customer data tool
Define success for your segments of contacts (e.g., all paying customers)
Set it live
Breadcrumbs will show you which attributes are responsible for your revenue today.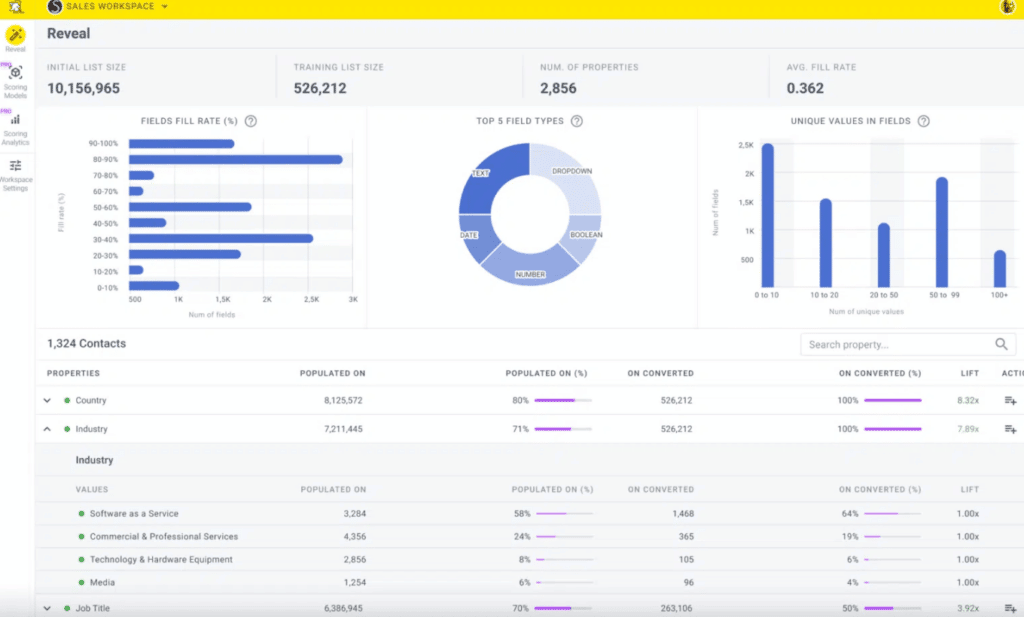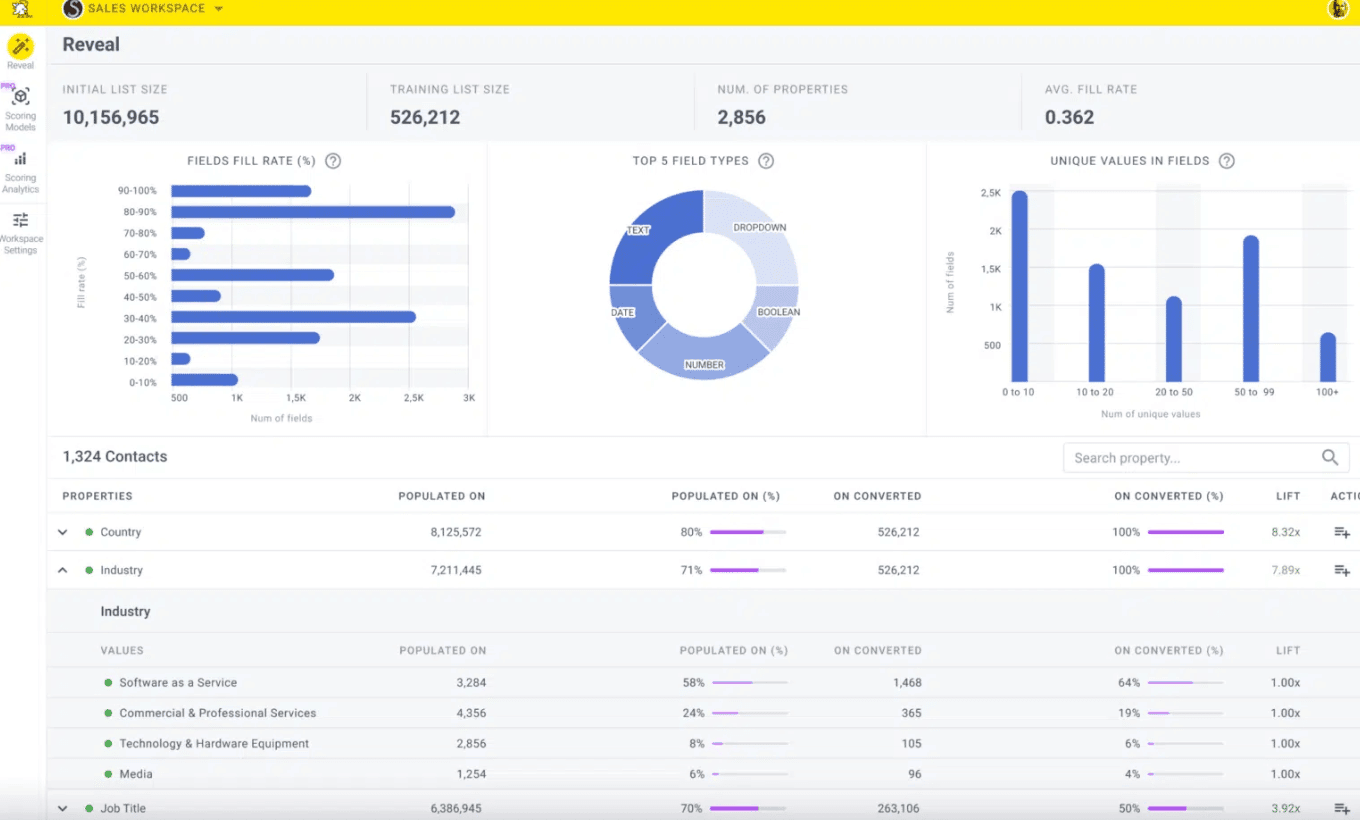 Breadcrumbs Reveal is free for the first 1,000 early access sign-ups. Create your free account to make sense of your customer data on HubSpot, Marketo, Salesforce, and more today.
Chief Revenue Officer Salary: How Much Do They Earn?
Based on Salary.com, the average salary of a CRO in the US ranges from $234,802 to $380,782/year.
Who Does The Chief Revenue Officer Report To?
CROs report to the CFO and/or CEO on the higher-level goals covering the revenue of the company. The VP of sales, in turn, reports to the CRO.
Note that this depends on the size and maturity of the company. For example, at SEO.co, there's no VP of sales. The agency's CRO manages the training and operations of the sales team.
Here's a diagram that shows the reporting structure of a chief revenue officer: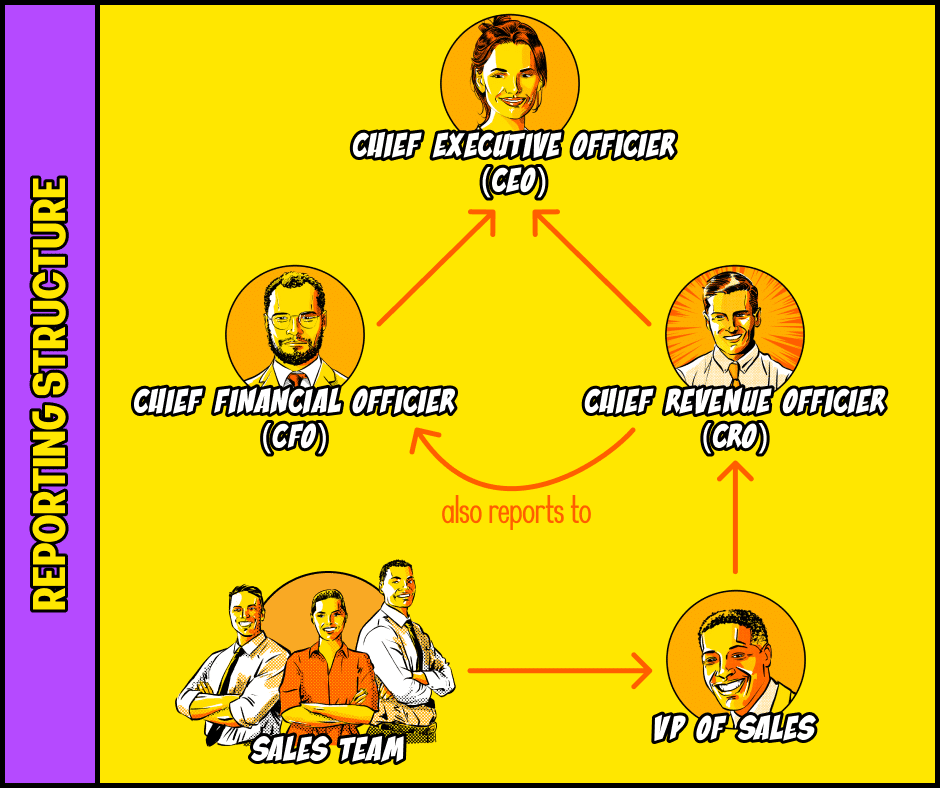 3 Big Reasons You Need to Hire a CRO (According to CEOs)
1. Align marketing and sales departments
Your business is missing out a lot if your marketing and sales teams operate in silos.
According to MarketingProfs, organizations with aligned marketing and sales functions see 36% higher customer retention rates and 38% higher sales win rates.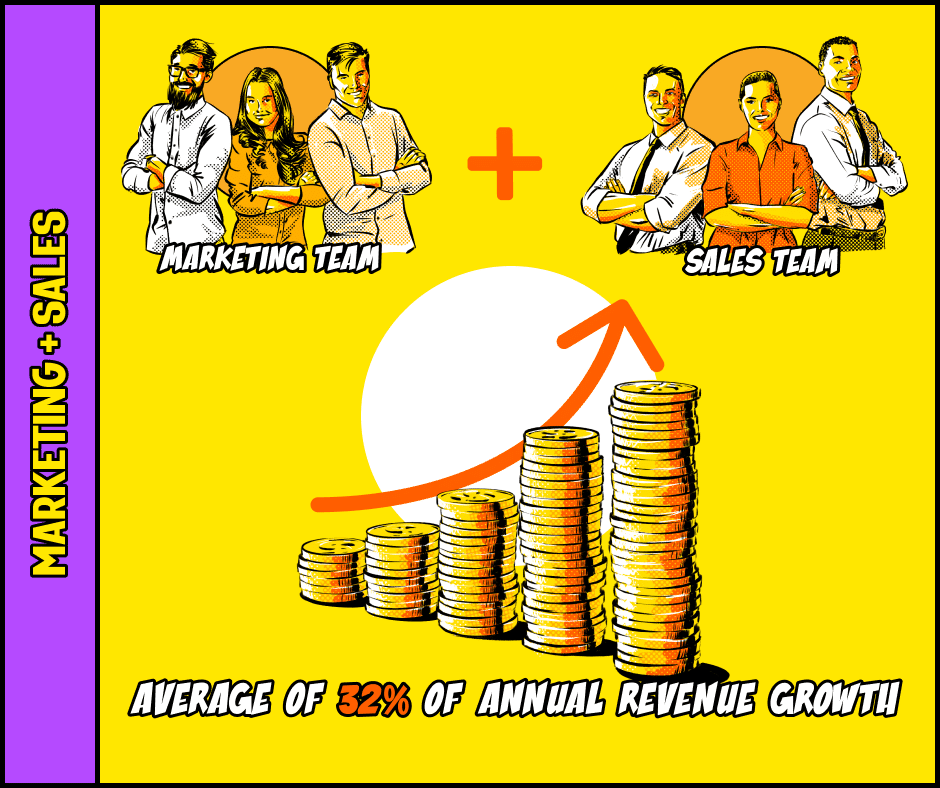 And yet, marketing and sales are often at odds with each other. It's no wonder the never-ending battle of playing the blame game has resulted in both teams failing to report to the CRO.
Jeff Pedowitz felt that his marketing and sales teams needed to be more aligned than ever before to succeed in today's business climate.
The CEO of The Pedowitz Group hired Scott, his then-CRO, crediting him as the key person behind the successful alignment between the sales and marketing teams.
Less than nine months into the move, bookings and pipeline are at an all-time high.

Jeff Pedowitz, CEO of The Pedowitz Group
2. Simplify sales operations (and optimize it)
It's never easy going from a sales manager and a team to developing an entire professional subculture within the sales function. Only a qualified CRO can help facilitate this complex process.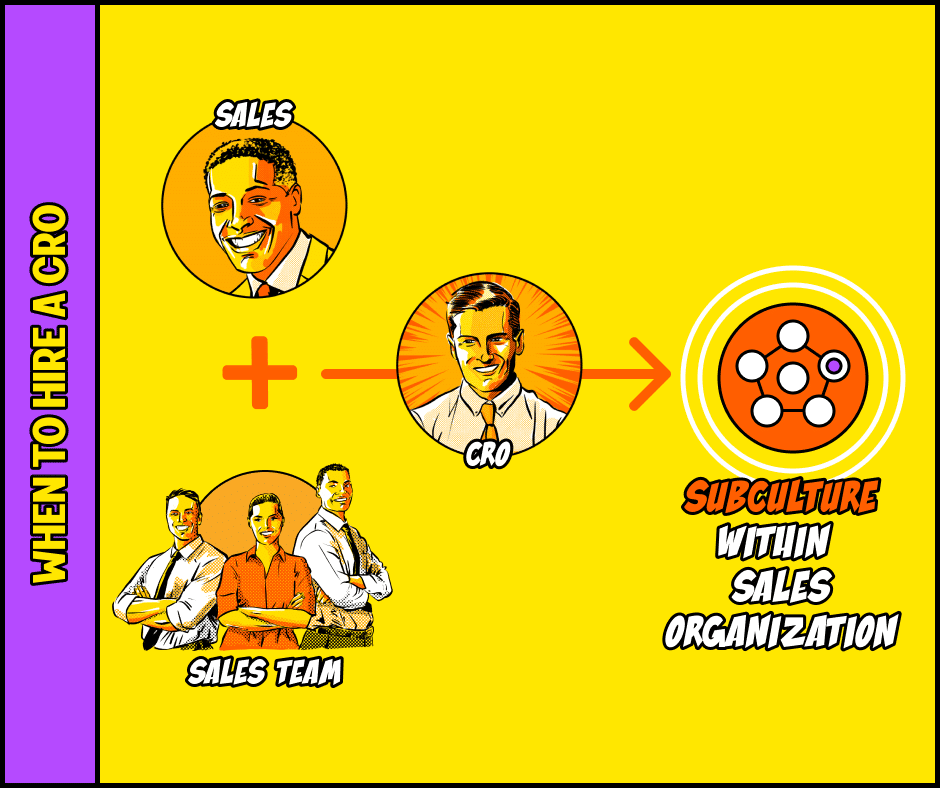 Nate started looking for a CRO because he wanted "a method to the madness" and a top-down approach to training new sales recruits, processing new orders, using the CRM, and growing the sales team.
Since hiring a CRO at SEO.co, Nate and his team developed a system within their CRM process and provided the necessary structure for sales training and SOPs within the business.
3. Get ALL cross-functional departments on the same page
Misalignment within a team directly affects the outcome of any project—and this is where a chief revenue officer comes in.
Your CRO is a skilled executive of different hats. They can get these cross-functional departments on the same page and work towards a common goal—much like the marketing and sales alignment we explored in the earlier point.
How to Become a Chief Revenue Officer?
There's no typical path to being a CRO.
A quick search shows multiple skills across different fields.
Here's a CRO who previously held a position as a chief operations officer (COO). Here's another with a glowing track record in IT and software sales. And then there's this CRO who grew a one-person team to 20 people strong, raising revenue growth from $5 million to $50 million in one market alone.
Sales, operations, or whatnot, there's a common thread among these successful chief revenue officers: they made an enormous impact on revenue within a short amount of time.
These sales leaders have an eye for numbers and a knack for strategic sales planning (e.g., pricing strategies), team building, and identifying untapped revenue opportunities, which accelerate revenue streams by tenfold.
Speaking of untapped revenue opportunities, contact scoring tools like Breadcrumbs help you identify your best leads with zero guesswork. Here's how you can get started to raise your revenue pipeline:
Connect your CRM with Breadcrumbs
Determine what makes a sales-qualified lead (SQL) [e.g., downloads a whitepaper + signs up for free trial or freemium + reads pricing FAQ page]
Set your scoring model live
Breadcrumbs will send all scoring information back to your CRM, notifying you when a prospective customer becomes a SQL.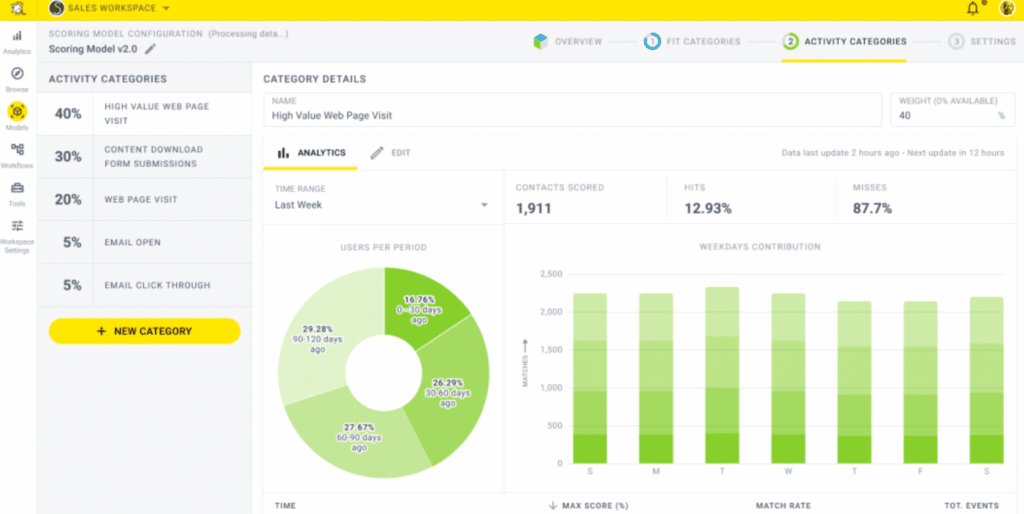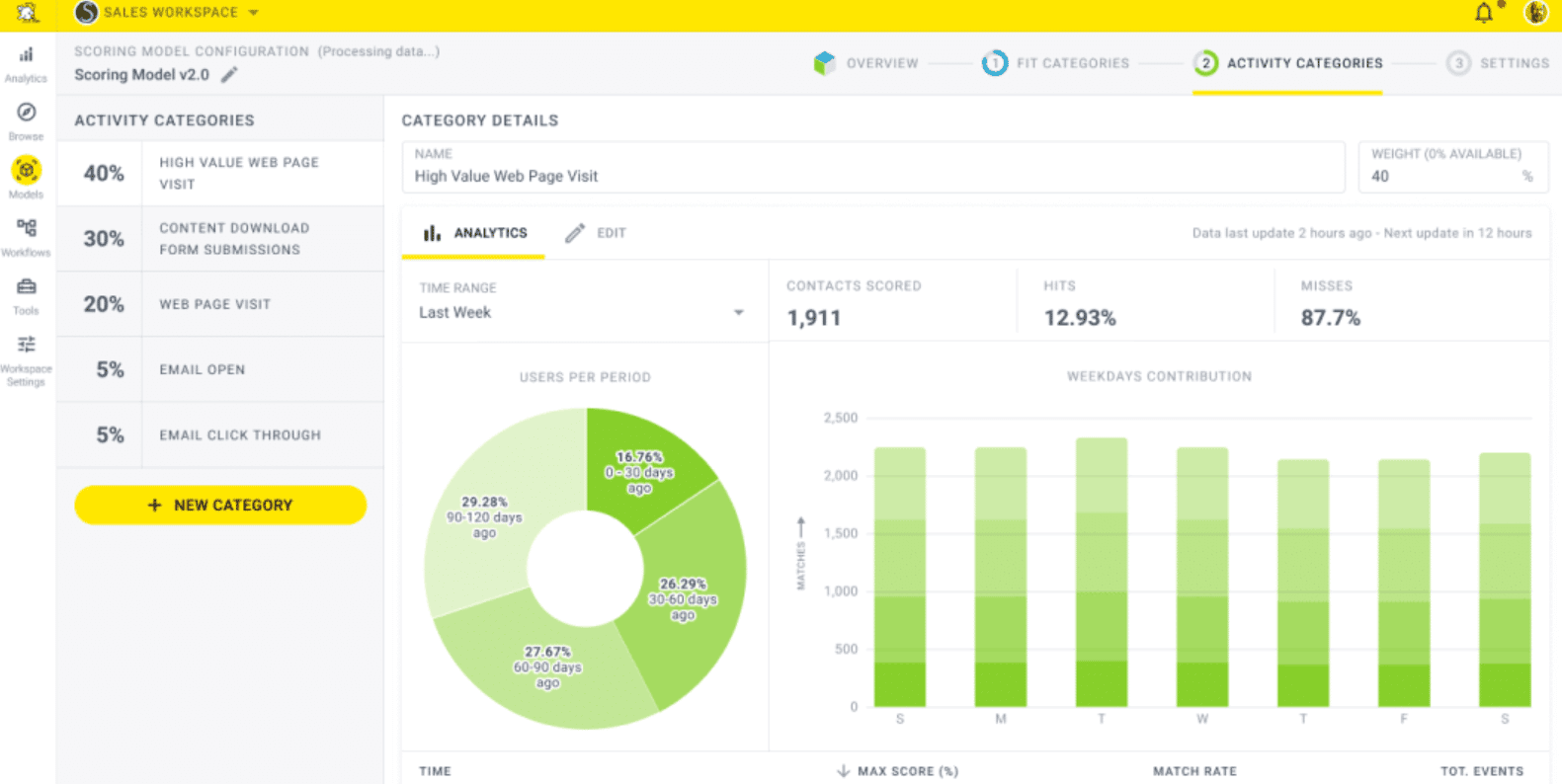 This means that you have a complete view of your marketing and sales data in one place. With every vital insight within your fingertips, you can align everyone in your revenue team, identify your most profitable customer segments, and create an all-around better customer experience.
Book a 30-minute demo with Breadcrumbs to increase your sales deals today.
Whether you're a sales development representative (SDR) at a small startup or enterprise account executive working towards becoming a CRO, focus on management roles that expose you to multiple disciplines. The cross-functional team experience under your belt is what will set you apart from other candidates.
And don't forget to network with the executive team while you're at it. It makes a significant difference in your career.
Chief Revenue Officer: The MVP of Revenue Acceleration
Hiring a chief revenue officer requires an enormous investment… so, should you hire one?
If you've hit millions in your revenue target and the growth strategies that got you from 0 to 100 customers are no longer working, then yes, perhaps it's time to hire a CRO.
This hybrid sales leader possesses a rare combination of marketing, sales, operations, product, and shrewd business acumen—skills that can unlock your revenue growth by tenfold.
Breadcrumbs is a revenue acceleration platform based on a co-dynamic lead scoring and routing engine living at the intersection of marketing and sales. Book a demo with us to speed up your revenue cycle today.