I asked a simple question before outlining this article:
Choosing to go freemium or free trial depends on a myriad of factors. What was happening in your company that led you to choose this specific business model?
The conclusion?
Most of the startup founders I spoke to prefer free trials by a mile.
But hang on, that doesn't mean you should ditch the freemium plan right away. In this freemium vs free trial guide, you'll see why.
First things first, this post will not cover choosing a hybrid model or a go-to-market strategy—like dominant growth strategy and disruptive growth strategy—before evaluating the freemium and free trial models.
There are already plenty of articles out there that guide you through the process and explain how each strategy impacts your bottom line.
Instead, what you'll learn here today is how five successful companies go about the free trial and freemium approach.
Sounds good? Let's take a look.
What is Freemium?
The freemium model refers to a free product or service with limited features.
One example is Breadcrumbs. Users with up to 10,000 contacts can access the essential must-have features, such as a 24-hour data refresh, basic integrations, and a one-month analytics look-back.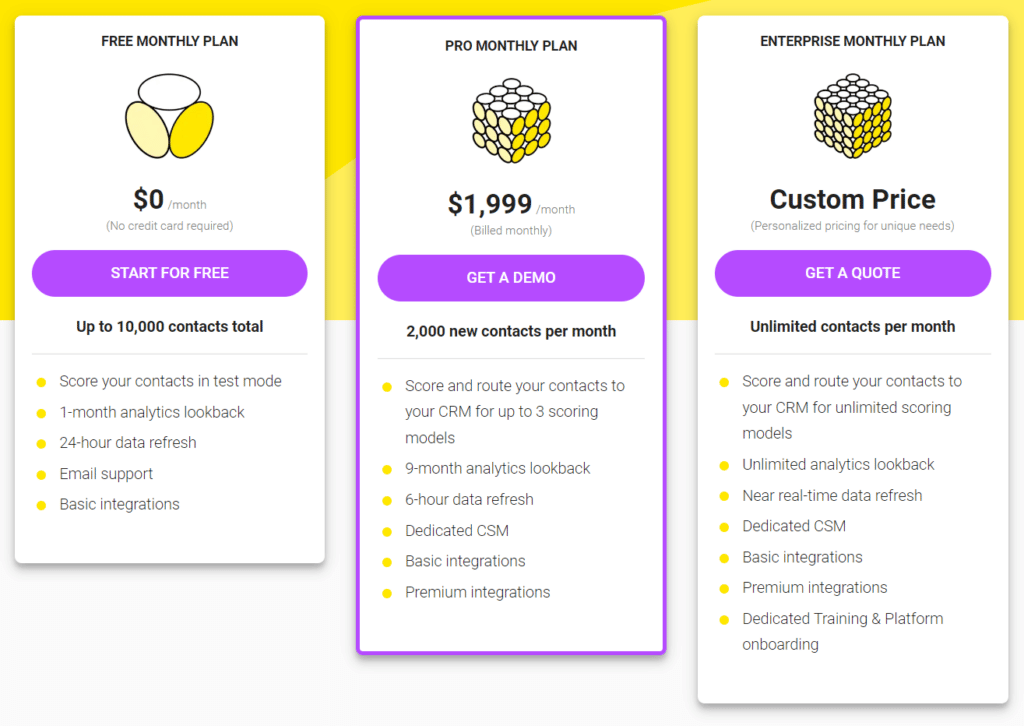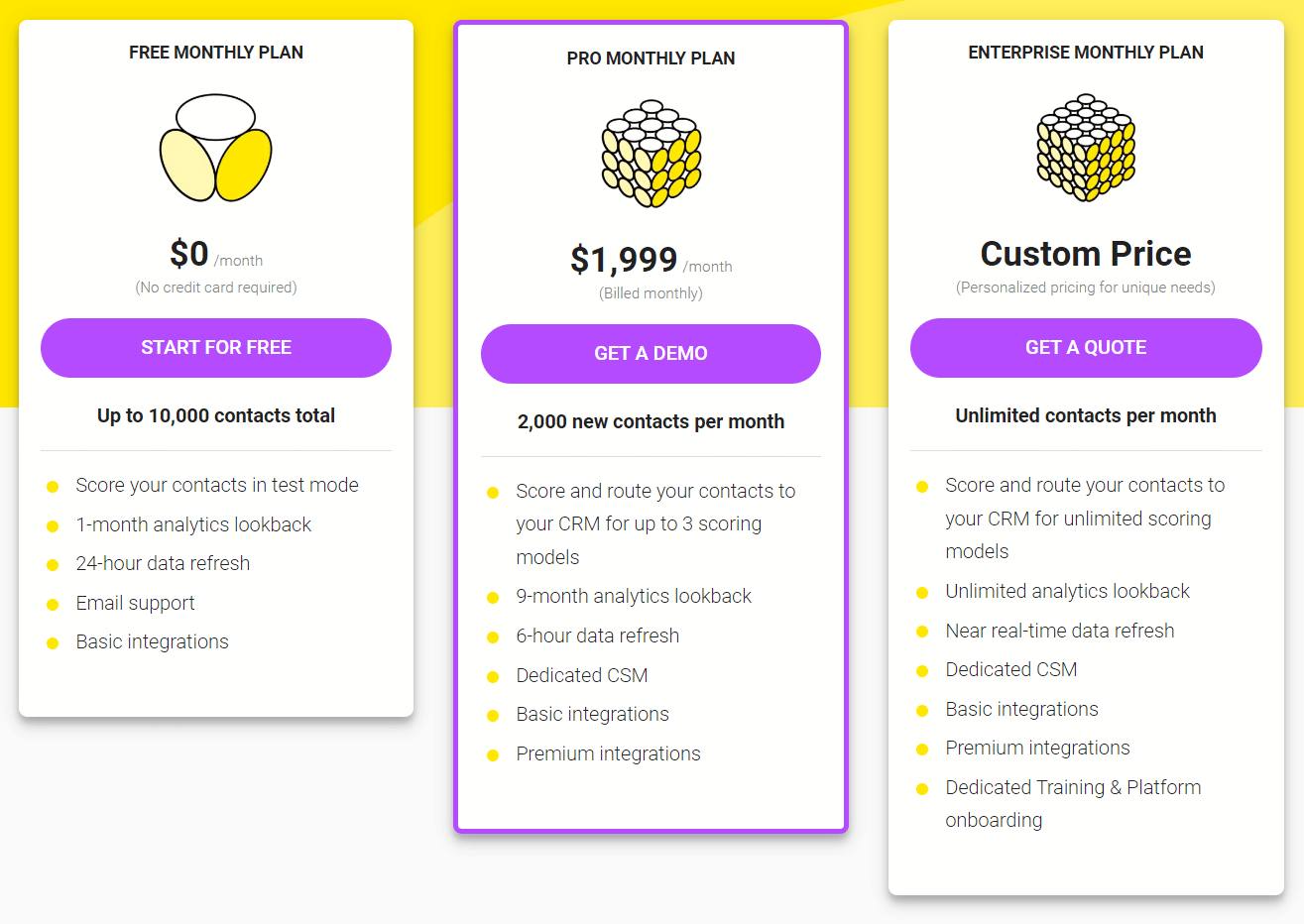 Users who outgrow the freemium version (i.e., they have more contacts or want access to the complete product) will upgrade to a premium plan with features, including a dedicated customer success manager and premium integrations.
What is Free Trial?
Free trial refers to a product or service offered free for a limited period of time. In the software space, this is usually anywhere from seven days to a 30-day trial.
Note that not all free trials come with a time limit.
Some come with limited features. For example, ScreenFlow, a screen recording software, offers a free trial with no expiration date, but there is a catch: exported videos will include a watermark.

If you want to unlock premium features (in this case, videos without a watermark), you need to upgrade to a paid plan.
Freemium vs Free Trial: A Deep Dive into the Process of 5 Startups
Is the freemium model effective? Or should you stick to free trials? In this section, learn how these five startups went about the freemium vs free trial debate.
1. Breadcrumbs
Freemium vs free trial: freemium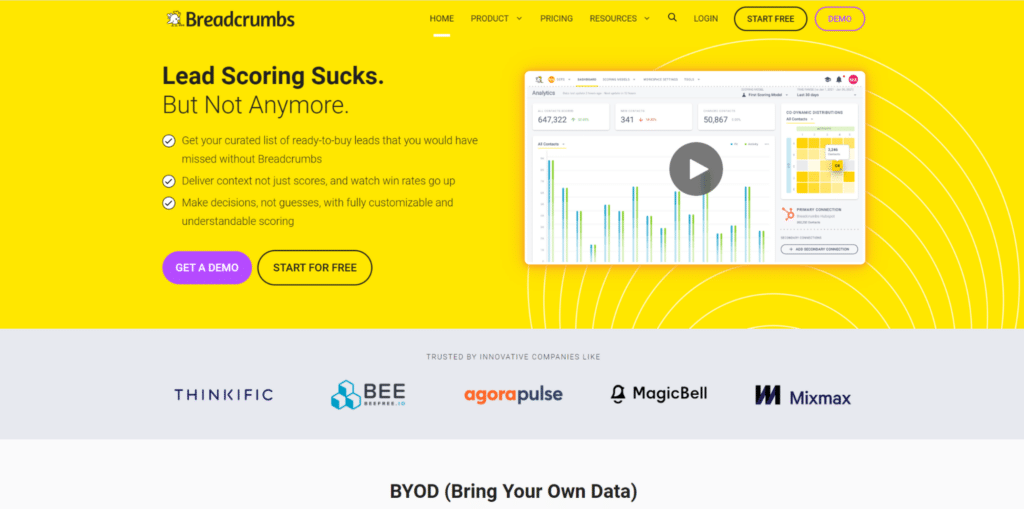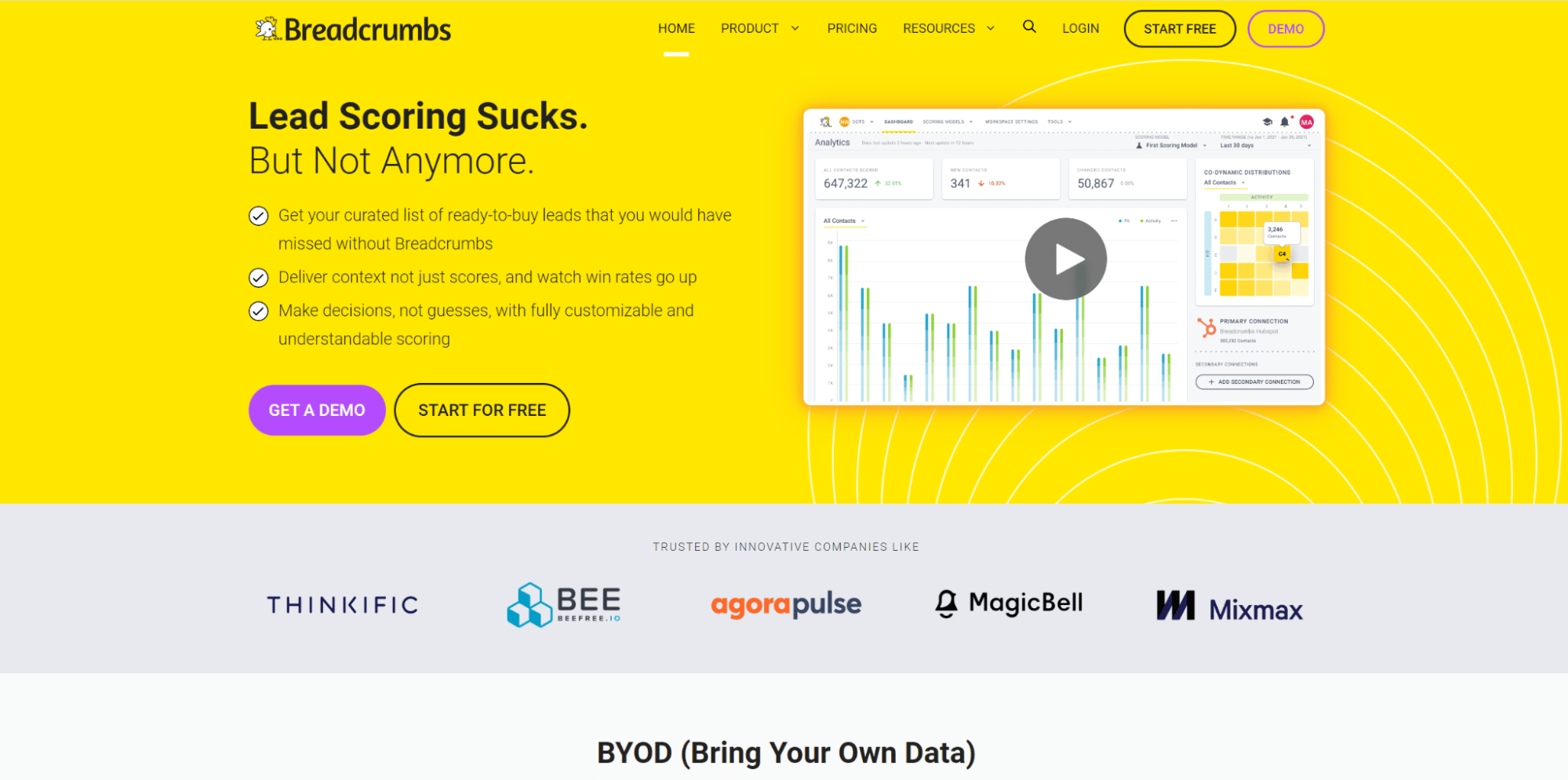 Breadcrumbs (hey, that's us!) is a revenue acceleration platform based on a co-dynamic lead scoring and routing engine living at the intersection of marketing and sales.
"Many still perceive lead scoring as an enterprise play, but it can provide immense advantages to startups," explains co-founder Massimo Chieruzzi.
"As stated in our Revenue Acceleration Manifesto, we want to make this technology as accessible as possible to as many users as we can."
"Users need to go through their sales cycle to really enjoy and understand the power of Breadcrumbs. They need to score their leads and have them go through the pipeline and become won deals. That way, they can quantify the increase of revenue that Breadcrumbs generated."

Massimo Chieruzzi, co-founder and CPO of Breadcrumbs
The standard 14-day free trial won't work, as users will require more time to realize the product's full potential.
Our recommendation: Factor in the product experience and competition.
Go through these three questions as you mull over the freemium vs free trial model:
1) "Can I get these free users to bring onboard more users?"
For every free user that refers to 10 more users, 10%-20% of them will probably become paying customers.
This ultimately depends on your software product, stresses Chieruzzi.
"When we started AdEspresso (note: AdEspresso runs on a free trial model), we knew all the magic would happen in the background and there was no way to leverage free users to bring in more users. Adding a 'Powered by AdEspresso' in their Facebook ads was clearly not an option."
2) "What are my competitors doing?"
A free trial probably won't fly if your target companies are used to the freemium model. But then again, going the unconventional route just might differentiate you from the competition.
It's your call!
3) "How fast can my users realize the value of my product?"
If users can't get to the "aha moment" in a few days, the free trial model might be a wrong fit.
The "aha moment" refers to the exact moment a user experiences the value of your product. Once users reach this pivotal point, you have a higher chance of converting them to customers.
Use a tool like Breadcrumbs to identify these delighted active users. Our contact scoring platform gathers your entire customer data to give you a complete view of your customer journey.
That way, you have full context for every buying experience and can pitch more effectively.
Here's how it works:
Connect your data sources with Breadcrumbs (i.e., CRM, product analytics tool)
Determine what makes a sales-qualified lead in the Fit model (e.g., +15 points if CPO in a $100 million ARR company, +5 points if advertising industry)
Determine what makes a sales-qualified lead in the Activity model (e.g., + 30 points if logs in every day, +15 points if visits the pricing page at least 5 times within the past week)
Choose your lead score threshold (e.g., 60)
Set the scoring model live
Breadcrumbs will send all scoring information back to your CRM when leads hit the predetermined threshold, notifying your sales reps of every sales opportunity.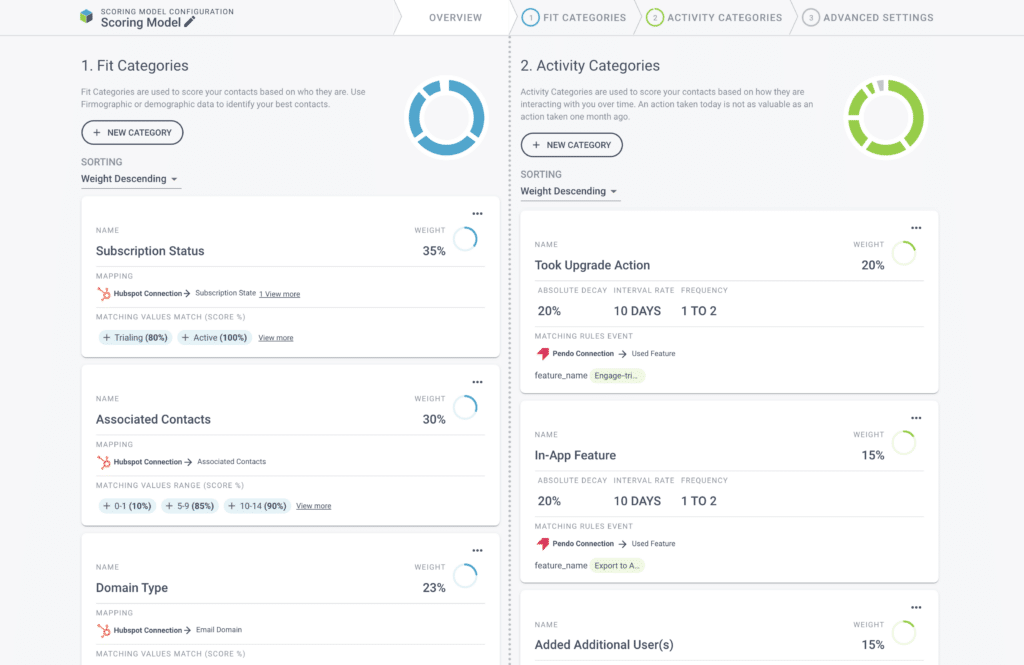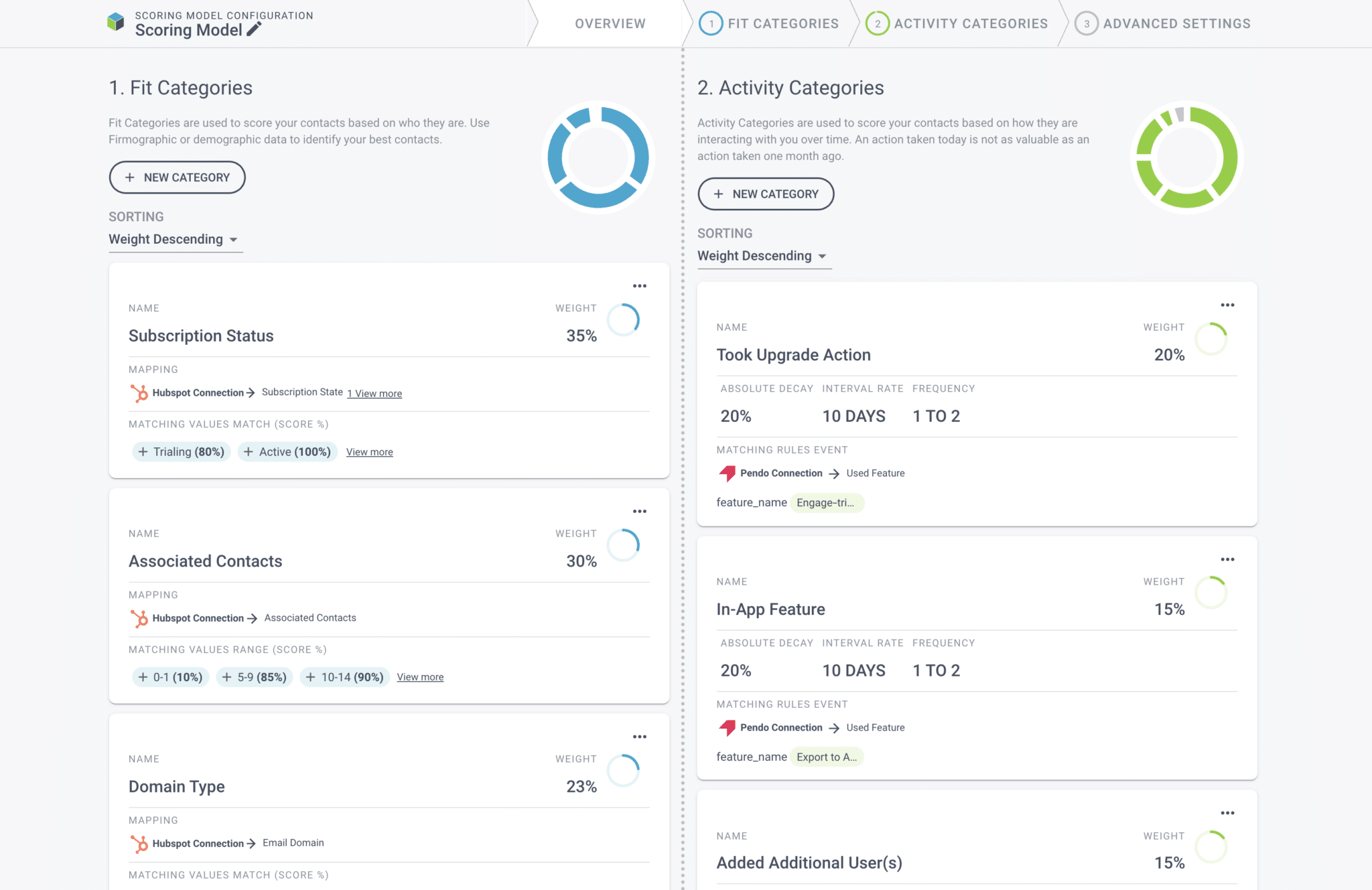 You can use Breadcrumbs to identify all kinds of qualified leads (e.g., product-qualified leads), customers with upsell and cross-sell potential, and churning customers.
Selling shouldn't take too much effort.
Start free on Breadcrumbs to convert your leads with zero guesswork, accelerate your win rate, and raise the sales team productivity today.
2. Brand24
Freemium vs free trial: 14-day free trial.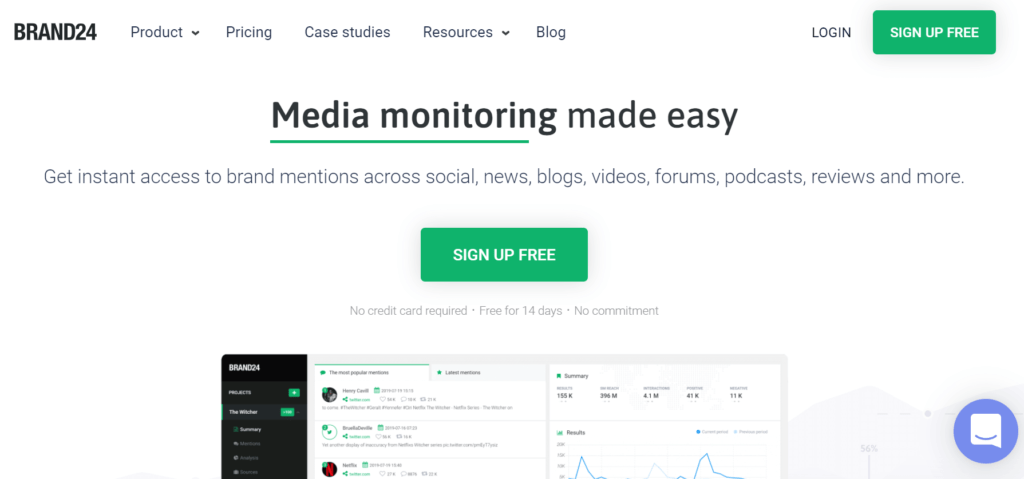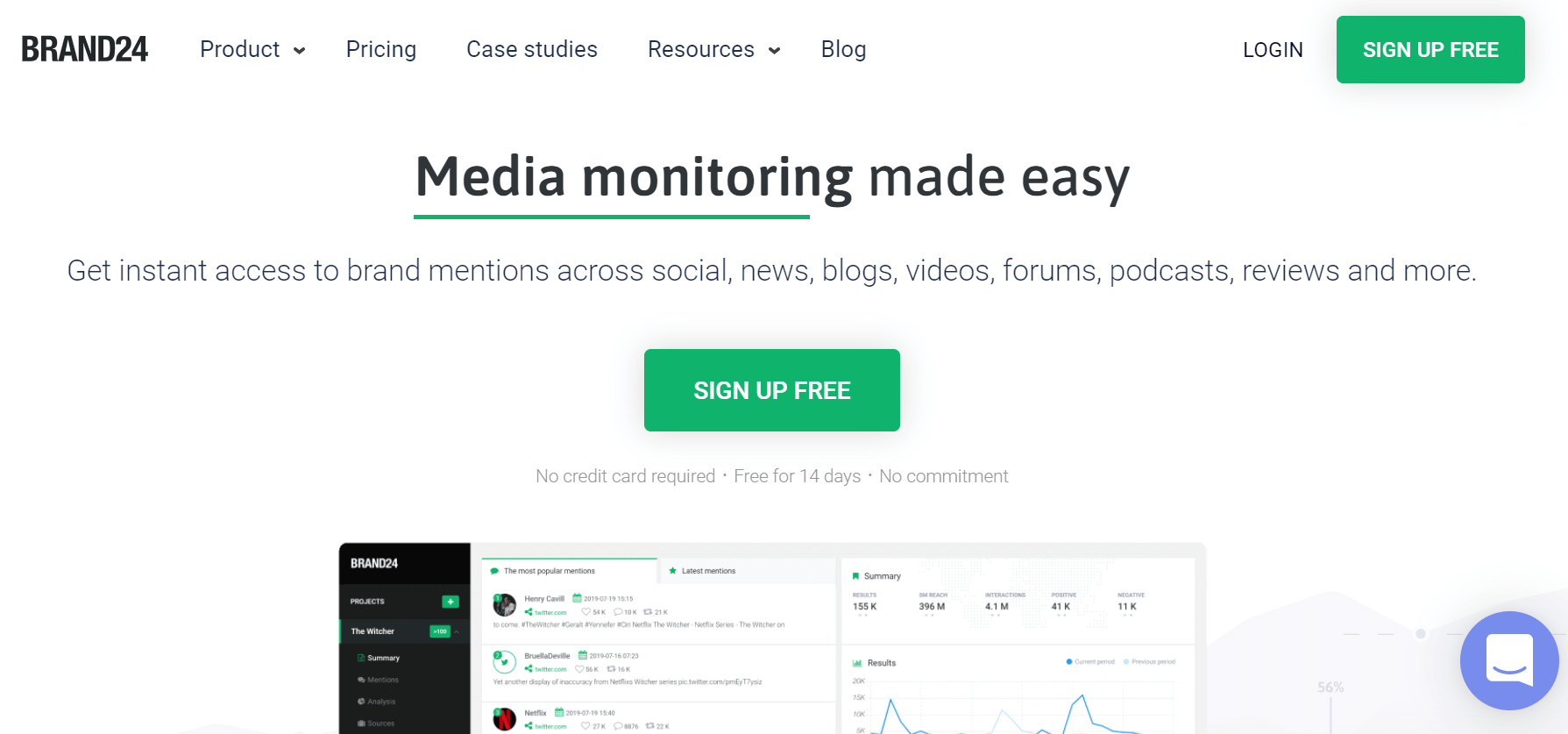 Although Mike Sadowski is a fan of the freemium experience, he knew it wasn't a right fit for his business.
"Freemium products work for businesses with low free account maintenance costs," explains the CEO of Brand24. "For a platform like ours, a media monitoring tool based on data from external sources, the costs can be significant."
Brand24's free trial offers partial data access and product usage (i.e., track five keywords instead of 10-25). Only paid users have full data access.
Most of Brand24's competitors are enterprises. This means that prospective customers need to book a demo. While this brings in high conversions, it makes the product, in Sadowski's words, "difficult to try, let alone buy."
Brand24 operates on a self-service model to position itself as a much more accessible tool for their target customers. The approach works as the startup sells to Fortune 5,000,000 companies and not Fortune 500.
All users need to do is sign up for a 14-day free trial to access the media monitoring tool.
3. Surfer
Freemium vs free trial: freemium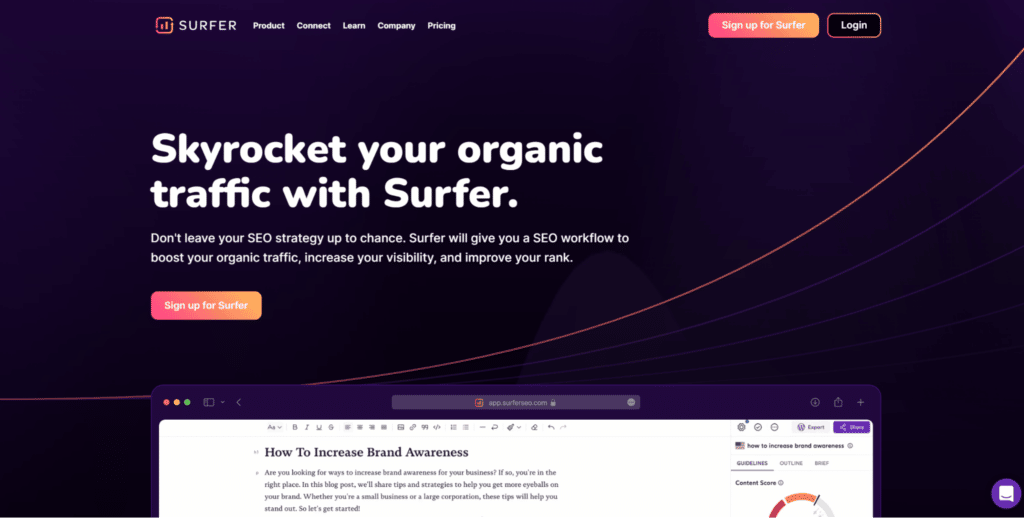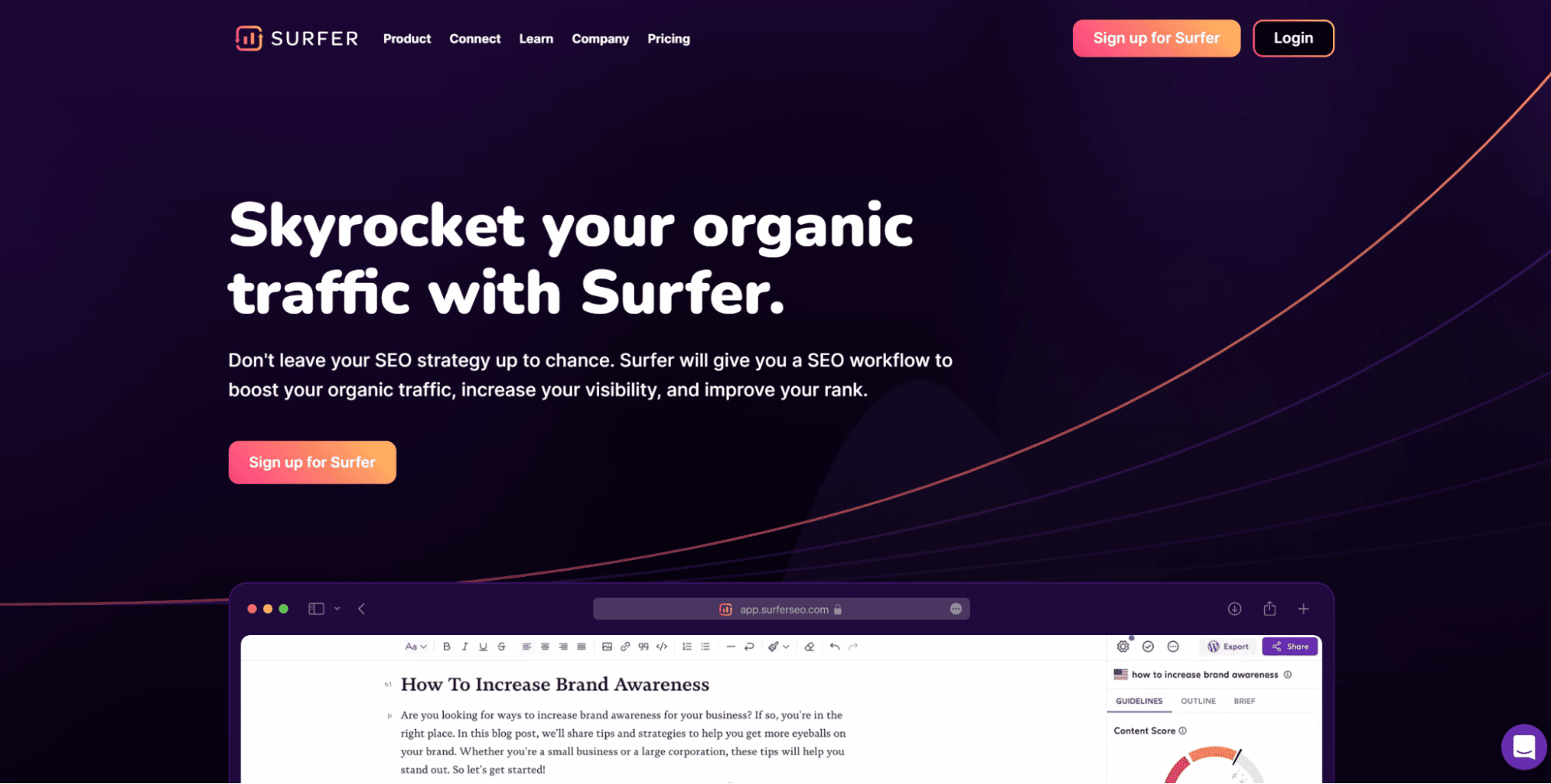 Surfer is an SEO tool that helps marketers research, write, optimize, and audit their content.
In the beginning, it offered a free trial, then a one-week trial that cost users $1. This switch was an attempt to prevent tire kickers from flooding the support team.
"Our goal was to make sure that the users are decision-makers or credit cardholders to purchase in the future," explains Michał Suski, the co-founder, and chief product officer.
The paid trial also minimized fraud.
"Back then, people signed up for multiple trials repeatedly. Now you can buy a trial once per credit card."
The startup soon saw an increase in its trial-to-paid conversion rate. Live chat requests also went down significantly.
As of Jan 2023, Surfer has swapped its paid trial for a freemium and 7-day money-back guarantee for new subscribers.
Our recommendation: Don't leave money on the table. Surfer went through multiple iterations for its pricing model, proving once again that pricing analysis is never one and done. Review your customer and in-app data as you work on your product's best pricing.
4. monitorQA
Freemium or free trial: 14-day free trial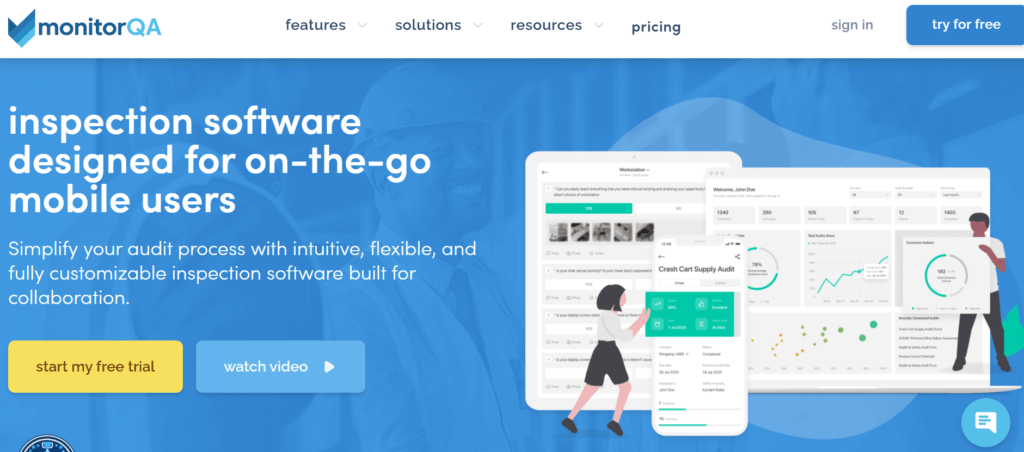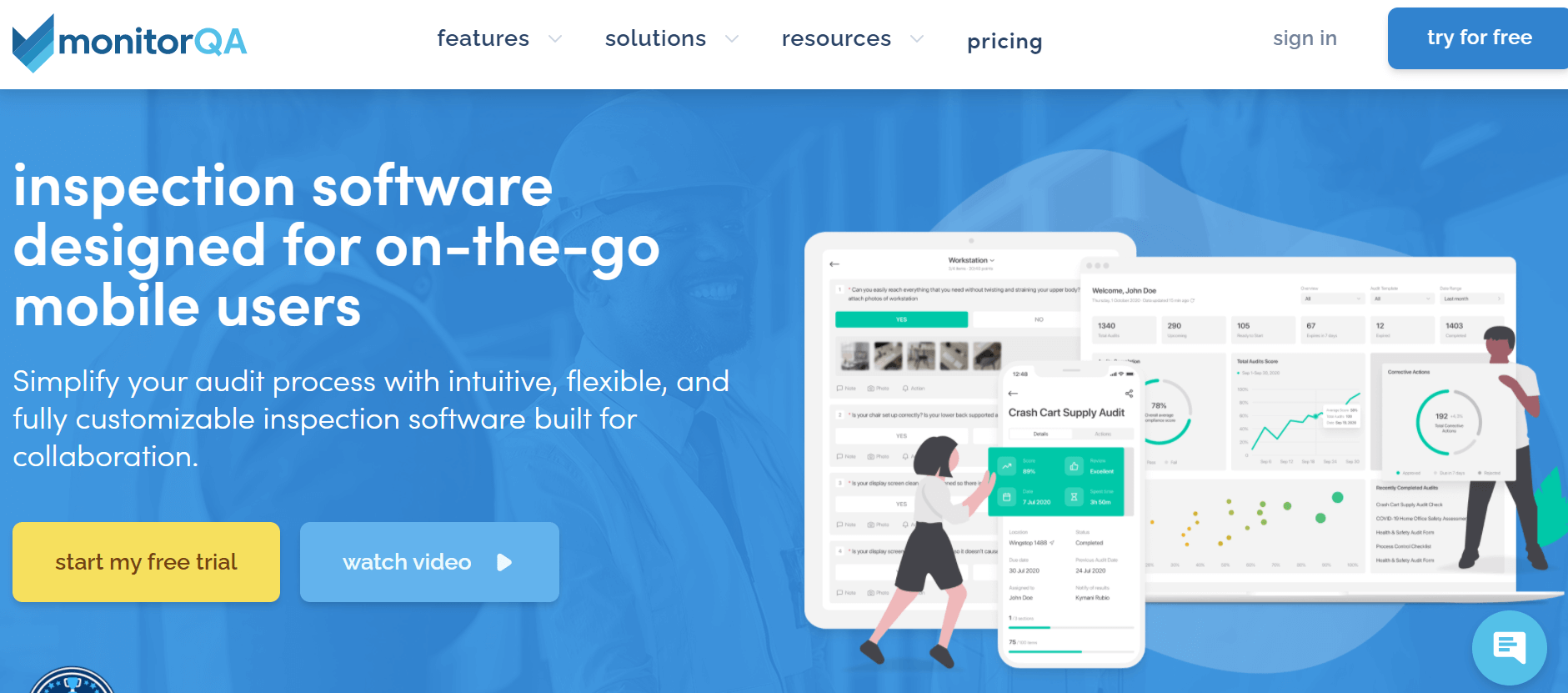 monitorQA is an inspection and auditing software company. It initially offered a free version of its product before switching to the free trial model.
Andrew Motiwalla, who held the CRO role at the startup, shares with Breadcrumbs, "We treated the free version as a lead magnet to help attract small companies."
However, these free users didn't stick around for long. In the customer interviews, Motiwalla discovered a crucial insight: users stopped using monitorQA because they were small businesses that didn't see the value in the product.
Whereas the customers who stuck around? You guessed it, they were larger businesses.
Since these bigger companies had bigger budgets, they had no use for free products. This led to monitorQA swapping the freemium model for a free trial.
Our recommendation: "While customer research applies to every aspect of business," shares Motiwalla. "It's especially true when it comes to your pricing strategy." Avoid assigning the finance department to determine your product pricing. It should be derived from customer insights. 
5. DashThis
Freemium vs free trial: 15-day free trial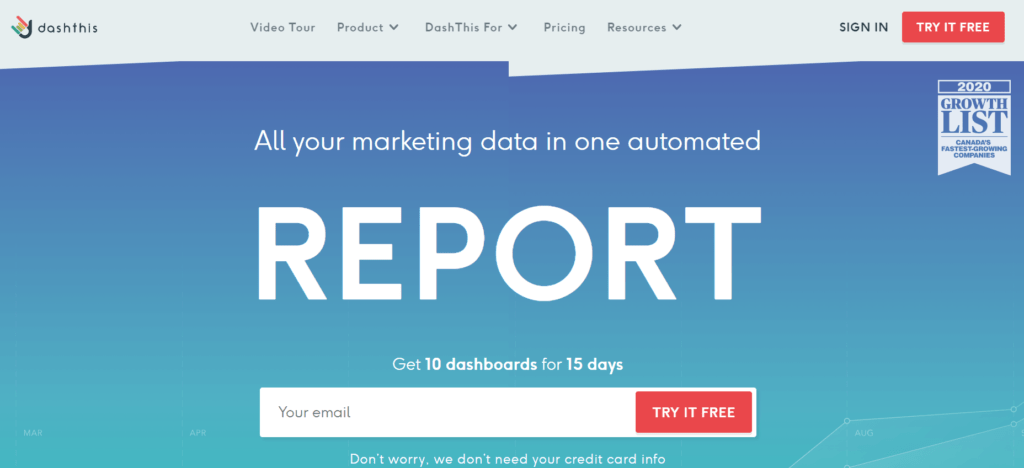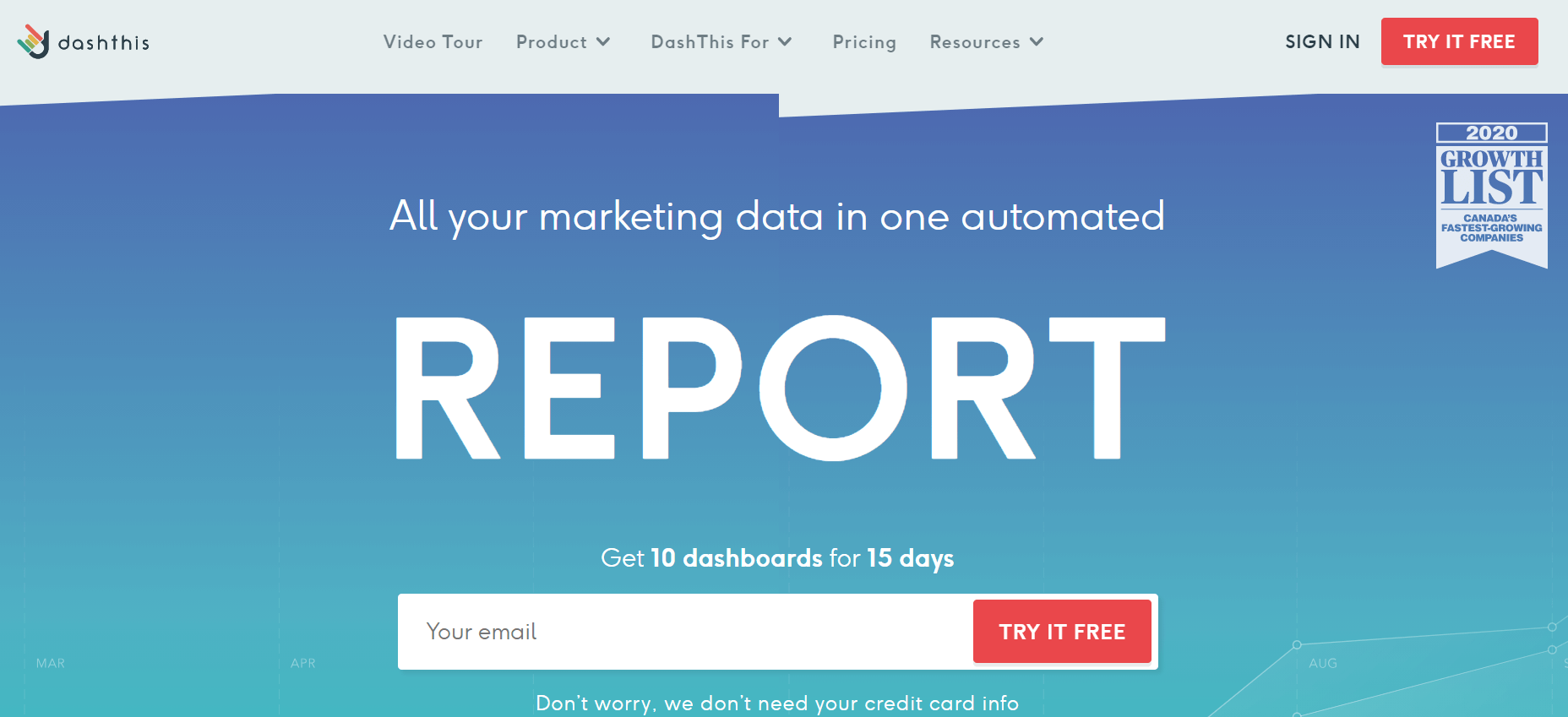 DashThis is a marketing reporting tool that gathers data across different channels into one report.
Stephane Guérin, the founder and president, never considered a freemium plan.
As a bootstrapped B2B startup without a high volume of business, it was vital for Guérin and his team to earn revenue fast. The costs of infrastructure, support, and development would swamp them otherwise.
"A free user isn't a client. Until proven otherwise, a free user is an expense."

Stéphane Guérin, founder and president of DashThis
He knew he was on the right track when he didn't face any customer objections. Most were open to investing in a robust marketing reporting tool.
"Our strategic questions were more about the length of the free trial and the price points to charge," the founder admits to Breadcrumbs.
Our recommendation: Go with a free trial when validating a market.

Does this mean you should scratch off the freemium option entirely? 

Not quite.

"Once you have a market willing to pay $X, you can start thinking about scaling. At this point, you can consider freemium if it makes sense and your finances are right," clarifies Guérin. 

"If you have a great probability of upgrading a free user to a customer, then it might be worth a try. In our case, a free user will likely stay small, so it would be a poor bet."
Freemium vs Free Trial? There's No Straightforward Answer
There's no clear-cut answer, but these real-world startup examples should help you evaluate whether freemium offerings or a full-featured free trial is better for your business.
Don't write off the freemium model completely. As you can see from these freemium success stories, it does have its place and can be a powerful customer acquisition channel when done right.
Consider using a contact scoring tool like Breadcrumbs to convert these free signups to customers. Our solution gathers all customer data into your CRM, ensuring that you have a full context for every customer's journey.
Start your free plan on Breadcrumbs to accelerate your win rate today.
FAQs
1. What is the difference between a free trial and a freemium product?
A free trial is a product or service offered free for a limited period of time. Whereas a freemium product refers to a free product or service with limited features.
2. What are the pros and cons of the freemium pricing model?
What is the biggest upside of going freemium? Gathering early-stage user feedback and using it as a channel to acquire more customers.
"It's an opportunity to build a community of evangelists," explains Lydia Sugarman, CEO of Venntive. "It shows investors there are 'customers' for the app who don't churn."
However, watch out for the cons of freemium. Supporting these freemium users comes at a cost (e.g., customer support, maintenance, software updates).
3. What are the pros and cons of free trials?
Time-based free trials drive a sense of urgency, as users want to make the most out of the limited time period to explore the features. If the experience delights customers, you have a higher chance of converting them to paid customers.
However, it's not all rainbows and unicorns. Like the freemium approach, you risk spending more money supporting these trial users who may not end up converting.