When you first start a new business, it's easy to think that product development and testing are going to be the hardest part of the whole shebang.
Once you have the product ready to go, however, the pressure is on because now you need to bring it to the market.
That's where your go-to-market (GTM) strategy comes into play. You need to have a strategic, well-thought-out plan so that you can bring all of your hard work to users and brands who will be enthusiastic purchasers.
So, where do you start? In this post, we'll look at how to create a GTM strategy to ensure your launch is a success.
And if you want to know the secrets of GTM alignment and attracting the perfect customers, check our Say No to More Pipeline—Say Yes to GTM Alignment webinar. Watch the webinar now and level up your customer acquisition game!
What is a Go-to-Market (GTM) Strategy?
A GTM strategy is a detailed plan that lays out exactly how you plan to launch your product and release it to the market.
This isn't focused on the practicalities of physically creating the product itself; instead, you're going to be looking at how to assess how successful your product might be, how to position it well to stand out from the competition, and how to reach your target audience most effectively to drive sign-ups, purchases, and other conversion actions.
A sound GTM strategy typically involves extensive market research, competitor research, and research into your different audience segments. We also strongly recommend using specialized GTM tools to help with the process.
Every market is unique, and every product is unique, but every GTM strategy must identify what your product can offer that's unique and what specific solutions it can solve that others aren't (at least where your audience is concerned).
The 4 Components of a GTM Strategy
When you start working on your GTM strategy, four components are absolutely crucial to consider. Let's take a look at each.
1. How Your Product Fits Into the Market
The Product-Market Fit is the most crucial part of your GTM strategy.
What specific problems and pain points does your product solve?
When you're considering product-market fit, be detailed and specific, and think outside of the box. Sometimes, you may find a new use case that you hadn't considered before.
At a first glance, for example, a social media marketing tool might solve the basic problem of needing to schedule social media posts in advance so that a brand can hit all the peak posting times.

When you really consider how your audience might use the tool, however, you realize that you're also solving the problem teams sometimes have when it comes to collaboration for social media since you have a group review and approval feature built-in.

Consider how people will realistically use your tool, and what benefits it can offer them. If you're able to highlight different use cases than your competition, that's a good place to start—it gives you an edge even in an already-competitive market. 
2. Demand & Existing Competition
How much demand is there for what you're creating? How many other competitors are on the market—and how do they differ from you?
The market may be saturated with social media scheduling tools, but if you are the only platform that offers TikTok scheduling and analytics, you have a unique niche in the market and a unique value proposition. You aren't just a nearly-identical competitor, there's something special to offer, and there's demand for it. 
3. Your Target Audience
Given what makes you different, the problems you can solve, and where you stand in the market, you must assess who your target audience is.
This is important—without a solid understanding of who your core target audience is, you likely will struggle to reach them properly.
So, who has the problems, pain points, and frustrations that you can solve? How much of a problem is it for them, and how much are they willing to pay? And, just as importantly, what objections do they have that you may need to overcome?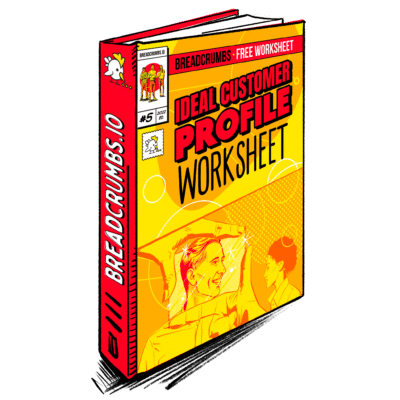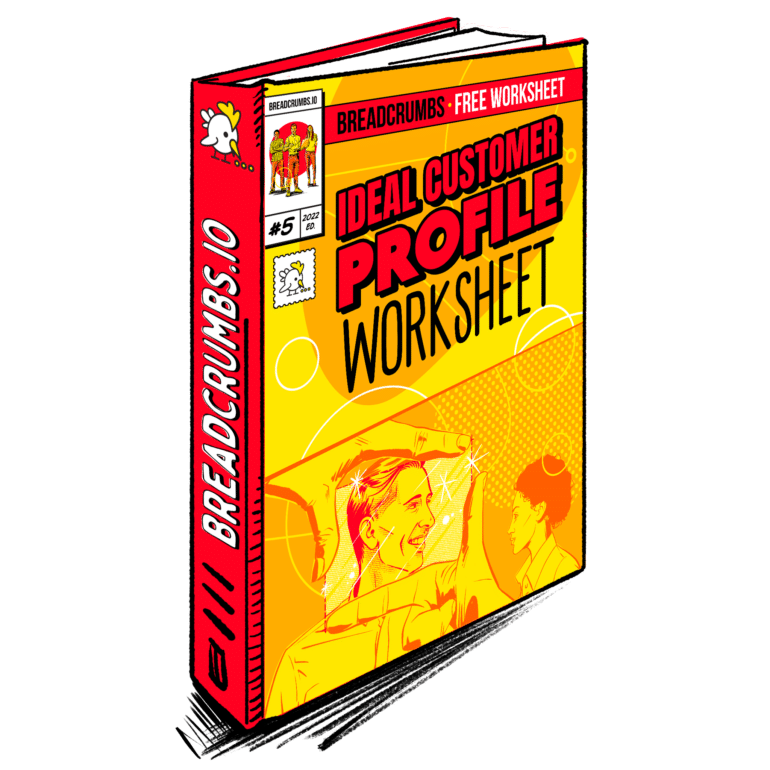 Ebook
Ideal Customer Profile (ICP) Worksheet
Learn how to create an Ideal Customer Profile and build a successful sales strategy with this Ideal Customer Profile (ICP) Worksheet.
4. Potential Distribution Options
Do you know how you'll sell your product or service?
Are you going to sell it directly to the consumer or through a third-party distributor? And are you going to sell it locally, online through your site or app, or even through a marketplace?
Some GTM strategies treat this component like an afterthought, but it absolutely cannot be; your strategy will be different if you're selling it through your site than if you're launching the product on a third-party marketplace.
4 Types of GTM Marketing Strategies to Get You Started
Before we dive into creating your own GTM strategy, it's important that we take a look at four types of common marketing strategies that are often used as part of a product launch campaign.
Each one has its own strengths and weaknesses, and we typically recommend that people consider incorporating a variety of different strategies to best accomplish their launch goals.
1. Outbound Strategies
Outbound marketing strategies are those that involve actively reaching out to customers.
This may include the following:
Direct message outreach through LinkedIn's InMail system (LinkedIn's Sales Navigator is a great place to find leads)
PPC campaigns, including both search and discovery-focused ads
Sponsored webinars
Marketing at conferences or events
The advantage of outbound strategies is that you're working aggressively to reach out to users, even if they aren't looking for you just yet. You can find someone who doesn't even know they need you, even if they're already a customer of a competitor.
In many cases, outbound strategies also work quickly, which can be to your advantage with a GTM strategy when you need to get the news out effectively.
These strategies are extremely proactive, and are almost always necessary when you're launching a new product, especially since many inbound strategies may take time and momentum to work.
2. Inbound Strategies
Inbound marketing strategies are, of course, the opposite of outbound strategies. They work to draw users to you so that they can find you when they are searching.
Different options for inbound marketing strategies include:
Content marketing
Webinars
Hosting events through your business, either online or in-store
Hosting online contests, including on social media
Search engine optimization
Having strong social media channels with search-optimized content
Inbound marketing can help you attract the right audience at the exact right time when they're looking for you.
The biggest disadvantage of inbound marketing, however, is that it often takes time—time to rank in Google, for people to search for and discover you, and for momentum to really build up properly.
Still, the results can be exceptionally powerful long term, so start investing early. Just make sure that you're creating resources tailored to the audience you want to target, and if that audience shifts, adapt your inbound strategies, too; you can always update a website or content that's already been created if needed.
3. Account-Based Marketing Strategies
Account-based marketing (ABM) strategies are an excellent choice for high-level B2B products that are trying to reach valuable and very specific clients.
AMB is the process of identifying relevant clients and reaching out to them in a variety of different ways with customized messaging and offers. If you want to sell patient tracking software to your local hospital, for example, you can make an effort to connect with decision-makers there directly with unique-to-them offers.
This may include personal and direct outreach through email or a platform like LinkedIn. It also could include using platforms like LinkedIn Ads to show campaigns exclusively to members of specific companies if they hold decision-making roles.
With ABM marketing, remember that personalization and customization are everything. If you identify a high-value lead, your sales team should be spending a great deal of time personalizing their cold outreach, follow-ups, and demos based on their expected needs and pain points.
4. Sales Enablement Strategies
The last common strategy used during a product launch is sales enablement.
Sales enablement is the process of strengthening and supporting your sales team so that you can boost their results. You do this by offering more training, coaching services, and resources to help your team excel.
No matter what you're selling or to whom, we always recommend having a strong sales enablement focus.
Sales enablement can help unify your marketing, sales, product, and customer support teams (and we'll talk more about this in a minute), all while ensuring that your sales team has everything they need to get the job done. This includes training, technology, support, and other resources.
How to Create a Strong GTM Strategy for Your Brand in 5 Steps
Ready to finally get started on creating a killer GTM strategy that will get you the launch results you want?
To be thorough and organized, you can use the following five-step approach for GTM strategy development.
1. Conduct Market Research to Determine Fit
The first step in your GTM strategy is going to be to assess where in the market you expect to fit.
How do you differ from what's on the market? How do you stand out?
Make sure you're considering both direct and indirect competitors here.
If you sell candles, you'll want to reach anyone who wants to make their house smell lovely, and you check out direct competition of other candle makers. This audience may also be considering eco-friendly plugins or scent diffusers, however, so you need to look beyond your immediate and obvious competition.
Most B2B solutions are much more complicated than this, so it's important to know what you're up against and how you stand out.
You can get more tips on how to conduct in-depth market research here.
2. Define Your Ideal Customer Profile
It's downright crucial for the success of your GTM strategy to clearly define your ideal customer profile (ICP).
This is a comprehensive and extremely detailed description of what your perfect customer looks like.
What industry do they belong to? How large is their business? What's their annual revenue? What products do they need, and what pain points will drive them to you?
It's more in-depth than a buyer persona sometimes is, and it's less about "filling in the blanks" than it is about concrete data.
Finding your ICP can be difficult, which is why we created Reveal to help.
Reveal will analyze all of your contact data, allowing you to compare different audience segments to your overall audience to determine what qualities indicate high intent and high value. We'll help you define your ICPs so that you can strengthen all of your campaigns (including your GTM strategies!) moving forward.
Want to get started? Create your free Breadcrumbs account here.
3. Find Your USP & Define Your Messaging
You know where your product fits into the market, and you know who your perfect customer is.
The next step in your GTM strategy is to combine that data to create your core unique selling proposition (USP) and define your overall messaging.
At this stage, you're going to want to speak your customer's language so that your messaging appeals to their pain points and really resonates with them.
A great way to get started is to look at reviews online of your competitors. What do customers say is missing? What pain points do they have?
You should also get feedback from any potential customers that you've reached out to regarding a beta test.
If you reach out to someone to test out your keyword research tool that has some info on Google Ads trends, and they say, "Oh, cool! I really hate how most tools don't give you more detailed PPC information," that's a good hint at a value proposition you can leverage.
At this stage of your GTM strategy, remember to:
Come up with the key selling points of your product that you want to promote most heavily
Determine what will be your "winning" selling proposition that will help you attract more clients
Collaborate with marketing, sales, and executive team members to get everyone's sign-off on the messaging itself
Come up with a branded language guide to determine how you'll describe your product
4. Determine Which Marketing Strategies to Use
We've talked previously about the main types of marketing tactics to consider for a GTM strategy.
Now is the time to determine which platforms, tactics, and campaigns will be most effective for your specific goals and to help you reach audience members that align with your ICP.
If you were targeting young Gen Z startup owners, for example, you may not have nearly as much luck on Facebook Ads as you would on TikTok Ads or with PPC Ads, as Gen Z's Facebook usage has declined compared to other generations. 
You should always use a combination of different strategies so that you can cast a wider net and capture users at every stage of the digital sales funnel.
Your strategy might look like this:
Using a third-party lead database to identify relevant leads and then reaching out to them with account-based marketing strategies
Diving into content marketing with blogs and downloaded ebooks to capture high-intent traffic and capture lead information along the way
Running Google Ads to outrank competitors with more established sites and SEO for high-intent keywords
Having strong email marketing campaigns set up to keep contacts engaged during and after beta testing
Equipping your sales team with the potential to offer discounts or competitive offers for high-value clients
Partnering up with other brands to create content together, like a joint webinar
5. Get Feedback & Incorporate It
Your GTM market strategy isn't going to be static and inflexible. The opposite should actually be true; you'll want to adapt as you go to maximize your potential results.
Feedback, therefore, is essential. Make sure that you're proactively working to get feedback from beta testers, potential partners, potential customers, and your own team members.
Your sales and marketing team members may each have insights that can help you determine what changes need to be made to the sales funnel and marketing campaigns to improve your results.
Check-in at least once a month (absolute minimum) to go over results, review feedback, and talk about potential changes that should be made.
6. Start With Your First Lead Scoring Model
Lead scoring can be a vital part of a GTM strategy, especially as you actually start launching your product and attracting customers.
Here's how it works: A tool like Breadcrumbs will help you create models to determine which users in your pipeline are most likely to take specific actions. Early-pipeline actions can include booking demos, signing up for a trial, or making a purchase; you can also look for users who are a good fit for upselling or cross-selling later on.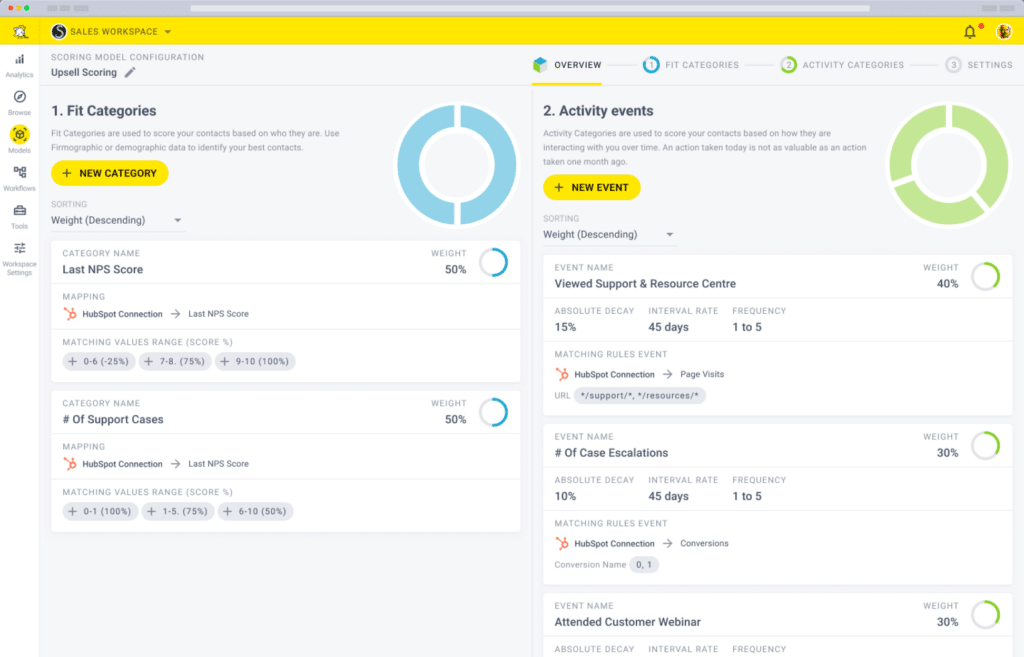 As you start to attract new users, lead scoring models can help you identify which audience segments are most likely to convert— and help you identify leads that fall into those segments faster. Your team can spend more time pursuing those high-value, likely-to-convert leads, which is invaluable since your team's resources may be stretched thin during the GTM phase.
And when you first get started, we wanted to make it easy. Breadcrumbs Copilot can generate your first lead scoring model based on your business's data to get you moving faster. You can customize this model at any point, so you're still in the driver's seat, but we can streamline the process for you.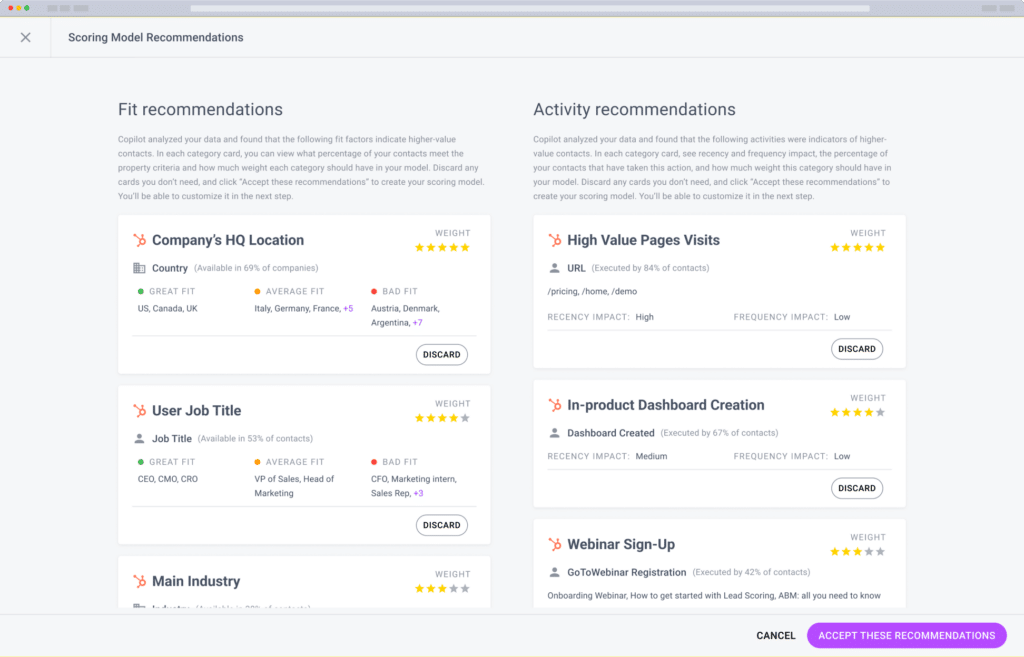 What is GTM Alignment and Why Does It Matter?
One thing that we've seen time and time again is that so many brands take a "throw the spaghetti at the wall and see what sticks" approach to their GTM strategy.
We get why this happens—it's easy to think that trying as many platforms and as many potential audiences, and as many strategies as possible is the best way to gather as much data (and potential customers!) as possible.
In reality, however, this can cause a bit of chaos—and not the good kind.
GTM alignment is the practice of aligning your entire strategy across marketing, product, sales, and customer support teams while considering the target audience you want to reach.
It's not uncommon for marketing to end up targeting one audience. They may realize, for example, that one segment of users are most likely to sign up for webinars or click on ads. And while this can theoretically push a large number of users into the pipeline, sales may be frustrated when these users are unlikely to actually convert because there's a misalignment with ICP.
Getting everyone on the same page is a crucial part of sales enablement, and it's downright essential for your GTM strategy. So make sure that you're getting all client-facing teams on the same page because this is how you'll successfully attract the right customers. It's not just about more pipeline; it's about using your (sometimes limited or shrinking) resources to attract the right customers.
Want to learn more? Make sure you watch our Say No to More Pipeline—Say Yes to GTM Alignment webinar with Kenny Lee, VP of Marketing at Seismic—we talked about GTM alignment and how to get the right people in your pipeline. 
GTM Strategy: Final Thoughts
Creating a GTM strategy is no small or easy task. That being said, the process above takes you step by step through the five core stages of creating a strong plan that will help launch your product, create brand awareness, and attract both customers and sales as quickly as possible.
Interested in learning more about GTM alignment and attracting the right customers? Watch our Say No to More Pipeline!