Sales as an industry has experienced a seismic shift.
Gone are the days when gut feeling and intuition were the sole drivers of a salesperson's approach.
Today, the digital era has not only expanded the reach and possibilities for sales teams but has also introduced a world of data, offering insights at an unprecedented scale.
With websites and email marketing campaigns everywhere, and social media platforms becoming integral sales tools, the vast amount of information they generate has become a treasure trove for sales strategies—and this surge of digital touchpoints emphasizes the undeniable importance of data-driven strategies.
As businesses strive to optimize every interaction, A/B testing emerges as a vital tool, ensuring that decisions are informed, strategies are refined, and sales pitches are as compelling as they can be.
In this article, we'll dive deep into why sales teams cannot afford to overlook the power of A/B testing in the current digital landscape.
What is A/B Testing?
A/B testing, sometimes referred to as split testing, is a method of comparing two versions of a webpage, email, or other material to determine which one performs better in achieving a specific objective, such as generating leads, closing sales, or getting responses. It involves showing the two variations (A and B) to people and measuring the difference in performance.
For example, a company wants to optimize its cold email outreach strategy to potential business clients. They hypothesize that mentioning a recent feature update might grab more attention and lead to higher engagement. To test this, they create two versions of their outreach email:
Version A (Control): The email introduced the software's core benefits and included a call-to-action to schedule a demo.
Version B (Test Variant): This test version was similar to the control but added a section highlighting a new, much-requested feature they had recently integrated.
Over a month, they sent out both versions to an equal number of potential leads, ensuring that other variables (like the time of sending) remained constant. At the end of the testing period, they compared the response rates for both emails.
If Version B had a significantly higher response rate, it would indicate that highlighting the new feature was a more effective strategy in their cold outreach.
Why is A/B testing so important?
A/B testing allows sales teams to systematically compare different strategies and determine which one resonates more with their target audience. By making informed decisions based on actual data, salespeople can refine their pitches, communication materials, and outreach strategies to be more effective and efficient.
Instead of assuming what works best or will work best, A/B testing provides tangible evidence. This not only optimizes the conversion funnel but can also lead to substantial revenue increases and savings.
Just check out this example of A/B testing from HubSpot:
HubSpot
HubSpot Academy sought to improve user engagement on their homepage, specifically aiming to enhance the viewing rate of a video, which had a low 0.9% watch rate from over 55,000 page views.
Despite the low viewership, nearly half of those who started the video watched it fully. Feedback indicated a need for clearer messaging about this free resource. HubSpot conducted an A/B test with three variants: Variant A (control), Variant B (which featured vibrant images, colorful text, and an animated "typing" headline), and Variant C (which incorporated color, movement, and animated images on one side of the page).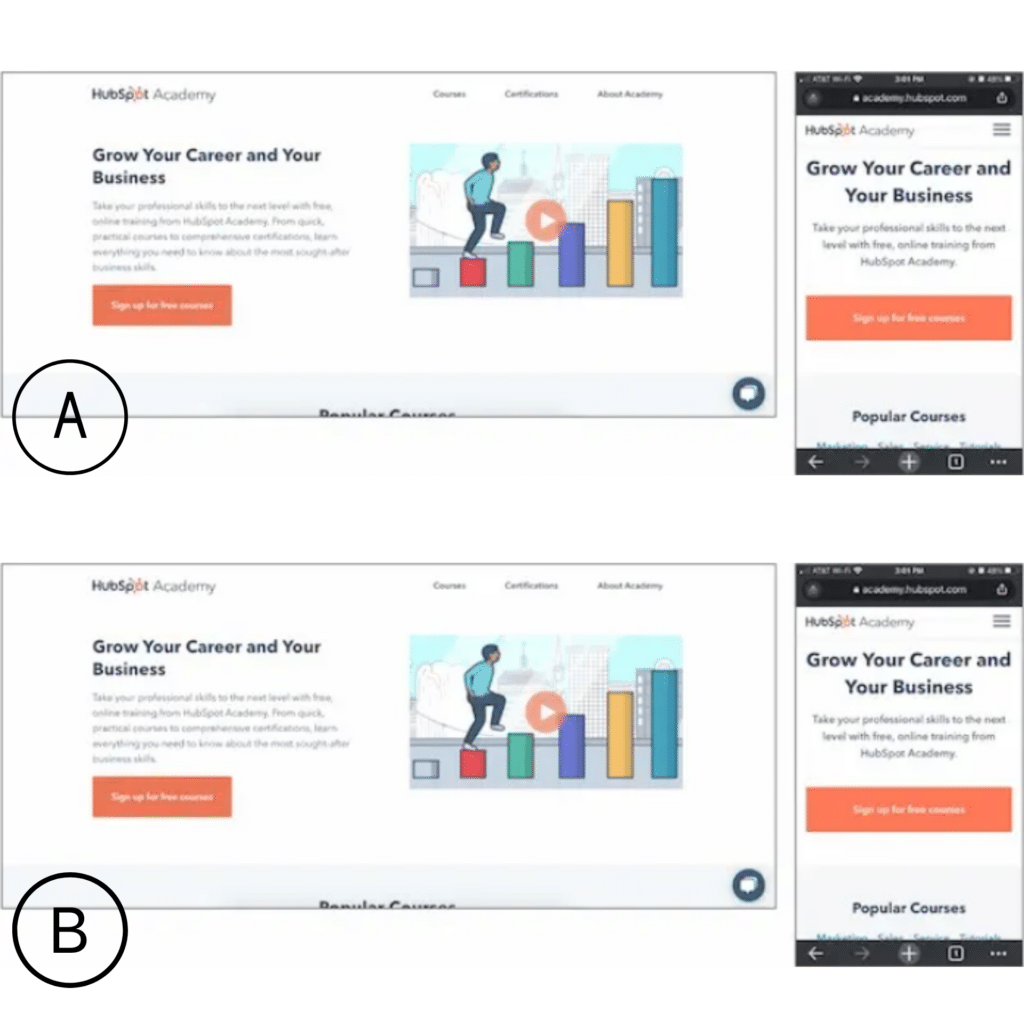 The results showed Variant B improved performance by 6% over the control, leading to an extra 375 sign-ups monthly. On the other hand, Variant C's performance was 1% worse than the control.
Expoze.io
Expoze.io aimed to enhance their website's homepage visuals, given the importance of visuals in retaining site visitors. They faced challenges with the readability of their homepage due to low contrast, and they sought to improve navigation while maintaining their brand identity.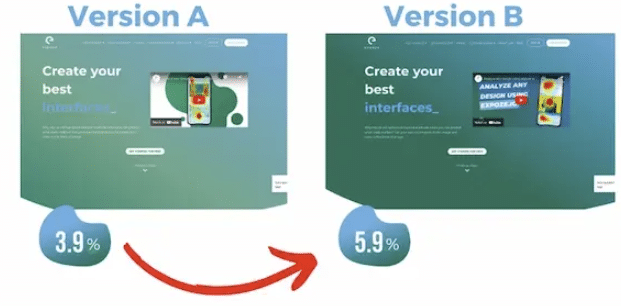 After conducting research and creating various designs, Expoze.io utilized AI-generated eye tracking to hone in on the most promising designs, followed by an A/B heatmap test to measure user attention on the current versus the new design.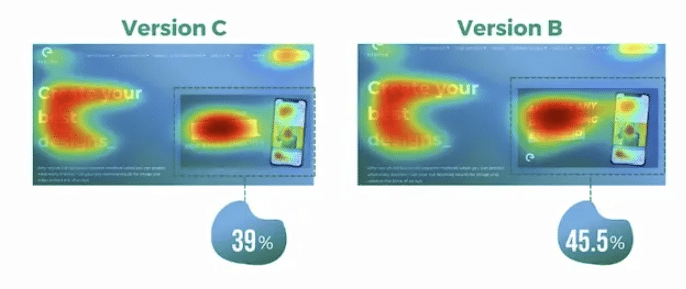 Results revealed that the new design garnered over 40% more attention on key sections of the homepage, such as the video thumbnail, and led to a 25% increase in CTA clicks. The success was attributed to the enhanced contrast, which drew more attention to the unchanged CTA button.
If your business can use stats 25% more clicks and an extra 375 signups, you need to add split testing into your sales processes ASAP.
4 Ways to Get Started with A/B Testing in Sales
We wouldn't be one of the best blogs in town if we didn't back up our education with some actionable advice. Here are 4 different ways you can get started with A/B testing today to improve your sales results.
1. A/B Test Your Email Efforts
A/B testing sales emails is like a gold miner using a sieve in a riverbed. Just as miners sift through heaps of sand and gravel to find the precious gold nuggets, sales teams test different email variants to discover the most effective strategies.
Without the sieve, the miner may miss the gold amidst the debris. Similarly, without email a b testing, without A/B testing, a sales team might overlook the golden strategy hidden amidst less effective approaches. Here are several ways you can test the most important part of your sales emails:
Subject Lines:

Test various phrasings or lengths to see which gets the most opens.
Compare using the recipient's name vs. a generic greeting.
Experiment with urgency, e.g., "Limited Offer" vs. "Exclusive Opportunity."

Email Body Content:

Test different introductions or greetings.
Compare long-form content vs. concise messaging.
Experiment with personal anecdotes vs. strictly business content.

Call-to-Action (CTA):

Test different CTA button colors or designs.
Compare the placement of the CTA in the email (e.g., middle vs. end).
Experiment with CTA text, e.g., "Learn More" vs. "Get Started."

Timing and Frequency:

Test sending emails at different times of the day or days of the week.
Experiment with varying frequencies, e.g., daily vs. weekly follow-ups.

Personalization:
Of course, to do all of the testing mentioned above, you'll need a powerful tool. Luckily enough, we have one for you that's completely free. 🙂
Introducing Cadence by Breadcrumbs—the last sales and email marketing tool you'll ever need. With Cadence, you can:
Ensure your messages land in the inbox using our advanced email rotation technology.
Test multiple versions of all your sales campaigns and improve your conversion rates with our AI-backed email builder.
Streamline email management by managing all your accounts and users in one place.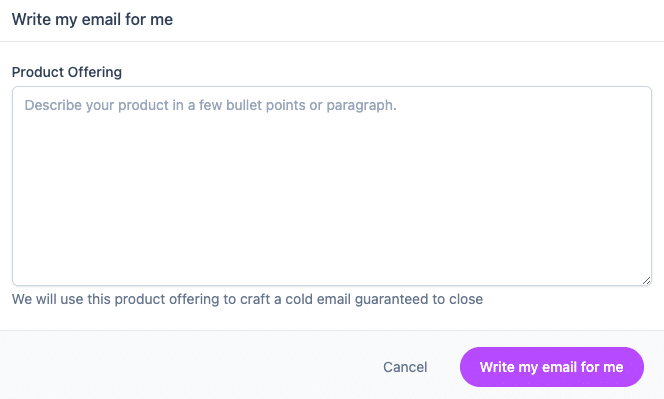 Sign up today for our forever-free plan and get started A/B testing your sales emails today.
2. Bolster Your Sales Pitch Presentation
One common complaint about new salespeople is that they stick to the same script—even if it isn't working. While you may be more comfortable sticking to a set script, chances are your presentations can use the help of A/B testing too.
Here are some great ways to shake up your sales pitches and demos to make the biggest impact on your close/won numbers:
Script Variations:

Opening Statement: Test different methods of capturing attention right from the start. For instance, compare a startling statistic versus a relatable anecdote.
Value Proposition: Experiment with different ways of presenting the primary benefits of your product or service. Test a feature-focused approach against a benefits-driven one.
Closing Call-to-Action: Experiment with various closing statements. One could be direct ("Would you like to move forward?"), while another might be more consultative ("How can we tailor this to suit your needs?").

Delivery and Tone:

Pace: Some prospects might appreciate a fast-paced pitch, while others might prefer a more relaxed and detailed presentation. Test to find the right balance.
Formality: Depending on your audience, a formal pitch might come off as professional, or it might feel too stiff. Contrast this with a more casual, conversational tone.

Duration: Test the effectiveness of shorter pitches against more extended presentations. In some cases, you might find that brevity leads to higher engagement, while in others, a detailed pitch might be more effective.
3. Rethink Your Follow-Up Strategy
Time is money—and during the follow-up period of the sales cycle, this saying goes double.. By testing the following post-demo approaches, companies can determine which strategies can help to seal the deal.
Follow-Up Timing. Test immediate follow-ups against waiting a day or two. Determine if the response rate is better when you follow up right after a meeting or give them some time to digest the information.
Communication Channels. Some clients may prefer a phone call, while others might appreciate a follow-up email or even a text message. Test different channels to gauge effectiveness.
Types of Collateral. Send some prospects a detailed PDF after a call, while others might receive a short recap or a link to a video. Determine which materials keep the prospect engaged.
Personalization. Compare the results of generic, templated follow-ups against highly personalized ones. Gauge if taking the extra time for personalization leads to higher conversions.
Calls-to-Action (CTAs). Experiment with different CTAs in your follow-up. One could be an invitation for a second meeting, while another could be a prompt to check out a product demo.
Feedback Collection. In some follow-ups, directly ask for feedback on your pitch or presentation. In others, be more subtle. Assess which method provides more actionable insights.
4. Split Test Your Demo Pages
When someone expresses interest in booking a demo, they are already in a relatively advanced stage of the sales funnel. Ensuring that this page is optimized can make the difference between a confirmed customer and a lost opportunity. By conducting website A/B testing, you can identify which variations of the page lead to more demo bookings, thus enhancing your chances of conversions.
Here are some A/B testing examples for your demo pages:
Testing Different Headlines: The headline is the first thing a visitor reads. Try variations that highlight different value propositions or invoke curiosity.
Experiment with Call-to-Action (CTA) Buttons: This includes testing the color, size, text, and placement of the CTA. A more compelling CTA can significantly boost conversions.
Change the Page Layout: The structure and flow of the page can impact user experience. Test different arrangements of elements to see which layout yields more demo requests.
Optimize Form Length: Test shorter forms against longer ones to find a balance between gathering sufficient information and not overwhelming the visitor.
Use Testimonials or Social Proof: Incorporate testimonials or logos of well-known clients and test their impact on trust and conversion.
Incentivize the Demo: Offer something of value, like a free e-book or a discount for those who book a demo, and test its effectiveness.
Implementing A/B Testing Effectively
Setting up A/B tests in the right manner is the foundation of ensuring accurate, actionable, and relevant results.
If tests are improperly set up, the data derived can be misleading, leading to incorrect conclusions and potentially harmful decisions that can waste resources and time.
In the context of sales, where the conversion of leads into customers is paramount, any erroneous decision can translate into lost revenue and missed opportunities.
Hence, following key rules in setting up A/B tests is not just a good practice—it's a business imperative.
Test One Variable at a Time
When multiple variables are changed simultaneously, it becomes nearly impossible to ascertain which specific change led to observed results.
For instance, if you alter both the email subject line and the call-to-action button in a sales email, and notice a 20% increase in conversion, which change was responsible? Was it one of them or a combination of both?
By testing only one variable at a time, you can confidently attribute any change in performance to that specific variable, making your insights precise and actionable.
Ensure a Statistically Significant Sample Size
Without a sufficiently large sample size, the results of your test can be inconclusive or skewed by random chance.
For example, if you're testing a new sales pitch and only present it to five potential clients, a couple of outliers might heavily influence the results. However, if you present it to a few hundred, you'll have a clearer and more reliable picture of its overall effectiveness.
A larger, statistically significant sample size ensures that the insights you gain from A/B testing are consistent and replicable, reducing the chance of making decisions based on anomalies.
Regularly Review and Action Results
A/B testing is not a one-time activity; it's a continuous process of improvement. Regularly reviewing results ensures that you're always updated on what's working and what's not.
More importantly, acting on these results allows you to implement successful strategies swiftly and phase out less effective ones.
This continuous iteration ensures that your sales materials remain optimized and relevant, adapting to changing customer preferences, market conditions, or other external factors.
In summary, properly setting up A/B tests in sales and marketing campaigns is akin to setting a ship on the right course. Without the correct coordinates (or rules), you risk drifting aimlessly or, worse, heading straight into a storm. By following these three rules, you ensure that your ship not only stays on course but reaches its destination efficiently and effectively.
Conclusion
As we learned today, the advantages of A/B testing in sales is undeniable: by diving deep into data-driven insights, sales teams can hone their approaches, ensuring every outreach, pitch, or presentation resonates with its intended audience.
More than just a one-off tactic, A/B testing encourages a mindset of continuous learning and relentless optimization. Just as athletes review and refine their techniques to stay at the top of their game, salespeople must adopt a similar ethos, always seeking ways to enhance their craft.
So, if you're ready to propel your sales endeavors to the next level, there's no better time than now. Start A/B testing your email outreach with Cadence by Breadcrumbs today for $0. Dive into the world of informed decision-making and watch as your efforts transform into tangible results.