Growing your business is an exciting, high-reward affair. But the challenges of scaling a business shouldn't be ignored—especially if you're looking to achieve sustainable and profitable growth.
All too often, businesses fall into the trap of seizing growth before they're truly ready to sustain it. Blinded by opportunity, they begin to scale growth without considering the impact it has on their financial resources, business infrastructure, company culture, and employee workflows.
Luckily, you can overcome many of the challenges of scaling a business through awareness, preparation, and strategy. We're going to take a look at eight common challenges that businesses run into when they're trying to scale and offer some solutions.
Scaling a Business #1. Managing newly increased operations
In the early stages of their growth strategy, one of the first things companies tend to do is hire new employees. While this is often necessary, unstrategic hiring can present challenges that hinder growth.
Hiring too soon—especially without accurate business insights—can result in people being placed in the wrong areas. Hiring too late puts extreme strain on your operational performance. And in both of these instances, you increase your risk of bad hires, soaring labor costs, decreased productivity, and high employee turnover.
According to recent studies, 40% of employees report that bad hires and high employee turnover increased their own workload. And for 78%, this led to heightened stress levels and burnout.
So, to manage your newly increased operations, you need to develop a framework that considers hiring in relation to your business's cash flow and team productivity, as well as your growth goals.
Also, utilizing the right tools and technologies can help you cost-effectively manage increased operations. By arming employees with tools that automate and streamline manual processes, they can effectively manage new tasks without inhibiting productivity.
These tools can also open you up to remote hiring possibilities that allow for more flexibility and are often more economical.
Scaling a Business #2. Addressing financial resources
Scaling requires you to have an even tighter grasp on your finances. Your accountants should have intricate, real-time visibility and understanding of your cash flow, business expenses, profit margins, sales trends, taxes, and more.
Without these insights, you risk getting rejected for loans and making financially harmful business decisions. Putting the right technologies, tools, and expertise in place helps to avoid negative financial repercussions.
Accounts payable software solidifies your financial structure by centralizing finance management to deliver real-time visibility. Armed with hyper-accurate cash flow insights and detailed reporting and analytics, you can not only identify and resolve current challenges to minimize scaling risks. You can also leverage these insights to make smarter, growth-generating business decisions.
Scaling a Business #3. Sustaining communication and company culture
An often overlooked challenge of scaling a business is the negative effect that growth can have on your company's culture and communication effectiveness. Fortunately, there are some things you can do to prevent growth from wreaking internal havoc.
Core values preservation
The principles and beliefs that shape your company culture shouldn't fall by the wayside as you embrace new employees and priorities.
To prevent internal conflicts and misaligned goals from hindering growth, make sure that your company's core values (collaboration, integrity, diversity, etc.) are integrated into the foundations of your business. This involves hiring employees who align with your culture and implementing values into daily operations.
Streamlining communication channels
The more employees you have, the harder it is for everyone to communicate effectively. Legacy phone systems, and even apps such as Skype or Zoom, can be incapable of handling high-volume and/or global communications.
Plus, if employees are communicating across various channels, standalone apps create silos that disrupt workflows and decrease productivity.
Streamline your communication channels by using a cloud-based business phone system or unified communications solution. This way, employees can effortlessly call, video chat, and instant message each other from anywhere in the world on their chosen devices.
Nurturing employee collaboration
Sustainable growth is an organization-wide effort that relies on collaboration across teams and departments. Without collaboration, businesses suffer from knowledge hoarding and information silos, poor cohesion, and decreased productivity: the list goes on.
In fact, a recent study by Alludo found that 70% of employees feel as though poor collaboration limits their productivity. 41% are considering leaving because of it. And, most tellingly, 61% say that poor collaboration is limiting the growth of their company.
You can remove silos and spark collaboration by integrating these values into your daily operations. For example, you can:
Centralize data using an ERP.
Use online whiteboards and digital brainstorming tools to empower remote collaboration.
Host team meetings, whether that's in person or through a video conferencing tool.
Foster a judgment-free culture that embraces new ideas and perspectives.
Cultivate honesty and transparency.
Scaling a Business #4. Keeping up with market changes and competition
We've all seen it happen. A business can be thriving one month and holding on for dear life the next.
Maybe a new market trend will take the industry by storm. Maybe inflation or tax rates will hit an all-time high. Or, maybe a competitor will leverage a powerful new technology that other businesses just didn't see coming. Whatever the case, failing to anticipate and keep up with change can cause any growth you've achieved to plummet.
So, make sure to keep one eye on the future by performing consistent market research and competitive analysis. Also, be sure to tailor this research to the different countries and markets you're in to prevent any unexpected changes.
Scaling a Business #5. Scaling infrastructure
Your business infrastructure refers to the essential physical and technological assets that drive your company's day-to-day operations. It connects and integrates people, processes, technologies, and goals to support growth sustainably in the face of anticipated and unanticipated growth spurts.
Failing to scale infrastructure can cause a growing business to cripple under the strain of increased demands. Let's use accounting software as an example.
Outgrowing your accounting and finance software can become a critical obstacle that derails growth initiatives. Your finance software needs to keep up with increasingly complex operational requirements across your multiplying business entities. This is to prevent data silos, task duplication, poor decision-making, and unhappy employees and customers.
Upgrading to a scalable accounting software program can rectify this problem. Cloud-based accounting software scales alongside your business, enabling the effective management of multiple business entities and unlimited employee accounts. If you choose the right software, it can make sure that you stay HMRC or IRS-compliant, depending on where you're based.
It also centralizes and automates key financial processes such as billing, inventory, and order management.
This enables peak operational performance, removing tedious manual processes to streamline workflows and accelerate growth initiatives.
As a best practice, it's always best to choose inherently scalable solutions. But if that isn't possible, try to devise a strategy that allows you to scale incrementally in anticipation of growth.
Scaling a Business #6. Customer acquisition and retention
A huge mistake that growth-focused companies make is that they focus too heavily on lead generation and end up neglecting their customer retention strategy.
Sure, new customers are the foundation of growth. But to be able to scale sustainably, you need to strike the right balance between customer acquisition and customer retention.
Why? Well, aside from being your most profitable customers, loyal customers become brand advocates. In other words, "mini-marketers" who independently drive your business's growth.
Brand advocates love your brand so much that they recommend your products, write glowing online reviews, and interact with you on social media. This is particularly true for younger generations—62% of Gen-Z consumers will recommend your brand to friends and family, which is one of the most powerful growth marketing strategies around.
To avoid unsustainable growth, focus on attracting high-quality leads and nurturing them to brand loyalty by delivering personalized customer experiences.
How lead scoring can help scale your business
Lead scoring and qualifying leads are essential components of customer acquisition and retention as they enable businesses to prioritize and focus sales efforts on prospects with higher conversion potential, increasing the effectiveness of customer acquisition and improving retention rates.
When scaling a business, efficiently managing and qualifying leads is crucial. Lead scoring helps prioritize prospects likely to convert. By assigning scores based on demographics, behavior, and engagement, sales teams can focus on high-scoring leads, increasing productivity and closing rates. Implement clear criteria and use marketing automation or CRM systems to automate the process.
Meet Breadcrumbs: a tool designed to streamline lead scoring and scale your business with ease. By combining key data points, it accurately pinpoints high-potential leads. Its integration with your existing CRM system allows for an automated scoring process, increasing productivity and conversion rates.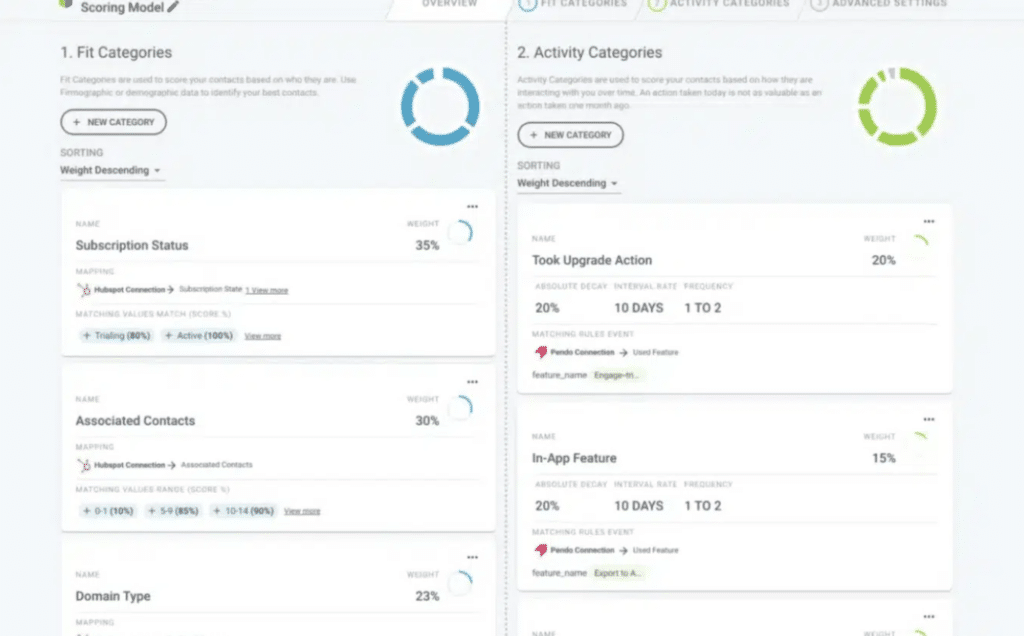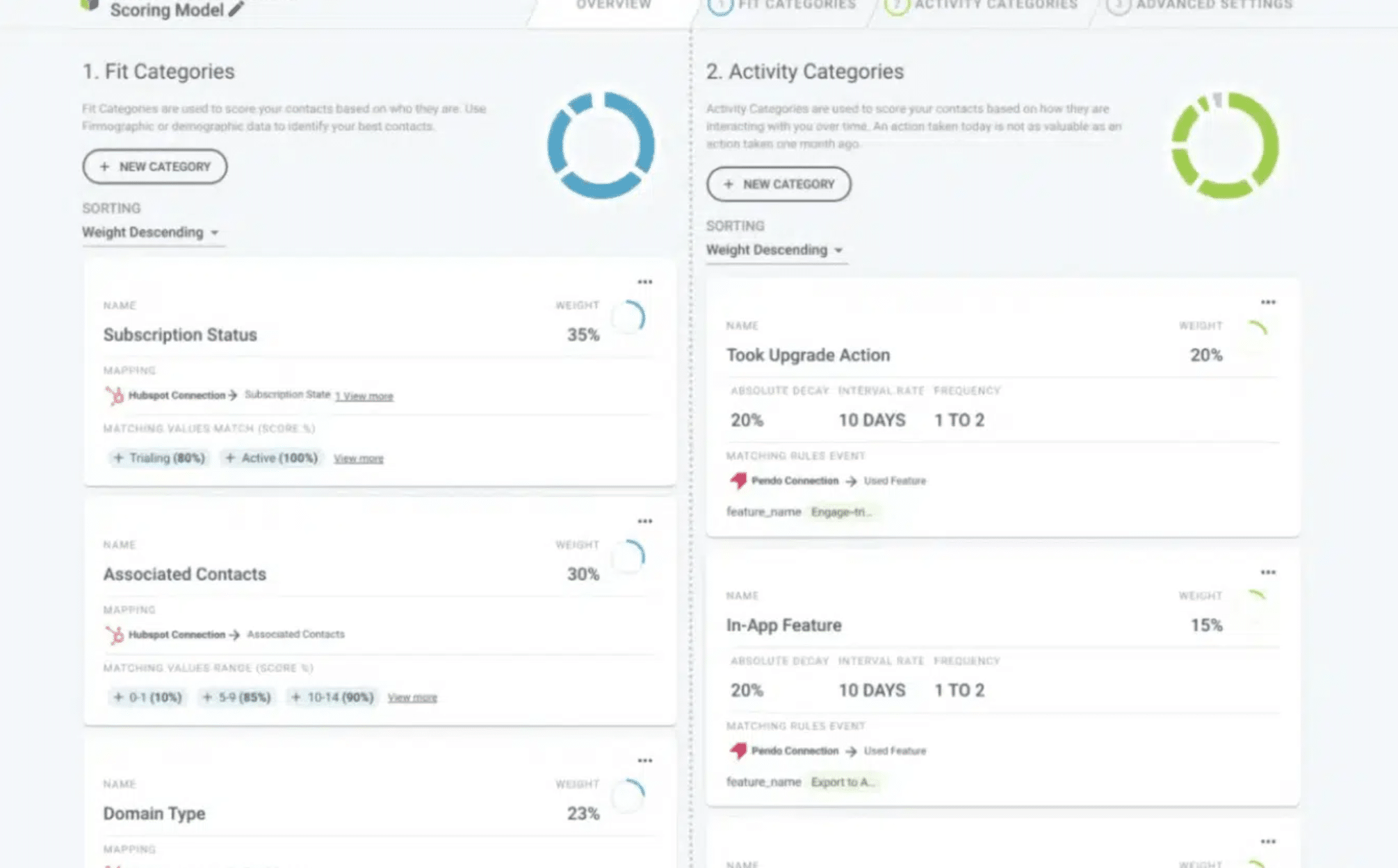 But here's the best part–with Breadcrumbs, scaling your business becomes a breeze. It simplifies lead management, allowing your team to focus on growth strategies.
Grab your free account today or book a demo with our revenue experts.
Scaling a Business #7. Compliance considerations
Remaining compliant as you scale can be challenging, especially if you're venturing into new locations. For example, companies doing business in the UK require MTD-compliant software to complete tax returns. Companies doing business in California—even if the business is located outside of California—need to comply with CCPA regulations.
Data protection, tax, and commercial laws are just some of the regulations that you need to consider in order to avoid fines, reputational damage, and potential lawsuits.
Scaling a Business #8. Organizational development and leadership
The flat structure that works so well in your small business is going to stifle your growth potential. As you grow from 15 people to 50, 100, and beyond, flat-structured organizations are critically susceptible to overwhelm, poor accountability, and a host of other growth-inhibiting issues.
Ideally, a more hierarchical, layered structure should be developed in anticipation of growth. Hierarchical structures support growth in lots of ways, from improving employee specialism and development to streamlining the decision-making process.
So, make proactive structural decisions to prepare your business for growth.
Wrap-up: What to do when scaling a business
Many of the challenges of scaling a business are entirely avoidable if you approach growth strategically. Proactively upskilling employees, making structural and organizational changes, continuously analyzing financial resources, and scaling business infrastructure are safe approaches as they give you time to adapt and refine.
And remember, repeat customers are the heart of sustainable growth. Focus on providing exceptional customer experiences that drive customer retention and loyalty. To do this, you need to foster a united, collaborative team culture and utilize the right technologies to meet present and future customer demands.
Want to turn scaling challenges into opportunities? Grab your free Breadcrumbs account today, and start scaling your business effectively with automated lead scoring.