Today, you'll learn the customer retention strategies that help B2B SaaS startups to:
2X their customer lifetime value since offering a dedicated support agent
Boost the client base by 29% because of a closed-loop process
Save a total of $200,000,000 (!) for their clients this quarter using a human-centric approach
… and more.
This guide covers four major categories: Customer support, marketing, sales, and product.
So, whether it's delighting clients through value-based interactions, increasing product adoption, or elevating customer experience, these customer retention strategies will give you new ideas.
Let's get started.
Customer Retention Strategies #1: Customer Support
1. Create a "HumanAF" Customer Support
75% of customers prefer live customer support.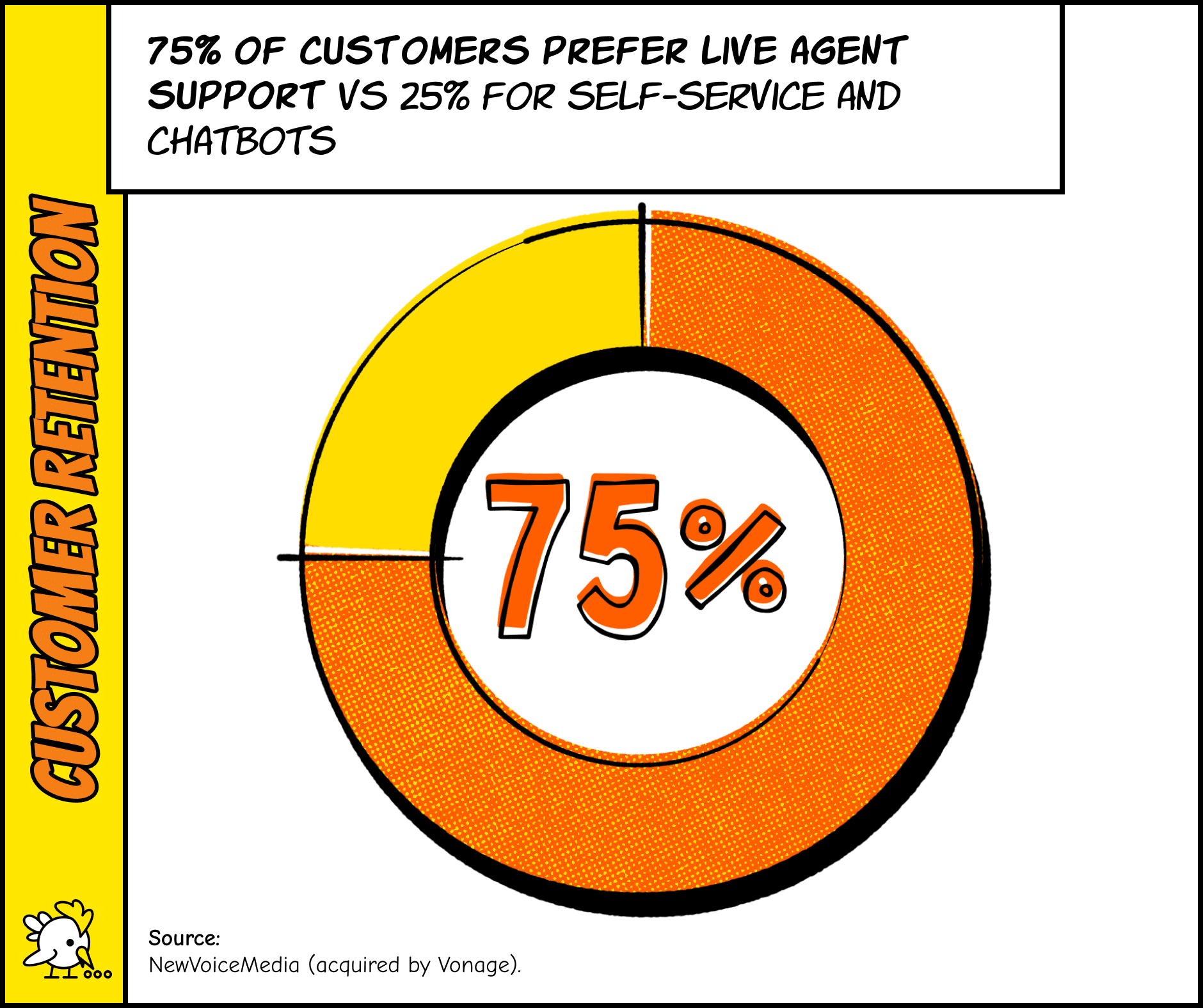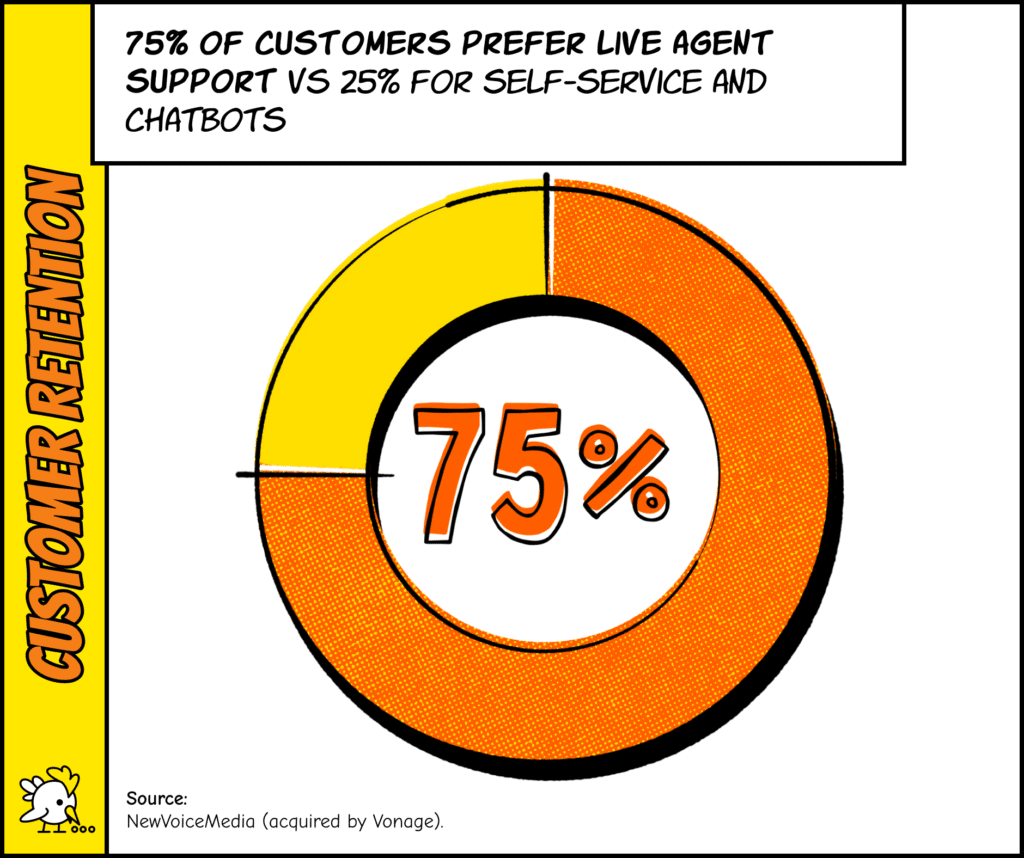 Just take it from Stefan Chekanov. The CEO of Brosix noticed a lack of customer engagement shortly after implementing a chatbot on his website.
The chatbot's templated responses are causing current customers to leave—many gave up before having a chance to speak to an actual support agent.
"A lot of online customer reviews mentioned the challenges of our software," Stefan reveals.
That's when Stefan and his team decided to abandon their customer support automation and focus on a one-on-one approach.
The CEO did more than hiring agents to accommodate the growing support tickets. He even brought in communication specialists to refine their communication style because—in his words—he wanted to make it "more friendly and less template-y."
The decision paid off. Brosix received great feedback from clients and started noticing a slight uptick in retention.
Gravy, too, focuses on customized support. The startup even explicitly shows it in its chatbot.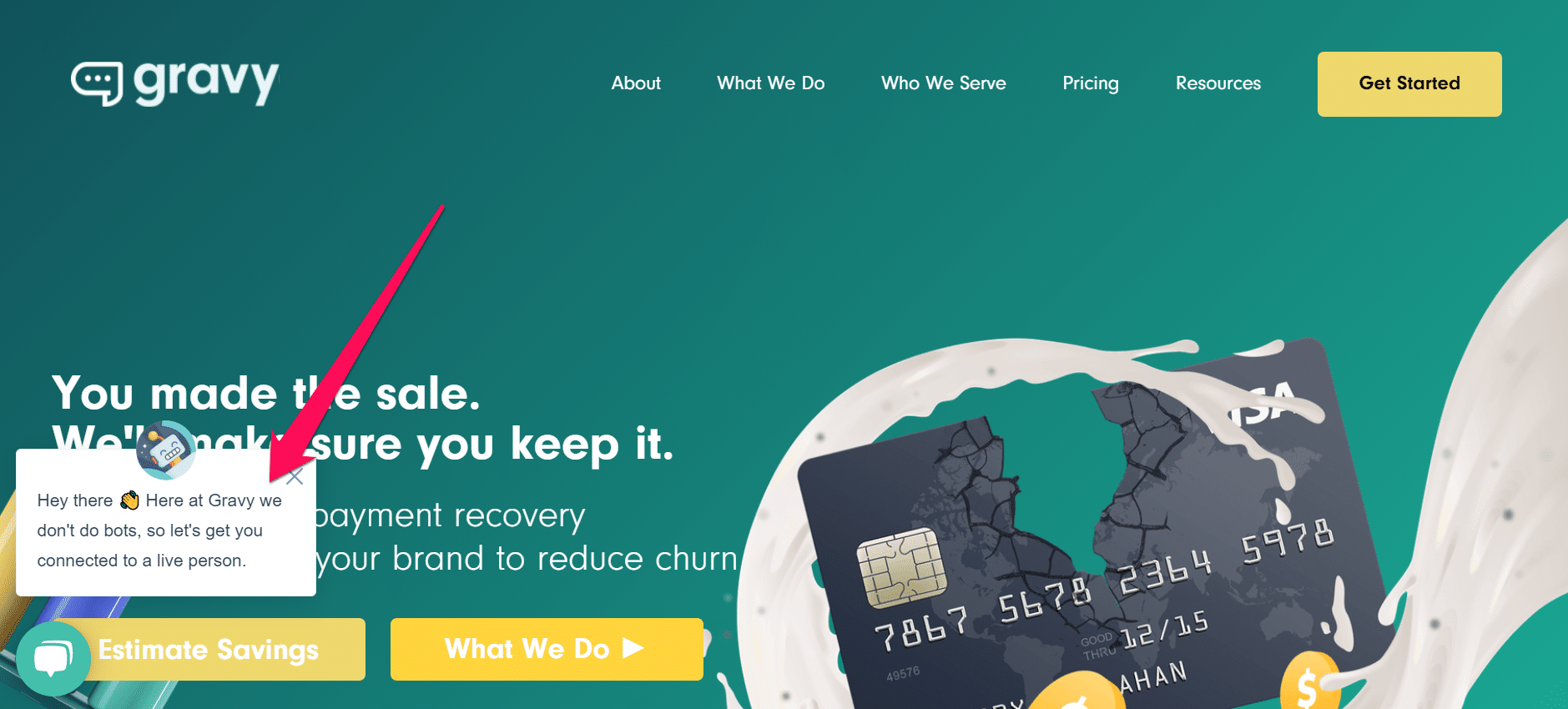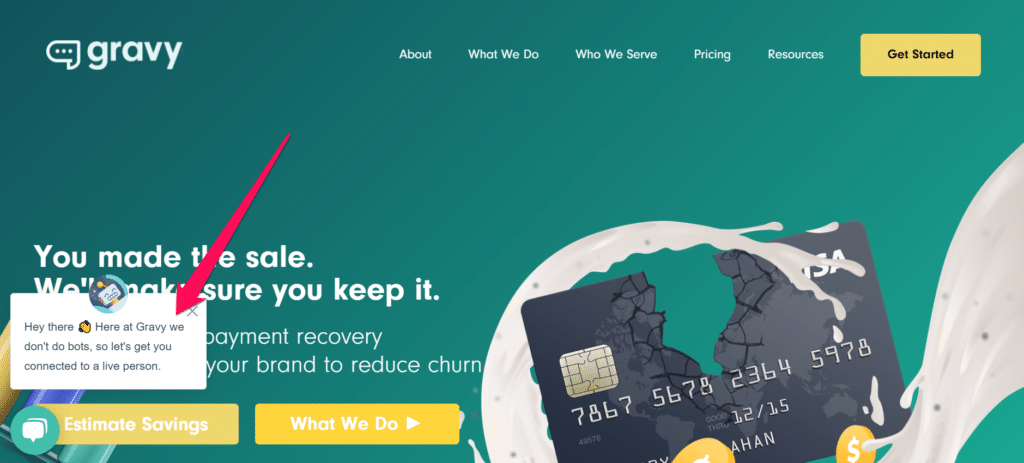 Douglas Liantonio, a marketing outreach analyst at Gravy, shares, "Our best strategy is having 'humanAF' customer support."
"We reduce customer churn with white-labeled customer retention service. Our human approach, which produces sincere thankful testimonials from customers, is a great way to keep customer retention."

Douglas Liantonio, marketing outreach analyst at Gravy
Using the same approach for their clients (Gravy specialized in retaining customers and recovering failed payments), Gravy was able to help them save $200,000,000 this quarter.
2. Know When to Ask for Feedback
85% of SMEs and large companies say that online customer feedback has been beneficial for their businesses.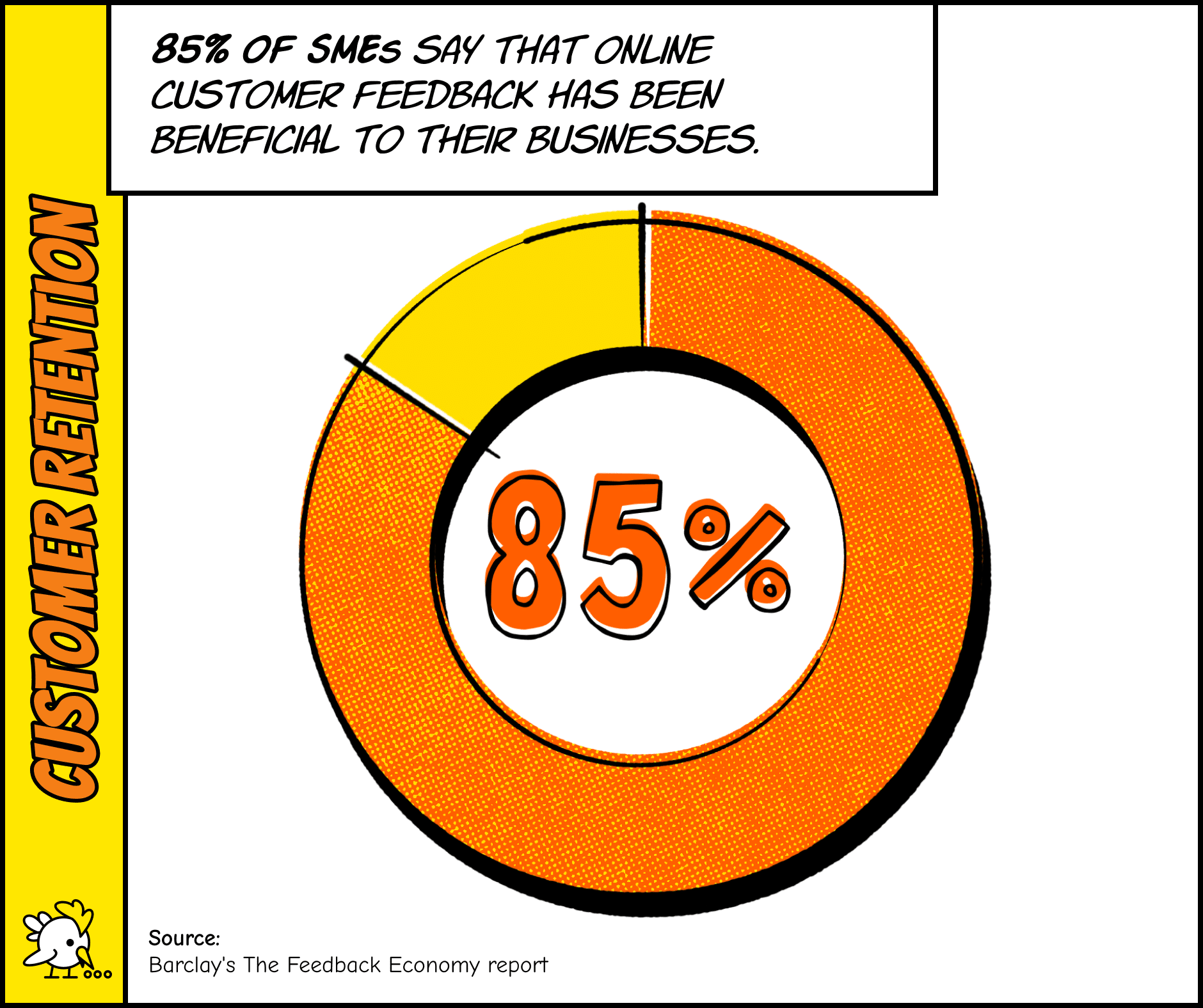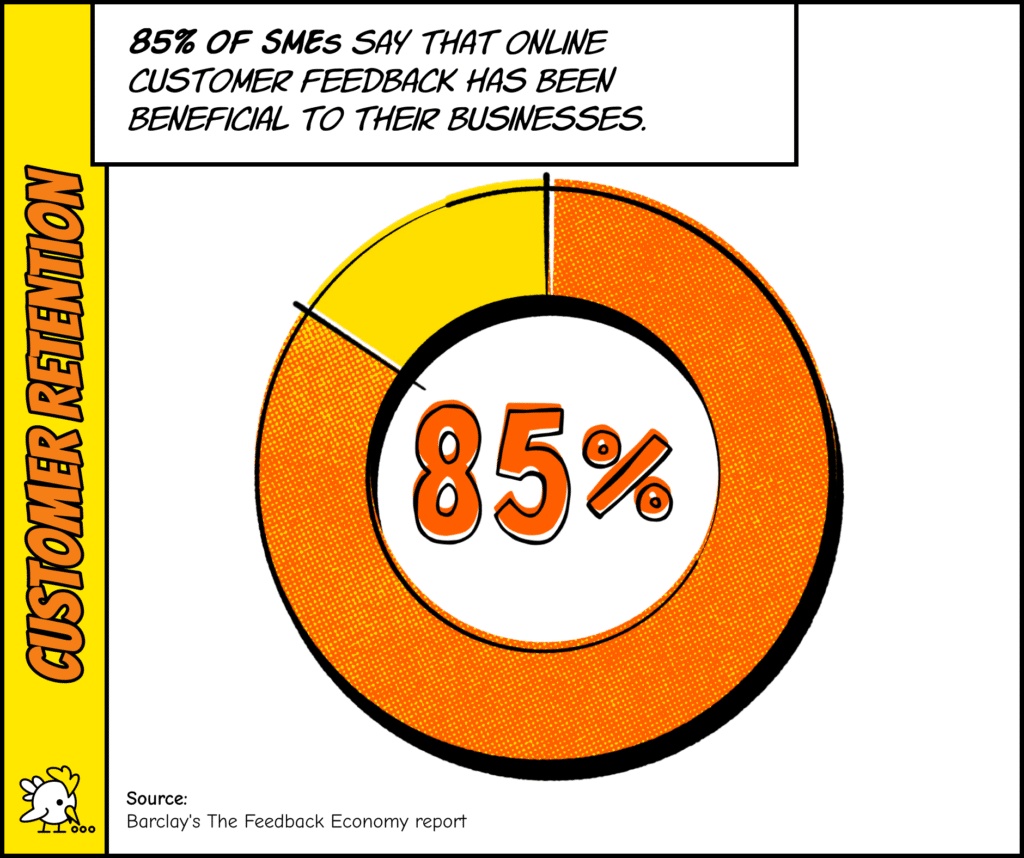 Understandably, it's tempting to request customers to complete a survey during the resolution stage. After all, they've just gotten help from your support agents, and the experience is fresh off their minds.
However, Jeff Cooper advises against the practice. The manager of Messagely explains why you should avoid surveys in service tickets:
"It might confuse the customer in unintended ways. They've encountered a problem and went to great lengths to fix it. Thankfully, the agent solved it without a hitch. However, the team continues to pressurize the customer to provide input on the experience."
Jeff likens it to writing a news piece on an accident: "It's the equivalent of a journalist interviewing a crash survivor as soon as they were rescued."
3. Get Found Easily (Don't be like Waldo!)
Customers want to be able to pick up a conversation where they left off.
It makes sense then, businesses that deploy omnichannel strategies enjoy 91% greater year-over-year customer retention rates compared to companies that don't.
When PlanM8 noticed brands adopting an omnichannel approach to their marketing, the yachting maintenance software startup followed suit—only with its customer support. 
Before implementing omnichannel support, PlanM8 was experiencing an inconsistent—sometimes, even a drop—in its net promoter score (NPS). Since supporting customers on channels like Facebook and LinkedIn, PlanM8 stabilized its NPS and eventually grew it.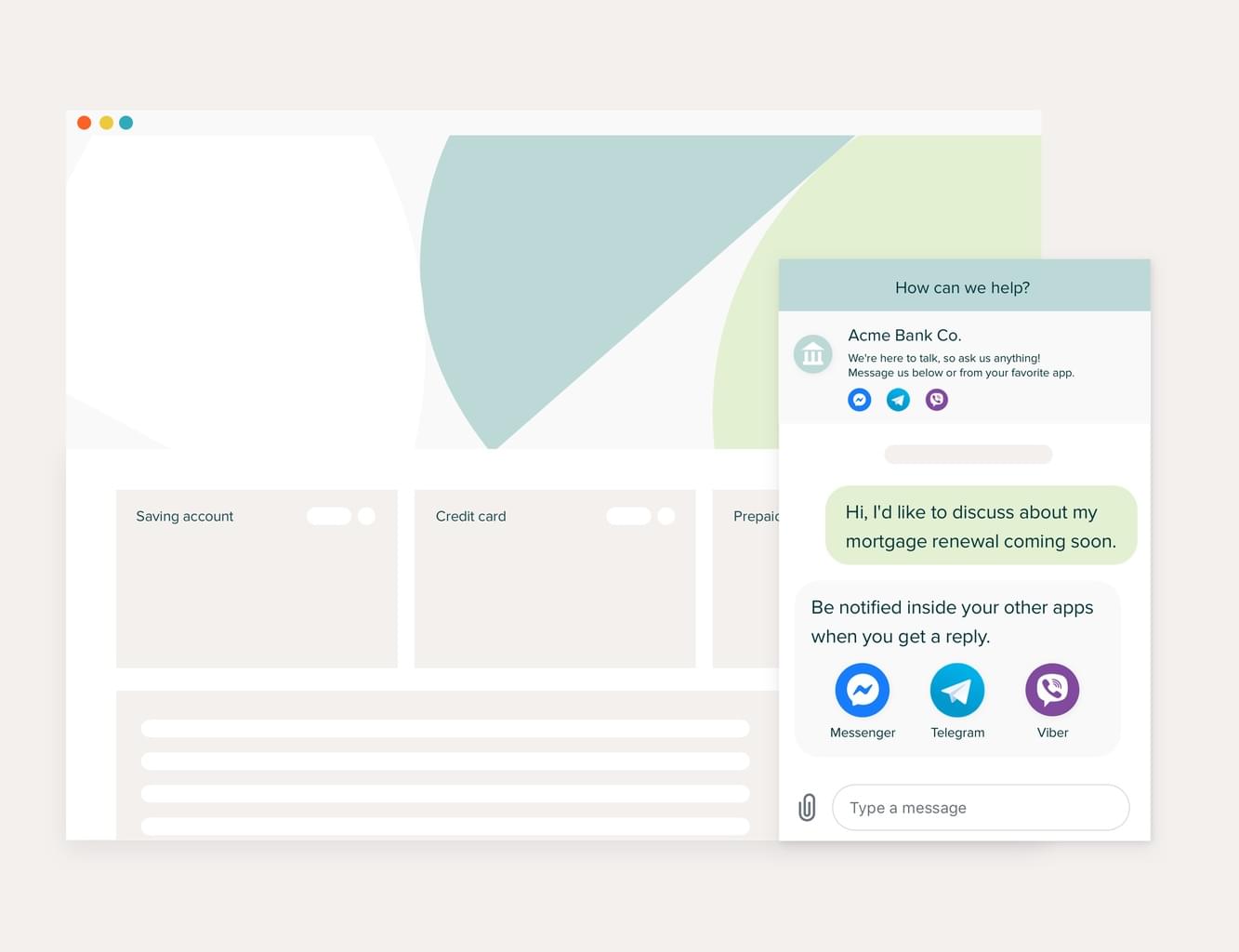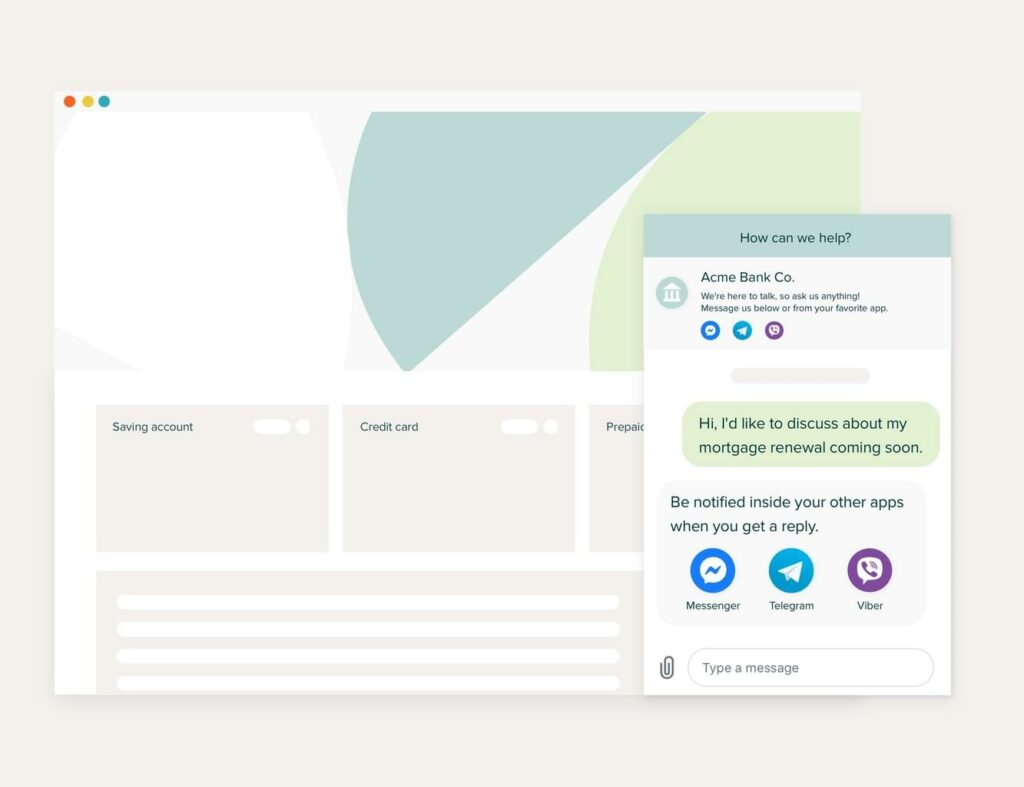 Dimitris Tsapis, head of growth at PlanM8, shares, "Our customer churn rate also gradually improved, which has led to more generated revenue from customers on recurring payment plans."
Here's a brief outline of Dimitris' omnichannel approach:
Identify your target customers' favorite channels
Employ integration to streamline your interaction with customers
Complement a real support agent with a chatbot
Prioritize active listening, empathy, and speed
4. Offer a Dedicated Support Agent With Customized Training
When Covid-19 broke loose, Ashore, an online proofing SaaS startup, started noticing customers churning frequently.
Cody Miles, CEO of Ashore, laments, "Many customers saw their pipelines dry up suddenly, and began looking for ways to cut costs."
Here's what Cody and his team did: They made sure their customers understood how Ashore would benefit them during a business crisis—in the form of discounts.
Check out this email from an Ashore client. It details the challenges brought on by Covid-19 and how they had no option but to potentially cancel their account: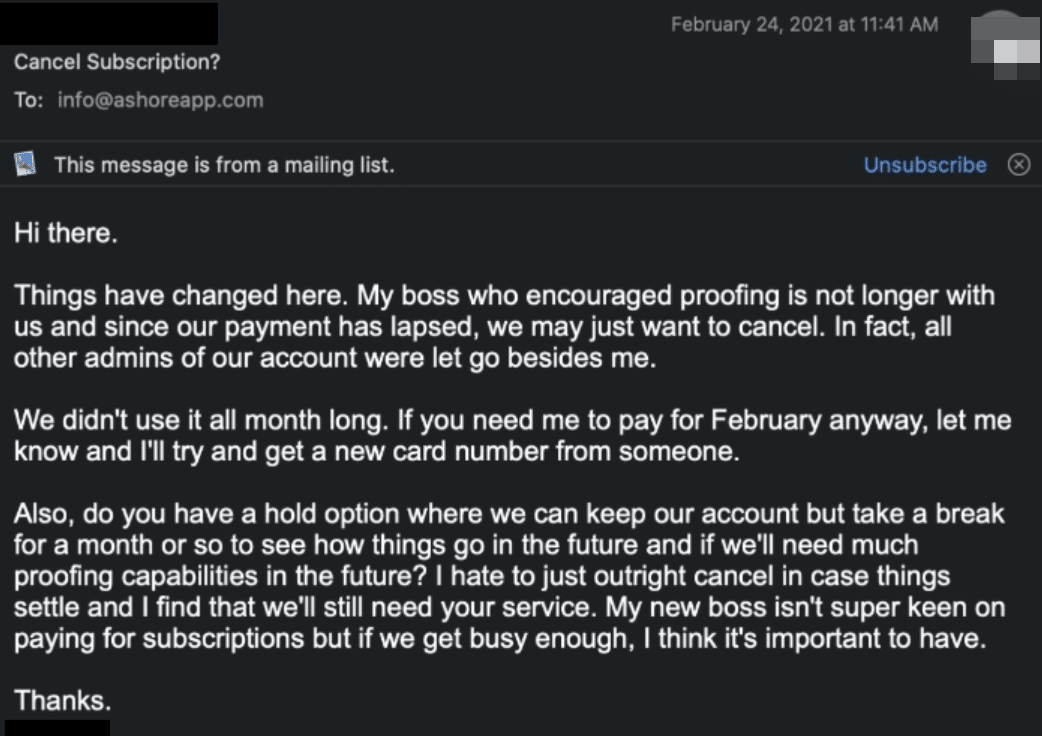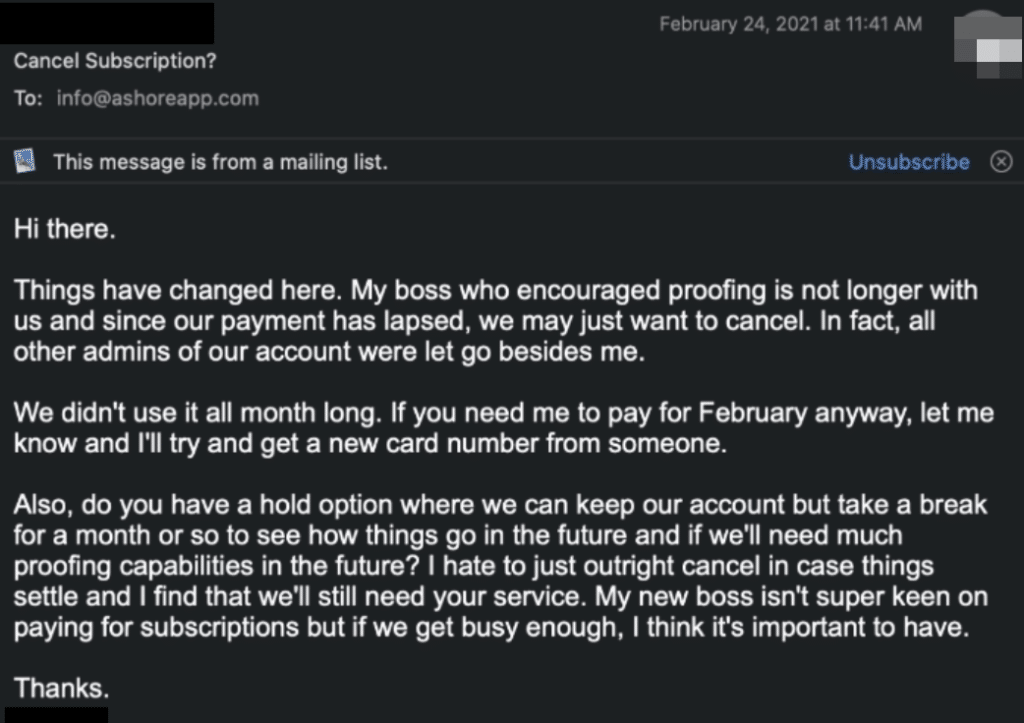 Now, observe how Deborah, the customer success manager at Ashore, supports the client by offering a discount for the next six months.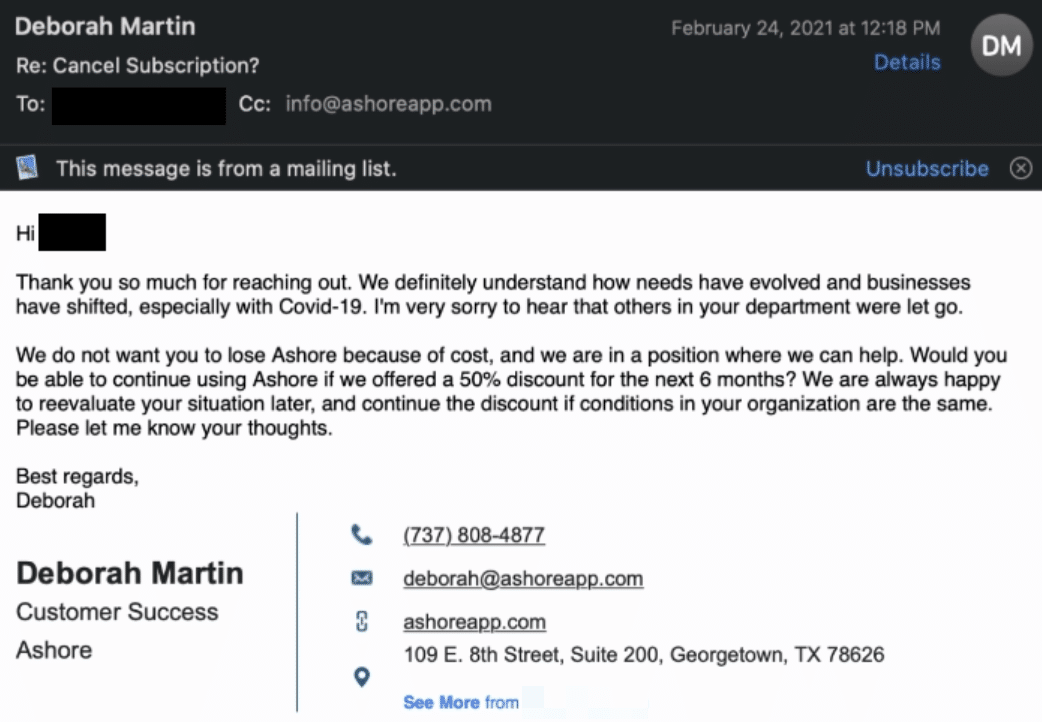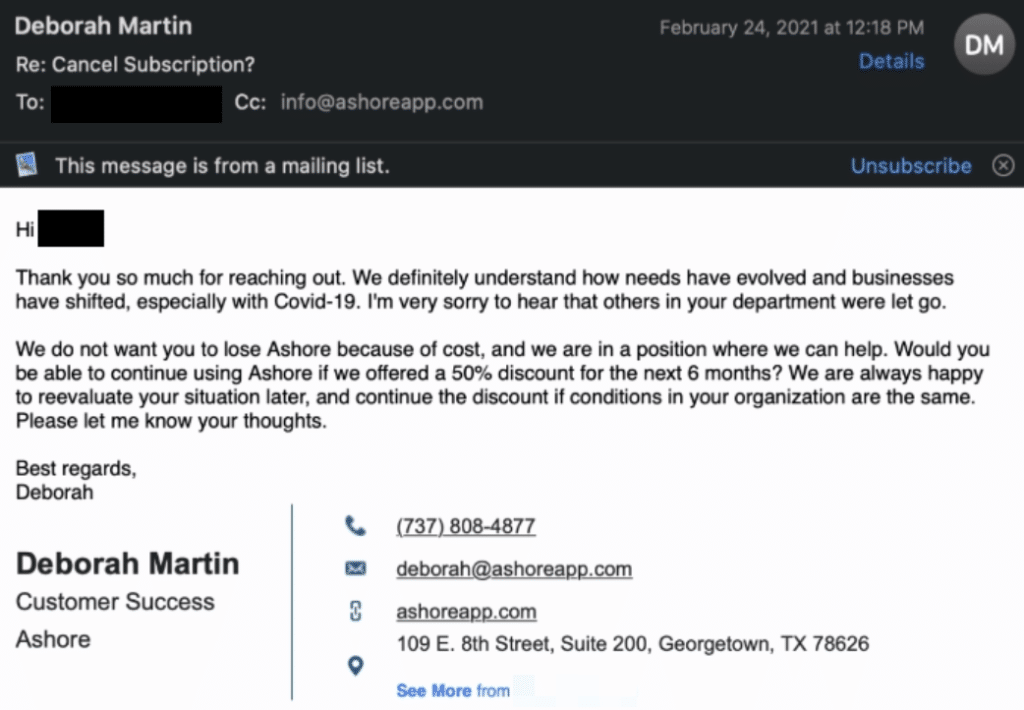 But that's not the only strategy we want to focus on here. Ashore went beyond offering discounts.
Cody shares, "We devoted a customer success manager for each new sign-up in March 2020, and our CLV doubled."
During our email interview, Cody shares that the CLV at Ashore increases far more when they "provide frequent, light touches on our customer accounts."
Here's what you want to do: Note the features your clients are often using on your SaaS and customize a recurring, in-depth training session based on that.
That way, clients will realize the total value of your product. Note: During this stage, you'll see the training sessions beginning to trail off and engagement increase.
Don't forget to make check-ins a habit.
The Ashore team asks these questions to determine if users require assistance:
How often are users logging in?
How many proofs are they sending?
Is the approval rating on their proofs increasing?
Are the number of revisions per proof decreasing?
Is the time-to-feedback decreasing?
If there's a downward trend in any of these areas, the customer success team will reach out and offer help.
"Sometimes it's a matter of additional training or supporting new users on the account," explains Cody.
"Other times, it's receiving feedback on how we can improve to receive full adoption. In every case, it's an effort of making sure the customer knows they are supported and loved."
Customer Retention Strategies #2: Marketing
5. Start an Irresistible Rewards Program
Customer loyalty programs play a significant role in advocacy, retention, and spend. 77% of customers are more likely to continue doing business with you when you reward them.
But creating loyalty programs can be tricky. Here's how to do it right.
Data for SEO created a benefits package more affordable than its regular services. Here's where it gets interesting.
Instead of offering it to all customers, the SaaS startup reserved it only for clients who did business with them for more than two years. To add an exclusivity touch, the team even deliberately keeps it out of sight on their website.
"We thought about it a lot and realized that these packages shouldn't be another strategy to attract new customers. It's truly a sign of our appreciation to the most loyal customers. We keep track of our clients and reach out via email to those who have been with us for some time. It's a personalized message always, and we use this opportunity to grow relationships with our clients further."

Nick Chernets, CEO of Data for SEO
After discovering the benefits package to be an excellent customer retention strategy, Data for SEO expanded it and made several smaller ones for new customers.
Nick Chernets, CEO of Data for SEO, felt that this approach was important to show them the startup appreciates their loyalty.
"In my experience, it doesn't matter what you put in the benefits package, as long as it's respectful," shares Nick. "Clients value the act of giving—more than discounts or rewards. They enjoy feeling appreciated, and that's what keeps them remaining our clients."
Here's a final piece of a tidbit from Nick that bears repeating:
"There are companies that offer benefits packages, but they usually require customers to take extra steps (e.g., upgrade further). Sometimes benefits packages are heavily advertised, and in reality, they don't provide any real benefits— it's a marketing trick. You say there's a discount, but it's so small, no customer will see it as a sign of appreciation."
Customer Retention Strategies #3: Sales
6. Prioritize the Big Kahunas (and Close the Loop)
"Every customer is valuable, but not every customer holds the same value," explains Ian Luck.
The VP of marketing at CustomerGauge approached customer retention through the revenue lens.
Together with his team, Ian retains their largest accounts and works their way down. Each quarter, they survey customers via an NPS survey; and transactionally for support tickets and the like.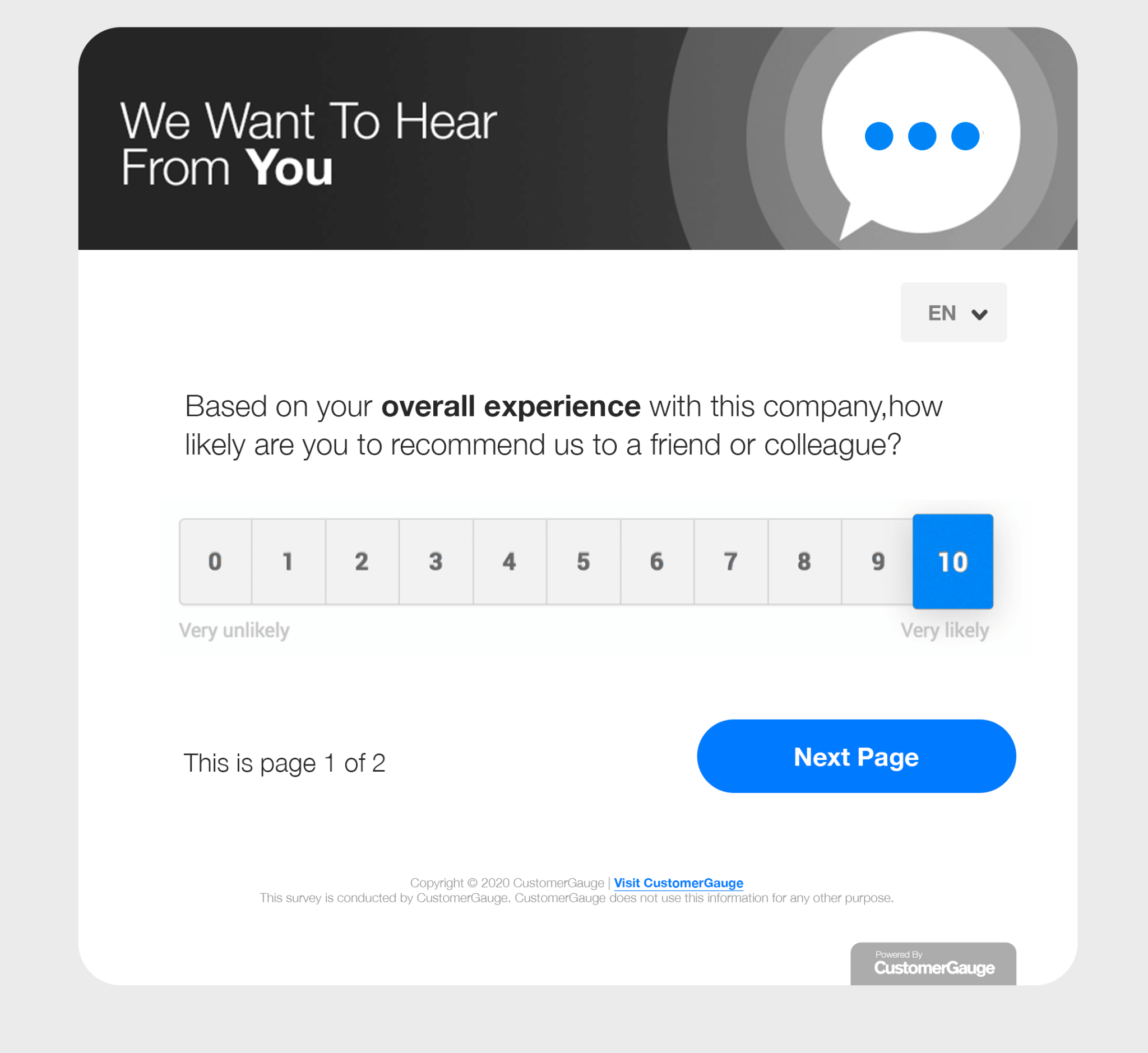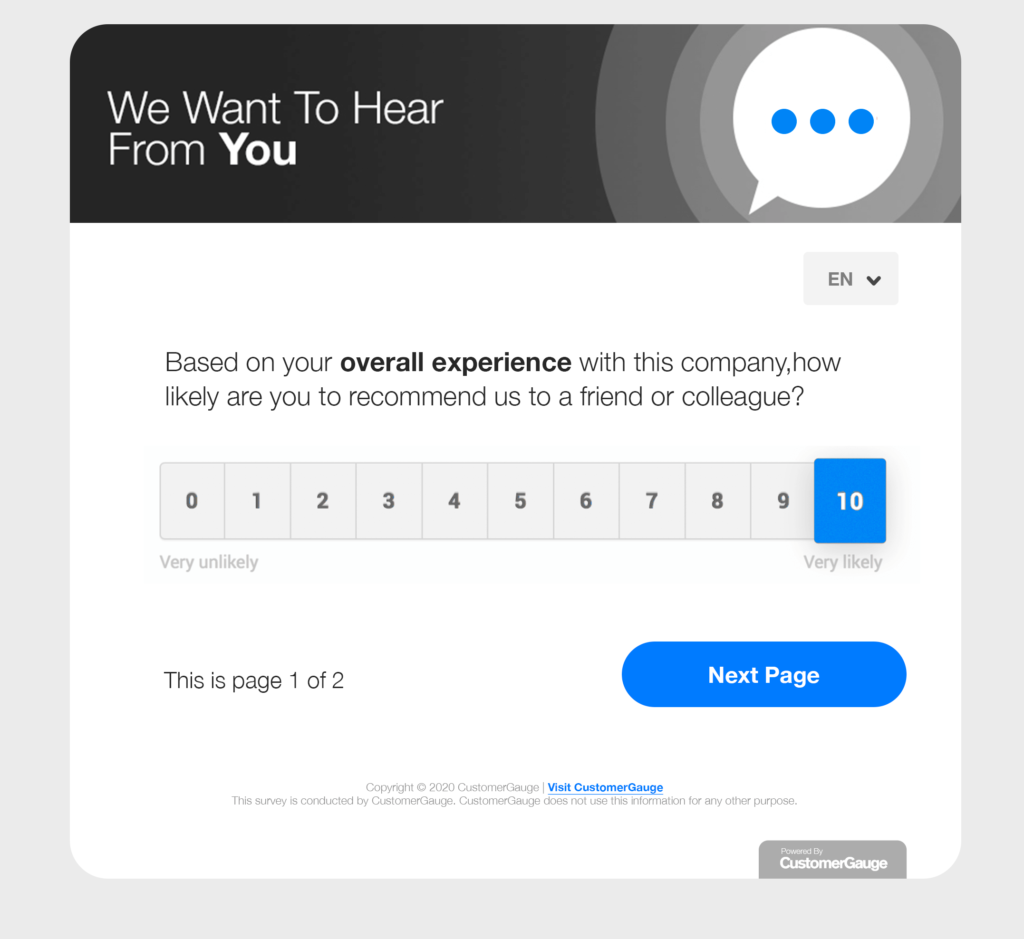 Pro Tip: Avoid analyzing only NPS when measuring customer satisfaction and loyalty.
Back then, the CustomerGauge team would send surveys throughout strategic points in the customer lifecycle stage. Yet, they saw multiple accounts churned.
"Clearly, we had to change our strategy," says Ian. "That's when we started looking at customer and account behavioral signals outside of NPS like support tickets, quarterly business review attendance, and product usage."
"NPS is still super important in our strategy, but we use it in conjunction with these other account signals to paint a better picture of our account retention landscape."
CustomerGauge, being true to its brand name, focuses a lot on its customers—both happy and unsatisfied ones. According to Ian, the account experience management SaaS startup deploys a vigorous 'closed-loop process' for customer detractors and promoters.
Describing it as transformational, Ian shares that this specific process was the key to driving higher retention rates—even for customers who began as detractors.
"In these conversations, you're not only showing customers you care enough to follow up on their feedback. You're also creating a human connection between the company and the customer—and often that's the difference that can change the tide."

Ian Luck, VP of marketing at CustomerGauge
Wise words, right? This human-centric approach helped boost CustomerGauge's customer base by 29%.
It's an understatement then to describe this approach as laser-focused. Here's a deeper look at how it works.
Using its account experience software, the startup integrated different behavioral signals into the dashboards to track activity at the individual account and customer level. This approach helped them spot an 'absence of signal' (inactivity)—a signal that correlates with their high churn rate and low retention rate.


CustomerGauge also automated its feedback collection and reporting in real-time.
They'd relay this information to the customer support team, who will then follow up with the customers "as soon and humanly as possible."
As of last quarter, CustomerGauge's customer retention rates tripled.
"Speed to close the loop with our customers had a big uptick on retention. They're usually surprised to hear from us so quickly in both happy and unhappy situations. Either way, it's a great first impression to show our customers we care enough to follow up on the feedback they just gave us."

Ian Luck, VP of marketing at CustomerGauge
Customer Retention Strategies #4: Product
7. Pamper Customers With Upgrades
63% of survey respondents like it when manufacturers offer new products.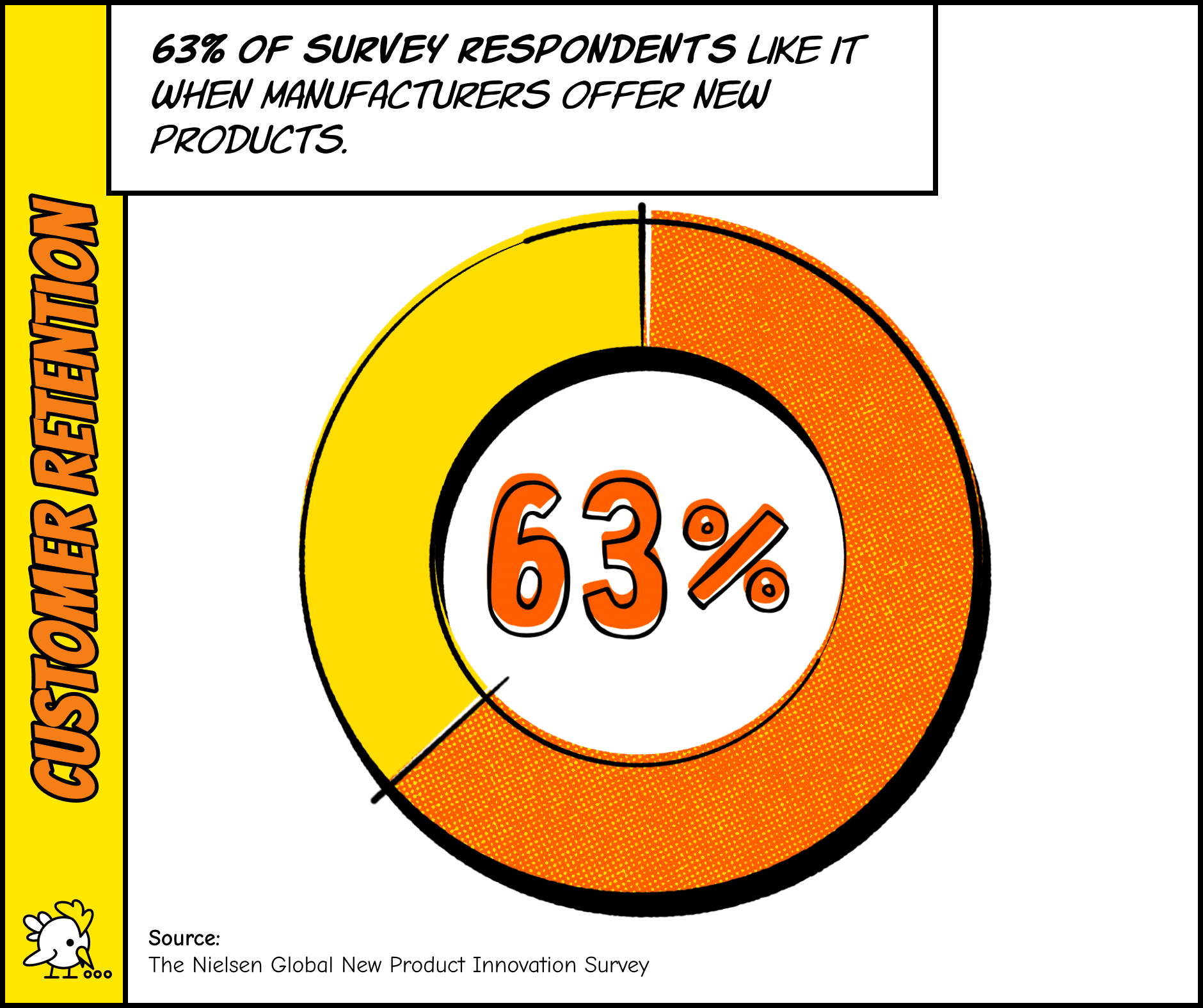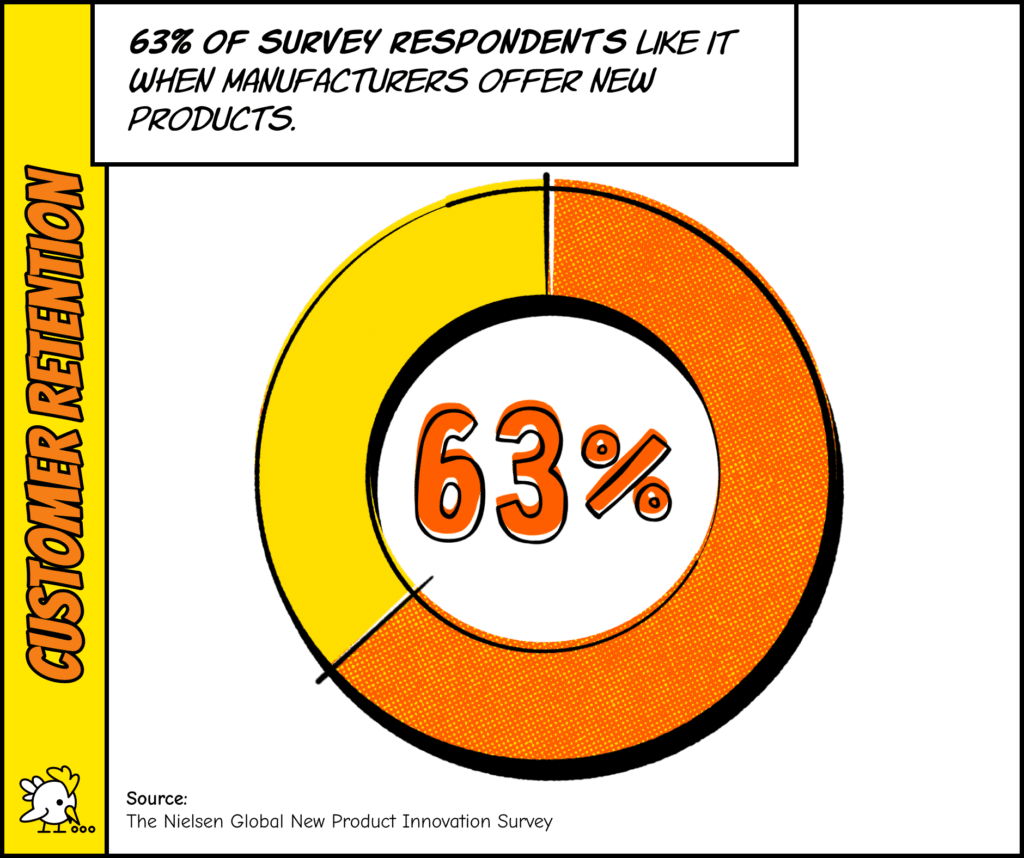 Which is why DocuPlayer, a legal SaaS startup, focuses heavily on product development to retain customers.
"We learned the hard way that we need to test more for bugs and make a readily available way for members to let us know about it," shares Tiffany Christianson, the CEO of DocuPlayer.
In the early days of DocuPlayer, Tiffany saw various new members canceling within a month of signing up. It was bizarre for multiple reasons.
The oddest reason was this—an early adopter customer who had championed the legal product to other users stopped using it.
Tiffany reached out to the early user and realized the problem. It turns out it was a bug. Tiffany and her team promptly fixed it and even offered a free six month membership. No surprise, the customer was thrilled to be a member again.
"When you maintain a useful tool, retention takes care of itself," explains Tiffany.
"Our internal lesson? We need to do more rigorous testing when adding a new feature. Now, our approach is to assume there are bugs and go on a mission to find them, as opposed to quickly testing and assuming there are none."
8. Nudge Inactive Customers With Triggers
Whether it's action-focused or time-based, triggers improve user experience and help customers understand how to use your SaaS product.
Intellifluence, an influencer marketing SaaS startup, automates its user onboarding with consistent software-based triggers. These triggers are determined by a series of factors such as lack of action and frequent action.
"A client isn't going to renew for the long-term if they aren't using your product, so we've designed a variety of logic-based events to gently nudge them in the direction of taking specific actions that will lead them to see success within the platform. When there's an alignment between user onboarding and user success, retention improves."

Joe Sinkwitz, CEO of Intellifluence
Here's an example of a trigger at Intellifluence.
When a brand user creates a campaign but doesn't add other users after three days (according to Joe, the probability of these customers churning increases dramatically at this stage), they will receive an email or a push notification to guide them on the appropriate steps.


Joe shares with Breadcrumbs that he's developed triggers for hundreds of friction points in the system to help his brands and influencers be as successful as possible.
"The smoother every step is, the higher likelihood of retaining them. The brands that complete campaigns and take steps to accomplish their KPIs will have better success, and therefore stay with us longer."

Joe Sinkwitz, CEO of Intellifluence
Pro Tip: Add a personalized touch in your "breakup" email. At Intellifluence, Joe will personally reach out to churned customers to determine the reason they left.
Why do this?
As Joe explains: "Just by listening, you can help solve the problem from occurring again and can occasionally win a client back who just needed to be heard."
Moral of the Story: The Best Customer Retention Strategies are Personalized, Value-Packed, and "HumanAF"
Your customer retention strategies play a massive role in revenue acceleration, and more often than not, they're the missing puzzle pieces in a hyper-targeted SaaS marketing strategy.
The higher your customer retention rate is, the higher your ROI.
Here's what we covered so far:
Customer Retention Strategies #1: Customer Support

Create a "humanAF" customer support and prioritize speed
Know when to ask for feedback
Get found easily through customers' favorite channels
Offer a dedicated support agent and a personalized experience (e.g., training based on most-used features)

Customer Retention Strategies #2: Marketing

Start an irresistible rewards program—better yet, hide it from your website to add a touch of exclusivity

Customer Retention Strategies #3: Sales

Prioritize your biggest accounts and close the loop for both happy and unhappy customers

Customer Retention Strategies #4: Product

Pamper customers with upgrades and fix bugs!
Nudge inactive users with triggers to encourage product adoption
Which customer retention strategies have you tried so far? Sound it in the comments below.
Another missing puzzle piece in a SaaS marketing strategy? Lead scoring. Decide where your best leads go and close more deals. Sign up for a FREE account on Breadcrumbs to get started right away.