Just how in the world did CustomerGauge raise its loyal customer base by 29%?
By "closing the loop" with its best and unhappy customers.
In this guide, you'll learn how it prevents customer churn alongside other startups. Steal an idea or two from these customer retention strategies to increase your revenue growth rate.
What is Customer Retention?
Customer retention is a metric that measures a company's ability to retain customers over a period of time.
Why is Customer Retention Important?
Customer retention plays a vital role in recurring revenue.
In fact, it takes only a 5% increase in retention to raise a company revenue by up to 95%.
Keeping existing customers is just as important as acquiring new ones. Besides improving customer lifetime value (CLTV), it boosts customer loyalty, word of mouth, and cross- and upsell opportunities as well.
Customer Retention Strategies: Marketing
Retention marketing ensures customers use your product to its full potential. Here's a powerful way to make customers feel appreciated and come back for more in the long road ahead.
1. Start a top-secret rewards program
78% of consumers will stay with a brand if it rewards them.
Loyalty programs that align with customer values can even go as far as impacting advocacy. In other words, not only do you increase recurring revenue, but you also tap into a new market of customers simultaneously.
But creating customer loyalty programs without compromising customer connection is… well, tricky.
And yet, DataforSEO cracked the code.
This leading SEO provider offers a money-saving benefits package to clients who engaged their services for over two years. The company keeps the program out of sight on the website to add an exclusivity touch.
"Sometimes companies heavily advertise their benefits packages, but in reality, they don't provide any real benefits. It's a marketing trick. They say there's a discount, but it's so small. No customer will see it as a sign of appreciation."

Nick Chernets, CEO of DataforSEO, on why loyalty programs fail
Here's why DataforSEO's loyalty program works:
It's strictly for loyal customers: DataforSEO uses secrecy in its post-purchase reward marketing strategy. By hiding the program from view on the website, it intrigues customers to know more and sign up as an exclusive member.
It makes customers feel appreciated: Customers value the act of giving. DataforSEO's benefits program makes clients feel valued and important and shows them the company is invested in their success.
It's easy to get started: Loyalty programs with a complicated registration process create friction. The DataforSEO team personally invites existing clients to join the rewards program via email. Clients can get started right away with just a simple yes/no response.
You can easily identify your most loyal customers with a contact scoring tool like Breadcrumbs.
Here's how it works:
Connect your data sources with Breadcrumbs
Define what makes a highly engaged user / product champion in the Fit and Activity model (e.g., content strategist in a $10ARR manufacturing company + purchase X tools in X amount of time)
Set the scoring model live
Breadcrumbs will send all scoring information to your main data source and notify you when a customer fits your predefined criteria.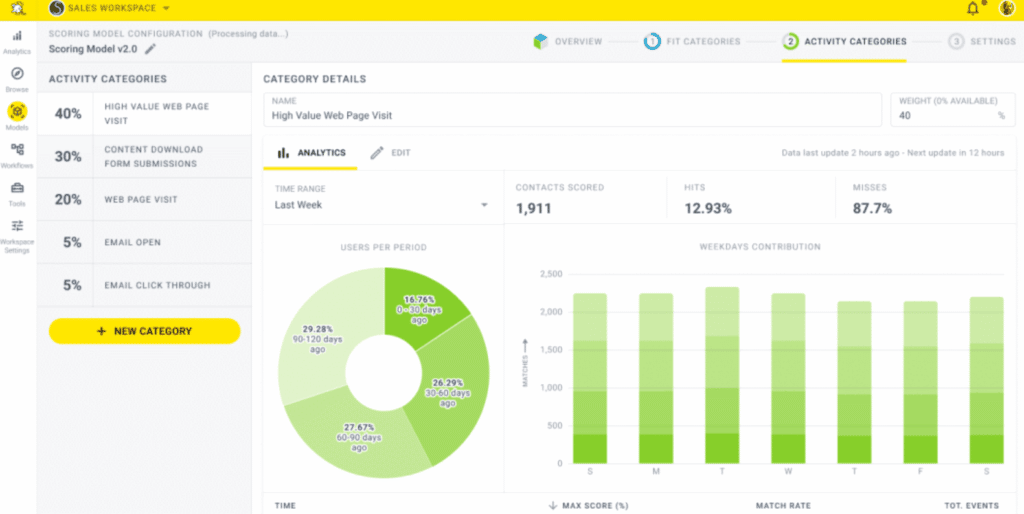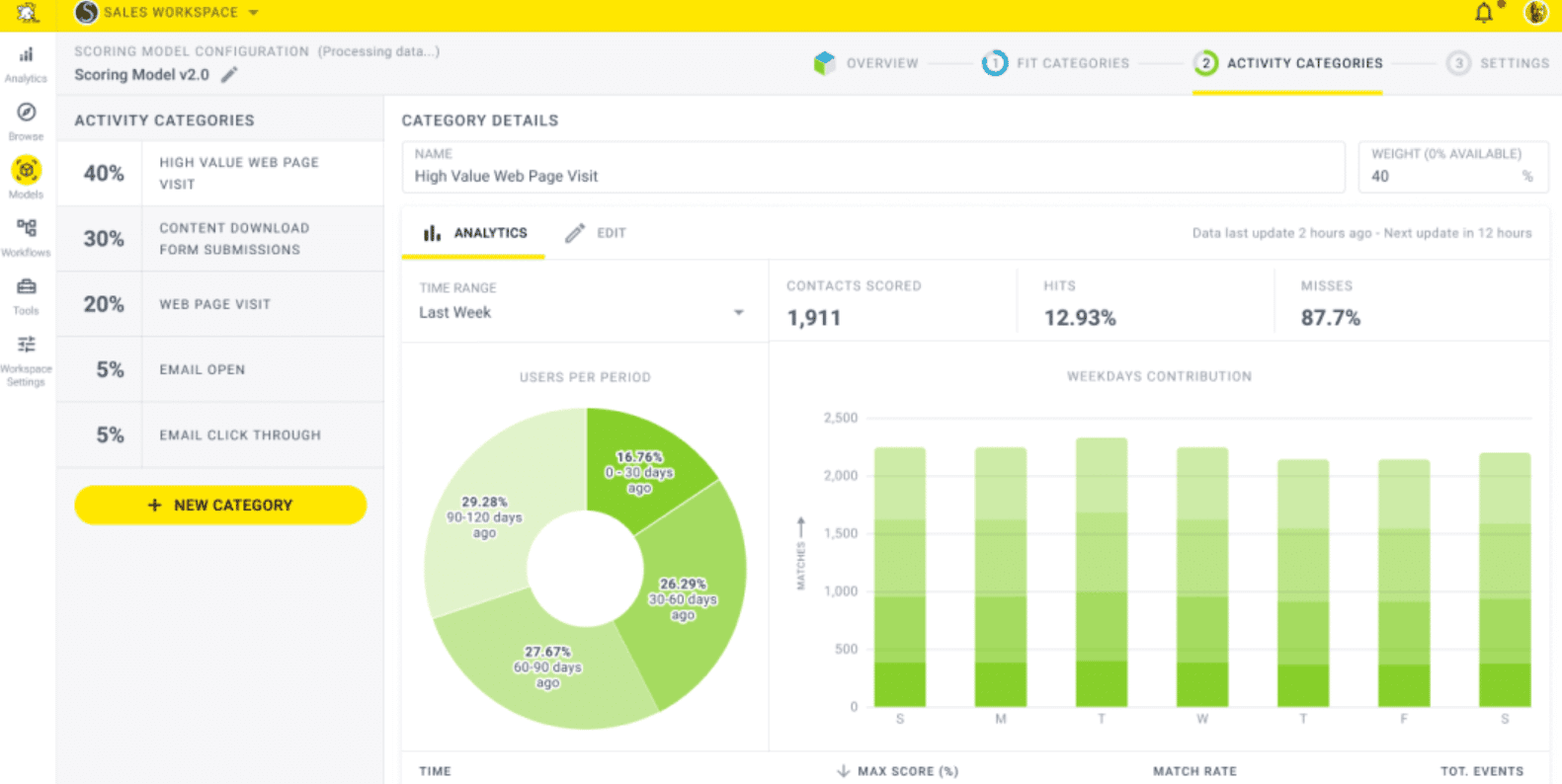 That way, you can identify your most loyal users accurately.
Grab your free plan on Breadcrumbs today to kick-start your customer retention programs.
Customer Retention Strategies: Sales
The customer journey never ends, not even for your biggest detractors. Here's an excellent strategy to get all customers on board.
2. Close the loop with your best and unhappy customers
Every customer is valuable, but not every customer holds the same value. CustomerGauge focuses on retaining its largest accounts. Every quarter, the B2B VoC software company requests for feedback in an NPS survey sent throughout strategic points in the customer lifecycle stage.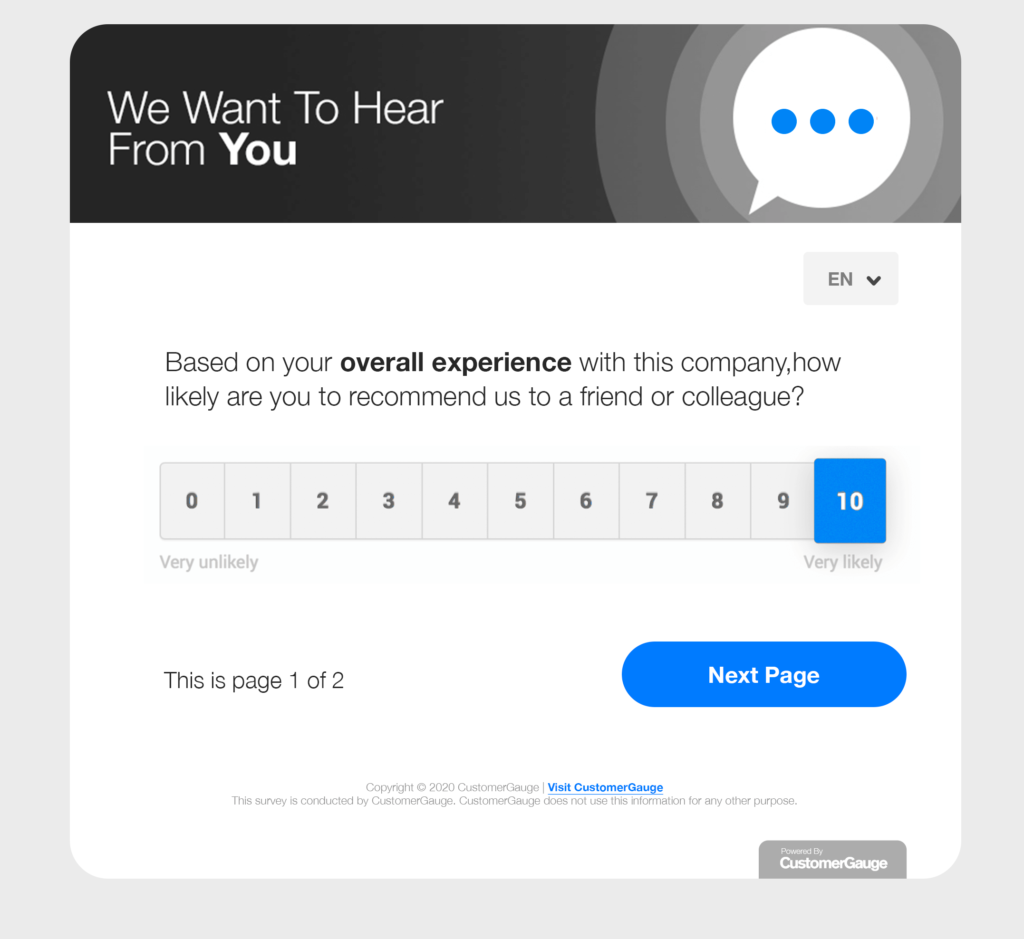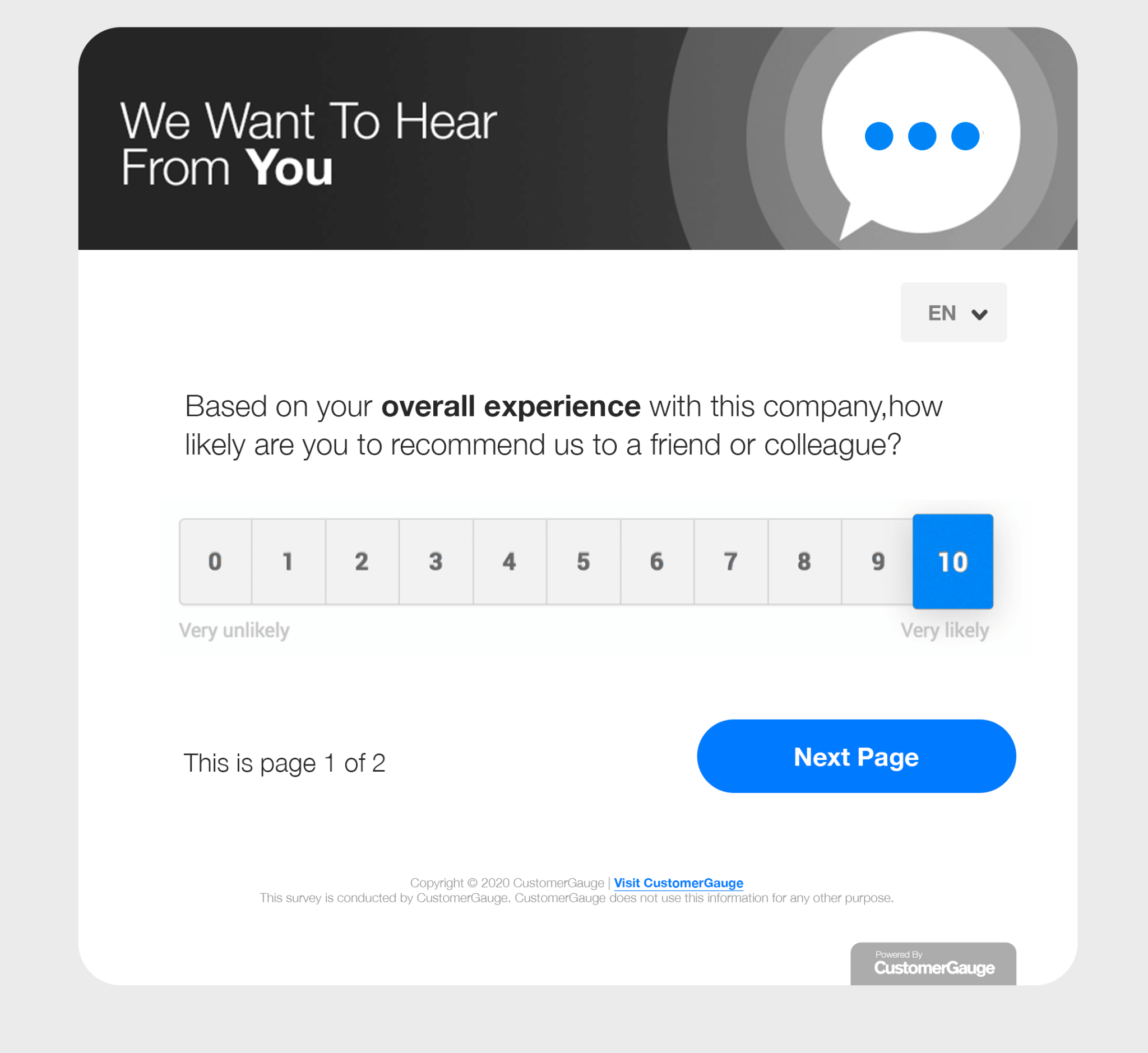 Despite collecting feedback actively, multiple accounts still churned.
It was then the team realized they needed to measure other metrics to better understand customer satisfaction and loyalty.
"We had to change our strategy," shares Ian Luck, the VP of global marketing at CustomerGauge. "That's when we started looking at customer and account behavioral signals outside of NPS like support tickets, quarterly business review attendance, and product usage."
Note: You can also use a tool like Breadcrumbs to identify at-risk customers. 

Define what makes a churning user in the pre-defined criteria (e.g., didn't login the past week) and set the scoring model live. Breadcrumbs will send all scoring information back to your CRM, alerting you whenever a user shows signs of declined usage.  
Alongside NPS, these metrics paint a clearer picture of the account retention landscape.
But the actual key to accelerating customer retention rates, according to Luck, lies in implementing a "vigorous closed-loop process" for customer promoters and detractors.
CustomerGauge integrated a bunch of behavioral signals into its own dashboard to track activity at the individual account and customer level.
Through this approach, they could spot an 'absence of signal'—a sign of inactivity that correlates with their high churn rate and low retention rate.


The team would then automate feedback collection and reporting in real-time. Eventually, they would relay this information to the customer support team, who will then follow up with the customers "as soon and humanly as possible."
"In these conversations, you're not only showing customers you care enough to follow up on their feedback. You're also creating a human connection between the company and the customer—and often that's the difference that can change the tide."

Ian Luck, VP of global marketing at CustomerGauge, on checking in with promoters and detractors
This human-centric approach raised the startup's customer base by 29%.
CustomerGauge's speed to close the loop with its customers had a positive impact on retention.
"They're usually surprised to hear from us so quickly in both happy and unhappy situations," divulges Luck. "Either way, it's a great first impression to show customers we care enough to follow up on the feedback they just gave us."
Customer Retention Strategies: Customer Support
3. Create a humanAF customer support
Three-quarters of customers prefer live agent support when navigating complex interactions like technical assistance, expensive purchases, and returns and cancellations.
Given that these customer service inquiries involve nuances that chatbots can't handle, this figure comes as no surprise.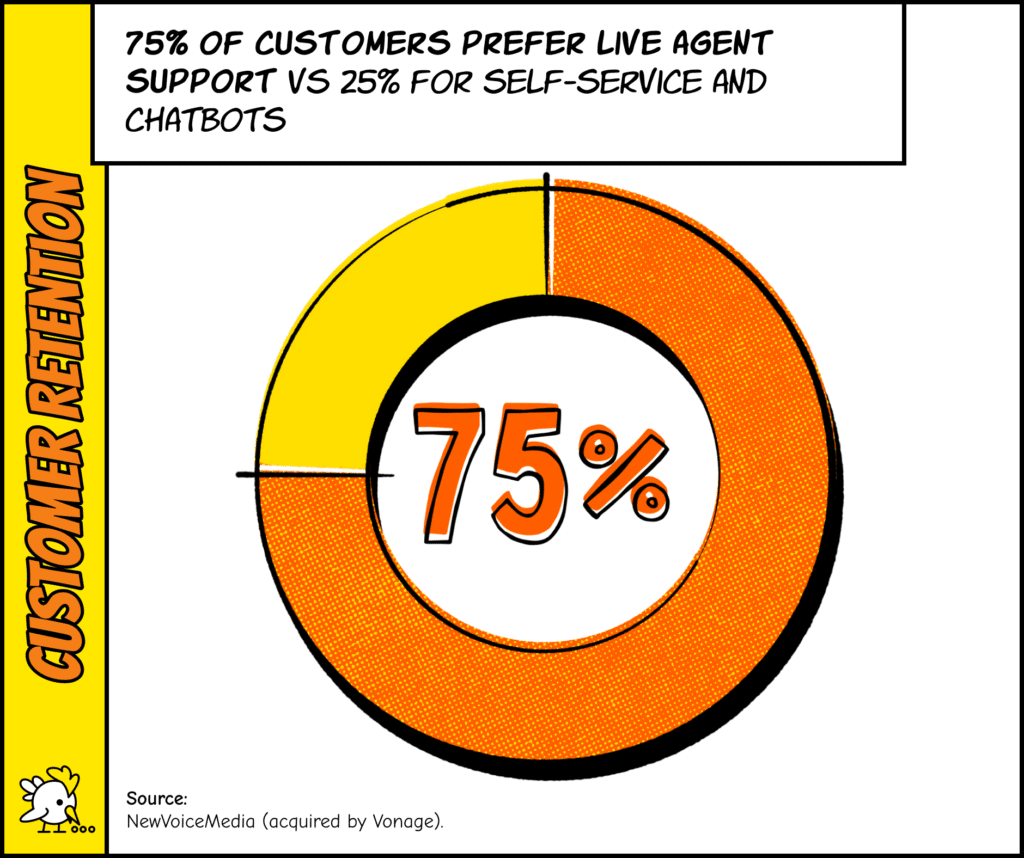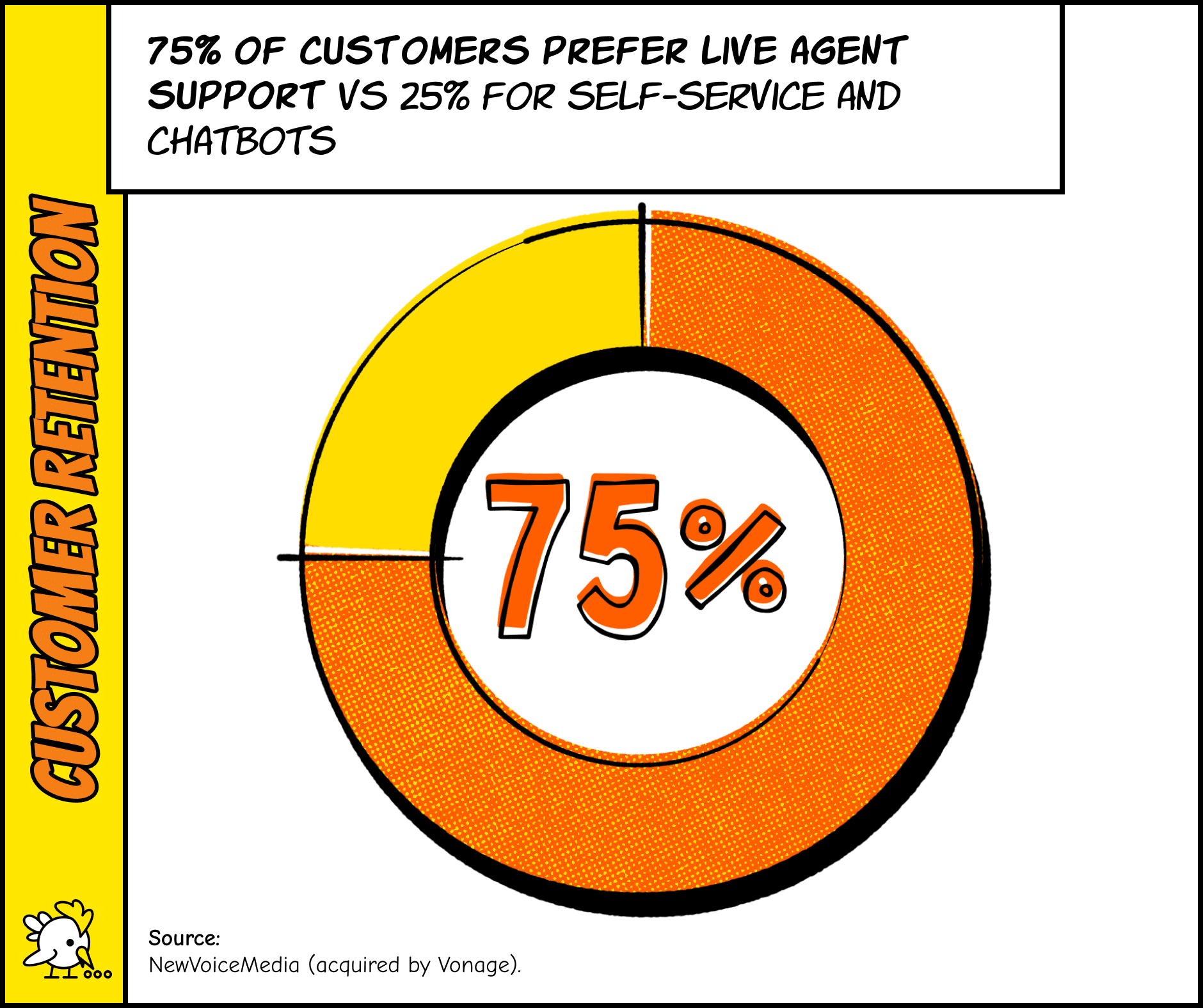 Unfortunately, Brosix learned this the hard way.
After implementing a chatbot on its website, the business messaging software company saw a drop in its customer engagement.
The company discovered that the onslaught of templated responses frustrated customers and caused them to abandon the site before even having a chance to speak to the live support agent.
The team eventually shifted from customer support automation to one-on-one assistance. They also hired more agents to accommodate the growing support tickets and brought in specialists to teach them how to efficiently communicate with customers.
In the end, Brosix experienced a slight increase in retention.
4. Request for feedback at the perfect time
85% of SMEs and large companies believe that online customer feedback has been beneficial to their business.
These companies invest in processes and resources to gather valuable information, enjoying benefits such as better employee morale, brighter business reputation, and a steady stream of referrals.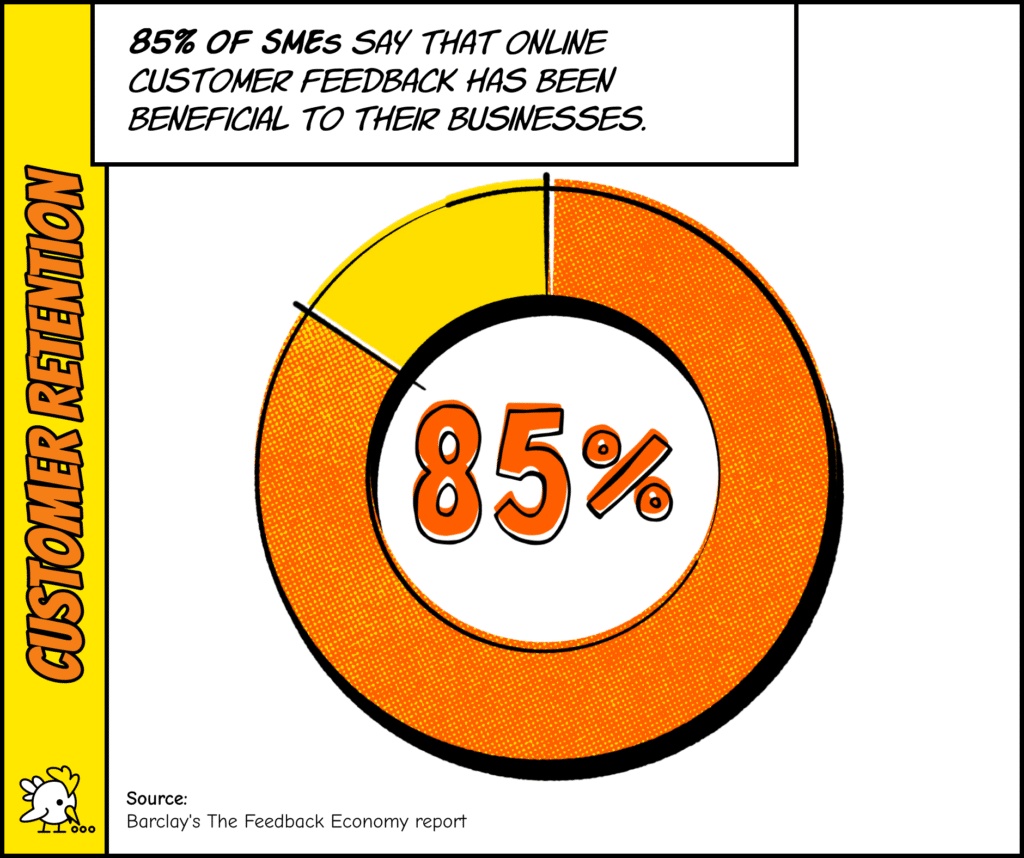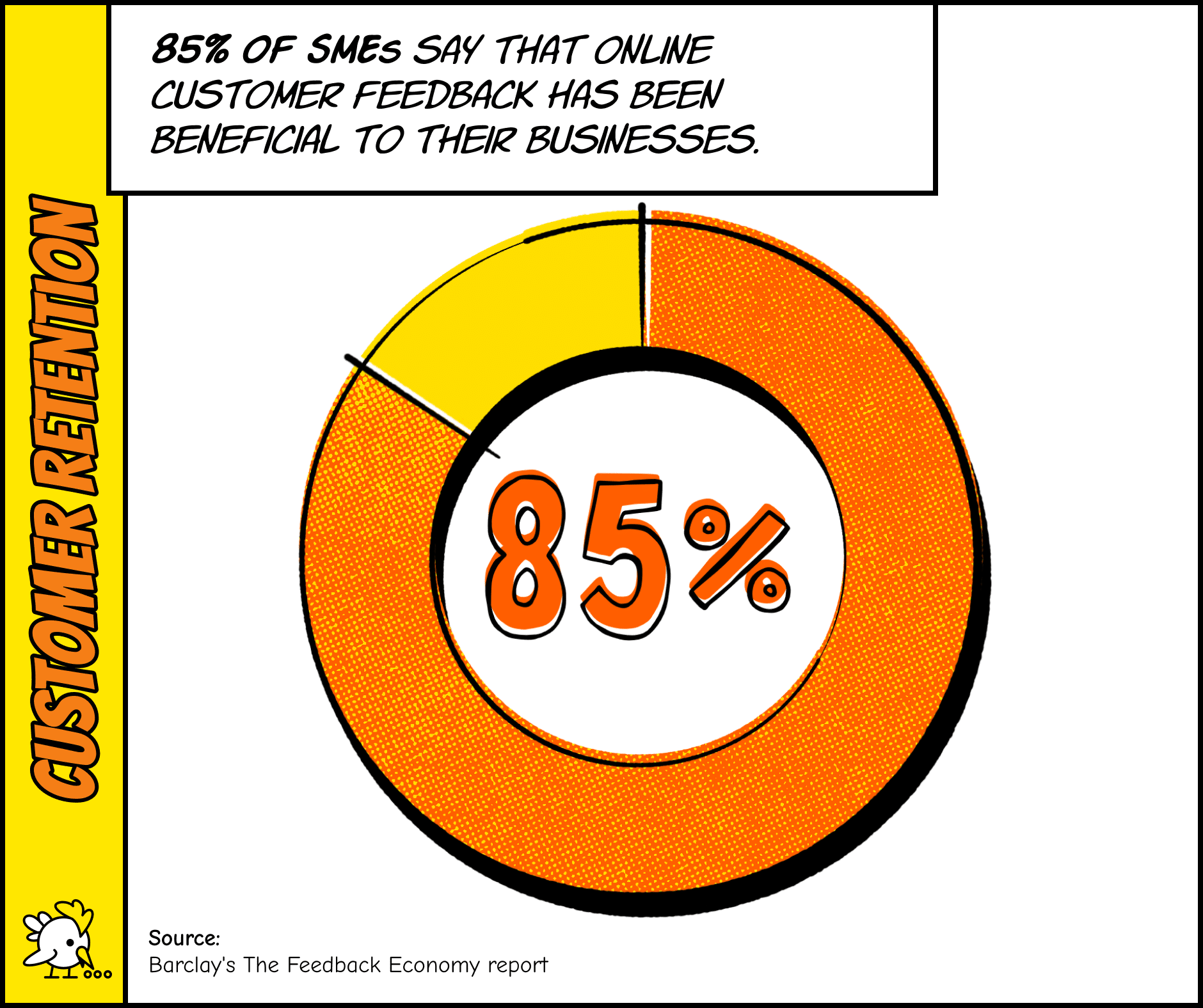 Perhaps that's why it's tempting to request feedback from customers during the resolution stage. After all, the support agents just resolved a problem and the quality of service is fresh off their minds. If not now, when?
The problem with requesting feedback too early in the process, explains Jeff Cooper, manager of Messagely, is that it might confuse the customers in unintended ways.
"It's the equivalent of a journalist interviewing a crash survivor as soon as they were rescued," says Cooper.
"They've encountered a problem and went to great lengths to fix it. Thankfully, the agent solved it without a hitch. However, the team continues to pressurize the customer to provide input on the experience."

Jeff Cooper, manager of Messagely, illustrating how it looks like from the customer's end when brands introduce the feedback process too soon
Avoid surveys in service tickets. Instead, initiate the customer feedback loop in a separate email after a day or two.
5. Get found easily (don't be like Waldo!)
Customers want the choice to pick up a conversation (or task) where they left off.
Omnichannel strategies drive an 80% higher rate of incremental store visits, which shows that businesses that understand this ever-changing customer behavior and offer more options to meet this need will win in the long run.
When PlanM8 noticed more brands adopting an omnichannel approach to their marketing, it followed suit in its customer support.
The yachting maintenance software company initially had an inconsistent net promoter score (NPS). Since supporting customers on their favorite social channels, it improved its NPS, churn rate, and recurring revenue.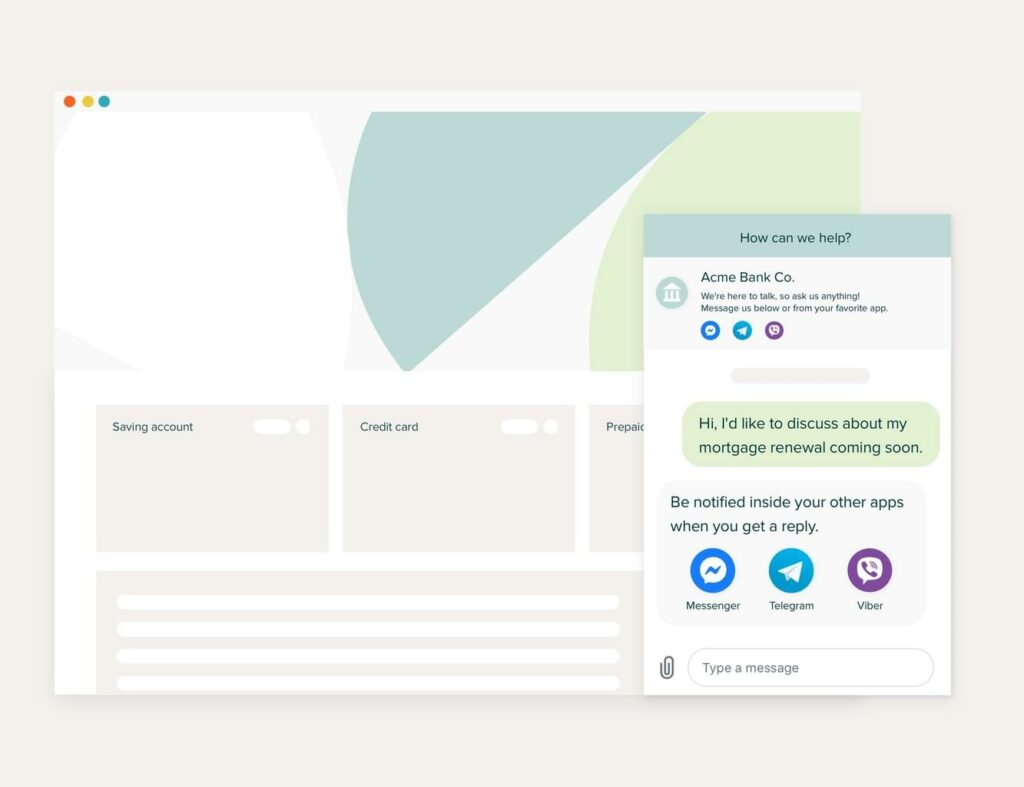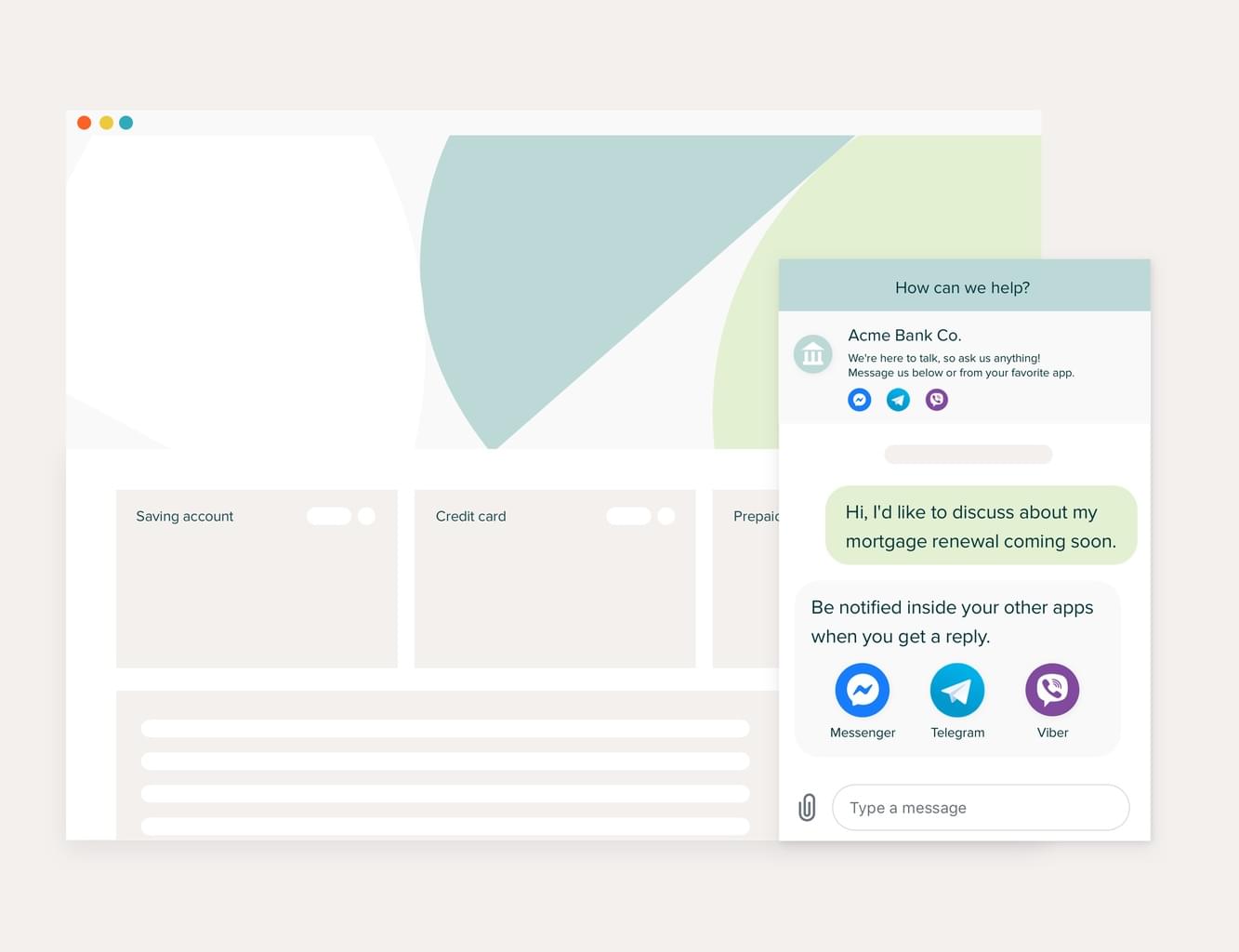 Omnichannel strategies accelerate revenue.
Consider PlanM8's three-step omnichannel framework if you want to replicate its strategy:
Identify your target customers' favorite channels: Send customer satisfaction surveys or conduct social listening to figure out where they're hanging out. 
Integrate your communication tools to streamline your interaction with customers: Ensure that your help desk solution connects with your customers' preferred channels. You want to be able to store all customer conversations in one central hub to provide more context for support agents.
Complement a real support agent with a chatbot: Chatbots are ideal for basic enquiries, whereas a live support agent works best for urgent assistance. Strike a balance between automation and human connection.
6. Offer a dedicated support agent with customized training
The COVID-19 pandemic will be remembered as one of the most trying times in history.
Businesses across the globe shifted to WFH, pivoted to new ventures to stay afloat, and offered deals and premium support to retain customers, among others.
Ashore was one of the startups that offered deep discounts to help customers affected by the pandemic.
After COVID-19 broke loose, the online proofing SaaS startup saw many of its customers leaving. "Customers saw their pipelines dry up suddenly," laments Cody Miles, founder of the online proofing app. "They began looking for ways to cut costs."
Note this email from an Ashore client. It details the challenges brought on by the coronavirus and how they had no option but to cancel their account.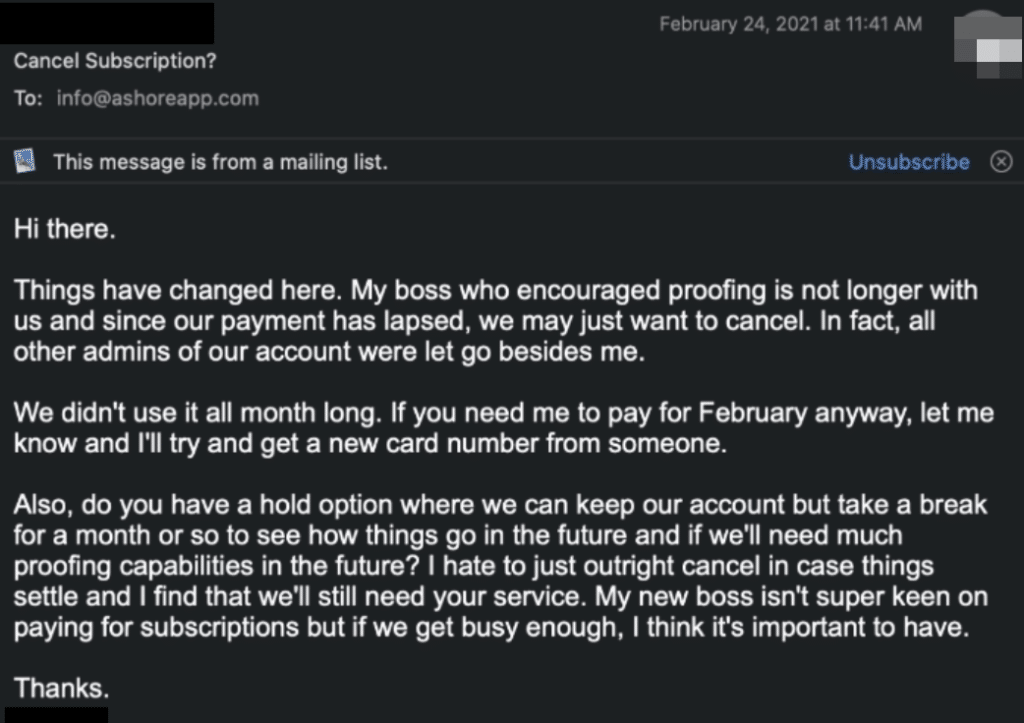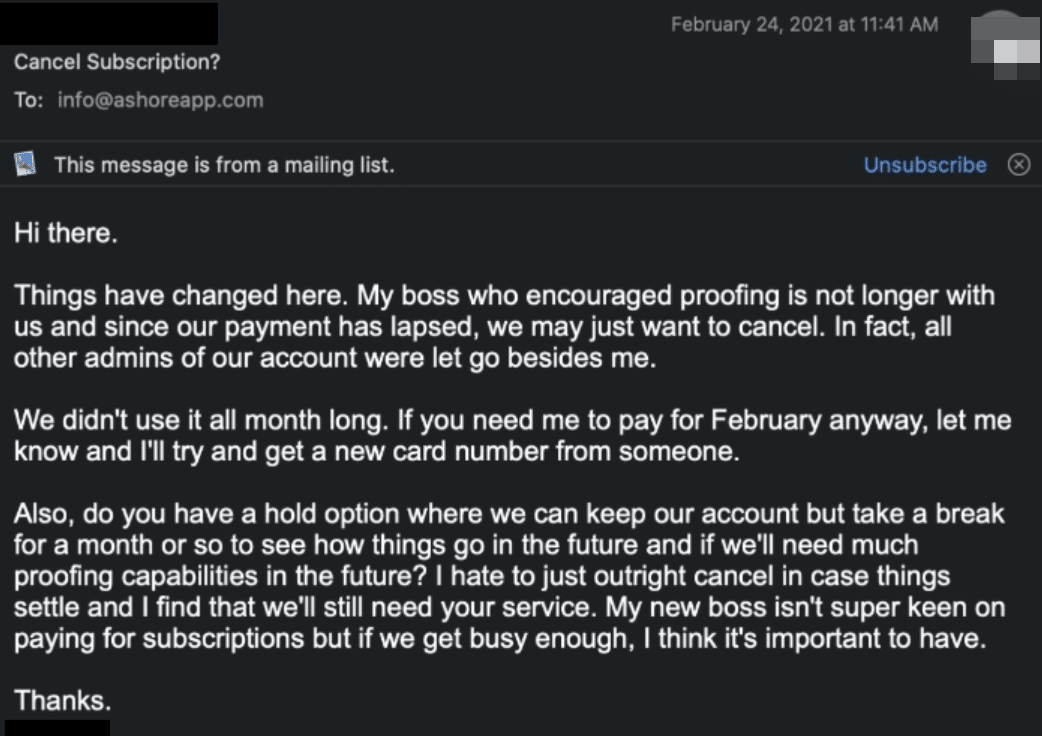 To stop churn from happening, the customer support employees at Ashore educated customers how the solution would benefit them during a business crisis and offered discounts to sweeten the pot.
Now, observe how the customer success manager goes the extra mile: by offering a 50% discount for the next six months.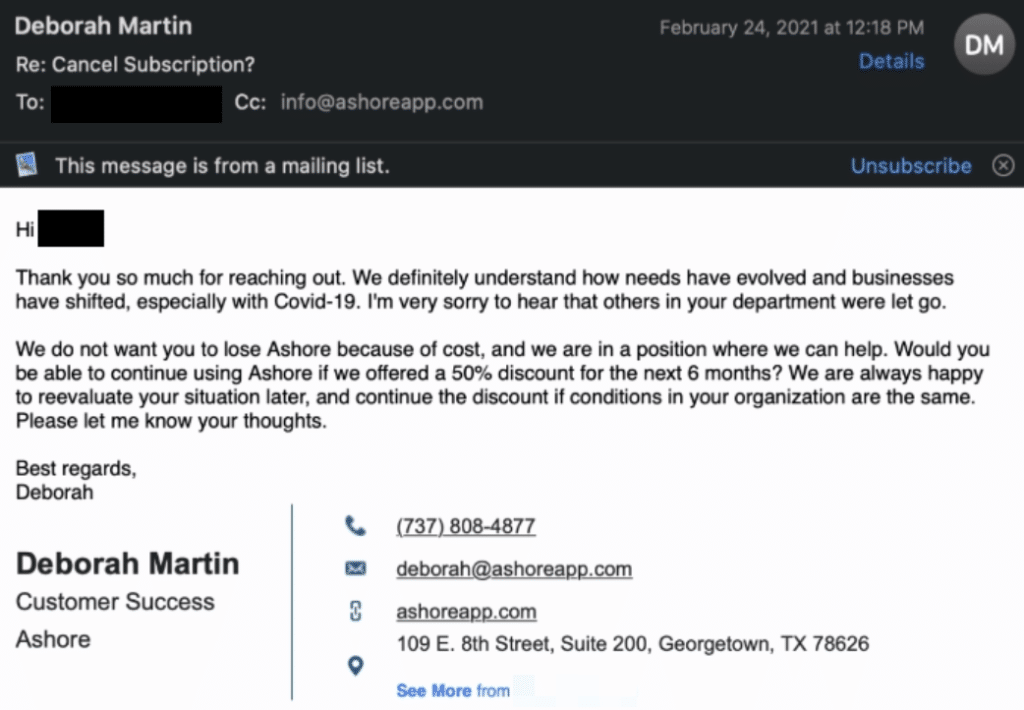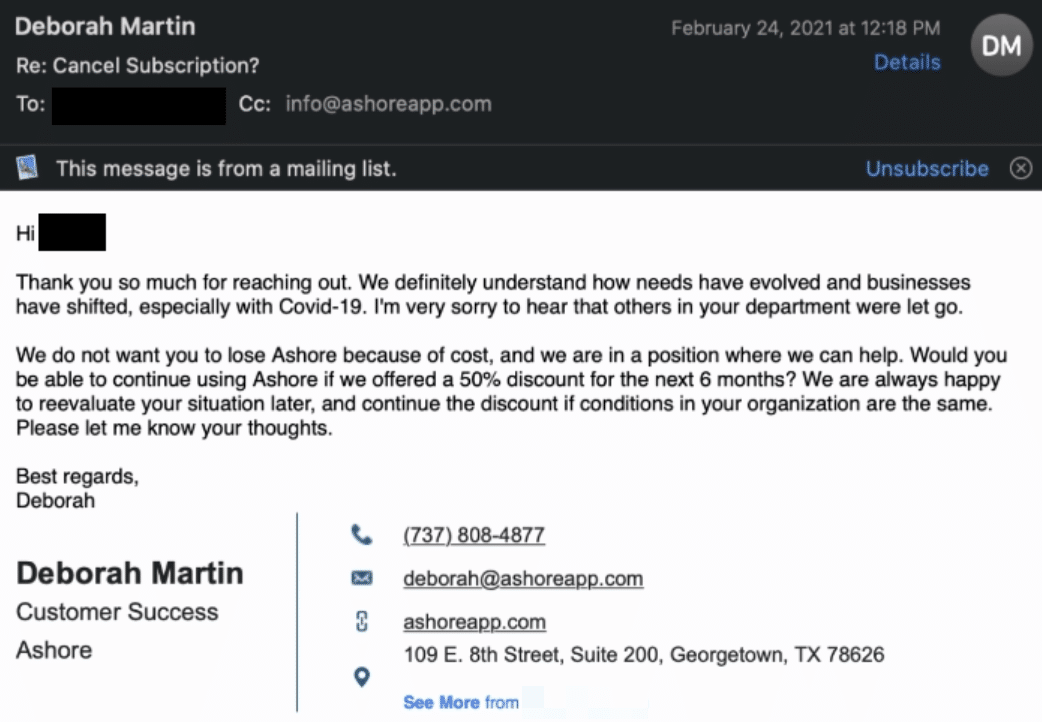 That's not all.
Ashore also assigned a customer success manager for each new user and customized a recurring and in-depth training session for its most popular features. Since March 2020, this series of "frequent, light touches on the customer accounts" doubled the startup's CLTV.
"Sometimes it's a matter of additional training or supporting new users on the account. Other times, it's receiving feedback on how we can improve to receive full adoption. In every case, it's an effort of making sure the customer knows they are supported and loved."

Cody Miles, founder of Ashore, on fostering customer relationship to improve retention
You can duplicate Ashore's strategy using our contact scoring platform. Here's how it works:
Connect your product analytics platform with Breadcrumbs
Define what makes a highly engaged user (e.g., uses X feature at least X times during the past week)
Set the scoring model live
Breadcrumbs will send all in-app data back to your main data source, notifying you of users who meet your predefined criteria.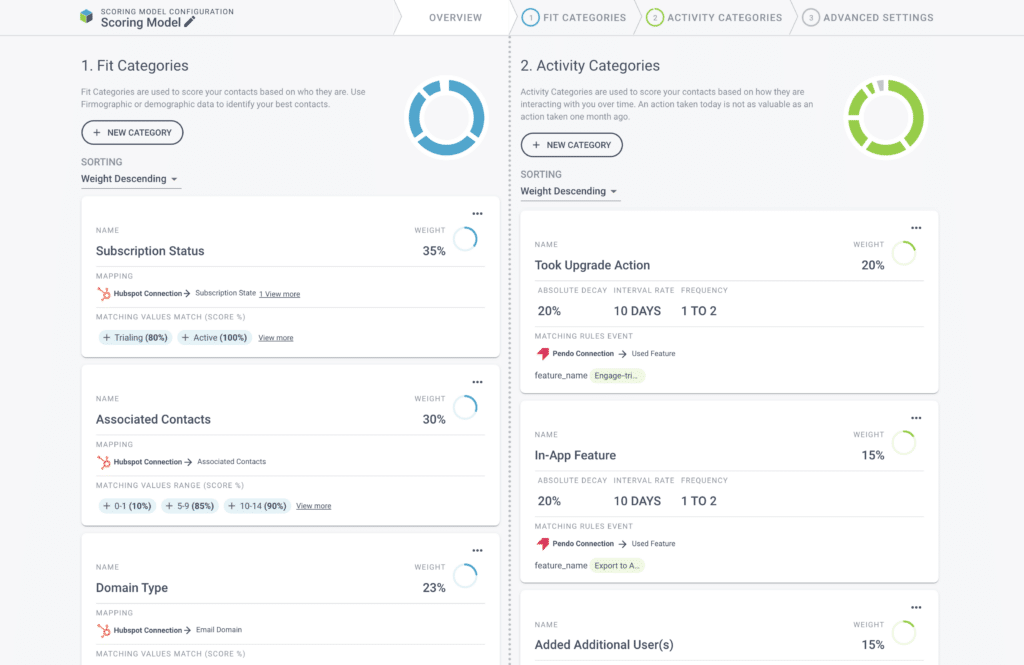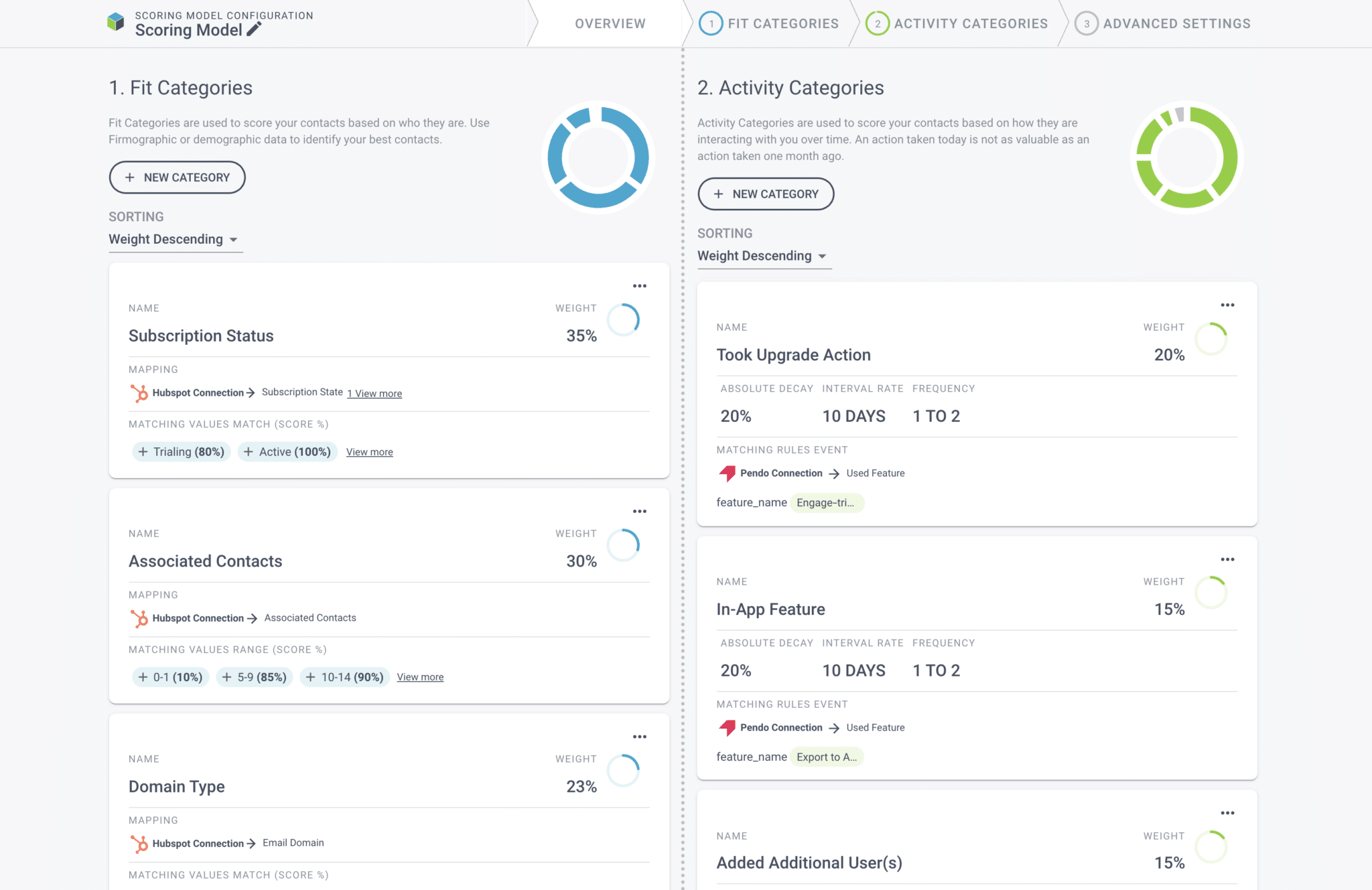 Now that you've identified these active users and satisfied customers, invite them to join the training sessions.
Remember, no customer is 100% familiar with a product's full functionality. A comprehensive webinar training teaches them how to make the most of it.
Start your free plan on Breadcrumbs to identify your most active users today.
Pro tip: Make check-ins a habit.

Gather everyone in the customer retention team and determine if your users require assistance.

The Ashore team asks themselves the following questions before deciding to set up the training sessions:

- How often are users logging in?
- How many proofs are they sending?
- Is the approval rating on their proofs increasing?
- Are the number of revisions per proof decreasing?
- Is the time-to-feedback decreasing?

If there's a downward trend in any of these areas, the customer success team will reach out and offer assistance.
Customer Retention Strategies: Product
Wondering how to encourage users to return to your product for more engagement? Consider these strategies to refine the product experience and increase future purchases.
7. Stay on top of potential product issues
Customer expectations have increased over the years.
With 63% of survey respondents sharing that they like it when manufacturers offer new products, companies today need to surprise and delight customers with new improvements if they want to stay ahead of the competition.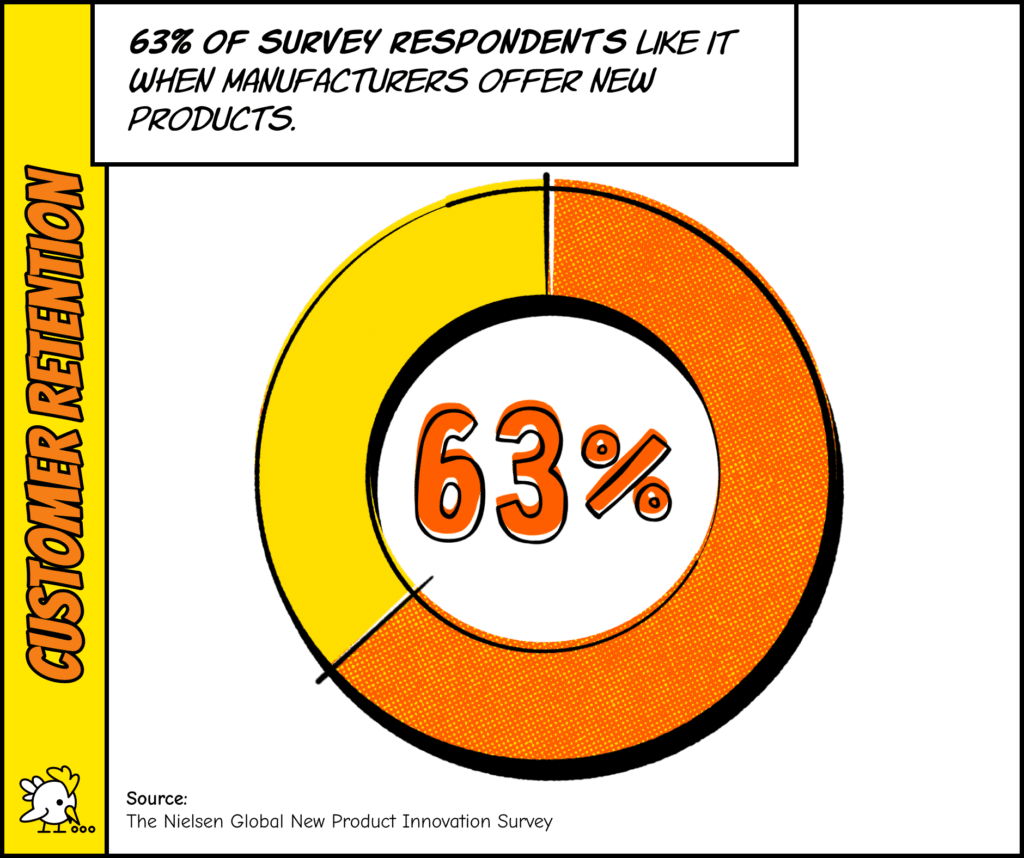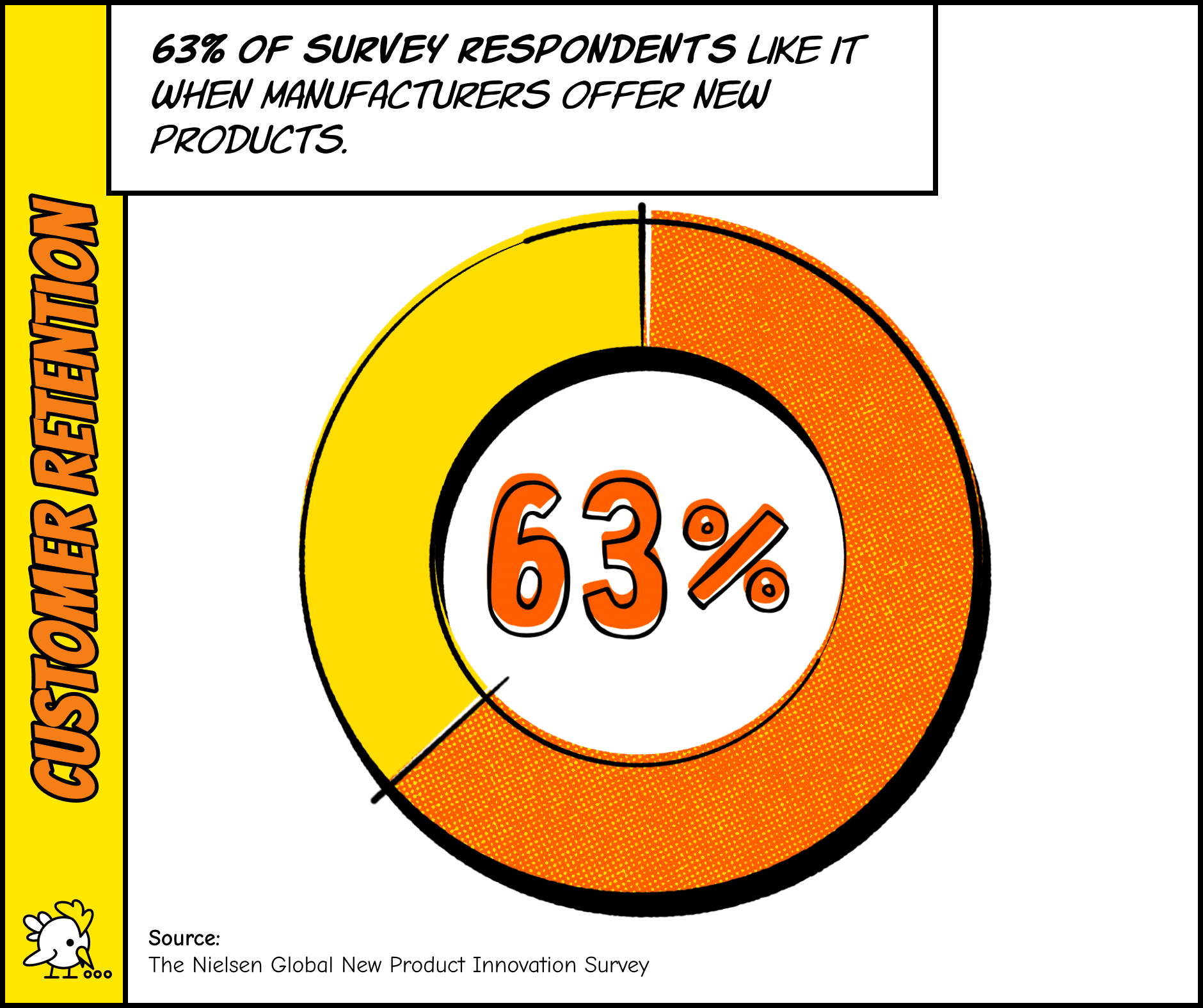 DocuPlayer is no exception.
The legal SaaS startup focuses heavily on product development to keep customers loyal.
In the past, new customers would cancel their accounts within one month of signing up. Stranger still, an early adopter customer, who had championed the product to other users, stopped using it.
It turns out there was a bug in the product.
"We learned the hard way that we need to test more for bugs and offer an easy way for members to let us know about it."

Tiffany Christianson, CEO of DocuPlayer
The team promptly fixed it and offered the customer a free six-month membership. As expected, the customer reactivated the account.
"Retention takes care of itself when you maintain a useful tool," explains Christianson.
"Conduct more rigorous testing when you add a new feature. Assume there are bugs and go on a mission to find them, as opposed to quickly testing and assuming there are none."
8. Nudge inactive users with triggers
The onboarding process needs to be intuitive.
It guides first-time customers to the aha moment and boost activation and adoption. Any misstep in this process risks churn.
One way to improve the product experience is to use triggers.
Whether it's action-focused or time-based, triggers improve user experience and teach customers how to use your SaaS product.
Intellifluence automates its user onboarding with a variety of logic-based events. These triggers gently nudge them to take specific actions that lead them to the aha moment.
"When there's an alignment between user onboarding and user success, retention improves. The smoother every step is, the higher likelihood of retaining them. Users that complete campaigns and take steps to accomplish their KPIs will have better success and stay with us longer."

Joe Sinkwitz, CEO of Intellifluence
Sinkwitz walks us through a trigger on Intellifluence:
[Start] User creates a campaign

[Event] User doesn't add other users after 3 days (Sinkwitz says the likelihood of these customers churning increases dramatically at this point)

[Trigger] Receives email or push notification to guide them on the appropriate steps


Analyze your in-app data to identify points of friction. In Intellifluence's case, it developed triggers for hundreds of friction points in the system to help users accomplish their campaigns as quickly as possible.
The best customer retention strategies are personalized, value-packed, and humanAF
You're leaving money on the table if you prioritize customer acquisition over retention.
These customer retention strategies play a massive role in revenue acceleration, and, more often than not, are the missing puzzle pieces in your SaaS marketing strategy.
Grab your free plan on Breadcrumbs to improve your retention efforts today.
FAQs
What is customer retention?
Customer retention is a post-purchase metric that tracks a company's ability to retain customers over a time period.
How do you calculate your customer retention rate?
[(Total number of customers at the end of a period – Number of new customers added within the period) / Number of existing customers at the start of the period] x 100%
What is the best customer retention strategy?
There's really no best customer retention strategy.
However, there are various strategies proven to work time and again.
Examples include responding to customer complaints in live chat, offering current customers a rewards program, acting on feedback (in customer surveys, customer reviews, customer comments in social posts), strategically using social proof, etc.