"What's the NO.1 SaaS marketing strategy that you swear by?"
When we posed this question to SaaS founders and marketers, we received 14+ powerful strategies that will accelerate revenue for your startup without a doubt.
Many of these SaaS marketing tips are simple yet underrated. Others are unconventional with a unique twist (spoiler: #9 shows a fresh take with free trials).
Before we begin, a disclosure: not all companies featured in this post are SaaS startups, but we've included them anyway as the strategies apply and they were way too good to pass up.
Alright, let's get started.
What is SaaS Marketing?
SaaS marketing refers to a myriad of marketing activities that attract prospective customers for subscription-based SaaS products.
SaaS Marketing Strategy #1: Customer Research
1. Re-examine your buyer persona
Customer research is the lifeblood of your business.
Without customer insights and SaaS analytics, it's impossible to build a product that customers really want, create content that drives acquisitions, and identify your best leads (let alone close them!). 
It's precisely why Luke Genoyer, sales and marketing manager at United World Telecom, has doubled down on customer research to refine his buyer personas.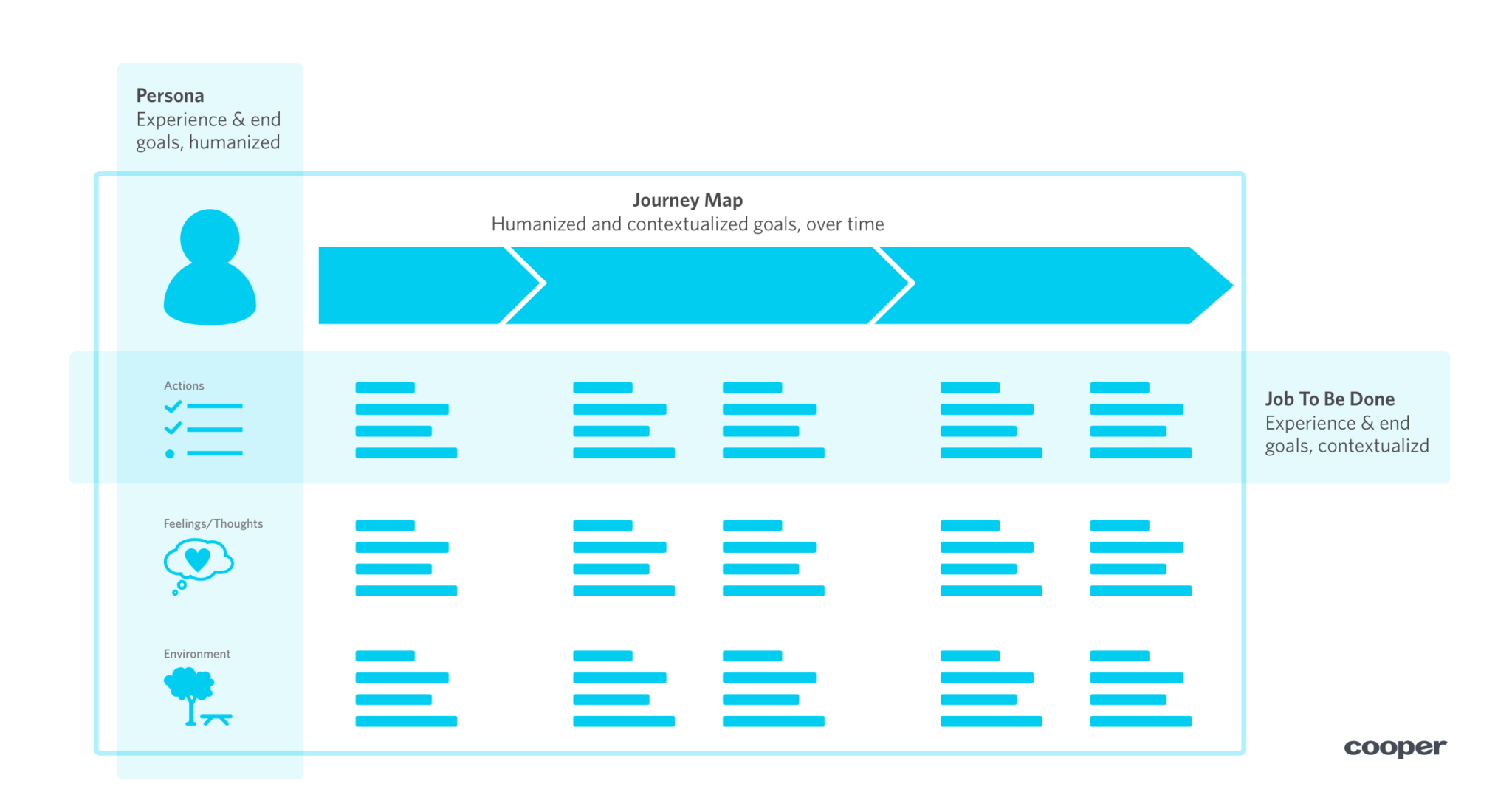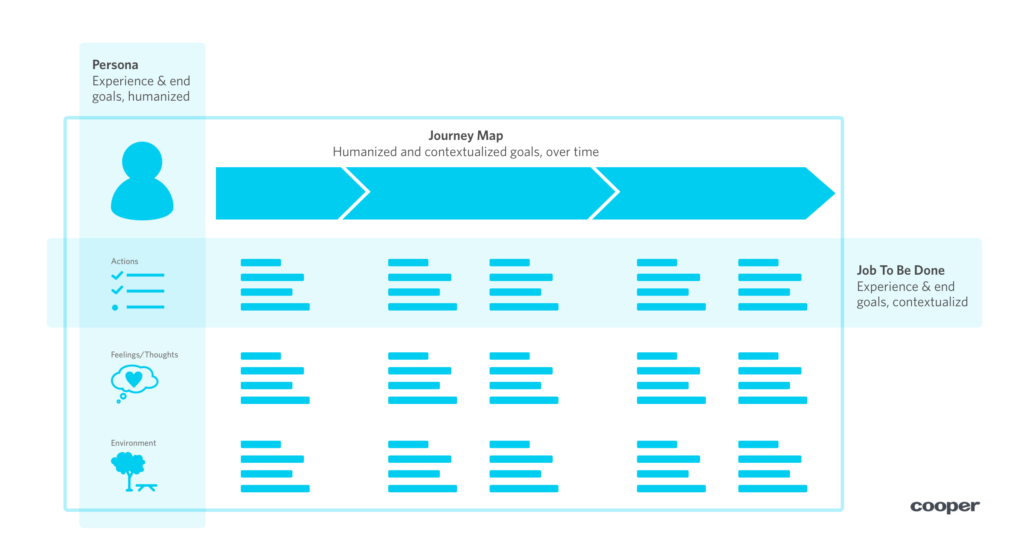 Since improving its buyer personas, United World Telecom has:
Increased business accounts by 40% monthly
Reduced advertising expenses by nearly 50%
Boosted annual contract values for new customers by more than 55% in less than a year
There are two main ways to create your buyer persona(s). Either talk to your customer-facing teams or interview your customers.
Luke and his content team chose the latter.
Together, they reached out to upper management, sales, customer support, and customer success departments with one question: "What are the characteristics of a great customer?"
Here's what they discovered after drilling down for specificity:
"Upper management is most concerned about customers' lifetime values and profitability. Sales prefers customers with larger initial deal sizes and shorter lead cycles. Customer support values customers with the fewest number of trouble tickets, and customer success evaluates customers based on their churn rates and net promoter scores (NPS)."

Luke Genoyer, sales and marketing manager at United World Telecom
Next, Luke and his team pulled data on their existing customers and looked for patterns based on the criteria to fine-tune their buyer personas.
Tip: Update your ideal customer profile (ICP) while tweaking the buyer persona(s) to highlight which attributes or actions are the best predictors of revenue. Grab your free Breadcrumbs Reveal account and:
Choose the segment of contacts to define success (e.g., all paying customers)
Analyze your results
Breadcrumbs will show which data is most valuable, like which industries or online activities result in the biggest revenue.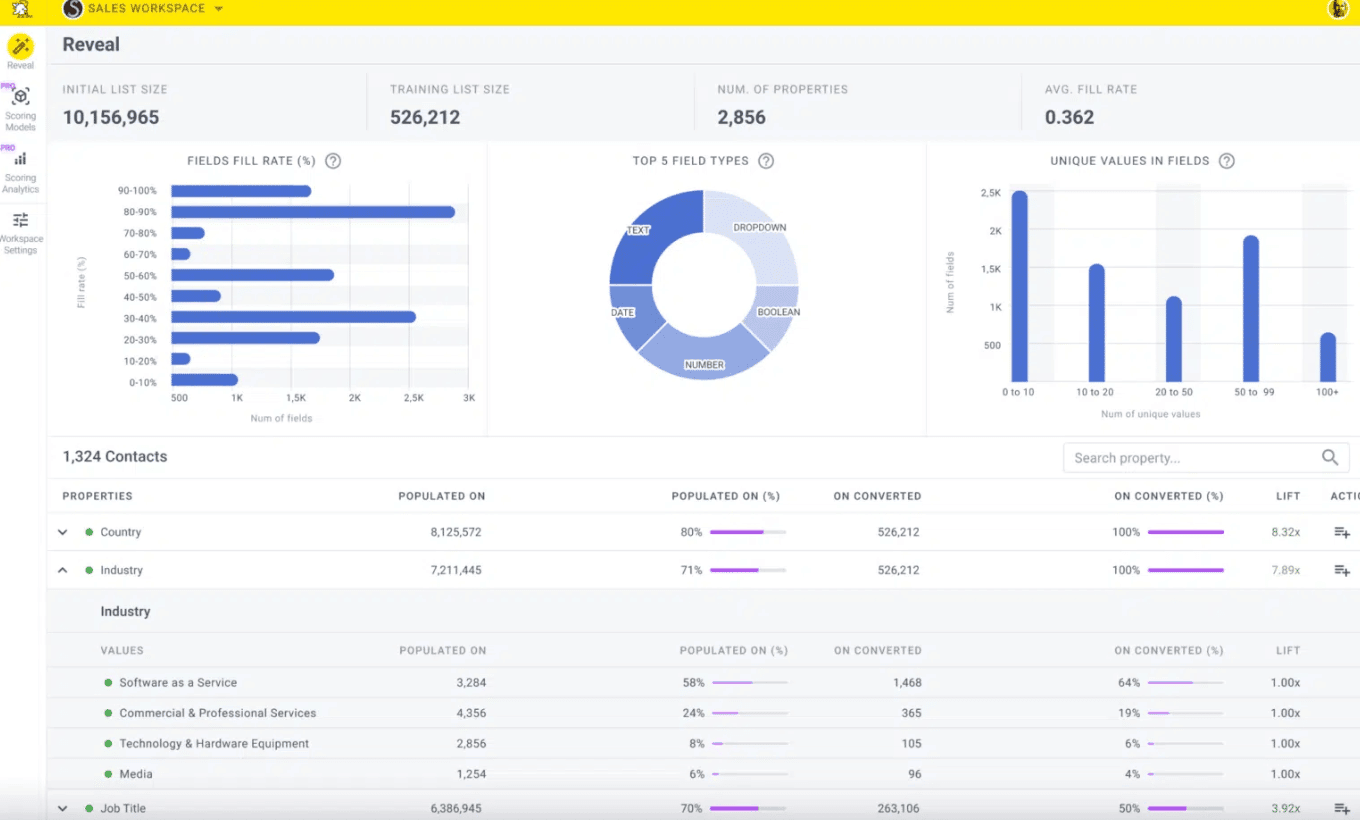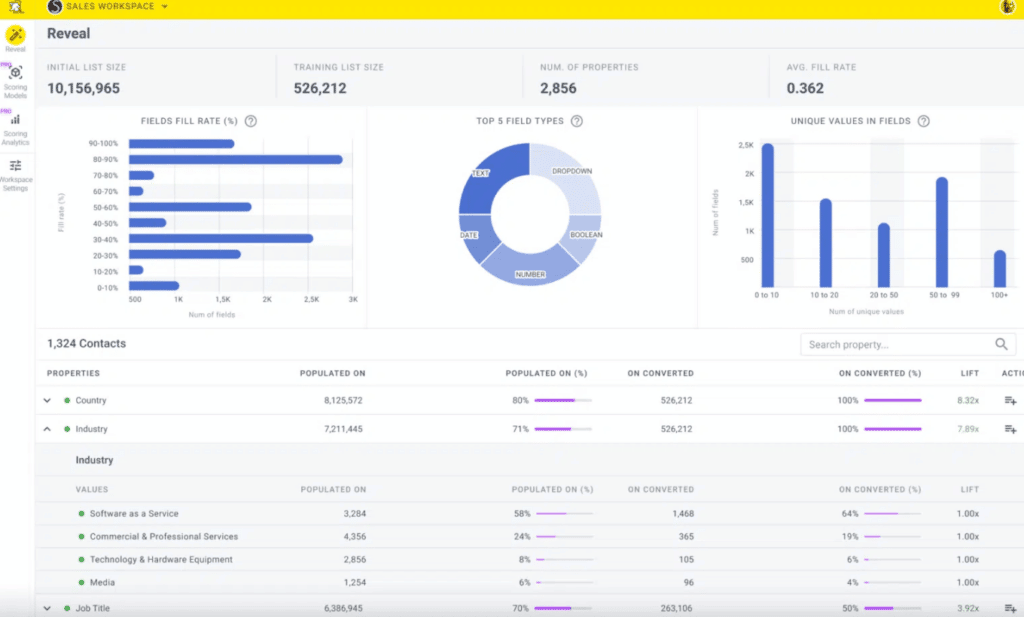 Your ICP and buyer persona are the backbone of your product, marketing, sales, and other business decisions. Focus on building (or refining) these data-backed profiles before implementing the following SaaS marketing strategies.
Understand what your best customers look like today, so that you can identify quickly with no guesswork and close more of them in the days ahead. Create your free account today.
SaaS Marketing Strategy #2: Content Marketing
2. Compare your SaaS tool with competitors
It's impossible for new websites (or websites with low domain authority) to rank for competitive keywords. Just review the SERPs. You'll see that the top page is flooded with popular websites with an insane number of backlinks.
Fortunately, comparison posts come in handy here.
These posts, which explore the alternatives of a competing product—either a direct competitor or indirect competitor—typically sport longer-tail keywords with less competition. Best of all, they have high buying intent.
Josh Brown, SEO and content marketing manager at Helpjuice, is a fan of this approach. Note the knowledge base software company ranking for the keyword "Zendesk alternative" on the first page of the SERPs.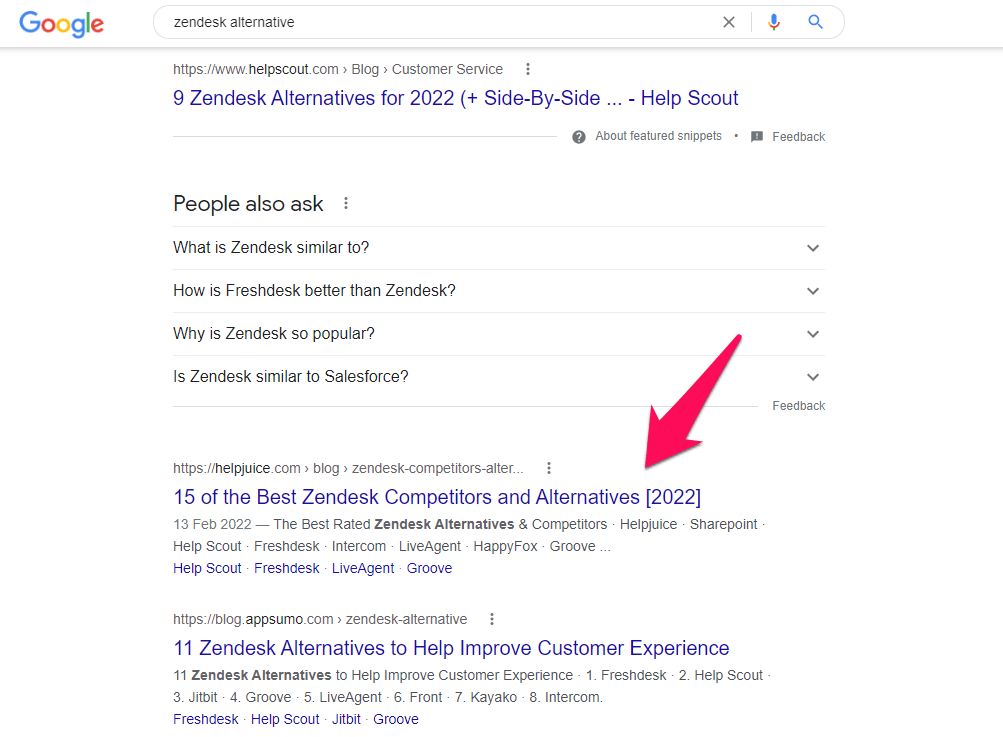 Searchers looking for alternate solutions of Zendesk are way past the funnel and ready to buy.
"These types of comparison posts are successful because searchers are already at the evaluation stage," explains Josh. "They understand what their pain point is and are now actively looking for a tool to solve it."
In your comparison posts, discuss what the alternate products have to offer (e.g., show pros and cons, display industry reviews). The trick here is to position your SaaS tool and prove why it's the better alternative.
If you rather not create another side-by-side feature comparison (it's tough without being biased, after all), consider this SaaS marketing tip by Ahrefs: highlight your product's unique features.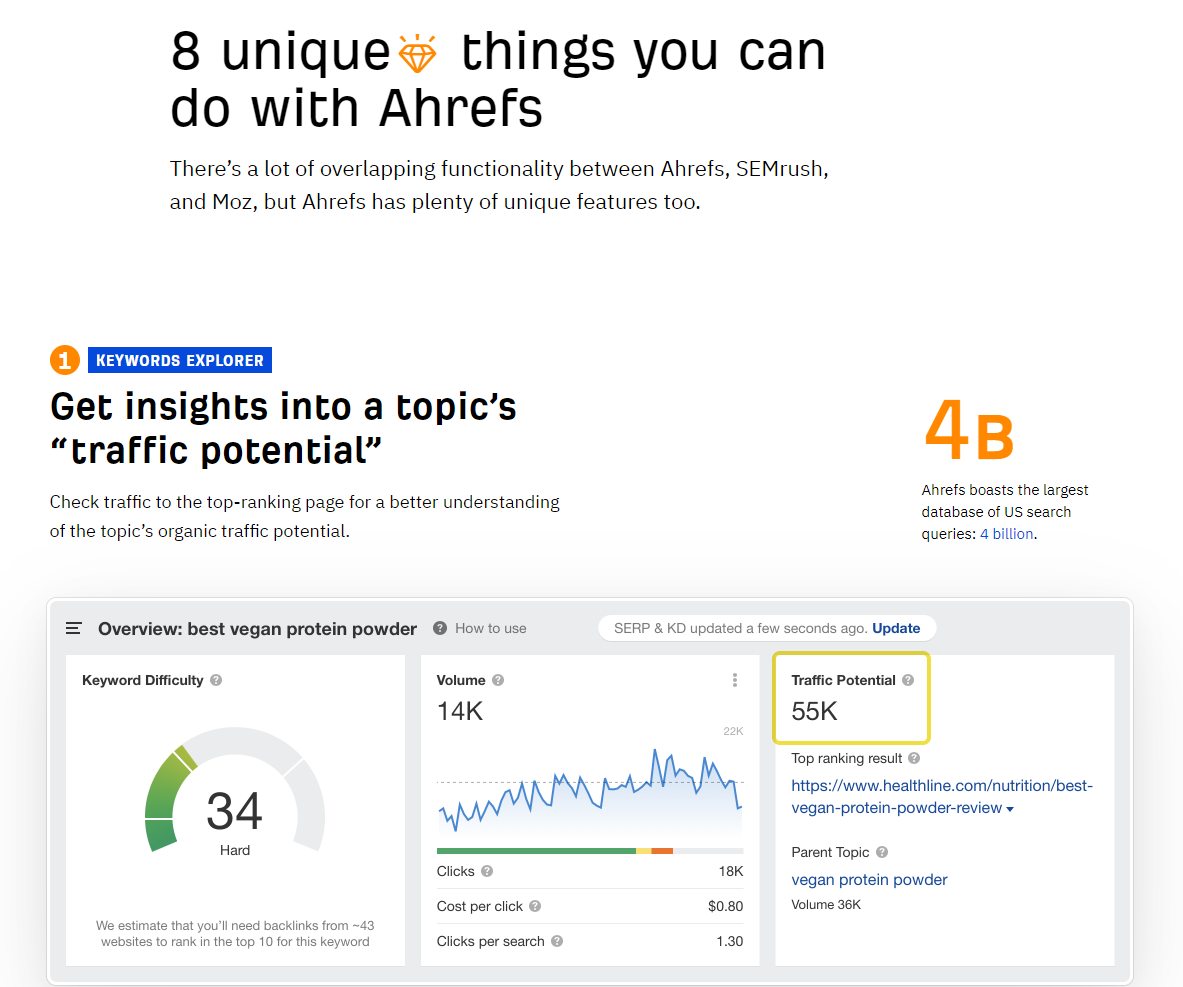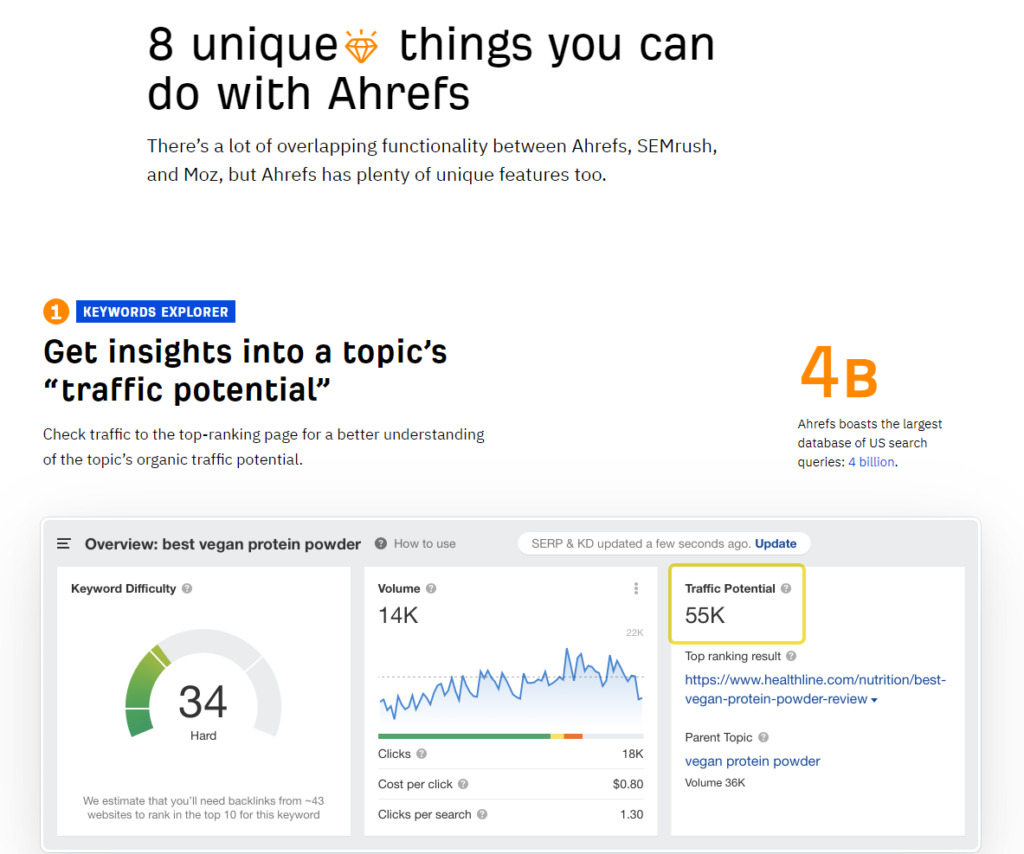 It's just as effective.
3. Create a content moat
A content moat refers to a page of glossary of terms.
Brendan Hufford, founder of SEO for the Rest of Us, explains this concept to Breadcrumbs:
"When you start owning all of the 'What is…' searches in your industry, not only do you build traffic and backlinks, but you also start to own the entire conversation around every topic. This is especially helpful with topics that don't have a huge search volume but show high levels of qualification in the search."

Brendan Hufford, founder of SEO for the Rest of Us
Tons of companies in niche markets implement a content moat in their SaaS marketing strategy. Here's Moz, a well-known SEO software company, ranking for the keyword "what is SEO?".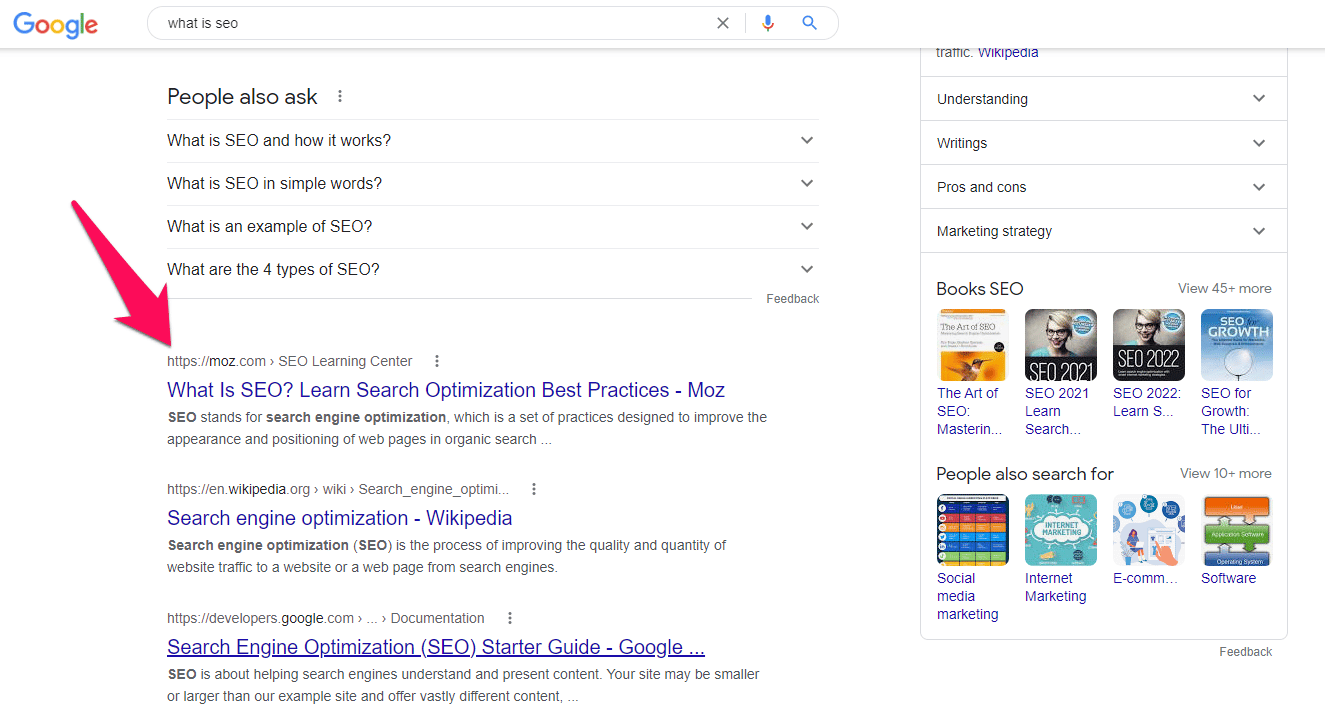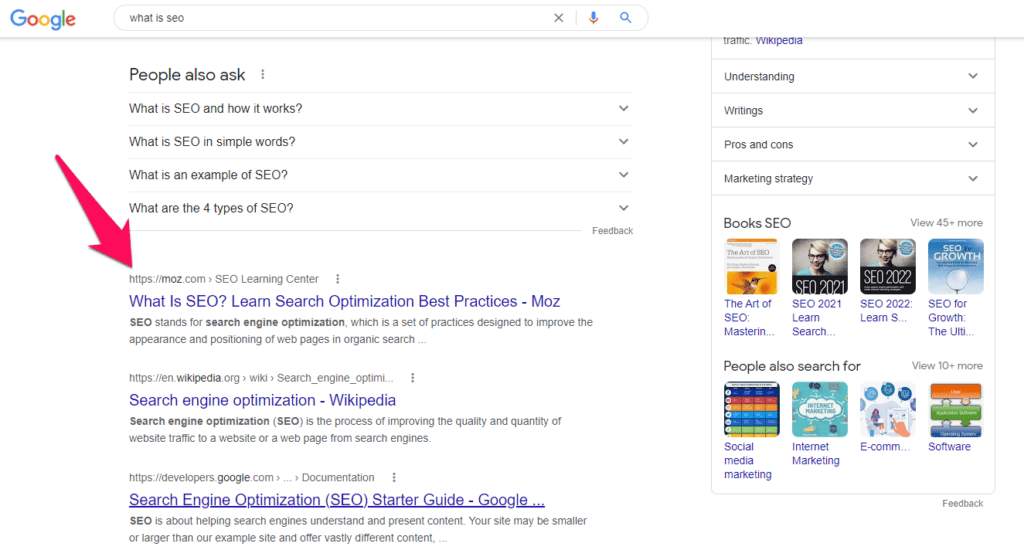 If you click through the page, you'll see that it's actually an SEO learning center chock-full of glossary terms for newbies and on- and off-page tactics for SEO practitioners. That's a content moat in action.
Brendan built a glossary for a DevOps SaaS startup that had a successful IPO recently. Note the huge traffic spike: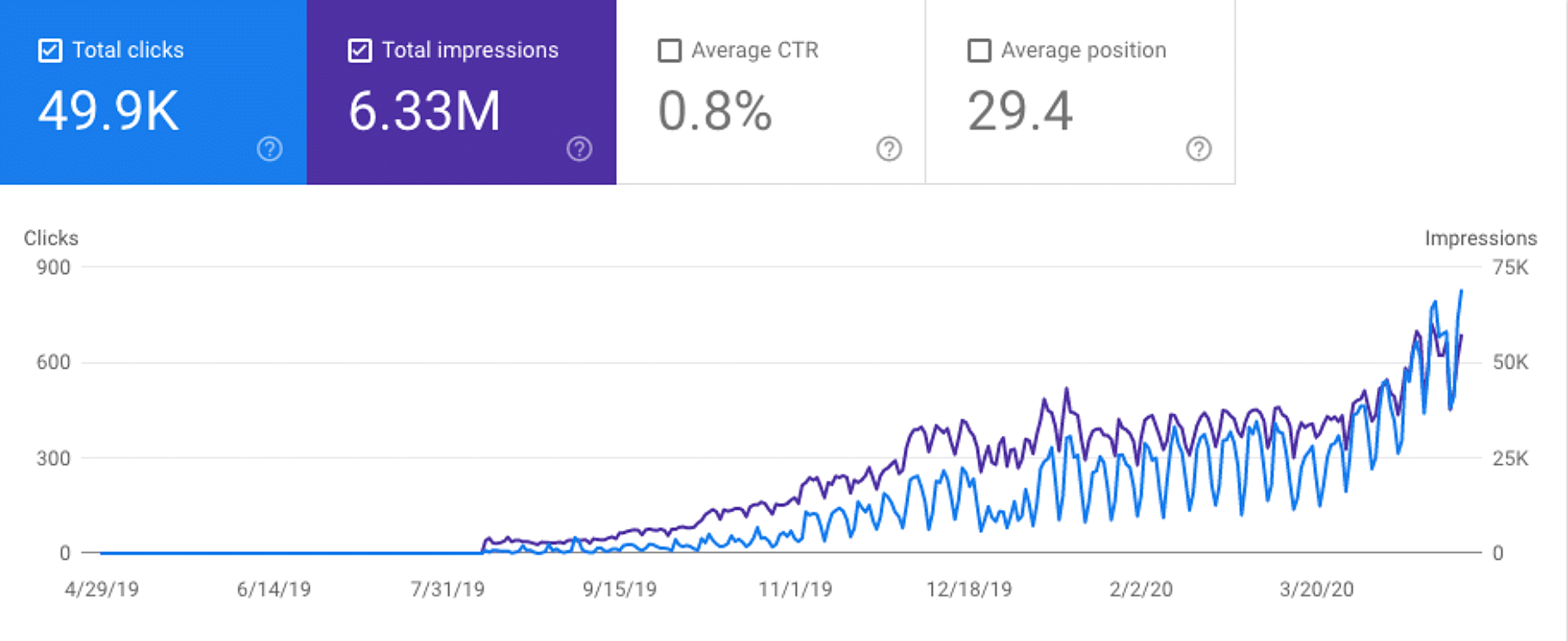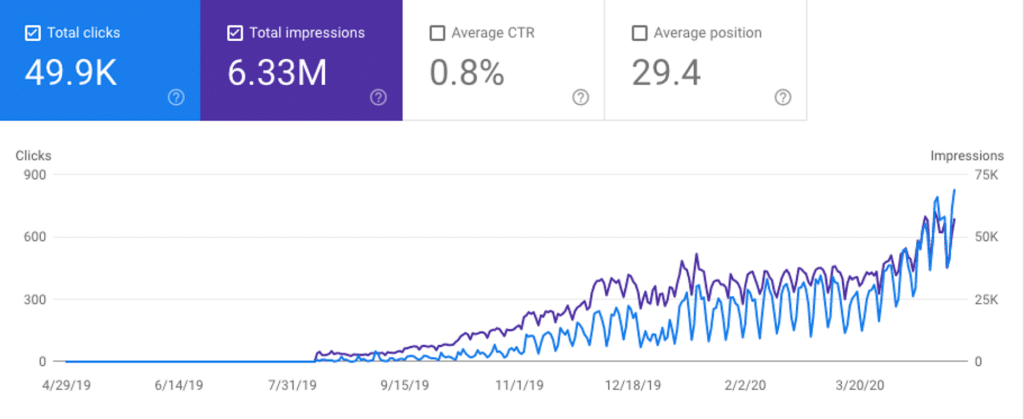 With traffic spike comes backlinks. Here are the referring domains that the DevOps content moat generated:


If you're in an incredibly niched market, give it a try.
4. Write content that acquires and retains
Despite the fact that retaining customers is cheaper than attracting new ones, 53% of US marketers still place more emphasis on acquisition.
The next time you plan content for the next quarter, focus on posts that show (a) current customers how to get more value out of your product and (b) potential users what makes your product different from competitors.
This is what we called "product-led content," a SaaS marketing strategy that naturally inserts your product in a post to show readers how it's an irreplaceable solution to their problem.
Ahrefs is a pioneer in this approach. Note how its post simultaneously teaches potential users how its SEO suite helps with local keyword research and existing users how to get more value out of it.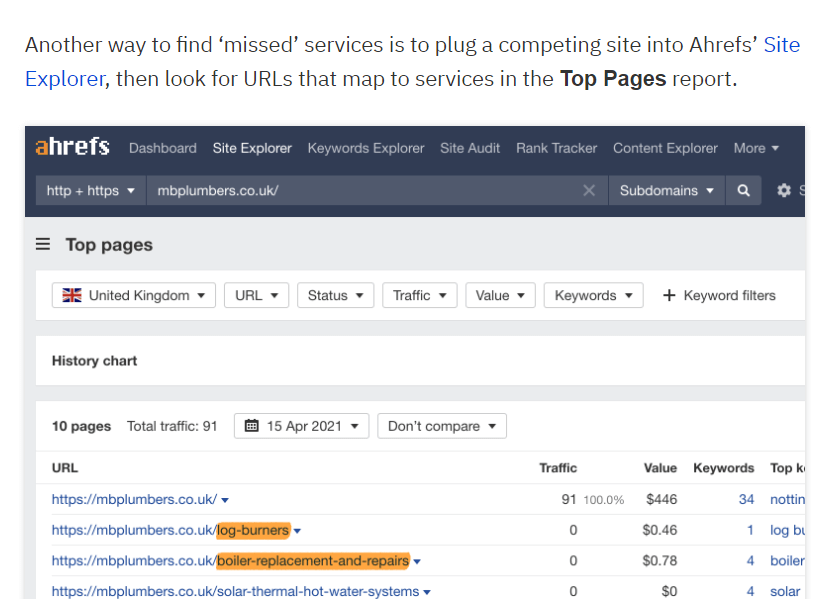 In the end, this product-led content marketing strategy helped Ahrefs generate 3,200+ new leads every week (as of July 2020) and over $50M in annual recurring revenue.
Tip: Assign a score for leads who read posts with high buying intent. The higher they score, the more likely they're ready to hear your sales pitch. Here's how you can get started:
Connect Breadcrumbs with your CRM
Determine what makes a sales-qualified lead (SQL) (e.g., reads a case study with high buying intent, signs up for free trial)
Set your scoring model live
Breadcrumbs will proceed to send all scoring information back to your CRM. You'll get notified whenever a lead becomes ready for sale.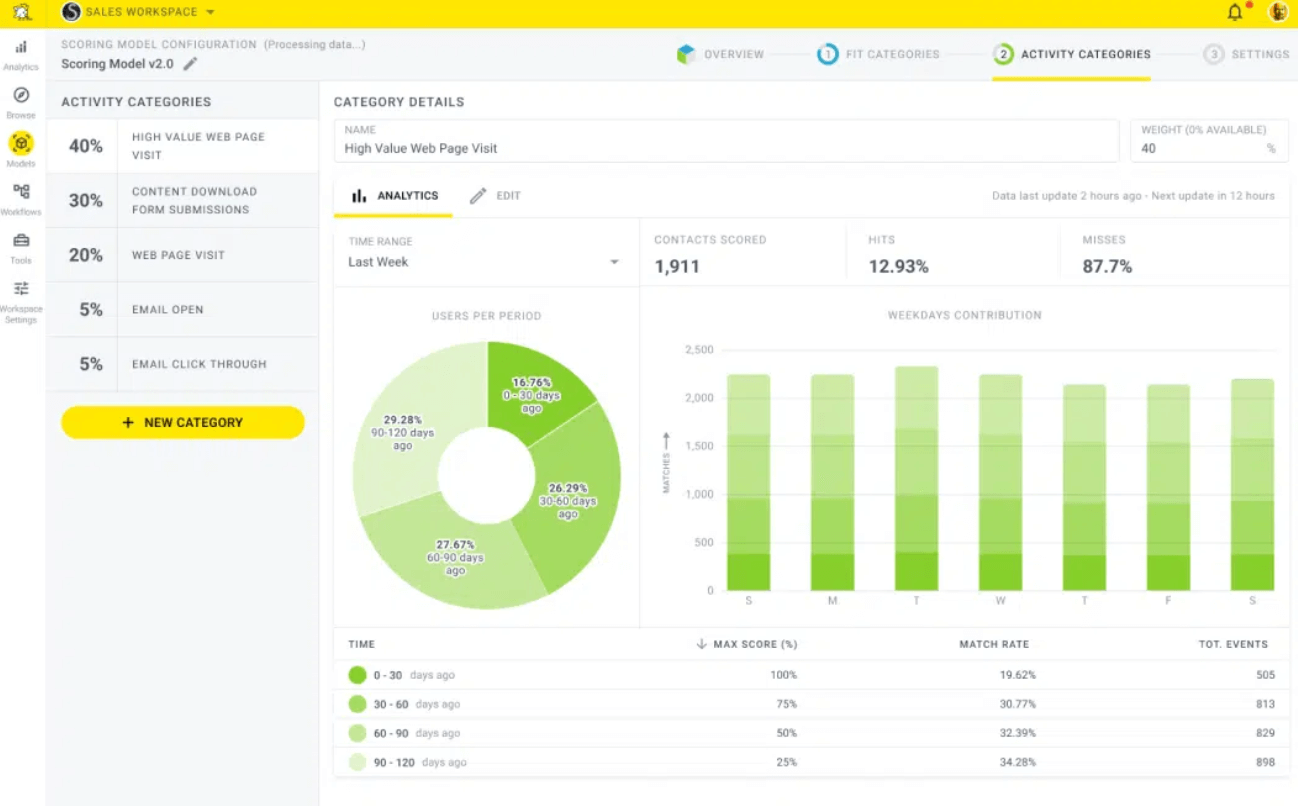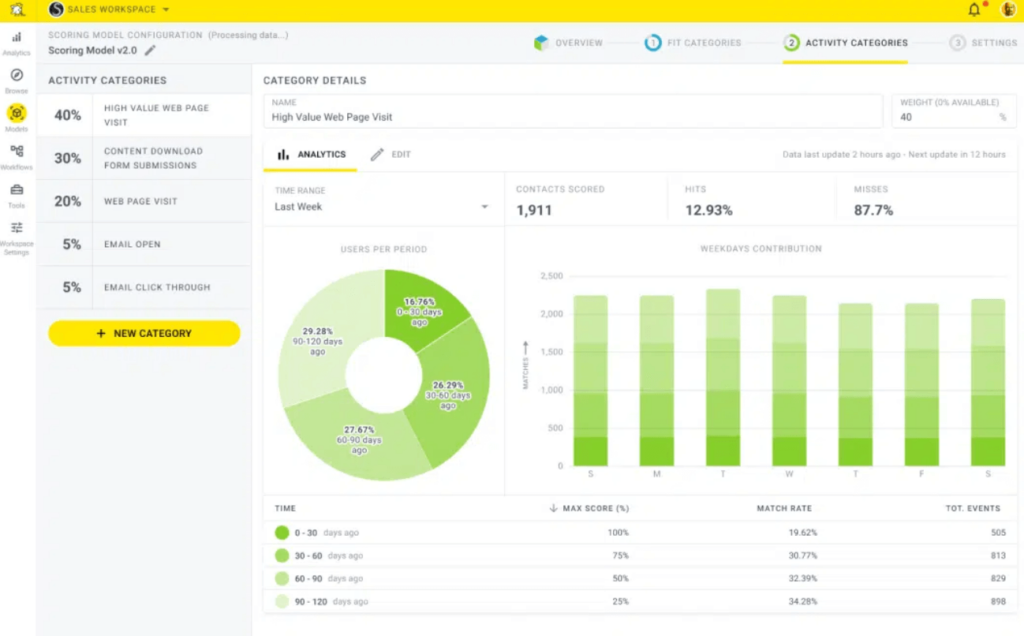 Now you can identify your best leads with zero guesswork. Book a demo with Breadcrumbs to close more deals today.
5. Get your clients to write for you
Guest posting is the practice of writing articles for another company's website. This form of user-generated content (UGC) offers multiple benefits, such as boosting referral traffic and attracting an untapped audience.
As a SaaS tool that revolves around digital marketing, DashThis has explored multiple SEO strategies for the past ten years but none as effective as guest posting.
"We asked our clients to write some guest articles for us," shares Marie Lamonde, now a content marketing lead at Remo. "As a SaaS startup, our clients really are the experts. They are agencies and marketers, so it was only natural for us to create UGC."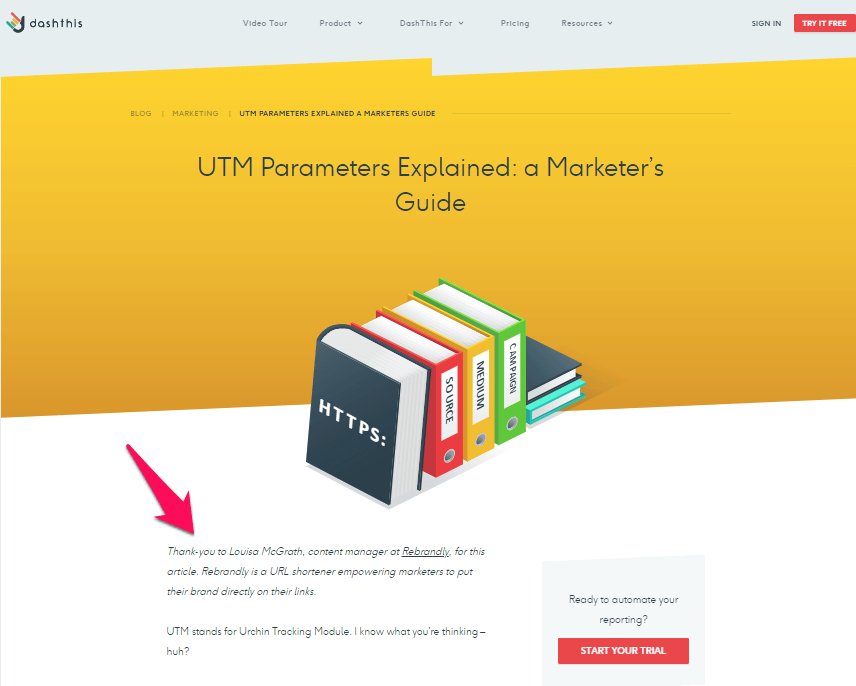 Following that, DashThis would combine these guest posts with keyword research, ultimately ranking on search.
"It really was a win-win situation," adds Marie.
"For our clients, it was a great way to showcase their expertise and get free exposure and publicity. For us, it was relevant content that brought other similar professionals to our SaaS product."
6. Create conversion-driven case studies
Case studies create ongoing value in your sales and marketing efforts.
Kelly Newcomb, a digital marketing manager, too, advocates using case studies in a SaaS marketing strategy.
"It doesn't matter if the client's a household brand or not, a case study demonstrates your expertise and the value you bring."

Kelly Newcomb, digital marketing manager
In her previous work at Plume, Kelly and her team attracted many high-quality inquiries after just two weeks of publishing their career masterclass case study.
She explains, "Not only did we showcase our design work, but we also captured leads from the SERPs looking for Masterclass alternatives or a Masterclass-style LMS."
Case studies boost credibility by a mile. Here are three guides on writing conversion-driven case studies:
7. Run "pain point" webinars
Back in 2021, Demio saw a startling 156% increase in on-demand webinars. And that's just on one platform.
It goes without saying then, that webinars make a powerful channel in SaaS marketing.
Active & Thriving found it to be accurate.
The workplace well-being platform uses virtual webinars as lead generation magnets for potential clients. Targeting HR professionals, Active & Thriving would promote these webinars on LinkedIn and its email newsletters.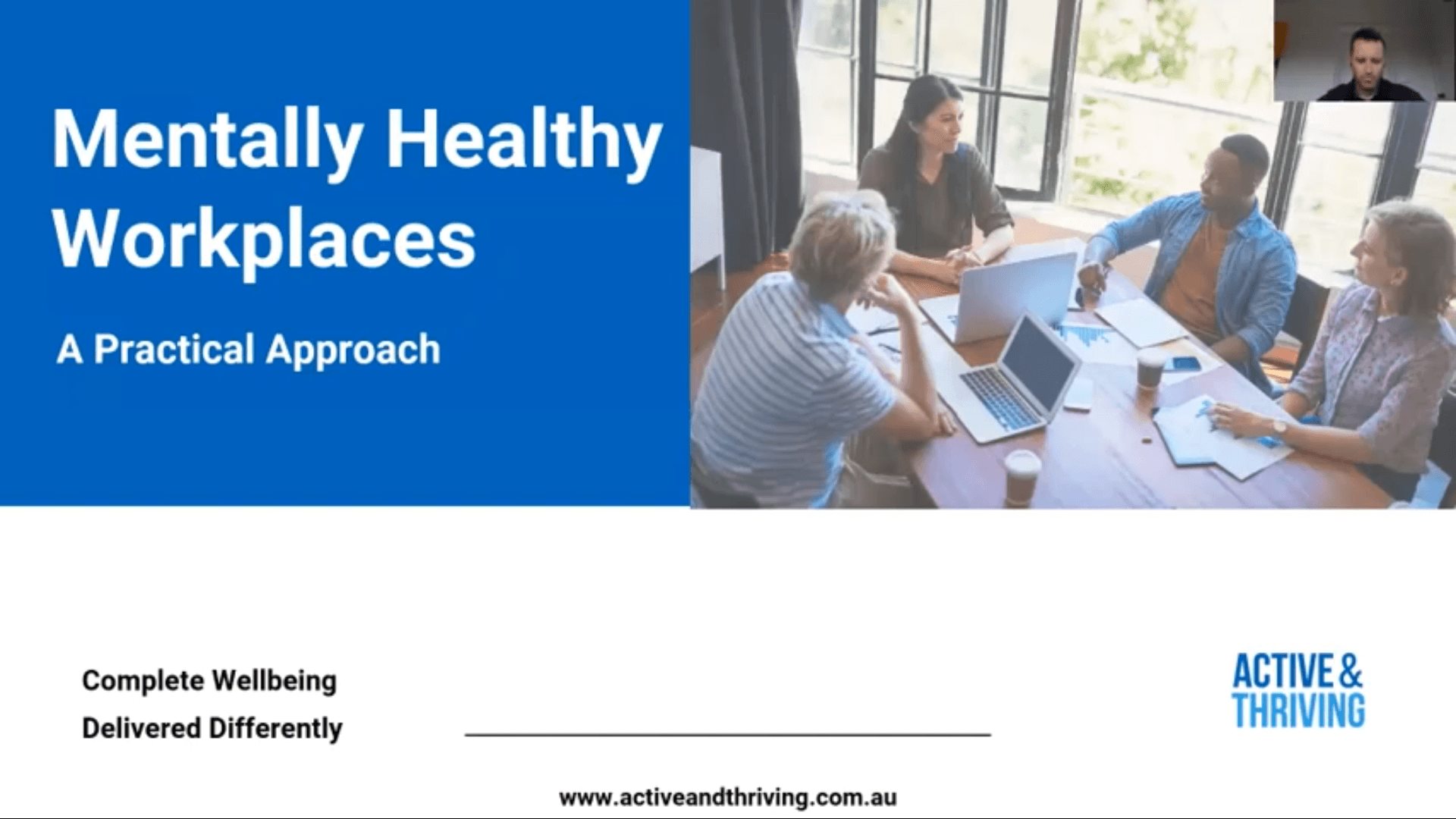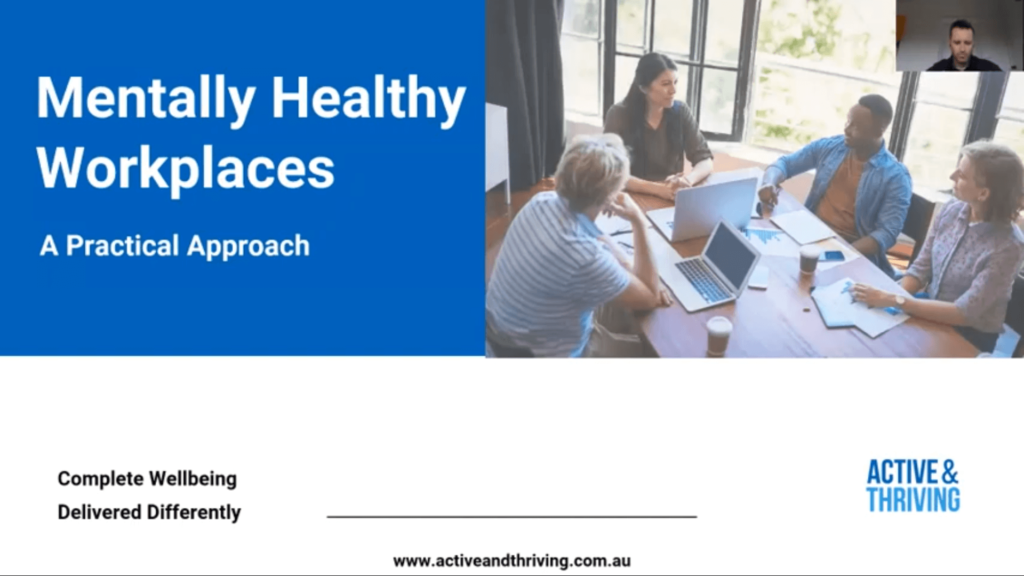 Josh Marsden, the co-chief executive officer, shares with Breadcrumbs:
"We run these webinars on Zoom roughly once every two months. Each webinar focuses on a different pain point HR professionals struggle with, such as securing funding for wellbeing programs and tips for early prevention and intervention of mental health issues in the workplace."
The results: 60-120 attendees with a chunk converting to high-quality leads.
SaaS Marketing Strategy #3: Partnerships
8. Partner with non-competing companies
When everyone is on the same side, leads come pourin' in, says Matt Barnett, founder and CEO of Bonjoro.
Bonjoro, a SaaS tool that sends personalized video, partnered with ActiveCampaign for its first native integration. Both startups ran a co-marketing campaign consisting of webinars and blog posts.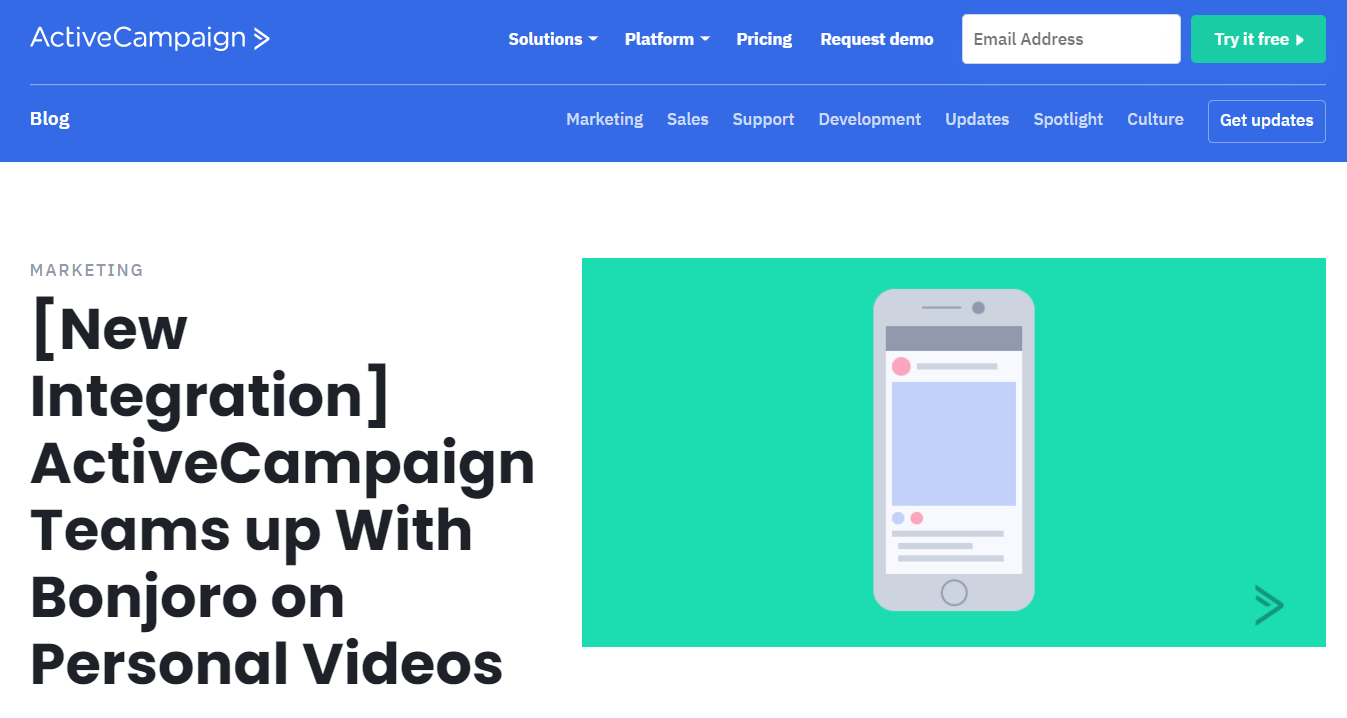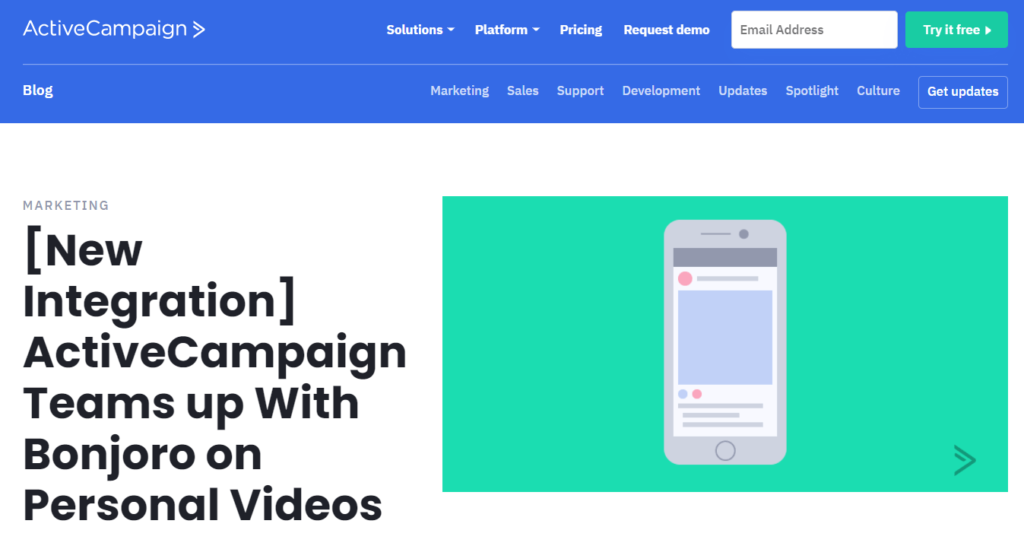 Thanks to the collective effort, Bonjoro 3X-ed its ActiveCampaign users.
Matt adds, "Partnering with others helps you both thrive, as you're exposing your startup to a different audience who might enjoy what you offer."
SaaS Marketing Strategy #4: Product
9. Offer a free trial that prospects won't refuse
Free trials raise conversions, so much so that when SaaS companies implemented them in their SaaS marketing strategy, conversions hit an all-time high of 62.4%.
When SERPWizz noticed a high bounce rate during launch, it utilized free trials to sweeten the pot for users.
Co-founder Deepak Shukla explains, "If people weren't clicking, they weren't buying. This free trial will get people to take action before leaving."
"Offering a free trial is a low investment for potential customers—it makes them more likely to click."

Deepak Shukla, founder of SERPWizz

"It's a fairly low investment for us because we're not sending a physical product that we could have sold somewhere else," explains Deepak. "Our bounce rate has reduced 21% since introducing this strategy, and our sales have increased three-fold."
Force by Mojio, too, uses free trials in its SaaS marketing strategy. The GPS fleet tracking startup even goes as far as offering an all-access free trial for 30 days, unlimited access to its software and hardware, and free shipping.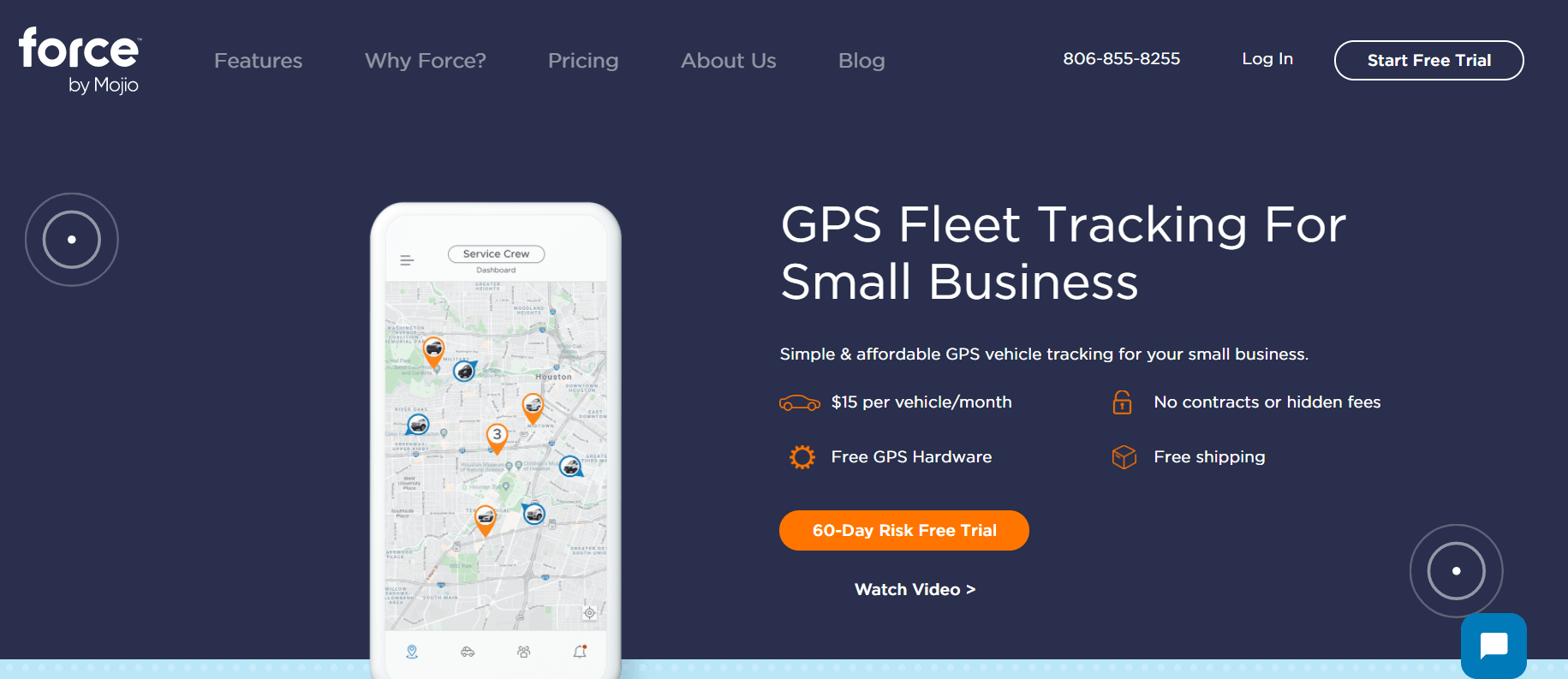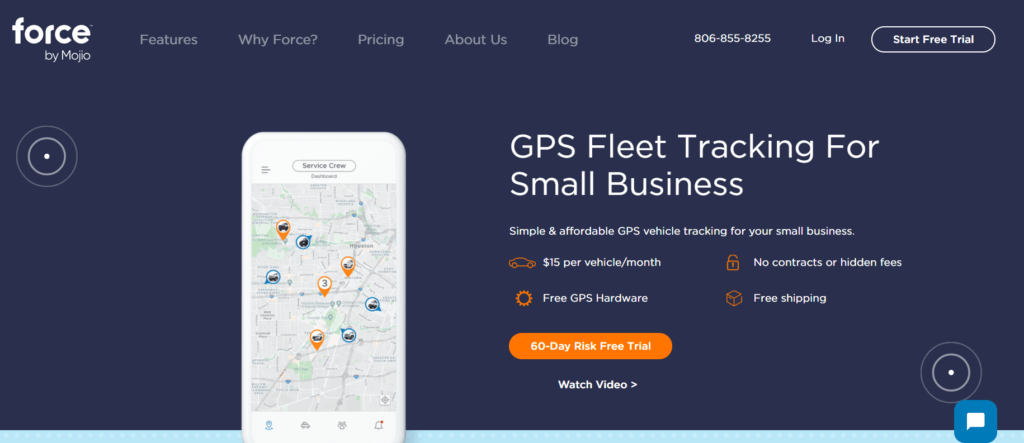 Daivat Dholakia, the former director of operations at Force by Mojio, shares with Breadcrumbs, "If users decide not to stick with our service, we pay for them to ship the devices back."
Unsurprisingly, the company's generous free trial resulted in a conversion rate of 80%, making it the most effective SaaS marketing strategy that turns prospects into long-term customers.
Learn more about pricing models and replicate Force by Mojio's success in these four guides:
SaaS Marketing Strategy #5: Email Marketing
10. Mix it up with AMP emails
AMP emails are emails with interactive elements (e.g., forms, buy buttons) that don't require recipients to open a new tab.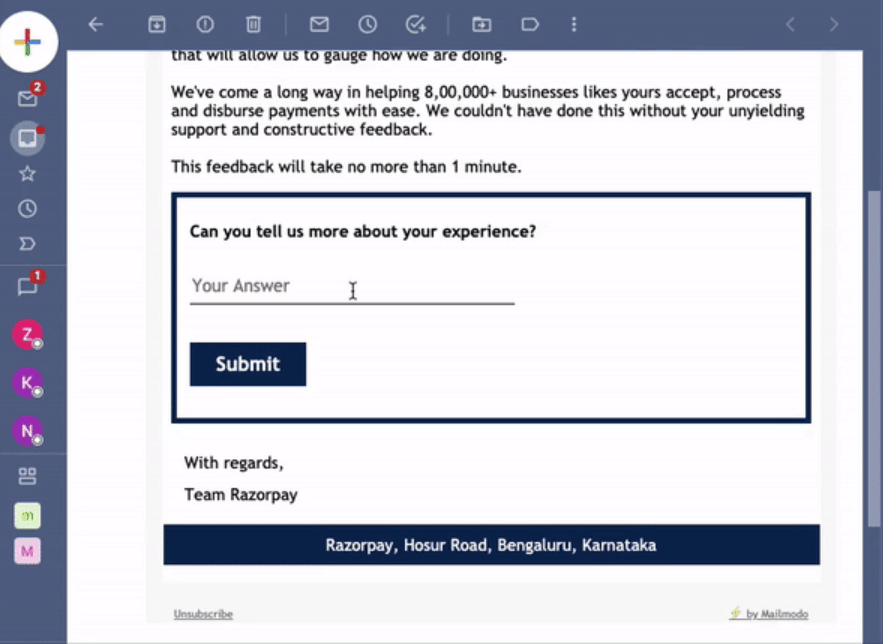 According to Zeeshan Akthar, marketing head at Mailmodo, AMP emails provide three times more conversions than traditional email outreach.
When Razorpay implemented Mailmodo's AMP technology to collect customer feedback, it saw a 257% increase in responses.
SaaS Marketing Strategy #6: Referral Marketing & Giveaways
11. Add a booster pack in referral marketing programs
Referrals and social proof typically yield higher conversion rates because the go-ahead has been given by an army of satisfied customers.
If you want to optimize your current referral marketing program for greater sales, steal this idea from Plan M8:
Offer personalized deals to thought leaders in your industry.
Dimitris Tsapis, formerly the head of growth at Plan M8, shares, "We thought a referral program is the best at the early stage of product development."
When the yacht maintenance SaaS startup released its working product to market, it offered personalized deals to authoritative people in the yachting niche.
The higher the number of yachts they bring on, the more premium the deals get.


These personalized deals—or "a booster pack," as Dimitris coined it—provided a limited-time loyalty program rewards package.
Dimitris cautions, "The reward cannot be ordinary or basic, since you have to give customers something worth their time."
For example, if your loyalty program already includes free one-month access to premium features, add a booster pack like free two-month access with extra benefits.
"Remember to include time-based scarcity," reminds Dimitris.
"If your company has a freemium model in place, don't just offer full access to your product. It needs to be something that goes up and beyond. If you have a customer who referred five users for a premium plan, offer backstage passes for a popular global event, for instance."
12. Reward everyone
SuperOps.ai went all-in in its inaugural giveaway.
Sriram Palaniappan, a growth marketer at the PSA-RMM platform, shares, "Most referral campaigns offer 'one reward to someone.' We made it 'a reward for everyone' and proactively rewarded everyone the moment they were eligible to get our coffee vouchers."
The SuperOps.ai team launched a coffee campaign on LinkedIn where people in the managed service provider (MSP) space could tag their MSP buddy in the comments and win a $10 coffee voucher.
To get the ball rolling, the team at SuperOps.ai tagged a few prominent people in the MSP industry they had a good relationship with.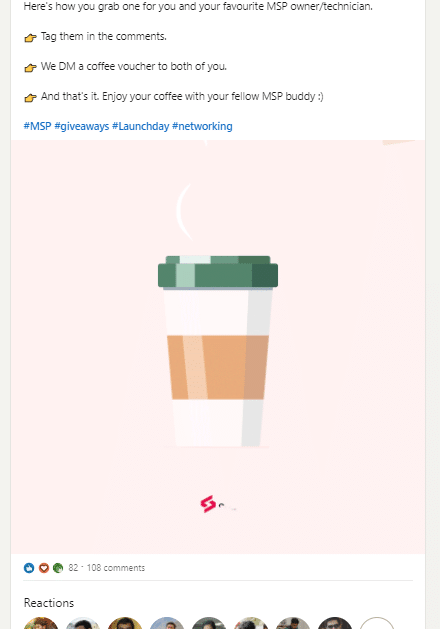 "There was silence at the very first hour, but things quickly changed for good. People started tagging MSP folks, and the snowballing effect became unstoppable. We DMed the coffee vouchers as and when people tagged and were tagged. This got a lot more people excited who came back to tag more people."

Sriram Palaniappan, growth marketer at SuperOps.ai
SuperOps.ai's campaign was a huge success. In the end, it:
Attracted 105 post comments and 150 people in the MSP space (before the giveaway, more than 100 people had not heard of SuperOps.ai)
Boosted website visits and leads by 385%
Increased new users by 591% (when compared to the previous day)
The returns far exceeded the expenses by a mile. Sriram shares with Breadcrumbs, "We spent only $1500. A traditional ads campaign would have cost us a lot more."
SaaS Marketing Strategy #7: Sales
13. Hijack conversations (go straight to the customers!)
Intuitix, an innovation project portfolio platform, went old school. Due to the Covid-19 crisis, a popular industry event it'd planned on attending was shifted online.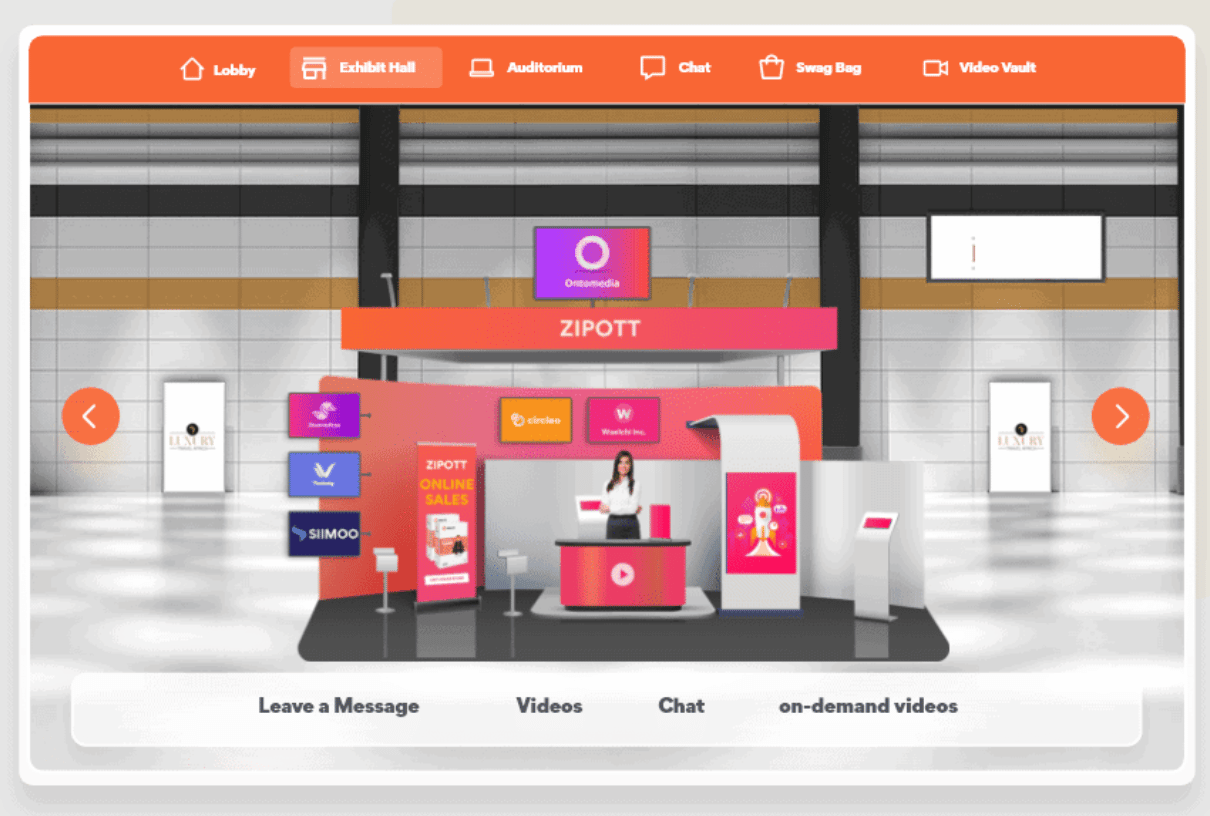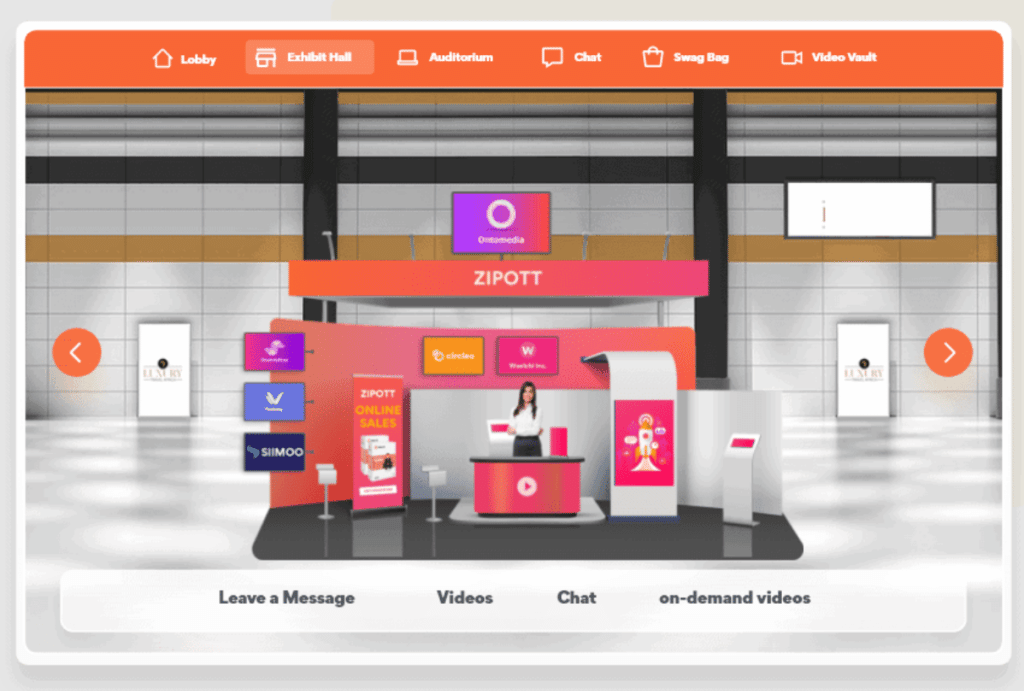 "We used vFairs' chat room as our marketing strategy," shares Evan Davies, Intuitix's managing director. "We prepared a conversation strategy and script for each prospect we spoke to."
Here's a peek at the sales pitch they used:

It turned out to be a productive event. Intuitix spoke to over 20 relevant decision-makers in its target organizations. The company even managed to take one of the leads through to the negotiation stage of its sales pipeline.
Evan advises, "If you're operating in a particular niche, sometimes it's worth going straight to your customers rather than waiting for them to come to you."
14. Gate your demo video
Bet this got your attention.
Back in August 2019, Carly Chalmers, a marketing manager at HigherMe (now a senior instructional designer at ChartMogul), launched a five-minute demo video to showcase the product's unique features.
"I was a marketing team of one, and I wanted to do something that would attract qualified leads, something that I could create just once and prospects could access over and over again."

Carly Chalmers, senior instructional designer at ChartMogul and former marketing manager at HigherMe
Did the gated demo video create a barrier to entry? For sure. But there's another way of looking at it: Users who submitted their contact information were more engaged during live demos.
They were even asking better questions.
Carly reveals, "B2B buyers who watch the video are more informed about HigherMe before their live demo with sales."
In the first year of releasing the demo video, the length of the sales cycle at HigherMe was shortened by seven days. In 2020, leads who watched HigherMe's demo video had a 92% win rate.
Putting these SaaS marketing strategies together
These SaaS marketing strategies are timeless and dare we say, pandemic proof, too.
But remember, everything starts with a strong ideal customer profile and buyer persona. Without customer insights, it's impossible to build a product customers really want and create a marketing plan that attracts attention.
Breadcrumbs Reveal helps you understand what your best customers look like today, so that you can identify them quickly and confidently and close more of them in the days ahead. Create your free account now.