"What's the no.1 SaaS marketing strategy that you swear by?"
When I posed this question to my network, 12 founders and marketers responded with some of the most powerful strategies that accelerated revenue in their business.
Disclosure: Not all companies featured in this post are SaaS startups, but I included them anyway, as the strategies apply across industries. Plus, they were way too good to pass up!
Alright, let's get started.
Recap: What is SaaS Marketing?
SaaS marketing is a myriad of marketing activities that subscription-based SaaS companies use to nurture, attract, and retain customers.
SaaS Marketing Strategy #1: Customer Research
Audience research digs into the reasons customers buy (or ignore) your product. This section kicks off with a strategy to help you understand how your best customers look like today.
1. Re-examine your buyer persona
Customer research is the lifeblood of your business, not product.
Together with SaaS analytics, both data arm you with the foundation to ensure product-market fit, create content that drives acquisition and retention, and improve revenue growth in the long run.
Since refining its buyer personas in a customer research strategy, United World Telecom:
Increased business accounts by 40% monthly
Reduced advertising expenses by nearly 50%
Boosted annual contract values for new customers by over 55% in less than a year
The stakeholders started by asking one question to all customer-facing departments: "What are the characteristics of a great customer?" Next, they pulled data on existing customers and looked for patterns to fine-tune the buyer personas.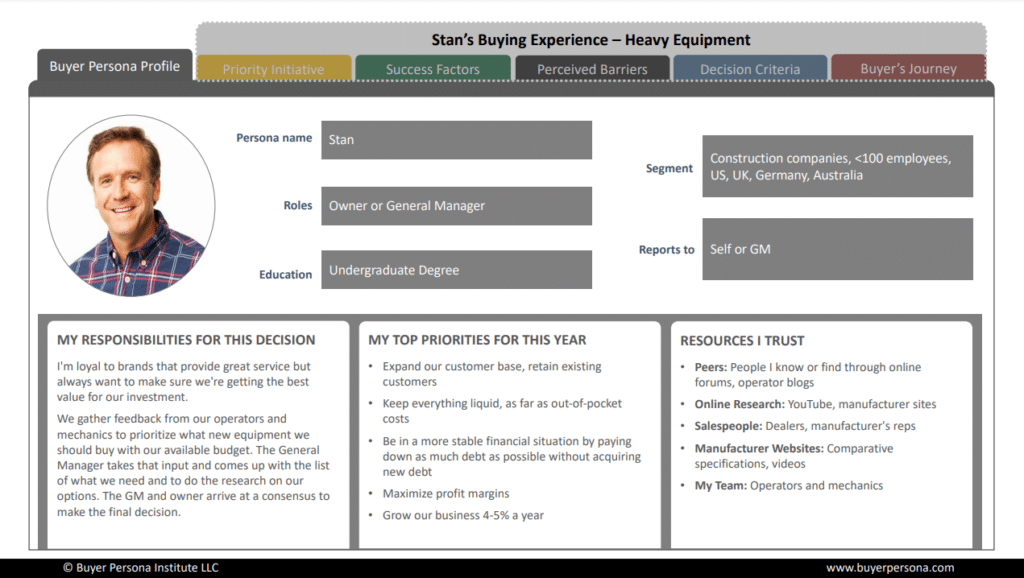 Talk to teammates who constantly interact with customers. Better yet, interview customers to understand their goals, challenges, and desires.
Remember, customer research is only successful if you reach out to the right customers.
Use a tool like Breadcrumbs Reveal to ensure you're focusing on your most profitable clients today. It analyzes the attributes and actions that drive the biggest revenue growth for your SaaS company based on your entire customer data.
Here's how it works:
Choose the segment of contacts to define success (e.g., all customers on pro plan)
Reveal your results
You'll end up with a dashboard similar to the one below. Analyze the attributes and actions to focus on, like the industry and country your ideal customers work in.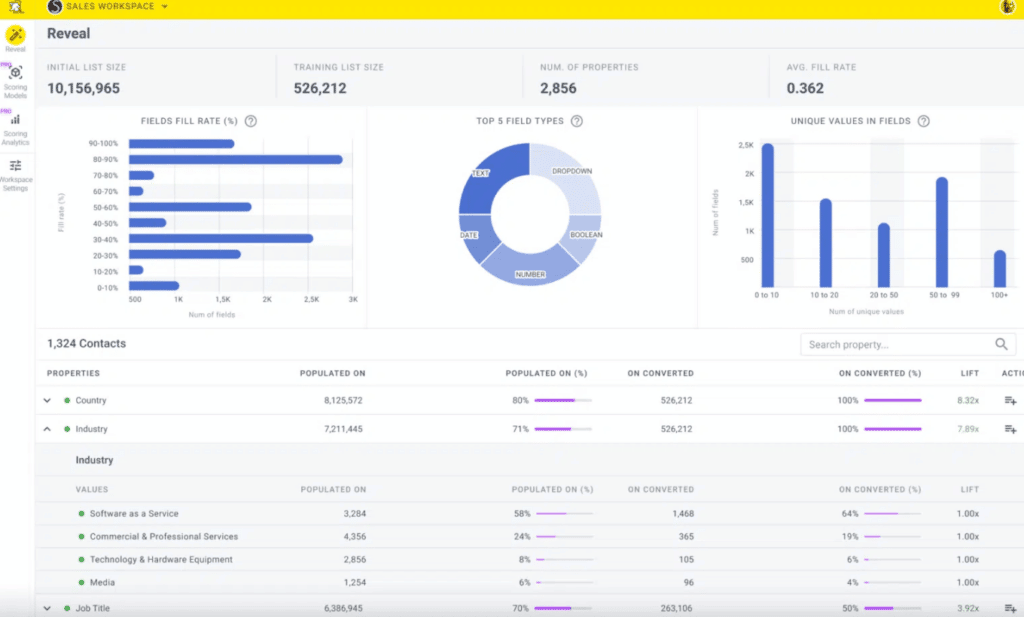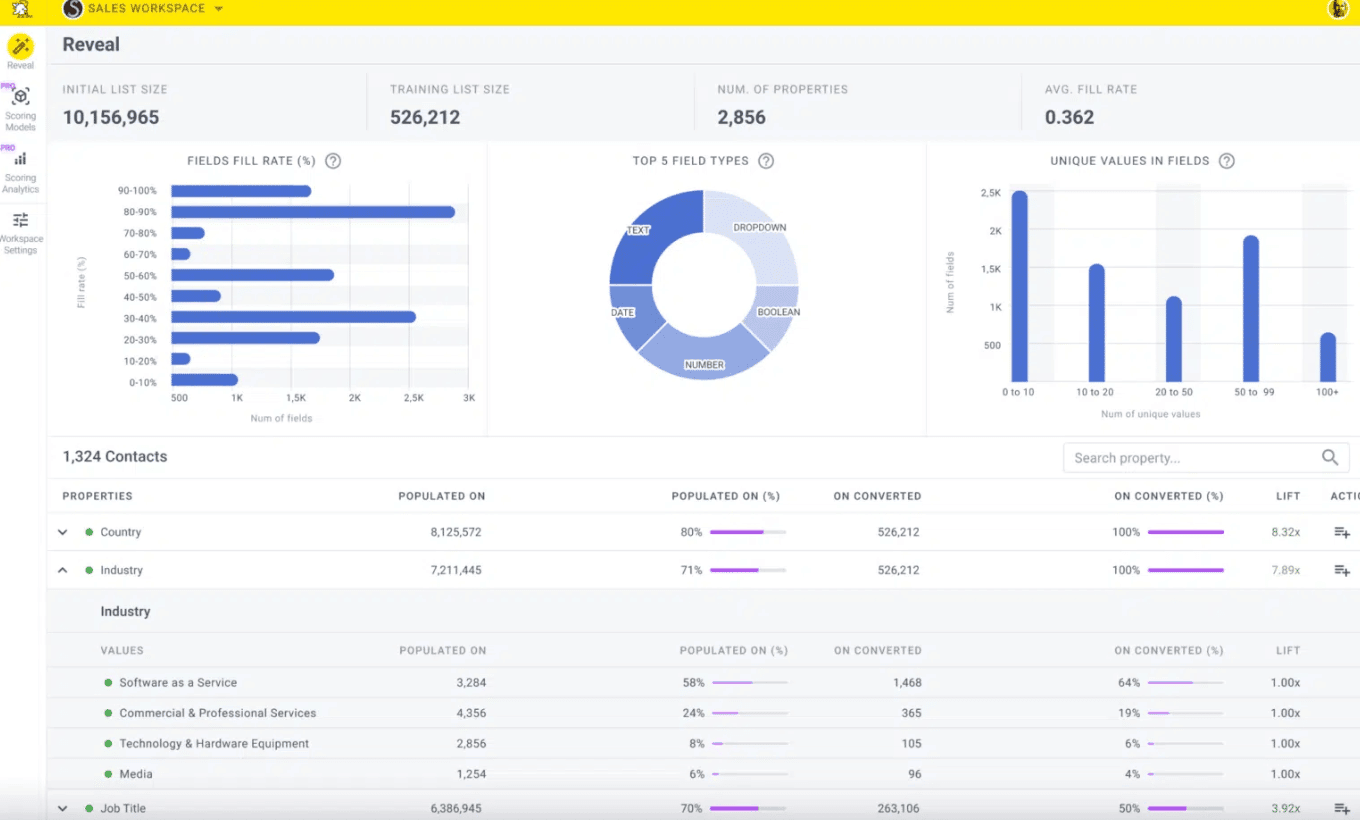 Update your buyer persona with these data-backed attributes and actions accordingly.
Go through the entire customer base to see who fits your high-fit criteria and invite them down for a conversation.
Breadcrumbs Reveal helps you understand what your best customers look like today. Create your free account today.
SaaS Marketing Strategy #2: Content Marketing
Successful emails turn subscribers into loyal, raving buyers. These strategies—one macro, another micro—show you how to identify and capture them hook, line, and sinker.
2. Implement contact scoring, not lead scoring
The "triple sneeze"—inflation, tightened labor markets, and unreliable supply chains—is one of the top three trends to impact revenue growth this year.
Sales need to deeply understand how these challenges impact customers' buying behavior to continue acquiring customers. More importantly, these leaders need to take a "technology-augmented approach" to create customer-centric experiences across variable environments.
This makes it more urgent to invest in contact scoring tools like Breadcrumbs to analyze the customer's journey in detail. That way, you can identify the bottlenecks and clear whatever's blocking the decision-making path.
Unfortunately, companies put contact scoring on the back burner. Here's what we often hear when we chat with clients:
"It's just not a priority."
"We don't have time to set up scoring models from scratch."
"We have a lot of dirty data—so what's the point?"
Each category comes with its own unique challenges. Let's break them down one at a time.
(i) "It's just not a priority."
The more you delay your contact scoring efforts, the more money you leave on the table.
Contact scoring unearths customers at all stages of the buying journey accurately.
It prioritizes your contacts by volume, helping you quickly identify high-intent leads, customers with upsell potential, churning customers—and eventually fix all money-leaking gaps across the funnel.
Say you want to identify sales-qualified leads (SQLs).
Here's how it works:
Connect your data sources with Breadcrumbs (e.g., marketing automation platform)
Determine what makes an SQL (e.g., clicks through a sales email, signs up for free trial)
Set your scoring model live
Breadcrumbs will gather all customer data in one place, giving you a bird's-eye view of the entire customer journey.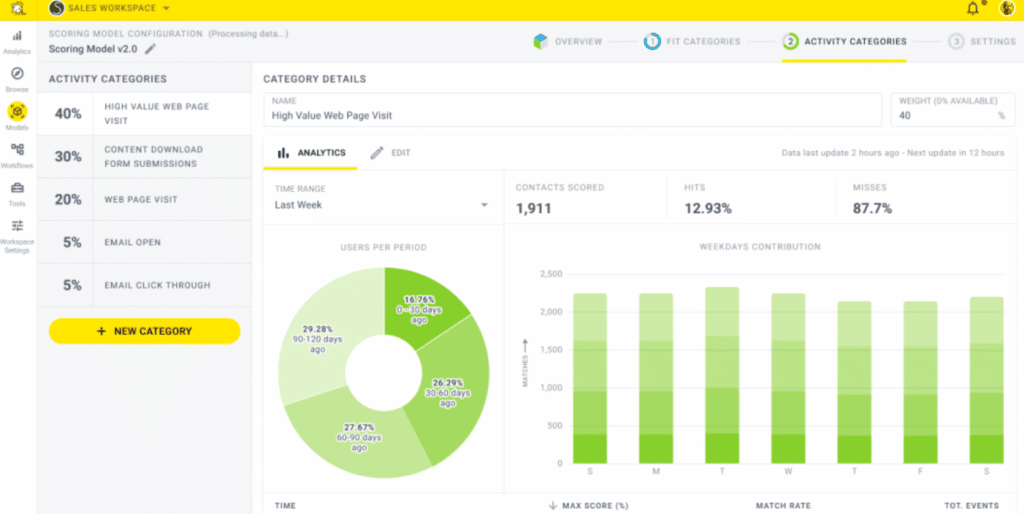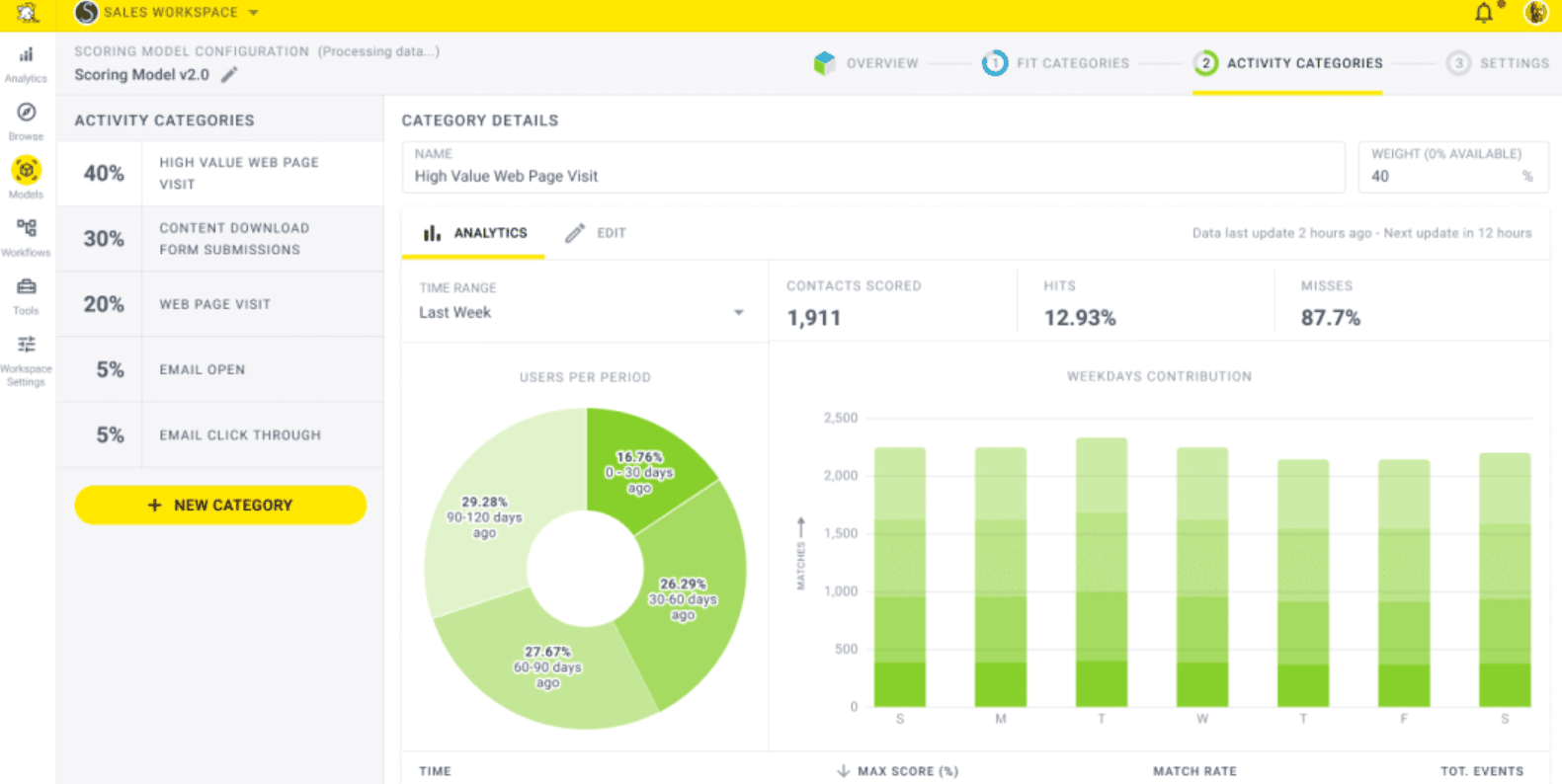 With all scoring information sent back to your CRM, you'll automatically receive a notification whenever a prospect converts to a sale-ready lead.
Gain back potential revenue loss confidently. Grab your free Breadcrumbs account to identify qualified leads, buyers with upsell potential, and at-risk customers today.
(ii) "We have a lot of dirty data—so, what's the point?"
The great news is that clean data doesn't exist.
Even better, all you really need is a few data points to get started. More below.
(iii) "We don't have time to set up scoring models from scratch."
Setting up scoring models to target every stage in the customer journey sounds… overwhelming. But it doesn't have to be.
Our team of experts will set you up quickly with no dev time needed.
Alternatively, generate a scoring model on Copilot in a few quick clicks.
Connect your lead and customer data with Copilot
Select a customer segment to define success (e.g., all paid users, users on business plan)
Set it live
Copilot will suggest a list of attributes and actions that impact revenue the most. Note the scoring model recommendation below. It suggests the firmographic data and user activities you should focus on to attract more high-fit customers.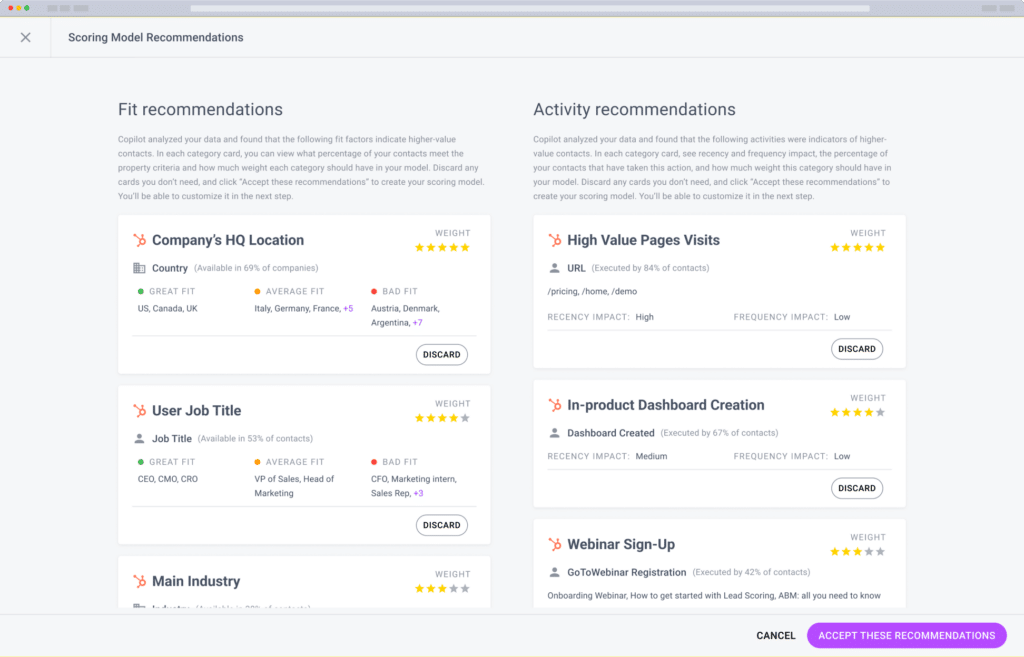 Customize the model accordingly.
You have complete control over the data points and can make changes at any point.
Grab your free account to create a scoring model with a few clicks today.
3. Increase conversions with AMP emails
Think back to the last time a brand emailed you to take part in a survey.
Odds are, you had to click through and share your responses on an external site. And if you're like me, you probably found it a hassle, ignored the email, and went back to whatever you were doing before checking the inbox.
Now imagine what you'll do if you can answer the survey without leaving your inbox.
Sounds convenient, right?
That's what an AMP email does. It embeds interactive elements—buttons, forms, interactive flipbooks, and whatnot—within the email, swiftly eliminating user redirections for a smoother experience.
AMP emails provide three times more conversions than traditional email outreach, according to Zeeshan Akthar, the head of marketing at Mailmodo.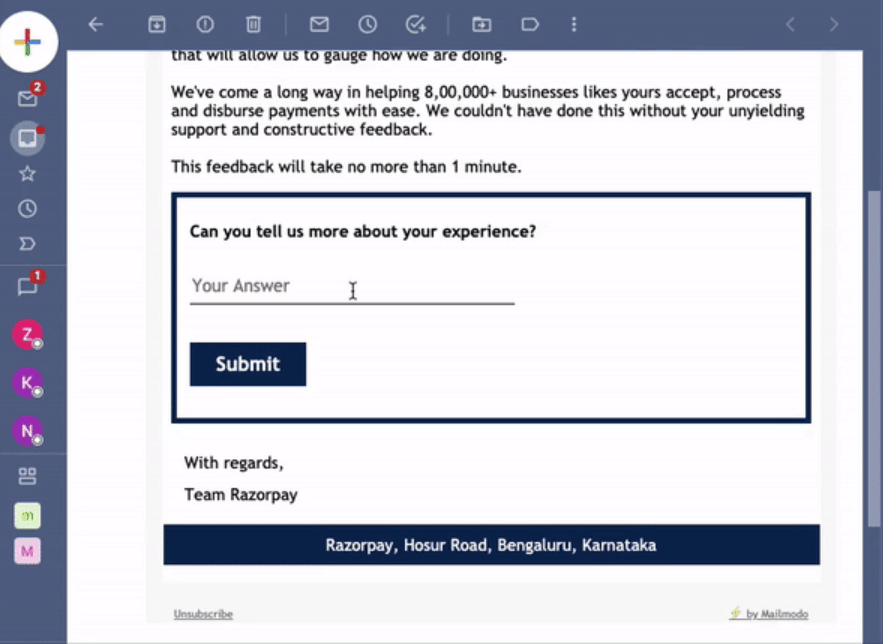 Note the email above that Razorpay sent to collect customer feedback. It saw a 257% increase in responses.
SaaS Marketing Strategy #3: Partnerships
Play to your strengths in business partnerships. This section explores how a startup approaches complementary partnerships with a much bigger and established company.
4. Partner with non-competing companies
Leads stream in when everyone is on the same side.
Video engagement platform Bonjoro tripled its user base after partnering with ActiveCampaign for its first native integration. Users could record and send quick personal videos directly within their ActiveCampaign account.
"Partnering with others helps you both thrive, as you're exposing your startup to a different audience who might enjoy what you offer."

Matthew Barnett, CEO and head of product at Bonjoro
Both startups ran a co-marketing campaign consisting of webinars and blog posts.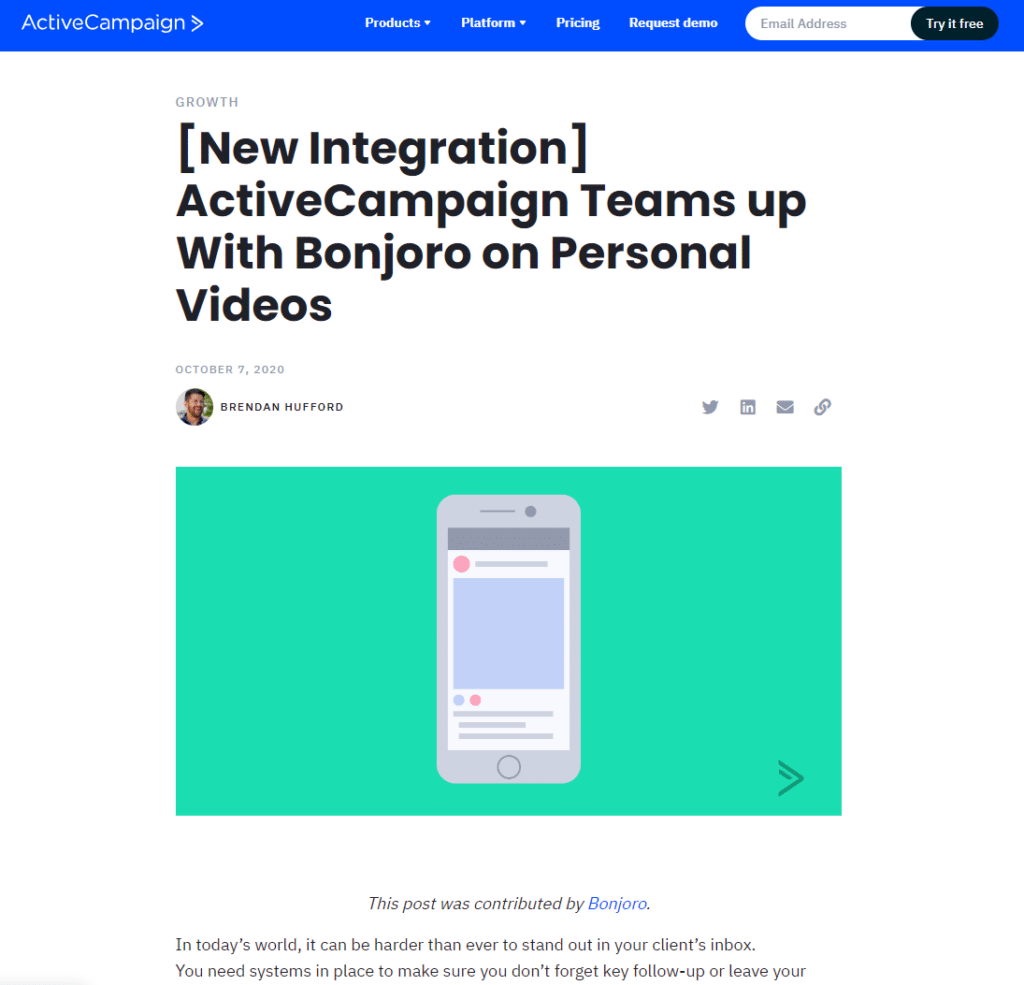 It was a win-win for both companies.
Bonjoro tapped into a wider market of potential customers despite being a newer startup. While ActiveCampaign offered more valuable features to help users scale human touch in customer experience.
SaaS Marketing Strategy #4: Product
No founder wants to risk spending more money supporting users who may not end up converting. The startup you're going to read next sets the bar high right off the bat and converts users to paid customers successfully.
5. Offer a free trial that prospects won't refuse
The length of a free trial is determined by the time a user needs to realize the product's value.
Offer it too short, and the user fails to understand the value prop. Offer it at the right amount of time (or unlock just the right number of essential features), and you leave the user wanting more.
Force by Mojio, a GPS fleet tracking startup, knows what customers want. It offers not only a free monthly trial but also GPS tracking devices for every vehicle, with no strings attached for 30 days.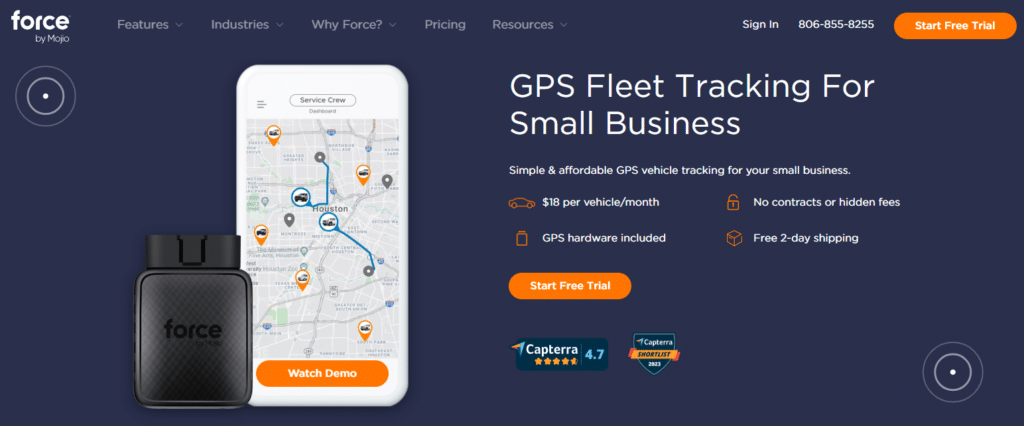 This strategy ended up with an 80% conversion rate.
Learn about more about free trials, freemium, and other pricing models in these four guides:
SaaS Marketing Strategy #5: Content Marketing
The most successful content addresses every stage of the buying journey. Try these content ideas to drive traffic, convert leads to customers, and retain them in the years ahead.
6. Create a content moat
Brands that dominate every informational search in their industry build traffic and backlinks and own the entire conversation around the topic.
Just look at HubsSpot.
It always ranks top for marketing- and sales-related queries.
"Content moat is especially helpful with topics that don't have a huge search volume but show high levels of qualification in the search," explains Brendan Hufford, founder of SEO for the Rest of Us.
When Hufford built a glossary for a DevOps SaaS startup that recently had a successful IPO, traffic and backlinks spiked: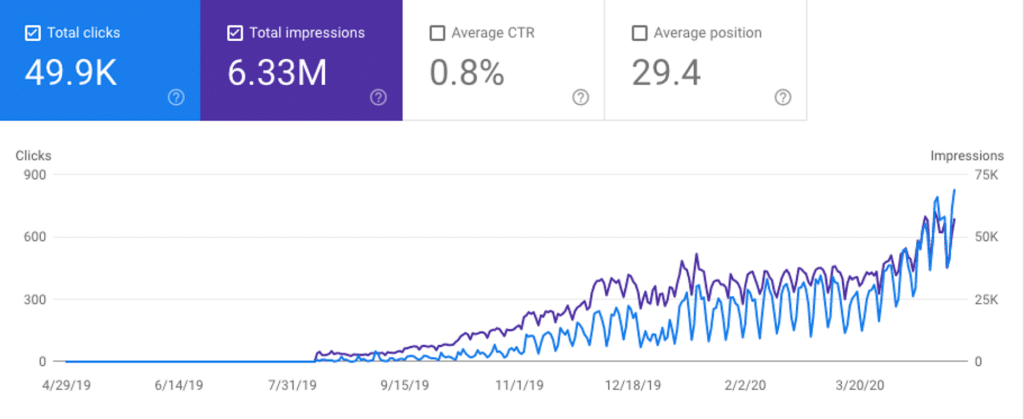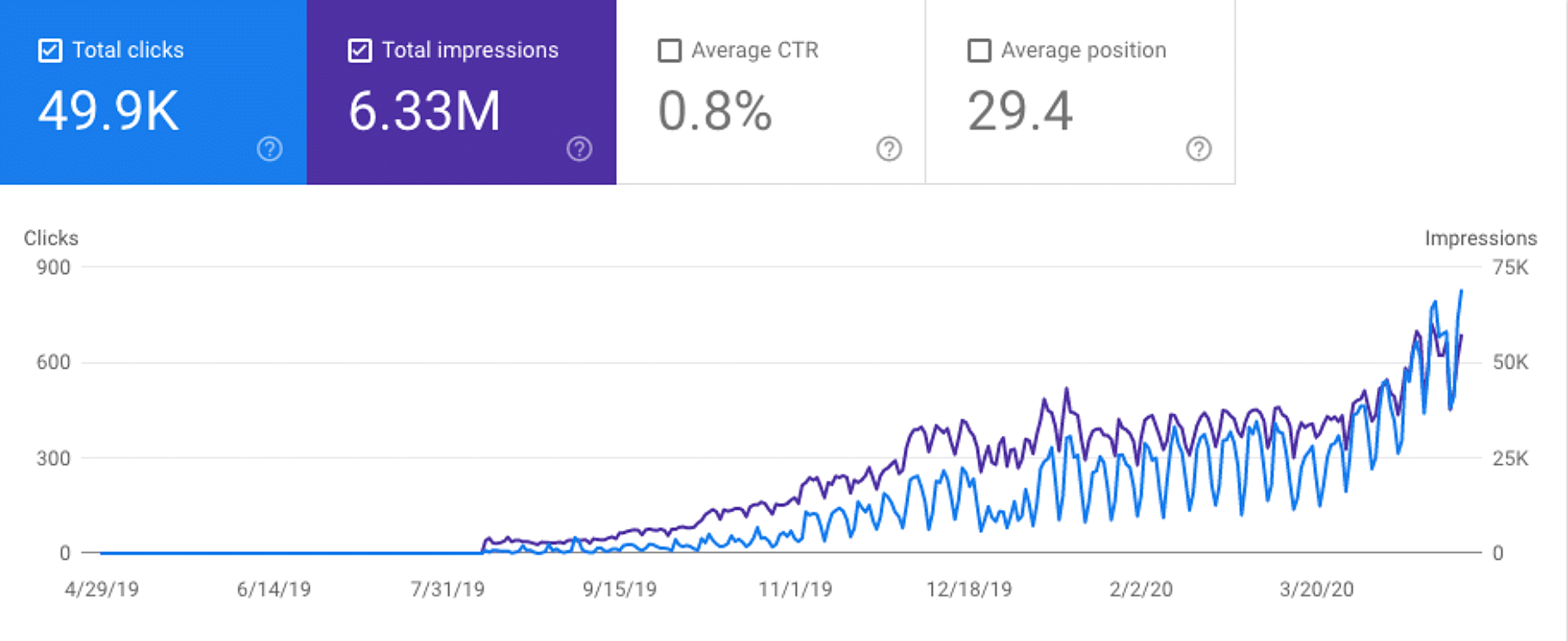 This tactic unlikely works in an over-saturated market, as it's practically dominated by high-performing websites.
However, try it if you're in an incredibly niche market. Subscribe to resources like Exploring Topics to identify topics before they take off.
7. Get your clients to write for you
Though not a direct ranking factor, Google looks for content with strong E-E-A-T (Experience, Expertise, Authoritativeness, and Trustworthiness) to satisfy the searcher's intent.
Content that ticks all these boxes improves trust, credibility, and conversions.
This makes guest posting a no-brainer.
By inviting clients to share their first-hand experience on your site, you showcase their expertise and get free exposure and publicity in return.
When DashThis implemented this type of user-generated content (UGC) on its blog, it saw a rise in quality referral traffic.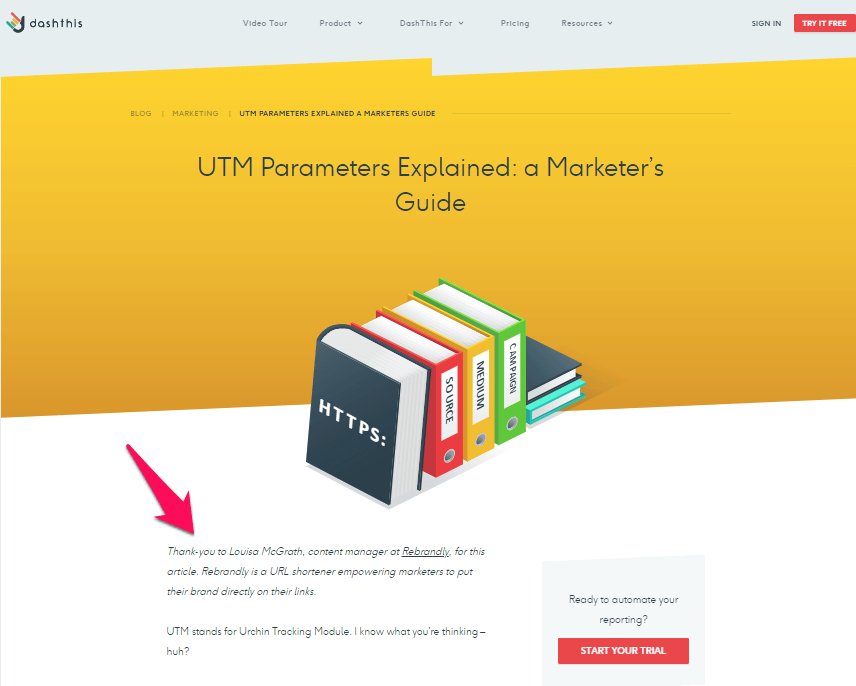 The team shared with Breadcrumbs it explored multiple SEO strategies in the past decade, but none was as effective as guest posting.
"We asked clients to write guest articles," shares Marie Lamonde, the former content marketing and communications specialist at DashThis.
"As a SaaS startup, our clients really are the experts. They are agencies and marketers, so it was only natural for us to create UGC."
8. Compare to competitors
Out of 500,000 articles, only 0.8% were comparison articles.
Bizarre, isn't it?
Even though it generates the most organic traffic and attracts the highest number of backlinks on average, the comparison post is still an under-used content format.
These articles, which pit your SaaS product against top competitors, typically sport longer-tail keywords with less competition.
Best of all, buyers searching for such queries are often at the evaluation stage.
"They understand what their pain point is," explains Josh Brown, SEO and content marketing manager at Helpjuice. "They're actively looking for a tool to solve it."
Translation: these users are further down the funnel. They're almost ready to buy!
In your customer research strategy, ask customers which competing products they considered or used before switching to yours. Pick the most frequently mentioned products and create a bunch of comparison posts to position your software as the better option.
9. Create conversion-driven case studies
Case studies secure buy-in.
Unfortunately, many case studies are so generic, vague, and unaligned with the brand that they might as well not have been created at all.
But when done well—with social proof, personal stories, and specificity—it can sway a buyer from "maybe" to "yes."
Rankings.io closed $179,444 worth of deals in a month alone with case studies. Best part, it repurposed the studies into additional assets for ad campaigns and lead magnets.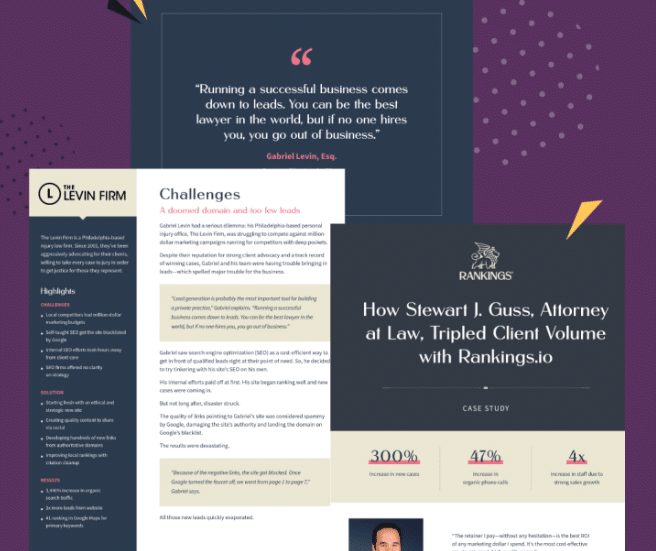 Case studies boost credibility in front of prospective customers in the consideration stage. Here are three guides on writing conversion-driven case studies:
And if you're looking for an example of a conversion-driven case study, watch our video on how we helped Thinkific doubled their MQL to OPP rate after implementing their first lead scoring model.
Watch what our customers say
"Life before Breadcrumbs was, I think you could call it the Dark Ages. We started with an SLA of two days to a week sometimes. And we're getting within the 10 to 5-minute mark. So that's so exciting for us."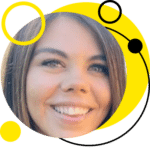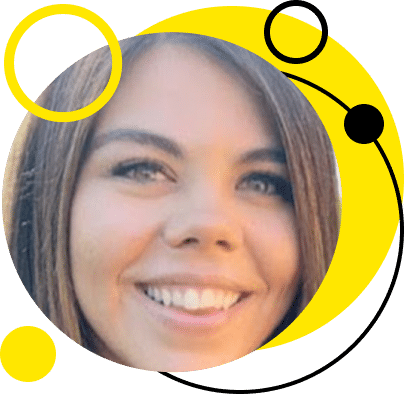 Christie Horsman, VP of Marketing, Thinkific
10. Run "pain point" webinars
70% of B2B professionals want webinars that teach tips, tricks, and best practices.
The remaining professionals prefer industry trends and predictions, how-tos, expert interviews, solution case studies, and original research.
Josh Marsden's experience tracks with the statistic above.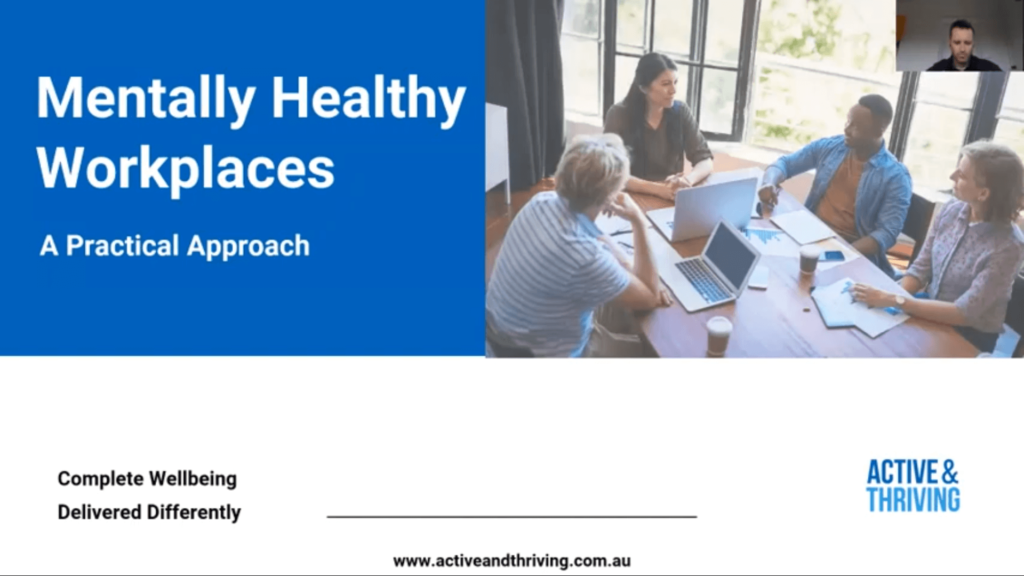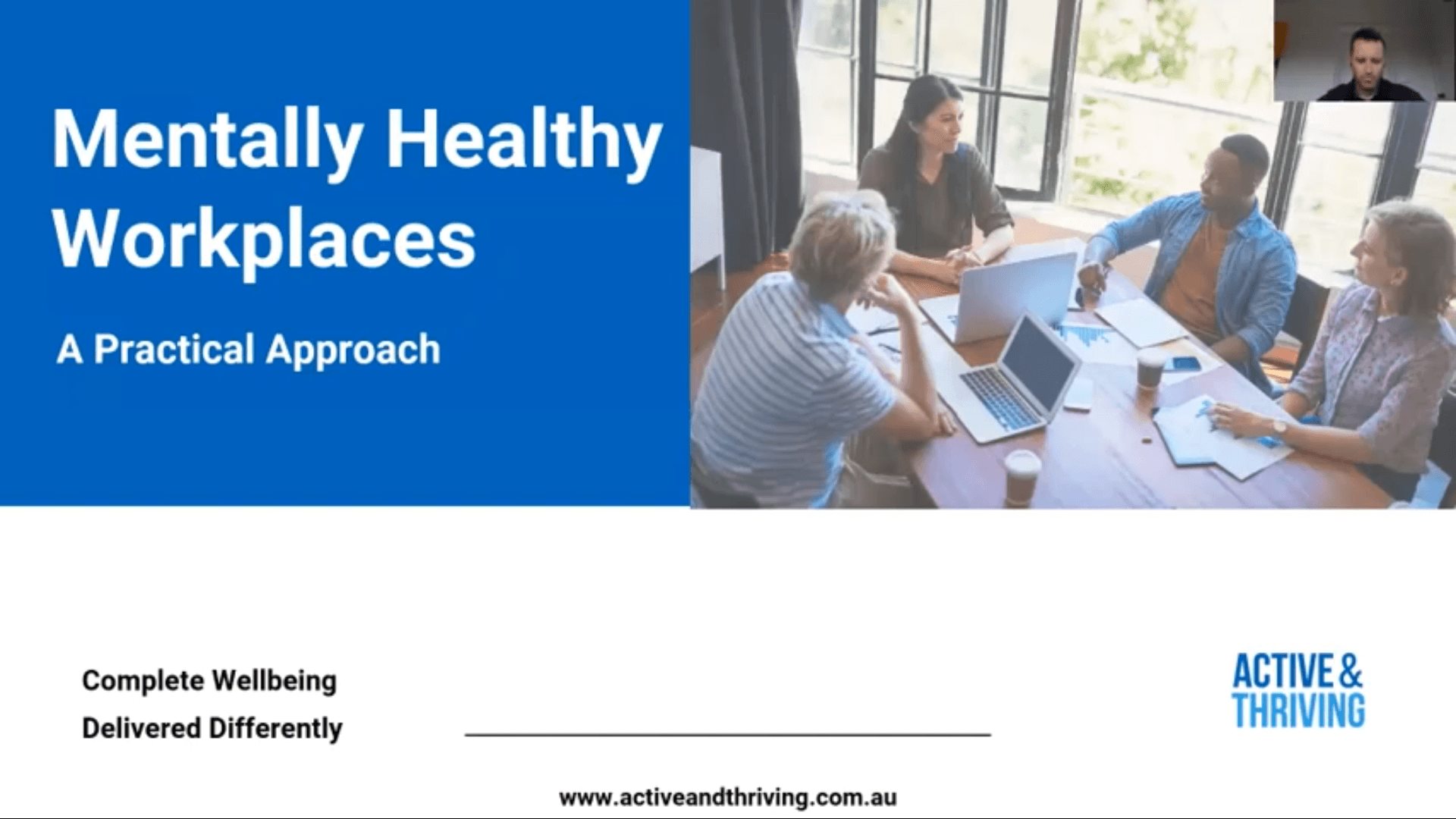 The former co-chief executive officer at Active & Thriving shared with Breadcrumbs that webinars addressing customers' pain points generated the highest number of quality leads:
"Each bi-monthly webinar focuses on a different pain point HR professionals struggle with, such as securing funding for wellbeing programs and tips for early prevention and intervention of mental health issues in the workplace."
Every two months, a chunk of 60-120 attendees ended up converting to leads.
11. Write content that acquires and retains
With inflation and interest rates slashing content budgets, there's an urgent need to make the most of our dollars—like moving our budget towards customers most likely to produce the highest ROI.
Which is probably why 38% of marketers are finally favoring fostering customer loyalty and lifetime value among current customers versus acquiring new ones.
Common best practices recommend listening to feedback and personalizing the user experience to improve loyalty and LTV.
For one company, it's creating content that not only acquires but retains customers.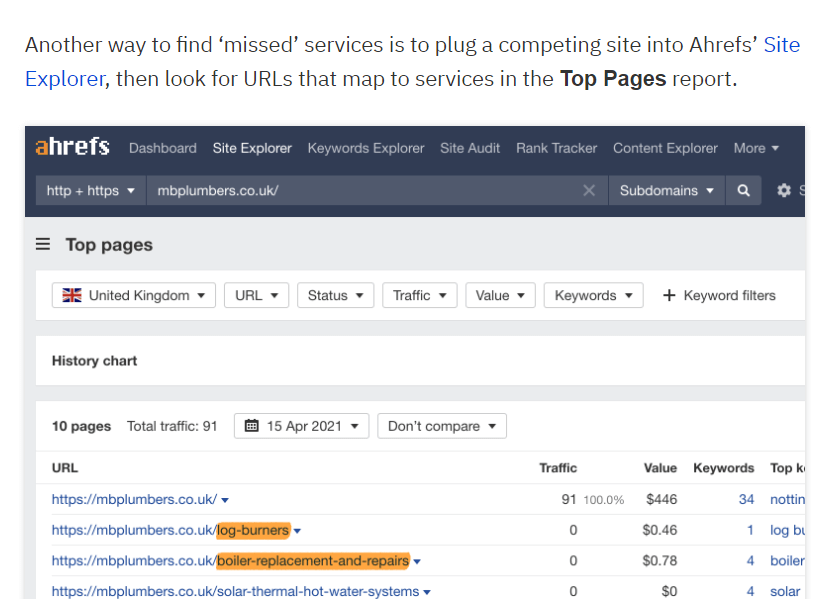 Notice the way Ahrefs highlights how its SEO suite helps with local keyword research and teaches existing users how to get more value out of it. It hits the sweet spot between positioning and customer education.
SaaS Marketing Strategy #6: Referral Marketing & Giveaways
Referrals and giveaways create virality and social engagement. This section explores how two startups drive conversations among its target audience despite being the new kids on the block.
12. Add a booster pack in referral marketing programs
Word of mouth is the most effective form of marketing, according to 64% of marketing executives. And yet, only 6% mastered it.
If you want to replicate success from this elusive group of marketers, do this.
The biggest key to growing sales from referrals lies in incentives, says the team behind Plan M8.
When the startup launched its yachting maintenance app, it offered attractive incentives like discounts and personalized offers to attract early adopters. The more users these adopters bring on, the more premium the deals.


These personalized deals (or "booster packs," as the startup coined it) were offered on a limited time basis to drive conversion rates.
Offer an irresistible reward users won't refuse.
For example, if you're already offering access to premium features in a 14-day free trial, go a step above in the referral program. Extend the trial to a month, offer white-glove onboarding, or provide a direct line to in-house specialists.
13. Reward everyone in your target market (seriously, everyone)
Go all-in to instill goodwill in prospective customers.
It sounds excessive, but given how we're desensitized to typical "one for one" referral campaigns, a giveaway that rewards everyone is bound to attract attention and engagement.
SuperOps.ai, a PSA-RMM platform, launched a coffee campaign on LinkedIn that invited managed service provider (MSP) professionals to tag a buddy in the comments and win a pair of $10 coffee vouchers.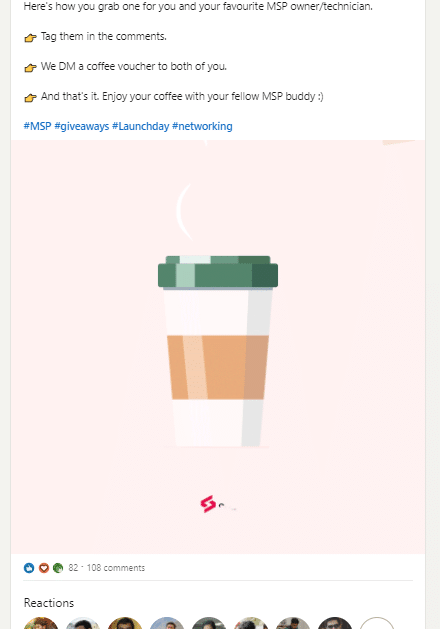 To get the ball rolling, the team tagged a few MSP thought leaders with whom they had a good relationship with.
"There was silence in the first hour," admits Sriram Palaniappan, a growth marketer at SuperOps.ai. "But then it escalated."
More users started tagging fellow MSP folks, which created an unstoppable snowballing effect.
In the end, the startup:
Attracted 105 post comments and 150 people in the (MSP) space (before the giveaway, over 100 people had not heard of SuperOps.ai)
Boosted website visits and leads by 385%
Increased new users by 591% (when compared to the previous day)
The returns exceeded the expenses by a mile.
"We spent only $1500," adds Palaniappan. "A traditional ads campaign would have cost us a lot more."
SaaS Marketing Strategy #7: Sales
To gate or not to gate. To wait or to make a straight ask. Watch how these two startups approach their sales conversations with prospective customers.
14. Hijack online conversations
When the pandemic broke loose, in-person events shifted to online experiences.
One company found itself changing its conversation strategy after a popular industry event it'd planned on attending was shifted to a virtual conference platform.
Intuitix, an innovation project portfolio platform, would analyze user behavior (e.g., webinars watched, booths joined) and tailor its sales pitch accordingly.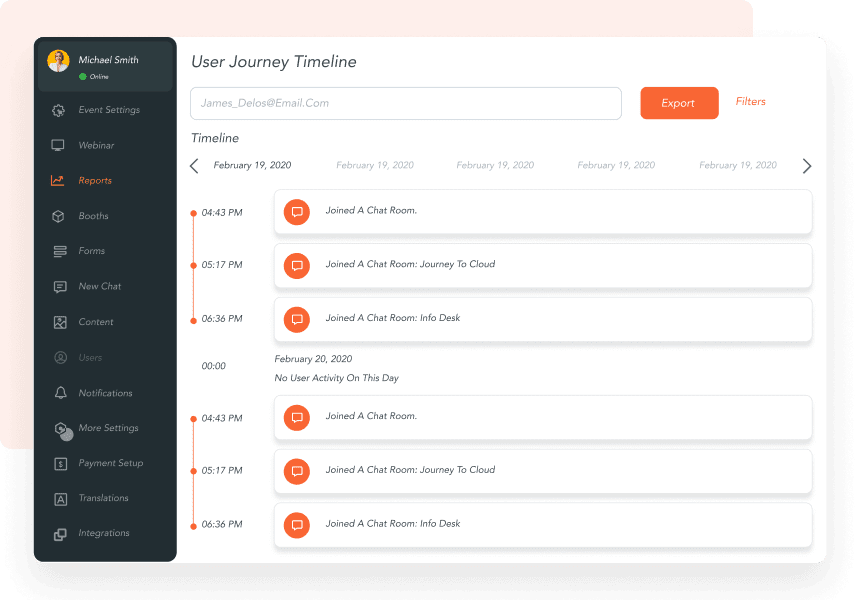 In the end, the company spoke to over 20 decision-makers in its target organizations and even took a lead through negotiation.

"If you're operating in a particular niche," muses Evan Davies, the managing director of Intuitix. "Sometimes it's better to go straight to customers rather than waiting for them to come to you."
15. Gate your demo video (or not)
There's been mixed results for gated and ungated demos.
For one SaaS company, ungating its B2B SaaS product tripled demo sign-ups after a month of testing.
Interestingly, HigherMe experienced the opposite.
"I was a marketing team of one," shares Carly Chalmers, the former marketing manager at HigherMe.
"I wanted to do something that would attract qualified leads, something that I could create just once and prospects could access over and over again."
In the first year of gating its demo video, sales cycle length shortened by seven days. And just three years ago, leads who watched the demo had a 92% win rate.
Did the gated demo video create a barrier to entry? For sure.
But there's another way of looking at it: users who submitted their contact information were more engaged during live demos.
"They were more informed," says Chalmers. "They asked better questions before their live demo with sales."
Putting these SaaS marketing strategies together
Everything starts with a strong ideal customer profile and buyer persona.
If you don't know who your best customers are, it's impossible to build a product they want, let alone create a marketing plan that gets results.
So make sure you know the attributes and actions that impact revenue growth before you create more content and co-brand with another business.
Grab your free Breadcrumbs account to identify revenue-changing attributes and actions, auto-generate scoring models, and accelerate revenue at all stages of the buying journey today.