When you launch marketing campaigns, you want to see successful results. But if there's no meaningful strategy to connect the dots on your B2B marketing efforts and measure progress, you may miss out on potential revenue and opportunities for growth.
For this reason, you need to regularly monitor and evaluate your marketing strategies to uncover ways to optimize, increase, and ultimately maximize the ROI of your marketing campaigns.
In this article, we'll provide you with valuable insights on calculating your B2B marketing ROI. We'll also share tips on how to maximize your returns, so you can achieve a positive outcome from your investment.
The Benefits of Measuring Your B2B Marketing Efforts' ROI
Return on investment (ROI) is a metric that calculates your return on investment and helps you identify which campaigns are driving revenue.
From email and content marketing to search engine and SaaS marketing, every tactic requires an investment that can generate profit. Measuring the ROI of each campaign shows you which ones are contributing to an increase in revenue and reveals your top-performing marketing channels.
Here are a few reasons why it's crucial to measure the ROI of your B2B marketing strategy:
Accountability: It allows you to evaluate the cost of your marketing efforts against the resulting revenue and profits to determine whether the investment generates a positive return.
Resource allocation: By identifying your most effective marketing channels, you can make informed decisions about allocating your resources and investing your marketing budget to get the best results.
Continuous improvement: You also get to analyze the results of your marketing efforts, identify areas that are working or not in your revenue marketing strategy, and make changes to your marketing approach to optimize ROI.
Competitive advantage: You can stay ahead of competitors by tracking your ROI and fine-tuning your marketing efforts. Continuous measurement and optimization of your marketing ROI improves your bottom line and gives you a competitive edge in your industry.
How to Measure ROI on B2B Marketing
Here's the formula for calculating ROI:
(Revenue – Investment) / Investment x 100
Suppose your business generates $200,000 in digital marketing revenue, and you invest $65,000 into digital marketing. In this case, your marketing ROI is 208%
These steps will further guide you on how to measure the ROI of your B2B marketing campaigns and optimize them for maximum impact:
1. Set Clear Goals
Before you start measuring ROI, set clear goals for your marketing campaigns. What do you want to achieve? Do you want to generate leads or increase brand awareness? Perhaps you want to drive more sales.
It may not seem obvious, but this is one of the mistakes in B2B marketing. Without concrete goals, the rest of your revenue marketing strategy crumbles. Setting clear goals will help you track progress and determine whether your marketing efforts are successful.
2. Set Up Website Analytics
There are many traffic sources to websites. Your website is usually the first point of contact where the most critical actions happen. For instance, running email nurturing campaigns or brand awareness campaigns on social media eventually leads people to your website.
To see these numbers, you must set up your website analytics. Google Analytics is an excellent tracking software for monitoring website traffic. It's simple to set up and delivers a wealth of data that allows you to identify the marketing channels generating the most traffic and which pages are the most effective at converting visitors into leads or customers, among other things.
3. Choose the Right Metrics to Track
It's not enough to install Google Analytics software—you must also define your key performance indicators (KPI) and choose the metrics to track.
Measuring ROI is all about relevancy and accuracy. The big numbers you're seeing could be vanity metrics. Look at the goals you set up previously, and accordingly pick the best metrics to track.
Here are some common metrics you can consider monitoring at each customer journey stage: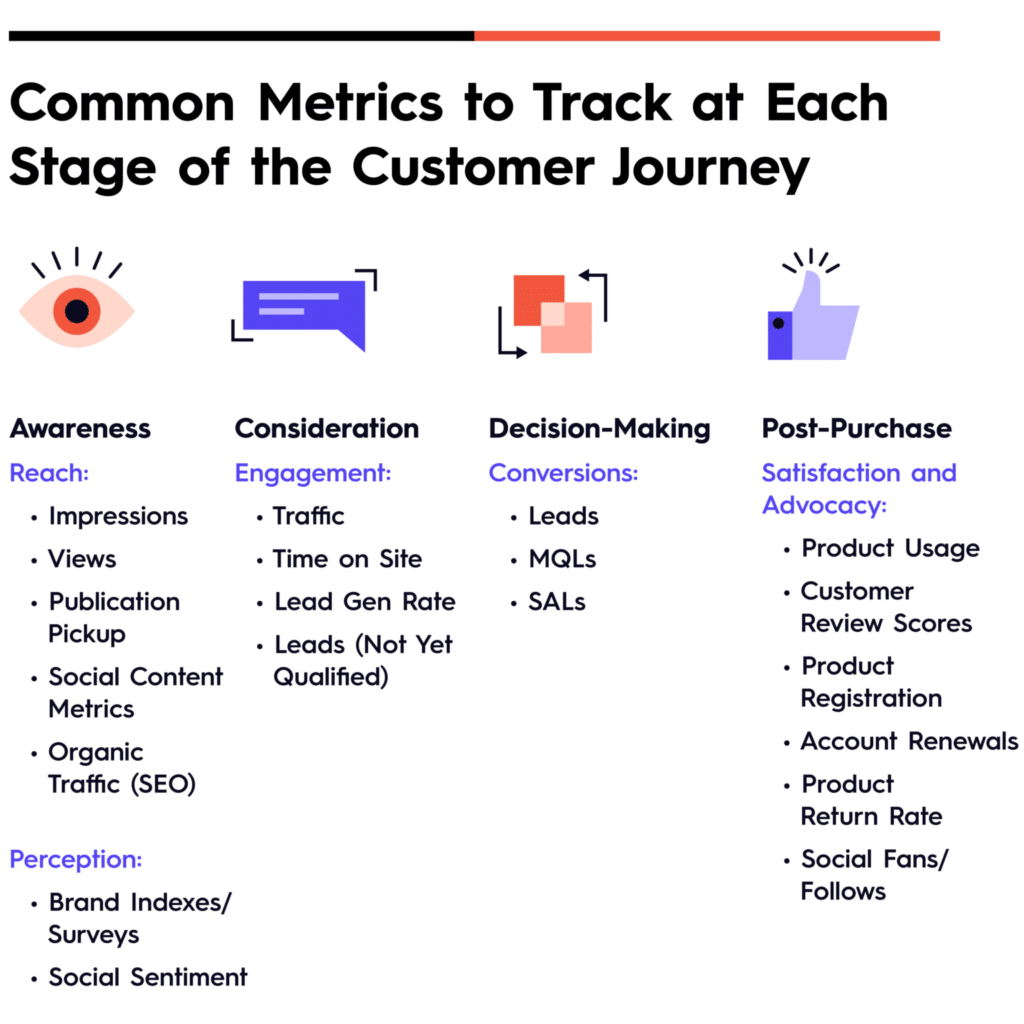 4. Calculate the ROI for Different Marketing Campaigns
Monitor your website traffic source on the Google Analytics dashboard to identify which marketing channels generate the most traffic. You can add UTM parameters to the URLs to track the source of your traffic.
To calculate ROI, divide the revenue generated by your marketing campaigns by the expenses associated with those campaigns. The resulting number will be your ROI.
A positive ROI means that your marketing efforts are generating a profit. A negative ROI means that your marketing efforts are losing money.
8 Ways to Maximize ROI on Your B2B Marketing Efforts
Now that you know how to measure your B2B marketing ROI, let's understand how you can maximize it.
1. Develop a Clear Strategy
Before you start maximizing your ROI, you must create a roadmap for your marketing efforts. This means analyzing your previous goals and KPIs thoroughly. Assess your current state, identify areas of strength and weakness, and bridge any gaps in your current strategy.
Evaluate your customer base and assess their needs, pain points, and buying behavior. Having a strategy that aligns with your business objectives helps you make informed decisions about where to allocate your budget and improve your marketing efforts.
2. Understand Your Target Audience
To ensure your product's success, it's important to identify your target audience—the people who are most likely to buy it. By getting to know them on a deeper level, such as understanding their demographics, needs, and challenges, you can create buyer personas that help you tailor your marketing efforts to meet their specific preferences.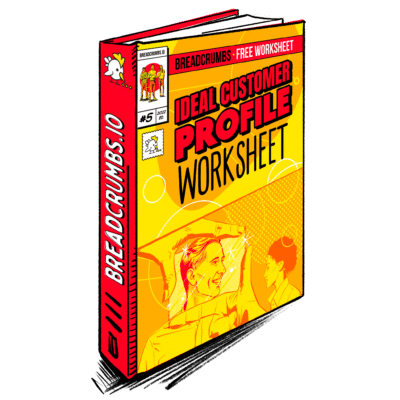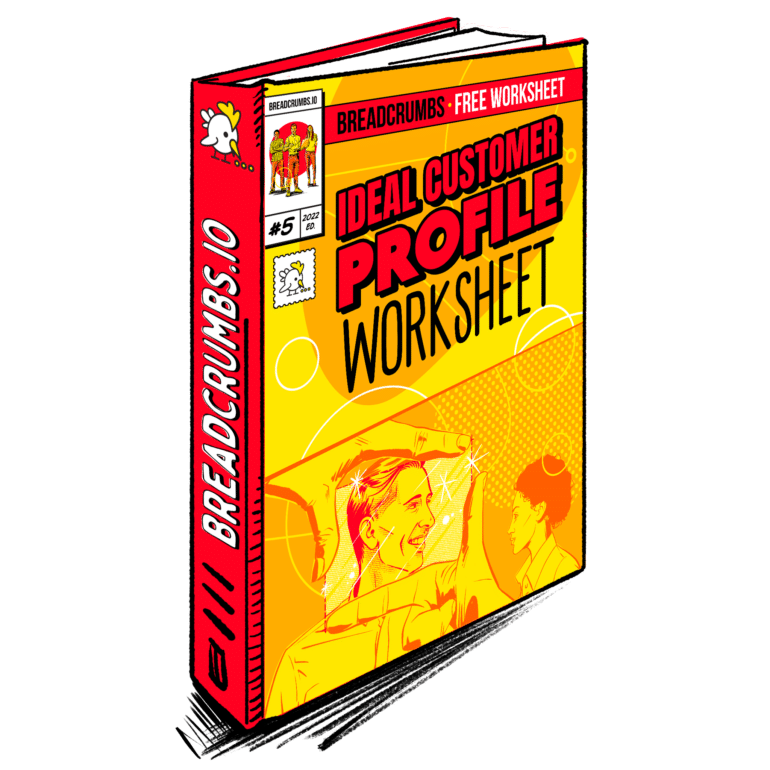 Ebook
Ideal Customer Profile (ICP) Worksheet
Learn how to create an Ideal Customer Profile and build a successful sales strategy with this Ideal Customer Profile (ICP) Worksheet.
One approach you can take is to create content that speaks directly to their pain points or offers solutions to their challenges. This can help establish a strong connection with your audience and ultimately lead to more sales.
If you're looking for a proven B2B content marketing strategy, consider using the Larger Market Formula.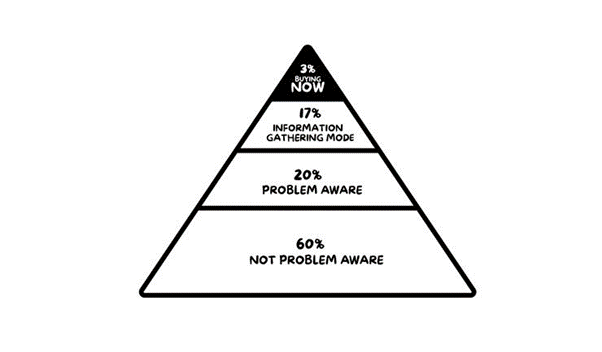 This approach allows you to create content for every stage of the buyer's journey, from awareness to decision-making, so you can track the effectiveness of your content efforts and make informed decisions about how to move forward.
3. Use Multiple Channels
Develop a comprehensive marketing plan that includes creating high-quality content and using a mix of marketing channels. Different channels can reach different audiences, allowing you to expand your reach and connect with potential customers.
Some examples of marketing channels to consider are social media, email marketing, content marketing, and search engine optimization (SEO). It's also essential that you adopt a strategy for allocating your marketing budget across these channels
4. Determine Costs
Determining marketing costs such as creative development, personnel, agency fees, and overhead costs helps you know what metrics to include in your ROI measurements. It's also essential to apply strategies like spend control so you can plan your spending and stick to your marketing budget.
5. Focus on the Metrics That Matter
To maximize your ROI, be careful when choosing the metrics to track.
Your core metrics will determine whether you're going in the right direction. Ensure the metrics genuinely reflect the progress towards your goals, and they're not just vanity metrics that look good but have little value.
For instance, if your goal is to increase revenue or sales, you can track metrics like conversion rate, cost per acquisition, and customer lifetime value (CLV). Metrics like direct traffic, referral traffic, and social media mentions are more suitable for monitoring brand awareness.
6. Measure and Analyze Results
Measuring and analyzing the results of your marketing efforts is essential to maximize ROI. Tracking metrics like website traffic leads and conversion rates gives you insights into the effectiveness of your marketing efforts.
With these insights, you can refine your strategy and optimize your campaigns for better results. Measuring B2B SaaS marketing metrics, for instance, helps you evaluate the effectiveness of your product marketing efforts and ensures you're on the path to continuous growth.
Additionally, it's crucial that you review your marketing budget regularly and adjust it as needed.
7. Leverage B2B Remarketing
B2B remarketing is a fantastic way to bring back prospects who have interacted with your brand in some way, like visiting your website or engaging with your content. It can take many forms, including display ads, email marketing, and social media advertising.
By targeting potential customers who have already shown an interest in your brand, you can increase the chances of conversion and maximize the ROI of your marketing efforts.
8. Use Marketing Automation Technology
Technological advancement has made marketing automation easier. Today, we have marketing tools that can handle repetitive tasks and help you accomplish more with less.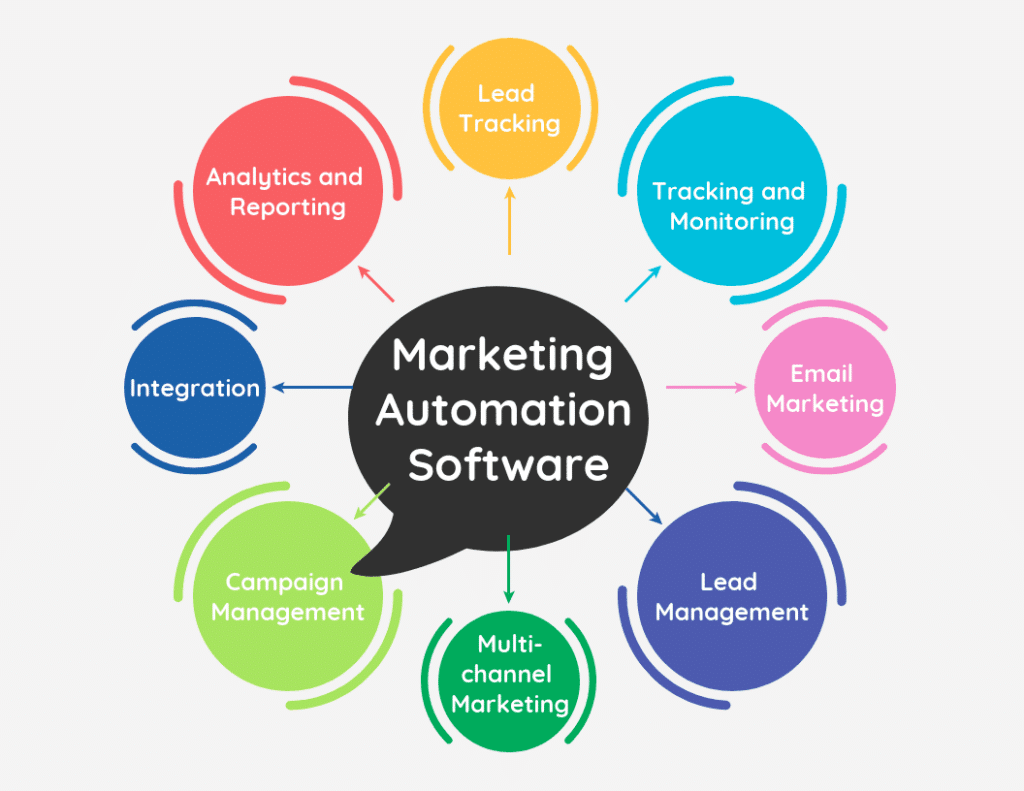 SaaS tools can be used for many things, like email marketing, social media marketing, lead generation, and more. Streamlining and automating your SaaS marketing process will save you time and maximize ROI since you won't have to do these activities manually.
Tools to Boost Marketing ROI for B2B Marketing
We highly recommend building a marketing tech stack with these SaaS tools to execute, analyze, and improve your B2B marketing campaigns.
1. Google Analytics
Google Analytics is a highly recommended tool for tracking marketing ROI. It allows you to track the performance of specific campaigns, identify which channels drive the most traffic and conversions, and monitor the ROI of your marketing efforts. This software provides a wealth of data about website traffic, user behavior, and conversion rates.
2. HubSpot
Hubspot is an all-in-one marketing platform that enables you to monitor the performance of your marketing campaigns, analyze your website traffic and conversions, and measure the ROI of your efforts. It also provides detailed reporting and analytics to help you make data-driven decisions.
3. Salesforce
This customer relationship management (CRM) platform allows you to track leads, opportunities, and deals, and measure the ROI of your marketing campaigns. Salesforce also integrates with other marketing tools and provides advanced reporting and analytics capabilities.
4. Marketo
With Marketo, you can track the performance of your campaigns, measure your ROI, and analyze your marketing efforts across multiple channels. It also provides advanced reporting and analytics capabilities, including customizable dashboards and reports.
5. Mixpanel
This analytics platform focuses on user behavior and engagement, allowing you to track the actions of your B2B customers and measure the ROI of your marketing efforts. Mixpanel also has advanced segmentation and targeting capabilities, enabling you to personalize your marketing campaigns and improve their effectiveness.
6. Breadcrumbs
Breadcrumbs is an enterprise-grade lead scoring tool that utilizes a machine learning-assisted approach, leveraging data analysis and insights to determine the optimal actions to take.
This combination of human expertise and machine learning algorithms enhances the accuracy and effectiveness of lead scoring, resulting in more precise identification of qualified leads.
Breadcrumbs' approach goes beyond traditional AI-based lead scoring by incorporating the power of machine learning to continuously learn from data patterns and customer interactions, enabling B2B companies to boost their marketing efforts with personalized and data-driven strategies.
An example?
You can use data from all the tools above for creating scoring models in Breadcrumbs.
For example, integrate Breadcrumbs with HubSpot to access your lead data. This integration allows you to analyze the data and generate a suggested model. Breadcrumbs Copilot simplifies the process by providing insights and recommendations for creating an effective scoring model.
By leveraging MAP, CRM, and product analytics data and the capabilities of Breadcrumbs, you can create robust lead scoring models that help prioritize and qualify your leads effectively.
The Importance of Measuring ROI of B2B Marketing Channels
Running marketing campaigns play a huge role in boosting the success rate of your business. However, it's equally important to understand how much your marketing spend contributes to your company's bottom line.
By measuring your B2B marketing channels' ROI, you can identify the most effective channels, improve decision-making, optimize marketing strategies, and justify your business's marketing investments.
As your B2B marketing strategy unfolds, leverage the right automation tools to create a marketing messaging framework and maximize the ROI on your B2B marketing efforts. Breadcrumbs, for instance, can help you identify upsell and cross-sell opportunities and detect churn risk early on, improving revenue and customer retention.
Get started with Breadcrumbs for free to boost business growth.