Lead generation is complex, which means that your best bet is to have multiple touchpoints on different channels designed to capture as many leads as possible.
While you're setting up your lead generation funnel, remember that you need to have different touchpoints on your site itself, too. It's not enough, after all, that they've landed on your site on their own; you need to convince them to convert as a lead or even as a customer once they're there.
Case studies can help with this, allowing you to prove what kind of results your brand, product, or service can offer to real clients. You can back up what you're promising, and show the how, what, who, and why questions that customers may have. They can help generate more leads and accelerate revenue quickly.
We've got some great resources on how to get the information on how to conduct great case study interviews and what makes case studies valuable, but today we're going to look at 17 individual and diverse case study examples and talk about how to write great B2B case studies.
These examples all do something exceptional and approach their case studies a little differently, but they all have outstanding final results. 
Ready to get inspired and get some actionable tips to write your own B2B case studies? Let's get started.
How to Write Great B2B Case Studies
Before we start looking at different B2B case study examples, we want to first talk about what makes B2B case studies valuable and effective.
What All Great B2B Case Studies Accomplish
Case studies are most often used to build trust by proving that you've gotten a specific result for clients and that you can do the same for your existing leads. In many cases, case studies should:
Establish a persona or audience segment that the client fits into (which, in many cases, leads will relate to)
Explain what the client's problem was before they started working with your brand
Detail what solution you offered to help the client (which should include some level of detail regarding the strategies, products, or tactics that you used)
Share the results, ideally the more specific (and numerical) the better; statistics that show improvements are golden
Feature a client impact statement or a testimonial if possible
You can use this as a guide post (or almost like a template) of how to get started with the content that you need to cover in your case study.
B2B Case Study Best Practices
When writing B2B case studies, you always want to follow these best practices:
Try to stick to a consistent template, that way as you create a fleshed-out case study section on your site, it will be scannable and familiar to leads
Tell a story, using a client's problems and pain points to connect with potential leads and highlighting how you can help; think of the problem as the beginning of the story, the solution as the climax, and the results section as the resolution of the story
Be as detailed as you need to be, but as brief as possible; while B2B case studies can certainly trend much longer in length than most B2C case studies, you also want to make sure you're offering value because if it goes too long, your customers will lose interest
Always include hard facts. Statistics, tactical solutions, and quantifiable data reign supreme here. They carry a case study, and they give you a nice impressive title to draw in the clicks, too.
Rely on great formatting. Do not write a case study that's nothing more than a giant block of text. Use great formatting to keep the entire case study scannable and easy to read. Break it up with visuals whenever possible.
1. Breadcrumbs
Breadcrumbs has a number of content-based case studies on our site, and you know we had to feature these case studies first! 
These case studies both accomplish everything we've discussed above; they detail a client's problem and pain points, explain the solution, and share the results and client testimonials. All the major boxes are checked.
What these case studies do differently than most, however, is they use a content-focused approach. The case studies aren't just boasting about the amazing results our clients have seen, but they actually share enough actionable information for other clients to replicate their success, too.
Let's look at our case study, How to Reduce Your SLA by 99%. It discussed how a single client did reduce their SLA by 99%, but it also gives enough information that other users can discover how to use lead scoring to reduce SLA successfully themselves. 
The case study is downloadable, which a "Download" button at the top of the page next to "Request Demo" and "Start Free" CTAs. It also features a well-formatted "What you'll learn" section to engage users and assure them that they won't just be reading about a client story, but they'll walk away with something helpful.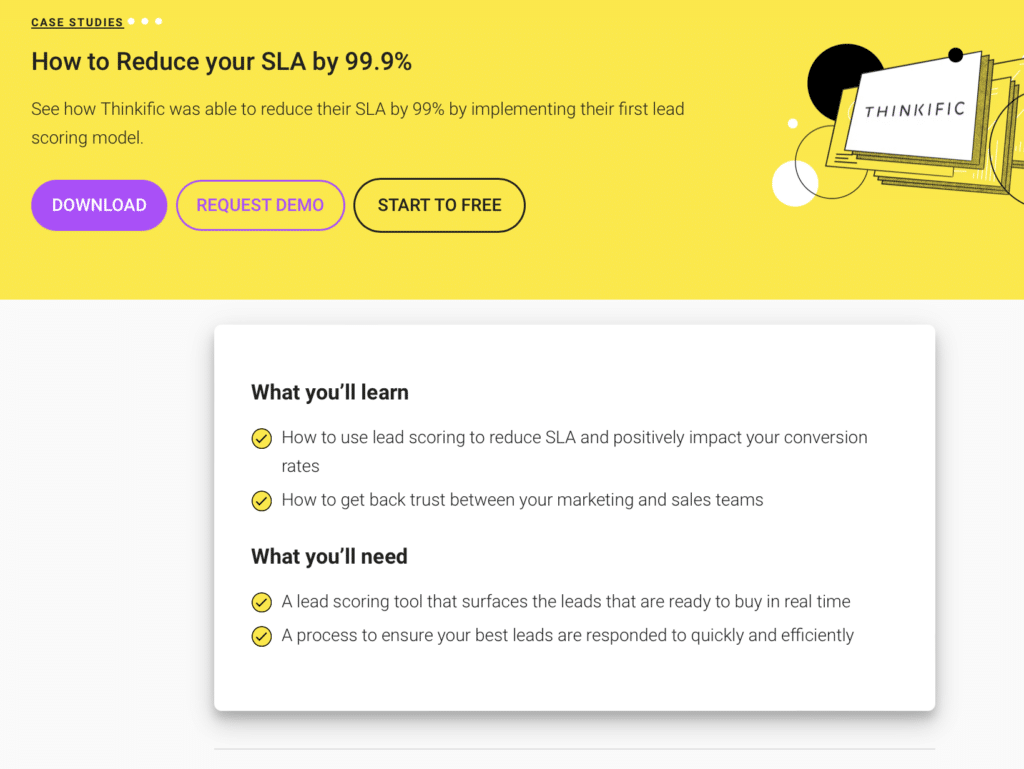 One other thing to note here is that some B2B case studies can feel, for lack of a better word, a little cold. The client's business name is mentioned, but pain points are relatively clinical and the tone is dull. That's not the case with the Breadcrumbs case studies, where individual client contacts are referred to by first name and are written in a more conversational tone. It feels much more personal, and at the end of the day, we're not just selling to businesses—we're selling to the people who work for businesses.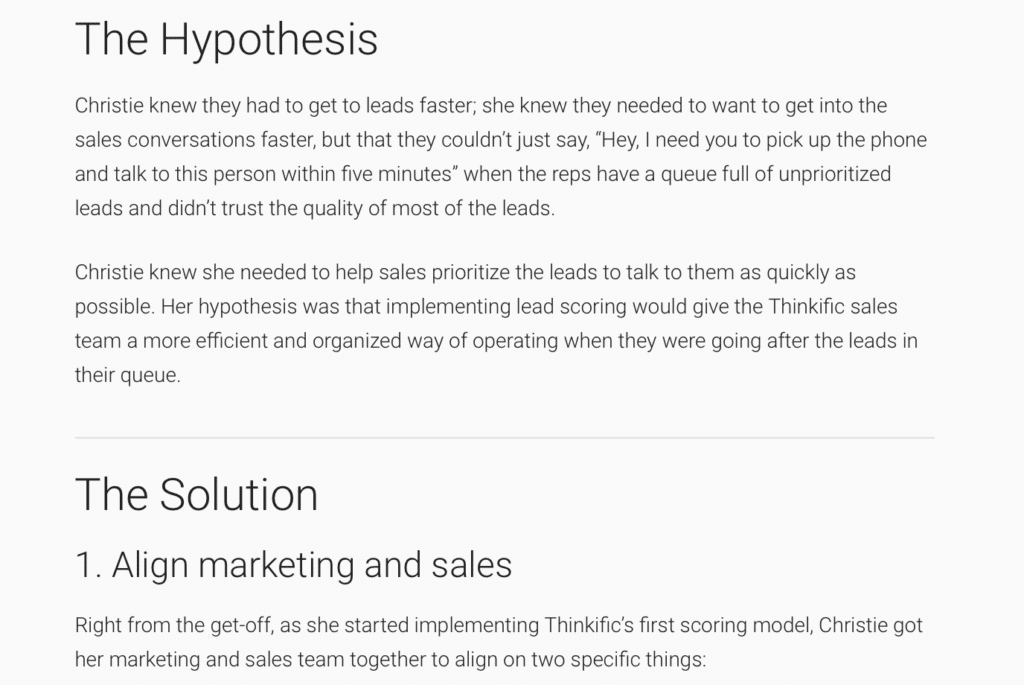 2. AdEspresso
Want to turn your case study into a lead magnet? This case study example from AdEspresso is an excellent demonstration of how to use case studies not only to pique users' but to actually convert them to leads.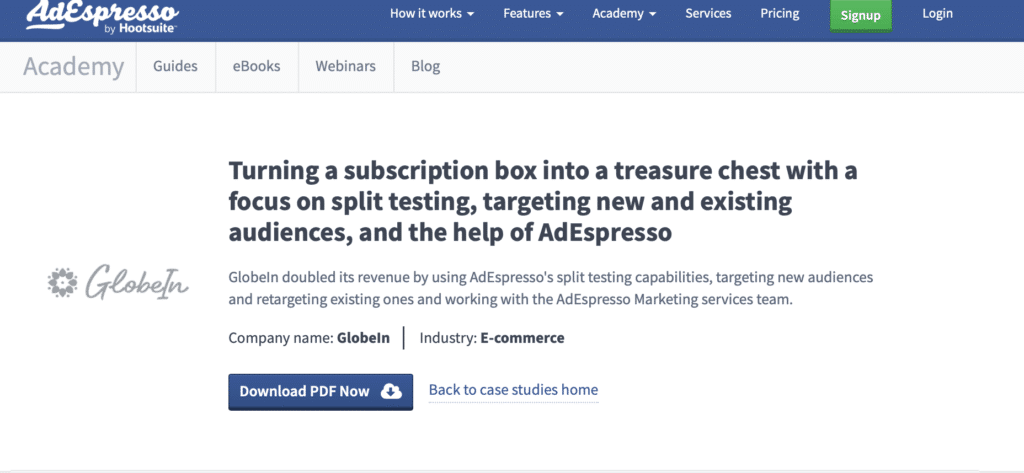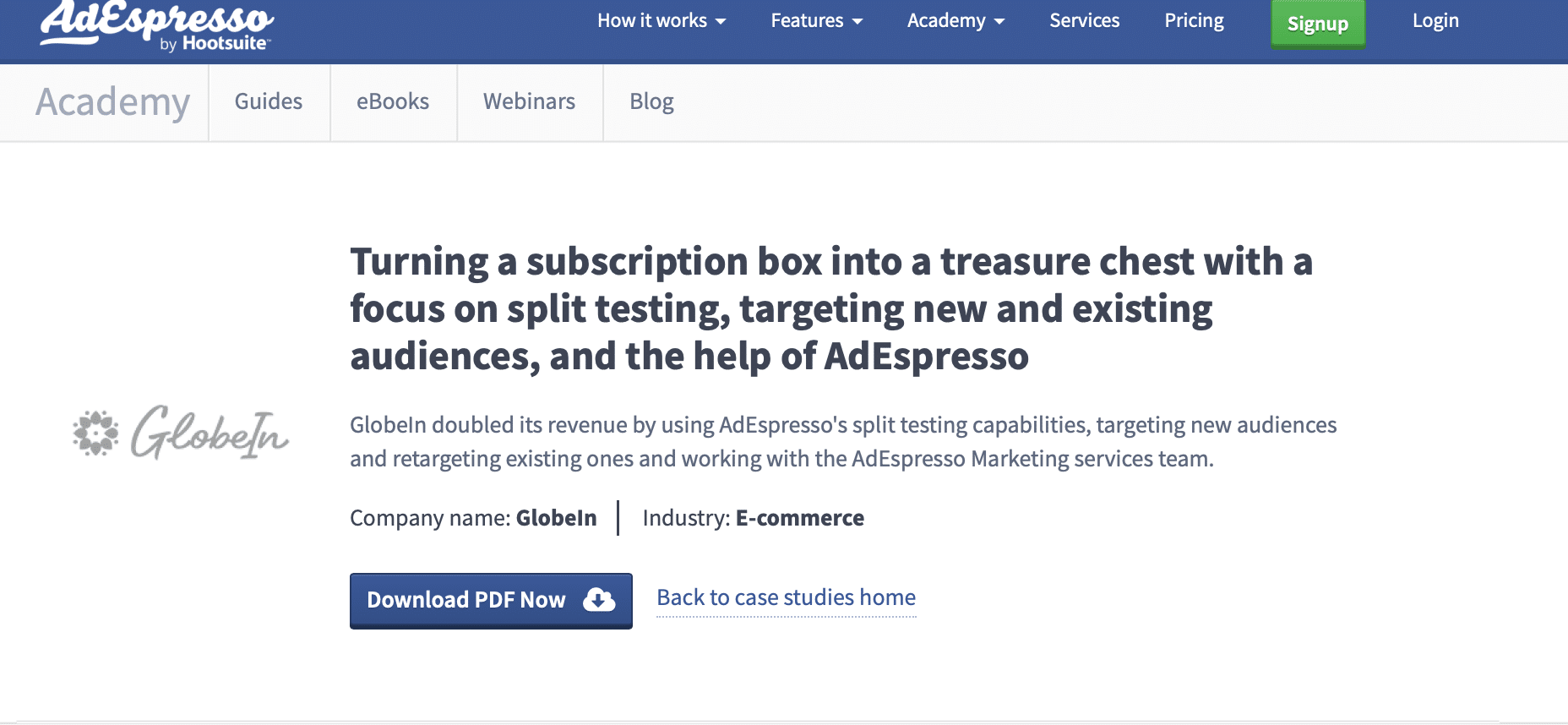 Here's how it works:
People go to the case study part of the site, find it through organic search, or are referred there by email, paid social ads, or blog posts
They read the title and the description, which mentions the company name, what was accomplished, a brief explanation of how (here, it's split testing, targeting new and existing audiences, and AdEspresso)
The description gives a concrete result–"GlobeIn doubled its revenue"
They encourage users to download the PDF
While most of the case studies that we're looking at are published on their brands' sites, this one works as a lead magnet. When users click the "Download PDF" CTA, they're taken to a landing page with a lead form.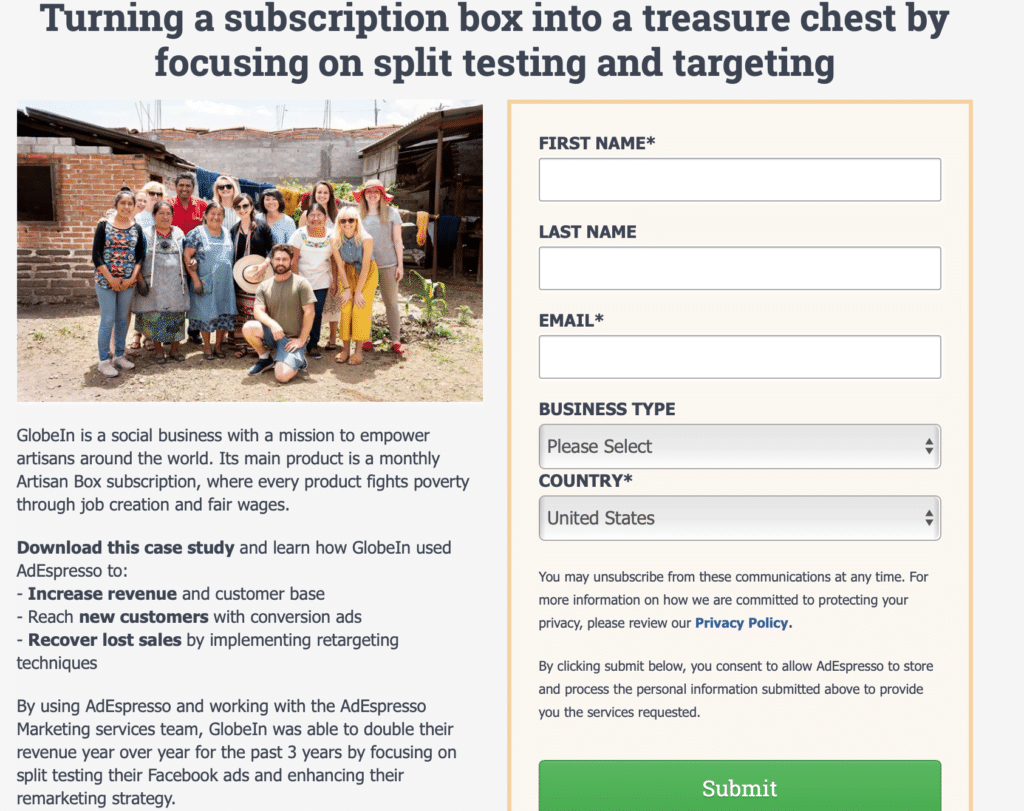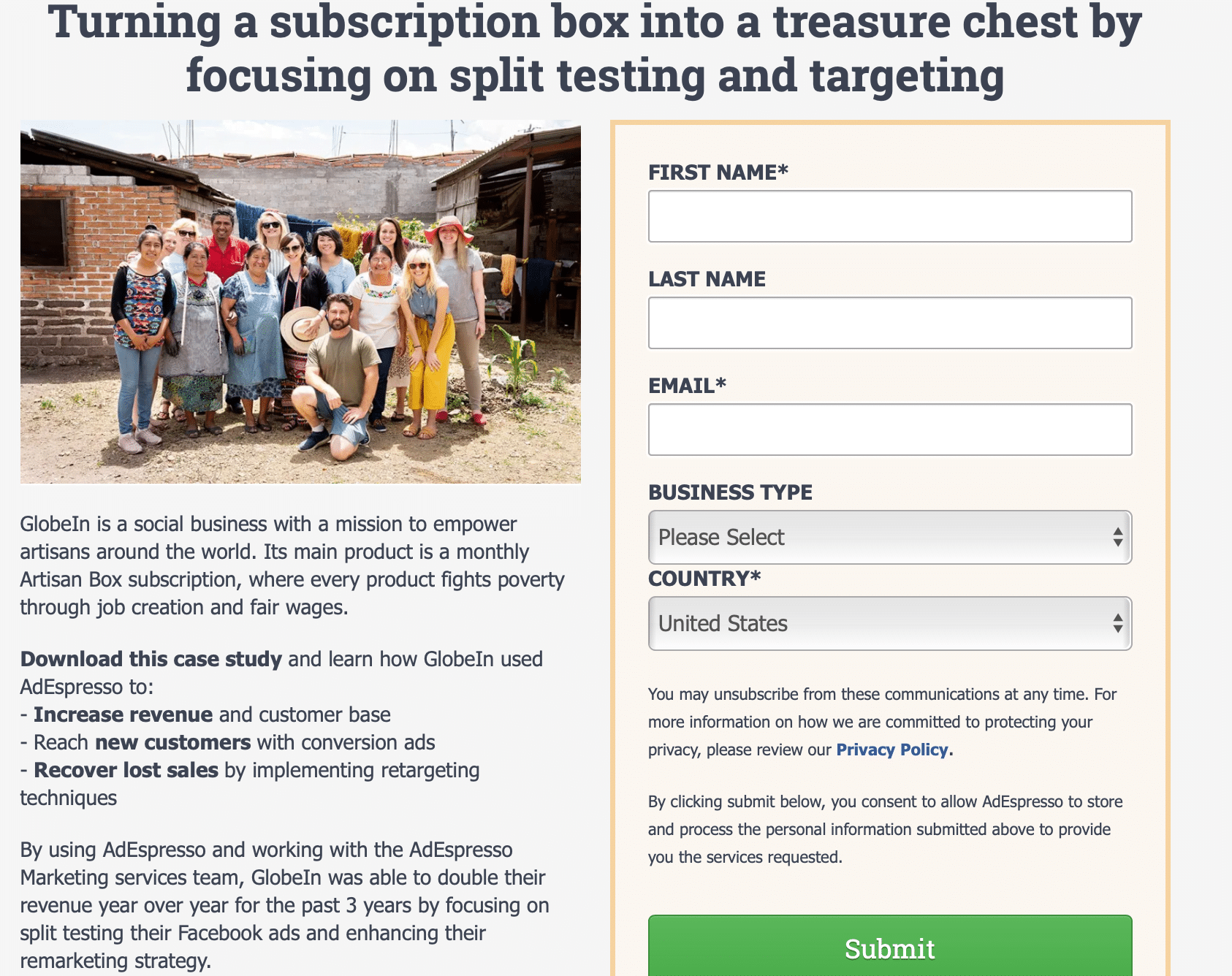 The landing page touches more on what results were achieved, but still requires users to download the PDF to find out exactly which strategies were used. This works because the case study isn't just stating "our tool gets more results," it also offers strategic insights similar to a blog post that readers can leverage to improve their own campaigns.
If you create case studies that get strategic and are heavily content-based instead of just sharing results, they can act as a different kind of touchpoint in the digital sales funnel.
3. Freshbooks
Most businesses have multiple different buyer personas and audience segments that they're targeting at any given point in time. When you want your case studies to really be effective, publishing diverse content that really speaks to each of those segments is crucial.
Freshbooks' case study examples really showcase how you can do that well. Their case studies feature brief customer stories from "relatable" small businesses (aka not mega CEOs of Fortune 500 companies, who are not Freshbook's core Facebook target audience) talking about how their business used the tools to benefit.
You can see the different personas represented here. One is an agency that wanted to scale quickly; one case study example featured a growing franchise. Another was for a small business that needed help with tax prep, and the last pictured here is a freelancer who uses the invoicing software's time tracking features to measure productivity and assess rates.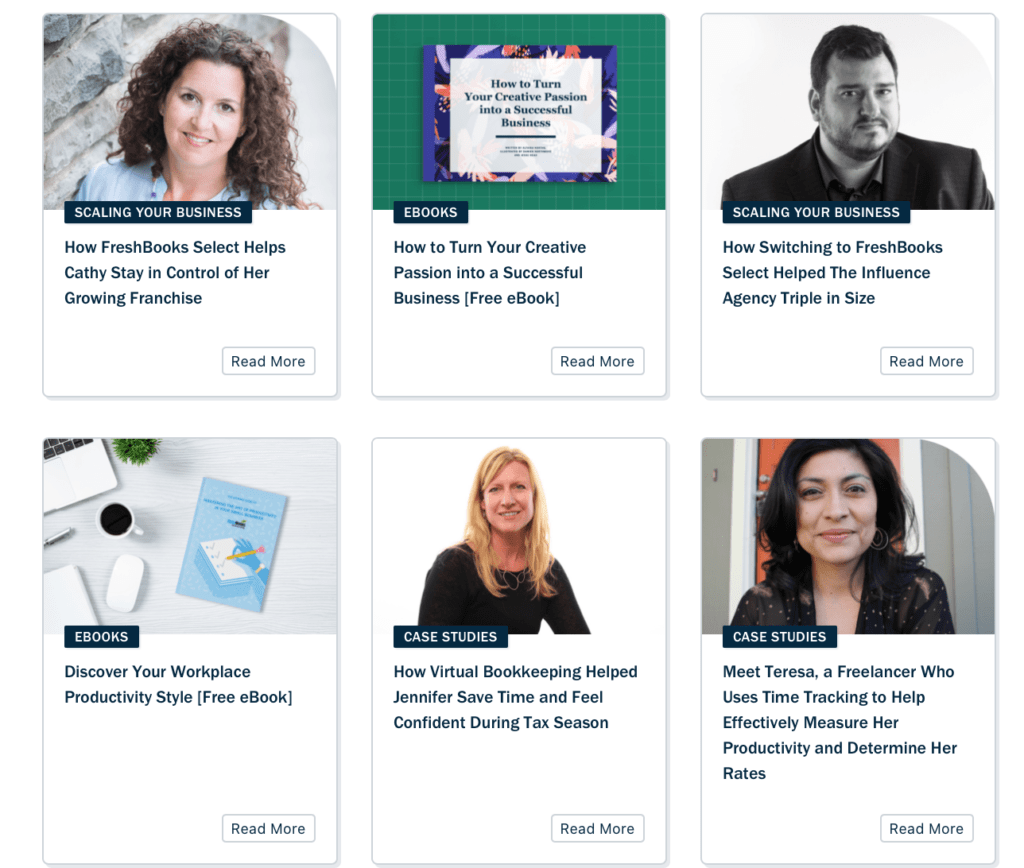 These are four very different types of businesses, and it shows potential leads in each audience segment that there's a reason they should use this tool. By highlighting different use cases, it can increase lead generation for all high-value audiences by appealing to their specific needs instead of just highlighting general stories that would appeal to all.
4. Disruptive Digital
Disruptive Digital is a paid social agency while a high-level holistic approach to advertising. Instead of looking at "general best practices" that you could find on ten other blogs in five seconds or less, they offer strategic insights that showcases how they really get their customers result. They make case study examples a central part of a large number of their blog posts.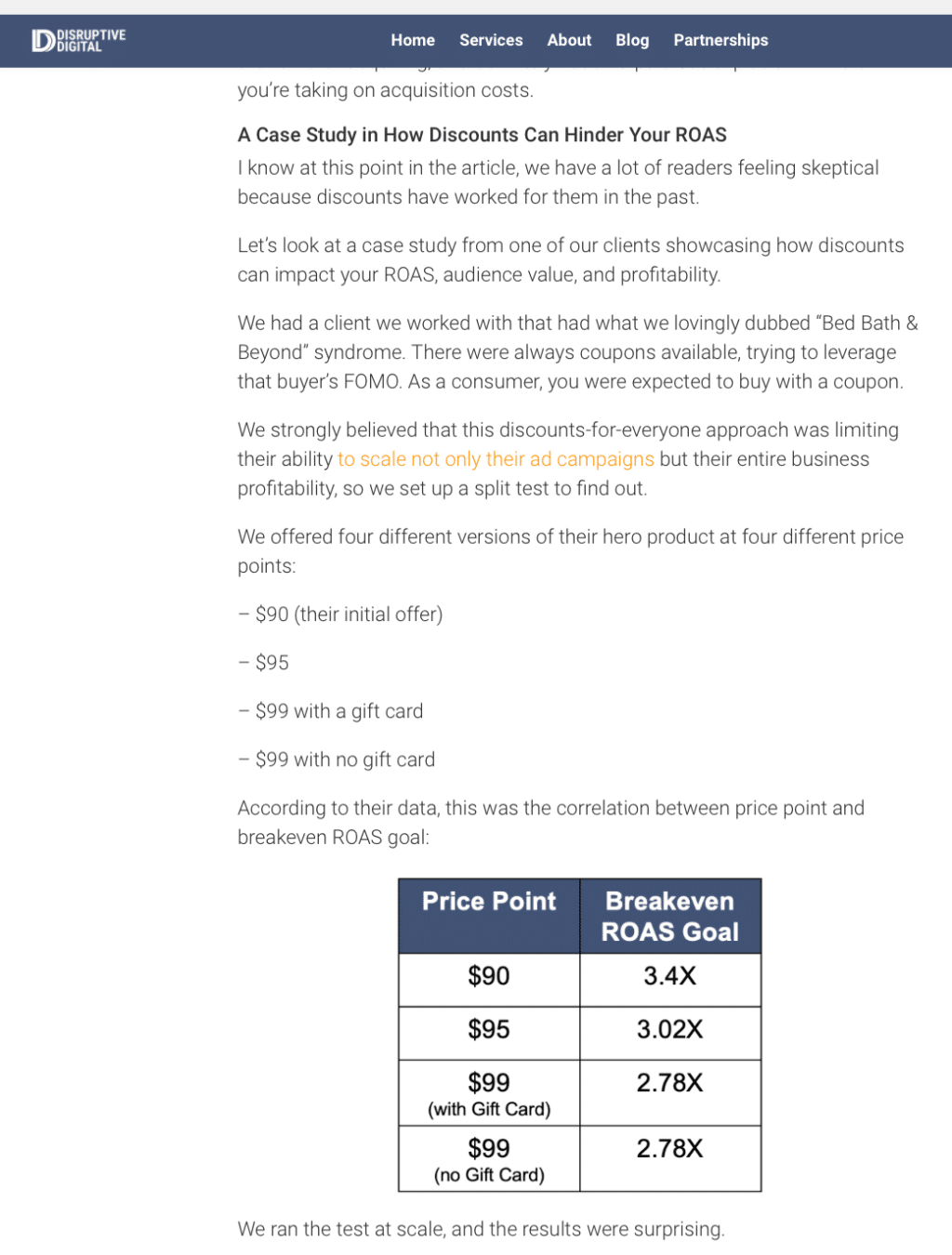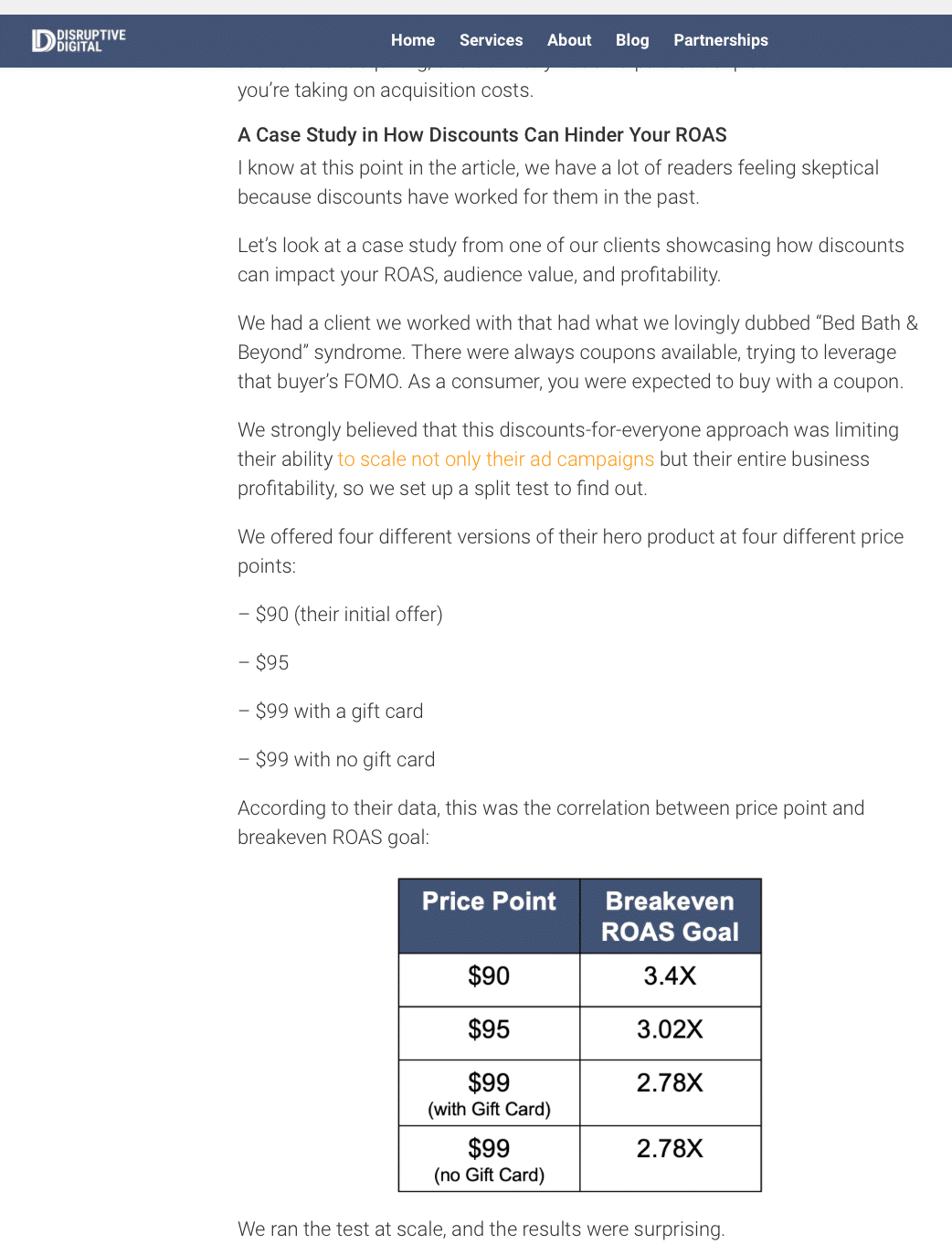 They'll write a blog post about a high-level topic like "how to calculate your target ROAS," and then show a case study with real client data to walk you through the process. This is more powerful than hypotheticals when you're talking about data-driven PPC campaigns, and they always use it to back up their arguments as well as teach a strategy.
While these case study examples aren't on a dedicated landing page, they work by appealing to users more towards the top of the funnel. It helps to build trust and establish credibility early while setting their blog posts apart. It's good for their content marketing and lead generation efforts.
5. CoSchedule
CoSchedule is a well-known SaaS content and social media planning and organization tool, and their case studies are phenomenal.
They do a few things well. The first is by featuring different types of clients in their case studies. In the case study example below, they're showcasing not a brand, but a University alumni group.
Their formatting is also great. The first thing you see is "This 5-Person Marketing Team Managed 12x More Work While Working Remotely" in bright blue across the top of the page. They've also got a quick-reference, quick-facts bar on the side of the case study that lists the brand name, the brand's site, the industry, company size, and marketing team size. Here, you can download a PDF of the case study, and immediately under there is a CTA to request a demo (also in blue, ideally to have the eye go from the headline to the CTA).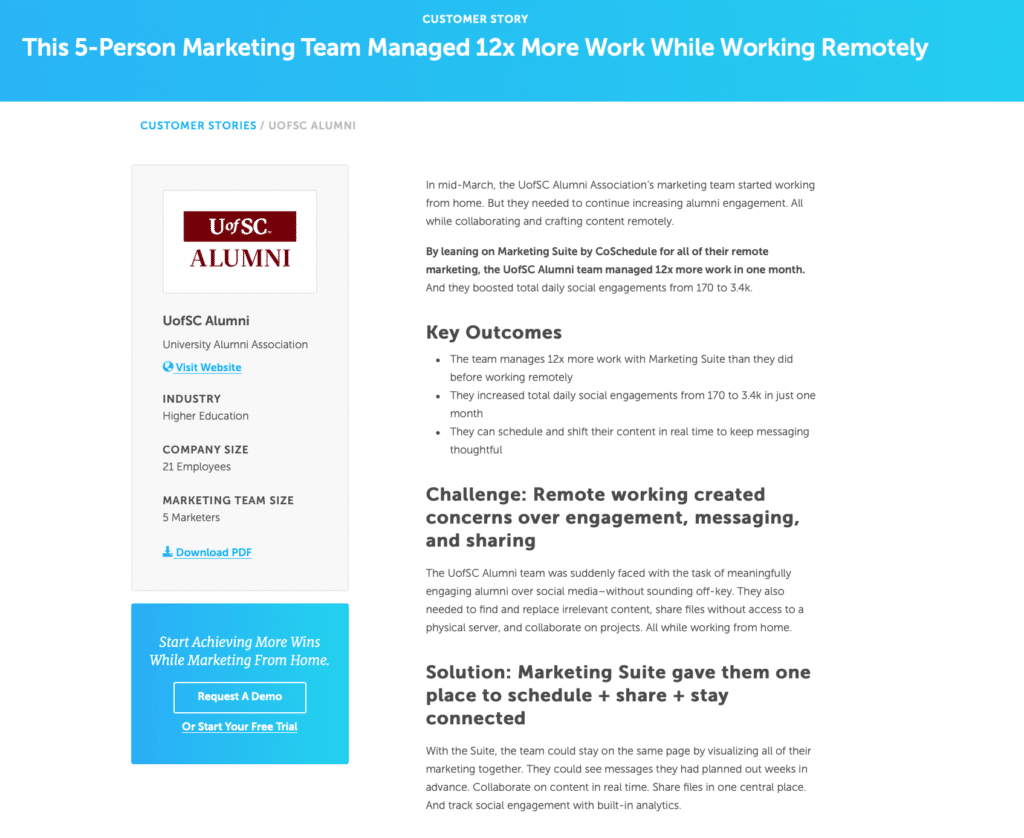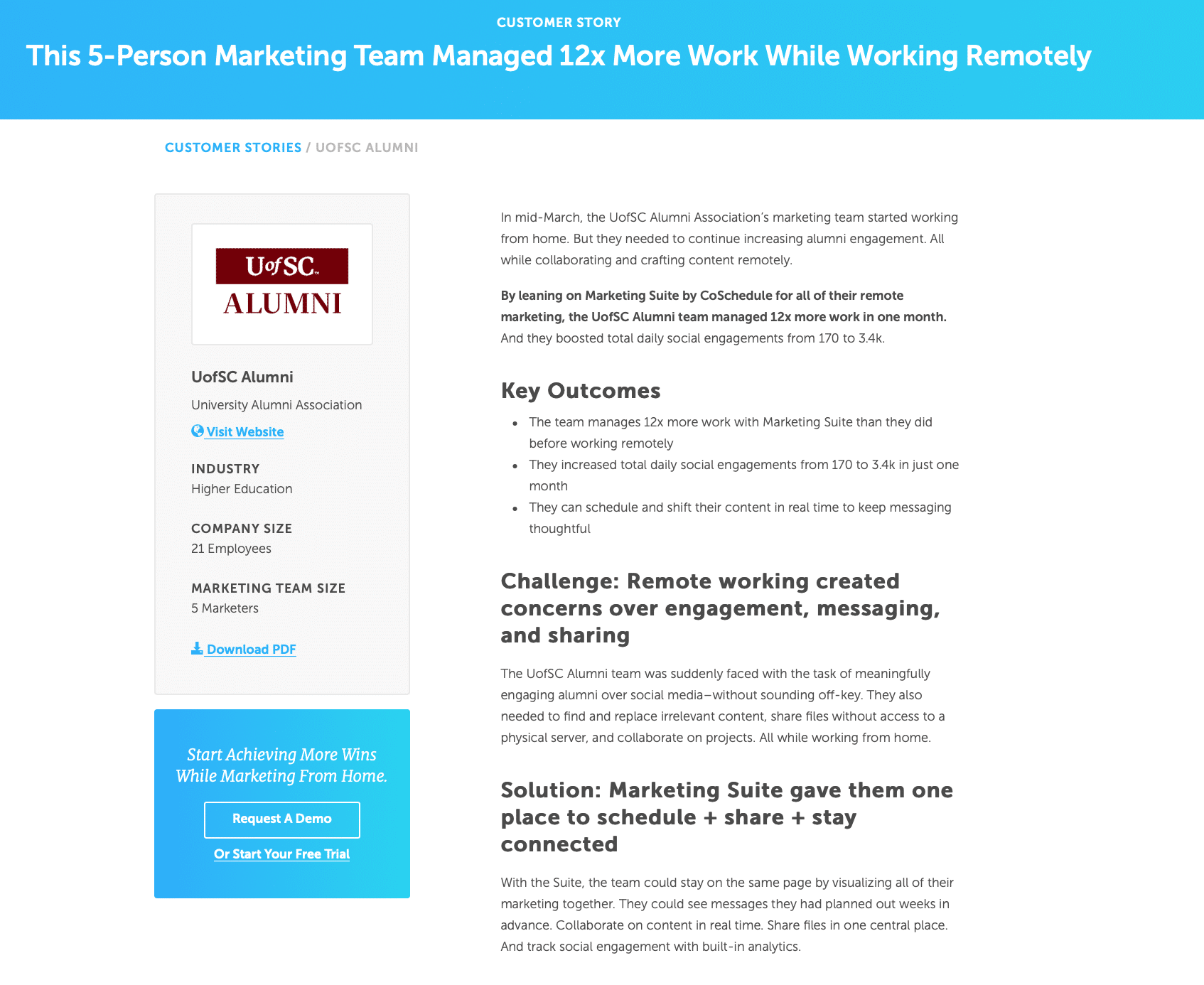 The case study itself is well written, and you can read the full study here. It breaks things down by sharing the challenge, the solution, and the results. As you can see below, they have a graph in bright colors to showcase exactly how impactful those results were, with the results in bolded text underneath it. They finish it off with a quote from a key team member to really drive it home.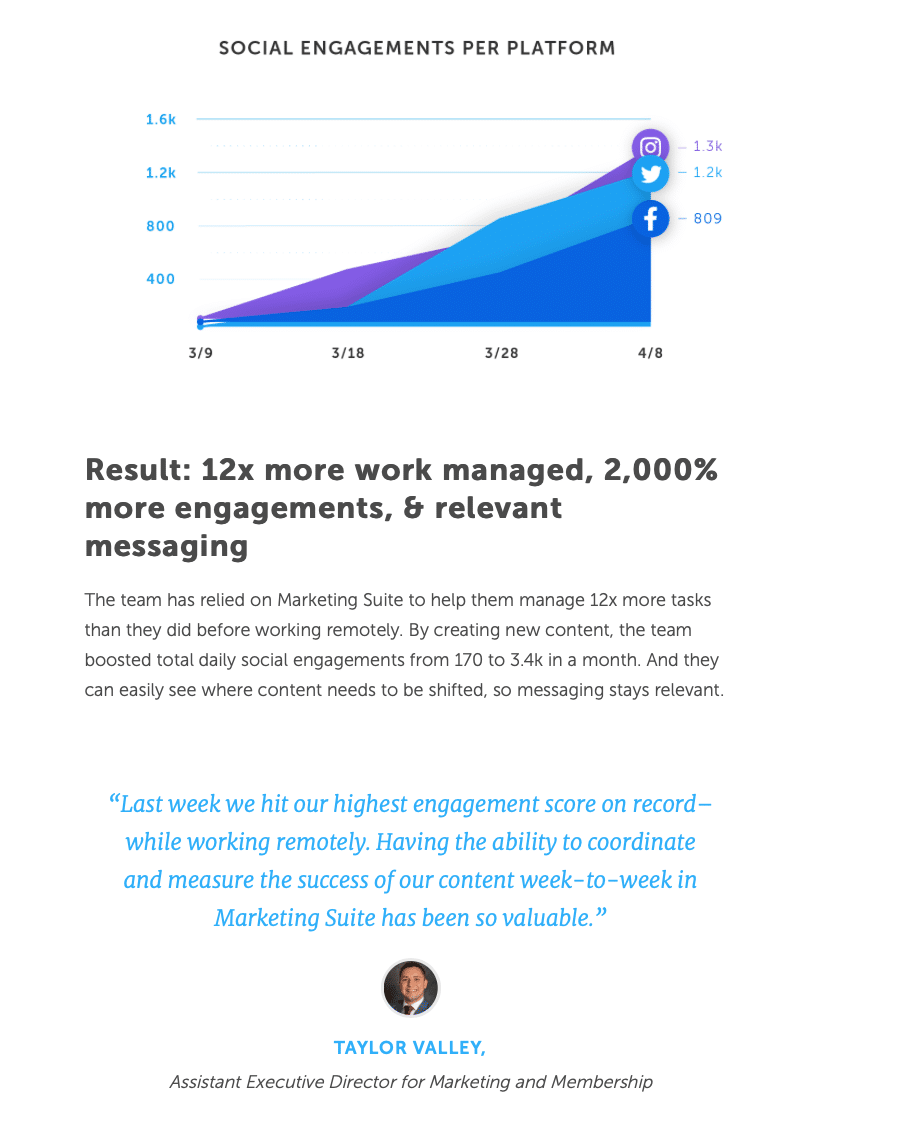 As far as case study examples go, this one is pretty perfect. The design is excellent, with quick-reference data, important facts highlighted, great design elements to draw the users' eye and attention where you want it, and a customer quote. They also have a strong CTA to get in touch, which can get the process moving quickly, or the option to download the case study (turning it into valuable content and a lead magnet) if the customer chooses.
6. ONESOURCE
ONESOURCE is a tax preparation product from Thomas Reuter's, and the site features the below case study of The Cheesecake Factory—a major American brand—to help showcase value and generate sales.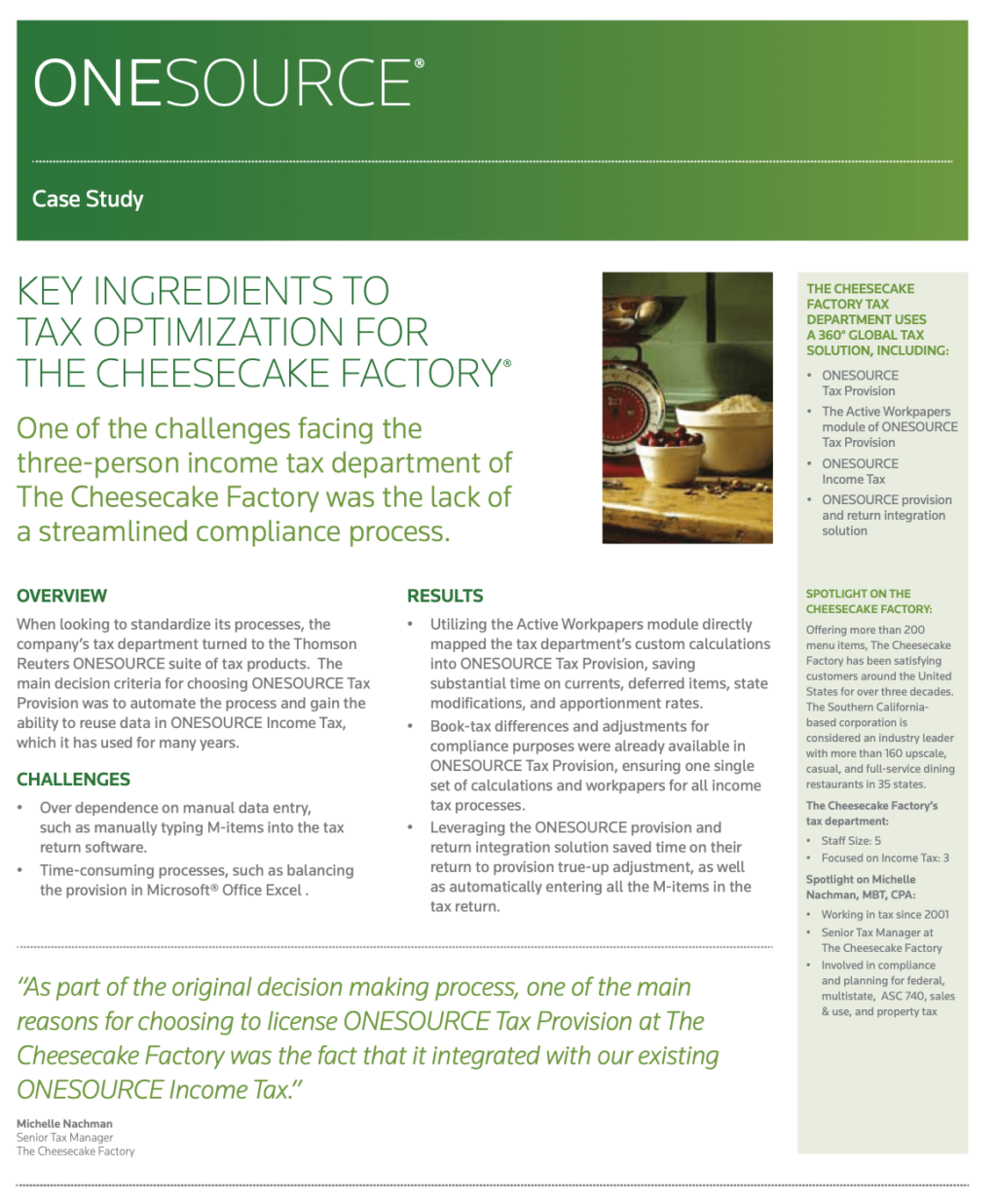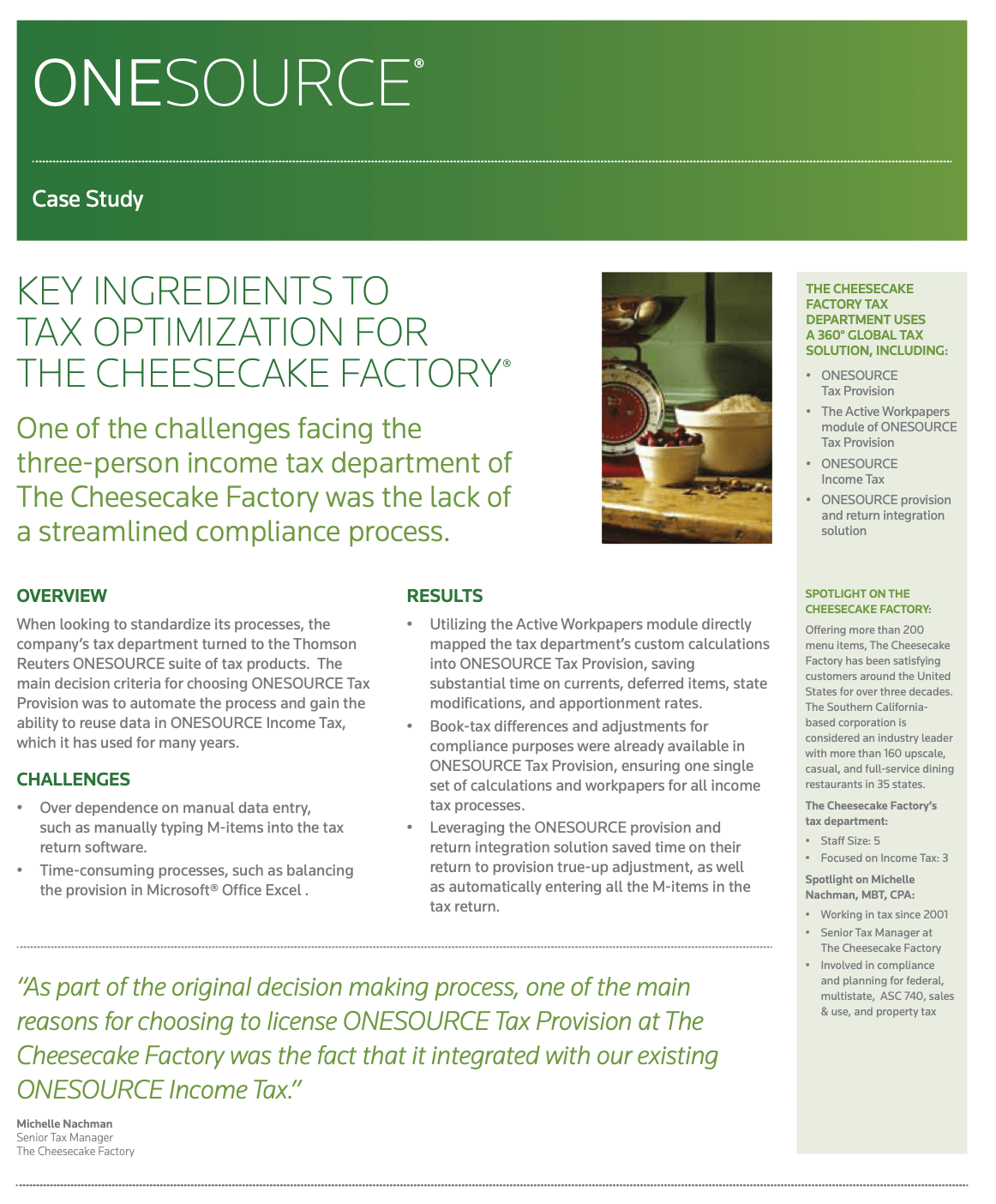 As far as design goes, this case study is clean, organized, and condensed. It's like a digital brochure, with all the information cleanly broken down into bullet points, key quotes and statements, and subheadings.
They share only the core information that's needed (including what products were used, what was accomplished, and data about the Cheesecake factory's tax department) and nothing that isn't. It's to the point and highly effective.
7. Slack
Slack is one of the most popular instant communication chat tools available right now, and especially after everyone had to work from home during the pandemic, we're guessing a large number of readers are familiar with the platform.
Their case studies are, as you'd expect, strong and well-written. They're longer and read almost more like a story-driven blog post than studies like CoSchedule's fast-facts, brief-and-to-the-point content. But this works for this brand; storytelling is powerful, after all, and it's memorable and relatable.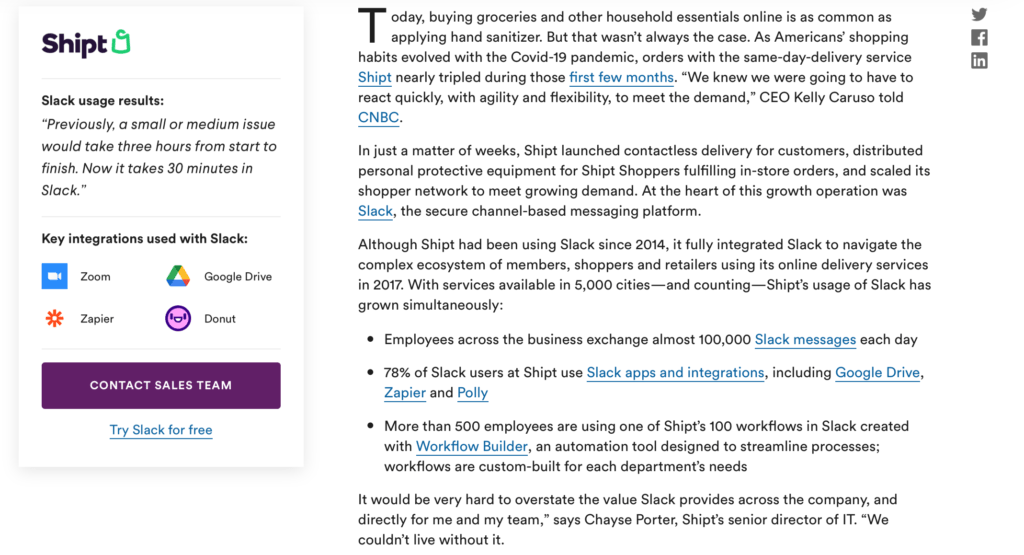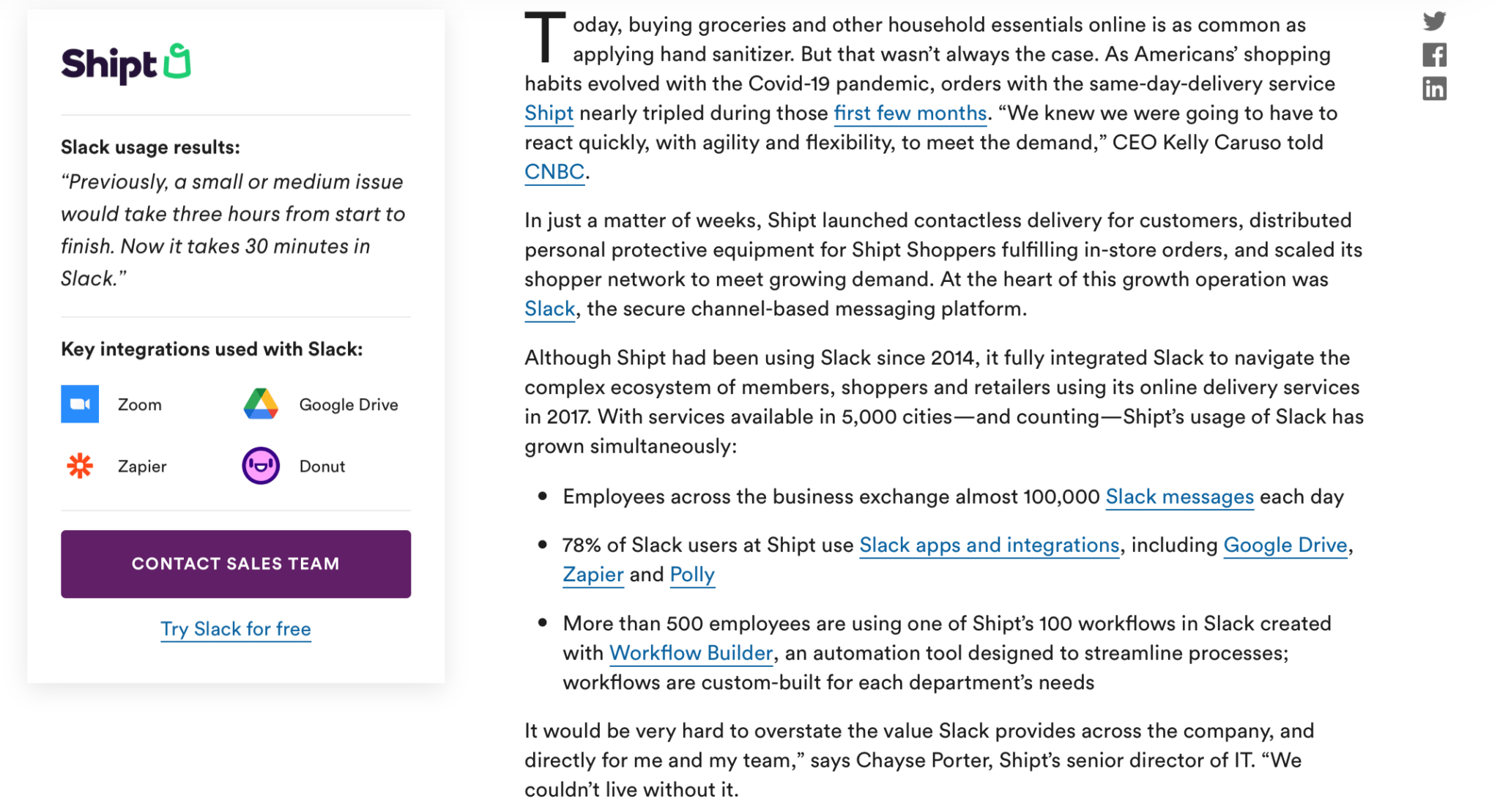 In this case study, they use storytelling to really highlight the company's pain points, focusing on how shopping habits changed and impacted businesses during COVID-19. They focus on Shipt, a grocery-delivery company that was thrust into high demand quickly.
The case study talked about how Shipt had been using Slack for years, but how they really embraced advanced features and integrations during COVID to get the most out of the platform. They then share how the company uses it, and share data and statistics about usage.
There's a quote from the director of IT in there, too, to stress the importance, and you'll see they have a "quick facts" tab on the side with a powerful quote that highlights the value, key integrations that were featured, and a CTA to both contact the sales team and to try Slack for free.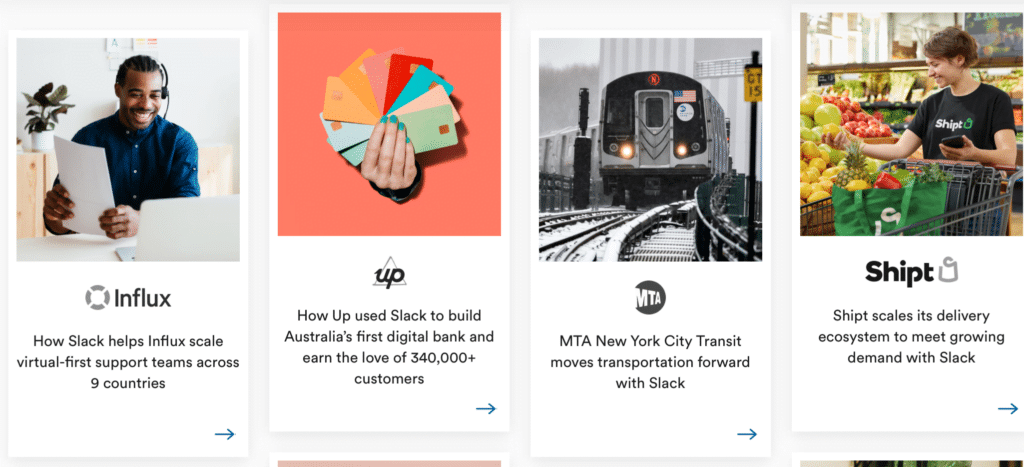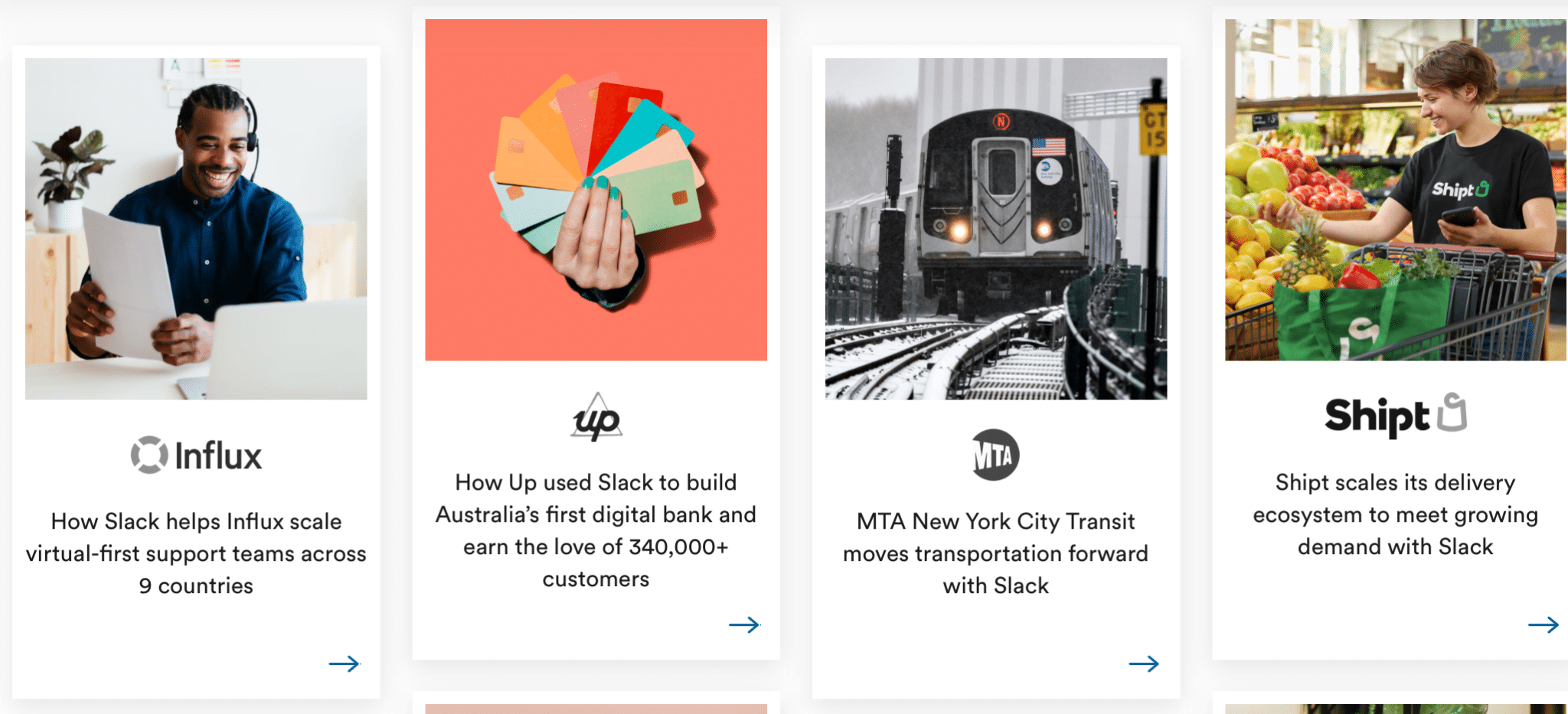 They have a full page of case studies available, all of which state what Slack helped accomplish in a storytelling format as opposed to going hard with the data upfront. This feels more casual, but is just as powerful.
8. Culture Amp
We're going meta. We just looked at case study examples from Slack, and now we're going to look at a case study example about Slack.
Culture Amp helps brands maintain and facilitate their desired communication culture through feedback and communication response.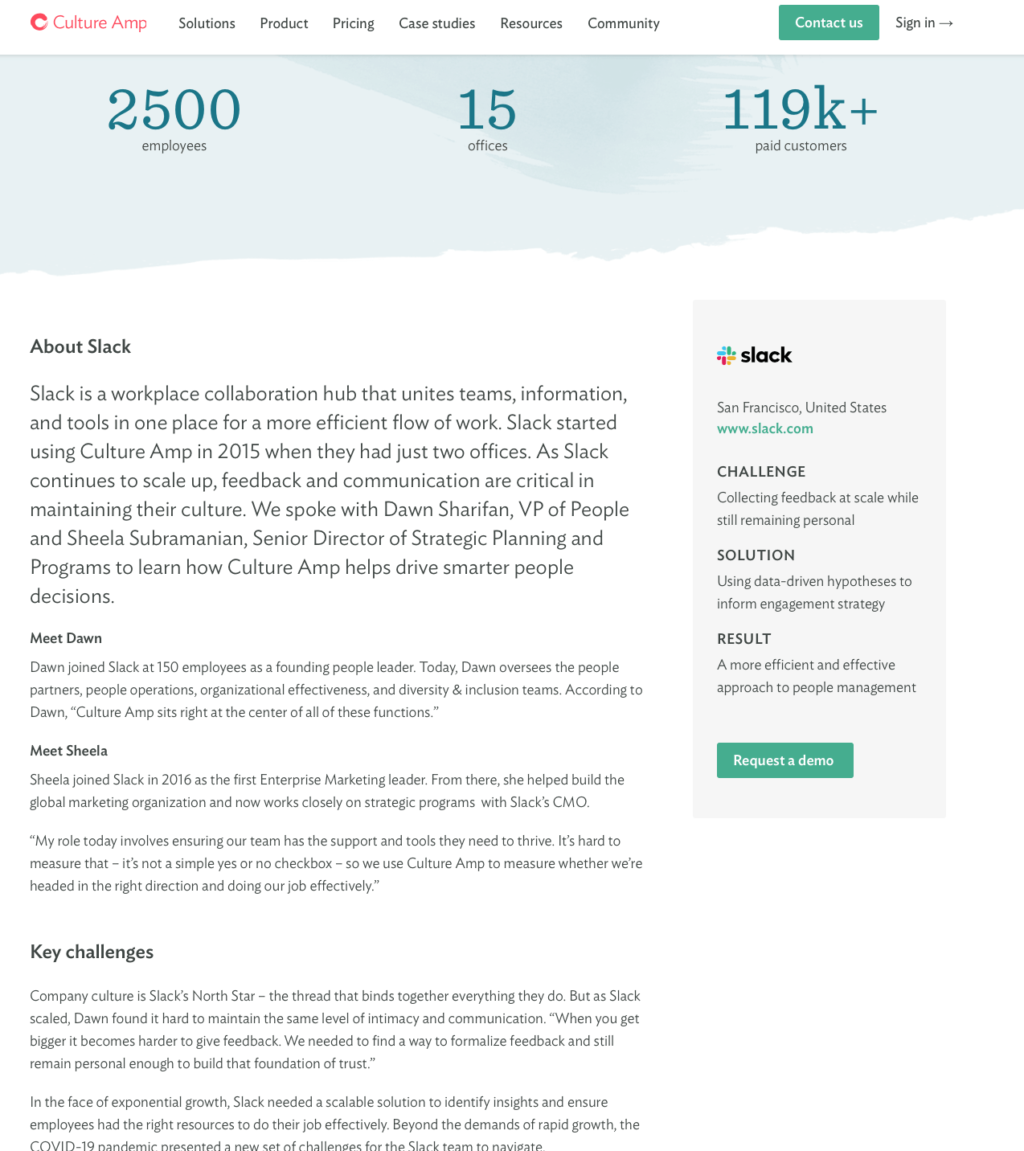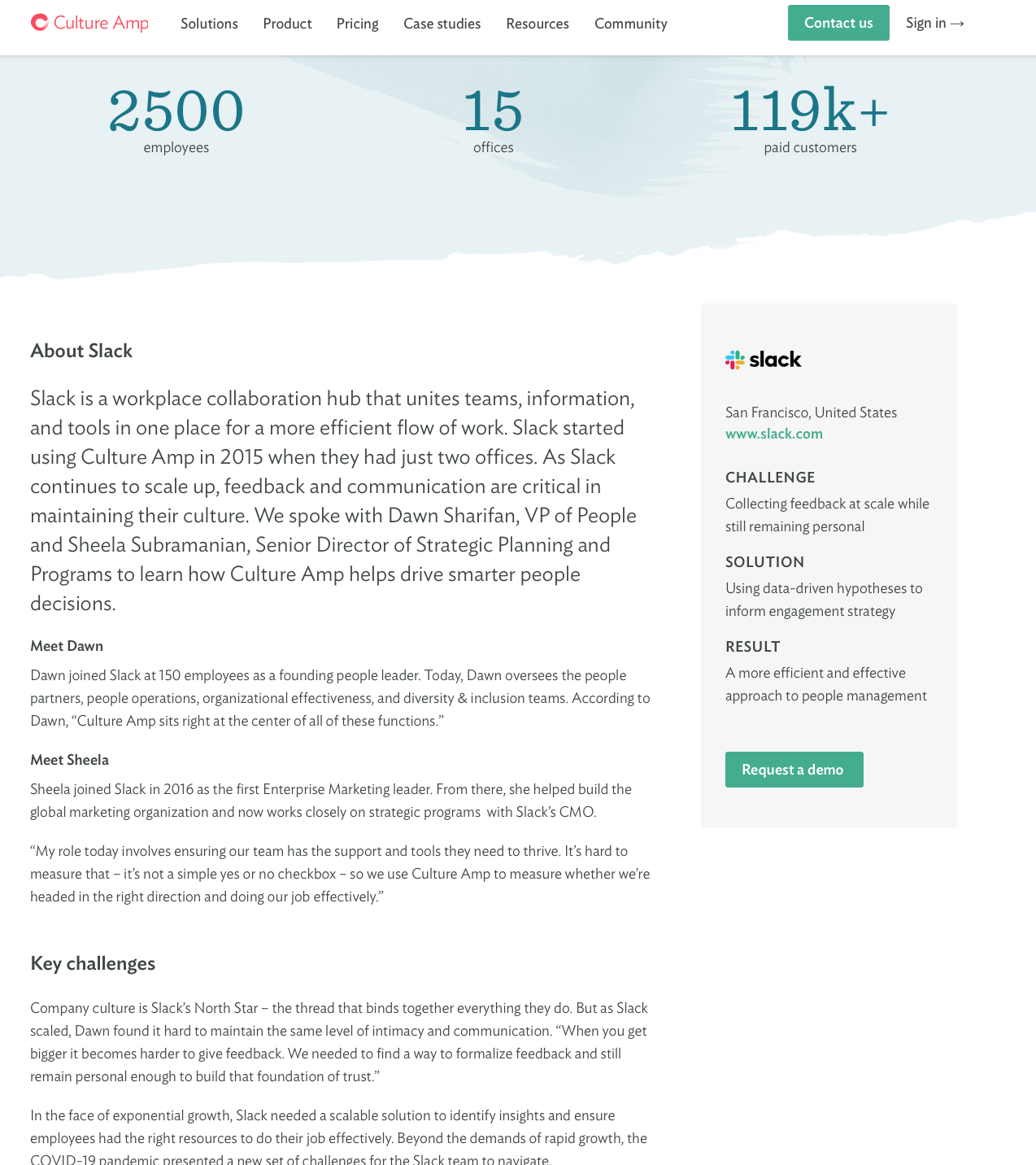 This case study features my favorite quick facts tab, sharing the brand name featured in the case study, a sentence each about the challenge, solution, and result. And there is, of course, that "request demo" CTA.
The case study does a few things that you don't see a lot. They introduce two of the key figures in the Slack department who worked directly with Culture Amp, giving it a more personal touch and adding more credibility to the study.
It's also well-written and engaging to read. Sentences like "Company culture is Slack's North Star" aren't your standard technical and almost clinical "just the facts, ma'am" approach to case studies. The case study is longer than some others, but the creative writing can keep you hooked, and it thoroughly explains how the single brand used the product and services to excel.
9. KlientBoost
We've already looked at one case study from a marketing agency, but the way KlientBoost has their case studies set up, it's well worth taking a look at another.
Their numerous case studies are found under the "Results" tab on their site, making them all readily visible and easy to locate. It also increases the odds that users will stumble across the case studies on their own, even if they weren't intentionally looking for them.
And one thing worth noting: They've got a sorting feature to "show me clients who" meet certain qualities like "are worth billions, "got acquired," "have small budgets," and "have crazy complex offerings."
This is an easy way to tell all of their potential clients that "yes, we take clients like you and get results!" while making it simple for them to find proof.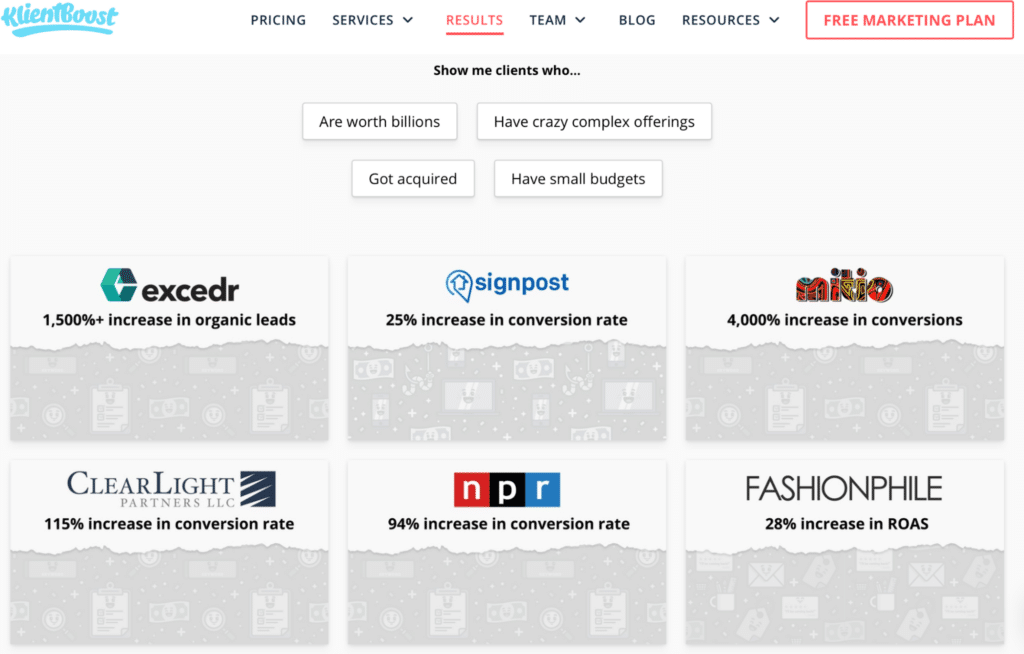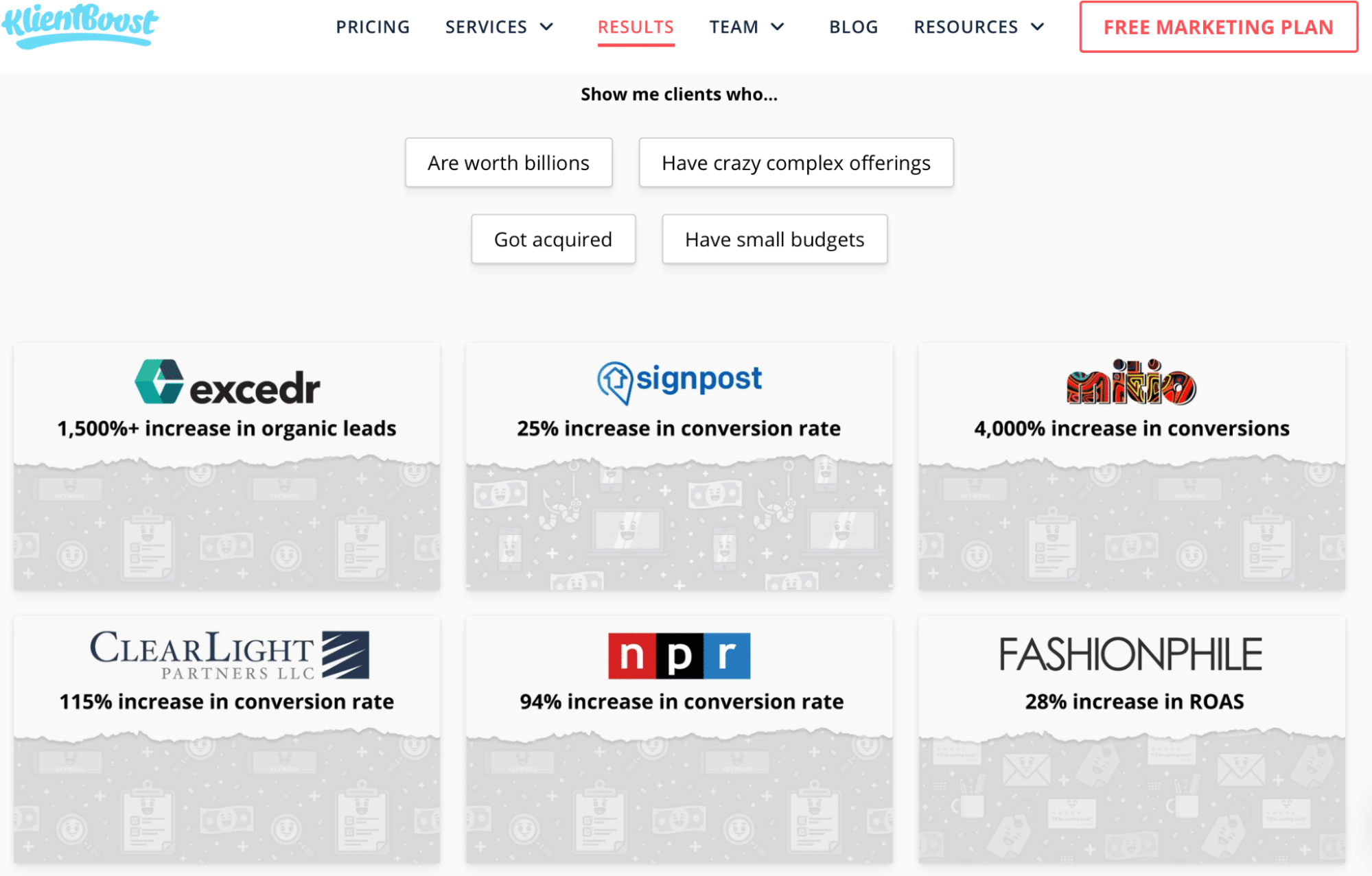 The case study itself is of course well-written and designed, too. You've got a bold, color-contrasting header at the top in large text that lays out core benefits (x results in just three months), with more detailed results visible on the side.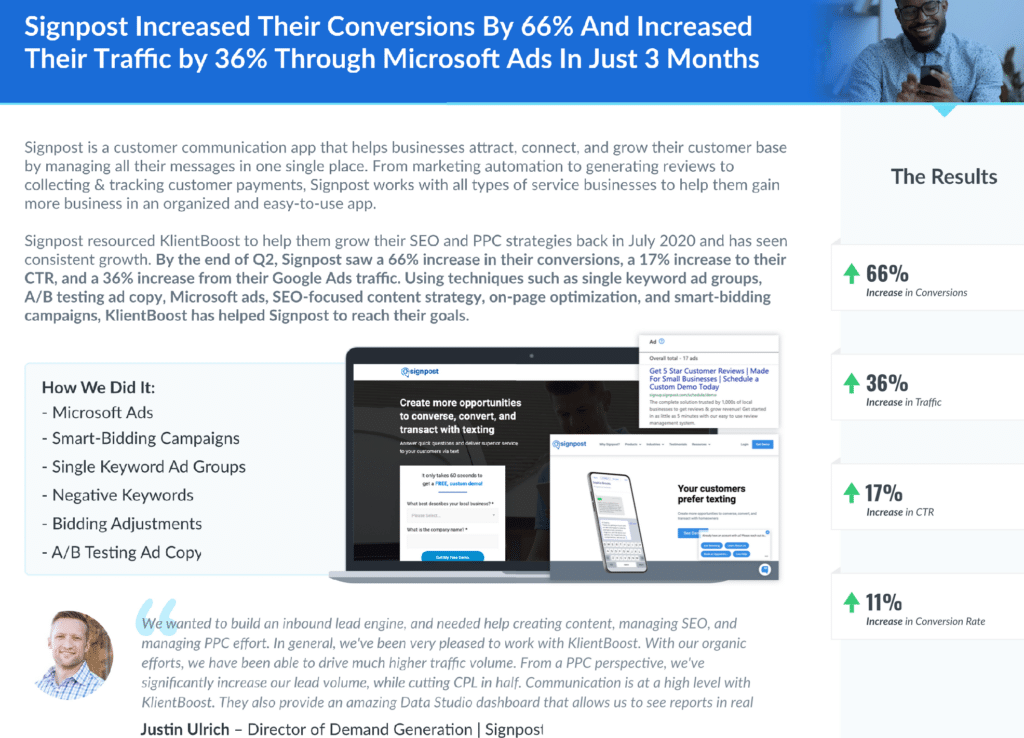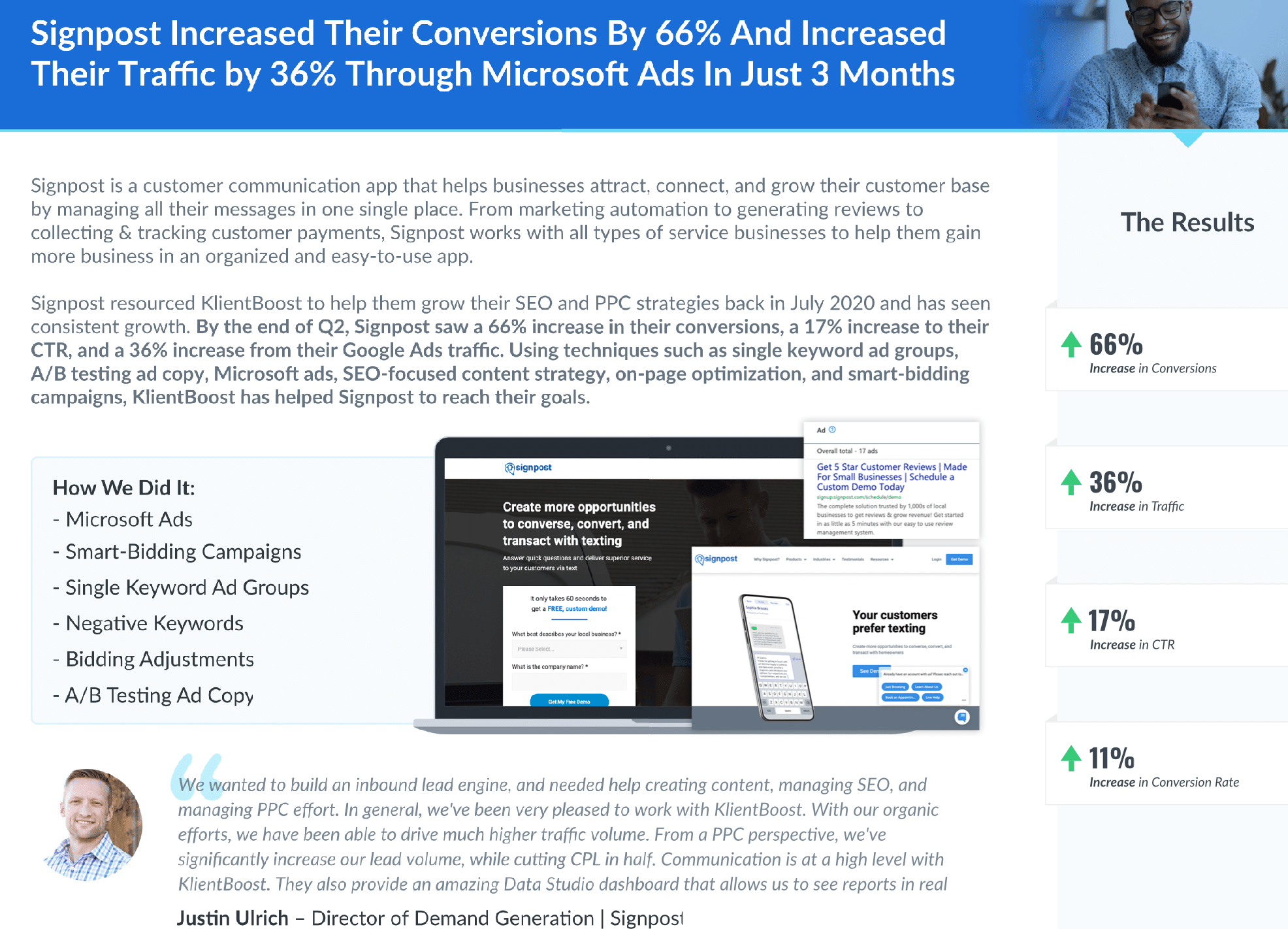 They also break down the different advanced advertising features they used, a customer quote, and an image of what the ads looked like to bring the whole thing together. This shows prospective clients exactly what they can expect when working with the agency, and it builds a massive amount of trust.
10. Omnivore
Omnivore.io is a menu management tool designed specifically for restaurants that integrate with other tools to streamline the guest experience.
The content we're going to look at is a great example of case study creation for hyper-niche industries that have specific needs.
It's presented as a standard blog post, but the H1 title says exactly what benefits the company achieved, and they still have a "more seating options, more problems" header to present the challenge in a creative way.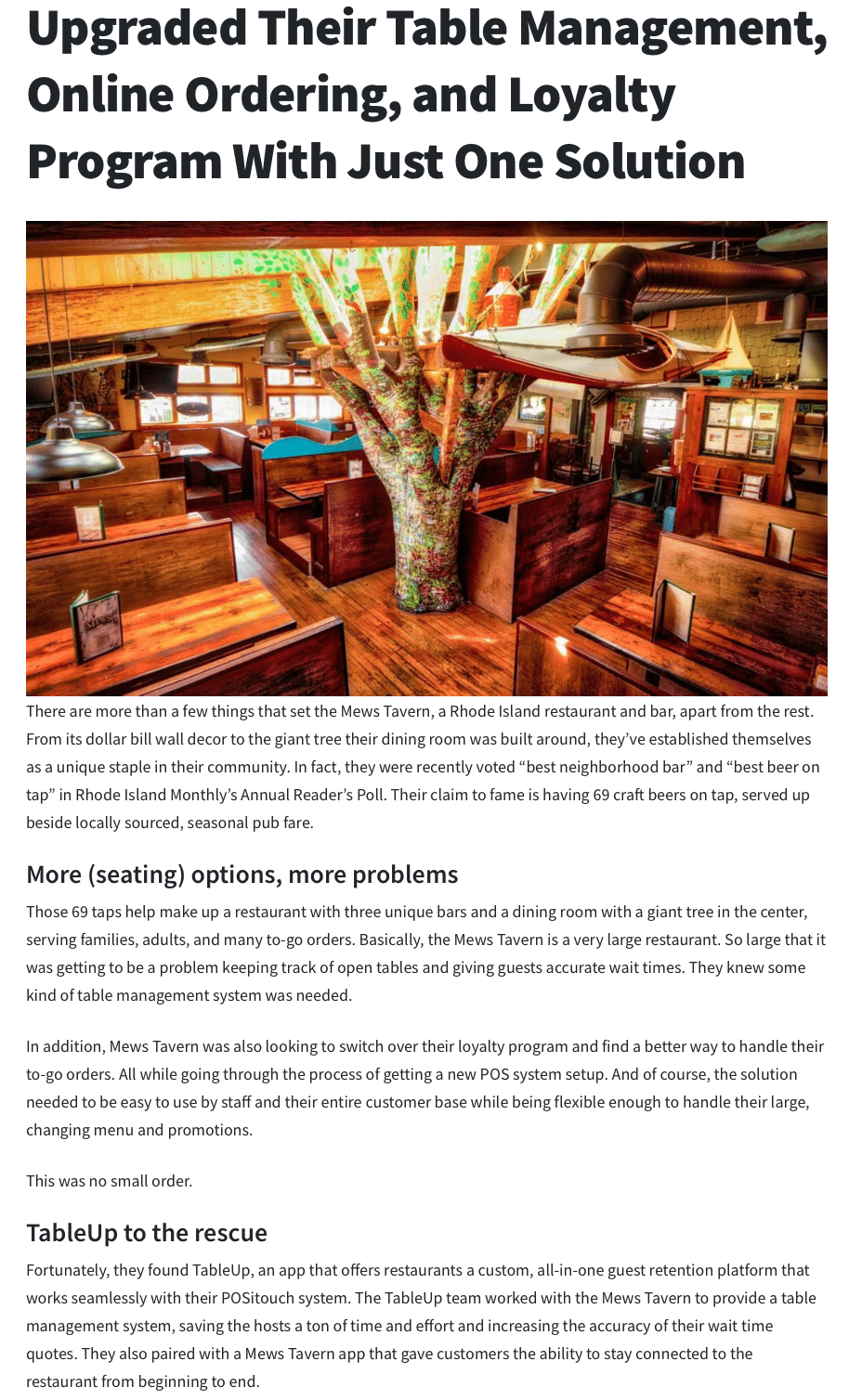 They then explain how the TableUp app works with Omnivore's tech and other integrations to be able to offer additional services to customers like adding their party to a restaurant's waitlist, joining email lists for points, making to-go orders, and more.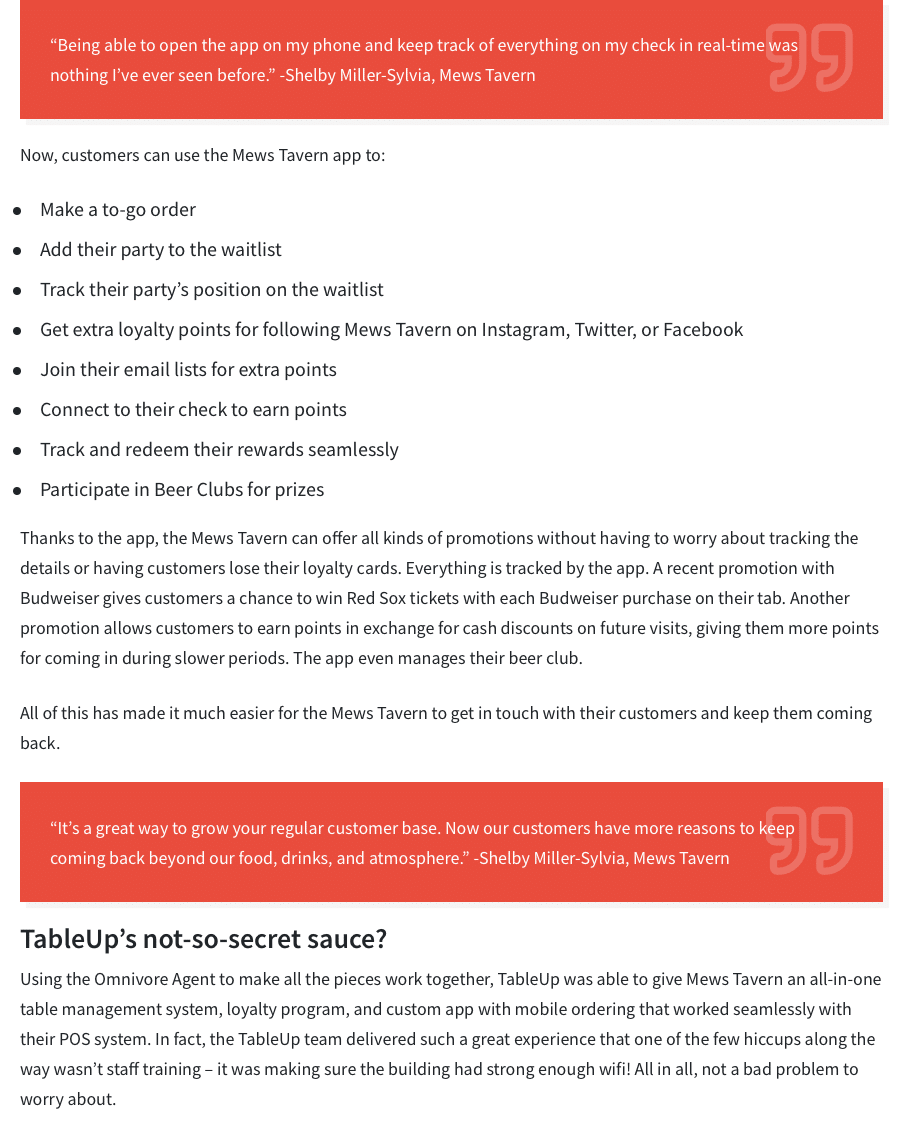 They also shared an example of how a real client (Budweiser) used the feature, and included a blurb about the integrating tool.
You'll notice that this case study looks a little different from others that we've looked at. It doesn't have a lot of hard numbers or super detailed examples, but it works because it showcases a specific integration and details specific uses.
This is, in many cases, going to be an audience focused on use case value more than just statistics; if the tool can do what's needed, that's what they're going to care most about. So this formatting works.
11. Pepperi
We're on a food-themed case study roll right now! Next, we're going to look at a case study of how Chex Finer Foods worked with the Pepperi omnichannel B2B Commerce.
This case study is long. It's much longer than the others that we're looking at, with 6 total pages of content (though some are heavily dominated by images). See the entire case study by clicking above.
Here's why it works though: They keep the "Challenges" brief and the client breakdown visible right upfront to show users why they should care.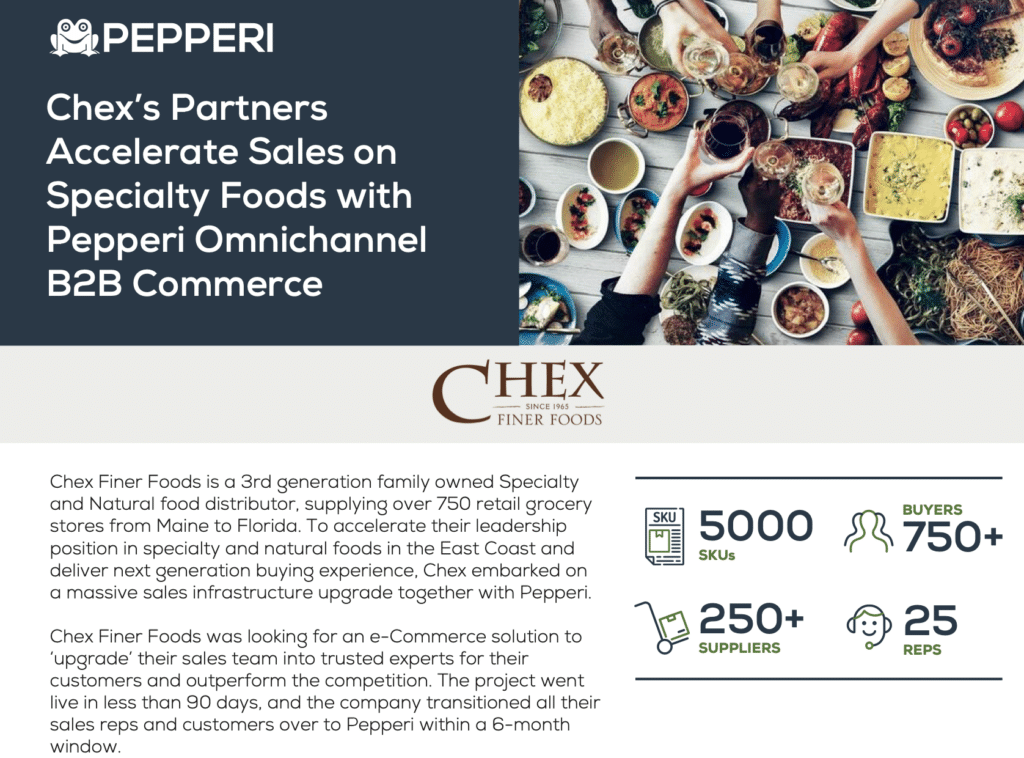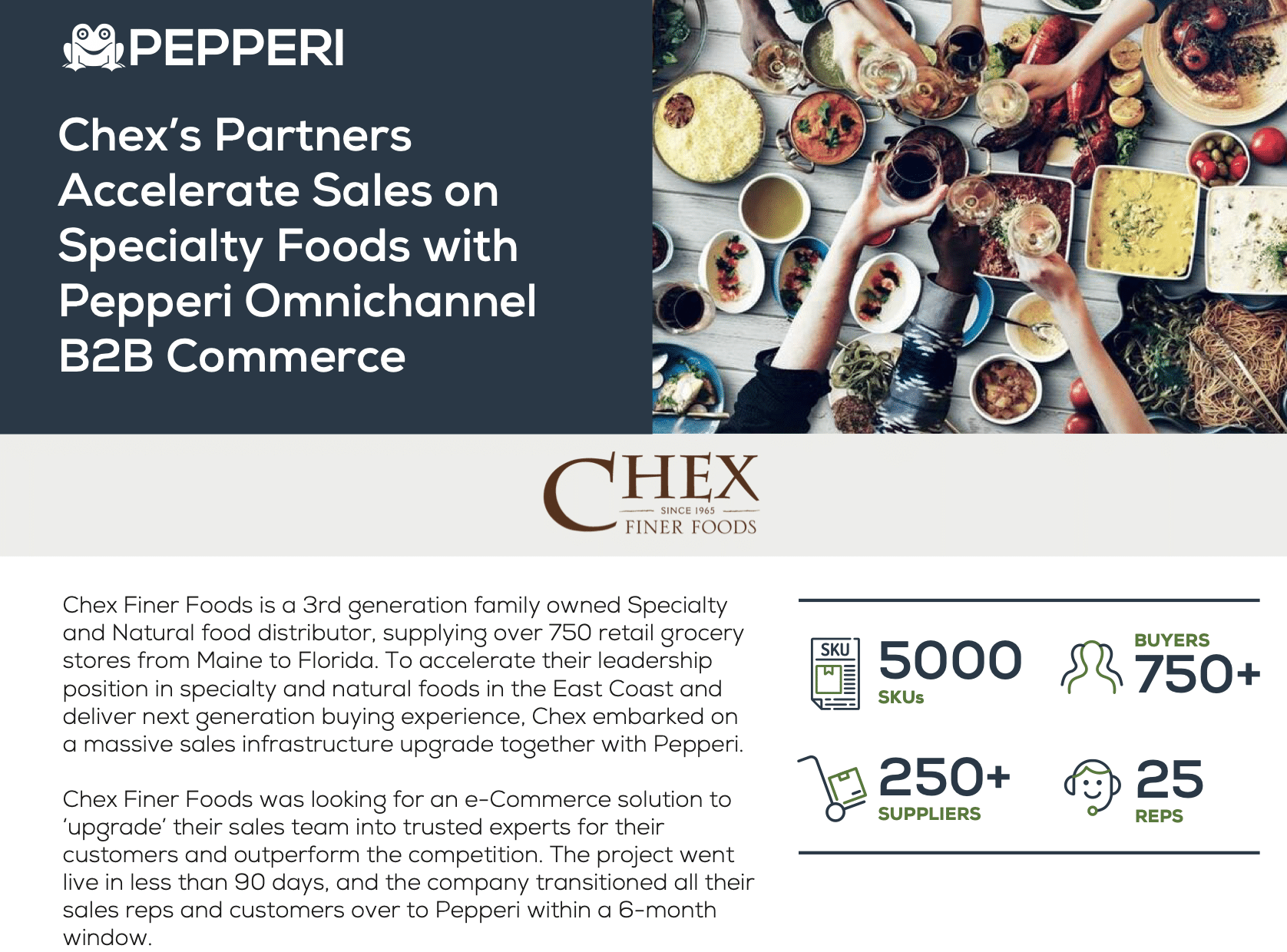 The solutions section is also brief, explaining how Pepperi solved the company's challenges. That all happens within the first page of the case study.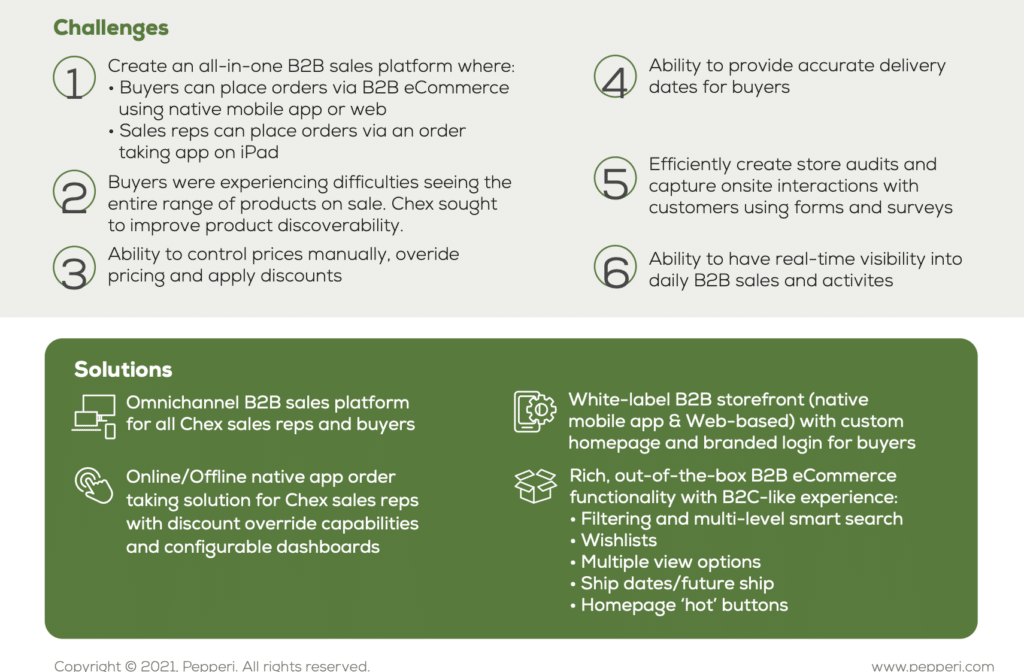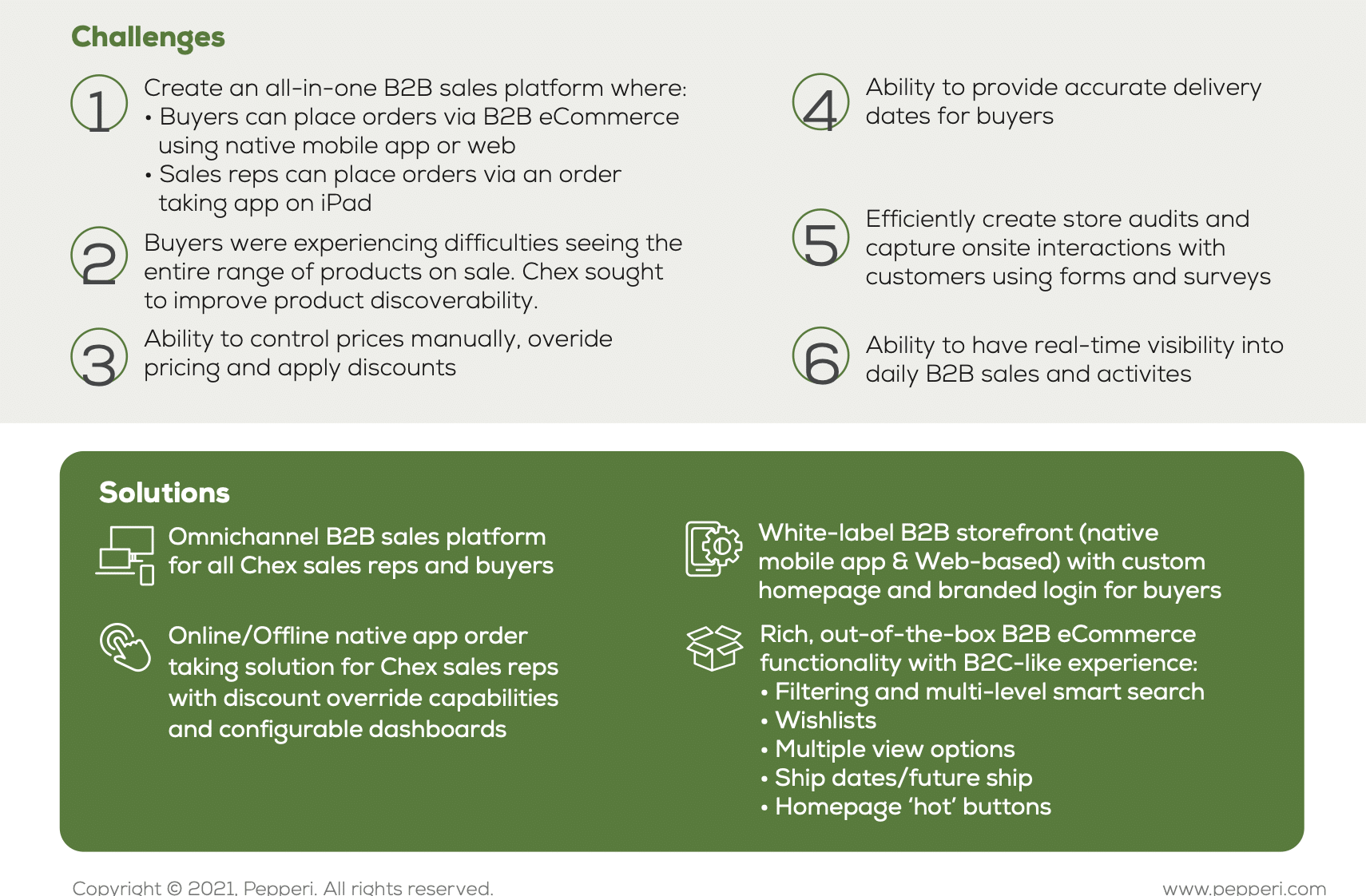 The rest of the study has five pages that look like this, showing visuals that highlight the exact product that users received when working with Pepperi. There's no hypothetical mock-up; you get to see the mobile app, the site, the home page here. Other pages show how search results work for brands with extensive inventories, along with features like analytics, multi-product views, and more.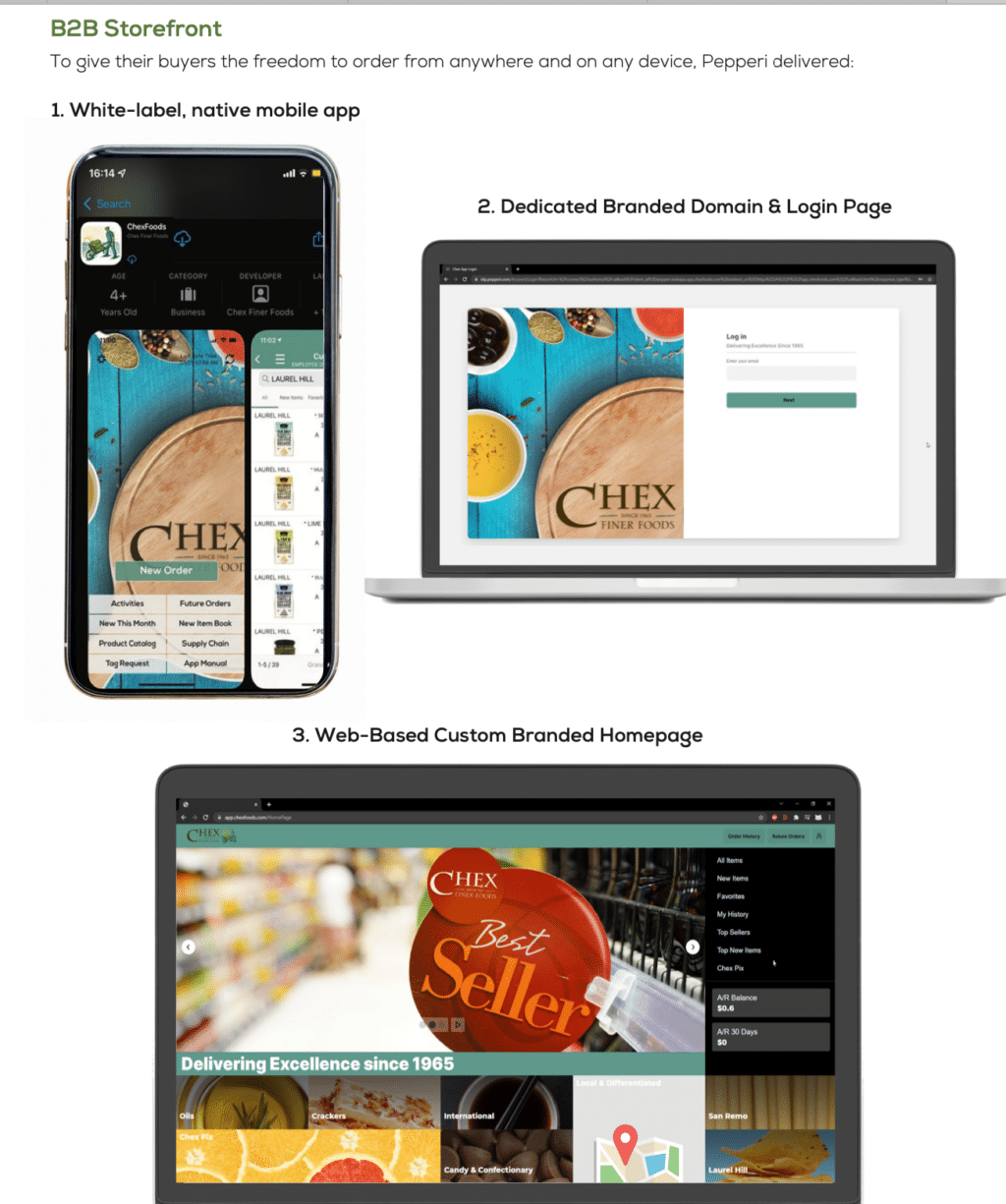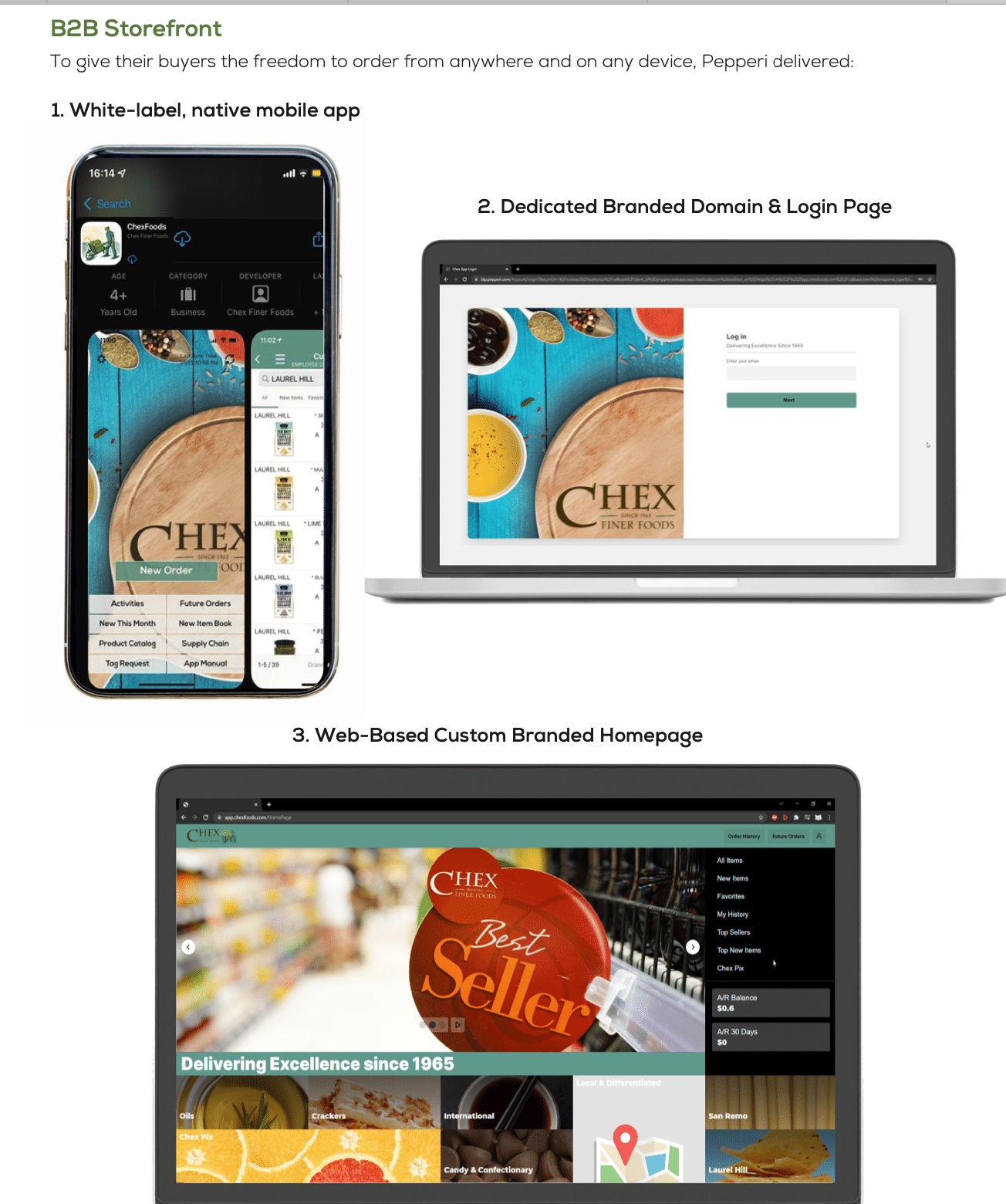 For customers who really want to understand what they're getting and why they should choose this particular service, there's no doubt. They can see what the interface looks like, and what real clients' platforms offer.
12. DOTVOX
DOTVOX sells hosted VoIP business lines to their clients.
There are a few reasons I really liked this particular case study.
First, they do a great job showcasing how their specific technology can benefit a specific type of client: a multi-site company that needs help with business communications. This is niche enough that some other tools may not be able to help (or that may be a concern that some customers have).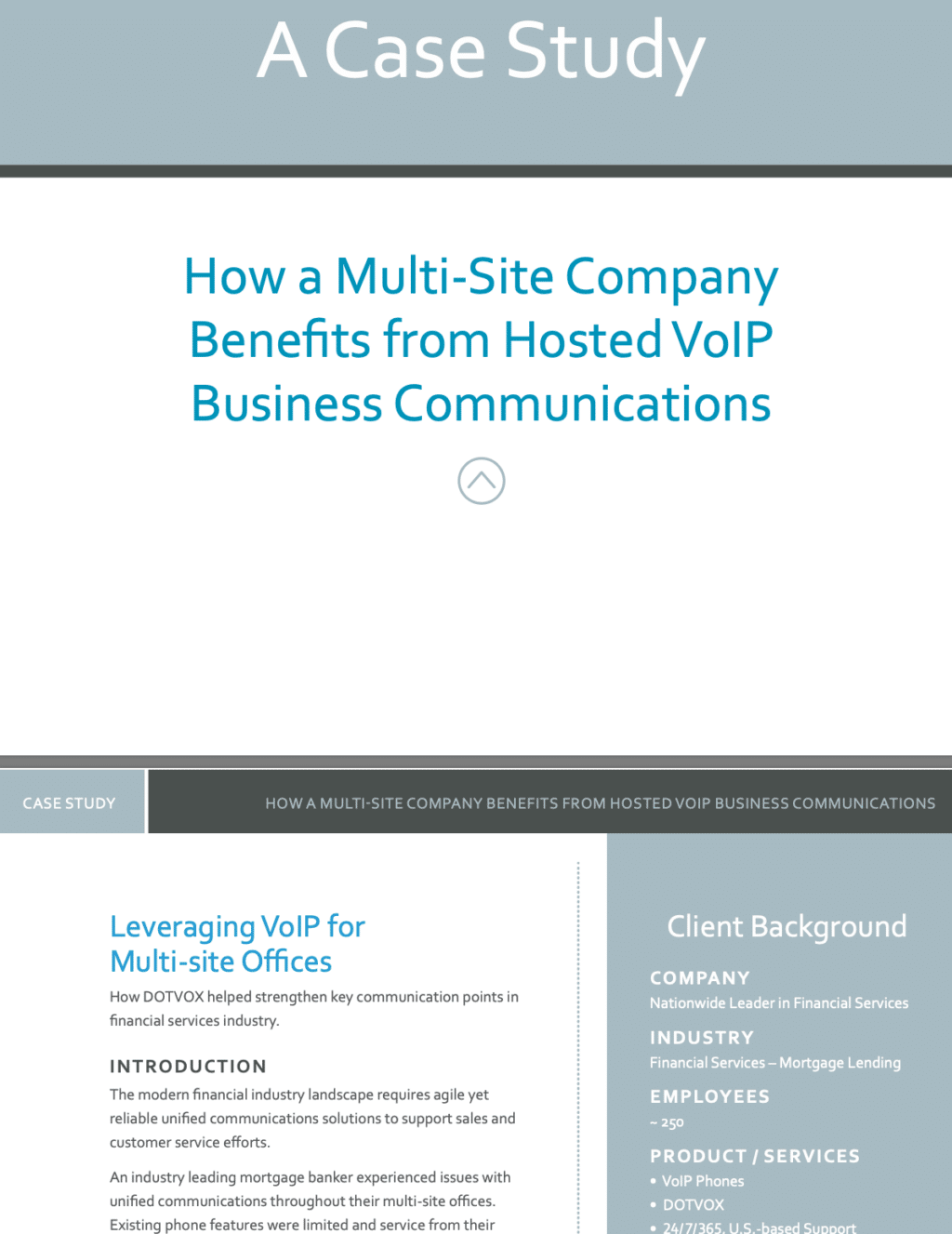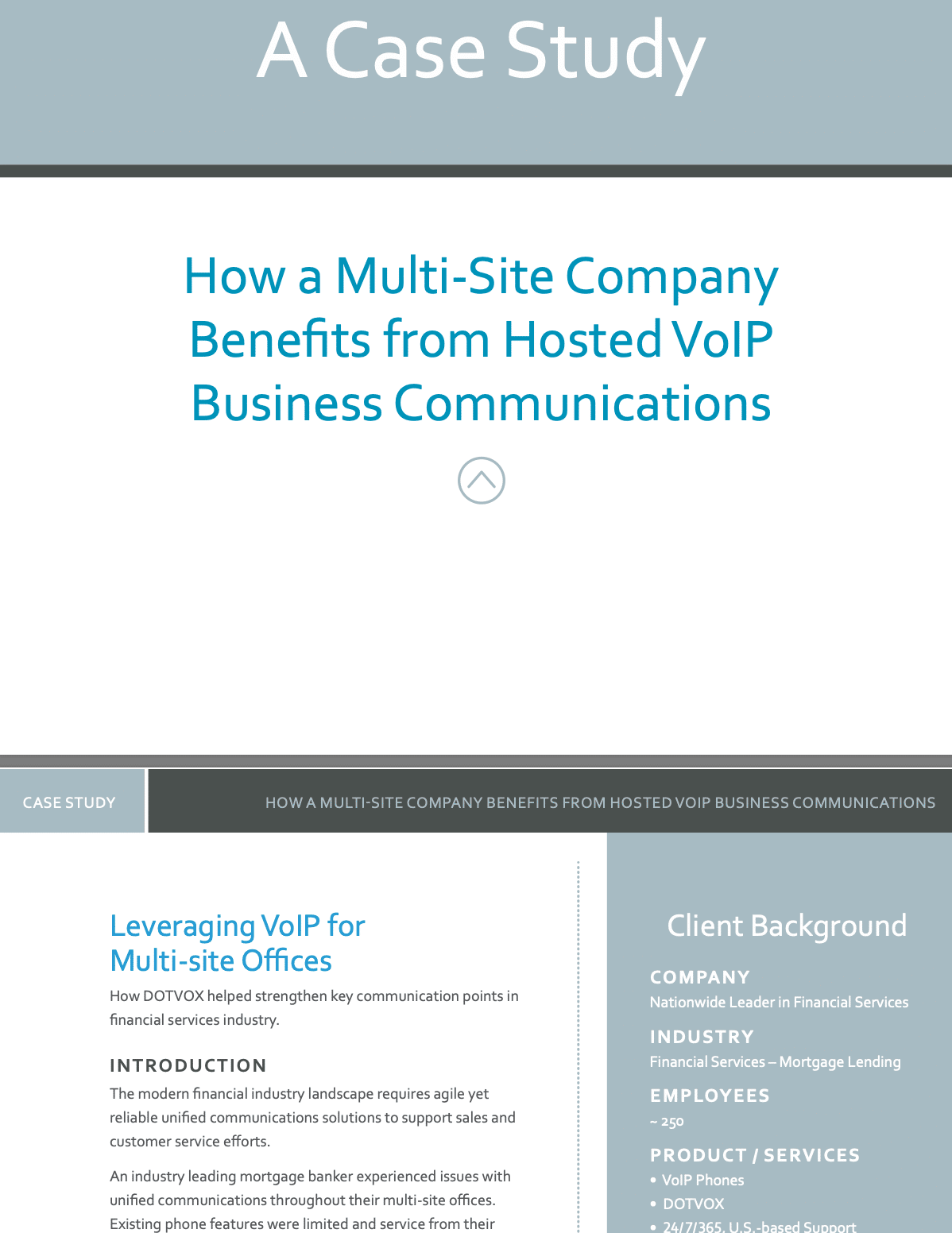 They also focused the case study on a business in the financial industry, letting other clients in that niche know that they offer secure communication options suited for banks, mortgage lenders, and more. These are high-value clients, so it's a solid choice.
Later on in the case study, they break down the individual results, services, and solutions achieved. The "Feature-rich" part is my favorite; they detail unique features that other tools may not offer and explain briefly how they work.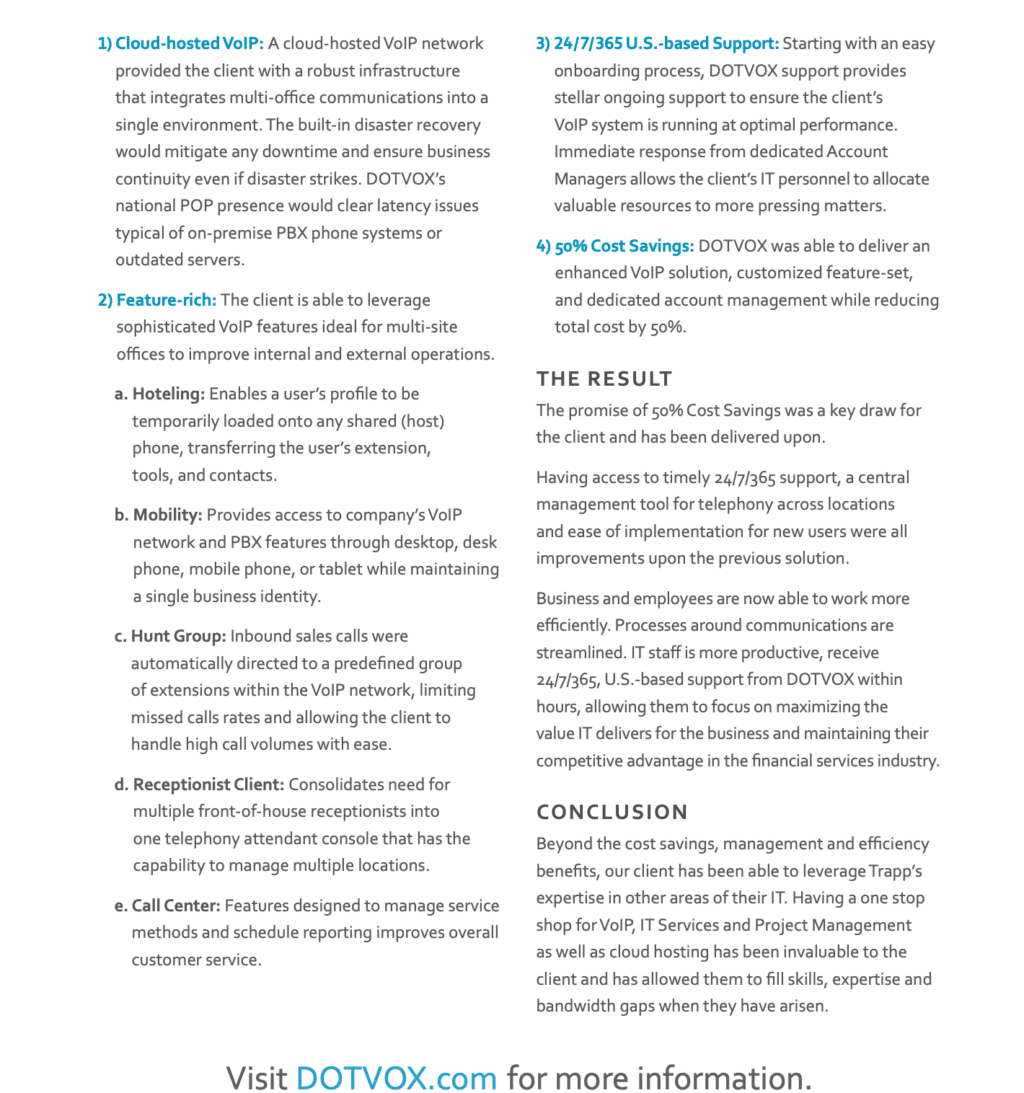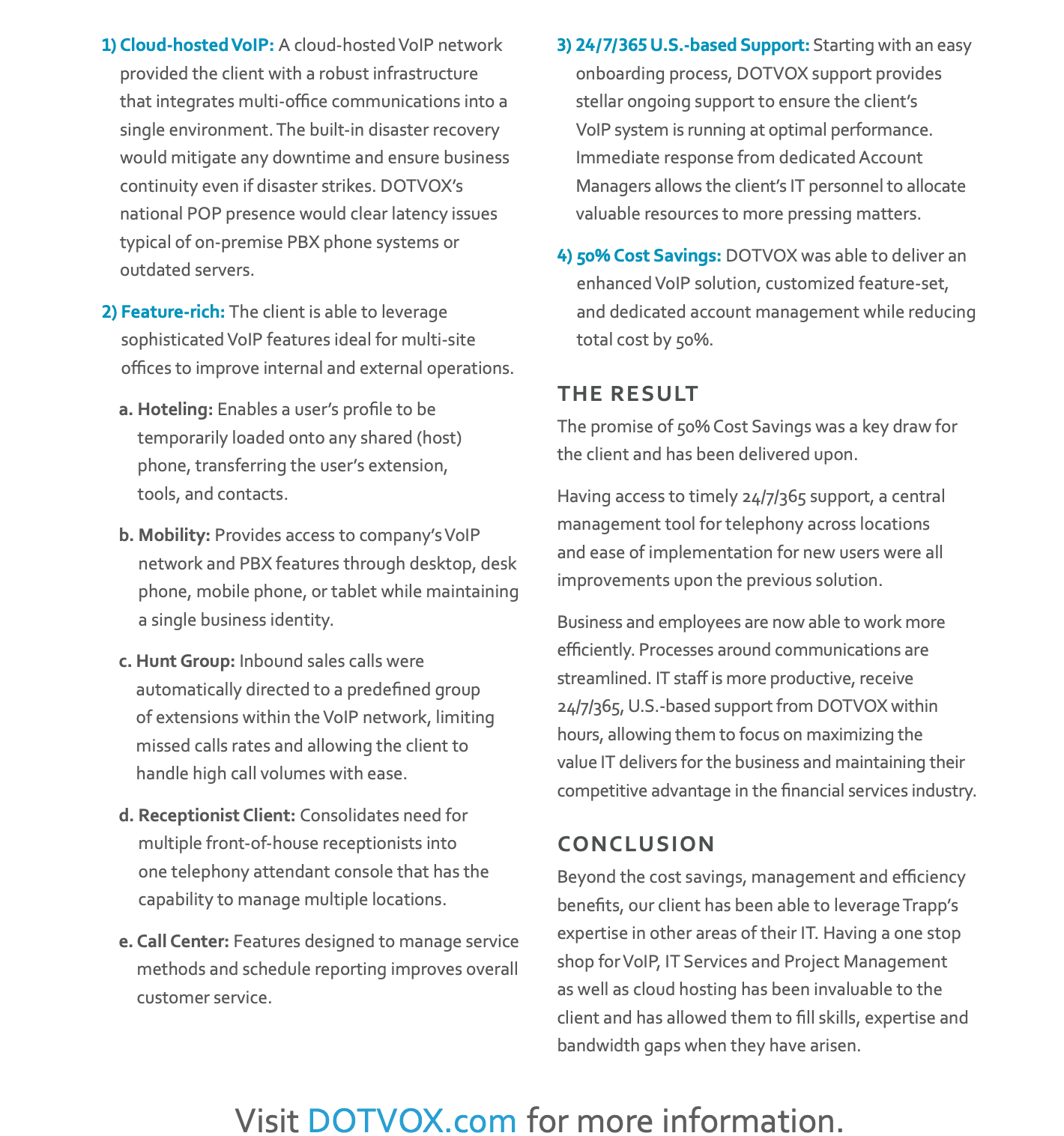 Potential leads reading this can get a good idea of what's possible.
13. PortaFab
Last but not least, we've got this case study from PortaFab.
The reason I really wanted to look at this particular case study is that it's not selling a service or a SaaS tool; it's a physical product being sold to businesses. That automatically changes things up a bit.
They, of course, have a brief overview of what the project entailed, but it's organized a bit differently. They featured the challenge on the right side of the case study and the project overview and benefits provided on the left.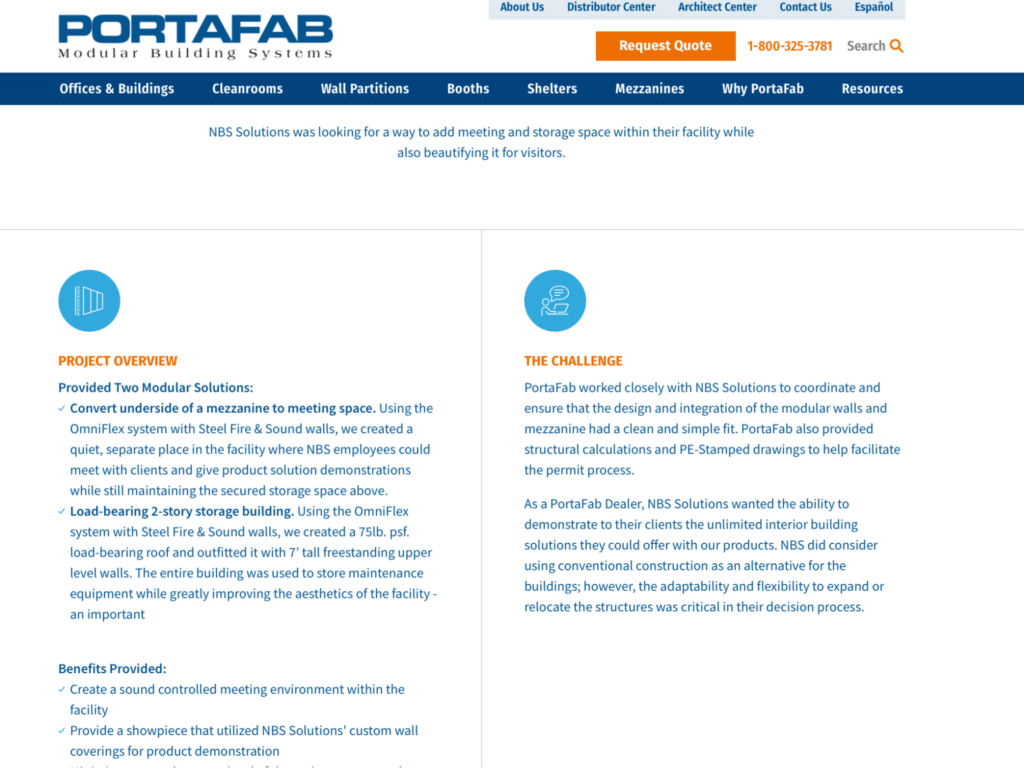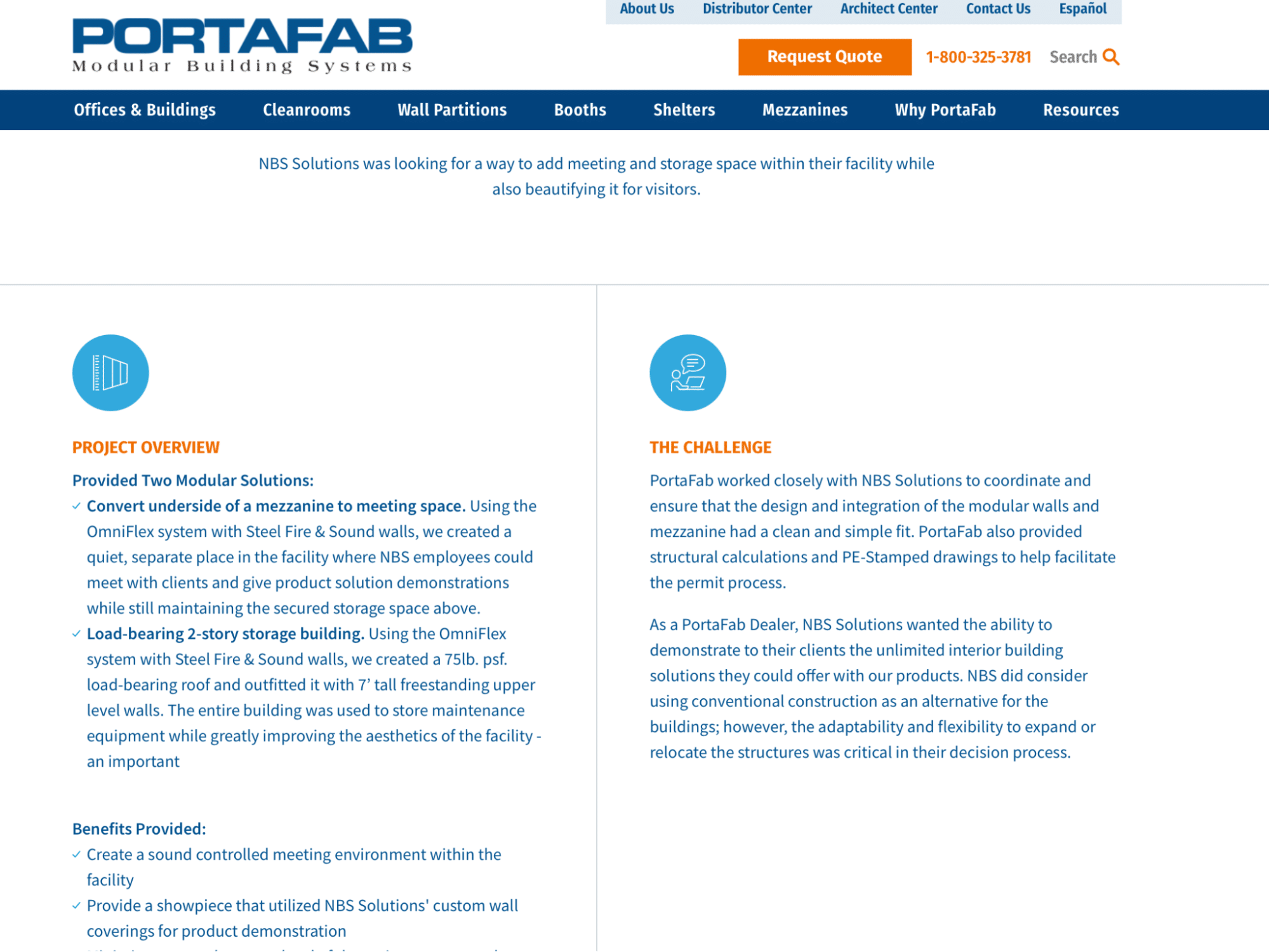 Underneath this, however, they've got their solution featured, along with an extensive photo gallery showing the finished project.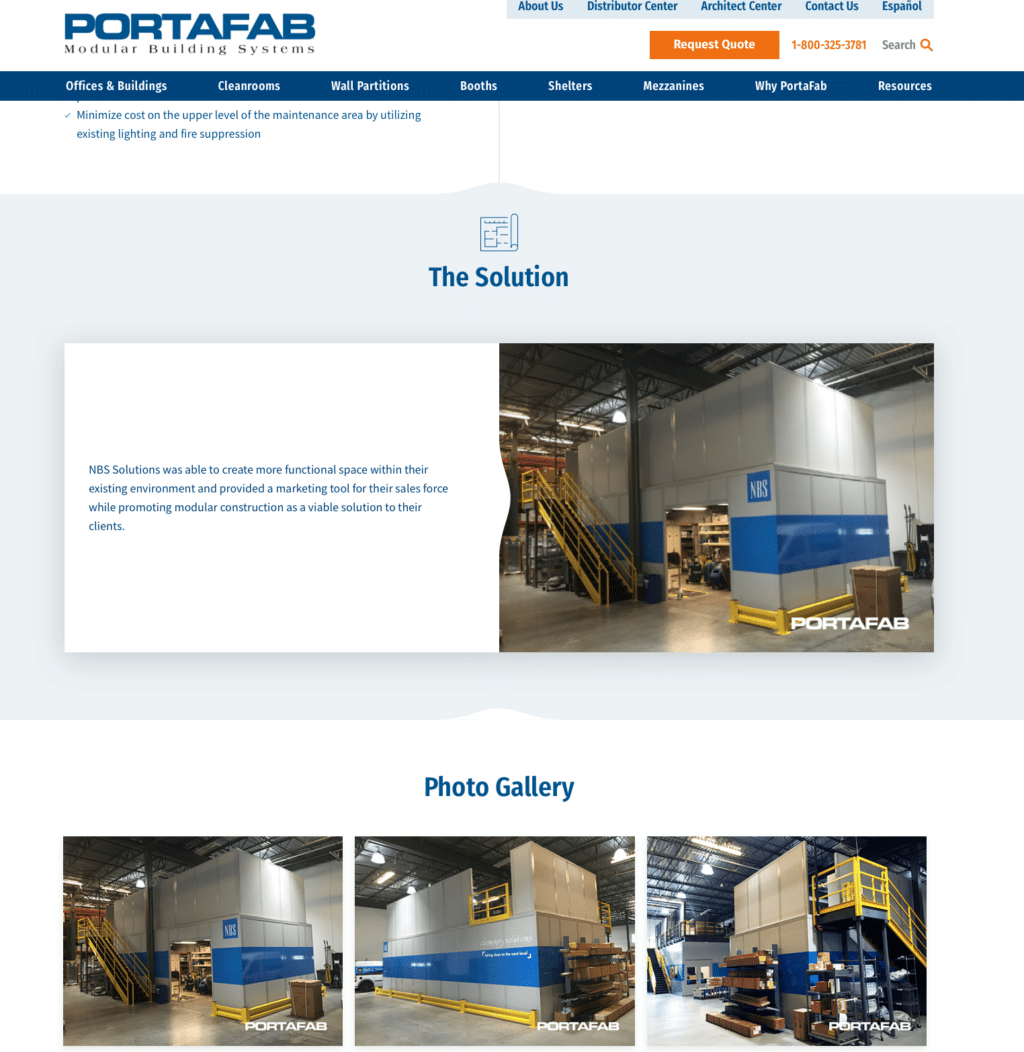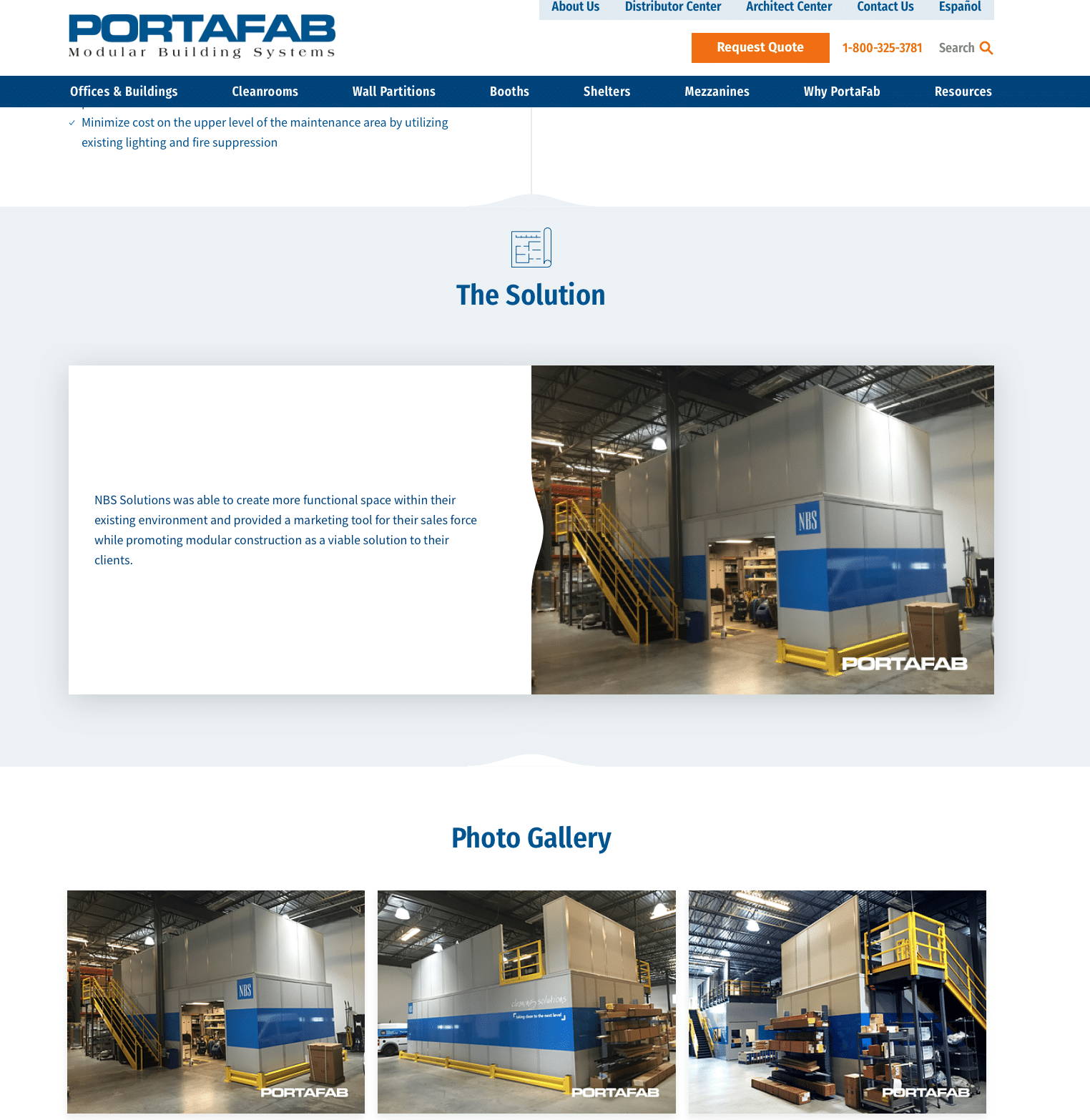 Allowing customers to easily visualize the end result is important for physical goods, so this was a smart call.
14. Strands Retail
Strands Retail sells personalization and product recommendation software to eCommerce brands. Their case study below features the work they did for mega-brand Chewy.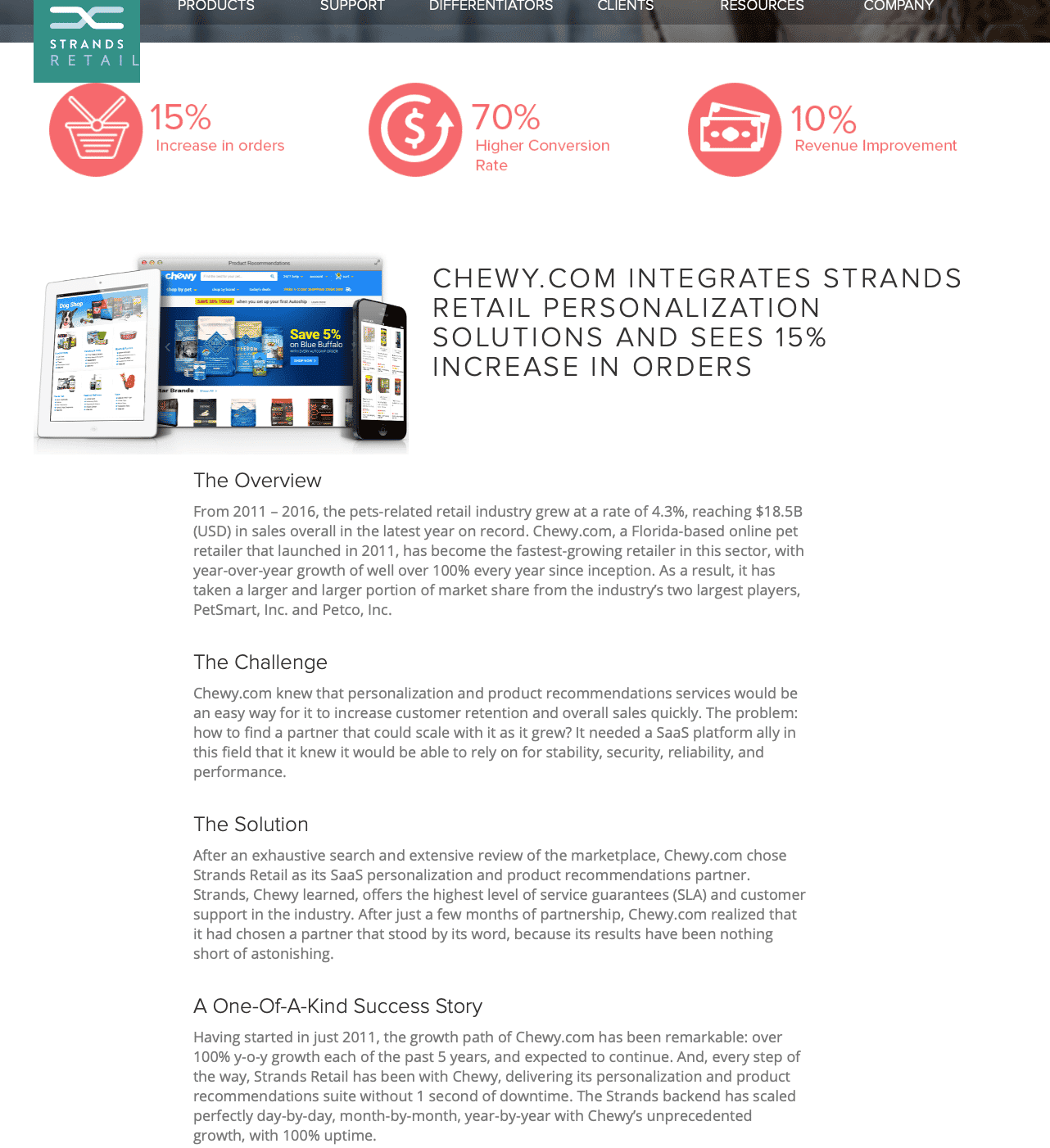 Featuring this particular client was smart. Chewy is highly regarded for the exceptional customer service experiences they provide, so linking themselves to the brand is a good move. It's also a massive company, and since the case study focuses on the fact that Chewy needed a solution that scaled with their brand, it gives them outstanding credibility in terms of the potential to serve enterprise-grade clients.
The case study is visually solid and well-designed, too. Since not all leads want to read the details and just want a few quick stats, featuring a few impressive key stats at the top in contrasting colors or with graphics (which they do here) can get the point across quickly and really exemplify how beneficial the product was. 
15. Codeless.io
Like Breadcrumbs, Codeless.io takes a content-heavy approach to the case studies they feature on their site.
They don't just want to show results (which are crucial for a content marketing agency to do in order to leverage trust), but they want to prove that it wasn't just luck. They got their clients real, sustainable results with careful processes, and they can do the same for you, too.
Let's look at an example. Their Loomly case study boasts an impressive 827% increase in CTR by updating the client's existing content. This is smart, because it highlights a service many agencies may not offer and demonstrates the value of the service to clients who may be reluctant to spend on updating existing content.
The case study itself is written and formatted almost like a blog post and case study hybrid. You've got the essential details about the company listed off to the side, but there's also an entire H2 section that details more about the business in question.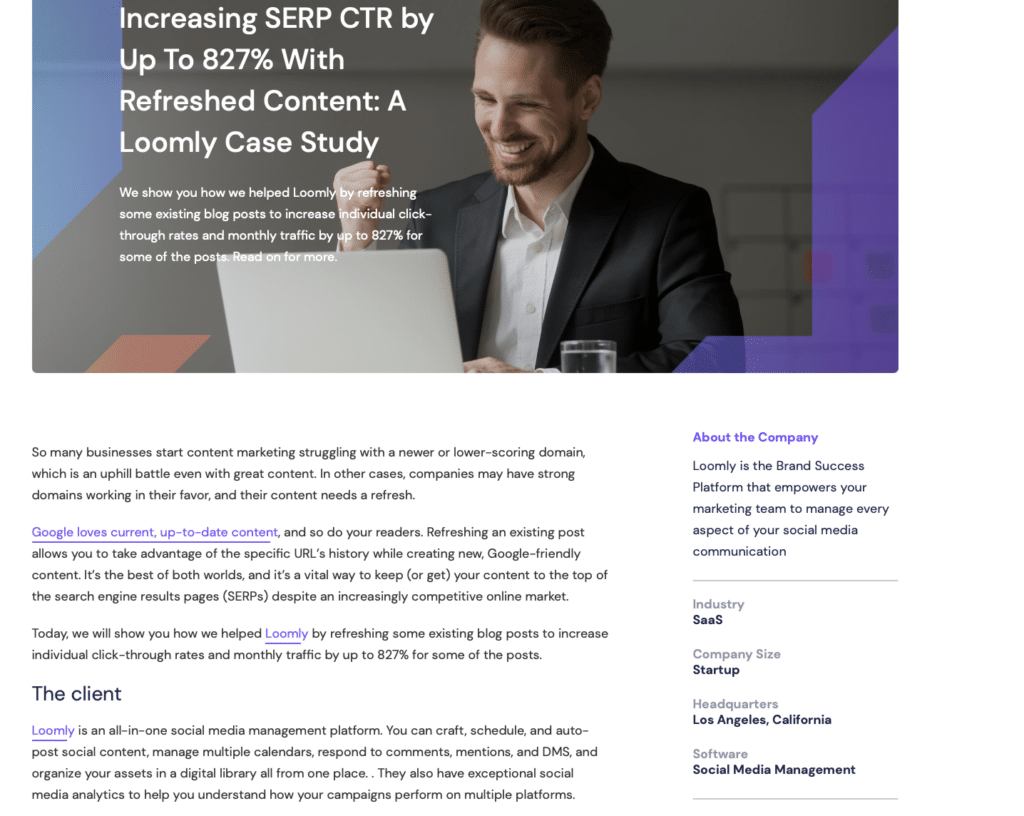 They also are incredibly transparent in the processes they used to help their client obtain impressive results, and this is something you won't see many agencies do because they don't want to "give away their secrets." This builds trust, however, because clients can see that there is an actual strategy and that the company can help them, too. Everyone walks away from the case study without a doubt that Codeless was responsible for these results, not luck.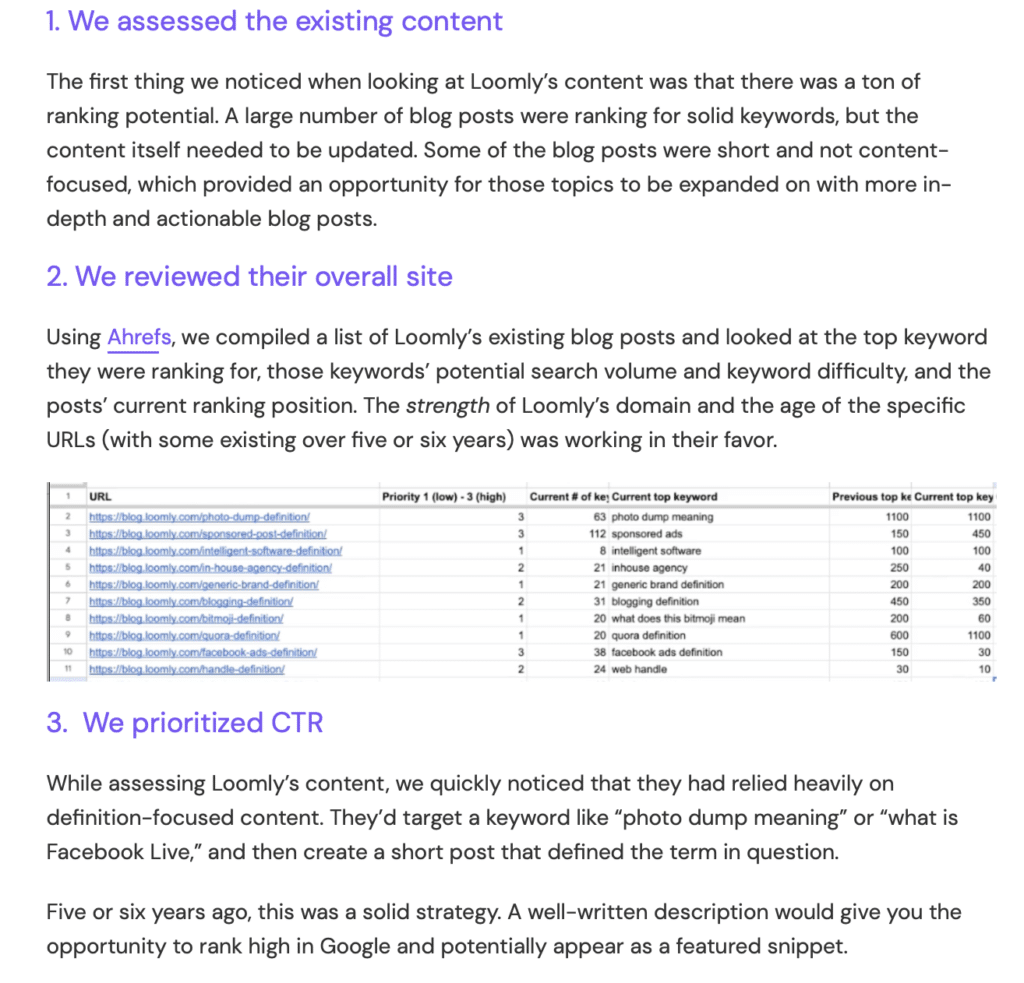 16. WizeHire
WizeHire is a hiring platform that helps businesses find the types of applicants they're looking for, and their case studies do an outstanding job showcasing exactly how their products work and how they impact clients.
This case study, in particular—which features their client over at Mazda—is a great case study example to look at.
Their formatting is a little different than some of the others on this list, but it's still undeniably effective. Towards the top of the case study, they have a "How We Helped" section. It introduces the point of contact, the client's past pain points, and basic "before and after" points to highlight the value of the tool. This is a great quick overview to introduce readers to high-value concepts quickly.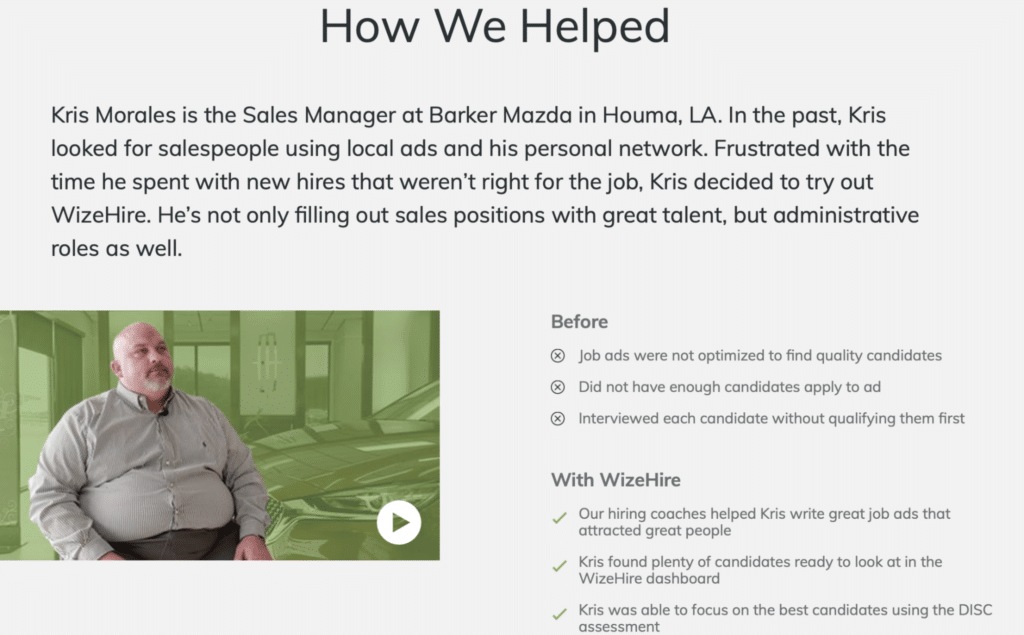 They also use multiple media here, including images, video, and diverse text formatting. This makes the case study visually appealing and more engaging. If you want to just skim quickly through bullet points you can, but there's also a video where the client raves about their experience.
And, of course, you've got a detailed results section highlighting how the client received long-term value from the product, featuring great statistics and a strong client testimonial.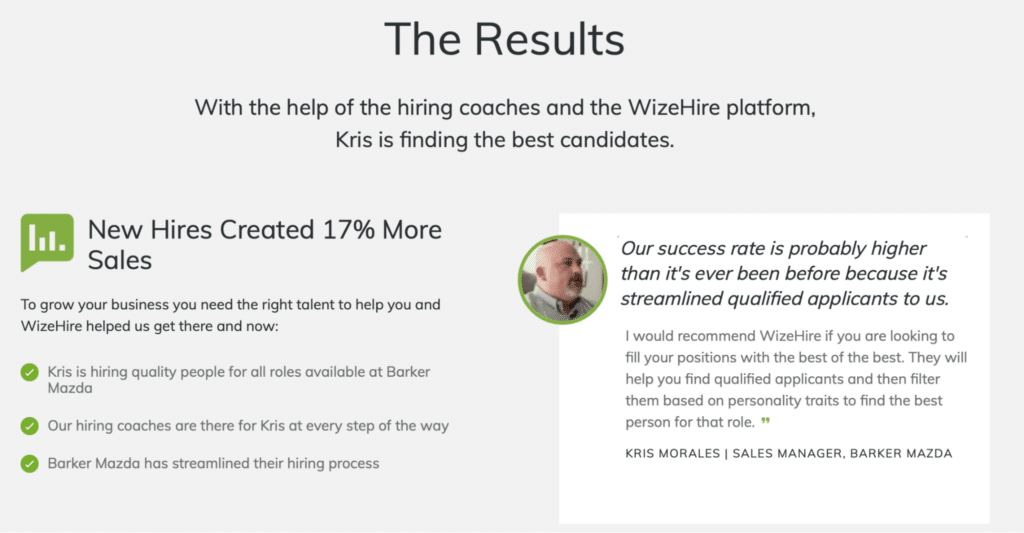 17. Kosli
Kosli is a highly technical tool for software developers and dev ops teams, and their case studies are a great example of how to discuss extraordinarily technical topics in an approachable way.
Let's look at this case study, which promotes how their client Firi delivered over 100,000 changes without worrying about compliance. The case study itself is relatively short, but that's okay, because it doesn't need to be long to be effective.
It efficiently stresses that Firi operates in Norway, which has some of the most demanding sets of regulatory standards across the globe. That automatically assures customers that no matter where they're based, this tool can help, making this client selection for the case study a great choice. They also explain the value upfront—100,000 changes and a proven audit trail if needed.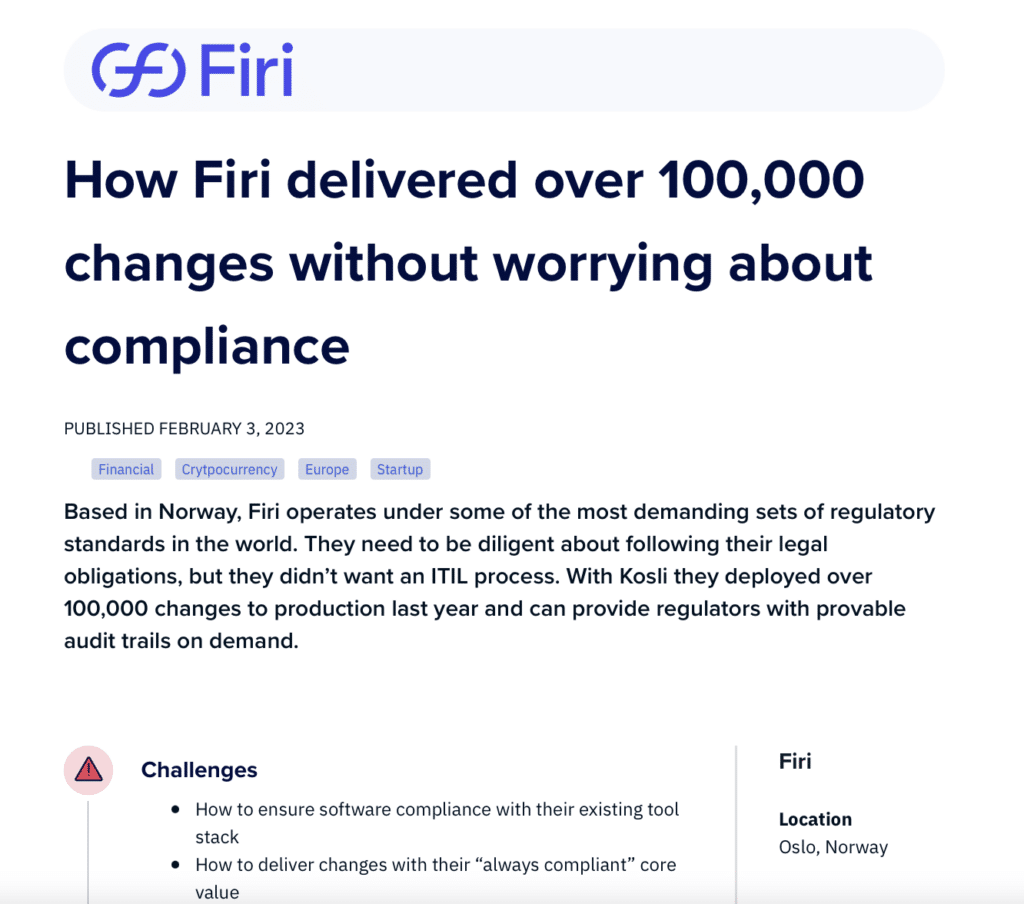 The formatting of this case study is smart, cleanly listing common challenges and then solutions. They had a "counterpart" solution, if you will, for each challenge listed, showing how they were able to help the client directly.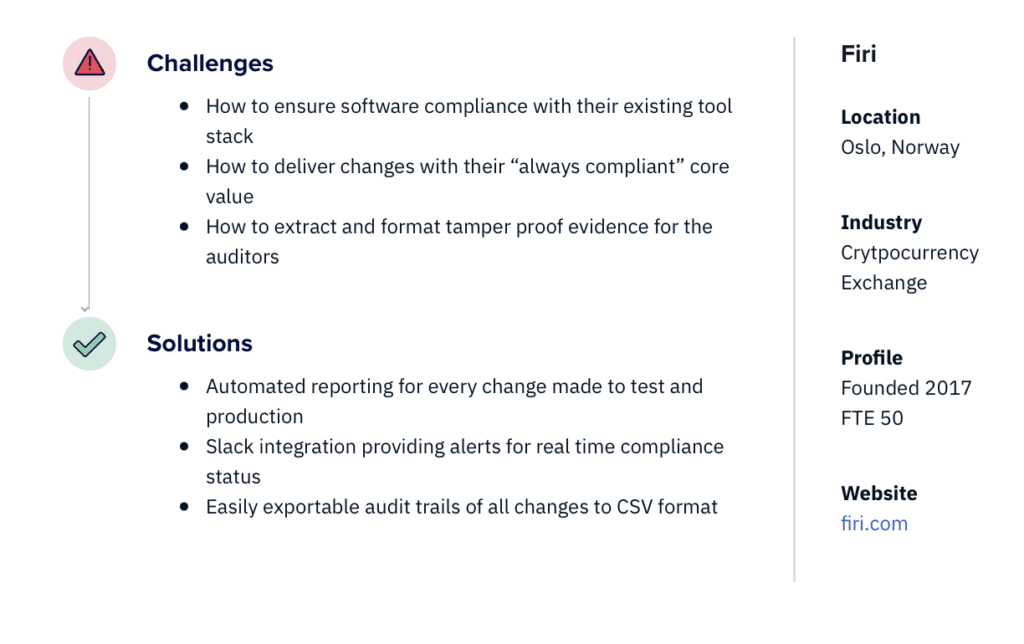 And while there isn't a long list of statistics or improved performance in this case study, that's okay, too; not every case study absolutely needs that. Instead, they have an explanation from their client (a CTO of the company), who explained why the software was so invaluable for their needs.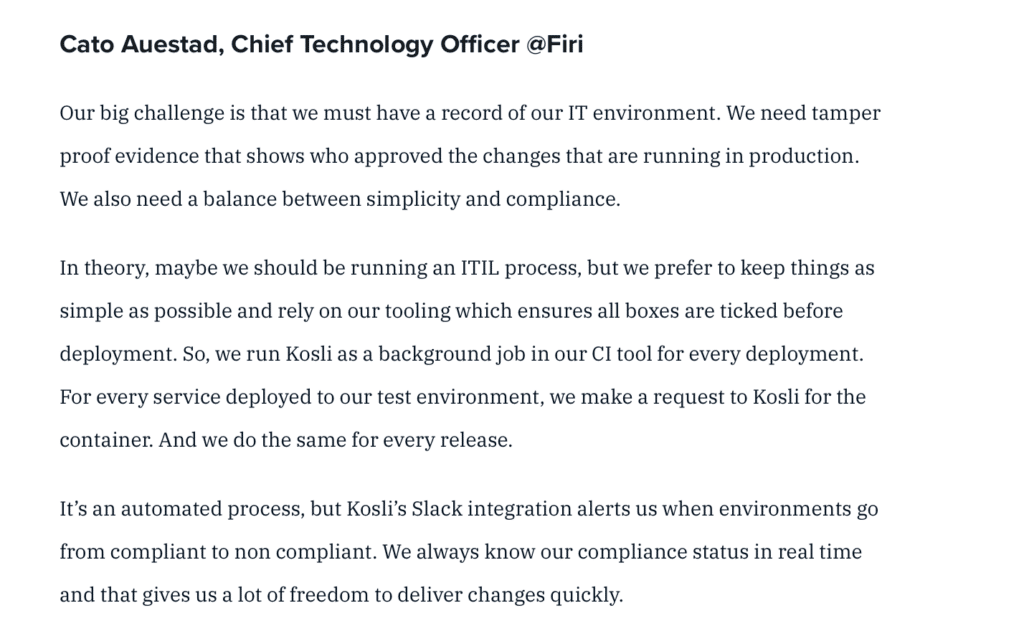 Final Thoughts
Case studies can be powerful tools used to generate and convert leads, boosting your overall revenue. And as you can see above, there's no one-size-fits-all requirement for what an effective case study looks like or even where it should appear on your website. Take some time to think about what information you want to present and how it would be most effectively portrayed to your leads. This is a good starting point, and make sure to remember to get your design team's input, too, so it looks and reads well. 
Ready to get more conversions from the case studies you're creating? Make sure your sales team is ready to nurture incoming leads with lead scoring! Book your free demo of Breadcrumbs today.