Since Breadcrumbs' entire existence is based on helping brands unlock hidden revenue opportunities with lead scoring models, we'd say we know a thing or two about lead generation.
So, lead generation is exactly the topic we're tackling today. More specifically, we're covering how to drive more traffic to your lead generation campaigns.
Best Tips To Drive Traffic To Your Lead Generation Campaigns
Driving more traffic to your lead generation campaigns is a crucial aspect of any successful marketing strategy, and for good reason. Attracting a larger audience increases the number of potential customers and enhances your campaigns' overall effectiveness.
Increased traffic means a higher probability of converting visitors into leads. The more people you can attract to your campaigns, the greater your chances are of capturing their contact information and nurturing them through the sales funnel. This ultimately leads to a boost in revenue, as a larger pool of prospects often results in more conversions and closed deals.
Driving more traffic to your campaigns helps gather valuable data & insights about your target audience. Analyzing their behavior & preferences enables fine-tuning of strategies to better resonate with them. The result is targeted, relevant content that increases engagement and strengthens customer relationships.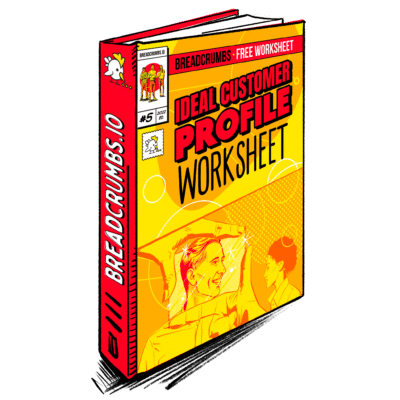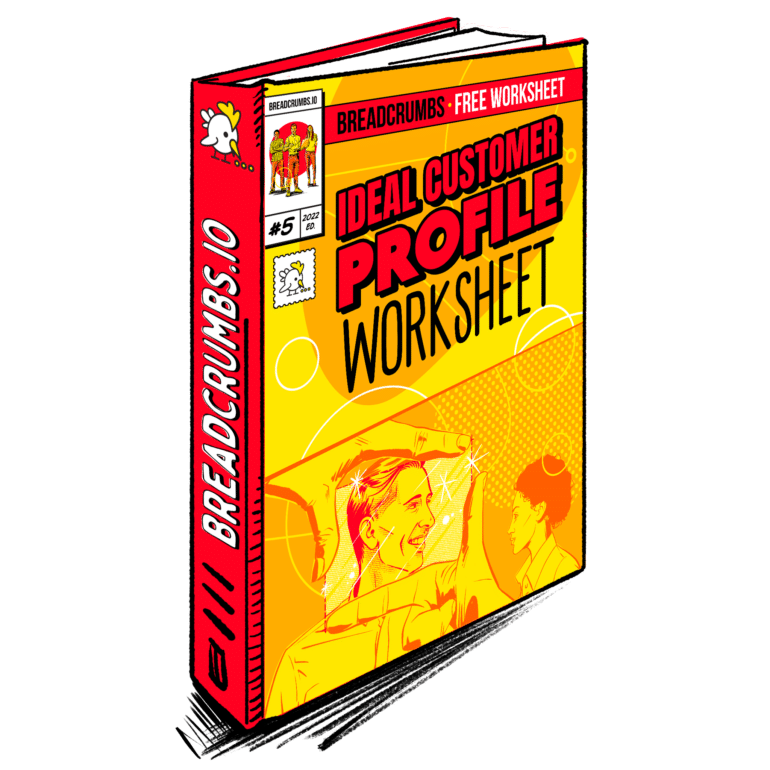 Ebook
Ideal Customer Profile (ICP) Worksheet
Learn how to create an Ideal Customer Profile and build a successful sales strategy with this Ideal Customer Profile (ICP) Worksheet.
Boosting traffic to lead generation campaigns enhances brand credibility and visibility. Increased interaction signals to search engines that your content is valuable, earning better rankings and attracting more potential leads.
For this article, we've used our own insights and gathered experts' opinions to help you get the most bang for your buck with your lead-gen campaigns.
Attract more leads #1. Analyze data and create lead-scoring models
One of the biggest ways businesses lose money through marketing is by targeting the wrong ideal customer profiles (ICPs). To know which customers to target, artificial intelligence and machine learning (AI/ML) tools can do the heavy lifting for you.
For example, tools like Breadcrumbs Reveal use ML to gather data from multiple platforms from your tech stack (i.e., HubSpot, Salesforce, ActiveCampaign).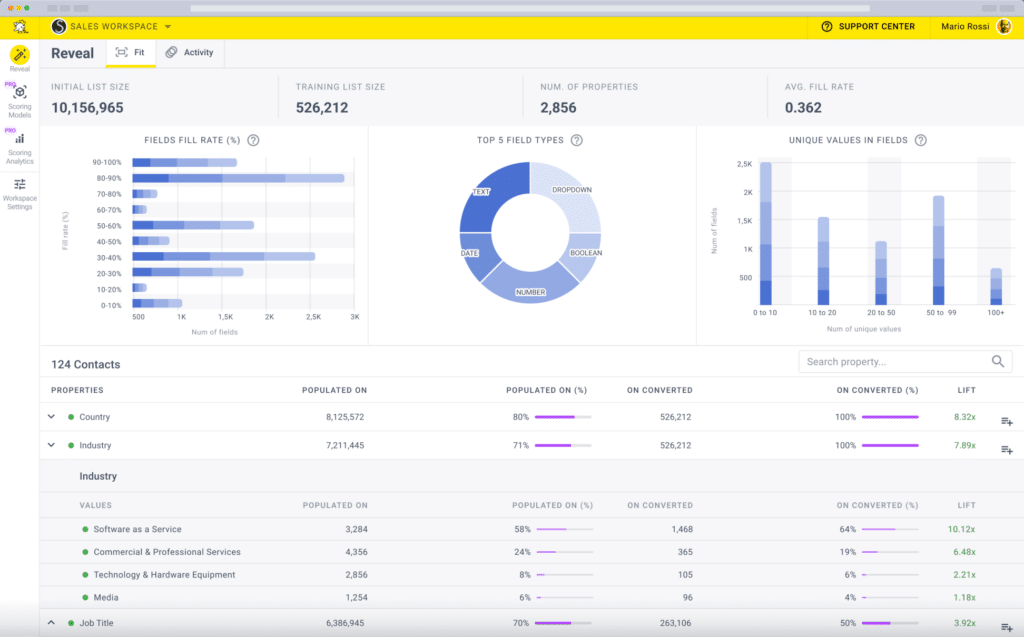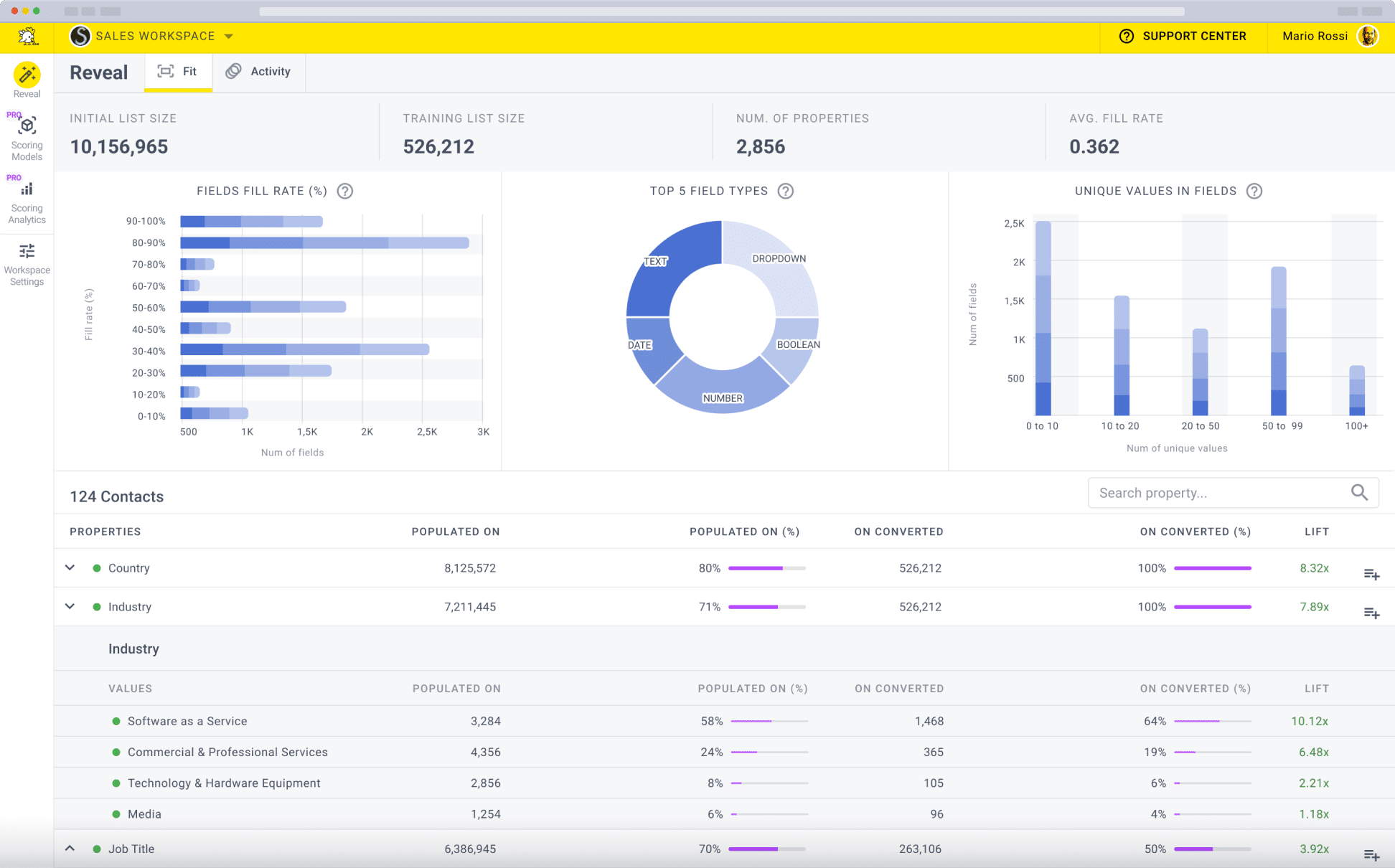 Once you have this data collated, you simply tell Reveal the objectives you wish to achieve from this campaign, and it'll automatically show the segments that show high-purchase intent.
You can then identify which leads make the most sense to target with unique lead-scoring models.
Oh, and for the cherry on top: you can get immediate access to Reveal when you create a free Breadcrumbs account!
Attract more leads #2. Invest in original research
In 2022, Optmyzr, a brand managing over 5 billion dollars in ad spend, conducted a high-level study on responsive search ads (RSAs) using data from more than 13.6k accounts.
They collated all the insights from this research and created one content piece. Later, they used this piece to run an organic and paid distribution strategy. Through this, Optmyzr was able to generate 531 MQLs (marketing qualified leads).
It's safe to say that the brand is now a huge advocate of creating original research studies to generate leads.
According to Vimal Bharadwaj, content marketing manager at Optmyzr, creating original research will "Not only generate high-quality leads, but also help reap long-term rewards like high-quality backlinks, brand exposure, and trust."
Attract more leads #3. Align your offer and your landing page
To drive leads and nurture those leads to conversion, your offer (read: ad campaign) and landing page need to look like they belong together.
So, if you run PPC campaigns on social media offering a 10% discount, your landing page should also reflect the same 10% discount offer. Otherwise, it'll feel like a bait-n-switch.
To facilitate this, you'll need to create customized landing pages for every offer you run.
In the words of Phil Stazzulla, founder of SelectSoftware, "The general audience of your website behaves differently than the ones you're targeting online to advertise to.
Thus, having a different and customized landing page can generate more leads than simply copying a page on your website for advertising online."
Attract more leads #4. Localize your campaigns
When researching this article, we got insights from Dmitriy Plotnykov, Senior PPC Specialist at SE Ranking, who said one of the best ways to get more traffic is by localizing your campaigns. 
Here's a little more context:
When you target audiences whose primary language isn't English, you can improve your performance by translating your ads and content into the local language.
In fact, SE Ranking found that when they ran local ads in Spanish, Dutch, French, and German, they improved results by 25–30%.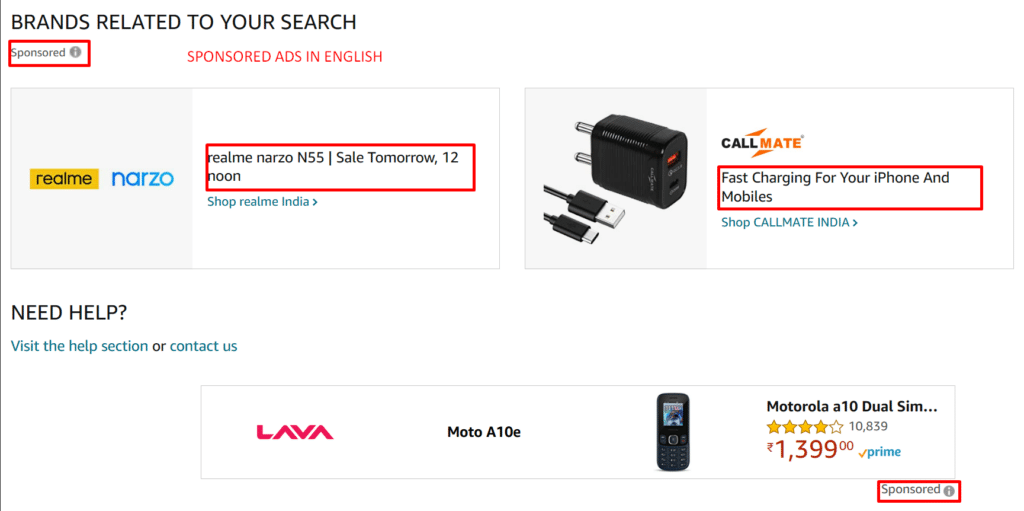 Attract more leads #5. Get reviews before bidding
Data from Gartner Digital Markets shows that products with more than 50 reviews on digital market sites improved conversion rates by 4.6% when running PPC (pay-per-click) ads.
Joe Kevens, Director of Demand Gen at PartnerStack and Founder of B2B SaaS Reviews, suggests that marketers should get more than 10 reviews and a rating of at least 4.2 before bidding on keywords.
He further elaborated that this strategy was monumental in helping him gain lead traffic and convert prospects for PartnerStack (for reference: he drove more than 350 leads on Capterra in 2022 using this strategy).
Attract more leads #6. Focus on long-tail keywords
Long-tail keywords are more specific and therefore only qualify those prospects who are truly interested in what you have to offer.
"Instead of using a broad term like 'shoes,' you could target a long-tail keyword like 'women's running shoes for flat feet.' The advantage here is that long-tail keywords often have less competition, meaning lower costs per click and a better chance of reaching the right audience," said Samuel Park, founder at TechMaestro.co.
"To implement long-tail keywords effectively, you'll want to conduct thorough keyword research to identify the phrases most relevant to your niche. Tools like Google's Keyword Planner, Ahrefs, and Semrush can help you uncover these valuable terms."
Attract more leads #7. Collaborate with other businesses and influencers
With over 4.89 billion active social media users worldwide, there are some major benefits in collaborating with businesses and influencers who operate in the same (or complementary) niche as you: accessing their audience, trust, and goodwill.
For example, if HubSpot did a live session with an up-and-coming startup, you'd automatically begin trusting the startup because of HubSpot's brand value, correct?
According to Vaibhav Kakkar, CEO of Digital Web Solutions, "By partnering with other businesses, you can reach a wider audience and get more people interested in what you have to offer.
This can be done through joint webinars, guest blogging, or even simply sharing each other's content on social media."
Attract more leads #8. Create engaging content
Most marketers would agree with us if we said content marketing is one of the most effective ways of driving traffic to your lead generation campaigns.
However, the trick isn't just to create content. It's to create engaging, valuable, and thoughtful content that truly communicates effectively with your target audience and impacts their lives.
Imagine if you were the reader—wouldn't you prefer to read actionable content than content full of fluff?
So, here's how to do that, according to Jen Weber, director of Digital Marketing at WizeHive:
Step #1: Understand your audience, their pain points, and the solutions they're looking for.
Step #2: Then, create something useful for them, whether it's a toolkit, a comprehensive guide, a compelling case study, or something interactive like a quiz or a calculator.
Step #3: From there, you can use a form to gather their information and place them into a lead nurturing sequence.
On that note, since you've spent so much time creating valuable assets, make sure to repurpose your content and stay online for a couple of minutes to engage with your audience, too—answer any questions they might have, and acknowledge them when they leave a thoughtful comment.
Nick Jordan, the co-founder at Workello, said that engaging in online discussions has encouraged its audience to share his content among their networks, thus increasing traffic to their lead-generation initiatives.
If you, too, are ready to engage prospects (and your audience) on social media, you need a social media management tool. You can try out products like Hootsuite, Buffer, Simplified, MeetEdgar, etc., to refine how you manage your social accounts.
Although most people think marketers are filled with endless creative mojo, we also suffer from writer's block from time to time.
So a simple secret to success is to leverage an AI writer to help jumpstart your creative juices. You can streamline the ideation and drafting stages at the click of a button. Working smarter, not harder, allows you to spend more time engaging with your audience and converting those coveted leads. It's a win-win.
Attract more leads #9. Engage users with giveaways
Giveaway campaigns are another interesting way for marketers to bring in leads. Case in point: Popsmash ran an Instagram giveaway campaign for their client, Plum Porch, and generated 142 leads.
The best part of all? The client they worked with was only willing to spend 1% of their entire budget on marketing, proving that giveaway campaigns can make headlines with even the most limited budgets.
Read more about the case study or take a look at the engaging Instagram caption for inspiration:
Attract more leads #10. A/B test your campaign strategies
Let's get to the most important bit of all: A/B testing campaign strategies.
A/B testing is crucial because what works for one brand would likely not work for another.
Ideally, you need to try different strategies to see what makes the most sense for you and your brand.
You can dive in further from there — for example, if you're focusing on creating content to drive traffic to your lead-gen campaigns, you can A/B test different styles, tones, lengths, and posting times.
Check out Freelance Writing Jobs (FWJ) for some inspiration. After A/B testing their landing pages, Milo Cruz, chief marketing officer at FWJ, found out that their second landing page, which was longer in comparison, converted 15% more visitors into leads.
What more can you do to attract more leads?
A quick online search will show you that marketers are spending a heavy chunk of their budget on lead-generation campaigns.
The same search will also point out that generating quality leads happens to be one of the biggest priorities for 85% of companies and one of the biggest challenges for 61% of them.
Obviously, we want good leads that are easy to please and on the brink of converting. But getting such leads is impossible if you're targeting the wrong prospects.
Sure, all the strategies mentioned here will help you get noticed in the eyes of the prospects. But will these prospects convert? Unfortunately, not right away.
Because more than 95% of prospects aren't ready to convert.
So, we rely on only targeting ideal customer profiles (that are ready to convert) based on our overall business goals.
And the most efficient way to do that is to use a tool like Breadcrumbs Reveal.
Breadcrumbs Reveal's Lead Scoring: What to do next
Since you can create a Breadcrumbs account for free and get immediate access to Reveal, you can sign up with no hassle and no risk.
In return, Reveal will help you:
Target ideal customer profiles
Get a bird's eye look at your data
Identify gaps and revenue generation opportunities
Then, you can be on your way to more (ideal) traffic, more qualified leads, and more conversions. So, what are you waiting for?