It's meaningless to attract leads if you can't close them.
This guide shares how you can close more deals and oust the competition. You'll learn five real-world strategies and what makes them so successful so that you can apply them in your own company.
How Do I Close More B2B Deals?
Tightened purse strings. Skeptical customers. Stiff competition.
If you're struggling to bump up your win rate, you're not alone. Here are five ways to close more deals amidst these sales challenges.
1. Review the proposal together
The business proposal sits at the evaluation stage. 
It's where the prospective customer reviews your proposed agreement and (hopefully) signs it to get the ball rolling.
Unfortunately, proposals don't always guarantee winning the bid. On average, organizations win only 44% of their requests for proposals (RFPs). It gets worse for smaller companies. With fewer resources and offerings and a lesser-known reputation, only 38% won bids with their proposals.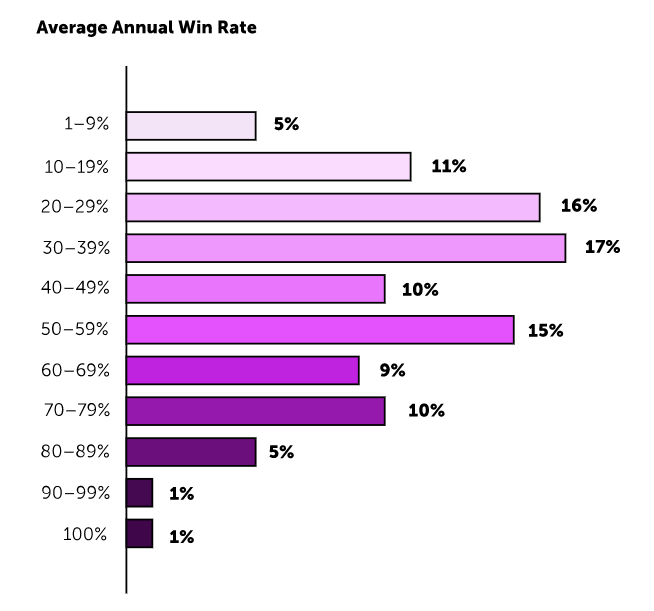 There's no magic formula for writing high-converting proposals, but one agency has managed to crack the code using a counterintuitive approach.
uSERP, a digital PR and SEO link-building company, closed 3X more sales-qualified leads by reviewing the proposal together with the prospect.
Jeremy Moser, co-founder and CEO, shares his strategy with Breadcrumbs:
"We now book a time together with the prospect to review the custom proposal together.

This qualifies and disqualifies leads not ready to buy yet, which provides a better experience for both parties.

If leads are not ready to review a proposal or book the next proposal call, it prevents us from being ghosted. It saves our sales team time and effort in creating a custom strategy early in the process.

And if they're ready to buy, it helps us handle objections in real time when we present the proposal. It gives us more time to tailor a better experience from start to finish."
TL;DR on how to close more deals: Review the proposal together with the prospective client to qualify them right off the bat.
2. Reframe the objection
Customer objections are unavoidable.
No matter how well prepared you are, you will, almost without fail, face the following questions at some point during a high-stakes pitch:
"But you're not funded."
"We just don't have the budget yet."
"You don't have [feature]."
These customer objections, which range from time to features, shouldn't be ignored. When you overcome them in a sales pitch, your close rate can get as high as 64%.
Instrumentl is no stranger to hearing customer objections.
Gauri Manglik, the co-founder and CEO of the non-profit grant platform, shares with Breadcrumbs that she frames it around value to overcome it:
"Nonprofits are not used to spending money on technology, but when we position things from the standpoint of, 'What would it mean if you saved over 12 hours a week when working on your grants?', you can see the gears in their head clicking."
Reframing changes perspective. In Instrumentl's case, it creates a fear of opportunity loss and a snowball effect:
"It's kind of like opening a new world for them. We'd ask our prospects what they think might change at their overall organization if multiple coworkers could experience these sorts of wins. It motivates them to upgrade."
Further reading: Overcome Price Objections: Steal These 9 Go-To Responses
TL;DR on how to close more deals: Reframe the objection around value to create a fear of opportunity loss.
3. Conduct a sales-led demo
Sales-led demos create a white-glove customer service experience.
There's a trusted advisor guiding you one-on-one based on your goals and you get a personalized experience right from the get-go. And if that wasn't enough, you get their undivided attention and a front-row seat at how the product solves your unique problems.
It's no surprise then that sales-led demos are the most popular way for prospective customers to engage with products.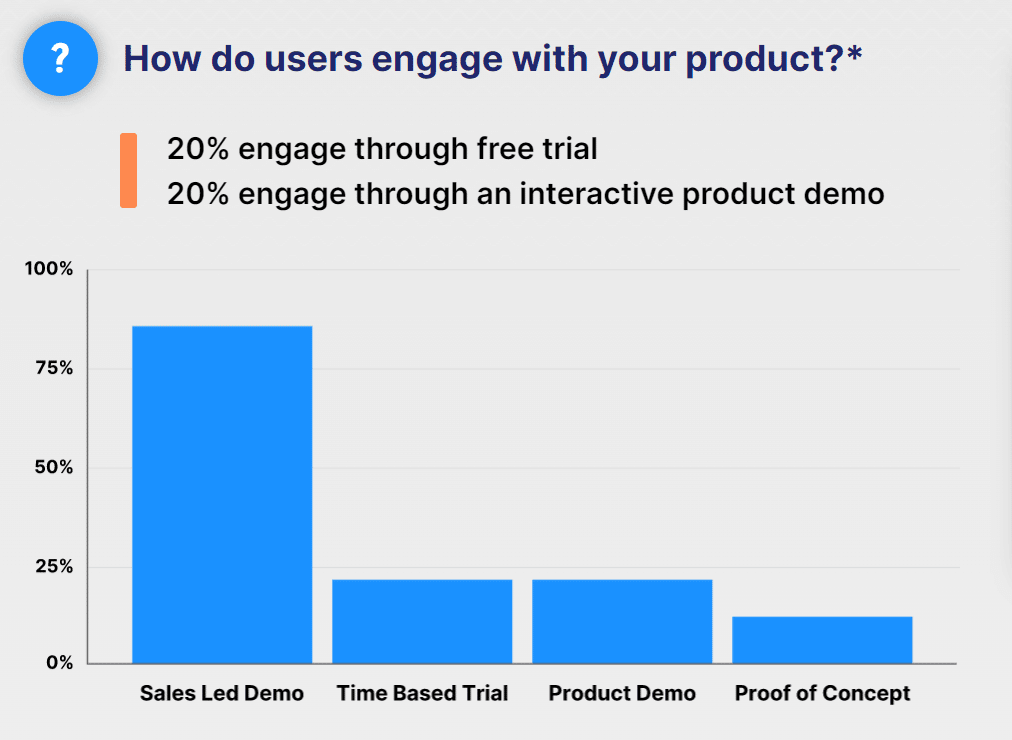 Sales-led demos edge out free trials and freemium by a mile when it comes to conversions.
And it's mainly because these video demonstrations help you identify the prospect's pain point and address it instantly. There's no waiting involved. You can quickly determine whether your product solves their goals within 30 minutes.
Free trials and freemium are a different story. With 96% of dissatisfied customers leaving without voicing a complaint, it wouldn't be far-fetched for us to say that users who stumble on problems during onboarding will not reach out to support.
That's churn we could've prevented!
Note: This doesn't mean you shouldn't completely write off the freemium and free trial model. If your product isn't mature enough to offer self-service, you should consider going the sales-led demo route. Or… offer various entry options to accommodate different customer segments (more on this in #5). 
So how do you run a successful sales-led demo?
Adapt your demos according to the customers' business, advises Michael Sena, founder and CEO of SENACEA.
He shares with Breadcrumbs:
"My company creates analytical and systemic solutions for businesses.

We always focus on specific business cases.

For instance, if they're looking for a custom resource management system, we adapt our demos to present how we can handle the combination of people and resources specific to their business.

We add category breakdowns specific to their industry, and we suggest and present integrations for cost accounting or project management. We even use the data sample they provided and make a simplified mock-up of the solution."
Non-software companies can also apply a similar tactic.
TeamBuilding, an in-person and virtual team building company, offers free live event demos to prospective customers.
Michael Alexis, CEO of TeamBuilding, shares with Breadcrumbs:
"These demos aren't just a five-minute trial or a fancy PowerPoint—it's an actual experience where participants can enjoy the games and activities that we run."
First-time customers can interact with the hosts and envision what it's like to have them as facilitators.
"Implementing these demos is just one of the techniques we use to close more deals," says Michael. "And it has been a major factor in our significant growth in the last two years."
TL;DR on how to close more deals: Opt for a sales-led demo if your product isn't mature enough.
4. Get personal on video
Customers dislike being sold to.
Use the same old generic response, says Aaron Gray, managing partner at Agency 101, and they'll come up with an excuse to exit the conversation.
He shares with Breadcrumbs:
"The important ingredient we're missing here is personalization. You need to show prospects that you truly care, and that you're invested in their individual success. The best way to do so is through a personalized video."
Aaron isn't the only one who's seen the ROI of video marketing. According to Wyzowl's latest survey, 81% of marketers shared that video has helped them directly increase sales.
Record a short video identifying a few of the prospect's pain points, then guide them towards the different ways you can help. Send it when you're inching closer to a deal, as this is the stage where prospective clients typically get cold feet.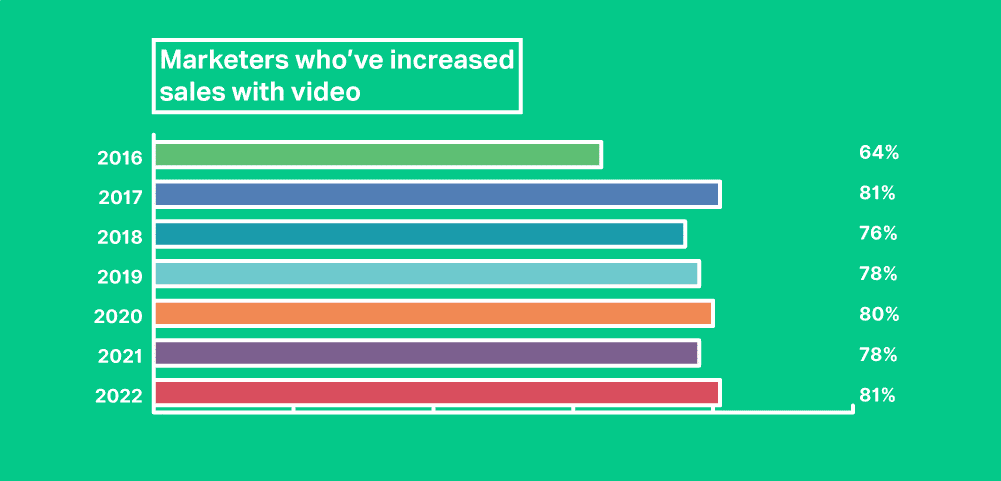 "Make sure to address the prospect by name and display their website on screen, as this drives home just how much effort you're making for this one person only. Ever since using this technique, my close rate has soared."

Aaron Gray, managing partner of Agency 101, on how to create high-converting videos
TL;DR on how to close more deals: Record a personalized video to instill a human touch and show prospective clients that you're invested in their success.
5. Offer a generous trial
Free trials and freemium may not enjoy conversions as high as sales-led demos, but that doesn't mean you should completely write them off.
These self-service elements are vital in the product-led growth era, so much so that 87% of buyers want to self-serve part or all of their buying journey.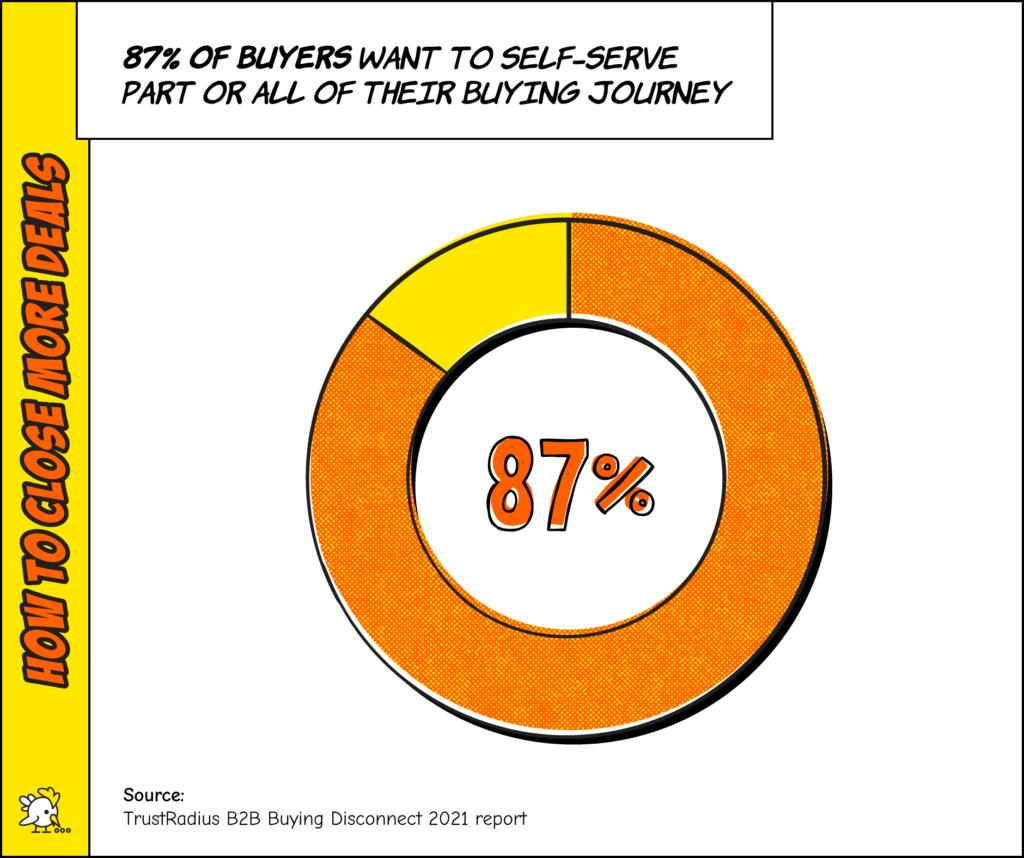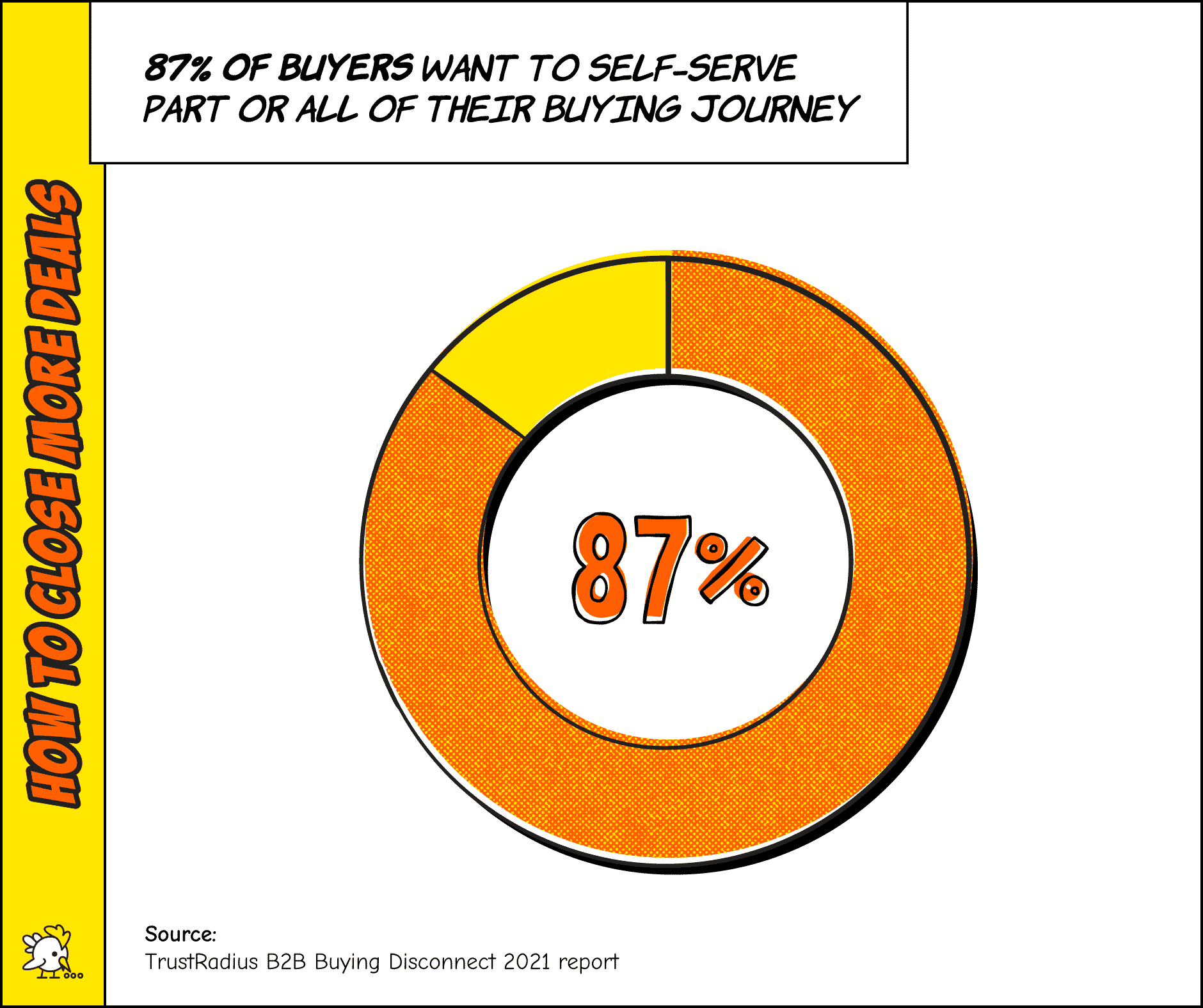 Customers, especially SMBs, want to try out products without interacting with sales reps.
If your product is mature enough for self-service, consider offering it as a freemium or free trial. Both plans boast their fair share of advantages and disadvantages, so test to see which works. For example, freemium lets you collect early user feedback but can get expensive fast.
Pro tip: Grab your free copy of Lead Scoring for Acquisition to learn how to increase trial sign-ups.
Whether you pick freemium or free trial, you want to gather as much customer data as you can.
91% of consumers are more likely to buy from brands that provide relevant offers and recommendations.
The more insights you have on your customers—from their job titles and industries to the specific emails they read and features they often use—the easier it is to paint a holistic customer journey and send them offers and recommendations that strike a chord in them.
You can start gathering these insights by connecting your data sources with Breadcrumbs (note: our contact scoring platform currently integrates with popular CRMs, marketing automation suites, and product analytics tools).
Next, assign a score for each action and attribute and determine what makes a qualified lead.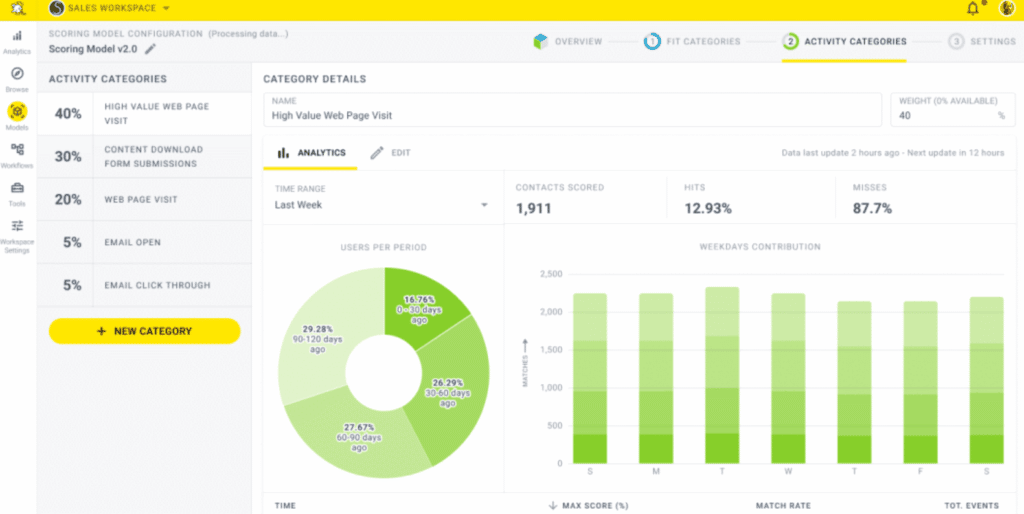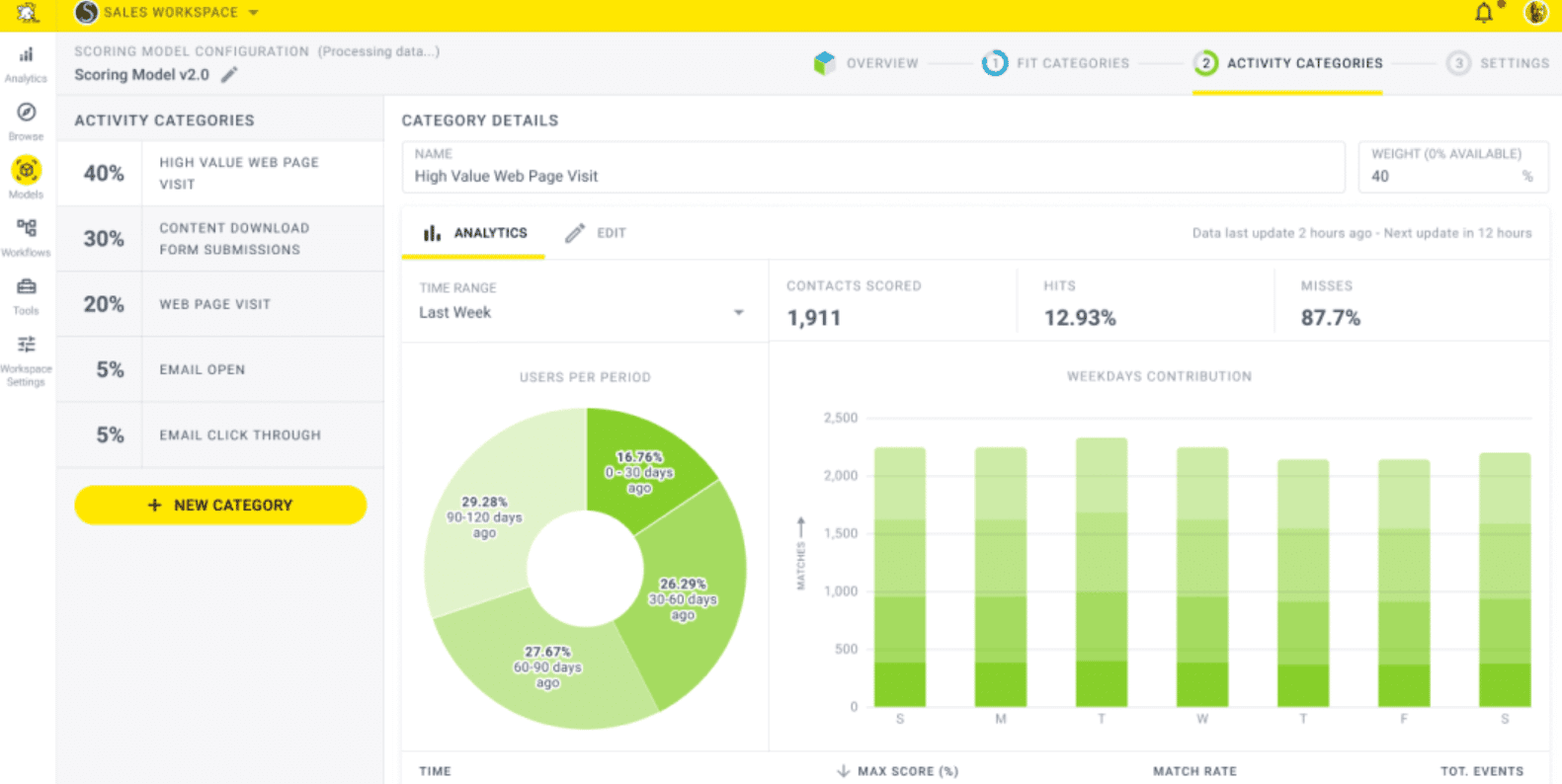 Let's imagine your threshold for a sales-ready lead is 50, and your ideal customer is a C-suite marketer. This means that job titles like CMO, head of marketing, and VP of marketing would receive points (+). Whereas junior marketers, like marketing interns, would deduct points (-).
Similarly, actions that show buying intent would get their scores added. Here's how it might look for web activity:
Signs up free trial: +20 points
Visits pricing page: +5 points
Downloads lead magnet: +5 points
And here's how it might look for in-app activity:
Invites a member: +10 points
Integrates with two or more tools: +15 points
Logins every day for the past seven days: +20 points
Breadcrumbs will accumulate these points over time.
Once leads hit a threshold—a score predetermined by you—Breadcrumbs will send all scoring information back to your data source, notifying you of the sales opportunity.
Contact scoring tools like Breadcrumbs save you time from chasing after poor-quality leads. Book a 30-minute demo with Breadcrumbs to close more deals today.
TL;DR on how to close more deals: Create a generous free trial if your product is mature enough for self-service. And while you're at it, implement contact scoring to gather vital customer insights for future campaigns.
Close More Deals with Breadcrumbs Today
Winning more high-stakes deals is key to revenue growth. Most of the ideas in this guide are nothing new, and yet, they never fail to bump up your win rate amid challenges.
Breadcrumbs is a revenue acceleration platform based on a co-dynamic lead scoring and routing engine living at the intersection of marketing and sales. Book a 30-minute demo to close more deals today.