Improving sales efficiency boils down to three main things.
Processes, customers, and tools.
This guide outlines some of our favorite tried-and-tested ways to improve your sales team's performance, shorten the sales cycle, and accelerate revenue growth.
What is Sales Efficiency?
Sales efficiency is a SaaS metric calculated by dividing the gross revenue your sales team generates by sales and marketing expenses (e.g., salaries, marketing campaigns).
Gross revenue: $22 million

Sales and marketing expenses: $3 million

Sales efficiency: 7.3
How can Sales Efficiency be Increased?
The quicker you convert a prospect to a lead and customer, the sooner you achieve revenue acceleration.
Here's what startups and agencies today are doing to improve their sales efficiency.
1. Treat your ICP as a bible
85% of businesses believe they are offering personalized experiences. This was startling only in the fact that only 60% of consumers seem to think that's the case.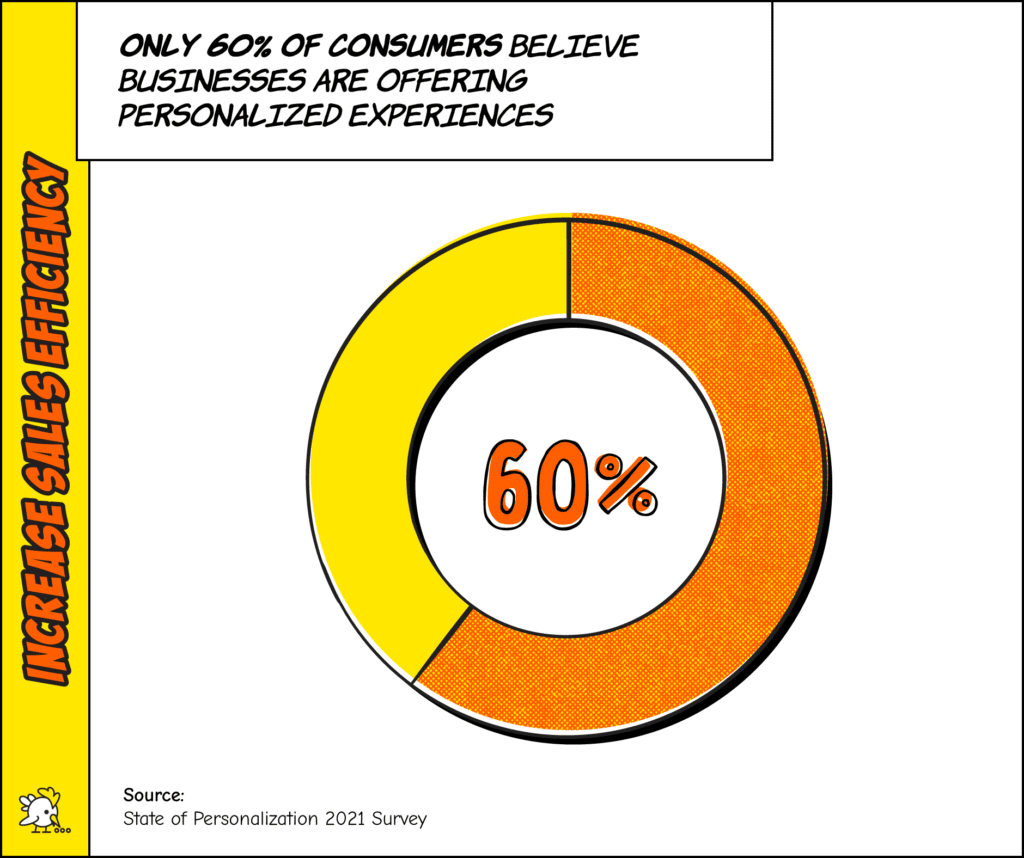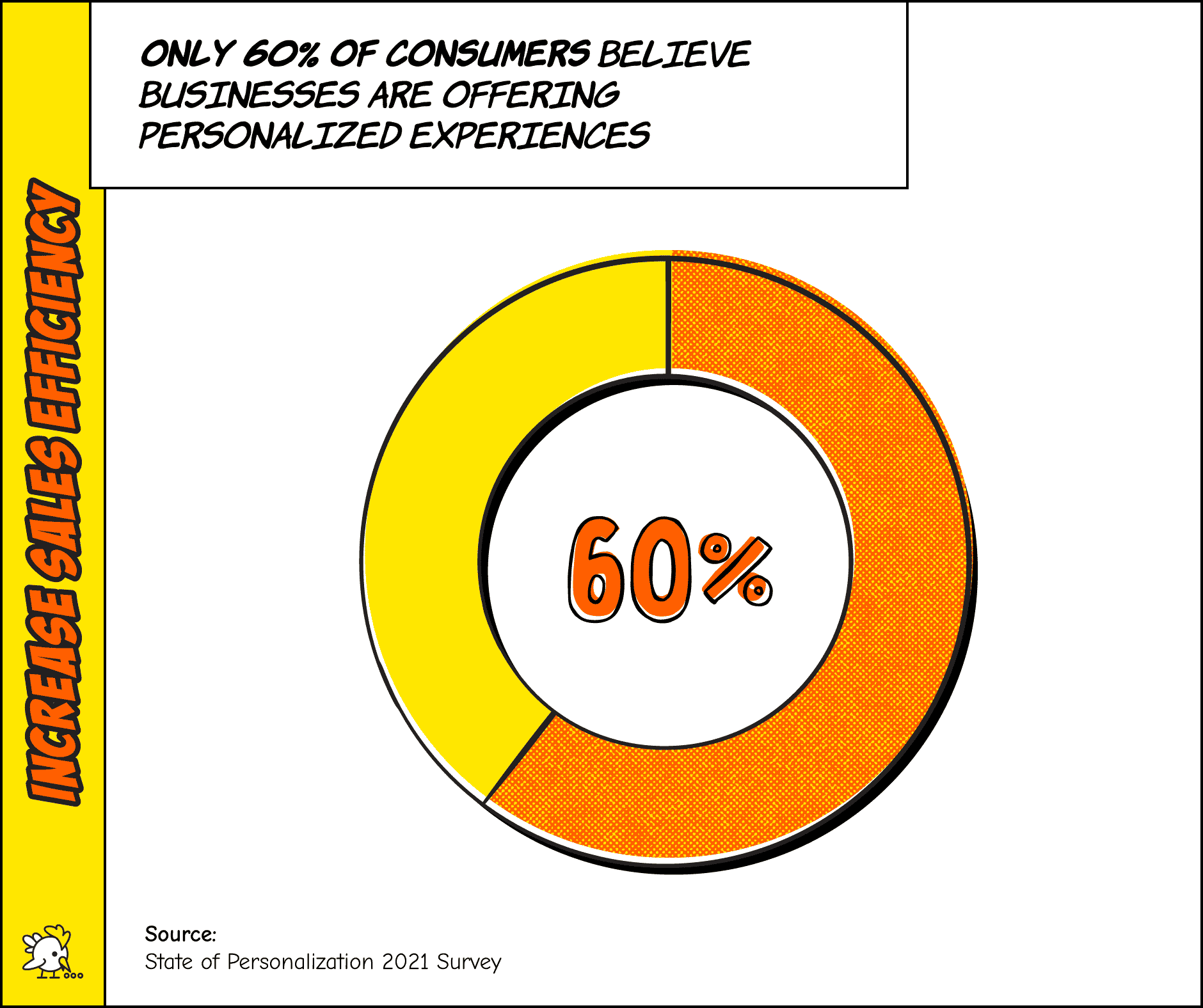 Businesses are behind on personalization—many struggle with silos within departments and the required technology to deliver personalized experiences across channels.
Does the key to personalization only lie in legacy infrastructure that acts as a single source of truth?
Not quite. Another missing key to creating a consistent experience is developing an accurate ideal customer profile (ICP).
An ideal customer profile (ICP) is a high-level document of fictional companies that benefit the most from your product or service. It's created using firmographic data like annual revenue, company size, and number of employees.
ICPs are valuable in marketing, sales, and product development. These data-backed templates help you:
In Instrumentl's case, ICPs helped qualify the bulk of its leads before they even reached out to the company.
Gauri Manglik, the co-founder and CEO of Instrumentl, shares with Breadcrumbs, "By understanding our ICP really clearly, we were able to filter half of the inquiries that come into our business as qualified or not qualified."
This saves Gauri and her team a lot of time and effort from speaking to leads unfit for their business.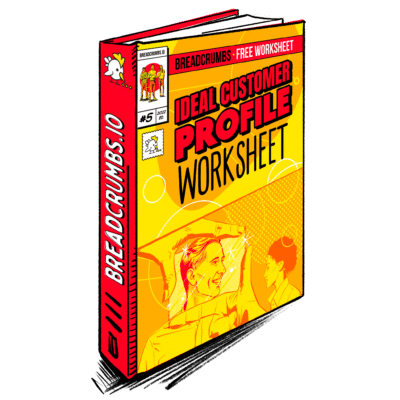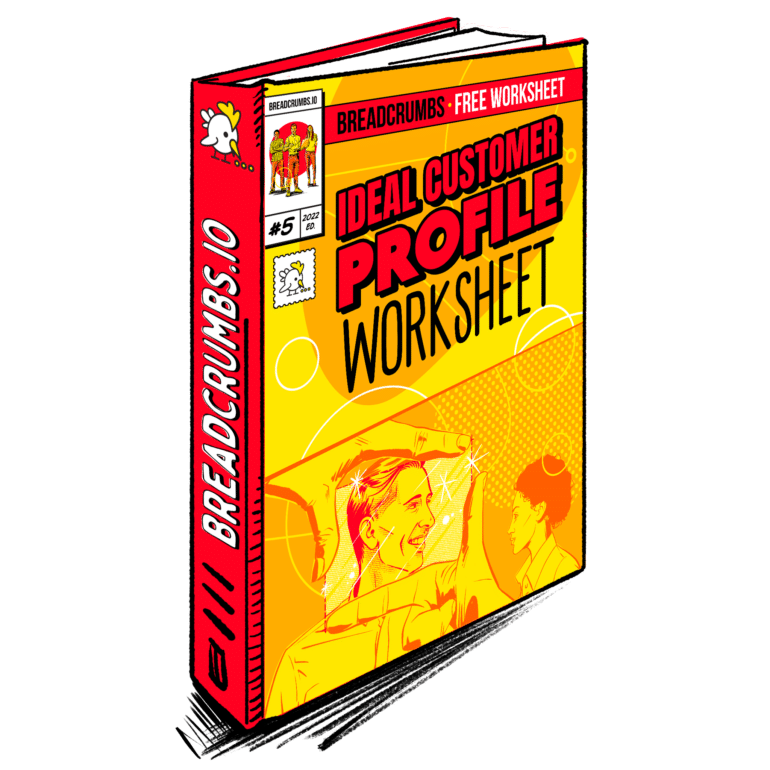 Ebook
Ideal Customer Profile (ICP) Worksheet
Learn how to create an Ideal Customer Profile and build a successful sales strategy with this Ideal Customer Profile (ICP) Worksheet.
ICPs are only effective when backed by relevant data. Here's how you can validate your ICP if it hasn't been updated in a while:
Connect your customer relationship management (CRM) or marketing automation platform (MAP) with Breadcrumbs Reveal
Select a list of contacts to analyze (e.g., customers on most popular plan)
Review the report on your data quality and ICPs opportunities
Breadcrumbs Reveal will return a list of actions and attributes that drive revenue in your business.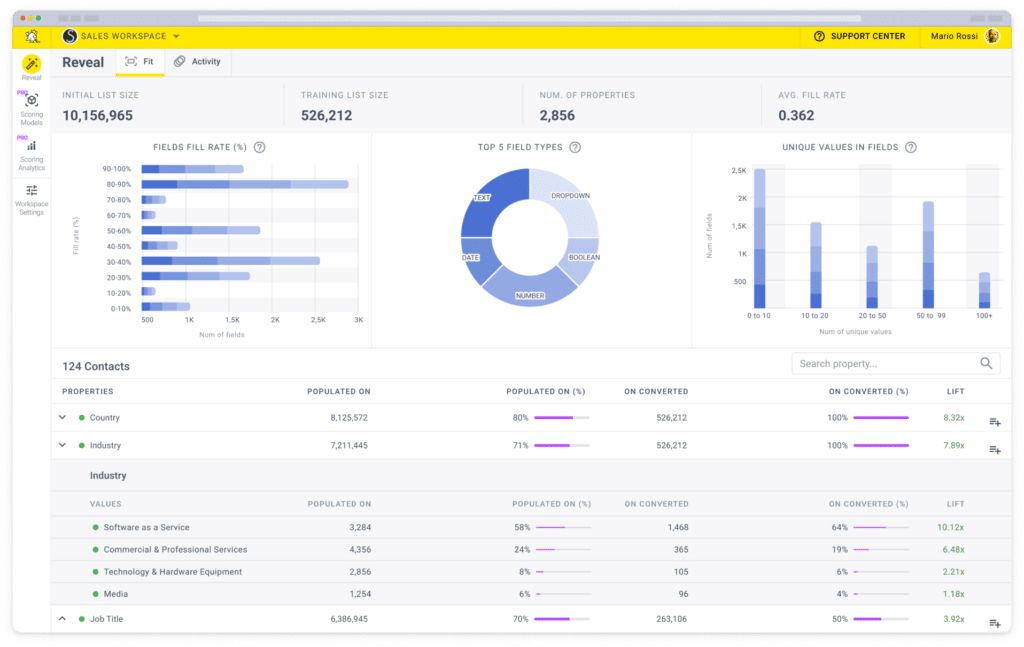 ICPs help you identify your best customers today and strategize your next move. Grab your FREE account now to validate your ICP and generate more conversions.
2. Standardize sales process
Consistency involves developing new habits and building momentum until these repeated actions—from prospecting and pitching to bypassing price objections—becomes muscle memory.
Instead of scratching your head about an MIA lead or an onslaught of customer objections you didn't prepare for, you know what to do to get the skeptical prospect to the next stage: saying yes.
Max Hauer, the CEO of Goflow, shares with Breadcrumbs, "This is especially beneficial for our new sales reps, who often get confused about what to do next: a situation that unfortunately delays selling."
By having a clear and consistent structure, you eliminate guesswork and lead every pitch with confidence.
Note: Lack of an established sales process is usually a sign that you need to implement revenue operations in your company. Learn more in our RevOps guide to get started.
3. Qualify leads before the call
Sales reps, your time is better spent on warm calling prospective clients as cold call conversion rates hover around a measly 2%.
Better yet, provide as much information before hopping on a call.
uSERP, a digital PR and link-building agency, sends prospects its offerings and a budget range to ensure that they're on the same page.
This simple strategy increased the number of calls booked, attendance rates, bottom-line close rates, and revenue.
"It disqualifies companies that aren't a good fit," explains Jeremy Moser, the co-founder and CEO of uSERP, of the strategy.
According to Jeremy's experience, many leads rarely read the information on his company's website, and yet 90%+ clicked and opened the information he shared in the preliminary emails.
"Our pipeline is smaller, but the close rates increase dramatically because we only spend our time on the best possible leads that we can genuinely help. We get the formalities of what we do out of the way and leave our sales calls more productive about strategy and impact."
Pro tip:

Often, there's a gap between a lead contacting for more information and getting on a call with sales. 

Borrow a page from TeamBuilding's book to combat this gap and improve sales efficiency: embed an appointment scheduler on the thank you page, run an email sequence to follow up, and manually schedule a call once they replied.

The time between the call and sale will reduce. For TeamBuilding, about 65% of leads book their own calls right away. 

"Our client advisors are also spending less time on emailing and scheduling calls," shares Michael Alexis, the CEO of TeamBuilding. 

"This frees up time and allows them to focus on other high-value tasks."
4. Close in demos, not sell
"The demo is an act of persuasion," writes Joanna Weibe, the creator of Copyhackers, in an article about SaaS demos. "It's not about the features—it's never, ever about the features, even when it is."
Demos should be treated as a closing tool, not a sales tool.
These video calls are conversations that identify the prospect's pain and show how your product crushes said pain in a visual demonstration.
Before running a demo, consider running a pre-demo to gather context and priority using the following questions:
What prospects are expecting from the demo ("What would make you feel like the demo was a great use of your time?")
What the buying decision is like (e.g., who the decision maker is)
What their budget is (note: this goes back to Jeremy's point in #2)
For example, Breadcrumbs requires prospective buyers to include their burning question ("What can we answer for you today?") before hopping on a call.
It sets context instantly.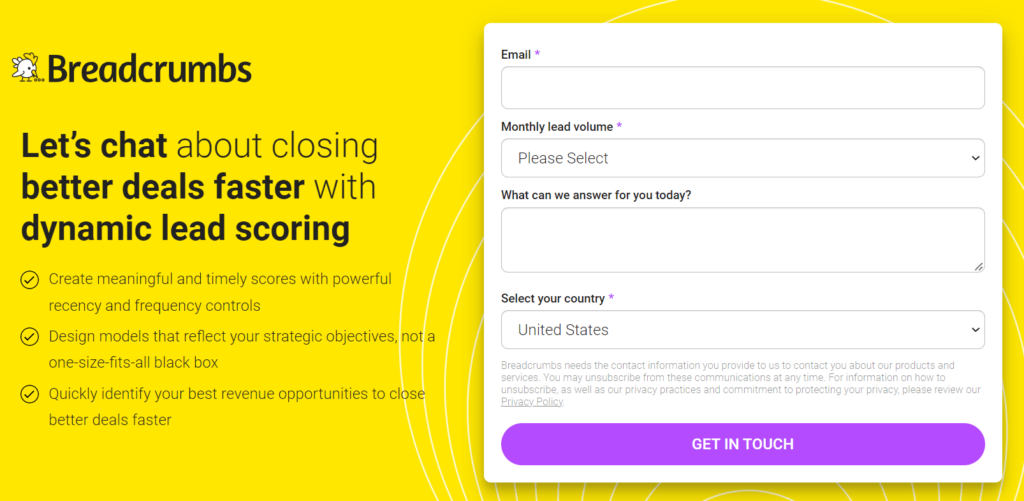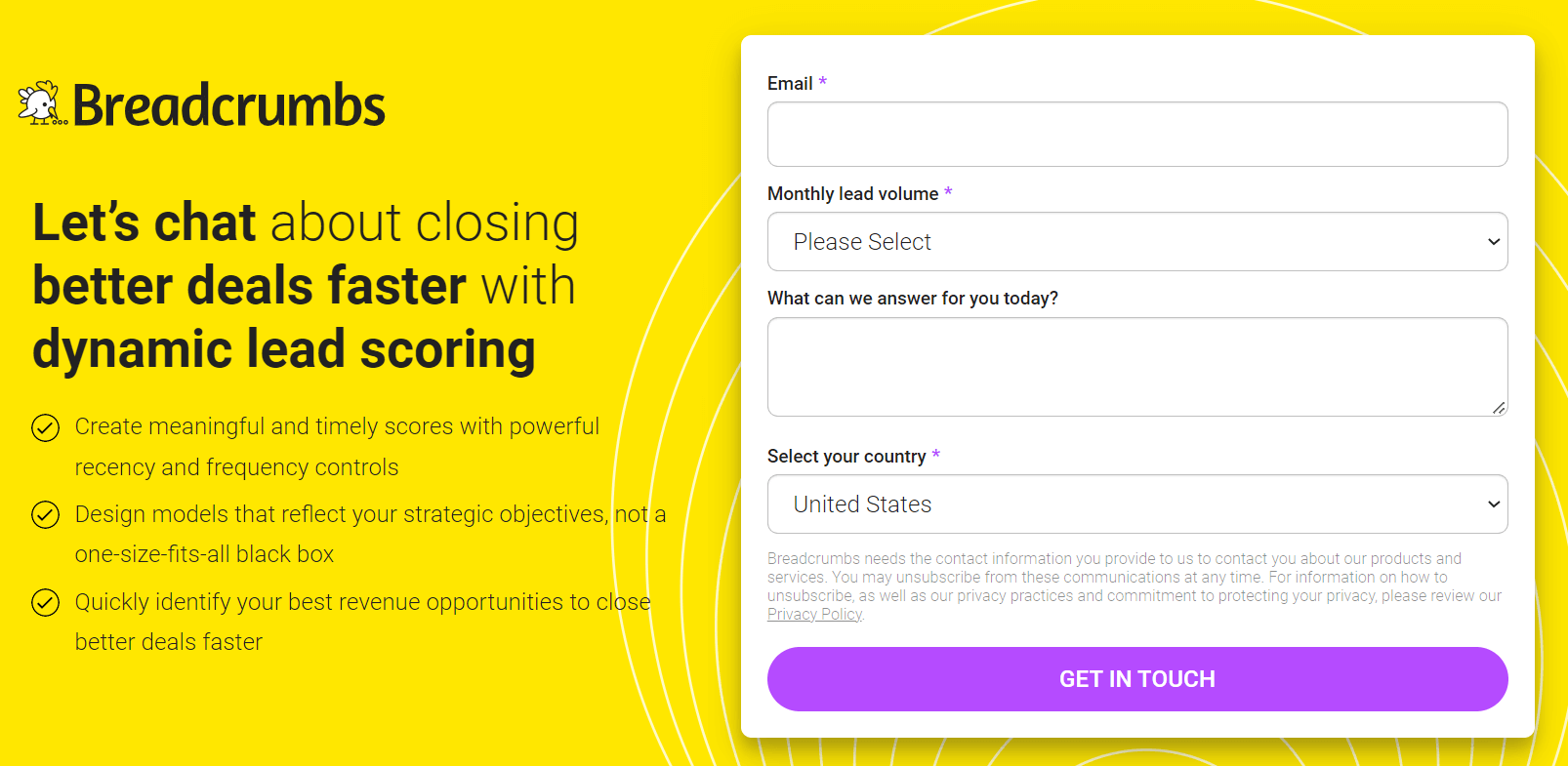 Demo, pre-demo, or whatnot, your main goal is to consult and provide value, not selling the product right off the bat.
Pro tip: Follow the 80/20 rule in your demos. Make 80% of the demo about the customer, and 20% about the solution.
Instrumentl, a non-profit grant platform introduced earlier in the post, spends 30-minutes educating its prospective customers about the different sides of its platform and how they can benefit from using it.
Since the startup boasts a strong inbound demand and its account executives are doing the same core action every week (note: this goes back to #2. standardizing sales process!), sales efficiency improved by a mile.
5. Spot patterns in CRM
The hammer to a carpenter is like a CRM to a salesperson, they need it to do their job. CRMs are irreplaceable, so much so that they increase data accessibility and shorten sales cycles up to 14%.
Jim Campbell from wizve, a digital and affiliate marketing agency, uses his CRM to tailor his sales pitches according to past conversations and purchasing behavior.
A pitch that works for an SMB client will most likely fall on the ears of a move upmarket client. After all, both experience very different pain points (and boast very different budgets). Imagine trying to upsell a SMB customer a $10,000/month solution!
Your CRM needs to include a contact scoring tool if you want to pitch to the right person—especially when at least 50% of your prospects are not a good fit for your product.
In your contact scoring tool, assign a score for each attribute (e.g., job title) and action (e.g., emails open), set your "sales ready" threshold, and let our system do the rest of the work.
Here's how it might look like when you use our lead scoring tool:
Connect your CRM with Breadcrumbs
Determine what makes a qualified lead
Set the scoring model live
Breadcrumbs will proceed to send all scoring information back to your CRM. When a lead meets or exceeds the assigned score threshold, you'll receive a notification, prompting you of the sales opportunity.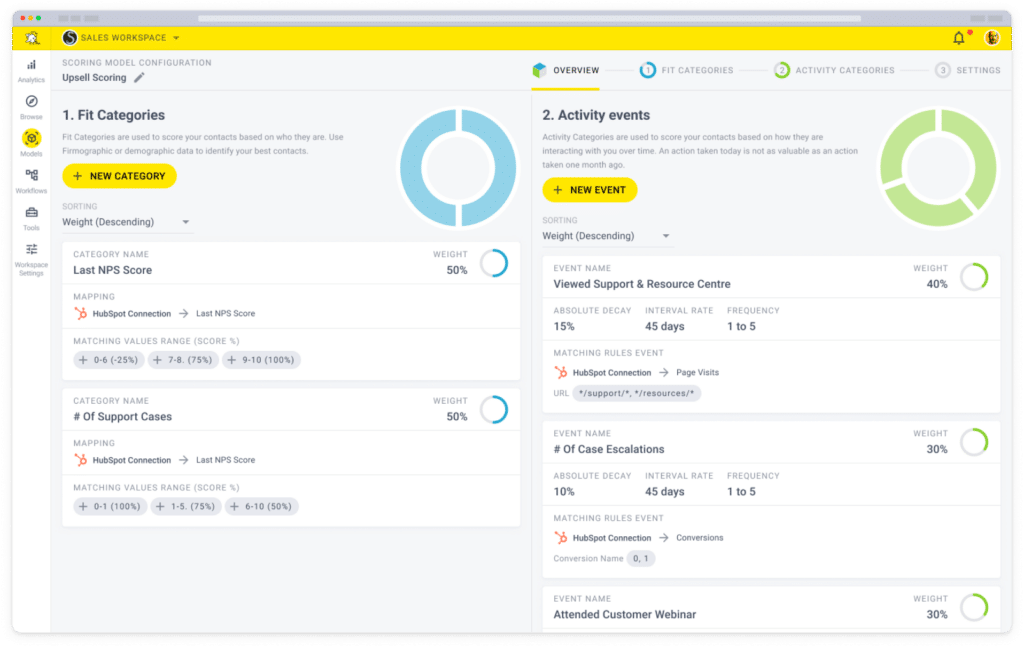 For example, if you want to create a sales-qualified lead (SQL) for, say, an email marketing solution, you might include the following attributes and actions:
Fit: CMO, email strategist, or content marketer in a startup of 50 employees and $10 million ARR (pro tip: refer to your buyer persona and ideal customer profile)
Activity: Visits pricing page at least 3 times within the past week, clicks through upgrade email, reads at least a blog post every week


If your startup operates on a product-led growth model, connect your product analytics tool with Breadcrumbs and determine what makes a product-qualified lead (PQL).
It'll show a more holistic view of the customer journey.
Improve Sales Efficiency on Breadcrumbs Today
Increasing sales efficiency requires all hands on deck. But what's perhaps more important is the CRM.
These central hubs, especially those with co-dynamic contact scoring capabilities, make data accessible for all relevant teams. So, gather all your marketing, sales, and product data in one place for a holistic view of the customer journey.
Identify sales-ready leads and customers with zero guesswork and gain back time for high-value activities. Book a 30-minute demo with Breadcrumbs to improve your sales efficiency today.