Let's talk RevOps.
RevOps is one of the biggest focuses right now for many brands that are prioritizing profitable, scalable revenue growth for their businesses.
That's a big goal, and it's a big task.
It's no surprise, therefore, that revenue operations software has arrived en masse to help.
A great RevOps strategy is one thing; having the right revenue operations stack in place, however, can make your efforts more impactful and more streamlined all at once.
We're big on RevOps here at Breadcrumbs, and we've used a large number of different tools to grow our own brand.
We're here today to help you weed out some of the not-so-great options and offer suggestions for which revenue operations software you should absolutely consider adding to your tech stack.
What is RevOps?
As a quick refresher: RevOps stands for "revenue operations," which is the practice of seeking to maximize a business's revenue.
While this sounds like something most businesses try to do—who doesn't want more revenue, after all—it's about more than just trying to get more sales.
It's a dedicated focus on finding the best ways to accelerate revenue with new sales strategies, pricing models, assessed costs, and a full-funnel approach. You don't want to let any sales go by, but you also need to know how to get the most out of the sales you're getting with customers you have, too.
It covers marketing, sales, and customer service teams at the absolute minimum.
RevOps is a big topic. You can learn more about it here.
Why You Need Revenue Operations Software
RevOps is a complicated task, and it's one that's ultimately rooted deeply in data.
And not just data that you can get from industry benchmarks published in whitepapers and presentations online, but first-party data that comes directly from your business.
Examples include:
A detailed understanding of how users are moving through your site
Which touchpoints are most effective at each stage of the digital sales funnel for your brand (and this sometimes varies amongst different audience segments)
Comprehension of which deals work best at what times and who they should be offered to
Tracking what internal practices are helping or hindering revenue growth; is a limited money-back policy that seemed to help increase revenue by reducing refunds, for example, actually preventing users from trying your SaaS tool?
This much data doesn't just come from basic observations or testing a few theories, and knowing how to test different elements of your RevOps strategy is also complicated.
That's where revenue operations software comes into play. Different tools are designed to help you do everything from learning more about your audience to identifying sales opportunities or even improving the customer service experience.
Wherever you're struggling or need/want more support, there's almost certainly a revops tool that can help.
6 Tools You Need in Your Revenue Operation Stack
Revenue operation software is any software or SaaS tool that's designed to help you gain insights or better optimize your revenue organization and optimization. Many great tools will actually help you do both.
Let's take a look at some of the most useful revenue operations software on the market today.
Revenue Operations Software #1: Breadcrumbs
You know we had to start here!
We created Breadcrumbs specifically to help businesses and sales teams of all shapes and sizes accelerate their revenue by identifying every potential sales opportunity—including from new leads and existing customers alike.
Our lead scoring software integrates with plenty of data sources you're already using, including HubSpot and ActiveCampaign. We take all the data you have from every contact and assess for fit and activity matches for your business, giving you a co-dynamic score to look for contacts that your team can engage.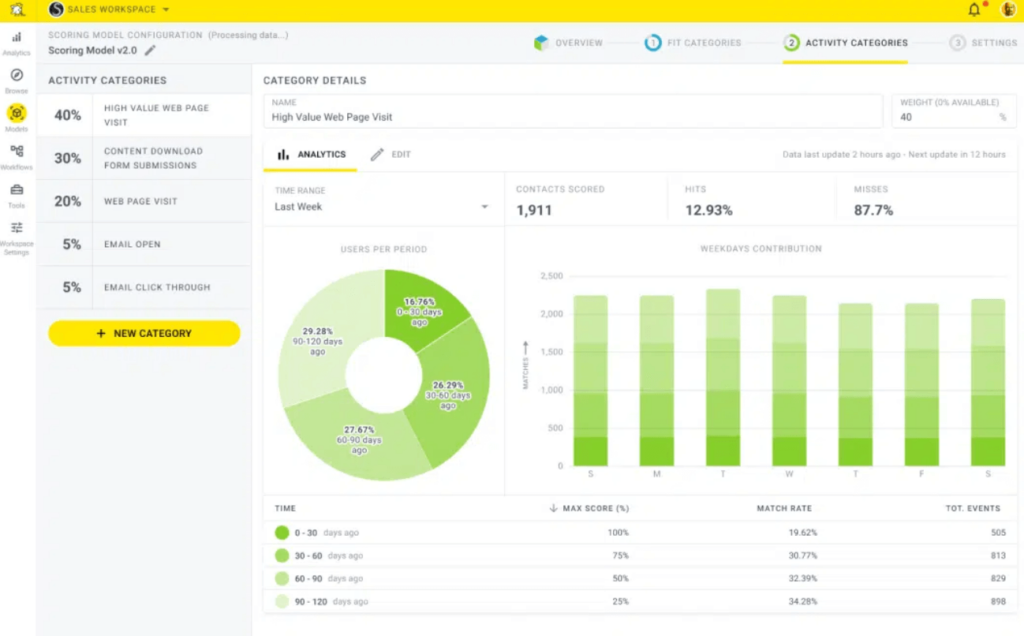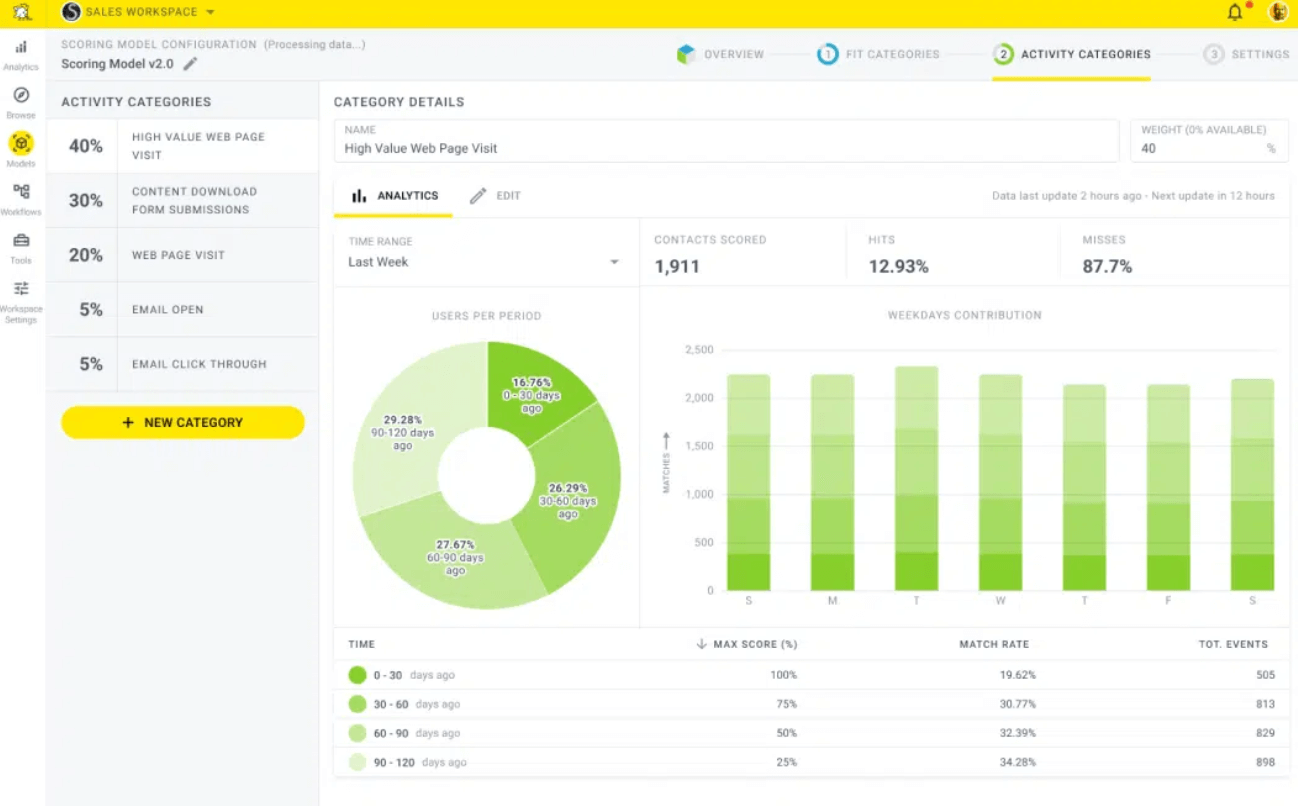 Have a lead that signed up for a free trial who has used your software daily and opened multiple emails? You want your sales team to get in touch to offer a great deal that's too tempting to say no if the free trial expires without a conversion.
And maybe you have an existing contact that keeps hitting the limit of their current plan—that's a great upselling opportunity to increase that customer's average monthly spend and your overall revenue.
We have a variety of different customizable and fully-testable models so that you can learn more about who your highest value audience segments are and what signals matter most.
We can help you get real MQLs and keep them engaged. Want to learn more? Book your free demo here.
Revenue Operations Software #2. InsightSquared Analytics
InsightSquared Analytics has sales-focused revenue analytics, which includes pretty spot-on sales forecasting data.
There's a lot to this tool that can help your RevOps team. The most advantageous features include the following:
AI-driven sales forecasting to give you an idea of what revenue you can realistically expect based on current and past trends for your business;
Detailed revenue analytics dashboard so you can understand exactly what's happening with your business;
Pipeline management features that do a great job identifying "forecast risks" that could derail your potential revenue so you can adapt before you lose the revenue;
Track on-site user activity and engagement, and provide that specific data to the sales team;
Conversation intelligence to understand what your team is doing well and where there's room for improvement.
Revenue Operations Software #3: HubSpot's Operations Hub
I love everything about HubSpot. It's a great CRM, and it's also got marketing, sales, analytics, advertising, and (today's belle of the ball!) operations software.
It's all interconnected, but HubSpot's Operations Hub is, of course, what we're focusing on today.
There are three key features here that are useful as revenue operations software:
Data syncing to improve data hygiene and reduce duplicate contacts across multiple platforms
Sales-focused automation, including setting up lead nurturing paths that are designed to engage leads right off the bat while your sales team reviews their data and gets in touch; you can even implement custom code to get creative here and really customize this to your business
Exceptional reporting, with the ability to create the specific, detailed reports of your dreams to better understand specific aspects of your business, customer journeys, and revenue
And if you prefer Salesforce, don't worry—they have outstanding RevOps reporting and data syncing features as well. Learn more about them here.
Revenue Operations Software #4: ChartMogul
We have a solid number of subscription-based SaaS clients, so we wanted to include a subscription-focused tool on this list.
ChartMogul definitely fits that bill.
It's a subscription analytics platform that gives you detailed information about what's happening with your revenue. It's got metrics specific to subscription-model businesses, including monthly recurring revenue, LTV, reactivation rates, churn rates, and more.
You need a subscription-based tool to really understand where your revenue stands (and trends impacting your revenue potential) if you want to make changes to optimize it for growth in the future. This tool will give you the data you need for that.
Revenue Operations Software #5: Syncari
All my fellow nerds know the iconic line from Lord of the Rings—"One ring to rule them all, One ring to bind them."
Syncari works a little bit like that "one ring" when it comes to RevOps software.
This platform was designed to integrate all your other RevOps tools into one so that you can create a single solid, streamlined workflow across multiple teams and departments.
Smaller brands may not need this kind of comprehensive streamlining, but larger brands are likely to benefit from it. Sync contact data from multiple sources to create a single contact in Syncari, where you can validate it and set off a nurture campaign and then send it to additional third-party platforms.
Syncari also has great analytics, though most of the data they have is offered through other tools we've looked at. The biggest advantage here is the fact that you don't need to integrate 10 different tools with each other; you just need to integrate them all to Syncari in order to take advantage of automation, data sharing, and enhanced workflows.
Revenue Operations Software #6: Chorus
Chorus is one of my favorite revenue operations software on this list because it really takes a close look at what your client-facing team members are doing well (or not so well).
The reality is, of course, that your sales team needs to be great. If they're stalling in closing a deal, they're consistently offering irrelevant or underwhelming deals, or they're not following up, it's costing you money. Improving your customer services and sales teams' skillsets can be a fast path to revenue optimization, and Chorus is the tool to help with that.
This is conversation-AI software that can analyze live chat and call recordings to see what "winning" combinations of sales interactions look like… and what may be causing customers to stall out.
It will give your team, and your managers feedback on sales team members' performances based on actual conversations being had. It can also offer deals for individual clients based on how those calls went and identify coaching opportunities to help individual team members improve.
As someone who was once a salesperson, I can say confidently that it's easy to have blind spots when it comes to performance—you may not know when is too fast or too late to close or when you have a fatal flaw that's costing you sales. I had a coworker, for example, who would talk people into sales… and then talk them right out of the sale because she'd, for some reason, start pointing out the flaws of the product.
This software can help close some of those unhelpful loops and improve your revenue just by making the most of the contacts you already have.
Revenue Operations Software: Final Thoughts
The first step to accelerating your revenue is making the decision to invest in RevOps for your business.
The second is to start working on RevOps strategies while investing in the revenue operations software to facilitate those strategies.
These six revenue operations tools are a great starting place and will cover the basics of what many brands need. Keep in mind that every tool may not be right for every business, but that determining what data you need and what processes you need help automating is a great place to start.
Ready to invest in your RevOps journey? Start with lead scoring software to help you identify high-value sales opportunities at every point of the customer journey. Book your free demo with Breadcrumbs today.