RevOps, which stands for Revenue Operations, is a rising corporate trend that focuses on combining sales, marketing, and customer success teams. This helps management and administration to get a holistic view of overall operations to:
enhance client relationships,
better customer experiences,
get better results with lead scoring,
and ultimately maximize the revenue.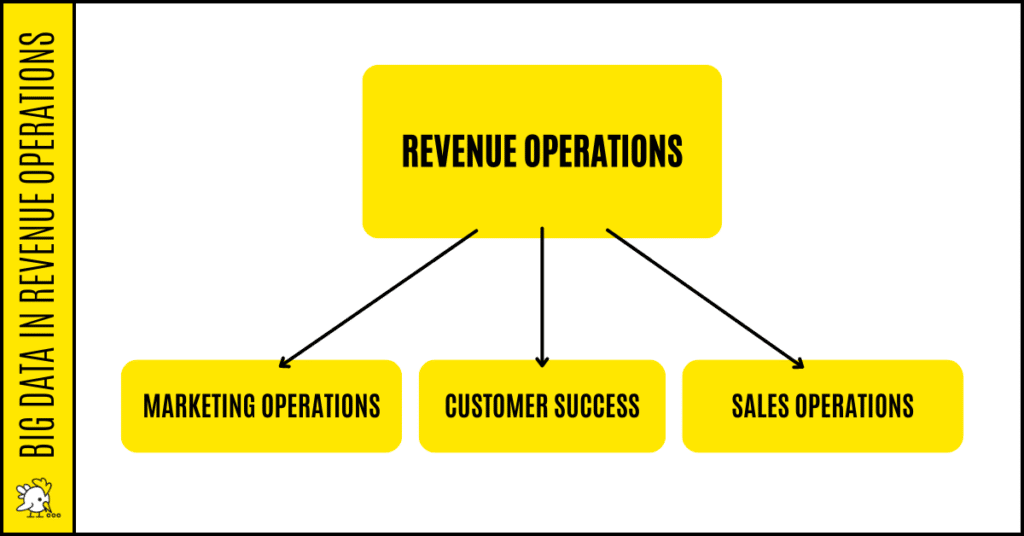 Businesses that focus on revenue operations expand 19% quicker and make 15% more money. But what's needed to execute such a strategy? The answer lies in the power of big data!
The value of big data in RevOps is starting to become more apparent as businesses are increasingly leveraging data collection and analytics to better understand their:
customers,
market,
key performance indicators (KPI).
This allows making decisions based on hard facts that:
boost earnings,
delight customers,
and cut expenses.
With this article, learn how to enhance your sales and marketing tactics, provide a better customer experience, and increase your bottom line by leveraging the power of big data and analytics.
You can harness the power of RevOps and Big Data regardless of the type of business you own, be it product-based, like print-on-demand, or service-based, like selling subscriptions.
How Big Data is Working in Revenue Operations
Data drives businesses in this digital age. But it's easy to get hung up connecting seemingly unrelated pieces of data. Due to this, it's hard to determine which KPIs stimulate expansion in sales.
RevOps eliminates the need to go through disparate data sources and manually connect the dots, saving valuable time. It implements a set of interdependent business procedures.
Let's use an example.
In a business, leads are sent from one single team to another as they progress from being potential consumers to actual customers and, perhaps, brand advocates.
The leads come from marketing, they are converted via sales, and account engagement, expansion, and so forth are all bolstered by customer success strategies. Related cycles, including those involving outreach to customers and promotion, occur concurrently with these procedures.
In this business, RevOps shows the big picture of all the data collected in this process and how it affects:
business development,
and income.
However, the operation side of RevOps requires consistent, accurate data. In addition to careful planning, effective RevOps implementation calls for tight system integration and alignment.
To accomplish RevOps goals, the teams must collaborate to determine how their various pieces of software and databases will work together.
For example, systems for enabling sales and operations must integrate with customer relationship management (CRM) and marketing automation tools, as well as tech used for support and promotions.
Integrating systems requires a solid foundation of data. All client data must be compatible with each other for RevOps to be successful. This can be challenging when many systems use the same data for their own purposes, resulting in consumption and modification.
Let's take another example of a client who got divorced and moved houses.
Say they changed home from Denver, Colorado, to Minneapolis, Minnesota. What would happen if your RevOps' supporting systems didn't sync this data? Every time your business reaches out to them, it may question if they are still at their former address. This will cause a lot of frustration and create an impression that the business doesn't recognize or value them.
When repeated hundreds or thousands of times, even a minor data inaccuracy can have a significant impact on business results. RevOps are hindered by small things like:
misspelled names,
outdated emails,
duplicate records.
As client information is sent from department to department, an absence of data enrichment equally impedes the successful completion of RevOps operations.
Now you see how Big Data works in RevOps. Therefore, the right technology is integral and may define the success of teams. Investing in cutting-edge tools for accurate data collection is a must. Keep an eye on your CRM platform, marketing automation methods, and data analysis software.
The Role of Analytics in Revenue Operations
When you have solid data points that provide accuracy, you can leverage them to gain the full potential for sales forecasts with analytics by combining the power of Artificial Intelligence (AI) and Machine Learning (ML). To spot patterns in consumer behavior, RevOps teams use data analytics.
Data analytics tools reveal actionable ways in which your business may increase its sales and bottom line. Sales metrics are just one component of RevOps Analytics. Your organization may optimize marketing and sales efforts and increase repeat business as a result of analytics in RevOps. Here's how analytics in RevOps play a role:
Provides an overview of opportunities: By analyzing each deal's opportunity score, delving deeper into the relevant record, and acting on the most promising leads, the system prioritizes the best opportunities.
Boost team performance: It can help your sales team succeed by showing them where they stand now and where they are expected to be at the conclusion of the quarter.
Track KPIs better: With accurate data, your tools can measure and monitor key performance indicators like: 

completed transactions,
remaining quotas,
new deals,
win rates,
predictive revenue,
open pipeline,
and coverage ratio.

Forecast revenue: Using the insights of the sales team and the capability of the forecasting features, businesses can better predict how the end of a quarter.
Track timeline: Using the built-in snapshotting tools, users may go between points in time and get a clearer picture of how quarterly figures and pipeline changes have changed week to week.
Only 26% of businesses say they are data-driven or base strategic choices on the interpretation of data through analytics, despite the fact that data runs the engine of revenue operations. This means that implementing a RevOps plan is a lost cause without analytics for the vast majority of businesses.
Let's see how you can enhance your business operations with analytics putting all that data you collect to work.
Make Your Business Greater With Analytics
There are enormous gains to be made when business analytics is adopted broadly, and a business turns data-driven. More than 87% of C-suite executives agree that providing company employees with access to business analytics is crucial to the company's success. Studies have shown that data-driven businesses can boost efficiency, engagement with clients, and product/service quality.
Here are some suggestions for optimizing your use of business analytics.
Use Big Data to improve operations
Businesses might find places for growth by examining data on their operations and procedures. This might involve doing things like:
standardizing procedures,
cutting expenses,
and improving productivity.
In many cases, this requires making use of analytics of the supply chain to spot chances at all stages of a product's existence.
Understand your customers and serve them better
Analytics can provide businesses with the tools to precisely segment their customers based on common traits such as age, gender, and buying behaviors. This data-driven approach is crucial in defining your ideal customer profile (ICP), a significant factor in tailoring your products or services to meet your customers' specific needs.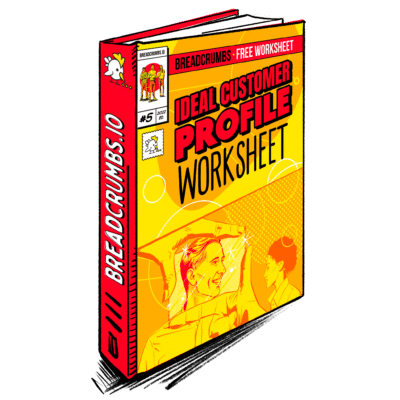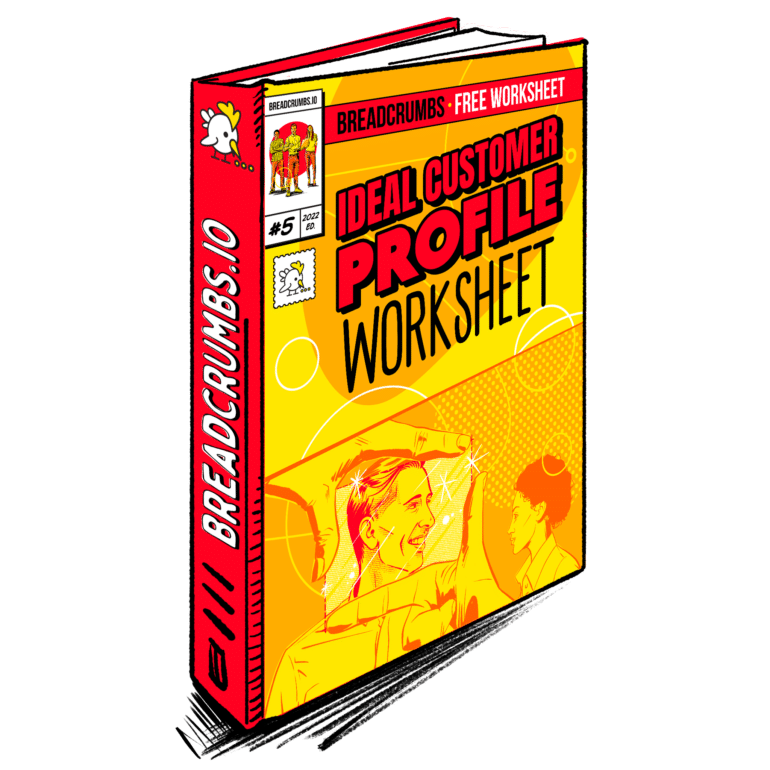 Ebook
Ideal Customer Profile (ICP) Worksheet
Learn how to create an Ideal Customer Profile and build a successful sales strategy with this Ideal Customer Profile (ICP) Worksheet.
By examining data like purchase and transaction histories, survey feedback, and other customer interactions, you can gain valuable insights into your ideal customer's preferences and behaviors. This information can be crucial in shaping your ICP.
Once you understand and define your ICP, you can adjust and improve your product's experience across the board, including product features, customer service methods, or even overall business strategy, leading to improved customer satisfaction, increased sales, and business growth.
Use a tool like Breadcrumbs Reveal to find your data-driven ICP in minutes. You'd just need to
Connect your lead and customer data with no-code connectors to popular tools (think Marketo, HubSpot, Mixpanel, and Salesforce.)
Run the analysis to let us know which contacts segment we should use to define success—for instance, all paying customers or paying customers on specific plans.
Reveal your results and see which attributes and actions are the best predictors of revenue today, while machine learning gets smarter over time as you introduce more data.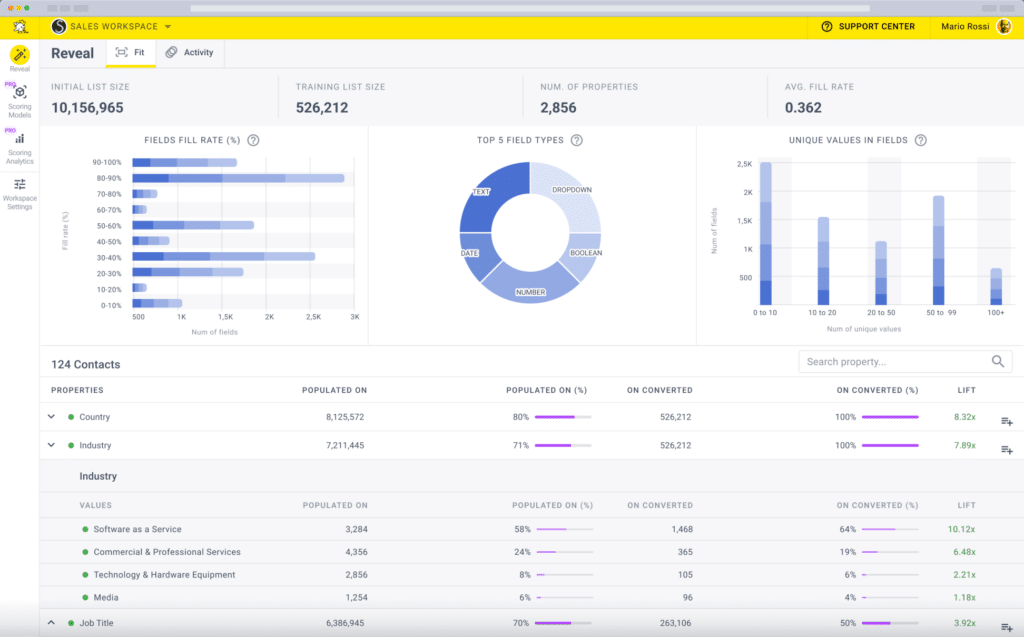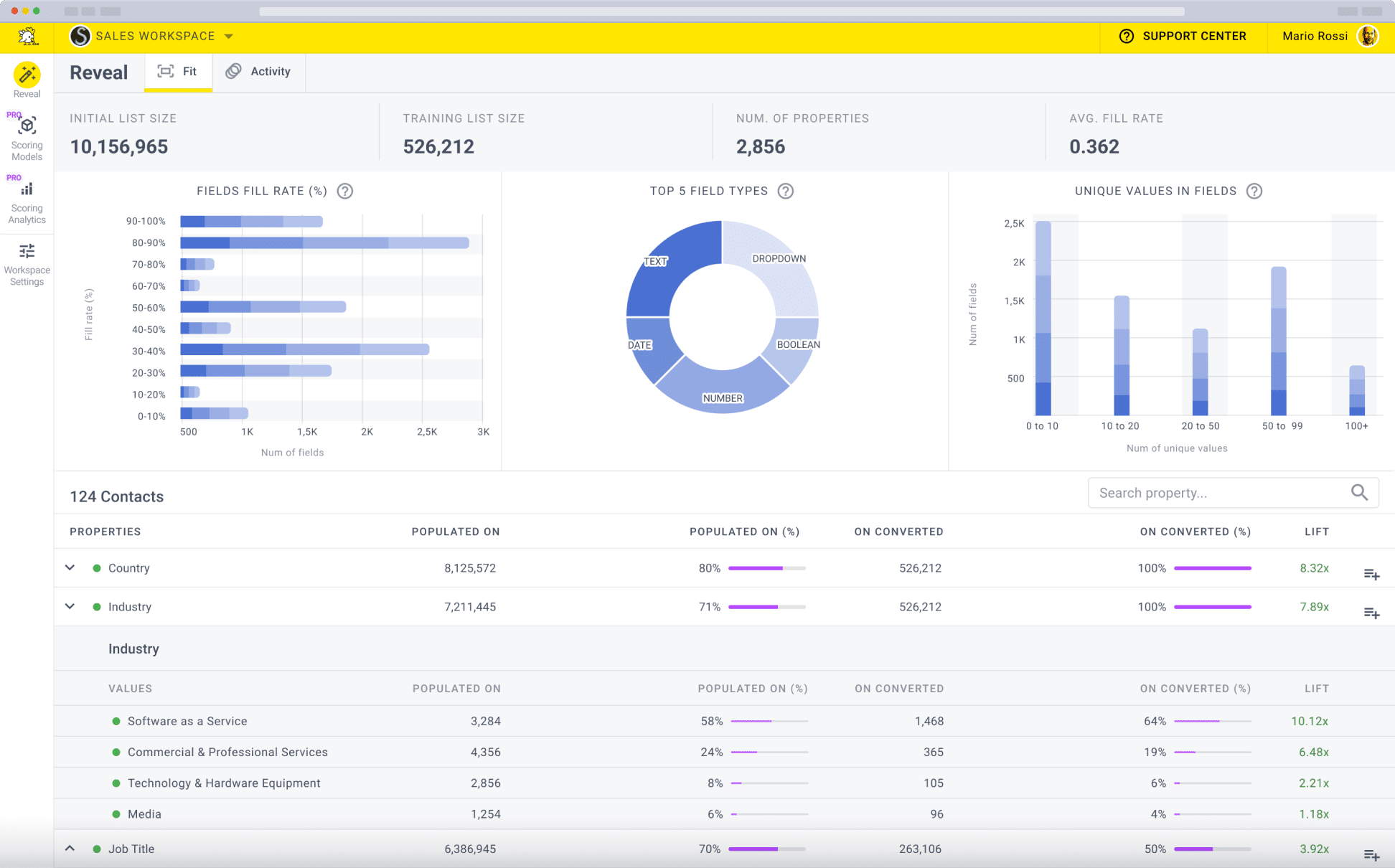 Get the insights you need to make better decisions for your business today. Start using Breadcrumbs Reveal for free when creating your Breadcrumbs free account.
Measure customer loyalty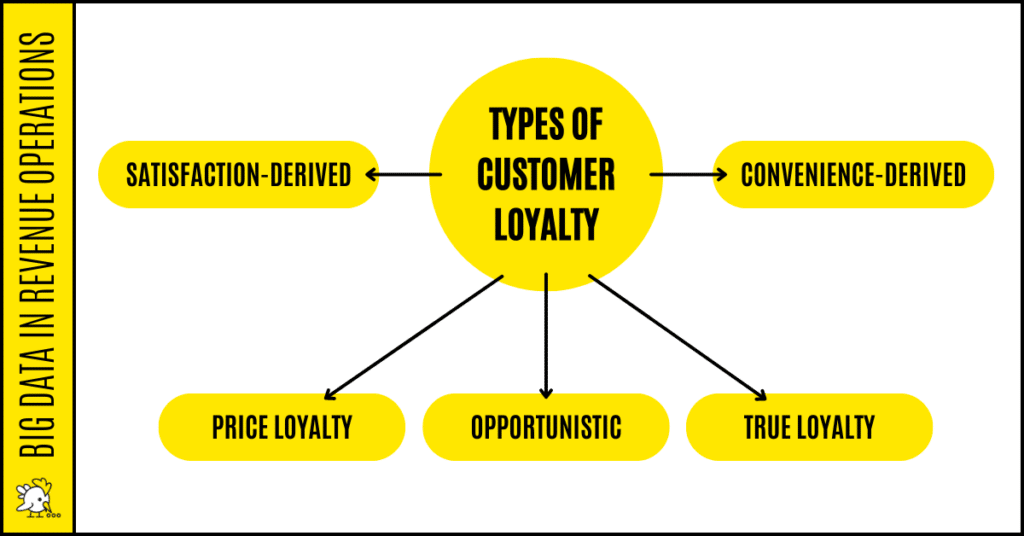 It's not easy to win back a lost consumer. That's why it's so terrible when you lose one. Business analytics is a powerful tool for gauging customer commitment to a brand and its offerings.
With this knowledge, businesses may find strategies to boost client retention and loyalty, which in turn lowers customer acquisition costs and makes the company stronger.
Improve products
You can't make a successful product without first learning about the market. Integrating business analytics with your product development allows you to acquire in-depth, actionable information regarding your products':
usage,
value,
pain spots,
and chances to please consumers.
Find out if the pricing model is right
Among the most crucial tasks for every company is to set prices correctly. If your prices are too expensive, you may lose business. If you set your price too low, you might end up losing money.
Profitable selling factors for a product or service may be determined via the use of analytics. This should be a continuing procedure, reviewed often to account for the shifts in:
market circumstances,
competition responses,
and consumer opinions.
Use it to boost a product's sales performance
The needs and wants of consumers are always evolving. By examining sales patterns, data, and customer behavior, businesses may get insight into the factors that influence customers' purchasing decisions. This allows them to fine-tune their advertising strategies and boost sales, which brings us to our next point.
Adjust your marketing campaigns
Successful marketing can only occur when intelligence is employed to adjust strategies at every stage. Excellent marketing is one of the best ways to:
connect with current and prospective customers,
expand your customer base,
and increase sales.
Marketers may acquire a more nuanced view of which marketing efforts are paying off, which aren't, and why. This is done by consolidating data with analytical tools about consumers, revenue, and other sources. As a result, you can generate more efficient campaigns and get a better ROI from your marketing budget.
Make better decisions
Finally, the ultimate goal of analytics is to facilitate deliberation based on empirical evidence. Using business analytics, you can make sense of the vast statistics stored in the data vaults and gain valuable insights.
Because data is essential in every modern occupation, the most successful corporate analytics programs utilize automated analytics to put information in the hands of each employee.
How to Use Big Data in Revenue Operations: Best Examples and What Can Come as the Challenge
In order to maintain a competitive edge and realize their revenue objectives, several well-known organizations now recognize the critical need to incorporate analytics into their RevOps. Here are some great success stories:
Netflix: Netflix has amassed a global subscription base of over 231 million paid subscribers, making it the most popular Over-the-Top (OTT) streaming entertainment platform. How? Through data and analytics! Netflix's content creators, curators, and price strategists all benefit from analytic insights about user habits and preferences. Netflix's success may be attributed, in part, to the company's ability to analyze viewer data and use that information to produce specialized content for specific demographics.
Amazon: To maintain its competitive edge and maximize income, Amazon employs data to fine-tune its pricing approach. To find the best pricing for each product, they utilize ML algorithms to examine buyer habits and market tendencies.
Uber: In 2022, Uber's revenue was $31.8 billion, up 82% from the previous year. They have been able to keep their market share and increase their profits with the analytical improvements they have made to their pricing approach and driver benefits. In order to incentivize drivers to work during peak hours, prices are dynamically adjusted using real-time monitoring of supply and demand.
Despite these incredible instances demonstrating the value of analytics in sales operations, there are still obstacles that companies must conquer.
If your business isn't used to operating in an interconnected, data-driven fashion, adopting a RevOps strategy and making the most of the analytics might be difficult. Here are some of the most usual problems that the RevOps team encounters:
To make educated judgments, organizations require reliable sources of information, yet obtaining such data may be difficult. Choose a dependable third-party provider of reliable data collection systems.
Revenue operations require assets like staff, technology, and training to function effectively. Unfortunately, not every company can afford to dedicate resources, resulting in RevOps efforts being slowed. Solution – start small, modify the process gradually, demonstrate RevOps' worth, and then ask for further funding.
Decisions in RevOps are primarily reliant on data and analytics. It's possible that certain team members won't embrace data-driven decision-making or simply lack the expertise to do so effectively. Think about giving your staff training and awareness before implementing a RevOps strategy.
Success in business is typically attributed to a company's ability to capitalize on the efforts of its sales, marketing, and customer service teams. This makes it tough to acquire a holistic understanding of how your staff and customers are behaving. Invest in a solid CRM and keep your customer relationship management database updated.
Wrap-Up: Unlock the Power of Big Data in Revenue Operations
We predict that every company's future business plan will revolve around revenue operations. Post-pandemic businesses are shifting their focus from departmental goals to unified revenue targets.
To achieve this goal, company owners and leaders must invest in consolidating their data into a centralized database. More data and analytics resources, as well as open data visualization tools, should be made available to all frontline employees. This is the only way that bringing in cash will be considered a group effort.