Pricing has the largest impact on a business bottom line—so much so that it overtakes acquisition as the biggest revenue driver.
In this price optimization guide, you'll learn how startups across the industries are monetizing their products across their lifetime.
That way, you can always make sure you'll never leave money on the table and run a profitable business.
What is Price Optimization?
Price optimization is the process of using your customer and market data to identify an ideal price point for your product, so you can maximize sales and accelerate revenue in your business.
Why is Price Optimization Important?
One word: Revenue.
A 1% improvement in price optimization can bring on an average boost of 11.1% in profits.
Based on what ProfitWell has seen from 512 SaaS companies, monetization plays the most prominent role in a business bottom line.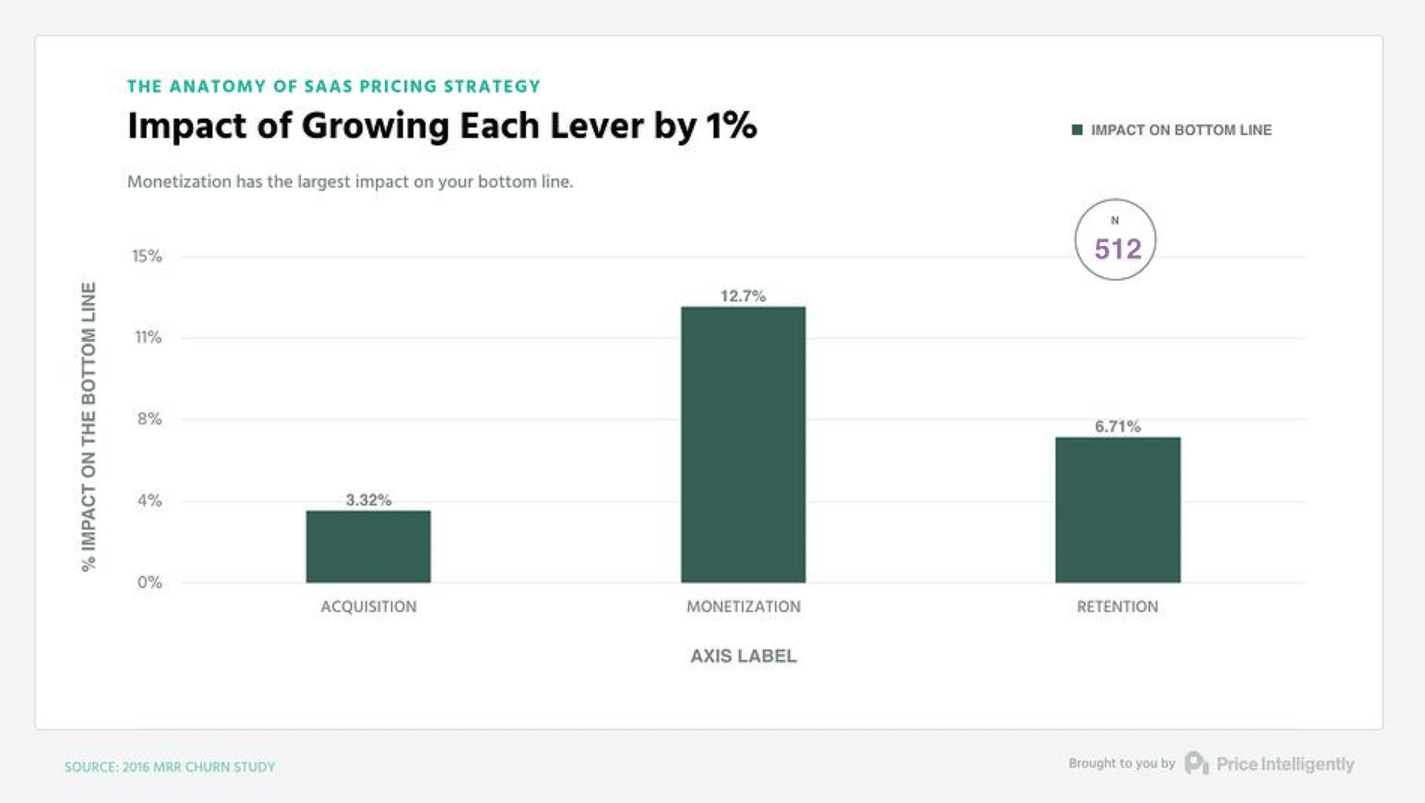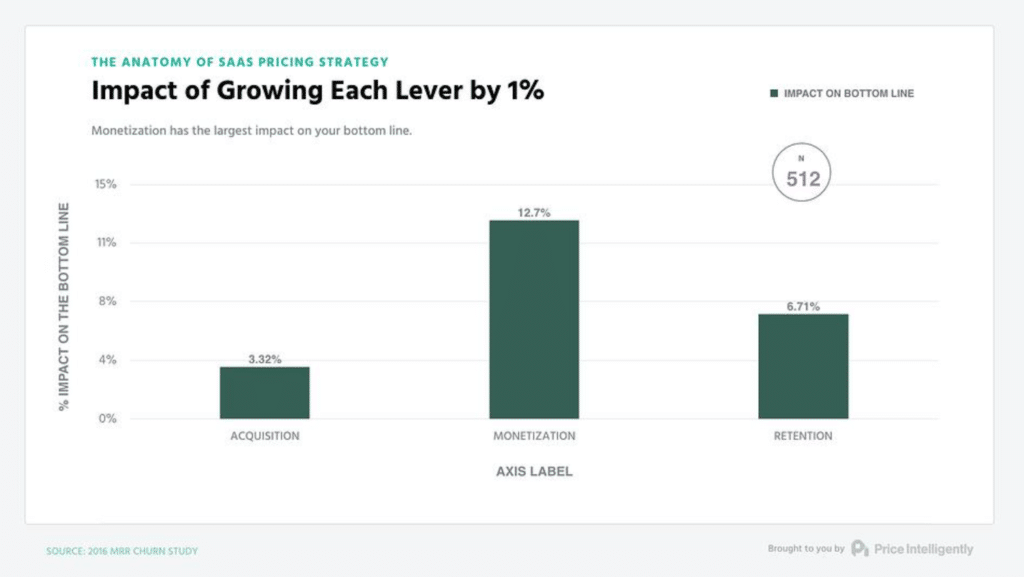 In an article on Price intelligently, Patrick Campbell, CEO of ProfitWell, writes that pricing is "4x as efficient in improving revenue as acquisition and 2x as efficient as improving retention."
Gary Amaral, co-founder, and chief product officer of Breadcrumbs, shares a similar sentiment:
"Price is often abandoned with no clear owner in an organization, but it's actually one of the strongest growth levers that an organization can have."

Many companies under-price early on—they're slow and tentative to change prices over time. And that's because those price changes can often be a driver for churn."

Gary Amaral, Breadcrumbs co-founder and CPO
Price it too high, and customers flock to a lower-cost rival. Price it too low, and you ruin customers' trust in your product.
In other words, price optimization should be a staple in a SaaS pricing strategy. How else will you find the sweet spot in your pricing as you grow your business?
How Do You Do Price Optimization?
Price Optimization Tip #1. Find What's Valuable to Customers
Work out what "value" actually means to your customers.
Let's say that you're the founder of an AI SEO tool. The value lies in ranking on the first page of Google and attracting a steady stream of high-quality leads, not churning out a 1500-word article.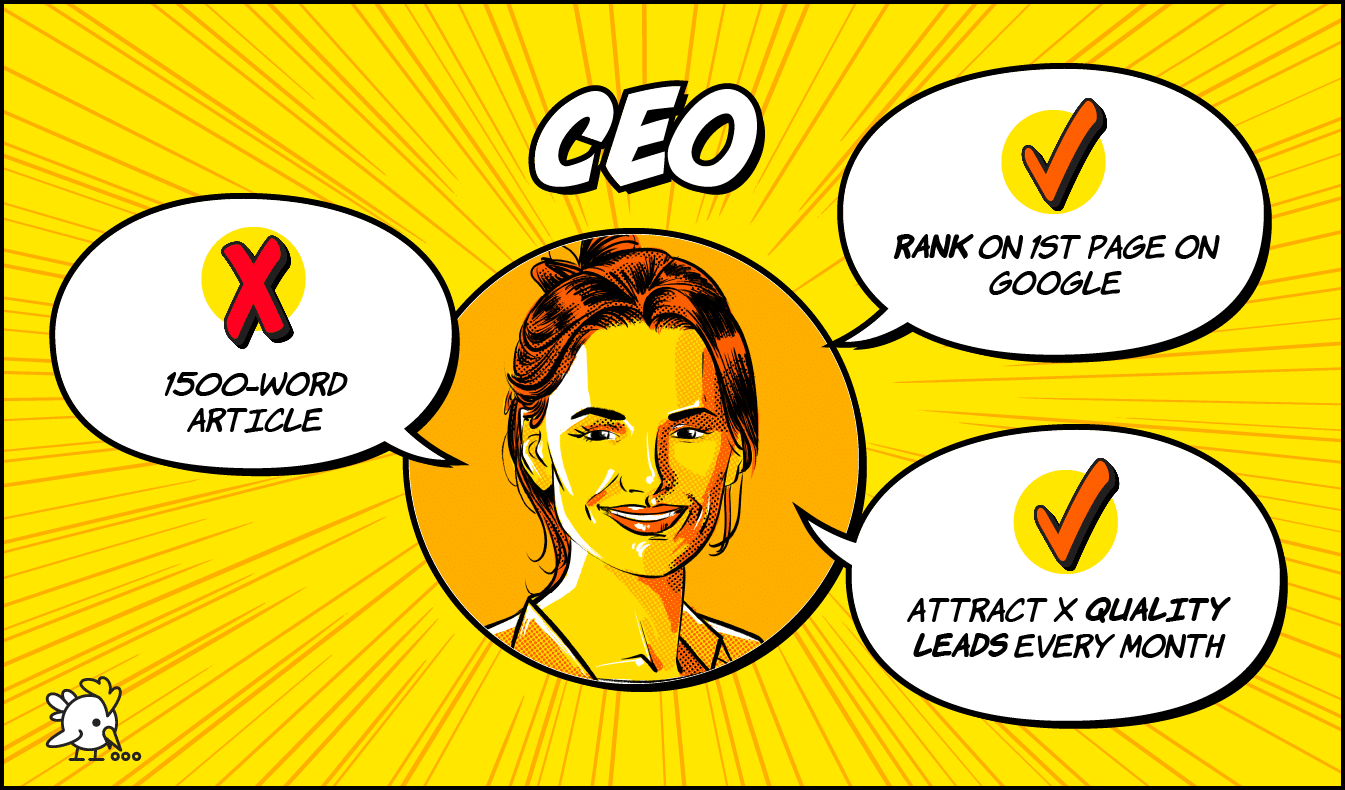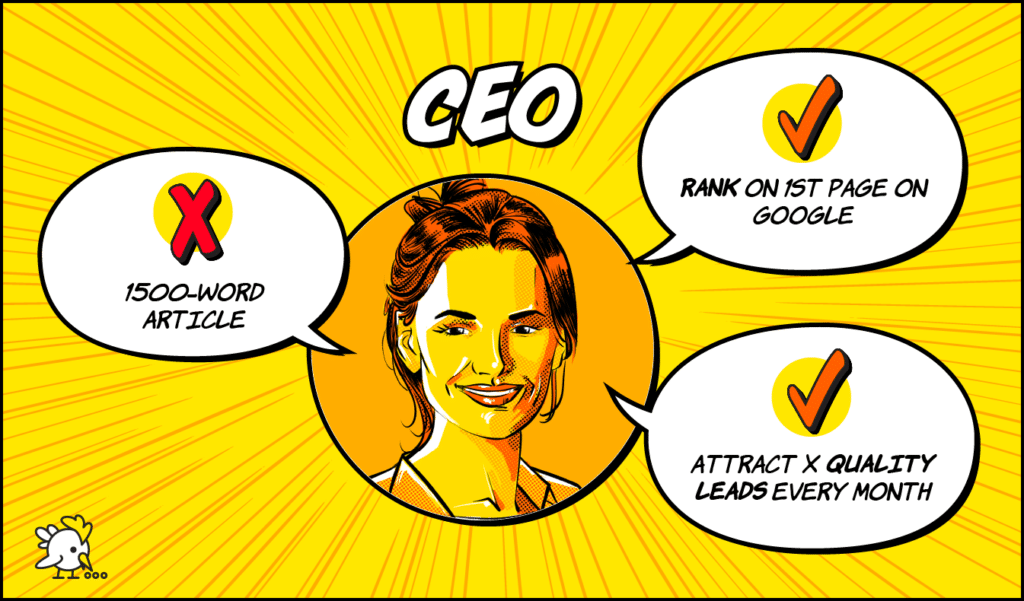 In the case of Booksy, an appointment management SaaS, the value revolves around:
Reducing the amount of money and time clients spent on no-shows, and
Processing payment, promoting business across email and SMS, and inventory, appointment, and employee management in a single platform
Marcin Stryjecki, the SEO project manager at Booksy, adds, "Both of these things were the starting point of establishing customer value, which was a huge contributor to our ultimate pricing."
Pro Tip: Robin Waite, founder of Fearless Business, recommends offering a high-value offer on top of your standard plans. 

He shares with Breadcrumbs, "99% of SaaS tools have three-tier pricing loosely in a similar bracket $29-$99/month or thereabouts. Many could benefit from having a high-value offer which is four to five times the price of their top tier." 
Robin makes an interesting point. He's referring to a personalized white-glove service that offers a high ROI.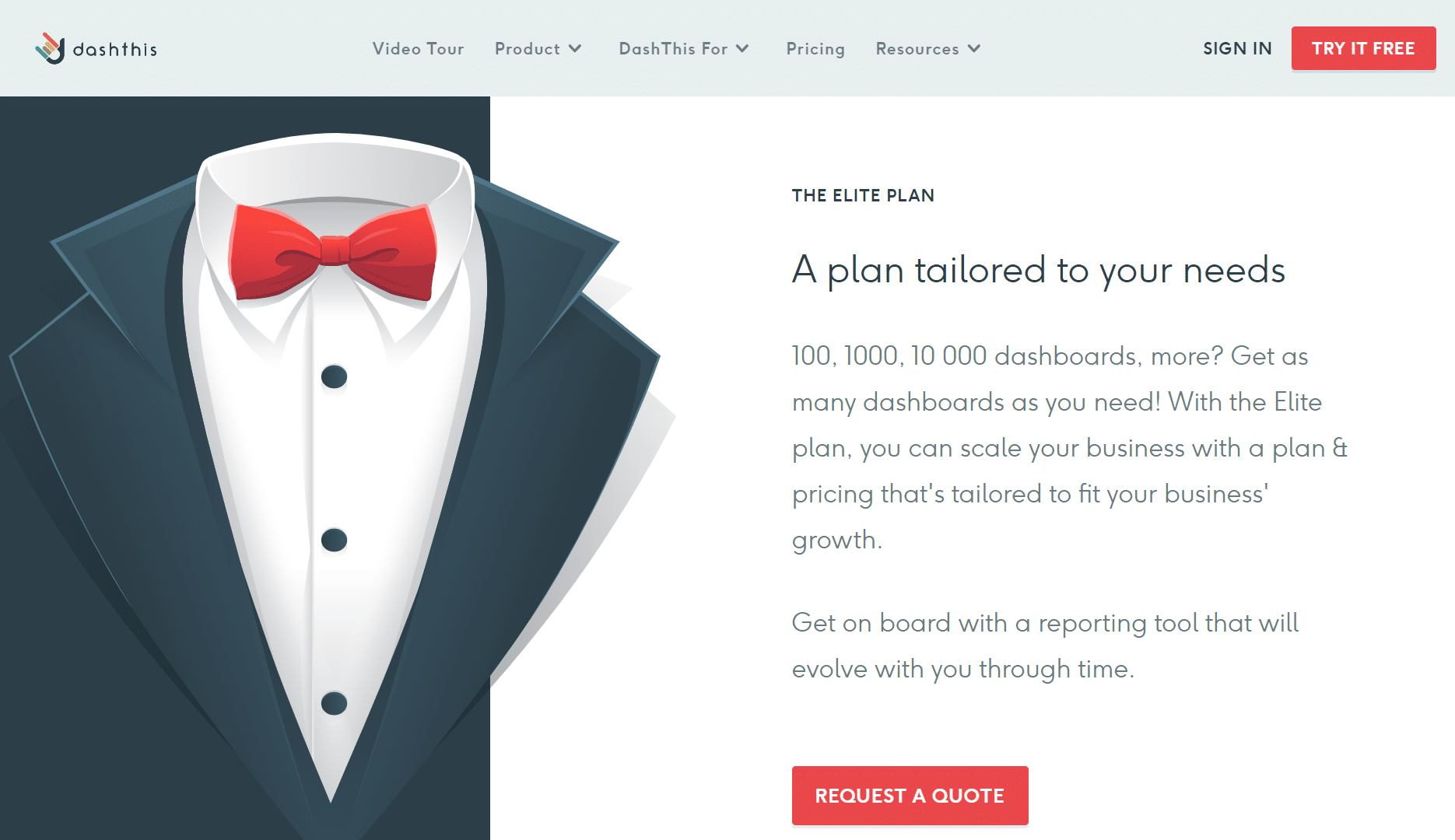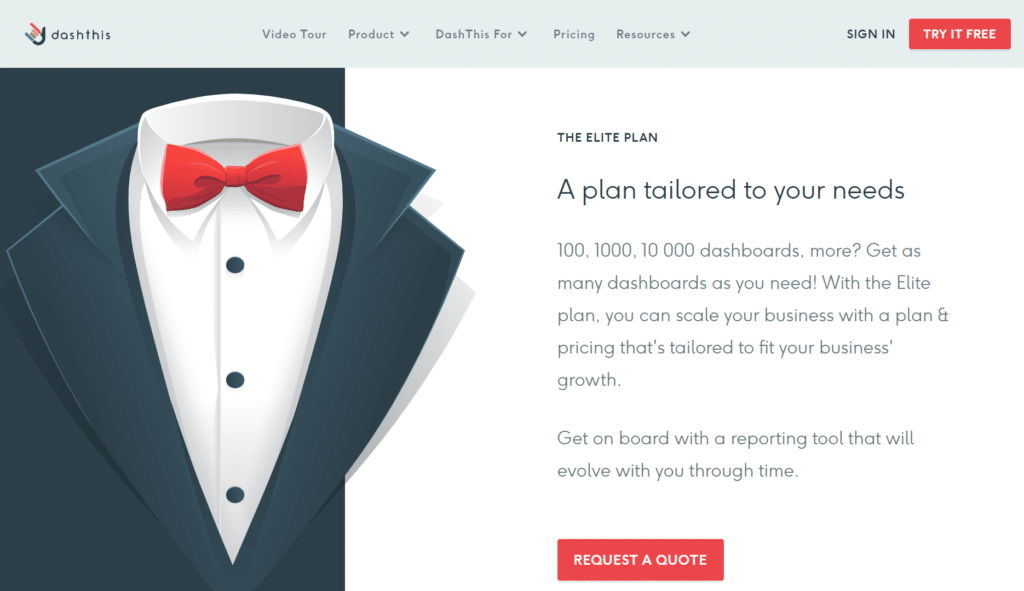 It's one of the surefire ways to boost growth. In an article on McKinsey, companies that provide a white-glove service saw a revenue increase of 30%.
Made possible with cross-functional collaboration, this type of high-value and high-touch user experience "must be tied into every business unit that interacts with the customer, including sales, marketing, product design, collections, and the front line."
Tools like Breadcrumbs can help in this area, notably when eliminating silos between the marketing and sales department and building a single source of truth.
To get started,
Connect Breadcrumbs.io to your data sources
Create a scoring model (you can either answer a few simple questions or use the intuitive model builder to create a new one from scratch)
Identify your best revenue opportunities—from catching churning customers to upselling them—without all the guesswork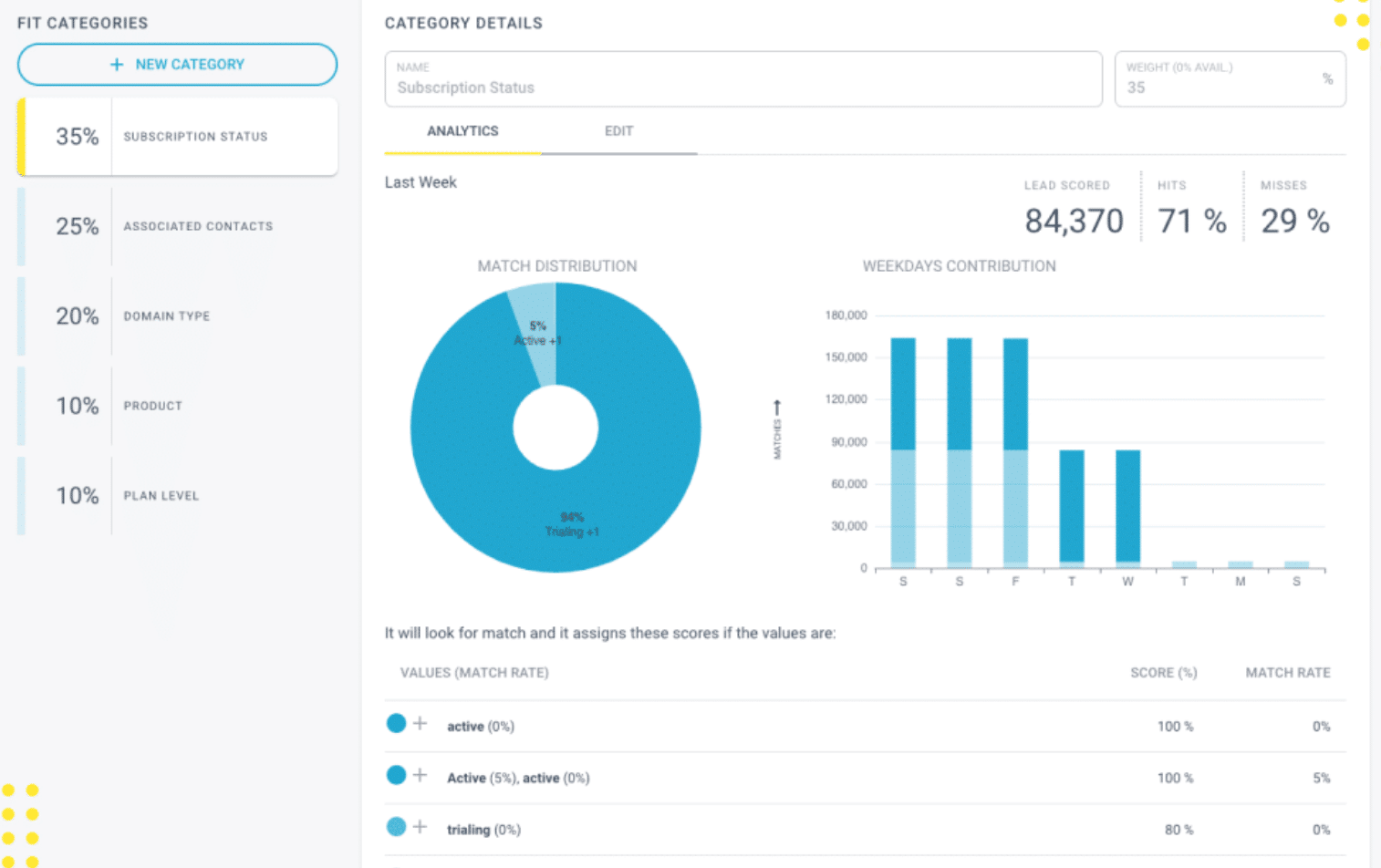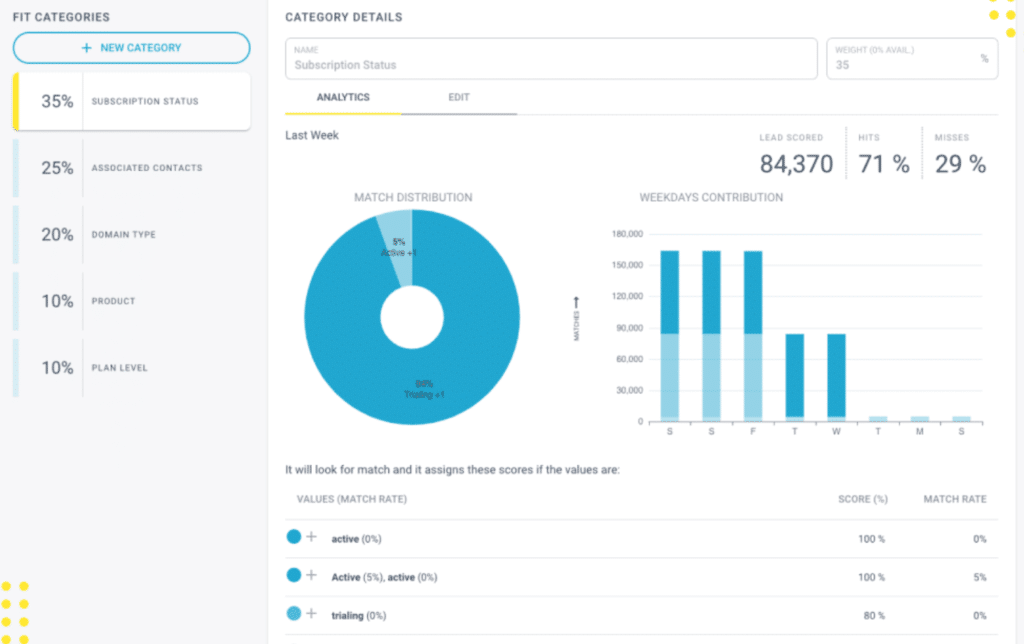 Now that you know how to catch your best leads at the right time, you can convert them to lifelong customers by creating a white-glove experience across all touchpoints.
Request your demo with Breadcrumbs today.
Price Optimization Tip #2. Reference Competitors
45% of businesses in the US agreed that responding to competitive prices is the biggest challenge in price optimization.
If you, too, struggle with staying on top of your competitors, this tip is for you.
"See how the competition is pricing their products and the market they're targeting," suggests Caroline Hoy, the head of marketing at Concord.
"But don't just copy them."
For instance, if your competitors price their premium subscription at $100 and you're after the same customers, consider pricing yours at $80.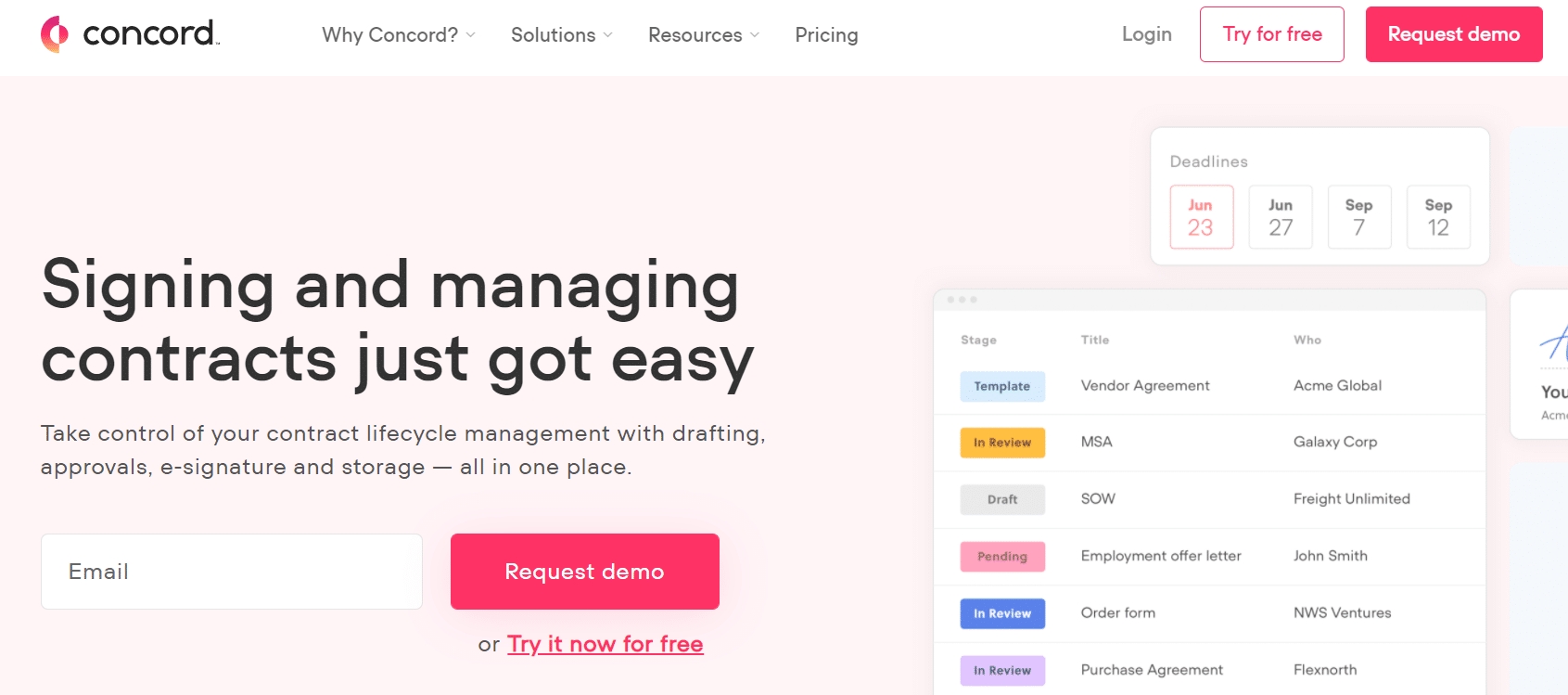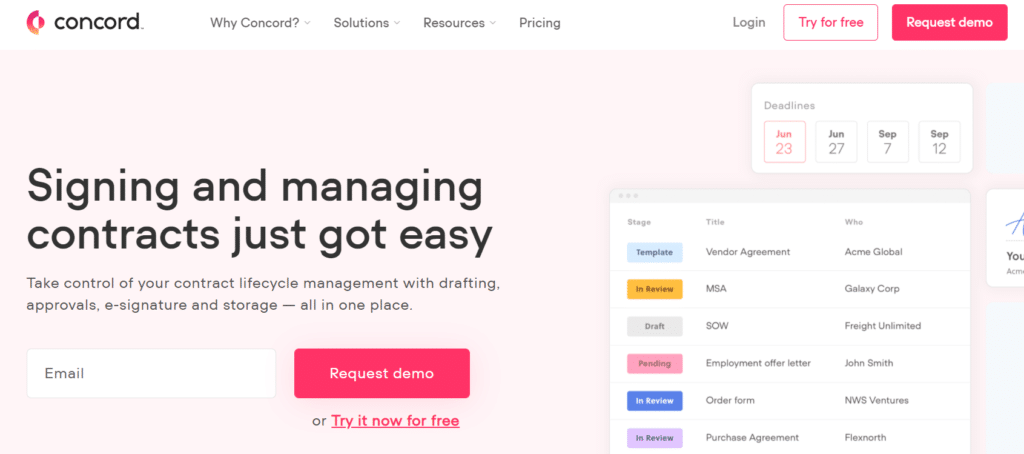 Caroline recommends announcing the new price via promotion and then gradually increasing it when you've established demand, and you're confident in the quality of your product.
Reminder: Remember to factor in other data, including maintenance, customer acquisition cost, and exchange and inflation rates in your pricing.
Done setting a price? Great!
Now think about how you'll enter the market and how much your price affects your strategy.
Caroline shares a great tip:
"If you're trying to sway customers away from established brands, you need to strike a balance between value and prestige."

"Avoid undercutting the competition by so much that you end up associating your brand with inferior quality."

Caroline Hoy, head of marketing at Concord
"At this price point, potential clients still consider these significant savings, but not so much that they associate your brand with the 'cheap option,' explains Caroline.
Bryan Philips, the head of marketing at In Motion Marketing, concurs, "Being competitive is important, but don't sell yourself short. Customers will pay more for a service that provides them more value than a cheaper provider."
To remain prestigious in your customers' eyes, display social proof on your website. 
Concord does this in myriad ways. Just on the homepage alone, anyone can spot the stellar user ratings and logos featuring some of its big-name clients.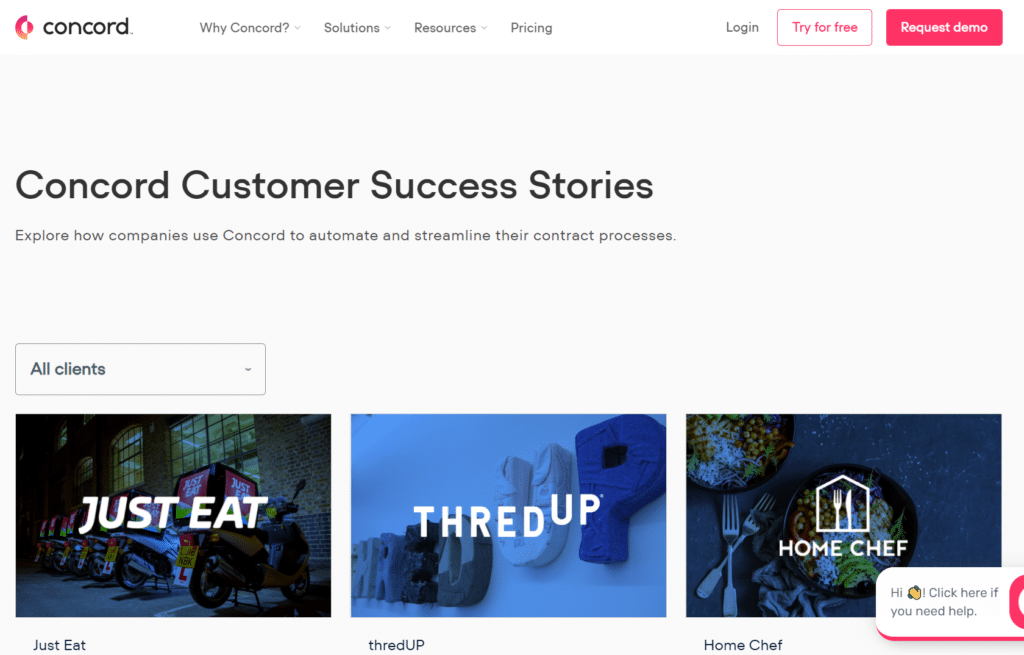 The contract management SaaS startup also dedicates a page solely to its customer success stories.
Price Optimization Tip #3. Continue Experimenting
Price optimization isn't a one-time thing.
Here's an interesting case study featuring UploadCare to emphasize its vital importance.
UploadCare had a generous free plan and a $25 plan for users who hit a limit back then.

Fast forward to July and August 2020, the content delivery app decided to focus on enterprise clients. It reduced its free plan and set its default pricing to $365.

"In the beginning, it all looked good," divulges Barbara Sawala, the online visibility builder at UploadCare.

"Even though the number of new customers decreased, our revenue numbers were growing."

Months later, Barbara and her team realized that their cohorts were unhealthy. Churn rate was high, and the number of new customers and active users dropped.

Plus, paying customers weren't using the platform enough. They didn't reach the limits to pay the total price. 

"We even launched a new product page, but it didn't work," laments Barbara.

Suffice to say, customers didn't respond well to the new pricing model. 

During the same year, UploadCare brought back the free plan. The default pricing was set to $45/month, attracting 100 new users compared to the months without a free plan. 
"In these circumstances, the chance of attracting a potential unicorn is much higher, as the pool becomes bigger."

Barbara Sawala, the online visibility builder at UploadCare
As you can see, price optimization isn't a one-and-done. It's a practice that you should keep at it.
"You need to constantly monitor to make sure that your prices stay competitive so that you're not losing customers," reminds Marcin.
Price Optimization Tip #4. Adjust Price and Monitor
Moving forward, you'll want to stay on top of your pricing and continue adjusting it.
There's no rule of thumb on how often you should change it, as it'd depend on the growth stage of your company.
ProfitWell recommends six to nine months.
Any sooner than that, and you'll run the risk of frustrating customers.
In an article in the Harvard Business Review, Utpal M. Dholakia warns that doing so draws attention to your price instead of the product's features (a.k.a. the very factors that make your brand special).

In terms of monitoring data, Daivat Dholakia, director of operations at Force by Mojio, recommends leveraging seasonal deals.
He says, "If a 20% discount on your product sends your sales skyrocketing, take note of it. Pay attention to the kind of customers that wait for lower prices versus those that buy when it's normal or higher."
Pro Tip: As you raise your pricing, avoid making everything more expensive at once.
"Establish some 'gateway' products that you want to continue pricing competitively. These will be your most popular products or perhaps the bottom-level tier of a subscription. While you may want to raise prices here too, these should stay at a more consistent level."

Daivat Dholakia, director of operations at Force by Mojio
In the GPS fleet management startup's case, this 'gateway product' is $15 per vehicle per month.
Don't Make Price Optimization a One-Time Thing
But also, don't change your pricing too often. 🙂
Yes, price optimization can significantly impact your business bottom line, but you shouldn't do it so often that you run the risk of frustrating your customers.