Ever wonder how a SaaS startup goes about choosing its price points?
You know what we're talking about, the kind of pricing plans where your best customers have no issues paying for and bring on profit in your company.
On the surface, it looks straightforward. Spy on competitors, sell your SaaS product cheaper and wait for customers to flock in. Sounds simple, right? But as you dig deeper, there are a lot of factors that come into play here.
For instance, the tech landscape. How do you make sure you're evolving your pricing model and ensure you're not leaving money on the table?
That's what you'll learn in this pricing analysis guide. Today, we'll introduce you to seven SaaS startups and how they ended up with their current price points.
Let's nail your pricing today.
Pricing Analysis #1: AdEspresso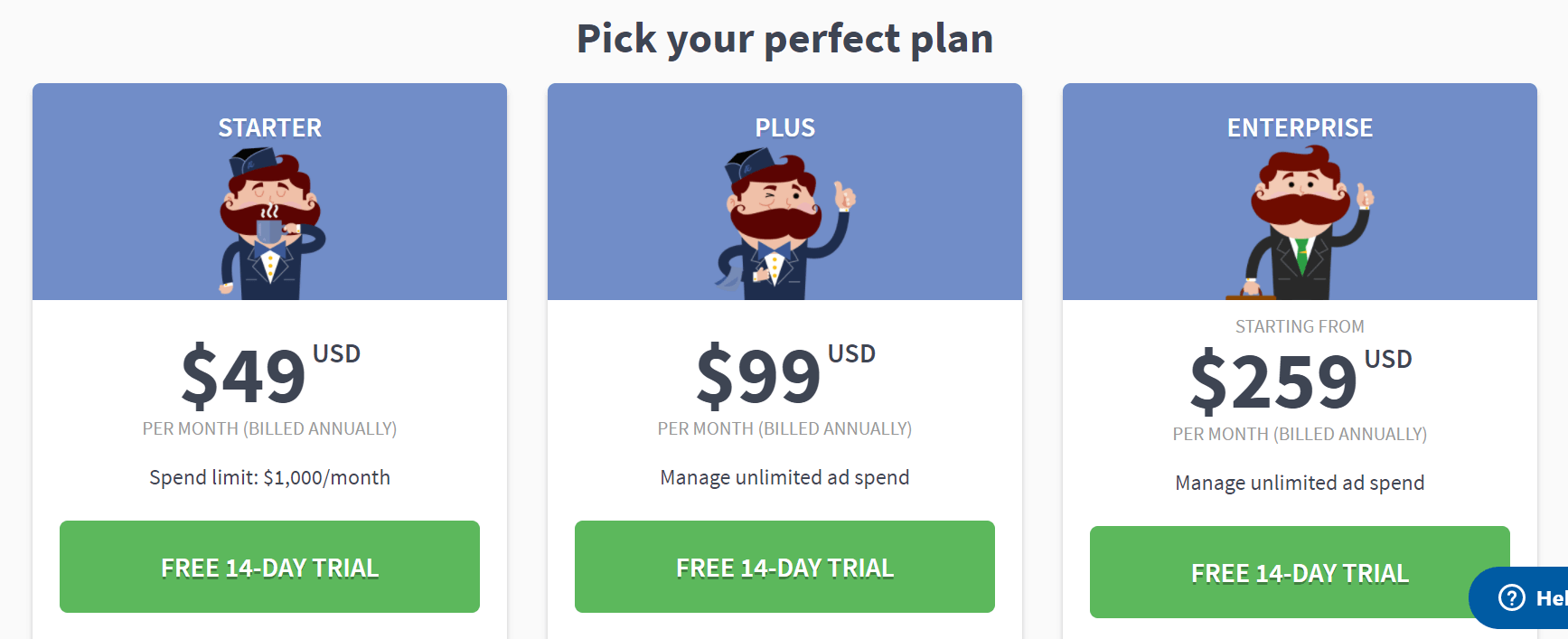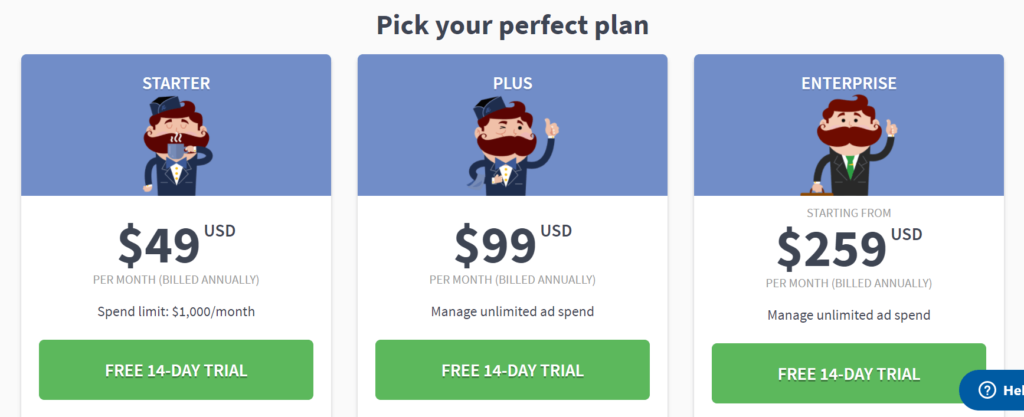 What Is It: Digital advertising platform
SaaS Pricing Model: Pay-per-feature
The AdEspresso co-founders had no idea how to structure their pricing. So they did what most of the SaaS startups on this list did: They analyzed their competitors and made their pricing slightly cheaper.
On this SaaS pricing strategy, Massimo Chieruzzi says:
"This proved to be a great strategy at the beginning. We were acquiring customers at a lower price because of our blog. The cheaper pricing was still profitable and won customers from competitors."

Massimo Chieruzzi, co-founder and CMO of Breadcrumbs (and CEO and co-founder of AdEspresso)
As AdEspresso became market leaders, the team started conducting various price experiments to ensure they were not leaving money on the table.
Here are three significant things the startup did:
(i) Reducing the Free Trial from 30 to 14 Days
The shortened free trial greatly impacted AdEspresso's cash flow, as it helped the marketing team handle slow months and increased its trial-to-paid ratio.
With a shorter trial, users were more motivated to test the AdEspresso tool right away.
(ii) Playing with Plans and Pricing
In the second testing phase, the team experimented with subscription plans and pricing.
Massimo reveals, "This effort led to increasing the value in each plan and also increasing the prices. Given the high volume of subscriptions we had, this drove a meaningful increase in revenue."
(iii) Prioritizing Cash Flow
AsEspresso focused on cash flow—specifically, it tried to make the annual plan more attractive (i.e., selected by default).
The team tested various discount levels for the yearly plan to figure out which would make the biggest difference.
Pricing Analysis #2: DashThis


What Is It: Automated marketing reporting tool
SaaS Pricing Model: Usage-based
DashThis describes its pricing model as "clear and straightforward"—and we couldn't have said it better ourselves. All users have to do is pay for the number of dashboards they need.
Stéphane Guérin, founder of DashThis, reveals to Breadcrumbs that he and his team have increased prices three times during the first few years of business.
Here is Stéphane's initial thought process behind it:
"Our first pricing was based on an unrealistic assumption that we could have thousands of clients. When clients came in a few at a time, it became clear we couldn't get to profitability with such low pricing (note: at that time, DashThis' pricing was around $19 to $199/month unlimited). We increased the pricing and removed the unlimited option, but we kept noticing clients were eager to solve their problems, so we figured the value must be greater than we thought."

Stéphane Guérin, founder of DashThis
Regarding the current price point ($33 to $499/month), Stéphane shares that he and his team feel they "have the right balance."
"We have enough people signing up saying that we're not cheap but not expensive either," says the founder. "Few users said we were very affordable. And some told us we were expensive."
Stéphane settled on 15 days in terms of trial length, as it was the standard in the B2B SaaS industry.
"We offer to extend it if there's a need, but this allows us to talk with our clients and help them if 15 days weren't enough. Usually, a client knows if the product is right after the first few days, so 15 days seem plenty."

Stéphane Guérin, founder of DashThis
Pricing Analysis #3: Nozzle

What Is It: Keyword rank tracker
SaaS Pricing Model: Tiered
Nozzle first looked at its direct and indirect competitors before nailing down pricing.
Boyd Norwood, VP of marketing at Nozzle, shares that they ended up pricing their product higher than direct competitors as they track and store more data.
Over the next few months, Nozzle collected feedback from the sales team to assess whether their price points were working (author's note: This is a no-brainer as sales reps have the most number of interactions with leads about pricing!).
"We also gave the sales team flexibility to offer discounts to close the deal," adds Boyd. "Compiling all these real-world pricing points helped us understand what the market was willing to pay."
By analyzing data from the client conversations, Nozzle determined its ideal pricing—one that is competitive in its space, does not hinder trial sign-ups and priced high enough to position the startup as an enterprise-level rank tracking tool.
Pricing Analysis #4: Ashore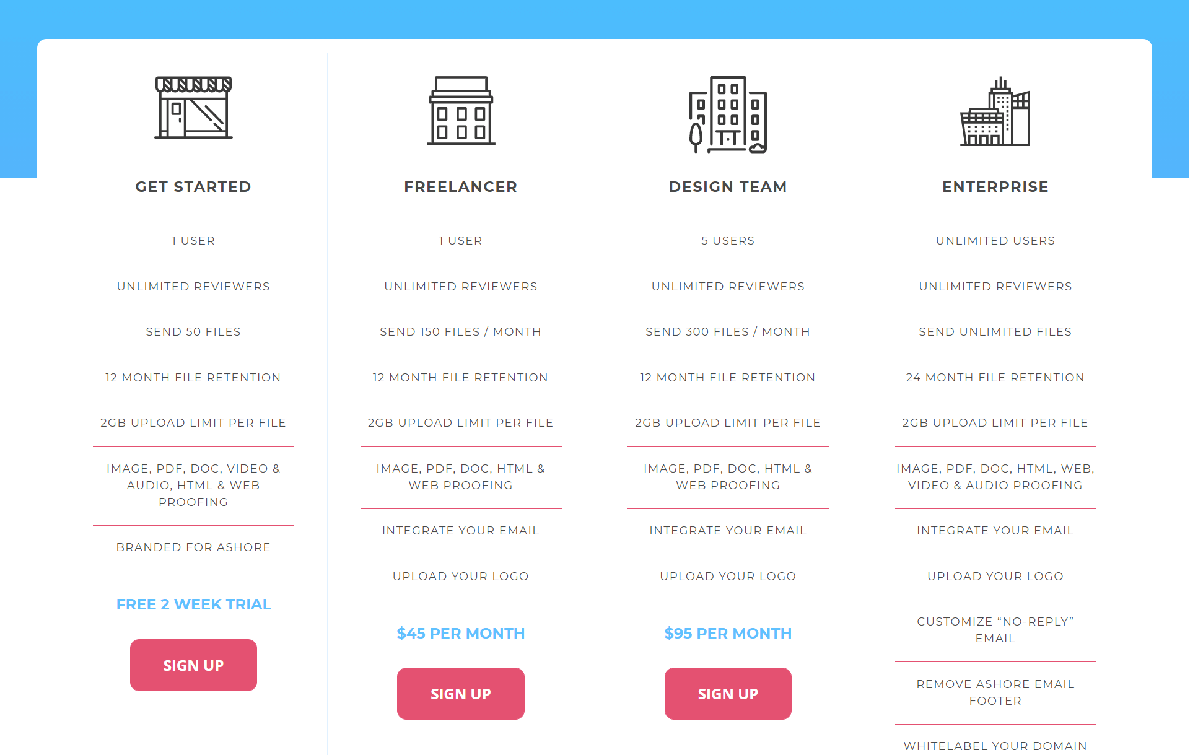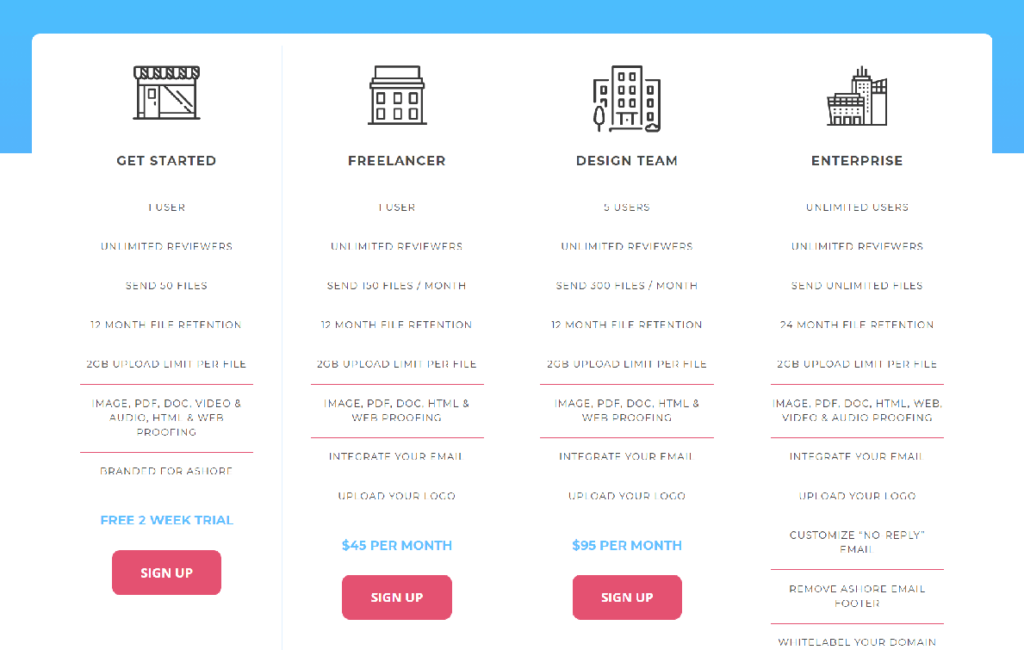 What Is It: Digital collaboration tool
SaaS Pricing Model: Tiered
Cody Miles, CEO of Ashore, admits that it's tricky to set pricing for a SaaS startup: "You want to price high enough to turn a profit, but it's difficult to gain those early clients without a strong incentive."
When Cody launched the MVP version of Ashore, he started with low pricing:
"We made sure it was half the cost of our well-established, venture-funded competitors. As a bootstrapped company, we were under no obligation to compete head-to-head. It would have been impossible anyway. As our product grew, matured, and gained more users, we experimented with price increases."

Cody Miles, CEO of Ashore
Being a digital collaboration tool that enables remote work, sales skyrocketed during the pandemic—so much so that the Ashore team was able to increase their pricing three times.
"We've continued to inch up since then," reveals Cody. "Today, our product still costs less than our top competitors, but it competes feature-for-feature."
Genius, isn't it? This strategic approach positions Ashore as a price-advantaged and feature-advantaged product.
Pricing Analysis #5: monitorQA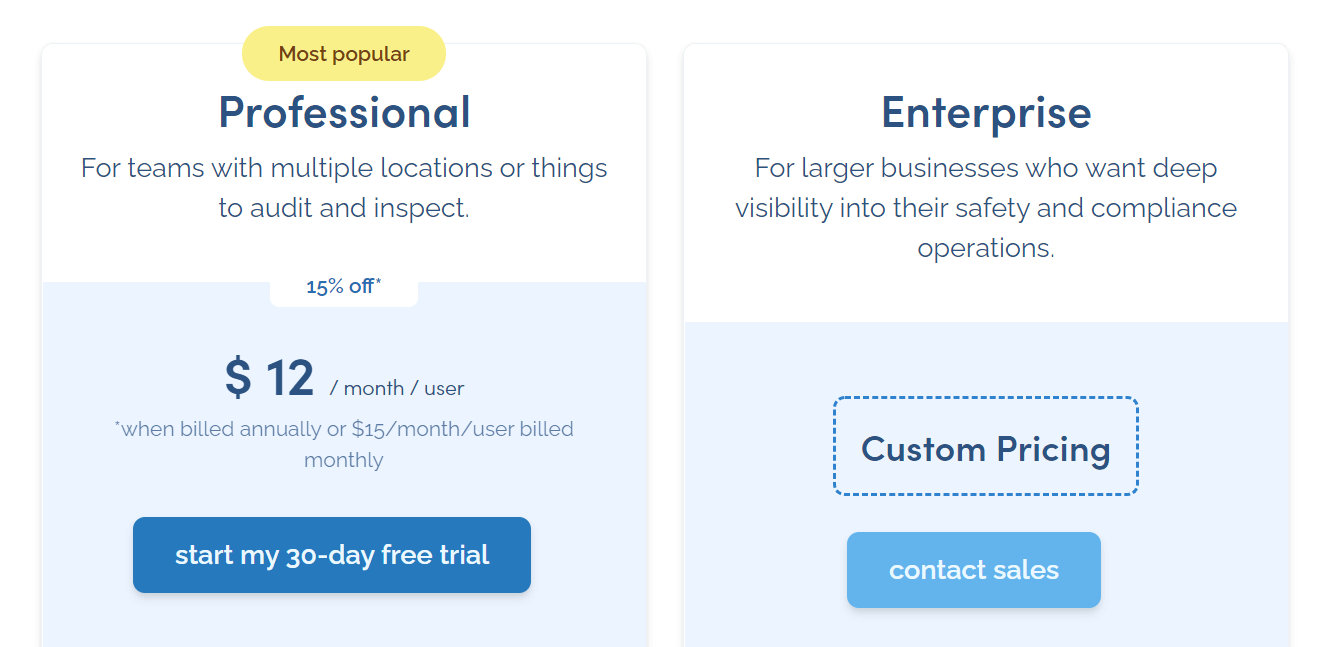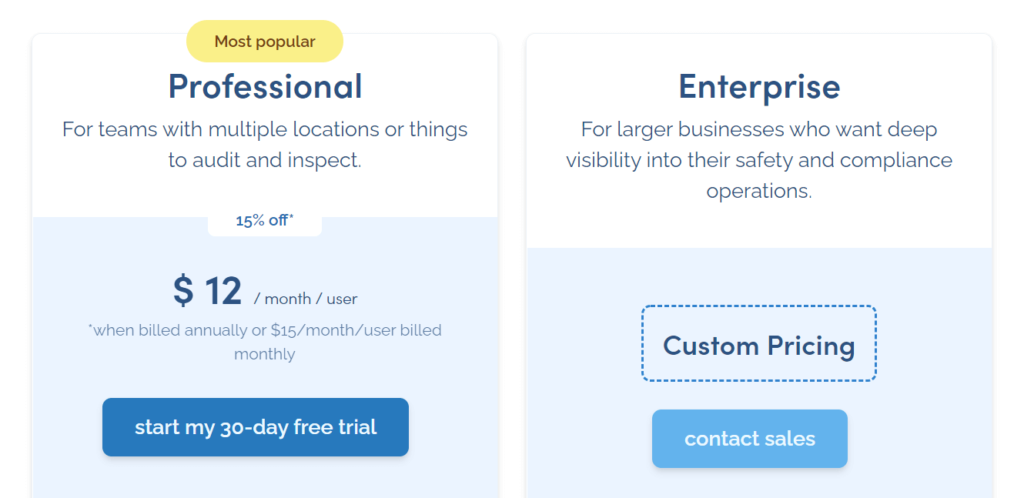 What Is It: Mobile inspection app
SaaS Pricing Model: Pay-per-user
The team at monitorQA sees its pricing as a hypothesis. CRO Andrew Motiwalla shares, "We intend to continue testing and see what the market responds to."
Since the startup's target audiences are wildly different, the team needs to experiment with industry pricing. According to Andrew, each sector uses and values monitorQA differently.
"Restaurants may have many locations, but they have low-profit margins. They can't spend a lot of money per location for technology," explains Andrew. "On the other hand, manufacturing's usually concentrated in a few plants. They can spend more per location to ensure health, safety, and quality standards."
"Our core value proposition is that we have the essentials required in mobile auditing software. Since we're not bloated with features that most businesses don't need, this allows us to charge less than competitors."

Andrew Motiwalla, CRO of monitorQA
In the future, monitorQA plans to offer more sophisticated features on an à la carte basis. This gives clients the option to add features at a price they're willing to pay for.
Trial length-wise, it makes sense for the startup to opt for 30 days.
Andrew shares that users need to either import or build an inspection template and add at least a user before they start realizing the product's full value.
He admits, "While we would love to increase the sales velocity by making the trial 14 days, the reality is that users are busy, and our product requires some set-up time before they can test drive the product.
Pricing Analysis #6: Amaka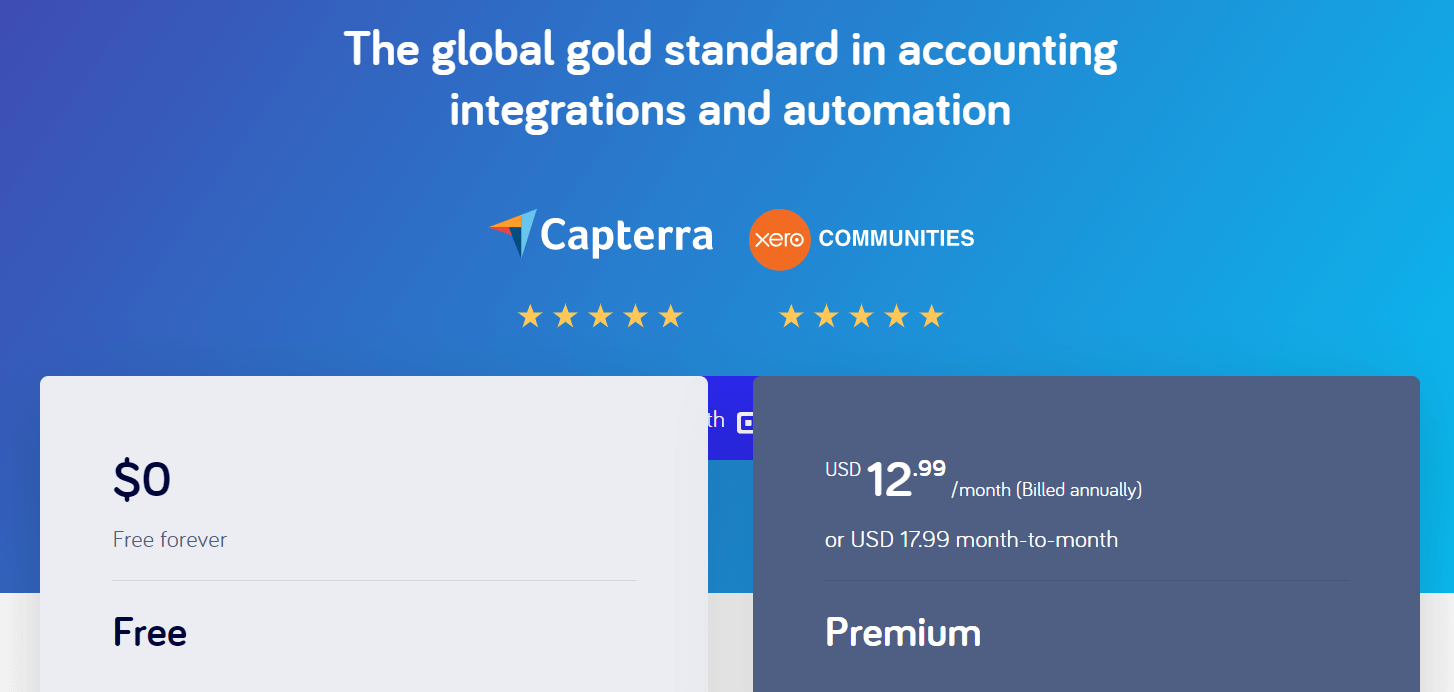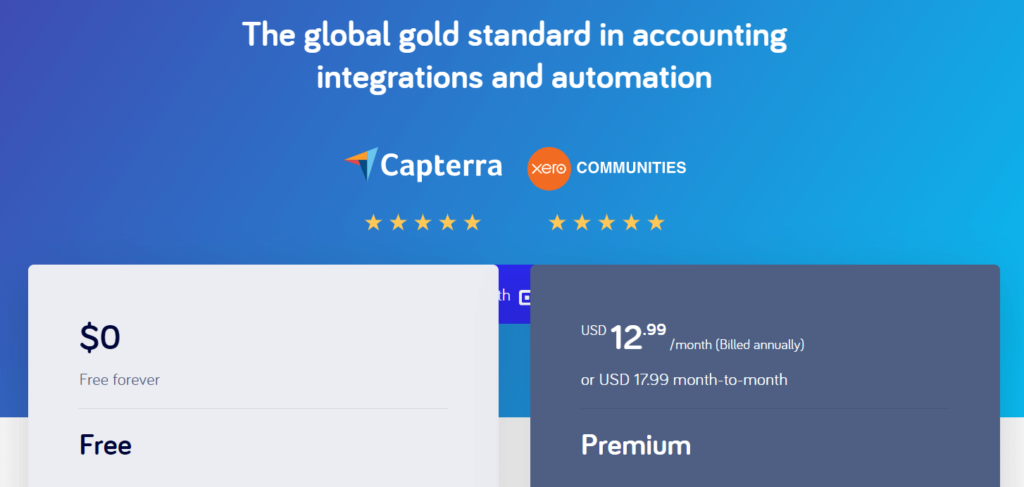 What Is It: Accounting integrations tool
SaaS Pricing Model: Freemium
For Amaka, it took multiple experiments to find its sweet spot.
COO Francesco Martella felt that their pricing structure needed to be flexible and fluid enough to adjust, as the product's position in the market will evolve in the ever-changing tech space.
The hardest part of generating momentum with a new product? Getting the user to try it.
Because of this, Amaka deliberately picked a freemium model to remove potential friction points. (Side note: There's a lot that goes into the freemium pricing model. If you're curious to learn more, check out this Freemium vs. Free Trial guide.)
"We strongly believed in our product and wanted to leverage the power of vitality through a low-entry barrier and referral model."

Francesco Martella, COO of Amaka
Francesco cautions that it's important to calibrate the freemium model carefully, especially when your product appeals to the global market.
The reason? "It can easily be subject to a high churn rate or devaluation of the premium version of your product," warns Francesco.
He adds, "We balance cost-based, competition-based, and value-based pricing to offer the best cost-to-value ratio to our audience. The model proved to be successful and greatly contributed to our rapid growth."
Pricing Analysis #7: Vocal Video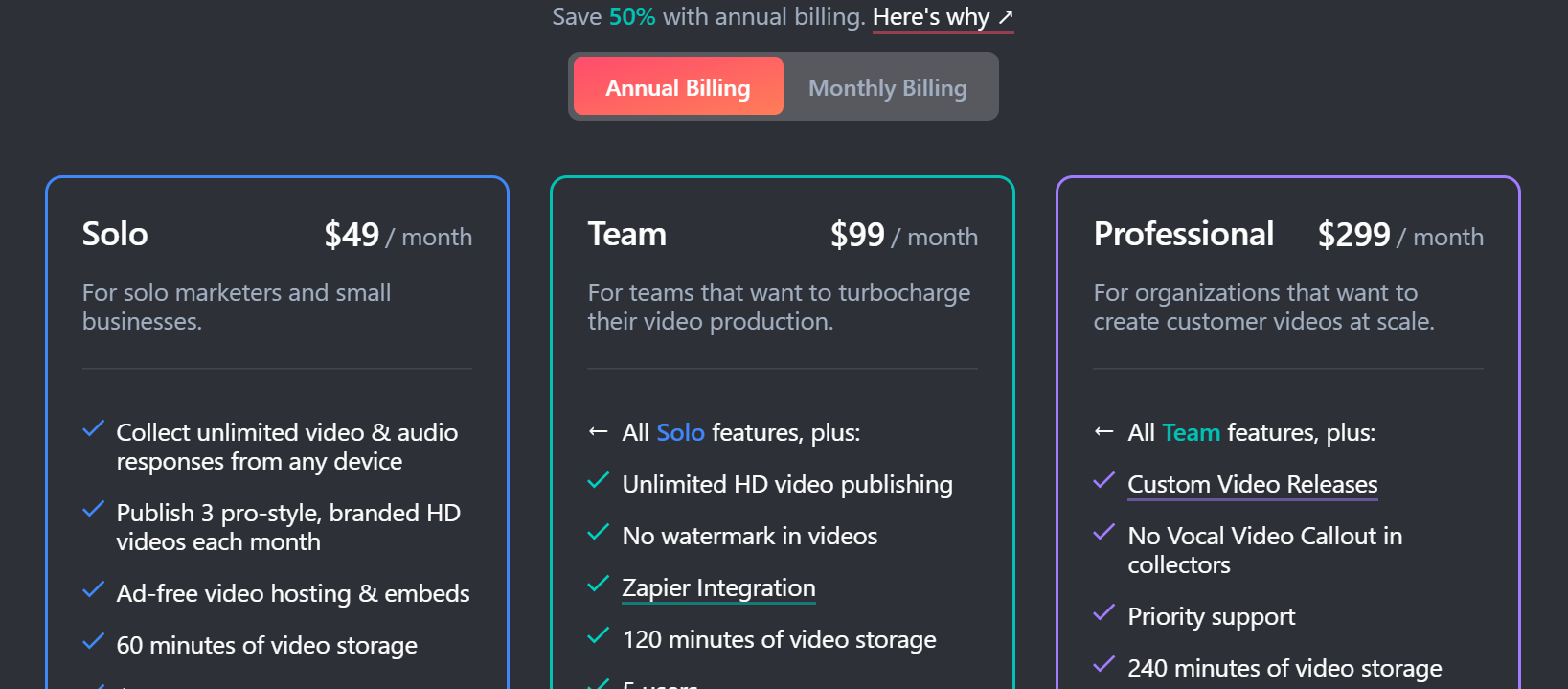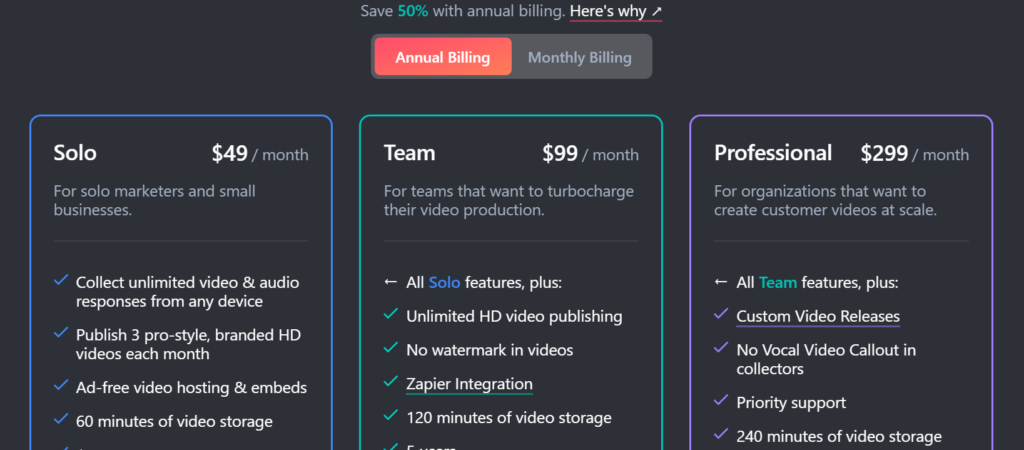 What Is It: Video testimonial and review tool
SaaS Pricing Model: Pay per-feature
Vocal Video is on its third pricing iteration since its official launch in July 2020.
Lauren Locke-Paddon, VP of marketing at Vocal Video, considers pricing and packaging as a series of experiments that she'll engage in regularly in the early days of the company.
For the first iteration, the Vocal Video team looked at their top competitors and qualitative (one-on-one phone calls) and quantitative data (surveys) based on their early access program members.
The team quickly realized that if they wanted customers to sign up for their annual plan, they needed better incentives. Vocal Video ended up offering a whopping 50% discount on its yearly subscription.
"Each pricing change or experiment is carefully weighed and considered by the entire leadership team, including running potential scenarios for its anticipated effect on customer lifetime value, average revenue per user, conversion rate, and retention."

Lauren Locke-Paddon, VP of marketing at Vocal Video
Moving forward, the team tracks and reviews the metrics to determine what's working and what needs to be pulled back.
Bonus: 3 Final Tips on Pricing Analysis
(i) Use Surveys to Gauge Customers' Pricing Preferences
If you're running an early-stage startup, survey your target audience to figure out their pricing flexibility.
Ashley Stryker, marketing director of AC Health, a telehealth app that's recently moved out of live beta, created a survey based on the Van Westendorp model: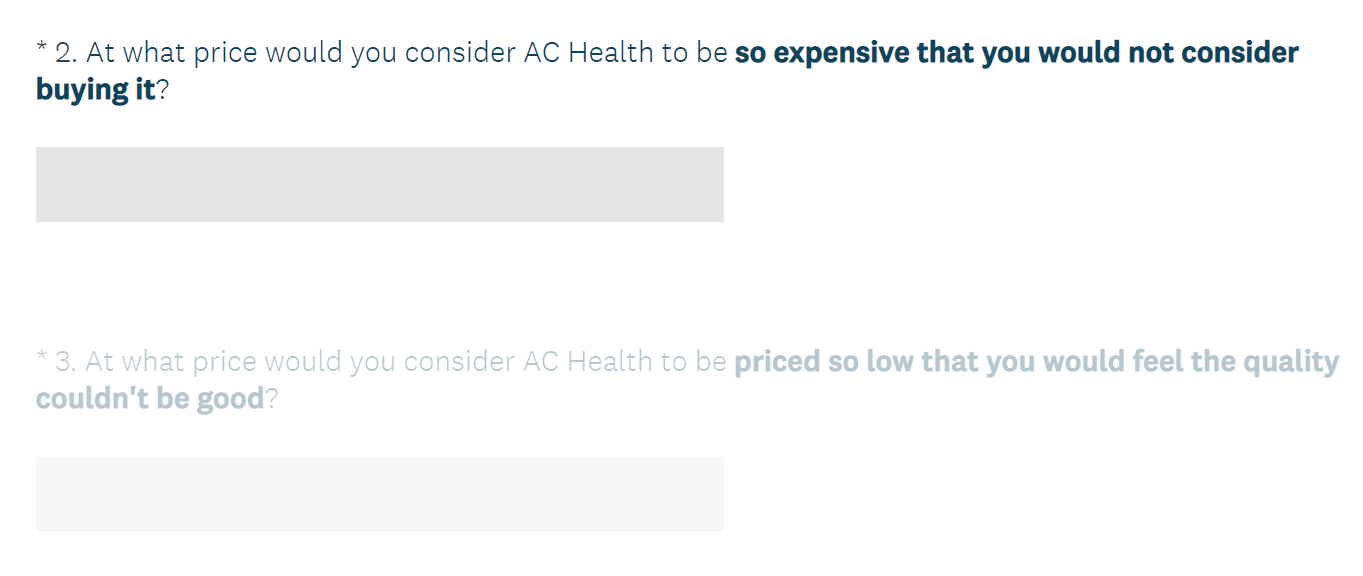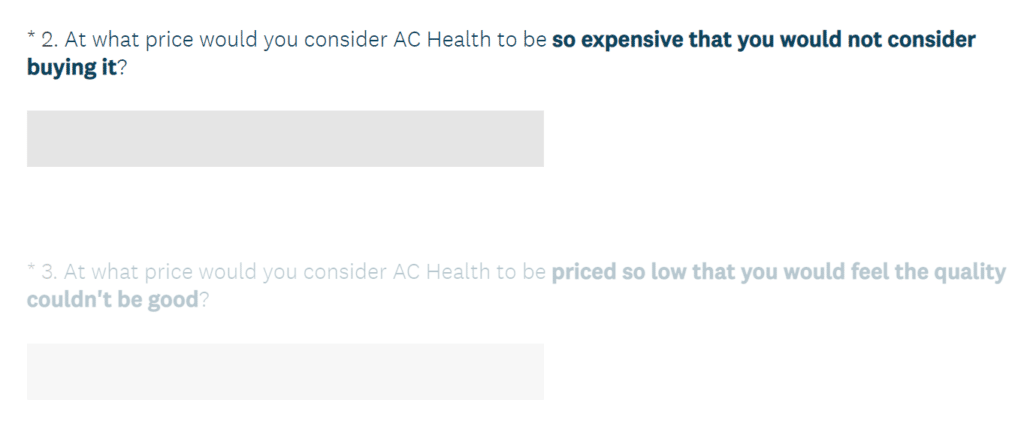 "It's a starting point for us," shares Ashley. "I've designed it in such a way that we're not artificially underpricing ourselves per what our current user base can bear."
(ii) Increase Your Pricing Until It Concerns (Some) Potential Customers
Narrator, a data platform, has iterated its pricing a lot over the last two years.
Cedric Dussud, co-founder of Narrator, shares, "We follow this rule of thumb: Increase your pricing until it's a problem for 20% of your potential customers."
Narrator initially started with a usage-based pricing model with a self-service sign-up. However, as time passed, it became apparent that customers struggled with onboarding.
Cedric explains, "We switched to a more traditional sales model—one where customers would sign up for a sales call, we would qualify and then work closely with them to get started."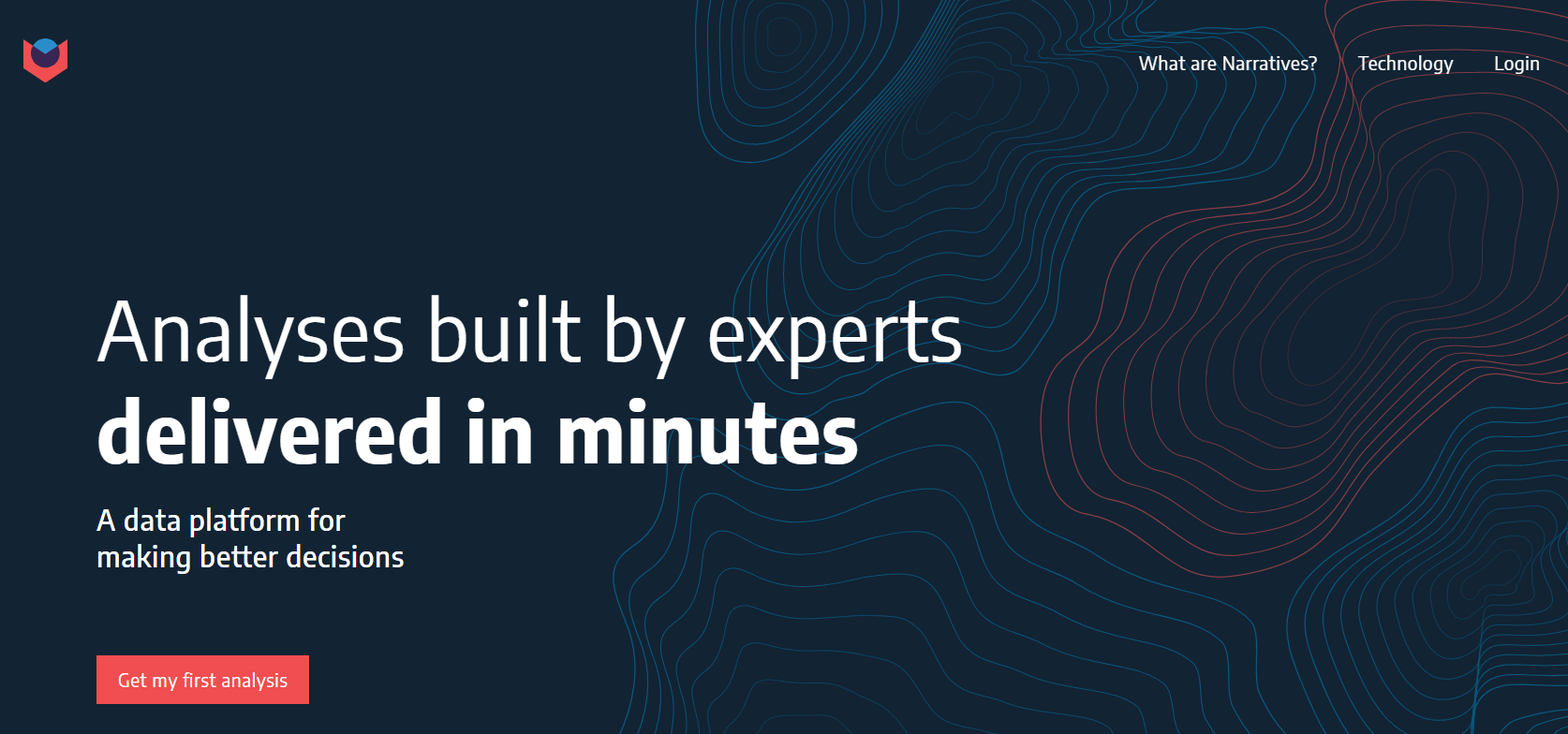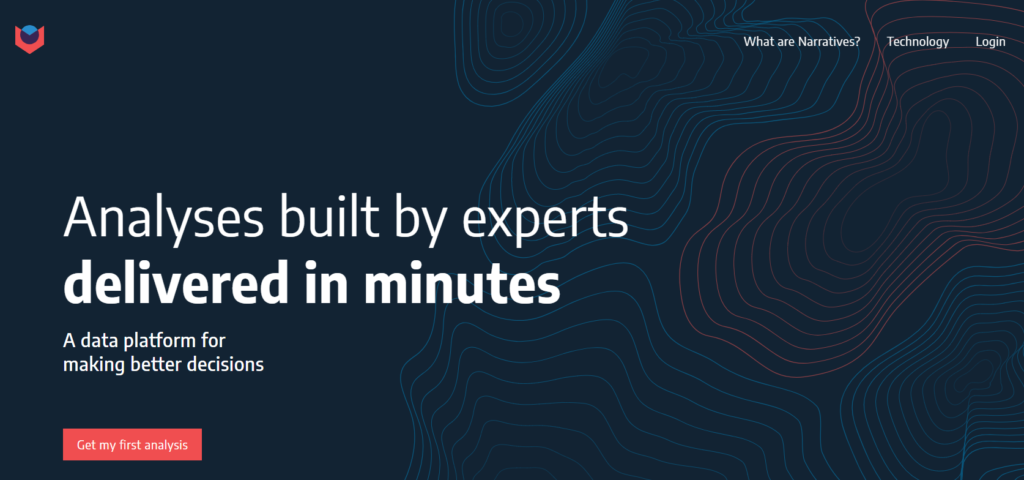 Using this hands-on approach, Cedric and his team can understand customers buy their products. Cedric adds, "This allowed us to follow our rule of thumb and slowly raise our pricing over time."
(ii) Focus on the Right Data When Conducting Your Pricing Analysis
During its inception, Storydoc priced its tool based on competition.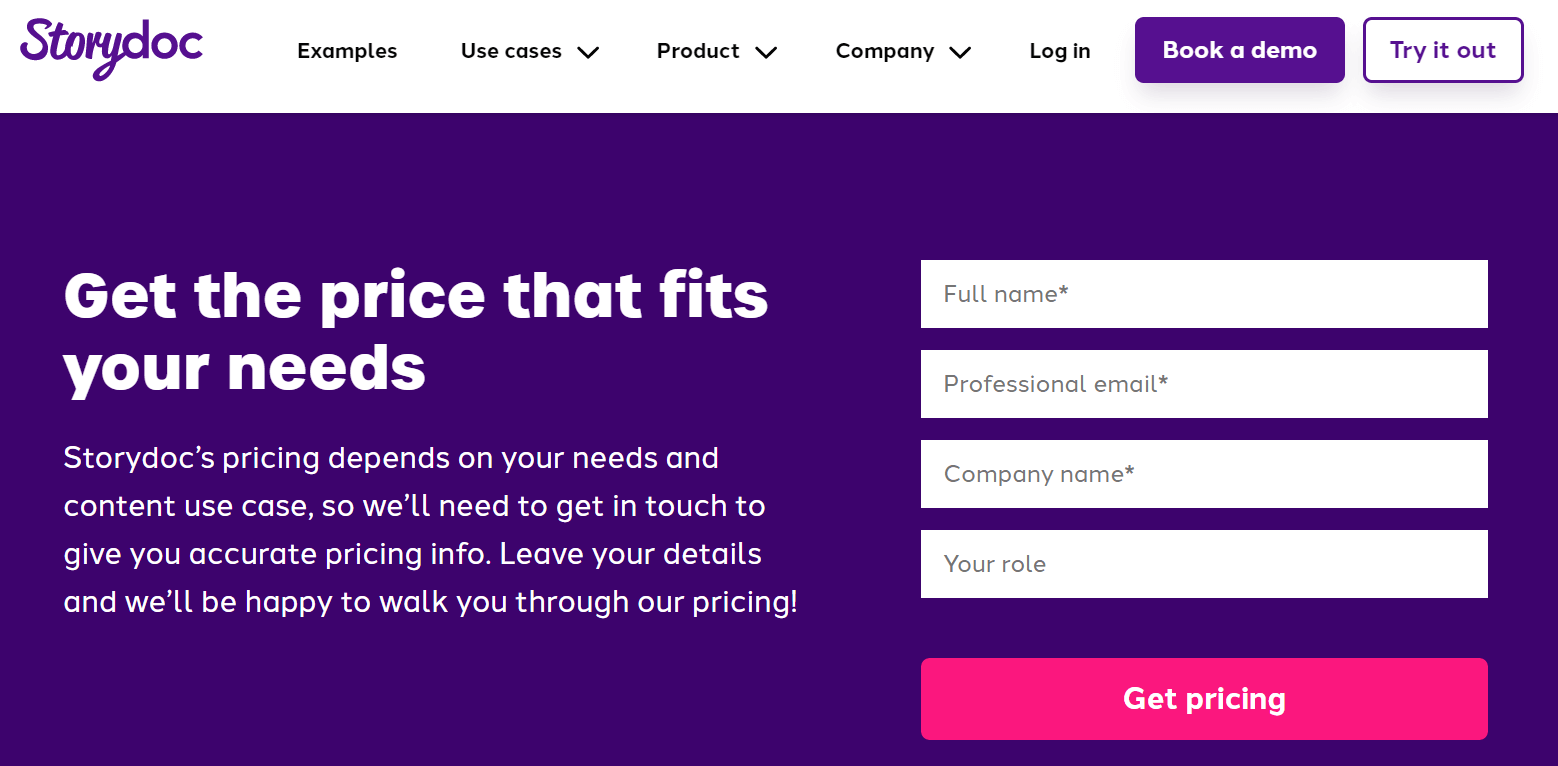 Itai Amoza, CEO and co-founder, says, "We wanted customers to see us as a premium tool, so we started at a slightly higher pricing point."
"After coming out of stealth mode and learning what usage drivers people are most willing to pay for, we created an excel calculator and started playing with different pricing options until we reached the packages that made sense."

Itai Amoza, CEO and co-founder of Storydoc
Itai and his team then spoke to relevant budget-holders to have a decent idea of what makes a reasonable price point for each company.
After launching its initial pricing plans, Storydoc continued updating them based on feedback and conversion data.
Itai shares, "We looked at two key metrics. One, the conversion rate for a paying customer after receiving a pricing quote. And two, the deal closing time. Our current pricing plan is a balance between these two."
Don't Leave Money on the Table: Make Pricing Analysis a Habit
Did you notice the running theme in this guide?
Pricing analysis isn't one and done.
It involves:
Evaluating the tech landscape constantly
Spying on competitors (and doing better to set yourself apart)
Iterating your model based on customer feedback and data
Prioritizing cash flow and customers, and
Experimenting!
Let us know how this pricing analysis guide helps with your SaaS pricing in the comments below. We'd love to see how it turns out for you.
Nailing your pricing is just one part of a powerful SaaS strategy. Another missing piece? Getting higher-performing leads for your sales team to close while they're smokin' hot. Breadcrumbs, a revenue acceleration engine based on co-dynamic lead scoring, is here to help. Book your free demo of Breadcrumbs today—and start closing more deals.