SpinupWP tried multiple strategies to increase its sales.
Among the most successful methods? A product comparison table that raised conversions by 4.7%.
In this guide, I reached out to SaaS startups and summarized their tips on improving their sales velocity. Here's what you'll learn today:
What is Sales Velocity?
Sales velocity measures how quickly your leads are moving through the pipeline, from opportunity to close.
Why is Tracking Sales Velocity Important?
Easy: Boost sales.
Who doesn't want that?
That's the biggest reason why you should track your sales velocity. More importantly, it helps you identify the specific areas in your sales cycle to improve on.
For instance, if you see a surge of opportunities and average deal size but a slump in your conversions, it might mean your leads are of poor quality.
In this case, you might want to set up a lead scoring system like Breadcrumbs to identify leads the most likely to buy.


For example, leads who visit the pricing or contact page will get a score of 30%. Once leads hit a threshold of 50 (note: this is customizable), Breadcrumbs will notify the sales reps to take action.
Book your demo with Breadcrumbs to improve your sales velocity today.
"Sales velocity happens when a company's strategy and selling motions are lockstep, rather than isolated to a team of ravenous deal hunters.

Any company that has put in the hard work to align their product, marketing, and organizational strategies the right way are a solid sales motion and process away from revenue acceleration."

Mike Welsh, CEO of Uptime
The Sales Velocity Formula
(Number of opportunities x Average deal size x Conversion rate) / Pipeline length
4 Sales Velocity Metrics You Need to Know Today
1. Number of Opportunities
Total number of sales activities / Number of opportunities created
2. Average Deal Size
Total revenue achieved in a period / Number of closed-won opportunities 
3. Conversion Rate (a.k.a. Win Rate)
Number of conversions (i.e., actions completed) / Total number of visitors
4. Sales Cycle Length (a.k.a. Pipeline Length)
Total number of days for a deal to close / Total number of closed deals
How to Boost Sales Velocity
1. Focus on Ready-to-Buy Leads
What this sales velocity tip does: Shorten sales cycle
No leads are equal.
To identify your "ready to buy" leads and close deals quickly, integrate a lead scoring system in your CRM.
Lee Grant aptly puts it, "Instead of wasting time and effort qualifying chances that may or may not materialize, concentrate your efforts on prospective buyers."
The CEO of Wrangu shares a pro tip, "Consider approaching the higher-ups."
These executives will be more aware of the purchasing opportunity and might prioritize your product.


With Breadcrumbs' Fit model above, you can assign a score to a specific job title (e.g., 100% for CEOs and 80% for CMOs).
And never worry about pitching to the wrong audience.
2. Stack Up Your Product Against Competitors
What this sales velocity tip does: Improve conversion rate
What's one startup's unfit customer is another startup's opportunity.
Brad Touesnard, founder and CEO of SpinupWP, created a product comparison table to show why his product edges over the competition.
Here's where it gets interesting: SpinupWP didn't blindly create the table from inspiration.
The startup first researched its target audience to learn which specific product features were the most important.
The result? A table comparing 20 key features with five of its closest competitors.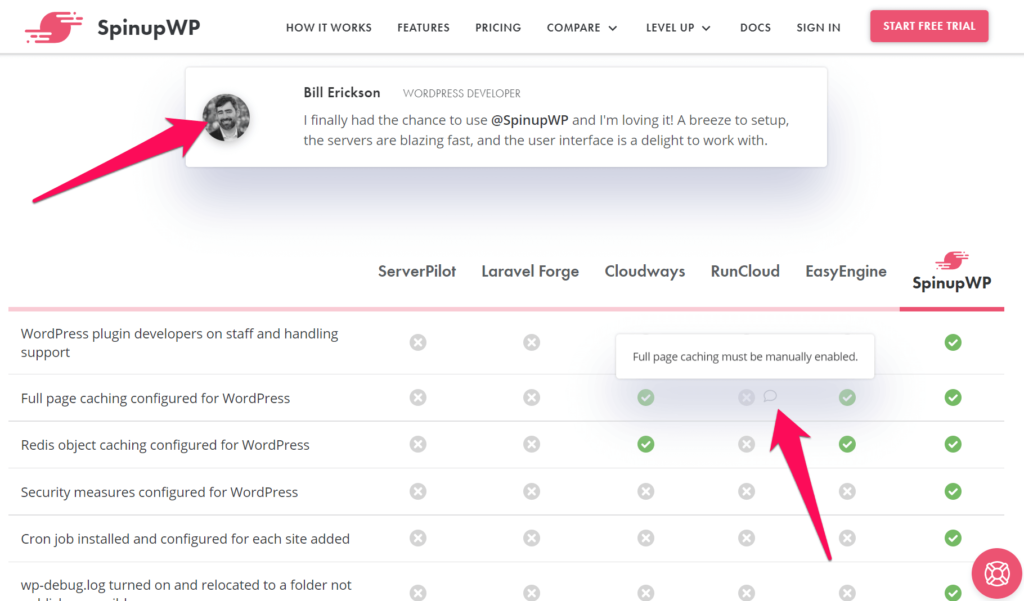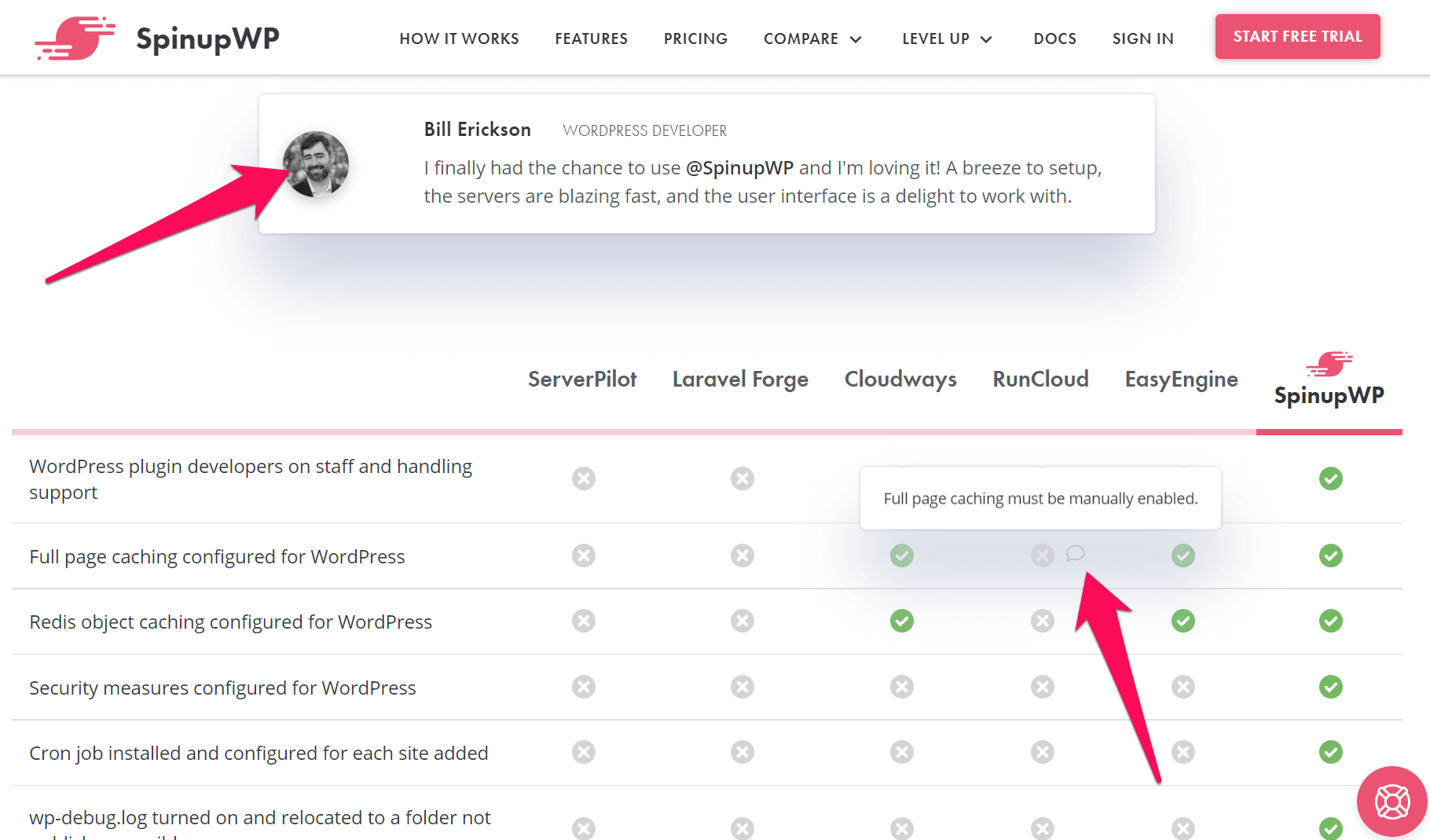 Breadcrumbs' Commentary:

Did you spot the conversion boosters? 

The customer's testimonial above the comparison table instills credibility, while the pop-up text (shown when users hover over the speech bubble icon) squashes potential objections.
No wonder SpinupWP directs all leads to this page!
Currently, it attracts the highest number of conversions. Since adding this comparison table, the startup increased its conversions by 4.7%.
3. Offer Freebies
What this sales velocity tip does: Improve conversion rate
SignWell offers free contract templates to new leads.
Ruben Gamez, the founder and CEO of the signature software startup, shares his approach with Breadcrumbs:
"We reached out to existing customers who've been with us for a long time.

Since the free contract templates performed the best in converting our leads, we decided to add more with our customers' help.

We then reached out to our fresh leads with these new templates. It smoothened the sales funnel and improved our sales for that quarter."
Breadcrumbs' Commentary:

SignWell does an excellent job with its free templates. 

There are currently 40+ contracts and agreements spanning many industries, including weddings, referrals, and property management. 

There's also an educational element to it. SignWell included several interesting statistics and best practices to help users make the most out of these templates.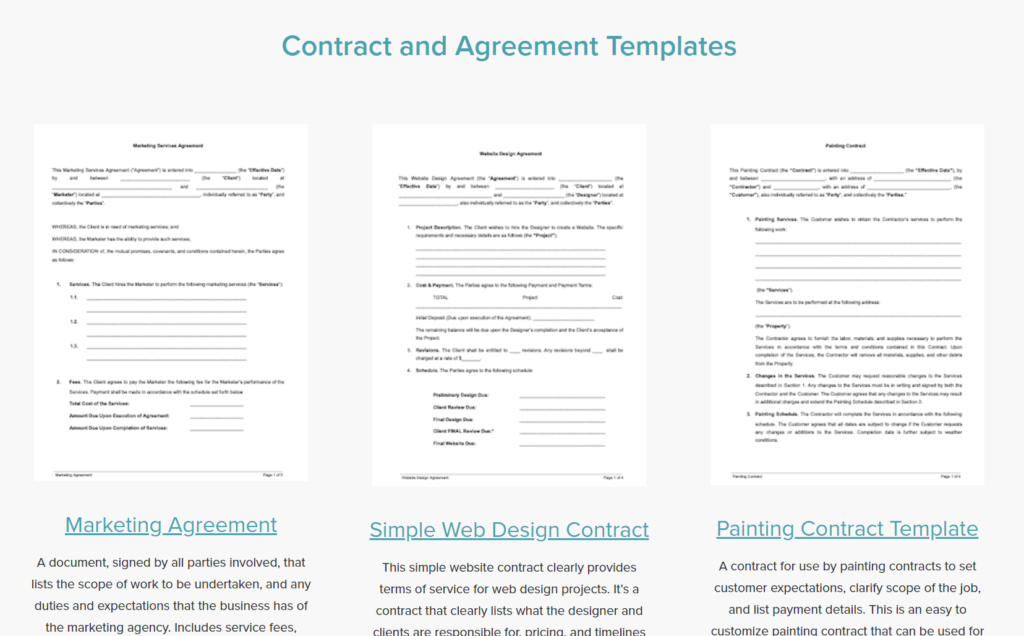 What's insanely remarkable about SignWell is that users can download these free templates without submitting their contact information.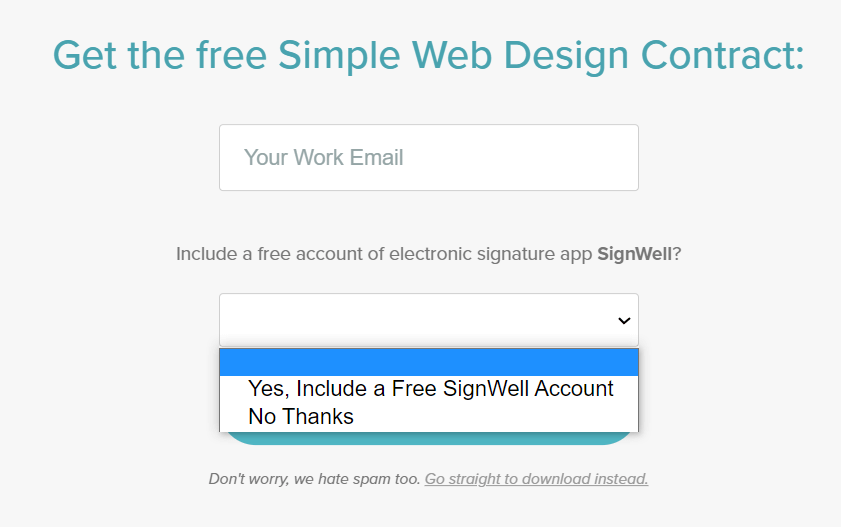 SignWell fosters goodwill right from the beginning of the customer journey.
4. Get the Logistics Out of the Way
What this sales velocity tip does: Shorten sales cycle
Nitty-gritty logistics can take a long time and put a brake on your sales pipelines. For FacilityBot, a startup that offers facilities management chatbot solutions, it's cybersecurity measures.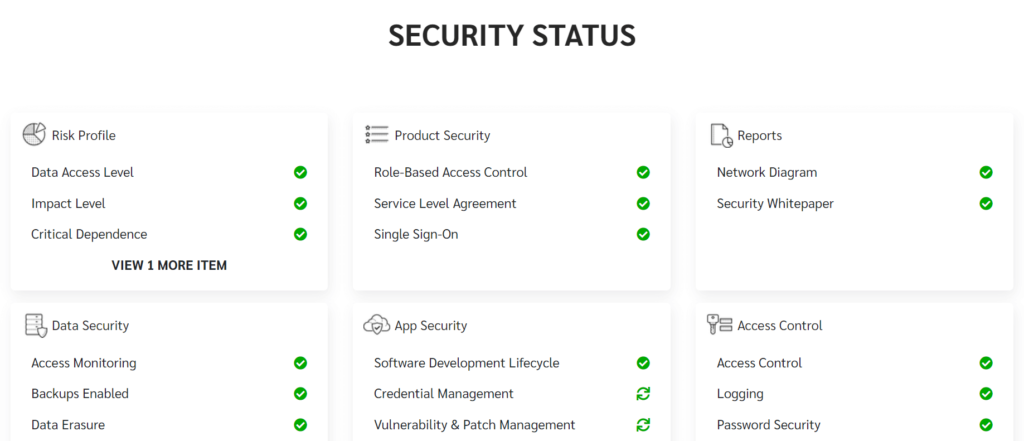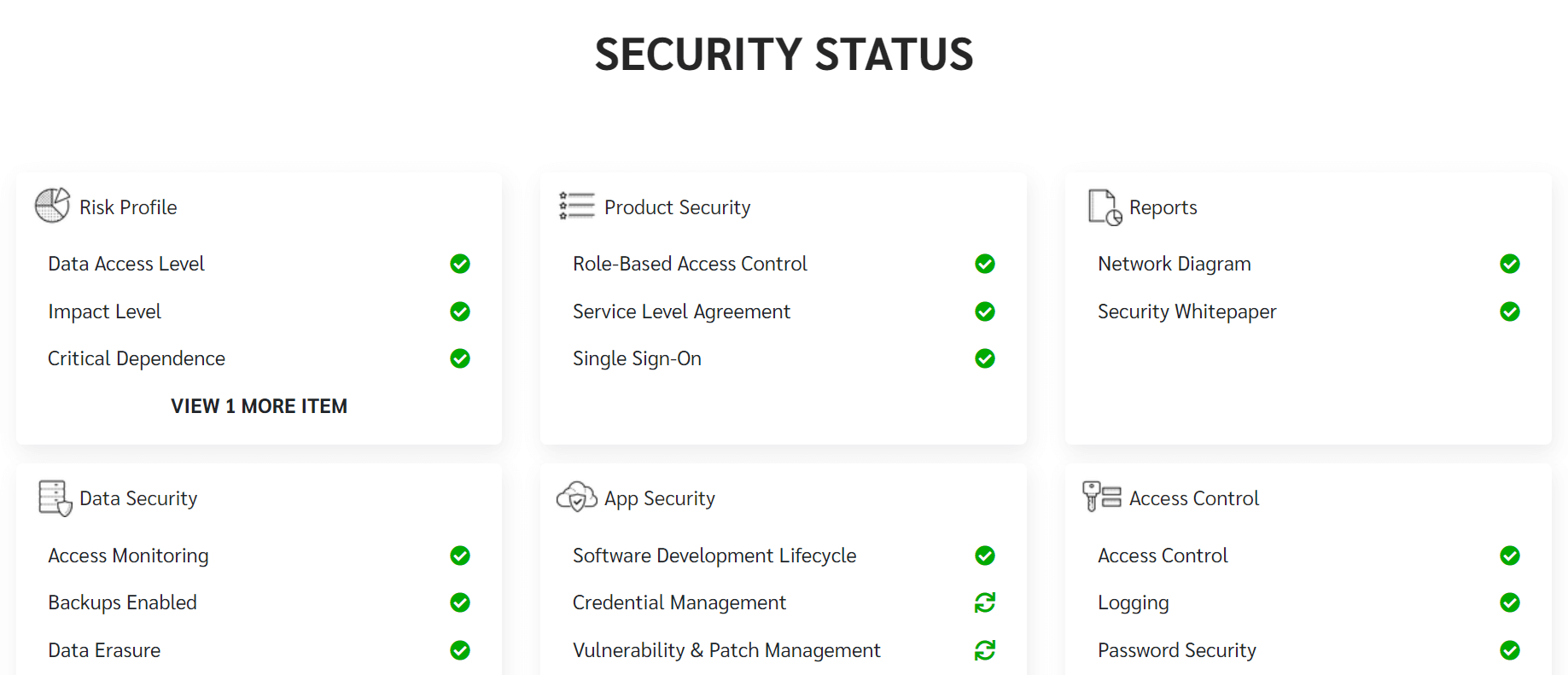 Co-founder Patrick Sim reveals:
"Given the increasing focus on cybersecurity and how complex this area is, it pays to just publish the details of what has or has not been done on your website.

This avoids the need to fill up lengthy cybersecurity questionnaires, which eventually shortens the sales cycle."
Since publishing its detailed cybersecurity measures on the security status page, FacilityBot has reduced the time needed for a complicated engagement process with the IT team.
Pro Tip: Identify the final steps in the buying process and reverse engineer the timeline. That way, you can hit all your milestones and achieve your goals by the deadline in time.
Rizan Flenner, the founder and CEO of iSEEit, paints a picture for us:
"Let's say you need the signature by 23rd of December, and the process of getting it can take up to two days.

You should ask yourself, 'What needs to be accomplished before that?' 

If the project must be approved in the PO system, identifying the right person and getting their approval alone could take four, five days.

The next step is to find out who needs to enter it into the system and what is required for it to happen. 

If the project and portfolio team is responsible, it can help to find out when they're meeting. 

This process could also take another four, five days, and before you know it, you're already on the seventh of December.
5. Get Found on G2 and Capterra
What this sales velocity tip does: Increase sales opportunities
Are you debating between advertising on social media or peer review platforms?
In Stefania Bulgaru's experience, the latter wins by a mile.
The online marketing assistant at Megaventory Inc shares:
"We found out that leads obtained through peer review platforms tend to be more relevant.

Moreover, there's no need for a hefty budget for campaigns.

These platforms are great alternatives to Google and Facebook Ads because they cost less and are much easier to use and understand."
Stefania deduces that it's because these users are already in the bottom of the funnel. These sales-ready folks are closer to purchasing than leads from other sources.
There's also another upside to advertising on such platforms: Customer reviews.
She adds, "The reviews that Megaventory already received stand as proof of the qualities that we advertise: Ease of use, customer service, and value for money."
"That's highly useful since such content is personal and authentic. It's proven to have a great impact during the decision-making process."
6. Identify Champion Buyer
What this sales velocity tip does: Shorten sales cycle
Here's valuable advice if you sell to enterprises.
Josh Brown, an SEO and content marketing manager at Helpjuice, recommends identifying a champion buyer with the organization.
He explains, "Typically, there are multiple stakeholders involved in the purchasing decision. The champion buyer can help shorten the sales process by convincing others that your SaaS solution is the best choice."
Make no mistake, this doesn't mean you can put your feet up and call it a day. This strategy would still require active collaboration with the champion buyer— you'll want to arm them with the right content at the right time.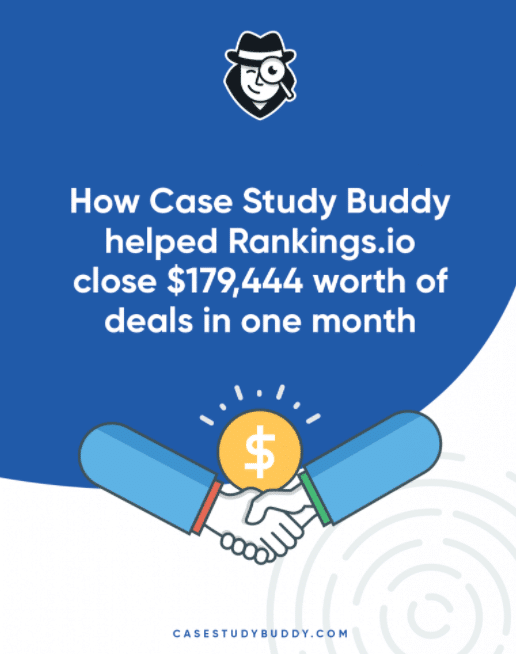 This empowers them to lead the rest of the stakeholders through the buying process and ultimately shorten the sales cycle.
7. Complement Site Visitor Data in Your Sales Outreach
What this sales velocity tip does: Increase sales opportunities
Out of 1000 cold emails, 45.5% were opened. Impressive, isn't it? That's the power of personalization.
With subscribers, it's relatively straightforward to segment and customize your sales emails according to their background and online activity.
But with a cold audience? It's trickier. Fortunately, this is where website tracking tools like Leadfeeder come into play here.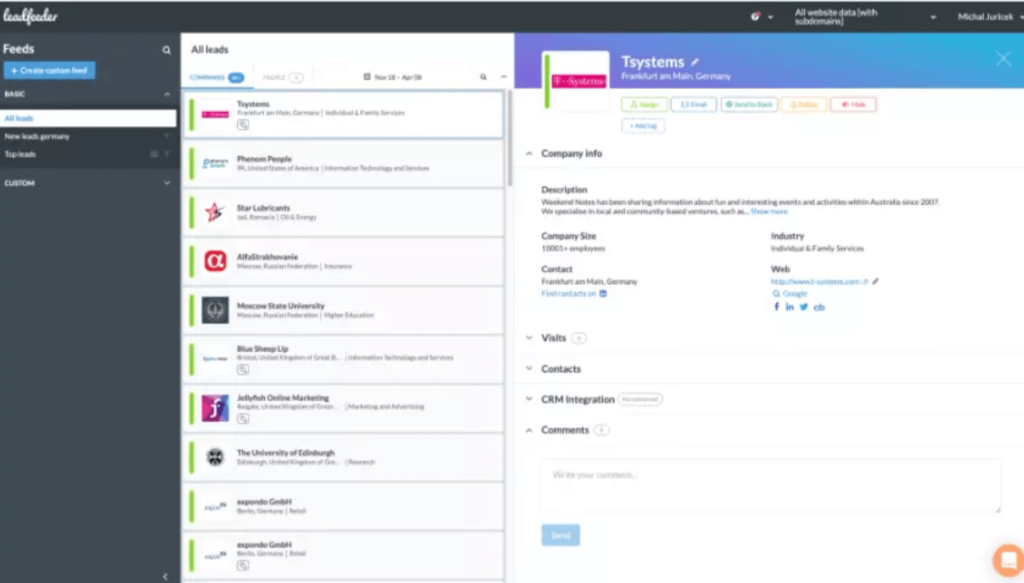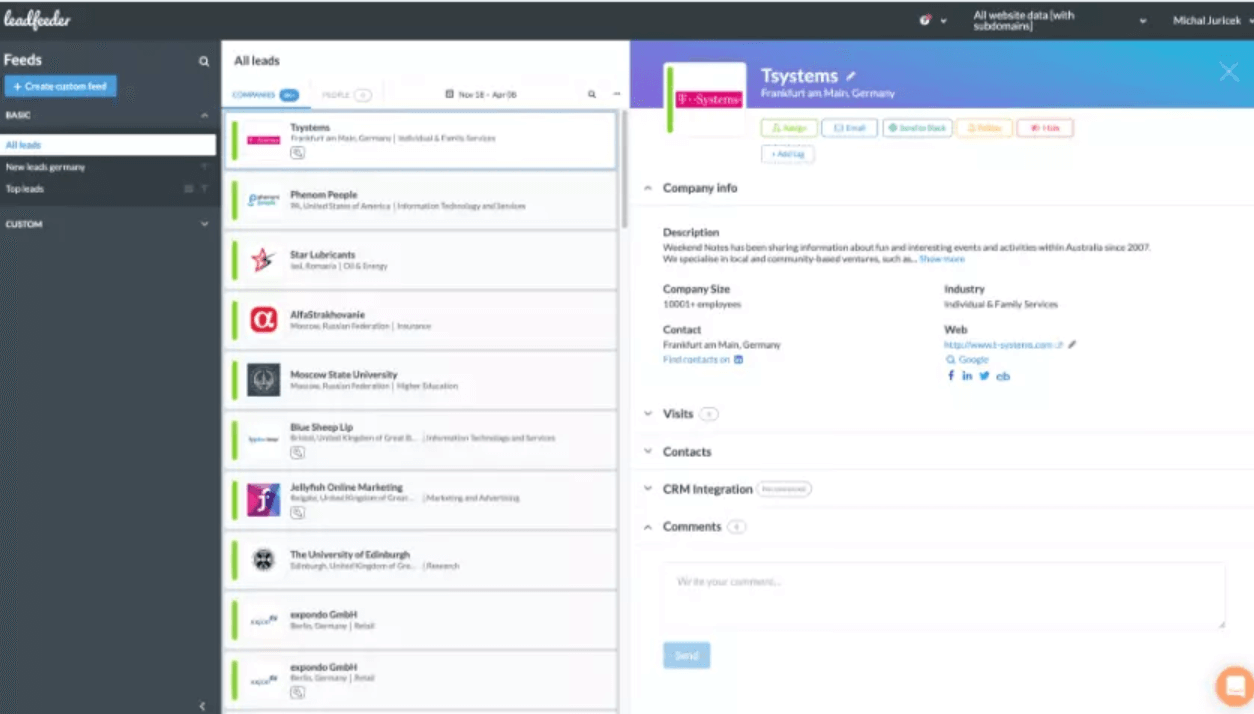 Kyle Buzzard, the senior vice president of sales at Anura, uses site visitor data from HubSpot, SalesIntel, and LiftCertain. Combining these three different data sources, Kyle and his sales team have a clearer understanding of the companies that visited their website.
"We use persona-based targeting and either LinkedIn Sales Navigator or SalesIntel to find likely targets. It's a nice boost and slightly warmer outreach."

Kyle Buzzard, senior vice president of sales at Anura
Here's the pitch Anura sends to prospective clients:
"Hey [Name],

Someone from your organization was checking out Anura.io earlier. 

We've helped [Job title]s just like you virtually eliminate fraud and skyrocket conversions, so I'm guessing you might know who stopped by. 

Who would be the best person to chat with about growing your business by eliminating fraud?"
One last note: Try not to get overly specific ("I noticed you read our evergreen guide on CRMs for Accounting Firms over five times last week."). You don't want to come across as stalk-arish. 😉
8. Prove Value EARLY On
What this sales velocity tip does: Shorten sales cycle
No one likes a sales cycle that stretches out for weeks or months—not especially when you end up spending more effort on a client than their business is really worth.
In Cody Miles' experience, this often happens when potential clients don't understand the value of your product. The CEO of Ashore, an online proofing SaaS startup, says:
"People don't jump to spend their hard-earned money on something they don't see the full benefit of."
So how do you prove yourself early on?
You make sure your unique selling or value proposition is—in Cody's words—"inherently felt with the user's first interaction with the product."
In the SaaS world, this means a free trial. In Ashore's case, it's free trials and guided product tours.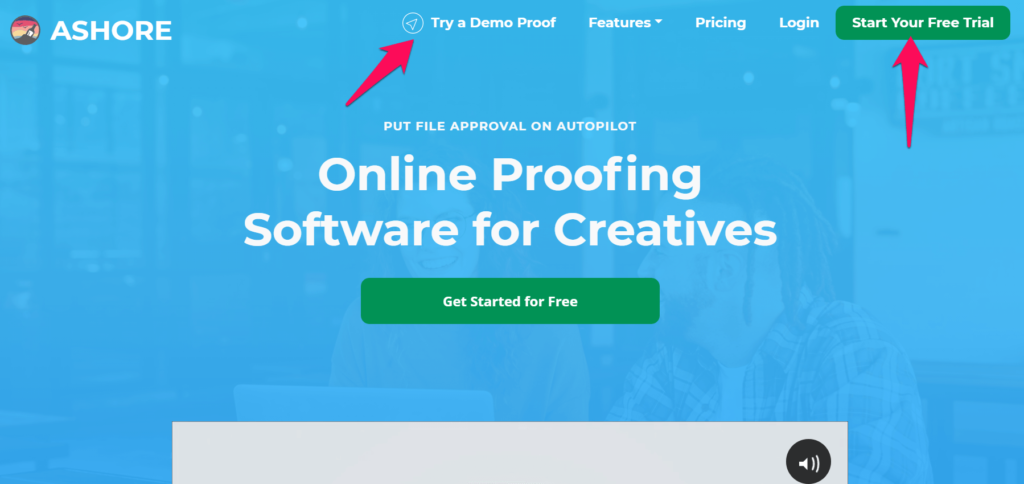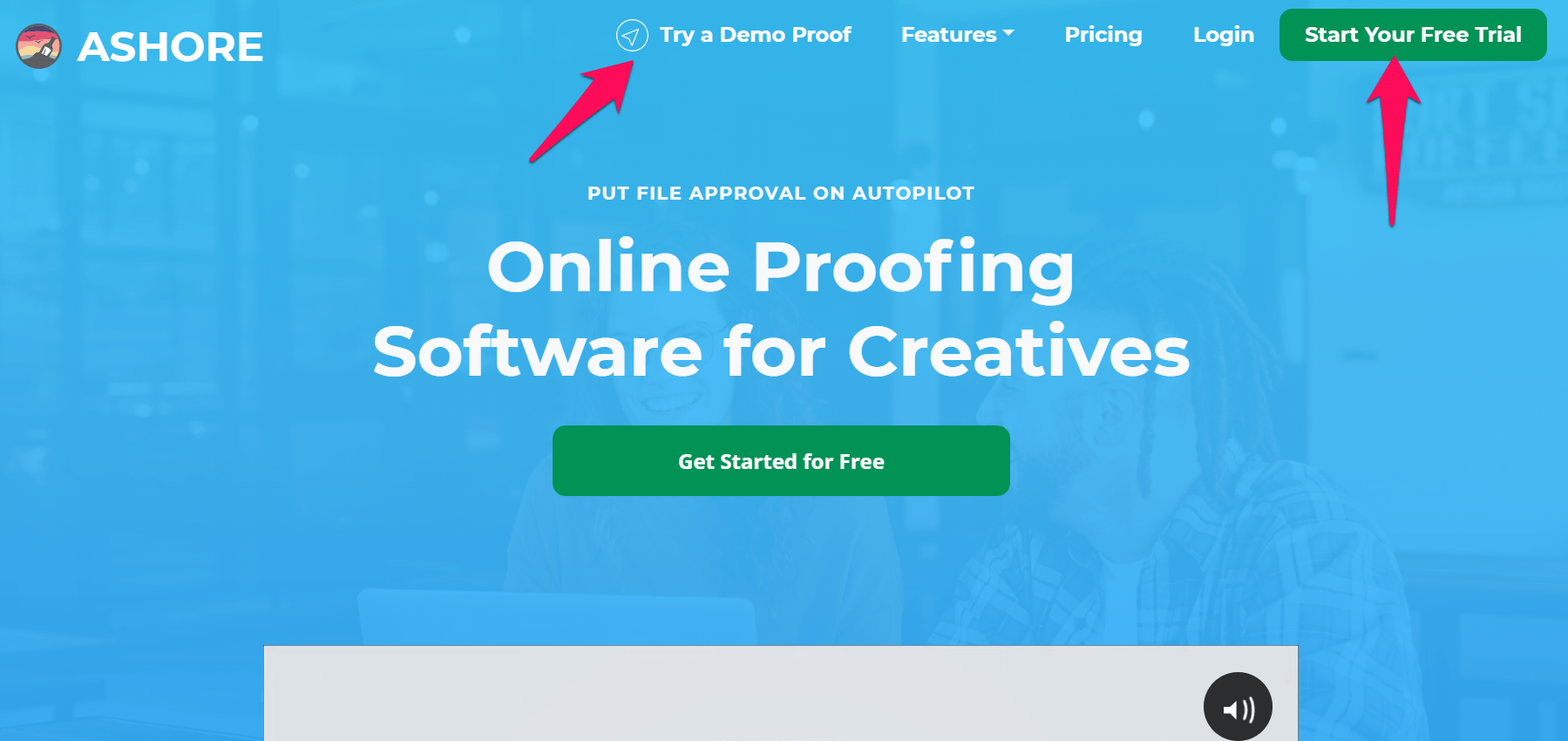 Breadcrumbs' Commentary:

It's clever of Ashore to offer a self-service product demo with an interactive walk-through, to boot! 

All prospects have to do is submit their name and email address, and they can immediately play around with the online proofing app.
The guided product tour lets users explore the complete feature set, while the free trial lets them see the features in action.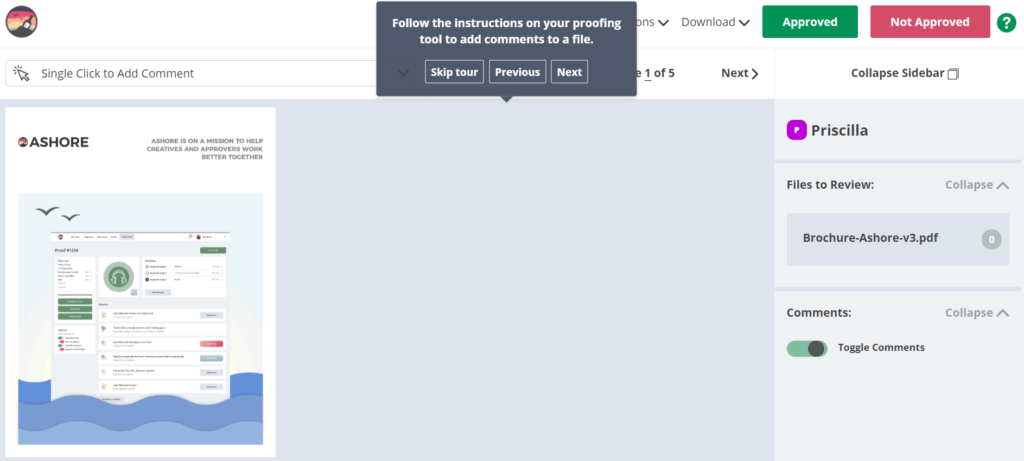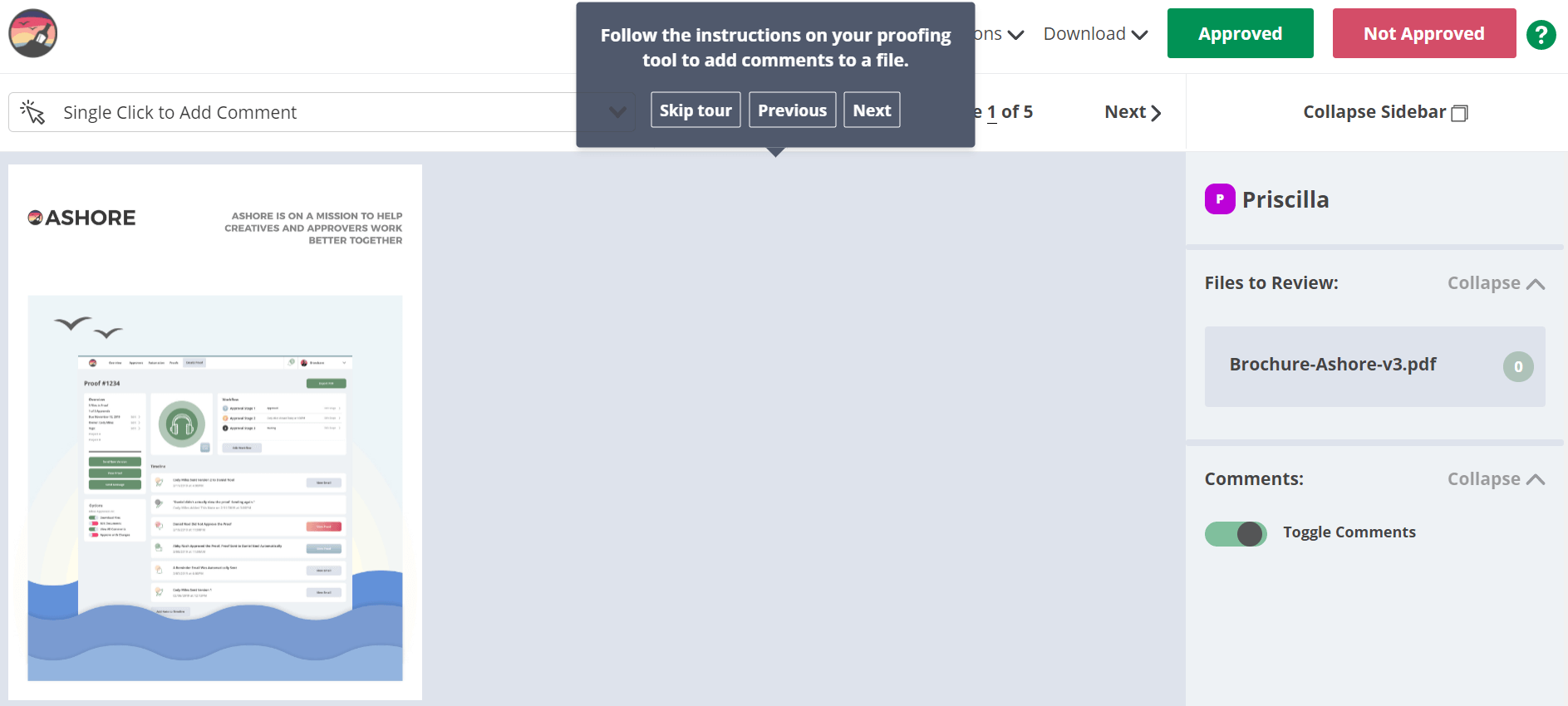 "It allows them to assess our app based on their own experience with it," adds Cody.
"By providing these things, potential clients are better able to understand our value proposition, which significantly shortens the sales cycle."
Look at Your Sales Velocity Metrics to See Where You Stand Today
In short, to improve your sales velocity, you need to work on the following four metrics:
Number of opportunities
Average deal size
Conversion / win rate
Sales cycle (a.k.a pipeline length)
These metrics tell you which specific areas you should focus on.
Without them, you'll be all over the place and racking your brain where you went wrong.
Give these eight startup-backed tips a try today.
And let us know how it turns out!
Improve sales velocity by shortening your sales cycle today. Identify "ready to buy" leads and close deals quickly with Breadcrumbs today.