A well-established and thought-out pricing model can make or break your SaaS company, but did you know that many don't put too much thought into it when they set it up?
Companies will pour blood, sweat, and tears into creating a great product and bringing in new customers, but most SaaS companies don't know what they're worth or how to communicate value to their prospects.
It would be best if you found the right balance between your products' value and revenue. You want to balance your ability to help your customers and be fairly compensated for your efforts.
If you undercharge, you will hurt your business with the mounding costs between development and delivery; if you charge too much, though, you can strangle your growth and keep new customers at bay.
In this article, we'll take a look at some examples of SaaS pricing models from companies we love and how they're built so you can establish your stellar pricing strategy.
Setting up the right price for your product is the first step in unlocking revenue acceleration.
Let's dive in.
SaaS Pricing Models #1: The Flat Rate Pricing Model (Basecamp)
Our first focus will be on the flat-rate pricing model. The plus of these types of SaaS pricing models are that flat subscriptions are seen as transparent and allow buyers a chance to relax. Not to mention that it is probably the easiest way to sell a SaaS product.
You offer one single product with a single set of features, which comes at a single price.
No surprise charges or hidden usage fees lurking or waiting: buyers love this model typically because there's no need to pick and choose features or worry you didn't purchase the right plan.
The strength in this model happens to be its weakness; by lumping everything into an appealing, single package, you remove all opportunities to upsell. Increased usage can't be leveraged towards additional revenue.
It can be tricky using a flat-rate model to find that magic spot for your price point. Your flat-rate price point still has to be low enough to attract small businesses yet high enough to avoid a more extensive customer's exploitation.
A flat-rate SaaS pricing model in the form of a subscription is ideal for a consumer-focused product. It's great for relatively simple products that don't boast too many features.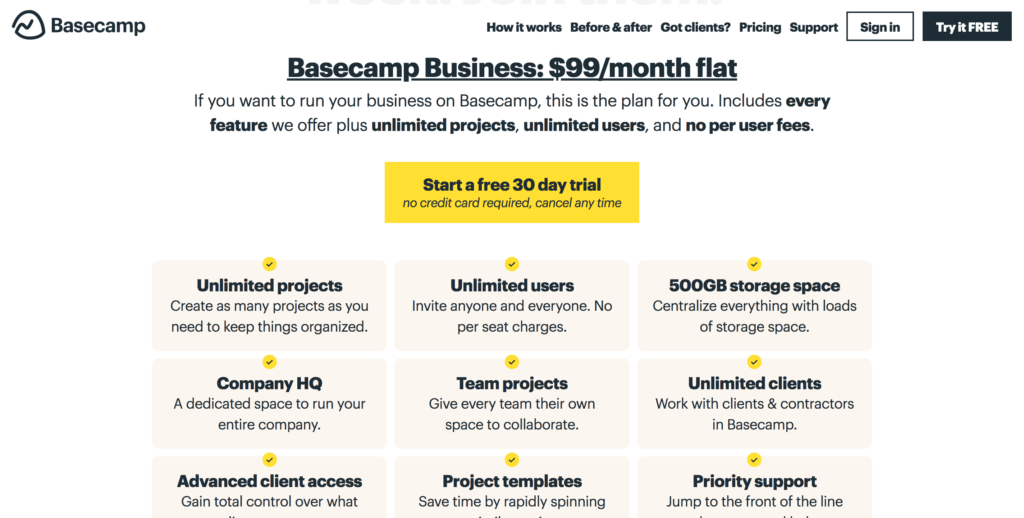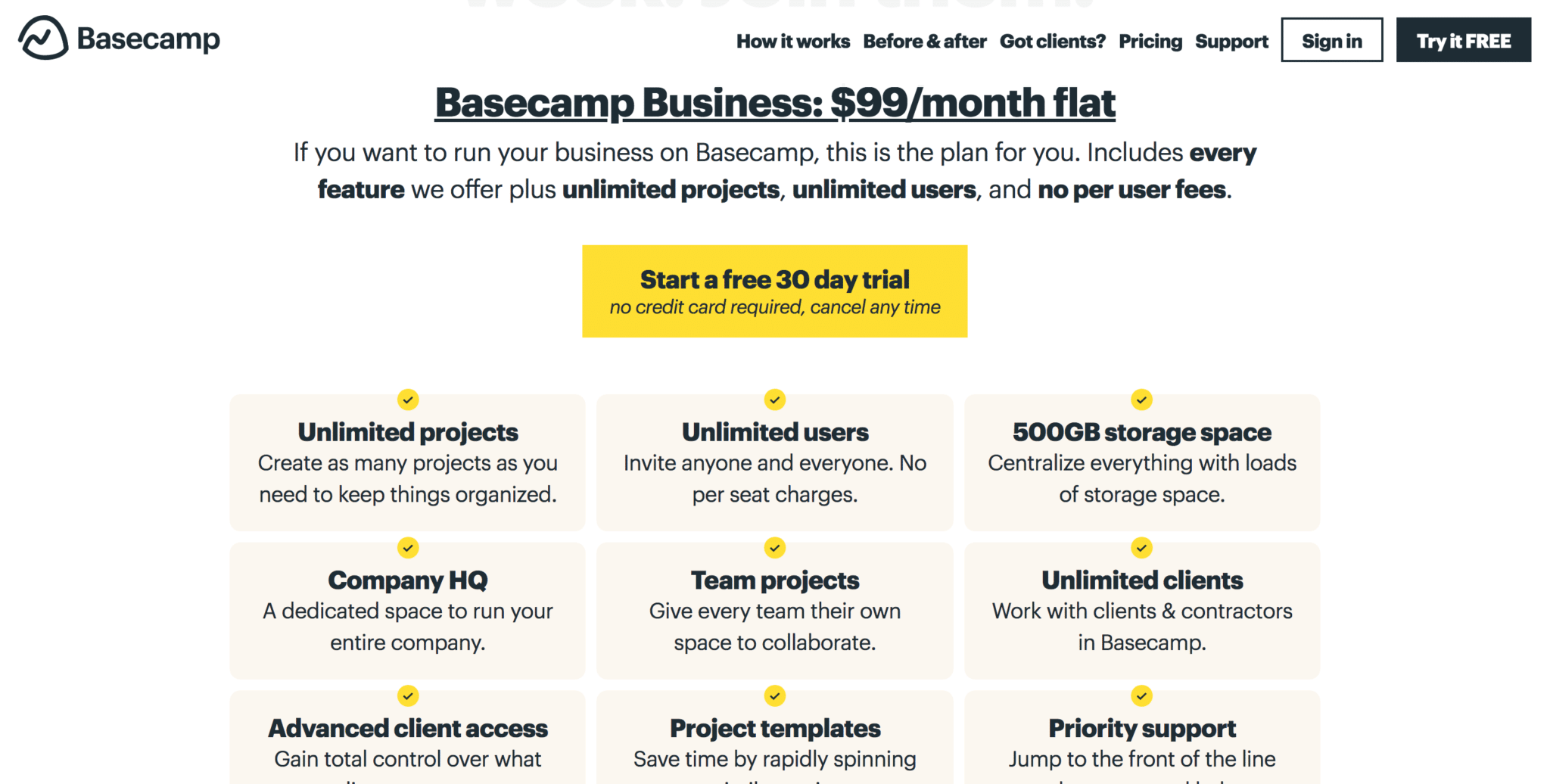 Basecamp is a project management software targeting smaller to mid-size companies with a flat-rate price. Basecamp very clearly seeks to target everyone working in teams online (very popular these days).
Basecamp does offer 500GB of storage, unlimited users, projects, and no user fees. They set their bar at $99 a month but were smart to put out the 30-day free-trial to deter potential customers.
Pro-tip: Flat-rate is more comfortable to sell and easier for the customer to understand. Offering a single product at a single price drives the focus on selling a single, clearly-defined offer keeps it 'Simply, simple.'
Remember: It can be not easy to extract your value from your users. If you're targeting small to mid-sized businesses, you will want to stick with a strategy that works out best for that. Still, if you're looking to target larger enterprise companies, you're going to miss out on all that potential revenue by your flat-rate options.
With flat-rate pricing, you're priced to either attract them or don't. There's just no in-between.
SaaS Pricing Models #2 The Usage-Based Pricing Model (Twilio)
Next, in our SaaS pricing models review, we find a more of a "pay-as-you-go" styled model. This pricing strategy directly relates the cost of a SaaS product to its use.
In short, if you use more of the service, your bill goes up. If you use less, your spending decreases.
This pricing model is most common with infrastructure and platform-related software companies.
For example, charging based on the number of API (Application Programming Interface) requests, transactions that have been processed, or gigabytes of data used
More recently, SaaS companies adapted this model, like social media tools charging for scheduled posts. The same can be said for accounting softwares charging by the transaction.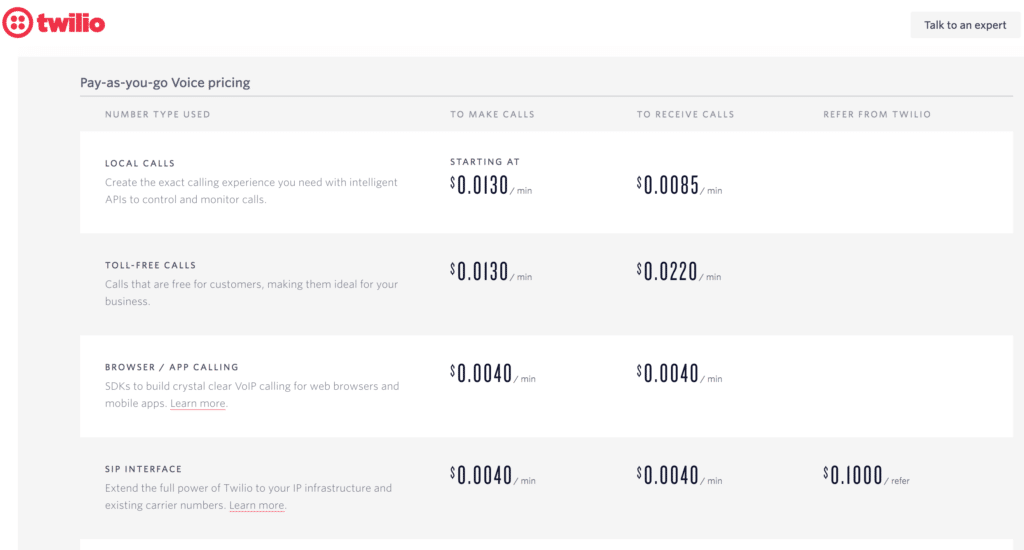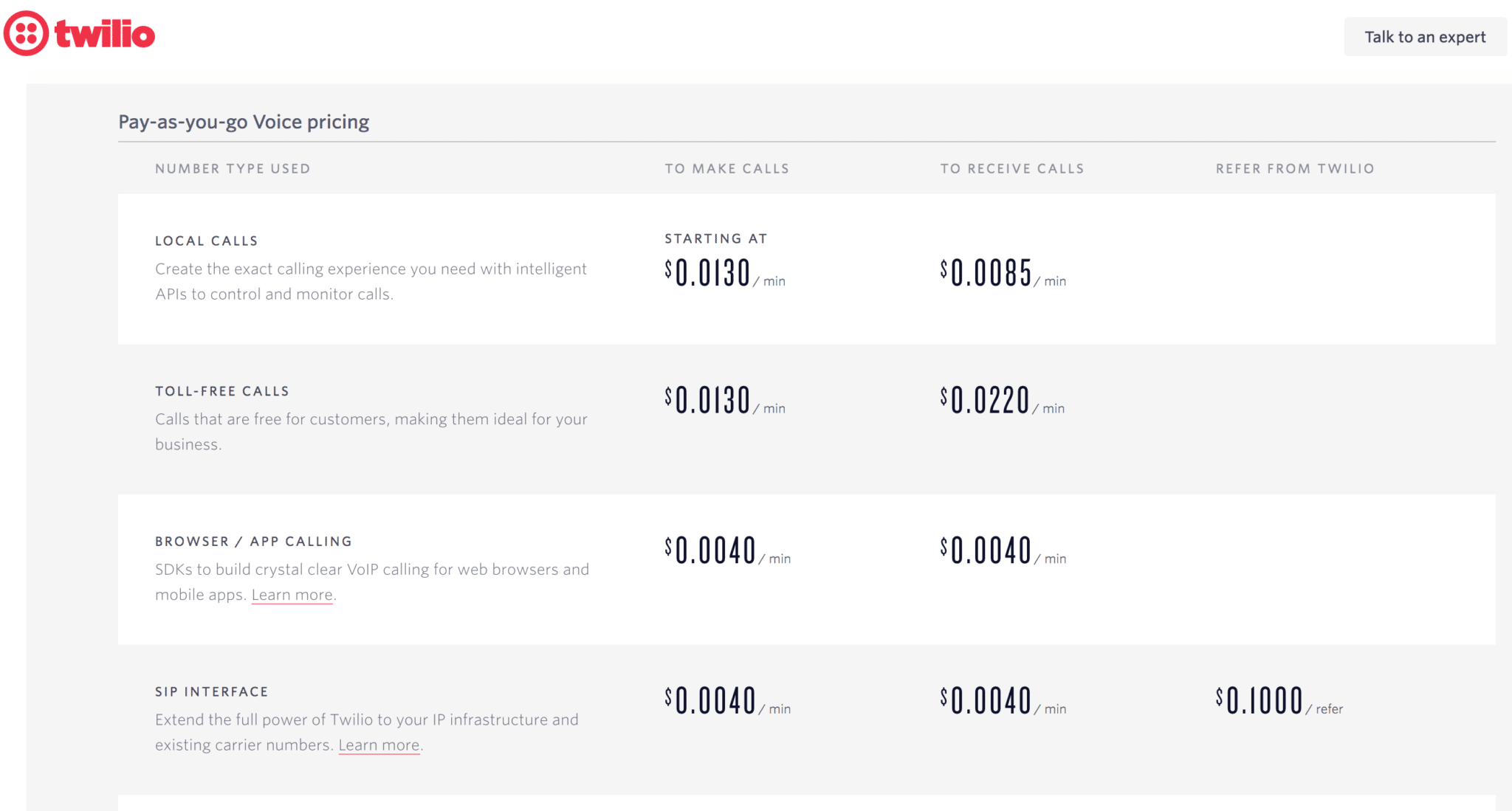 Twilio offers cross-platform communication not limited to but including SMS, voice, video, WhatsApp, email, and more. They keep the option to charge across the board by the message, usage, etc.
To get you onboard, they start you out with a testing amount in your account to get you into the swing of it. (For example, I was offered $15 in credits.)
Usage-based pricing models scale alongside usage. You have to look at it from the user's perspective: If you have a volatile demand in one month and use less of a service in a given month, why should you expect to pay the same as any more extensive month?
Pricing for usage, does just that, scales alongside the usage.
This option can allow smaller start-ups the same opportunities as the larger, more established heavy users that might have slipped by with their greater demands and spending habits.
Pro-tip: Usage-based pricing lowers the barriers between your variable volume. If there are no high up-front costs with usage-based pricing, it allows even the smallest start-ups to start with your product, safe knowing that prices will only increase alongside usage.
Remember: The usage-based model is volatile in itself. It can be nearly impossible to predict your revenue from one month to the next and attracts customers that fluctuate usage in the same manner.
SaaS Pricing Models #3 – The Pay-Per-User Pricing Model (Canva)
In the pay-per-user pricing model, similarly to the pay-per-usage model above, each user costs X amount of money and gets access to the entire product.
Among the different SaaS pricing models, the pay-per-user offers a significant advantage. Customers understand how much it will cost. Additionally, they can try it out with one or two users before making a substantial commitment to the product.
For companies that choose to use this model, it makes for a very predictable revenue stream. Those users will mostly renew each month with no additional effort.
However, on the other end of the spectrum, charging per user limits how many people use the product within an organization.
Since each user added costs more money, companies will dole out those seat licenses sparingly. They'll want to avoid unnecessary charges (additionally, you might encounter some "shared credentials" to save money).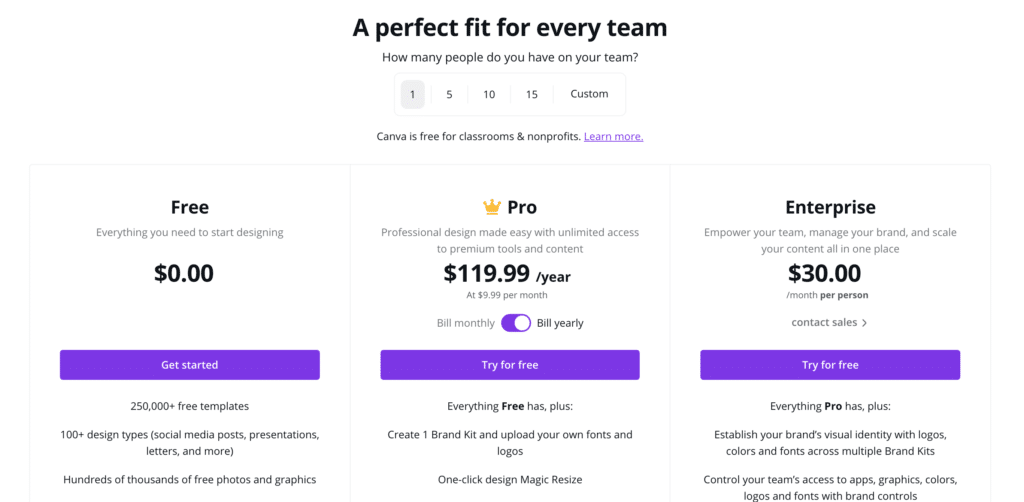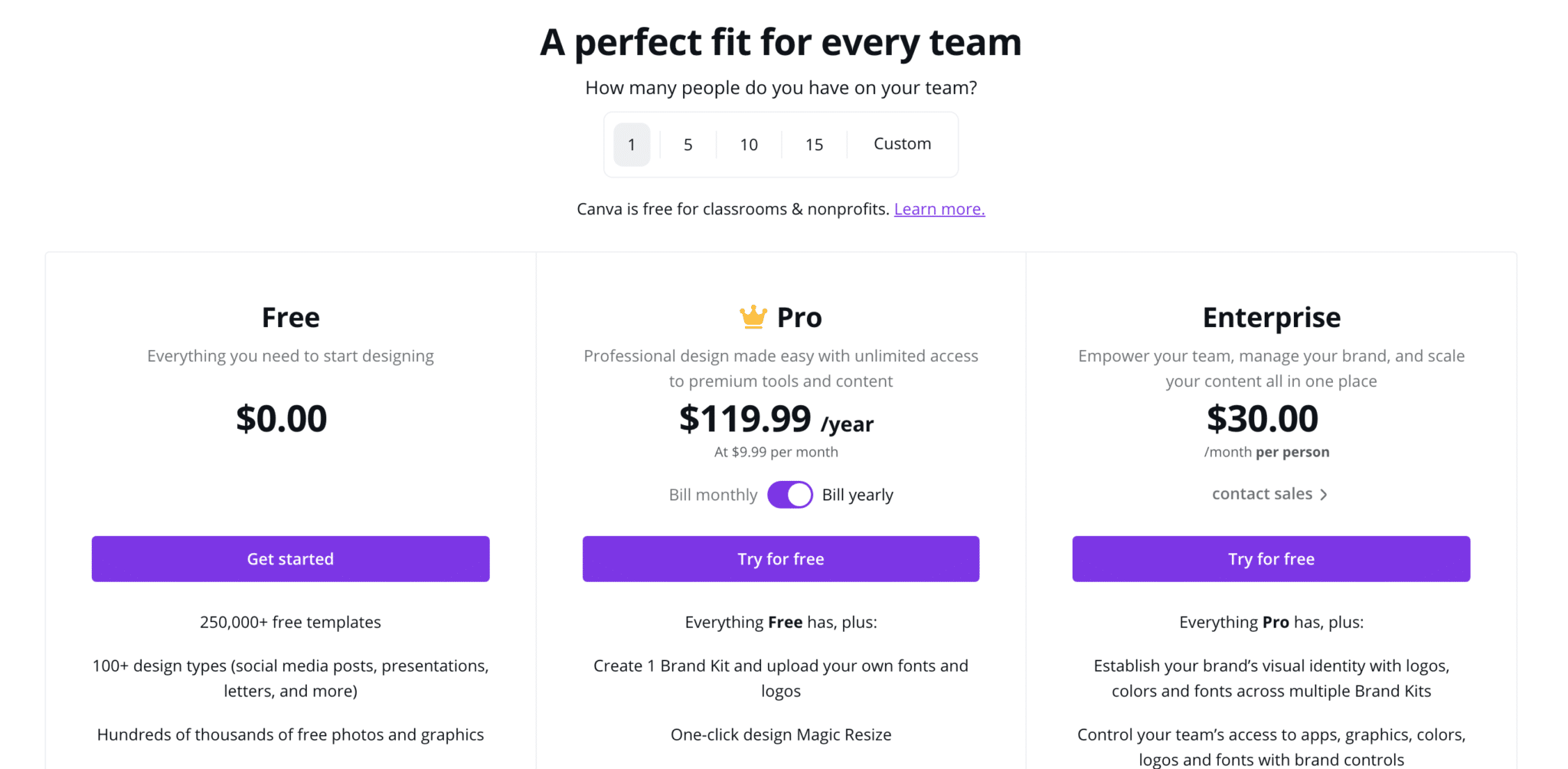 Canva offers a variety of access points, including but not limited to the pay-per-user model. Their pay-per-user model rings in at $30 a month to include everything their Pro model uses but with access for every paid user on your graphics or marketing team.
This pay-per-user option allows the company to offer their best options for both individual designers and larger businesses who would establish a team and access a price-point that is both heavily simplified without under-cutting their product's value.
Pay-per-user pricing is one of the most direct and basic pricing models, making it easy for would-be customers to calculate their monthly costs.
Revenue scales with user adoption. With the pay-per-user pricing model, revenue scales directly alongside adoption: if you're able to double the number of users within a company, you'll double the income.
Pro-tip: The pay-per-user model brings us back to predictable revenue generation. SaaS companies rely on that recurring revenue model, and per-user pricing makes it easy to calculate and predict each month's revenue generation.
Remember: The pay-per-user model might be enough reason for some companies to avoid adding new users to your tool. It opens the opportunity and incentive for some to cheat, where multiple users will use a single login. This model can be tricky for customers to determine whether they see a real value between 3 or 4 users.
SaaS Pricing Models #4 – The Tiered Pricing Model (Hubspot)
Most of the SaaS pricing models we've touched on above price based on usage or users. This basically means, in one way or another, and these companies have the option to price based on each unit (each user, each gigabyte of storage, each transaction.)
Some of them, and if they don't, can also adapt to decide to use tiers. This means they can focus their efforts on offers like 'up to 10 users' or 'up to 50 users.' To give a larger window and maybe more bang for their buck.
Tiered pricing models can and often are better profit generators for companies. Customers will very rarely actually use up every unit of the tier they have purchased.
So long as that introductory tier price tag is low enough to keep from scaring those prospects away, this is generally thought to be the best route to take. It is, however, a bit more complex than that.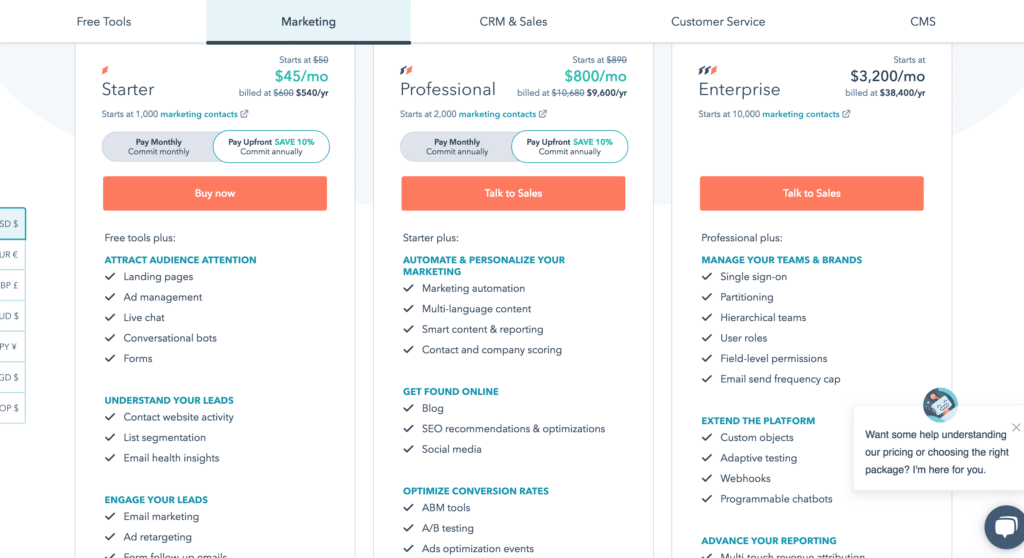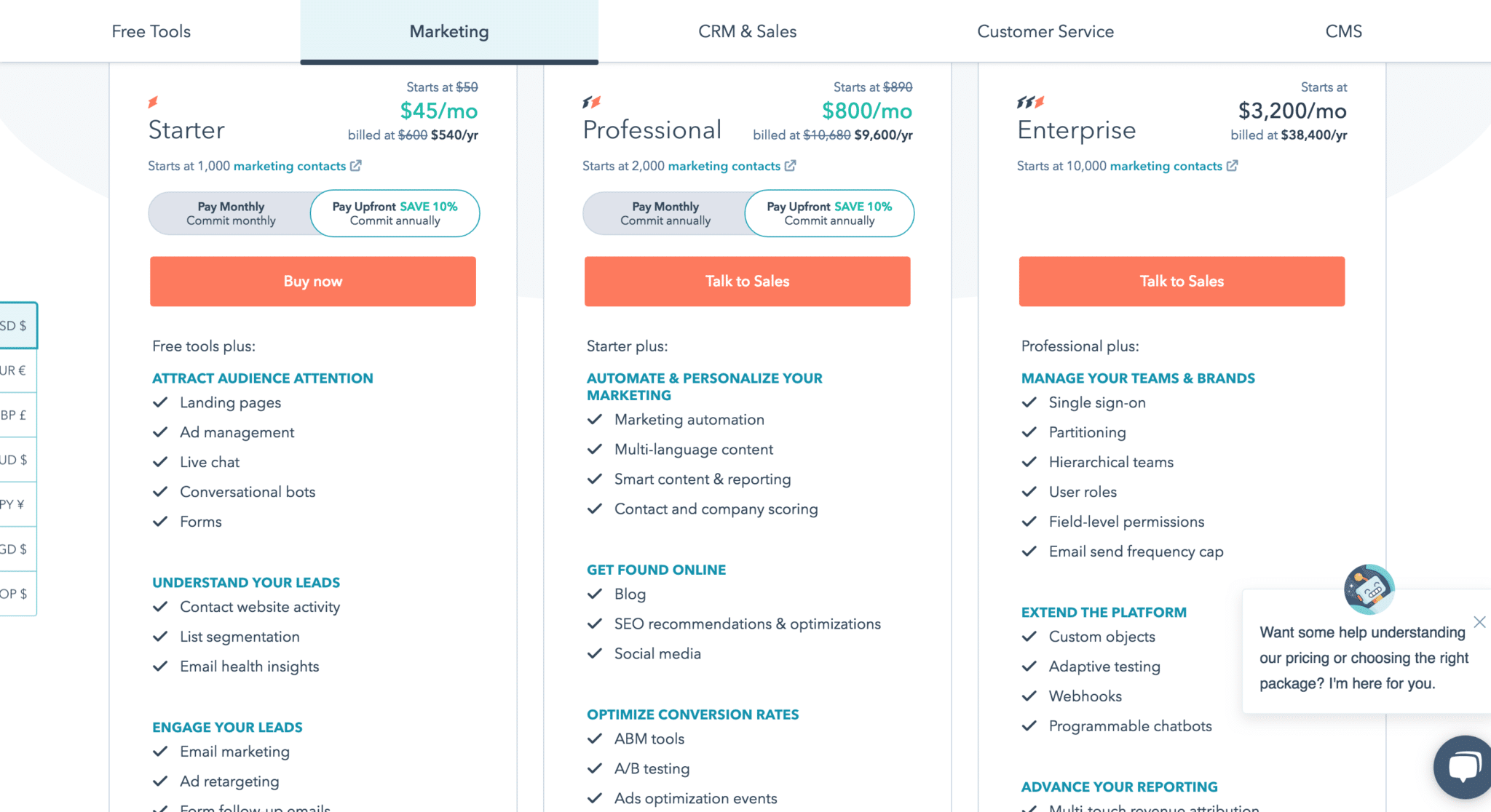 HubSpot is an excellent example of a tiered SaaS pricing model. You can see they're reaching across the aisle for both the smaller start-up companies and sliding that scale appropriately to use companies that will have up to 10,000 users below them using and accessing this platform.
They have kept the monthly subscription offer, making them easier to choose for or against, but they still offer a substantial discount in their tiering to commit to the whole year with a plethora of reasons and accessibility options.
Pro-tip: With a single package offering, you have one shot at resonating with your target customer; but with a tiered pricing model, you can precisely tailor packages to suit multiple personas.
This tiered model allows you to leave less money on the table by appealing to these multiple personas. More than other SaaS pricing models, it gives you the chance to not over-charge those who want to use your service for a few unique features but keeps you from under-charging those users who intend to push the product offered to its full extent.
The tiered model is the perfect choice to go with if you want to lead into upselling, as these companies grow, expand and even share what they know about your company's SaaS and what they're using.
Remember: A Tiered Pricing model can still appeal to 'too many' people and runs the risk of not receiving the heaviest users' full compensation potential. However, it is still a great model to access your maximum potential for customer reach.
SaaS Pricing Models #5 – The Pay Per-Feature Pricing Model (Leadpages)
For the bulk of the previous SaaS pricing models we've explored, users were the shared variable.
This isn't all there is to it, though; in fact, It's entirely possible to use features as your value metric instead.
This leads us into the pay-per-feature pricing model. Usually, it has different tiers according to the functionalities available in each plan.
In short: the more features you need, the more you pay.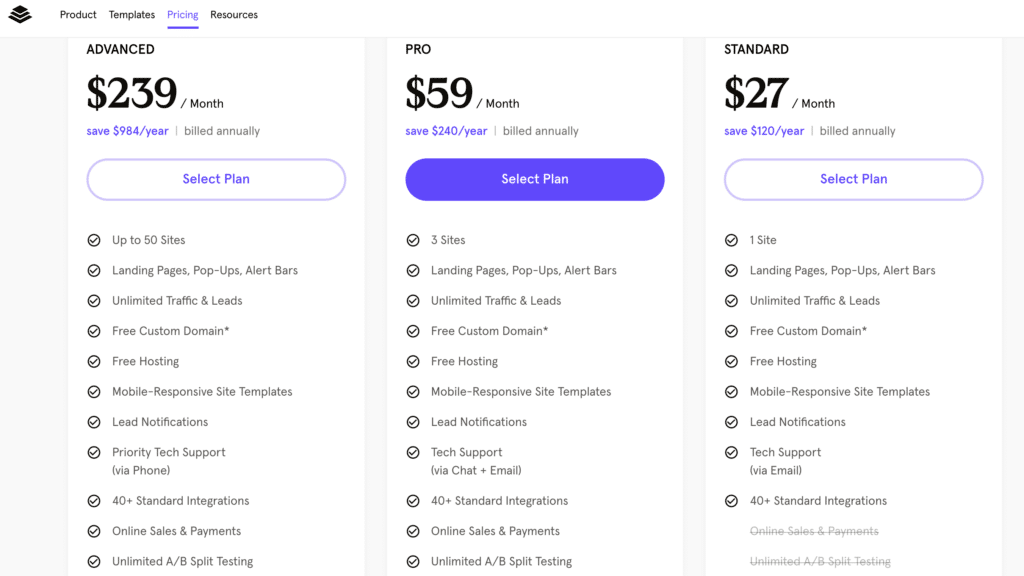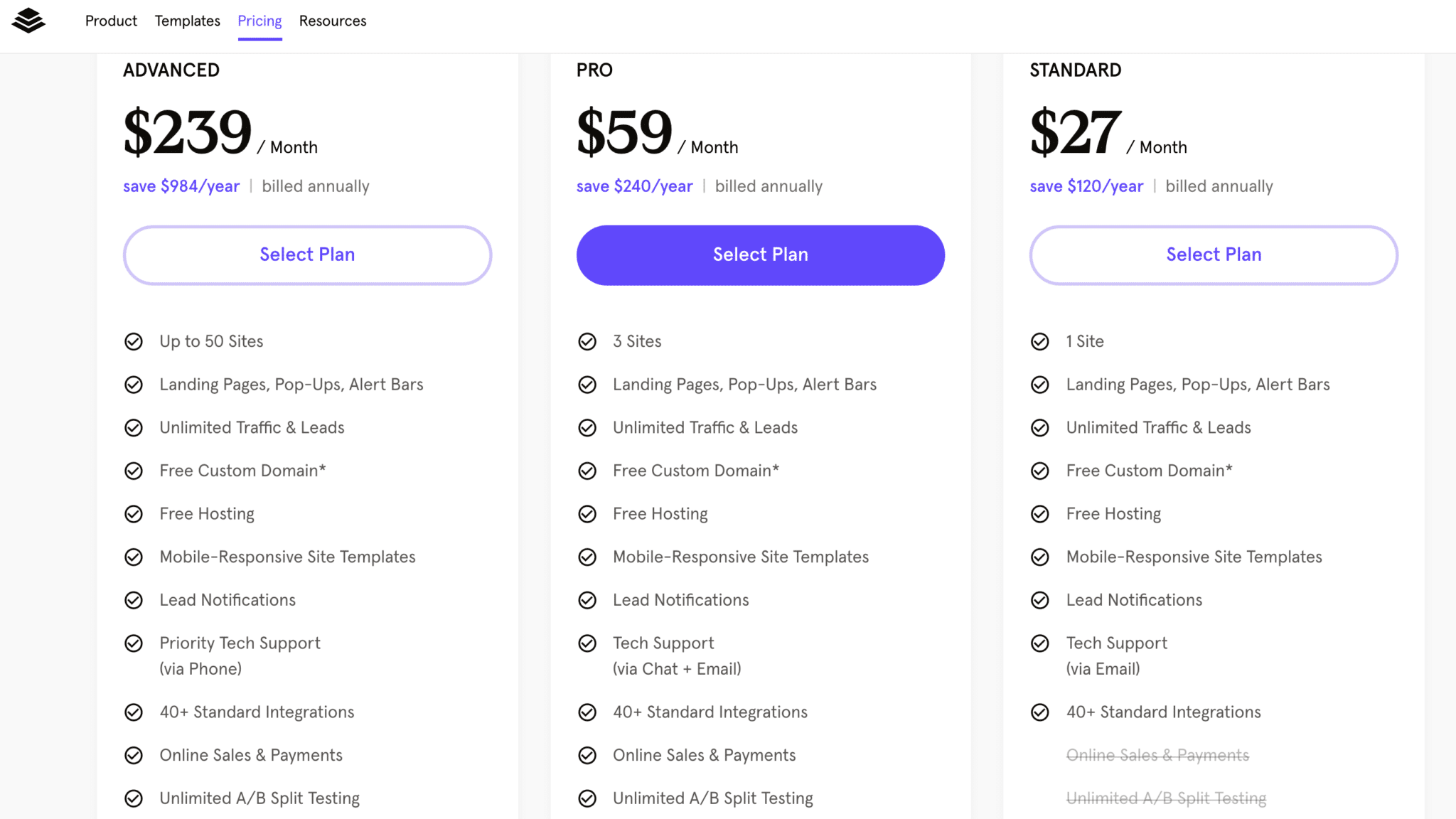 Leadpages is a good example of this model. Each tier offers more bang for your buck but the prices start to get pretty steep for some of the average start up stages.
Generally, this limitation provides a strong incentive to upgrade, but your first need to find the right balance between the features you offer.
Pro-tip: The best pay-per-feature model separates different pricing tiers according to the functionality available in each. It will provide a clear and obvious motivation to upgrade your customer's services by unlocking extra functionalities.

Some of your features may require an entirely different amount of your resources to deliver. Pay-per-feature pricing will allow you to appropriately compensate for that by putting these features into your top-tier package offerings.
Remember: Pay-per-feature can be a double-edged sword. It is crucial you pin-down those features you're offering in each tier, get it wrong, and it will leave a bad taste in your customer's mouth.
It's easy to feel unsatisfied with pay-per-feature pricing. When you're paying a monthly fee to use a product, and still, you're missing out on some of its functionality.
On the flip side, it gives them more incentive to move up into that next tier if they're happy with your product
SaaS Pricing Models #6 – The Freemium Pricing Model (MailChimp)
Freemium is without a doubt one of the most popular and recognized SaaS pricing models. Everyone and we mean everyone, can receive access to limited capabilities for free. How do you make a profit on that? Additional features reside just around the corner behind a paywall.
There are many ways to broach the freemium offering, but this pricing model's main benefit is reducing the barrier to entry.
When users don't have to enter a credit card to start experiencing the benefits, it builds their confidence. So much so it significantly accelerates growth and encourages your trial users to upgrade for whatever unique feature they're looking for without committing to the entire tier.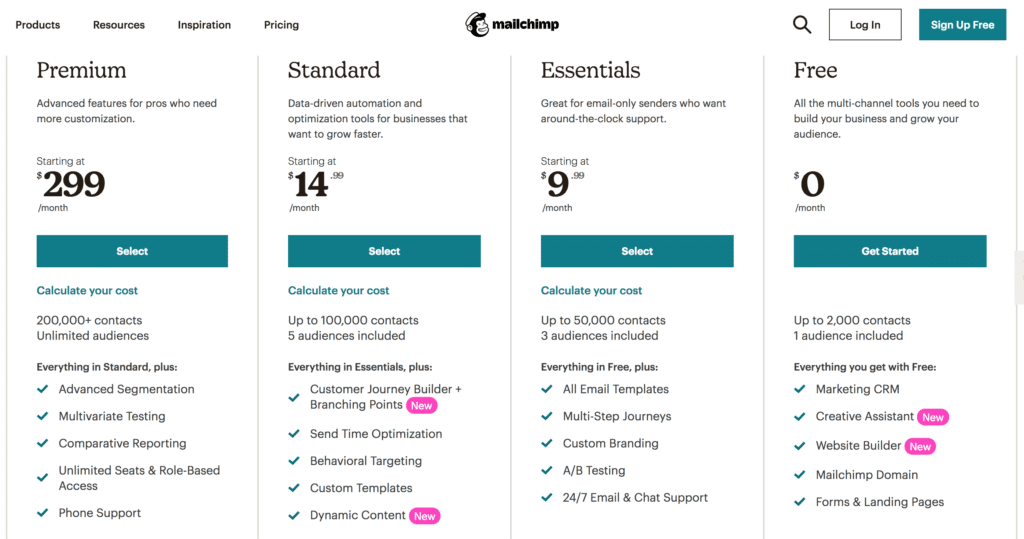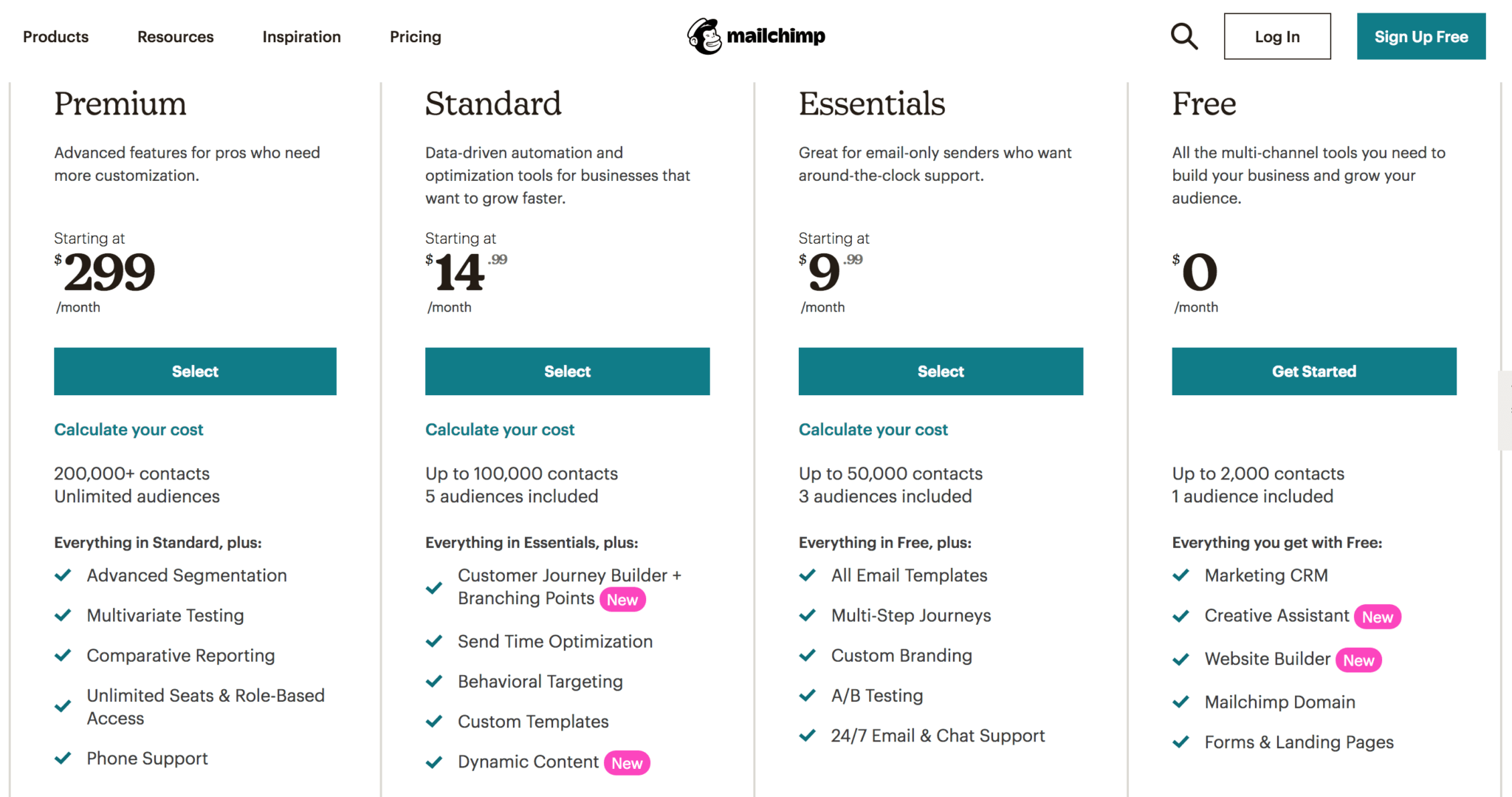 MailChimp is an email marketing software platform that allows you to collect an e-mail list of subscribers, send regular e-mails, create an auto-responder series, and automate your e-mail marketing.
MailChimp's freemium approach allows users to have an account with basic features with 2,000 subscribers and 12,000 emails per month for free. If you want to add the first features, they start at $9.99 per month, and the pricing for more subscribers (after 2,000) starts at $14.99 per month.
You can sign up for free, but a few of those key features you will likely want as an email marketer are only offered to paid account subscribers.
If you have ever set up an email list, you don't need to switch to a different service.
Being so different from the other SaaS pricing models we have described so far, the main drawback in offering a freemium option is that many users may be just fine with the free version and that version's limitations. This means that they'll never pay anything to upgrade to a paid tier.
This can be tricky to deal with; on the one hand, If the company can monetize free users (by choosing other options to byway this model, through advertising, for example), then that might be completely fine.
On the other hand, though, you will need a ton of users entering the very signing up to your platform to get enough upgrades and to make the numbers work. It's best if you gauge what you might have offered on a free trial to have the incentive to upgrade.
The perks of freemium are that it's a great foot in the door for your potential buyers. That first initial adoption of your product by the customer is often one of the most formidable obstacles you will face in a SaaS business. The Freemium SaaS Pricing model will make it as easy as possible to get them signed up.
Pro-tip: A Freemium price model can raise awareness of your platform. Typically when something is free, we naturally recommend it to others. Freemium brings the potential for social-media-based shares and ultimate viral potential that will send your business skyrocketing to new heights with all the potential sign-ups.
Remember: There is a significant risk your offering extends too much; when we don't pay for a service, Freemium Services can often be seen as less valuable; if you're offering too much of your specialized options for free. It may not be worth the upgrade for far too many and will ultimately cause you to raise your paid service cost.
In this article, we discussed the best 6 SaaS pricing models you can use when setting up your pricing strategy. Now back to you: which pricing model have you used for your company? Let us know in the comments below.