When launching a SaaS product, there's one thing you need to remember‌ …
There's a lot of competition out there.
The SaaS industry has exploded in recent years. This growth has created new opportunities for startup companies to get a piece of what's become a very profitable pie.
However, you're not the only one vying for a valuable place in the SaaS universe. The industry's value is over $195 billion.
That's why thousands of SaaS companies with the next big idea race to the starting line every year. They're determined to get a head start that'll give them a competitive advantage.
But the best way to achieve that success is by developing an innovative SaaS product strategy. If you can roll your idea out in a unique way that captures your target audience's attention, you'll have a golden opportunity to capitalize on.
In this article, you'll discover several real examples of big-name companies that have implemented innovative SaaS product strategies.
Curious to learn more?
Let's take a look!
PS: Did you know that companies lose 550 hours a year due to bad data? Without quality customer data in hand, it's impossible to create product strategies that convert. That's why it's pivotal to analyze clean data and get to the bottom of your Ideal Customer Profile before creating your go-to-market strategy. Need a free tool that can help? Try Breadcrumbs today! More on this helpful tool in a bit.
What do we mean by SaaS product strategies?
When we talk about a product strategy for SaaS solutions, we're discussing your plan for rolling out a product to your target market. In other words, your go-to-market strategy.
SaaS is a product-driven industry, so product strategies are some of the top SaaS marketing strategies.
But what exactly is a SaaS product strategy?
Plain and simple: They're steps a company takes through its marketing team to get eyes on a product. This strategy begins with the goal of having potential customers convert and adopt your product.
A successful SaaS product strategy will undoubtedly be innovative. But it also has to keep its target audience in mind.
That's why a solution like Breadcrumbs can be so helpful when planning your SaaS product strategy. While many companies rely on outdated data to create their ideal customer profile (ICP), Breadcrumbs Reveal analyzes your leads and customers, giving you complete clarity on your data quality and ICP in minutes.
This data not only helps you identify qualified leads and your true ICP but also gives you a complete report on every property in your CRM, including:
Distribution of all the values within the field
Impact of each property
How many leads have the property with a known value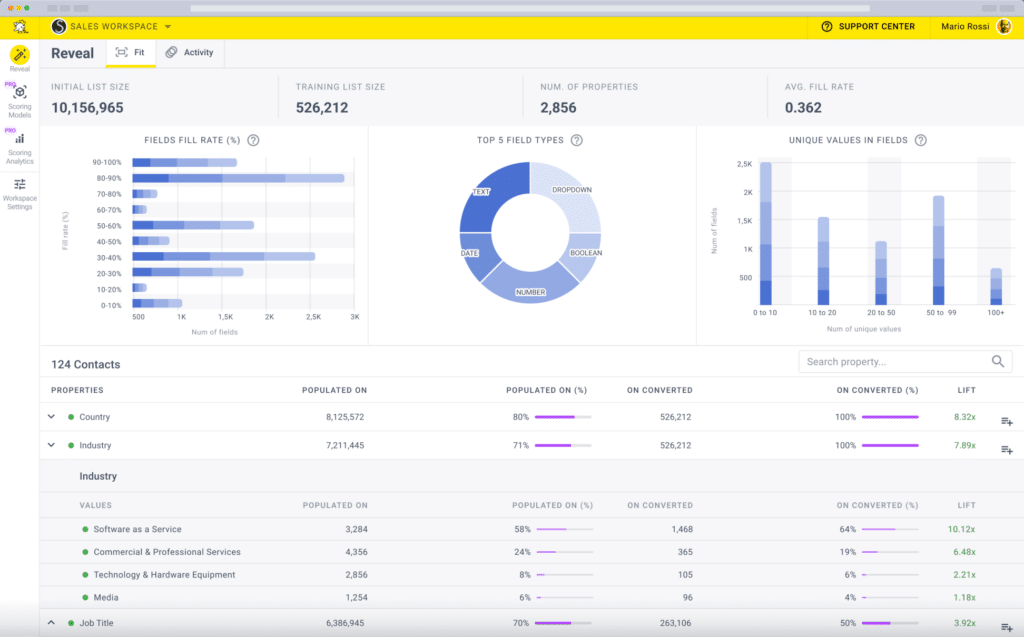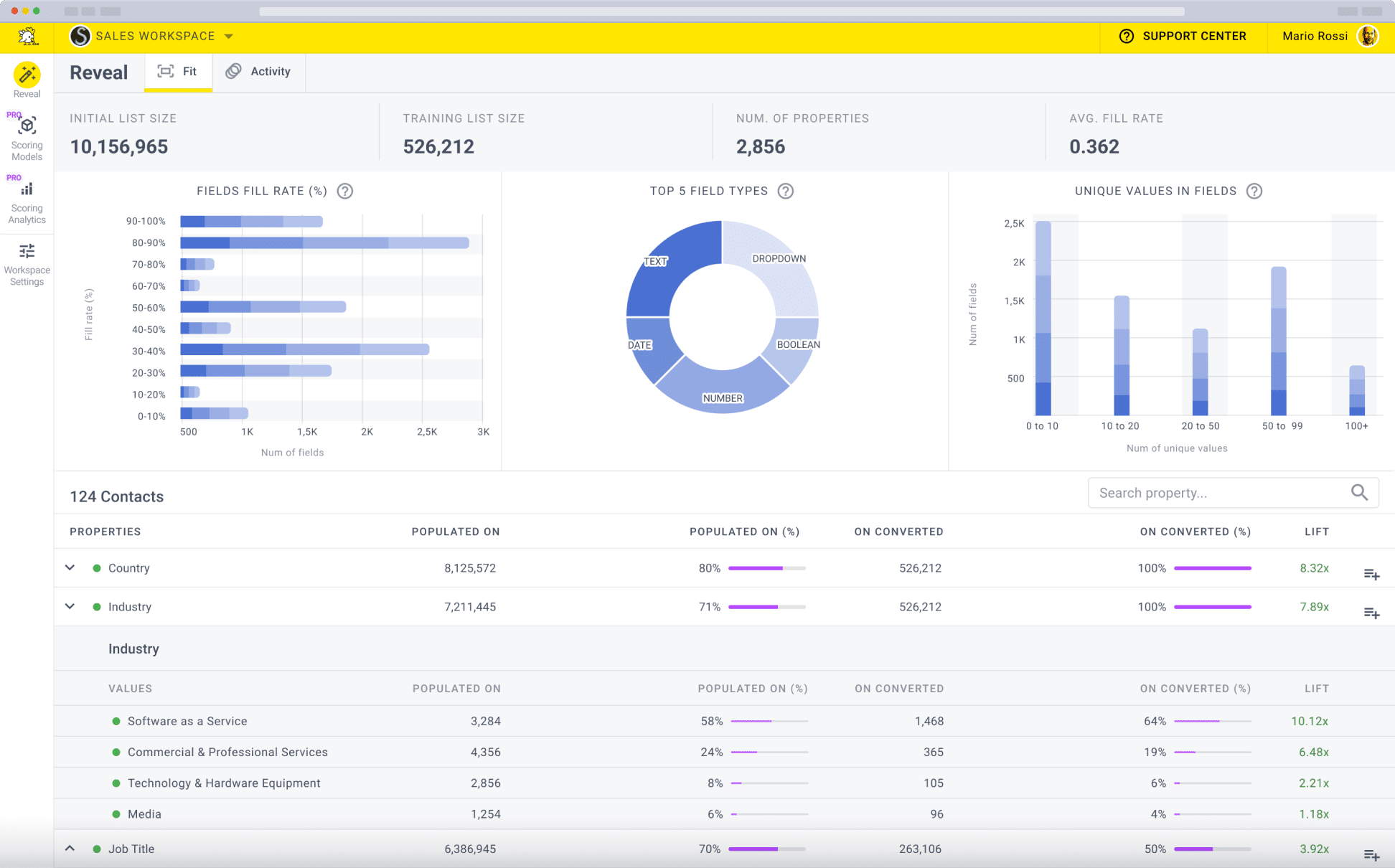 TL;DR: This helpful tool provides invaluable insight into your real customer base. And the good news is? It's available for free with any Breadcrumbs plan.
Once you have a strong grip on your ICP, you can start focusing on innovation.
And that brings us to…
How can you make your SaaS product strategy innovative?
Now that we've discussed what a SaaS product strategy is let's talk about how we can make it more innovative and effective.
Again, this boils down to understanding how to apply analytics related to your target audience. That includes knowing what they want and don't want and where their current behaviors are pointing for the future.
By keeping track of how customers and prospects interact with your company and products, you'll be able to predict trends before they happen. That means you can launch product strategies with these inevitable shifts in mind. A customer service virtual assistant can be helpful in tracking your customer needs and for constant engagement.
That might mean adding specific AI features, coming out with a brand new product option, or changing up your tiered plans breakdown.
It's also important to make sure that all sensitive data remains secure as you test innovative SaaS product strategies.
With the growing adoption of SaaS tools, cloud backup and recovery has become a top priority for companies and users alike. Make sure to invest in advanced security measures, such as autonomous backup, data encryption, permission-based access, and constant monitoring for cyber threats.
Examples of innovative SaaS product strategies
Below, we've collected examples of real-life SaaS product strategies for you to draw inspiration from.
These are companies that have risen to become leaders in their fields by identifying core needs and seizing the day with creative approaches.
1. Slack's freemium model
Slack wasn't the first corporate messaging tool to hit the scene. However, it became the most successful and well-known because it identified a missed opportunity and filled in the gap.
Slack adopted a freemium business model, giving customers access to its full suite of basic services while competitors were still charging for the same plan. Slack was confident in the product it was presenting and took a risk by offering it to users at no charge.
Once users realized that Slack met all of their needs, many of them never considered another option.
Freemium models have an average conversion rate of between 1% and 10%. And we're not talking about mobile games here. We're talking about huge enterprises like Dropbox and Evernote.
But get this…
By providing unrivaled free access to its services, Slack pulled out an unheard-of freemium conversion rate of 30%.
What can we learn from Slack's successful SaaS product strategy? By uncovering a gap in the market and differentiating its product price from its competitors, Slack dominated the market.
It took a worthwhile chance by offering an unrivaled free service with the hope that as client companies grew, they'd stick with Slack. Ultimately, the hope was that they'd upgrade to the premium Slack service.
The gamble worked.
Important note: While freemium models work well for established software companies, they're often not the best choice for SaaS tools with a small user base. If this strategy interests you, be sure to meet with a business consultant to determine if your user base is large enough to attempt a freemium vs a free trial model.
2. HubSpot's free website tool
While you might know a lot about your target customers, they don't know a lot about you initially.
That was the issue facing HubSpot back in 2007 when it was trying to grab its market share in the SaaS world.
It wasn't that the audience needed to learn about HubSpot specifically. More so, it was that they needed to understand why they needed HubSpot. To help with that, the company launched its free website grader.
This tool analyzed potential users' websites and assigned them a score on a scale of up to 100. It also offered actionable advice to prospective customers, allowing them to see what was missing and what solutions could help.
Additionally, HubSpot used search engine optimization (SEO) to optimize the tool's page to show up in online searches for website grading. By doing this, HubSpot could sit back and let prospective customers come to them.
It worked!
The company's co-founder Dharmesh Shah described the tool as:
"A simple little tool that helped millions of people improve their website—and in the process helped HubSpot become a publicly traded company with over 15,000 customers and a market value of over $1.6 billion."
Hubspot's SaaS product strategy once more shows us the importance of identifying a need. It could, in this case, even be a need that the customer has no idea they have.
By providing a free resource for prospective and current customers, the company created a lead-generation gold mine. That strategy took its SaaS product and launched it to the moon.
3. Xero's partner program
Xero's cloud-based accounting software might have never become the powerhouse it is today without its Xero partner program.
Initially, Xero realized that trying to sell its product to SMBs directly wasn't a viable product strategy. Since most of these target businesses worked through independent bookkeepers and accountants, Xero needed to cut out the intermediary and go after the accountants and bookkeepers directly.
That's why it created the Xero partner program. This innovative program brought on accountants and bookkeepers as partners, allowing them to become "Xero certified" and ultimately gain new clients. The company also rolled out various awards and events designed to help enrich their partner businesses.
This program is another strategic gamble that paid off big time. Xero stated that it owed 90% of its paid subscribers in New Zealand and Australia to this program!
When we look at this SaaS product strategy, we see a company that had an initial view of its target audience and shifted focus to a more profitable direction.
Changing its target market was undoubtedly scary. But taking that leap proved to be an innovative and successful choice. As a result, Xero generated more than 1.3 million subscribers and increased the company's market cap to $6 billion.
4. Hootsuite's topical and entertaining video content
A smart SaaS product strategy is to try and capitalize on what's hot at the moment—as long as it makes sense for your company and ideal customer. That's how social media management software Hootsuite made a splash during the initial Game of Thrones craze.
This show was the hottest thing on TV, so right before a new season launched, Hootsuite struck while excitement was at an all-time high.
The company created a video that spoofed the iconic opening of Game of Thrones. It saw an opportunity to draw parallels between the themes of a popular show and what its SaaS solution brought to the table.
Its overall message was that Hootsuite was a tool that managed the quiet and subtle battles the user base faced between various social networks.
Since Hootsuite's main product feature is social media management, it made sense that this video made a major splash on social platforms. It was an immediate sharing sensation that brought a lot of brand awareness to Hootsuite's platform.
Currently, the video has over 1.3 million views on YouTube.
What can we learn from Hootsuite's example? Pop culture phenomena can be worth capitalizing on. If you can find an effective way to attach your product to the big hit "in" trend of the moment, you may be able to share in its success.
But it has to be clever to be effective.
A cringy or sloppy attempt at appealing to an ongoing pop culture trend can be seen as desperate and, worse, out of alignment.
Hootsuite's SaaS product strategy required time, thought, effort, and money into this strategy before taking the leap. By aligning its core offer with pop culture, it found the sweet spot between trend capitalization and relevant product marketing.
SaaS Product Strategies: Wrap up
And there you have it!
Simply put: There's a lot of money to be made in the SaaS world.
But you need a strong understanding of your target audience to capitalize on their wants and needs.
That includes knowing the customer journey, your customer segments, and how to identify the leads that have the best chance of converting. One of the best ways to do that is with an enterprise-grade lead scoring solution like Breadcrumbs.
That way, you can focus on the best leads in your sales funnel. Every. Time. Click here to try Breadcrumbs for free. ✅