Despite a large number of software tools on the market today, spreadsheets remain the undisputed champ.
Here at Breadcrumbs, we think you're missing out if you're using spreadsheets to analyze your sales data.
In this guide, let's look at the five sales dashboards every sales leader needs and how they help optimize your sales process from beginning to end.
What are Sales Dashboards?
Sales dashboards are visual sales reports that show the overall sales team performance during a specific time frame.
These automated and pre-built dashboards pull all sales data in a single report (made possible by integration), saving you time and effort from jumping from one platform to another.
Most sales reporting solutions offer sales dashboard templates with built-in sales metrics and visuals (e.g., pie charts, bar charts). They're ideal for busy sales leaders without any design skills.
Best of all, these modern sales dashboards are an asset when it comes to making critical decisions.
Take this ecommerce store's interactive dashboard below.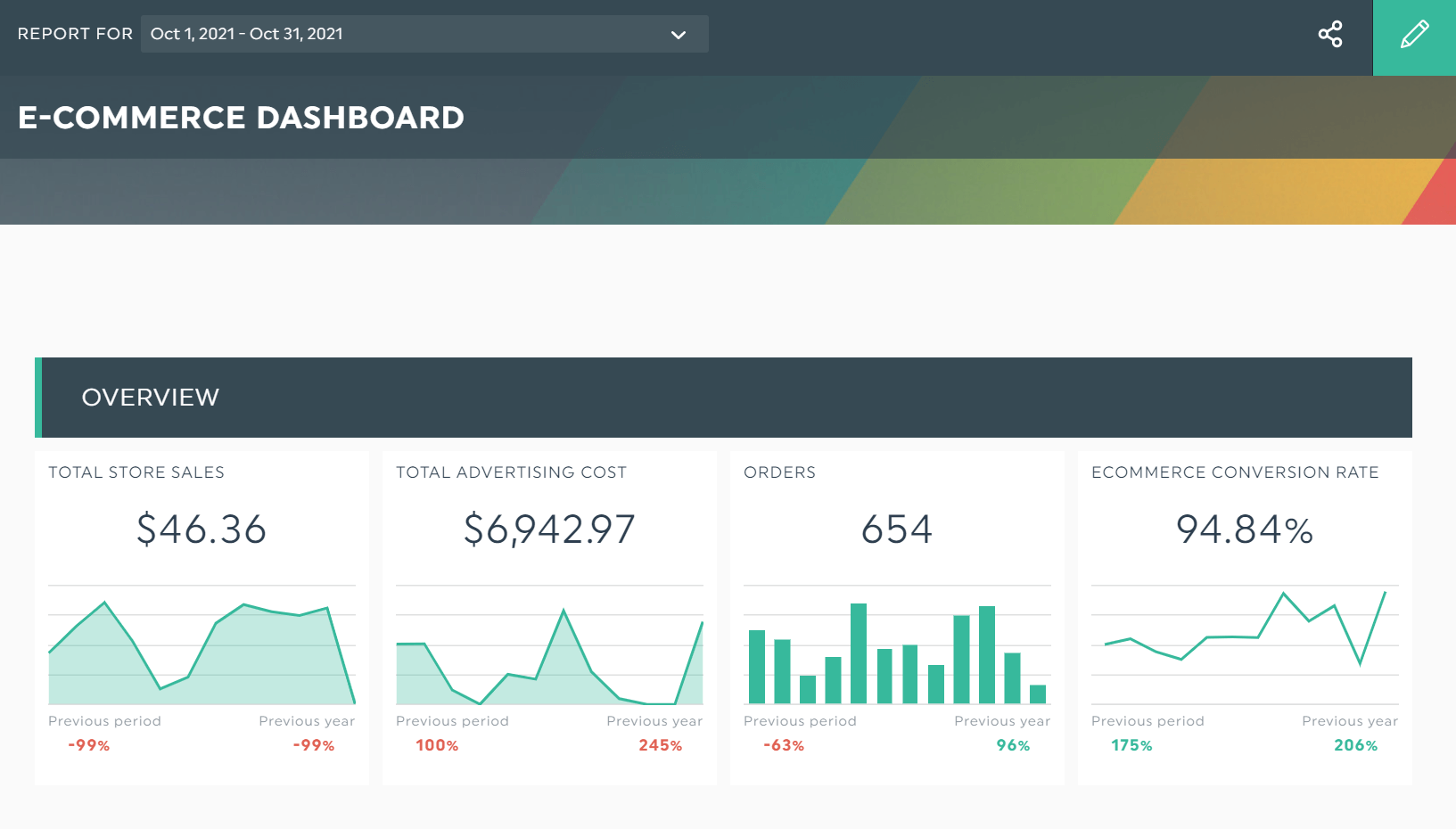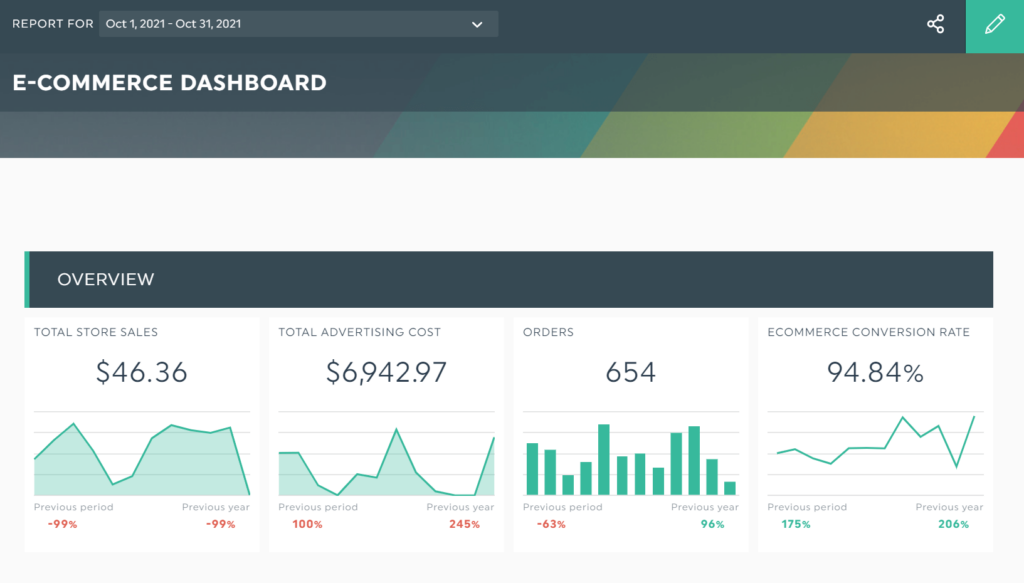 The rise in advertising costs and drop in store sales might indicate it's time to assess the marketing campaigns.
Why Do You Need a Sales Dashboard?
Without a sales dashboard, it's challenging to keep track of your sales growth and optimize your sales efforts.
Sales reps would struggle to track valuable sales opportunities and address their blind spots.
On the other side of the coin, sales managers would wrestle with evaluating the performance of each sales representative.
And C-suite sales leaders like sales VPs and CEOs?
They wouldn't be able to analyze essential metrics like profit and average deal size. It's only a matter of time until sales productivity and revenue growth take a bad hit.
Sure, you could use Excel or Google Sheets to stay accountable for your sales goals and sales targets.
But these spreadsheets are often messy and overwhelming. It's almost impossible to distill actionable insights from the endless rows and columns.
The sales activities dashboard is a no-brainer in this case. It tells you everything you need to know in your sales process from beginning to end.
What Should a Sales Dashboard Include?
Since a sales dashboard visualizes your sales funnel, it should include graphs and charts that bring your KPIs to life.
Depending on the sales reporting tool you use, you might even include notes next to your KPIs for better context and a text box that details your sales insights and recommendations.
5 Sales Dashboards Examples
In this section, let's look at the five sales dashboards you'll need.
Before we begin, note that there are no hard and fast rules.
Every business has a different set of challenges. It's entirely up to you to pick the KPIs you want to add or remove from your sales dashboards.
And while you can always create a dashboard in excel to analyze your sales data, you may also want to consider a good software tool.
1. Sales KPI Dashboard (Individual)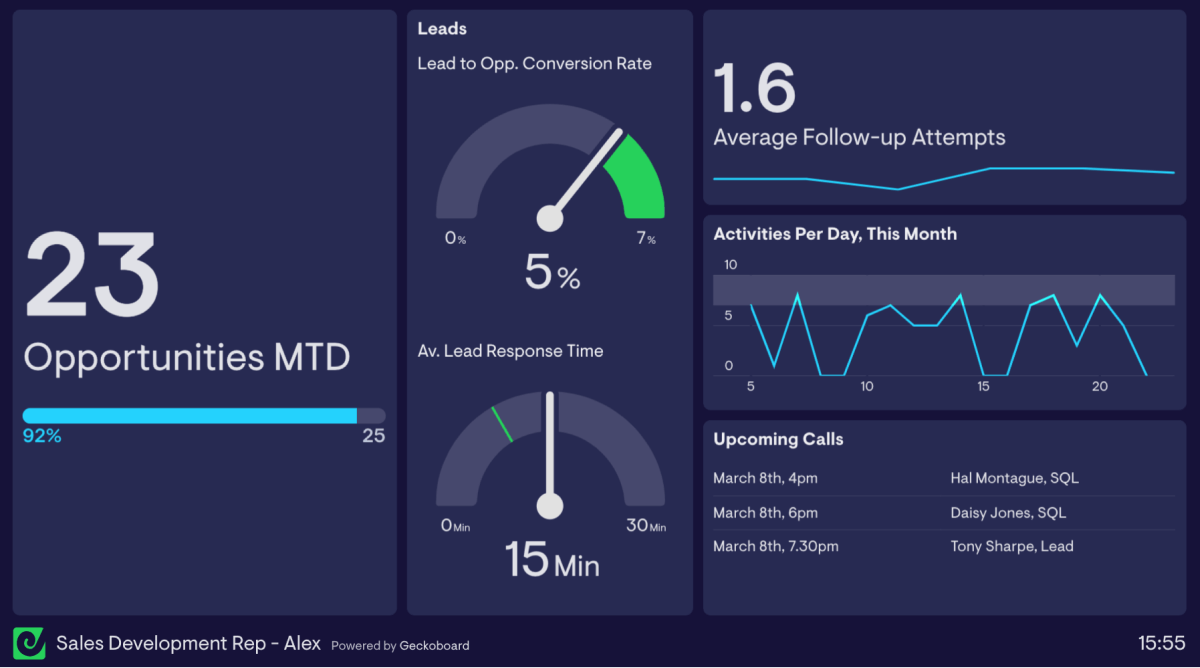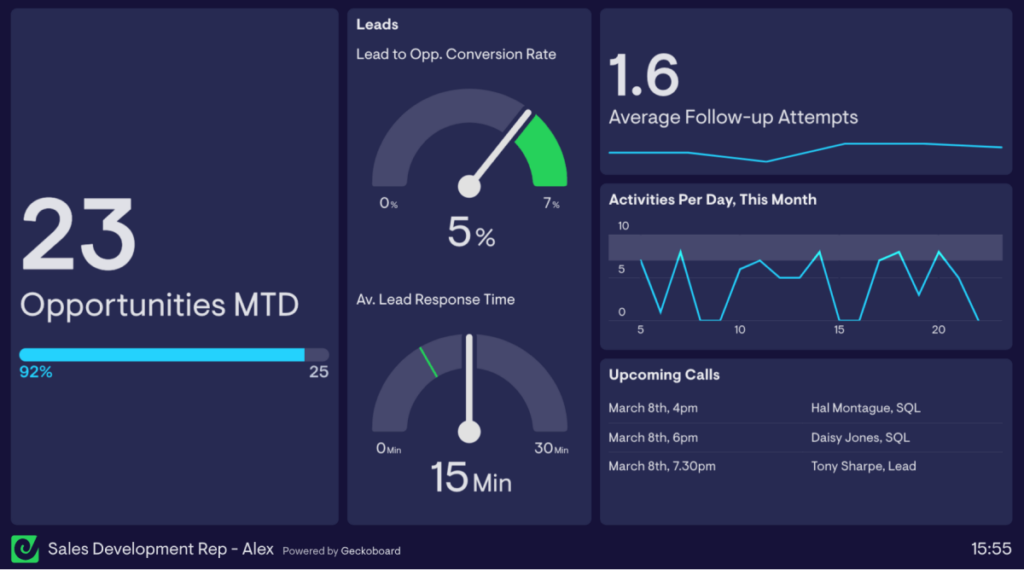 KPIs used: Opportunities created against target, lead response time, average follow-up attempts.
The individual sales KPI dashboard is the SDR's accountability buddy.
It keeps them on track with their sales activities and identifies potential blind spots.
For example, a low average follow-up attempts indicates that the SDR needs to set up a consistent follow-up routine.
Sales managers can use this dashboard during sales training and team meetings to share feedback, coach, and discuss areas for improvement.
2. Sales Performance Dashboard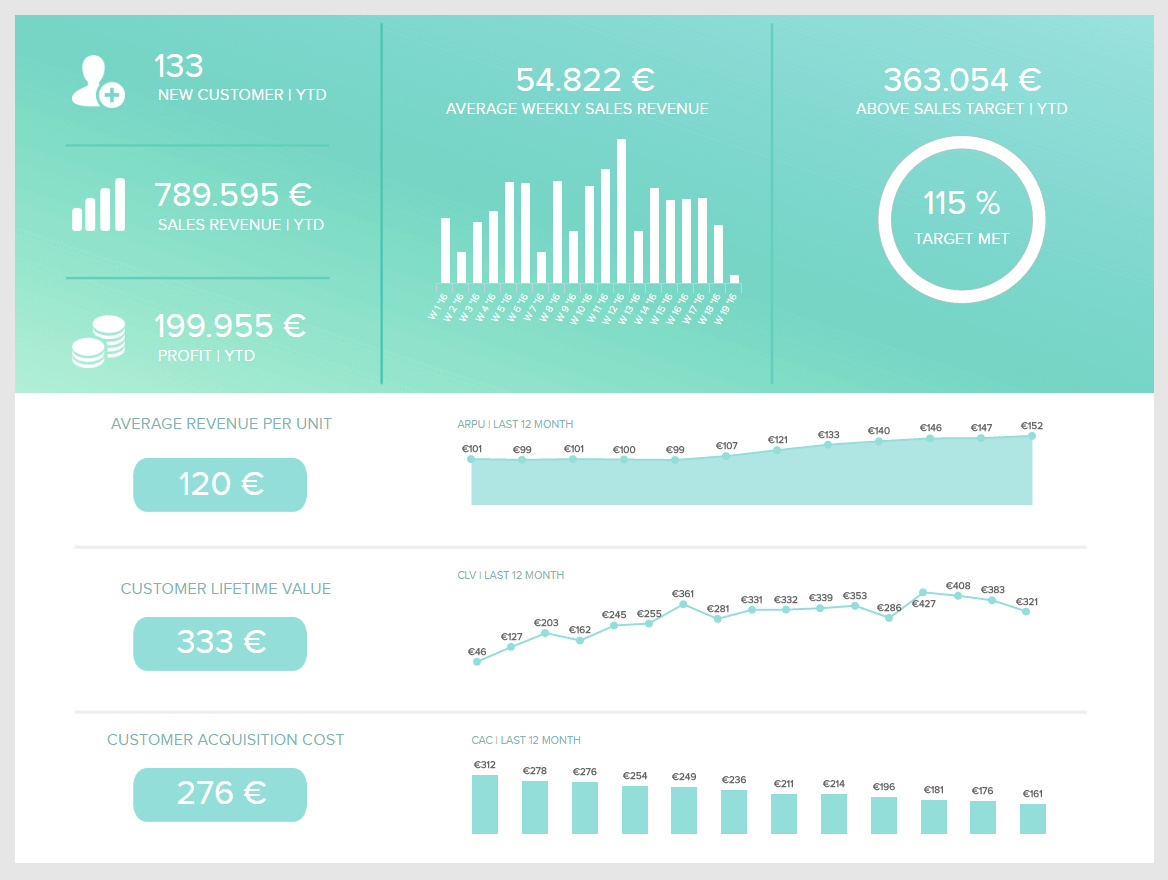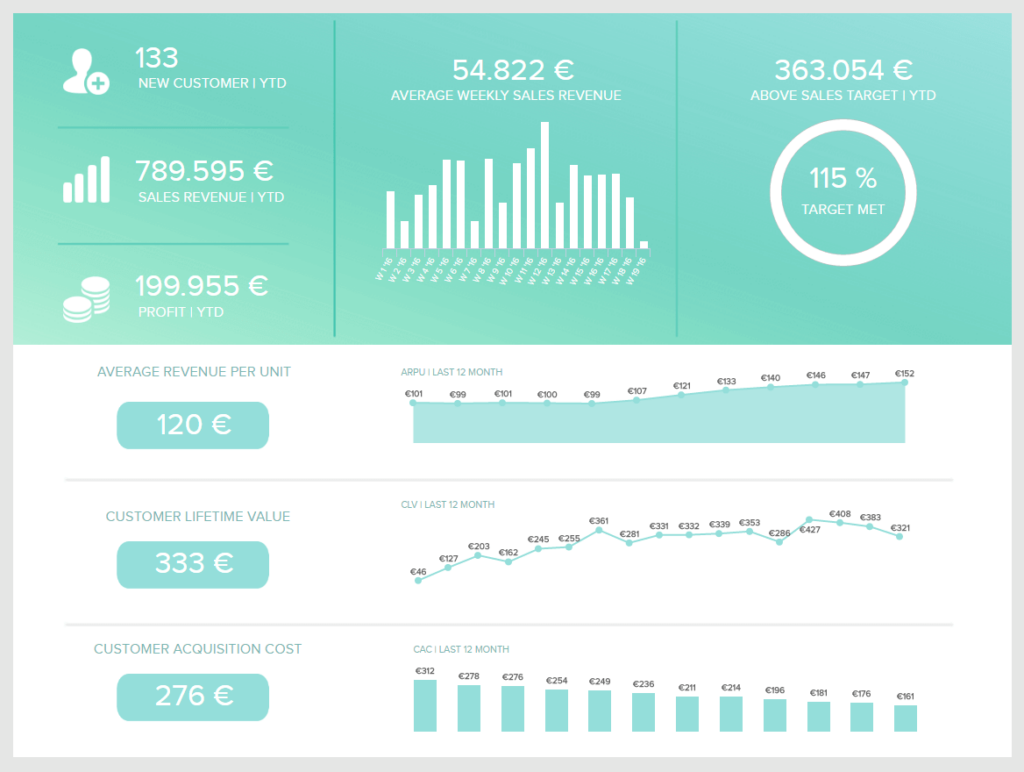 KPIs used: Number of new customers, sales target, average weekly sales revenue, customer acquisition cost (CAC), customer lifetime value (CLTV).
The sales performance dashboard gives you insights into your team performance during a time period.
For example, the high sales target and low customer acquisition cost could indicate that you're not spending as much money as you used to acquire a new customer—a great sign if you want to promote predictable revenue.
Look no further than the sales performance dashboard if you want to improve your sales operations.
With these insights at your fingertips, you'll be able to support your frontline sales teams to sell more efficiently.
Note that the sales performance dashboard is different from a sales leaderboard.
While the former shows the collective effort of an entire sales team, the latter shows how your sales reps stack up against each other. Common metrics include daily activity and number of products demos completed against targets.
3. Sales Cycle Length Dashboard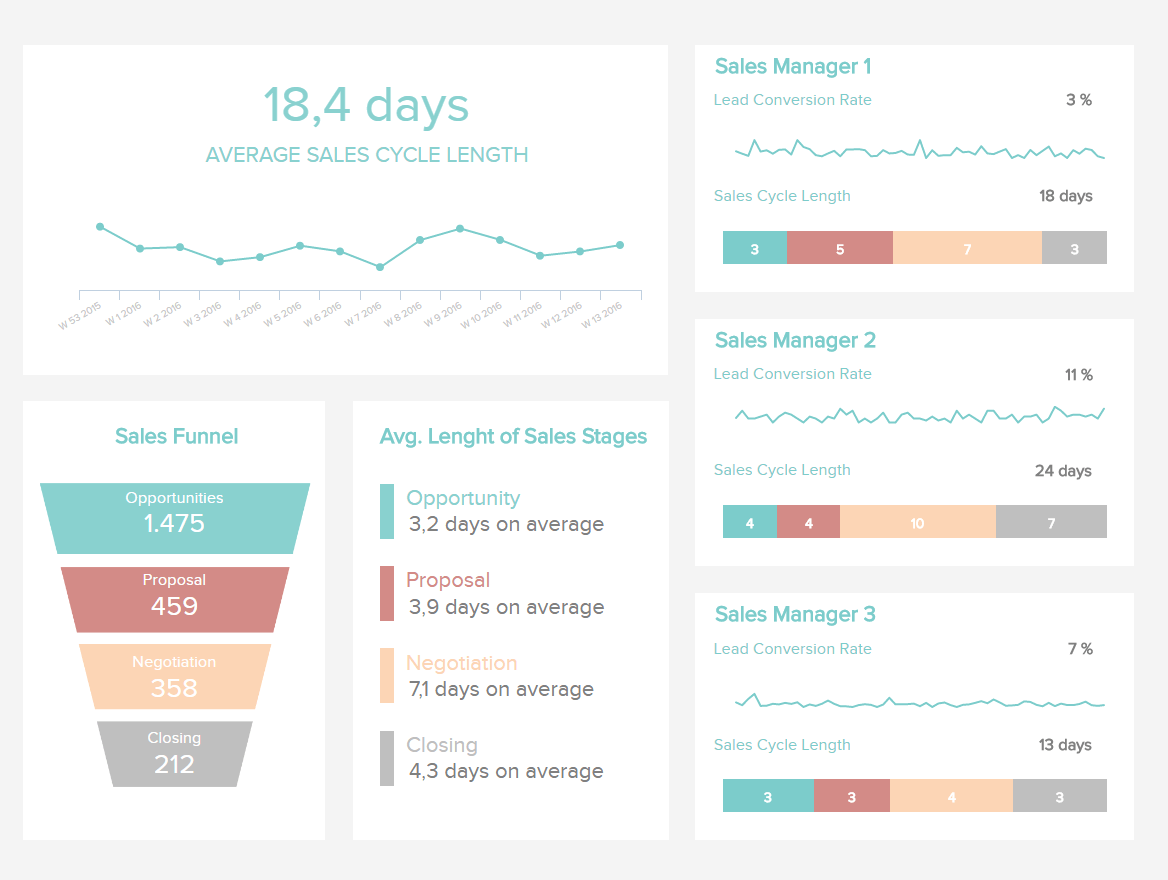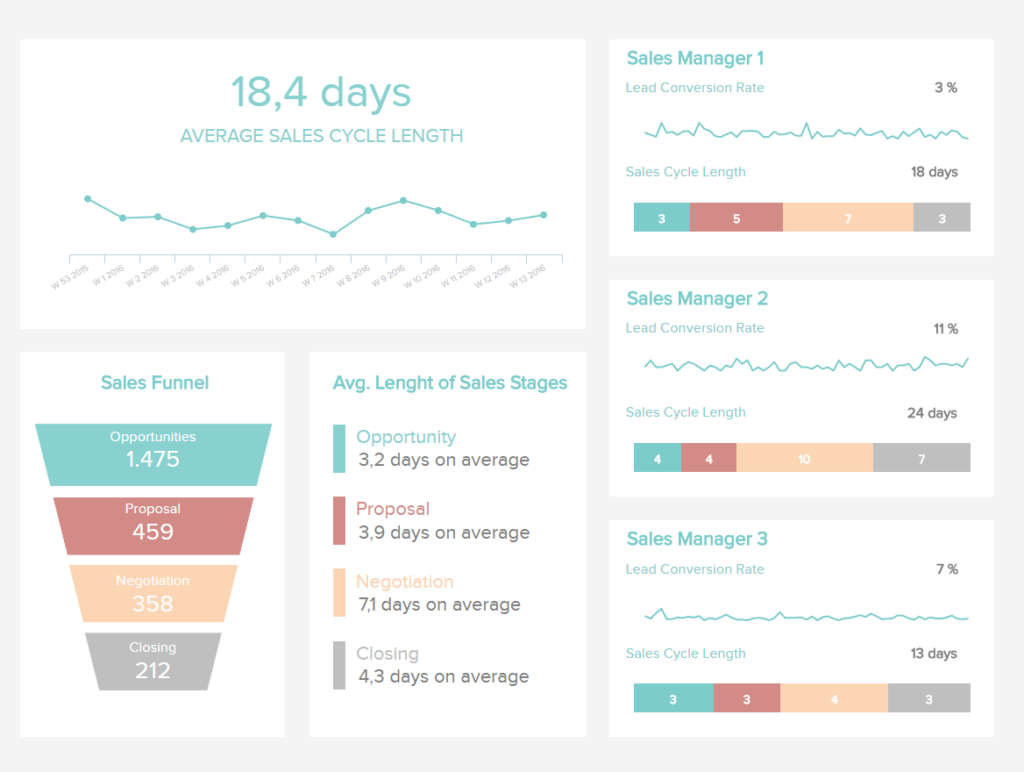 KPIs used: Average sales cycle length, average length of sales stages.
The sales cycle length dashboard lays out the average number of days (or weeks or months) it takes to identify a prospect and convert them to a lead and customer.
This is the dashboard to look into if you want to shorten your sales cycle effectively.
The metric, average length of sales stages, pinpoints potential bottlenecks in each phase of the buyer's journey. For example, a lengthy negotiation might mean you need to train your sales team on negotiation techniques.
The aforementioned sales report even breaks down the performance of each sales manager, drilling down into their lead conversion rate and cycle length.
That said, it helps you identify the best sales performer for your business's bottom line.
No doubt it'd be helpful if you're looking to promote them to a senior role.
4. Sales Conversion Dashboard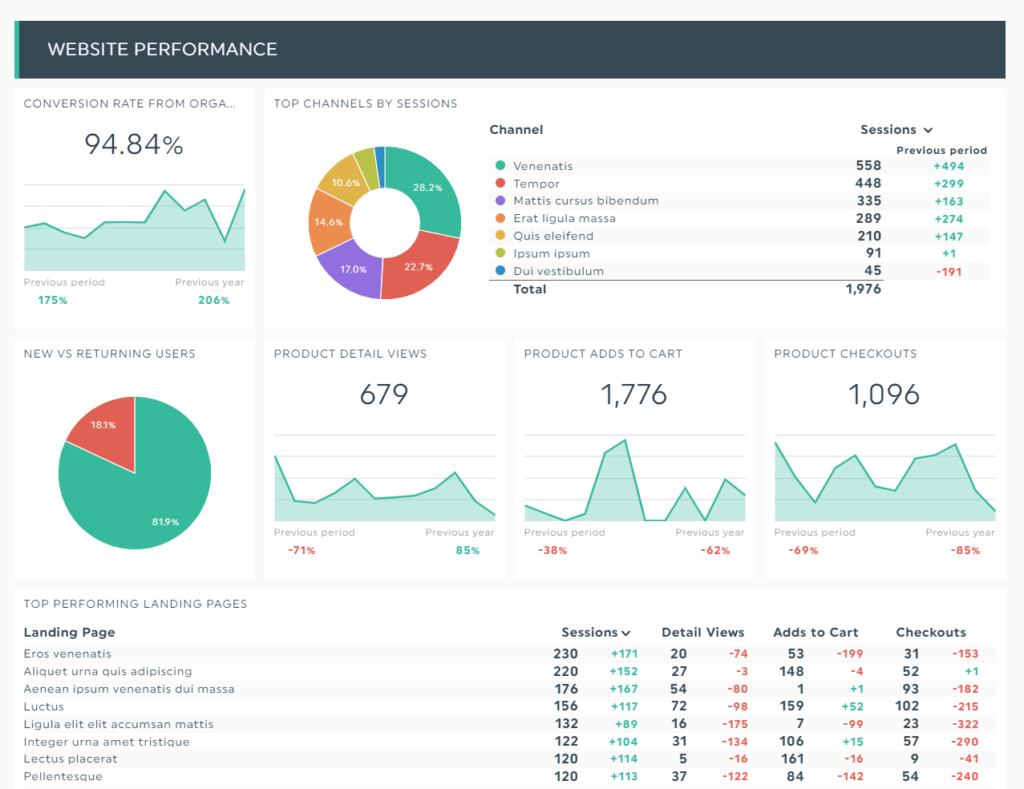 KPIs used: Conversion rate, lead-to-opportunity ratio, opportunity-to-win ratio, churn rate, loss rate.
The sales conversion dashboard tells you how effective your sales team is at converting leads to paying customers.
The ecommerce sales report above even breaks down sales by campaigns.
Note the metrics alongside the top-performing landing pages: Sessions, detail views, adds to cart, and checkouts. The drop in checkouts could indicate expensive shipping fees or bad checkout navigation.
Are you dealing with repeatedly low conversion rates?
That could also mean you're going after the wrong leads.
Use a lead scoring tool to identify sales-ready leads and accelerate revenue.
Here's how it works:
1. Connect your data sources (e.g., HubSpot) with Breadcrumbs
2. Assign a score for each web activity and demographic attribute (e.g., CEOs will score 100% while managers will score 70%)
3. Activate your lead scoring model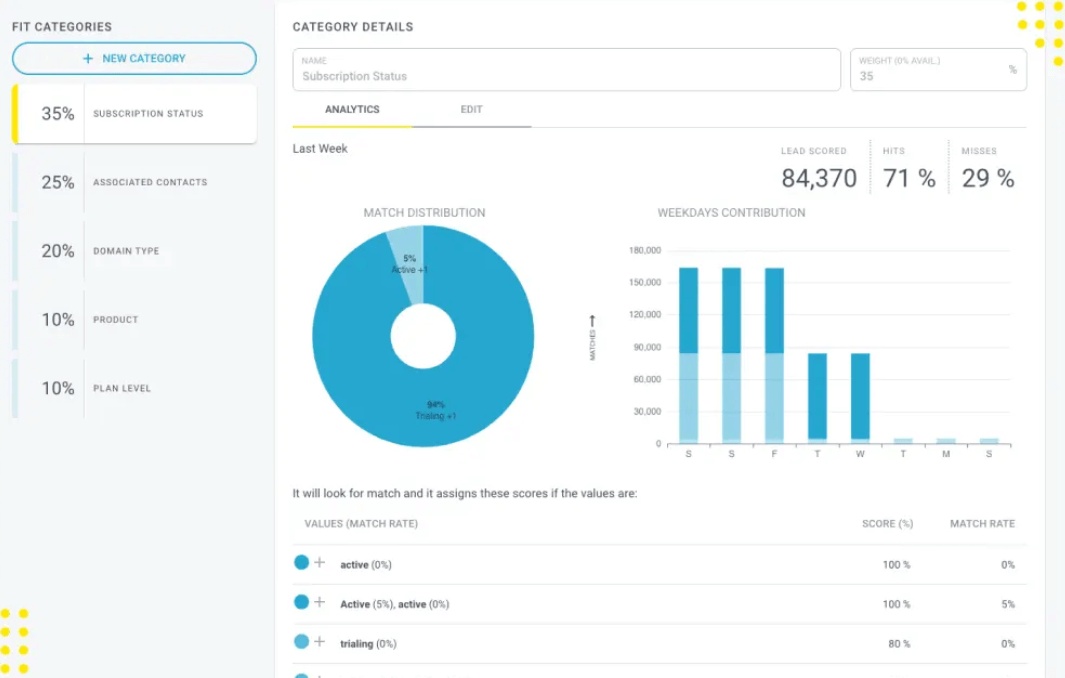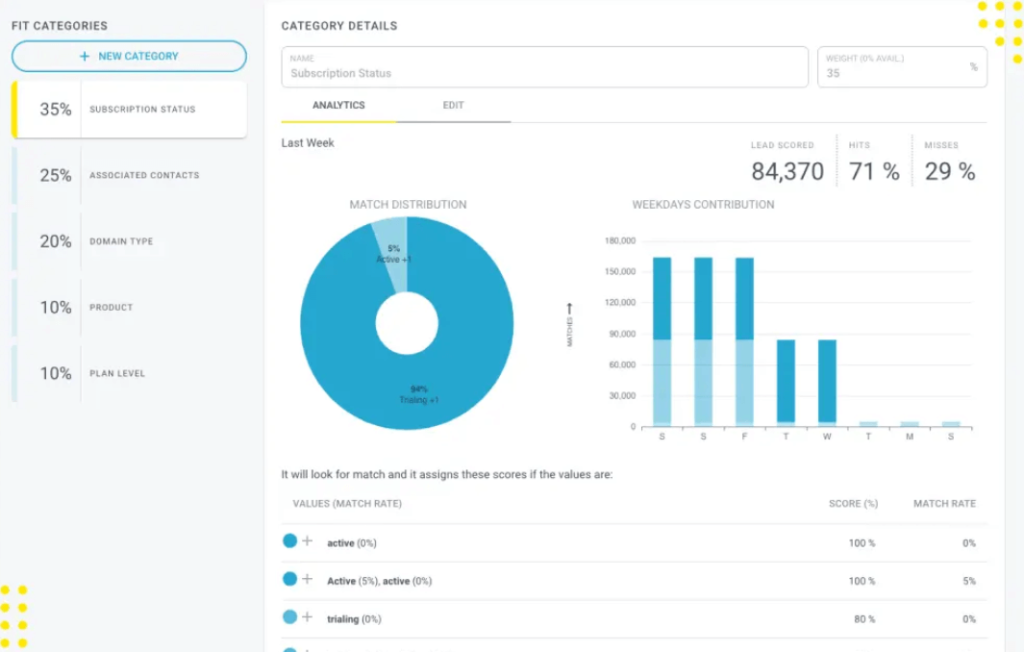 Breadcrumbs will send all scoring information back to your data source, letting you create relevant workflows and notifying you of every red hot sales opportunity.
Book a demo with Breadcrumbs and accelerate your revenue today.
In some cases, you might even add the churn rate and loss rate in your sales dashboards for a complete picture of your sales growth performance.
It's also common to see the lead-to-opportunity ratio and opportunity-to-win ratio metrics in the sales conversion dashboard.
This report is also excellent for executives, as it helps them make data-driven decisions.
For example, if your lead-to-opportunity ratio is high but your opportunity-to-win ratio is low, it may indicate that your lead generation and lead nurturing campaigns are working but your closing needs improving.
5. Sales Opportunity Dashboard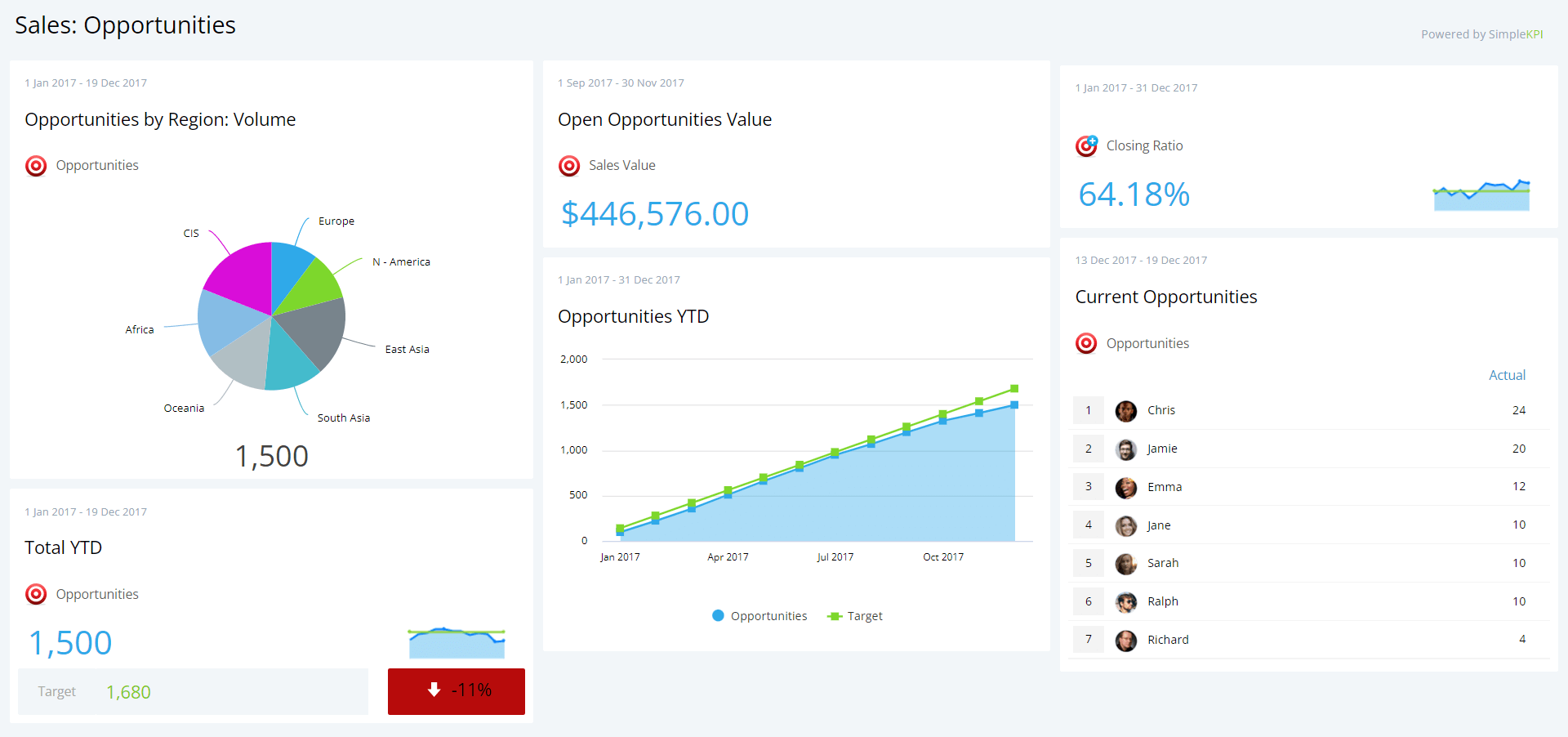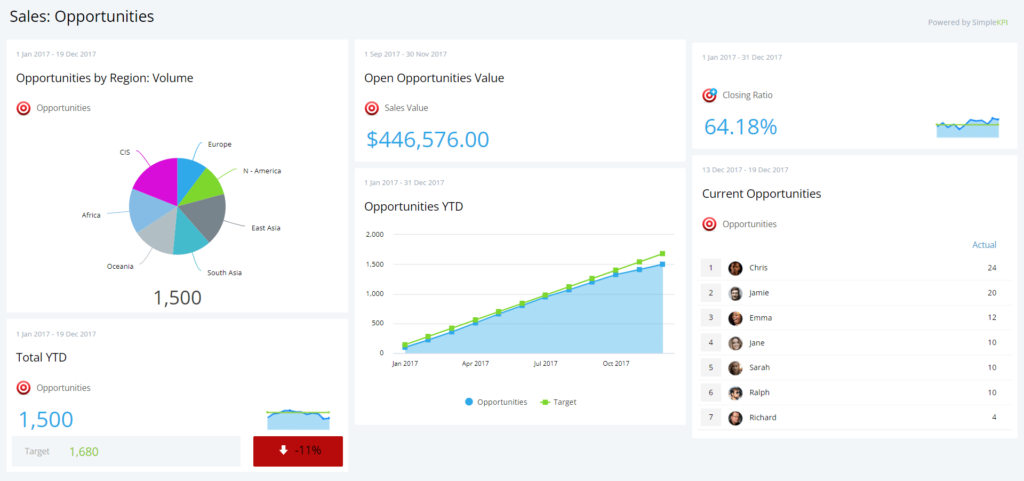 KPIs used: Sales opportunities generated, average purchase value, units per transaction, sales opportunities by region / country.
The sales opportunity dashboard shows the latest opportunities and the potential revenue from prospective customers.
Your sales dashboards tool might even let you filter these real-time data by the individual sales rep, region, and closing ratio.
This dashboard is best used when you want to dig deep into the performance of your sales reps, uncover hidden revenue opportunities, and tweak your sales strategies accordingly so that you can allocate your resources to the most qualified leads.
Create Effective Sales Dashboards Today
Sales dashboards triumph spreadsheets, simply because you can:
Automate them using integration, which in turn saves hours of your time
Gather all critical data in one place without scrambling across different sales channels, and
Present your hard-won results in beautiful and digestible charts
Go ahead and create these sales dashboards.
Better yet, use them together with lead scoring.
That way, you can go after your sales-ready leads and boost your win rates like the top performer that you are.
Book a demo with Breadcrumbs and accelerate your revenue today.