Spreadsheets remain popular despite the abundance of robust software tools in the market today.
However, spreadsheets miss the mark in analyzing sales data big time. Not only do the endless columns and rows fill us with dread, but it's also impossible to distill data into insights effectively.
In this guide, let's look at five easy-to-understand and powerful sales dashboards and how you can use them to optimize your sales pipeline from beginning to end.
START SCORING YOUR LEADS FOR FREE!
Breadcrumbs' plug-and-play lead scoring platform gives you and your team better visibility into the leads that are most likely to buy. Grab your free account today.
What are Sales Dashboards?
Sales dashboards are visual sales reports that show the overall sales performance during a specific time frame.
These automated and pre-built dashboards gather all sales data across channels in a single report, ultimately saving you time and effort from building them from scratch.
Most sales reporting solutions offer sales dashboard templates with built-in sales metrics and visuals (e.g., pie charts, bar charts), making it ideal for busy sales leaders with zero design and coding skills.
These modern sales dashboards speed up critical business decisions.
Since every metric is displayed in a digestible format, stakeholders can understand what's happening in the sales department and beyond without overspending time to make sense of the data.
Note the ecommerce store's interactive dashboard below.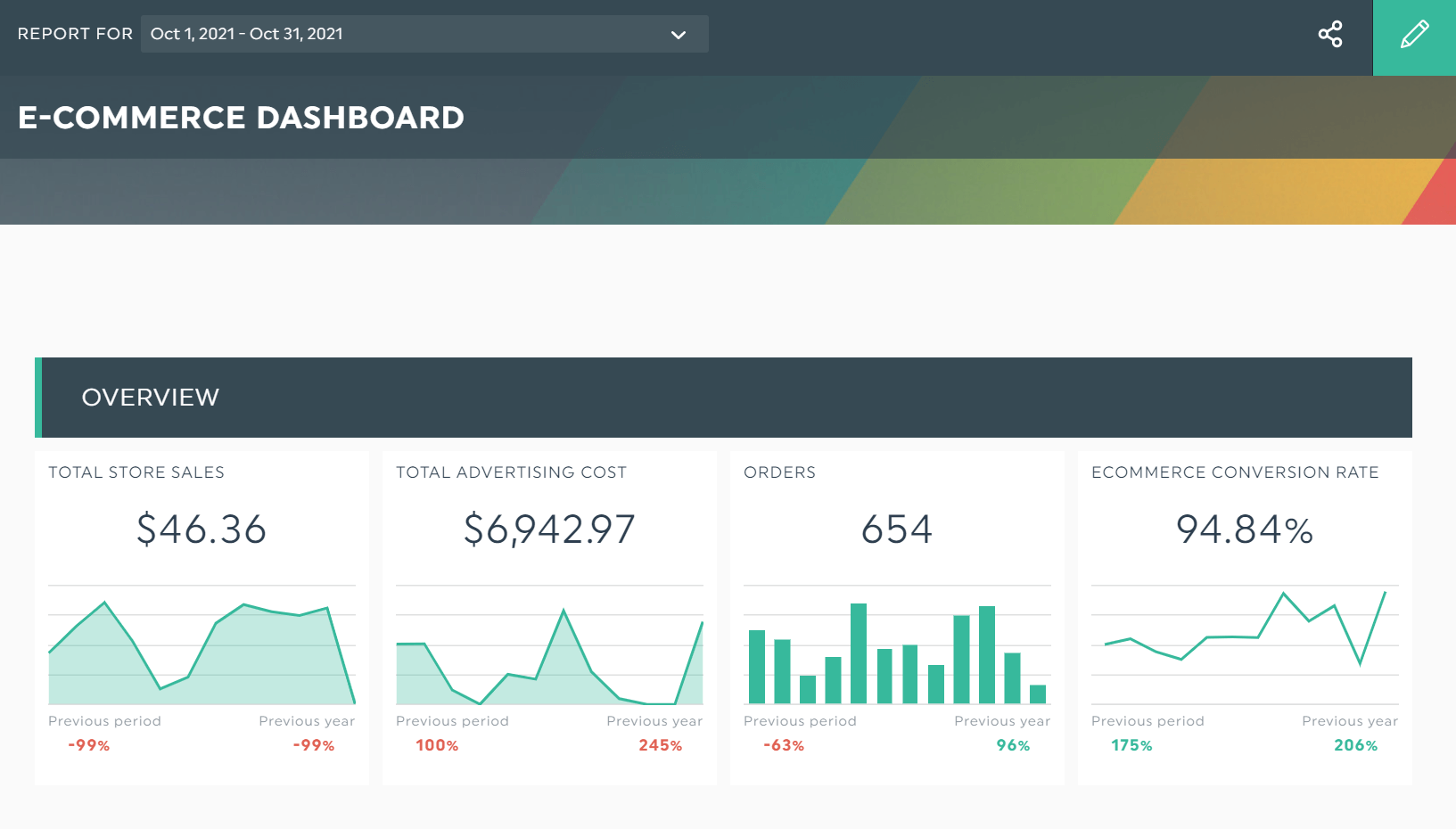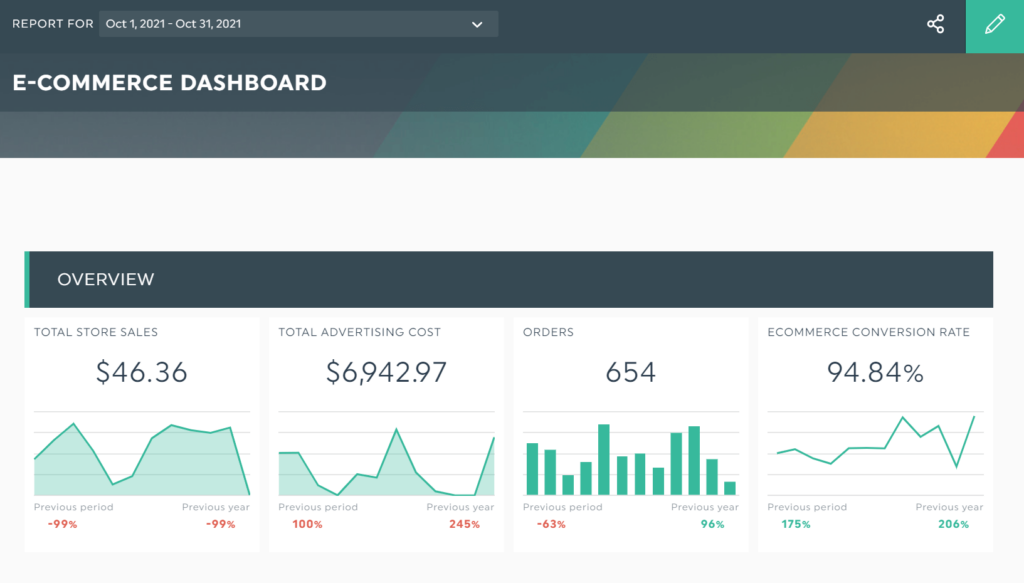 A single glance tells you the impact of your advertising costs on the total store sales. The drop in performance might indicate the need to tweak the marketing budget.
5 Sales Dashboards Examples
Identifying the specific stage at which your deals are slipping is the key to improving sales performance. Here are five sales dashboards to pinpoint your leaks and unlock revenue acceleration.
1. Sales Conversion Dashboard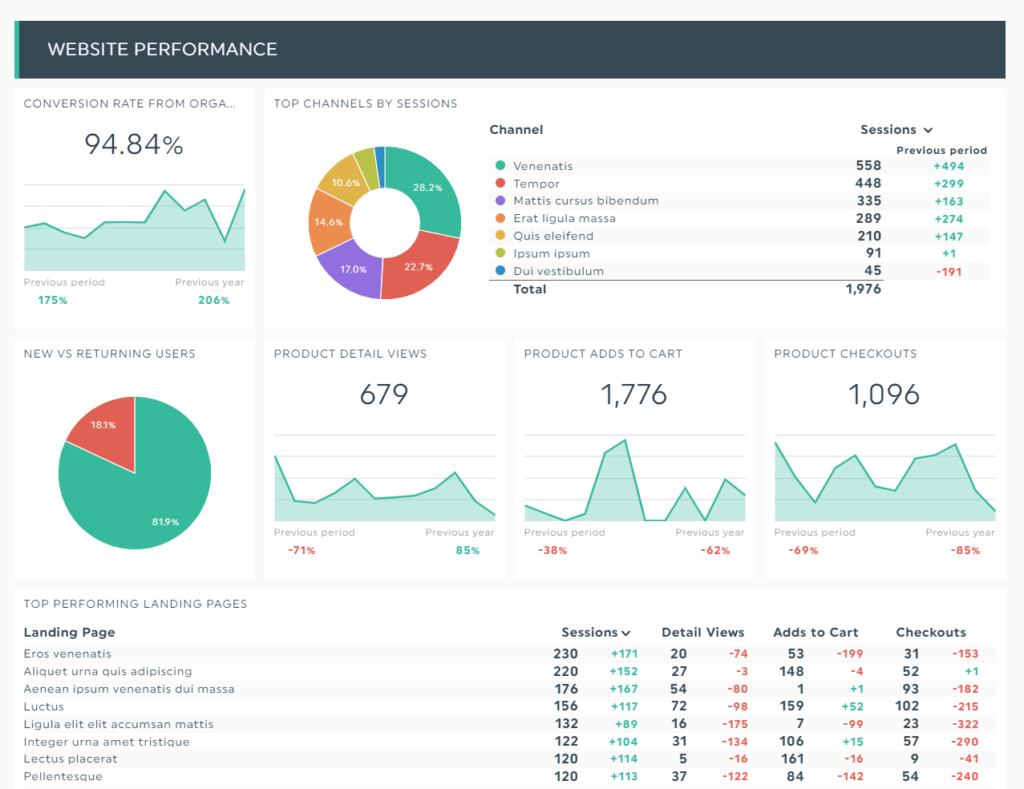 Metrics and KPIs used:
Conversion rate
Lead-to-opportunity ratio
Opportunity-to-win ratio
Churn rate
Loss rate
The sales conversion dashboard tells you how effective the sales team is performing at converting leads to paying customers.
Companies with marketing and sales alignment might also add the metrics, track leads by source and sales by campaign, in the report to identify their best channels. In some cases, you might even add the churn and loss rate in your sales dashboards for a complete picture of your sales growth performance.
Use this sales dashboard to monitor the conversion rate and watch out for the following factors: poor user experience, bad call-to-action, and wrong target audience.
These problems, especially chasing after the wrong ideal customer profile (ICP), often lead to revenue loss.
Use a tool like Breadcrumbs Reveal to check you're focusing on the right target audience. Our tool analyzes your entire marketing, sales, and product data to highlight the attributes and actions that attract revenue.
Here's how it works:
Connect your data source (e.g., HubSpot)
Select the customer segment that defines success (e.g., customers on pro annual plan)
Reveal your results
Breadcrumbs Reveal will provide a detailed view of your best customers today. Update your ICP based on these new insights to align the marketing, sales, product, and customer success teams.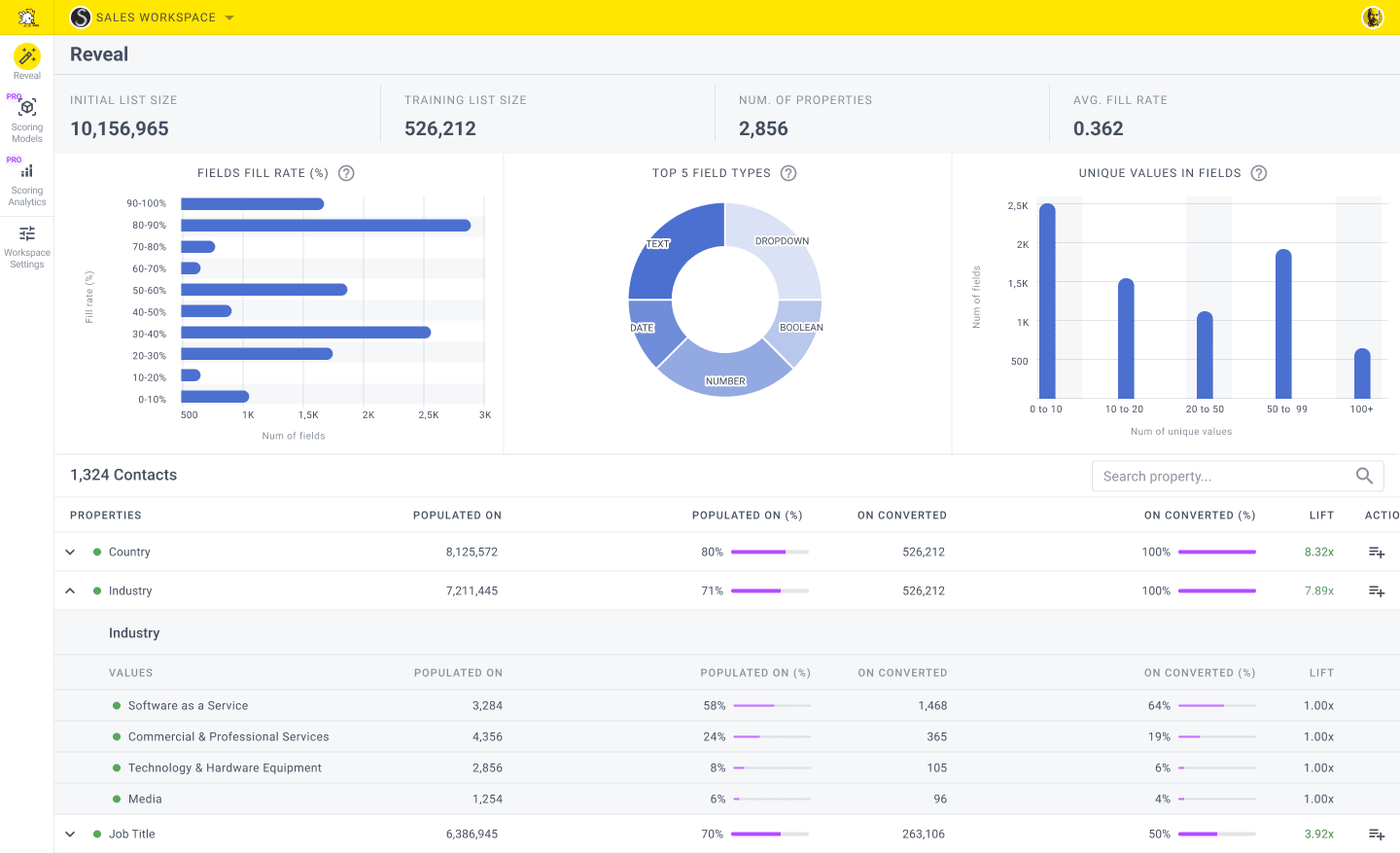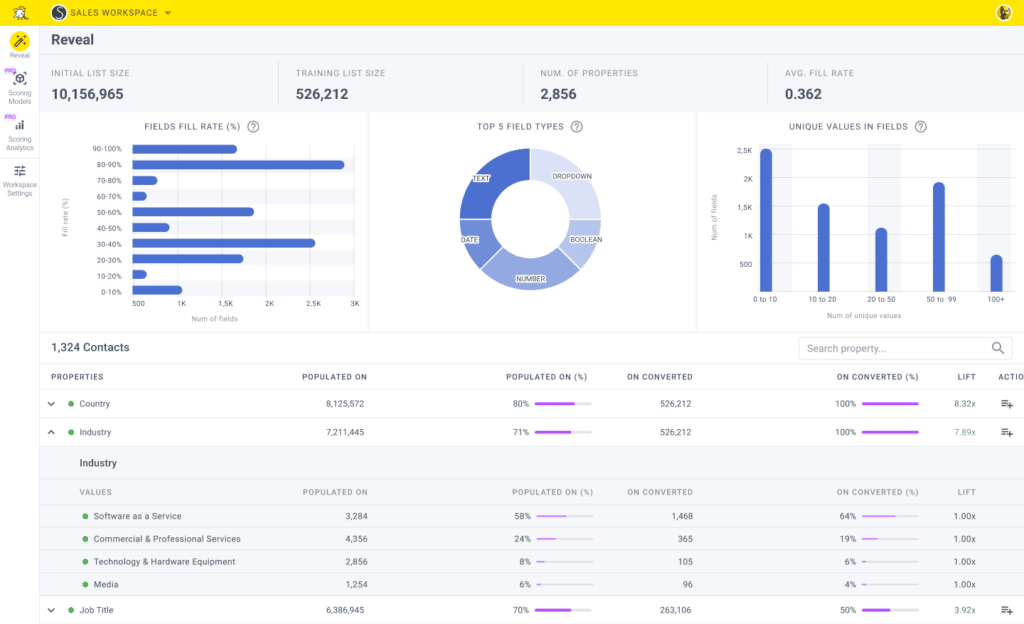 That way, all teams can focus on campaigns and conversations that are most likely to generate conversions.
And while you're at it, use our contact scoring tool to improve revenue in the entire customer journey.
Unlike most lead scoring systems that only identify sales-qualified leads (SQLs), ours unearth all qualified leads with insights into recency and frequency.
Whether it's marketing-quality leads (MQLs), SQLs, or product-qualified leads (PQLs), our co-dynamic tool helps you identify them all. You can also use our contact scoring system to catch at-risk customers and improve customer retention.
For example, here's how you might build a SQL scoring model:
Connect your CRM with Breadcrumbs
Determine what makes a SQL (e.g., logins every day for the past 14 days + invites users + integrates three or more third-party tools + visits pricing page three times within the past week)
Activate the SQL scoring model
Breadcrumbs will sync these scores back into your CRM to build triggers. You can route sales-ready leads to relevant sales rep, send alerts to your Slack channels, build reports in the CRM, and more.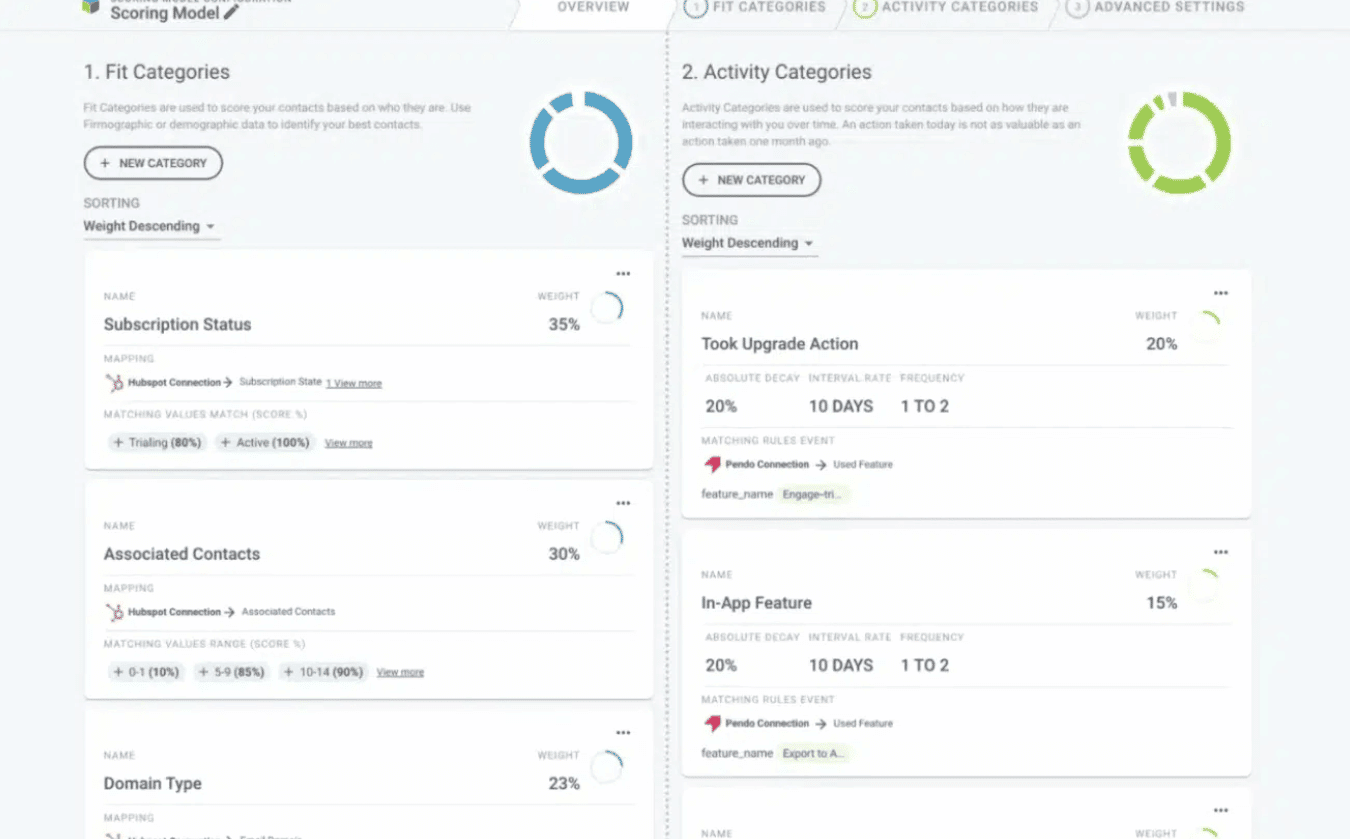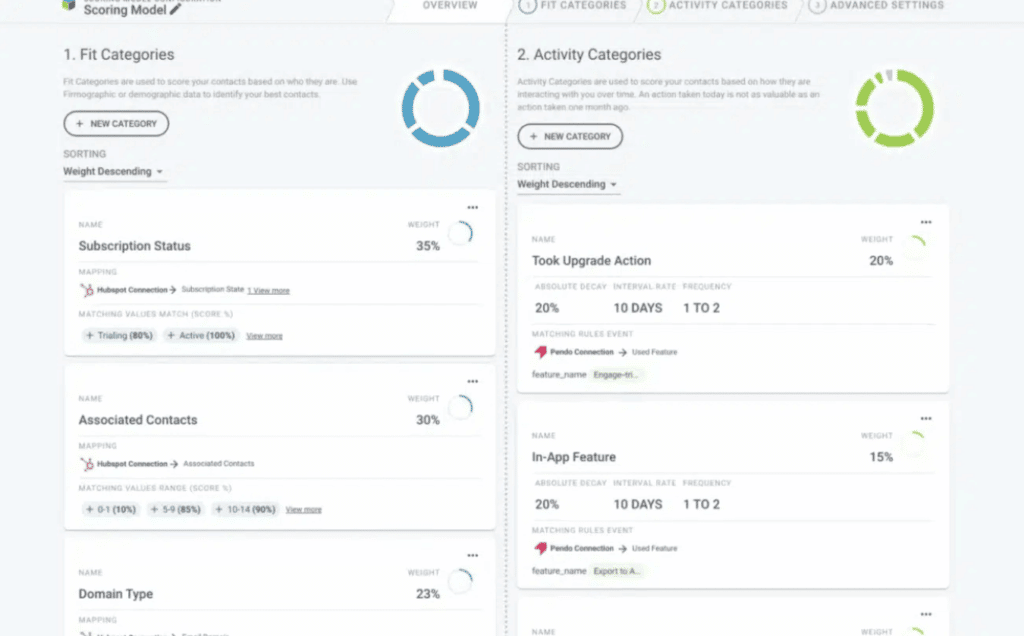 Contact scoring tools give you context around what makes a lead ready to buy, a customer at risk of churning, and more.
Understand what attributes and actions are the best indicators of revenue in the entire funnel. Grab your free account to unlock revenue acceleration today.
2. Sales Performance Dashboard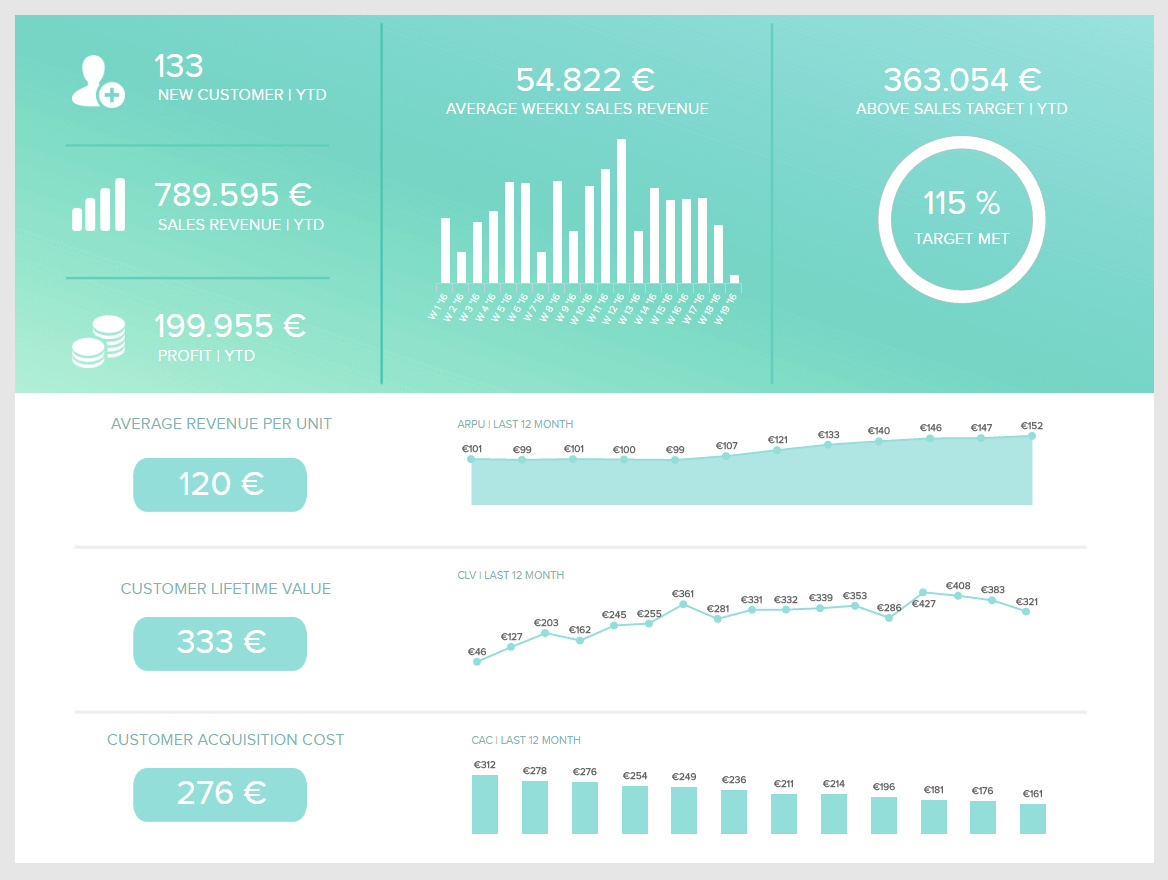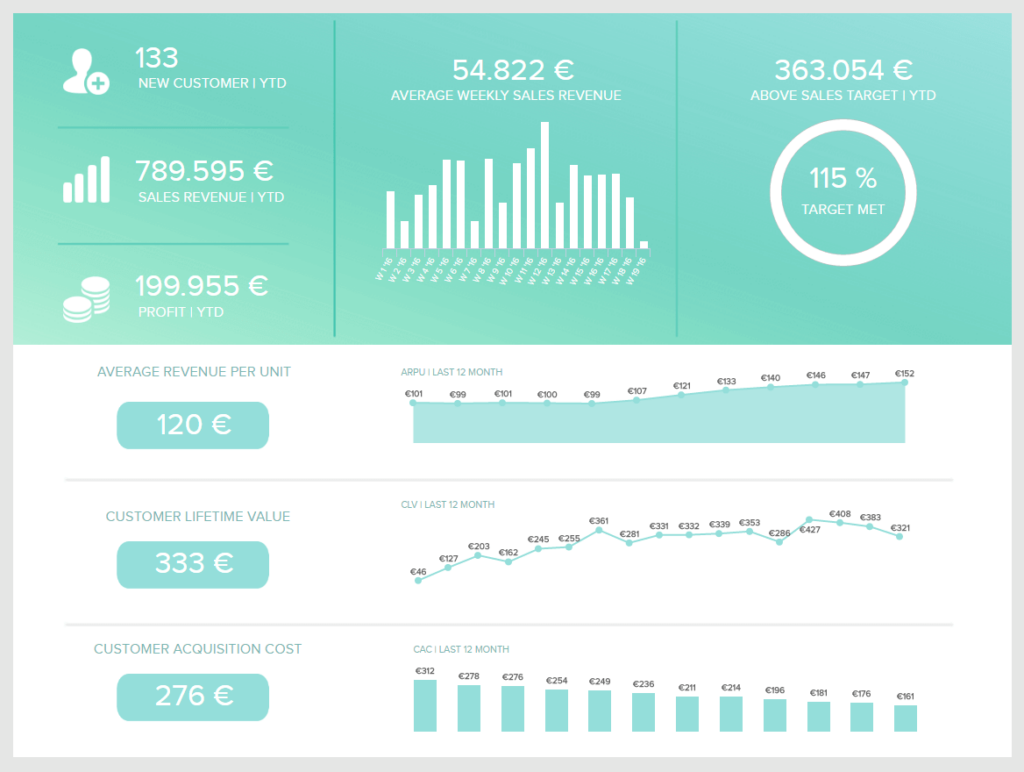 Metrics and KPIs used:
Number of new customers (or converted leads)
Sales target
Average weekly sales revenue
Customer acquisition cost (CAC)
The sales performance dashboard evaluates your team's performance during a period. 
A high sales target and low customer acquisition cost indicate that you're not spending as much money as you used to to acquire a new customer—a great sign if you want to promote predictable revenue.
Use this dashboard to improve sales operations, like supporting the frontline sales teams to sell more efficiently.
Note that the sales performance dashboard differs from a sales leaderboard.
While the former shows the collective effort of an entire sales team, the latter shows how your sales reps stack up against each other. Common metrics include daily activity and the number of product demos completed against targets.
3. Sales Cycle Length Dashboard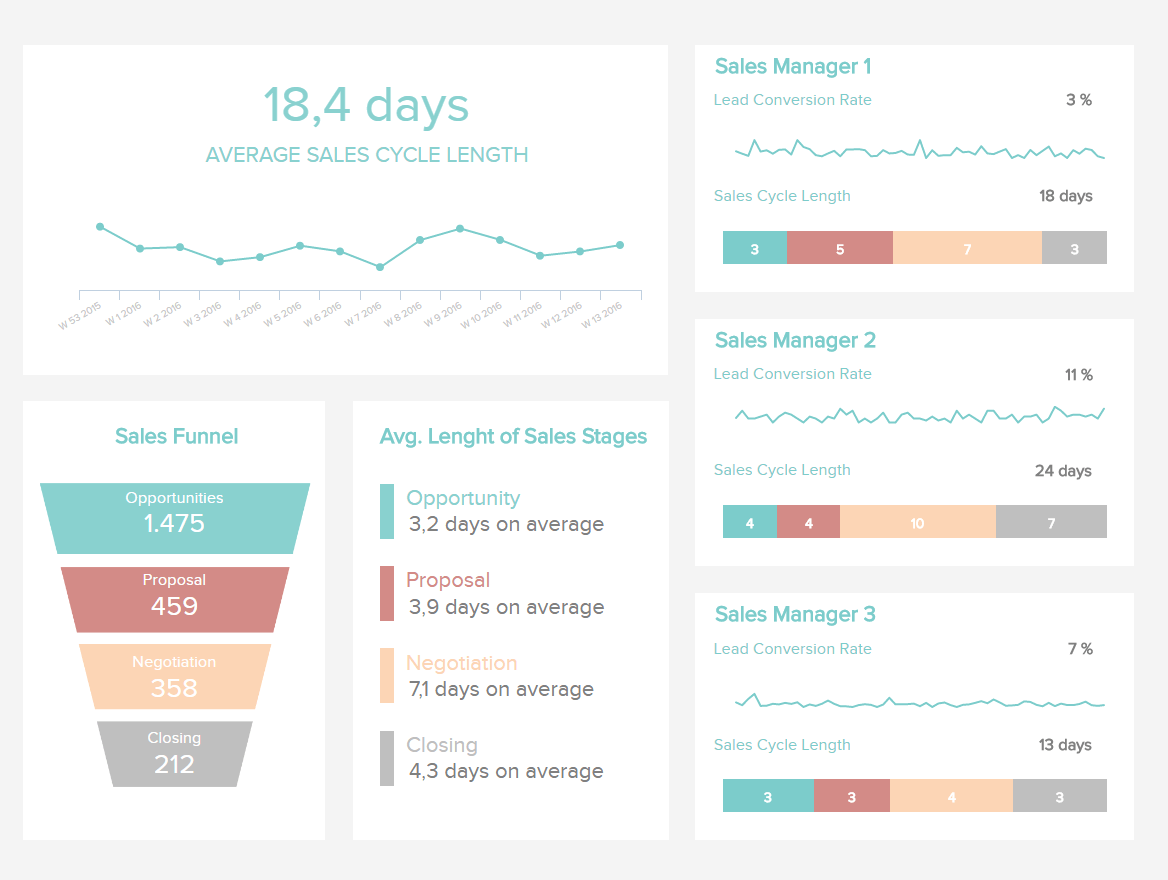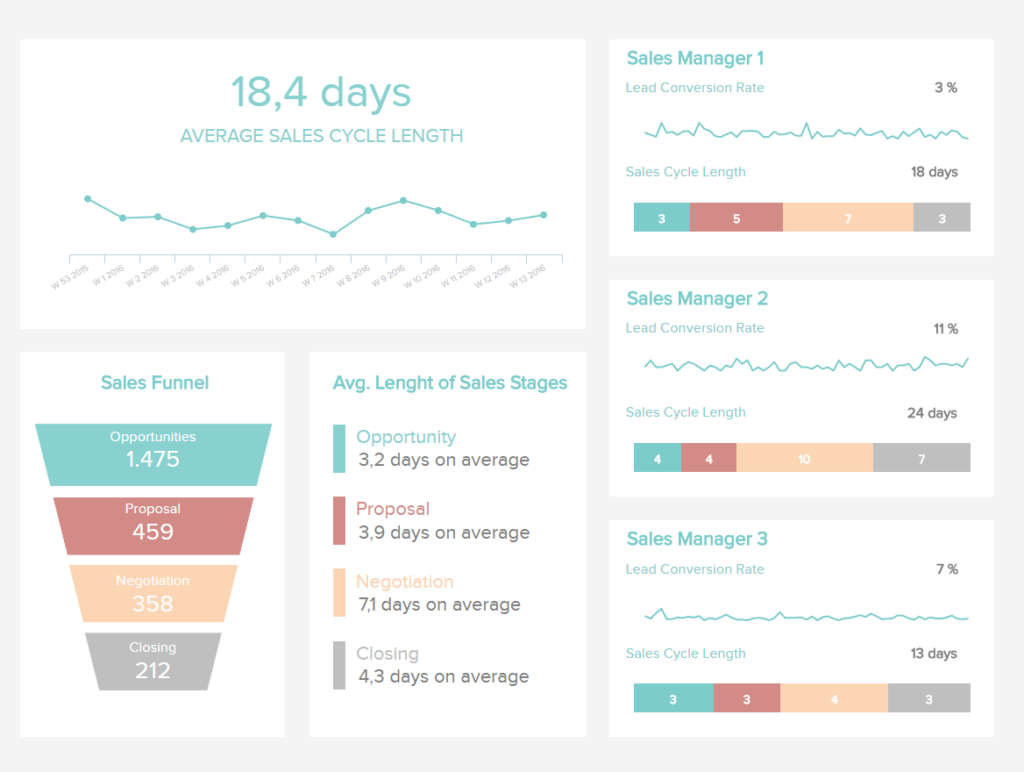 Metrics and KPIs used:
Average sales cycle length
Lead conversion rate
Average length of sales stages
The sales cycle length dashboard lays out the average number of days (or weeks or months) it takes to identify a prospect and convert them to a paying customer.
This is the dashboard to look into when shortening the sales cycle.
The metric, average length of sales stages, pinpoints potential bottlenecks in each phase of the buyer's journey (e.g., lengthy negotiation might mean you need to train your sales team on negotiation techniques).
You can also use this sales report to break down each sales manager's performance and identify the best performer for the company's bottom line.
4. Sales KPI Dashboard (Individual)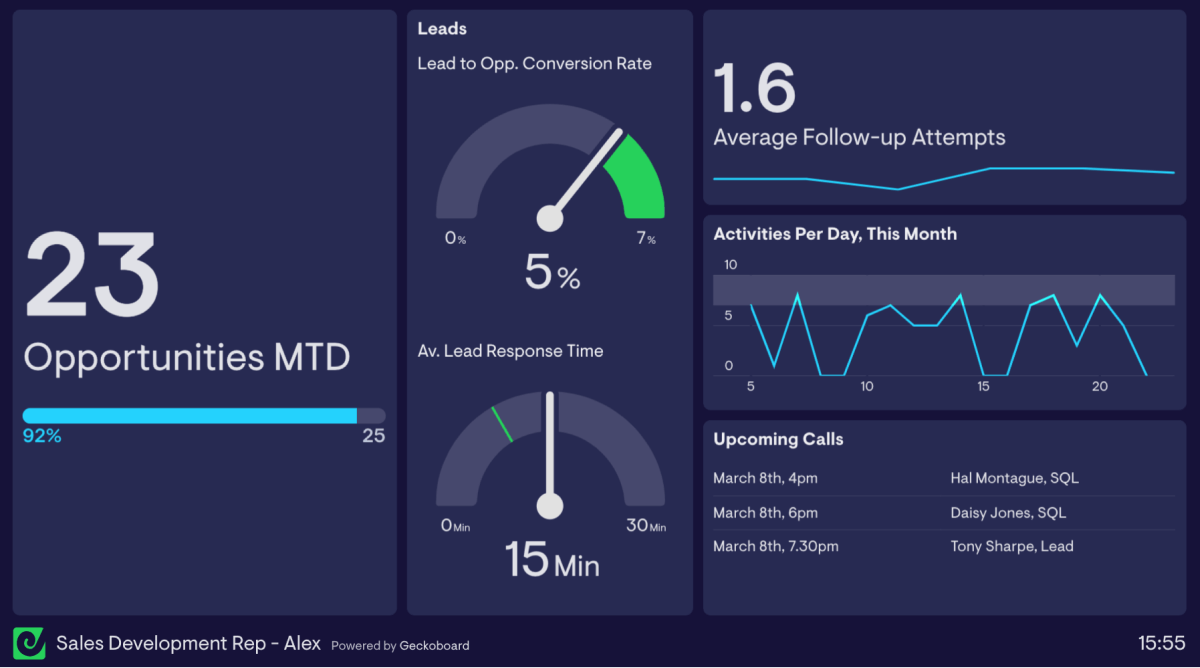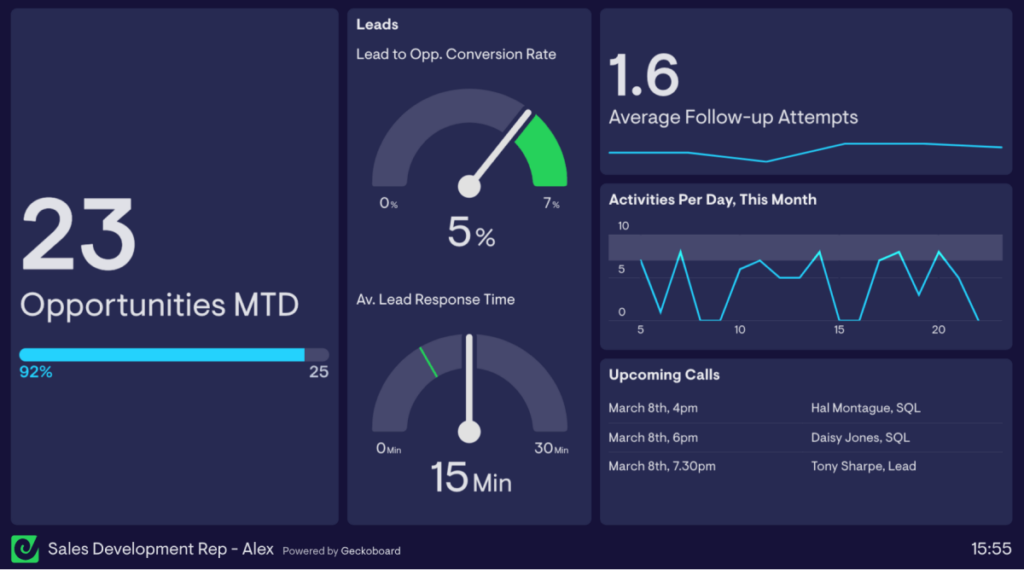 Metrics and KPIs used:
Opportunities created against target (or closed opportunities)
Lead response time
Average follow-up attempts
The individual sales KPI dashboard helps sales development reps (SDRs) stay on track with their sales activities and identify potential blind spots.
For example, a low average follow-up attempt indicates the SDR needs to be more consistent in their follow-up routine.
Sales managers can use this dashboard during sales training and team meetings to share feedback, coach sales reps, and discuss areas for improvement.
5. Sales Opportunity Dashboard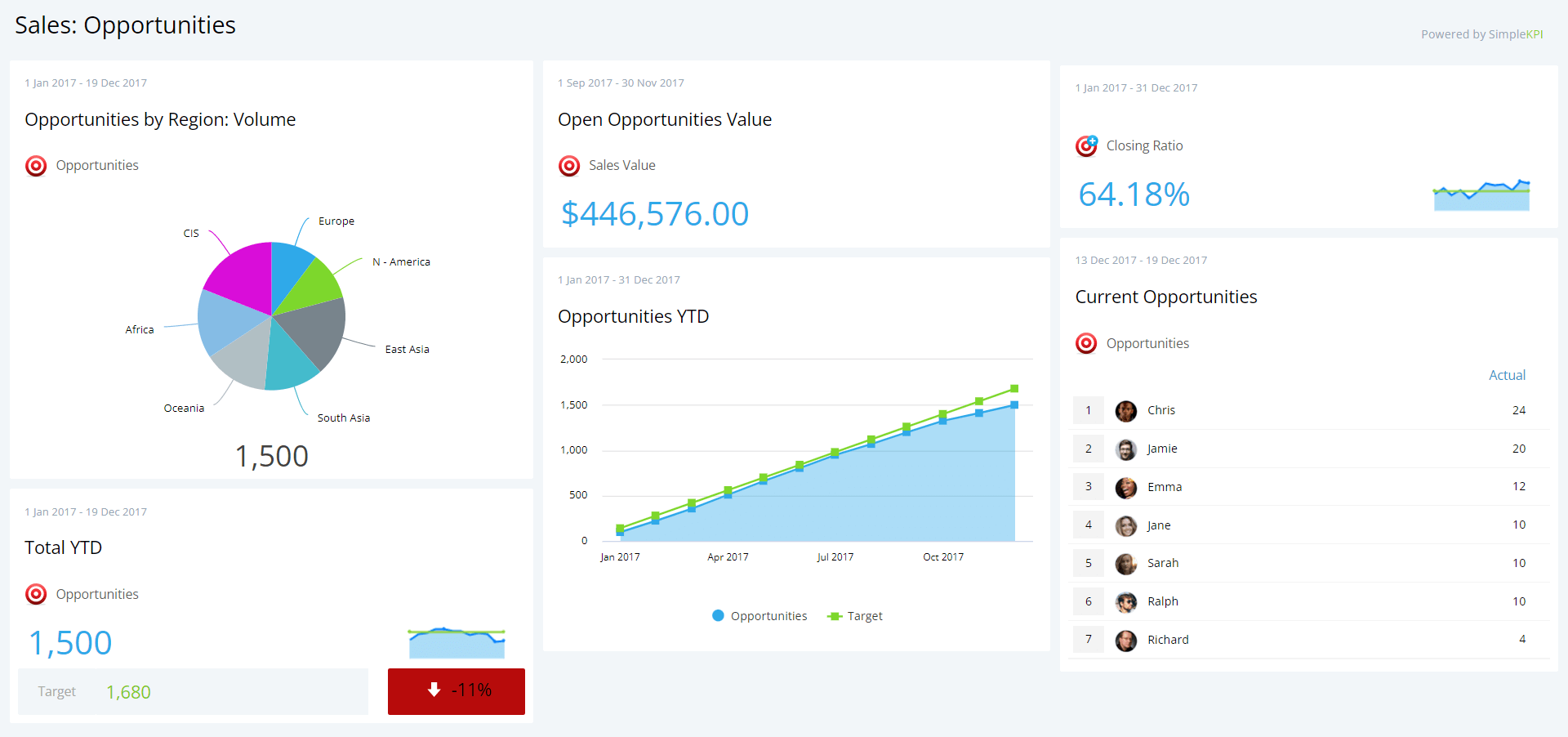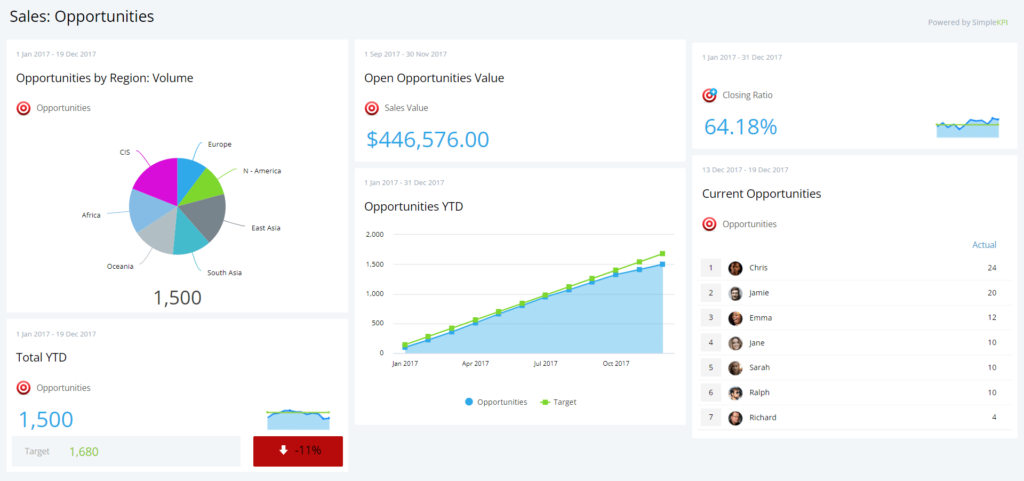 Metrics and KPIs used:
Sales opportunities generated
Average purchase value
Units per transaction
Sales opportunities by region/country
The sales opportunity dashboard shows the latest opportunities and potential revenue from prospective customers.
Depending on the software you're using, you might even filter these real-time data by individual sales rep, region, and closing ratio.
This dashboard is best used when you want to uncover hidden revenue opportunities and tweak your sales strategies accordingly so that you can allocate your resources to the most qualified leads.
Create Effective Sales Dashboards Today
Sales dashboards are far more effective than spreadsheets. These digestible visual reports help you:
Automate sales reporting, saving hours of your time
Gather all critical data in one place without scrambling across different sales channels
Present your hard-won results in beautiful and digestible charts
Use these five sales dashboards alongside contact scoring. Grab your free Breadcrumbs account today to identify sales-ready leads with zero guesswork.
FAQs
1. Why do you need a sales dashboard?
Sales dashboards track your sales pipeline and optimize your sales efforts. Without them, it's impossible to identify rooms for improvement.
C-suite sales leaders like sales VPs and CEOs wouldn't be able to analyze essential metrics like profit and average deal size.
And sales managers would wrestle with evaluating an individual salesperson performance.
Likewise, sales reps would struggle to track valuable sales opportunities and address their blind spots.
2. What should a sales dashboard include?
Sales dashboards that visualize a sales funnel should include graphs and charts to bring your activity-based metrics and KPIs to life.
If you're using a sales reporting tool, you might even include notes and comments for better context.
For example, you could add a text box within the sales dashboard to share your sales insights and recommendations.
3. How do you create a sales dashboard?
You can either create a dashboard in Excel or use a reporting tool to generate one automatically.
Usually, the latter involves professionally made templates and zero coding skills. It's perfect for time-strapped sales leaders without technician expertise.