While you may not have run into this term yourself, data enrichment should be a critical part of every company's data management and hygiene plan.
Data enrichment is the process of taking the contact data you have from your leads or customers (which can be collected by sign-up forms or app data) and using third-party tools to fill in the blanks with missing information about that person, like job title or company name.
These data enrichment services can get their data from a variety of sources, like crawling LinkedIn or Facebook Pages or correlating related website tracking information.
By utilizing these tools, you can ensure you're not wasting time by marketing to leads that you can't contact or scoring leads based on invalid or outdated information.
In this article, we'll cover 3 of the top data enrichment services and put them to the test to see which gives us the most accurate and fully-completed contact record.
Why are data enrichment services and tools important?
Before we get into the tools themselves, it's important to take a step back and discuss the benefits of undertaking data enrichment services into your tech stack (and having the hard chat with your finance team).
Aside from the obvious benefit of getting new information about your leads, you can also use data enrichment services to validate your current contact info and update the outdated fields. This can be important for several reasons:
Lead scoring. Lead scoring is part of Breadcrumbs' Revenue Acceleration Manifesto, and without correct data inside your database, the results can be lackluster at best and harmful at worst. Ensuring you always have the most correct and up-to-date information on your contacts will ensure your lead scoring model is running like a well-oiled machine, and that the sales team is being passed high-quality leads effortlessly.
Controlling Marketing Costs. According to HubSpot, email addresses decay at around 22% annually, phone numbers at 17%. This means that if you're paying per contact in your CRM database (which is usually the case) then you're spending money on contacts you can't even reach. In addition, creating things like remarketing lists on advertising platforms like Facebook or Google can also prove ineffective and costly without the correct data in place.
Preventing email blacklisting. One of the easiest ways to get your emails sent directly to the recipients' spam folder is being added to the dreaded email blacklist. As we mentioned in our email hygiene best practices post, having too many hard bounces (or emails send to addresses that can't receive it) can actually do more harm than good overall.
Complying with GDPR, CASL, and CAN-SPAM. Complying with data regulations can be tough and expensive if you get it wrong. Oftentimes data enrichment services will assist with this process by removing data that has specific regulations for use and time it can be stored in your database. This alone can save you hundreds of thousands in legal fees if you stray too far off from the law.
As you can see, data enrichment services can yield benefits far greater than what's commonly thought of, and can bring in some sound fiscal rewards when used correctly.
Now that we've learned what data enrichment is, it's time to get into the best data enrichment tools you can use right now to fill in the gaps of your contact information.
Data enrichment services results – 2021 edition
In order to recommend the best possible platform to our beloved readers, we put five data enrichment services to the test.
For the test, we used email addresses from three of our founders – Massimo, Gary, and Armando. We wanted to see:
What data these platforms could pull with only the email address given.
If these platforms could give us any additional data, other than what was given
All of these tests were performed within the same timeframe and given identical information to keep the competition fair and balanced.
Now, onto the results!
Clearbit
First up on our list is Clearbit.
Clearbit was founded in 2015 and boasts over 150k companies with 400k+ monthly users. To harvest its data, Clearbit states that it combines data from over 250 private and public companies, and updates over 500 million records monthly.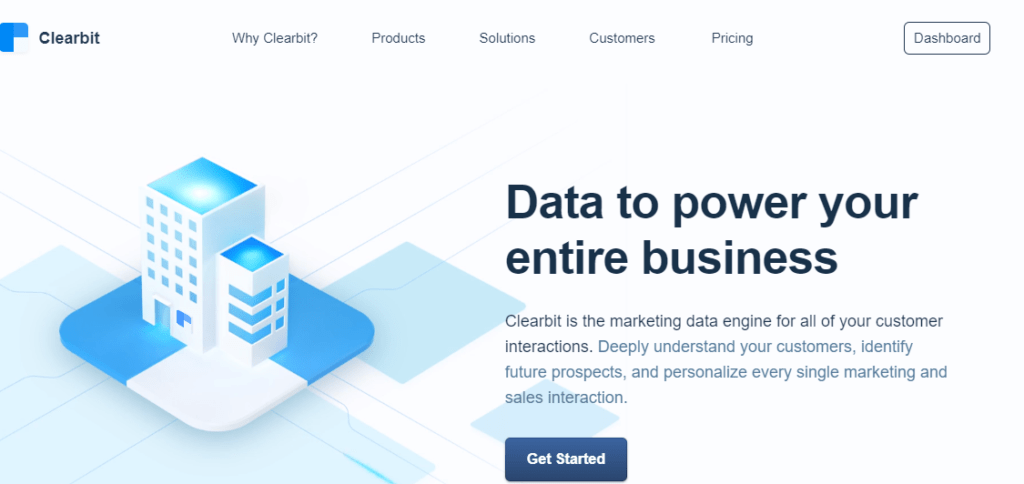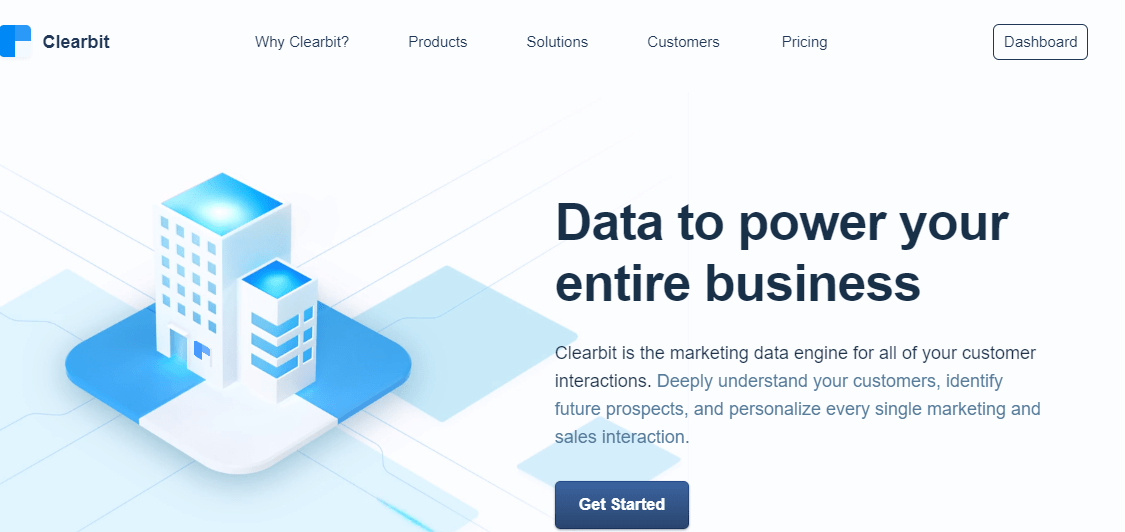 When asked about it's accuracy, Clearbit seems confident in their ability to blend their aggregate data as well utilize their QA team. They had this to say about their data enrichment techniques:
At Clearbit, every record goes through two stages of verification. First, is the data fresh and has the record been refreshed within the last 30 days? Second, is the data correct? Unfortunately, not all publicly available data is accurate, and we use a combination of outlier recognition and a highly trained QA team to ensure that every single record is as accurate as possible.

Clearbit's about page
But how does their sales copy stand up to the Breadcrumbs test? Let's find out.
First, we tried with Massimo's email address from Breadcrumbs. Unfortunately, Clearbit was unable to pull any contact information for us in this case despite these email addresses being active for more than 6 months prior to this article.
It did, however, give us a good bit of information about the company itself.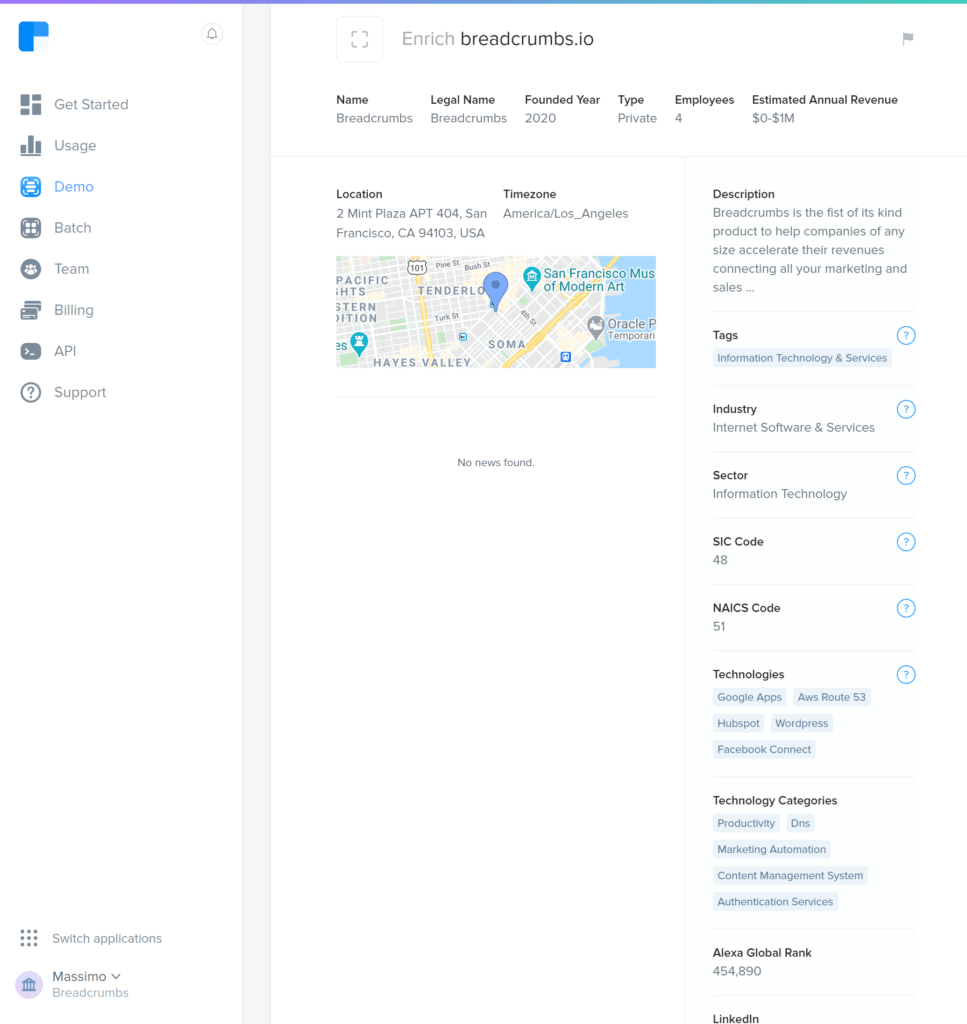 Clearbit accurately reported on all of the company information about Breadcrumbs, including our founding date, site URL, LinkedIn page, and address.
Unfortunately, the same information was displayed for Armando and Gary using the Breadcrumbs account. Ultimately, while Clearbit was able to give us a good bit of information on the company itself, it was not able to give us any more information on our contacts personally.
To make things a little easier for them, we then tried previous emails of the three founders. In these cases, Clearbit was able to properly grab the full name, email address, position, and LinkedIn page of the contacts as well as company information.
This test can be considered semi-successful, but may not work properly for recently created companies or email addresses. It did a great job at determining AdEspresso had been acquired by Hootsuite, which can be helpful for those working in fields where mergers and acquisitions are common.
As for pricing, Clearbit's page states the pricing is based on CRM database, web traffic, and monthly contact creation – so giving a price point for our readers wasn't possible.
Final score:
Contact score: 3/3
Company score: 2/2
ZoomInfo
Next up is a hotly contested company – ZoomInfo.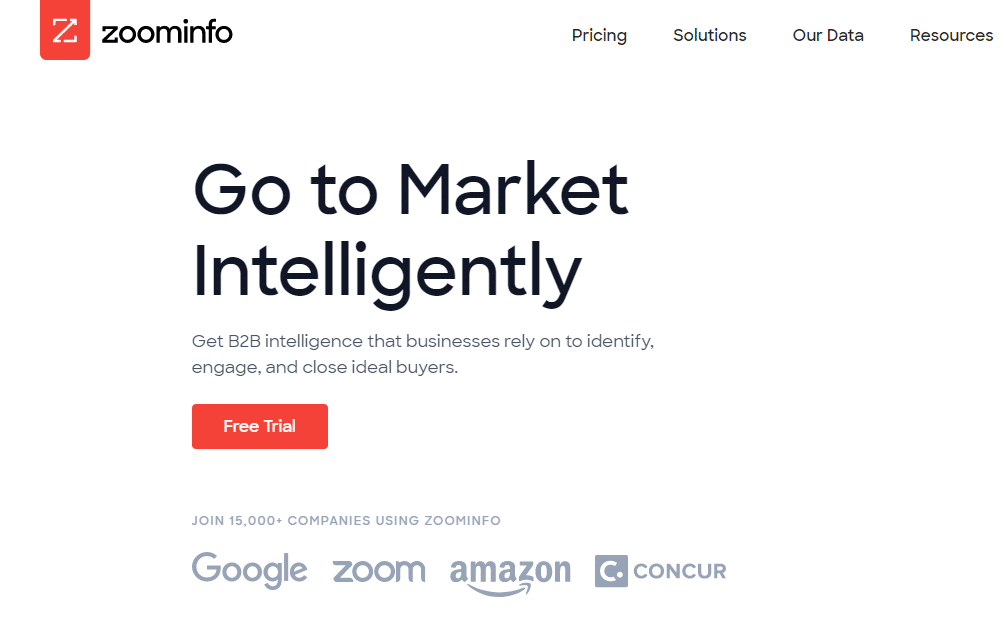 ZoomInfo has been around for about a decades, and has won a host of awards for its contributions to the data enrichment services industry. In addition to their work with data enrichment, they also have several other distinguished services:
Org charts of recorded contacts
News alerts that signal employee activity and whether a company is looking to purchase services
Enterprise API
Data enrichment tools for Salesforce
But of course, the most important thing is the data they can collect. They had this to say about their data collection techniques:
Our data is updated through automated machine learning, which views a variety of public information on over 28 million site domains every day. These sources include corporate websites, press releases, news articles, Security and Exchange Commission filings, job postings, and other online sources that provide information about industries, locations, revenue, and additional company attributes. Then, targeted keyword algorithms sharpen the searches while our system identifies and adds company technographic information.

ZoomInfo
Now, let's see how they compare to our previous contenders.
First, we checked our contacts we had previously. Strangely, only one of the contacts was found within ZoomInfo, despite 2/3 contacts working for the same companies at one time.
For our solo contact, ZoomInfo was able to give us some basic contact info like a supplemental email address, residential address, and social links for Twitter, Facebook, and LinkedIn. They were also able to provide us company info for AdEspresso, however, it did not include company size, revenue, or industry. They were also behind on our contact's current position and listed him still working for AdEspresso despite him changing companies twice after that.
While the additional information was great, only 33% of our test was successful – even though our other two records have tons of publicly available information on the internet. In our eyes, this was a bit worrisome.
As for pricing, once again the pricing is only available by speaking to a representative after submitting an inquiry.
Final score:
Contact score: 1/3
Company score: 0/2
People Data Labs
We then come to People Data Labs.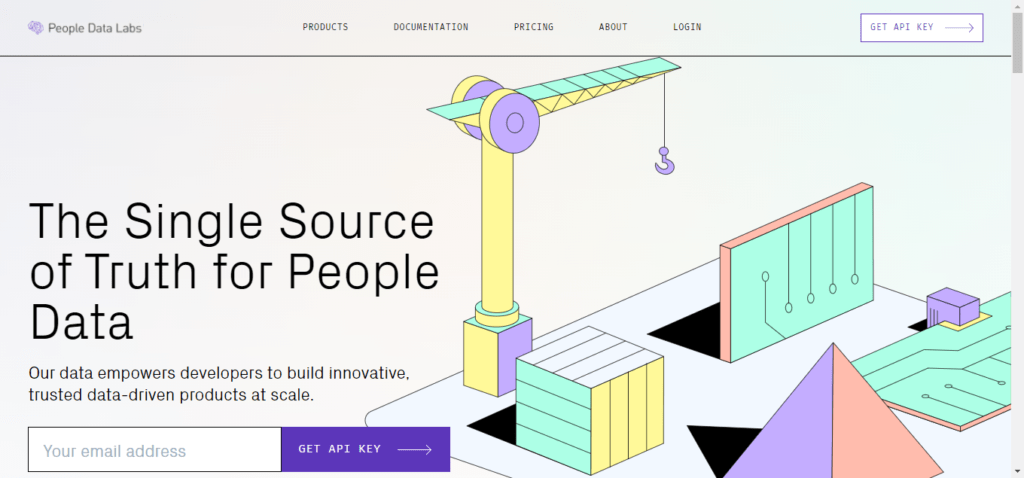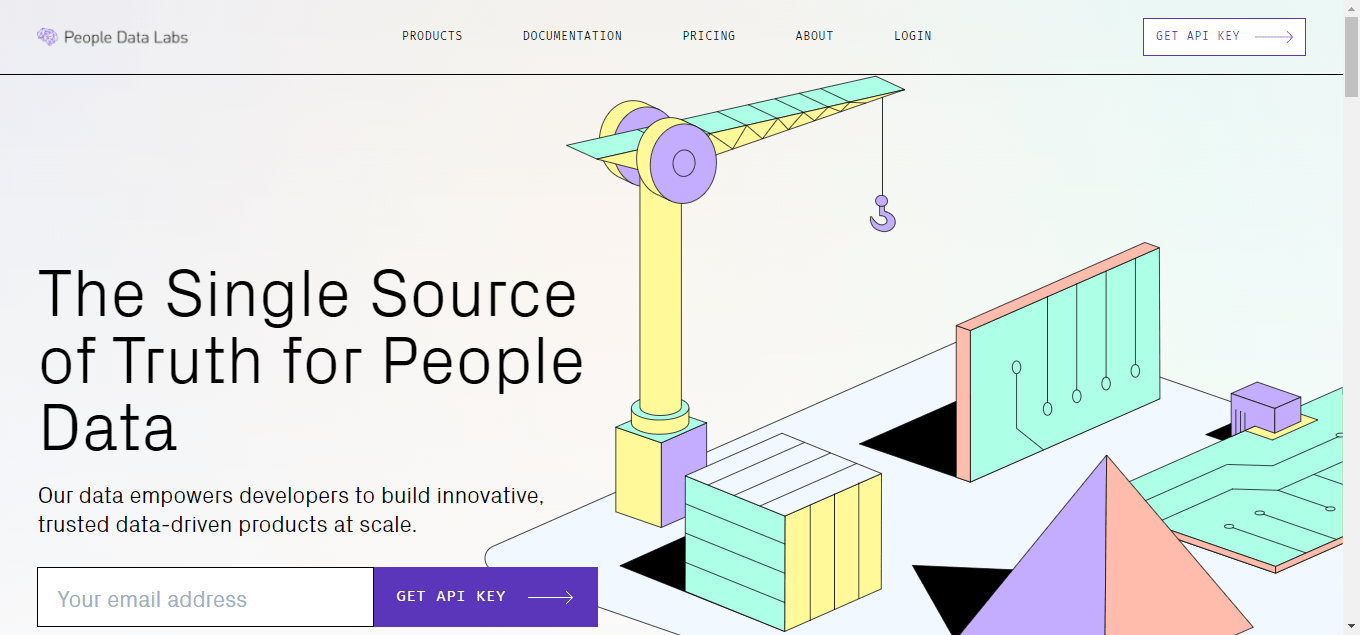 PDL is a data enrichment service that has 3 different product focuses:
Data enrichment
Data licensing (providing a suite of data without having any contact info)
Search API (in beta – perfect for prospecting)
PDL is a bit different from its competitors on the list today, as it doesn't boast a traditional interface and thus is API only and designed more for back-end integration than other data enrichment tools. You will however get a usage chart, documentation, and a few other key links inside the dashboard.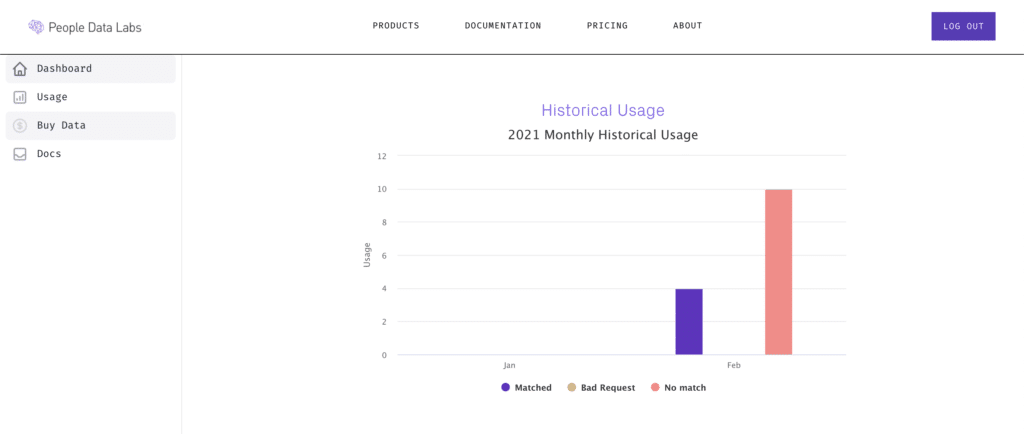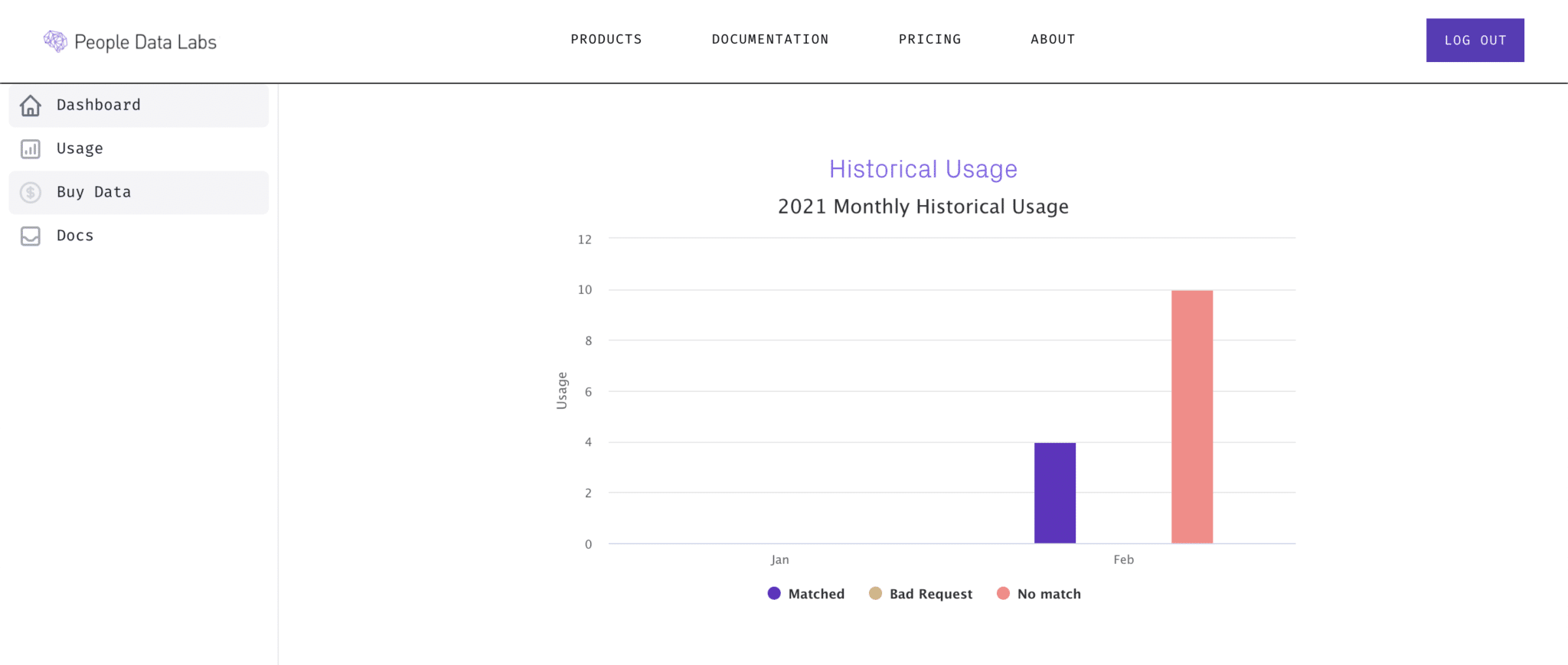 But, how would this company stack up against the others today?
We started off by testing our contacts as we have been. in this case, 2/3 of the records were accurate and almost matched their corresponding LinkedIn profiles entirely. They also corrected listed job history, basic contact information, and links to social profiles. They did not register the most recent job change (Breadcrumbs), though.
Unfortunately for our test, viewing information by company record was still in private beta, so we were unable to test if the company information was accurate – but it did at least mention the proper company for both of the contacts it matched.
All in all, PDL gave us some of the best contact information thus far, even if it was missing 1 out of 3 contacts. Personally, we can't wait to dive into the company information aspect when it's released to the public.
Final score:
Contact score: 2/3
Company score: 0/2
UpLead
Finally, our last company on the list, UpLead.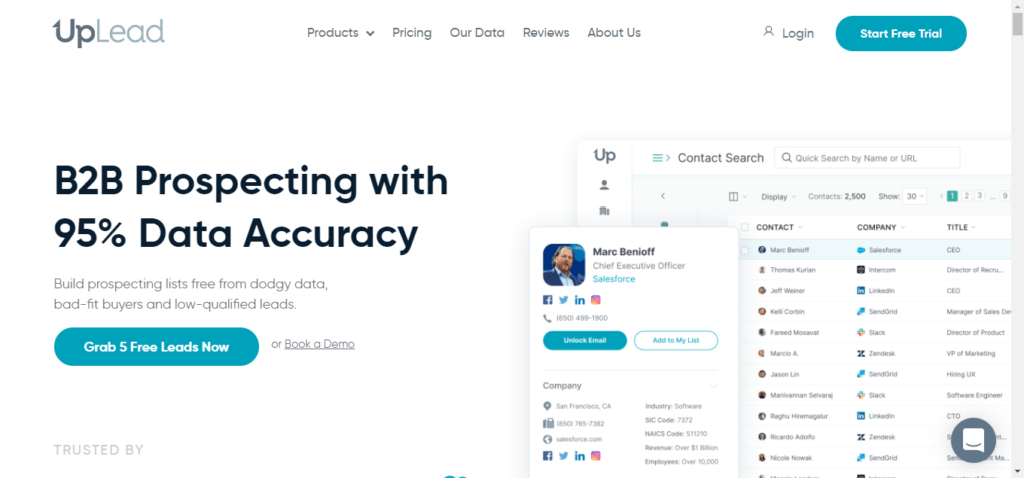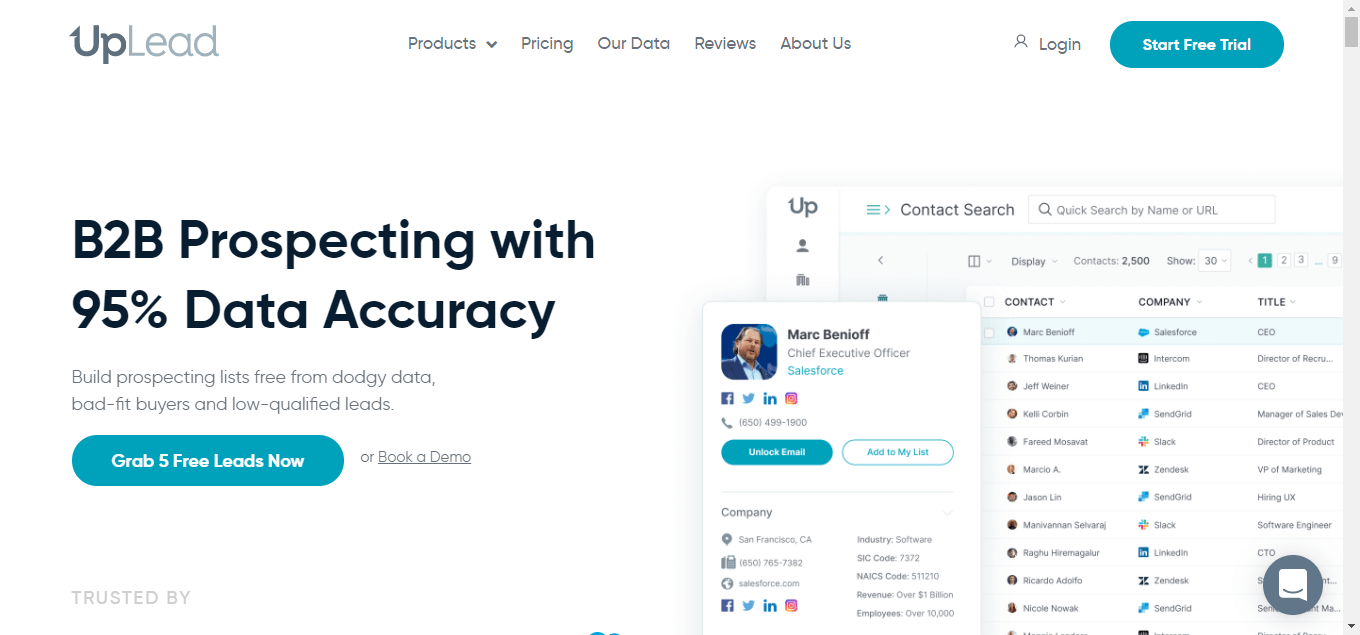 UpLead focuses on several niche issues, just like People Data Labs:
Prospecting (ability to find contacts based on demographic filters)
Data enrichment
Email verification
In addition, UpLead has one of the more impressive dashboards that we've seen on the list so far today, which can put it ahead of other competitors that were built for back-end integrations that are not as user-friendly. If needed, they do also offer API integration.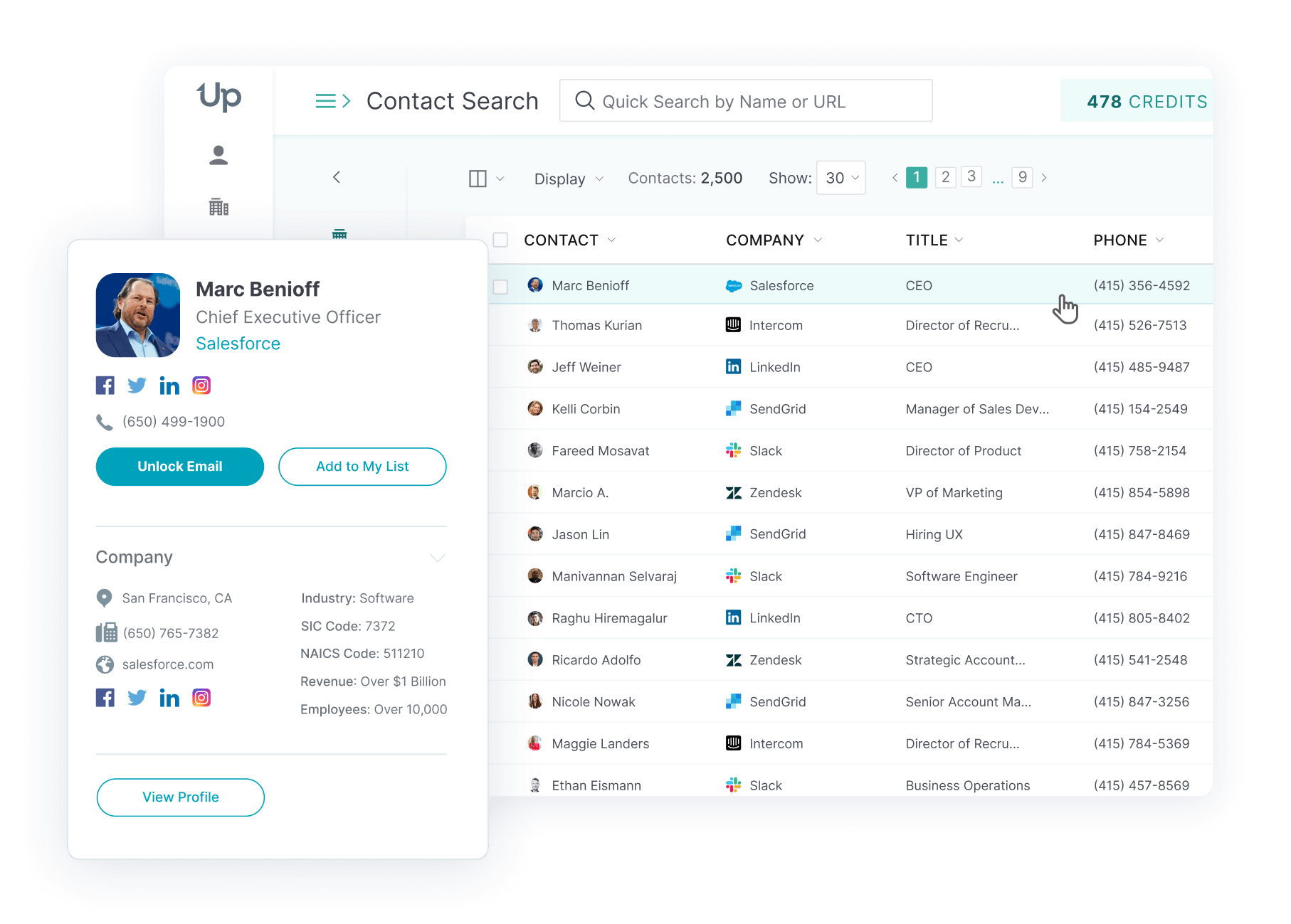 Unfortunately, as far as contact information was concerned, this is where we stopped being impressed. UpLeads was not able to find any contact information on any of the 3 contacts we added to the system.
They were, however, able to offer company data on both Hootsuite and AdEspresso. The data on the two companies included company size, revenue, industry, and links to social profiles – all of which were verified as accurate.
Final score:
Contact score – 0/3
Company score – 2/2
Honorable Mentions
While we were on our review journey, we found a few companies who were not *technically* data enrichment tools, or, who did not quite meet all the criteria to be tested here today. We decided to cap this review off with some honorable mentions.
HubSpot
While HubSpot technically doesn't fall under the same genre as traditional data enrichment services, it does have a form of data capture that is useful and already included in their software called HubSpot Insights.
When you add a company name to any HubSpot record, HubSpot is able to combine third-party data, web crawling, and crowdsourcing to update the company contact record.
HubSpot is able to pull pull the following information into your database:
Annual revenue
City
Country
Description
Industry
Is public
Name
Number of employees
Phone number
Postal code
State/Region
Street address
Street address 2
Time zone
Total money raised
Website URL
Year founded
Facebook company page
LinkedIn bio
LinkedIn company page
Twitter handle
If HubSpot is able to fill any fields for you, you'll see a note over that property when viewing your contact record.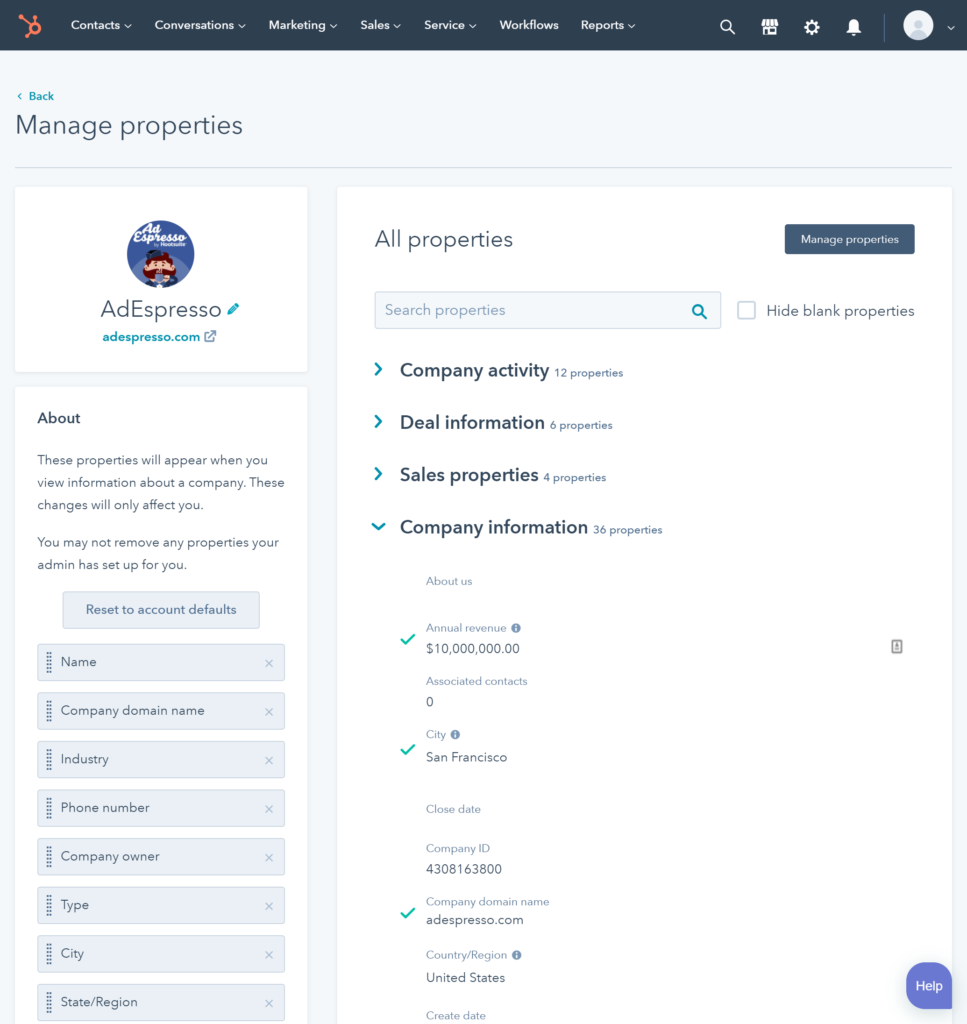 We tested this ourselves with AdEspresso, and were pleasantly surprised with the results. HubSpot was correctly able to determine the website URL, revenue, description, industry, phone number, address, and the full suite of social profiles. The only inaccuracy stated was the number of employees, which isn't too bad for a free service.
As we mentioned, this feature is automatically included with your plan. While it may not be the most useful for personal contact information, this is an easy (and cheap) way to generate missing company data for lead scoring.
Final Data Enrichment Services Results
Now we come to the most important part – how these data enrichment tools stacked up against each other. In our case, the clear winner was Clearbit. They were able to provide more contact details than what we supplied for both the company and contact.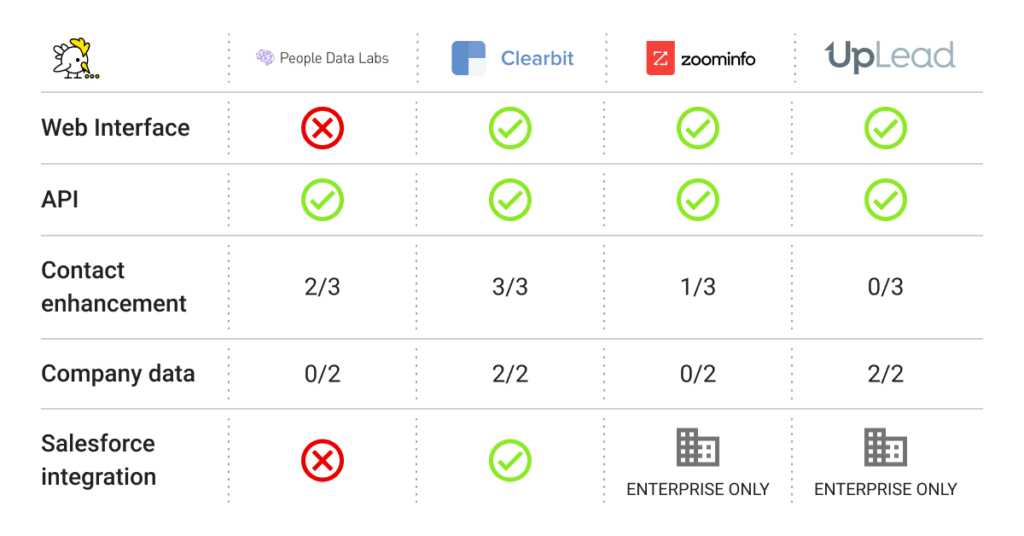 And there you have it, our results from the best data enrichment tools test. We hope this article has helped you make a clear decision on which data enrichment tool best suits your company. Did you have a favorite tool we missed? Let us know in the comments below!