If the term data hygiene conjures up images of scrub brushes and your email list, you're on the right path to what the term really means.
Much like the real thing, periodic scrubbing of your email list is a necessity if you want to keep a good relationship with your audience.
In this article, we'll break down the real meaning of data hygiene and explain why it's mission-critical for your business. We'll also give you five strategies you can implement today to increase your email deliverability and sender score by making your email database squeaky clean.
Let's get started!
What is Database Hygiene and Why is it Important?
While the term data hygiene can refer to many different types of data, email data hygiene is the process of cleaning your email database by removing contacts (usually invalid or unengaged) in order to keep your lists healthy and 'warm.'
If you're just dipping your toes into the email marketing waters, you might wonder why you should bother removing contacts in the first place.
After all, it takes time and effort to build your list, so why waste all your hard work deleting those coveted emails?
The answer to that is more important than you think.
Data hygiene improves sender reputation and deliverability
One of the biggest (and most important) reasons to enact these data hygiene best practices is that it will improve your sender reputation and increase the deliverability of future emails.
If you're not quite sure what sender reputation is, the hint is all in the name.
Your sender reputation is determined by your Email Service Provider, and it ranks your emails (1-100) by the interactions your contacts have with your mailings. It does so based on several factors that can include things like spam complaints, industry blacklists, engagement metrics, and the frequency/number of emails you send.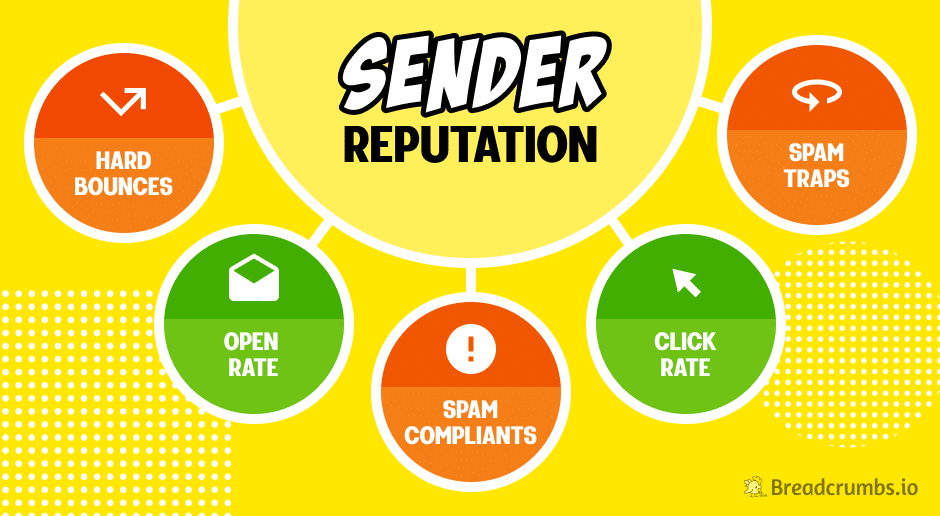 And, as you probably guessed by now, unengaged or fake contacts can have a huge impact on your score. Over time, you might find that some of your old and unengaged contacts can actually hurt your score more than improve it.
If you continually ignore the backlog of these contacts, you can find your emails sent directly to your subscriber's spam folder more often than not–meaning all of your marketing efforts are wasted.
If you're interested in checking what your current Sender Score is, you can check out some free resources like SenderScore.org and see where you fit in. Ideally, you'd like to be as closer to a 1 as possible, but anything under 3 should allow you to rest easy at night.
If you're over that mark, the rest of this article will help you improve your score so keep on reading!
Data hygiene ensures GDPR, CASL, and CAN-SPAM compliance
GDPR–also known as the 4-letter heart attack for marketers–is a set of data privacy and security precautions that was enacted by the EU on May 25th, 2018.
GDPR is seen as more thorough than the American (CAN-SPAM) and Canadian (CASL) counterparts, with the full text of GDPR being a stunning 99 pages long.
The principle of the legislation is that it gives consumers the right to access data held by companies as well as establish what a company can do with the data provided.
One of the key tenants of this piece states that you should not hold data that you own (especially that's unnecessary to perform your services) longer than you need.
While there is no specific guideline on time limits per se, you should frequently be clearing out your old contacts around the 6-month mark in order to assure compliance, even if the consent has not been directly revoked.
The fine for not complying with GDPR guidelines is up to 10 million euros, or, in the case of an undertaking, up to 2% of its entire global turnover of the preceding fiscal year.
If you're not convinced by the other reasons to audit your list, 10 million Euros is sure to do the trick.
Data hygiene provides more accurate email benchmarks and lower CMS prices
Last but most certainly not least of our data hygiene benefits is the ability to properly determine your email marketing benchmarks and performance.
If you take the time to research your own company's internal metrics, you might see several (hundred or thousand) people never open or even receive your emails every time you send one.
What you may not realize is that those unengaged contacts are preventing you from being able to see your true open rate–aka the open rate of the people who are actually interested in following you and receiving your content.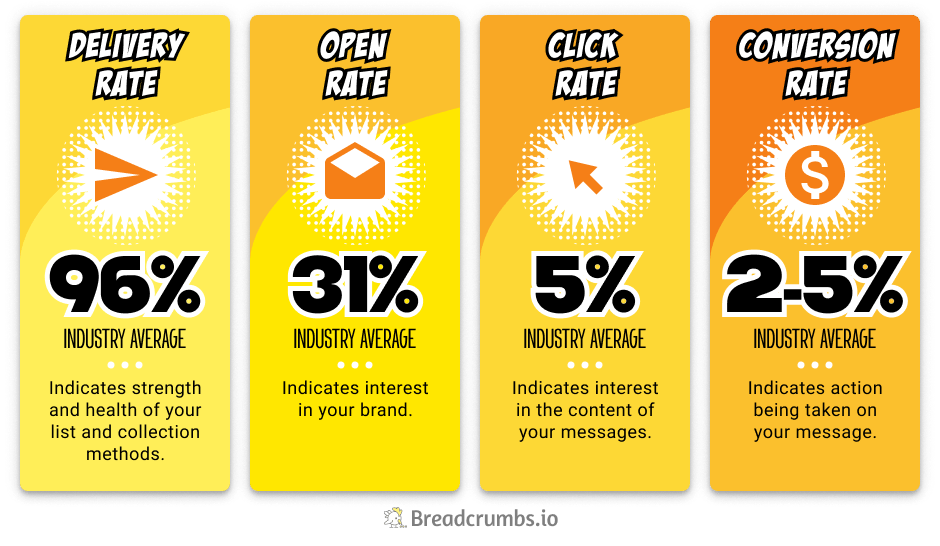 Ensuring your list is full of people who are still engaged with your brand will give you the ability to really see what content is driving the most engagement and allow you to more accurately plan future content and provide benchmarks to stakeholders.
If that wasn't reason enough, another benefit is the reduced cost of your email marketing platform. Since most of these systems determine the pricing based on contacts, removing people with whom you can't email at all (or don't care to receive it anyway) will mean better results at a cheaper price.
Who doesn't love that?
Email Data Hygiene Best Practice #1: Audit Your Email Database and Subscriber Journey
Before you even start reading the rest of the tips or taking any action, the first thing you should do is a complete audit of your email database and your subscriber's journey. This will give you a solid point of reference when you are deciding what steps to take during your email cleanse.
All in all, there are a few key points to take into consideration at this step.
Explore all contact entry points and plot your journey
As with all things, having an outlined practice for how your company operates is absolutely integral for your email marketing to succeed.
One of the biggest points companies misses, however, is not having a complete understanding of the subscriber journey from entry to exit.
In order to be able to clearly see the big picture (and your funnel at work), it's important to outline the steps your customer takes from every entry point to the bottom of your funnel. A couple of handy tips are:
Standardize your signup forms around your website
Plot out your automation and when it triggers (for example, lead nurture workflows, customer activation workflows, etc.)
Determine at what stages your contacts should be moved to a re-engagement series or removed entirely (more on this later!)
Assess baselines for the various stages of your funnel (CTR, Clicks, Opens) and monitor accordingly
By doing this, you'll start out on the right foot for the rest of the steps on this list.
Decide what data you need and how you'll use it
As we mentioned earlier when we went over GDPR, one of the main tenants is that you don't hold customer information that you don't need in order to provide the product or services requested.
For example, if you're selling handbags, chances are you don't need to know your customer's political affiliation or whether or not they prefer ketchup or mustard on their burgers.
In layman's terms, use it or lose it.
If you find yourself unsure of what data you need, ask yourself one simple question–"How will I use this information, and how will it help me to better engage my subscribers?"
If you struggle to answer that question, chances are that's information you don't need to hold onto.
Email Data Hygiene Best Practice #2: Audit Your Database Frequently
After you've set your baselines and plotted out your journey and data requirements, the next step is a pretty easy one–make that a routine.
The most challenging part of this step is to ensure that you keep up with it. We recommend auditing your systems no less than once a month, but depending on your email marketing structure, you might consider bi-weekly as well.
Consider the following as a standard operating procedure for future audits:
Have one centralized 'source of truth' for your documentation on auditing as well as your diagrams on the workflow
Update your documentation per your internal guidelines to include new signup pages, workflows, and metric baselines
Ensure the marketing team has access to these details and fully understands the process behind them
Automate your contact removal process (more on this in a bit)
You might find that after your audit–especially if it's your first–gathering all the necessary information is time-consuming, to say the least. Going over these steps and updating your documentation will ensure that, in the future, it doesn't take too long to update.
Not only that, but your team will have a better overview of how any new marketing improvements can fit into the overall scheme of your email strategy. And since most teams struggle to understand the quality of the data in their CRM, here's where we can lend a hand.
Breadcrumbs Reveal will look into your CRM, marketing automation software, and product analytics tools to analyze your data infrastructure, pinpoint gaps in your data collection process, and spotlight correlations between contact fields and their chance of becoming buyers.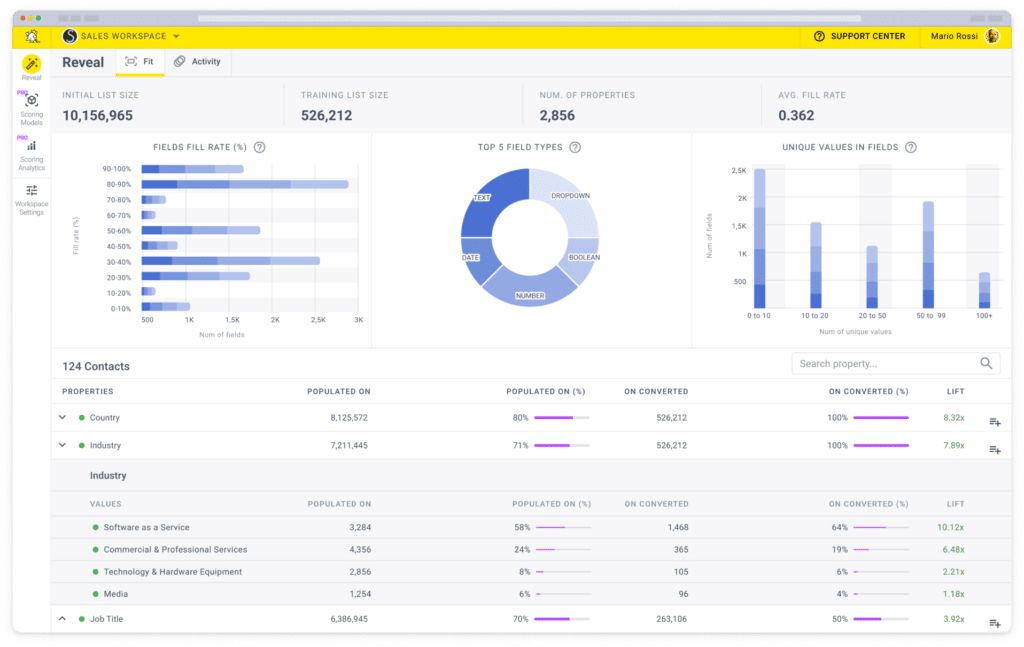 The best part of all? Breadcrumbs Reveal is entirely free, and you can get started in just three steps:
Connect your lead and customer data with no-code connectors to popular tools such as HubSpot, Marketo, Salesforce, Mixpanel, Intercom, and more.
Define what segment of contacts to use to define success. i.e., all paying customers or paying customers on specific plans.
Get a detailed view of your data, how valuable it is, and where collection and enrichment gaps exist to improve fill rates.
Create your free Breadcrumbs Reveal account today!
Email Data Hygiene Best Practice #3: Validate Your Contacts
After the hard work of auditing is done, it's time to get into some of the actual steps for cleaning up your emails–and the very first of which is going to be to validate the contacts in your database.
Since most marketers don't think of this step when just starting out, you may find yourself needing to start out by using a third-party system to detect any fake or undeliverable emails inside your database.
The process itself is a bit complicated, but a truly capable email validation check will look into all of these factors:
Email Address Syntax Check. This will remove improperly formatted email addresses.
Domain Check. If a domain is found to be invalid or a mail server entry is missing, this will mark the corresponding email address as invalid.
Delivery Check. Most email verifiers will also connect to the email server and attempt to send an email. They won't actually send it, but this process usually is enough to understand if an email address actually exists.
Role-Based Account Detection. This will flag emails sent to role-based email addresses such as postmaster@, info@, admin@, etc. (which can negatively impact your reputation and even blacklist you.)
Disposable Email Address Detection. "Throwaway" & "Junk" email addresses are detected and processed out.
Spam Trap Detection. This detects spam, BOTs, blacklisted, or bogus email addresses by checking the addresses in the list against the known list of email addresses and domains.
Luckily, we here at Breadcrumbs have a 100% free email validation tool that you can use to check your contacts.
Validating your list with Breadcrumbs is incredibly simple. Just follow these steps:
Connect your HubSpot account
Pick a list with up to 10,000 contacts
Relax and wait for your results to come in
If you don't have a HubSpot account, don't fret–check out this comparison of the top email verification tools on the market to find the perfect one for you. As a bonus, they're all free to test out!
Of course, even easier still is preventing people from entering fake or invalid emails right from the get-go.
Thanks to the tech age, there's a litany of tools available to help you validate email addresses at the point of entry. This can not only help assure people who want to be on your mailing list can receive emails but also make sure to block out those spammers and keep your sender score high.
Email Data Hygiene Best Practice #4: Re-engage or Remove Inactive Subscribers
Now that we've solved the problem of removing the typos and fraudsters, we're onto a slightly more difficult topic–re-engaging or removing real people.
What do you do if the email is valid but the audience isn't responding? One great tactic is to implement a re-engagement or winback campaign.
Email re-engagement examples
Now, depending on your business model, the strategy you use to re-engage subscribers can take many forms.
Let's break down several of the top-performing strategies you can use to winback those coveted subscribers.
1. Framebridge: Ask them if they'd like to hear from you
One simple method is to simply ask people if they'd like to hear from you. Take this example from Framebridge:
Simple and straight to the point. While this tactic is easy to implement, it lacks a certain zest and appeal.
Remember, this might well be the very last interaction you have with your subscriber–it's best to pull out all the stops in order to win them back at this critical stage.
2. Harry's: Make them an offer they can't refuse
Another tactic to re-engage your subscriber is to offer something irresistible and out of the ordinary. One of my favorite examples is from Harry's, a personal grooming brand:
eCommerce businesses can really take a page from Harry's book with this one. Here, they offer not just one but two free products–even enticing you with the sense of compassion of giving one to a friend.
If this offer doesn't attract their audience, they're truly lost.
3. Dropbox: Remind them of what they're missing out on
For those in service-based industries, sending a free product might not be something on the table. Instead, you can try to remind your subscribers of what they're missing out on by not engaging with your services.
While Dropbox is a SaaS business, the overall strategy of this example can help you to build a foundation of your own.
Here, Dropbox highlights the features you're missing out on and gives a specific call to action to incite clicks. While the offer here will vary depending on your niche and business, the format is a good template you can use as a springboard.
4. Fitbit: Share their accomplishments
Now, let's try yet another scenario. Let's say this particular contact has used your product before and is in the at-risk stage of churn. Another way to win them back is to remind them of just how much you've helped them achieve.
Again, we look to some pros–this time, our friends at Fitbit.
As far as offer-less re-engagement copy goes, this one is particularly powerful. with this email, Fitbit reminded you of the relationship between them and their contact–sort of like a little stroll through memory lane, marketing style.
5. Duolingo: Use (a little) guilt
As every mother knows, guilt is a powerful tactic to use to convince someone to take action. In this case, inspiring our audience to continue our services.
There's nothing like a crying animal to wrench the hearts of your audience and turn them into engaged subscribers once more, and Duolingo took this opportunity to heart.
You can use one or more of these tactics depending on the stage of the subscriber journey and the type of business you have, and the timeframe you deem as active.
If you find that your subscriber has gone through one of these sequences and still has not engaged, you can safely remove them.
After all, do you really want someone on your list who can live with a crying owl anyway?
Data Hygiene Best Practice #5: Segment Your Campaigns
While this one falls farther down on the list than the others, it's one of the most important tools you have at your disposal to ensure your database stays warm and your subscriber churn remains as low as possible.
The only problem is that this is one of the most difficult parts of the process to get right–and many of the top brands struggle with it constantly.
The process of email segmentation involves personalizing the emails that are sent to your customer using things like demographics or interests.
While the method used to do so differs with your business type, the theory is the same–custom-tailored emails based on the interests of your subscriber are always more appealing than generic ones.
In fact, 74% of marketers say targeted personalization increases customer engagement. Want an even more staggering figure?
Segmented and targeted emails were said to have generated approximately 58% of all revenue.
To put it bluntly, personalization and segmentation are some of the main key strategies for data hygiene that you need to stay afloat and keep your audience happy.
Let's take a look at some examples from the pros and see what we can learn!
Email personalization examples
As a beginner, one of the first things you can do to personalize your email is quite simple–personalizing your subject line, preview text, and adding the name of your subscriber to your copy.
While you might not think adding this kind of info to a subject line can do much of anything at all, you'd be surprised. A recent study found that emails with personalized subject lines are 26% more likely to be opened than those that aren't.
Given you usually have basic information like 'name' with any standard opt-in form, this step is easy to do and can give you a baseline to build off of.
The next step is to go a little deeper and use information you have on file (like product purchase history or interaction with your app or services) to create even more detailed and personal emails.
Again, eCommerce industries have a tremendous opportunity here–particularly for retargeting and upsells.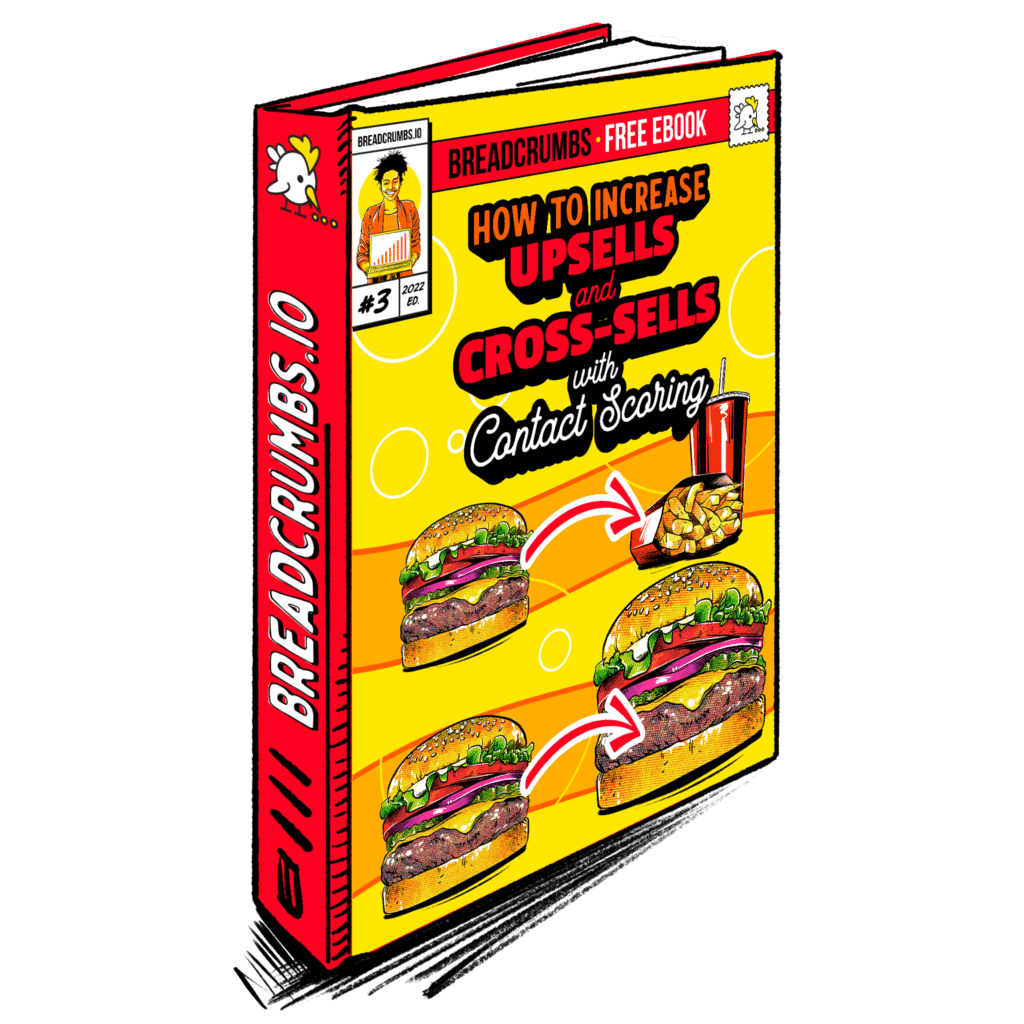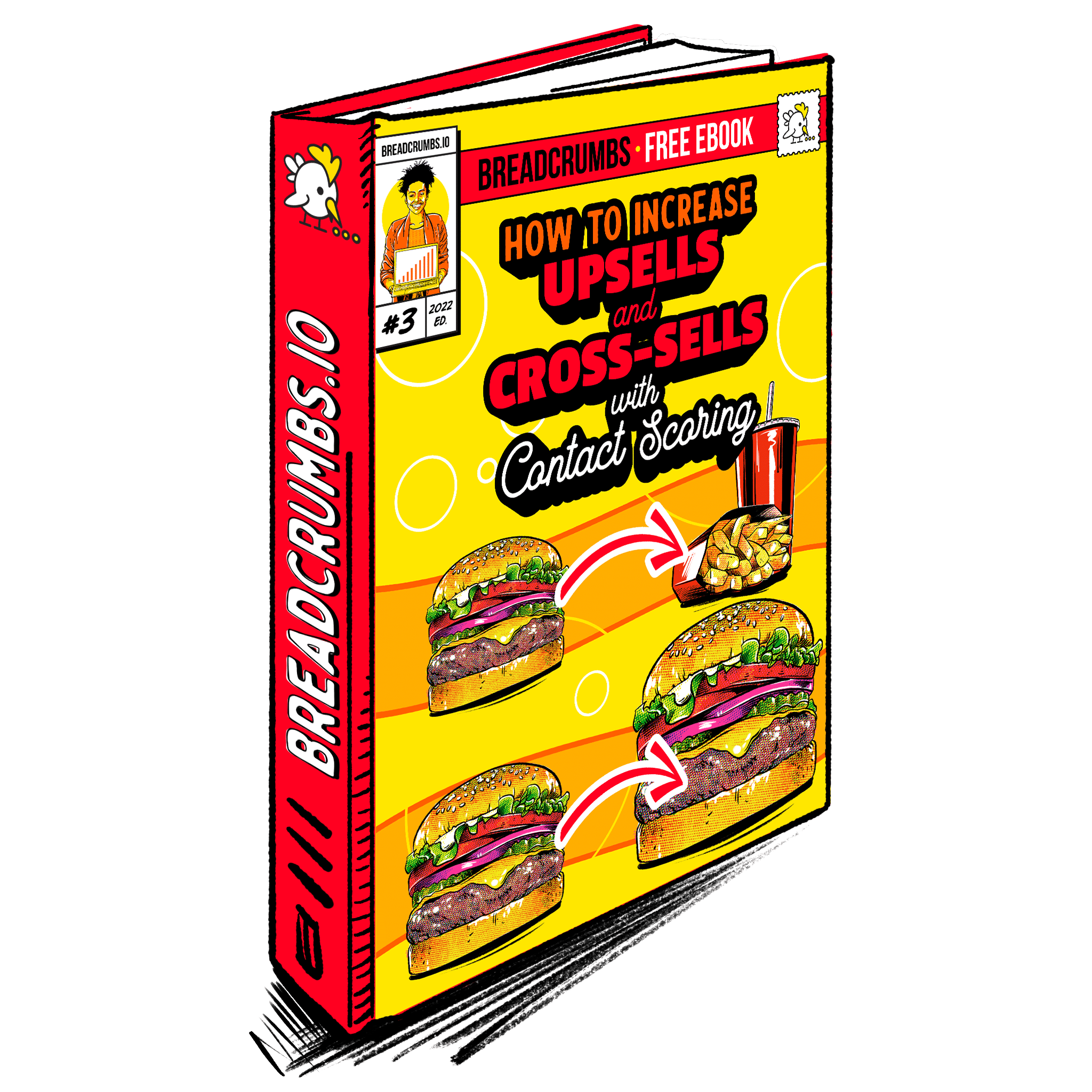 Ebook
How to Increase Upsells and Cross-Sells with Contact Scoring
Download our FREE ebook to increase your average purchase value by recommending irresistible upsell opportunities to the right people at the right time.
1. Columbia: Personalize your retargeting
We can start at the very top of the funnel with someone who has given you their information–let's say they've signed up for your newsletter and have browsed several products on your site but haven't become a customer just yet.
Instead of sending them a generic sales pitch about a product they may not care about, use your website data to send emails tailored to what your subscriber was looking at right before they dropped off.
Columbia does a fantastic job of this with their example below:
This one is actually a bit of a double whammy–not only do they display the products we had before we left checkout, but they offer an additional incentive with a discount.
The only thing that could have made this even sweeter was free shipping, but any discount here would be a great place to start.
2. Netflix: Show them what to do next
In an ideal world, every customer would know exactly how to use your product and know how to use it to achieve their goals.
Sadly, this isn't the perfect world every marketer dreams about.
Yet another technique for keeping your audience engaged is to simply let them know what to do next and what other features or services you have that are relevant to the ones they've already expressed interest in.
Netflix makes this appear easy with their tailored recommendations.


Out of the 5 categories of media to choose from, 4 of them are based on contact watch data and are sure to have a stronger appeal than categories we've never watched at all.
3. Audible: Give them progress updates
While we used a similar tactic for our re-engagement emails above, you can also use progress updates to keep your contacts active and involved long before they move to the at-risk category.
Some of these can be incredibly simple, like this one from Audible:
This email simply lets the user know how many credits they have, their next expiration date, and a list of a few titles they might like based on their watch history. These updates can remind your audience to continue to take advantage of the services you provide to them.
4. LinkedIn: Give them a job well-done style congratulations
A fun twist on the previous idea is to give them a job well-done style congratulations. After all, who doesn't like to be commended for their achievements?
We have LinkedIn to thank for this stunning email:
While we still do have some recommendations about what to do next, the majority of this email is focused on simply thanking them for taking the course and congratulating them on a job well done.
Emails like this can really help to increase the bond formed between you and your subscriber and make them feel less like a number and more like a respected individual who you're happy to have in your database.
Putting Your Email Data Hygiene Plan Together
Speaking of a job well done, if you've made it this far into the article, you can give yourself a pat on the back.
I'm sure your head is currently spinning with all the things we covered here, so let's go back for a quick recap on what you need to do today to complete your data hygiene tasks.
Audit your email database and subscriber journey to ensure standardized methods for contact entry and internal benchmarks.
Audit your database frequently to make sure that guidelines are being correctly implemented.
Validate your contacts and remove invalid or fake email addresses from your database.
Re-activate inactive subscribers through win-back campaigns and remove those who do not engage.
Segment your email campaigns using email personalization strategies and internal user data.
By completing all the tasks here on this list, you're sure to have a squeaky-clean email list, a better sender score, enhanced email deliverability, and a cheaper email marketing app fee in the process.
Not too bad for one article, eh?
If you have another email data hygiene best practice you swear by, or if this article helped you to create your own strategy, let us know in the comments below!